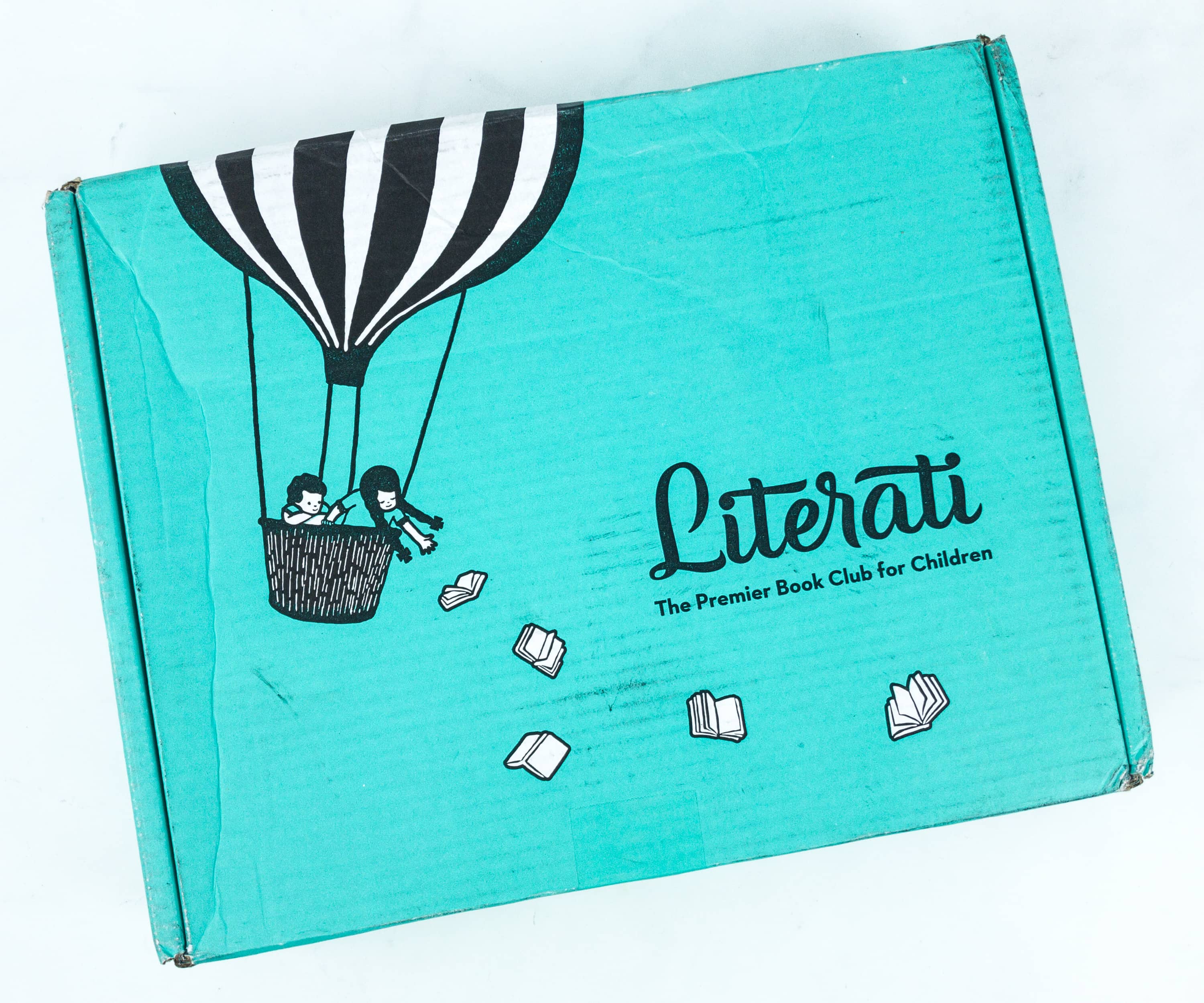 Literati is a monthly book subscription box for children that works similar to Stitch Fix. For a monthly fee of $9.95, you'll receive 5 books to try out for a week. You can purchase the ones you love and return the rest (in totally new condition) in the enclosed prepaid mailer (shipping is free in both directions).
You can get 5% off when you decide to keep all the books! There are also categories for each age bracket: Club Neo is for newborn to 1 year; Club Sprout is for children ages 2-3; Club Nova is for kids 4-6, and Club Sage is for those 7-8 years old.
This is a review of the Club Nova box for kids 4-6.
DEAL: Get $25 in account credit to put towards books when you sign up! USE THIS LINK to get the deal.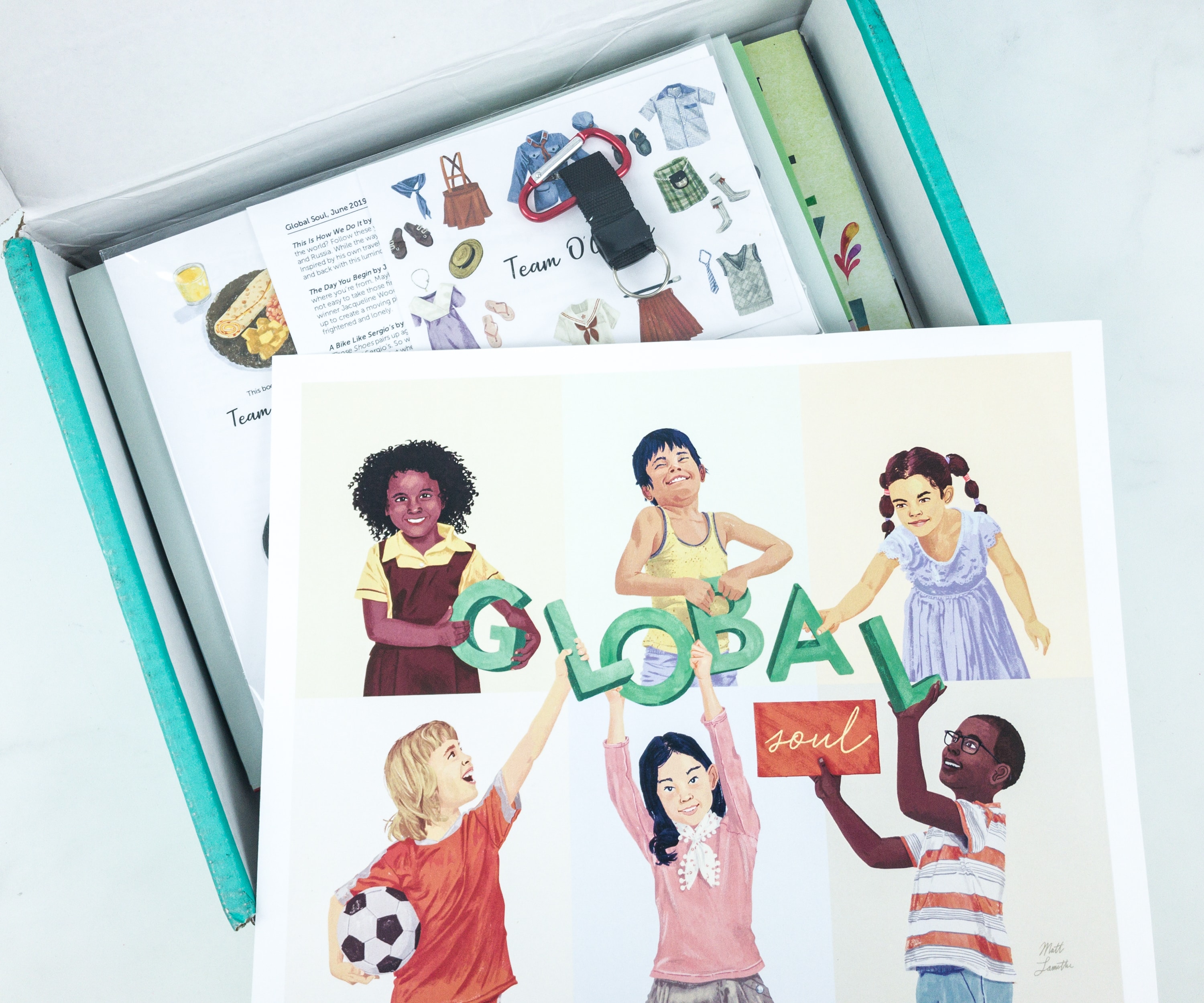 There are lots of books in store for us! The box looks full, and the contents are all neatly packaged.

There's no longer a padded mailer. Instead, you can use the teal box itself if you want to return some of the books. You'll also receive a tape and a prepaid postage label for the box.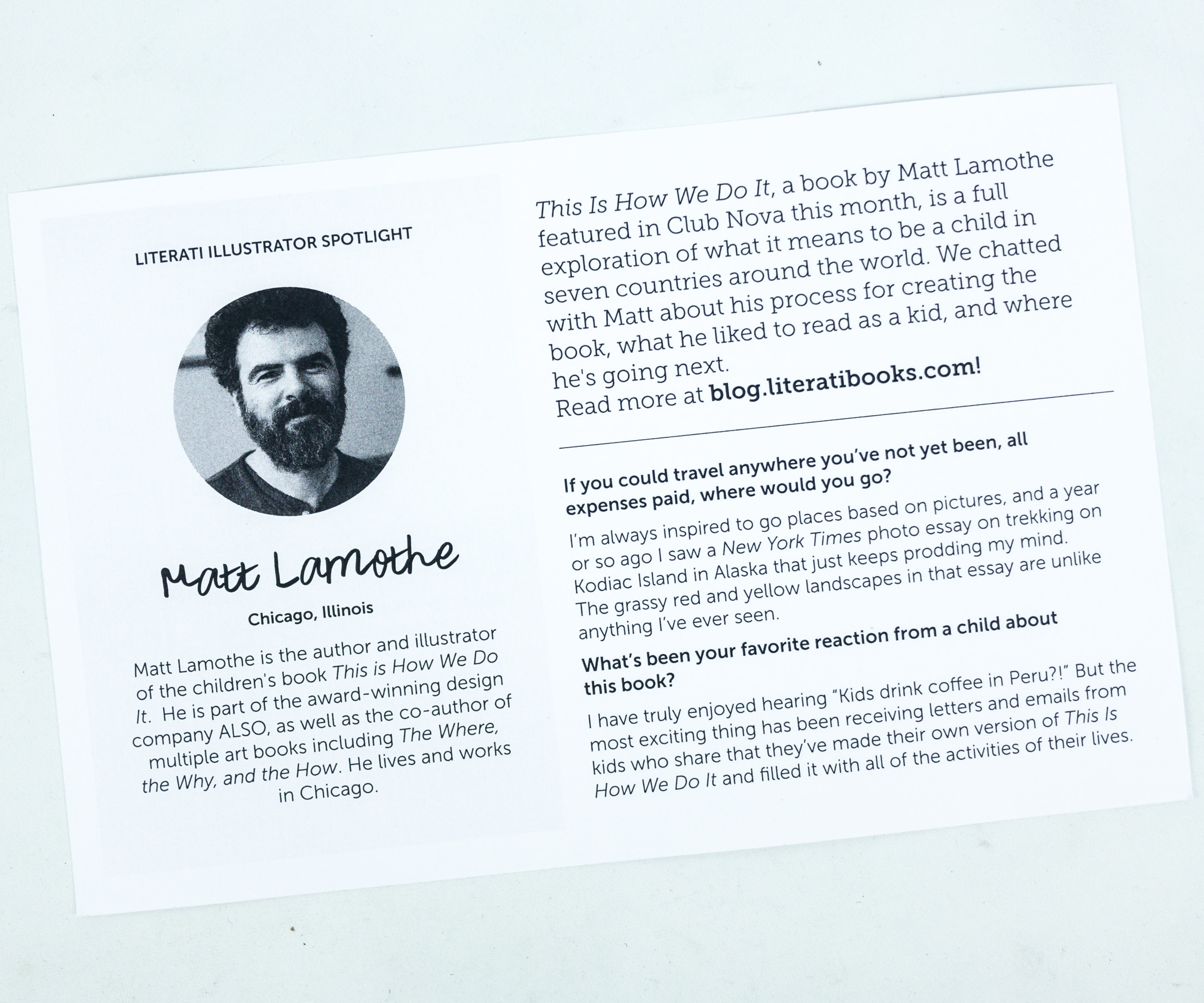 The featured illustrator creates new artwork for the monthly themes. This month's illustrator is Matt Lamothe.
A full-size print comes with the box, along with free shipping. Although I don't love that the fee doesn't apply to a full box purchase, this high-quality print makes it more worth it. Also, the theme for this month is Global Soul!
They included a sheet to help us label the books, and let others know that they're ours when we decide to keep them. They're really adorable!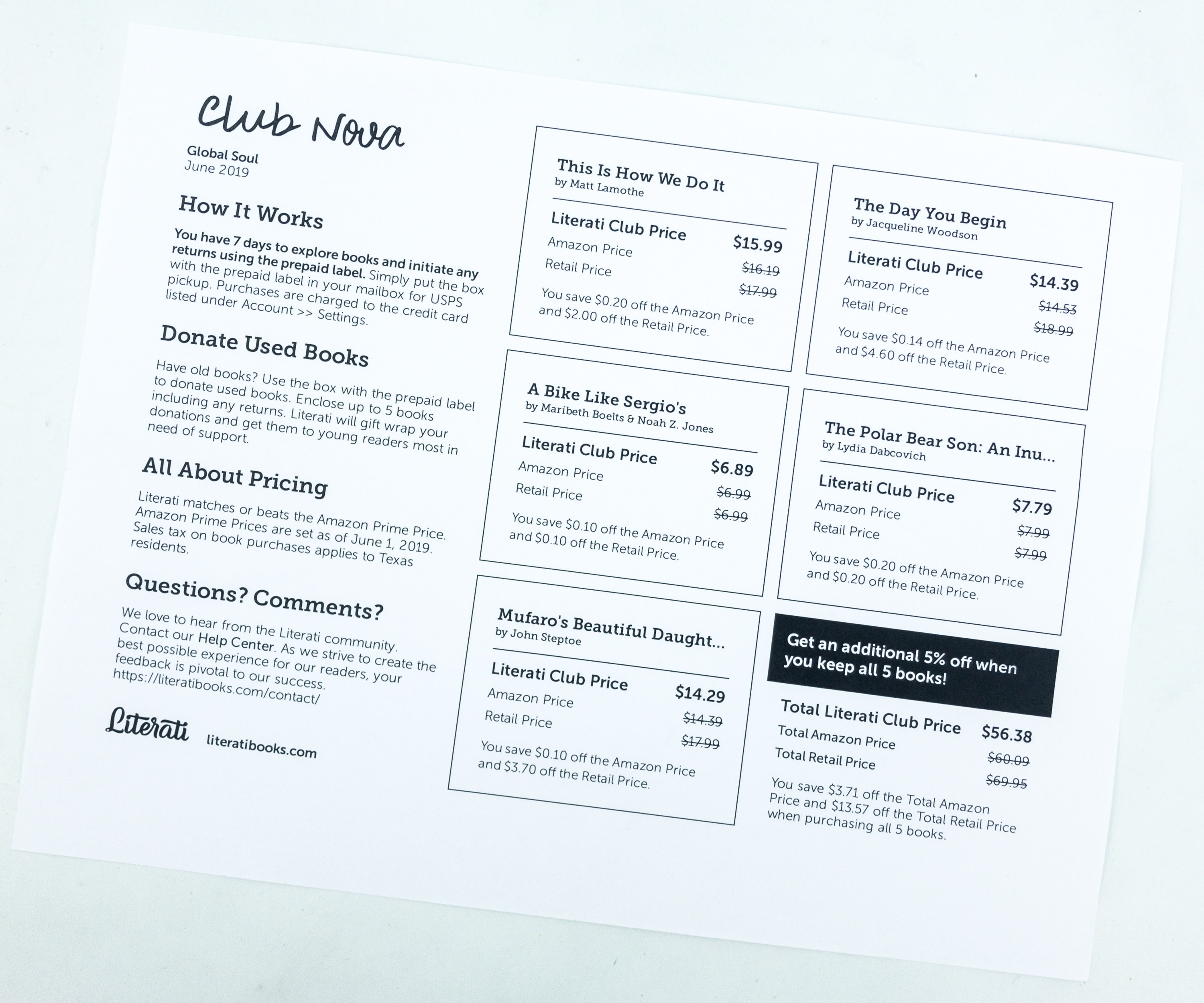 There's also a listing of the book prices. If you decide to keep everything, you'll get 5% off. The subscription has a $9.95 non-refundable fee. According to Literati "it covers shipping both ways, allows the curators to invite a new world-renowned illustrator each month to draw personalized bookplates and a unique print for members, and covers other themed surprises that are included in the box." Since the print is now full size and high quality, we are digging that change. It includes the shipping back and forth too.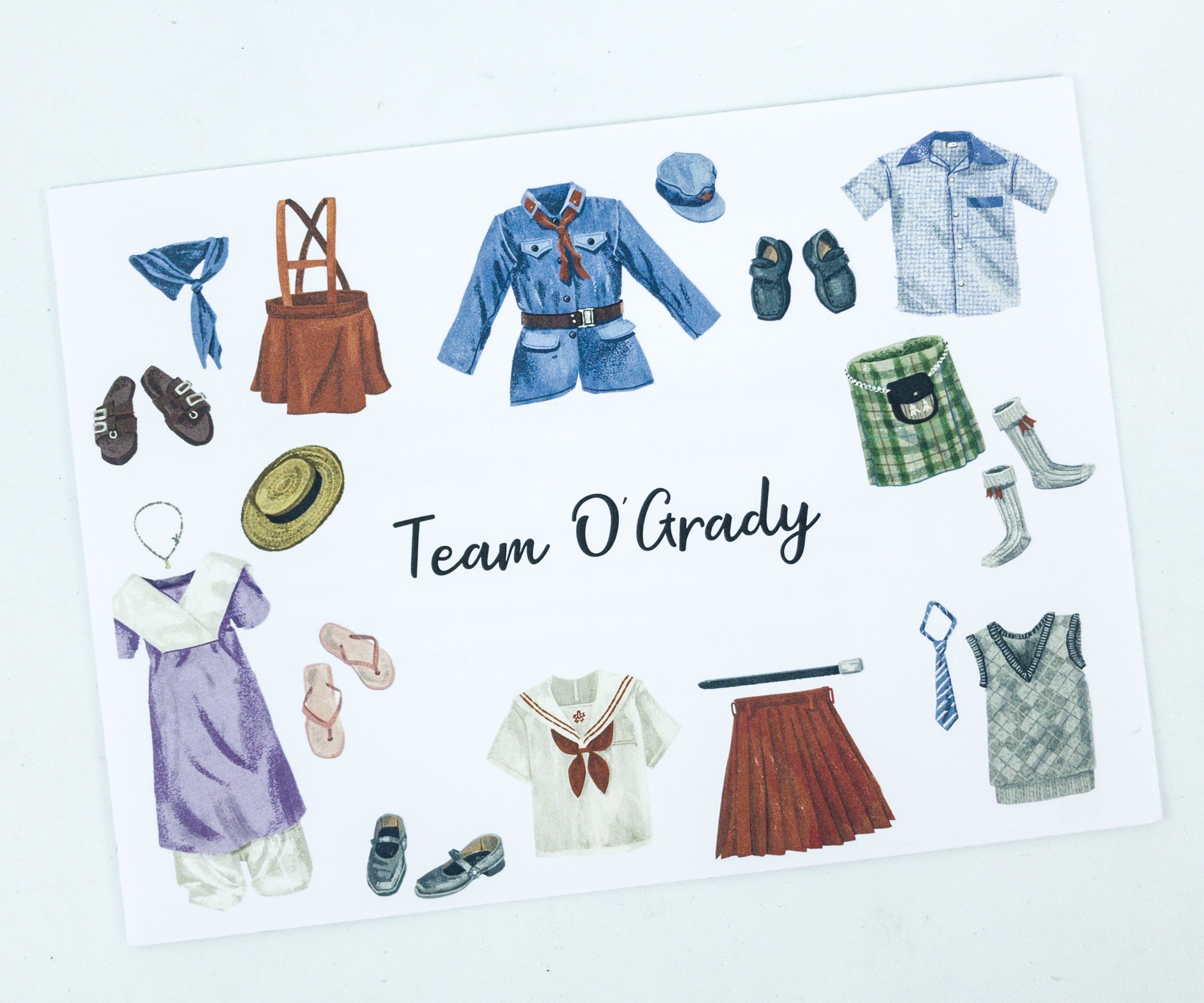 There's a cute note from Team Literati.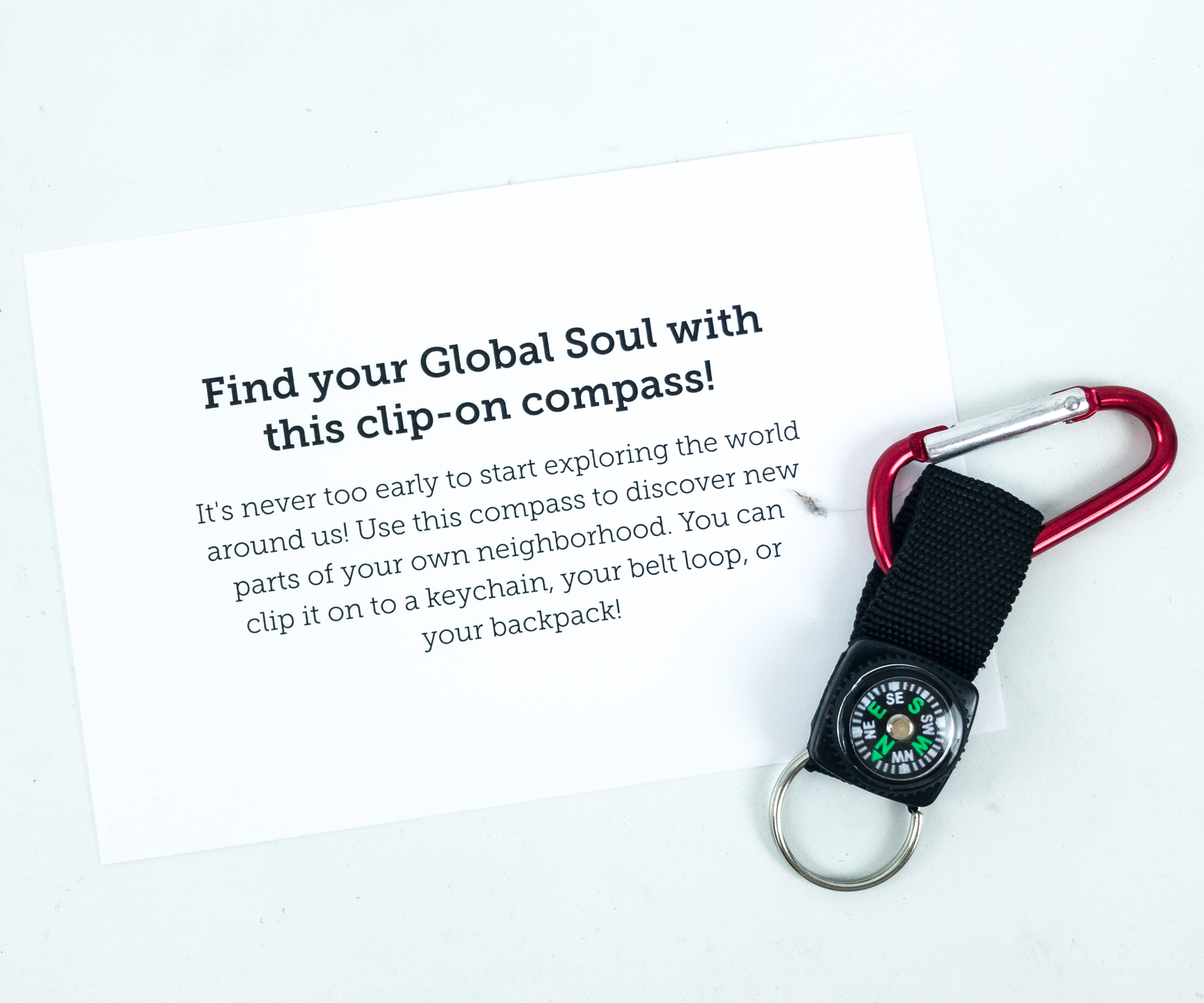 They included a clip-on compass in this month's box! It can be easily attached to a backpack, keychain, or even your belt loop.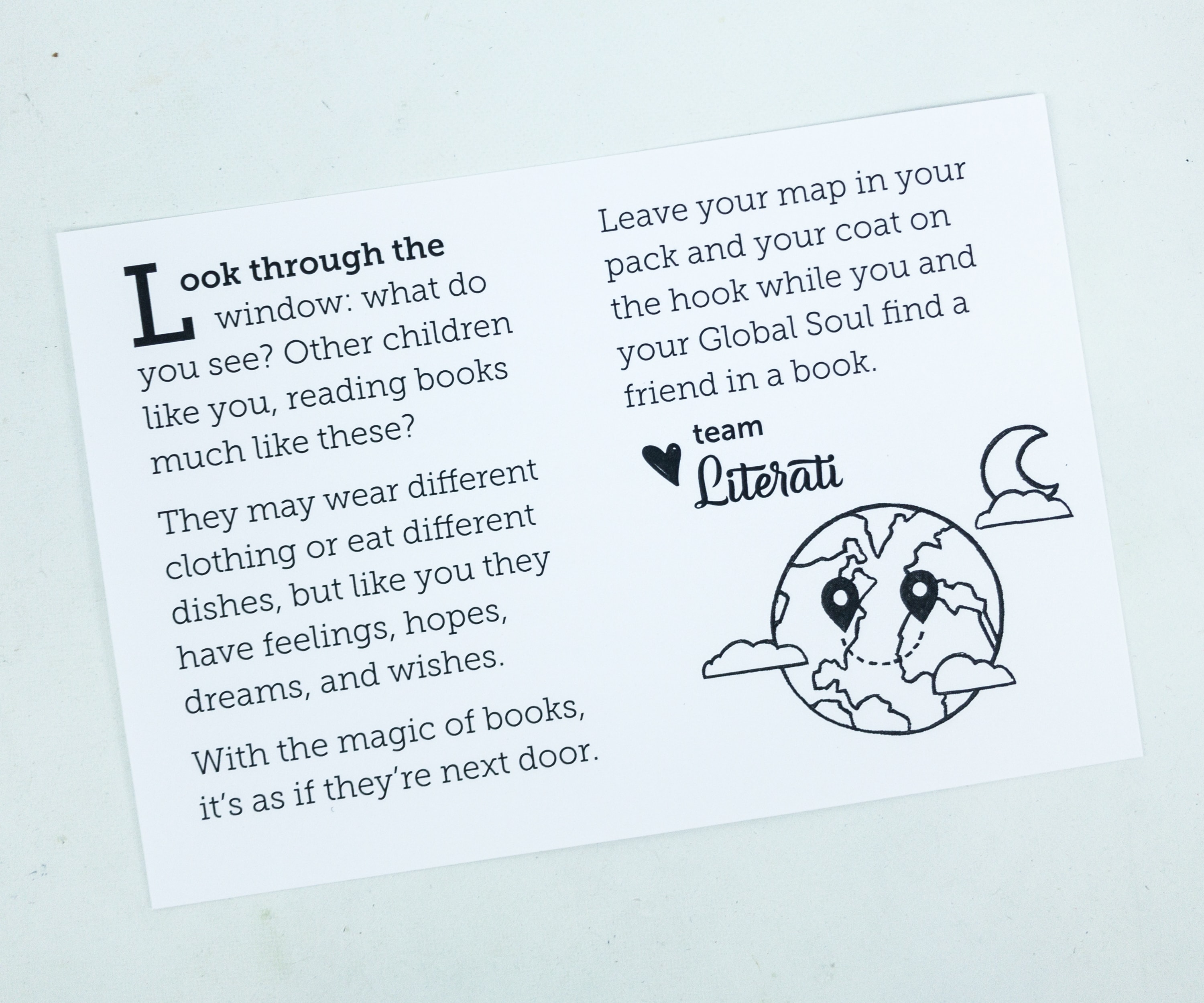 The note makes tells us more about how reading can take us to and explore different places, even if we just stayed at home or indoors!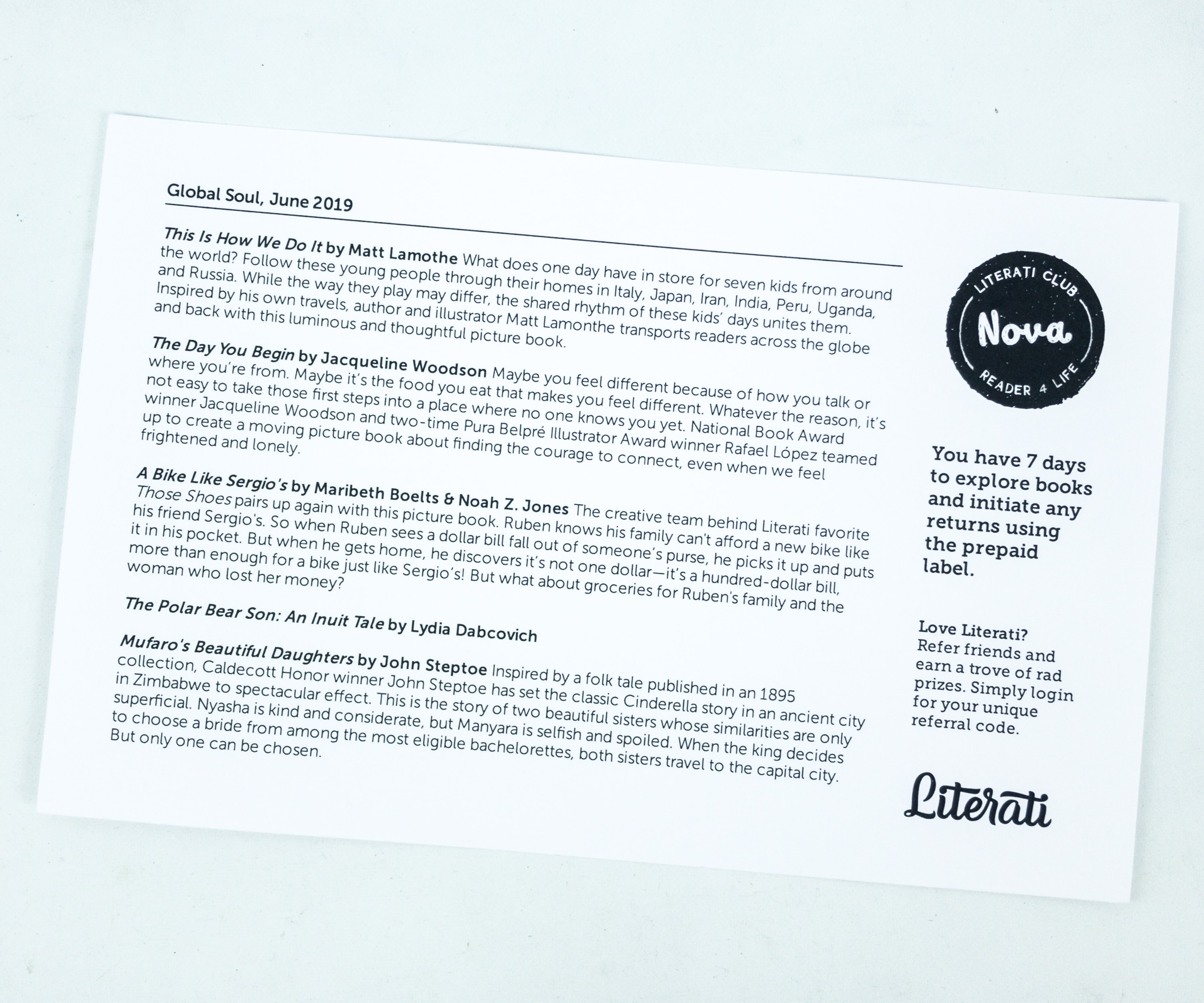 There's also an info card about the five books sent to us this month. The card lists the titles with a brief description for each.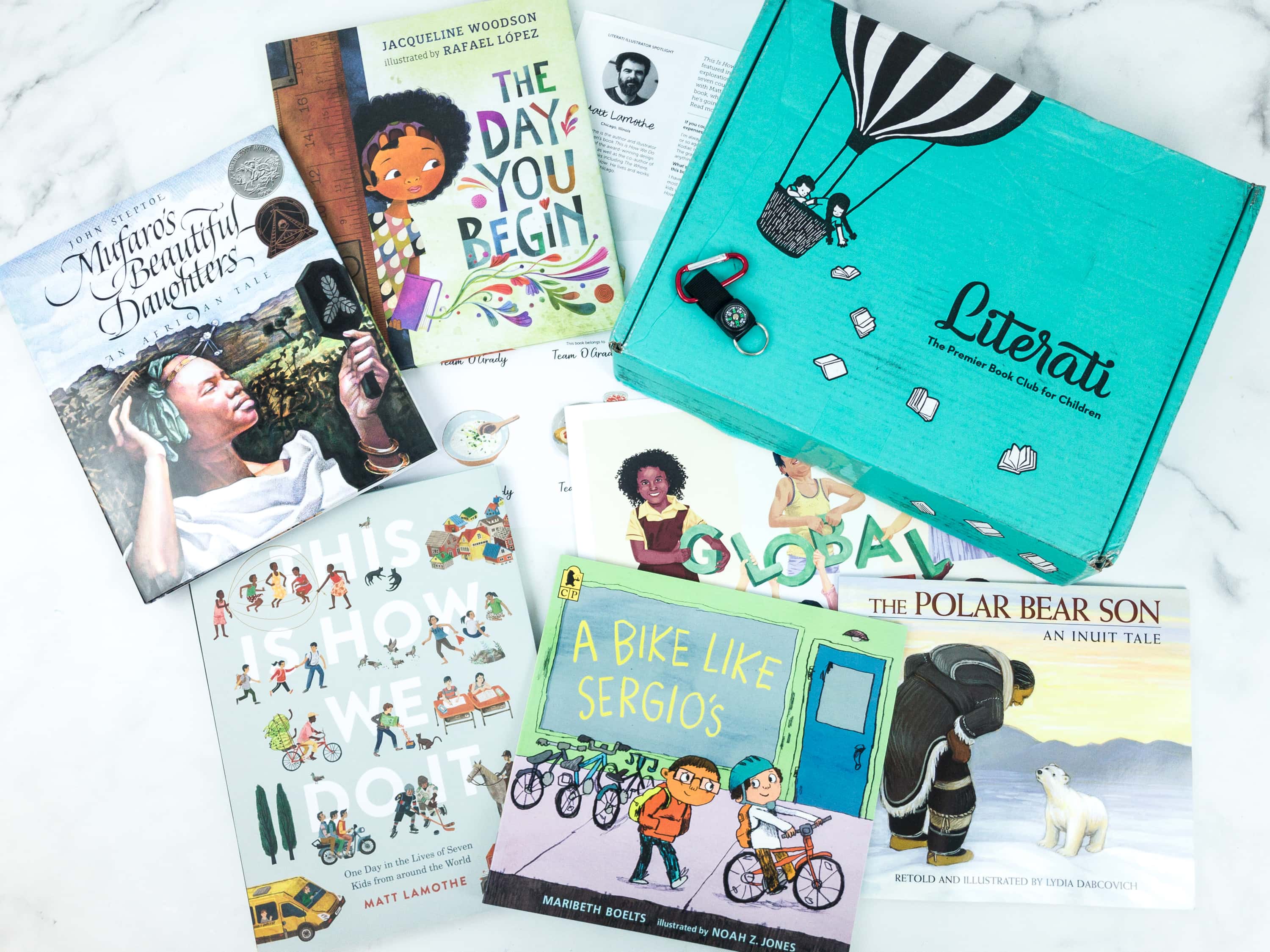 Everything in the box!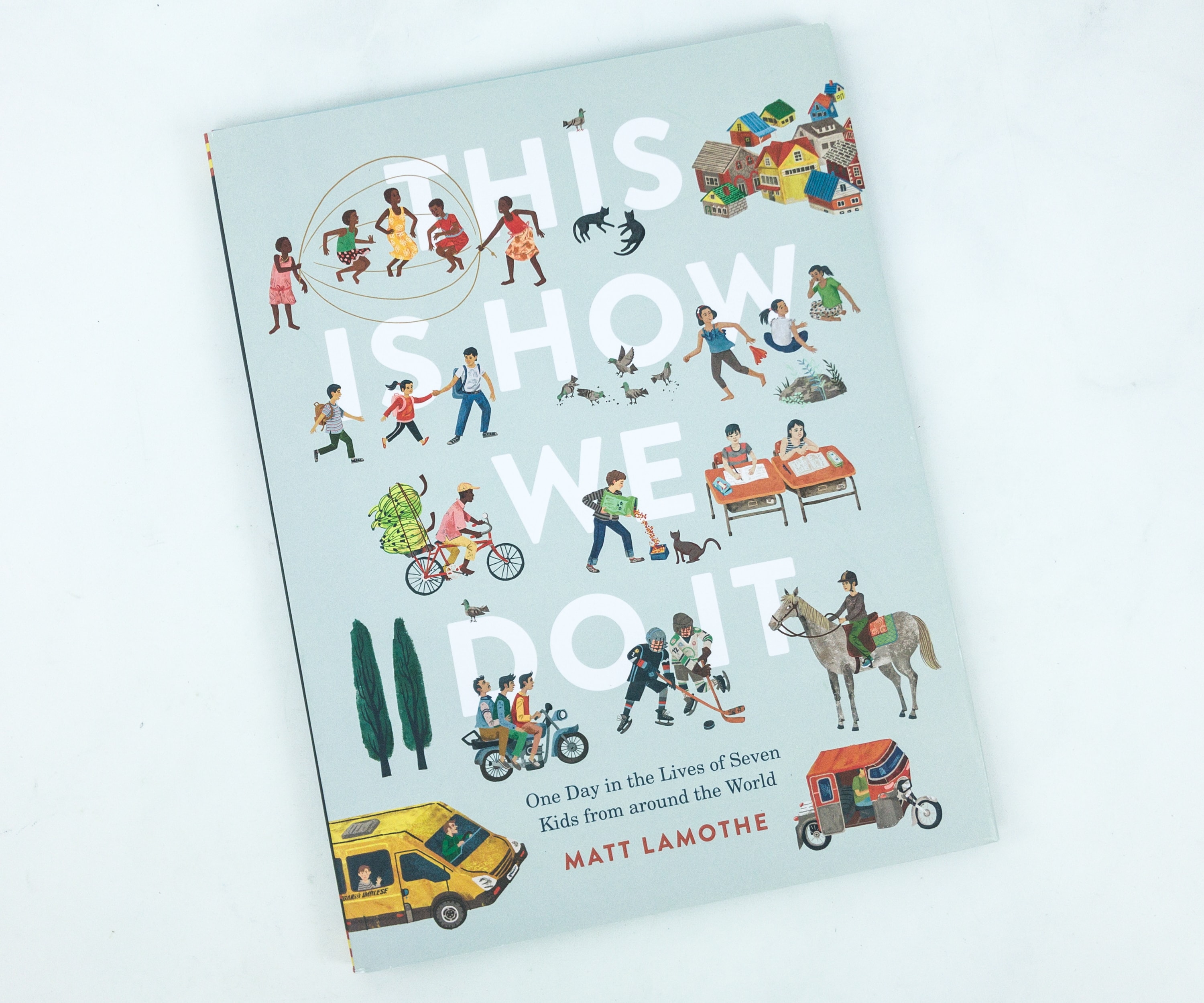 This Is How We Do It by Matt Lamothe ($14.44)
Follow one day in the real lives of seven kids from around the world—Italy, Japan, Iran, India, Peru, Uganda, and Russia!

In Japan, Kei plays Freeze Tag, while in Uganda, Daphine likes to jump rope. While the way they play may differ, the shared rhythm of their days—and this one world we all share—unites them.

This genuine exchange provides a window into traditions that may be different from our own as well as mirrors reflecting our common experiences. Inspired by his own travels, Matt Lamonthe transports readers across the globe and back with this luminous and thoughtful picture book.

Perfect for kids learning about new cultures and customs
Educates children on the importance of similarities and differences
Gives kids a unique look into the lives of others across the globe
This month's featured illustrator's book is about the real lives of 7 kids from around the globe: Japan, Peru, Iran, Russia, India Italy, and Uganda.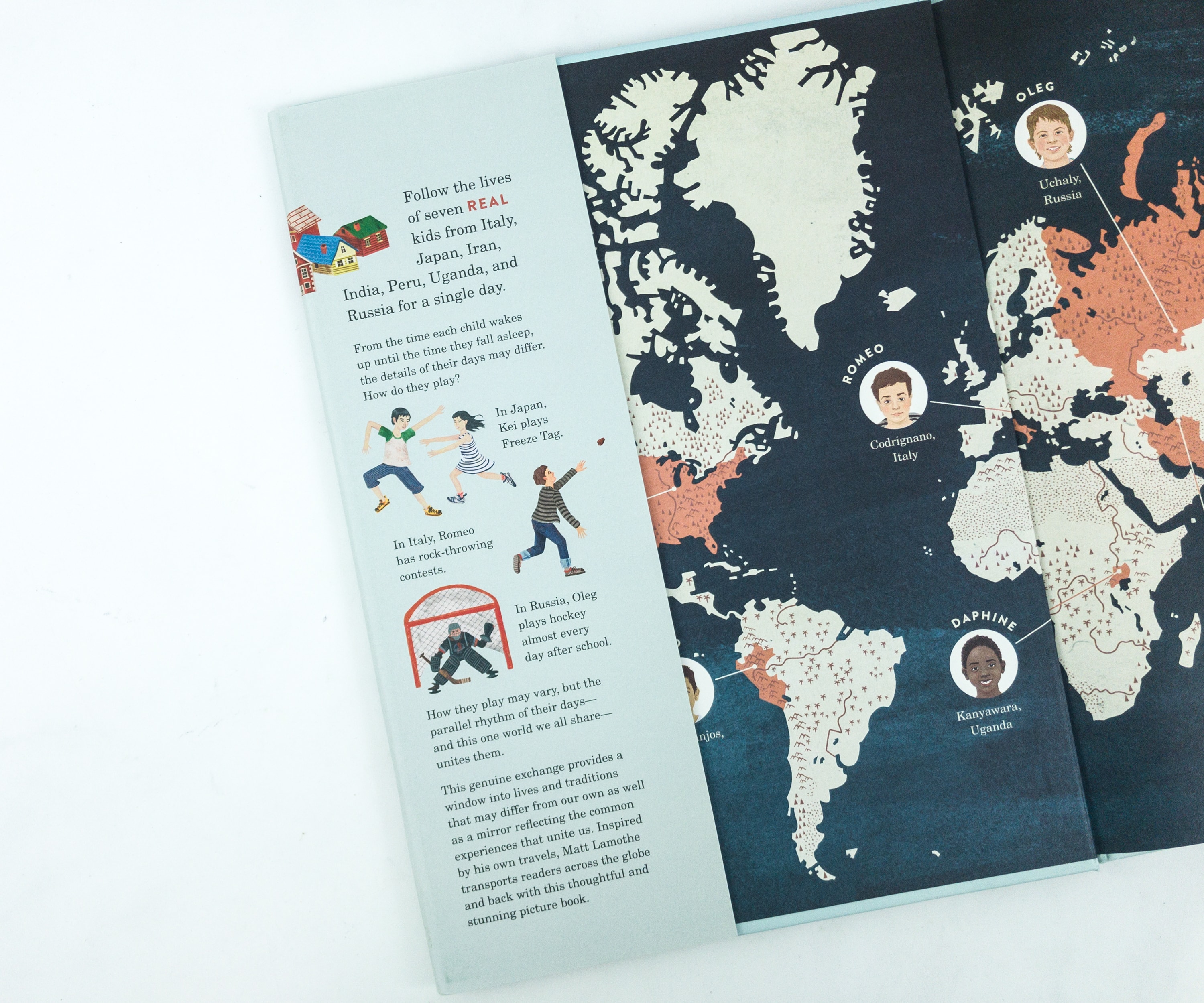 The inside cover of the book even shows us a world map, with each kid's picture and what country they're from!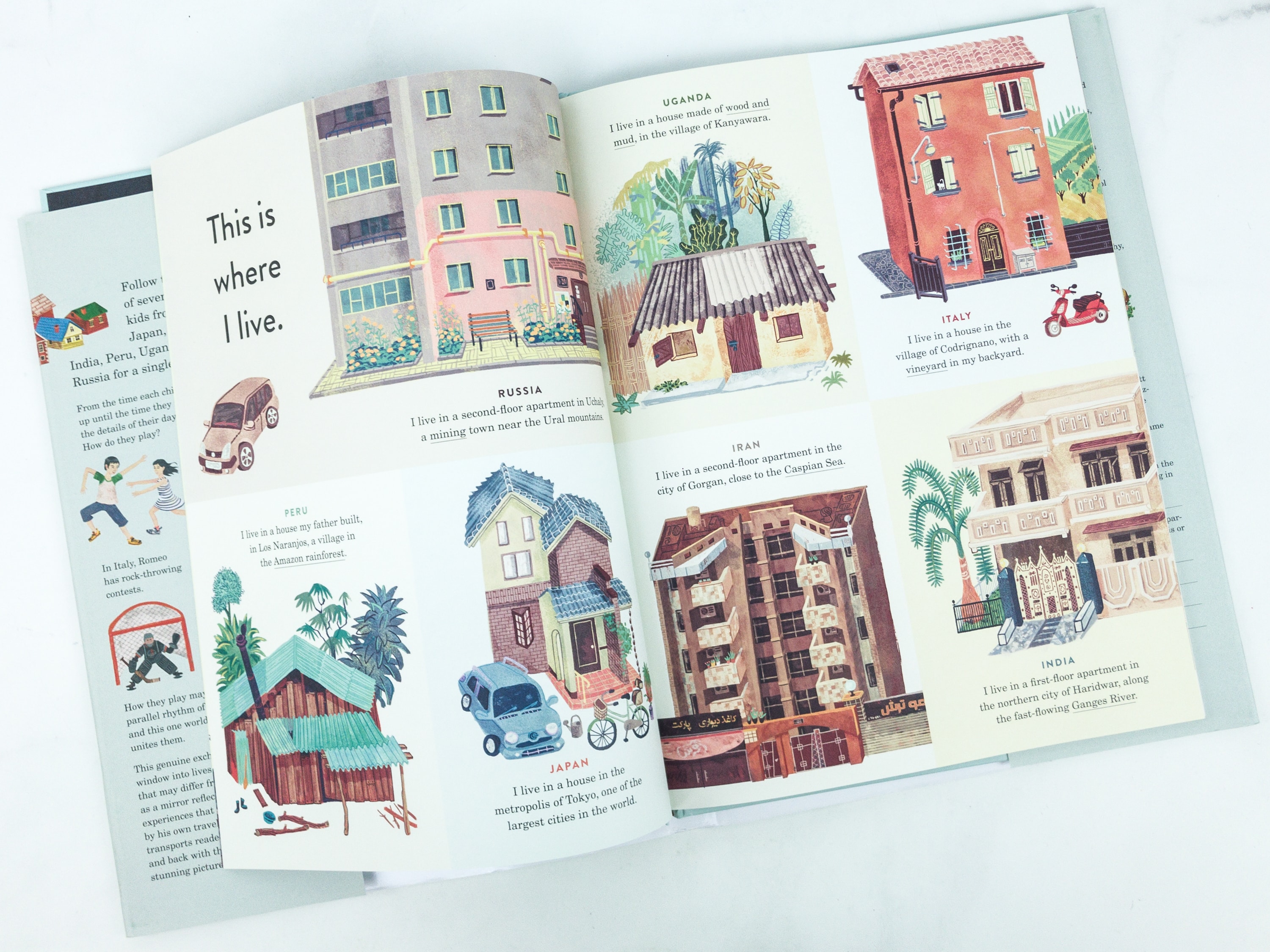 It shows the difference yet similarities among the 7 kids, like these pages where it features each of their home. The houses might look different but it served the same purpose, to give them shelter!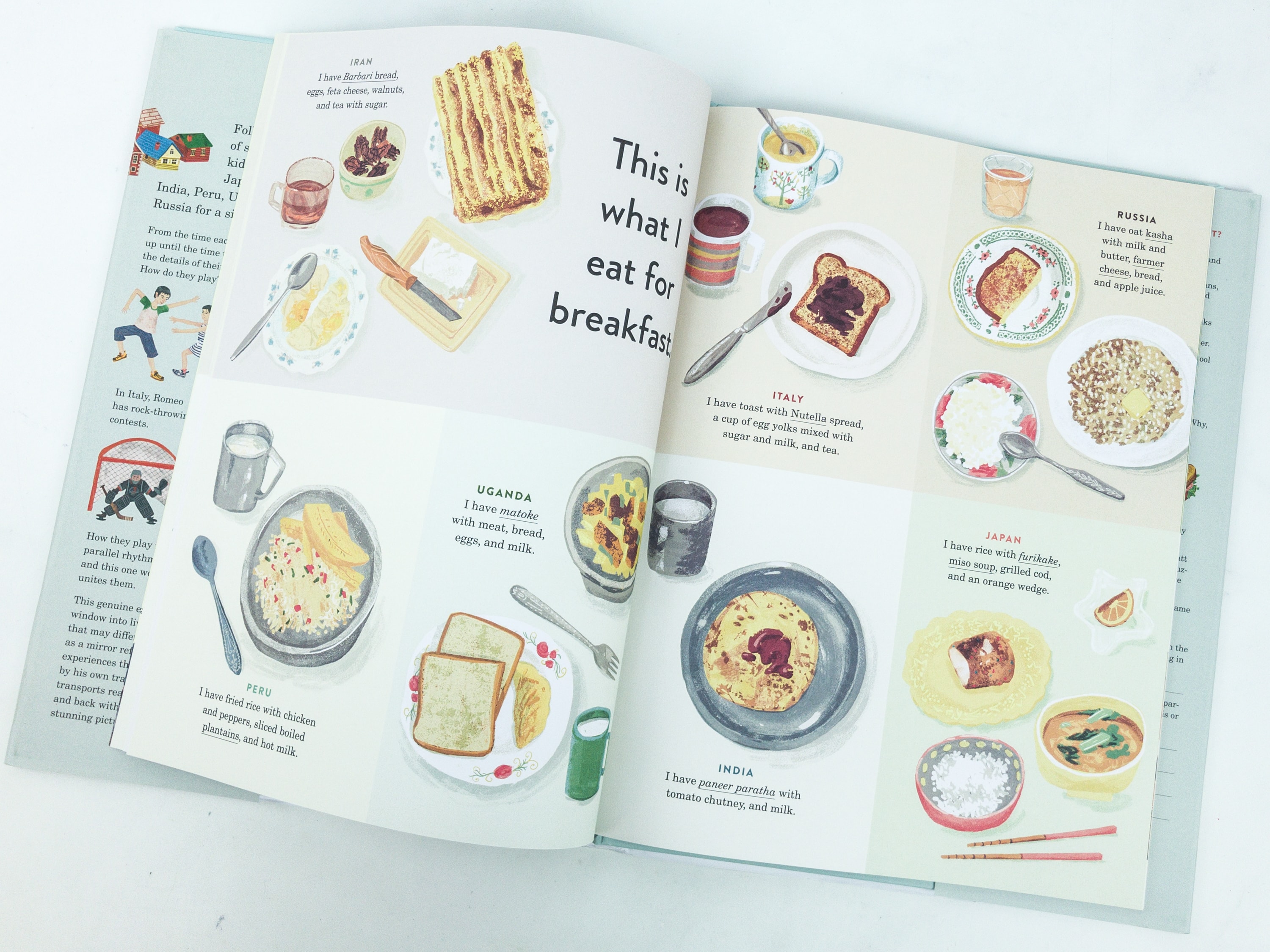 Another spread features what they eat for breakfast! There may be different varieties and kinds of food, but these sure fill them up and provide the energy they'll need for the day.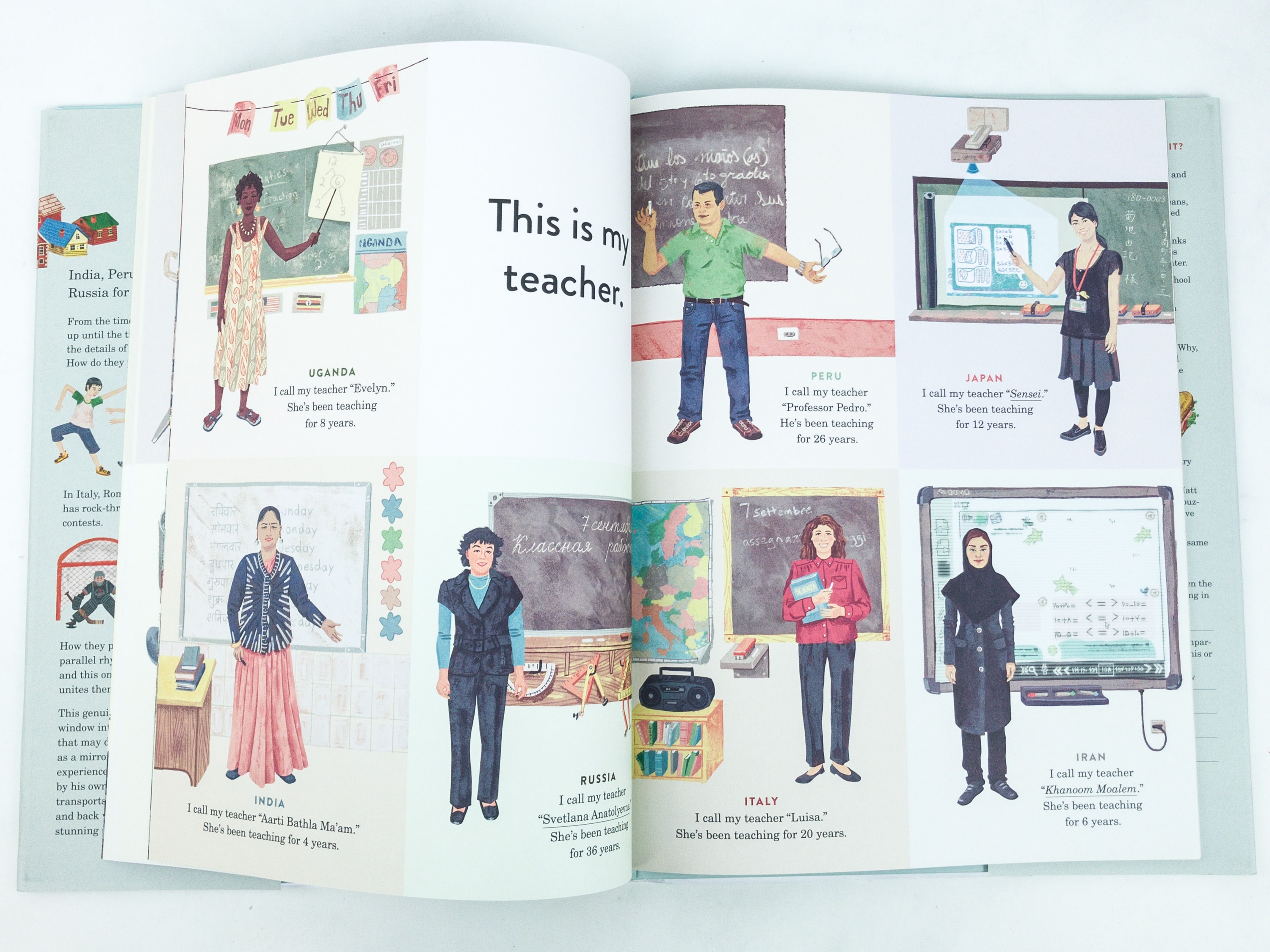 It's nice to see the culture and practices of different people around the world. It helps the kids understand them, and their situation, and with that knowledge, it will be easier for them to get along with other people, whatever race or nationality they may be.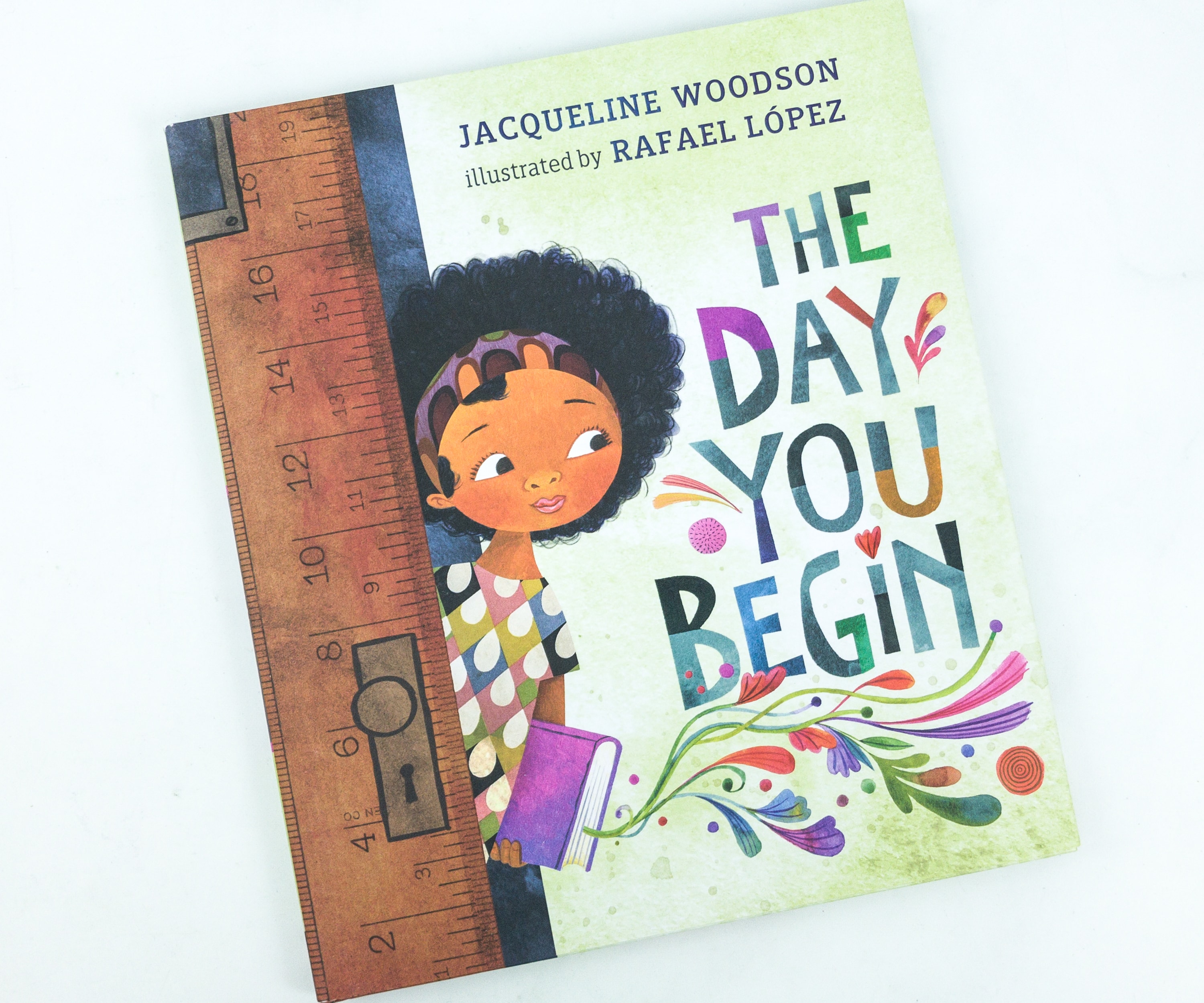 The Day You Begin by Jacqueline Woodson ($10.63)
National Book Award winner Jacqueline Woodson and two-time Pura Belpré Illustrator Award winner Rafael López have teamed up to create a poignant, yet heartening book about finding courage to connect, even when you feel scared and alone.

There will be times when you walk into a room
and no one there is quite like you.

There are many reasons to feel different. Maybe it's how you look or talk, or where you're from; maybe it's what you eat, or something just as random. It's not easy to take those first steps into a place where nobody really knows you yet, but somehow you do it.

Jacqueline Woodson's lyrical text and Rafael López's dazzling art reminds us that we all feel like outsiders sometimes-and how brave it is that we go forth anyway. And that sometimes, when we reach out and begin to share our stories, others will be happy to meet us halfway.
The back of the book lists the other titles by the award-winning author of this story, Jacqueline Woodson.
More idea about the story is provided at the dust jacket's flap. It tells us more about feeling different.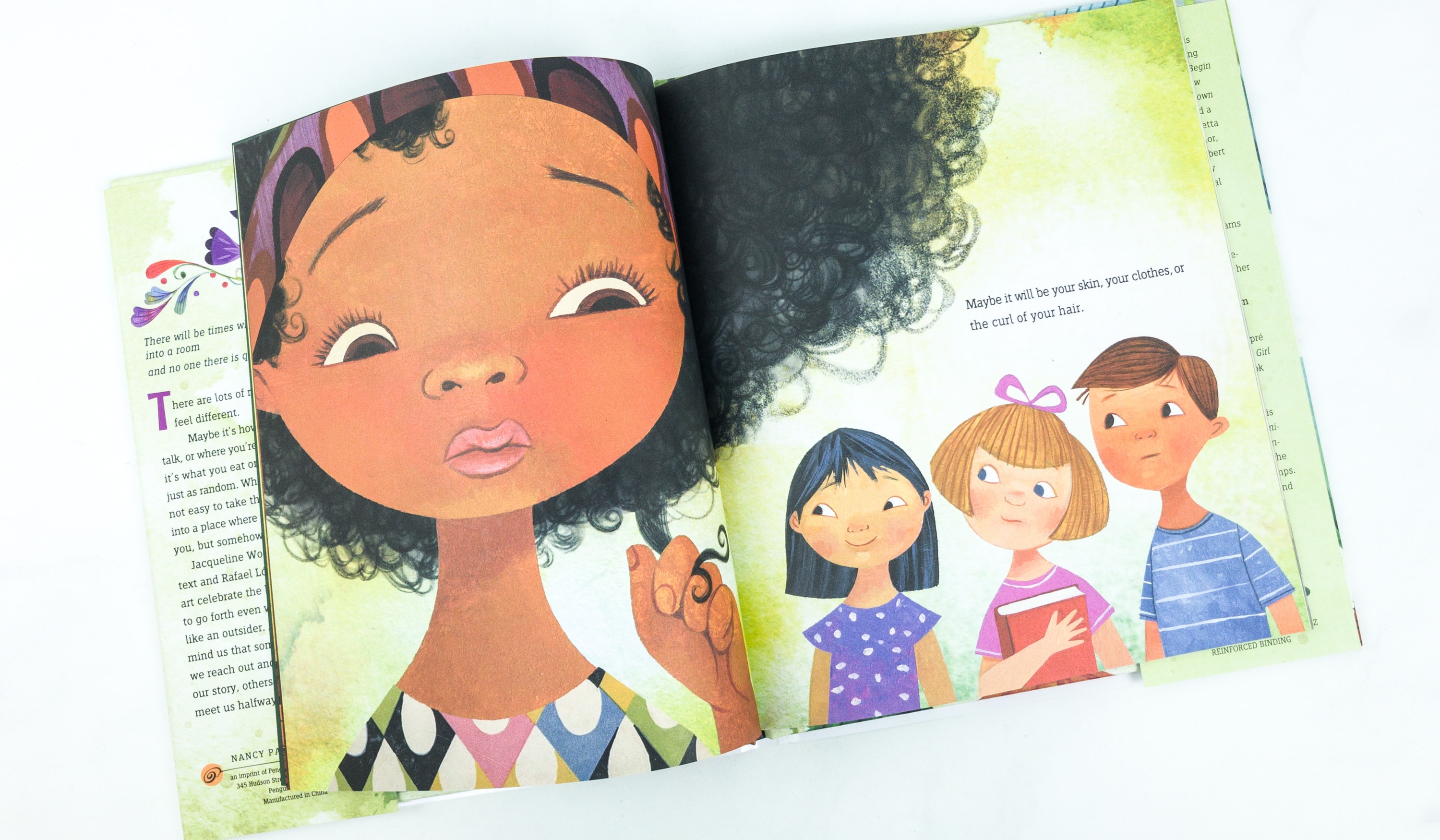 It's a nice book for the kids to know that being different from the rest is not a bad thing. Instead, you can use this uniqueness to express yourself, develop or hone your skills, be brave and go further!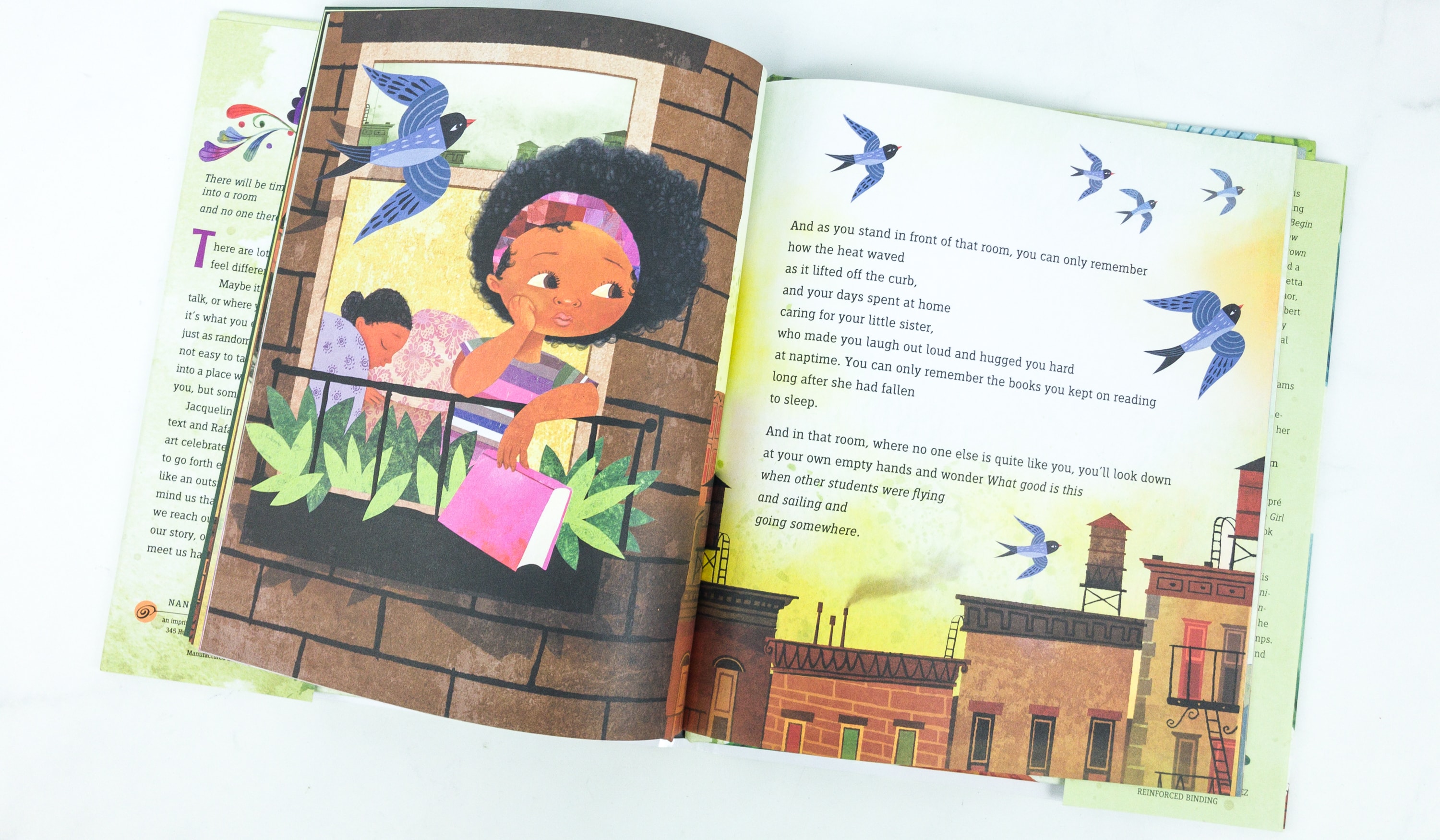 The lyrical texts are nice for kids who are practicing to read aloud. It's really nice. Also, the lesson of the story is priceless, as it teaches the kids the importance of acceptance.
Mufaro's Beautiful Daughters: An African Tale by John Steptoe ($16.55)
Mufaro's two daughters react in different ways to the King's search for a wife – one is aggressive and selfish, the other kind and dignified. The king disguises himself to learn the true nature of both the girls and chooses Nyasha, the kind and generous daughter, to be the queen.
From the looks of the book's front and back covers, we already knew that the illustrations inside are striking!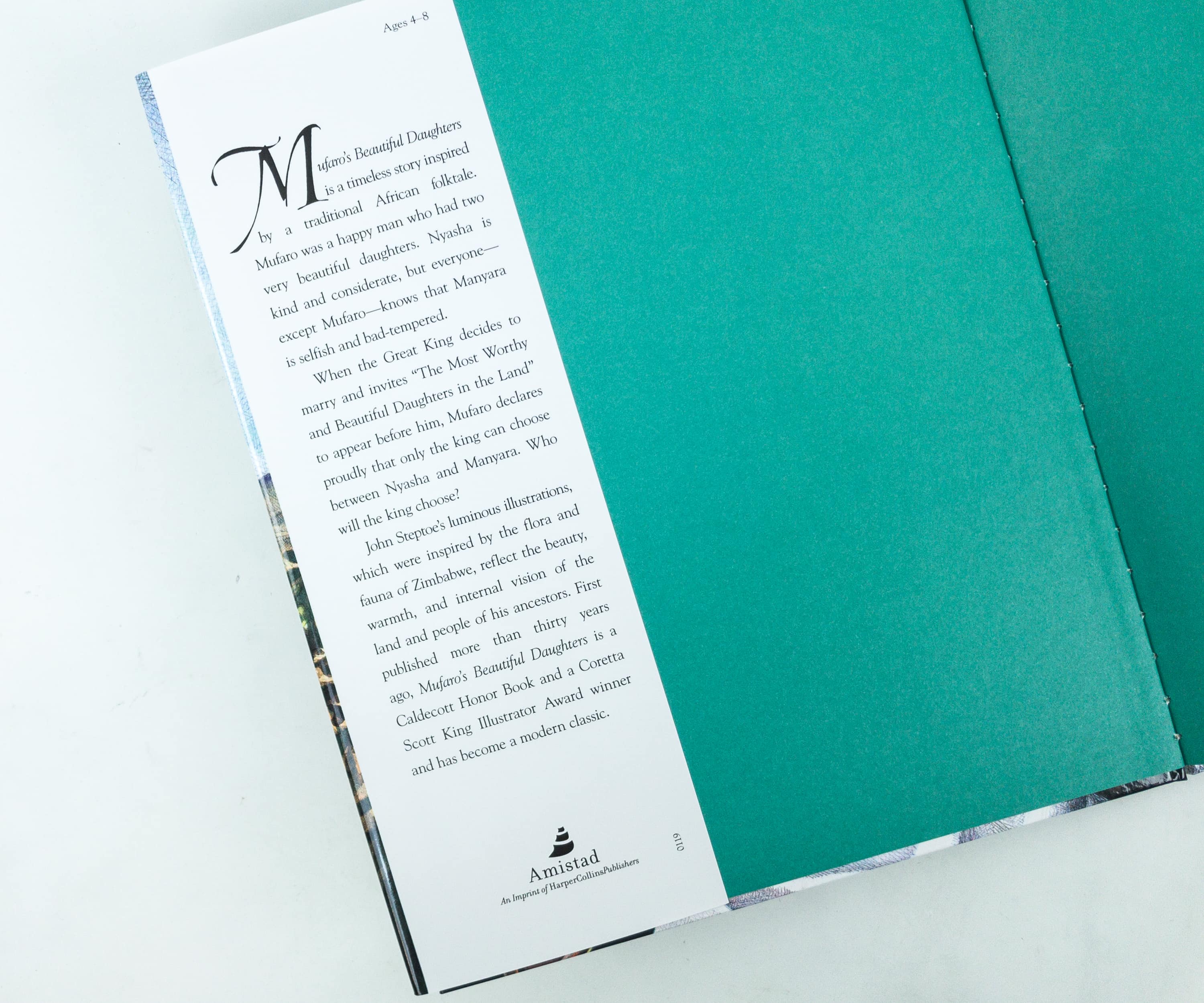 It's the African Cinderella! Anyone who loves folklore will definitely love the story of Nyasha and Manyara.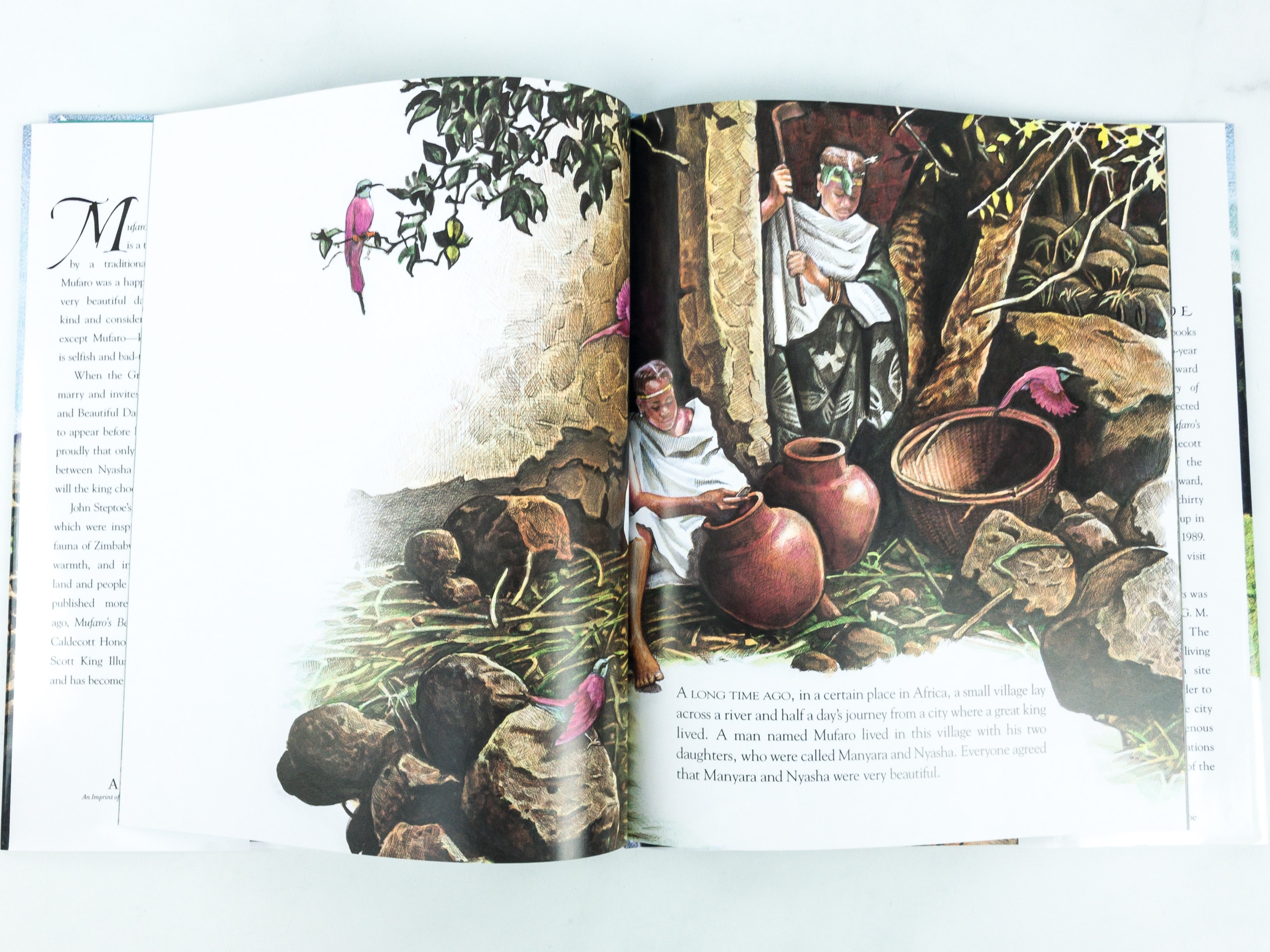 My kids can easily tell that it's a different version of what we know as Cinderella, but this time, there's only one evil sister!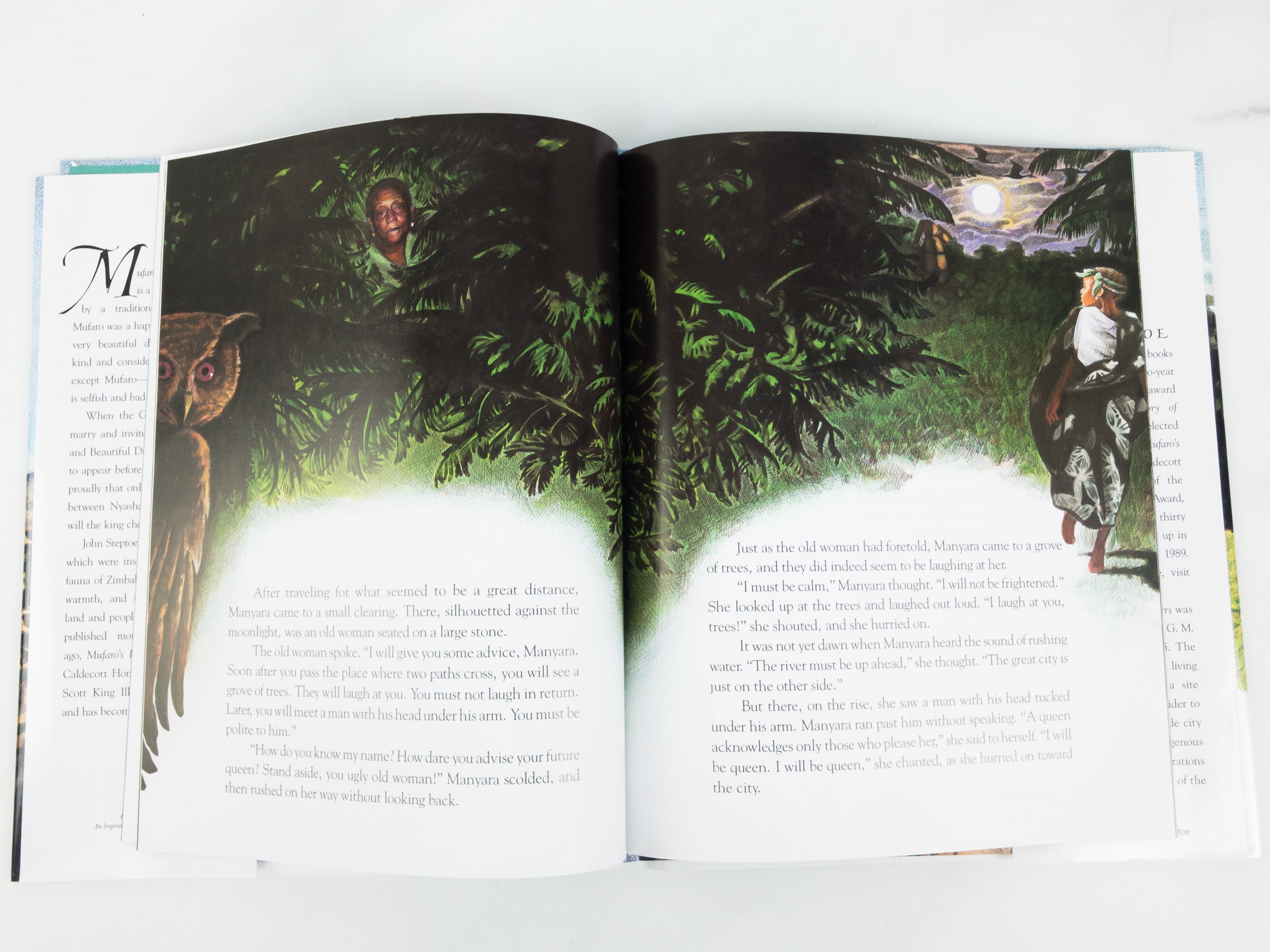 They love the kind-hearted Nyasha, and they find it fascinating that she even pets a snake. Everyone's rooting for her to become the queen.
A Bike Like Sergio's by Maribeth Boelts ($13.21)
Finders keepers, right? When Ruben picks up someone's lost money, he finds out how hard it can be to do the right thing.

Ruben feels like he is the only kid without a bike. His friend Sergio reminds him that his birthday is coming, but Ruben knows that the kinds of birthday gifts he and Sergio receive are not the same. After all, when Ruben's mom sends him to Sonny's corner store for groceries, sometimes she doesn't have enough money for everything on the list. So when Ruben sees a dollar bill fall out of someone's purse, he picks it up and puts it in his pocket. But when he gets home, he discovers it's not one dollar or even five or ten—it's a hundred-dollar bill, more than enough for a new bike just like Sergio's! But what about the crossed-off groceries? And what about the woman who lost her money? Presenting a relatable story told with subtlety and heart, the creative team behind Those Shoes pairs up again for a satisfying picture book.

The book introduces us to Ruben, a kid who wants to have a bike just like that of his friend, Sergio. However, he knows just wishing won't give him the money to buy one, as his mom even don't have enough money to cross out all the items on their grocery list!

The illustrations are adorable! Some pages only have one-liners, but others have longer ones that make up for it. It's just the right balance.
This story will teach the kids that being different sometimes is not bad or not having what everyone has is okay, especially when you're doing the right thing!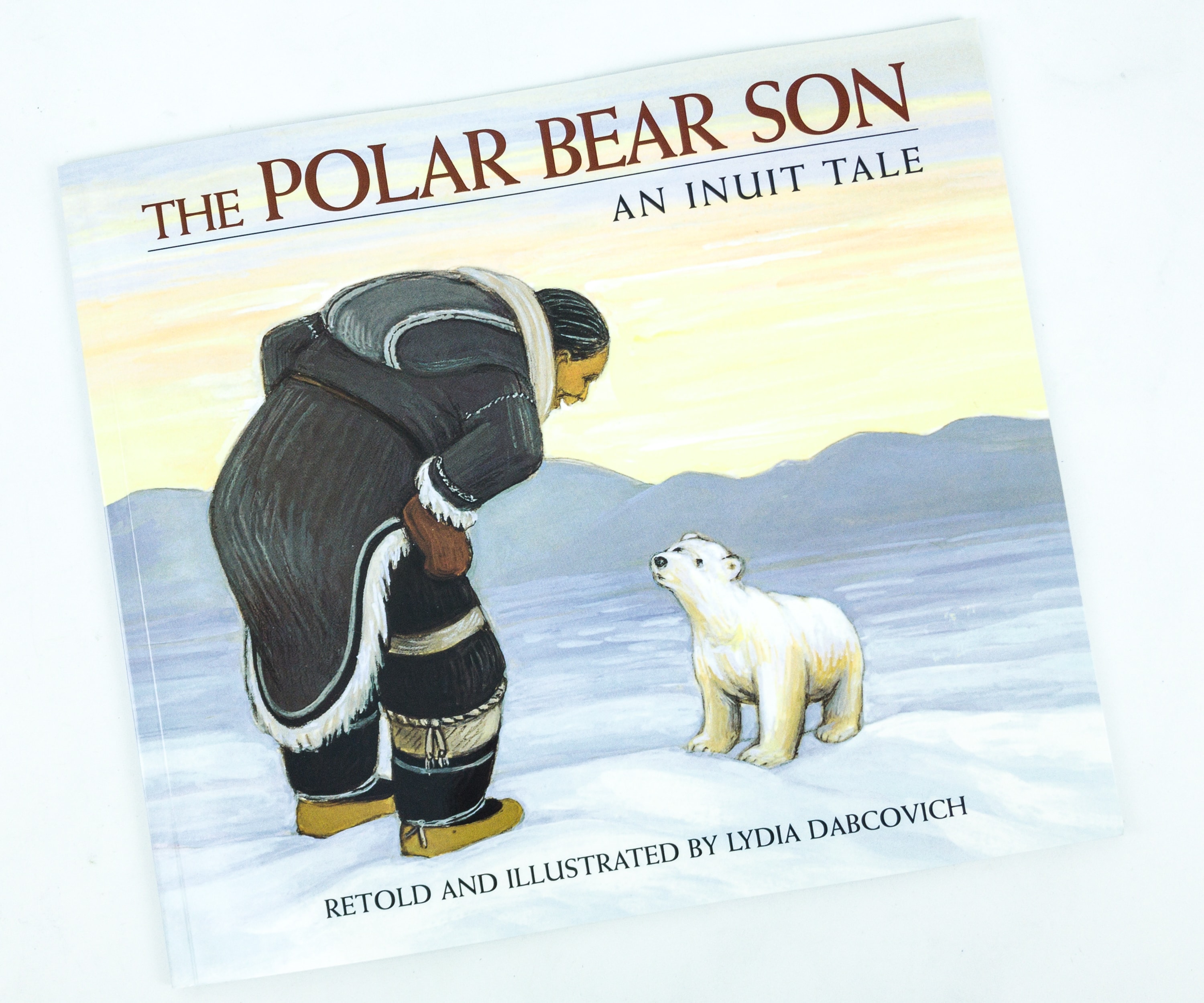 The Polar Bear Son: An Inuit Tale by Lydia Dabcovich ($7.99)
A lonely old woman adopts, cares for, and raises a polar bear as if he were her own son, until jealous villagers threaten the bear's life, forcing him to leave his home and his "mother," in a retelling of a traditional Inuit folktale.
The story is a retelling of a traditional Inuit folktale, where a woman adopts a polar bear and treats him as her own son.
The woman initially relied on the village people for her to be able to feed herself until she adopted the bear. It grew and now hunts for her. She really loved the polar bear, and she even shares her every good catch with everyone but the village people still got jealous of the bear.

The story shows that despite differences, some creatures can co-exist. However, there'll be instances that jealousy or danger will get along the way.
The books are awesome! Every story shows differences and how we can all cope with them and unite. The books are great for bedtime storytelling or even when the kids are practicing to read aloud. Also, all the images on the books are awesome, the artists show us different yet effective styles for further understanding of the stories. My kids love these books, and I am happy that these books impart some great and valuable lesson for all of us. Accept and help each other, no matter what race or nationality, and the world will become a better place to live in!
Any thoughts on Literati?