Geek Gear World of Wizardry Wearables is a Harry Potter themed box with only wearable items. When you sign up, let them know which house you're in, and they'll take care of the rest, delivering a box of magical items to you every month! WoW has multiple subscriptions – if you're looking for the shirt subscription, be sure to select "Wearables" at checkout!
The World of Wizardry Wearables had a revamp! No longer just shirts, you'll also receive hoodies, jumpers, jewelry, hats, socks, scarves and more for the same price!
DEAL: Save 15% off with code SPECIAL15!
The items are packed with brown squiggles.
The whole box is packed with and love and care by Leslie! We also got a Geek Gear Scratch Card.
There's a letter with the Geek Gear branding that looks like a wax seal, but it's actually printed.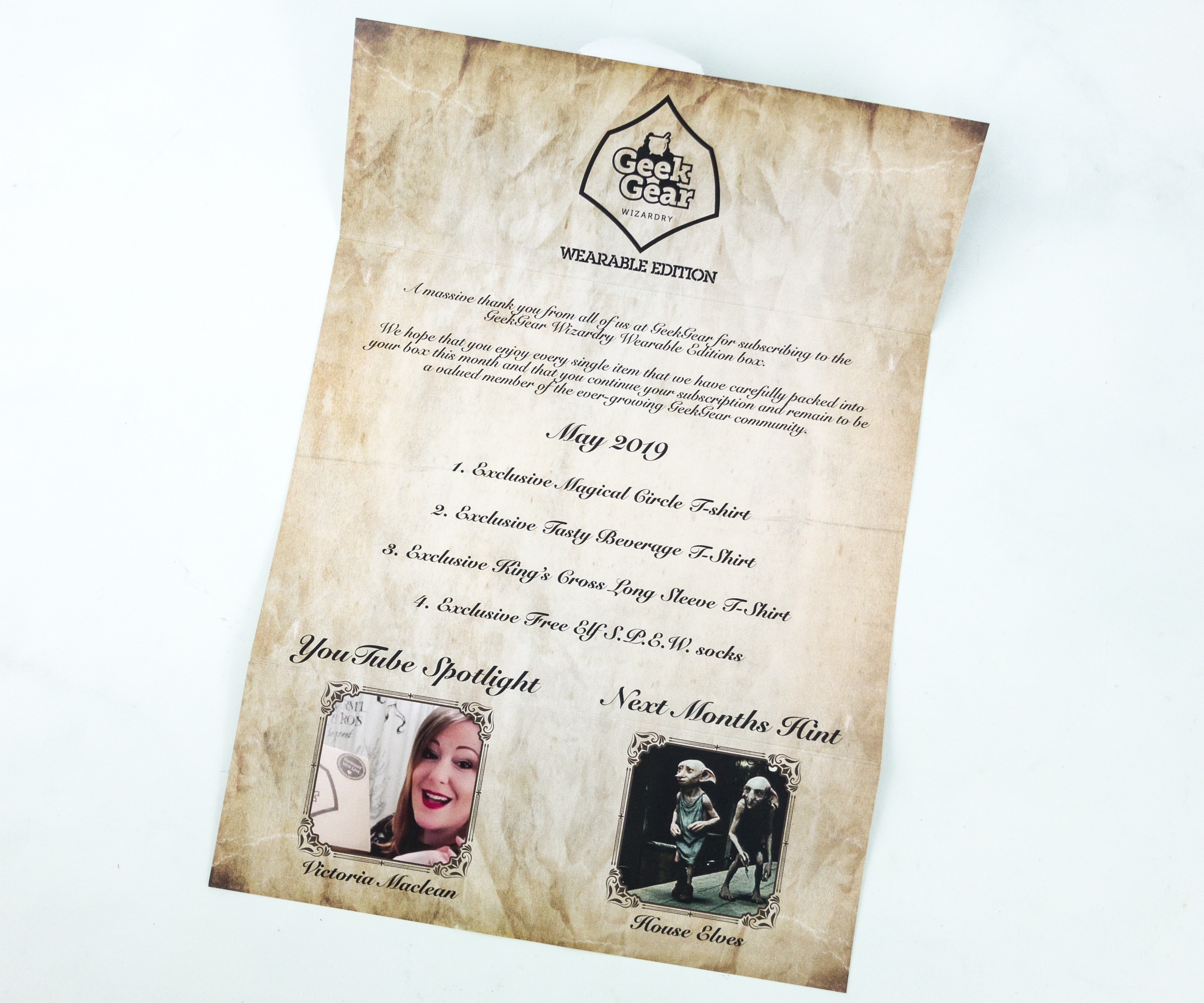 It lists all the items in this month's box, plus a YouTube spotlight.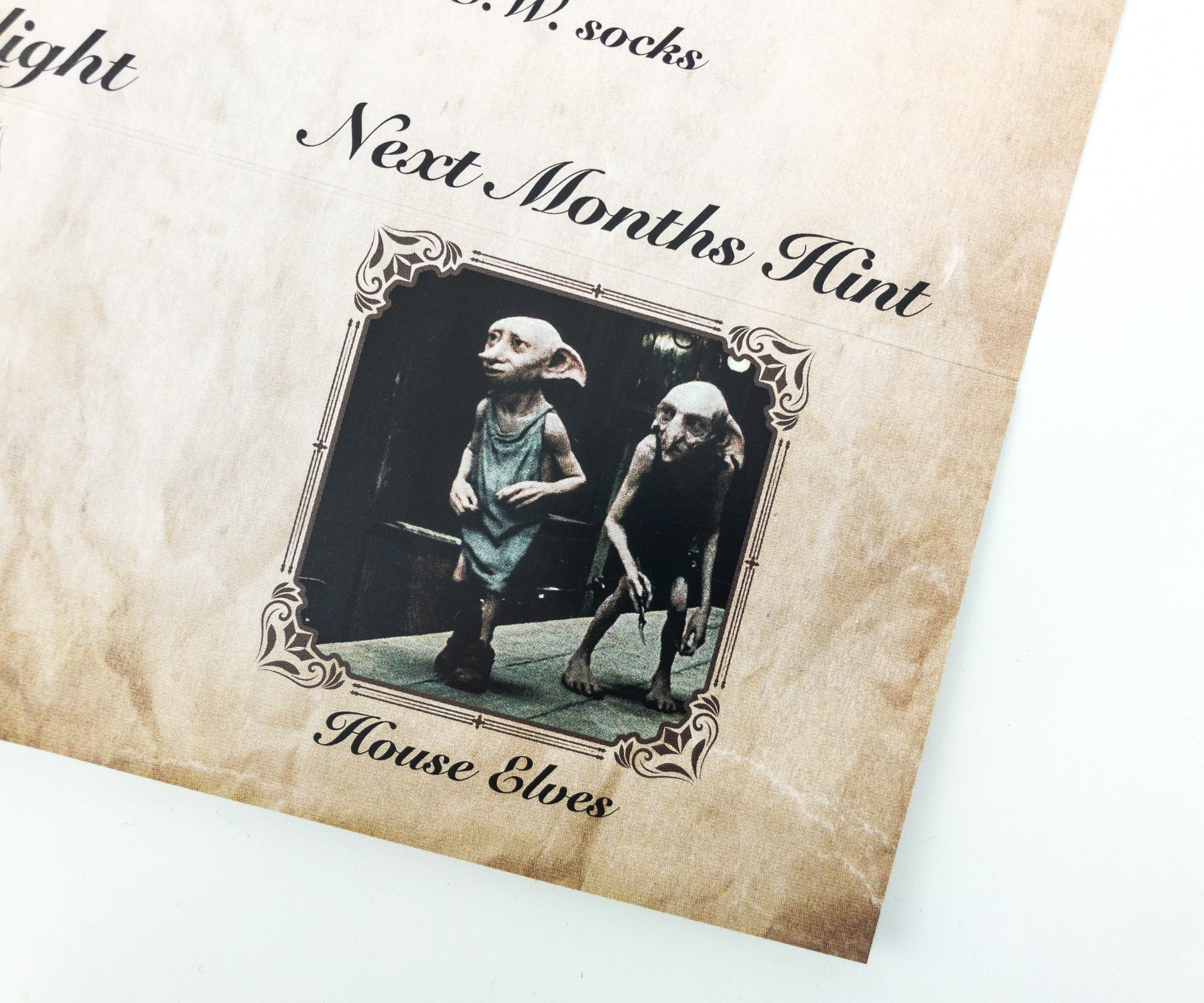 Here's the next month's hint: House Elves!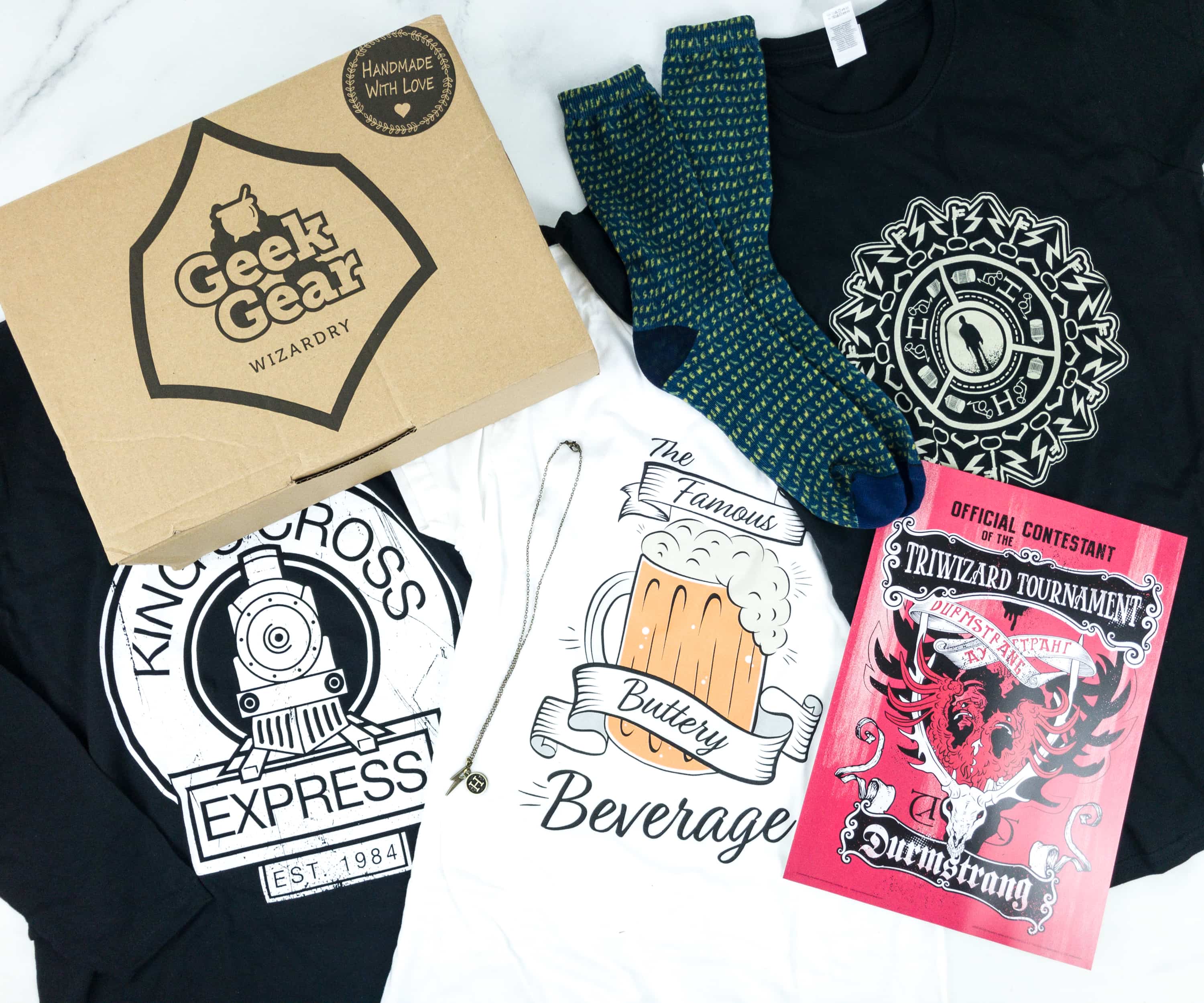 Everything in my box!
Poster. There's a licensed exclusive print in this box, and it features one of the school joining the Triwizard Tournament, Durmstrang!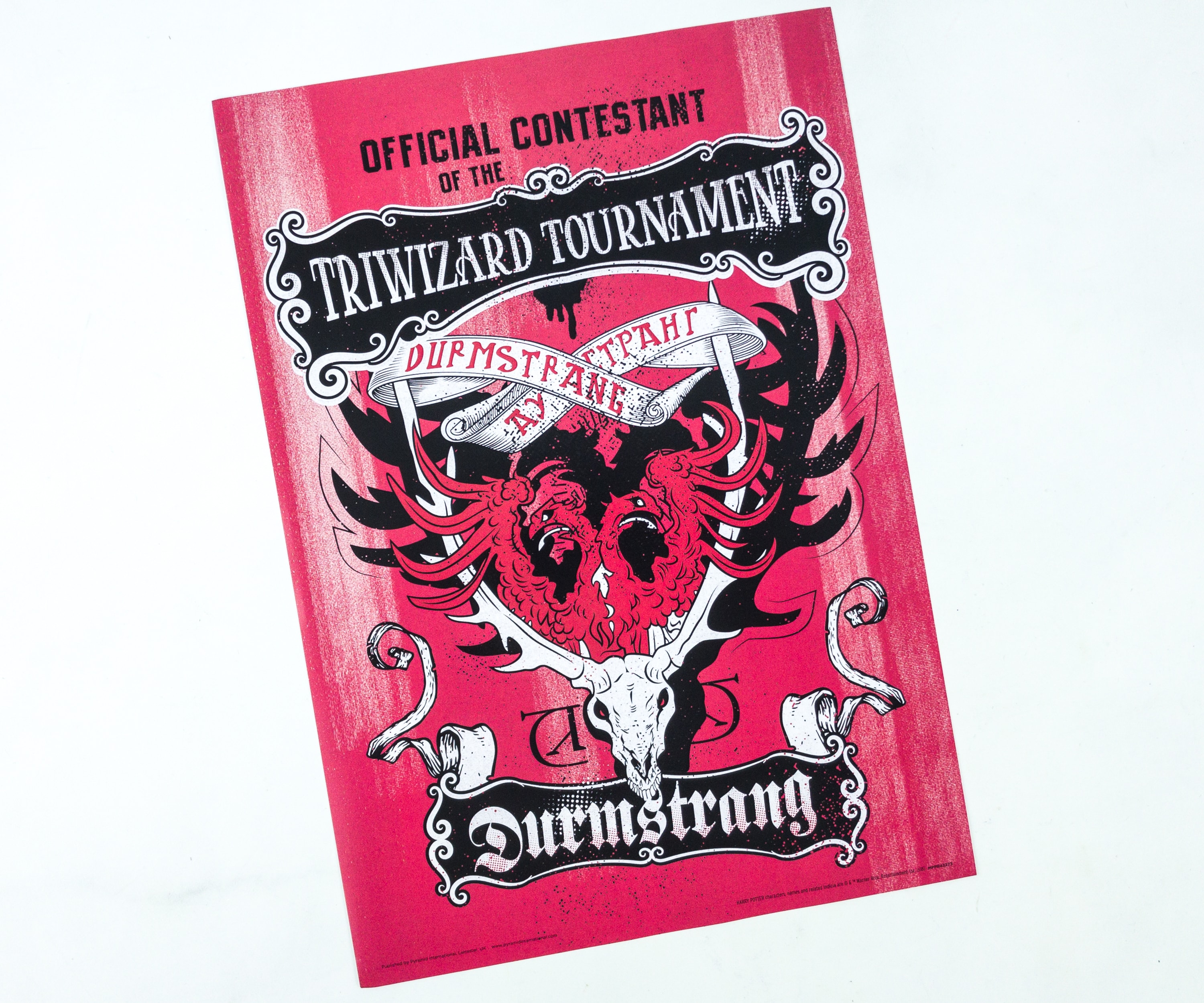 The print has the school's coat of arms which is a double-headed eagle. It also features the school's name in both Latin and Cyrillic script, and it's all in red and white.
Exclusive Lightning Necklace. Here's another nice wearable, an accessory featuring Harry's initial and a lightning bolt as pendant/charm!
It's the missing item from the April 2019 wearables box. It's finally here and I am so happy!
The necklace has a nice fit, and the length is just right.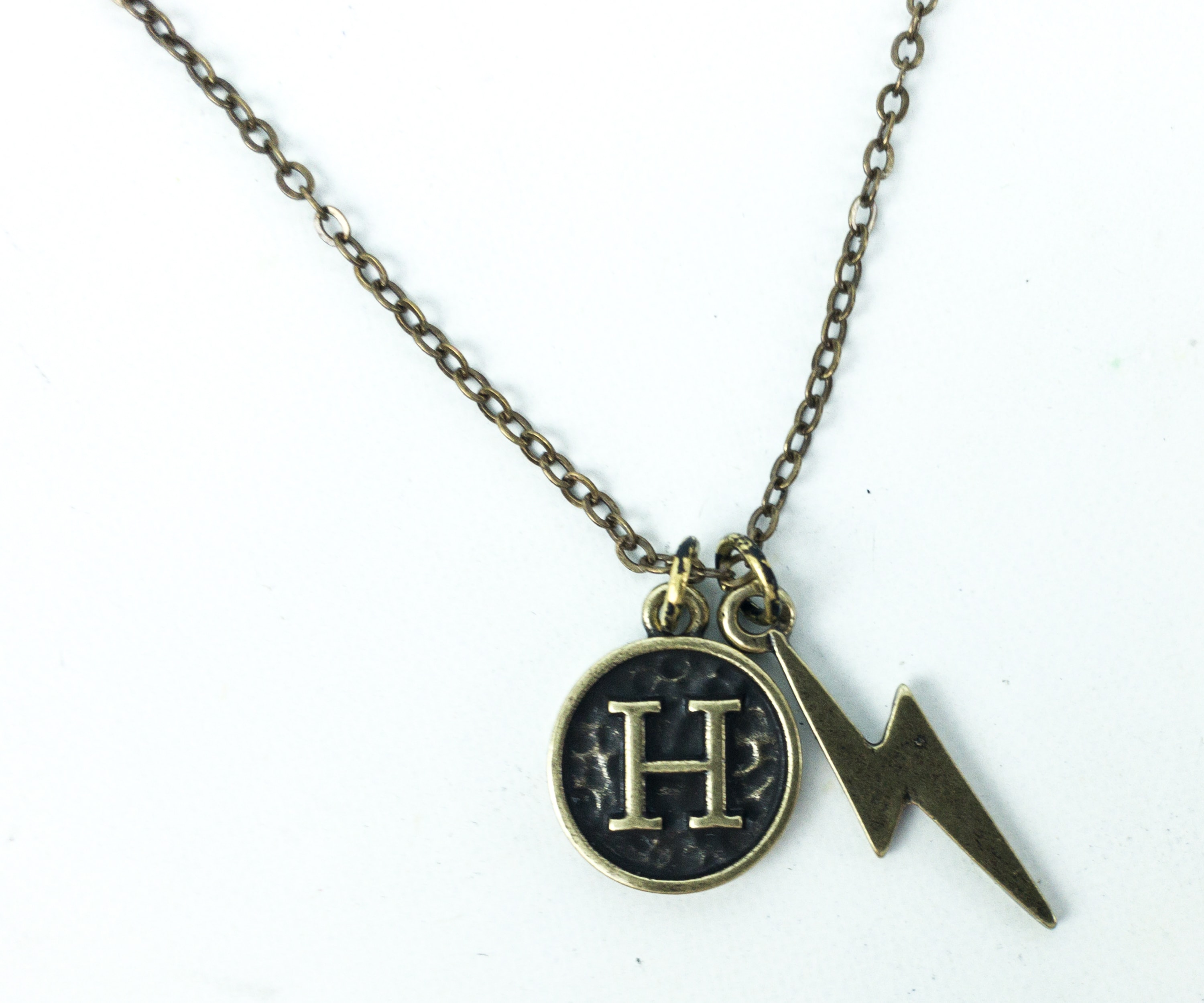 I also like the classic look of the charms. You take off one of the charms and leave just the other if you want to, or add another, whichever works for you as you can freely do anything to this fine accessory. Well, I love it as it is.
Free Elf S.P.E.W. Socks. Society for the Promotion of Elfish Welfare, popularly known as S.P.E.W., is an organization founded by Hermione Granger in response to the injustices in the treatment of House-elves. To honor this organization, the box included a pair of socks!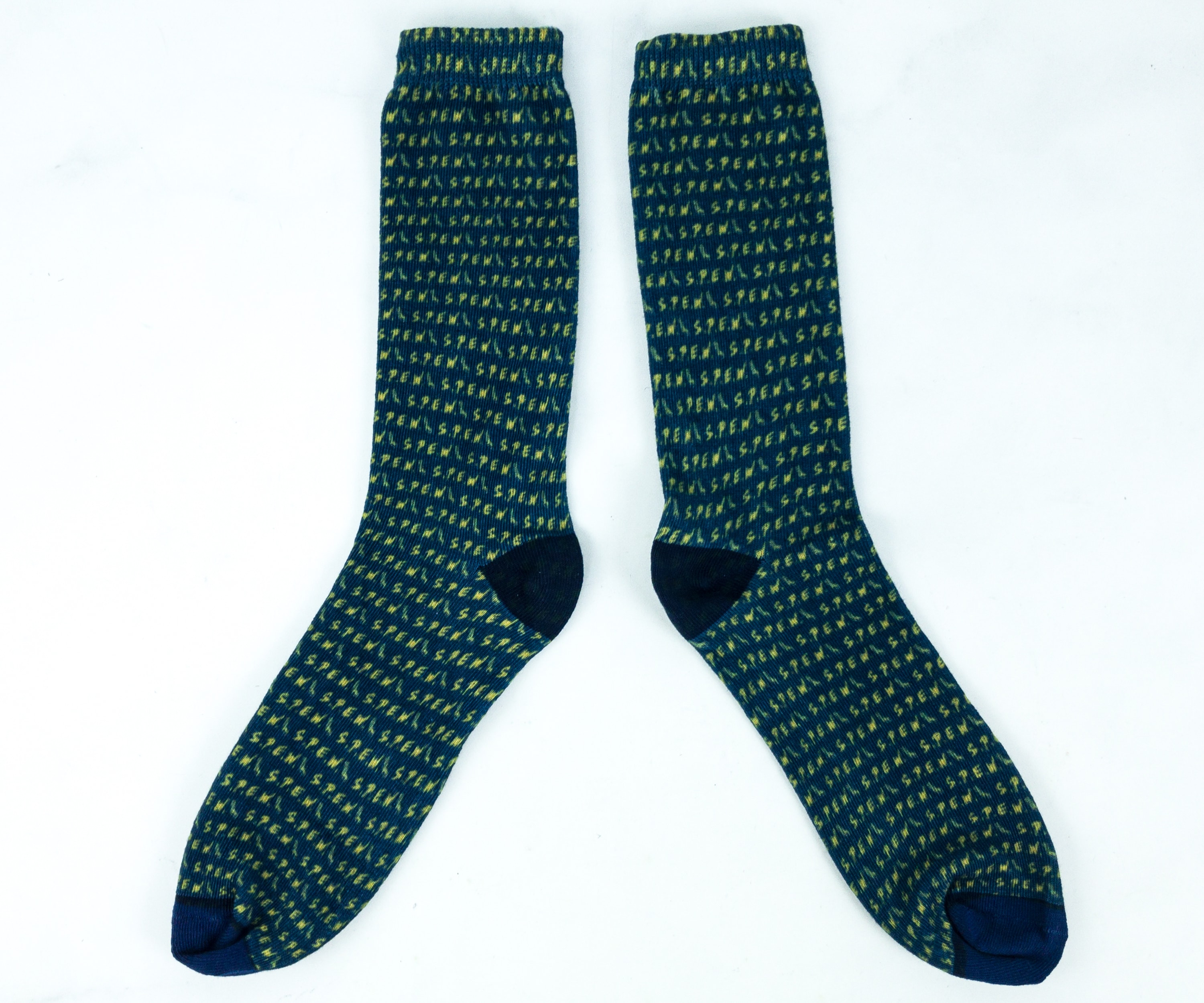 We also know the importance of socks to house elves, just remember how Dobby was freed because of Harry's sock.
The quirky socks are filled with the organization's acronym in yellow. It's a nice comfy pair!
Magical Circle T-Shirt. It's a black shirt with a standout print in white!
The shirt features a magical circle that includes Harry in the middle, and some important Wizardry stuff like Harry's glasses, Hedwig's cage, Harry's initial, keys, lightning bolts, and more!
Tasty Beverage T-Shirt. Butterbeer is really a delight to everyone, wizards and witches alike. There are so many versions of this beverage in the Muggle world, but of course, the best one is found within the Wizarding World!
Not really a fan of white or light colored shirts, but with this kind of fun design, I'm okay with it! I also love how comfy the fit of the shirt is!
King's Cross Long Sleeve T-Shirt. King's Cross Station is one of the most important places in the series, a major rail hub in London, and it is featured in this month's long sleeved top!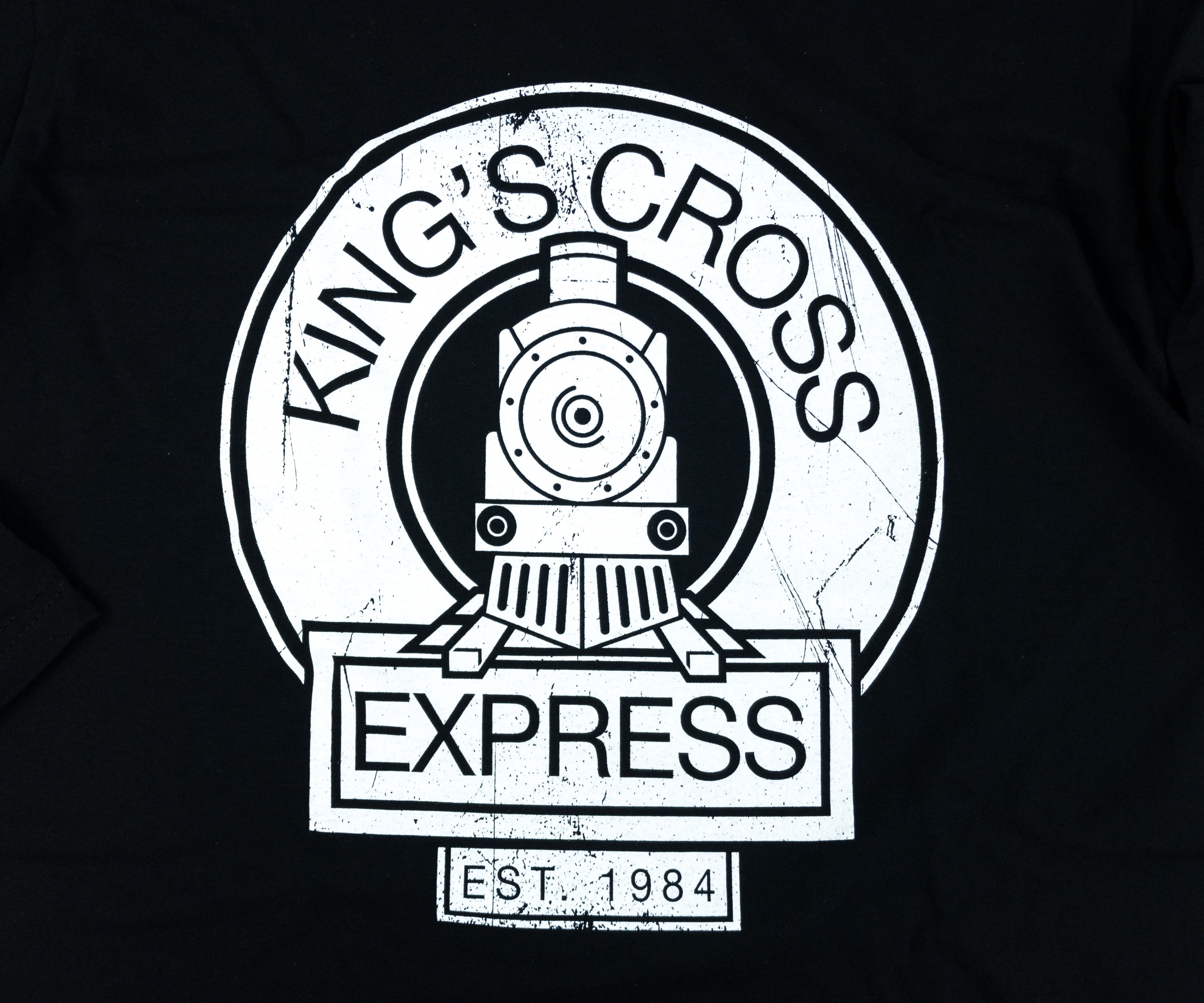 The shirt is also in black and the white print features the train's front. It brings back so many memories from both the book and the film, with the meeting of the deceased Albus Dumbledore and Harry being the most memorable of them all!
First of all, it's so nice to finally get the missing item from the previous box. The necklace is really worth the wait! I also love the set of wearables this month, they even included a pair of socks that represents the House-elves. Long-sleeved tees are turning into regular items in the boxes and I'm also good with it. The shirt designs are getting more interesting and cool in every box that arrives! It's really the perfect subscription for Potterheads who love to show off the fandom by wearing fine clothes that features the Wizarding World. These kinds of wearables always have space inside my closet!
What did you think of this month's Harry Potter Geek Gear box?
Visit Geek Gear World of Wizardry to subscribe or find out more!