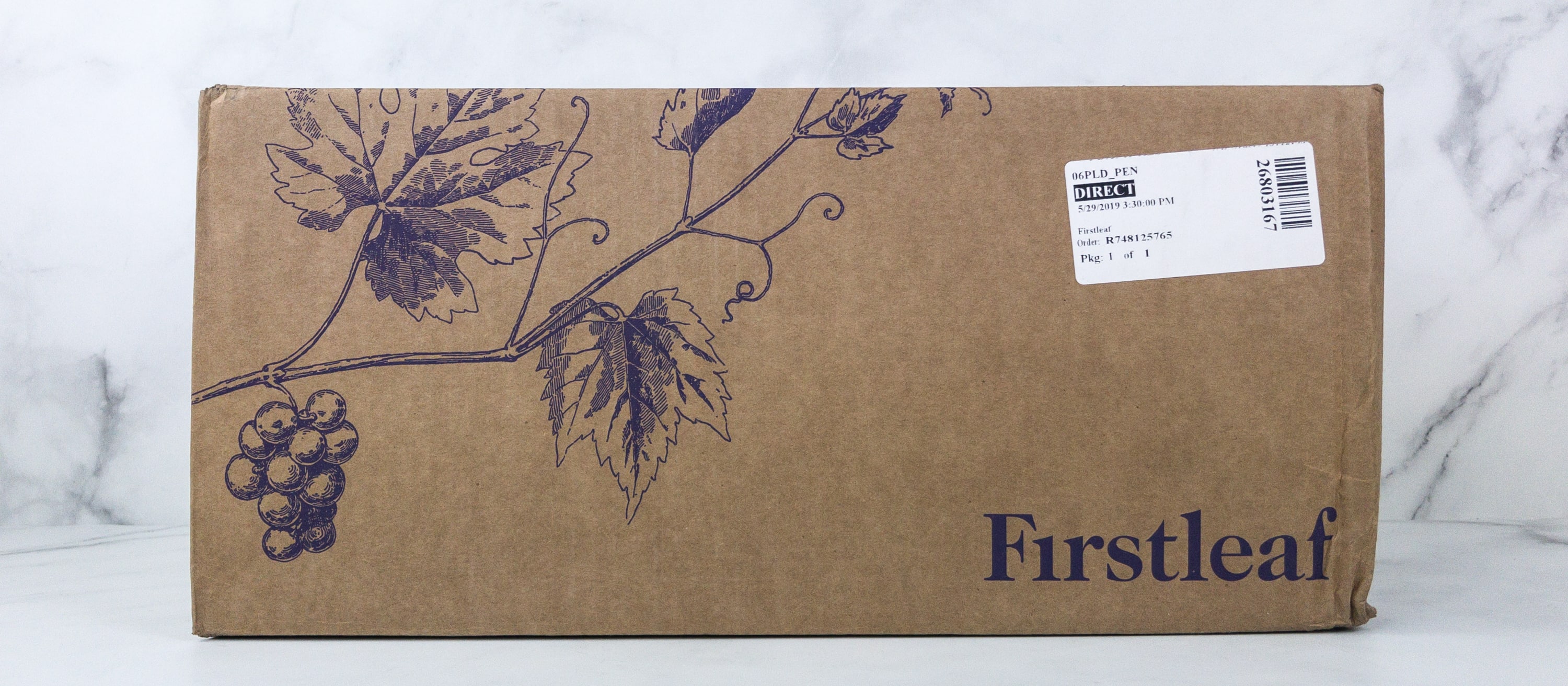 Firstleaf is a wine club subscription that aims to discover your exact wine preferences and ship you that wine. A member's first shipment will be an introductory pack containing 6 bottles of wine. It will be curated based on a few simple questions that you will answer upon sign up. If you rate wines after you receive your box, they'll use their proprietary algorithm to target your exact preferences, getting better and better with every box.
DEAL: The introductory order with 6 bottles of wine is priced at $39.95 + tax and has free shipping, while future boxes will contain 6 bottles for $79.98 + $9.95 shipping and tax. No coupon needed, just use this link to subscribe.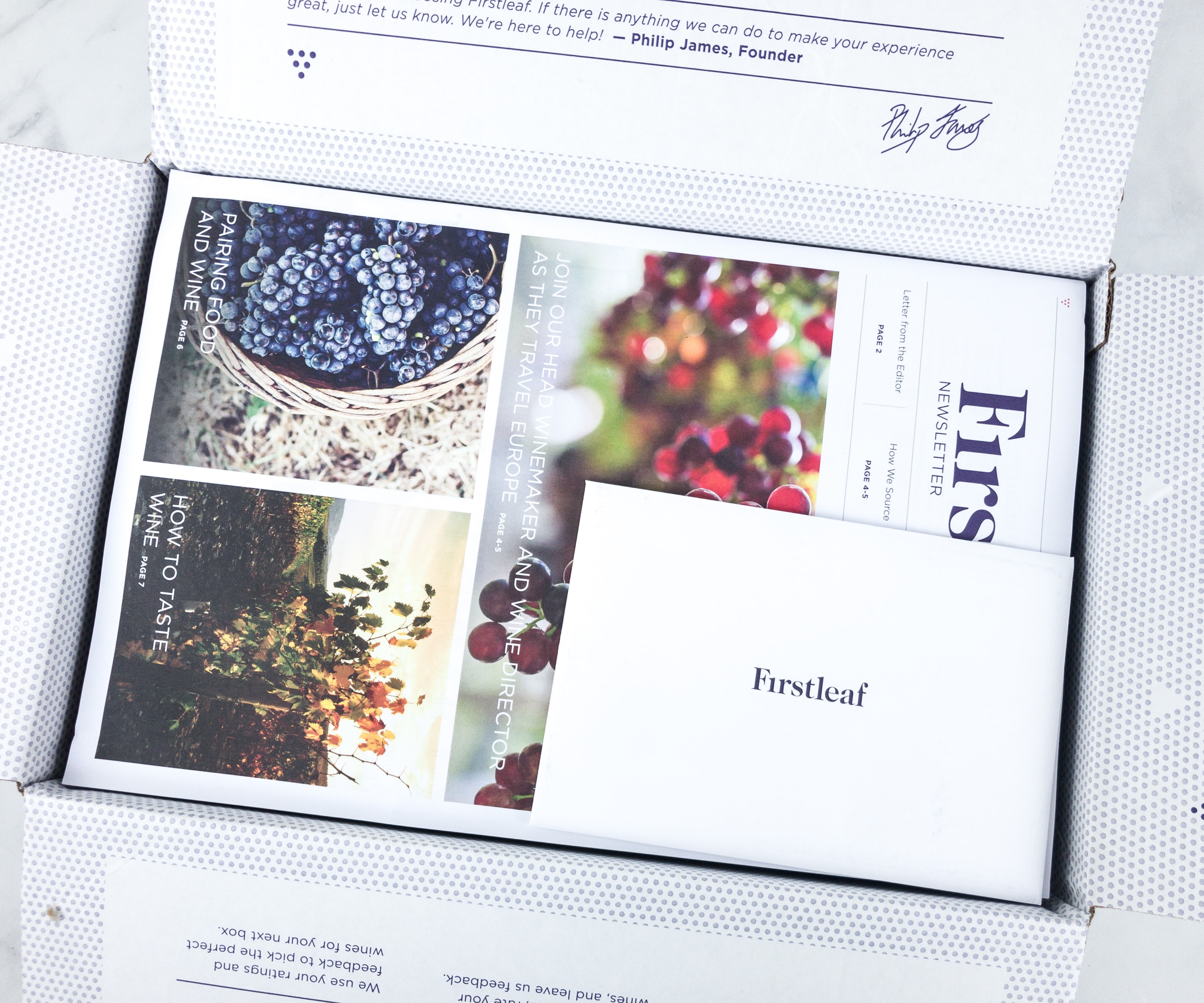 Once you receive your first shipment, you can log into your account and rate the wines in the Previous Boxes section. The more wines you rate, the more closely they can match future shipments to your tastes. Instead of sorting you into broad categories, Firstleaf performs a chemical analysis of all their wines, and uses your ratings to narrow down your predicted reactions to each flavor component.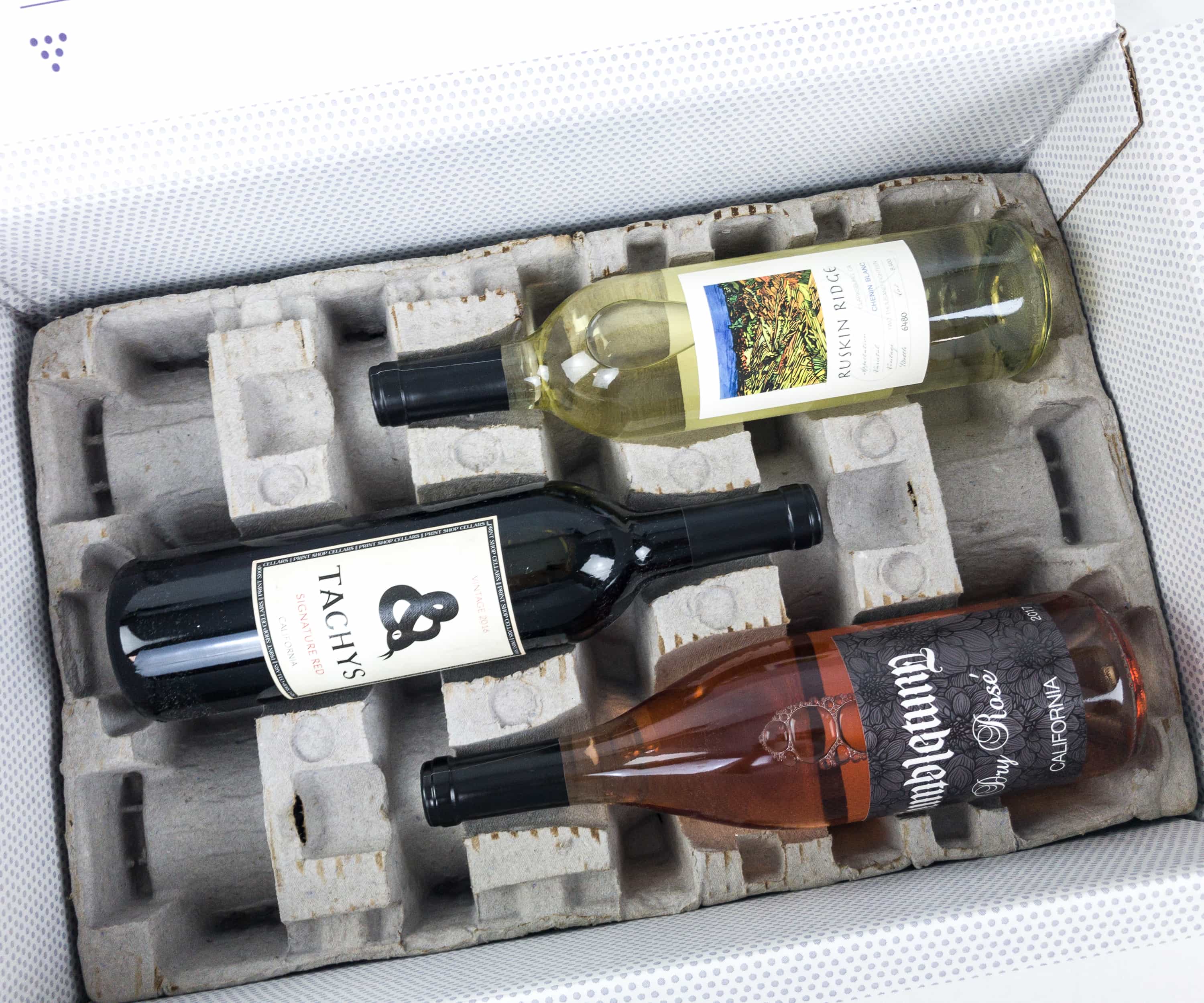 The wine bottles arrived in perfect condition.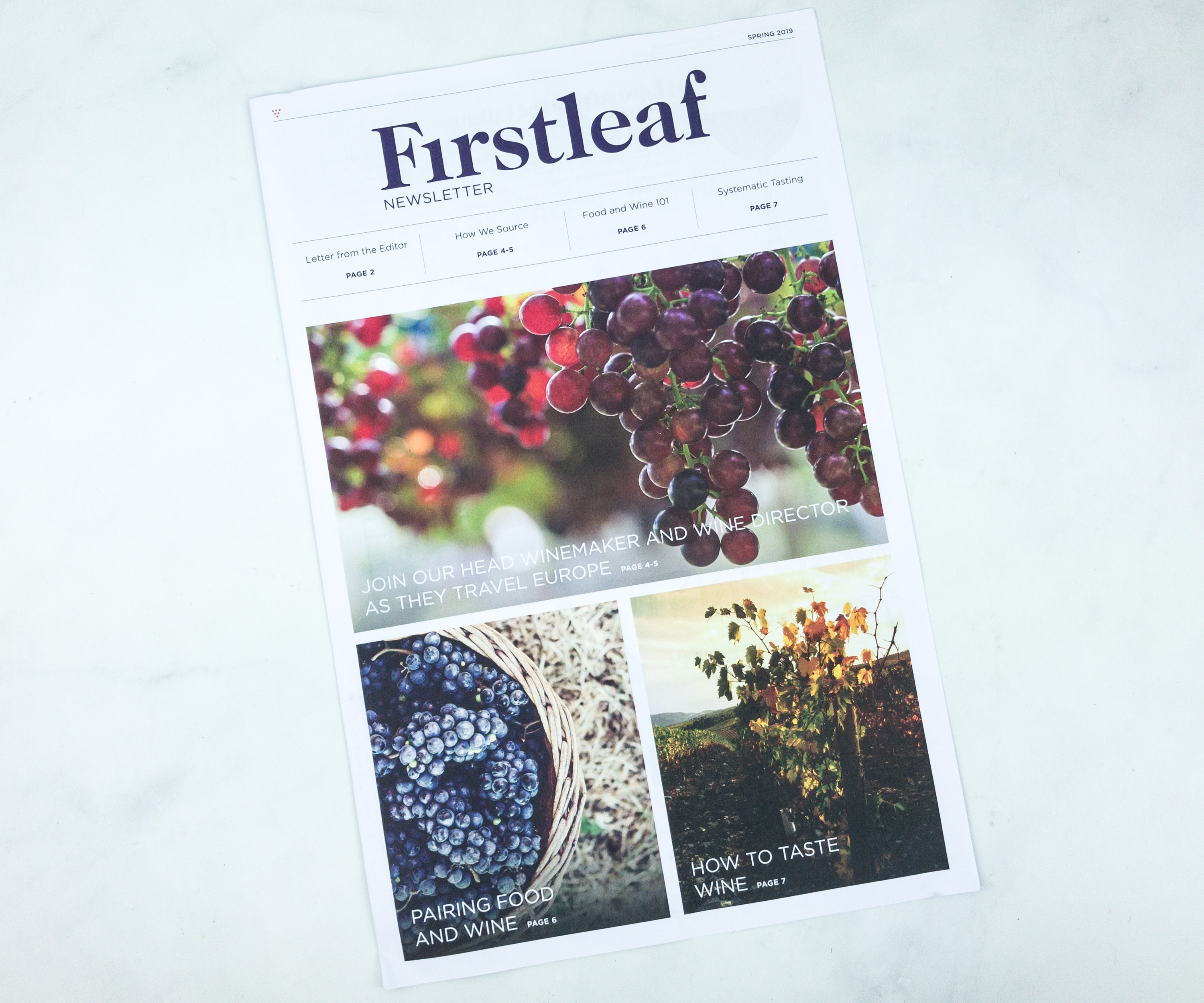 This month's box also includes an exclusive booklet from Firstleaf.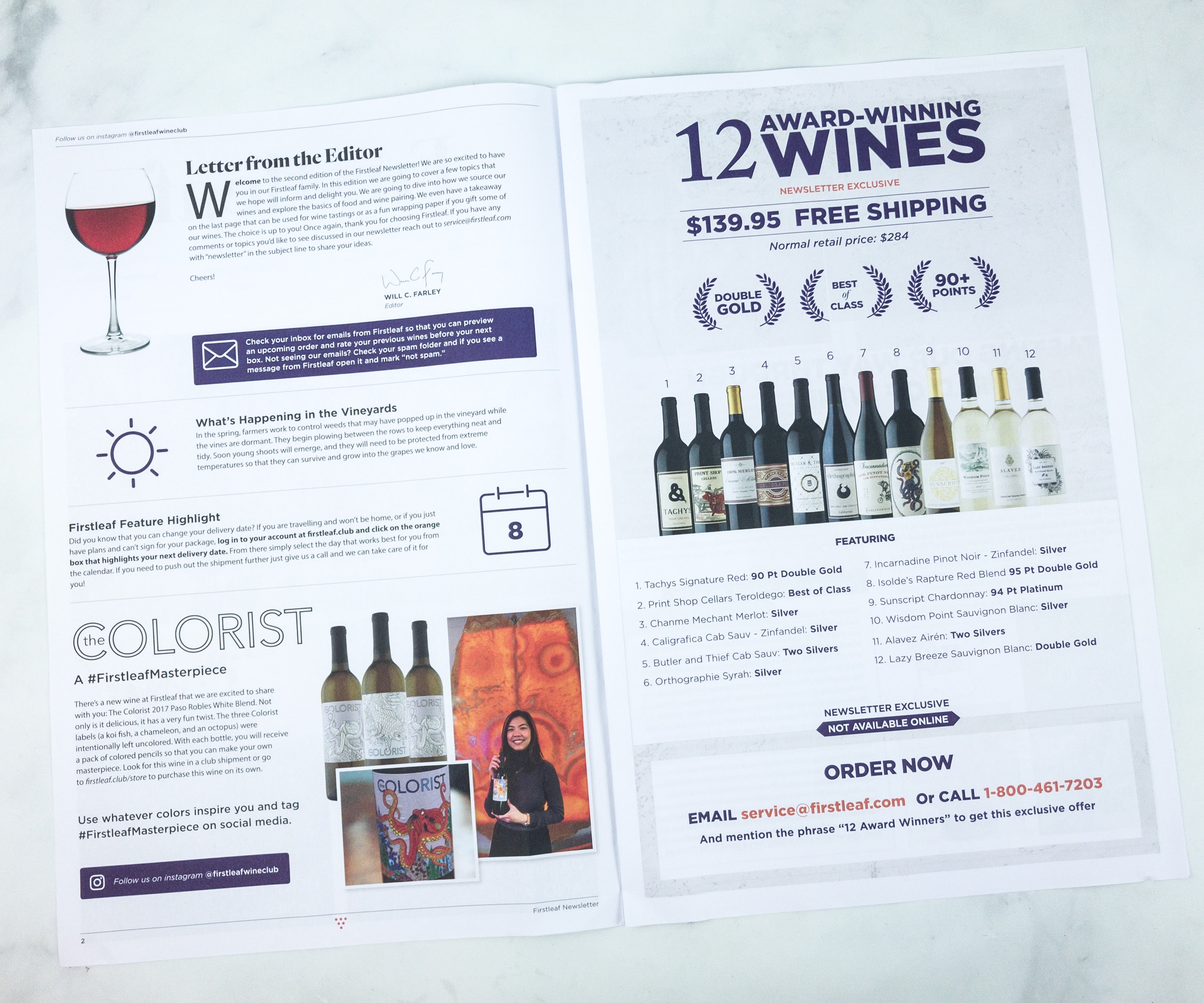 The first part of the booklet features a Letter from the Editor, some Firstleaf highlights, and the 12 award-winning wines that include a double gold, best of class, and 90+ points ratings!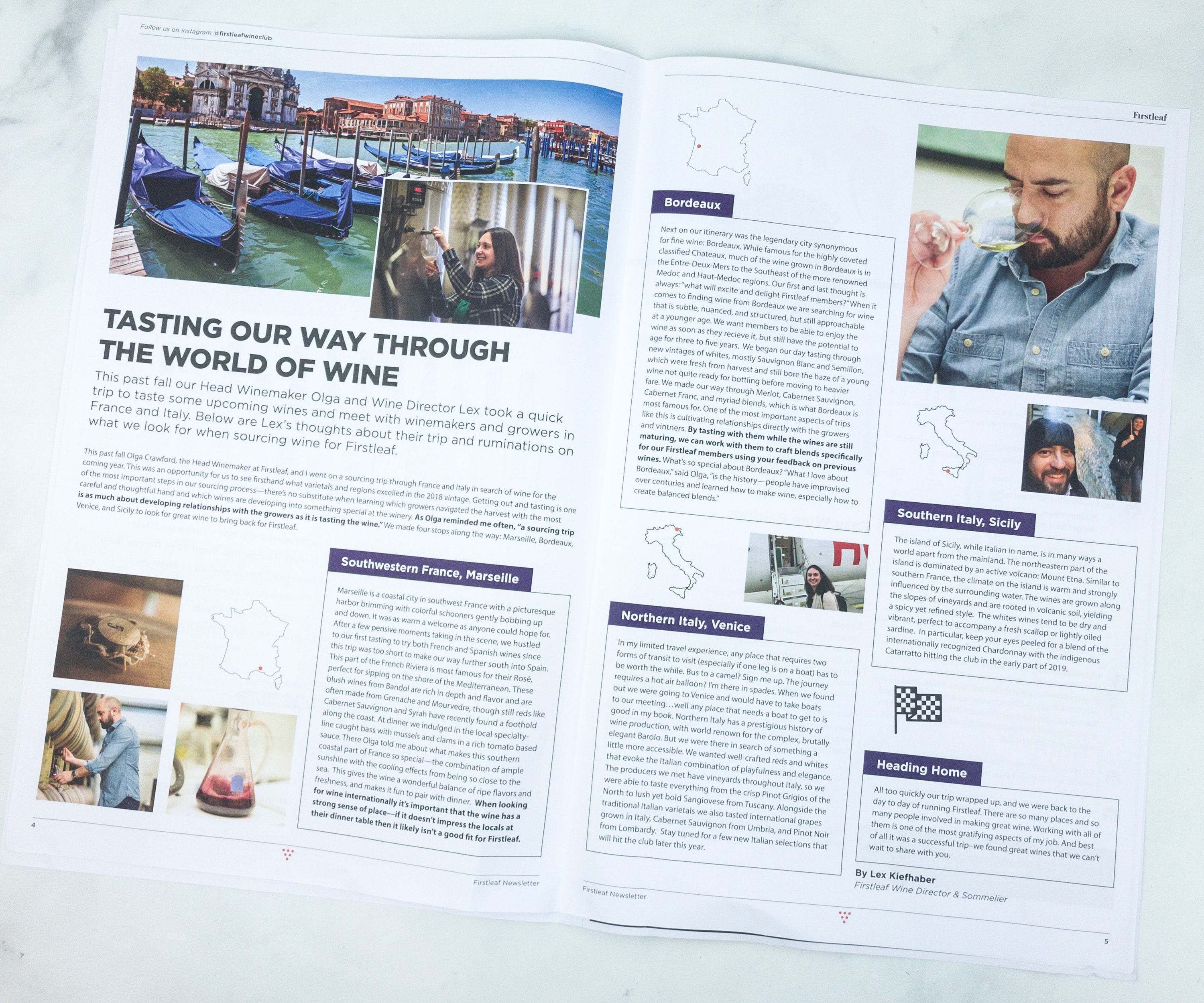 There's also an interesting article about wines from France and Italy!
Another feature is about food and wine pairings.
The Golden Rule: Drink what you like with the food you like. If you like having a wine with a certain food, keep enjoying it guilt-free!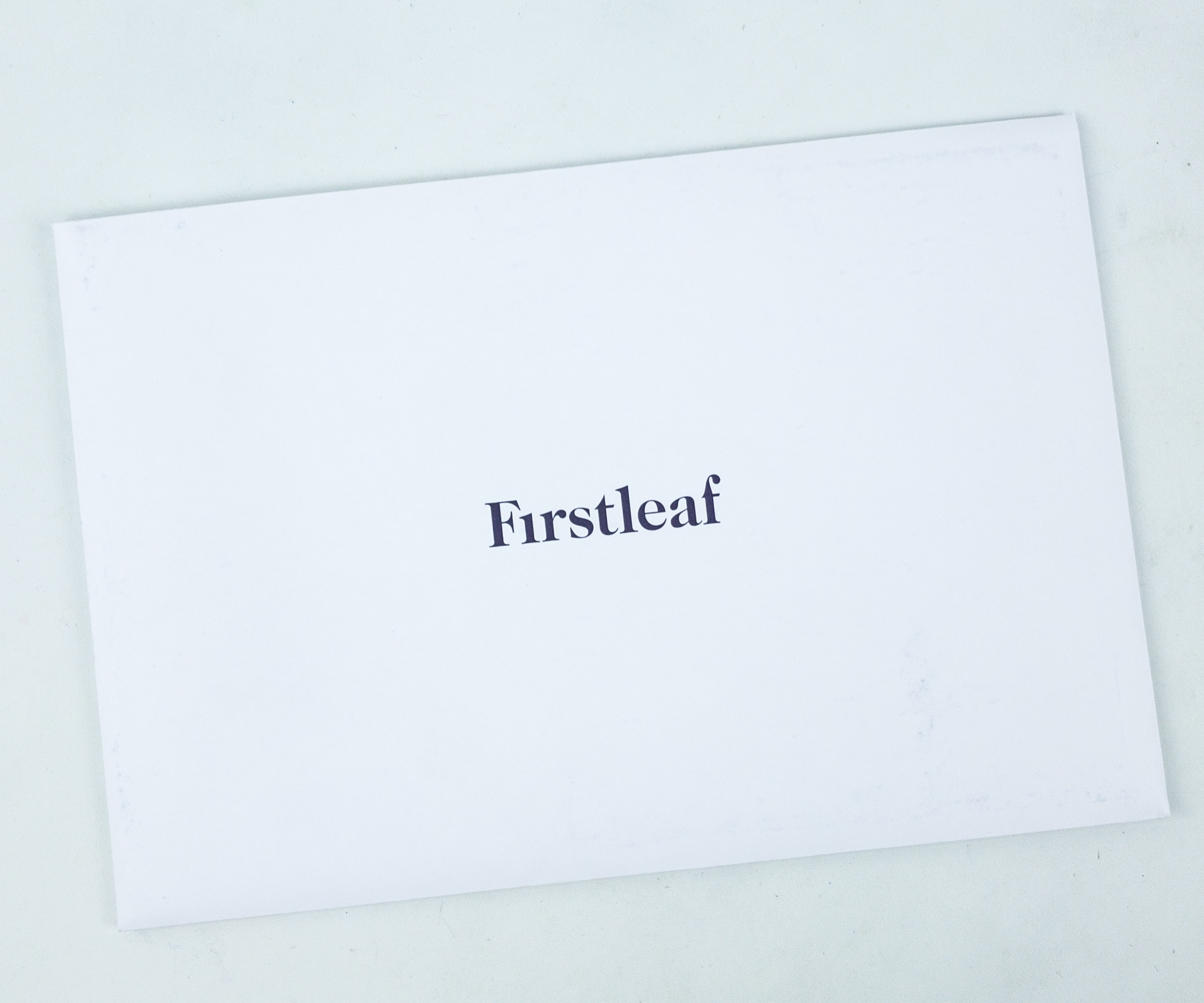 This white envelope contains info cards about this month's featured wines.
Each card has a picture of great scenery related to the wine or the place where it came from.
Everything in my box!
First up, we got three bottles of white wines from California, South Africa, and Argentina, respectively!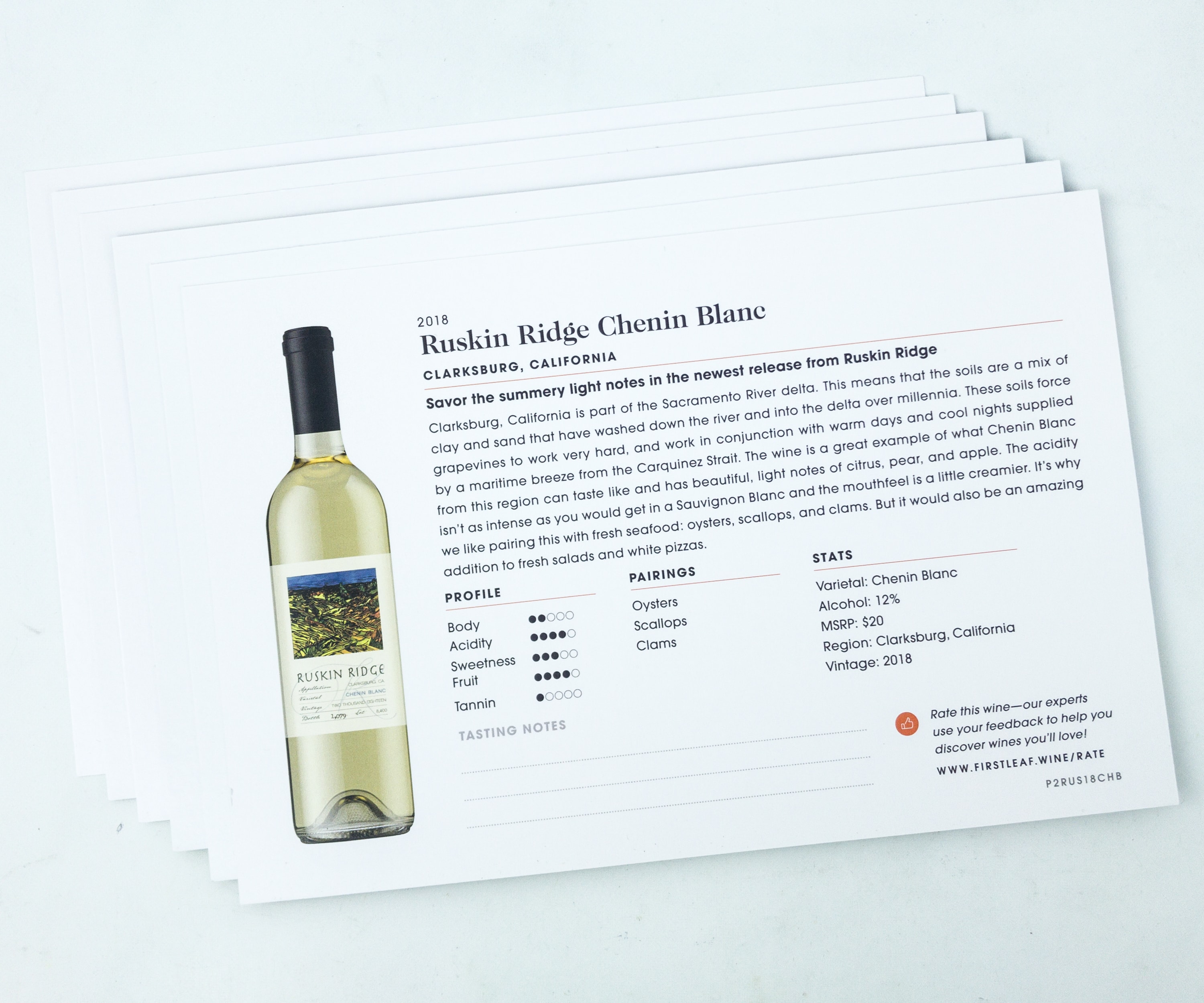 2018 Ruskin Ridge Chenin Blanc ($18)
Savor the summery light notes in the newest, 92 point release from Ruskin Ridge. Clarksburg, California is part of the Sacramento River delta. This means that the soils are a mix of clay and sand that have washed down the river and into the delta over millennia. These soils force grapevines to work very hard and work in conjunction with warm days and cool nights supplied by a maritime breeze from the Carquinez Strait. The wine is a great example of what Chenin Blanc from this region can taste like and has beautiful, light notes of citrus, pear, and apple. The acidity isn't as intense as you would get in a Sauvignon Blanc and the mouthfeel is a little creamier. It's why we like pairing this with fresh seafood: oysters, scallops, and clams. But it would also be an amazing addition to fresh salads and white pizzas. We are also happy to report that it recently came home with 92 points and a Silver medal at the 2019 New York International Wine Competition and another Silver from the 2019 Critics Challenge!

The mouthfeel of this Chenin Blanc from California is delicate yet vibrant, making it a great wine for summer.
I like the balance of flavors, with tropical fruits and citrus notes that settle easily whether you enjoy it on its own or with fresh seafood.
2018 Apeloko Chenin Blanc South Africa ($18)
Taste the fruit of the Apeloko farmers in this South African Chenin Blanc. Apeloko directly translates to "the man who stays late at the farm," and sometimes that's what it takes to make a truly amazing wine. This South African Chenin Blanc comes from decades-old vines that produced hearty grapes for a wine with beautiful notes of Fuji apple, candied lemon, and a vibrant acidity. It's a concentrated Chenin Blanc that is still easy to enjoy. The flavors and acidity can stand up to some very rich foods. We want to try this with pâté, fresh tuna, and roasted chicken at the end of a long day's work. The winery responsible for making this wine is Babylon's Peak, which is nestled on the slopes of the Paardeberg Mountains. It's a family-run cellar currently in its fourth generation. Winemaker Stephen Basson uses his upbringing at the vineyard to drive his winemaking process and focuses on making wines that truly represent the terroir of South African soils. Judges love it too! It took home a Silver from the 2019 Monterey International Wine Competition.
This white wine from South Africa is sweet and light-bodied, with delightful notes of green apple and lemon.
The fruit is supported by a balanced mouthfeel. I also like its crisp and light finish that pairs well with grilled food.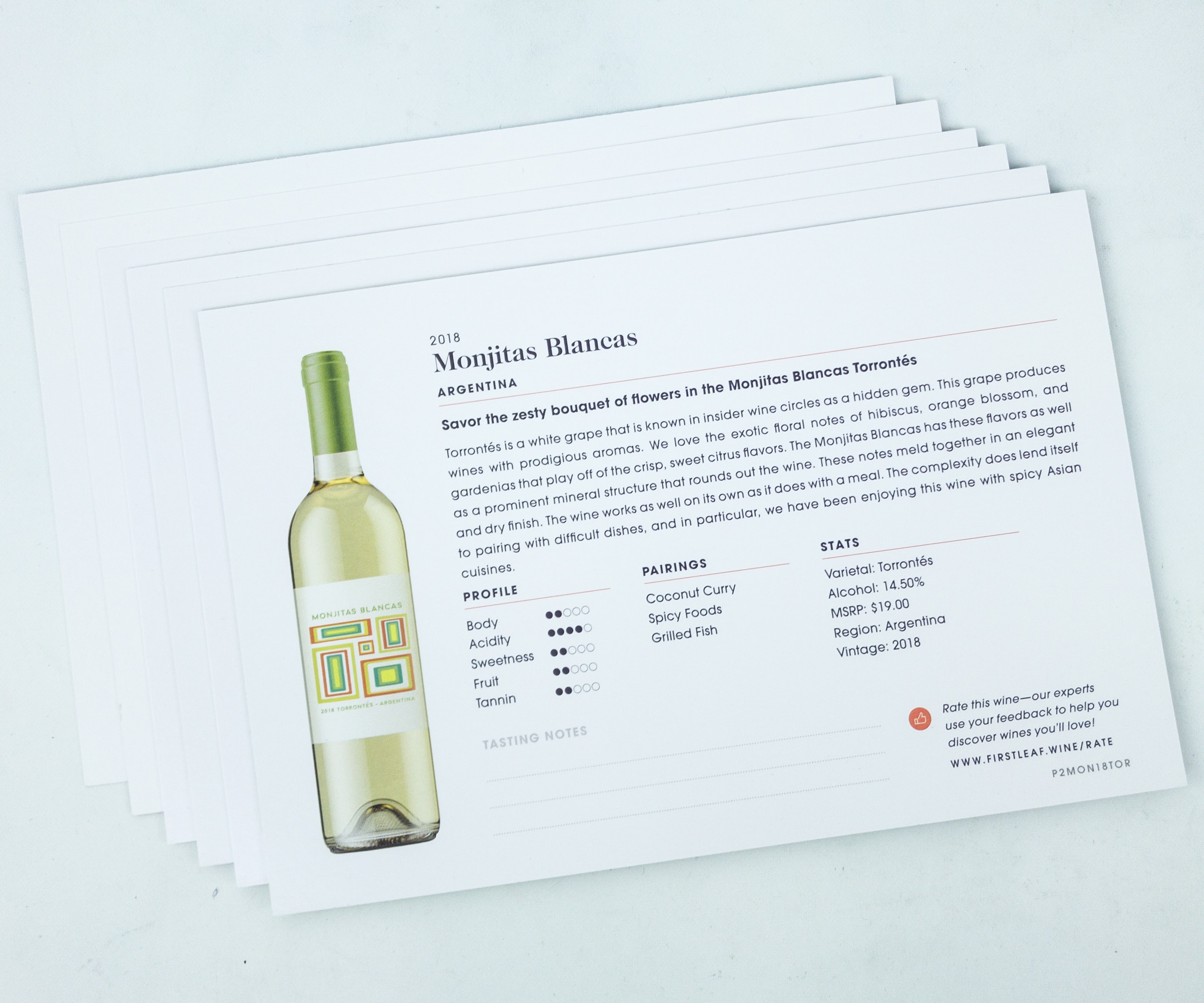 2018 Monjitas Blancas Argentina ($17.99)
Savor the zesty bouquet of flowers in the Monjitas Blancas Torrontés. Torrontés is a white grape that is known in insider wine circles as a hidden gem. This grape produces wines with prodigious aromas. We love the exotic floral notes of hibiscus, orange blossom, and gardenias that play off of the crisp, sweet citrus flavors. The Monjitas Blancas has these flavors as well as a prominent mineral structure that rounds out the wine. These notes meld together in an elegant and dry finish. The wine works as well on its own as it does with a meal. The complexity does lend itself to pairing with difficult dishes, and in particular, we have been enjoying this wine with spicy Asian cuisines. Judges love it too. It took home 93 Points and a Double-Gold Medal at the 2019 International Eastern Wine Competition.

It's another award-winning wine and this time it's from Argentina! It features a floral bouquet with a good backbone of acidity.
Monjitas Blancas also boasts of subtle fruity notes of kiwi, lime, and green papaya, which ends with a dry finish. It's a great wine to pair with grilled fish and spicy food.
Next up, 2 bottles of rosé and a bottle of red wine!
2016 Print Shop Cellars Tachys Signature Red ($20.80)
Taste the artistry of blending in the 90 point, Double Gold medal winning Print Shop Cellars Tachys Signature Red. Printmaking and winemaking have a lot in common. Both take a combination of artistry, skill, and a drive for perfection. In both, a lot can go wrong, but real artisans turn out works worthy of our notice. Print Shop Cellars honors the hard work that goes into artistry of all types. This wine is a combination of two of our favorite grapes: Petit Verdot and Petite Sirah. Together they combine to show beautiful blue fruits, a velvety texture, and lively structure. About a third of these grapes come from Lake County from vines that are influenced by Clear Lake, the largest inland lake in California. This is the kind of wine that showcases the complexity that can come from these types of grapes when they are picked and blended with an artist's precision. Judges love it too! It took home a Double gold medal from the 2018 Harvest Challenge. That means that judges voted unanimously to award it gold, and 90 points and another Gold medal from the 2019 Winemaker Challenge!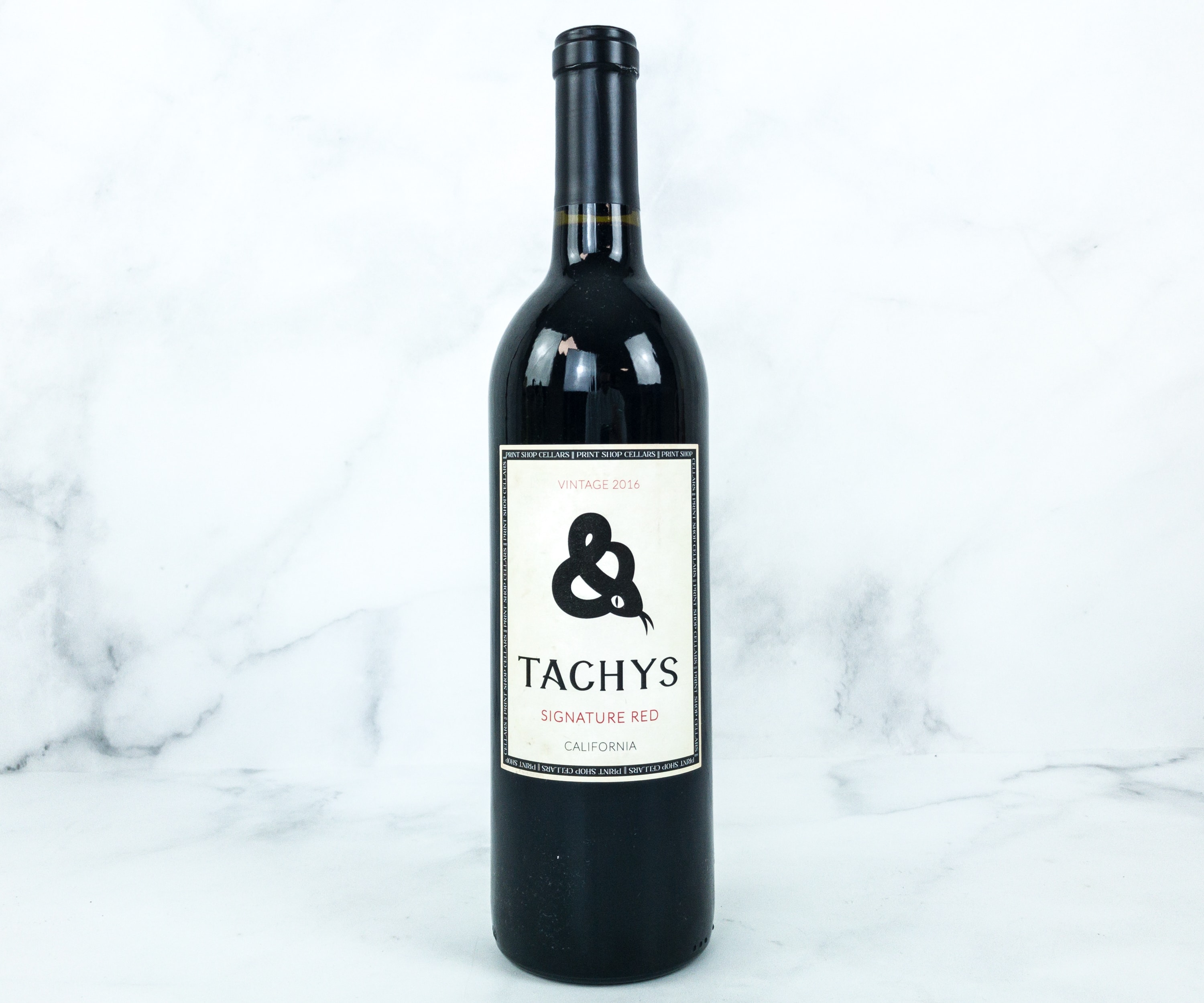 This wine's acidity blends into the wine's great structure and tannins, giving us a harmonious and satisfying mouthfeel.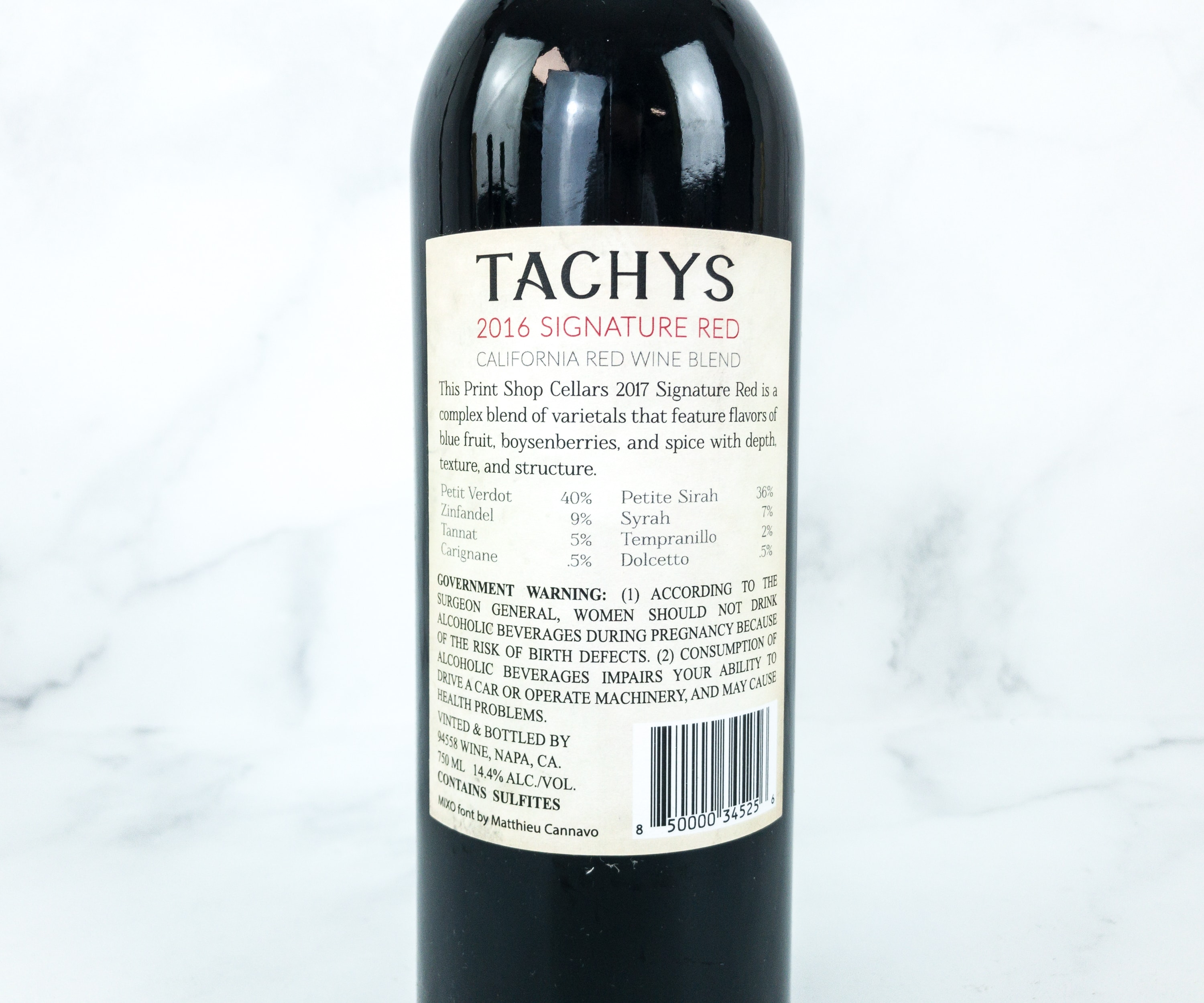 Intense notes of blackcurrant, blueberry, and spices are punctuated with a rich oak finish. If you're red wine fanatic, you'll love the casual sophistication of this one!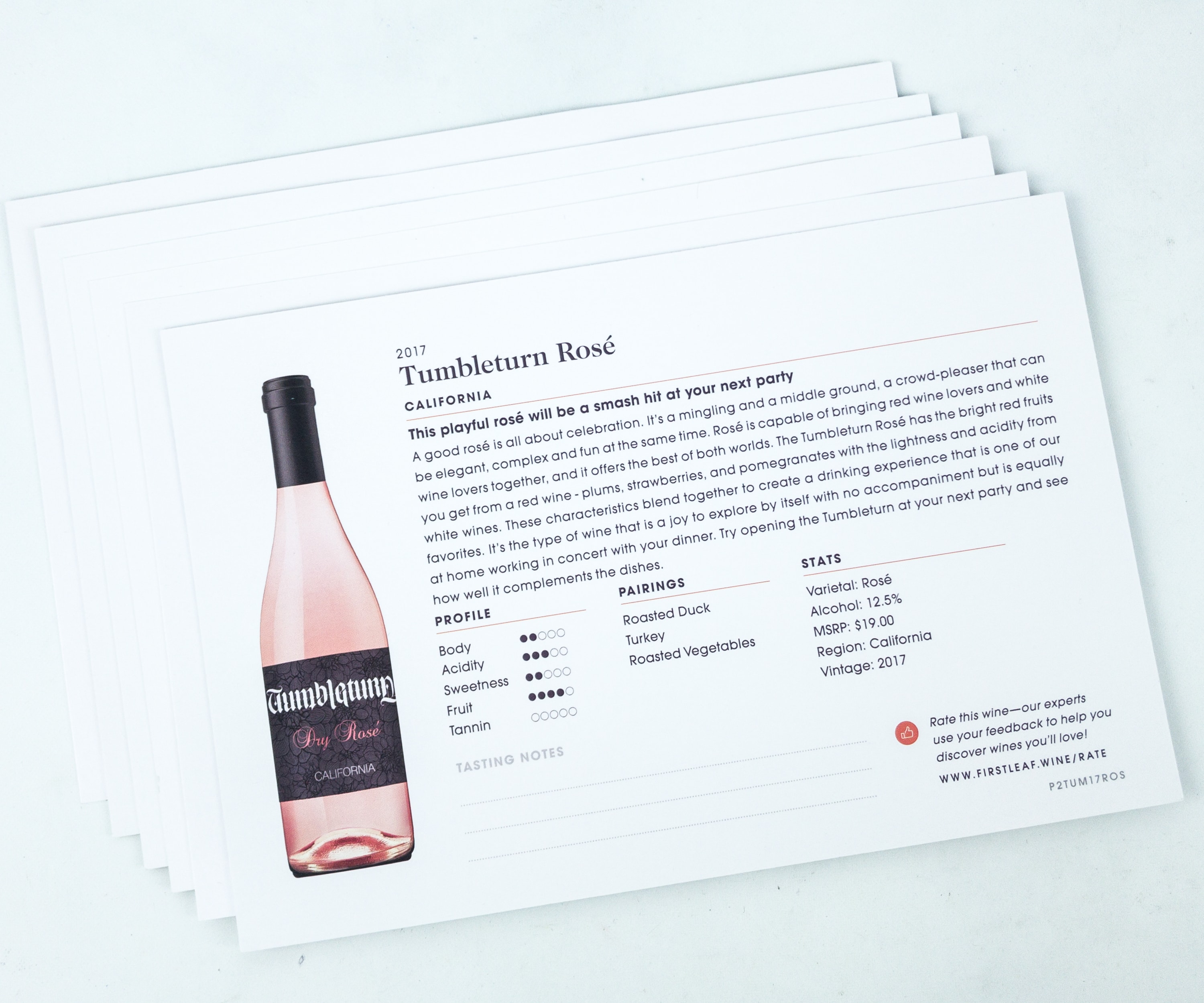 2017 California Tumbleturn Rose ($17.99)
This playful, award-winning rosé will be a smash hit at your next party. A good rosé is all about celebration. It's a mingling and a middle ground, a crowd-pleaser that can be elegant, complex and fun at the same time. Rosé is capable of bringing red wine lovers and white wine lovers together, and it offers the best of both worlds. The Tumbleturn Rosé has the bright red fruits you get from a red wine – plums, strawberries, and pomegranates with the lightness and acidity from white wines. These characteristics blend together to create a drinking experience that is one of our favorites. It's the type of wine that is a joy to explore by itself with no accompaniment but is equally at home working in concert with your dinner. Try opening the Tumbleturn at your next party and see how well it complements the dishes. And it took home a Silver medal from the 2019 West Coast Wine Competition.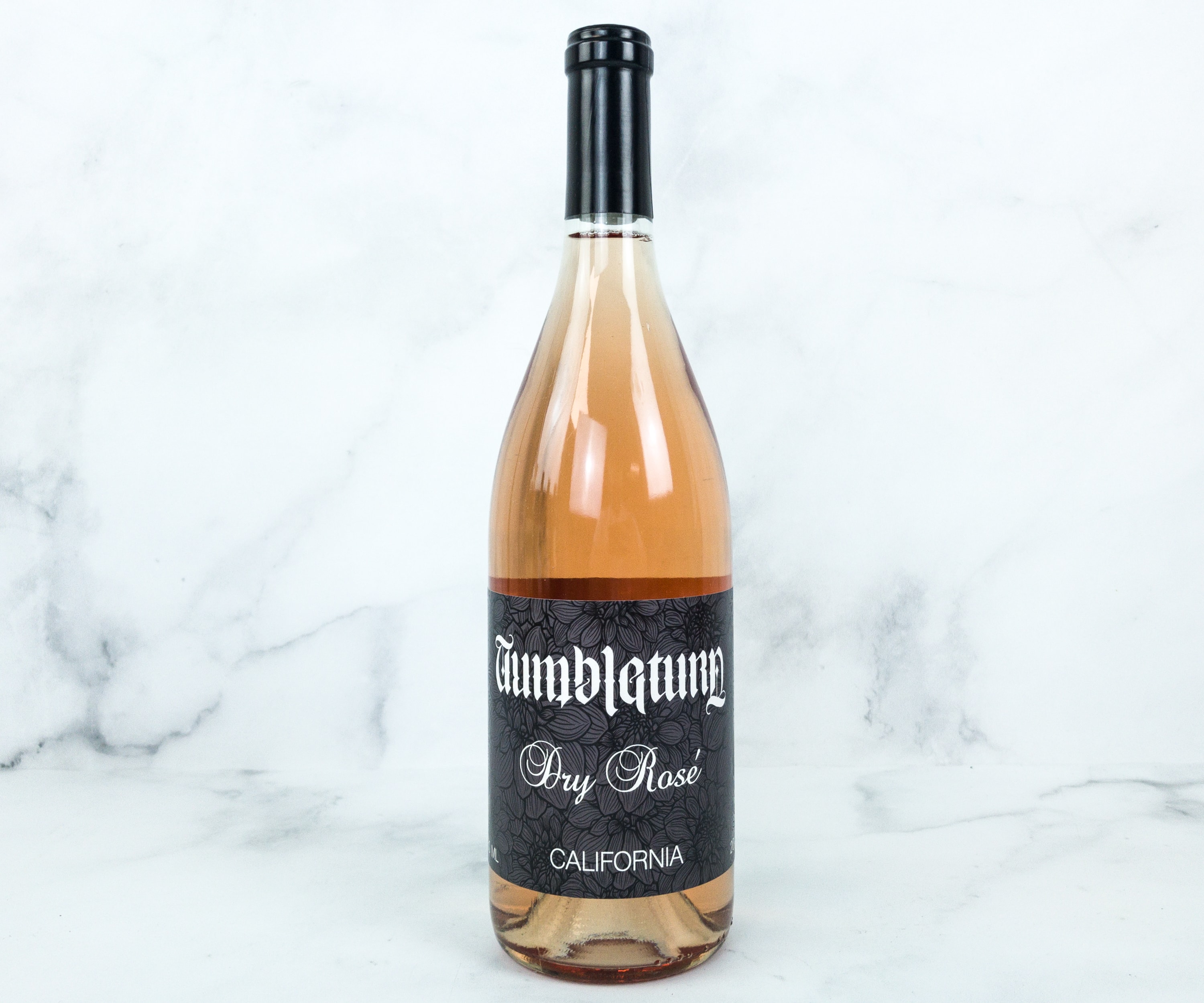 This rosé exhibits vibrant fruity flavors that easily satisfies the palate. It's a great everyday wine!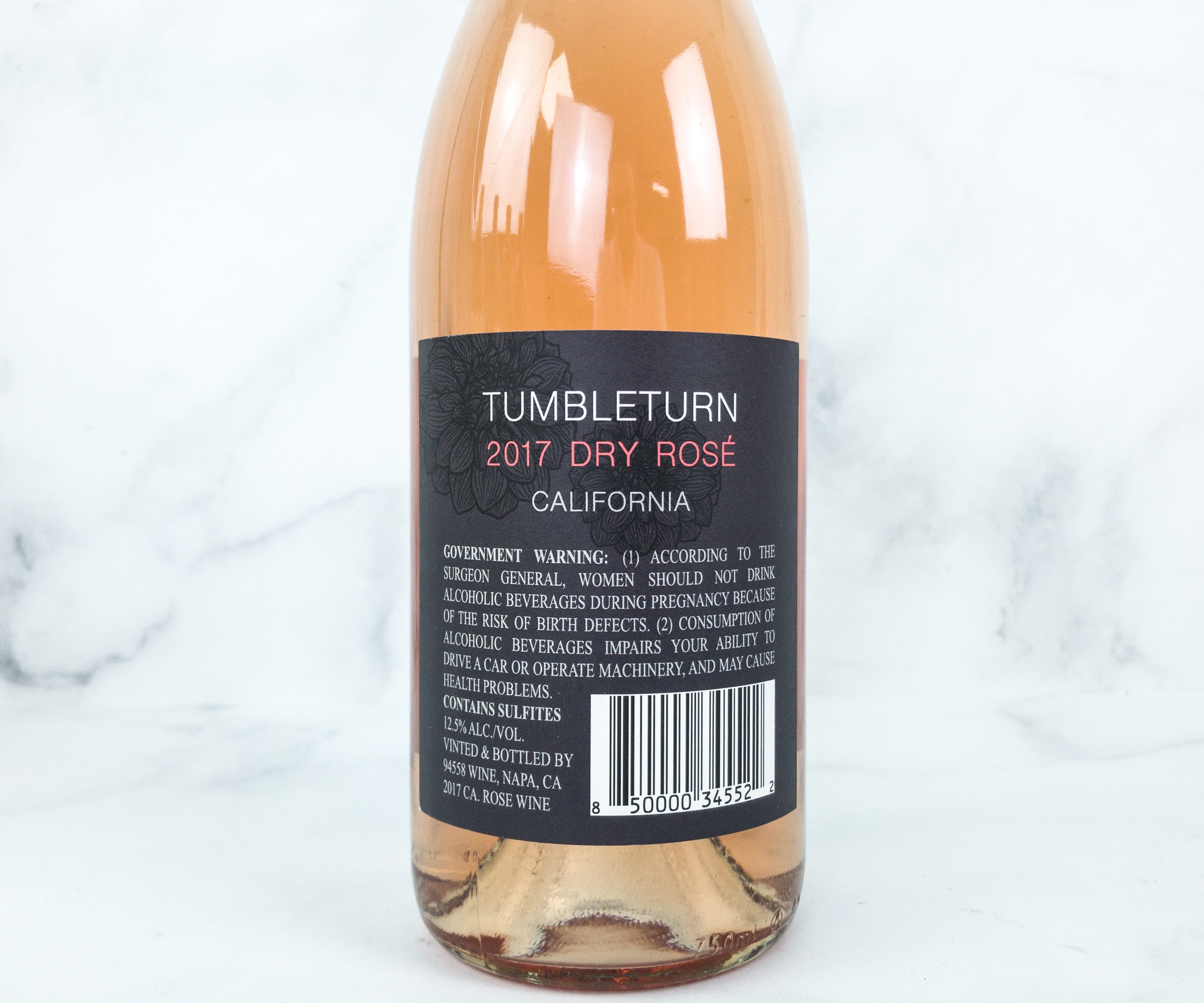 The smoothness and elegance of the wine provide for a wide range of food pairings, including vegetables and poultry.
2017 Bodwell Rose of Pinot Noir ($16.20)
Give back to communities in need while enjoying this 91 point, Gold medal winning Rosé. Bodewell wines put a premium on place. It's why they only source wine from interesting and unique appellations, and it's why $1 from every bottle sold goes to the charity Wine to Water to support their global mission to provide access to clean water to communities in need. You can enjoy this refreshing and elegant Rosé while knowing you are making a difference. This Rosé is made with 100% Pinot Noir grapes from Mendocino, California which results in a flavorful, dry wine with bright notes of cherry and strawberry that really pop. It also gets some of the subtle earth notes present in Pinot Noir which makes pairing a snap. And it took home Gold at the 2018 Denver International Wine Competition and 91 points and a Gold from the 2019 West Coast Wine Competition.
Bright fruit flavors of strawberry and cherry are beautifully complemented by subtle earthy notes, making this rosé satisfying. It also makes an ideal companion at the dinner table.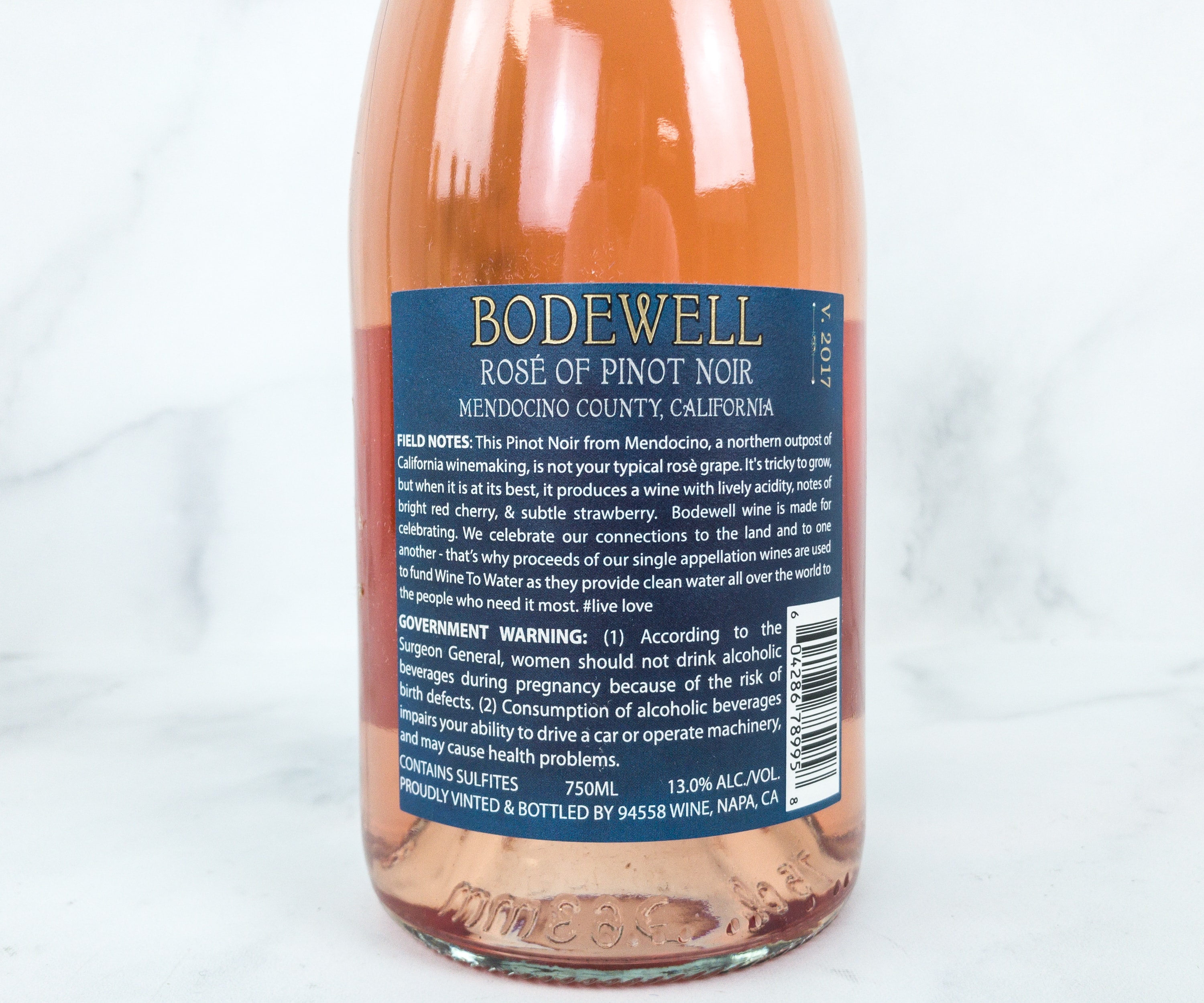 I like its smooth, lingering finish. There's no wonder it was consistently praised for high quality and value!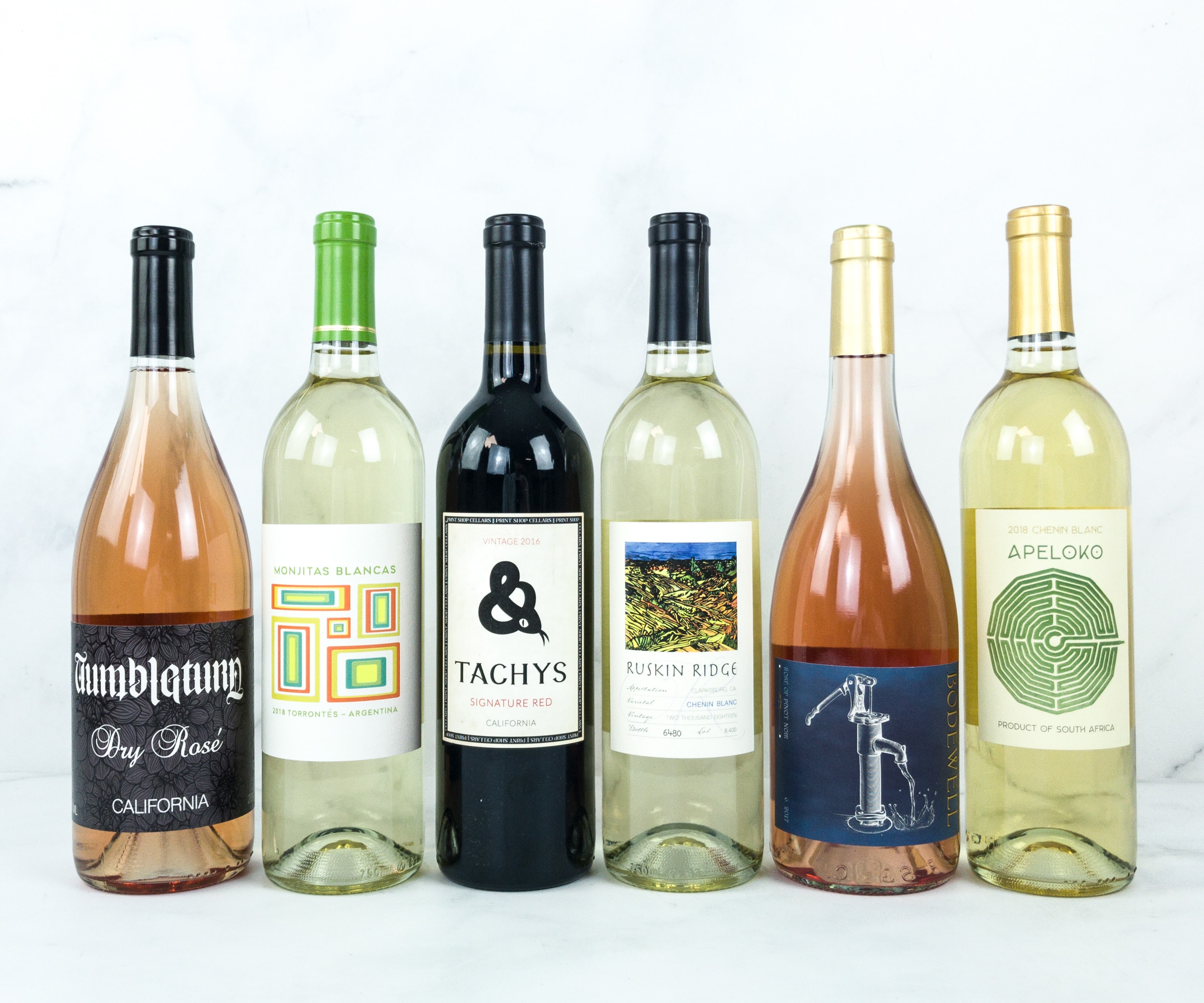 Summer is better with these refreshing wines!
From the packaging up to the selection of wines, Firstleaf did a great job again this month! Our box included a total of 3 bottles of white wines, 2 bottles of roses, and 1 bottle of red wine. Many of them are light and fruity, which is perfect for summer celebrations or even just for rewarding yourself after a long day of work. They provide complete information about the wines they send, including tasting notes and pairing recommendations so you can plan your wine nights well. Whether you're a wine connoisseur or you're just starting to learn about wines, Firstleaf is a perfect subscription choice! Their efficiency and consistency are truly commendable, plus we absolutely adore that the matches keep on getting better!
What do you think of Firstleaf Wine Club subscription?