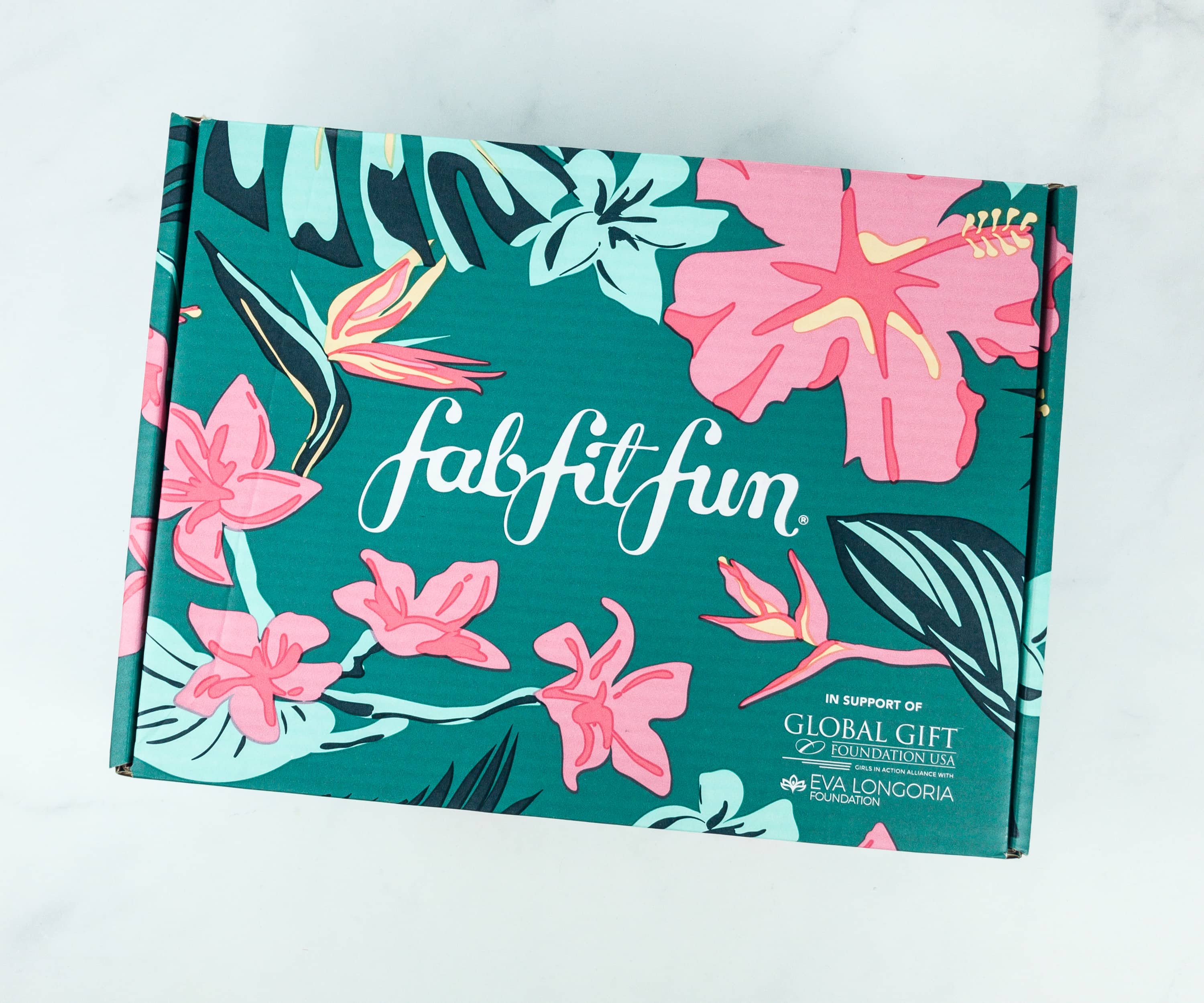 FabFitFun Box is a quarterly women's subscription box that promises fabulous beauty, fashion, and fitness items every quarter, full size and premium.
This box is currently still available!
DEAL: New members can save $10 with coupon code FAB10! 
Through 7/14: Get 40% off your first box! Just use code OKGO!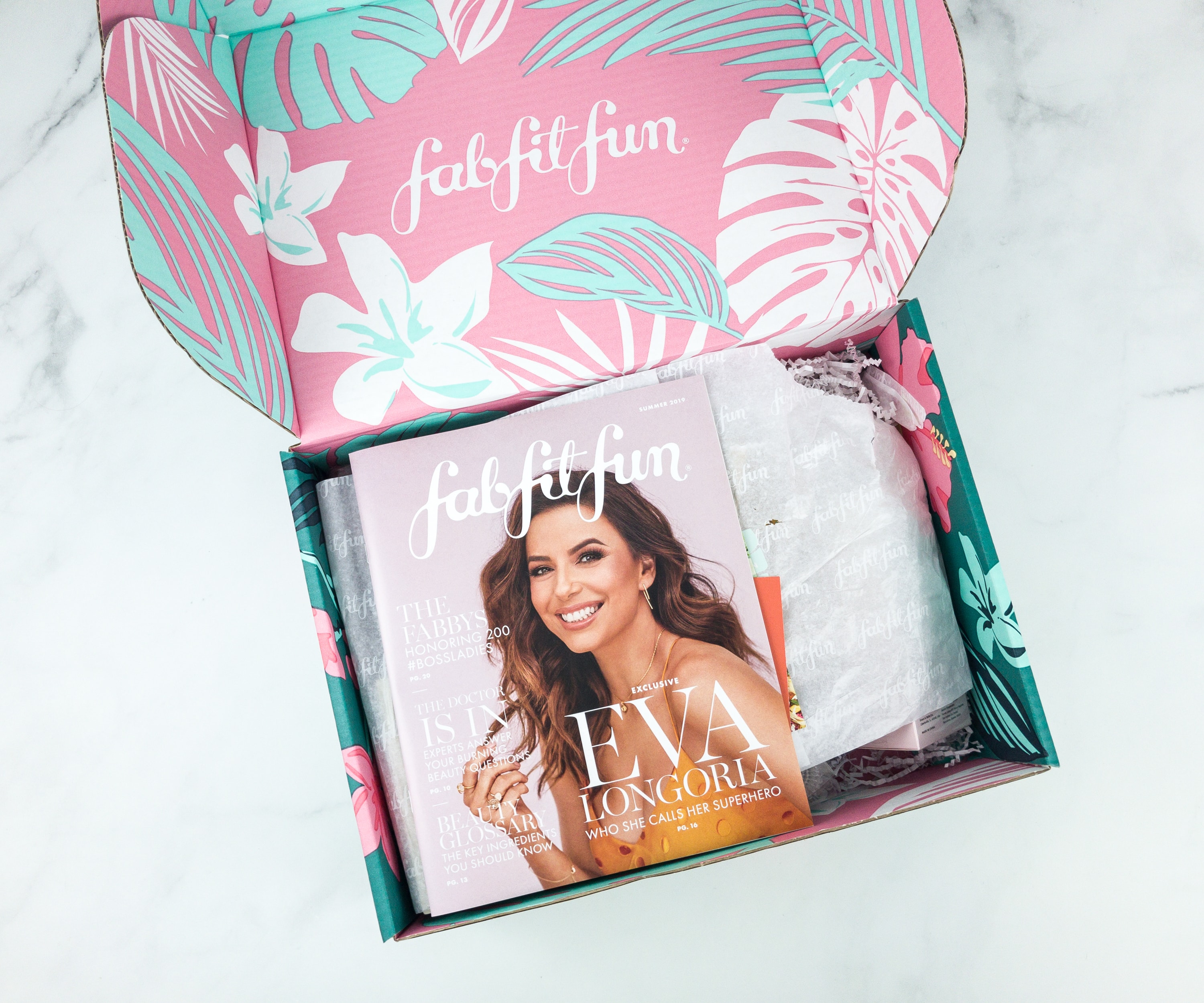 The outside box has a fun and pretty design – they're different every quarter!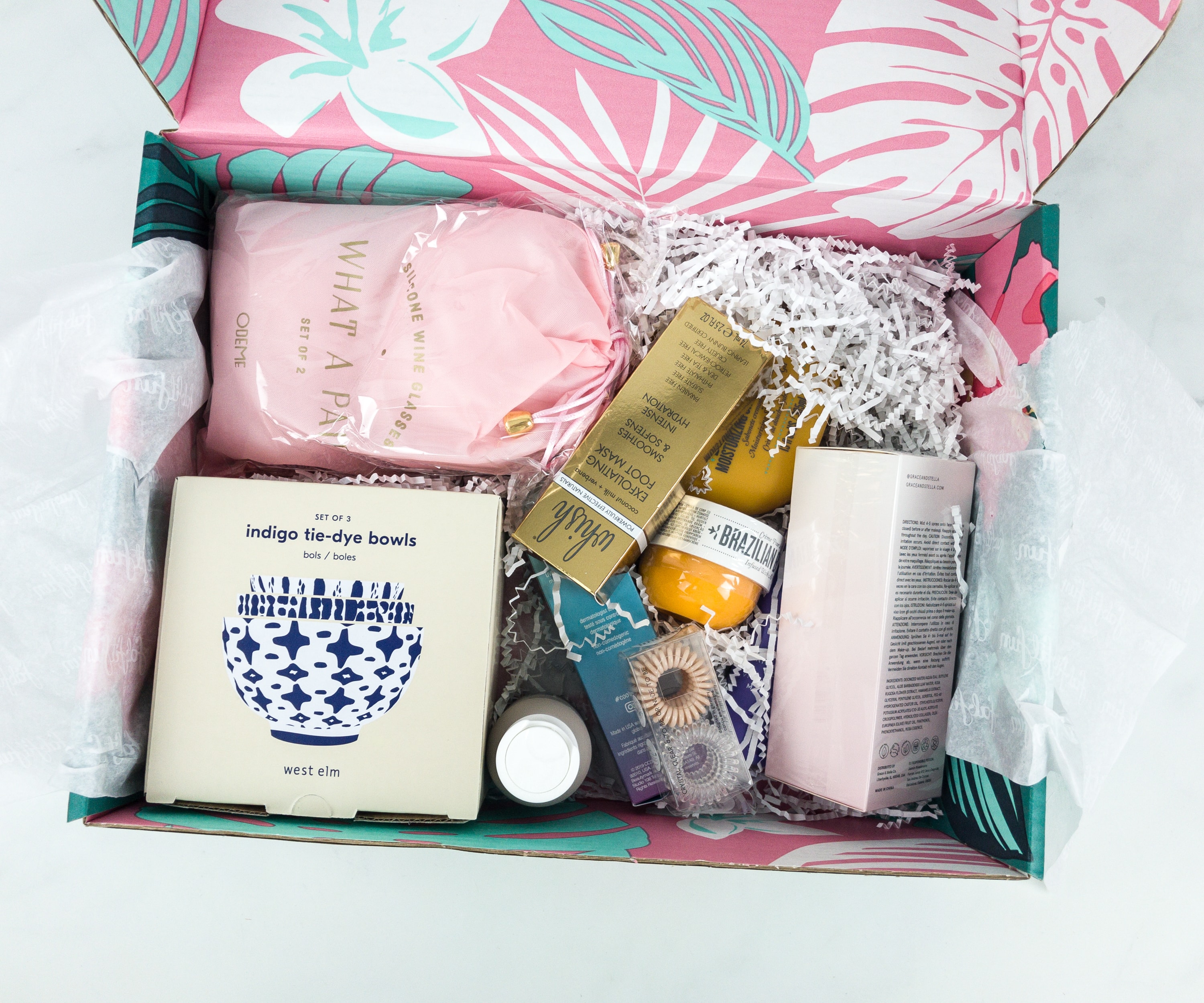 This box is packed full of goodies, as it is every season.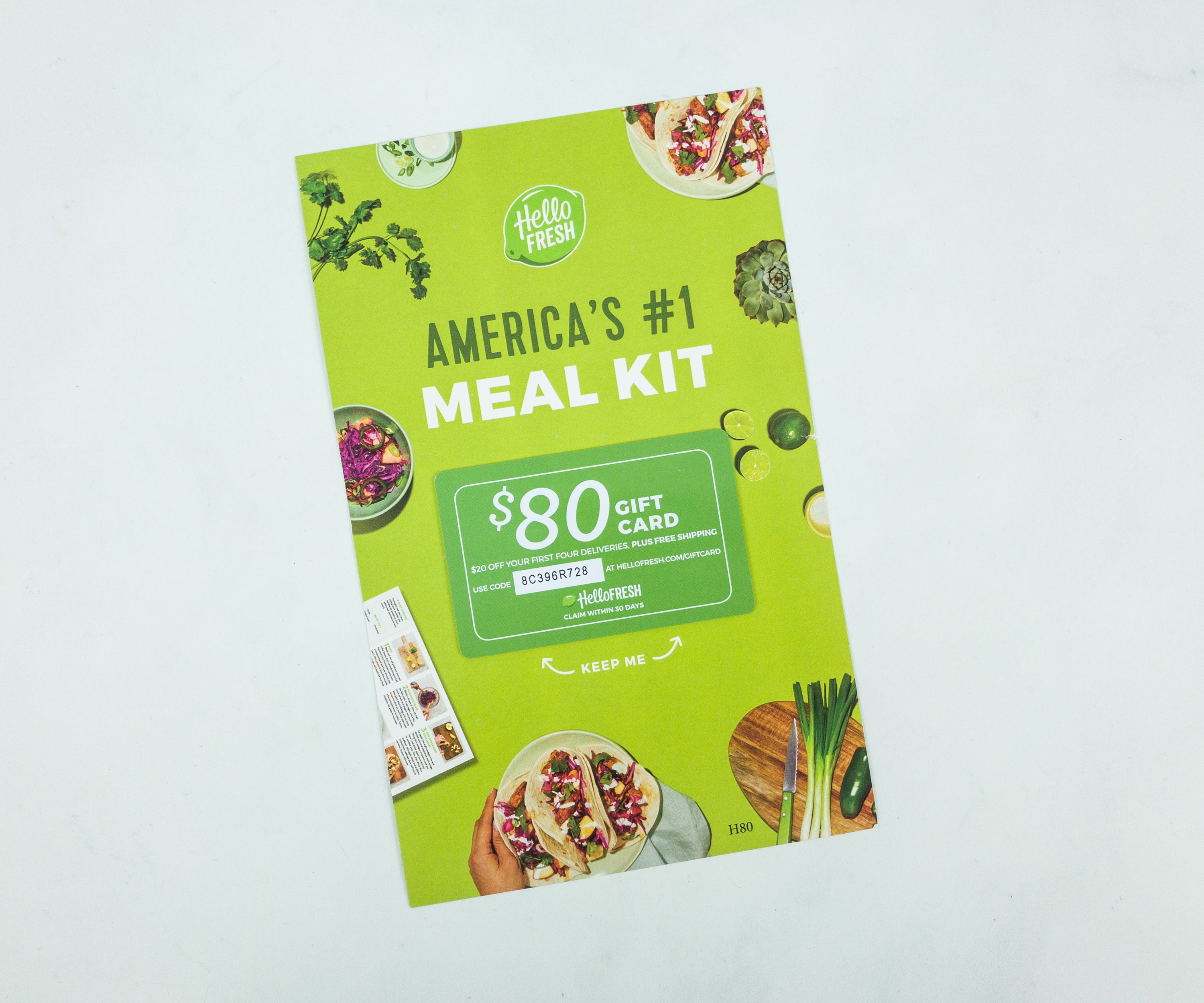 A gift card from HelloFresh is also included in the box.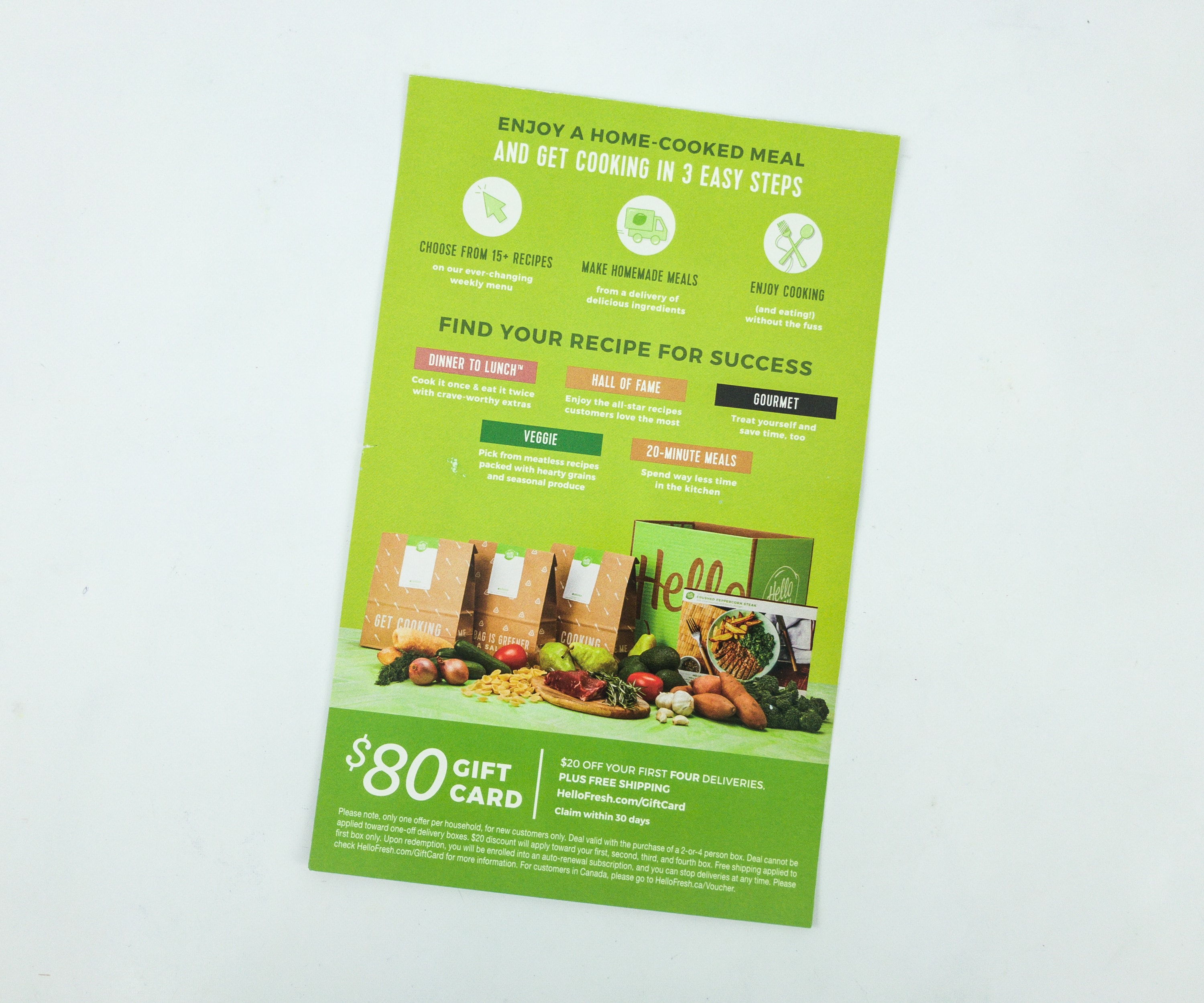 It's an $80 gift card so you can enjoy home-cooked meals in 3 easy steps.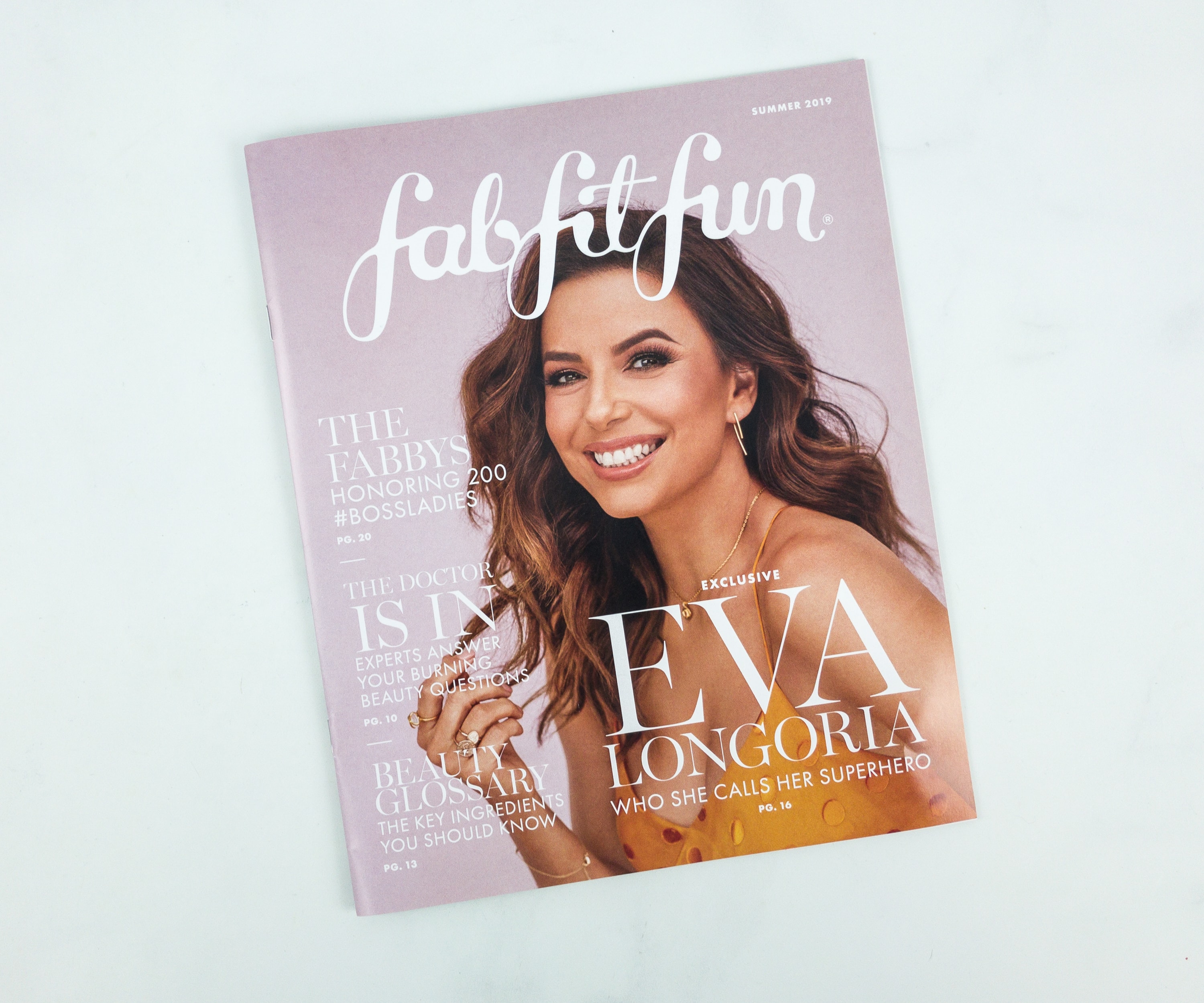 A large format mini-magazine comes in the box.
There's a full page of notes from the editor.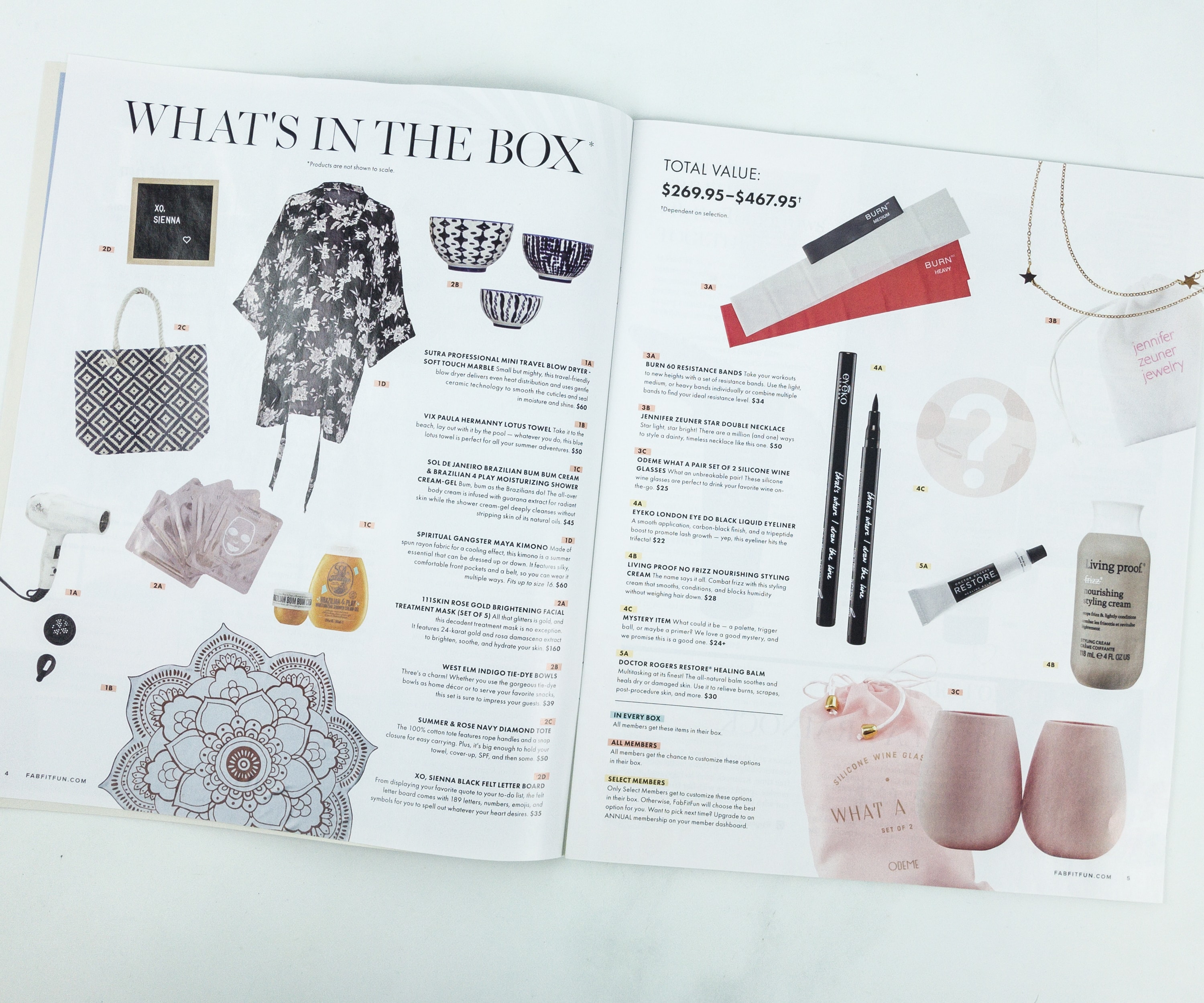 The magazine provides all the details on the products, plus fun lifestyle articles too!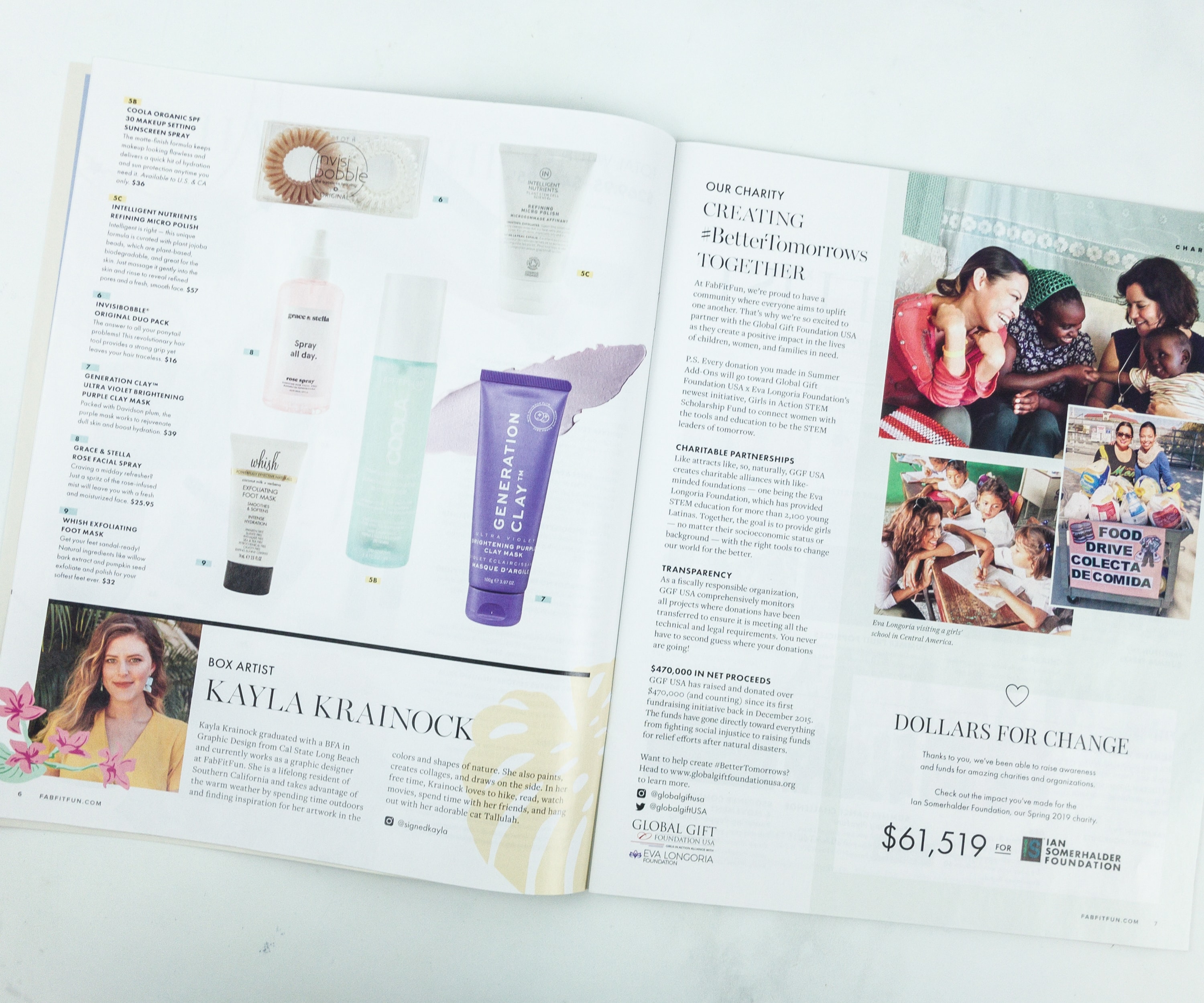 There's a short feature about this month's box artist, Kayla Krainock!
The experts even answered some of the community' s most asked beauty questions.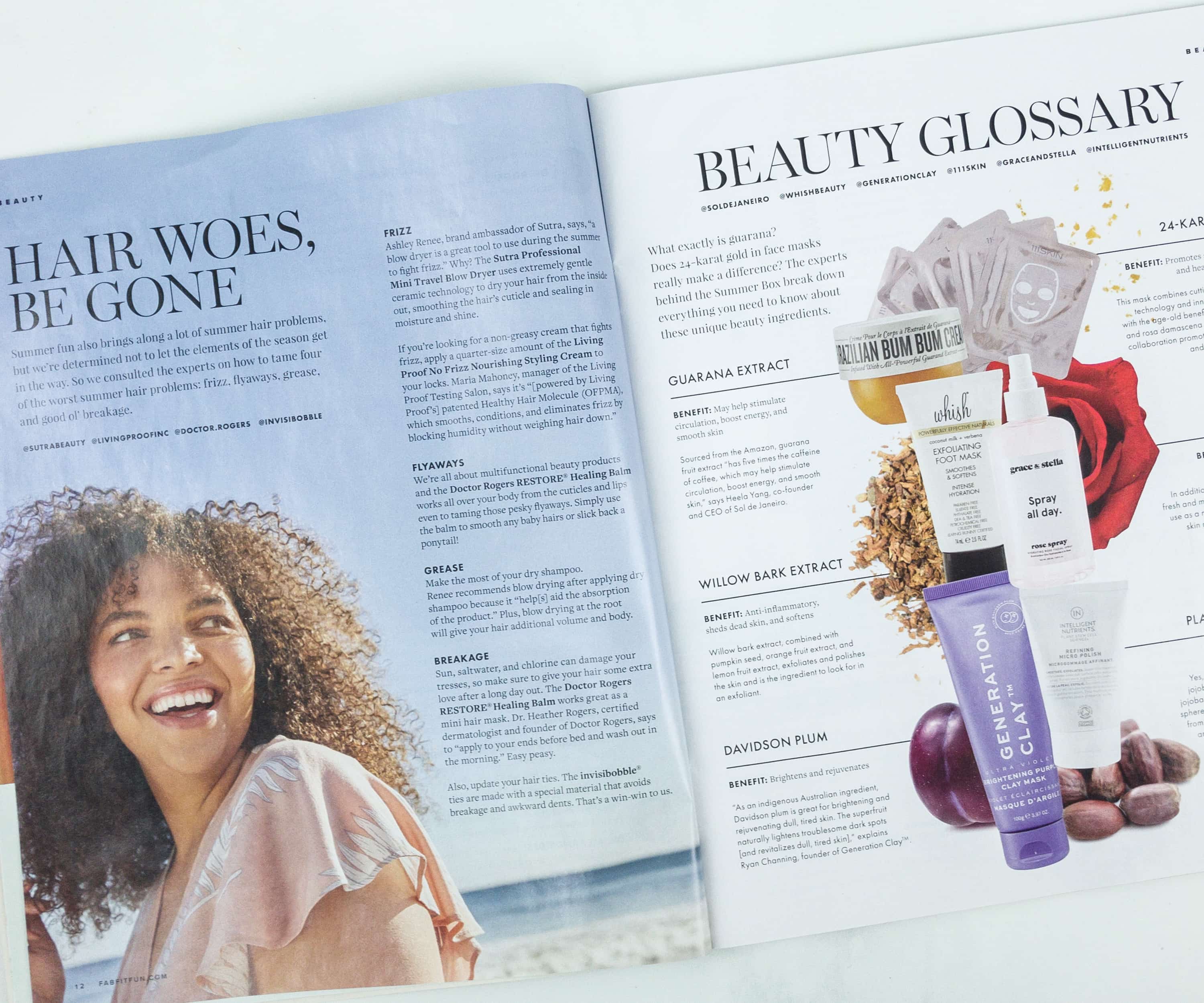 There's an article about hair care too!
The magazine gave us a summer to-do list!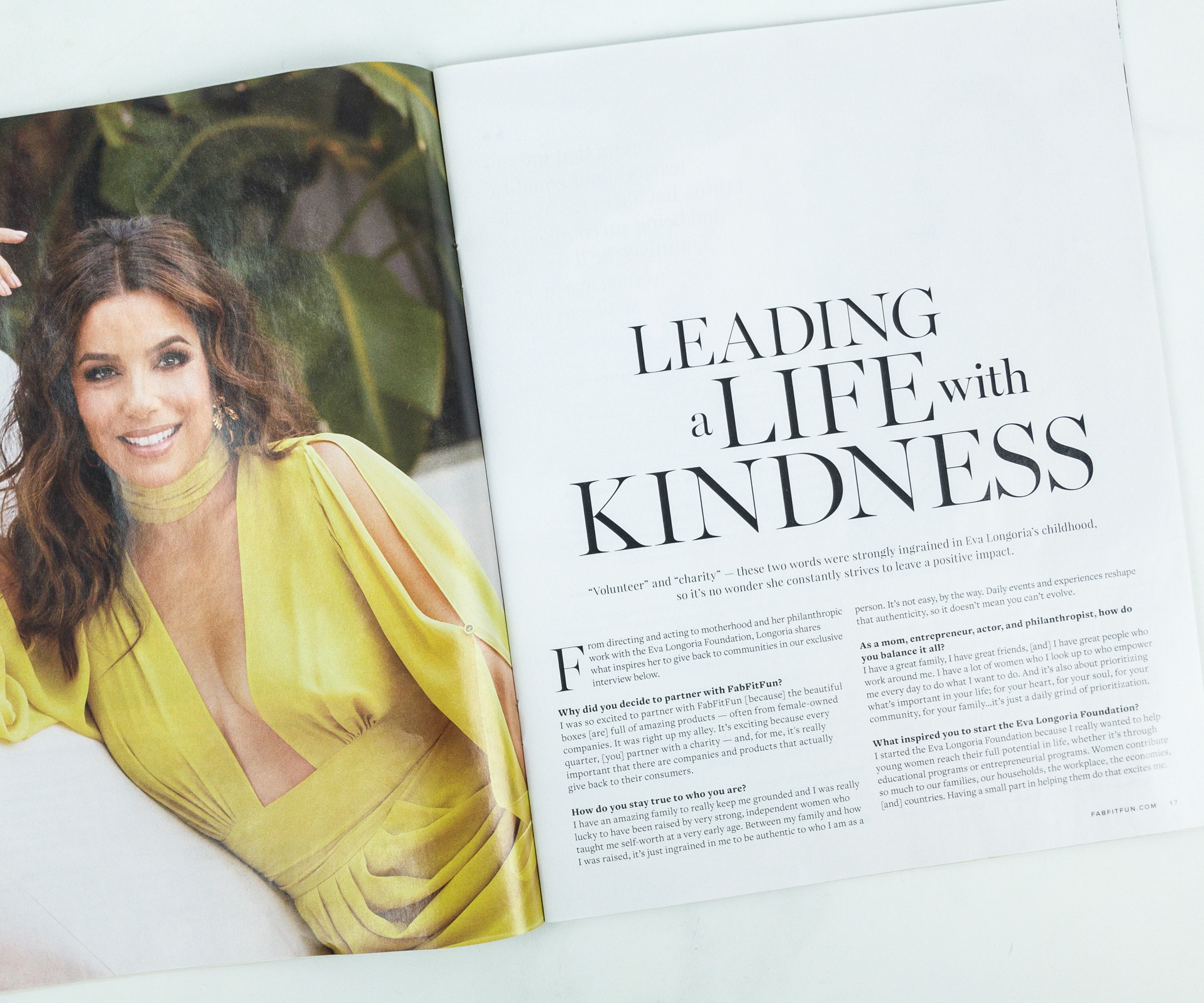 Another feature is about leading a life with kindness.
Variations of these can be in your box but not all of them. A full page gives details on every item in the box.
Lastly, there's a summer crossword puzzle!
Everything in the FabFitFun VIP Box for Summer 2019! There are lots of item variations that are detailed below.
I have an annual subscription so I was able to make a few extra choices.
EVERYONE GETS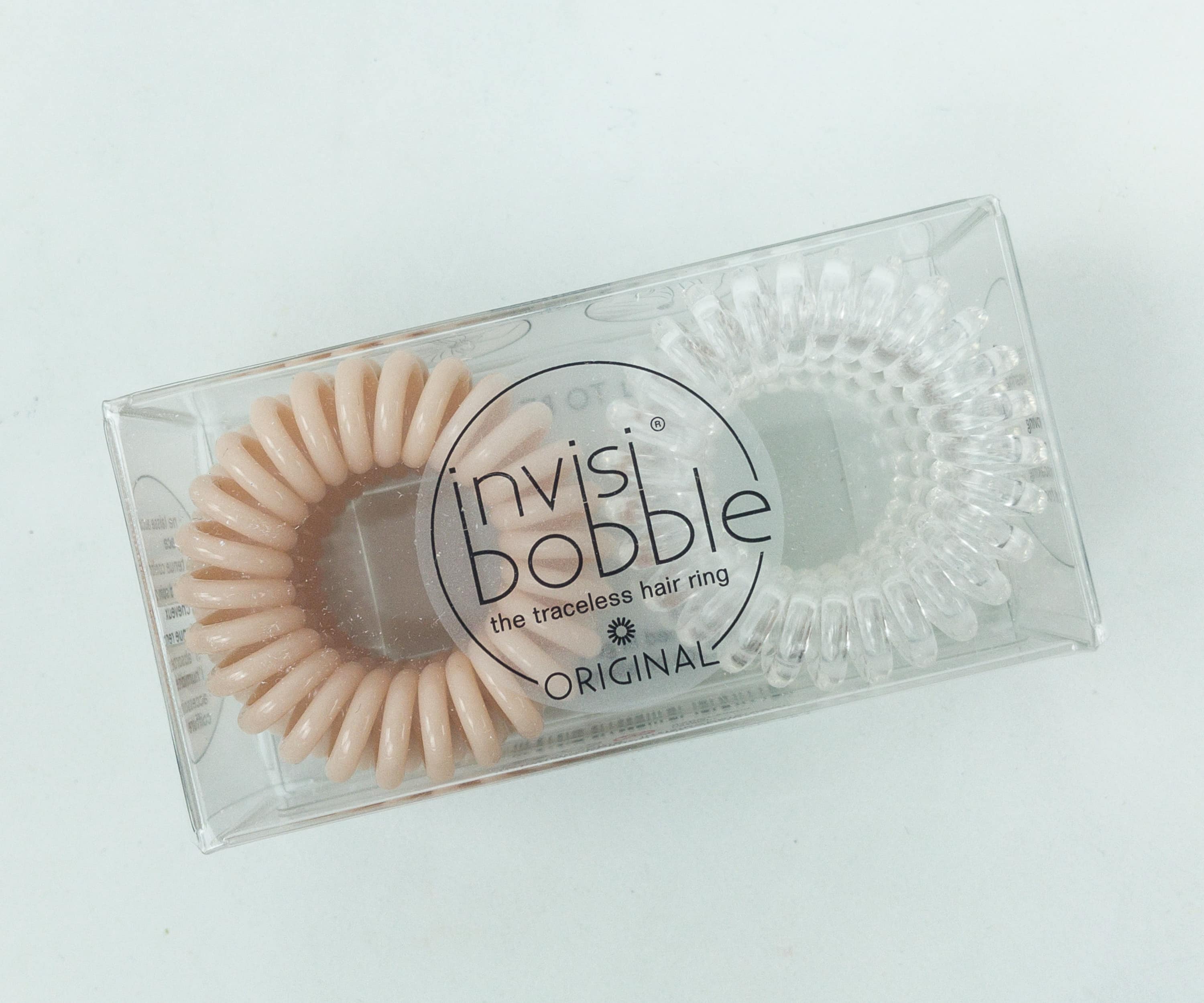 Invisibobble Original Duo Pack: Original Crystal Clear & To Be Or Nude To Be ($11) Everyone will get this set of unique spiral-shaped hair ties.
There are 3 pieces for each style. The ties can strongly hold your hair in place, plus they look stylish too. Even if they hold your hair strongly, they're really gentle on your tresses. The crystal clear ones are almost invisible, no one will easily notice that something's keeping your hair in place!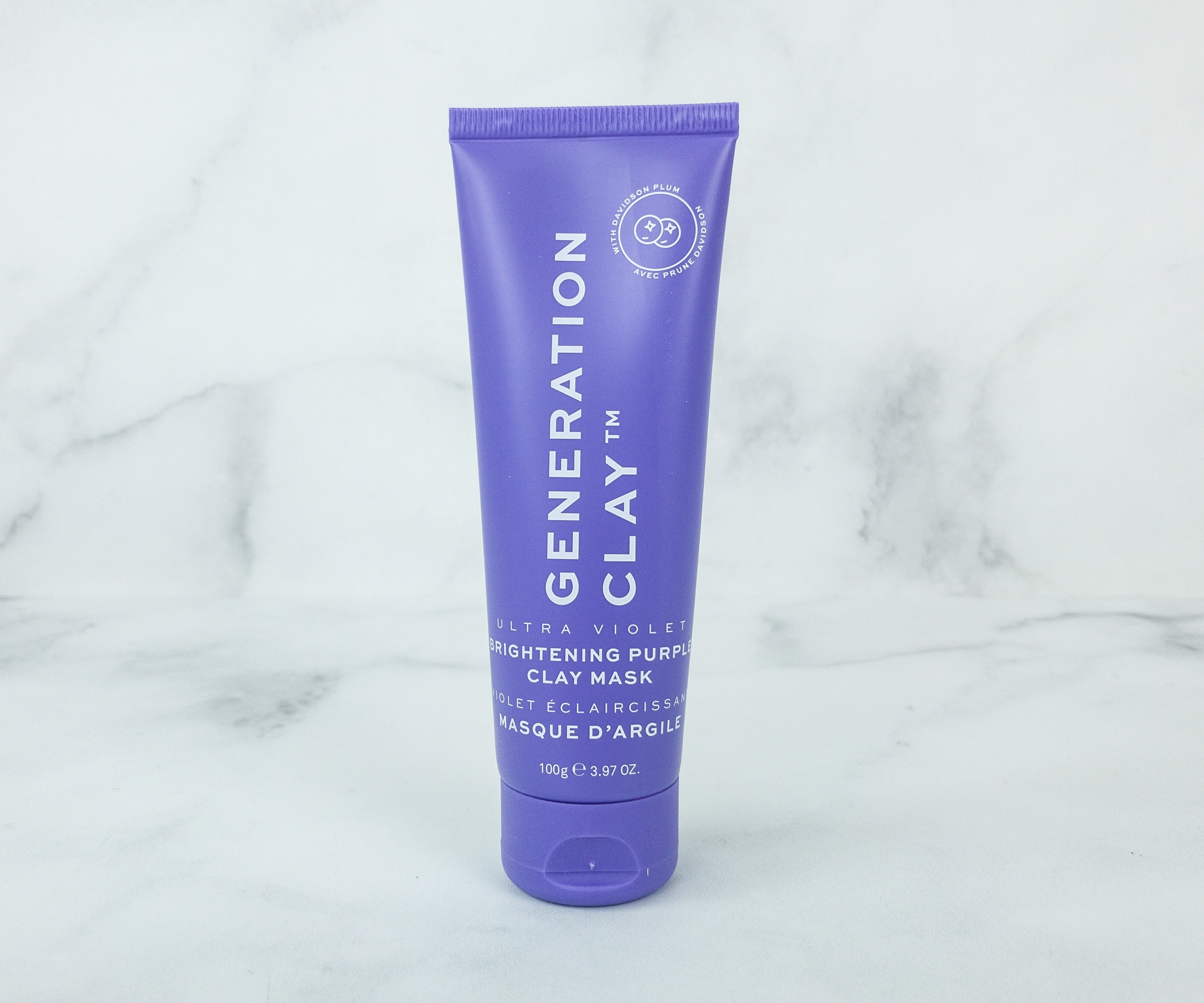 Generation Clay Clay Mask ($49) This clay mask rejuvenates dull and tired skin while it lightens dark circles and pigmentation. It contains witch hazel, vitamin E, and desert lime, and it is also packed with the superfruit Davidson plum! These ingredients help eliminate excess oil, protect against free radicals, and even boost hydration and increase collagen production.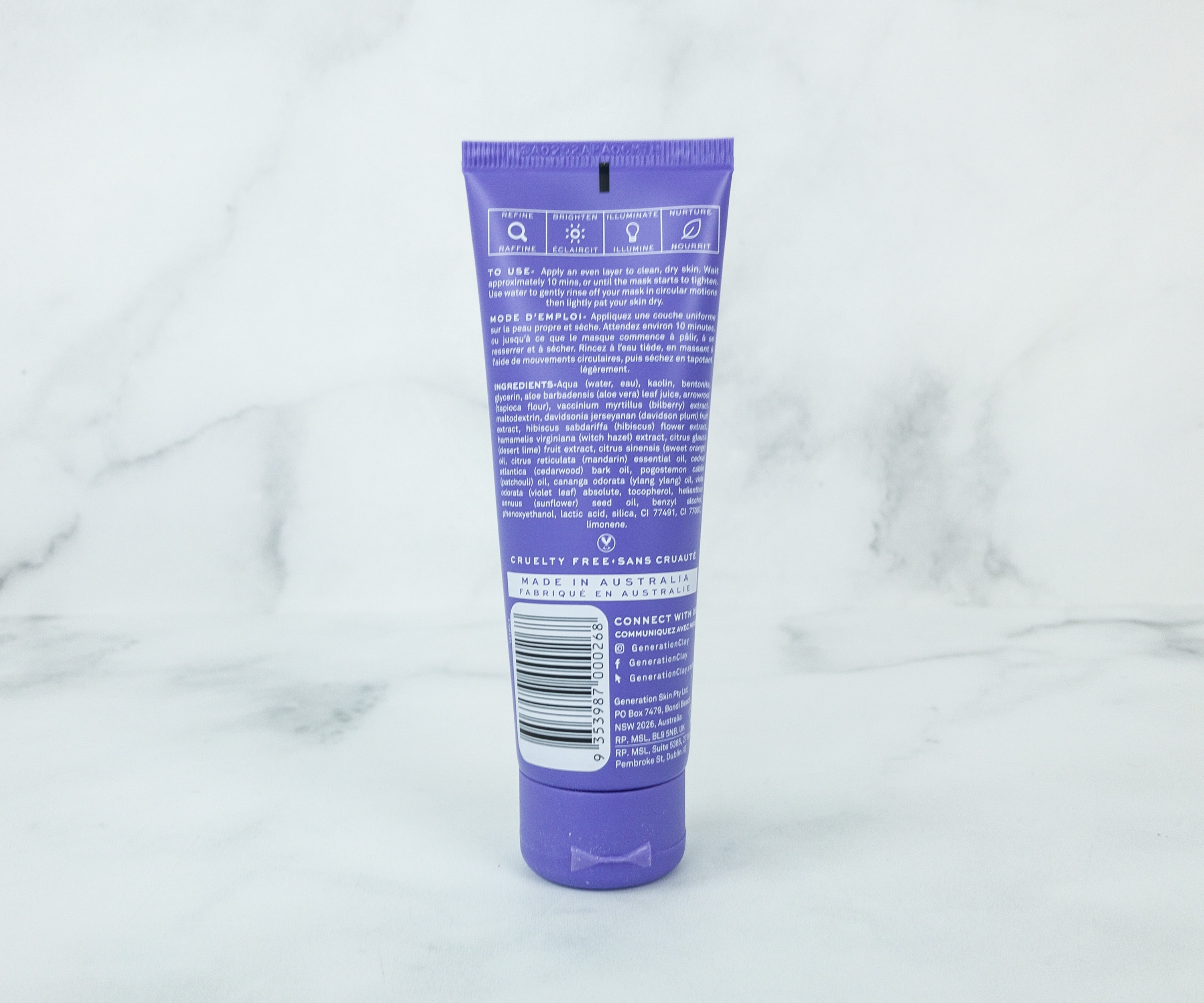 The mask causes a tingling sensation, which is actually normal and invigorating, and it also indicates that the Active Botanicals are at work in revealing your glowing dewy skin. The clay's color is based and on point in the shade of Pantone's Colour of the Year's Ultra Violet.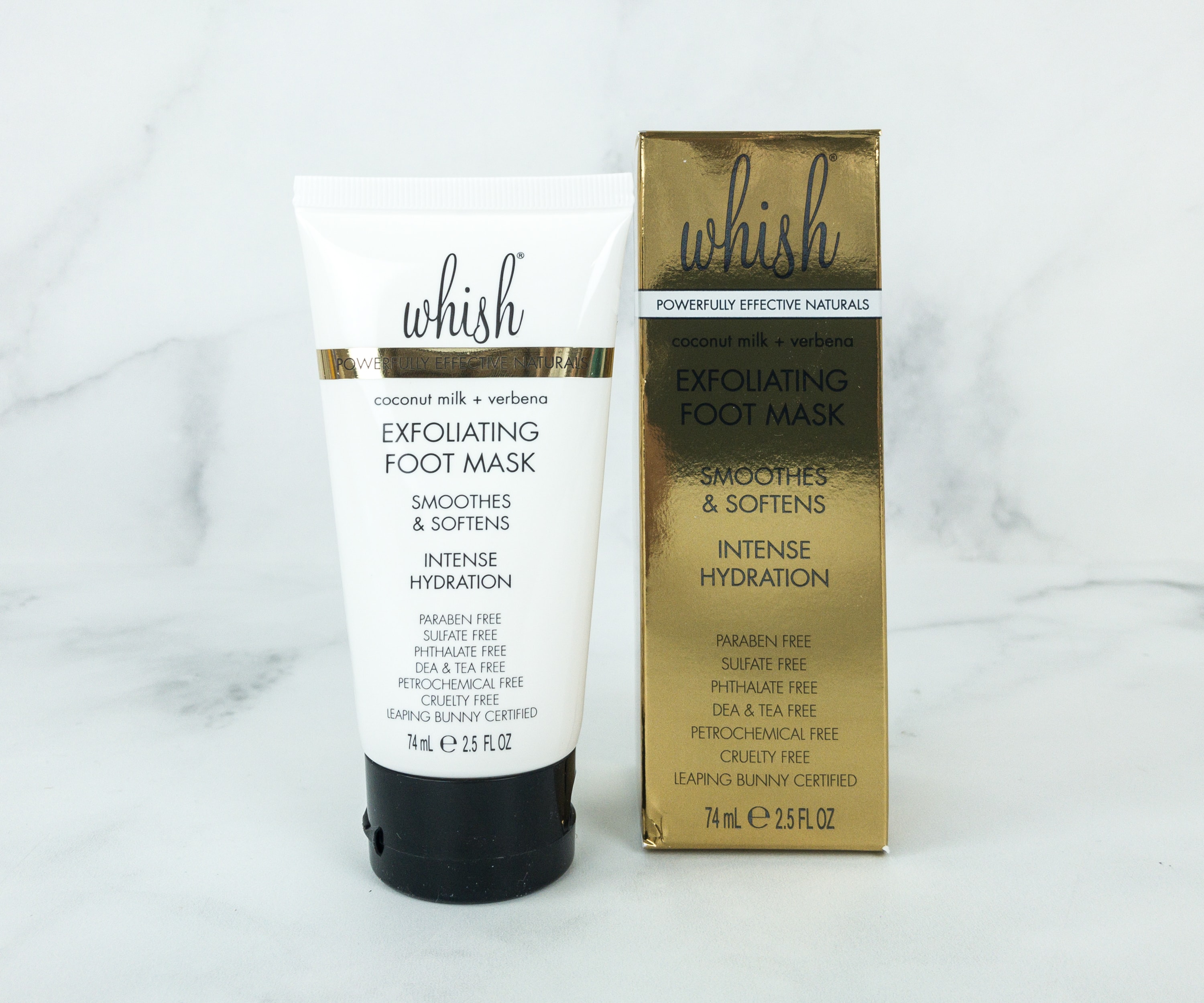 Whish Exfoliating Foot Mask ($32) To remove calluses and renew our feet's dry skin, everyone got this moisturizing, exfoliating, and healing foot mask. It has an easy to use a formula that exfoliates and polish your dry heels, leaving the soft, smooth, and looking healthy!
The foot mask contains papain, willow bark extract, pumpkin seed extract, orange, and lemon fruit extract. To soothe and smooth the skin, they also included black tea leaf extract. It's ideally used at bedtime. Apply and let dry, then sleep and rinse it off after 8-12 hours.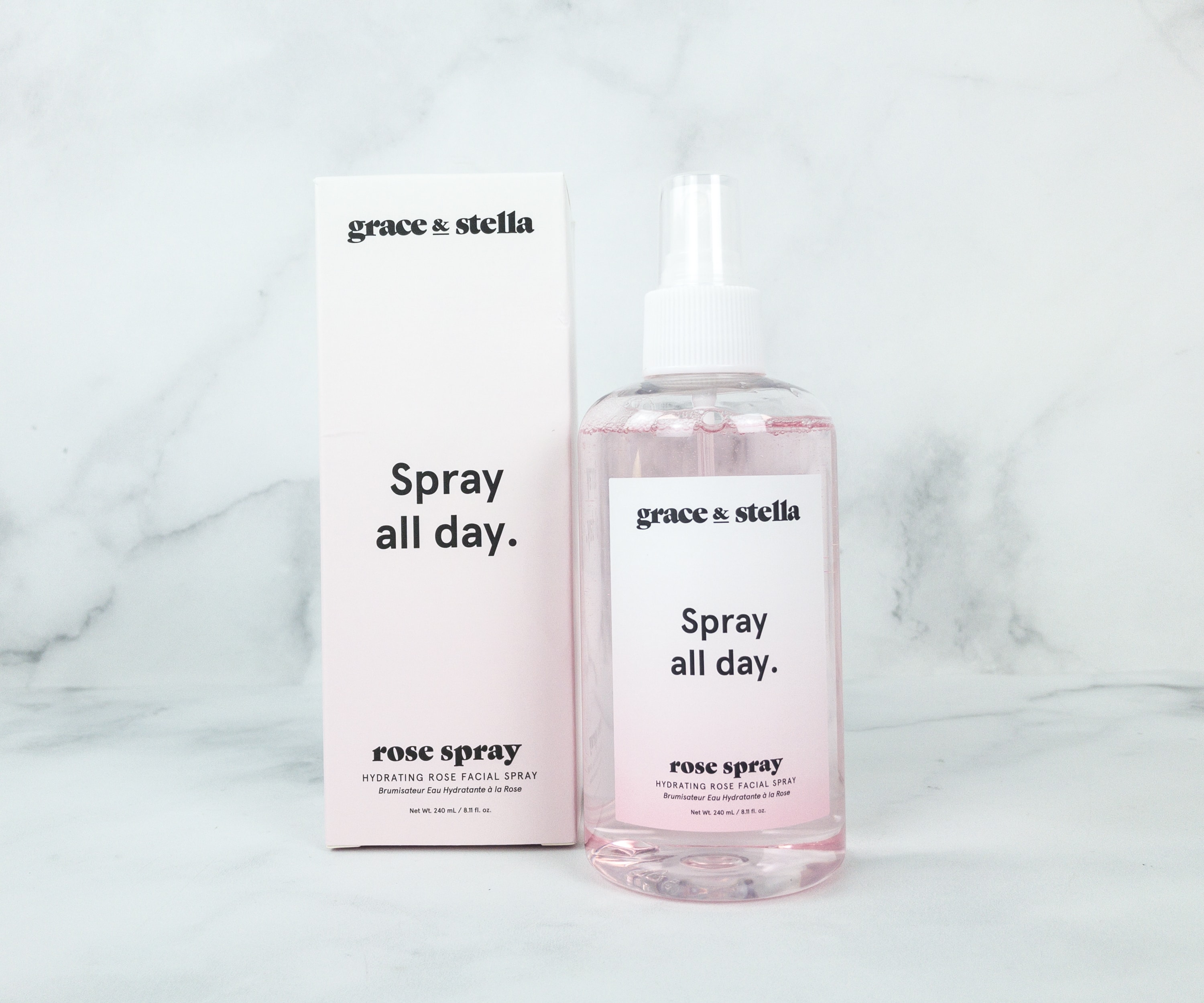 Grace & Stella Rose Spray ($25.95) Made of cruelty-free and vegan ingredients, this facial spray keeps your skin fresh and moisturized! It also works for all skin types, even sensitive skin. After spraying the desired amount on face, there's no need to rinse the face off. The formula has no parabens, dyes, sulfates, and silicones.
The spray helps balance pH, tones, primes, sets makeup, and more! It keeps the skin hydrated and look glowing all day long. It can easily be brought and kept inside your bag, so you can spritz up whenever you feel like doing it, especially during the hot summer days!
CHOICE ITEMS
Subscribers will get to choose between:

Spiritual Gangster Maya Kimono
Sol de Janeiro Brazilian Bum Bum Cream & Brazilian 4 Play Moisturizing Shower Cream-Gel ($45)
I picked:
Brazilian 4 Play Moisturizing Shower Cream-Gel ($25) The delicious-smelling shower cream gel deeply cleanses and hydrates. Perfect for all skin types, it has an ultra-gentle formula that foams into a creamy and rich lather which also removes impurities and leaves the skin soft and silky.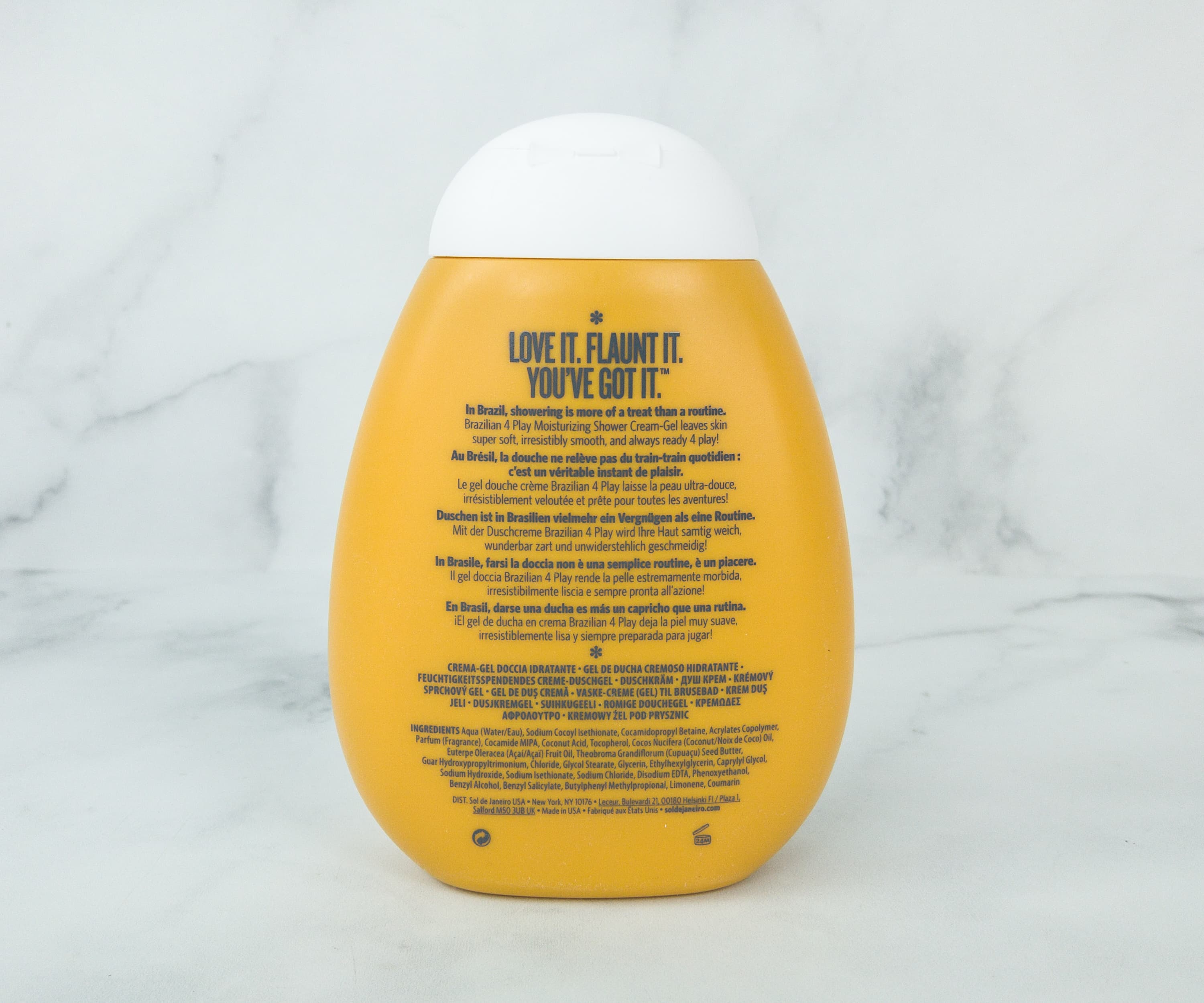 The powerful ingredients are from the Amazon, which includes cupuaçu butter, coconut oil, and the super-antioxidant açaí. It can also be used as a shaving cream. After use, it leaves a delicious smell consisting of pistachio and salted caramel! I love it, want to marry it, have its babies. Or at least buy a shampoo/conditioner set or fragrance mist with this scent!
Sol de Janeiro Brazilian Bum Bum Cream ($45 Full-Size 8.1oz. – $20 value for this size) It's a luxurious all-over body cream that is infused with all-powerful caffeine-rich Guaraná extract and a mix of cupuaçu butter, açaí, and coconut oil.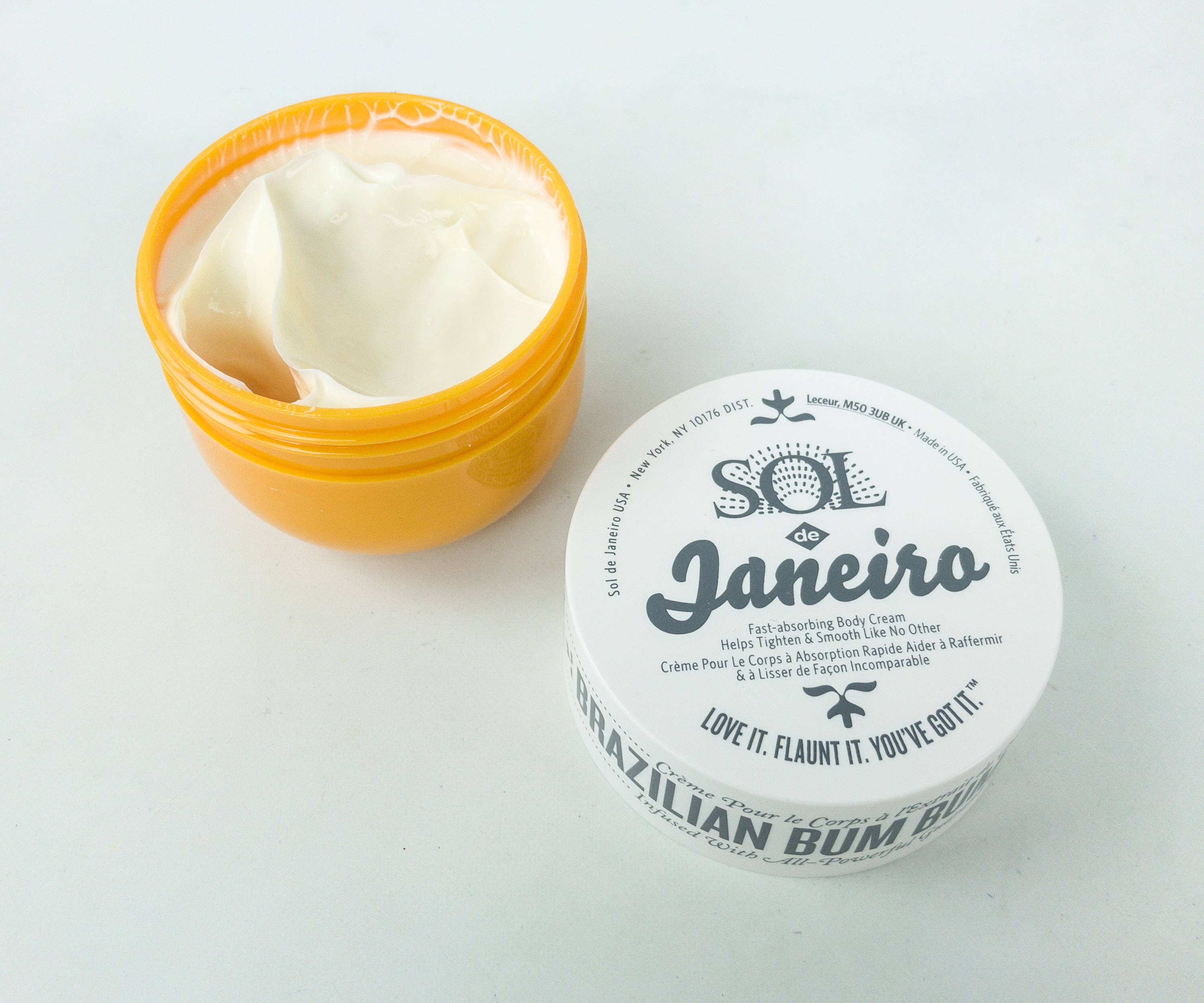 It is easily absorbed by the skin! The formula helps visibly lighten the appearance of the skin, and bring out your most radiant look ever. Like the shower cream-gel, it also leaves the skin with the delicious pistachio and salted caramel fragrance.
Subscribers will get to choose between:
111SKIN Rose Gold Brightening Facial Treatment Mask – Set of 5 ($160)
West Elm Indigo Tie-Dye Bowls ($39)
Summer & Rose Navy Diamond Tote ($50)
xo, Sienna Black Felt Letter Board ($35 Value)
I chose: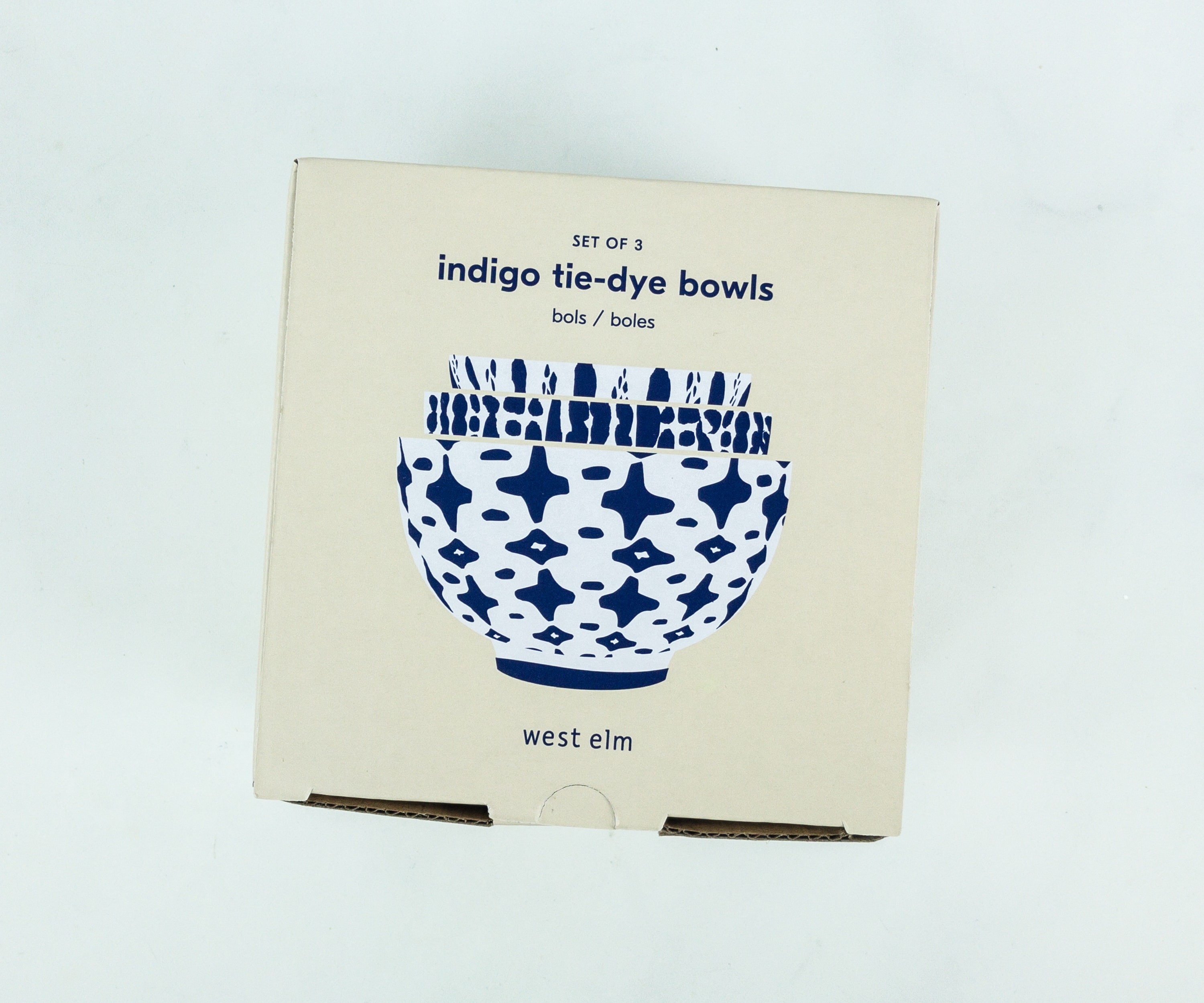 West Elm Indigo Tie-Dye Bowls ($39) My next choice is this set of 3 beautiful ceramic bowls.
The bowls came in three sizes: small, medium and large. They can contain 3, 5, and 8 fluid oz. respectively.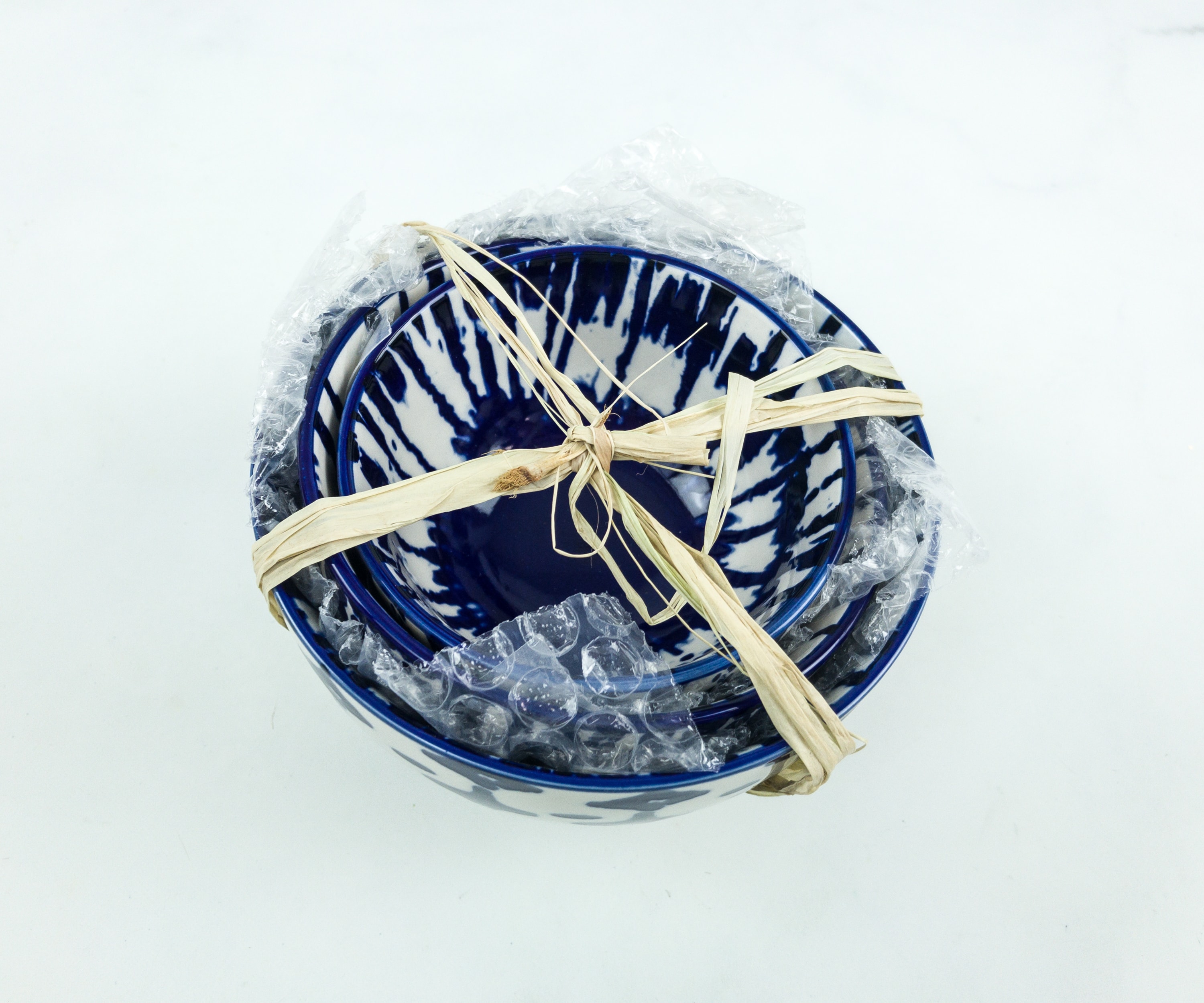 The bowls are tied and packaged carefully with bubble wraps to avoid breakage, especially during transit.
The bowls are Japanese-inspired. They all have white bases with some indigo splattered around, forming beautiful patterns.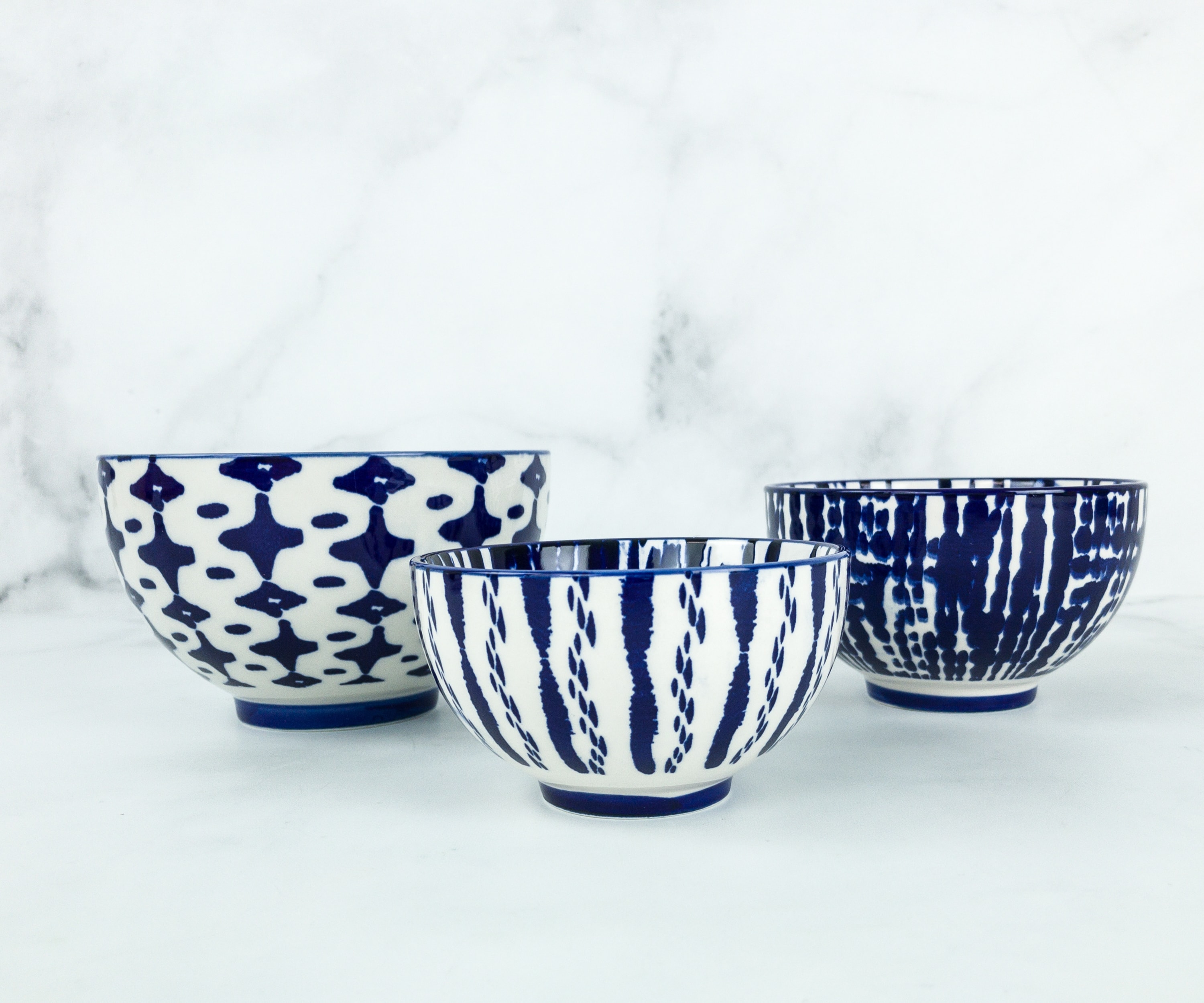 The bowls can be nested together to save cabinet or storage space. The bowls can be used for soups, or even treats, and can be made into nice centerpieces or table decorations.
Subscribers will get to choose between:

Burn 60 Resistance Bands ($34)
Jennifer Zeuner Star Double Necklace ($50)
Odeme What a Pair Set of 2 Silicone Wine Glasses ($25)
I picked: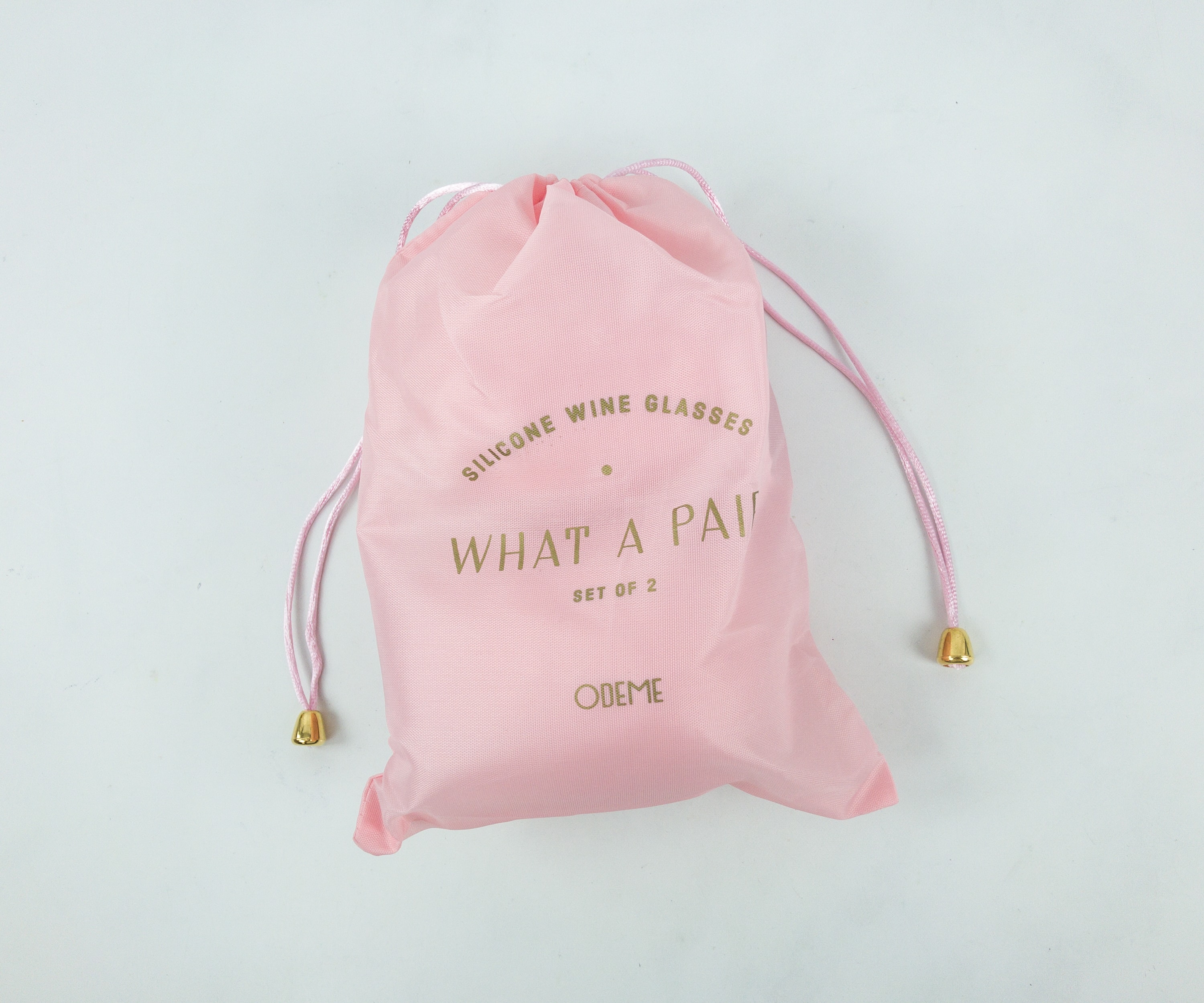 Odeme What a Pair Set of 2 Silicone Wine Glasses ($25) The next items were placed inside a pink drawstring pouch!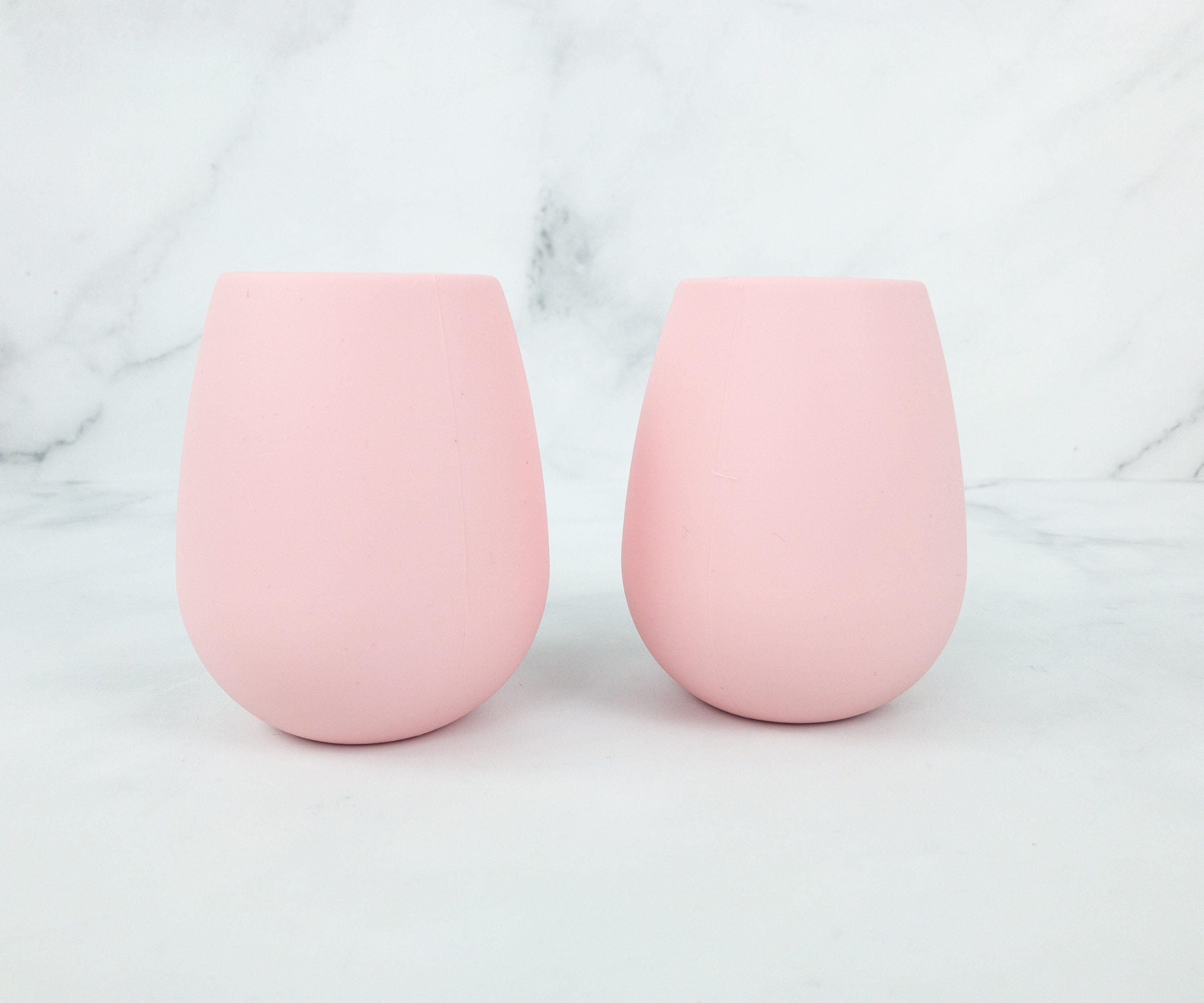 There are 2 stemless silicone pink wine glasses, and they look really pretty. Now I don't have to worry about breaking them in case they slip, as they're made of silicone. I can't wait to fill them up with my favorite wine!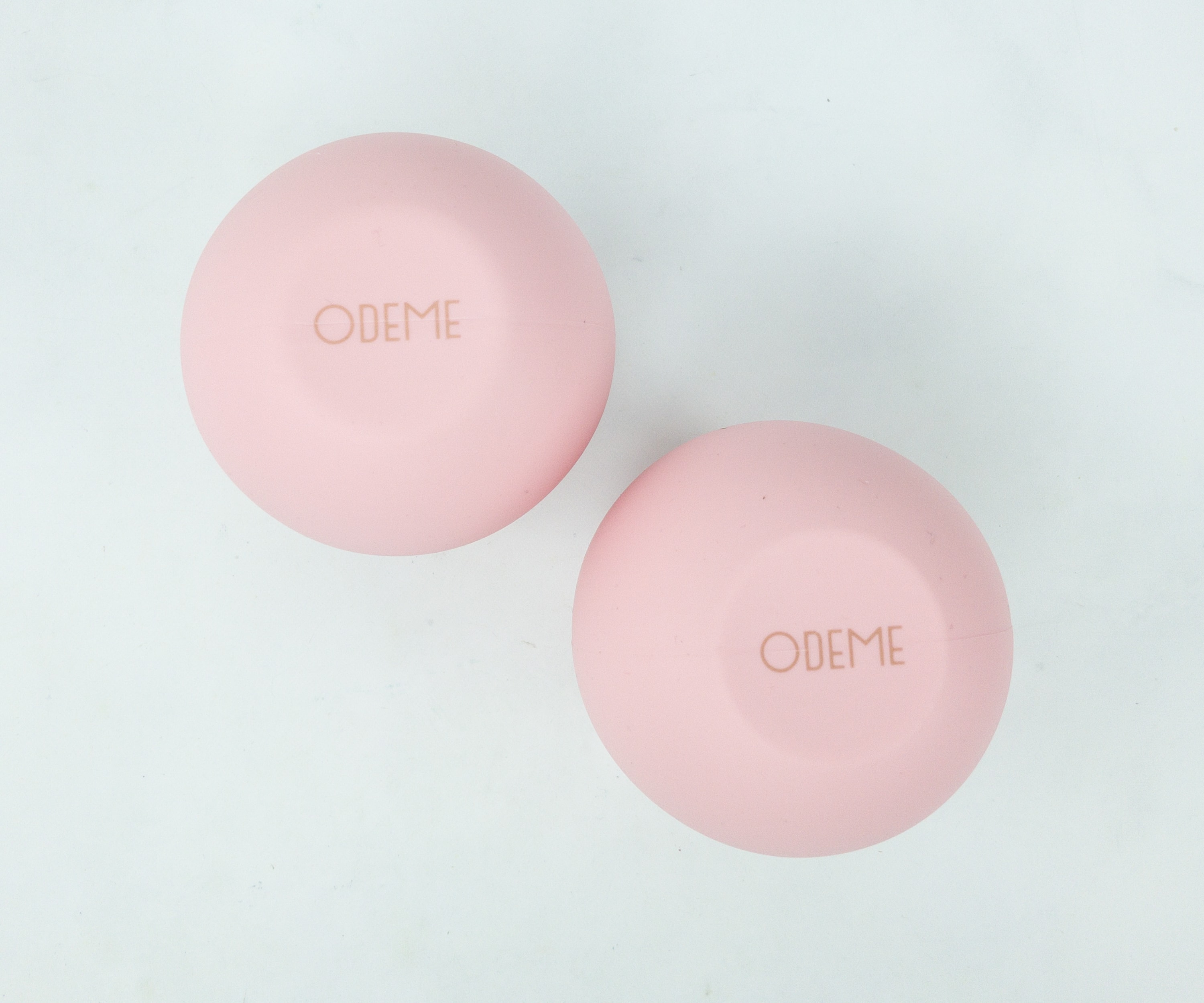 Each glass also has the brand's print at the bottom. They can easily fit in bags, cases, or even picnic baskets!
ITEMS WITH VARIATIONS (Annual Subscribers Choose Variations – Seasonal Subscribers No Choice, Random Item)
Annual Subscribers will get to choose between:

I picked the Living Proof No Frizz Nourishing Styling Cream!
Living Proof No Frizz Nourishing Styling Cream ($28) This styling cream does 3 things to your hair: it blocks humidity, smooths hair, while it helps repel dirt and oil.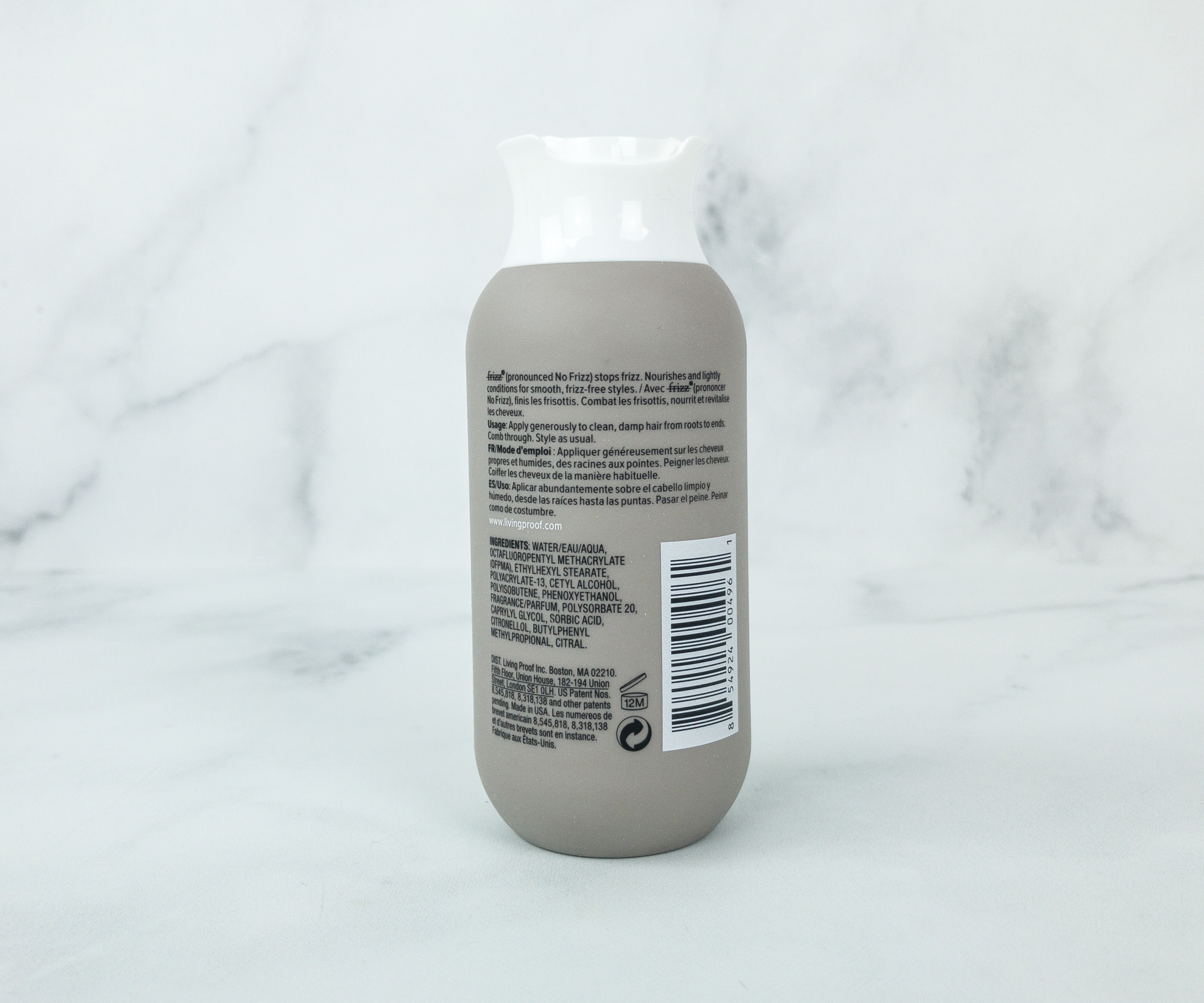 It's perfect for straight, wavy, curly, or even coily hair. Aside from making my hair look gorgeous, it also leaves a nice citrusy fragrant that makes me feel fresh all day.
Annual Subscribers will get to choose between:

I chose the COOLA Organic SPF 30 Makeup Setting Sunscreen Spray!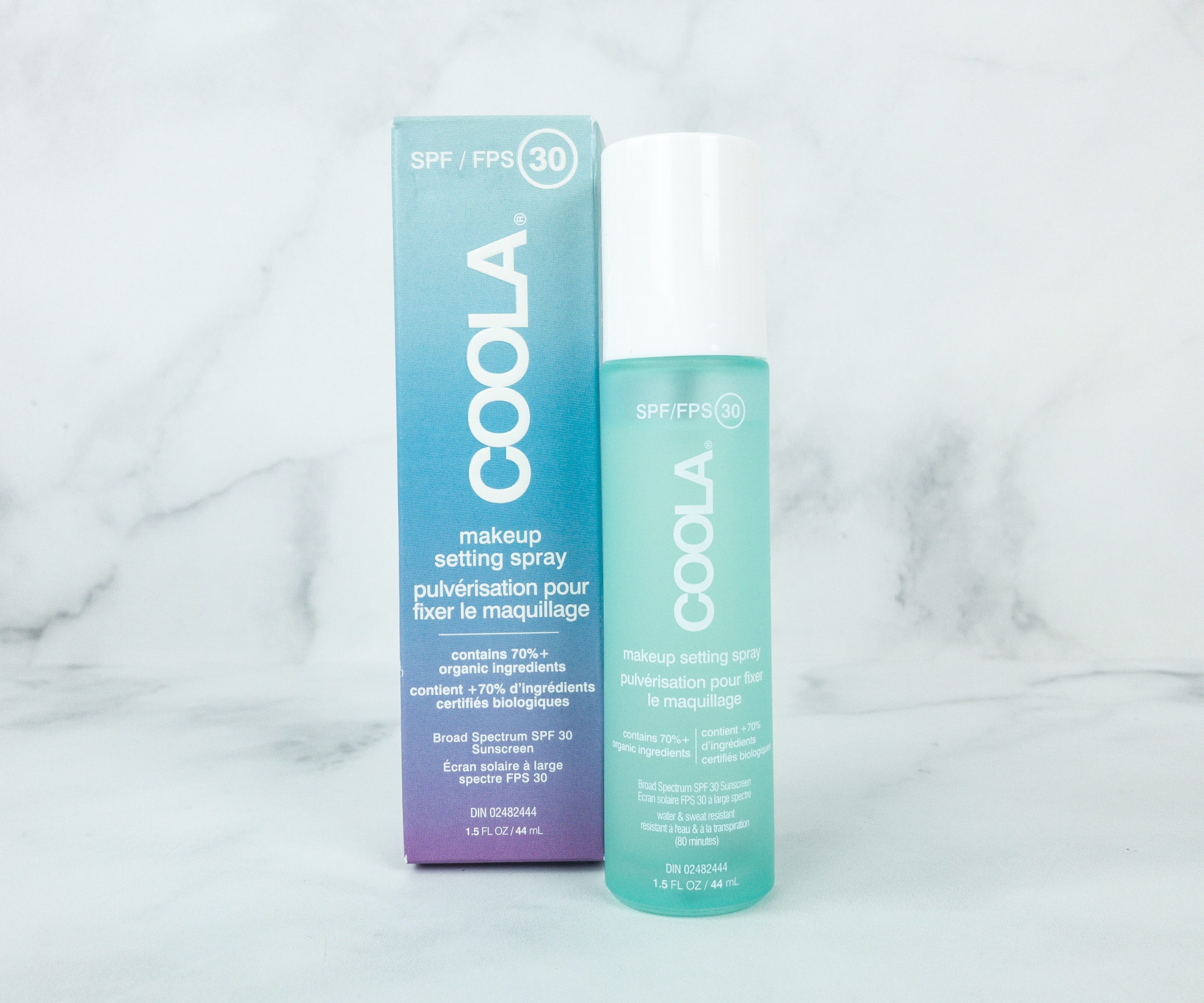 COOLA Organic SPF 30 Makeup Setting Sunscreen Spray ($36) Summer means more time outside, and of course, you wouldn't want the heat to melt all of your make up away so a setting spray like this is quite useful this season. This one doesn't just set your make-up but also protects your skin from the harmful UV rays.
The spray also reduces shine, while keeping your look fresh all day. It also helps reduce several skin problems like oiliness, fine lines, and wrinkles. It works for almost all skin types, it's weightless, and leaves a matte finish, as it soothes and refreshes the skin.
My add-ons!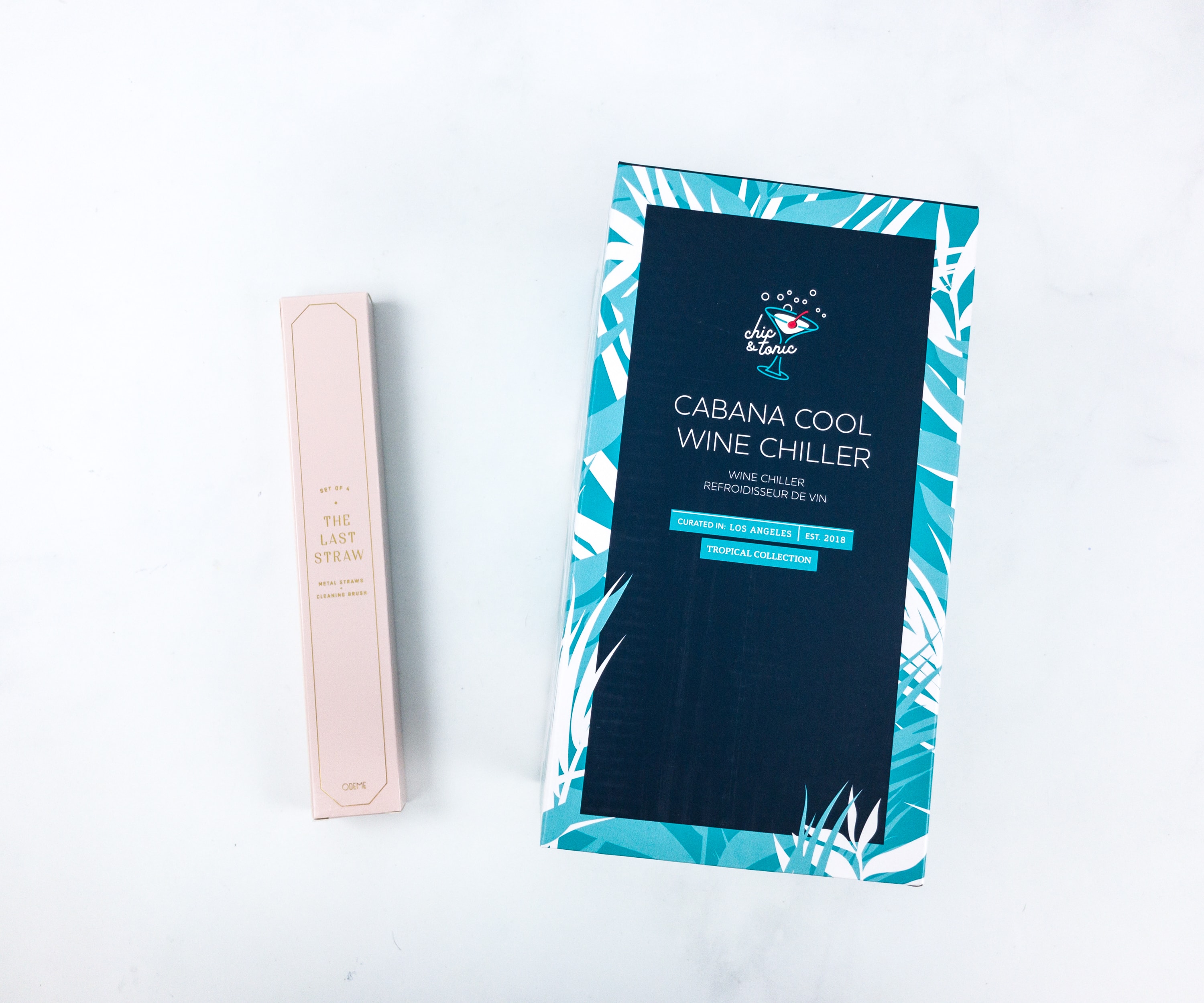 From the add-ons sale, I selected a couple items that are great for refreshments! Add-ons are sale items that you can add onto your box – up to 70% off!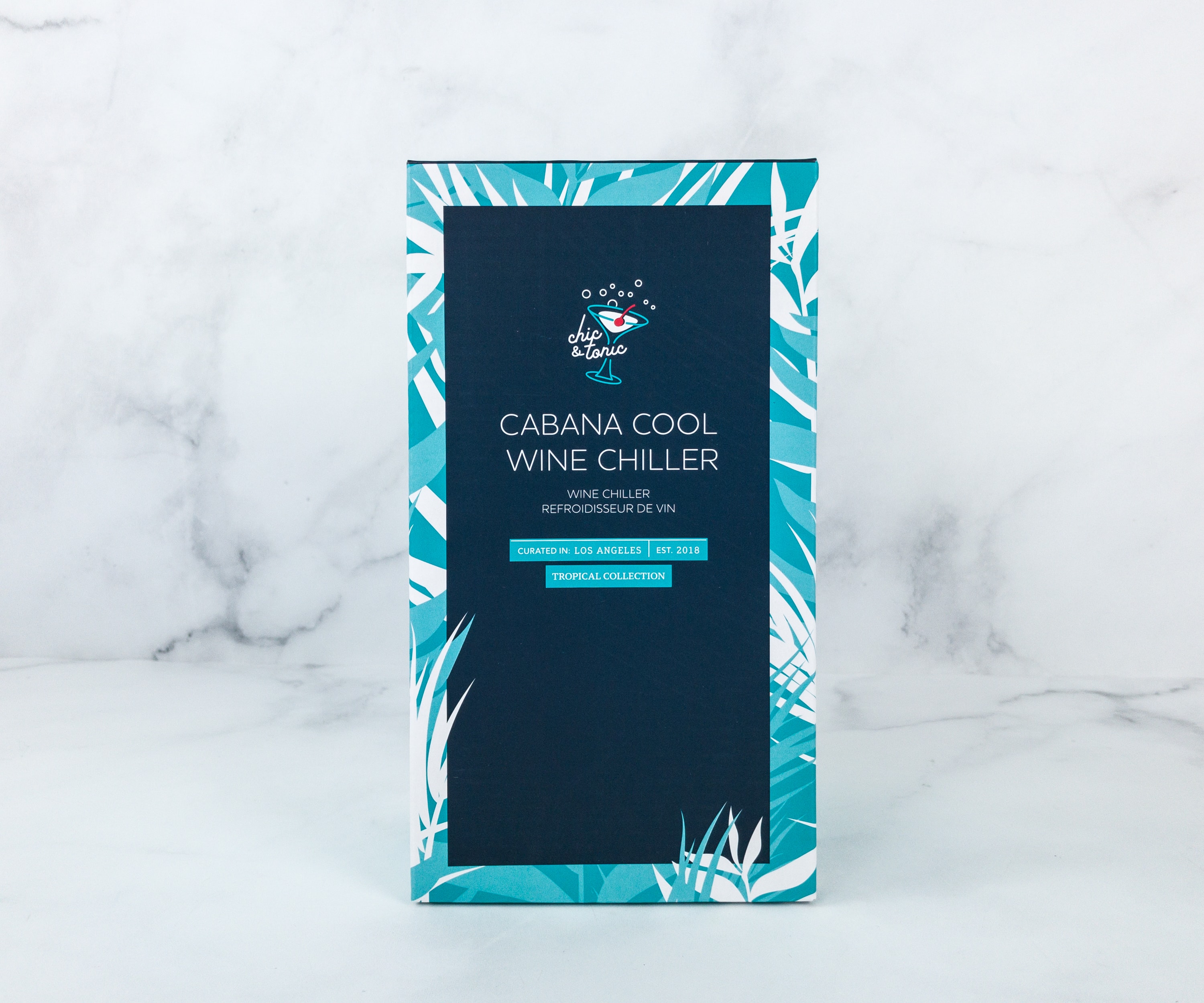 Chic & Tonic Cabana Cool Wine Chiller ($24 – paid $14) I picked up this tropical-designed wine chiller packed in an equally awesome box in the add-ons sale!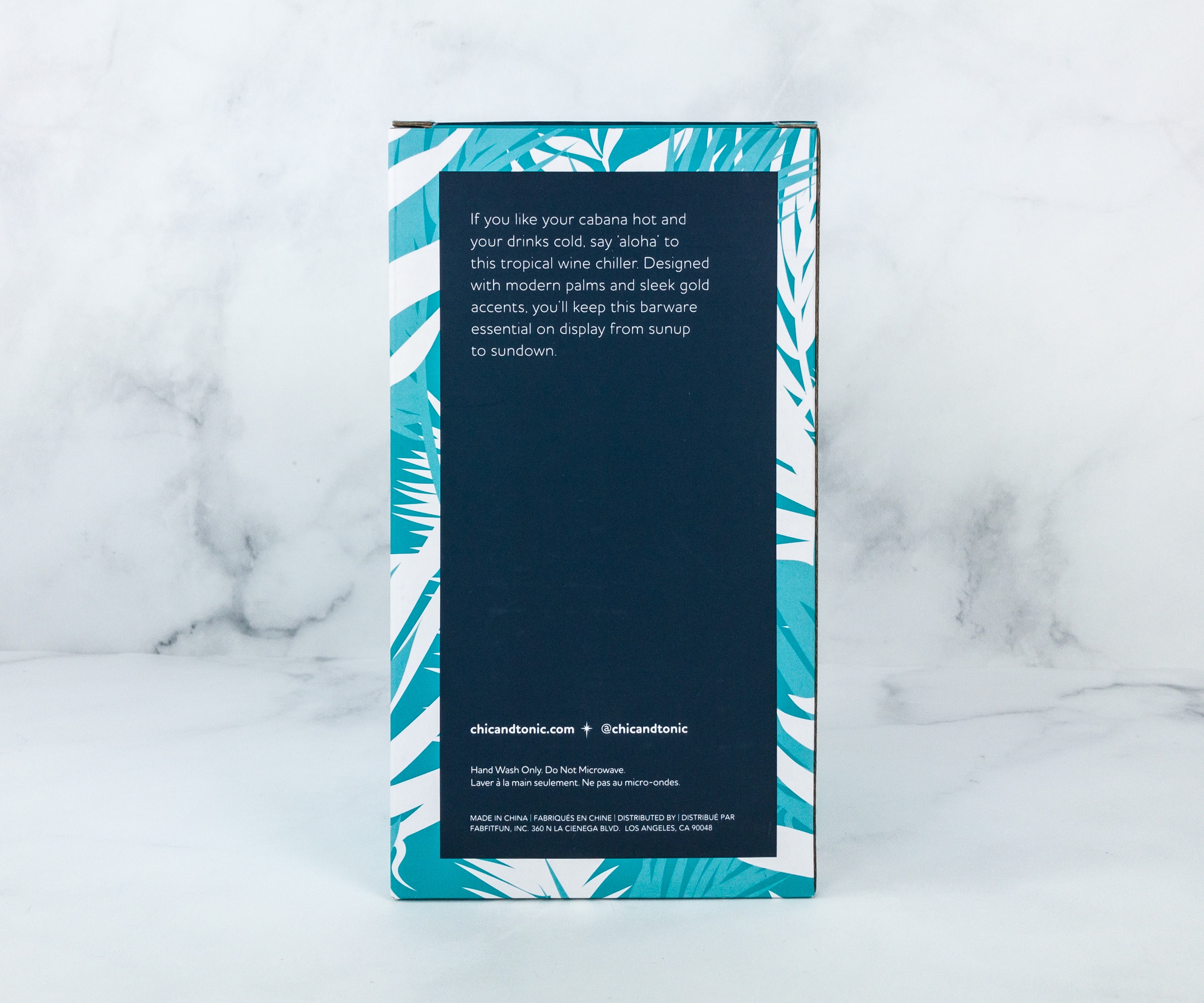 With its dimensions at 9″ H x 4″ D, the chiller can fit a bottle up to 3.5″ D.
It is made with double wall insulated vacuum-sealed acrylic and has tropical palms and sleek gold accents as design. This is recommended for hand washing only.
Odeme Cocktail Straws ($20 – paid $7) It's really nice that they included a set of reusable straws in the sale, which I needed, as disposable straws usually end up in landfills or pollute the ocean!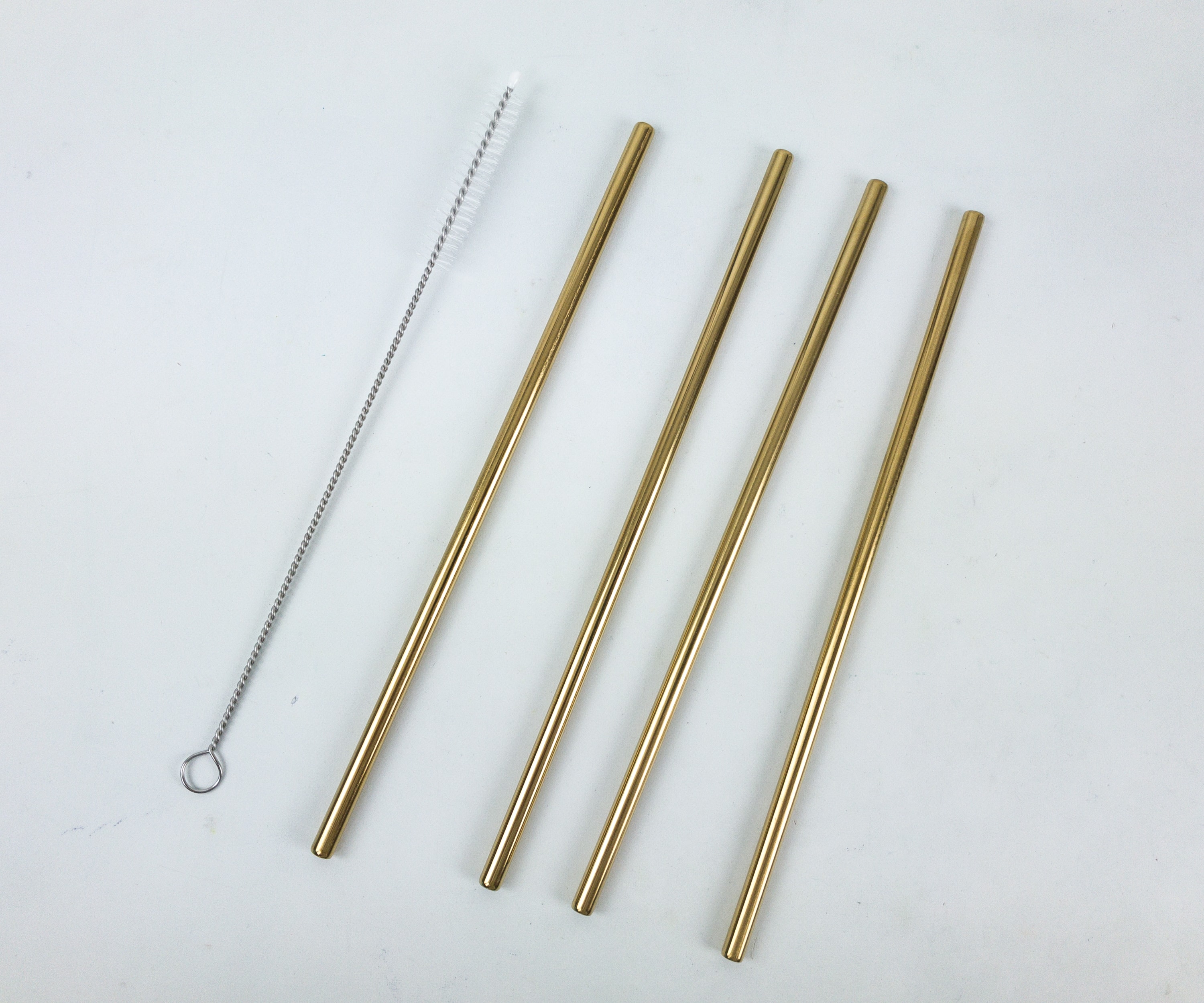 The metal straws also came with a cleaning brush, which will make it easier to clean the insides of each. These straws are great for cold beverages, smoothies, cocktails, and more.
What I love about FabFitFun is that it is always jampacked with items and products that I can definitely use. They are giving us the freedom to choose some of the products that we want to be included in our box, and I feel so happy about that! It also ensures that the products won't go to waste and can be put into some good use. I love the wine items like the chiller and the stemless chic glasses! I can't wait to use them for wine night! Also, the skin products are awesome as they are perfect for the summer. I can go out of the house without the worries of getting dry and dehydrated skin or having my makeup melt away. The box is really fantastic and I'm so excited about the next quarter's contents! The customizations means your box may not look much like mine – but that's okay, because we can all select items that are perfect for us!
What do you think of the Summer FabFitFun VIP Box?