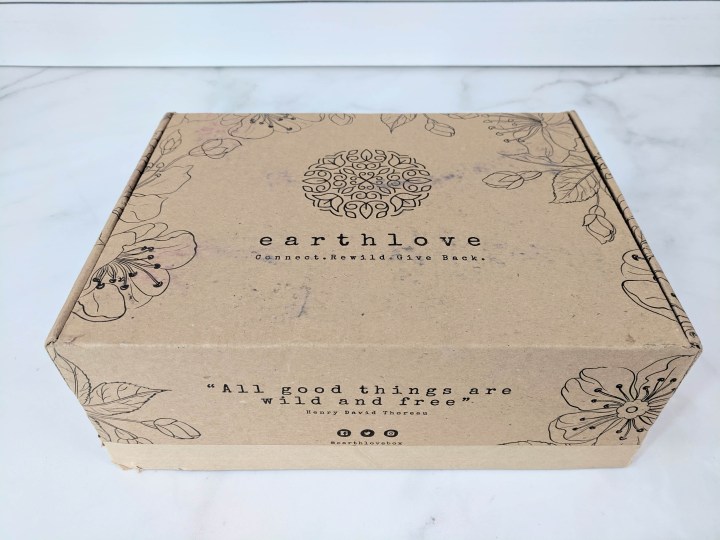 Earthlove is a seasonal wellness subscription box filled with 6-8 eco-conscious goods to celebrate mama earth, get closer to nature, and cultivate a more earth-centered life. Each box includes eco-challenges and all products are 100% zero waste, all-natural, organic, non-GMO, gluten-free, beegan/vegan, and fair-trade. Earthlove supports a different environmental charity every season working to help conserve and restore our fragile ecosystems.The box is $59.99 a month, with free US shipping.
DEAL: Get $10 off your first box! Use coupon code HELLOSUB10.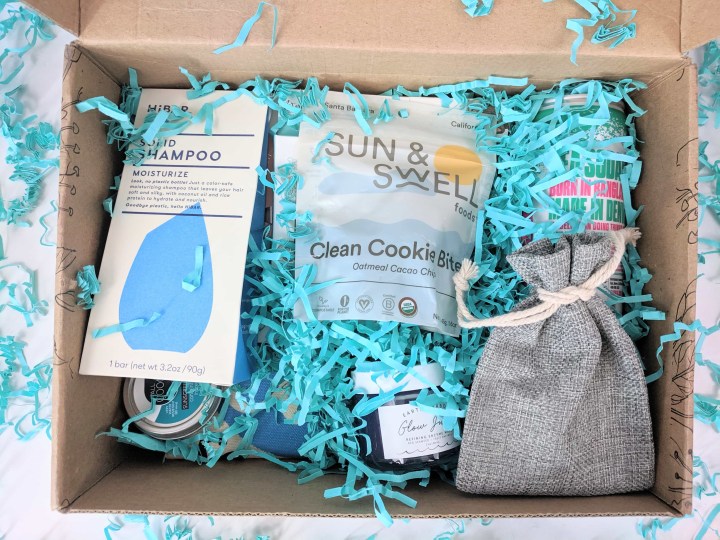 Everything in the box looks so cute there's a strong Beach Vibe coming from it with all the blues!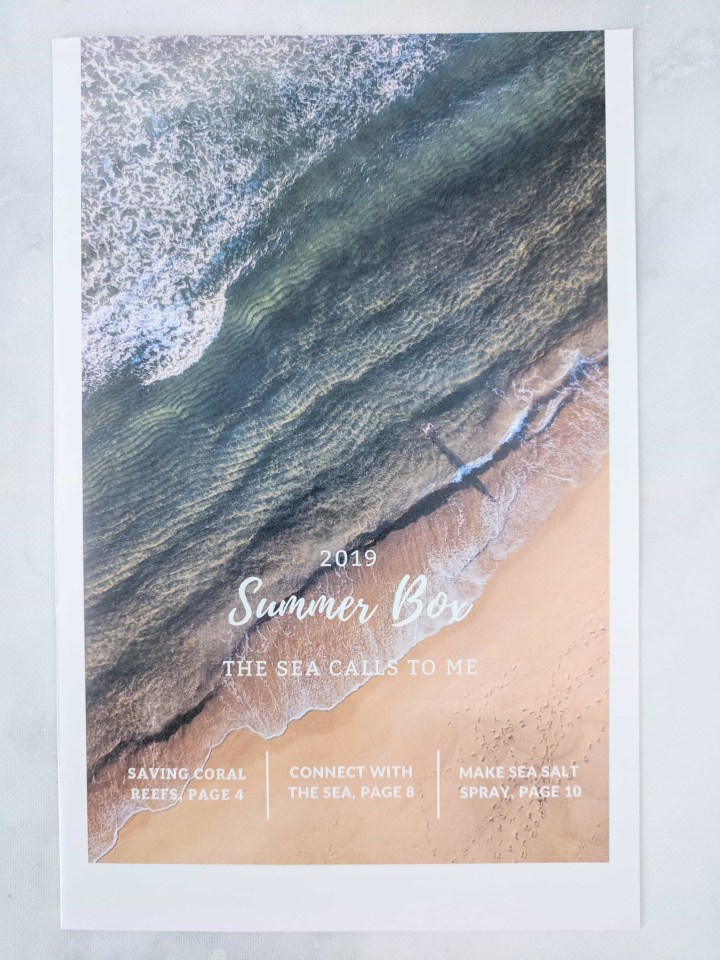 The Summer Box's theme is The Sea Calls to Me.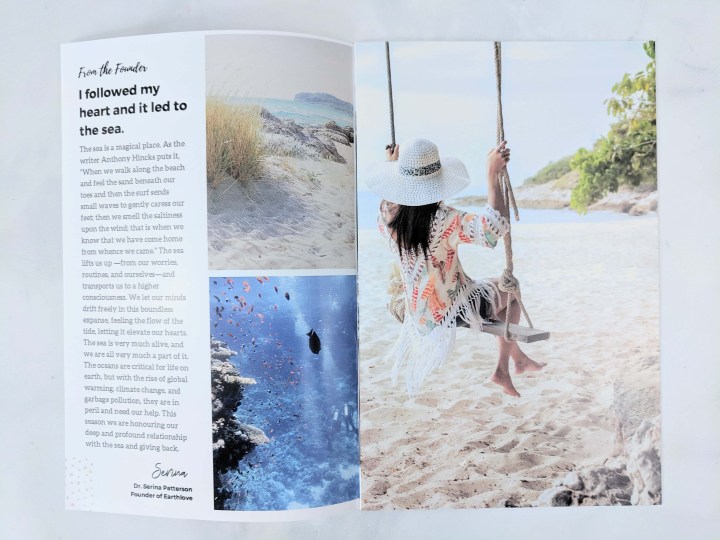 This little pamphlet introduces us to the theme of the box and how the items tie in to it.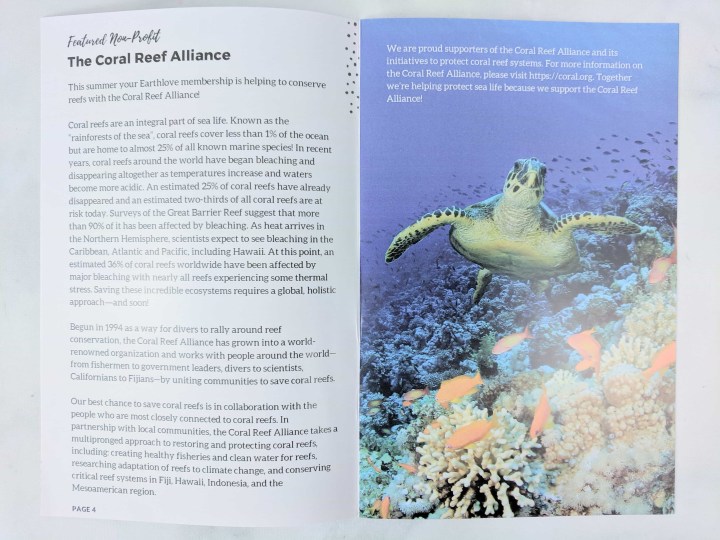 This month's Non-Profit is the Coral Reef Alliance, an Alliance that units communities around the worl and leads holistic conservation programs that improve coral reef health and resilience and are replicated across the globe.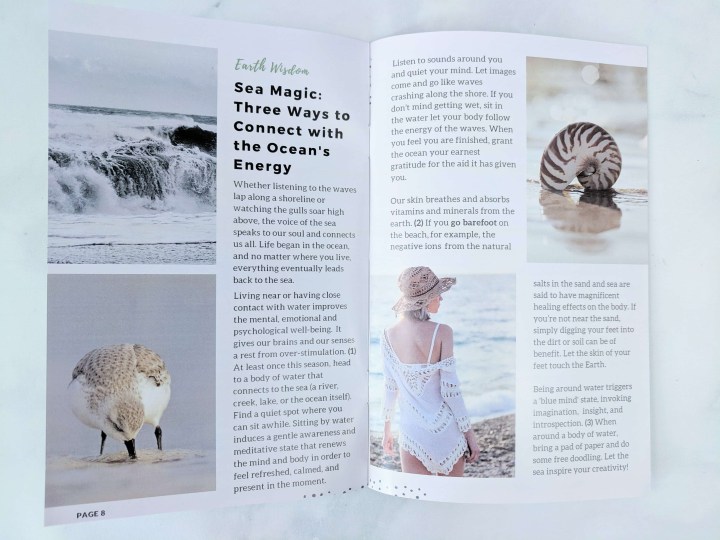 The booklet also includes some Earth Wisom and it even features a recipe to make your own sea salt spray!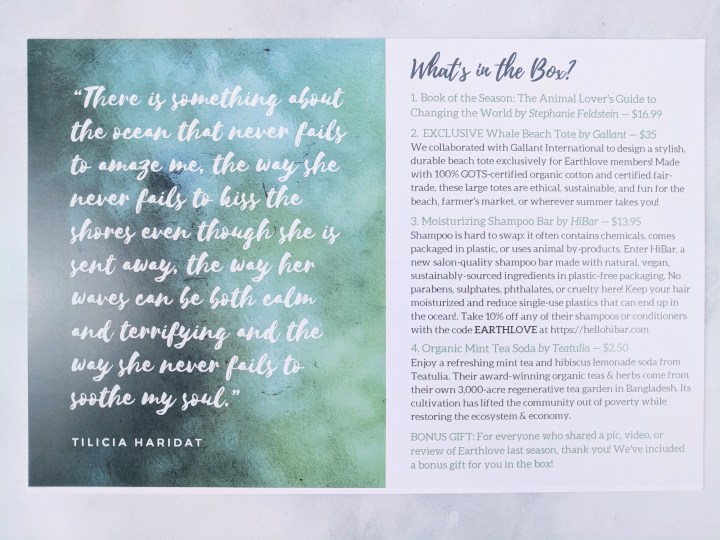 All the items are listed on a simple card, with information on how to use it or why it's been included in this box.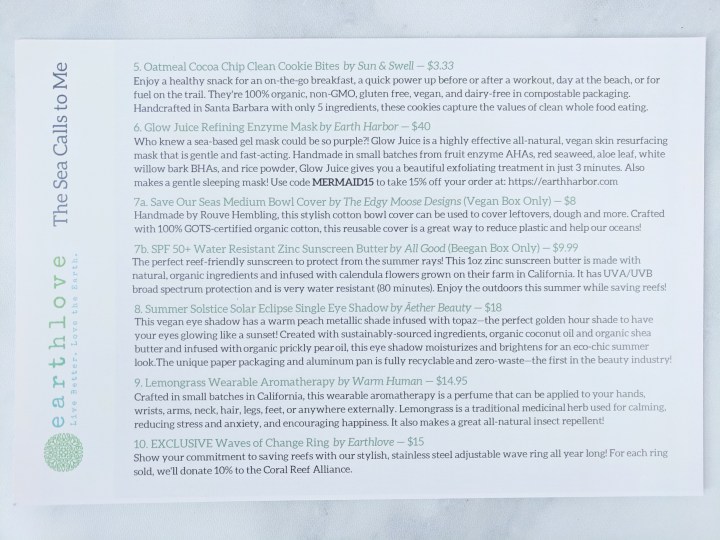 This month, we received 10 items, with one item variation for the Beegan box or the Vegan one. This review is for the Beegan box.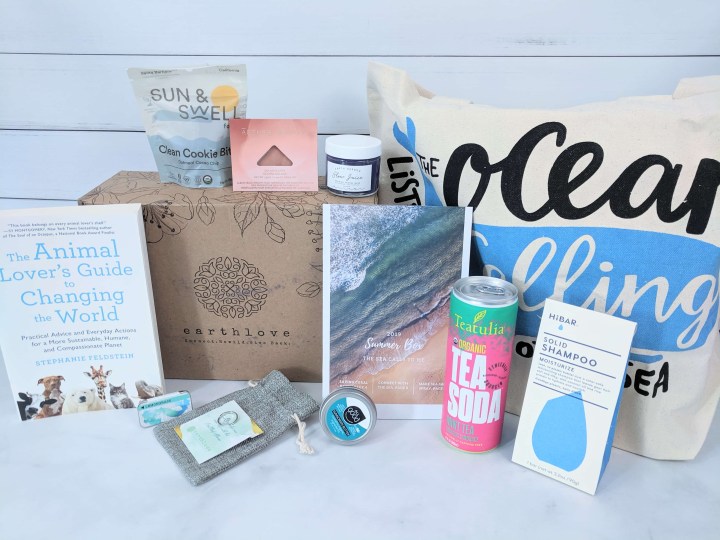 Everything in the box!
The Book of the Season : The Animal Lover's Guide to Changing the World by Stephanie Feldstein. From Amazon:
The Animal Lover's Guide to Changing the World is the inspiring, accessible, and empowering book for everyone who loves animals and wants to live a more animal-friendly life, even if they aren't ready to join a movement or give up bacon.

With more than 7.5 billion people on the planet, wildlife is going extinct at the fastest rate since the dinosaurs. Three to four million dogs and cats are killed in shelters every year; billions of chickens, pigs, and cows are killed for food; and countless animals are killed in research labs or their habitat. The numbers are daunting, but there's good news too! Even one person truly can make a difference without breaking the bank.

With Stephanie Feldstein's straightforward and encouraging guidance, readers will learn how to take action to create a better world for the animals we love. It starts with changes as simple as taking a shorter shower, skipping meat once a week, wearing "this" not "that," and extends all the way to online activism and politics.
This book seems like a nice way to help people understand that you can make small simple changes at a time, you don't need to go crazy to help animals.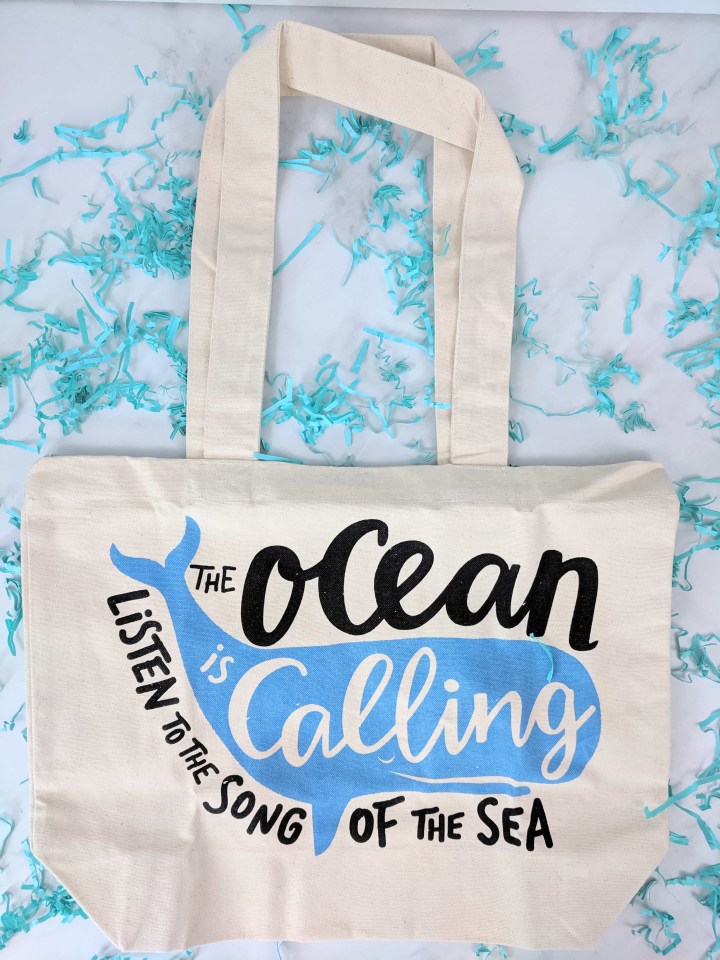 Whale Beach Tote by Gallant. This tote is made with 100% GOTS-certified organic cotton and certified fair-trade. It's a large bag, a beach towel, a book, sunscreen, a water bottle and snack would easily fit in it. Of course, it can also be used to carry fruits and vegetables at the farmer's market!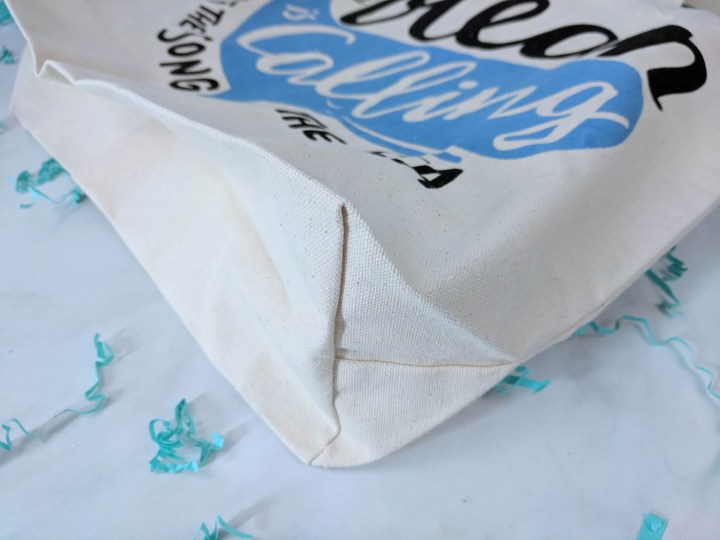 The bottom is wide so it'll stand up as soon as you put something in it.
HiBar Solid Shampoo. I love how this plastic bottle-free shampoo is also package in a plastic-free box. It's wrapped in paper to protect it and it smells really good, very refreshing without being overwhelming.
This shampoo is made with natural, vegan, sustainably-sourced ingredients. It does not contain parabens, sulfates, phthalates, and it's color-safe. And it's quite easy to use: you can apply it straight to your hair or rub it in your hands first. Once you are done, just store it away from the water, upright, so it can dry between uses. This specific shampoo is perfect for dry hair, thick hair, or any hair that needs a bit more moisture. They also offer solid shampoo for normal hair and one for thin hair as well as a solid conditioner for each type.
Organic Mint Tea Soda by Teatulia. A refreshing mint tea and hibiscus lemonade soda. The tea used in their soda comes from a regenerative tea garden in Bangladesh that helped lift the community out of poverty while restoring the ecosystem & economy. And it is really tasty!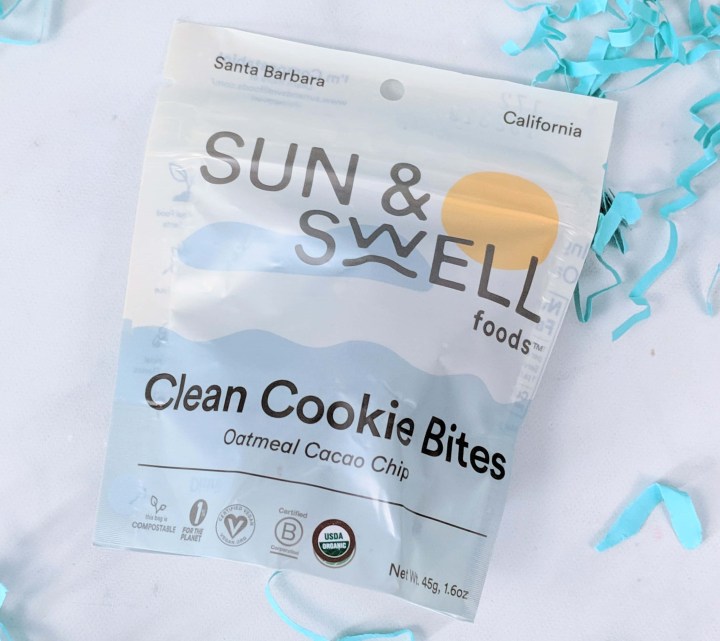 Oatmeal Cocoa Chip Clean Cookie Bites by Sun & Swell. A blend of dates, cashews, oats, cacao, and cinnamon.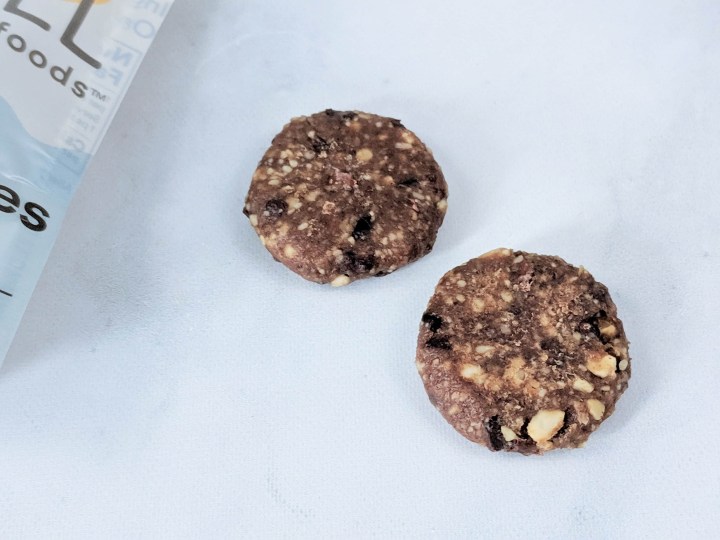 They are chewy, with a bit of crunch from the cashew bits, and they taste more of the cinnamon than the cocoa. They are organic, non-GMO, gluten-free, and vegan. Bonus: the bag itself is compostable!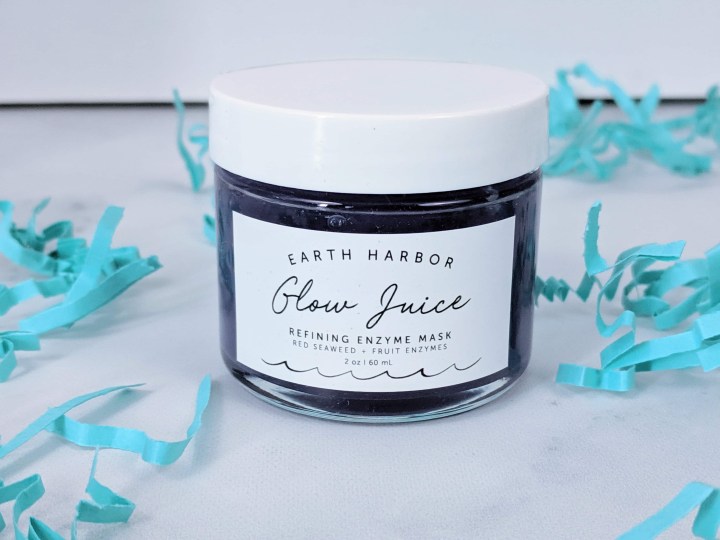 Glow Juice Refining Enzyme Mask by Earth Harbor. This is an all-natural, vegan skin resurfacing mask.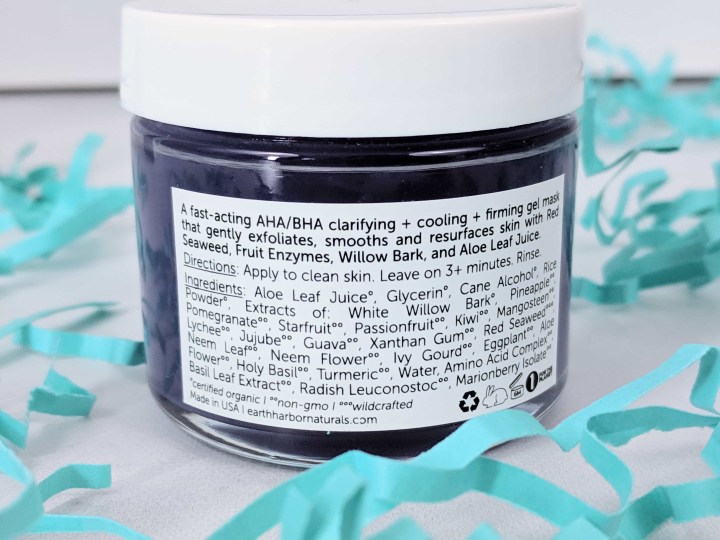 The AHAs are from fruit enzyme, it also has white willow bark BHAs as well as red seaweed, ale leaf and rice powder.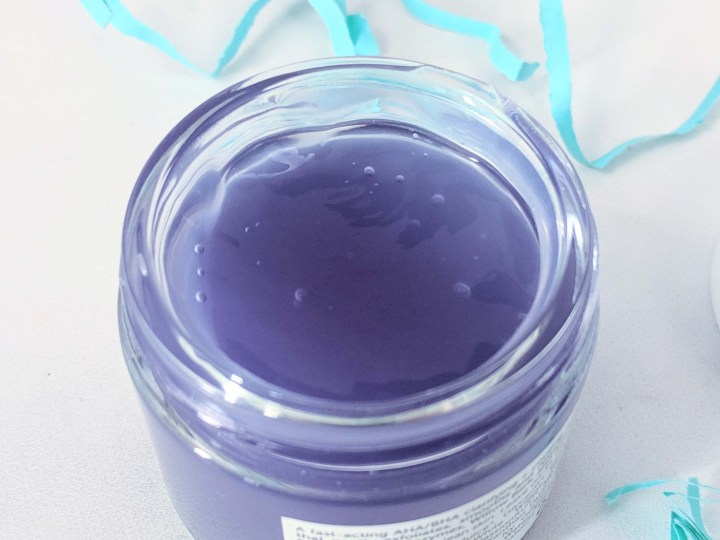 And it's purple! It has a jelly-like texture in the pot, but it's very fluid on the skin.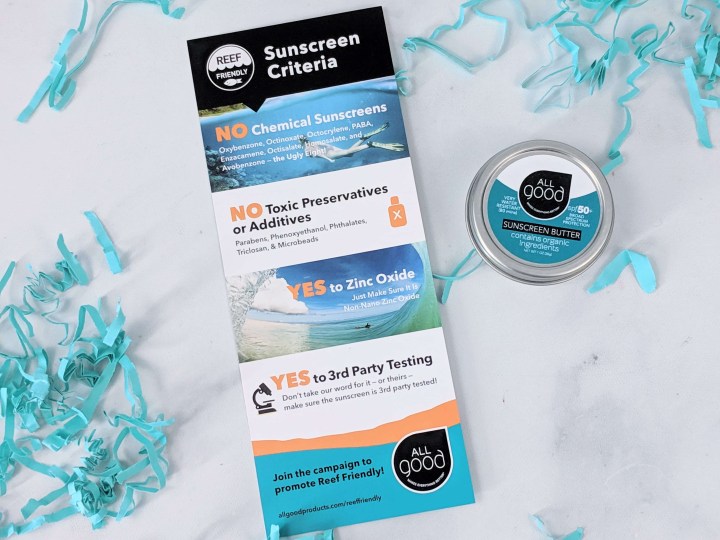 SPF 50+ Water Resistant Zinc Sunscreen Butter by All Good. This item was the BEEGAN box variation. The vegan box received a Save Our Seas Medium Bowl Cover by The Edgy Moose Designs.
This sunscreen butter is made with natural, organic ingredients and infused with calendula flowers. It has UVA/UVB broad-spectrum protection. It comes in a neat little tin that fits in a pocket or a purse so you don't carry a big bottle of sunscreen all the time. It spreads really easily on the skin.
This sunscreen doesn't contain any oxybenzone, making it safe for reefs!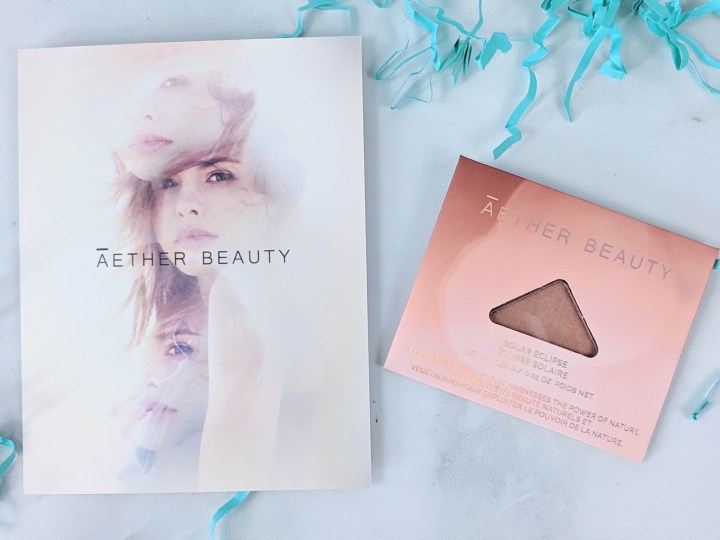 Summer Solstice Solar Eclipse Single Eye Shadow by Aether Beauty. This eye shadow is created with sustainably-sourced ingredients, organic coconut oil, and organic shea butter. It's infused with organic prickly pear oil and topaz. The paper packaging and the aluminum pan are fully recyclable.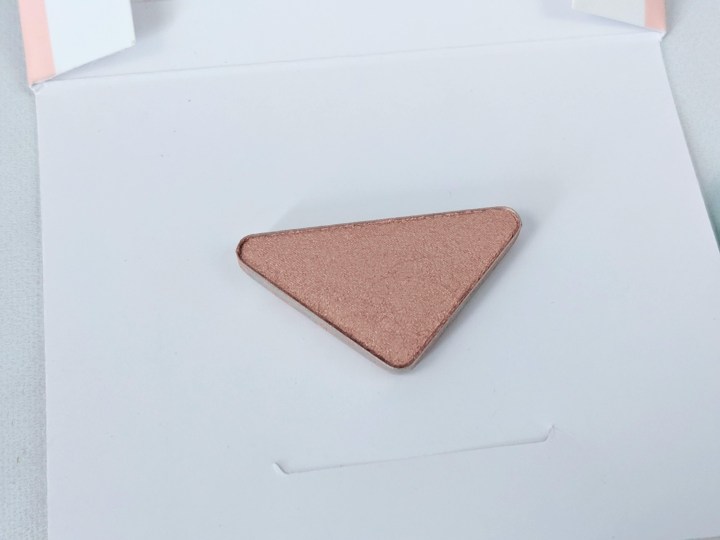 It's a lovely shade with lots of shimmering.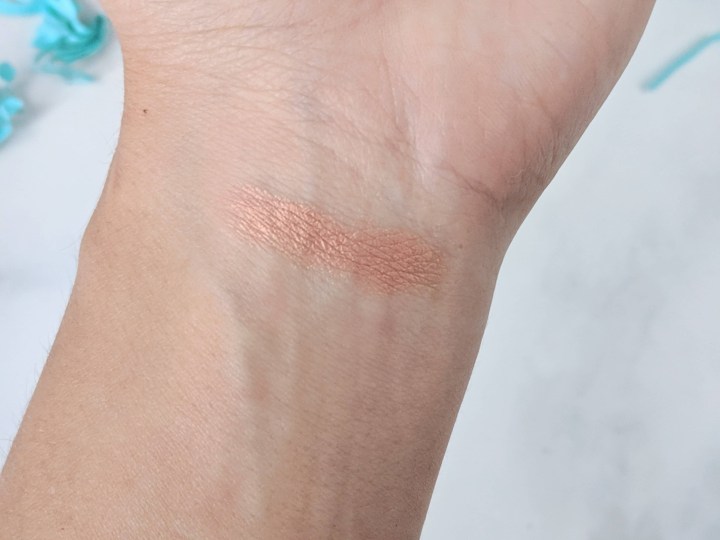 It's subtle but looks amazing. And it spread so nicely, like butter!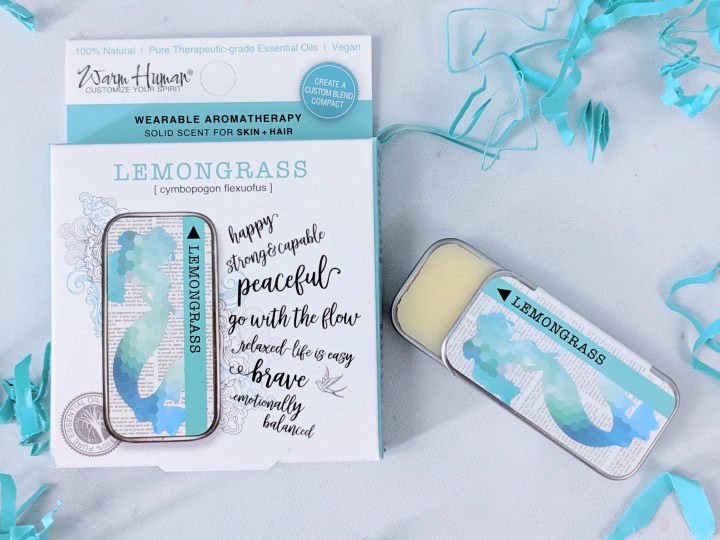 Lemongrass Wearable Aromatherapy by Warm Human. This smells so good! It's fresh but grounded at the same time. It's made with a blend of Vegan Candelilla Wax, Coconut Oil, Sweet Almond Oil, Cymbopogon Flexuosus (Lemongrass) Pure Essential Oil.
It comes in this cute little sliding top tin, and it's easy to carry around without worries about leaks from a roll-on.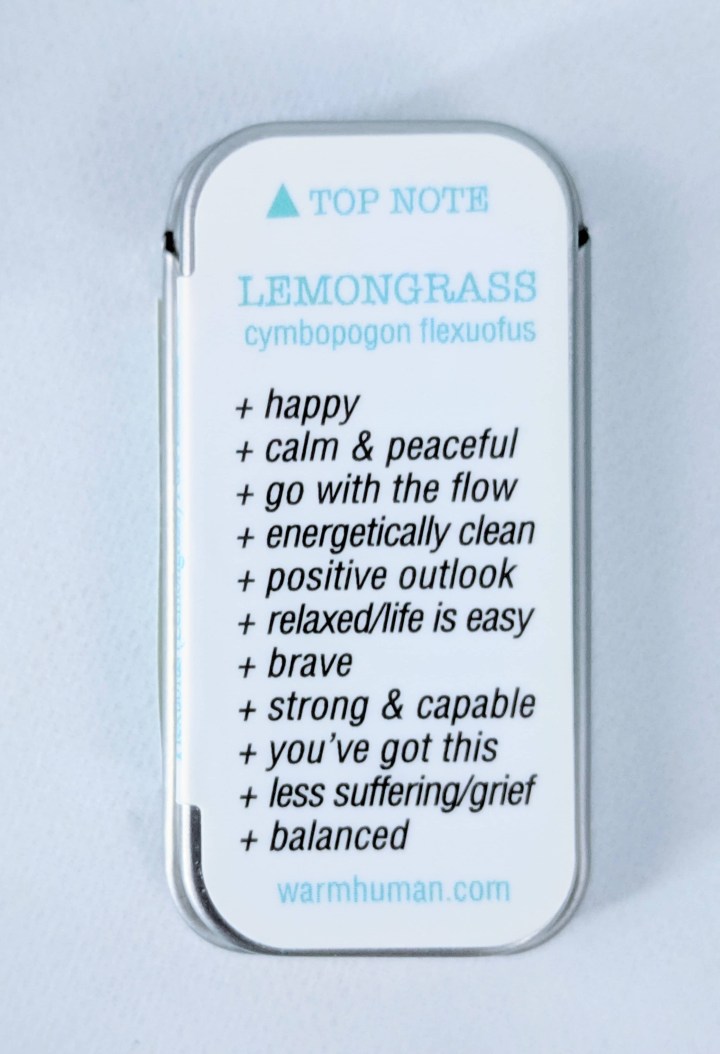 The back lists some of the benefits you can get from the Lemongrass scent.
Waves of Change Ring by Earthlove. For each ring sold, Earthlove will donate 10% to the Coral Reef Alliance.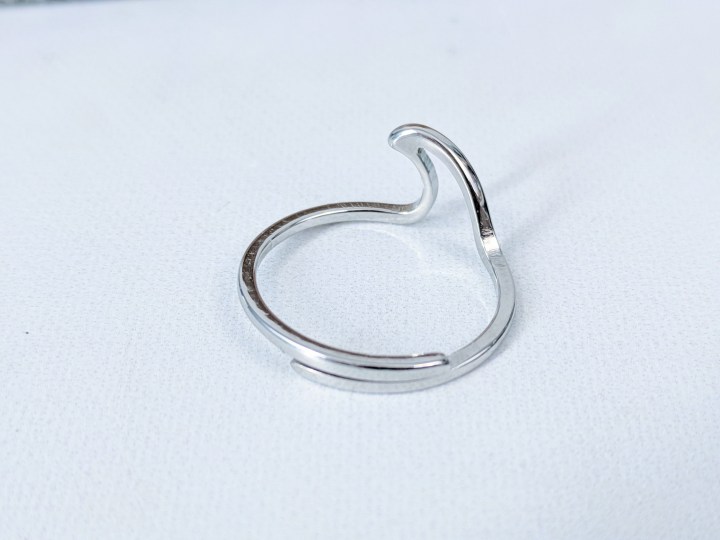 It's a simple yet stylish stainless steel adjustable ring.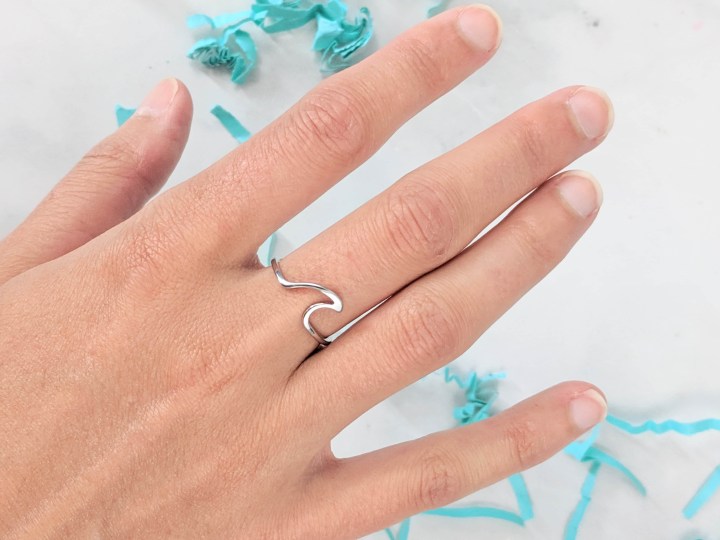 It looks super cute!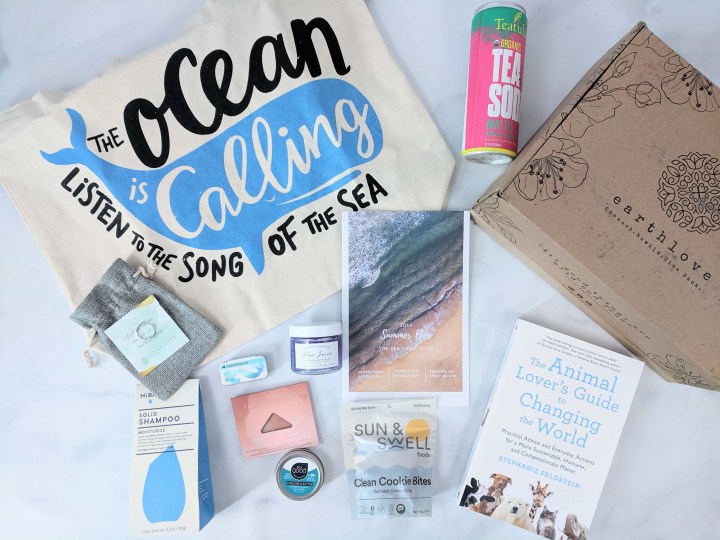 Earthlove Summer 2019's box was such a lovely box full of items that were good for us, and good for the planet. I really like all the care taken in curating a box that feels cohesive while still staying true to the Earth Love. I'm so happy that most of the items also have packaging that is compostable or reusable.
What do you think of Earthlove?