Cocotique is a deluxe beauty box subscription service for women of color and diverse ethnicities, offering an exciting and fun experience for those who love beauty and are in search of an affordable way to try new beauty and lifestyle brands. Each month, Cocotique will ship a specially curated deluxe box filled with 5-8 sample size and full-size beauty and lifestyle products for just $25 including free shipping. After trying out your samples, you can then purchase the full-size products in the Cocotique Shop.
DEAL: Get 10% off your entire subscription. Use coupon code BOX10.
This month's COCOTIQUE box was a Black Radiance "Melanin Goddess" takeover! The five Black Radiance products were selected to create a spring look that accentuates your skin tone and make it pop.
Each month, there is also a note from founder and CEO Dana Hill. This month's box is a celebration of the launch of Black Radiance's new M.U.A. Talks on YouTube. Be sure to tune in on YouTube @blackradiancebeauty.
There's a list of contents with prices for the full-size product, websites, and a few promo codes for extra sweet savings.
Everything in my box! Those are some bright colors in my Black Radiance assortment! Definitely going to be a bold look happening.

BLACK RADIANCE® Artisan Color™ Baked Blush – Rich Peach ($5.49):  This shade is currently on sale for $2.99 at BlackRadianceBeauty.com. This terracotta baked blush has a smooth, highly pigmented formula. According to Black Radiance, you can use the product to "highlight, color, or contour your cheeks with sheer color, when used dry". This can also be used wet for a more intense look. Let me start by saying that the shade Rich Peach is more of a warm, bright pink than peach. True to its description, the pigment is strong, and I nearly had a heart attack after my first swipe… It was so bright that I actually had to tone it down with my face powder. This picks up on my brush much easier than my regular blush. So, I would advise you to use a light hand and build the color to your liking.
BLACK RADIANCE® Sparkling Liquid Eyeliner – Black Star ($2.99): This eyeliner is formulated to be long-lasting, smudge-resistant, and fast-drying… all of which I found to be true. The fine tip brush delivers a clean line that can be adjusted for thin or bold looks. However, the water-based formula is supposed to also have light-reflective properties that "deliver maximum shimmer to accentuate the eyes". That, I did not notice when I wore the eyeliner.

BLACK RADIANCE® Perfect Tone Lip Color – Hibiscus ($2.29):  This shade is currently on sale for $1.99 at BlackRadianceBeauty.com. This lip color promises to deliver lasting full coverage and shine. The color was bold and did not dry out my lips or make them tacky. Actually, they felt more moisturized after I applied the color than before. This collection of lip colors is designed to complement multiple skin tones. Hibiscus is a vivid pink. I was scared of the bold color choice, but it didn't look too bad on me. I was feeling my inner Nicki Minaj with this. LOL ?

BLACK RADIANCE® Eye Appeal™ Lasting Mascara – Black ($2.99):  I could not find this at BlackRadianceBeauty.com. However, it was available at Walmart for $4.74. According to the product description, this mascara is supposed to lengthen and volumize lashes. However, it seemed to do more in regards to separating and defining my lashes. It is also formulated to be water-proof, tear-proof, and smudge-proof with wear for up to 12 hours. The mascara contains a blend of Argan Oil, Shea Butter, and Jojoba Oil to condition and protects lashes from brittleness and breakage. I did have to use a separate eye makeup remover to get this off before washing my face.

BLACK RADIANCE® Urban Identity Eyeshadow Trio – Desire ($2.99):  This palette is currently on sale for $1.99 at BlackRadianceBeauty.com. The Urban Identity Shadow Trio was created to deliver "tone on tone definition with intensely beautiful textures that blend easily". Each trio features pearl, metallic, and matte shades of the same color family. The shades in Desire are from the purple family (help to accentuate brown eyes). The shadows went on smoothly and did blend well. However, I noticed a lot of fallout with the product. If you're like me and do your eyes after your foundation, be careful.
Here's a look at the product swatches. From top to bottom:  Rich Peach blush, Sparking eyeliner in black, Hibiscus lip color, and Desire shadow trio (matte, pearl, and metallic shades).
COCONUT RESTORE Keratin Intensive Repair Masque ($1.99): This Repair Masque is enriched with Extra Virgin Coconut Oil and Keratin to restore your hair's natural elasticity and cuticles and split ends. After shampooing, apply the mask and leave on for 5-10 minutes. Rinse and follow with your regular conditioner. You can also go under the dryer with mask on. Now that summer is on the way, this will be a good mask to use after a day at the pool.

COCONUT RESTORE Texture & Volume Spray ($1.99): This Texture & Volume spray seems to be formulated for hair with soft curls and waves. It is designed to add body and volume, protects hair from frizz, and creates a tousled finish. This is great if you want a beachy look. My uncle actually used this on his hair. He tends to be dry and this added shine while providing some nourishment.
DUFT AND DOFT Nourishing Hand Cream – Scandilicious ($6.90):  When I looked up this brand of hand creams, Scandilicious was described as a soft raspberry and vanilla scent. However, I found that it was more of a floral scent. Maybe mine got given the wrong label? Anyway, this is a rich hand cream made with Shea Butter and Vitamin E. Once worked into the skin, it did not leave a greasy after feel and my hands felt soft for hours.
SHEAMOISTURE Bamboo Charcoal Body Scrub w/ Tea Tree Oil ($10.99):  This currently retails for $11.99 at SheaMoisture.com. Made with African Black Soap to cleanse, this scrub exfoliates dead skin away for a healthy glow. It uses bamboo charcoal to draw out impurities, tea tree oil to soothe and calm skin, and shea butter to moisturize. It does not leave skin feeling oily. I am a fan of body scrubs, and this one was OK. I would absolutely reach for this when out of my regular body scrub.

URBAN HYDRATION Olive & Argan Cleansing Face Oil ($7.99):  Regularly $14.99, this currently retails for $9.99 at UrbanHydration.com. This cleansing oil uses a blend of olive and argan oils to clean and soothe skin. It also helps tone, treat razor bumps and burns, and works as a natural exfoliator. This was not my favorite product. It did a good job removing stubborn makeup but left my skin feeling very oily. I ended up using my regular face wash just to feel normal. On a side note, for every product purchased, Urban Hydration has partnered with WATERisLIFE to donate one gallon of water to a community without easy access to drinking water.
I used the cleansing oil on the product swatches. I had to work it a little more with the eyeliner, but it did get everything off my skin.
Since the colors in this curation were so vivid, I decided to try a full-faced look using them. What do you think – serious and studious or wild and fun?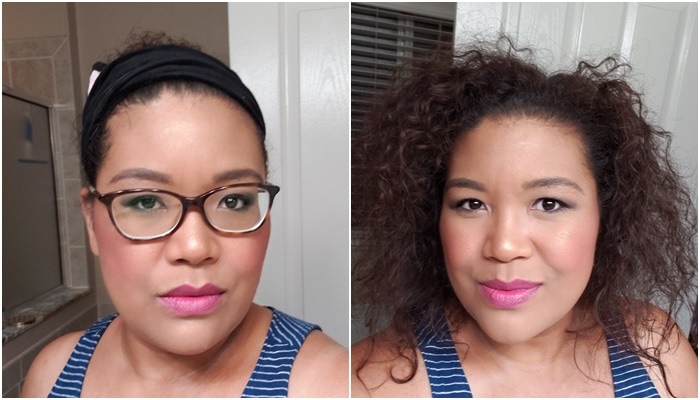 I've said it before and I'll say it again… I love when Cocotique does a brand collaboration. I get to try a range of products that work together and aim for maximum results. Black Radiance isn't one of the first brands I look to for new products, but I have had positive results when I've turned to them. What was your favorite item? Let me know with a comment below.
What do you think of this month's box?