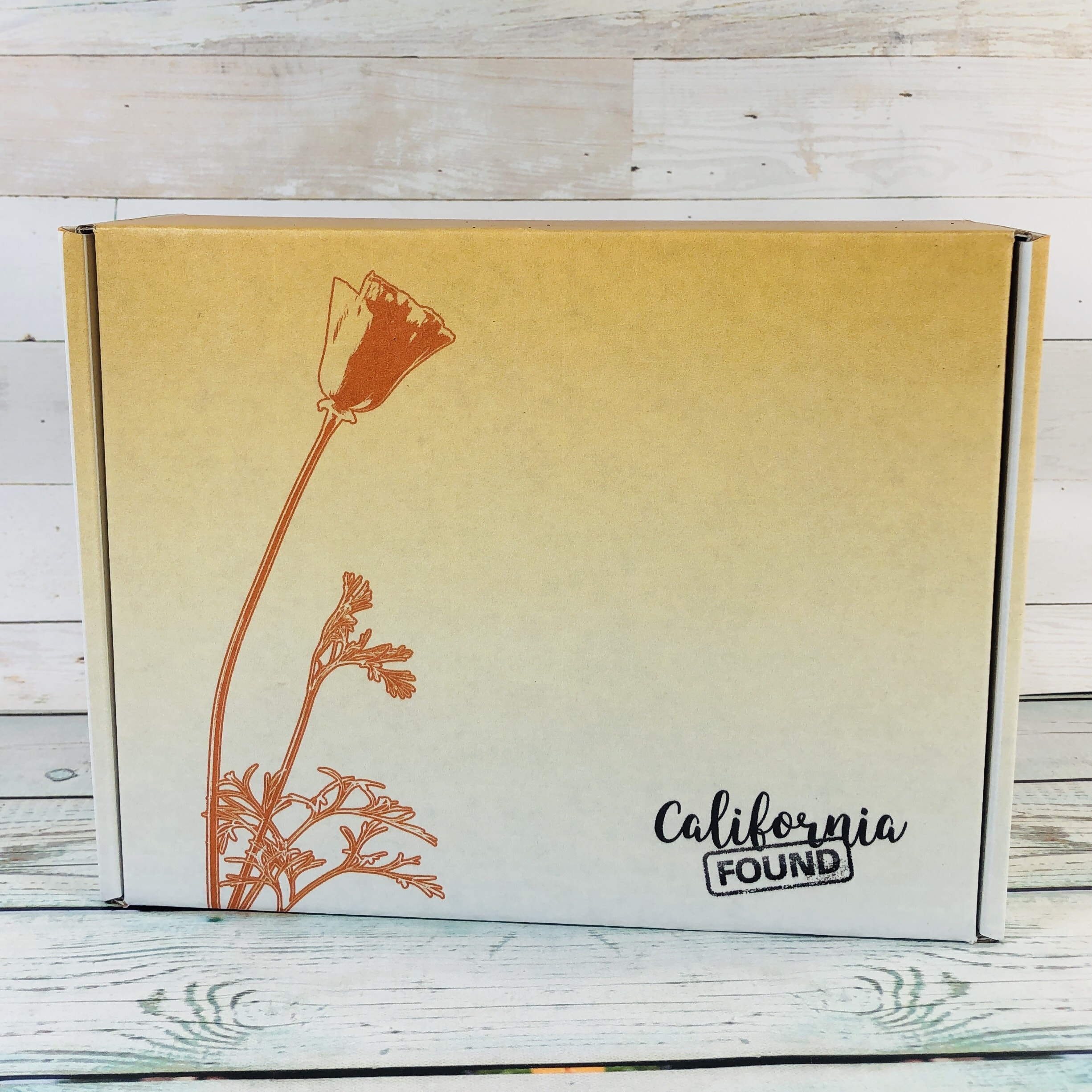 California Found is an awesome monthly subscription box that delivers the best of The Golden State, directly to your mailbox! Each box is $49, but has a value of $90+! What will you find in your box?
Once a month, our subscribers experience the California lifestyle through a box filled to the brim with natural spa & beauty products, locally sourced gourmet treats, beautifully crafted home goods, and infinitely wearable jewelry. Each box tells the story of five to seven California makers through their products and an individual notecard dedicated to each one. Every beautifully packaged delivery reflects the laid back, stylish, uniquely chic attitude that is California.
DEAL: Save 20% off your first box with coupon code HSGET20.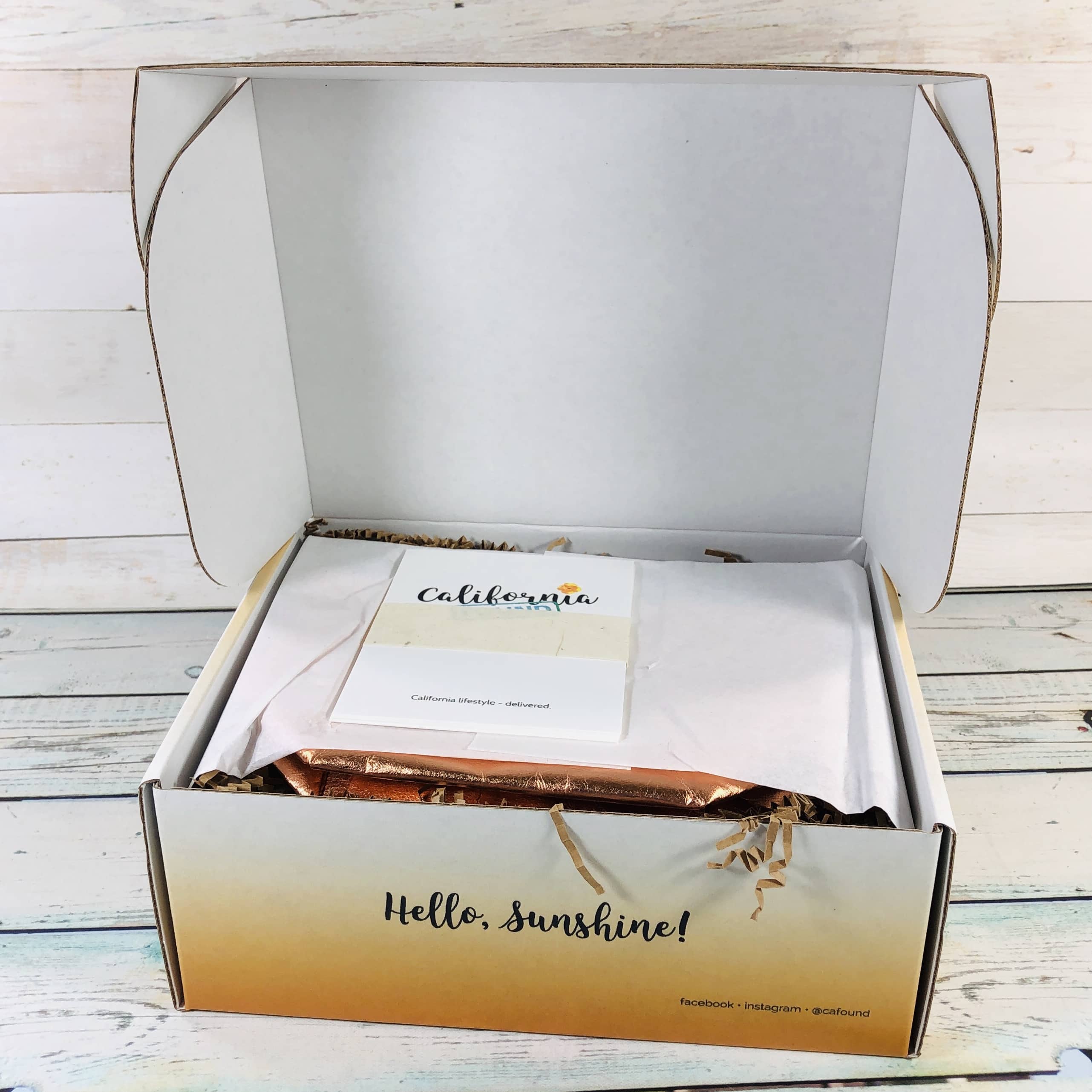 I love opening this box, it always looks so well put together! The box itself got a makeover this month. You can see the state flower, the Golden Poppy, on the outside of the box (see previous picture). A super bloom of these beautiful flowers happened close to my mom's house this past spring and I managed to catch site of a few stragglers on my visit last week.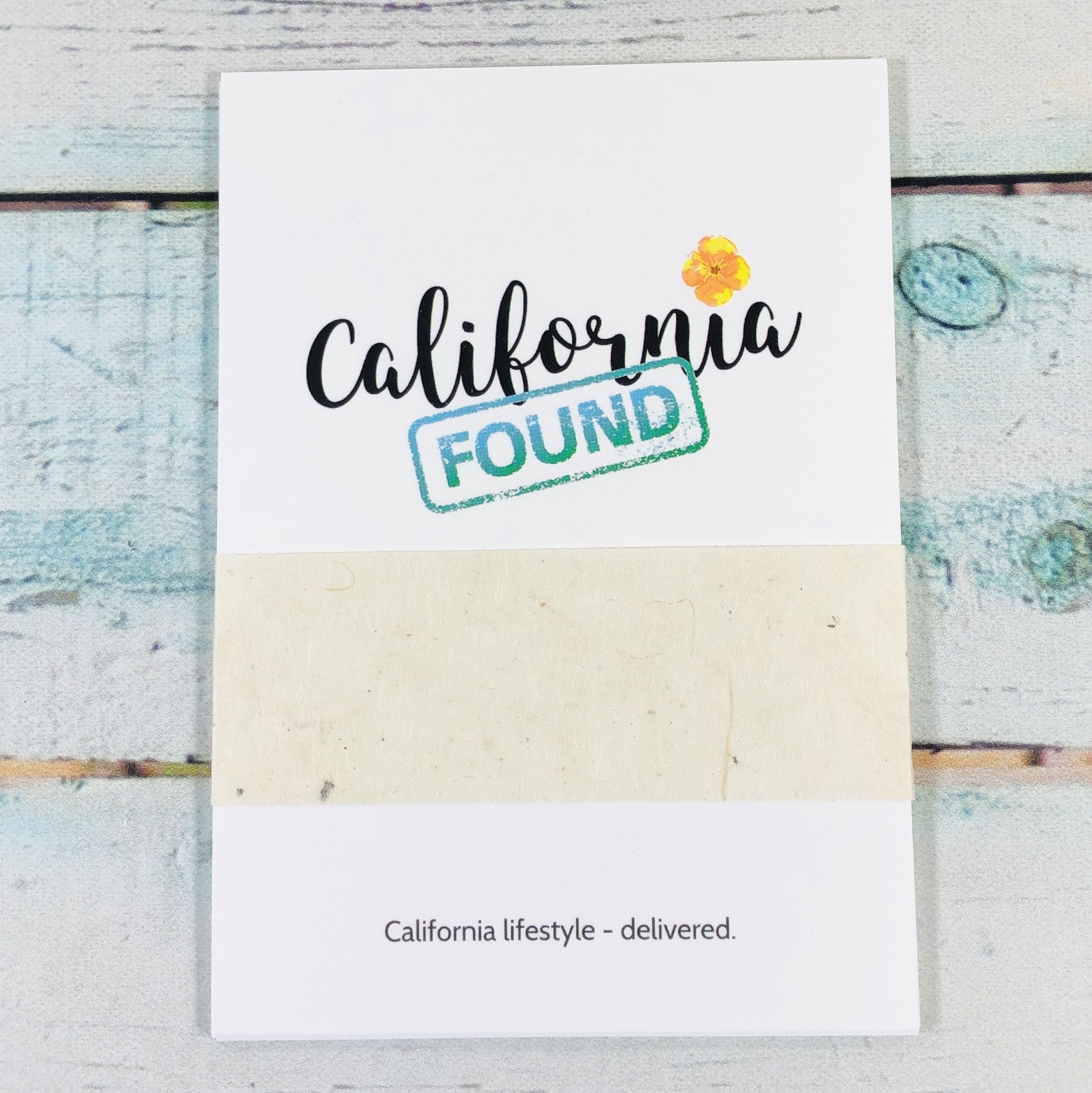 I found a set of cards – one with an introduction to the current box, and one for each of the vendors featured in this month's box. The bundle was secured with seeded paper.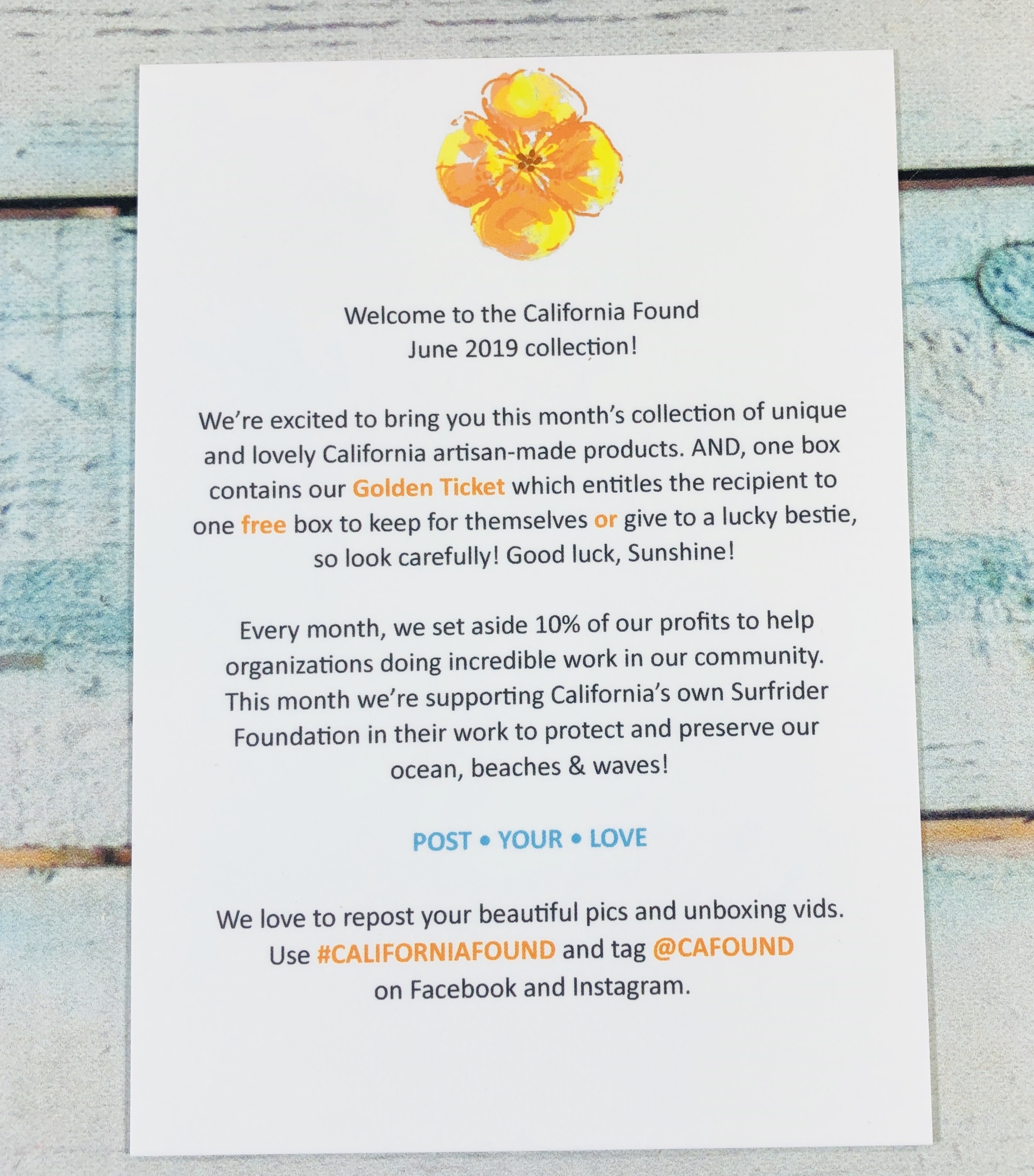 California Found has The Golden Ticket, which is perfect for a box coming from The Golden State! One box each month will contain a special ticket that will entitle the subscriber to a free box for themselves or for a friend. Also, California Found gives 10% of their profits to charitable organizations and this month proceeds will go to the Surfrider Foundation, which works to help preserve the ocean, waves, and beaches of the world. The beach is my happy place so I really appreciate their efforts!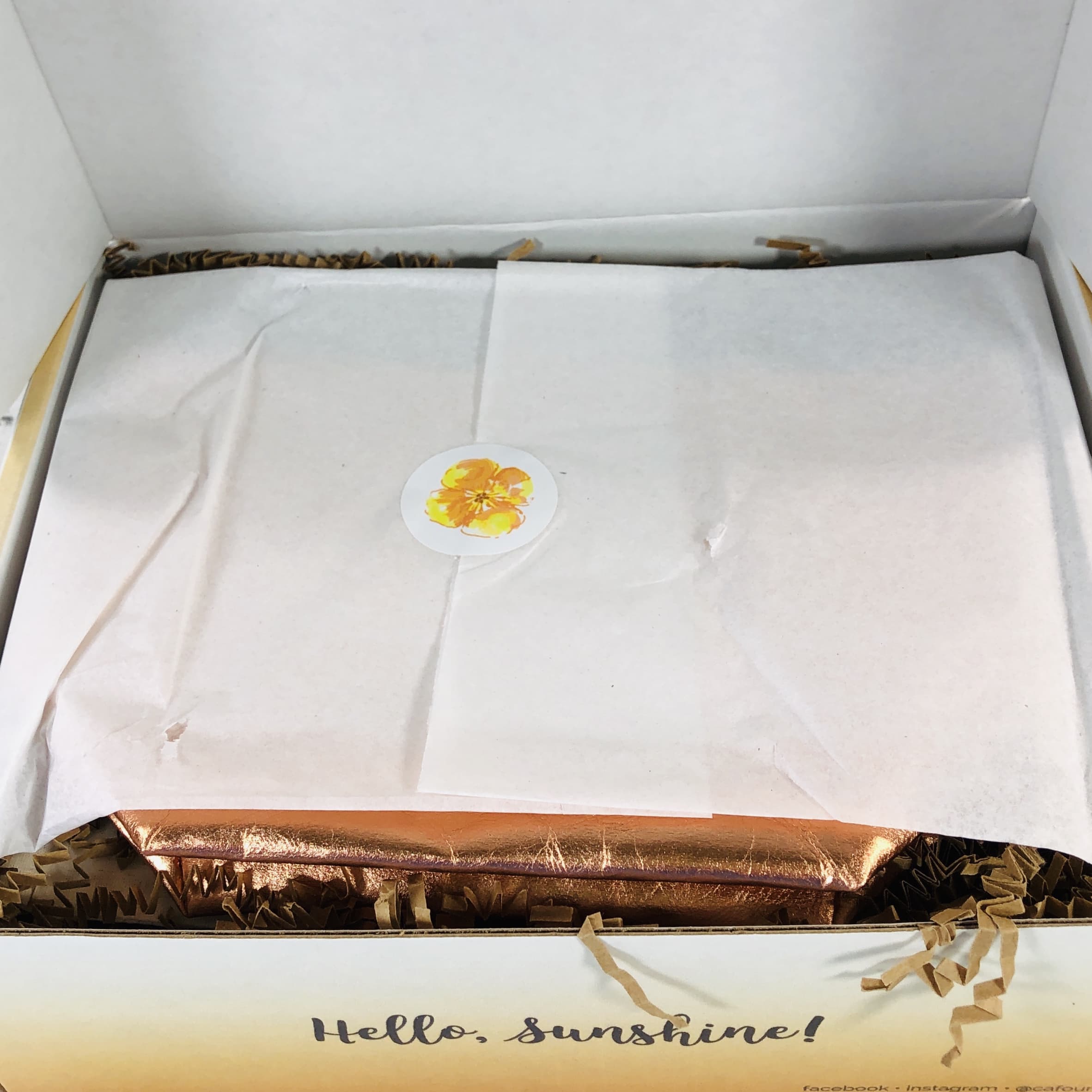 My items were wrapped in tissue paper that was sealed with a sticker.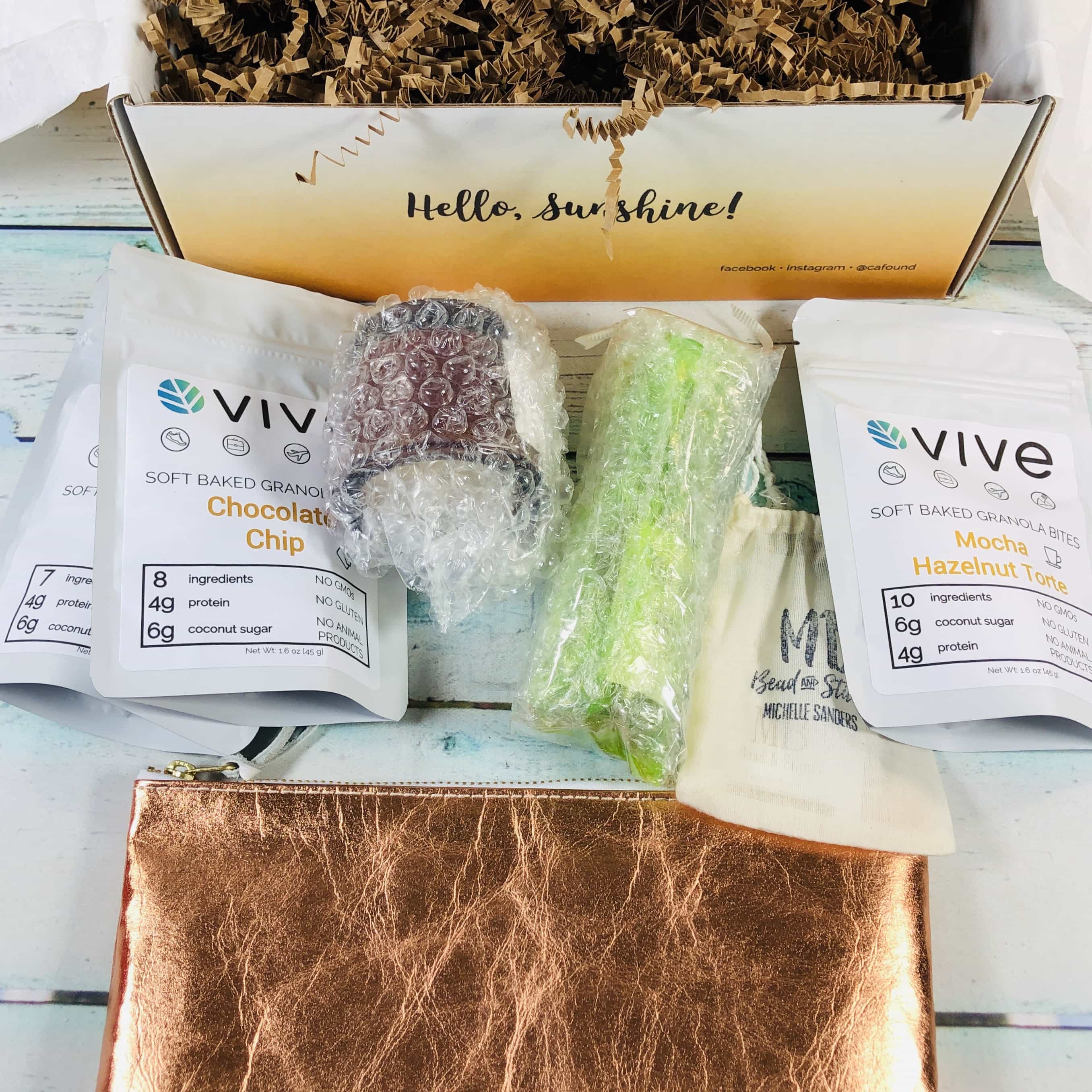 My items were tucked into shredded paper squiggles and some of the items were wrapped to keep them from breaking during transit.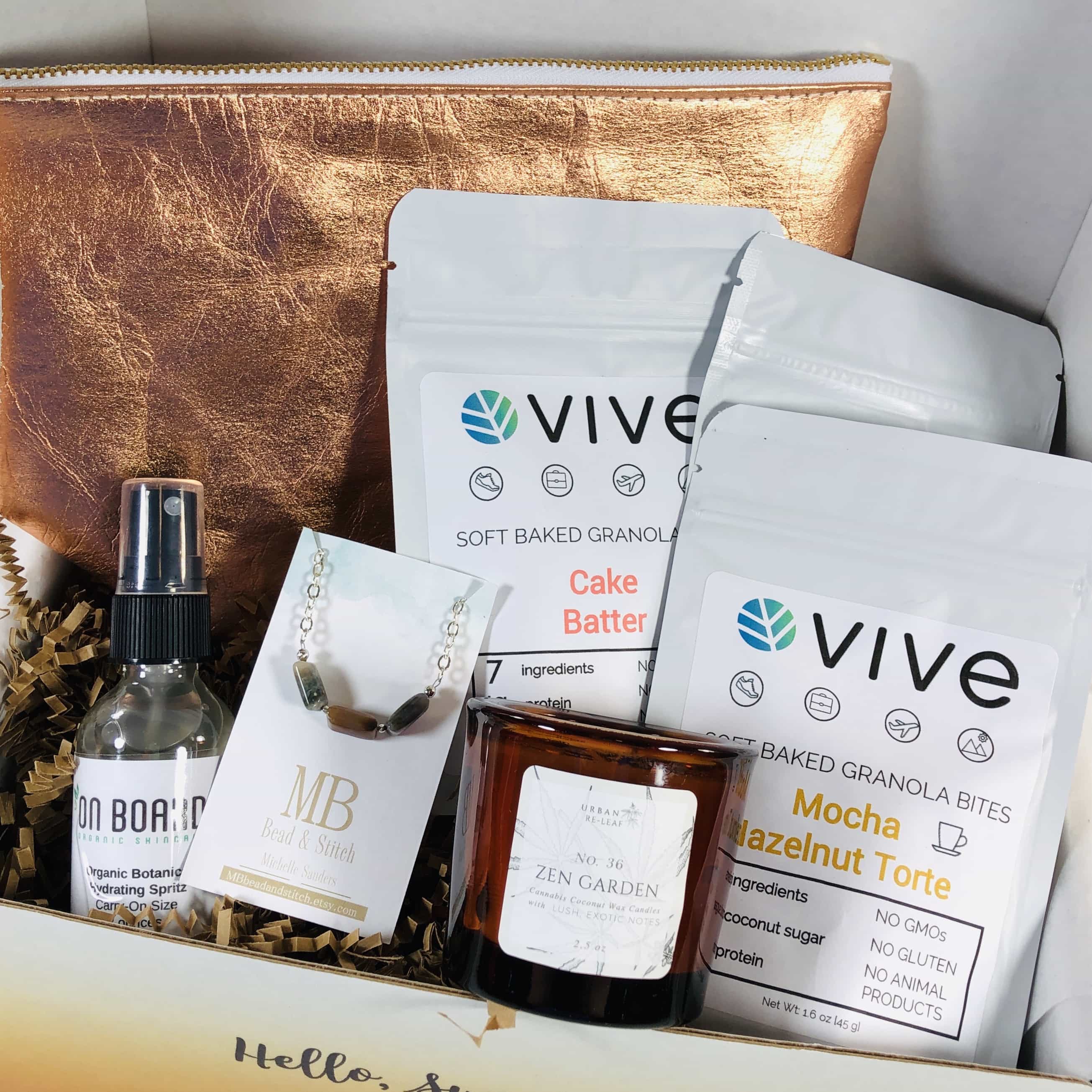 Everything in my June 2019 California Found box!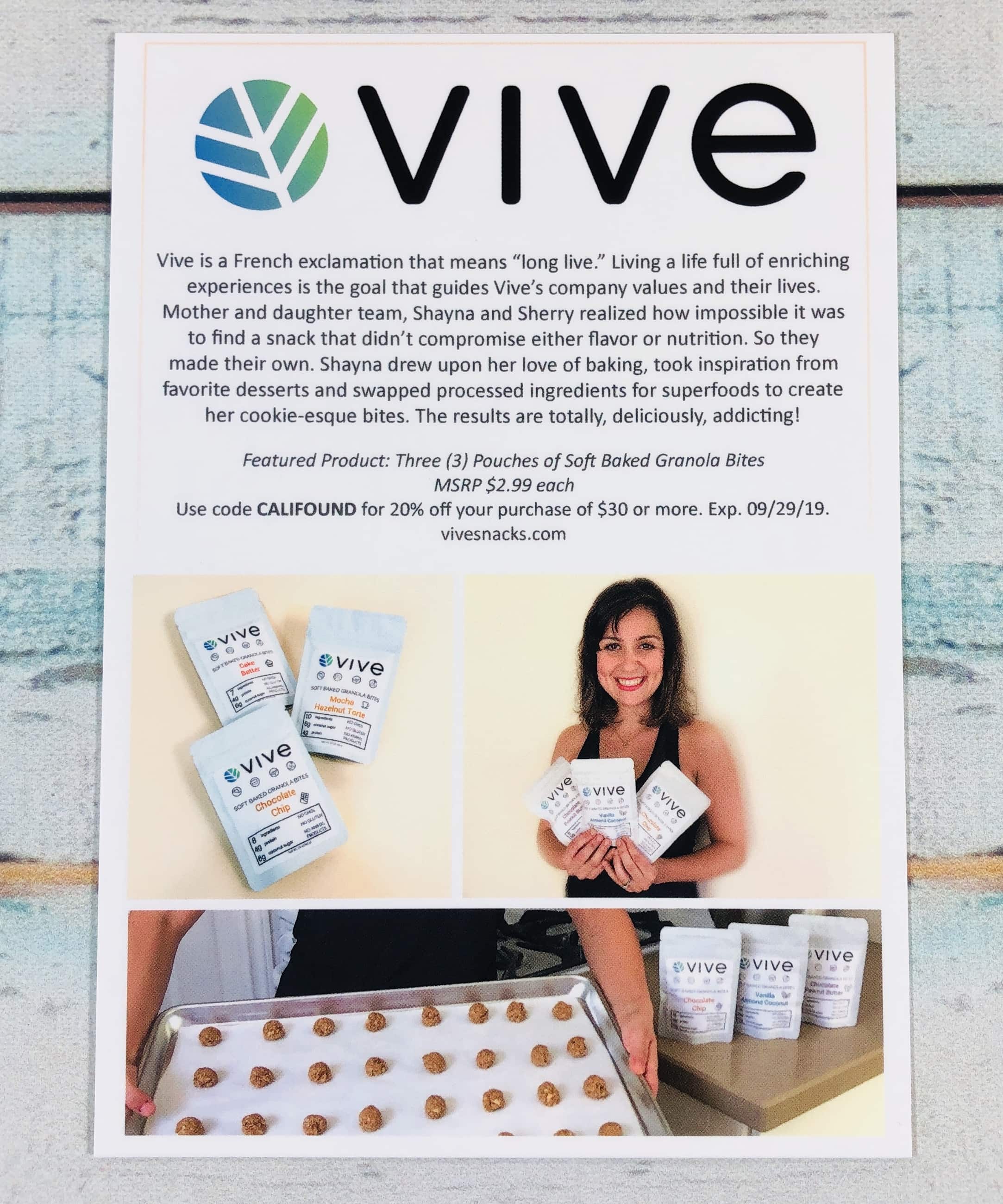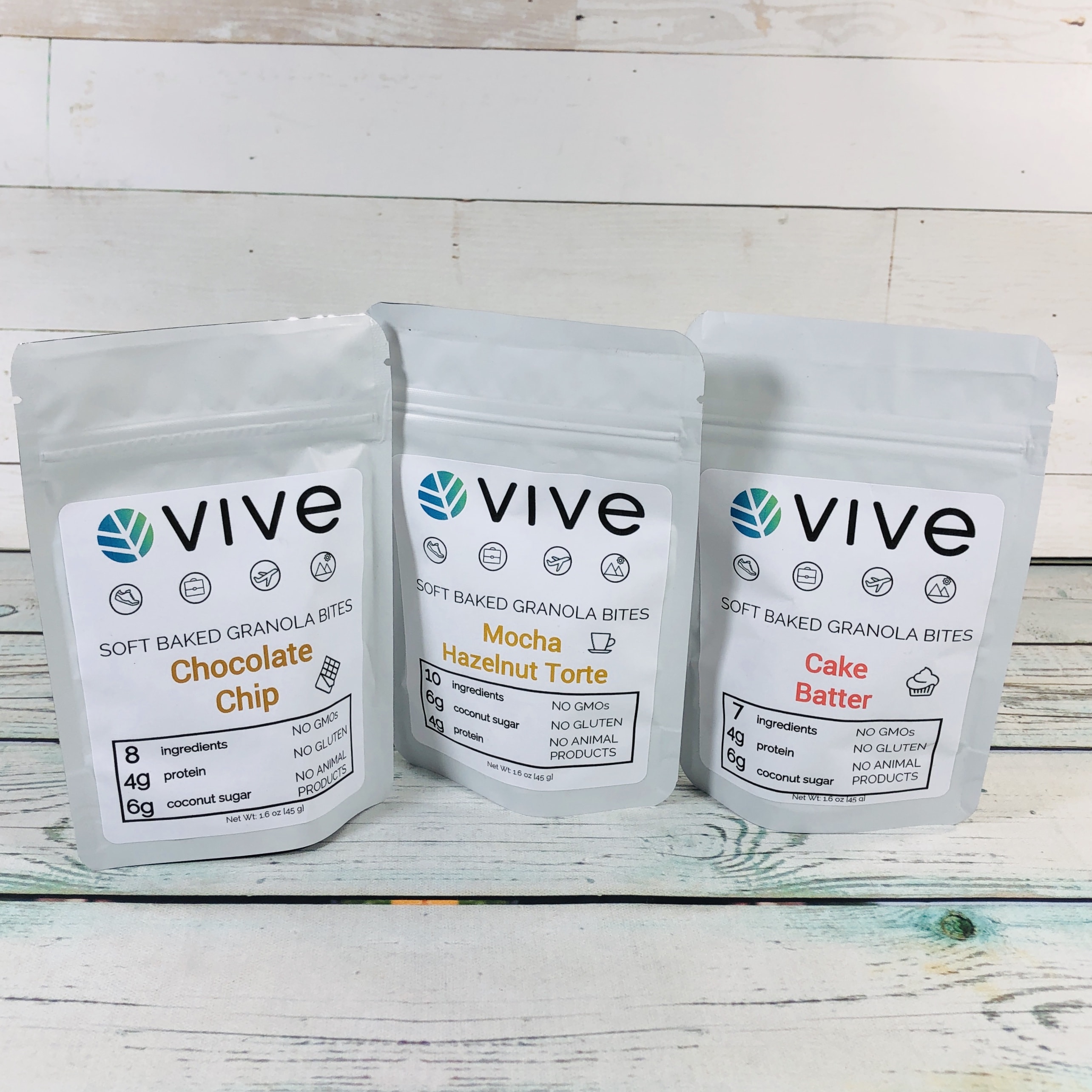 Vive Soft Baked Granola Bites ($8.97) I love these little soft-baked bites, they are just my kind of snack!
We received three different flavors and the ingredients were listed on the back of each pack. All of the three I received had gluten-free oats, coconut sugar, olive oil, water, flax meal, vanilla, and Himalayan pink salt.
From left: Cake Batter tasted mostly like vanilla; Chocolate Chip had a bit of added chocolate flavor thanks to chocolate chips; Mocha Hazelnut Torte had the most chocolatey flavor of all plus just a touch of coffee. All three were soft and so tasty!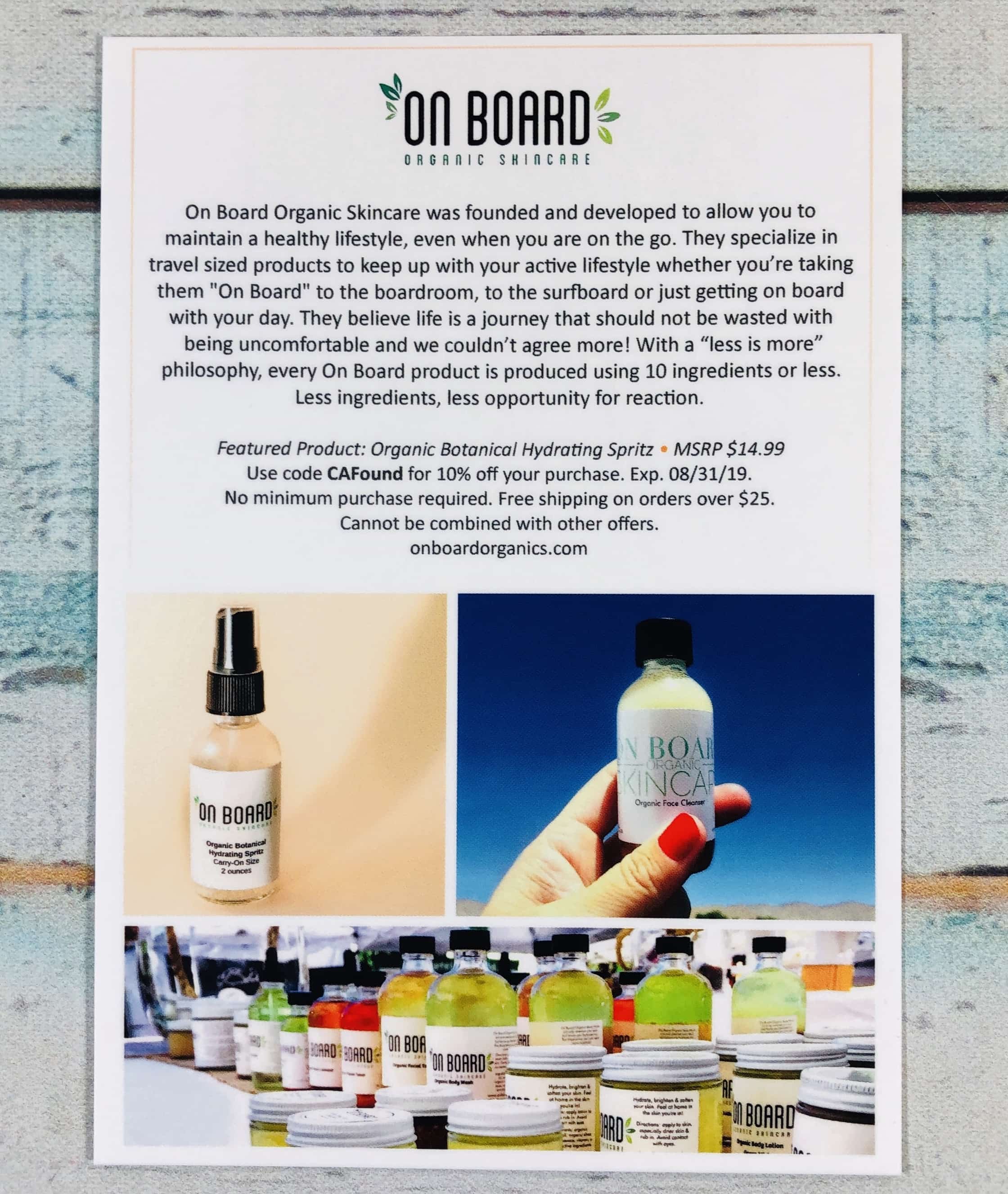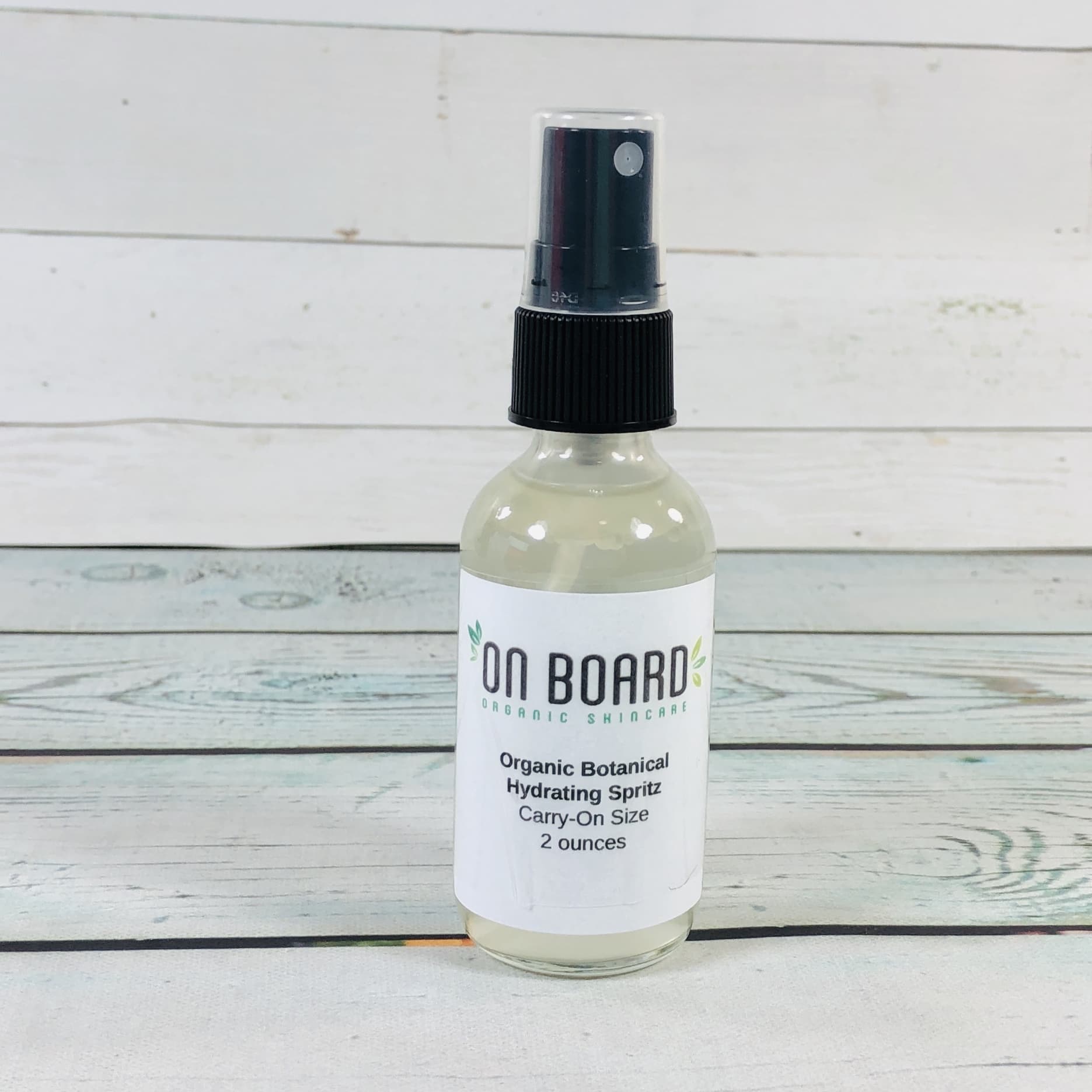 On Board Organic Skincare Organic Botanical Hydrating Spritz ($14.99) On Board specializes in products that are TSA-friendly and that have 10 ingredients or less, plus they want their products to give off an LA vibe.
Coconut water, aloe vera, jojoba oil, and "botanical fragrancing" are the ingredients and you can spray this on the face for a little refresh on a hot summer day. You can also spray on the body, it is cooling and leaves a bit of scent behind, although it is hard to describe. Sea salt and herbs?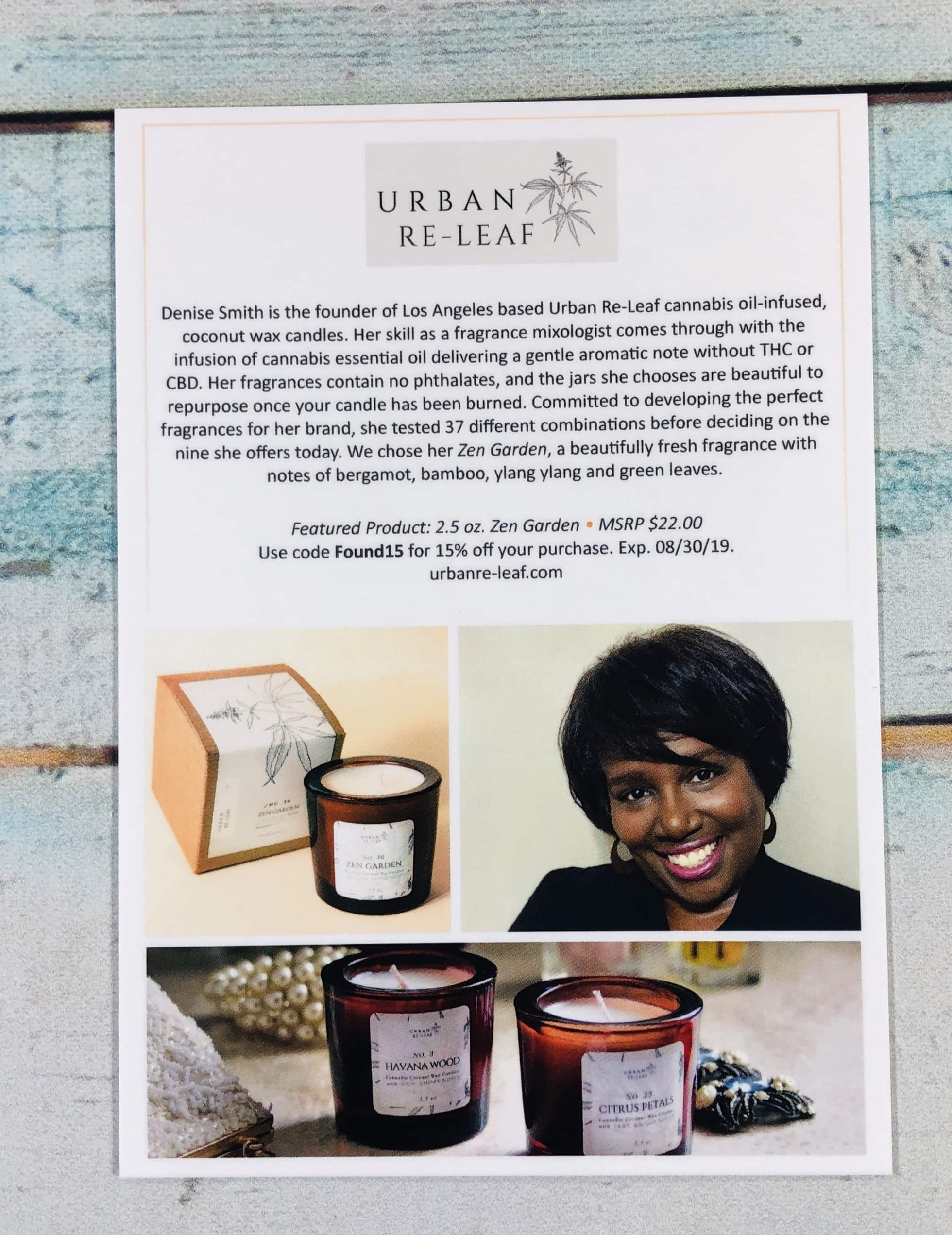 Urban Re-Leaf Zen Garden Candle ($22) Cannabis and CBD are big in the beauty and health world nowadays and so this candle is made with coconut wax that also has hemp oil. There is no THC (the part that gets someone high while using marijuana) in this candle and I'll let you decide if you think CBD makes you feel more relaxed or not. Candles tend to be relaxing without any additional ingredients in my opinion.
Scent notes include bergamot, bamboo, ylang ylang, and green leaves. The scent is green and clean with an herbal note and doesn't really project much, whether cold or while burning. I think the amber jar is a nice touch.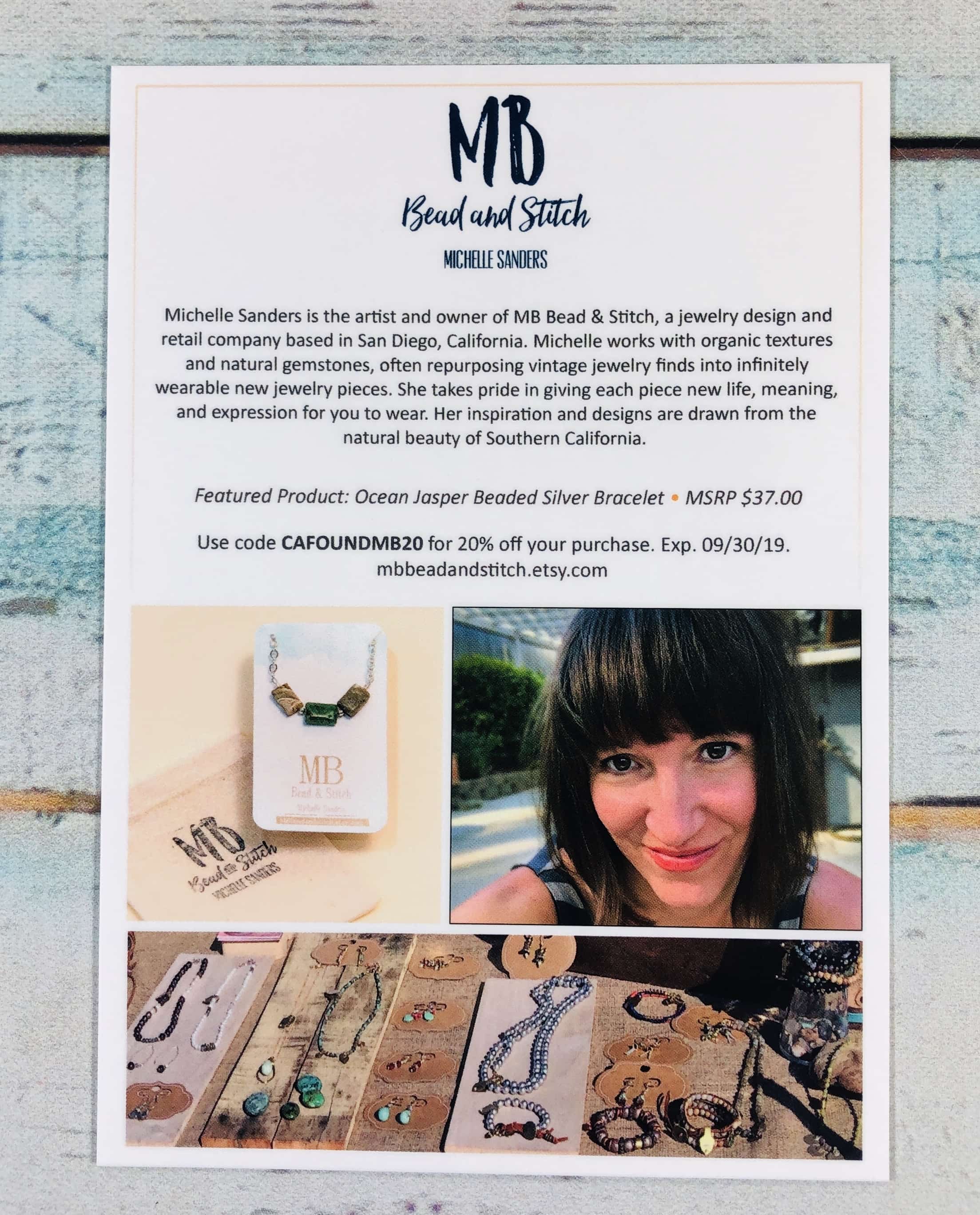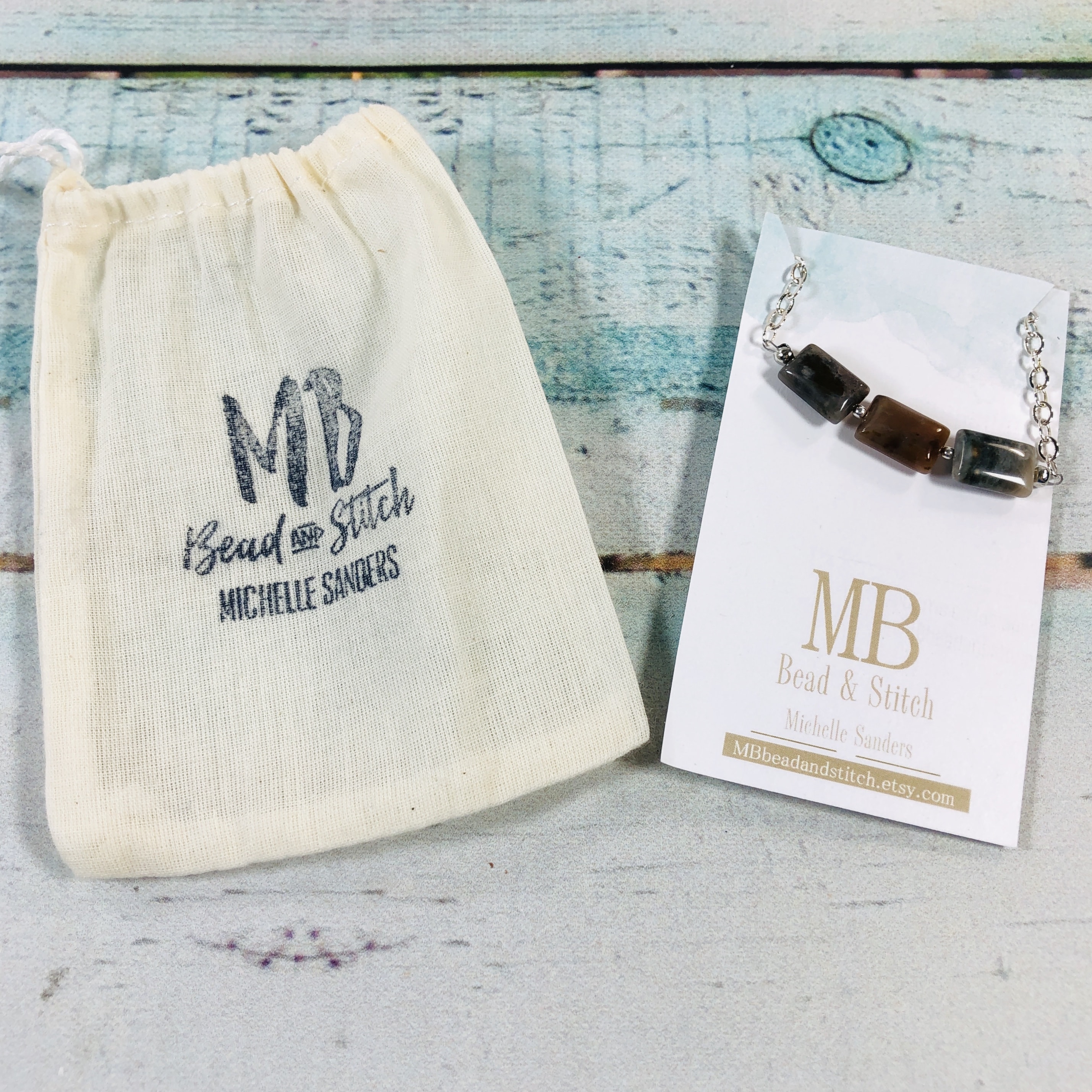 MB Bead & Stitch Ocean Jasper Beaded Silver Bracelet ($37) A jewelry item of some sort shows up in every box and sometimes it's a necklace, earrings, or bracelet.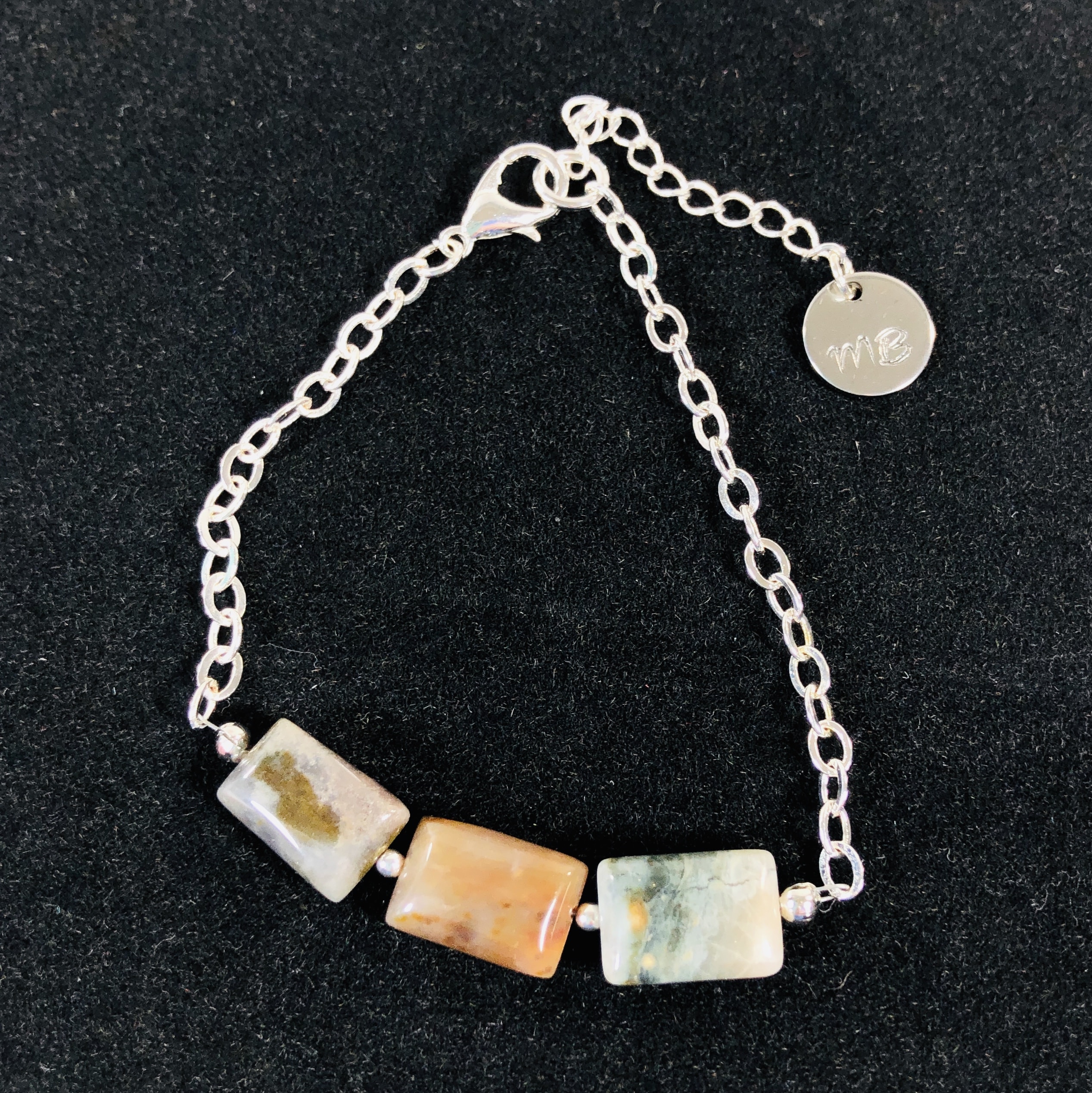 For June I received a bracelet and the only info I have about it is what was printed on the card, since this seems to be an exclusive item for the box.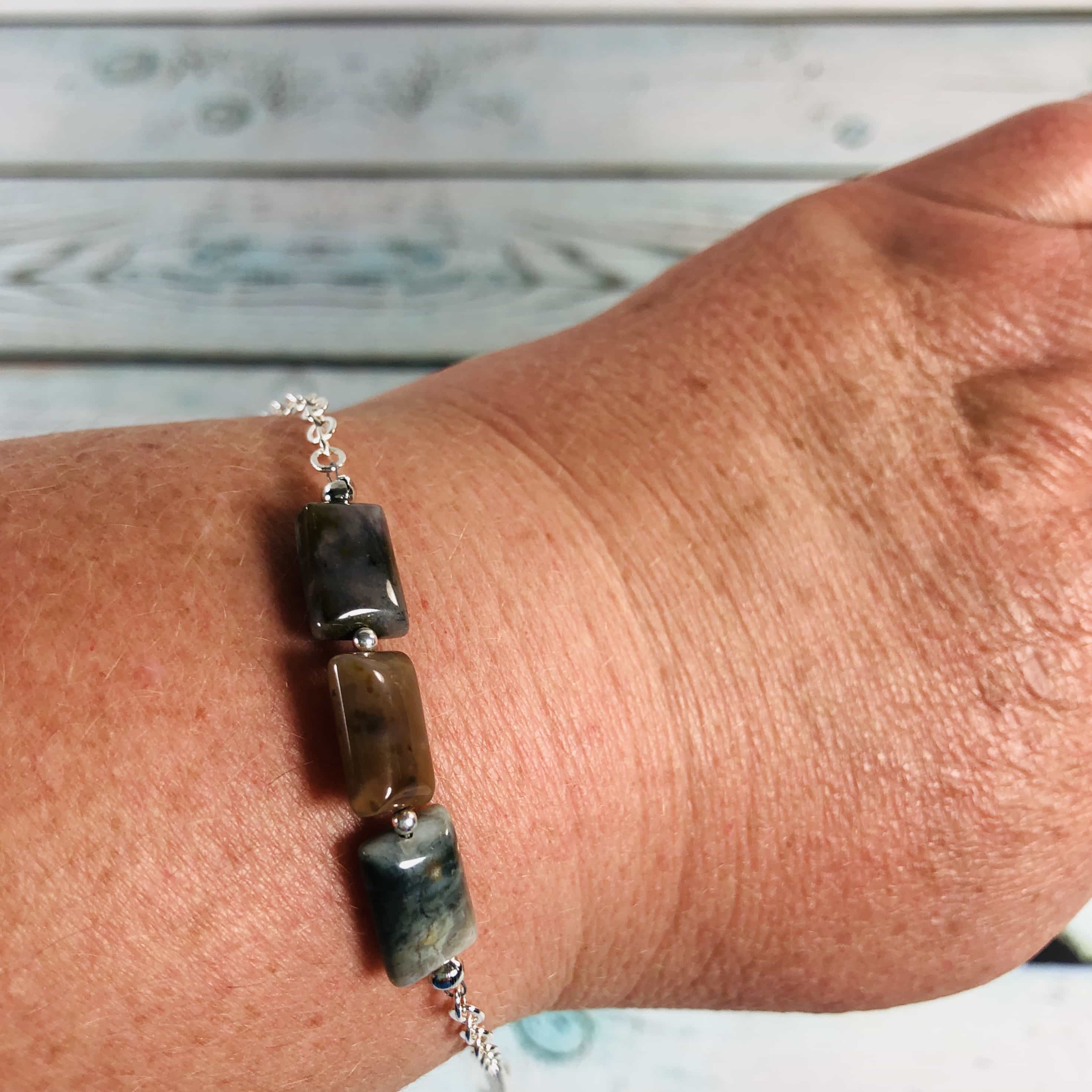 There are three smooth jasper stones on a silver-colored chain. There is an extender attached too. I like this style of jewelry, simple and a little boho.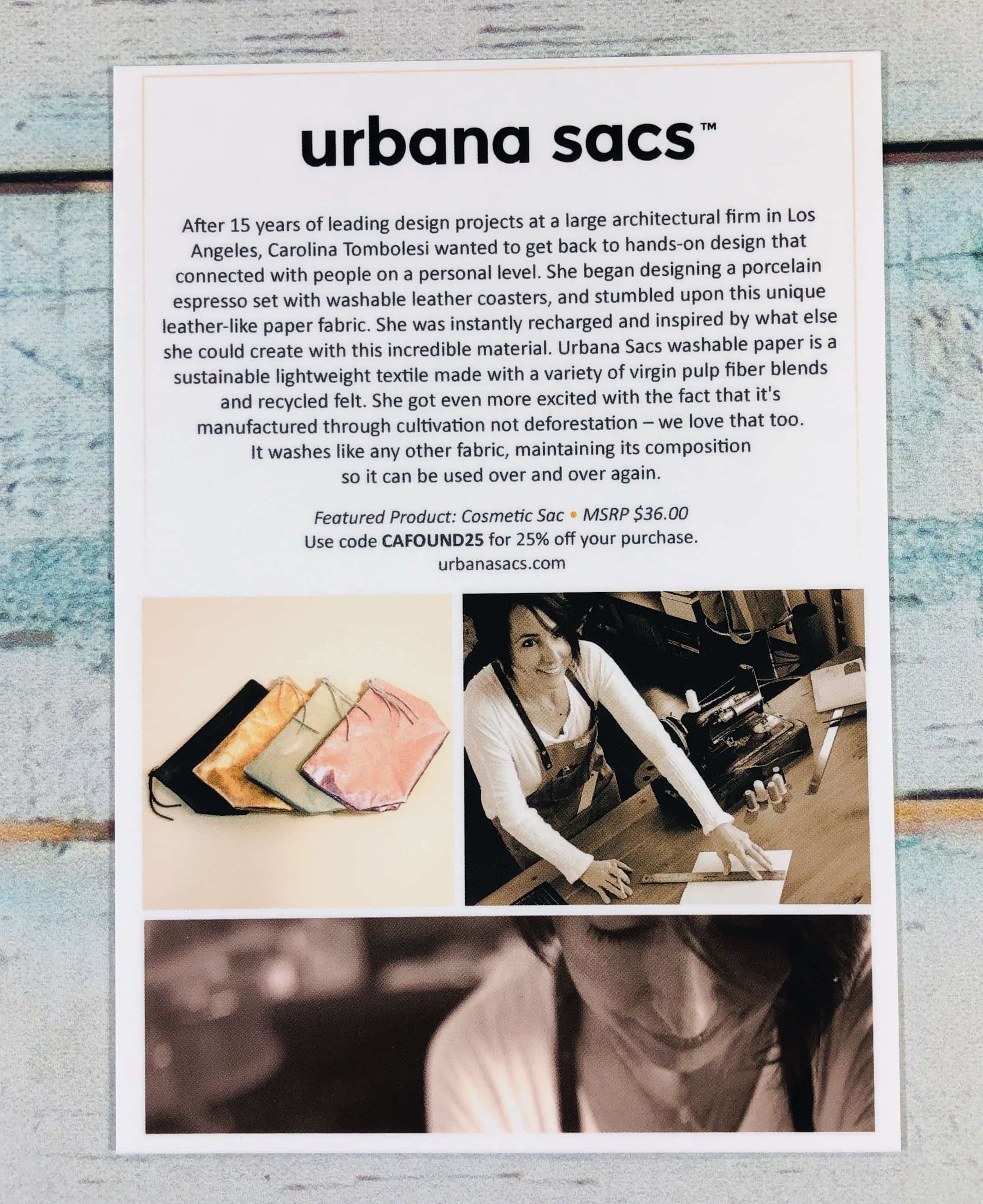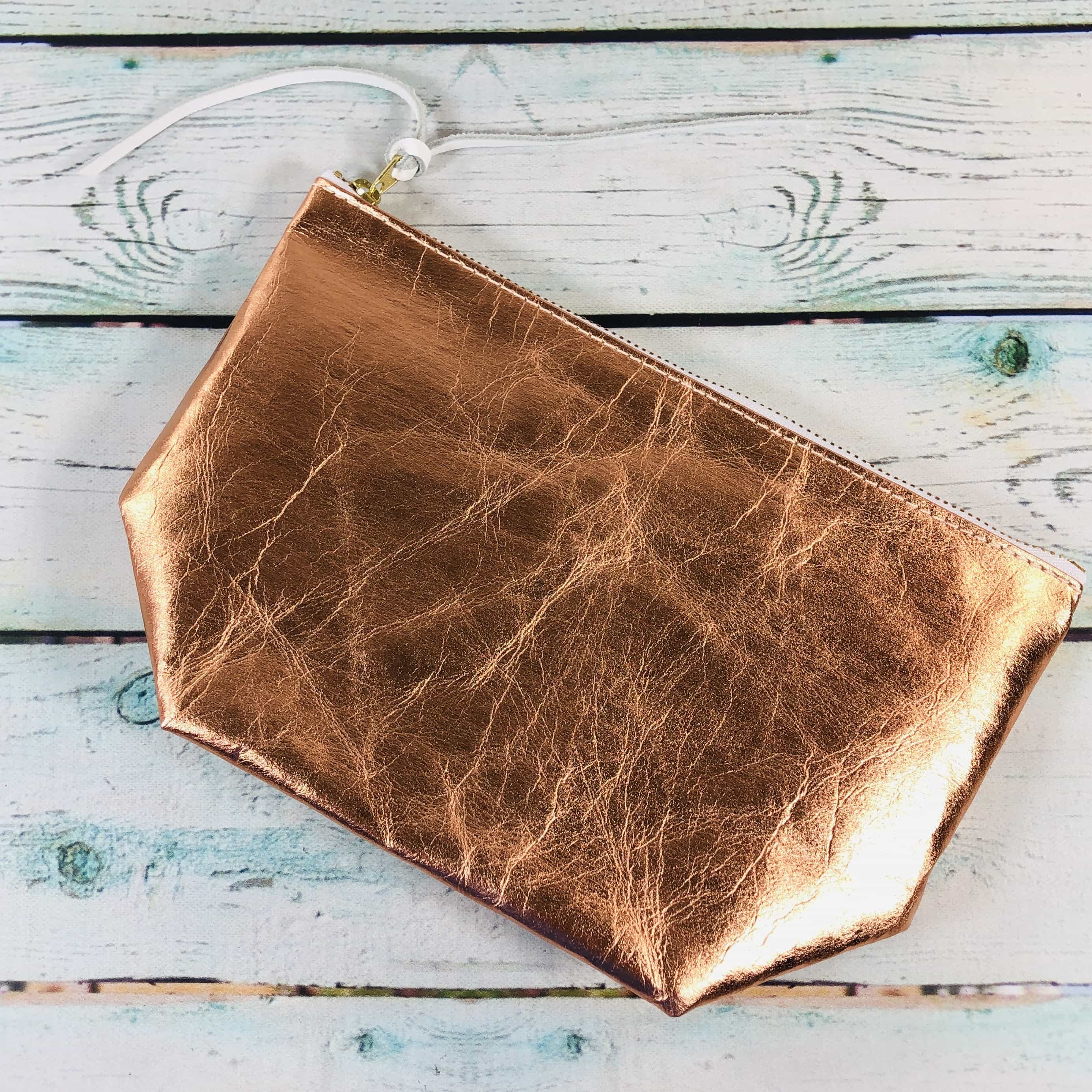 Urbana Sacs Cosmetic Sac ($36) I am so happy to see that this lovely bag is made of washable paper fabric! There are several colors available and I received Coral Shine, a pretty penny shade.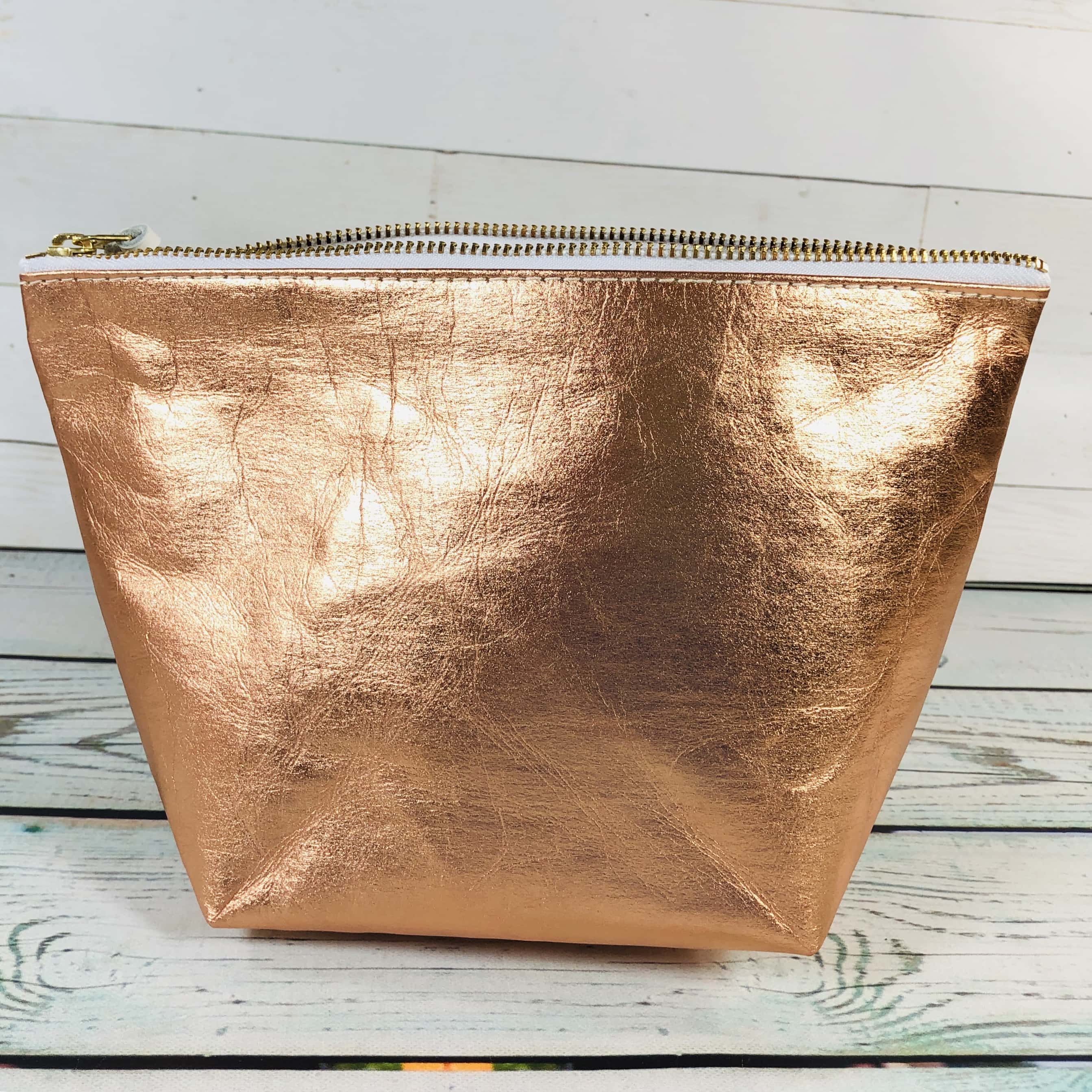 The bag is 9″ x 6″ and is even hand-washable.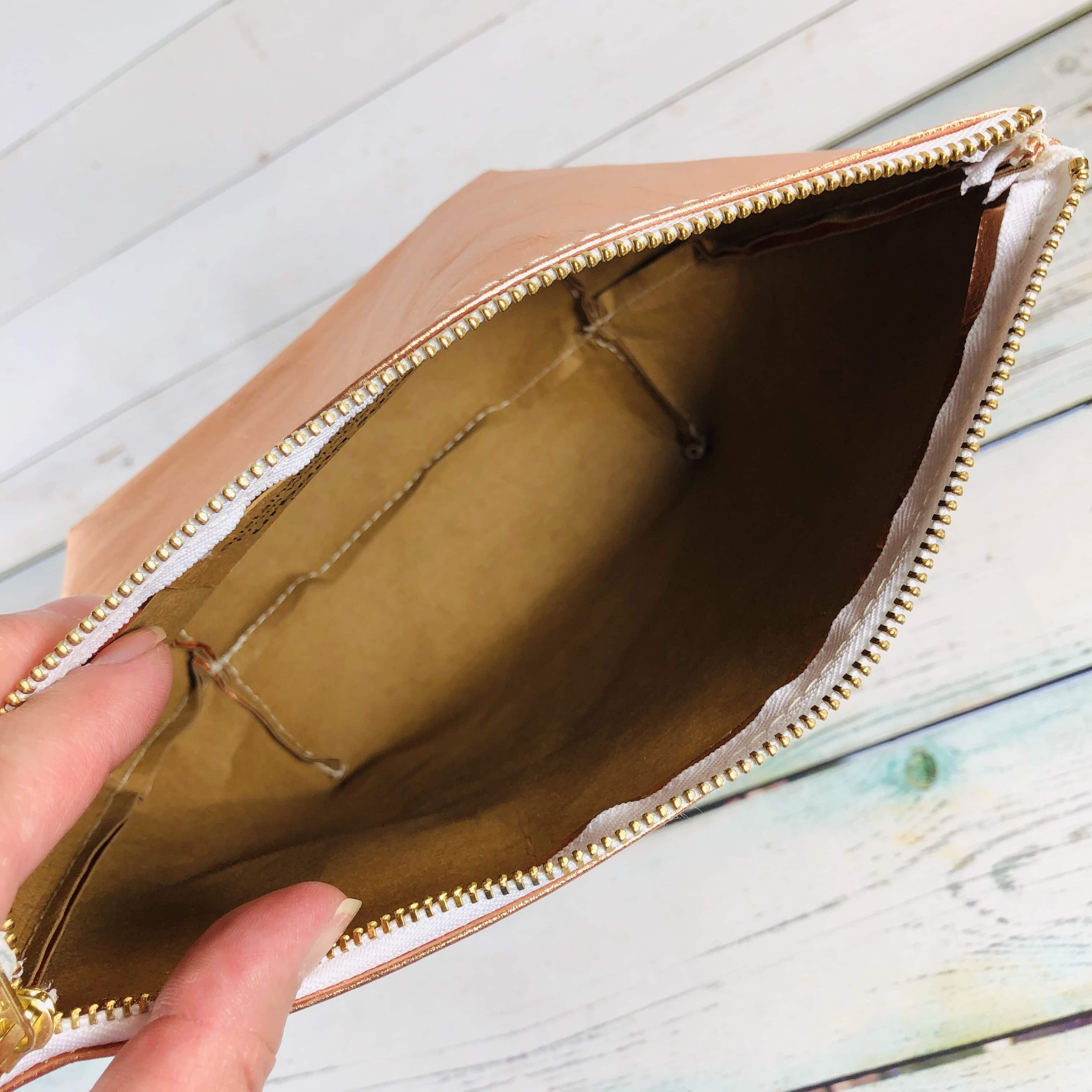 The zippers used are reclaimed from old blue jeans. There is a note on the website saying that the zippers may need to be zipped a few times to get them to flow smoothly, but I just can't seem to get mine to budge beyond an inch. I may try to keep playing with it, maybe some oil will help it glide.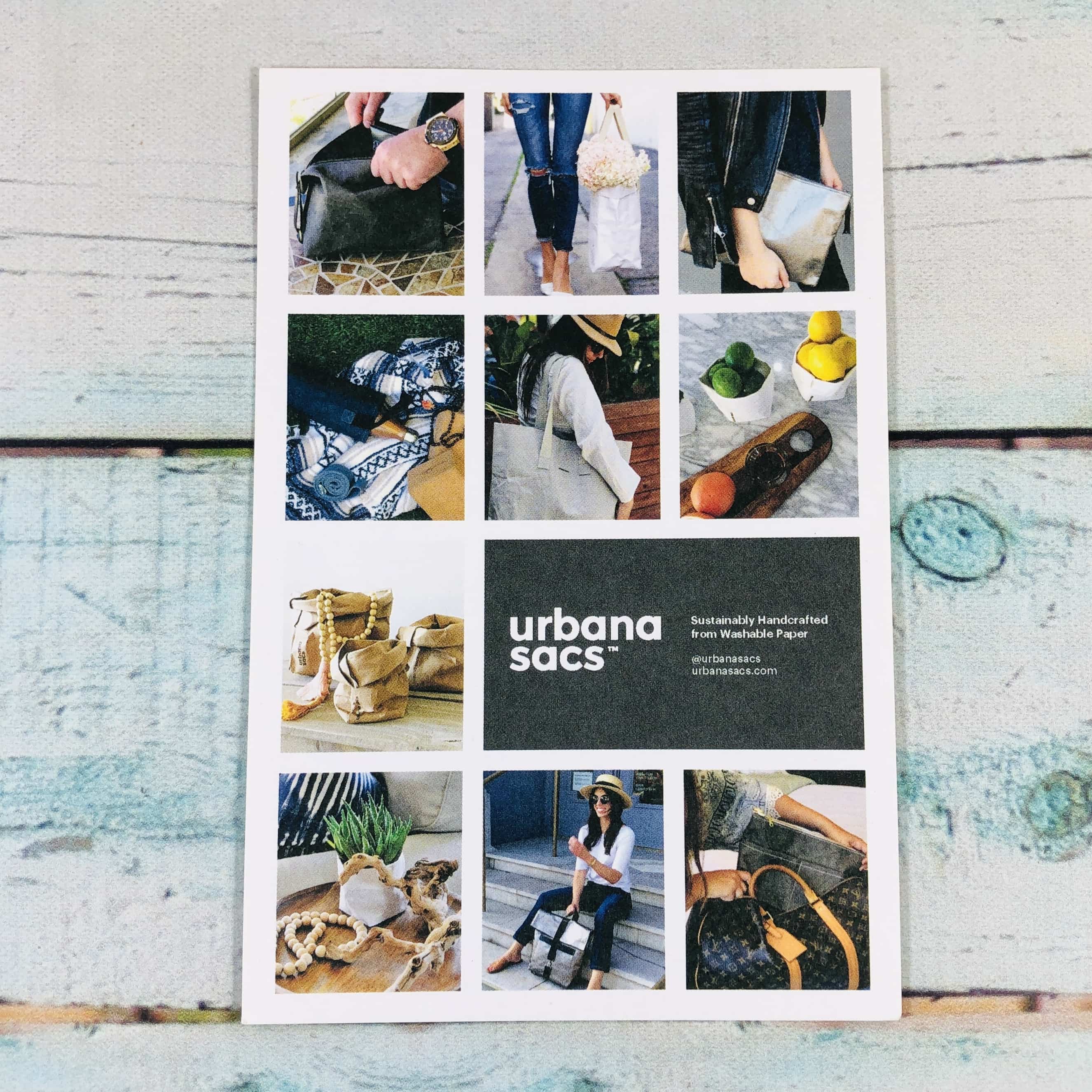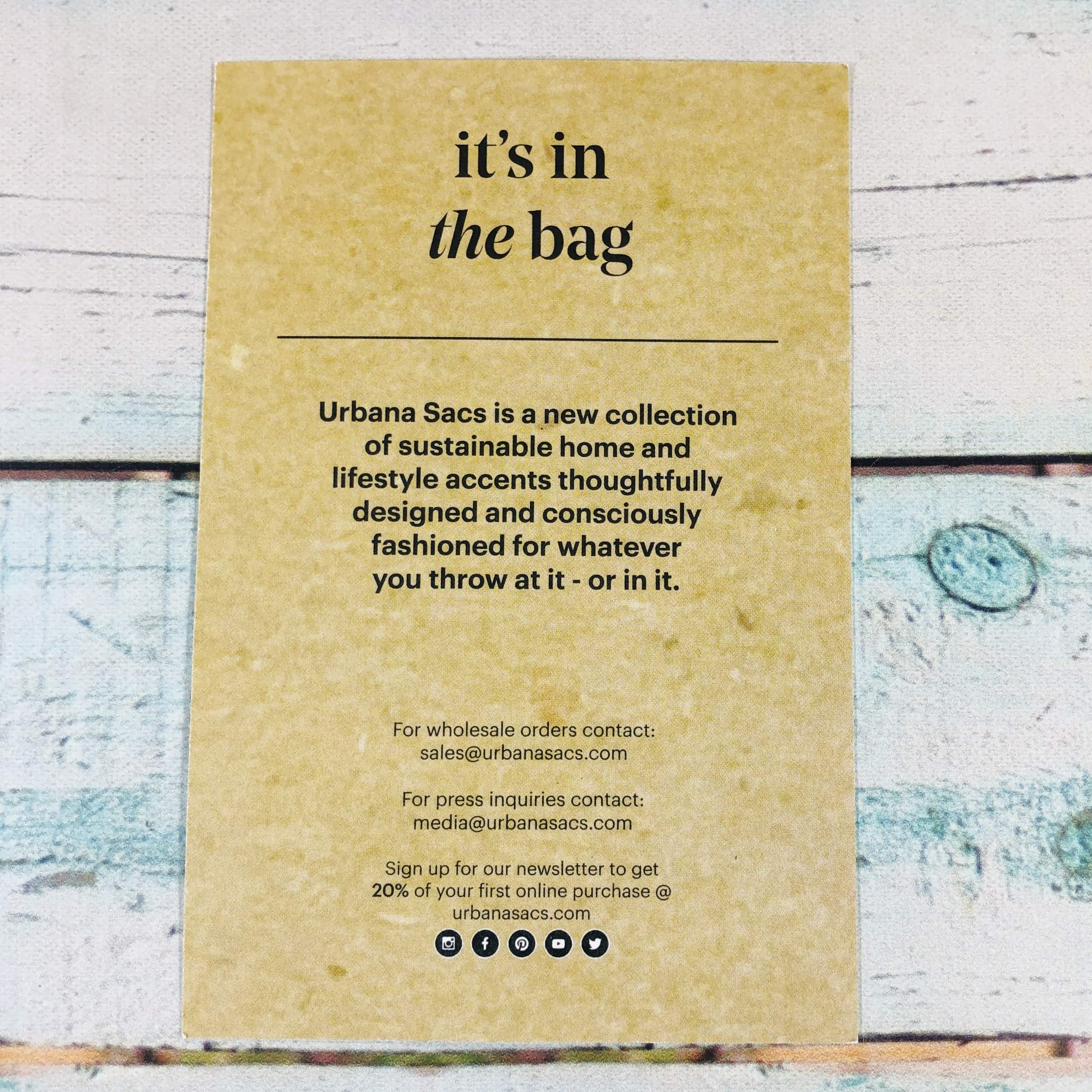 There was a card with info on the company.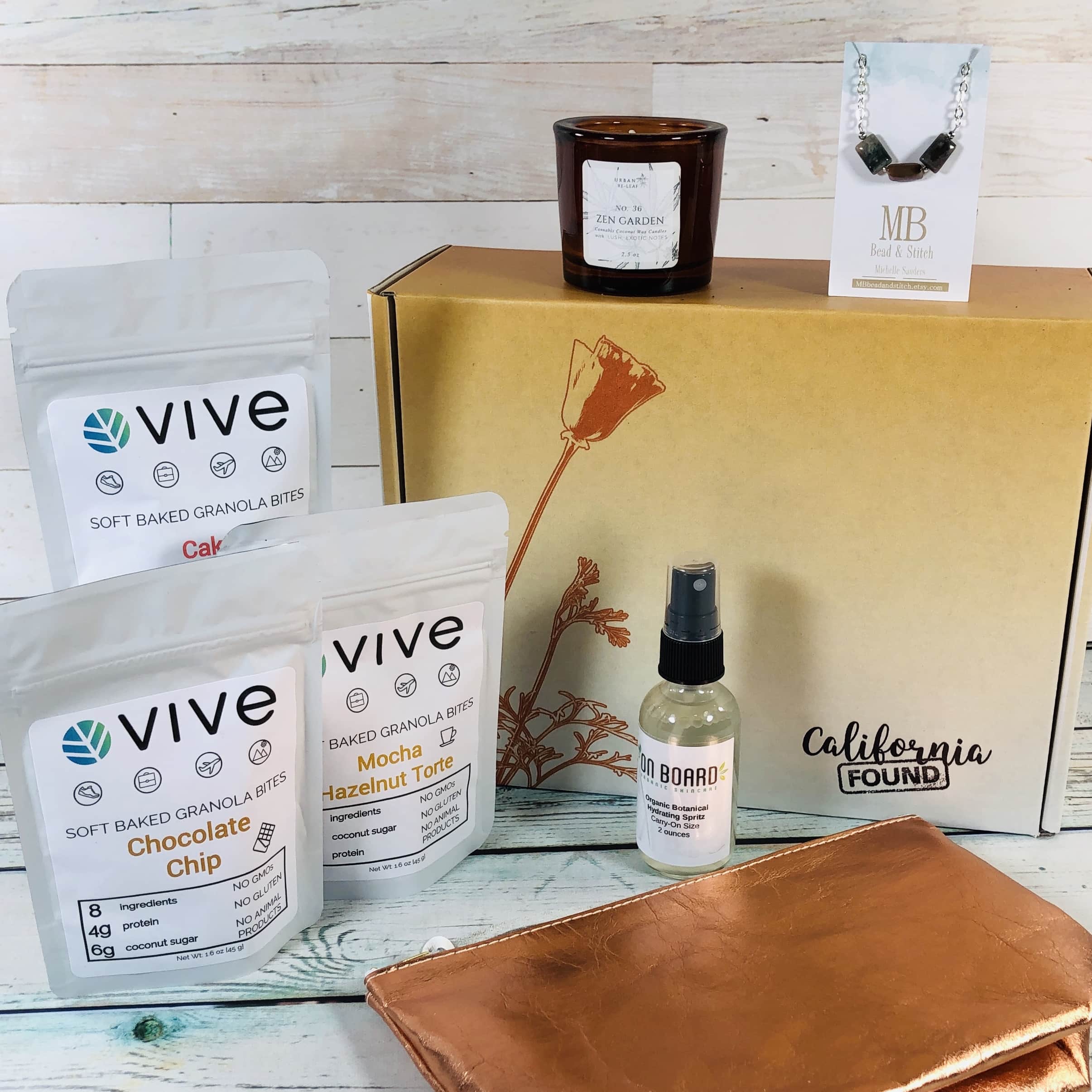 I was super happy with the items I received in the June California Found box! I received this box while still on vacation so I was extremely pleased to come home from my visit to California to find a box from California! The products are always of high quality and those bites are just so tasty. The bracelet is totally my style and the candle helped me relax at the end of a long day. The spray has already been claimed by my daughter so all that is left is for me to get that zipper working so I can take the bag along on an upcoming trip. The value for the June box was around $118.96!
What do you think of California Found? Let me know in the comments!