Cairn is a monthly subscription box (or bag!) for those who love spending time in the outdoors. Each month, you can expect to receive 3-6 cool products that will help you enjoy your time in the outdoors even more. Subscriptions cost $29.99 each month, but the cost goes down with longer subscriptions. Shipping is free for US subscribers and $5 to Canada.
Cairn promises that the total retail value of the items in each box will exceed $50, with a mix of gear, apparel, food, skin care, and emergency tools. If you complete the subscriber profile, the box will be curated to best match your outdoor lifestyle. As such, most months will see a variation of boxes, while there may be some months when everyone will get the same thing.
DEAL: Use code HAMMOCK to get the Hammock Collection Box as your first month! See the review of the Hammock Box!
OR Use code TRAILHEAD to get the Trailhead welcome box your first month!  See the review of the Trailhead Box!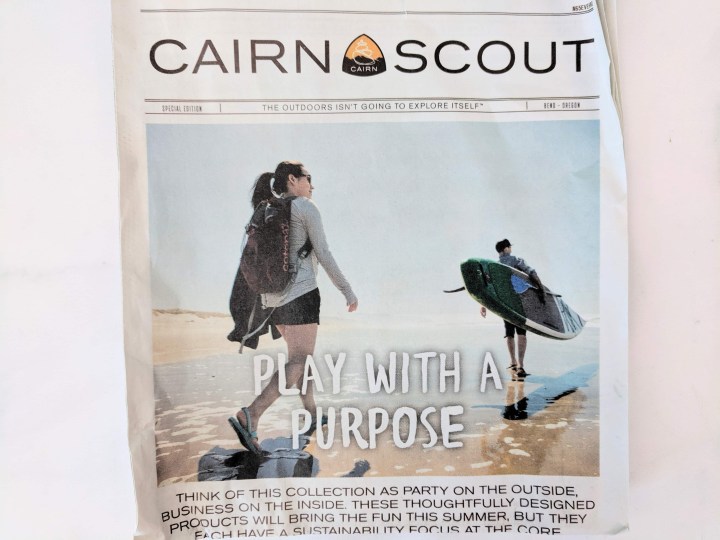 Every month, you receive a newsletter with some information and discount codes to the products included in this month's collection. This month's theme is Play with a Purpose and this collection will bring the fun while still focusing on sustainability.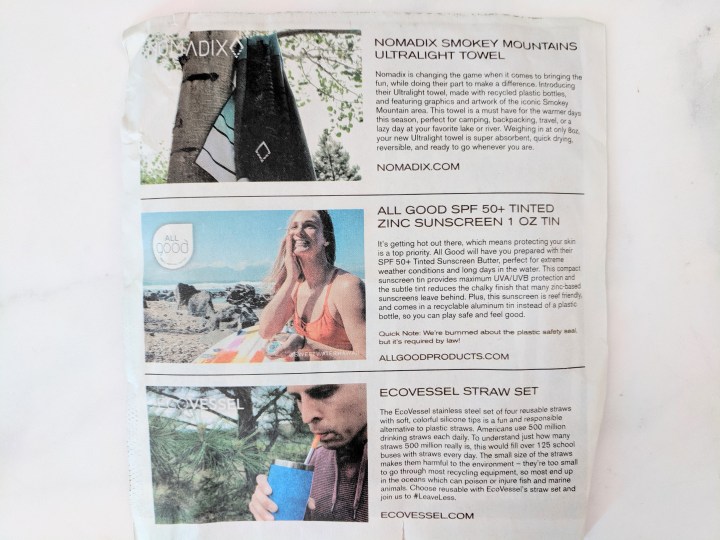 We get full information about the items included in the box.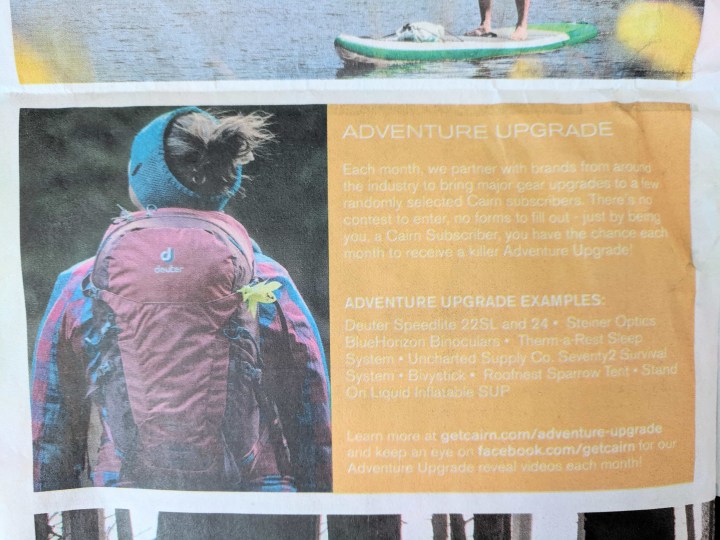 Every month, some lucky Cairn subscribers will be randomly selected to win an upgrade. All you have to do is being a Cairn Subsciber!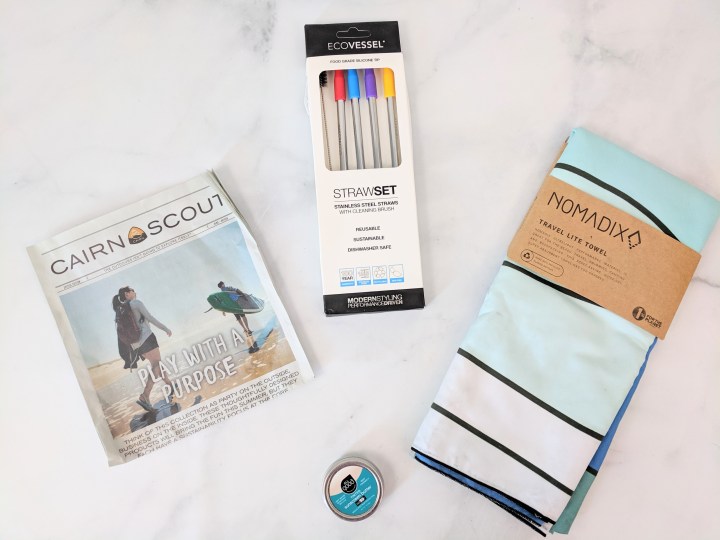 Everything in the box! Or more like in this month's cardboard envelop as the packaging will vary depending on the content, so you could have a box or an envelop.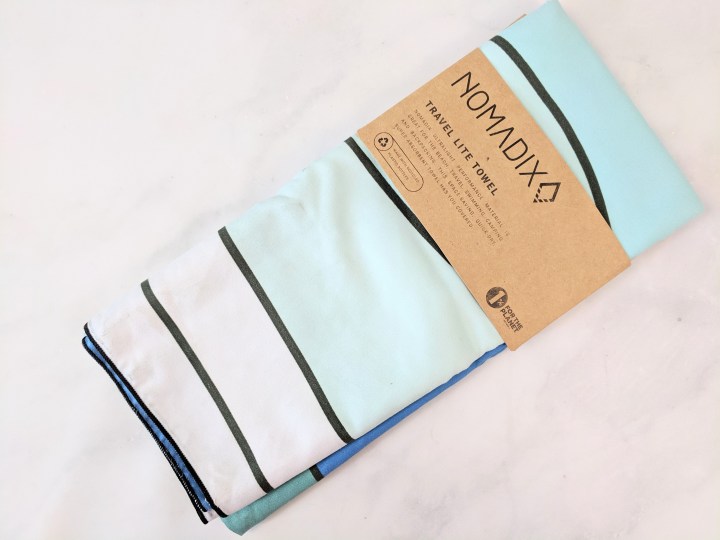 Nomadix Smokey Mountains Ultralight Towel. You can't go through the summer without needing a towel at least once!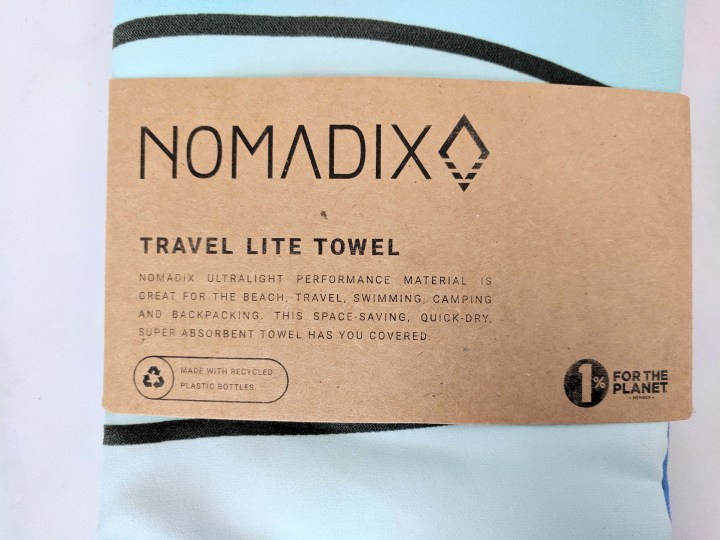 This towel is ultralight and made with recycled plastic bottles. It's beach-friendly as the sand will not get stuck on it.
It's a size 54″ x 30″, so a bit too short to be used to lay down on a beach, unless you don't care if your feet are in the sand. But it's long enough to comfortably wrap around yourself, or your can roll it and use it as a pillow on the beach.
It has a lovely design in blues and greys. The reverse side is all blues and greens.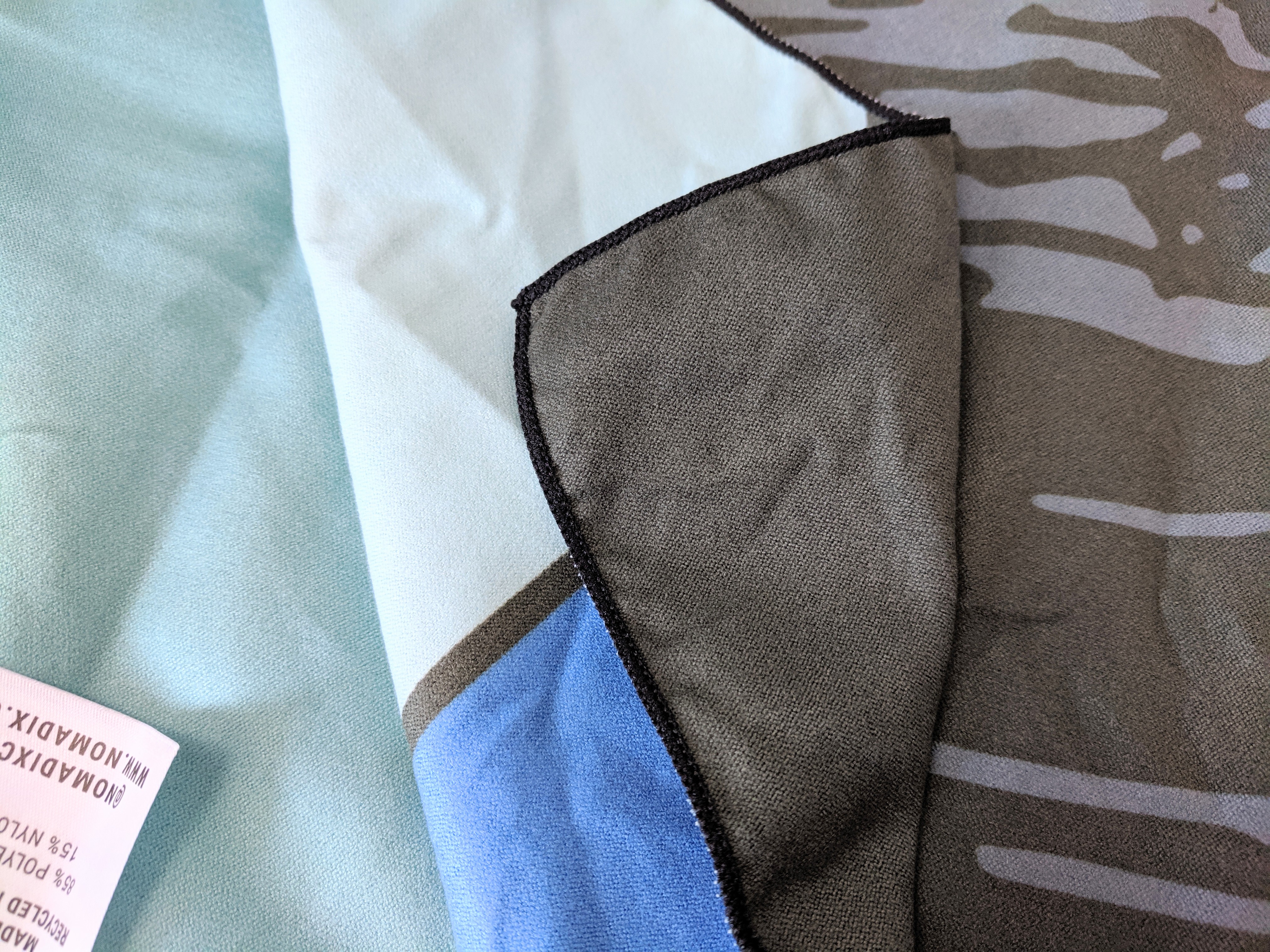 It reminds me of  microfiber towels, but smoother somehow. It's a lovely towel that folds small so you can carry it in your overnight bag, just in case.
All Good SPF 50+ Tinted Zinc Sunscreen 1 oz tin. This sunscreen butter has a broad spectrum protection and is reef friendly.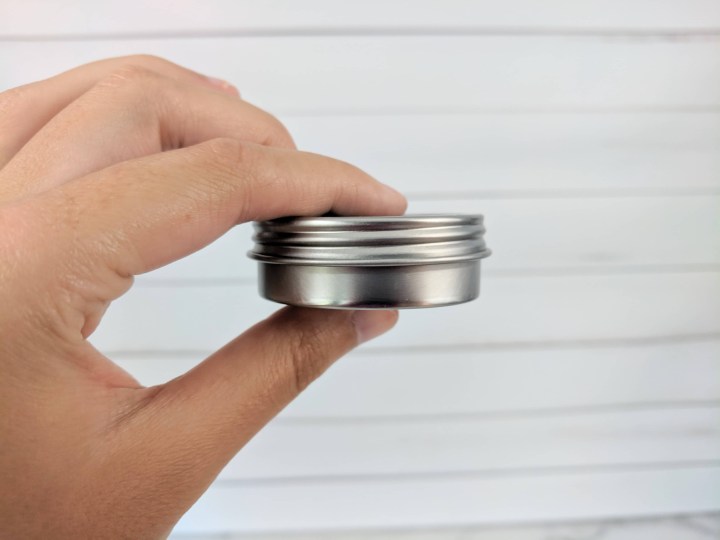 It comes in a tiny recyclable aluminum tin. It's easy to carry and it won't spill all over your bag.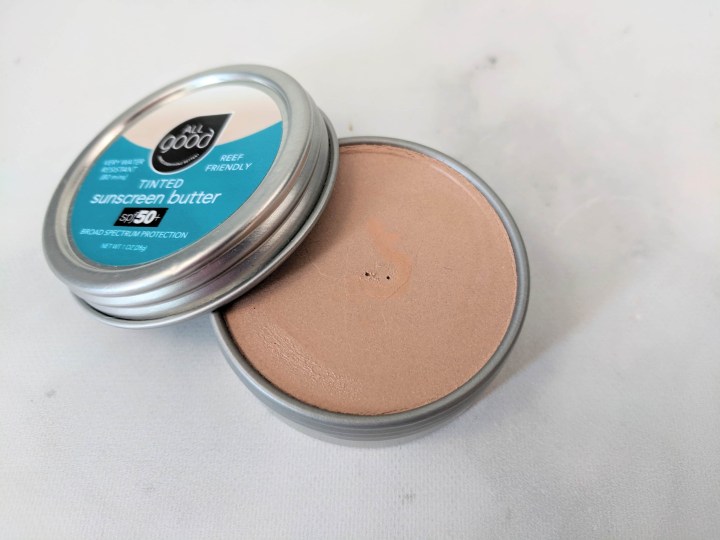 It's lightly tinted to avoid the white cast usually associated with sunscreen. It's a bit pink for my skin tone (I have a yellow undertone), but it works really well anyway. It's really easy to apply, it's really smooth and last forever, even while sweating.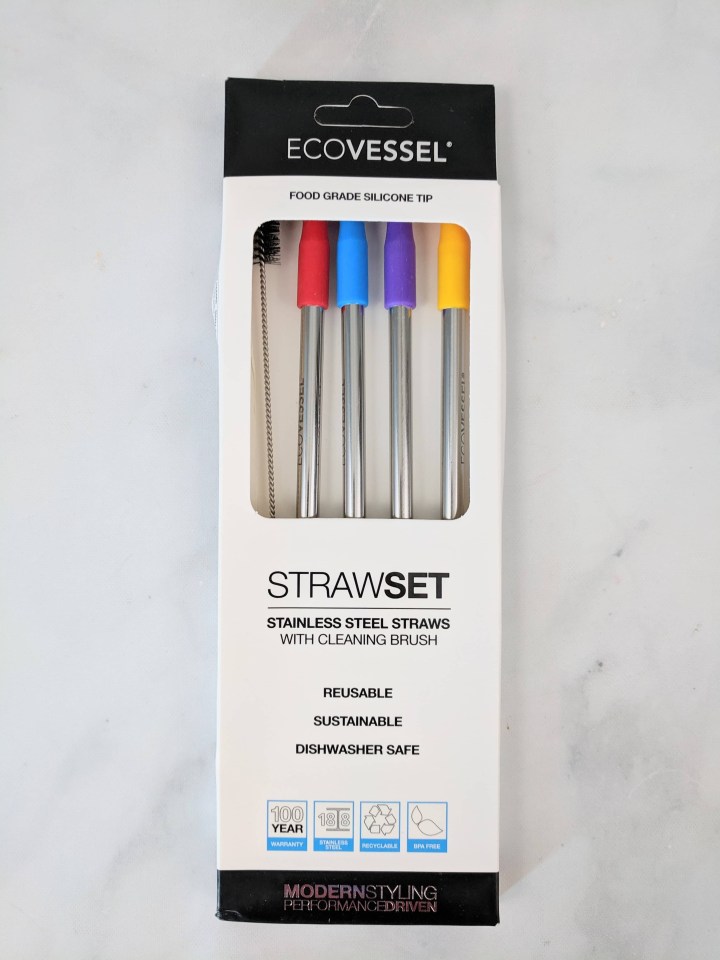 Ecovessel Straw Set. I love stainless steel straws for my summery cocktail as they work really well with ice cold liquid. I already have bent metal straws, so I was really happy to get a set of straight straws as they are easier to carry around in a purse or backpack.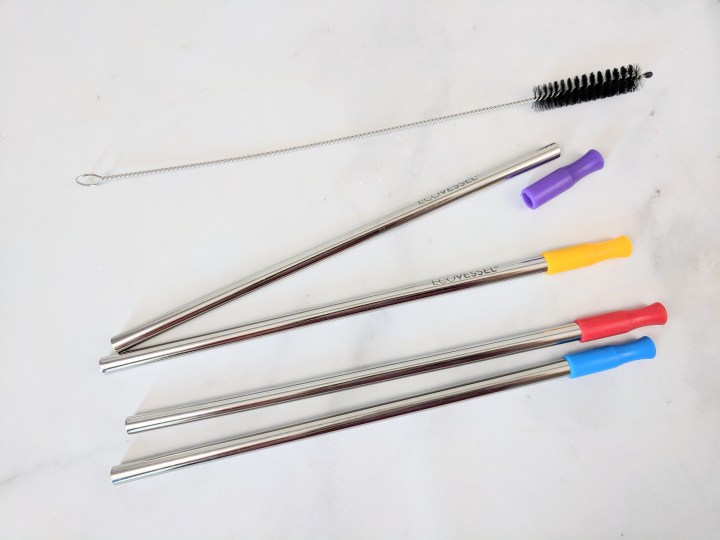 The set includes four wide metal straws with colorful silicone tips and a cleaning brush.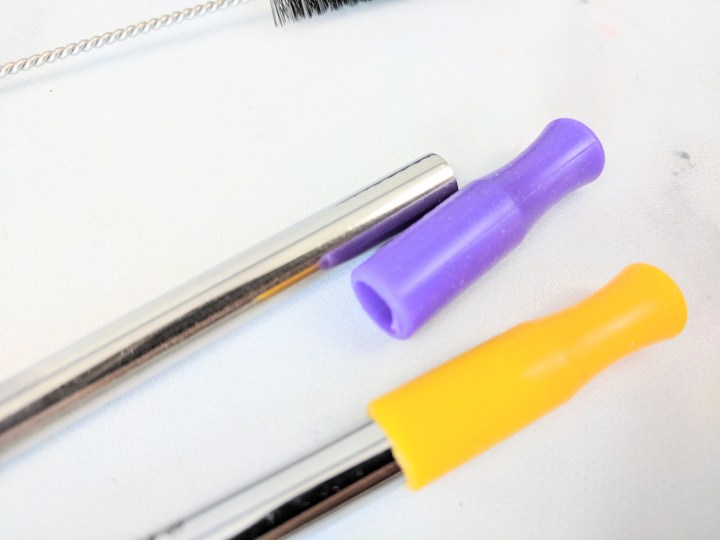 I had never seen the silicone tips before and I love love love them. For some people, the cold metal feel is not great on the lips so these tips are a nice alternative. They are easy to put on and remove as well, and they can be use to remember which drink is yours!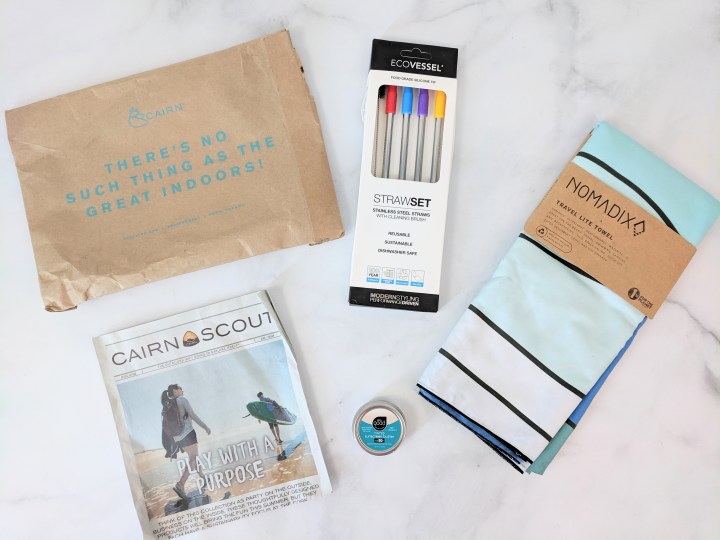 This "Play with a Purpose" was a great way to celebrate and enjoy the summer on the beach. I really love my new straws, especially with the silicone tips, and the towel is so pretty I'll have no problem toting it around and finding excuses to play in and around the water! And I'm really happy to have a reef friendly sunscreen that doesn't make me look like a ghost!
What did you think of this month's Cairn box?