Barkbox is a monthly subscription box just for dogs. Each box has 4-6 dog products and is customized to the size of your pup, plus it has a cute theme.
DEAL: You can get a $10 credit to the Barkshop with your Barkbox subscription with promo code MS10X1213. OR, get a FREE month on a 6 or 12 month subscription when you sign up for BarkBox with this link!
Get your first month of BarkBox for $5 plus get a free extra toy your first month when you subscribe to a 6+ month plan! Just use this link, no coupon code required.  Ends 7/29 9AM EST.
This Barkbox is for small dogs like our miniature schnauzers, Lindy and Dean, but you can get them for medium and large dogs too. Check out our Barkbox reviews for a peek at the big dog boxes! Plus, they now offer Barkbox SUPER CHEWER – the heavy chewer box!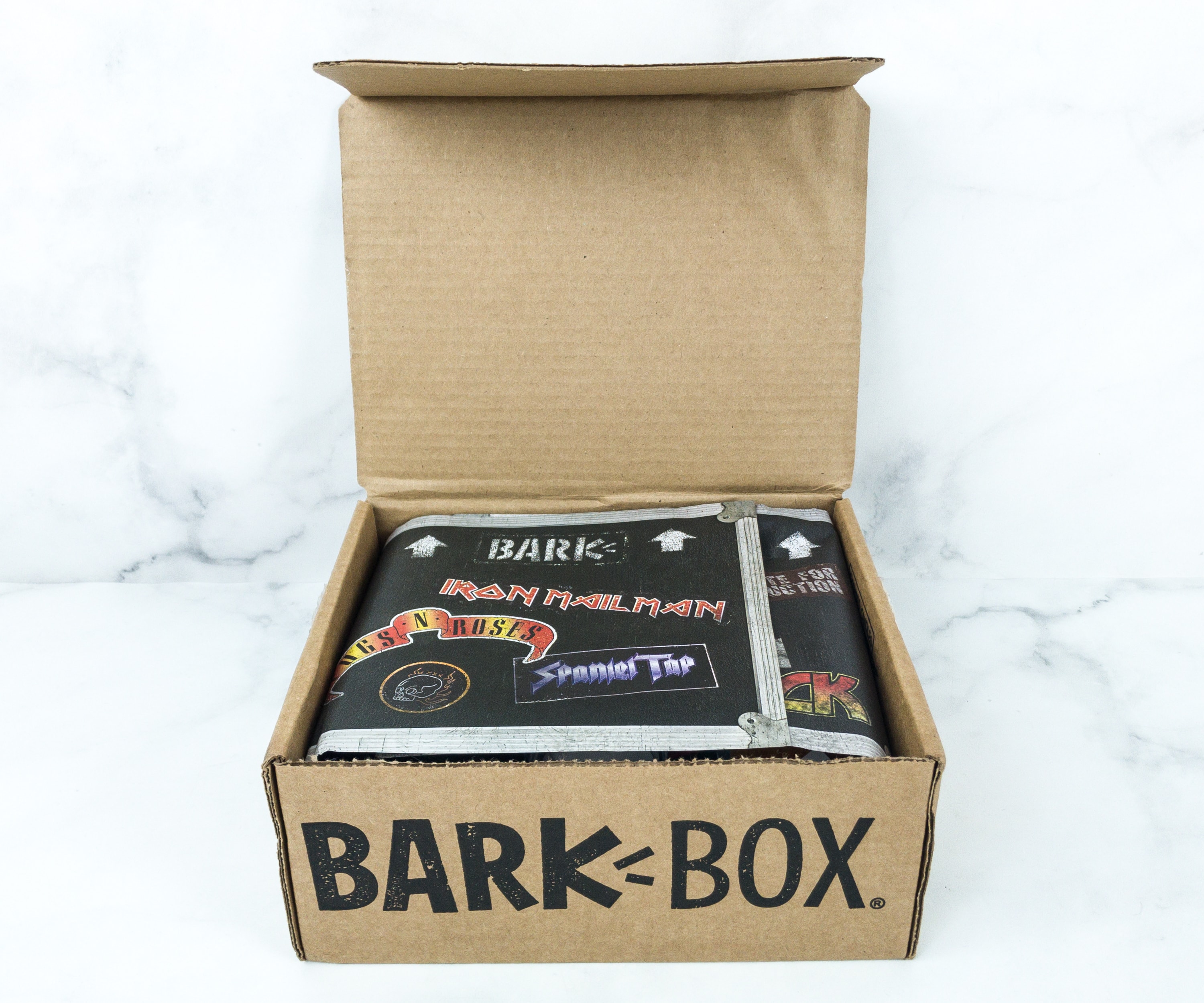 All the toys and treats are wrapped in a custom Barkbox paper.
Aside from the wrapping paper, there are no other packaging material or fillers.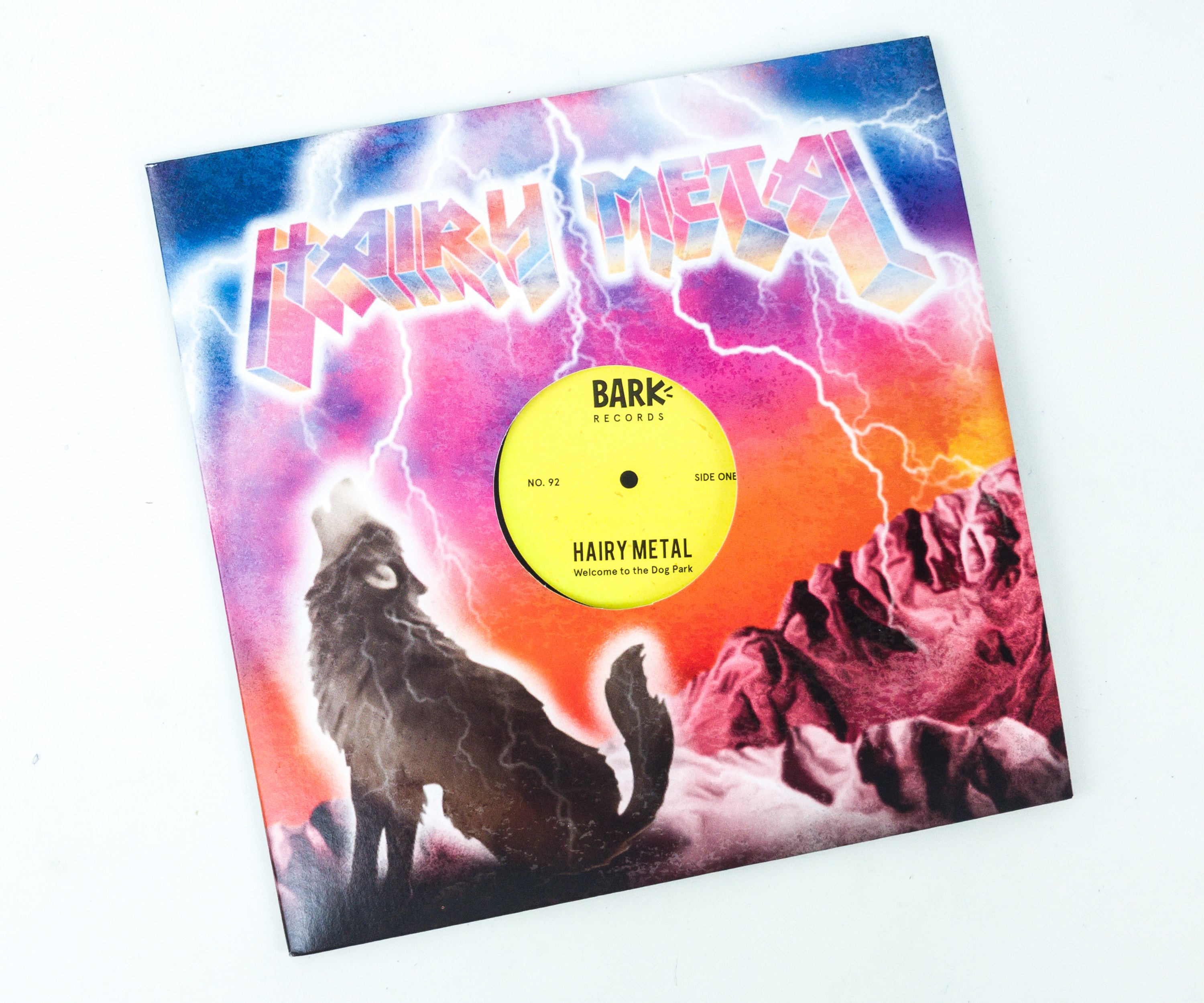 This month's theme is Hairy Metal! They showed their creativity once again through this month's description card, which is designed like a CD!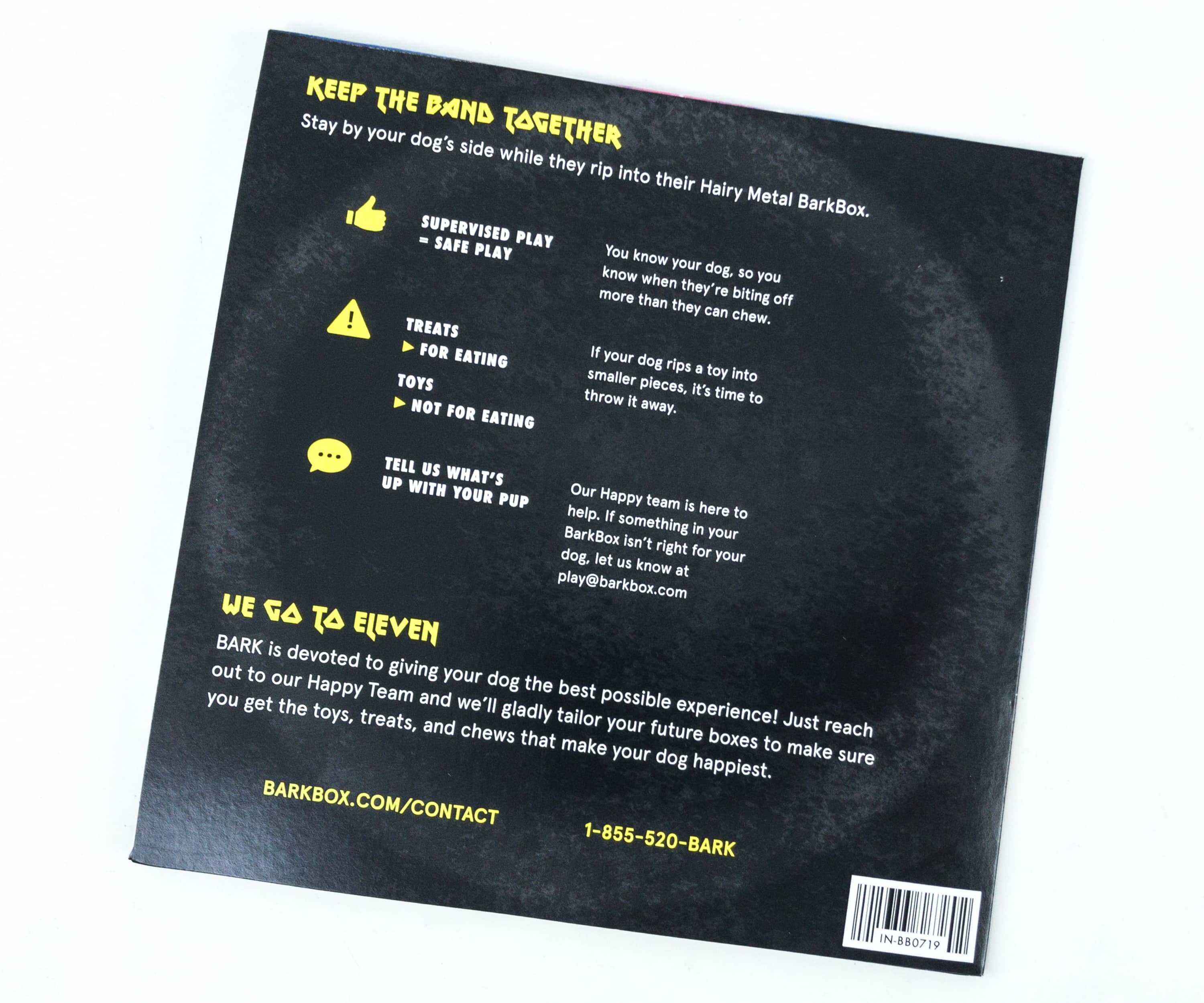 At the back, there are guidelines about the items in the box.
They encourage you to share photos of your dog playing with this month's featured toys using #BarkBoxDay.
The back of the card provides photos of items you might receive in the box.
As always, the wrapping paper is amazing! It features a pup band, the Twisted Shi Tzus, and their Fresh Outta Bags World Tour!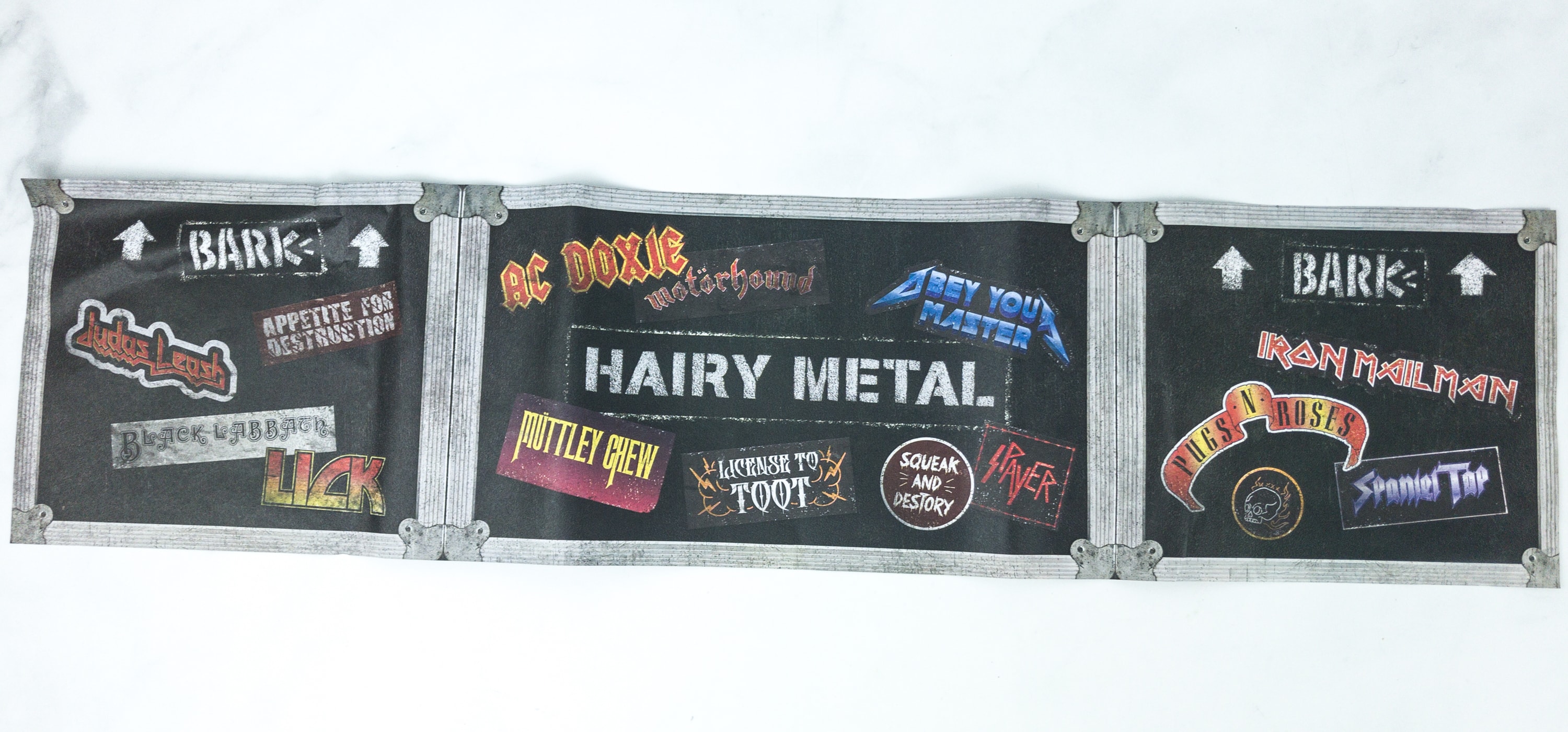 The other side of the wrapping paper has a lot of pup versions of various bands!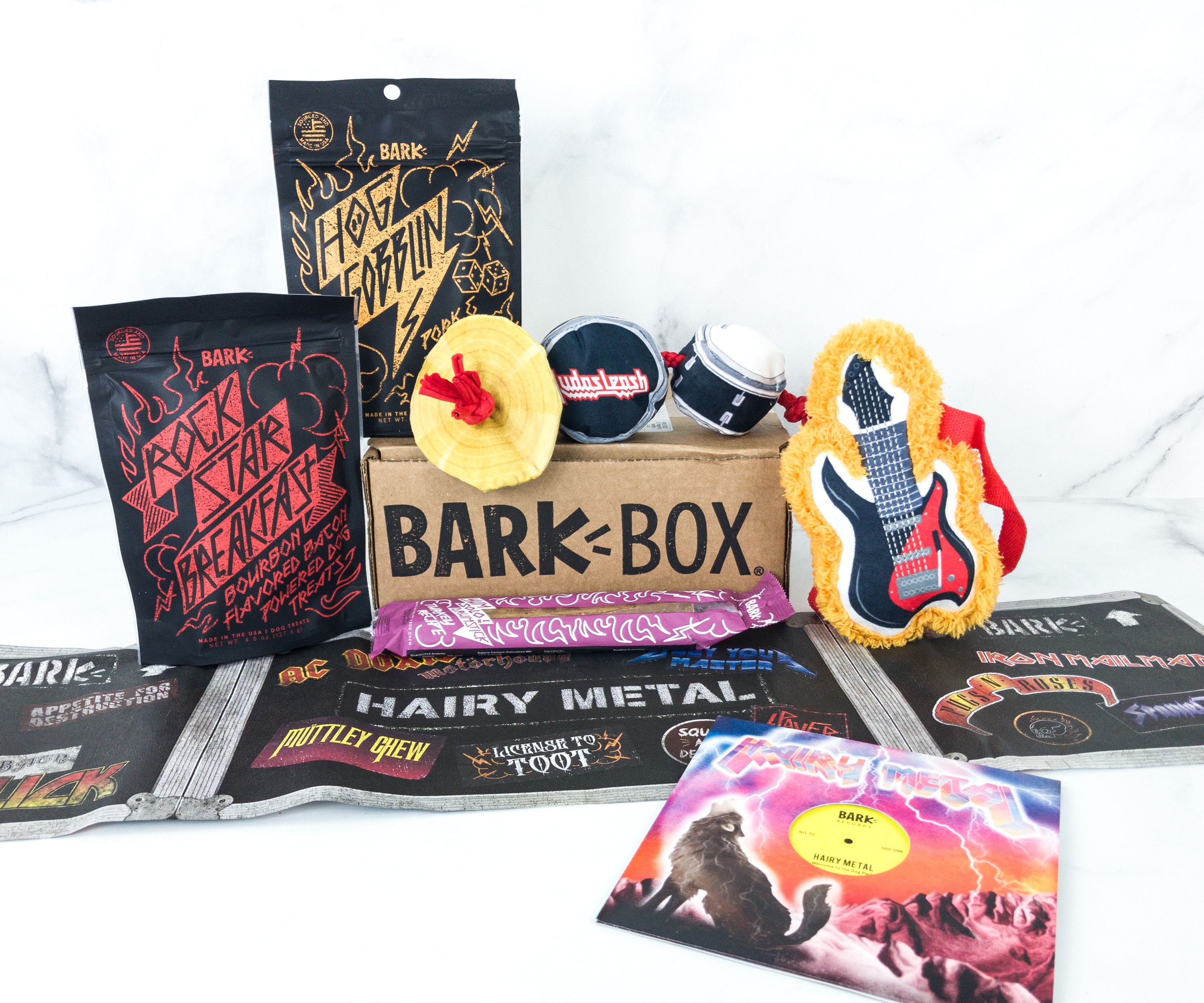 Everything in this month's box!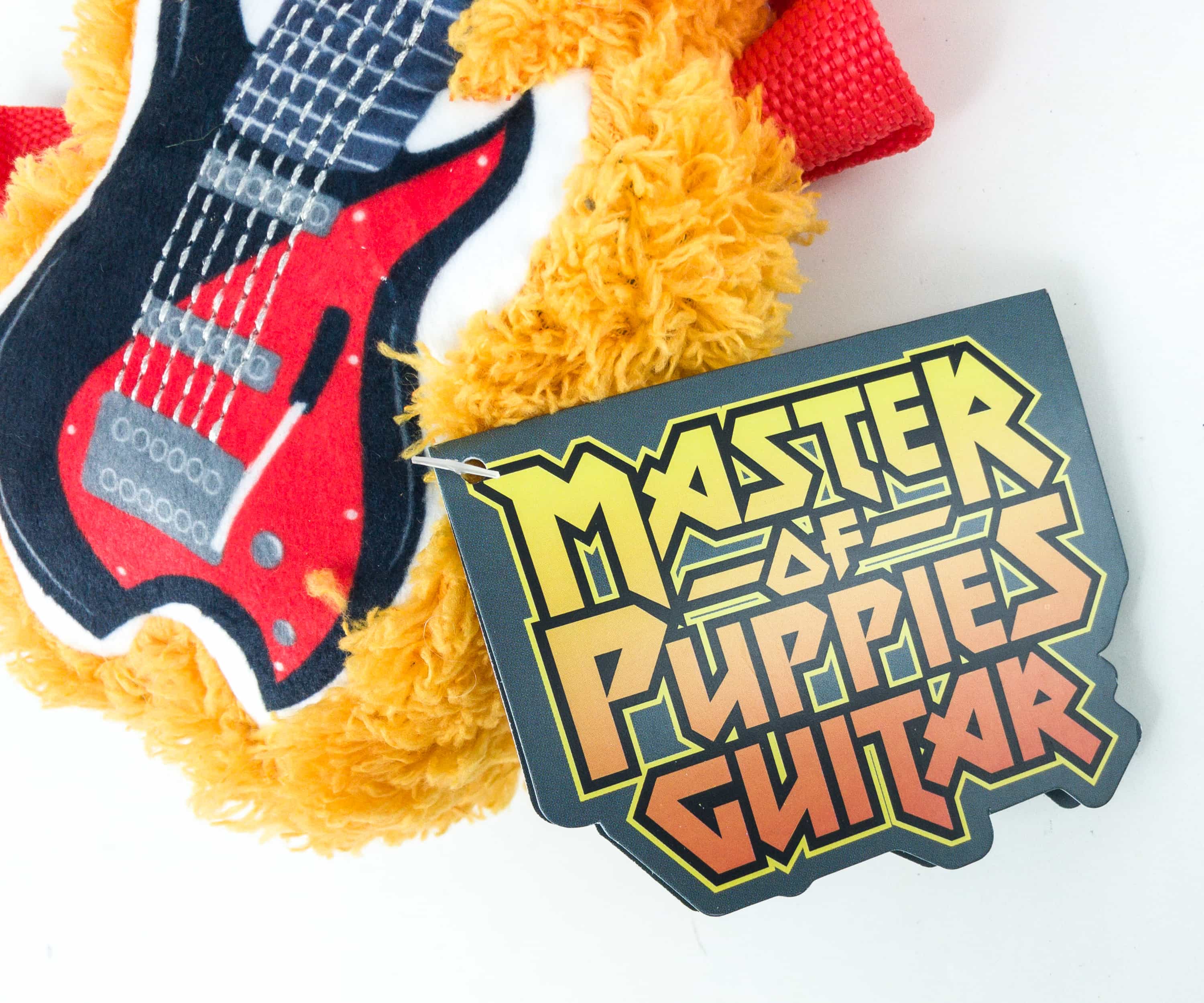 Barkbox Master Of Puppies Guitar Squeaky Dog Toy. Every band needs a guitar! We got a fluffy one in the box and instead of strumming it, our pups can produce a sound by biting it or tossing it around!
It has a tube squeaker and a crinkle inside which both produce exciting sounds, making it more enjoyable for the pups.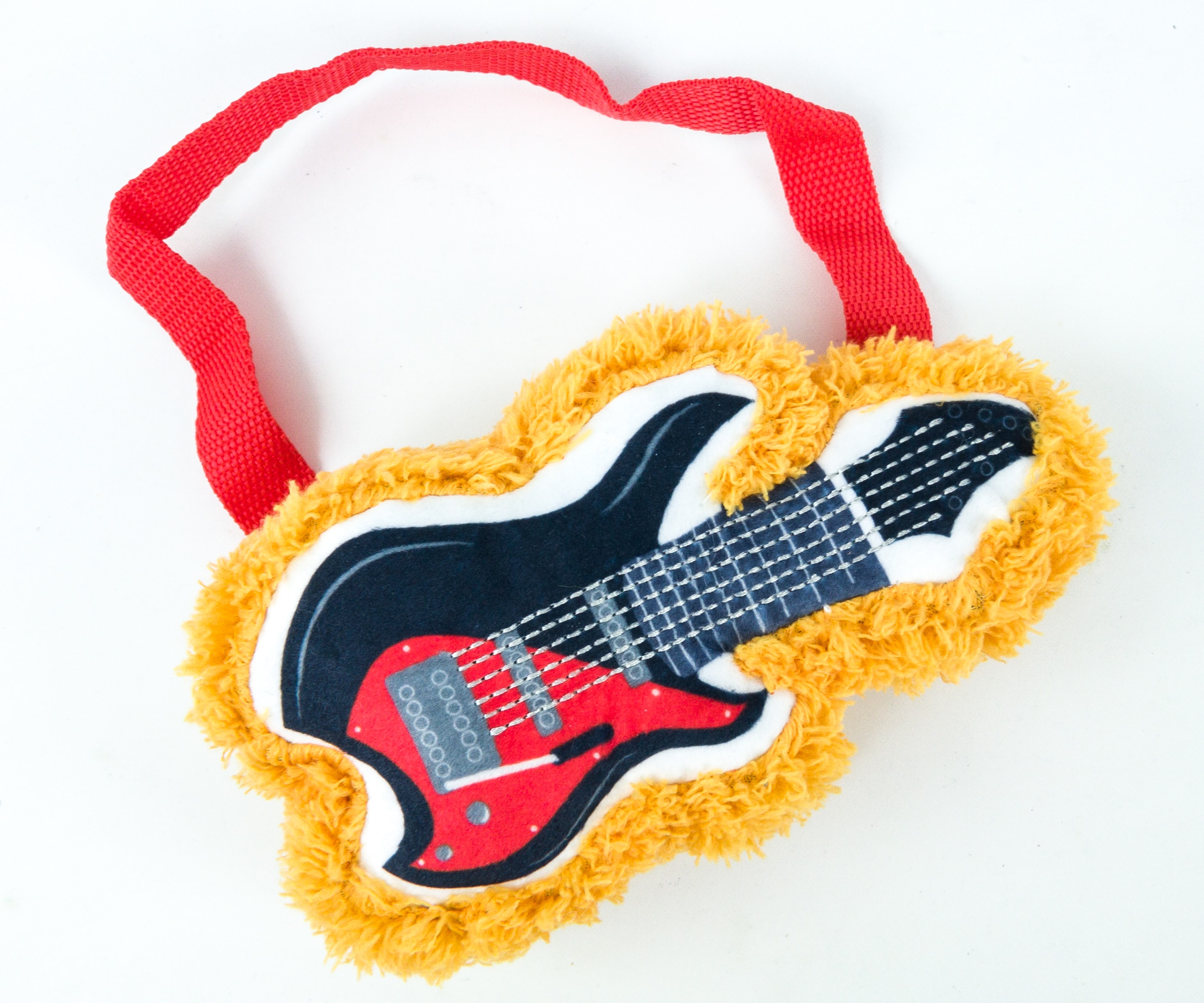 The guitar plushie even comes with a red strap, your pup can wear it and be a pupstar… I mean, rockstar!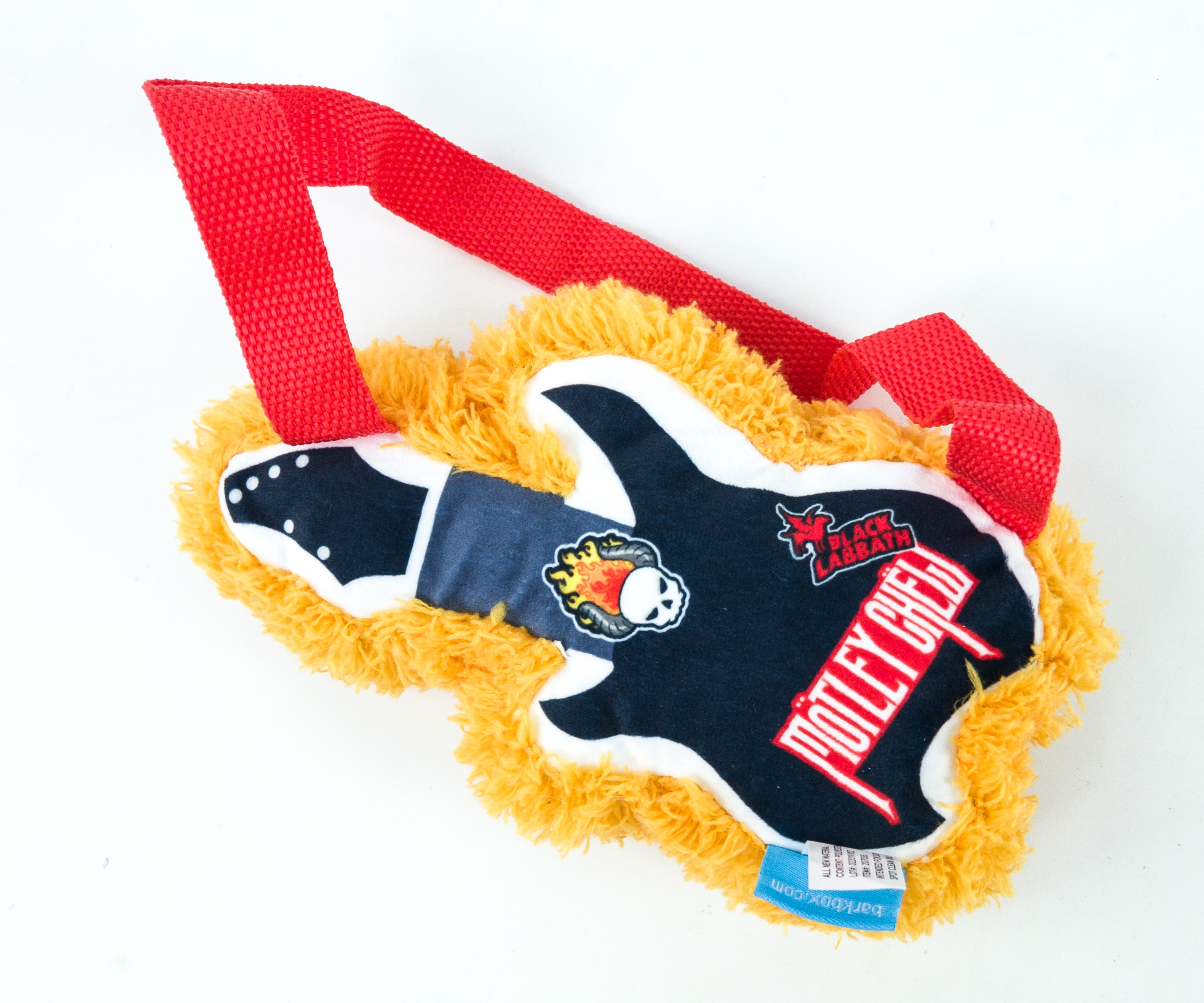 It's well-designed on both sides. It even has a fuzzy part!
Barkbox Squeak And Destroy Drums Dog Toy. Aside from the guitar, another pup band must-have is the drums! We got a drum-inspired toy in the box and it's perfect for a tug-of-war game time!
This toy contains a diss squeaker, crinkle, and t-shirt rope.
There are two drums and one cymbal, all connected by one rope.
This produces a loud sound that our pups love. They've been playing with it for quite some time now and it's still intact.
Bark Yum Solo! Drumstick Turkey Recipe Dog Chew. Playing around could be draining, so here's a dog chew to keep our pupstars up and running. It's made with turkey and chickpeas.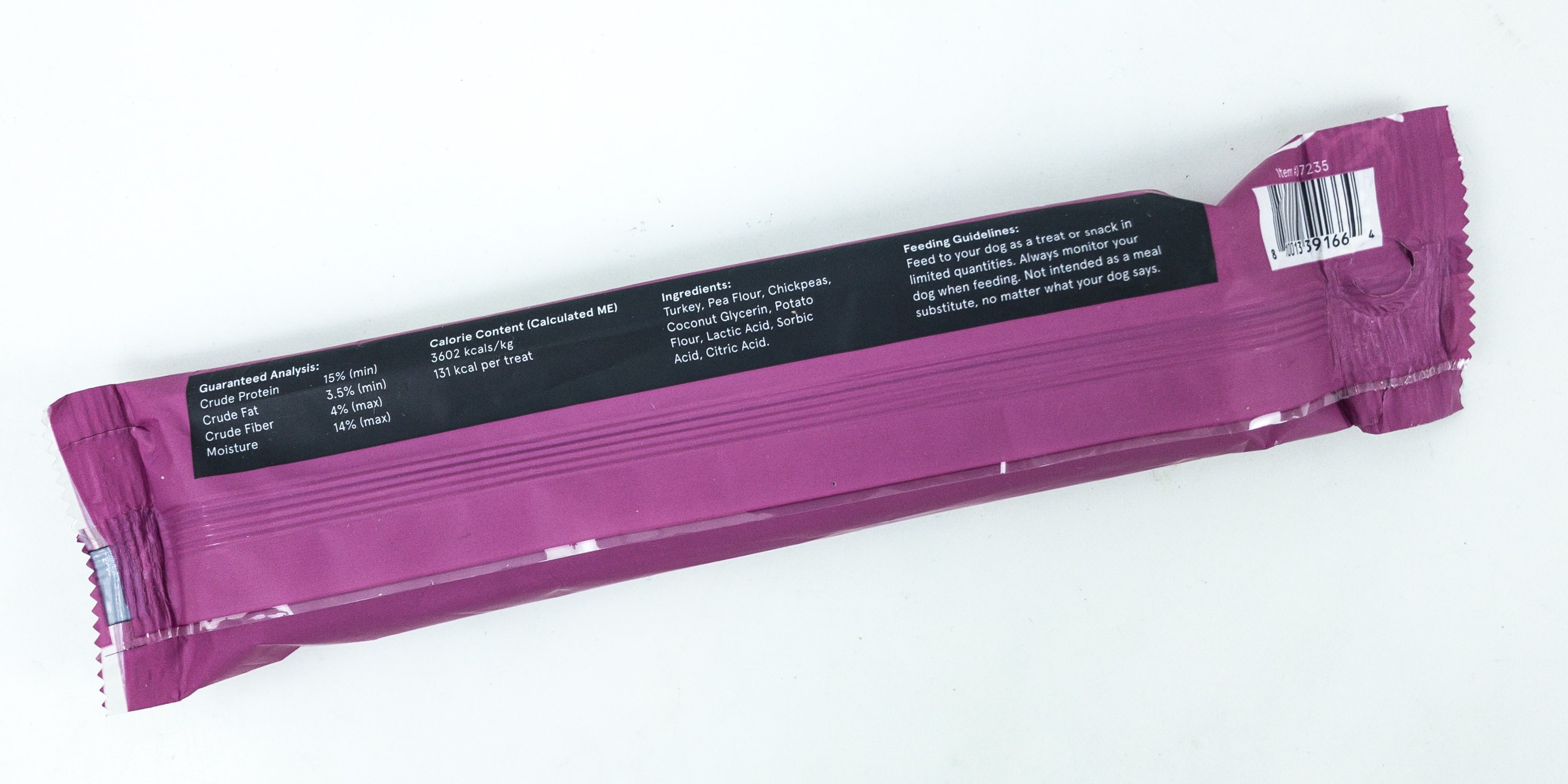 Turkey contains nutrients good for our pups like protein, riboflavin, and phosphorous!
The stick is thick, but you can easily cut it down into smaller pieces to feed as a snack or as a reward for your pups.
Barkbox Hog Gobblin Pork & Turkey Powered Dog Treats. These pawsome treats combine turkey with pork and other tasty ingredients such as flaxseed, blueberries, and bacon!
They're totally dog-friendly because they're wheat-free, soy-free, corn-free, and grain-free.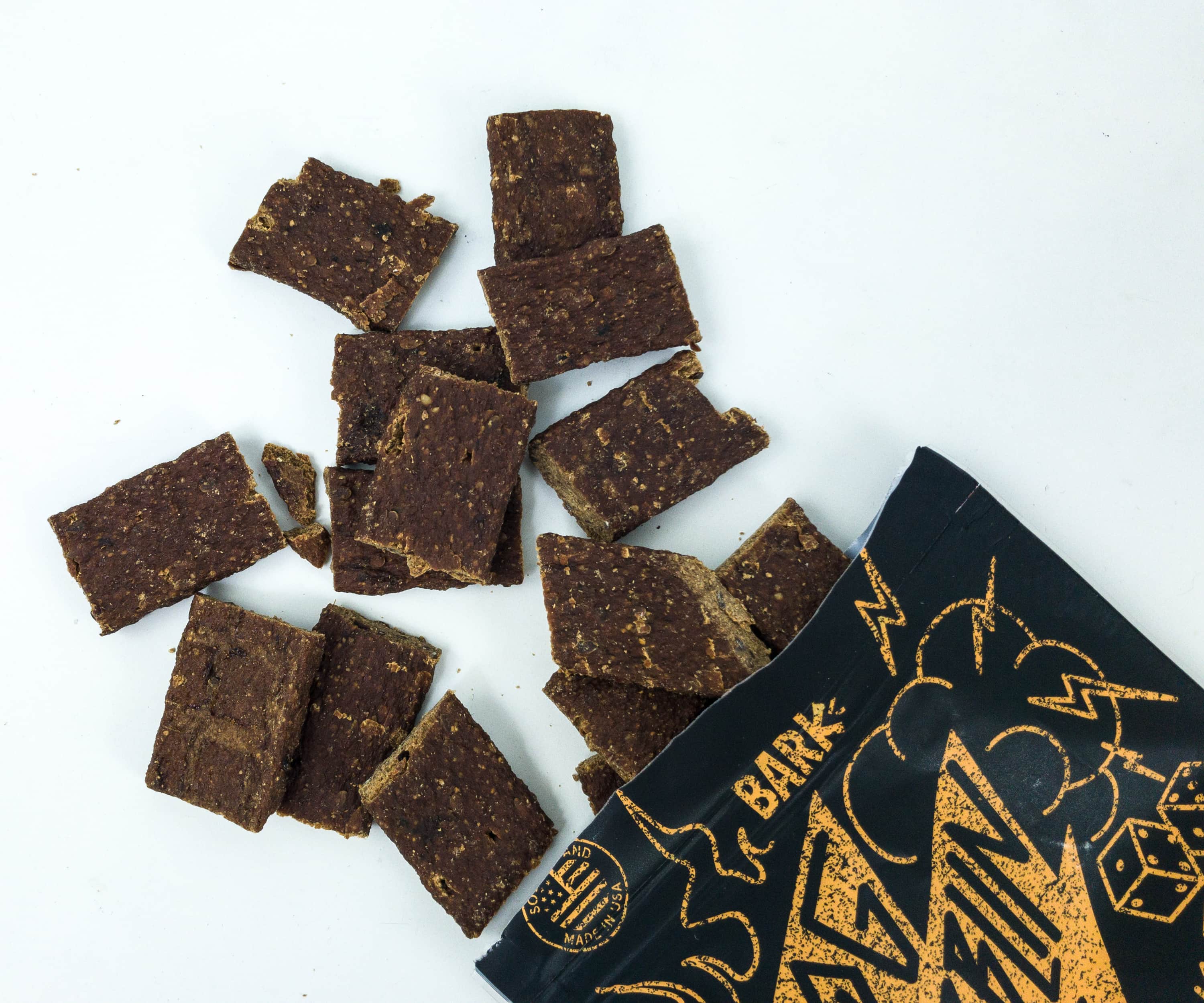 Each piece is chewy. Some of them were chipped but nothing really damaged or crushed.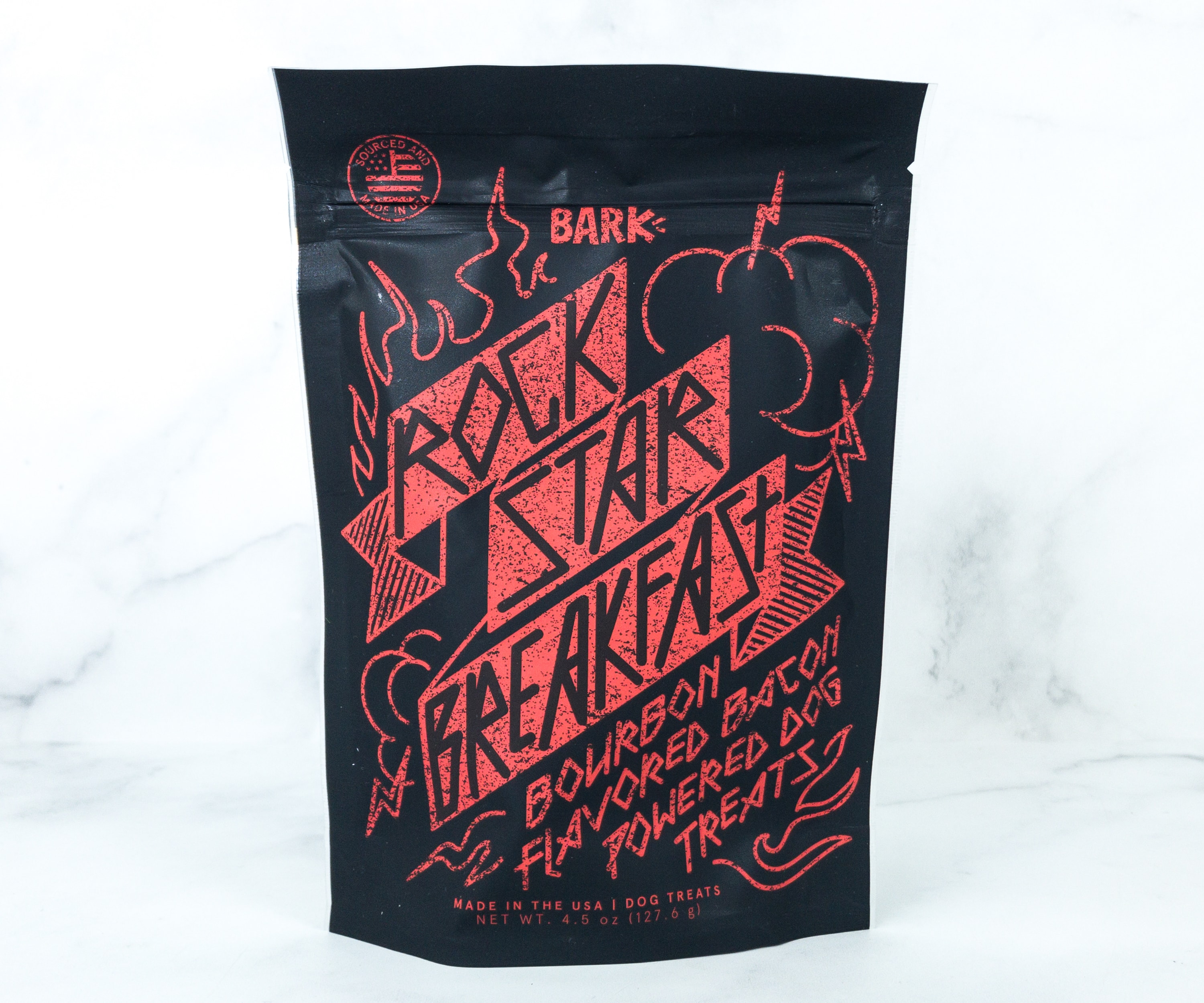 Barkbox Rock Star Breakfast Bourbon Flavored Bacon Powered Dog Treats. The second bag of treats boasts of bourbon-flavored bacon, deserving of its Rock Star Breakfast title.
Aside from bacon, it contains protein-rich chickpeas. Of course, they're also wheat-free, soy-free, corn-free, and grain-free.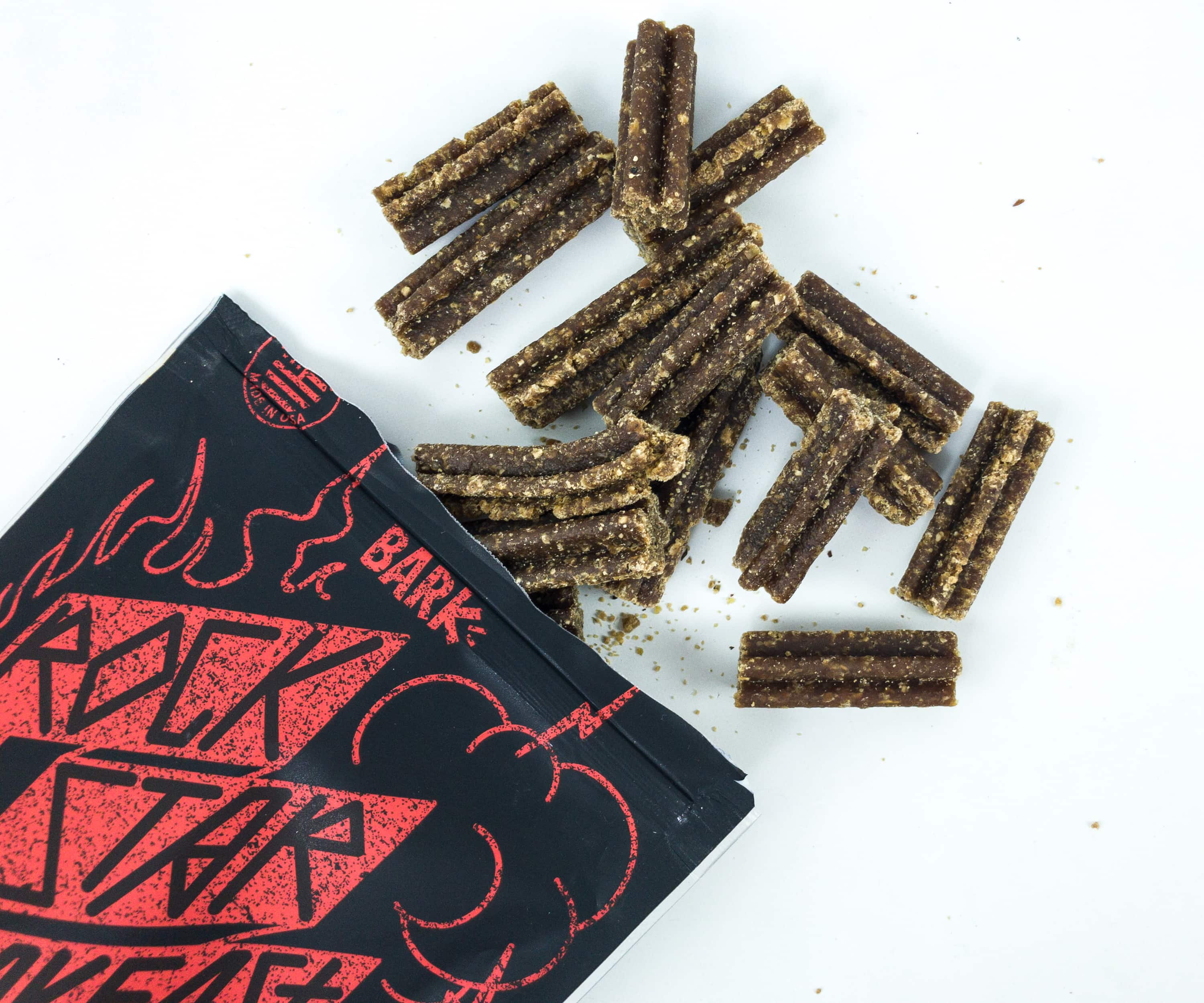 These short sticks were a bit crumbly, but our pups still loved them. We can't blame them because the snack contains bacon!
Barkbox keeps giving us fun themes and fun items month after month, so we couldn't be happier. This month's metal band-themed box totally made our pups bark and roll (pun intended)! We got 5 items in total, which includes 2 toys, 1 snack stick, and 2 packs of delicious treats. The toys are all durable and kept our pups busy for a long time. As for the snacks, they're made with dog-friendly ingredients. The treats are even packed in a resealable bag, so they're kept fresh even after a long time. All in all, this is a pawfect box and we can't wait for next month already!
What do you think of Barkbox? If your dog is also a serious chewer, check out Barkbox Super Chewer!