Barkbox is a monthly subscription box just for dogs. Each box has 4-6 dog products and is customized to the size of your pup, plus it has a cute theme that you and your dog will get a kick out of.
DEAL: You can get a $10 credit to the Barkshop with your Barkbox subscription with promo code MS10X1213. OR, get a FREE month on a 6 or 12 month subscription when you sign up for BarkBox with this link!
Get your first month of BarkBox for $5 plus get a free extra toy your first month when you subscribe to a 6+ month plan! Just use this link, no coupon code required.  Ends 7/29 9AM EST.
This Barkbox is for large dogs, but you can get them for small and medium dogs too. Check out our Barkbox reviews for a peek at the other dog boxes! Plus, they now offer Barkbox SUPER CHEWER – the heavy chewer box!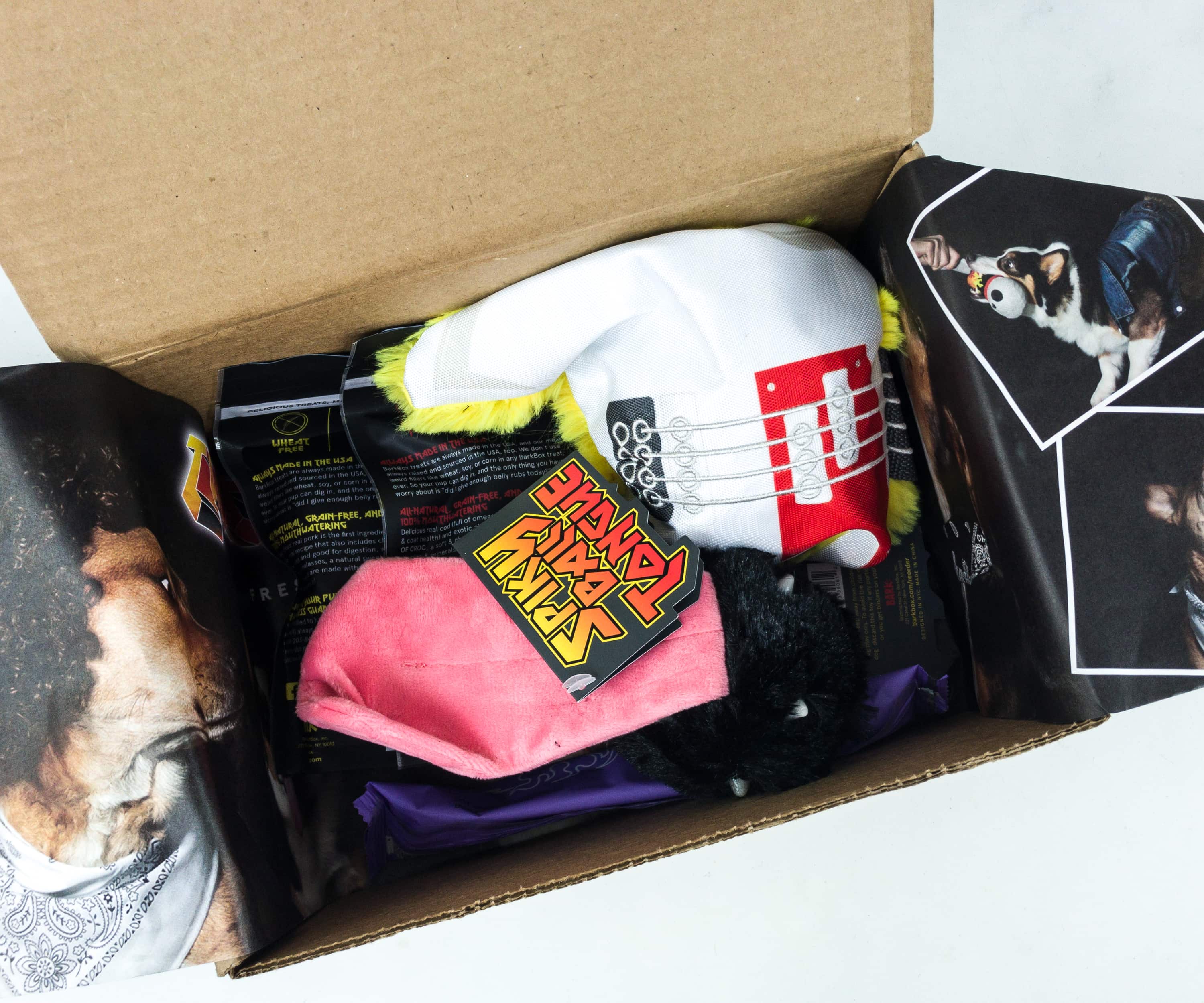 A cute packaging welcomed us upon opening the box. Aside from the wrapping paper, there are no other packaging material or fillers.
The theme of this month's box is HAIRY METAL! They showed their creativity once again through this month's description card, which is designed like a CD!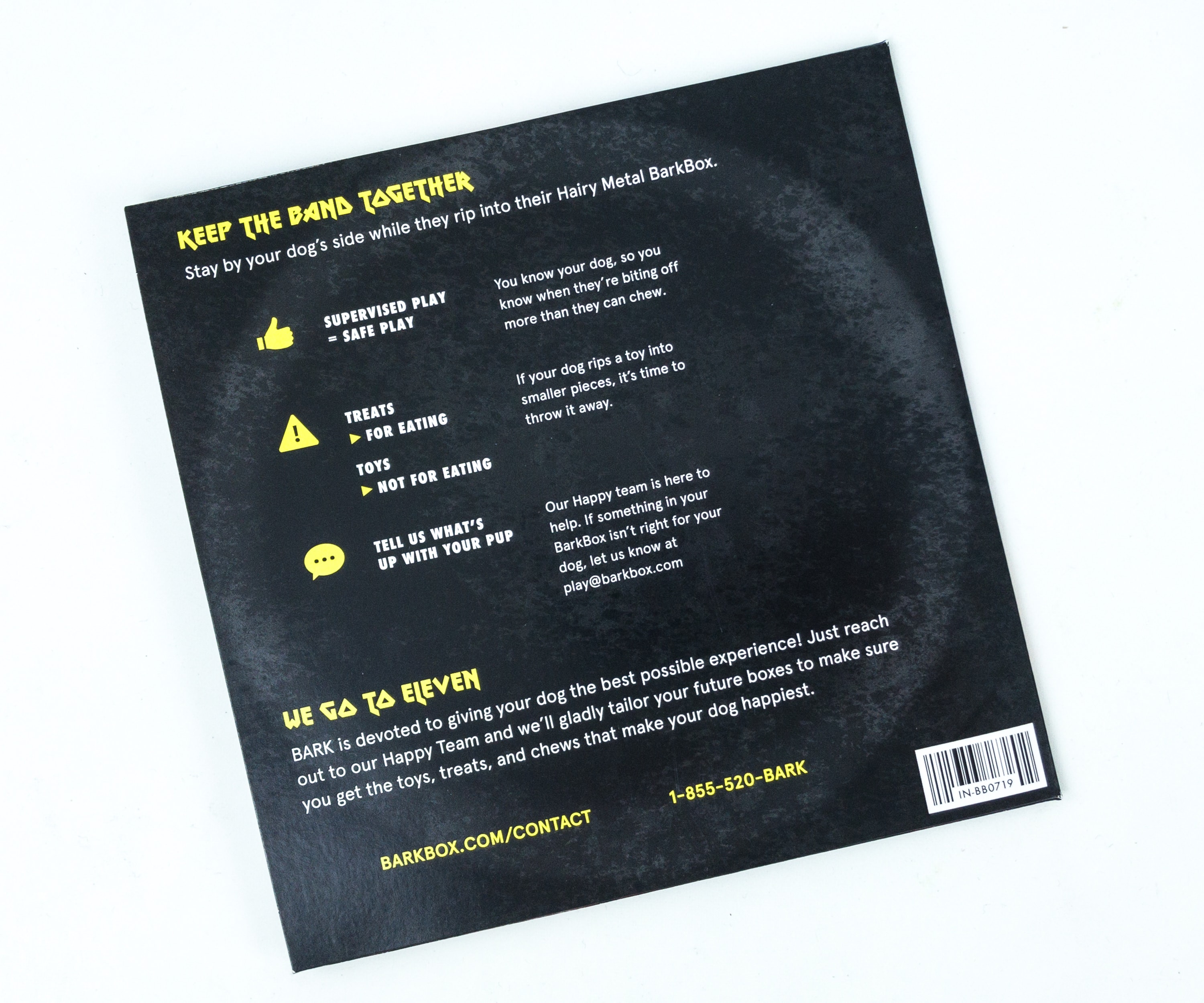 At the back, there are guidelines about the items in the box.
They encourage you to share photos of your dog playing with this month's featured toys using #BarkBoxDay.
The back of the card provides photos of items you might receive in the box.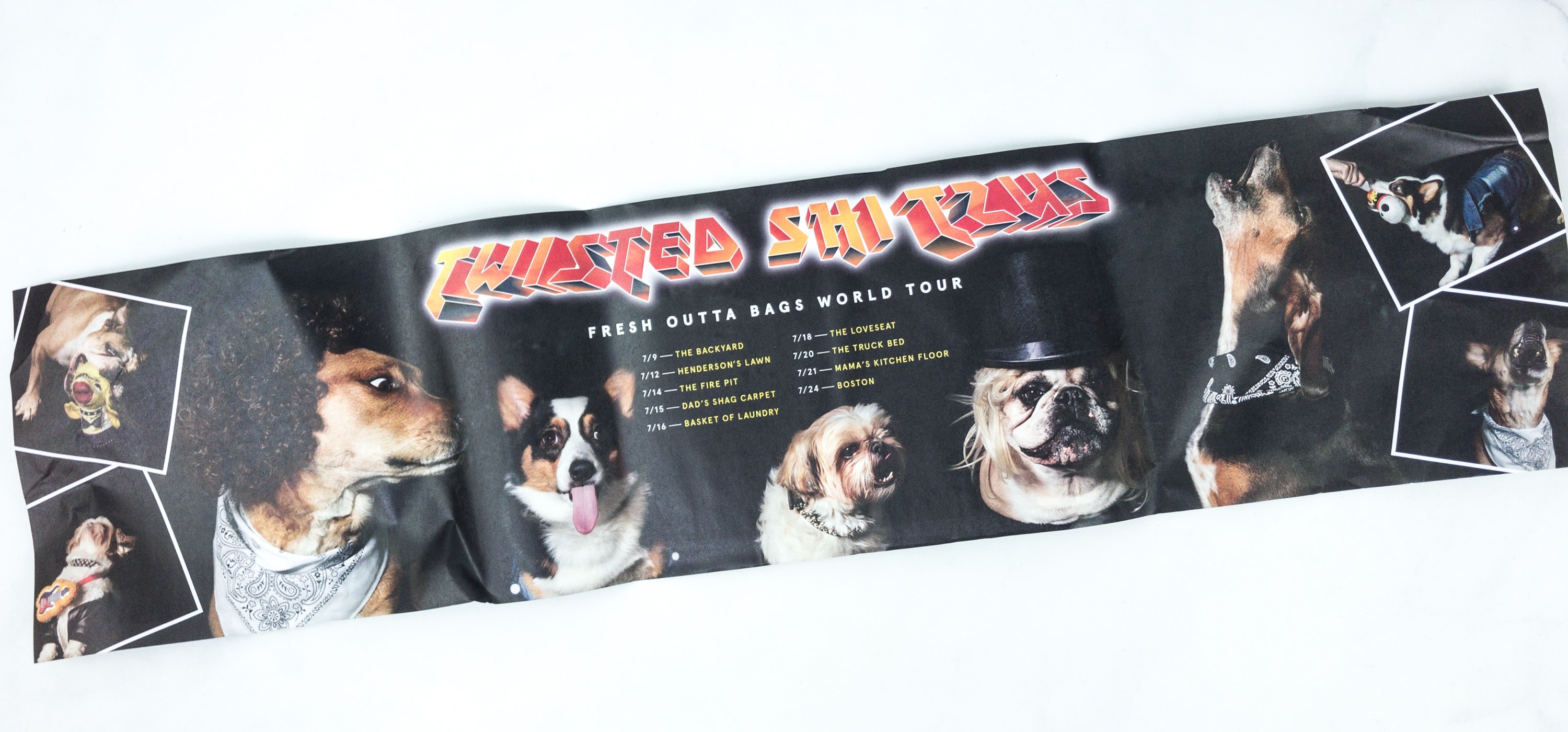 As always, the wrapping paper is amazing! It features a pup band, the Twisted Shi Tzus, and their Fresh Outta Bags World Tour!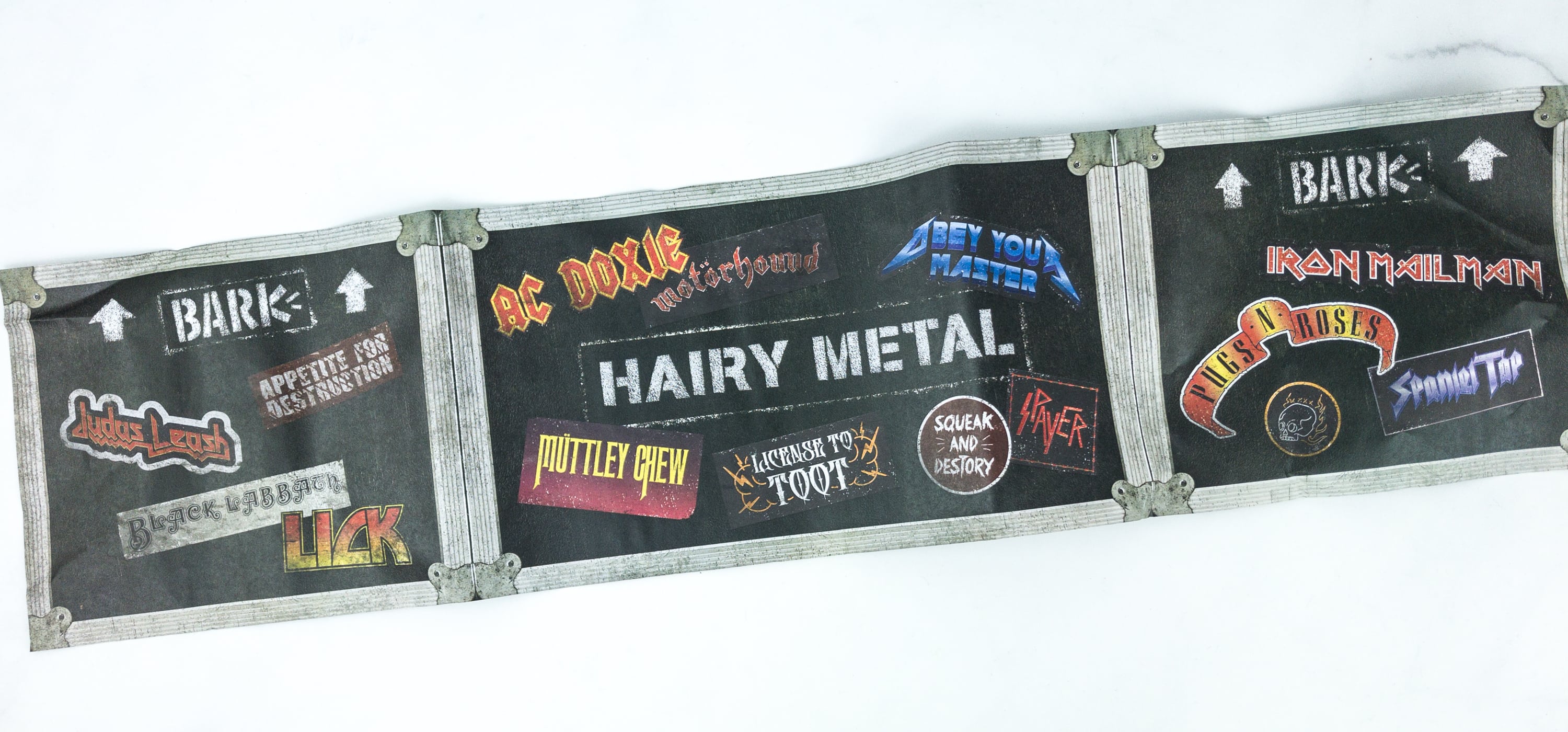 The other side of the wrapping paper has a lot of pup versions of various bands!
Everything in this month's box!
Barkbox Wicked Lick Guitar Squeaky Dog Toy. A band won't be a band without instruments such as the guitar! This box includes a fluff-free guitar-inspired toy, and instead of strumming it, your dogs can produce a sound by biting it or tossing it around!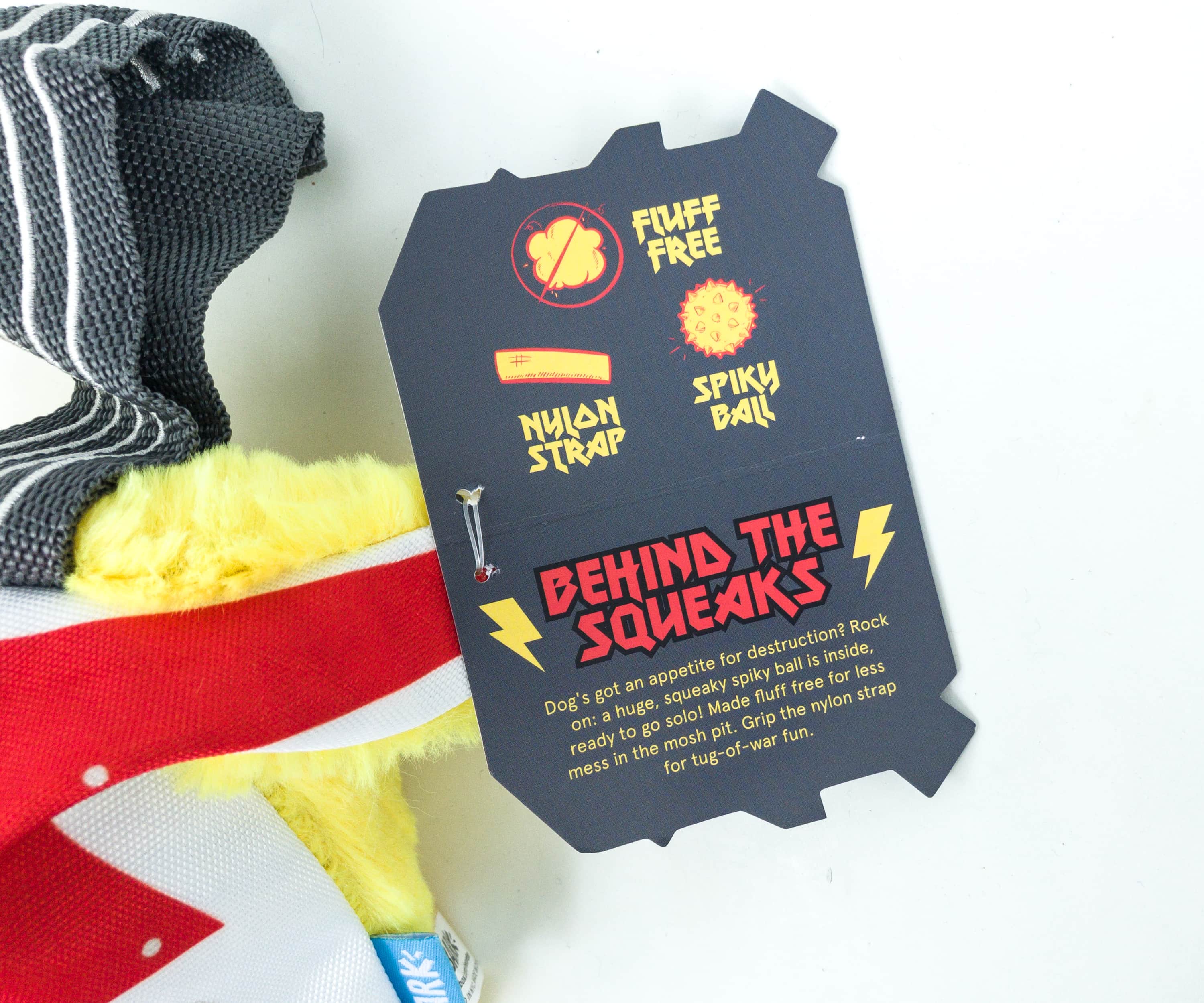 It has a spiky ball inside which produce exciting sounds, making it more enjoyable for the pups.
It even has a nylon strap, so you can use it for tug of war.
Since it's fluff-free, there's no need to worry about any mess in case the toy rips apart!
Barkbox Spiky Ball Tongue Squeaky Dog Toy. Tongues out! This tongue-shaped dog toy features a spiky ball and a crinkle inside!
Like the first toy, this one is fluff-free!
This toy is soft and lightweight, but it packs a punch because of the sound it produces. It definitely excites dogs!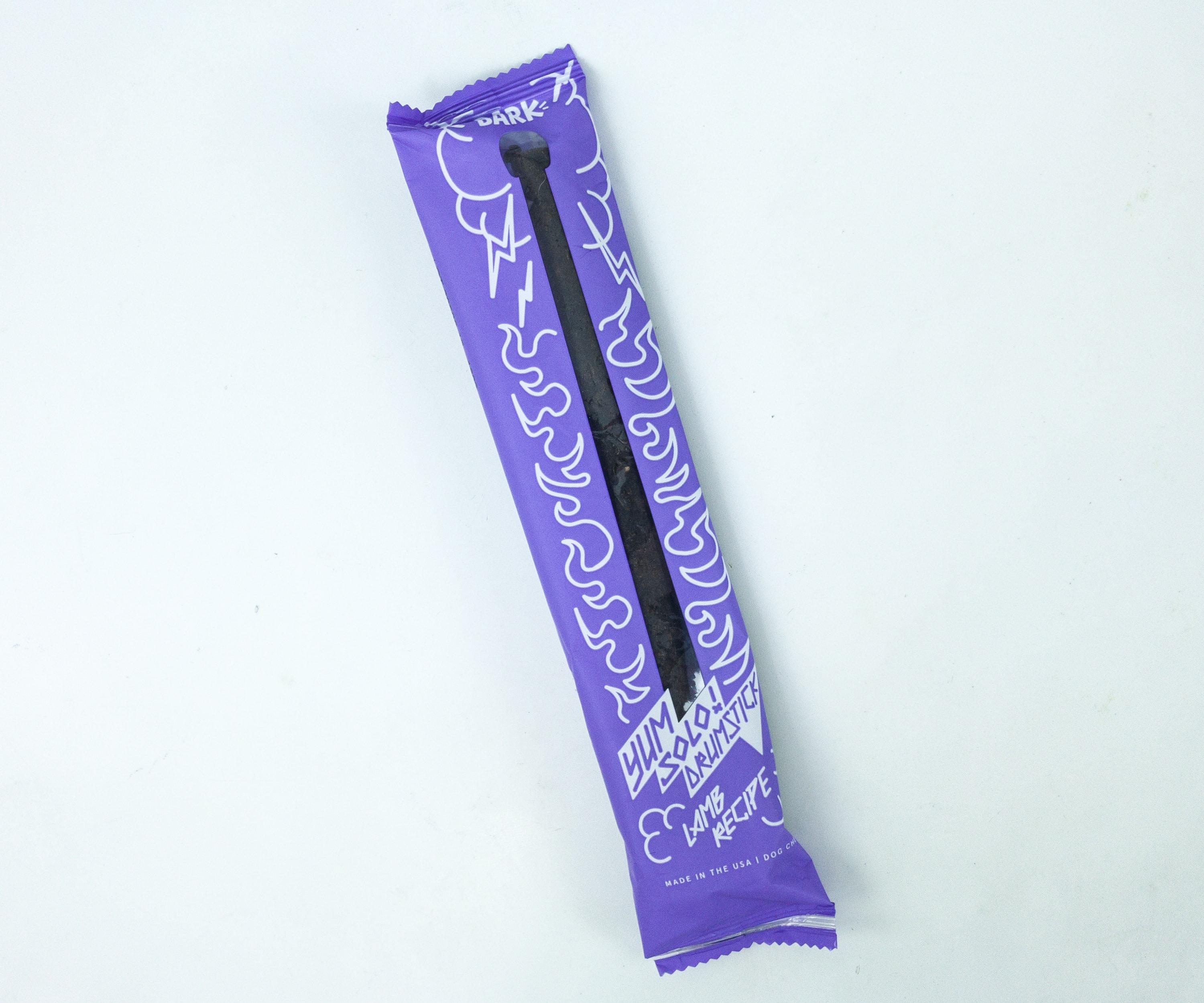 Bark Yum Solo! Drumstick Lamb Recipe. It's surely tiring to be a rockstar, so here's a dog chew to keep your dogs up and running. It's made with lamb!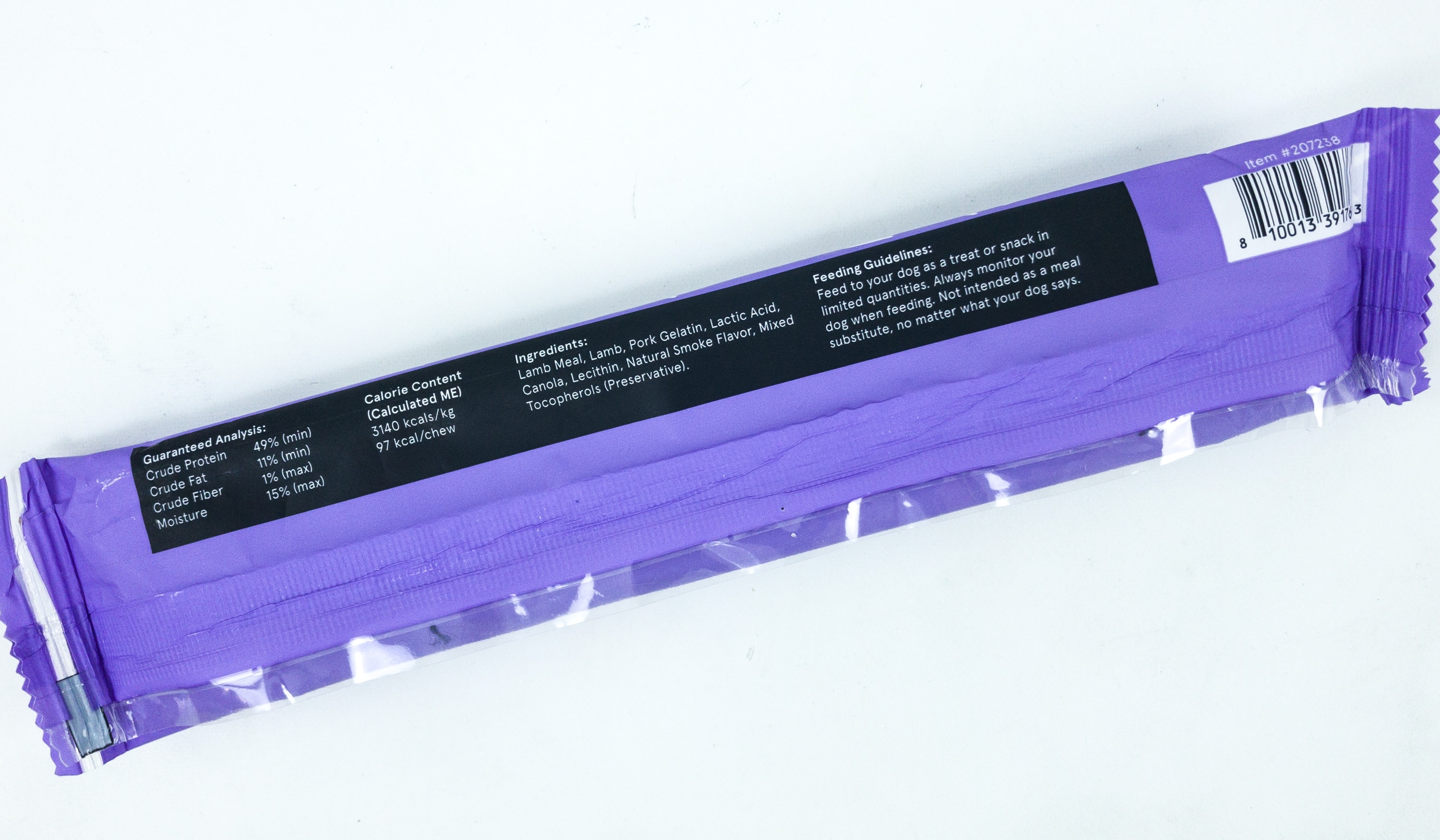 Lamb contains nutrients good for our pups like protein and amino acids!
The stick is thick and long, perfect for large dogs. But in case you want to cut it down, you can easily do so.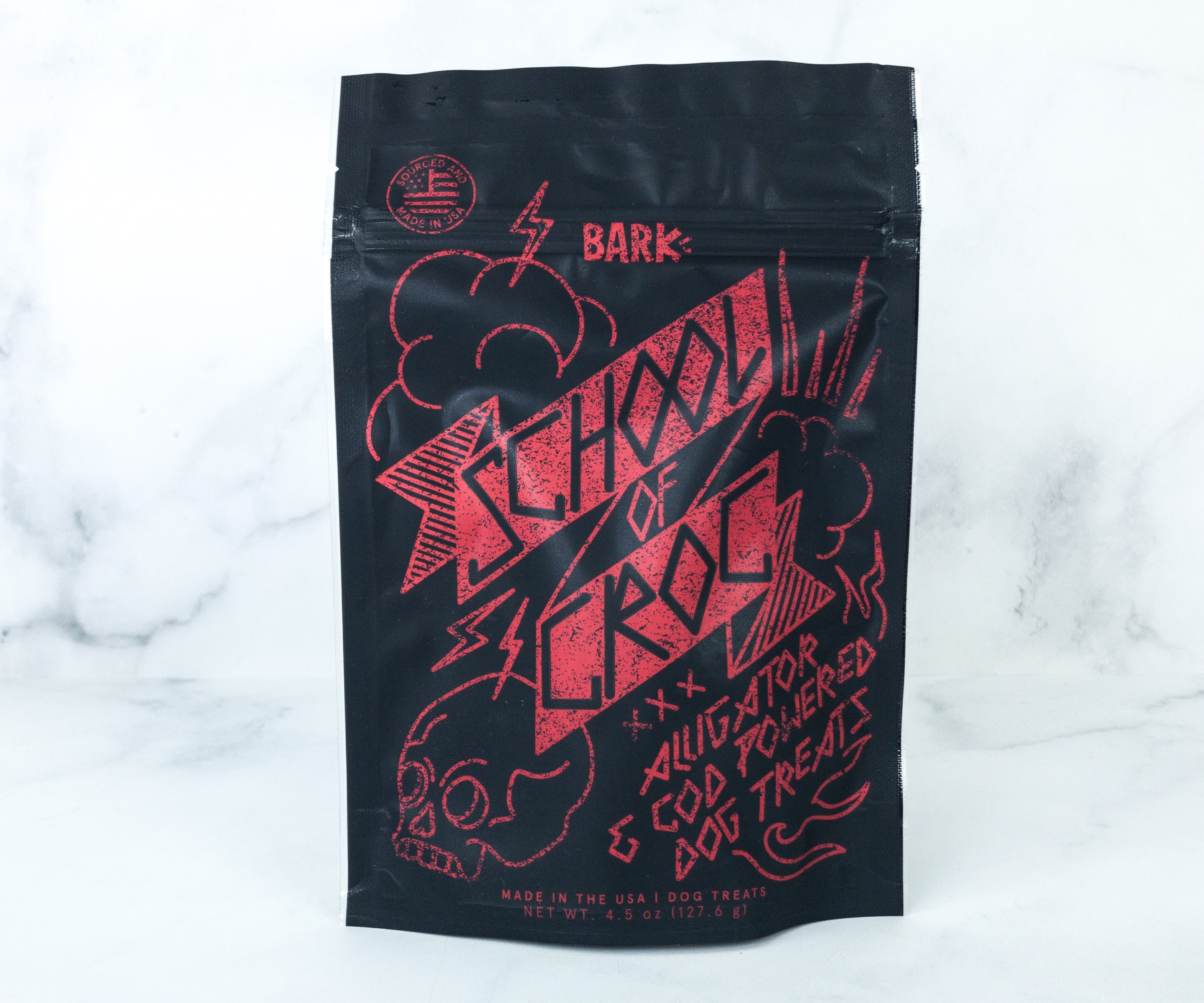 Bark School Of Crox Alligator & Cod Powered Dog Treats. Yes, you read that right. This treat is made with alligator!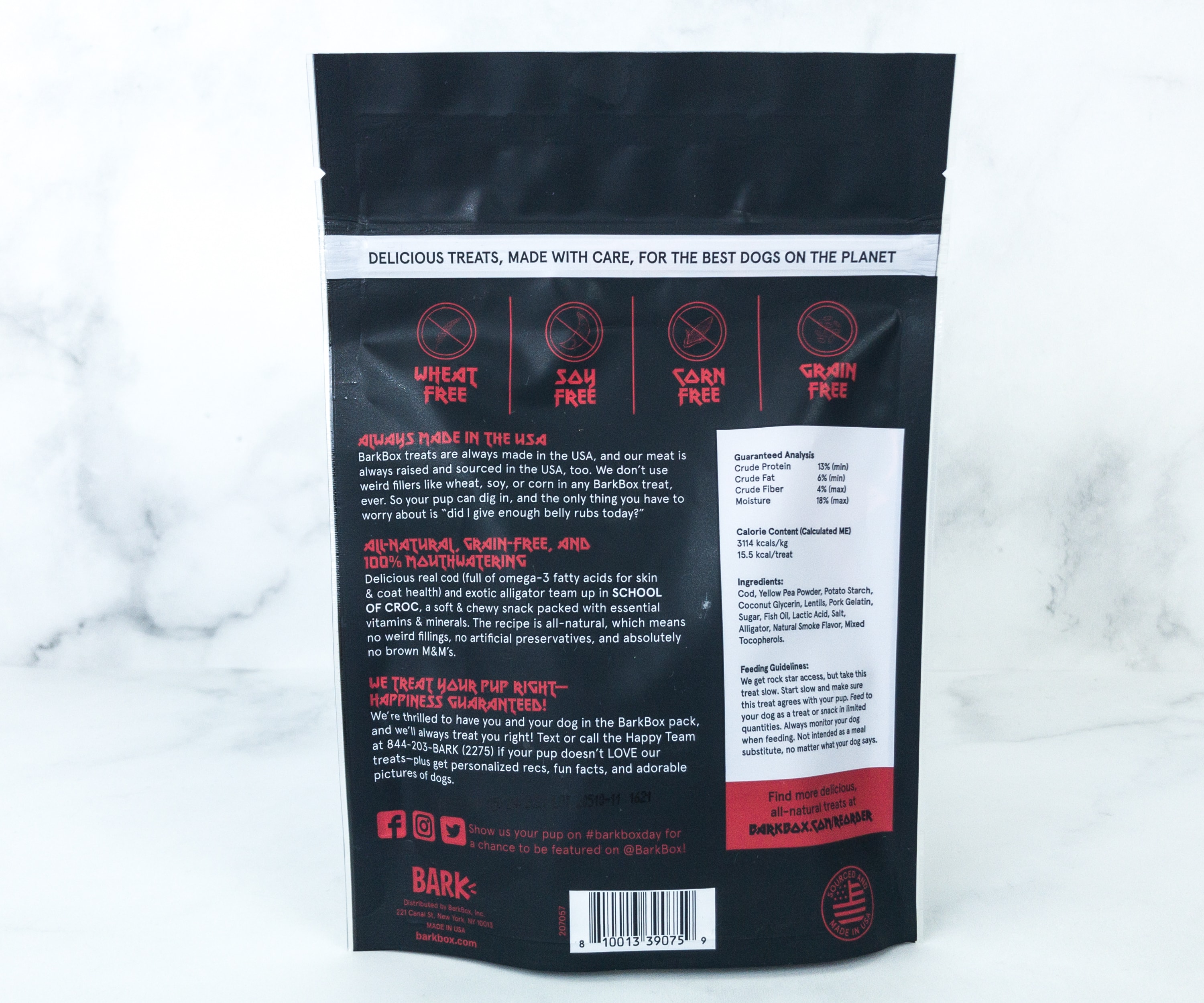 Aside from alligator, it also contains cod which is rich in omega-3 fatty acids. They're totally dog-friendly because they're wheat-free, soy-free, corn-free, and grain-free.
Each guitar-shaped piece is soft and chewy. They're great as snacks and as training treats!
Bark Mosh Pig Pork Powered Dog Treats. The second bag of treats is a combination of pork and chickpeas, giving your dogs energy like they're rockstars or the crowd on the mosh pit!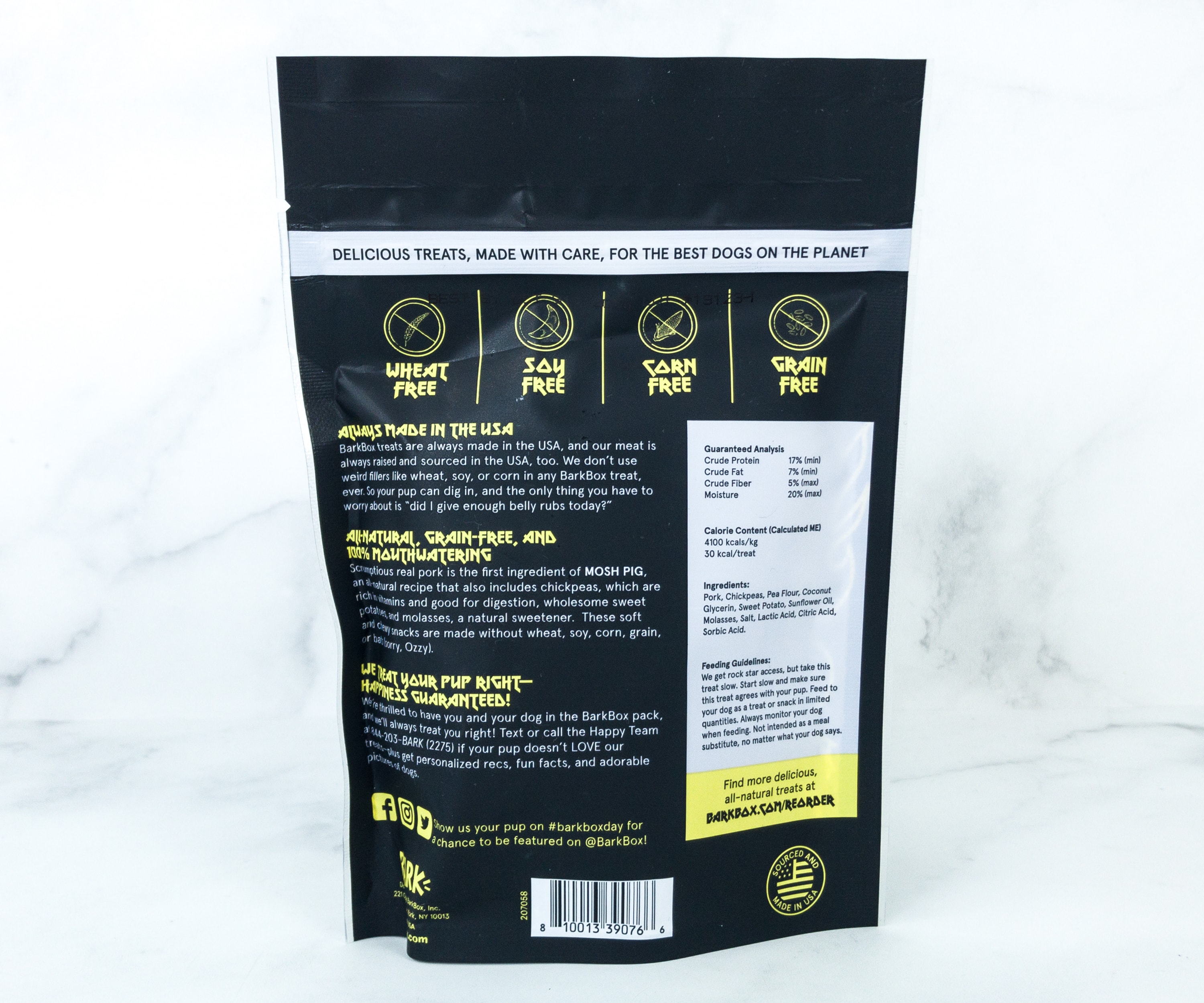 Aside from pork, it also contains sweet potato, sunflower oil, and molasses. Of course, they're also wheat-free, soy-free, corn-free, and grain-free.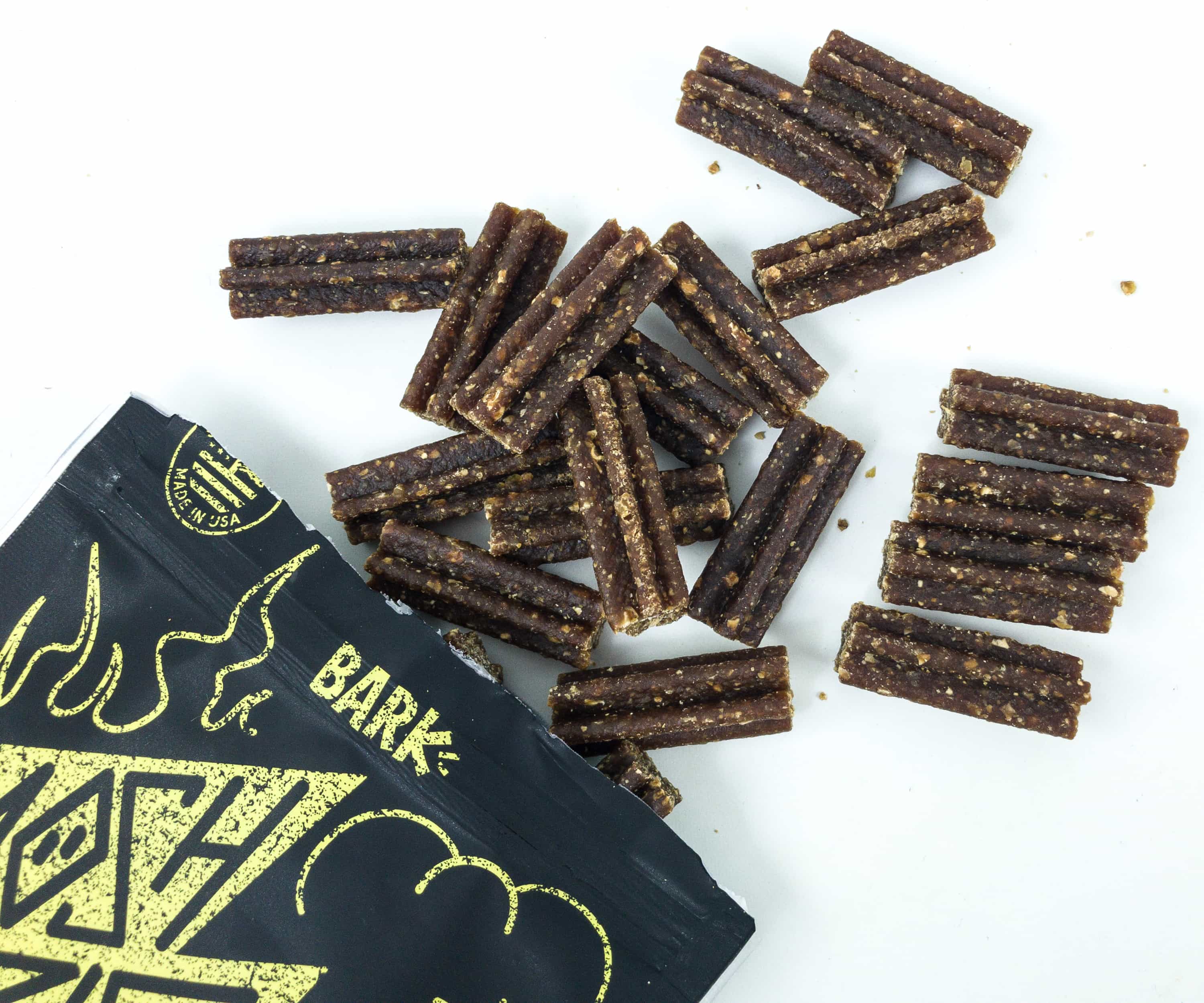 These sticks have a rough and chewy texture!
Barkbox is the true rockstar here! They always give us a fun theme with amazing items that dogs simply love. This month's rock metal band-themed box is definitely a hit with 2 durable toys, 1 yummy snack stick, and 2 packs of tasty treats. They make sure that everything is dog-friendly, from the materials of the toys to the ingredients of the dog snacks. We really appreciate that they send us only the best products for dogs! They keep on impressing us month after month, so we're really happy! We can't wait for next month already!
What did you think of Barkbox this month?