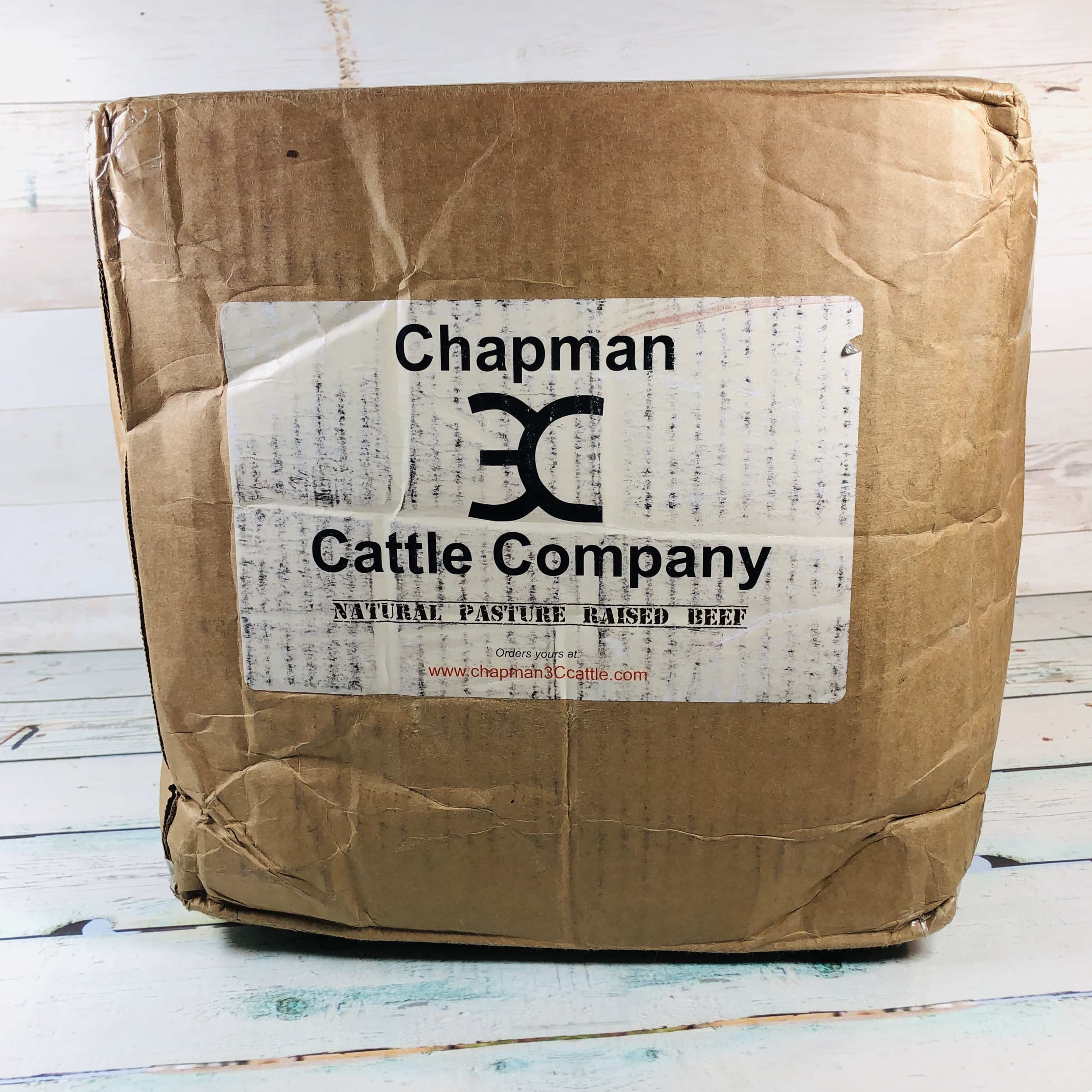 Chapman 3C Cattle Company is a monthly beef subscription service that lets you purchase a whole or half beef, one month at a time! With a 3C Monthly Beef Subscription you will have your portions delivered to your door monthly, so no worries if you don't have massive freezer space. A monthly subscription will include everything needed to get 3C Beef from the ranch to your door. Half a beef is $190 a month and a whole beef is $335, before discounts.
NOTE: I am reviewing the half beef option!
Dry Aged
Grass-fed and grain finished
NO additives. NO preservatives. NO added hormones. NO antibiotics.
Ships frozen
Shipping & Handling Included
A total of 200 pounds of our 3C Beef over a 12 month period (over 400 pounds for a whole beef)
15-17 lbs. of 3C beef delivered to your door per month (30-35 for a whole beef)
Includes a variety of steaks, roast, and ground beef.
Enough beef for 10-12 meals for 2 people or 5-6 meals for 4 people per month
DEAL: Subscribe and save 3% ($184.30 for half, $324.95 for full) on all remaining orders after the first 2 orders! Deal applies automatically, just VISIT AND SUBSCRIBE.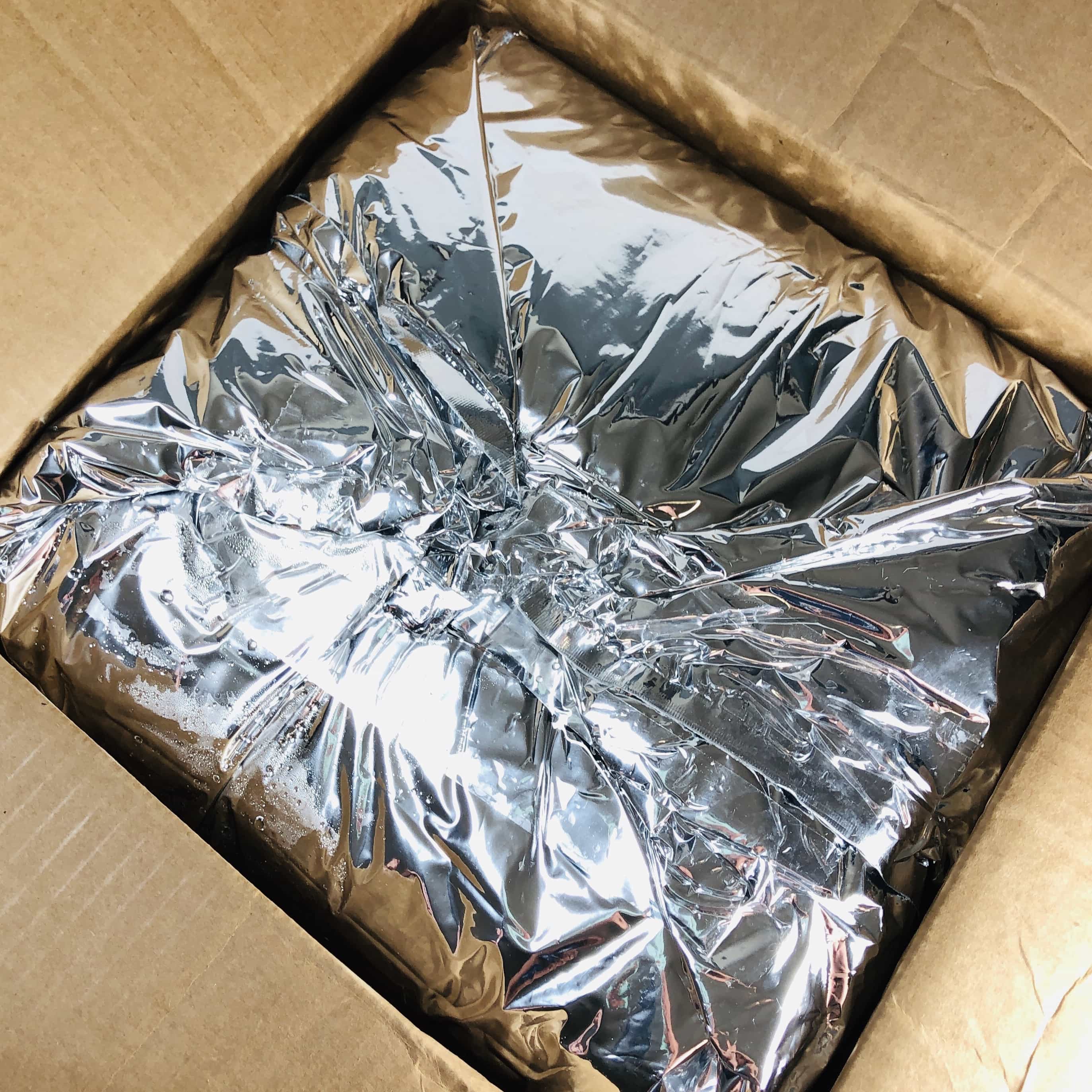 I live in the state of Texas, where the 3C company is located. My shipment was delivered via UPS. If you are ordering a box like this, then please open it immediately and get that stuff in the freezer!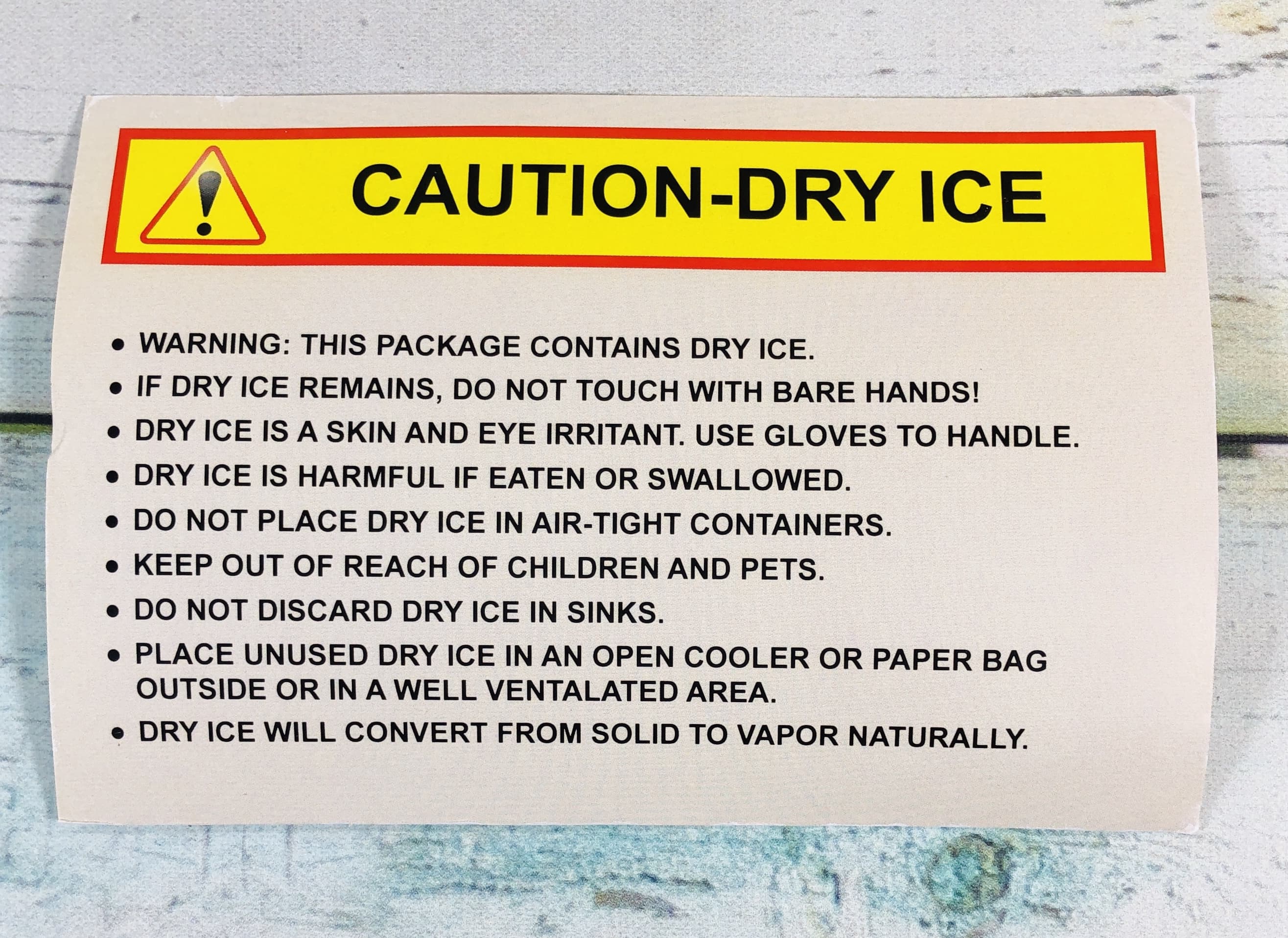 I was warned to watch out for dry ice. Dry ice + human hands = uh oh. Be safe and use some gloves or something!
I received a card from the 3C company. The cows are not given antibiotics, preservatives, fillers, or added hormones. They are grass fed and grain finished.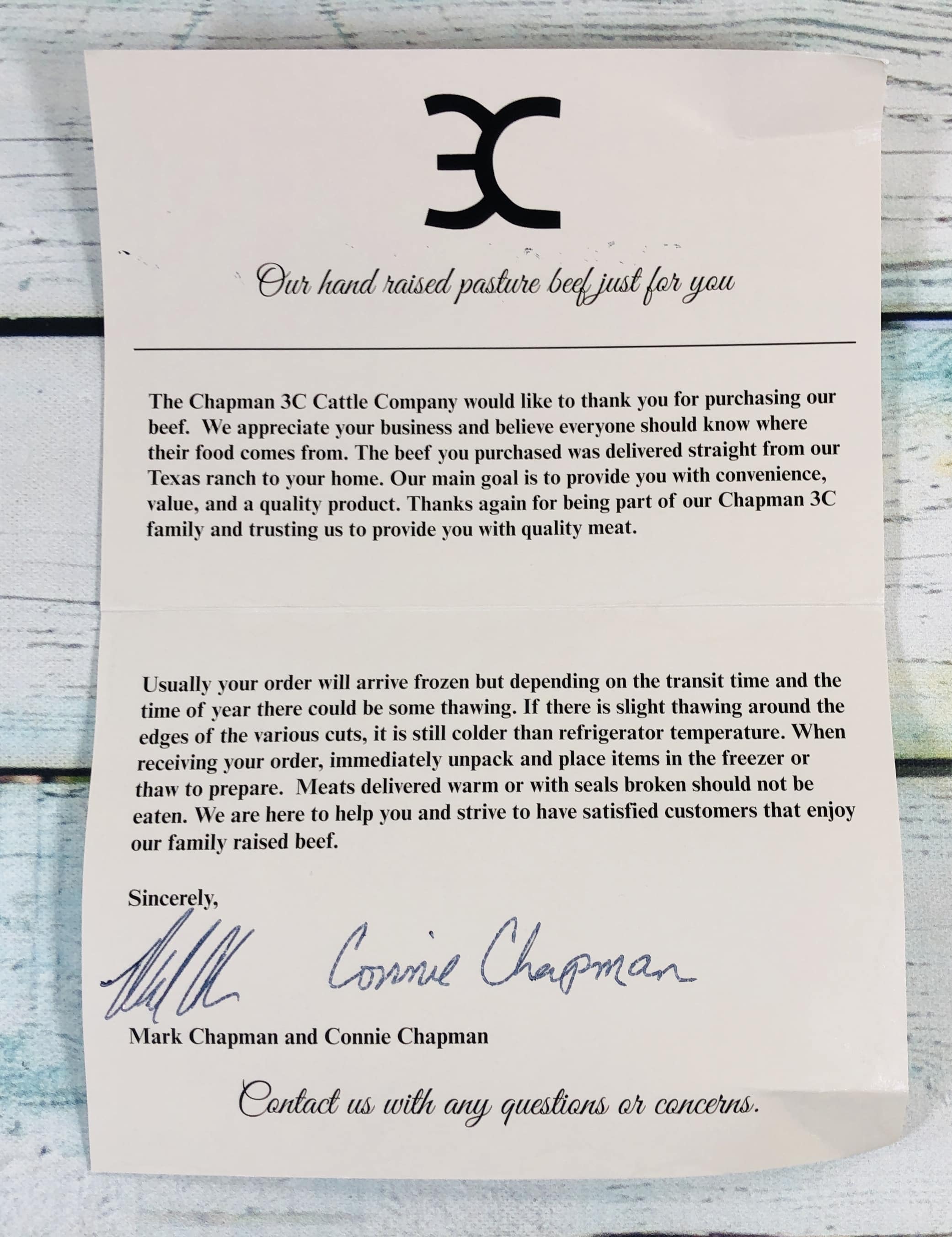 I appreciated the note that explained that my meat should be frozen but that a little thawing around the edges would be ok. It also told me that if the meat was warm or if the seals were open that I should not eat it at all. Food safety is a big concern of mine and I was happy to see that it is important to 3C too.
My meats were delivered in an insulated package that had originally had dry ice, which was gone.
My items were frozen solid. I did find some blood here and there so prepare to use bleach cleanser to clean up afterwards.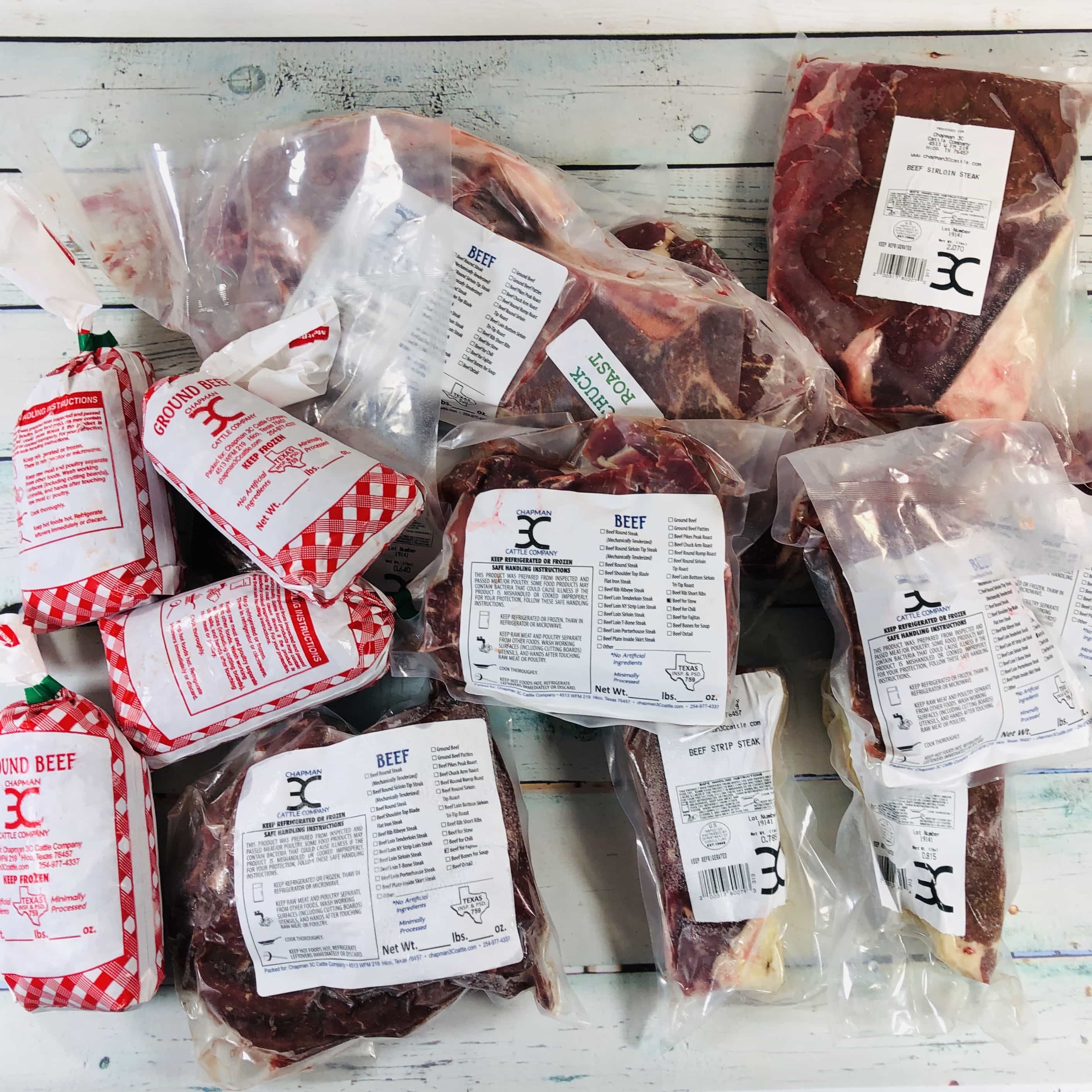 Everything in my box! I was sent a variety of meats to get me through the next month, but of course if you have a freezer then you can keep it for longer, just do a search to find out how long you can keep a food frozen without it suffering from freezer burn etc. A general rule is that ground beef may be frozen for up to 3-4 months, and the larger cuts can generally be frozen up to 12 months if kept at 0°F or lower.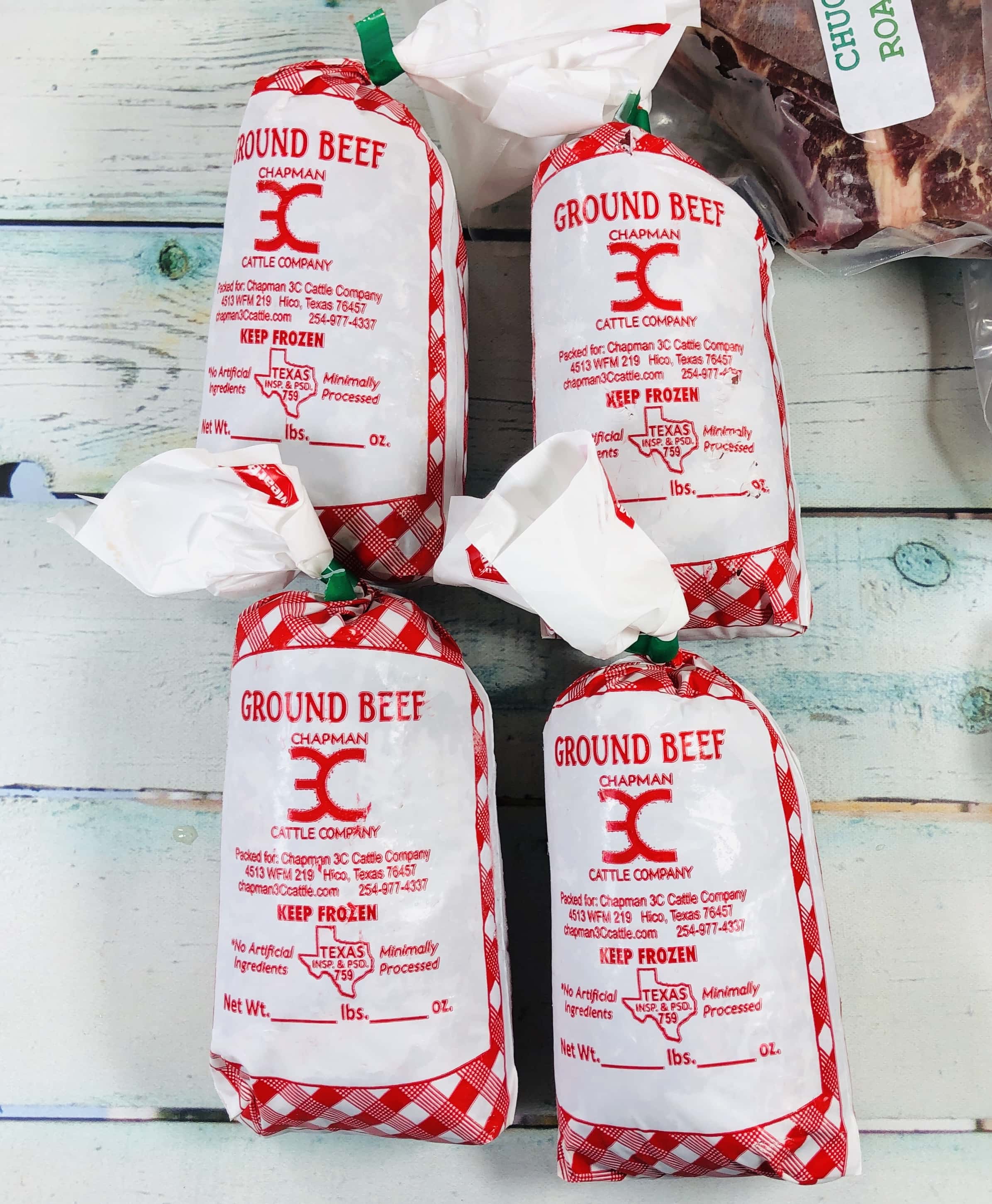 I received 4 packages of ground beef, which is perfect for hamburgers, spaghetti sauce, etc. I weighed one of the bags and it was 15.7 ounces, or just under a pound. I decided to make burgers with one of the packages.
I let it thaw overnight in the fridge and just formed into 3 patties and sprinkled with seasoning.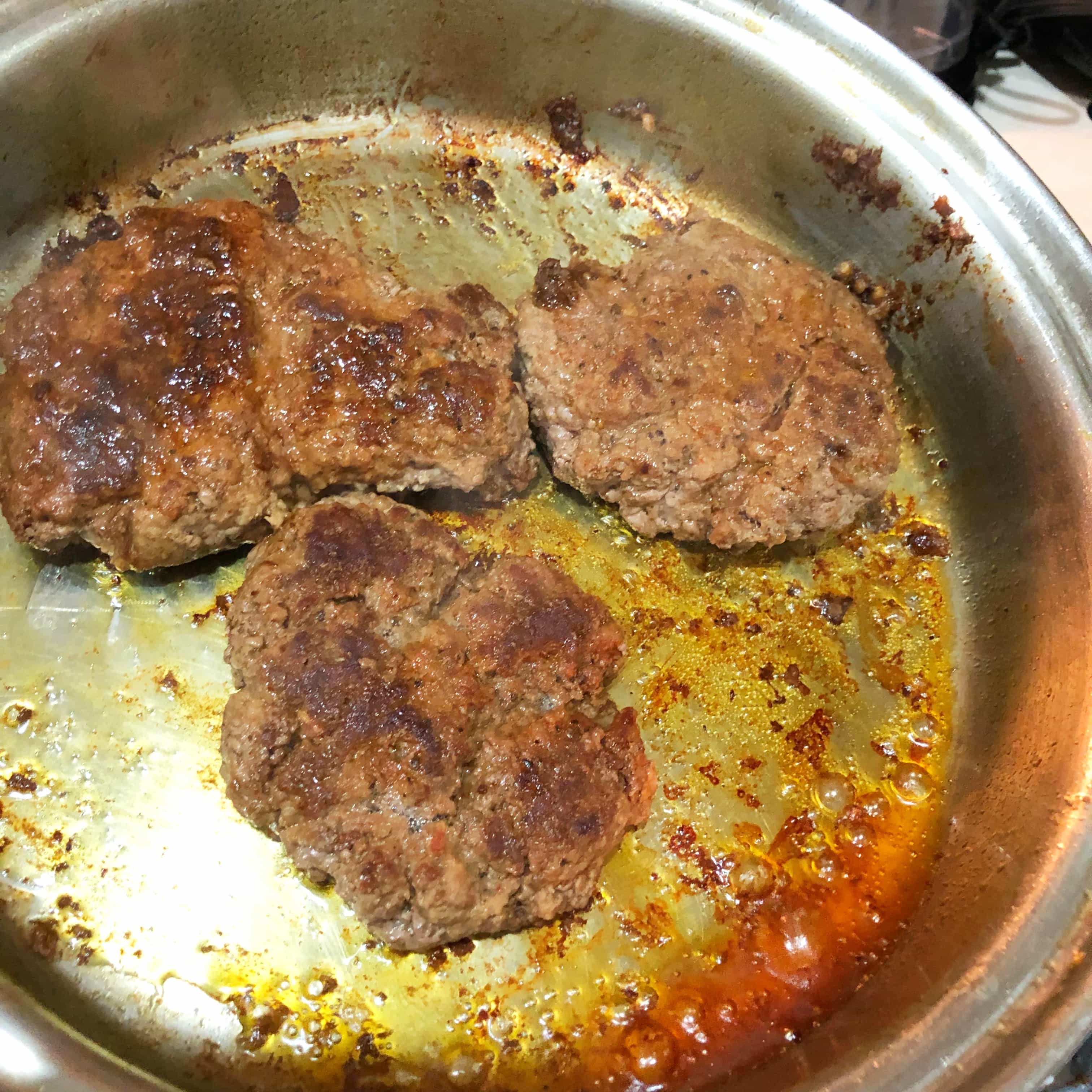 Hubby was still at work so I decided to pan fry the patties and realized I had no idea what the fat percentage was on this grind and if it was chuck, round, sirloin, etc. Judging by how much fat was in the pan after frying I decided it was somewhere between chuck and round, maybe 85/15? Not as fatty as chuck but juicier than round.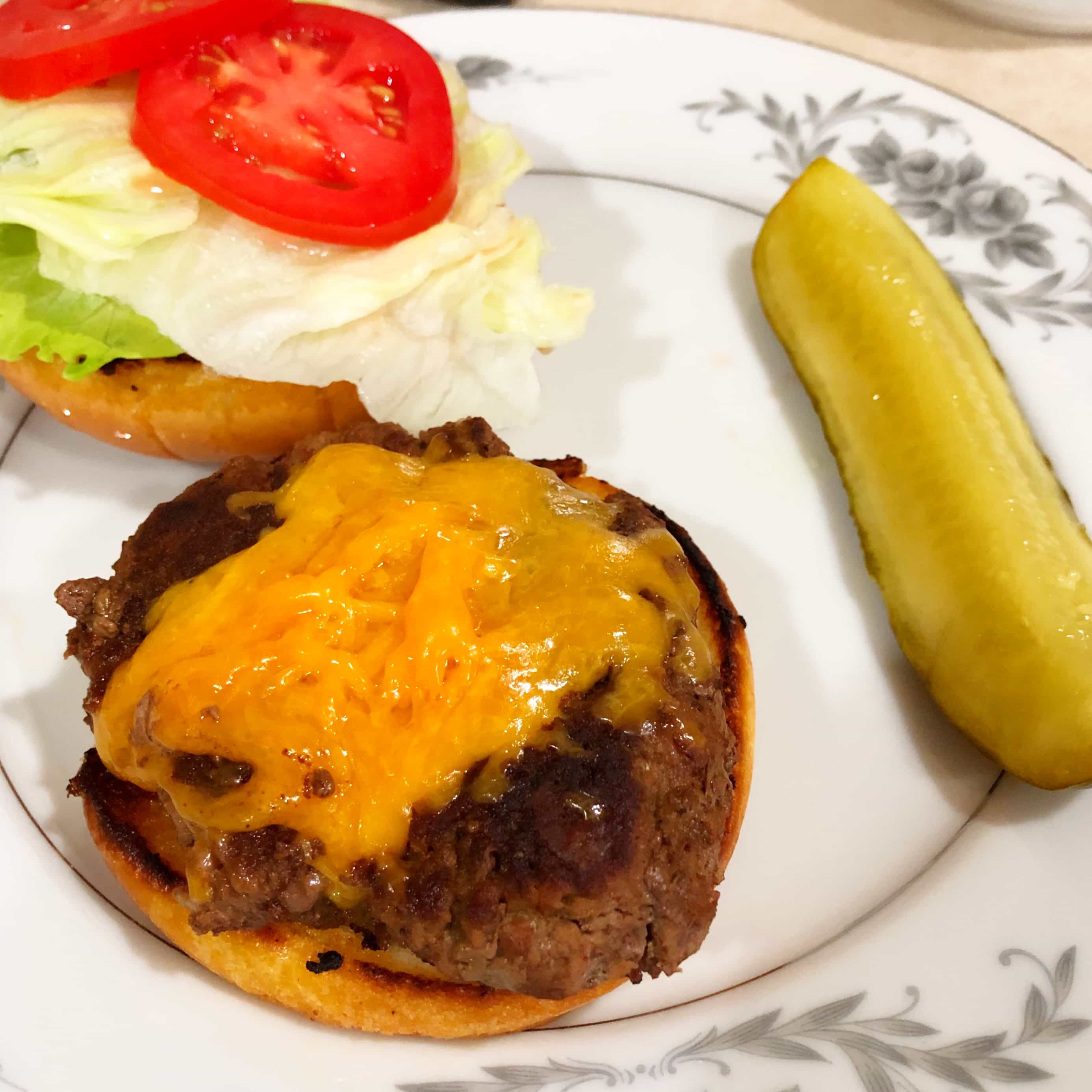 My husband and I agreed that it was a tasty burger and had just the right amount of fat for flavor and wasn't dry.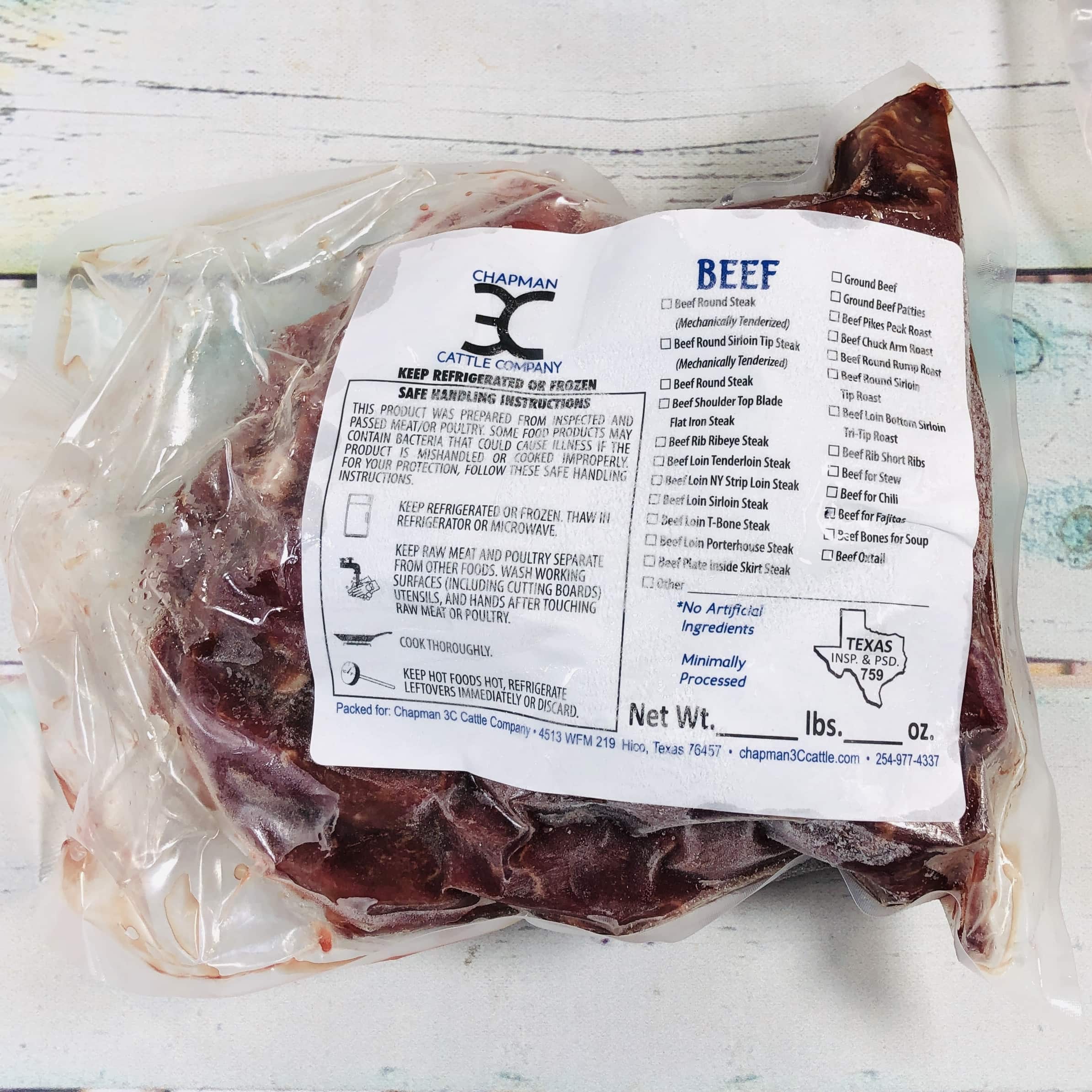 This cut says "beef for fajitas", but I'll have to wait until I thaw it to see if it is skirt steak (the most popular cut for fajitas here in Texas) or if it is flank.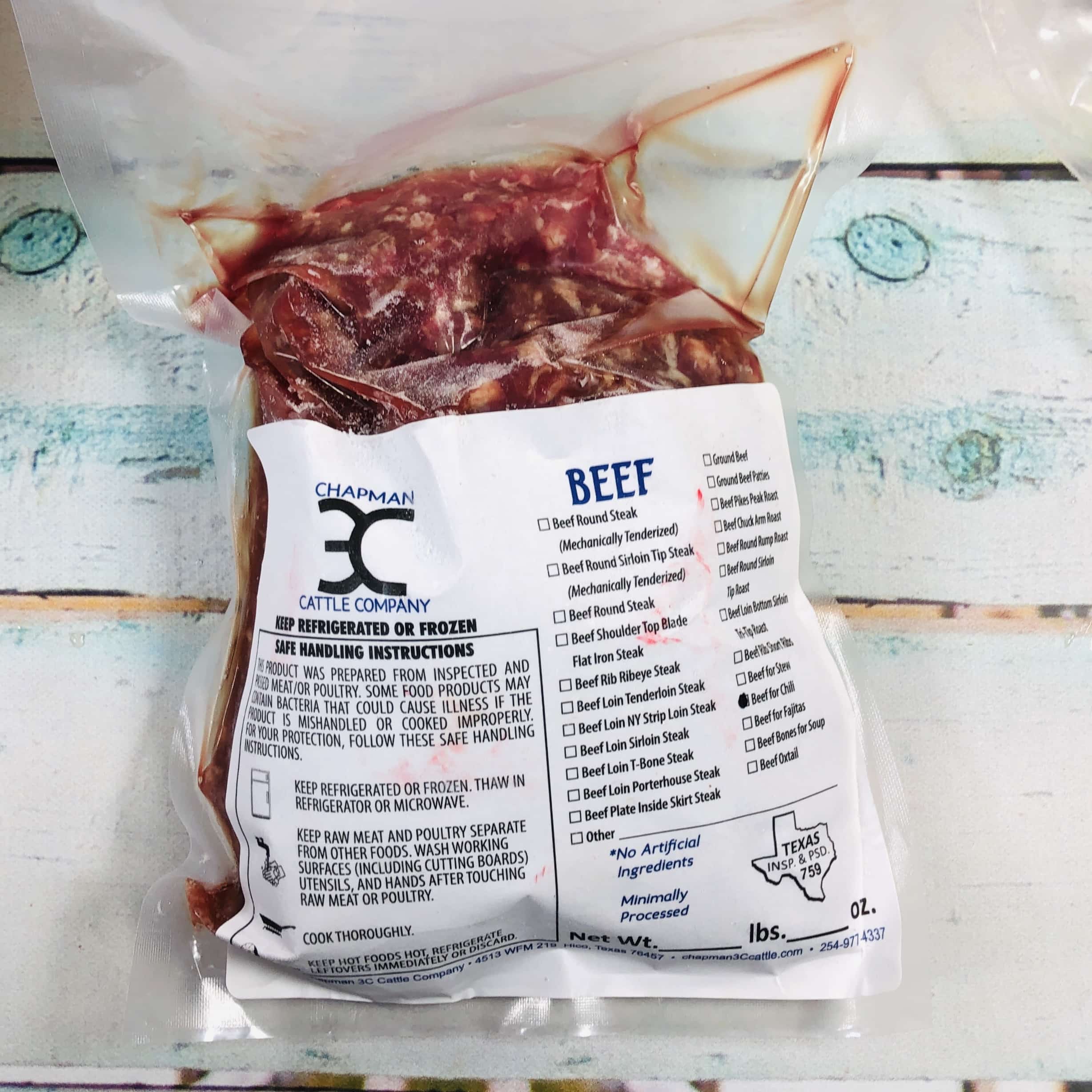 Here is some "beef for chili". I usually use ground beef for chili but this may be some chunkier cut of chuck, which I've seen at the supermarket. It's in the 90's and 100's here now so my chili making will have to wait until October.
I received two packages of "Beef for Stew", which again, is something I mostly make in the fall. I do have a chunky taco recipe that uses this cut though, and I decided to go ahead and use one of the packages for a recipe.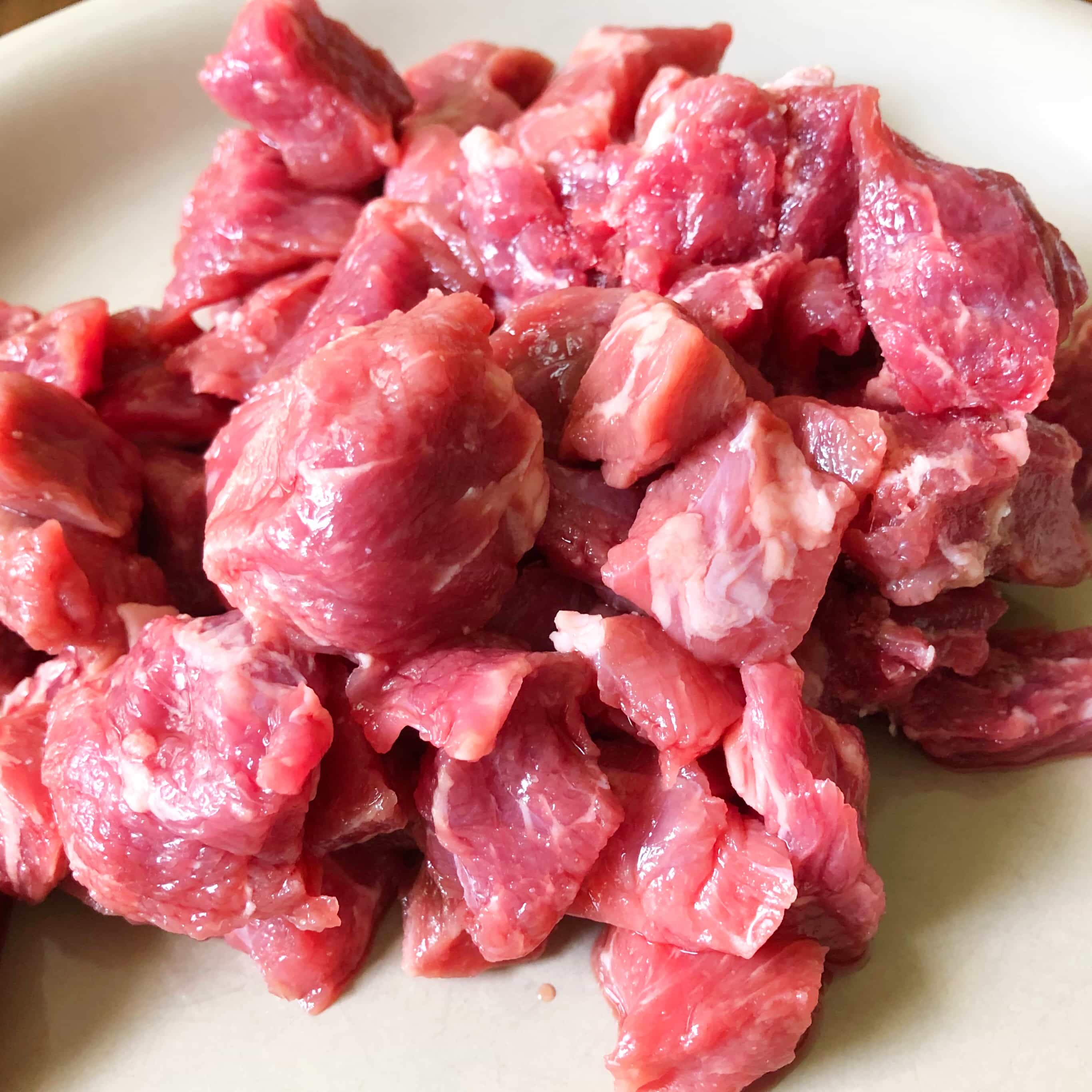 Each package contained 1 pound of beef and I liked the size of the cut.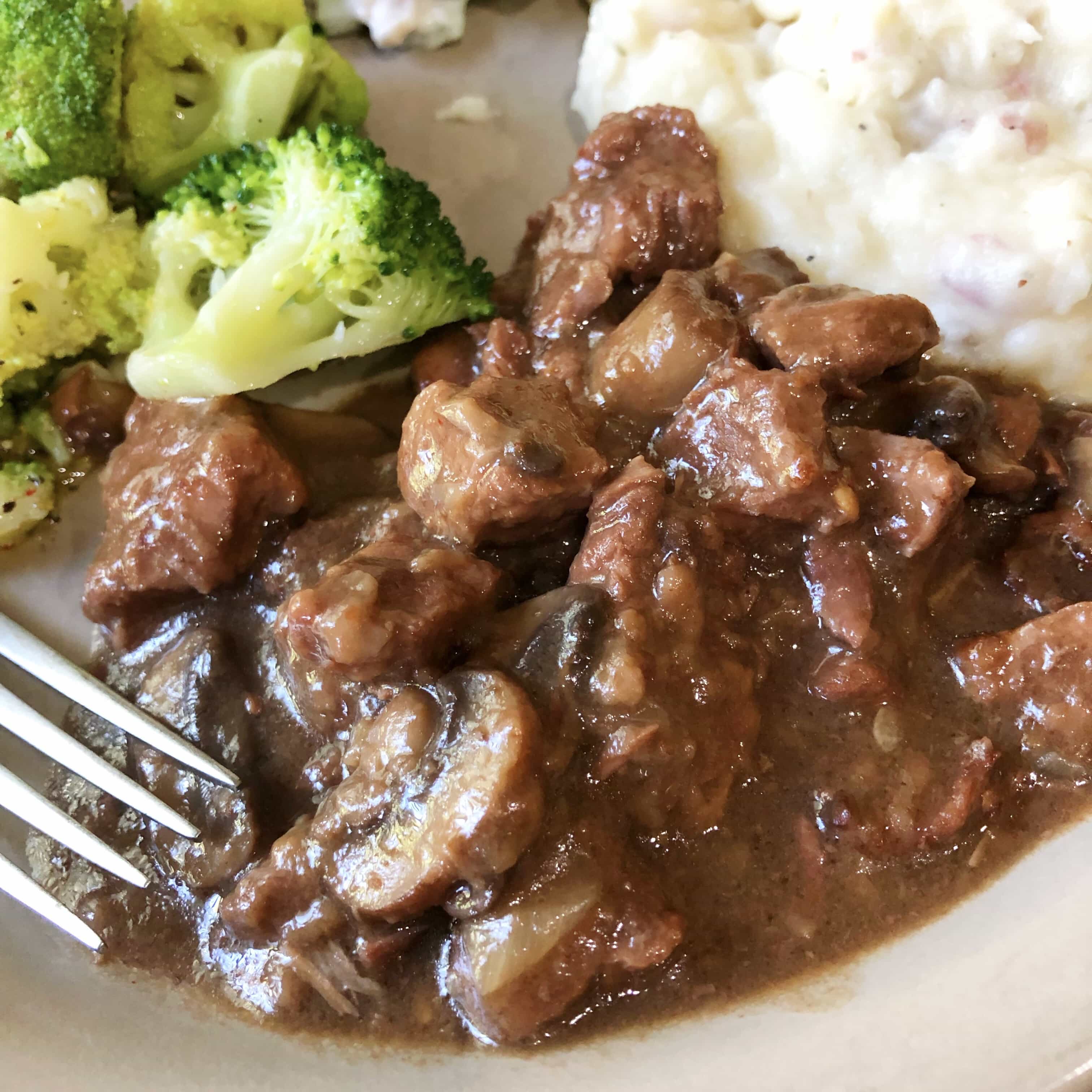 I made a crock pot Beef Bourguinon and let me tell you, this was the most tender stew that I have ever made in my slow cooker! The meat melted in my mouth and I didn't encounter any gristle or chunks of fat. I was worried the meat might taste gamey but it was absolutely delicious!
"Beef Seven Steak" I believe is a cut related to a 7-bone roast and therefore is better suited to a slow braising and not grilling.
I don't think I've ever cooked a Flat Iron Steak but from I've read it can be grilled and would benefit from a marinade and should only be cooked to medium.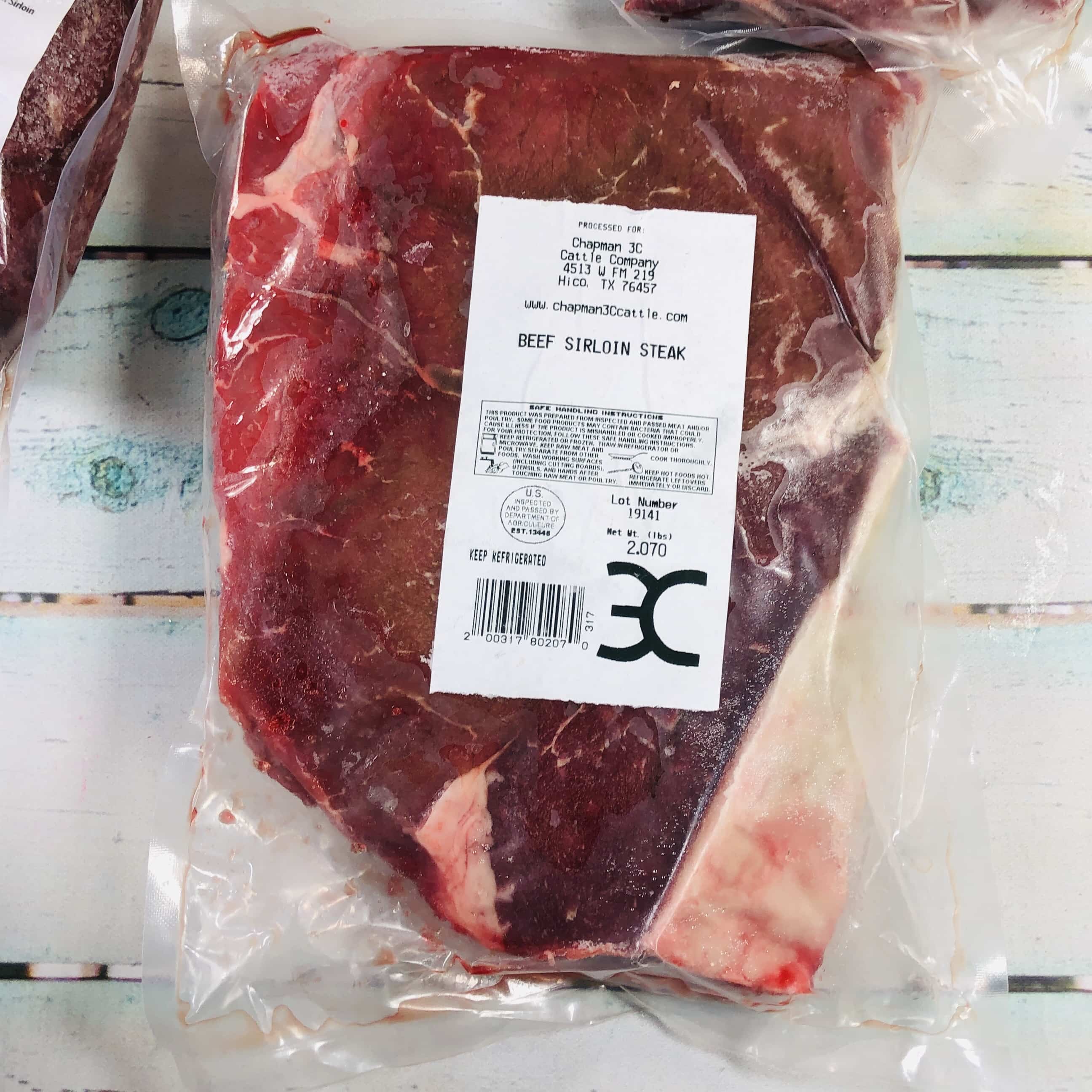 Sirloin Steak is what I generally choose for Beef Stroganoff, one of my family's favorite meals. Of course, it can be grilled or used in stir-fries. This one is marked as weighing two pounds, so I will use it over the course of two dinners, since one pound is plenty of meat for my family of four.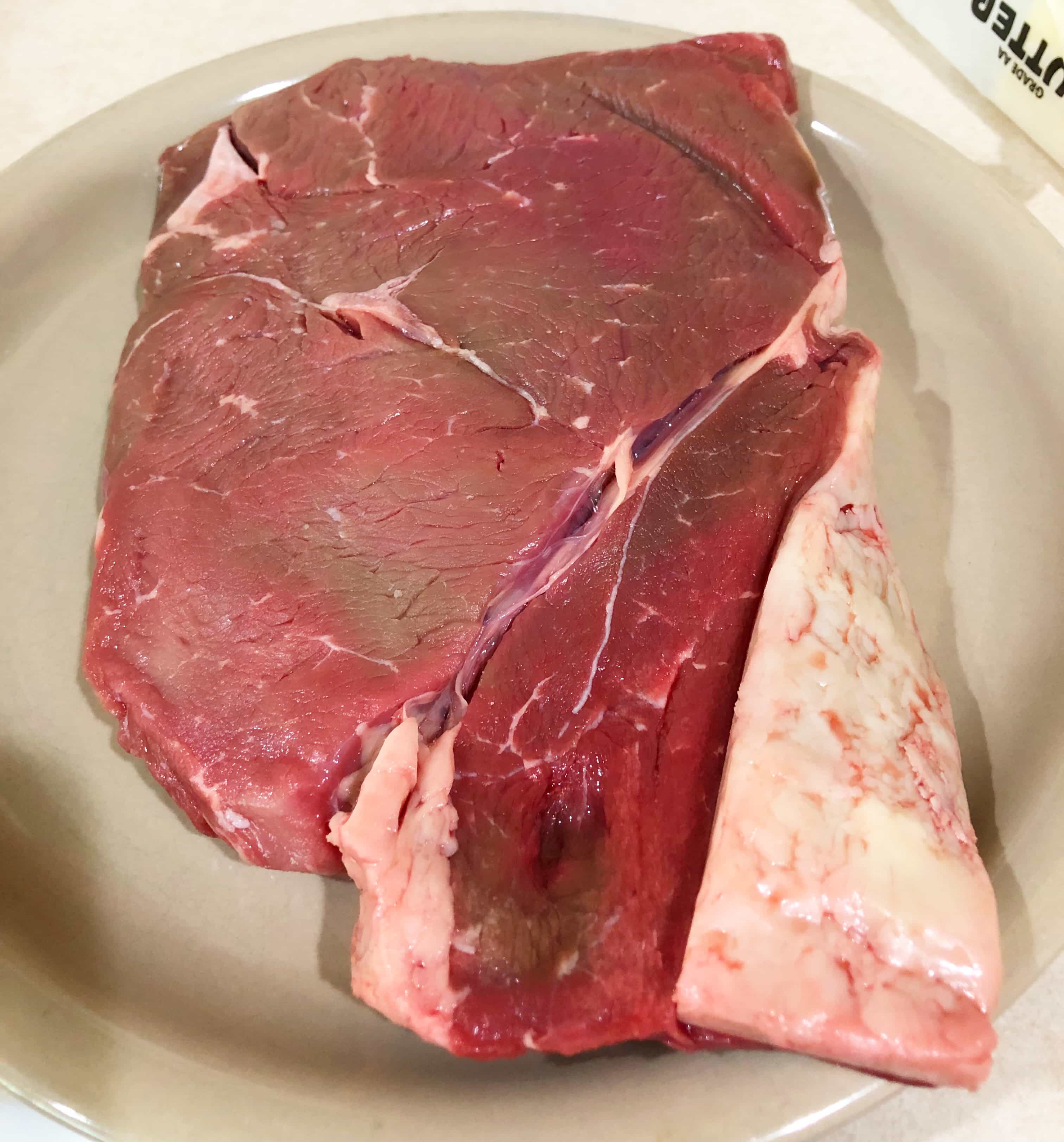 I defrosted it and then cut it in half to use for another meal.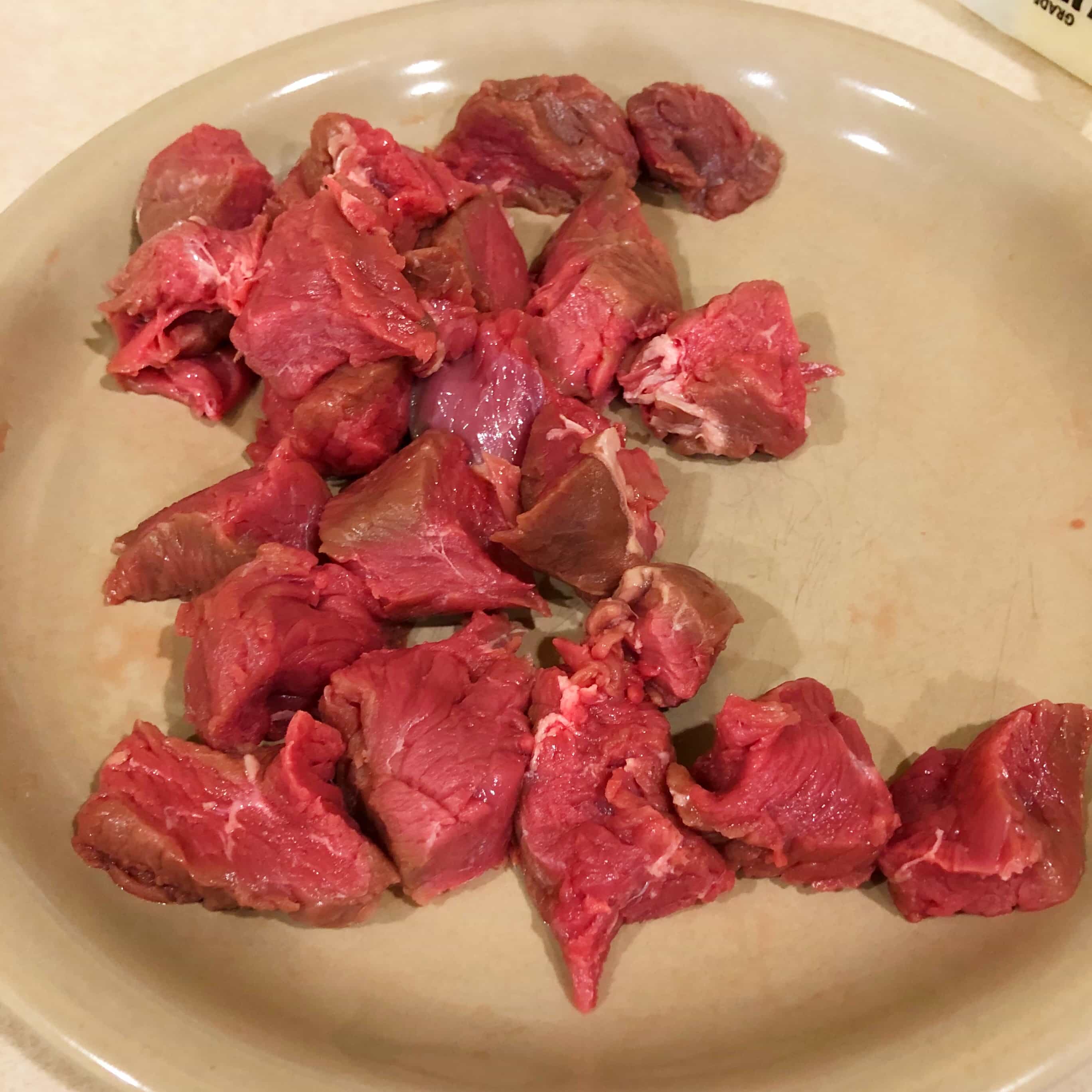 Before cutting it up I trimmed off the fat.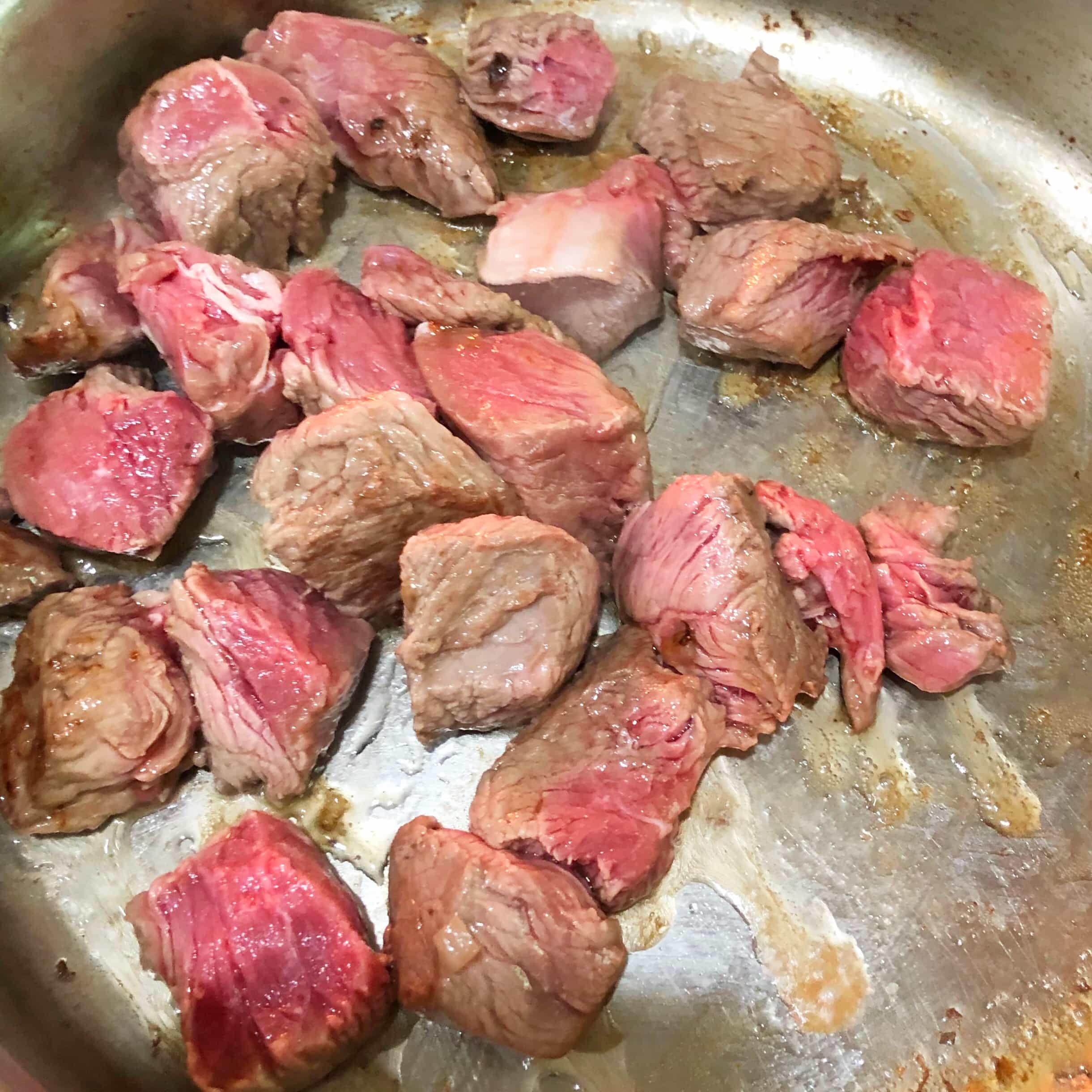 I browned it and then let it simmer for 20 minutes.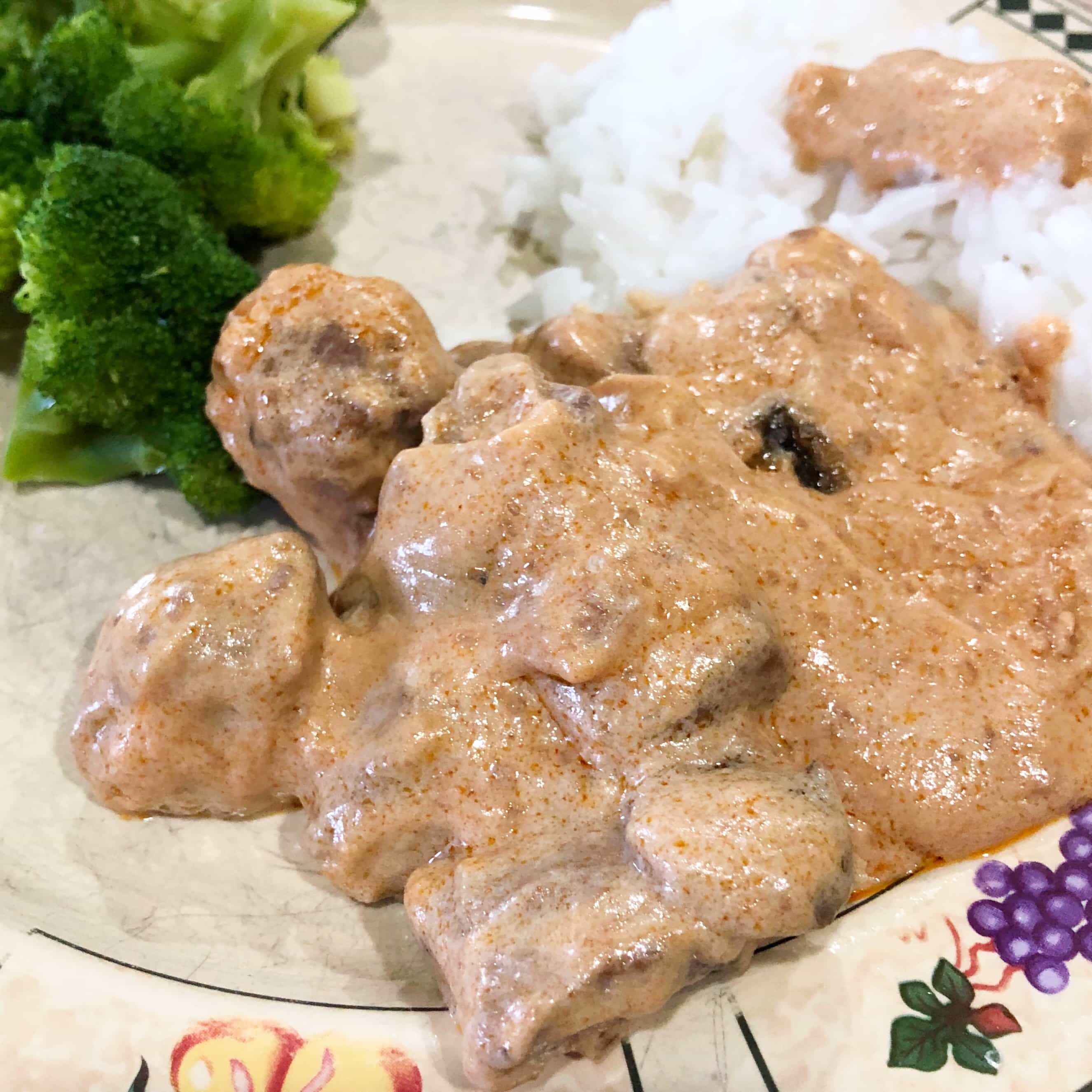 Here's the finished product! My family said it tasted great!
Now this Chuck Roast is huge, probably the largest cut I've ever seen! Again, this is my go-to for stews and pot roast in the fall and winter, not much that I can do with it in the summer since a hearty pot roast at the end of a hot day isn't really what we crave right now. Luckily, it can be frozen up to 12 months so when those cold fronts start hitting I will be prepared!
I was very pleased with my 3C Monthly Meat shipment from Chapman Cattle Company! The meat came frozen, which was very important to me. Even the UPS delivery person commented on how heavy the box weighed, I believe it said 30 pounds. I did feel the need to place everything in a ziploc bag before placing in my freezer, since there was some blood here and there but then again, it came straight from the farm to my home and at the grocery store it tends to leak too, which is why they have those plastic bags everywhere. I received at least 15 pounds of meat and it was enough for more than 5-6 meals! The quality was excellent and I only wished there had been a sirloin or rib eye steak instead of one of the roasts because it's prime grilling time!
What do you think of 3C Monthly Meat Subscription box?
Visit 3C Beef Box Subscription to subscribe or find out more!