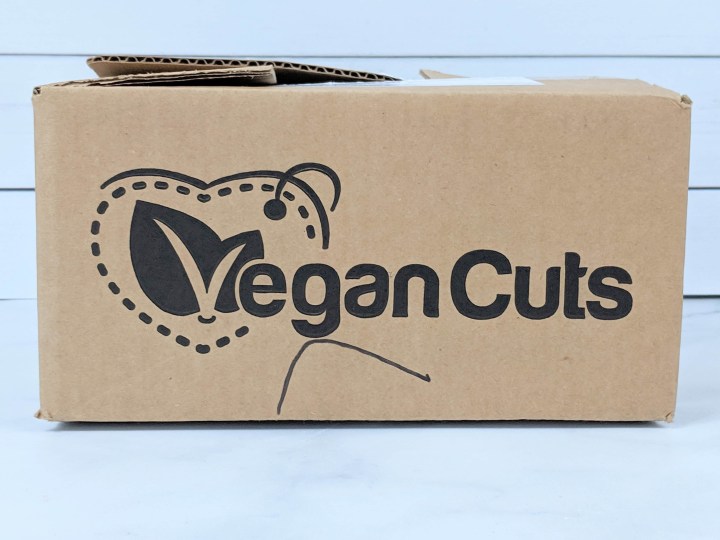 Vegan Cuts Snack Box is a monthly vegan food subscription that brings 5-7 organic and vegan treats each month. Each subscription box costs $22.95 monthly, and delivers mostly gluten-free snacks (always vegan!) right to your doorstep.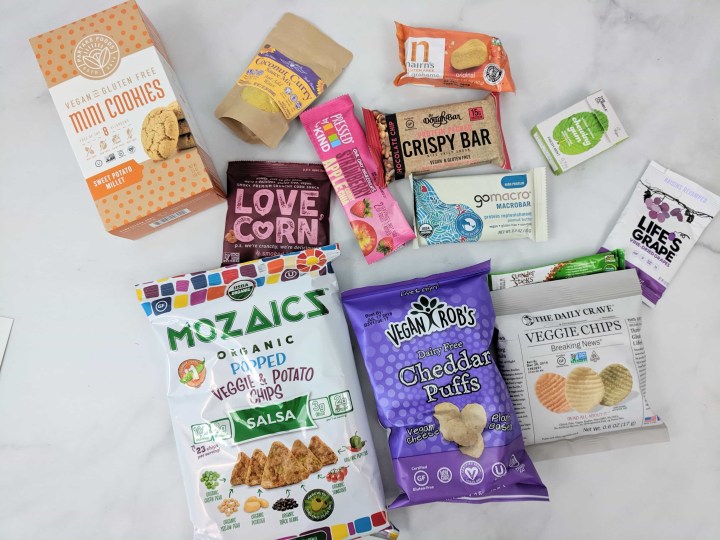 Here's everything in the box.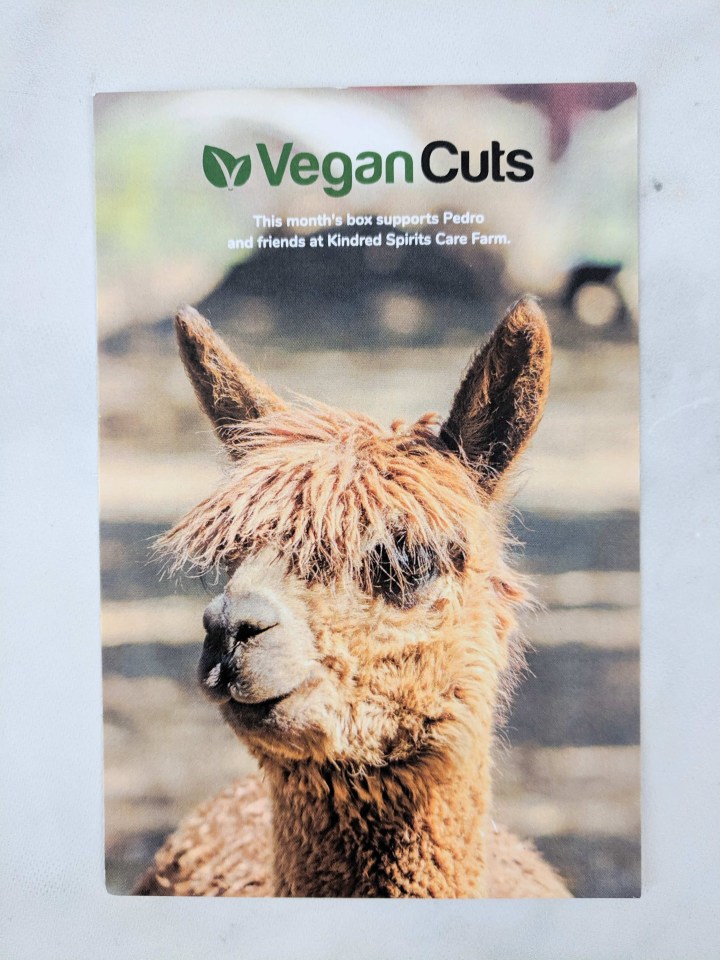 This month's box supports Pedro and Friends at Kindred Spirits Care Farm.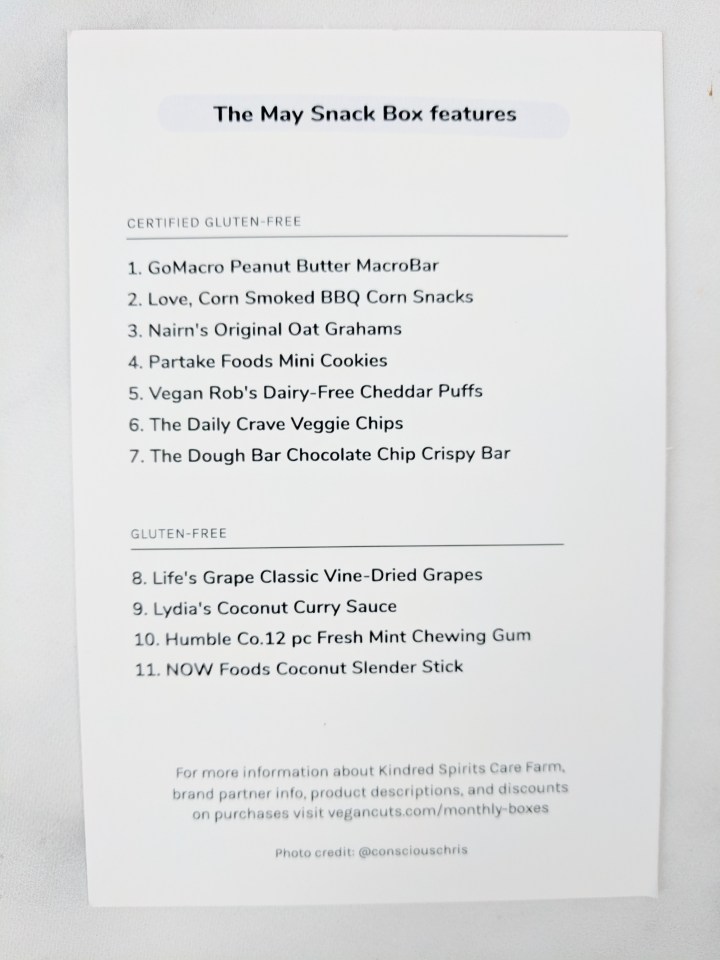 This month's box contains 11 Snacks!
Mozaics Organic Popped Veggie & Potato Chips – Salsa. These chips are made with whole green peas, yellow peas potatoes and black beans and they are popped. They are not to salty and they have a nice flavor. My husband only let me taste one and ran away with the whole bag!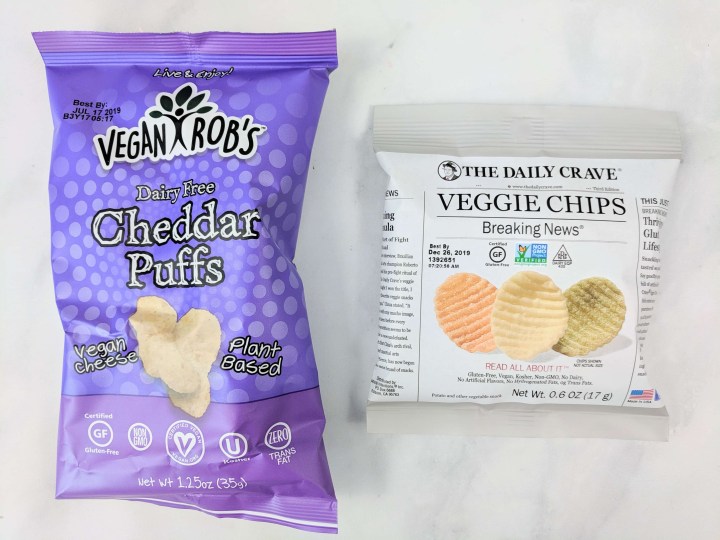 Vegan Rob's Dairy Free Cheddar Puffs. They are like Cheetos in the way they are puffed and how crunchy they are, but the cheddar flavor was a tad too sweet after a while. Nothing to stop me from eating the whole thing.
The Daily Crave Veggie Chips. A delicious veggie chips that is not overly salty.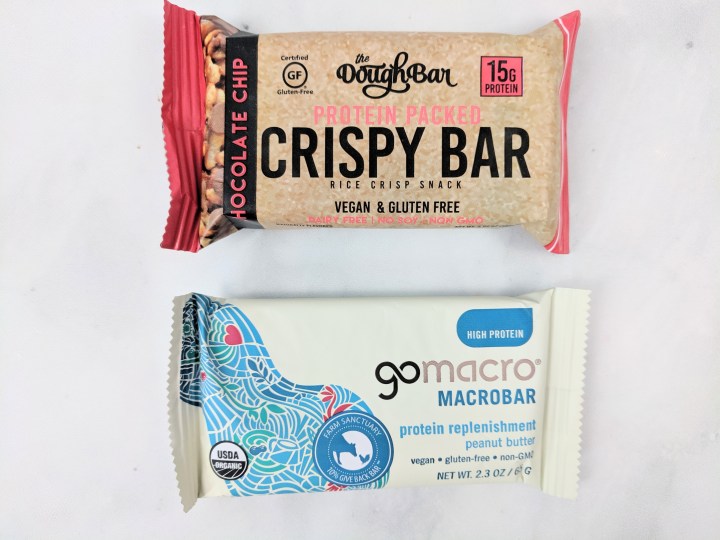 The Dough Bar – Protein Packed Chocolate Chip Crispy Bar. This is a rice crisp snack packed with 15g of protein, from pea protein and is also packed with prebiotic fiber.
GoMacro Peanut Butter. A plant-based protein bar that is also gluten-free and non-GMO. It's pretty dense with pieces of peanut in it.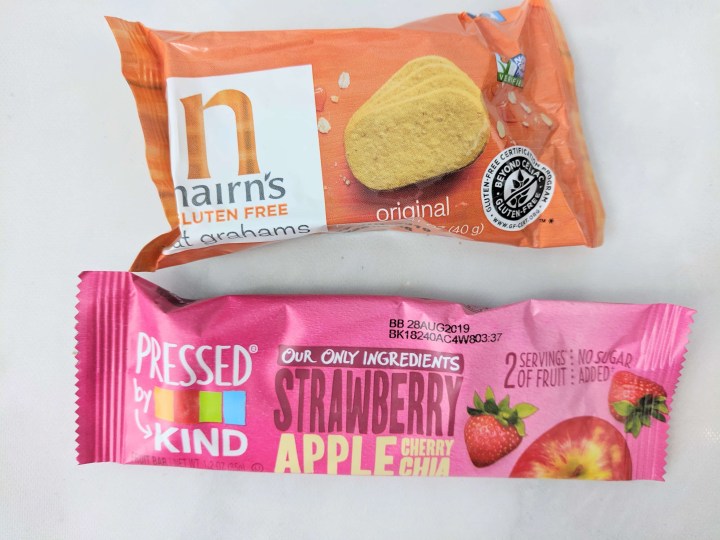 Nairn's Gluten Free Oat Grahams. Simple graham crackers, they are perfect as an afternoon snacks with some tea.
Pressed by Kind – Strawberry Apple Cherry Chia. This bar contains only four ingredients : strawberry, apple, cherry and chia. The sweetness comes from the natural fruit sugar, and each bar is the equivalent 2 servings of fruit.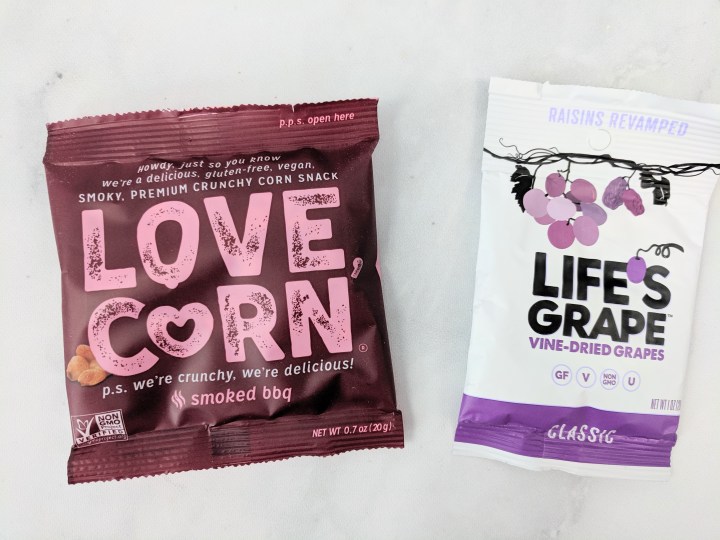 Love Corn – Smoked bbq. This crunchy snacks is made of roasted corn kernel with a sweet and salty flavor. It's satisfying and I could eat more than a little bag!
Life's Grape Vine-Dried Grapes. These grapes are left on the vine to naturally dry out. It feels plump compared to usual raisin, and it's full of flavor. I really liked it!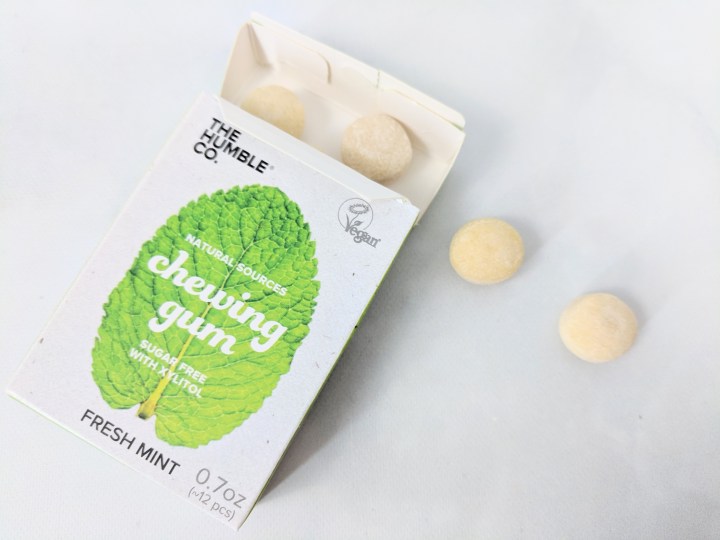 The Humble Co. Chewing Gum Fresh Mint. This plant-based chewing gum (chicle gum base, from the sapodilla tree and gum arabic from the acacia tree) is sweetened with xilitol (from the birch tree). They are quite soft and the flavor is really nice.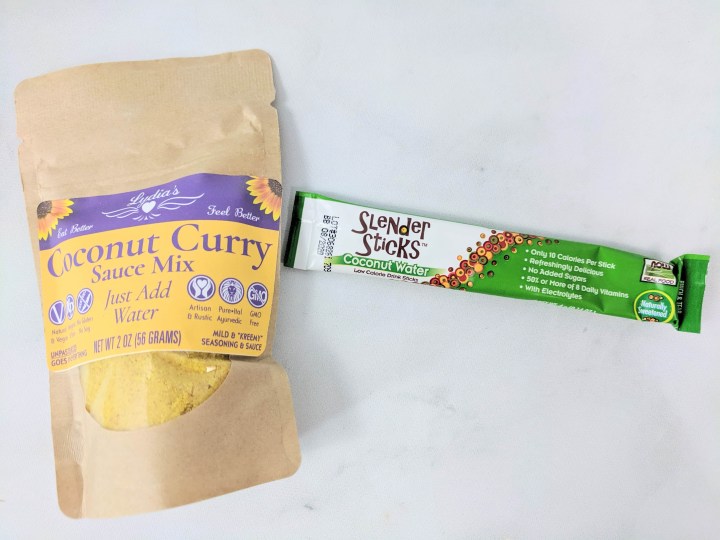 Lydia's Coconut Curry Sauce Mix. This is a blend of dry ingredients to which you can add water. You can also sprinkle this mix to a stir fry or add it to plain yogurt for a nice dip. Ingredients include cashews, Dehydrated Coconut Milk, Himalayan Salt, Coriander, Turmeric, Cumin, Sea Salt, Fenugreek, Cayenne, White Pepper, Yellow Mustard, Ginger, Cinnamon, Cardamom, Cloves, Nutmeg, Carrots, Red Bell Pepper.
Slender Sticks Coconut Water. This is a Coconut Water to got. You just have to add it to water to have natural electrolytes without all the sugar of a sport's drink.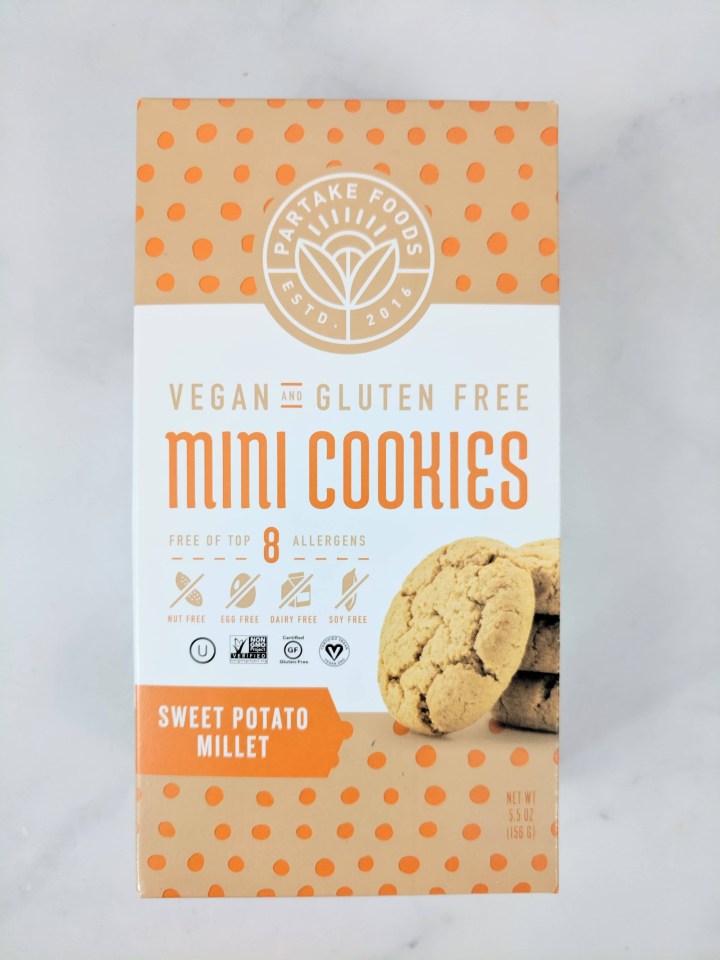 Partake Foods – Sweet Potato Millet Mini Cookies. We received a full box of these gluten-free cookies!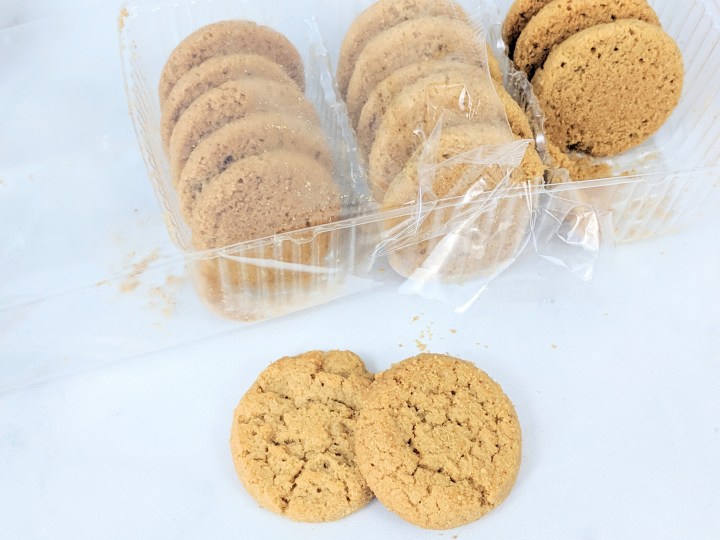 They have a very lovely hint of ginger and cinnamon!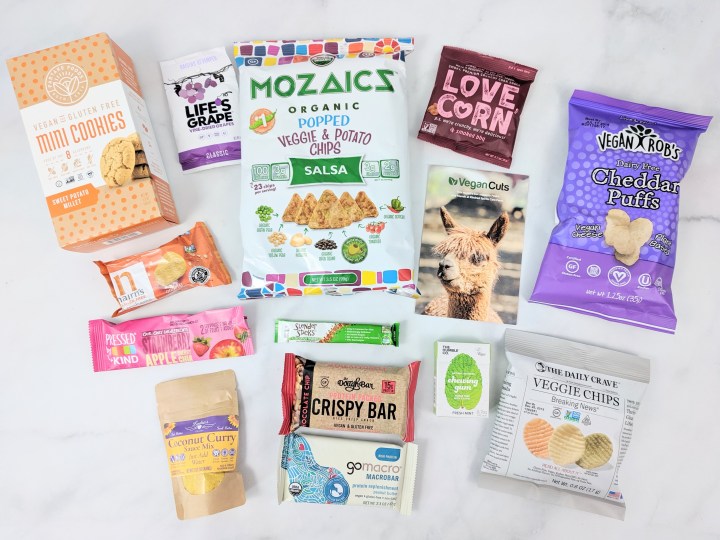 We really enjoyed this month's Vegan Cuts. There was a good variety of sweet and salty, and I'm always happy when we get a full box of cookies as it's easier to share with people!
Have you tried Vegan Cuts Snack Box? Let me know what you thought of the box!