Spice Madam is an around-the-world culinary adventure in a subscription box. Each box features a different country and includes various exotic flavors, spices, and recipes to introduce you to the local cuisine. Every box sold supports a non-profit that impacts youth education.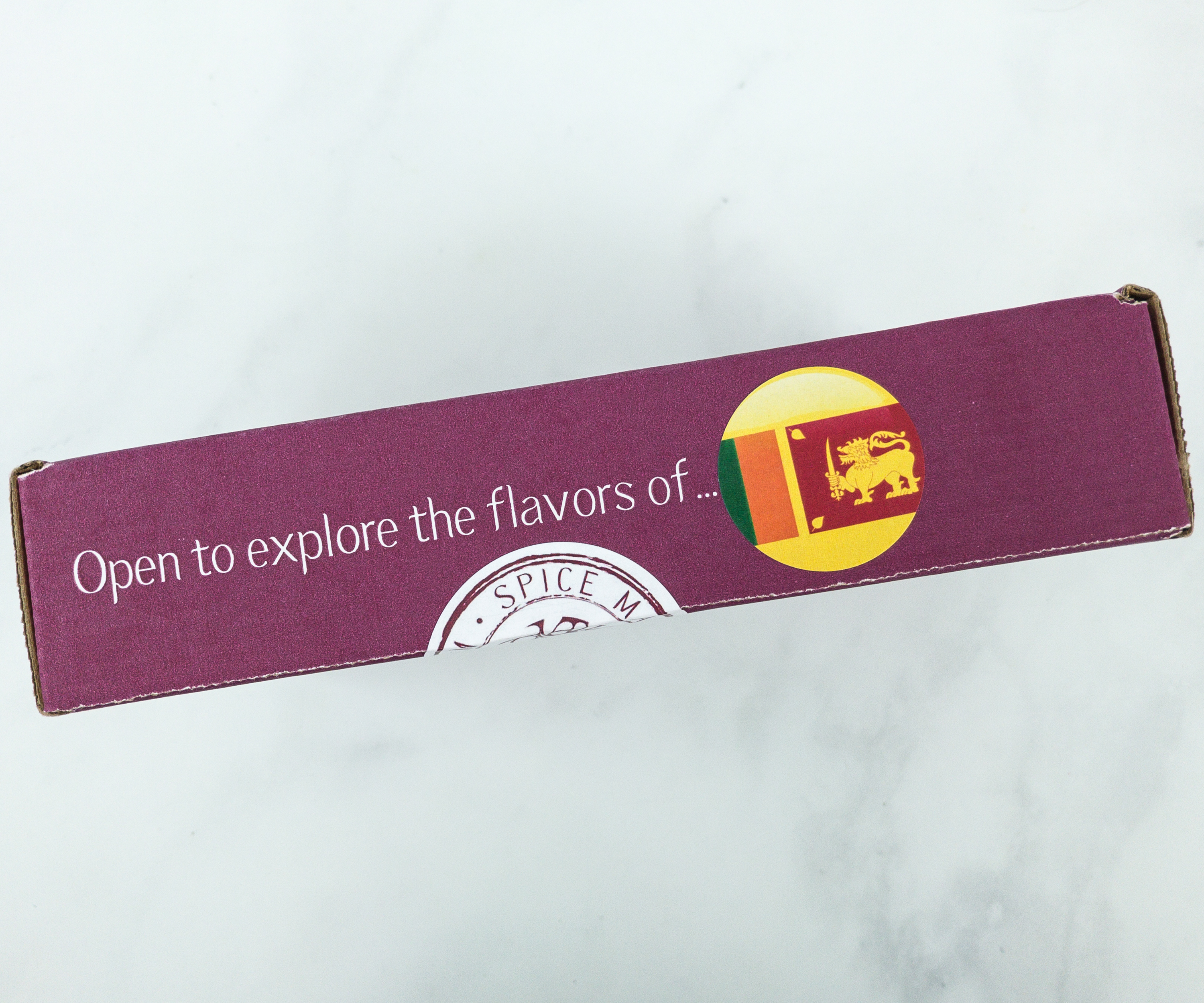 A sticker on the outside of the box already gave us a clue about this month's featured country.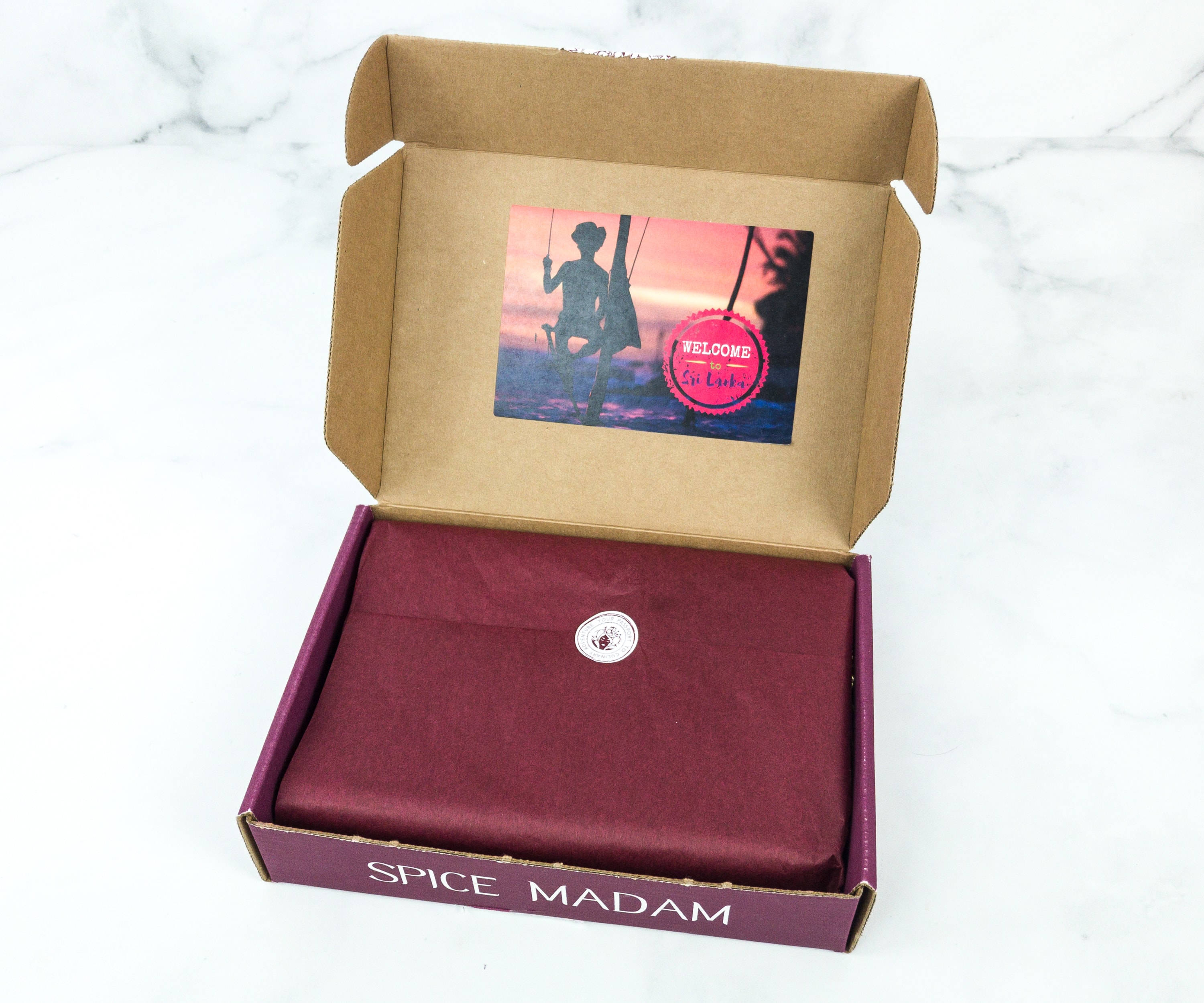 All the items were wrapped using a maroon paper with Spice Madam logo sticker.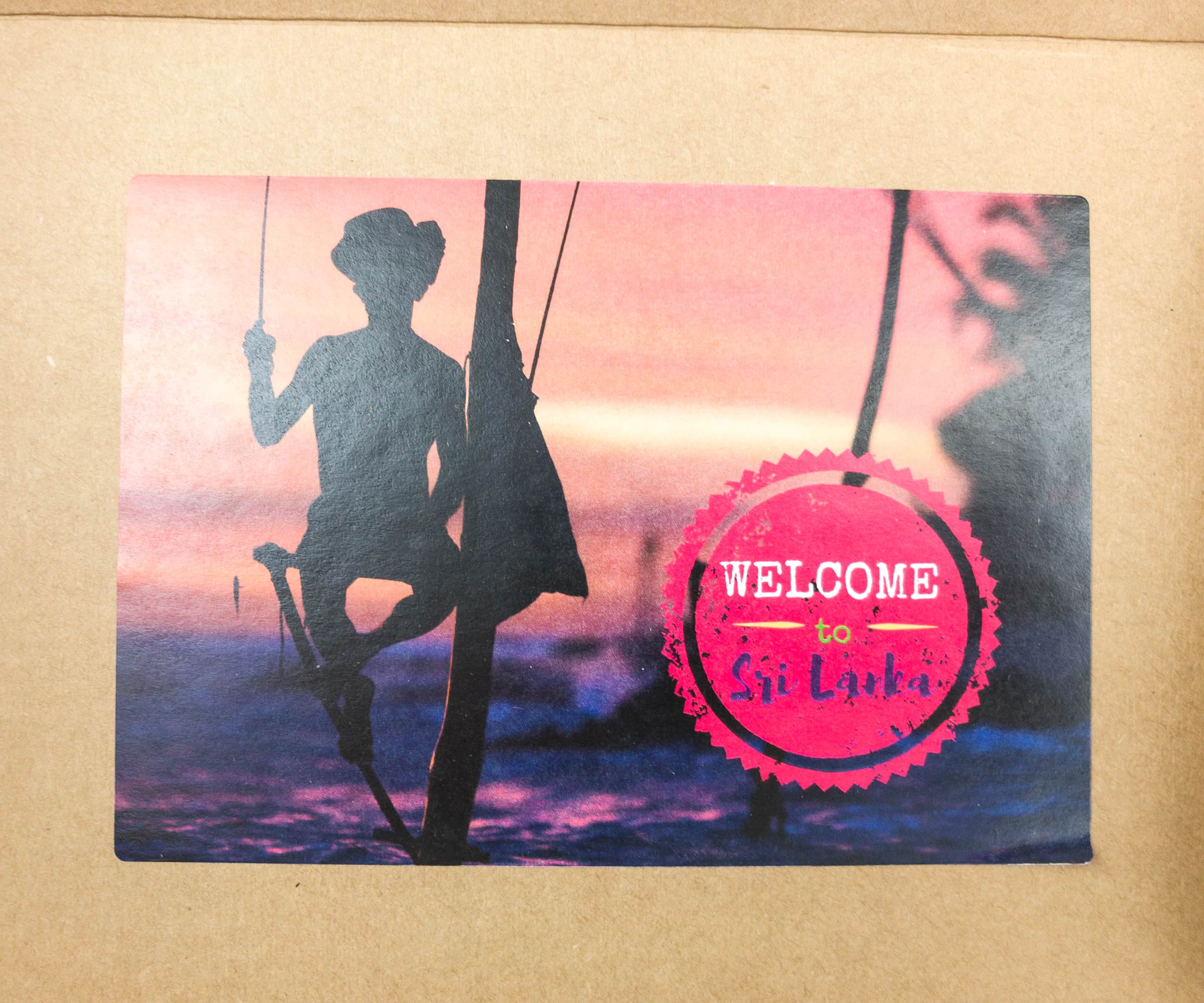 We're getting exotic spices from Sri Lanka!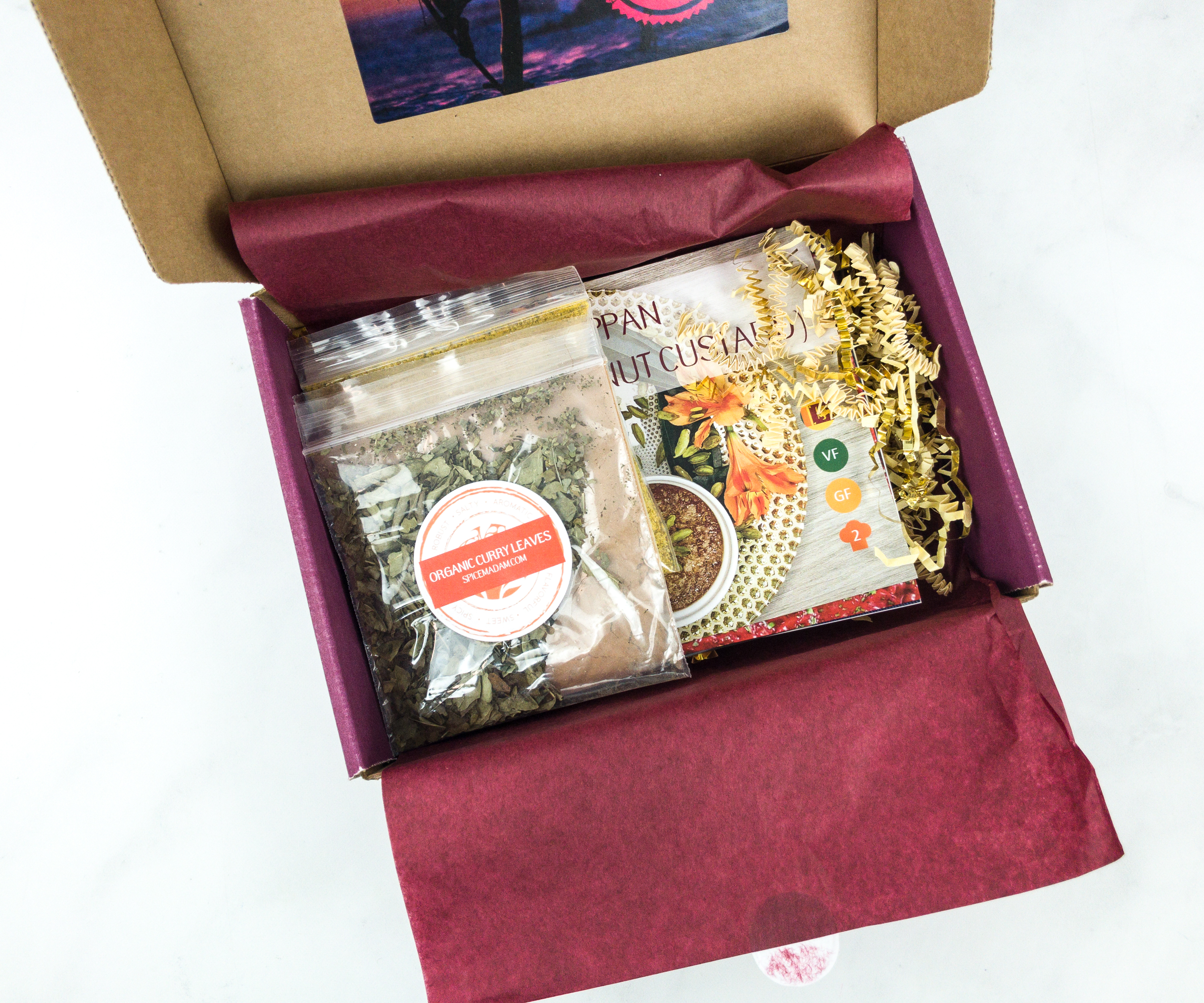 All the seasonings come in separate resealable packaging.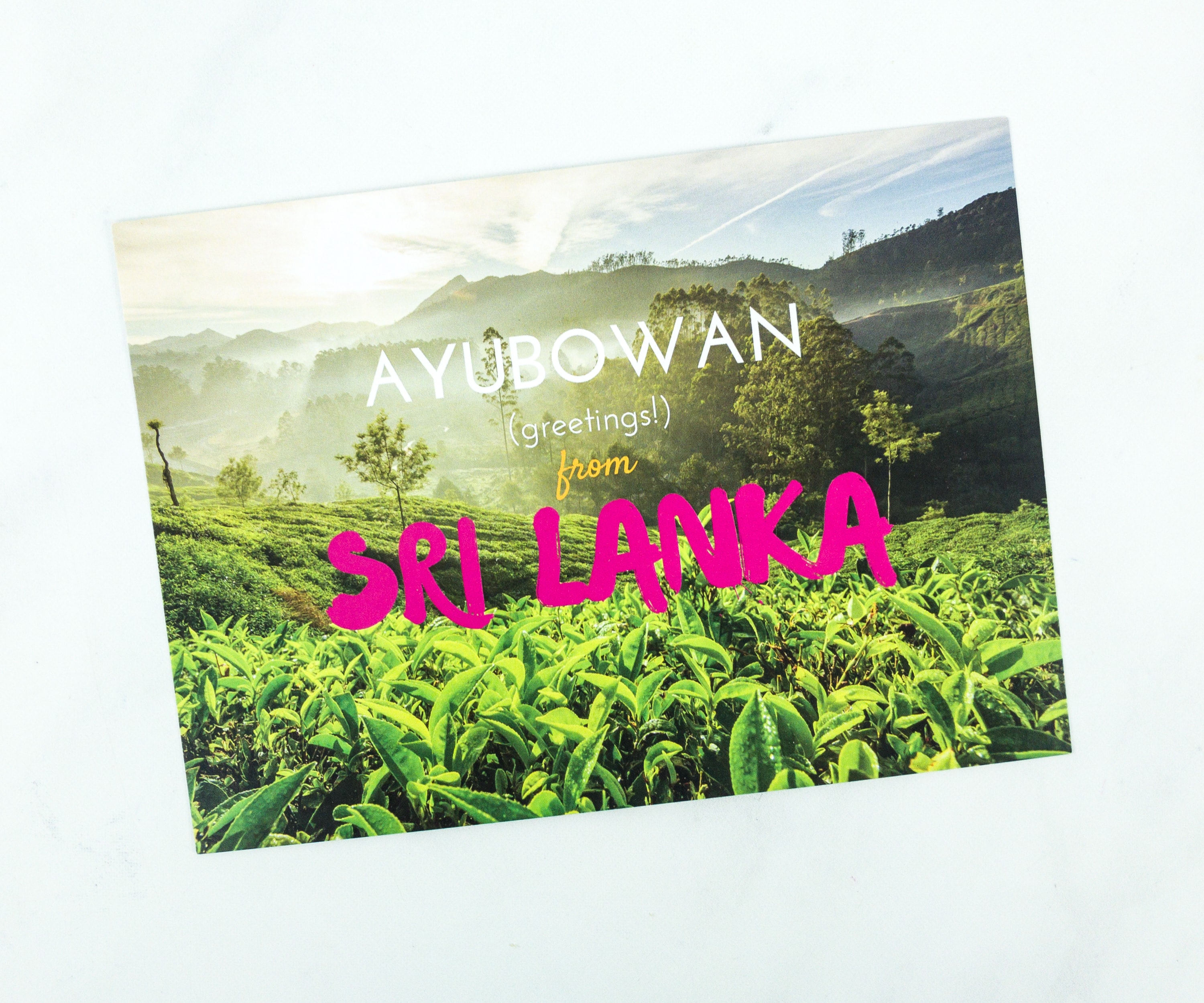 Ayubowan means "greetings!" in the Sri Lankan language.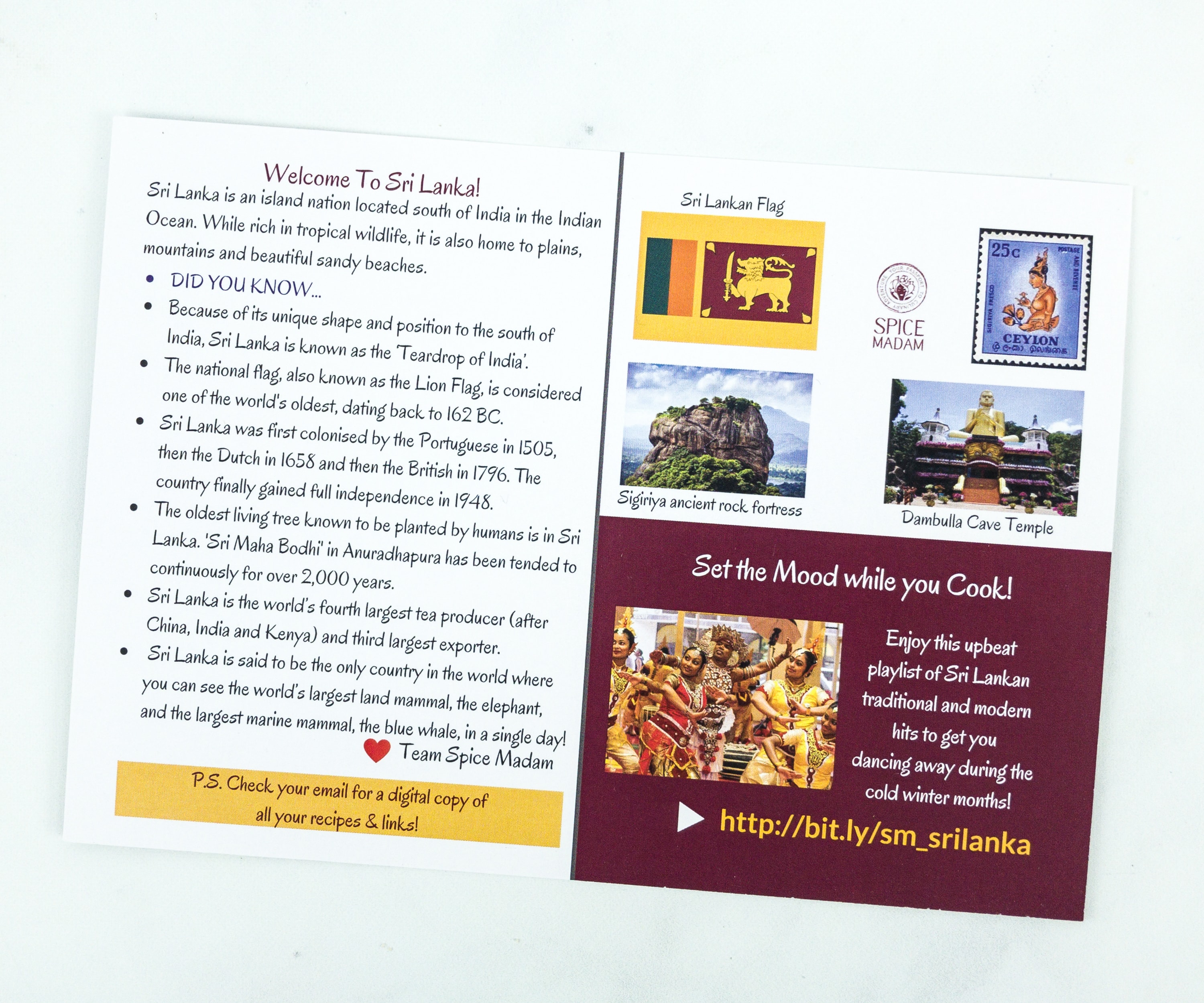 The back of the card features some important things you need to know about Sri Lanka, their location, flag, products, and tourist attractions.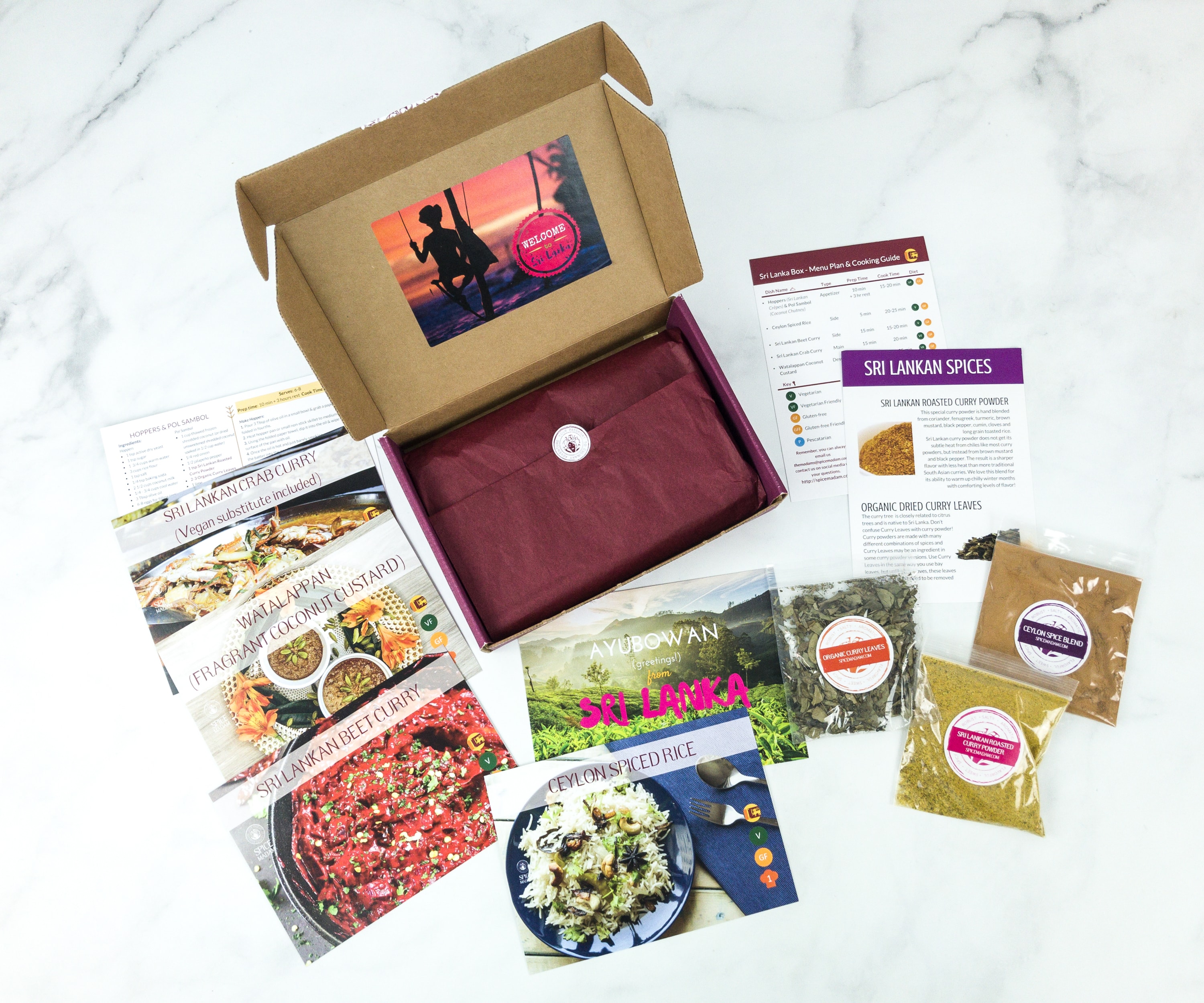 Everything in my box!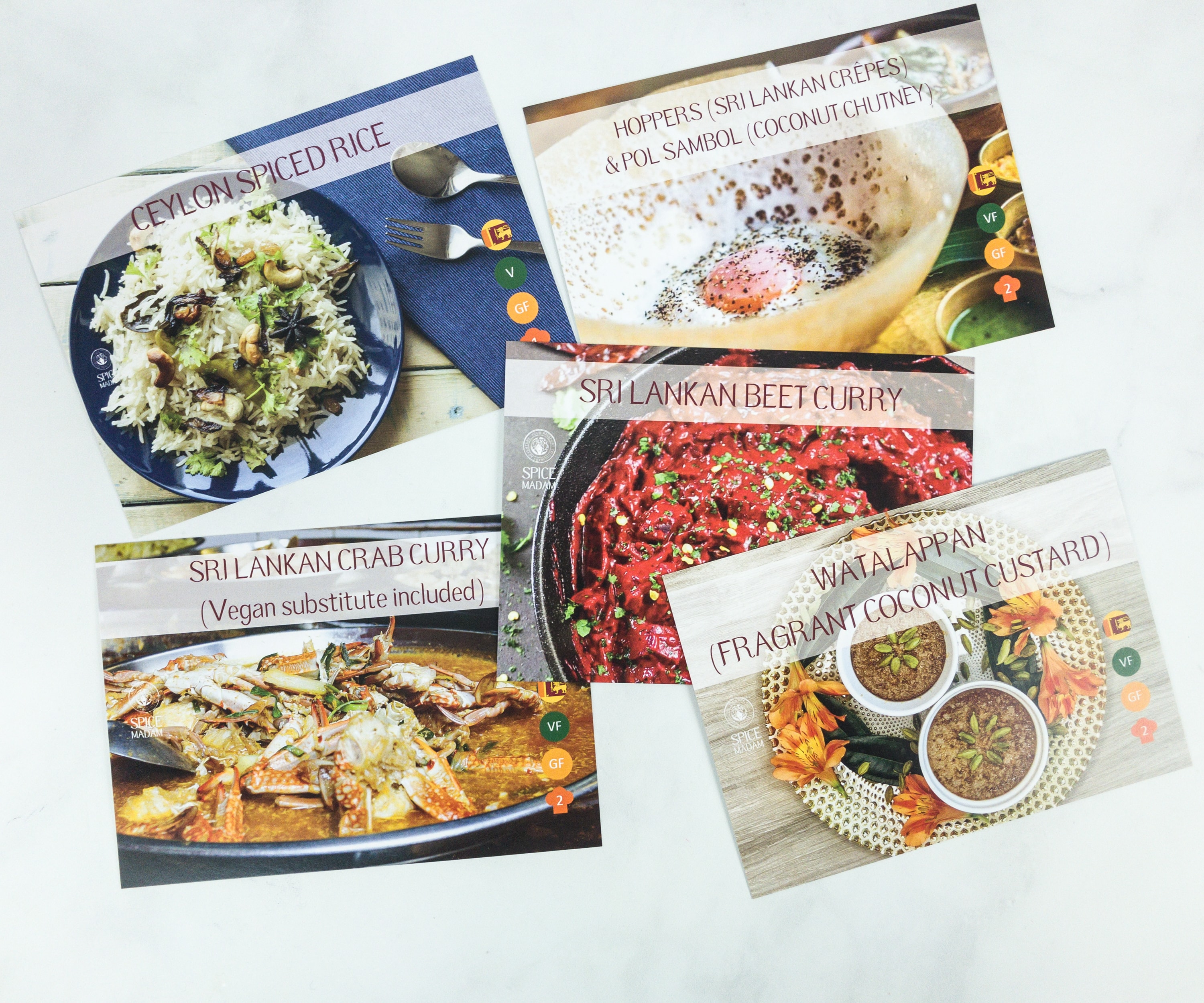 Aside from the info card, the box also included 5 exclusive Sri Lankan recipes: Ceylon Spiced Rice, Sri Lankan Crab Curry, Sri Lankan Beet Curry, Hoppers & Pol Sambol, and Watalappan.
The back of each recipe card contains everything you need to know about the recipes, like its ingredients, detailed step-by-step procedure, and even the preparation and cooking time.
We got 3 Sri Lankan spices!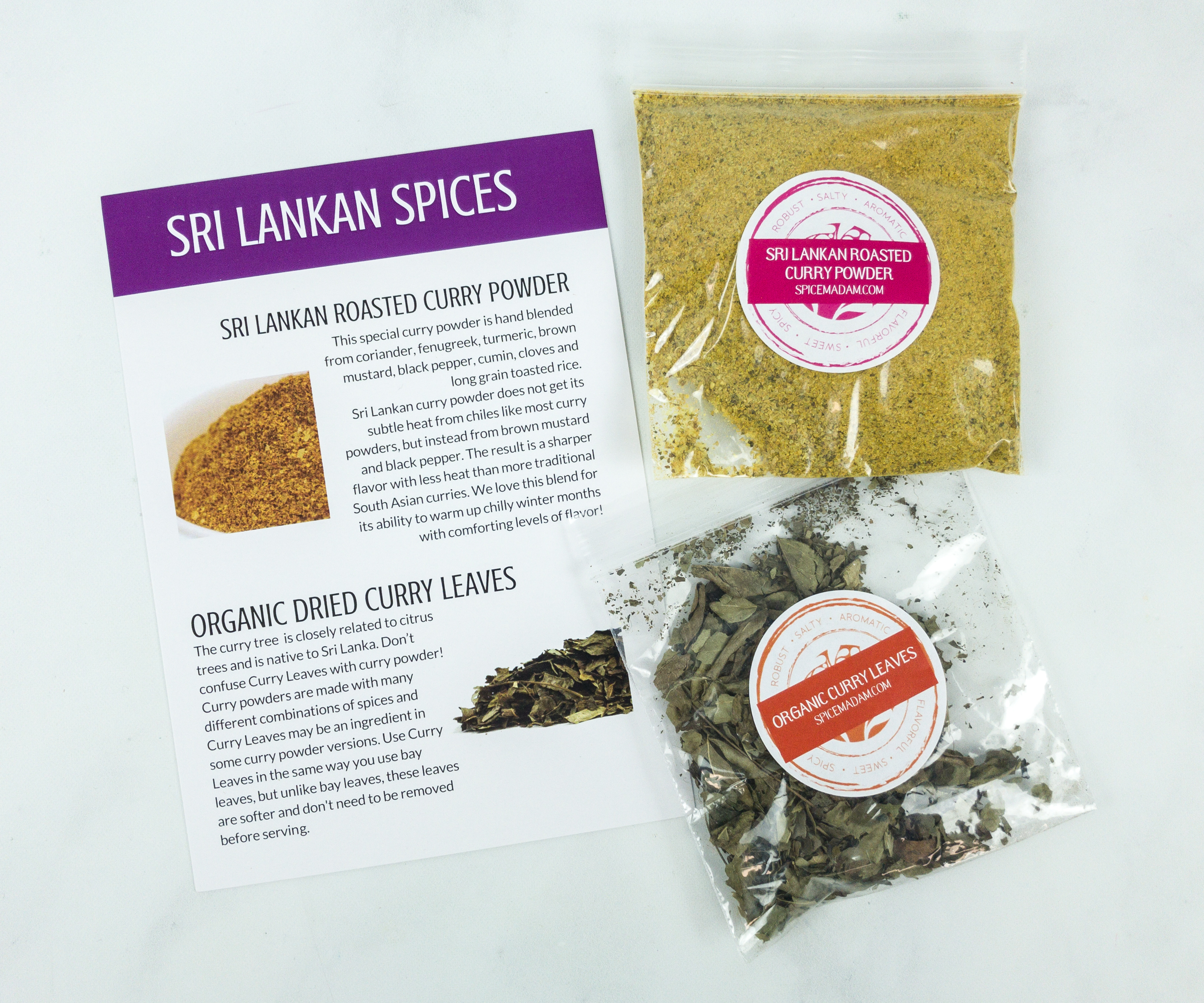 Sri Lankan Roasted Curry Powder. This curry powder is unique because it doesn't get its spicy flavor from chili. Instead, it uses brown mustard and black pepper. It also contains coriander, fenugreek, turmeric, cumin, cloves, and long grain toasted rice.
Organic Dried Curry Leaves. I got a pack of curry leaves too. As the card states, these are not related to the curry powder. Curry leaves and curry powder can't be substituted for each other either. These leaves are more like bay leaves.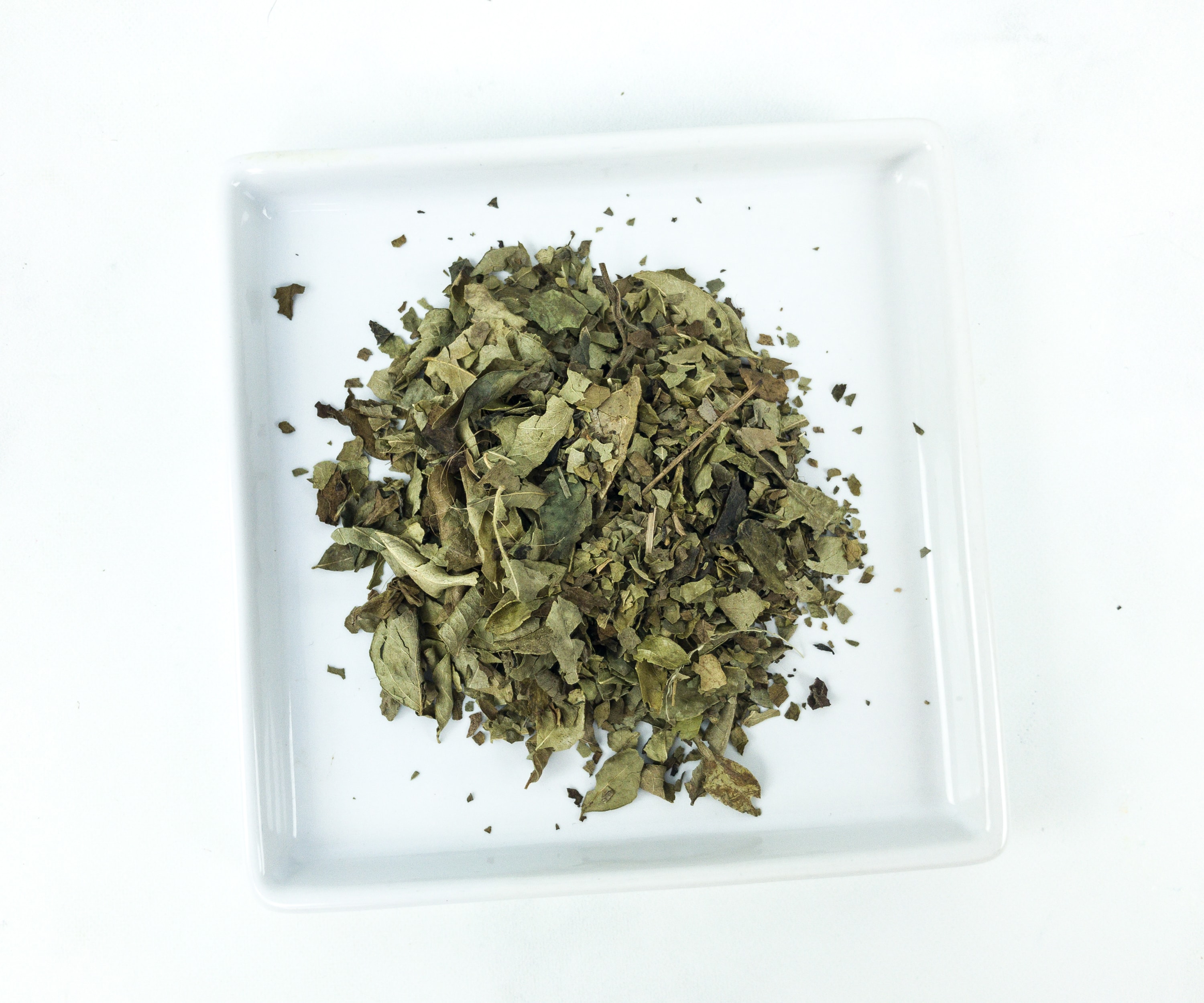 Curry leaves are mainly used in Southeast Asian cuisine, adding a very distinct flavor and aroma to an assortment of dishes.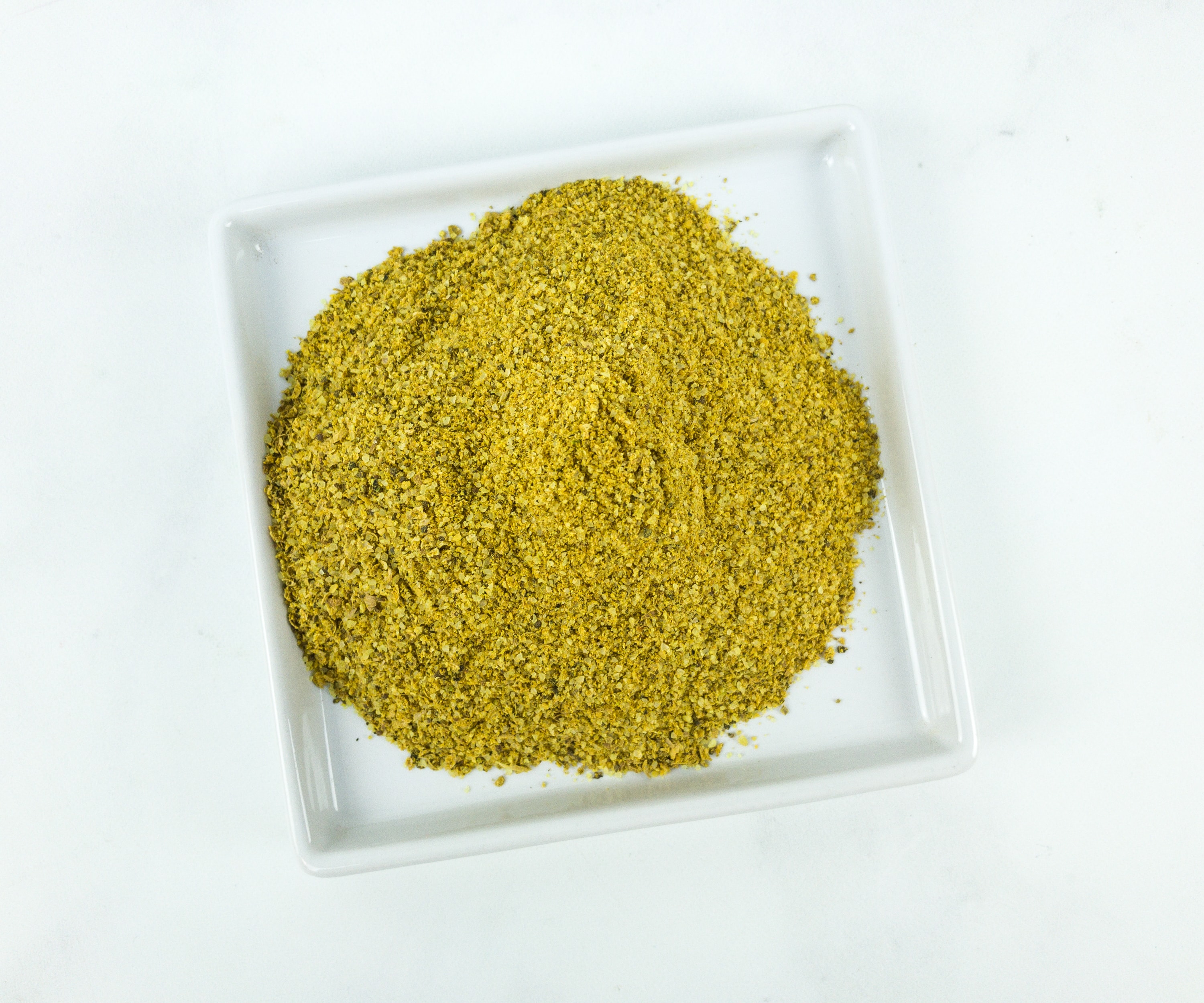 Curry powder makes a dish warm and fragrant, no wonder many people consider curry as comfort food.
Ceylon Spice Blend. The third pack contains a handmade tropical spice made from Ceylon cinnamon, allspice, nutmeg, ginger root, and cardamom.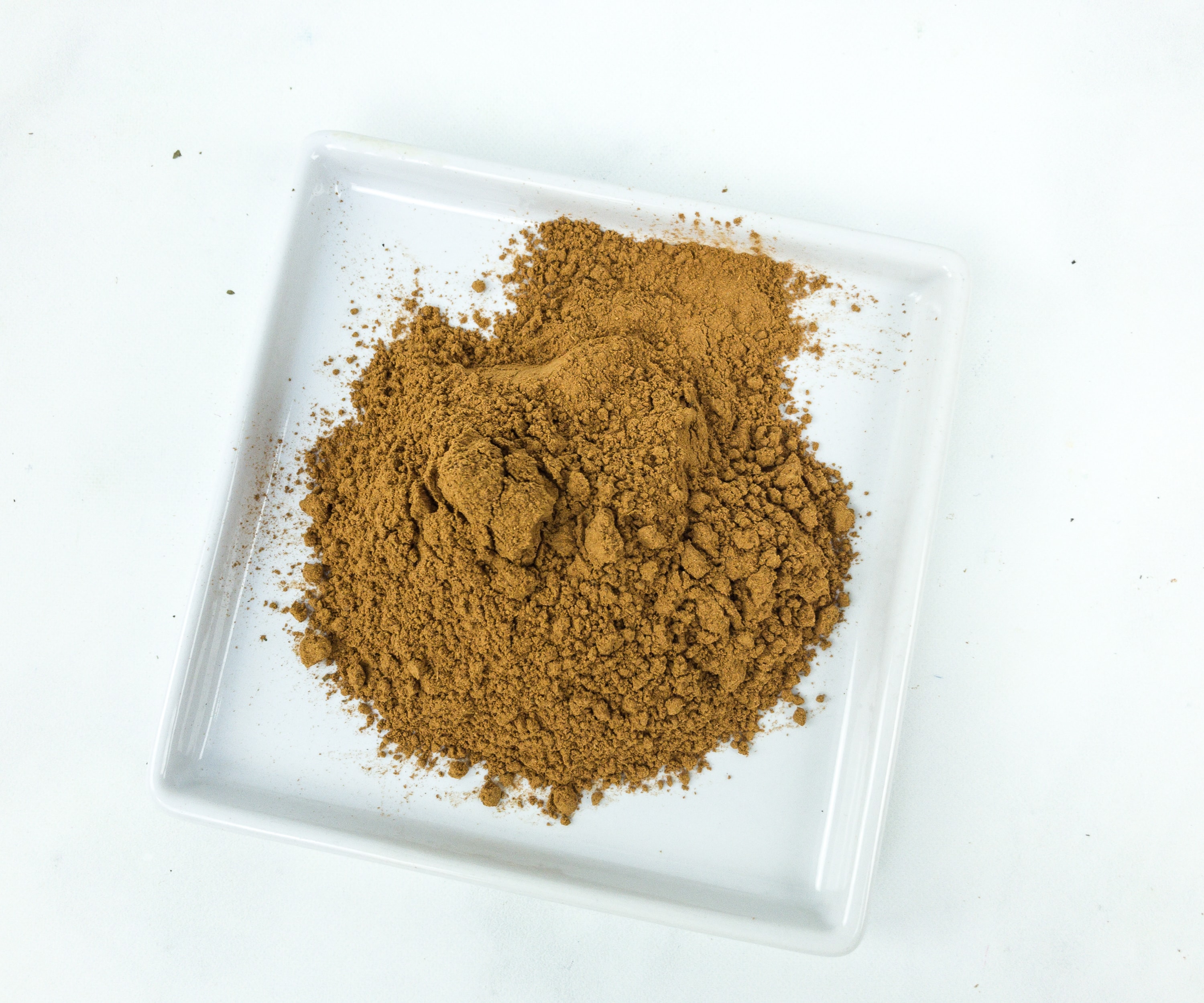 This seasoning powder features a rich spicy cinnamon flavor with warm, savory notes from nutmeg and a kick of citrus taste from ginger.
Aside from the recipe cards, we also got an exclusive Sri Lankan menu plan, cooking guide, and even tips for creating a Sri Lankan feast. They even indicate if a dish is vegetarian, vegetarian-friendly, gluten-free, gluten-free friendly, or pescatarian. I think this is a great idea, especially for adventurous foodies like me and even for people who love cooking for others!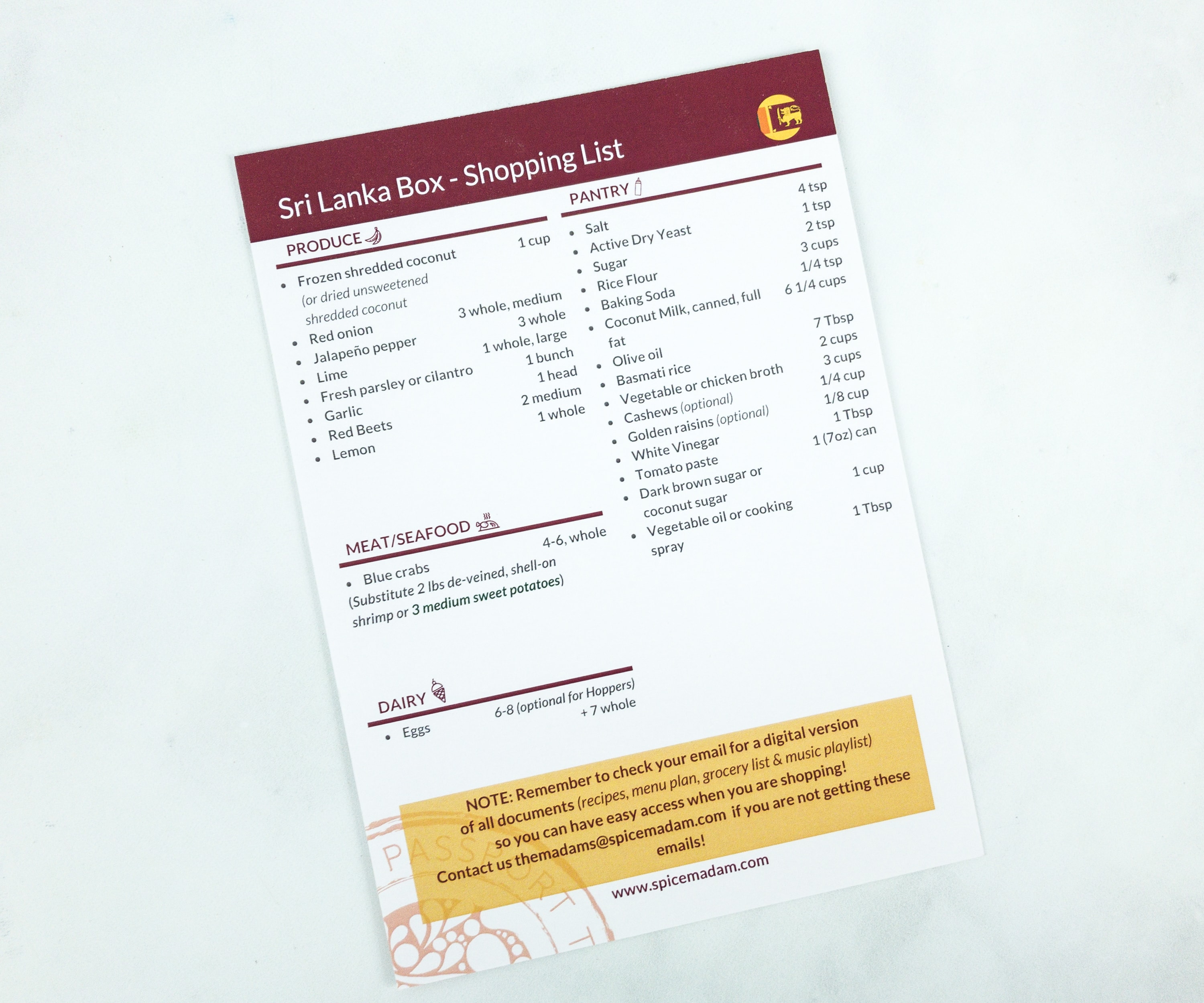 The card also comes with a shopping list, so you don't have to make one yourself. They divided the ingredients into different categories to make it even easier for you when you shop. For those who prefer to access the recipes and lists online, they also send a digital version to your email.
It's my first Spice Madam experience and it didn't disappoint! I was excited to see 3 spices in the box, along with the recipes, tips, and lists. It made me want to go to the kitchen right away and start whipping up a delicious meal. Sri Lankan spices are warm and flavorful, so it's easy to get accustomed to them. If you love cooking and discovering different cuisines from around the world, Spice Madam is a must try. This subscription is quite handy, you don't have to visit every international section of your local grocery stores or find specialty shops – the spices and the recipes are delivered right at your door!