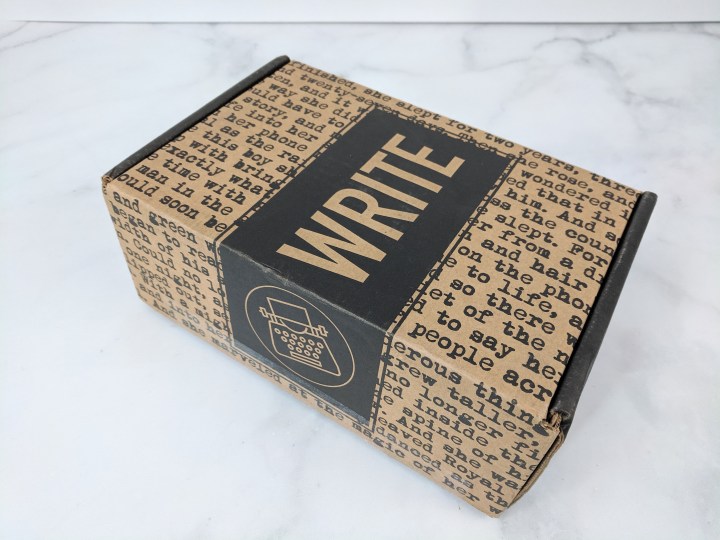 Scribbler is a monthly subscription box for novelists, created by authors, for authors. Scribbler is committed to helping writers improve their craft and reach their publishing goals, month after month.
For $29.99 a month, you'll get a newly released fiction, a "Writing Passport" from the featured author to help you master the monthly theme, curated writerly gifts, and an invitation to communicate with a publishing professional.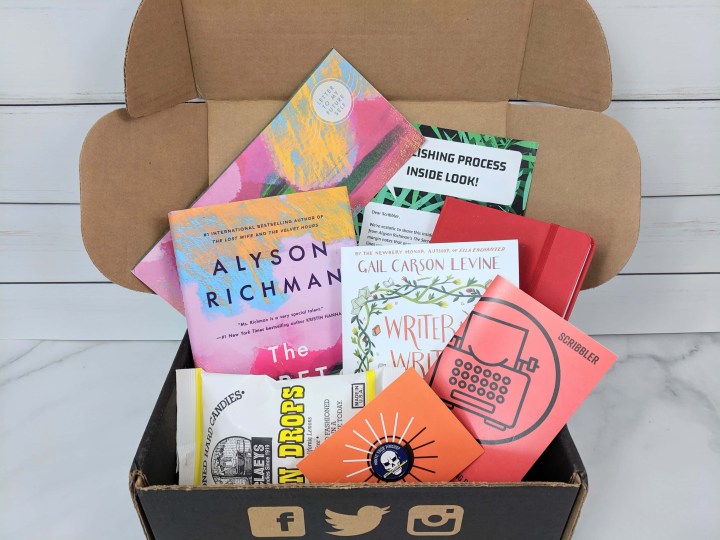 Everything in the box!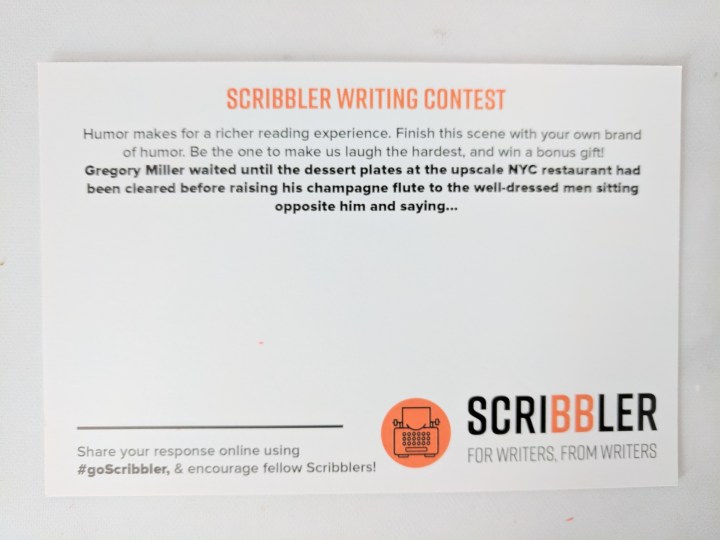 Every month, we are welcomed with a postcard from Scribbler with a writing context on the back. If you share your entry on their Instagram, you could get an extra gift in your next box!
Every month, we are welcomed with a Publishing Process Inside Look.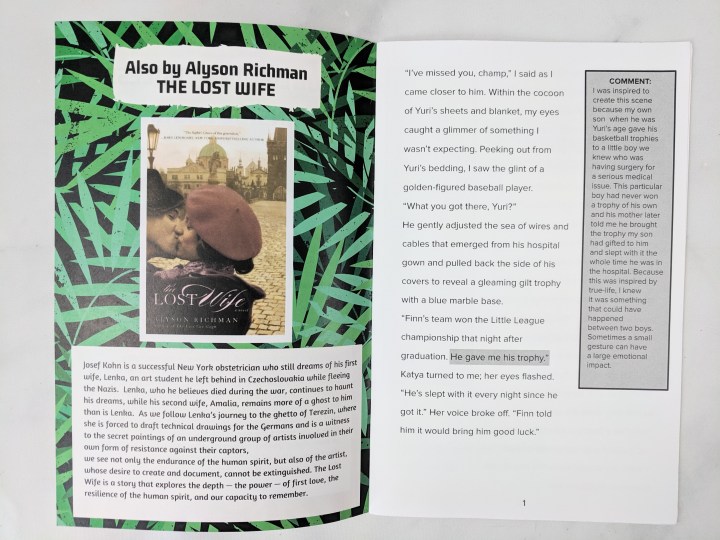 For May, Scribbler is sharing with us an annotated scene from Alyson Richman's The Secret of Clouds with some behind-the-scenes information.
At the back of the booklet, we have a list of the items in the box.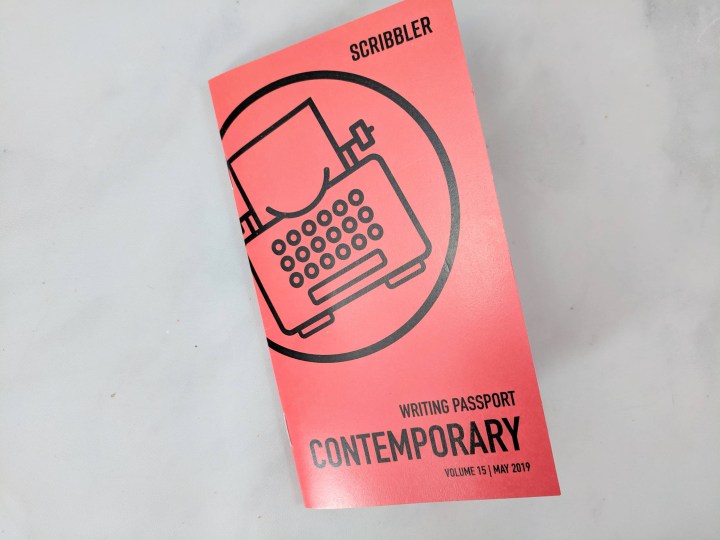 This month's theme is Contemporary.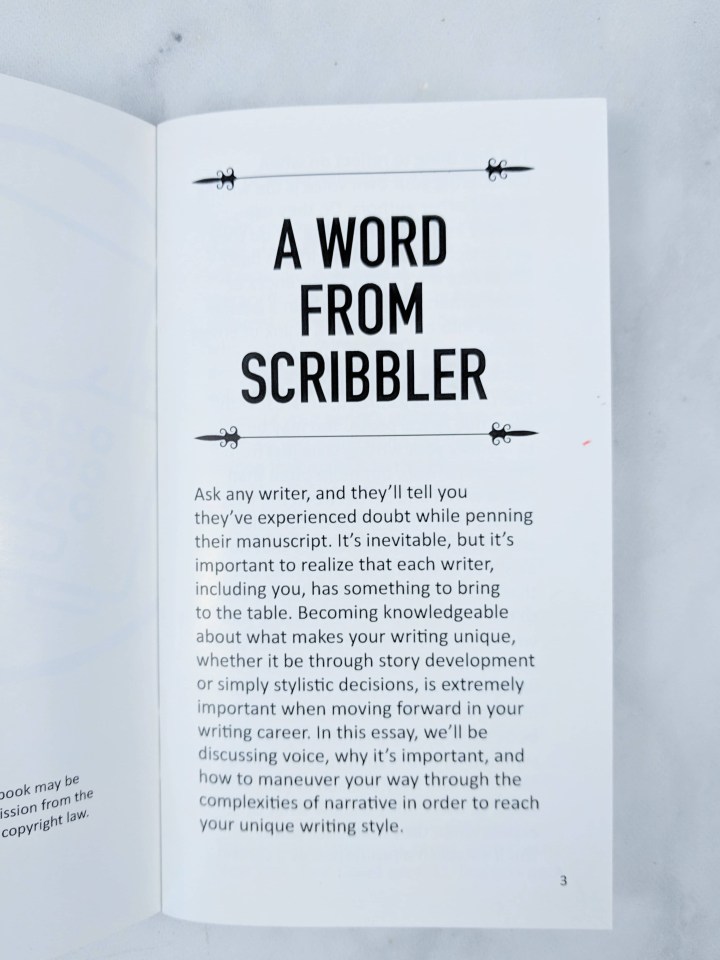 There's a quick introduction in the booklet about why the featured book was chosen.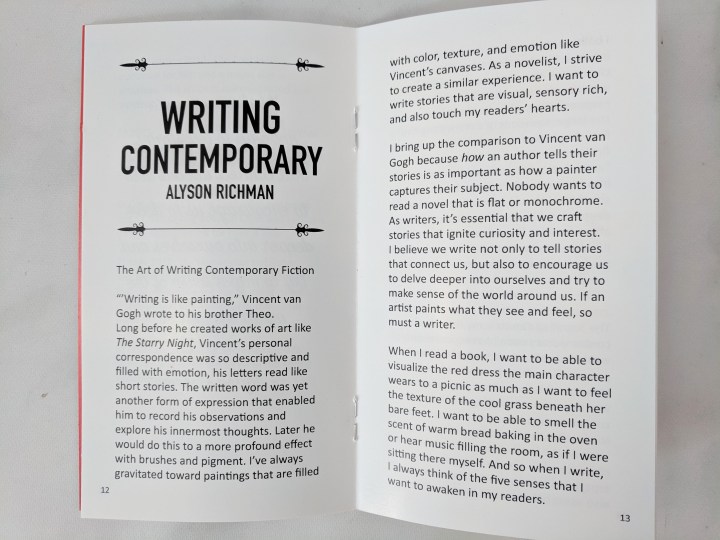 There are no exercises in the booklet to improve our skills, it's more about the theory behind finding and writing your Contemporary, from this month's author viewpoint. I prefer that way as I like to play with my own story and characters instead of doing an exercise that has nothing to do with what I'm doing.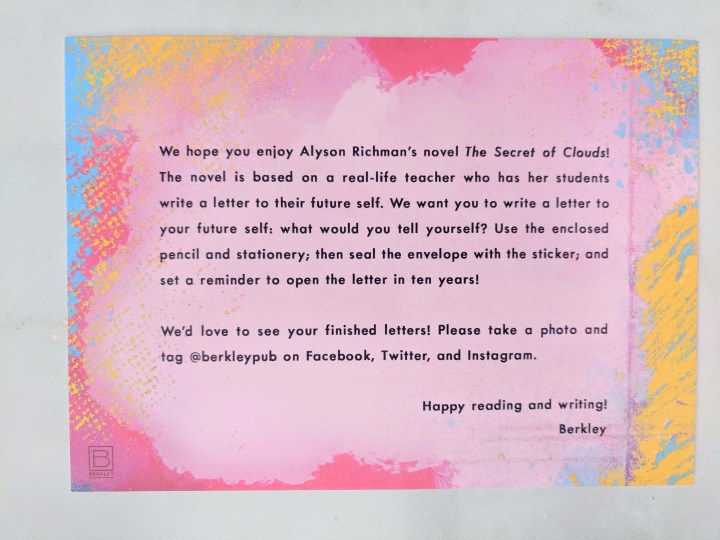 We have an extra introduction of the book with an exercise based on the book : writing a letter to our future self. This is a nice change from the letter to our younger self that we usually write!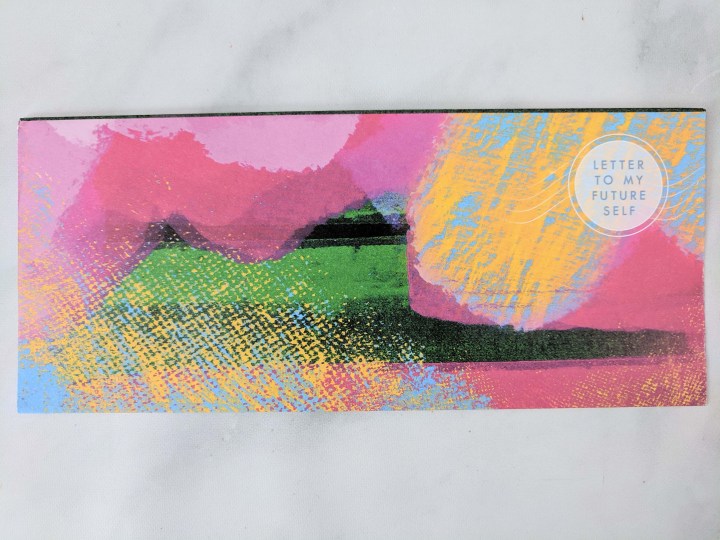 We have this lovely envelop we can use for our letter. We can also take a picture of our letter and tag Berkley, the publishing house behind this month's book.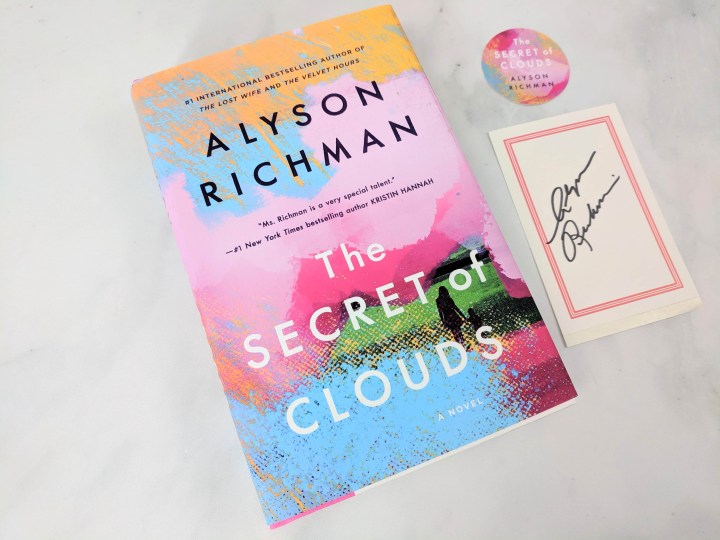 The book this month is a hardcover copy of The Secret of Clouds by Alyson Richman. From Amazon:
Katya, a rising ballerina, and Sasha, a graduate student, are young and in love when an unexpected tragedy befalls their native Kiev. Years later, after the couple has safely emigrated to America the consequences of this incident cause their son, Yuri, to be born with a rare health condition that isolates him from other children. Maggie, a passionate and dedicated teacher agrees to tutor Yuri at his home, even though she is haunted by her own painful childhood memories. As the two forge a deep and soulful connection, Yuri's boundless curiosity and unique wisdom inspires Maggie to make difficult changes in her own life. And she'll never realize just how strong Yuri has made her—until she needs that strength the most….
This sounds intriguing and I'm looking forward to dig in!
Writer to Writer by Gail Carson Levine. This month, we received a second book! From Amazon :
Bestselling author of Ella Enchanted and fairy-tale master Gail Carson Levine shares her secrets of great writing in this companion to the popular Writing Magic.

Have you ever wanted to captivate readers with a great opening, create spectacular and fantastical creatures, make up an entire country, realize a dastardly villain, write an epic love story, or make your characters leap off the page? If you answered yes to any of these questions, Gail Carson Levine can help you achieve your goals.

Newbery Honor author Gail Carson Levine offers a behind-the-scenes take on writing and teaches you how to become a world-class author. Drawing from her popular blog, Gail answers readers' fiction- and poetry-writing questions and dives into how to make a story come alive. If you're interested in writing prose and poetry or just want to be a better and more rounded writer, this book will help you on your creative journey.

With her trademark humor and vast writing knowledge, Gail Carson Levine reveals the tricks of her trade, writer to writer.
This sounds amazing! As a writer, it's always nice to have insights from other writers. You don't need to follow their advices, but it help to shake things up a bit!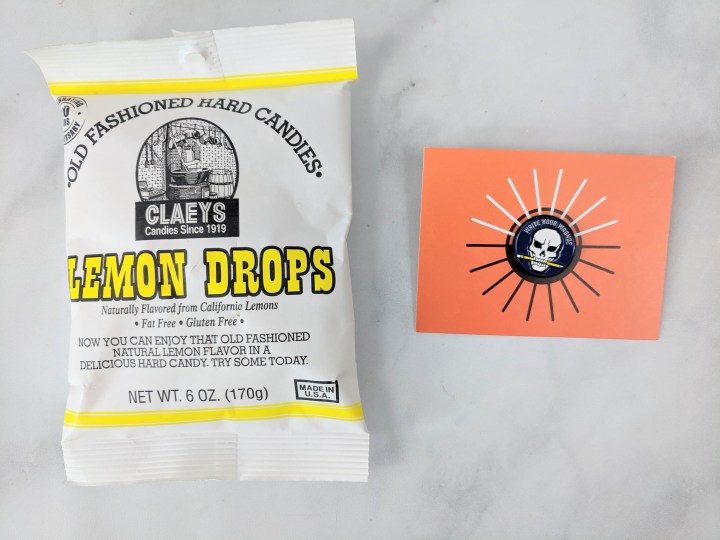 Goodies!!! Candies and a pin!
Old Fashioned Hard Candy Lemon Drops. Lovely sweet lemon candy that you can eat as a reward, or just because they are delicious candies!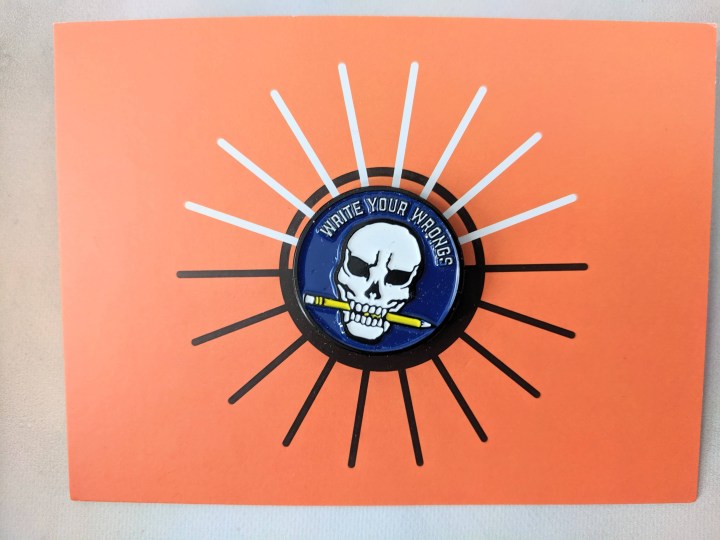 This is an exclusive for Scribbler's subscribers "Write your Wrongs" pin.
"Loading Ideas" Notebook. This is also a Scribbler's exclusive. Any writer will tell you they don't have enough notebook… even though half of the one we own are not yet been used!
Invitation. This month's invitation is for a chat with Jin Yu, Associate Director of Marketing for Berkley at Penguin Random House.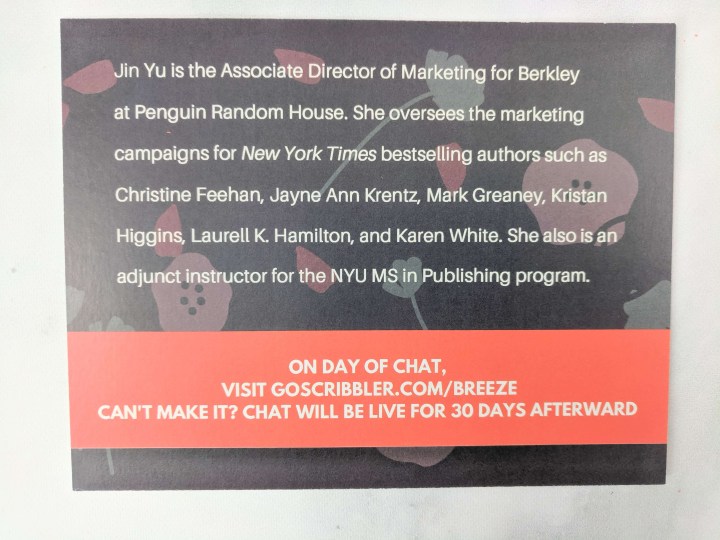 The invitation is for June 13. I really appreciate that these events happen a couple of weeks after we receive the box, as it gives plenty of time to get ready for it, even for subscribers from outside the USA. But if you miss it, don't worry as the recording will still be available on Scribbler's website.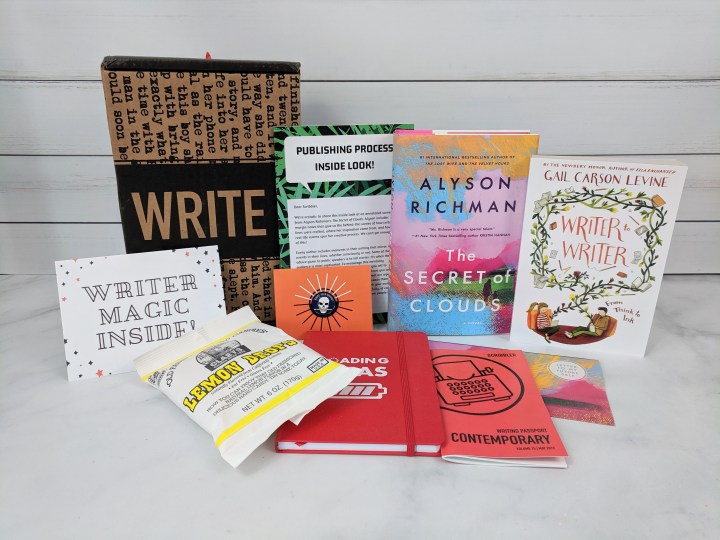 This was another strong box by Scribbler. The book sounds really intriguing and I'm really happy with Gail Carson Levine's book for some writing tricks! I also always like the goodies as they are really celebrating the writers and the writing process, not just the books. The booklet is always a nice read to remind us of different aspects of writing a book, making use more mindful when we write. It's also amazing to have the opportunity to connect with people in the industry and have insights from published authors!
What do you think of this month's box?