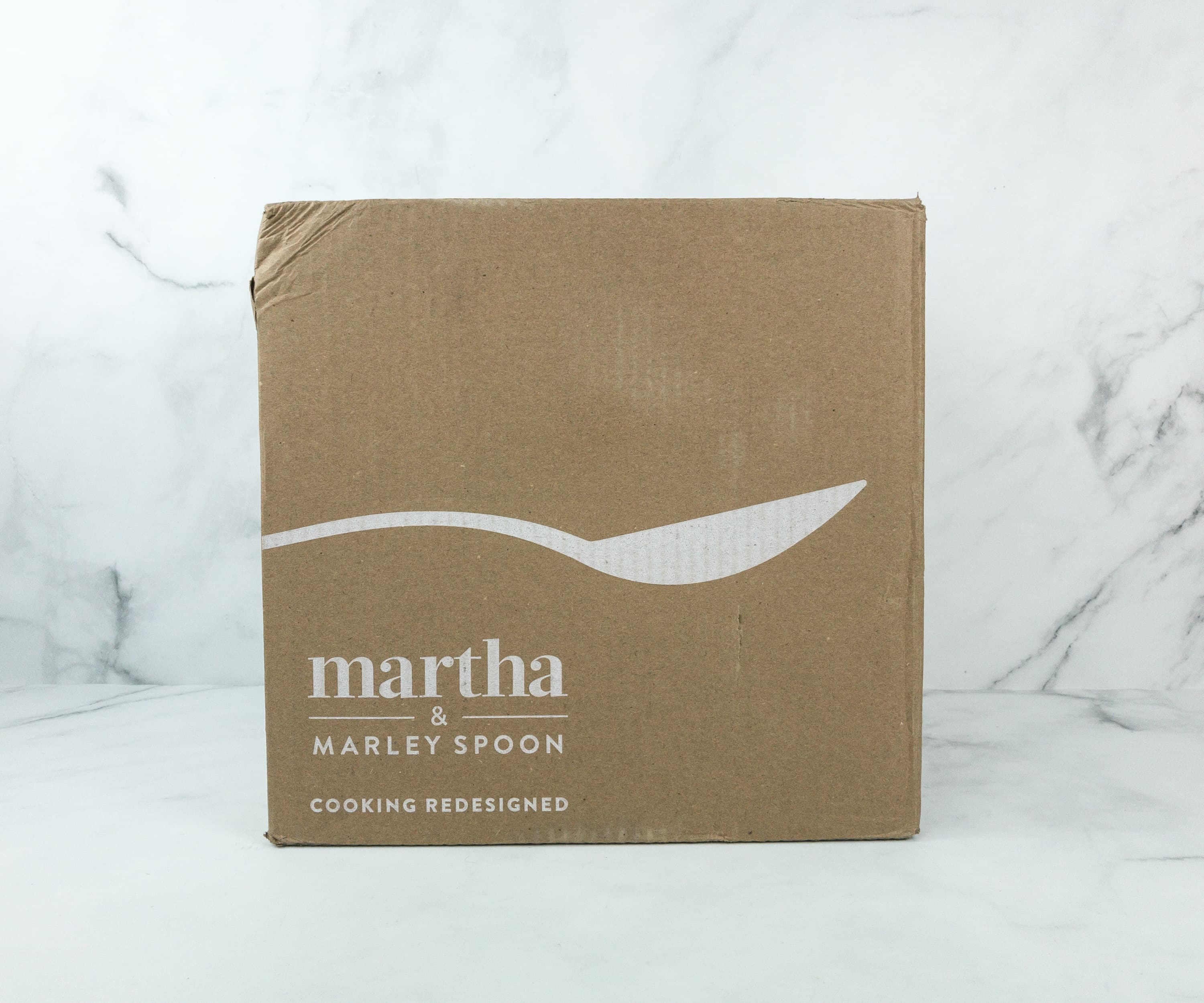 Marley Spoon delivers delicious recipes and fresh, seasonal ingredients straight to your door. You can choose from a weekly menu featuring 10 chef-created recipes, including recurring customer favorites, vegetarian meals, and kid-friendly recipes. Each option is clearly marked to note whether it features meat, fish, or just veggies, plus other characteristics of concern to diners with diets restricted by necessity or preference — they note gluten free, dairy free, kid-friendly, quick to prepare, vegetarian, and spicy meals to help you pick the best meals for you. Each recipe serves two people (there is a minimum four portion requirement per box), and shipping is free!
DEAL: Save $15 on your first box. USE THIS LINK to get the deal. Valid to USA subscribers only.
The ingredients were well-packed.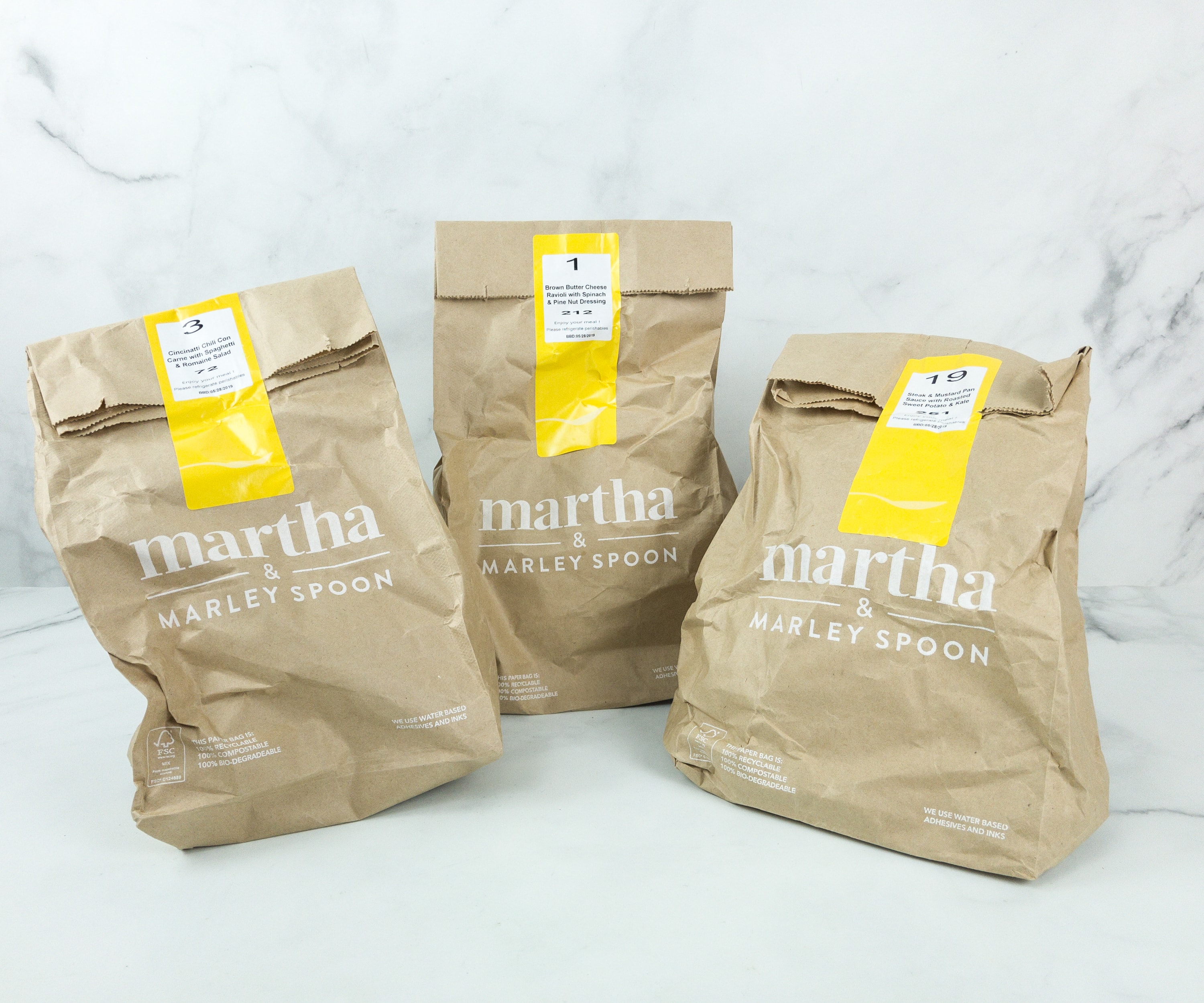 The ingredients for each meal are packed in a paper bag separately, except for the meat and items needing refrigeration — they are tucked between ice packs in the bottom of the box.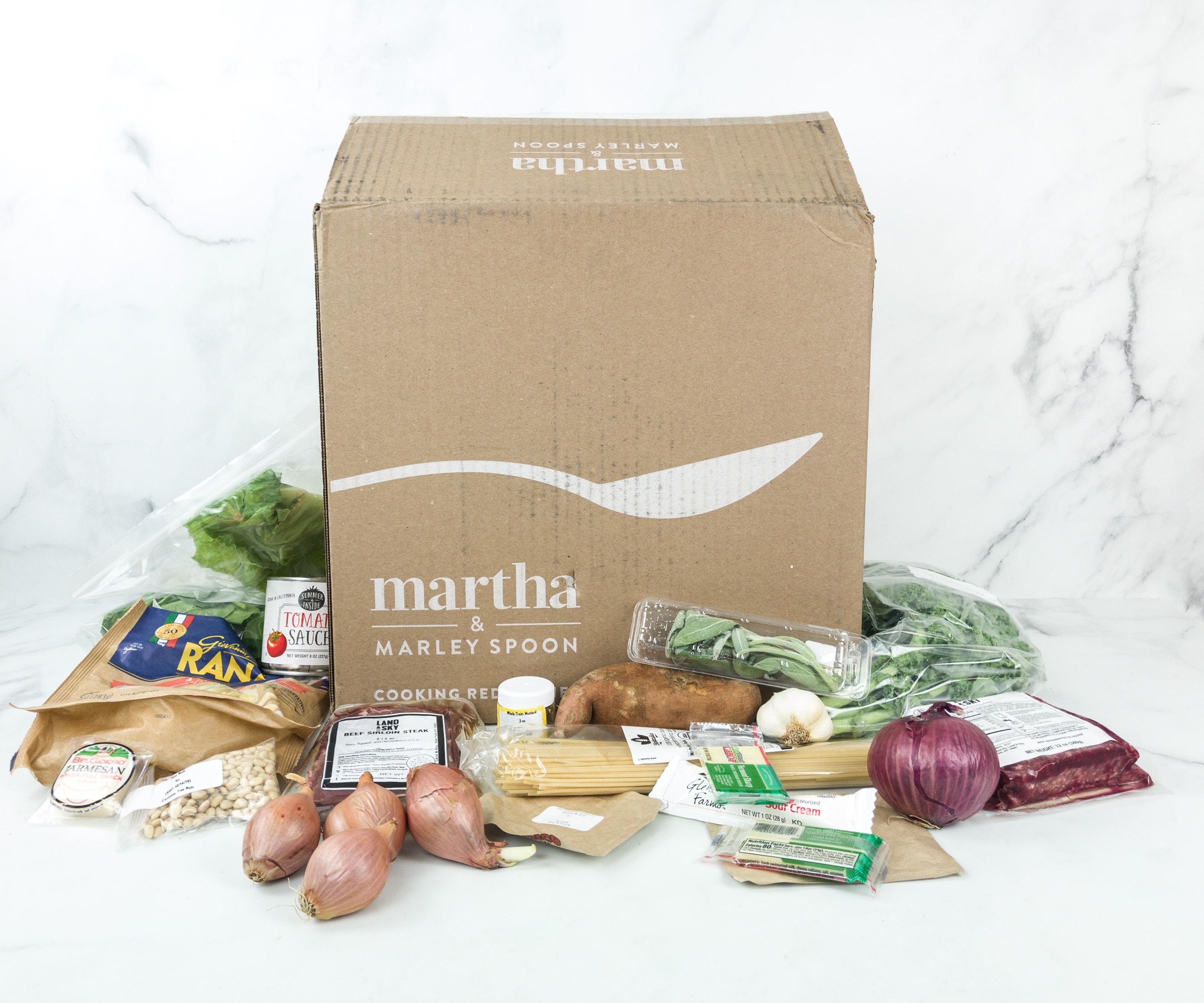 Everything in my May 2019 box!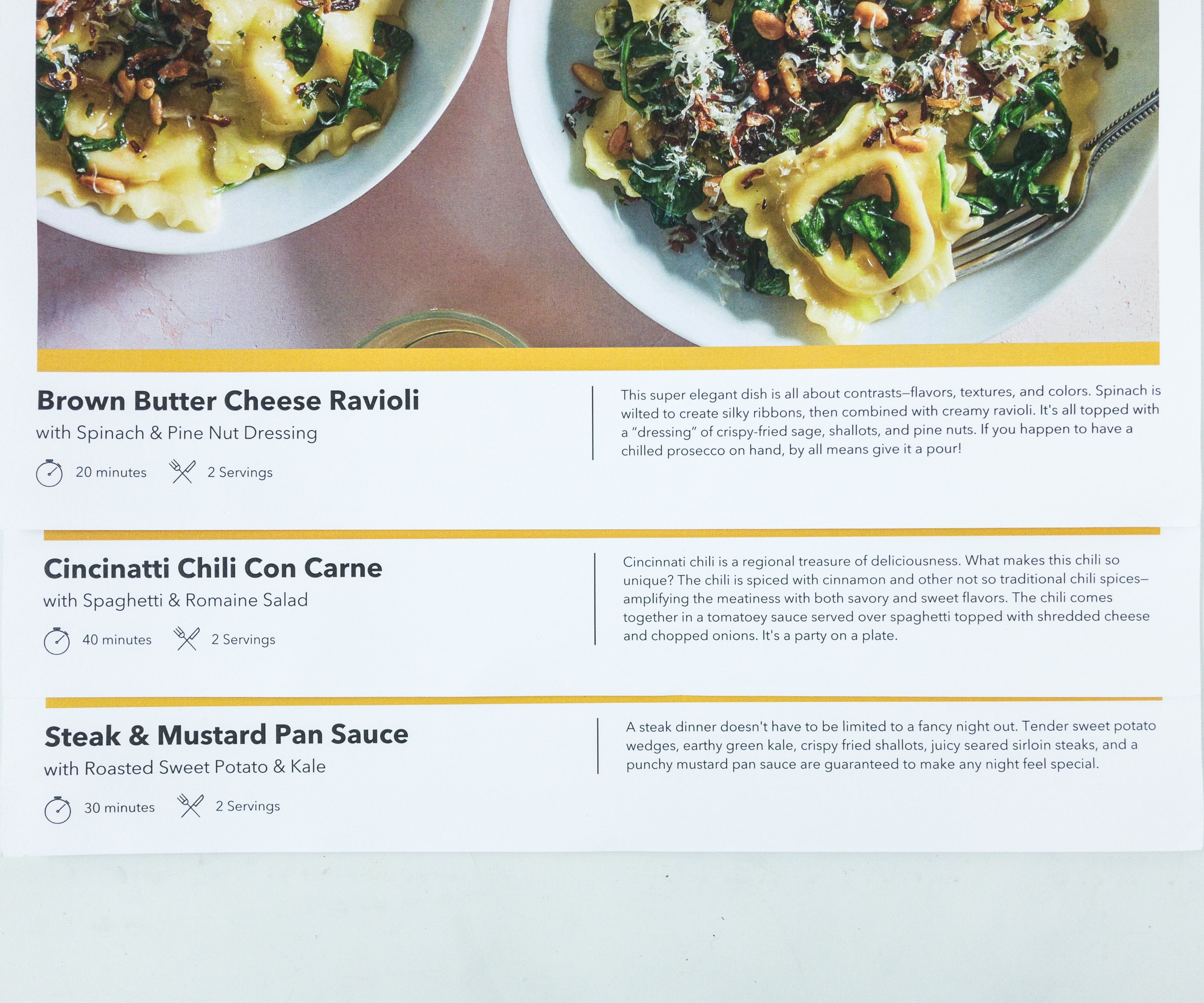 Each Martha & Marley Spoon recipe card includes a full-color picture of the plated dish, prep time and a number of servings. The dishes are elegantly plated in the pics, and you can use them as inspiration for setting out your own food.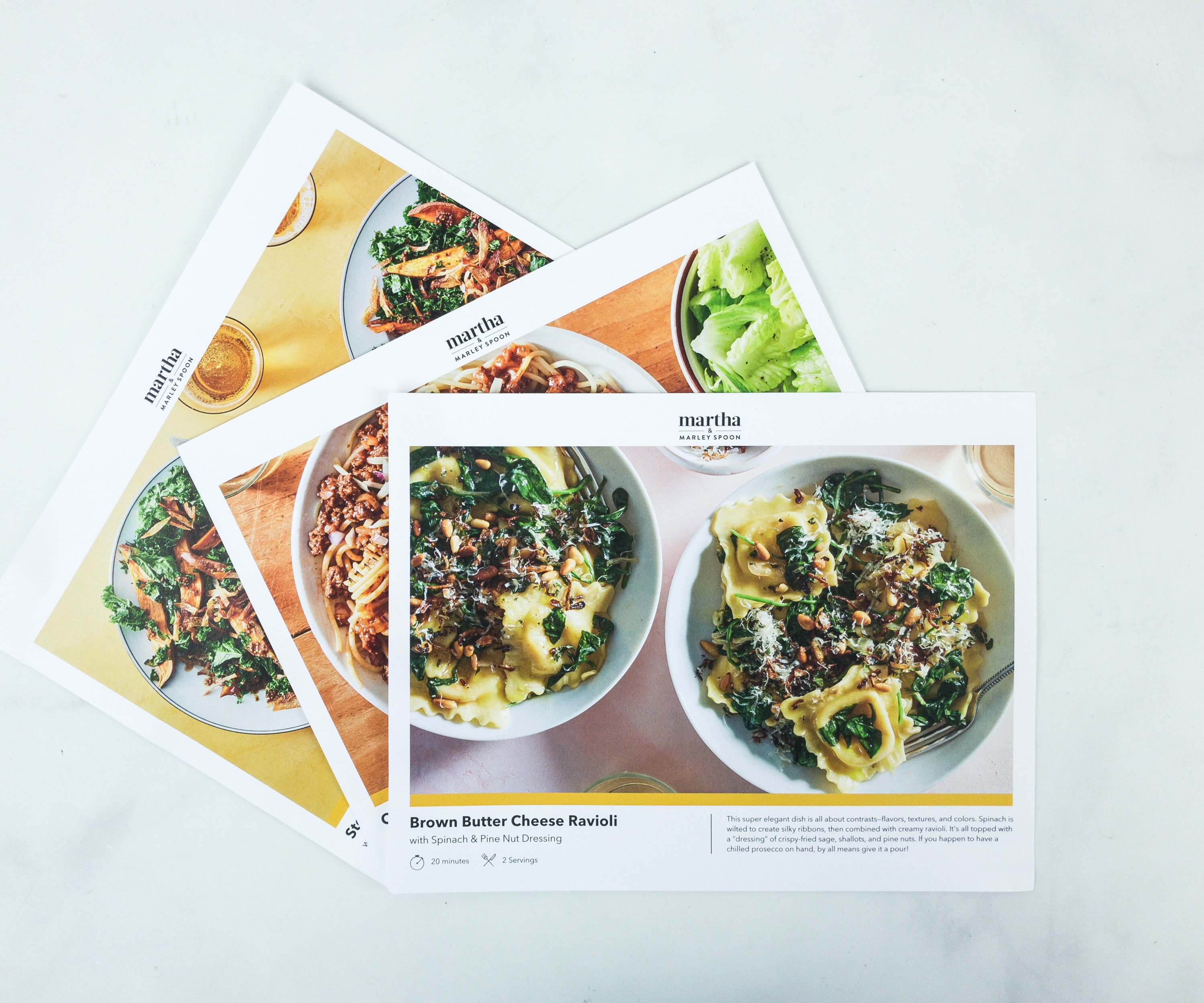 Here are the three recipes in my box! I like having the prep time estimate provided, and I often choose the order in which to make my meals based on that and perishability of ingredients. Typically, I'd start with any seafood dish, then do anything with fresh greens next.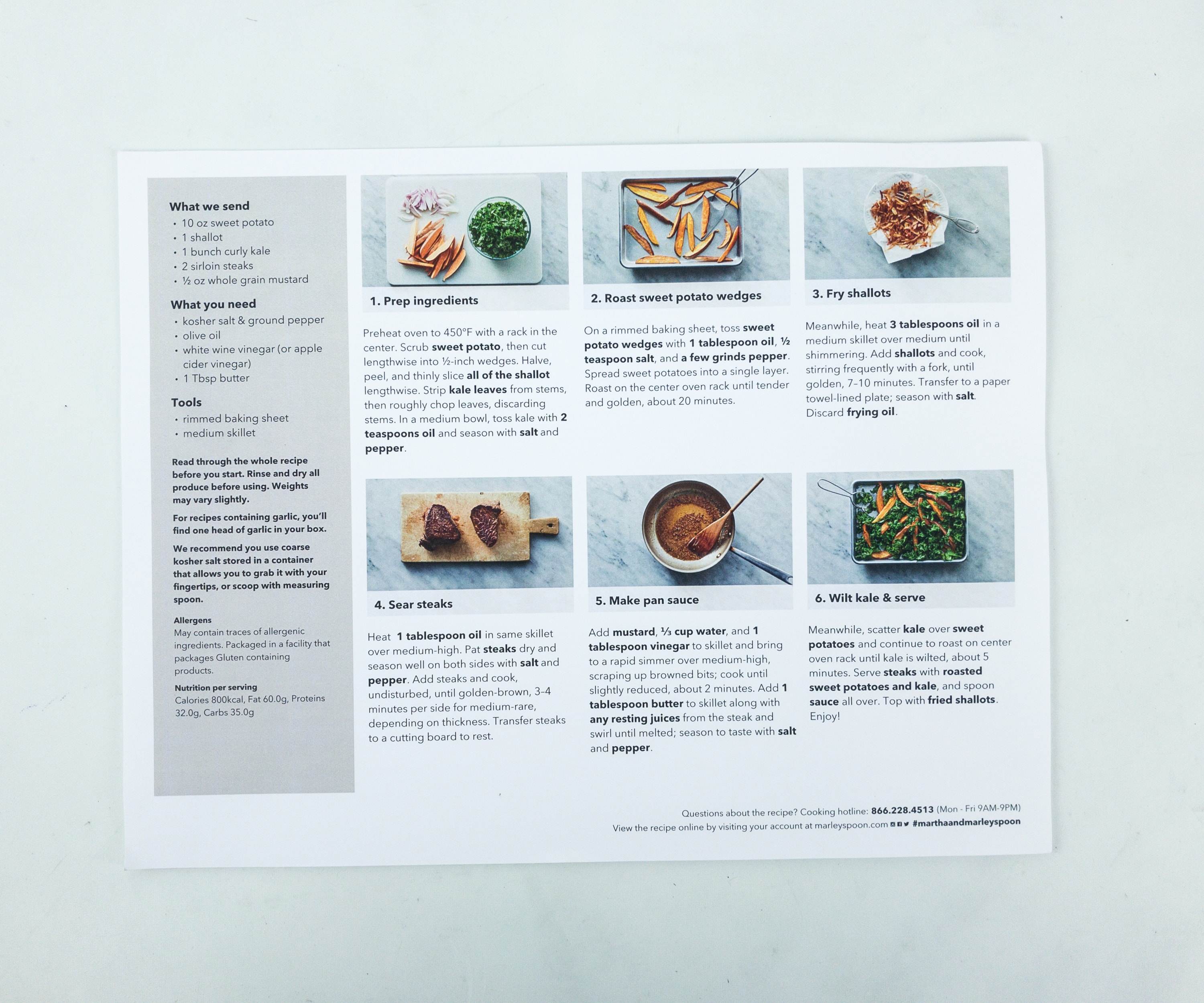 The back includes the full recipe (with pictures!) and allergen and nutrition info. The instructions are easy to follow, whether you are a novice or pro. Usually, you start by washing and prepping all the ingredients before cooking. Within the detailed, step-by-step instructions, ingredients are set in bold type for ease of recognition. Info panes in the sidebar list any ingredients and tools you'll need from home (pans, cooking oil, etc).
Brown Butter Cheese Ravioli with Spinach & Pine Nut Dressing – 20 minutes, Easy, 740 calories per serving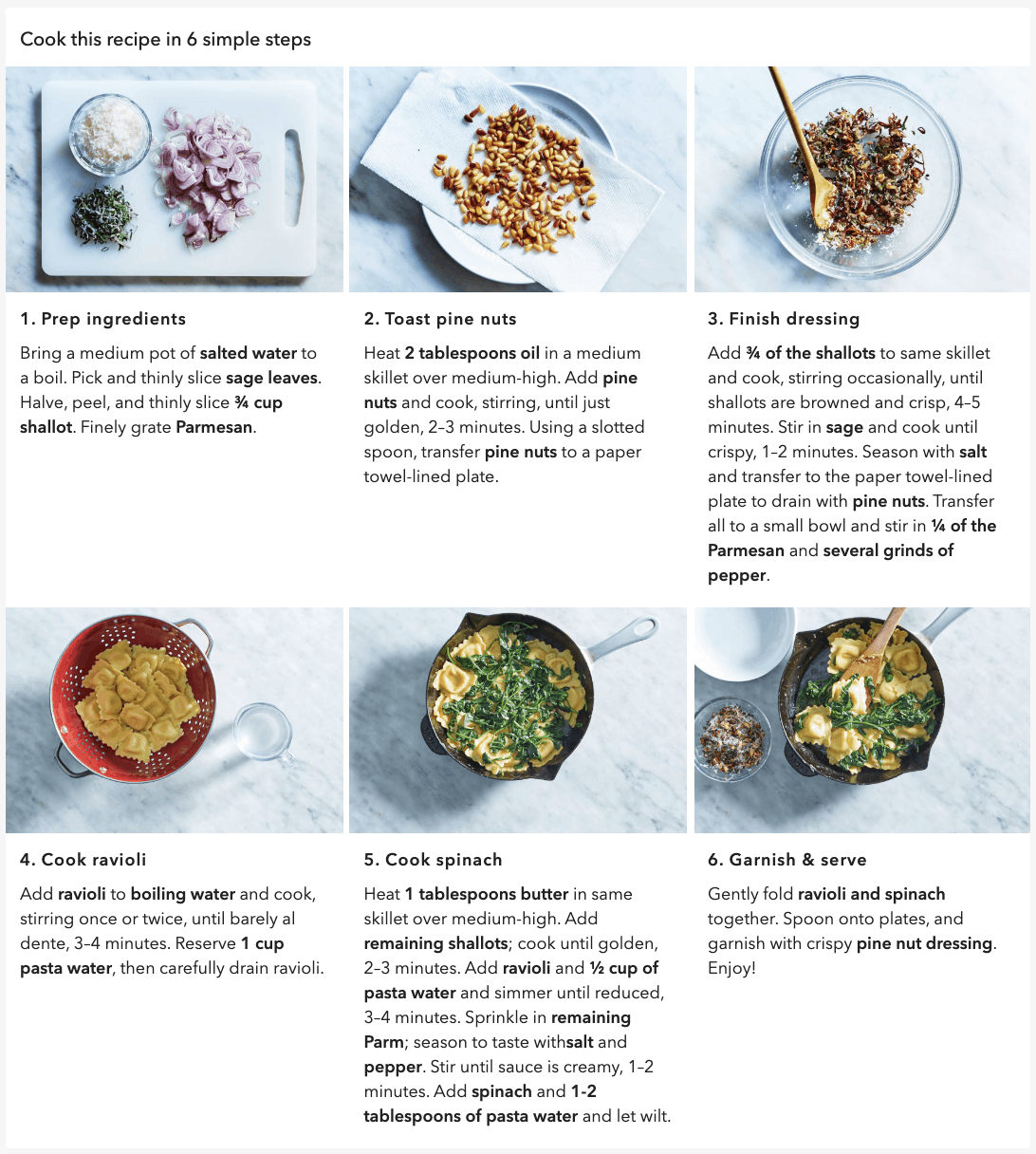 For more efficient and faster cooking, you can finish the dressing while waiting for the ravioli and spinach to be cooked.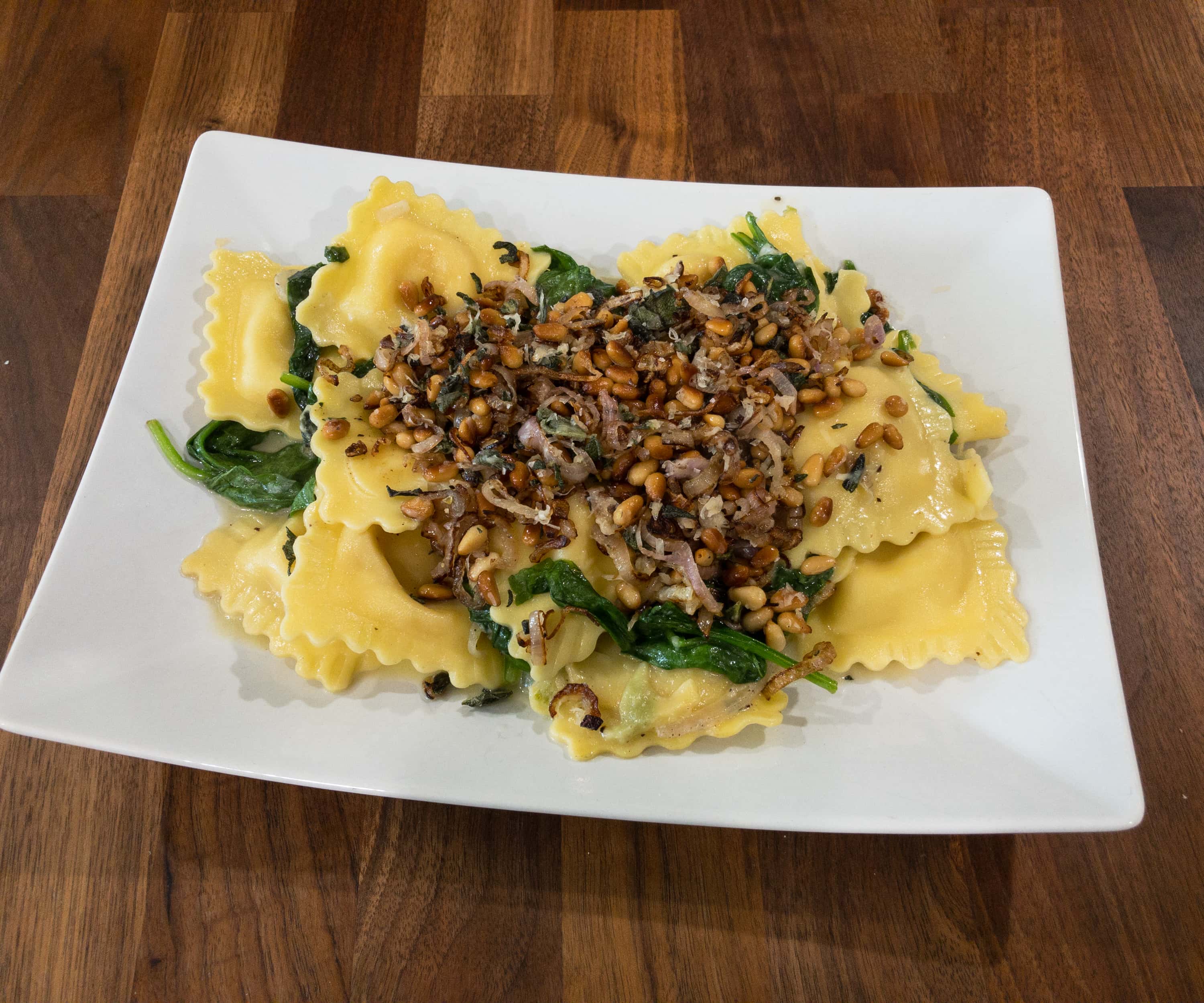 This meal is filling and satisfying. The smooth, chewy texture of ravioli is a perfect contrast to the crispy shallots and crunchy peanuts. Every bite is creamy and cheesy. Pairing it with light wine would definitely make it a great dinner meal.
Cincinnati Chili Con Carne with Spaghetti & Romaine Salad – 40 minutes, Easy, 1140 calories per serving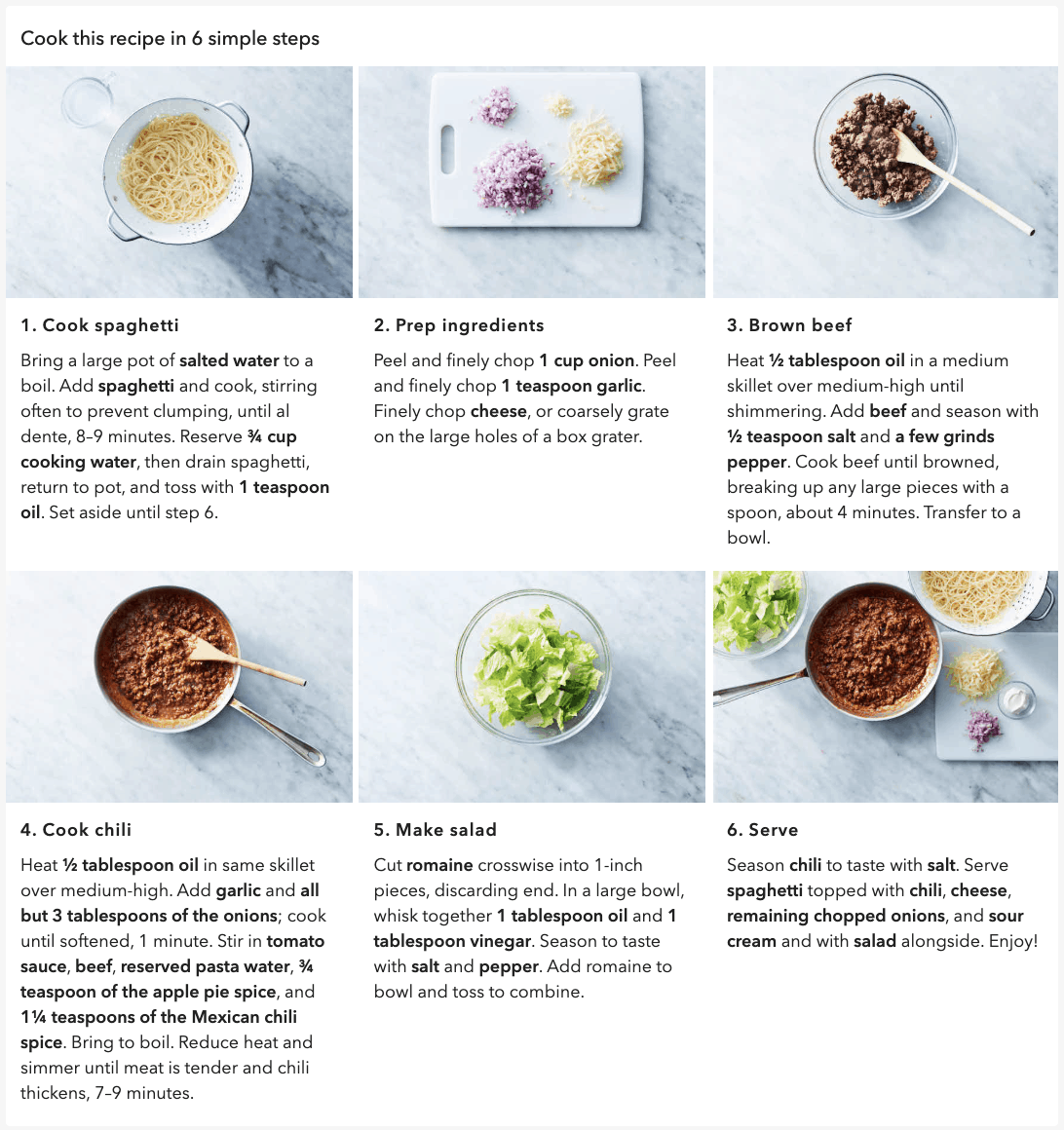 According to them, adding chili together with cheese and chopped onion will definitely make the dish more enjoyable!
This one features a unique cheesy-spicy taste like those of Mexican dishes. Cincinnati chili I guess is also quite sweet and cinamonny and this combo wasn't our very favorite, but we're glad we gave it a try. If you are a busy person and you're looking for a delicious yet easy meal, this dish is interesting to try!
Steak & Mustard Pan Sauce with Roasted Sweet Potato & Kale – 30 minutes, Easy, 800 calories per serving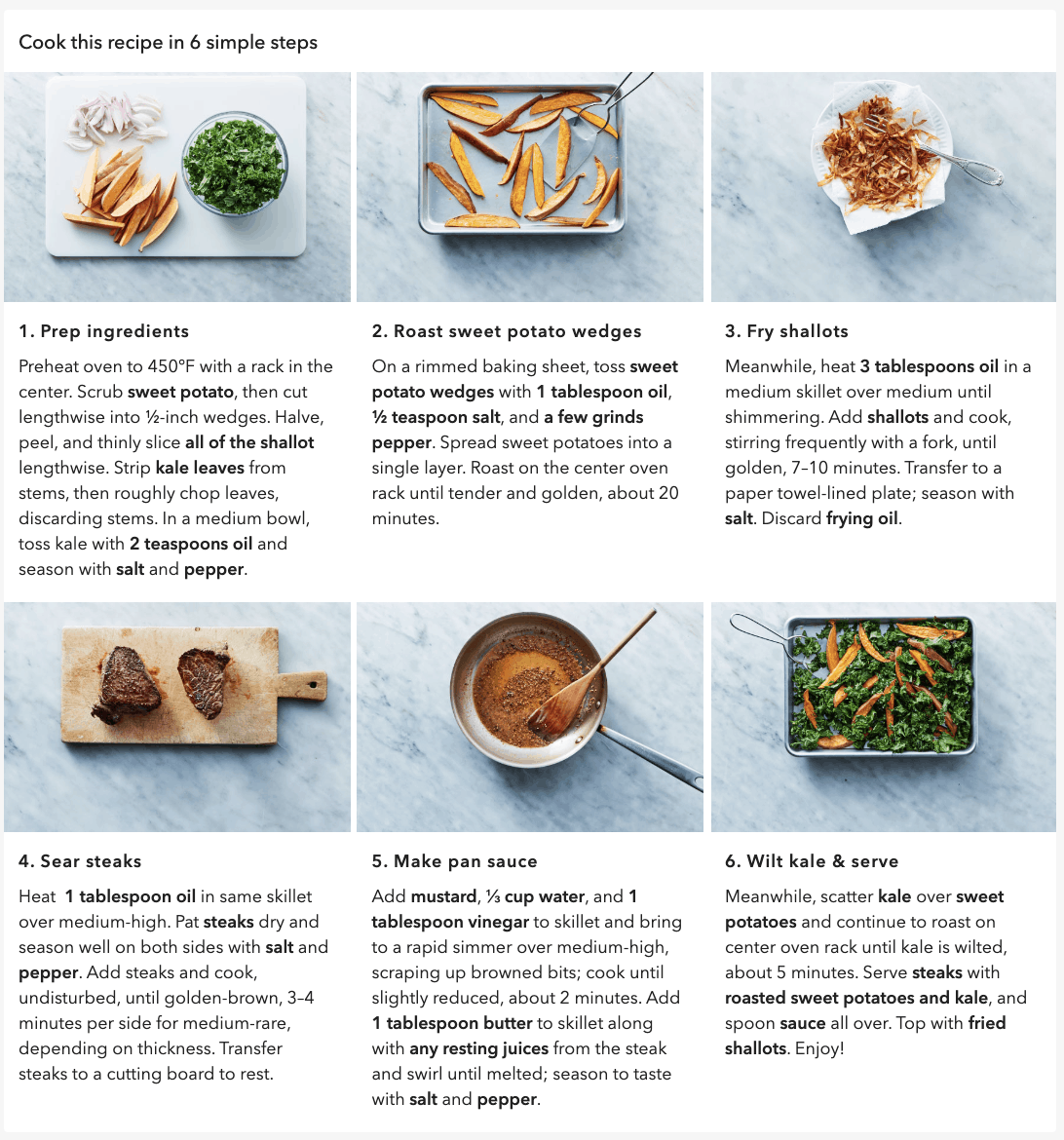 To have the best results, you should roast the kale for about 5 minutes or until it is wilted, then serve it together with the sweet potatoes and steak topped with fried shallots.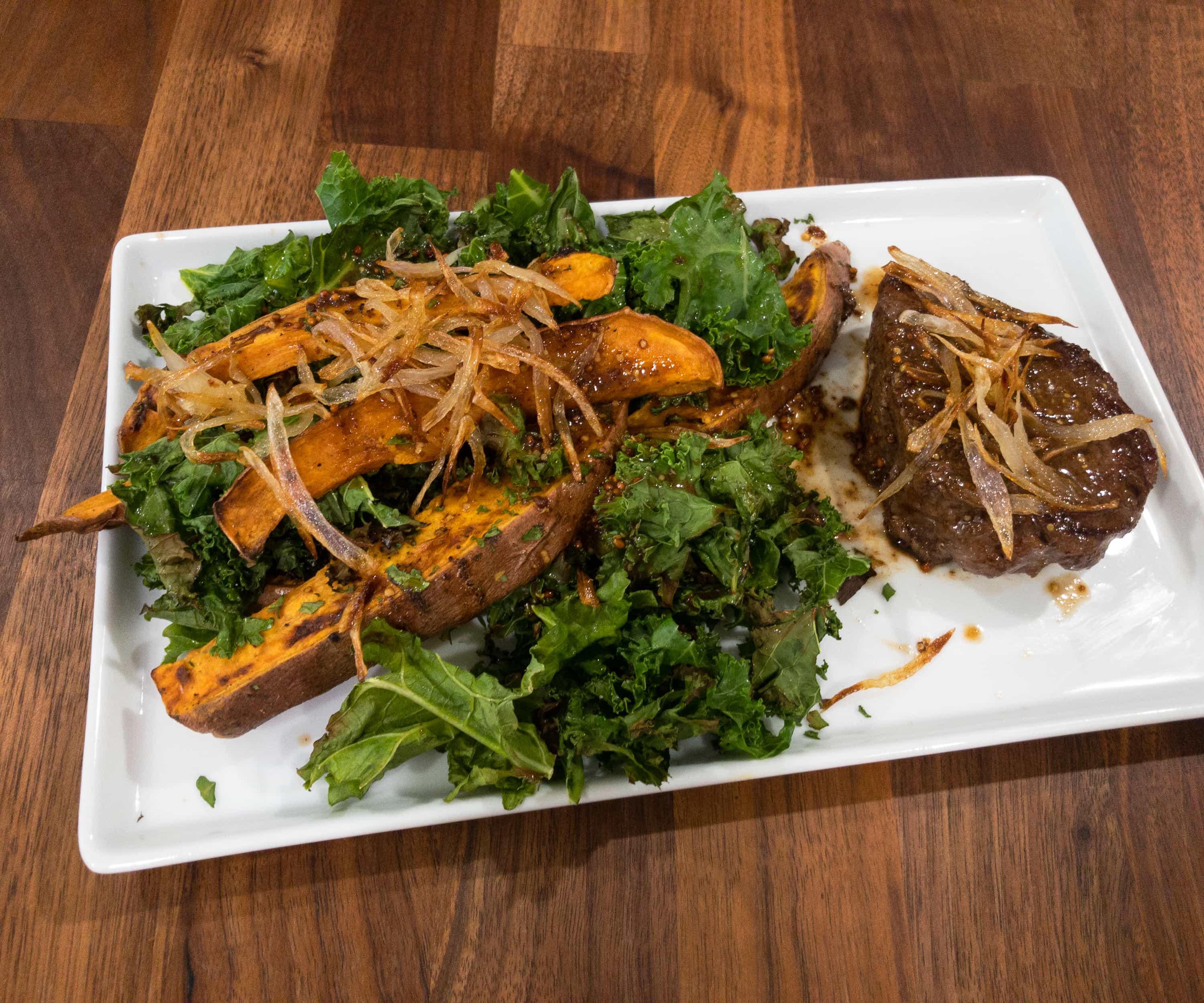 This has everything you need for a complete and satisfying heavy meal! The steak cut was thick and oozing with juiciness. The potatoes and kale taste really great too! They both provide a sweet taste and crispy texture, while the punchy mustard sauce makes everything so special. This dish was sublime!
It's a great set of meals from Martha & Marley Spoon! I find it really great that almost all of the ingredients are already provided inside the box, so all you really need to do is to prepare the ingredients and cook. Having this subscription is a big time-saver, from meal planning to the cooking process itself. The recipe complexity and design and quality of directions are similar to other meal kit subscriptions, and the quality of ingredients was totally amazing. It definitely makes our meal times more interesting and hassle-free!
Have you tried Martha & Marley Spoon? What do you think?