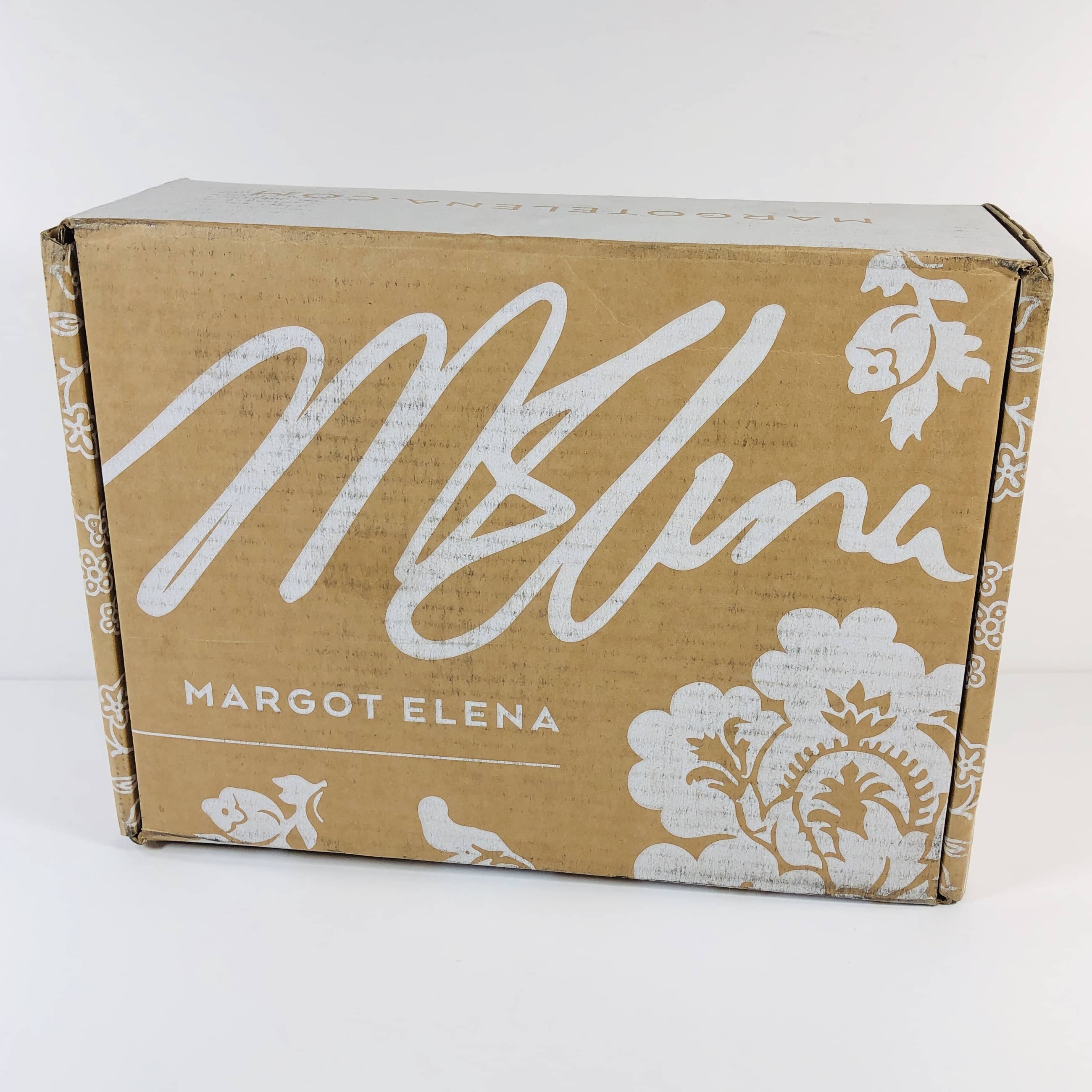 Margot Elena Discovery Box is a quarterly box from the parent brand of Library of Flowers, TokyoMilk, Lollia, The Cottage Greenhouse, and Love & Toast and promises a $200+ value. This box is delivered four times a year for $49.99 per box plus FedEx Ground Shipping of $6.95 a box. With your purchase, you'll be enrolled in their seasonal membership and receive a box of beauty every 3 months delivered to your doorstep.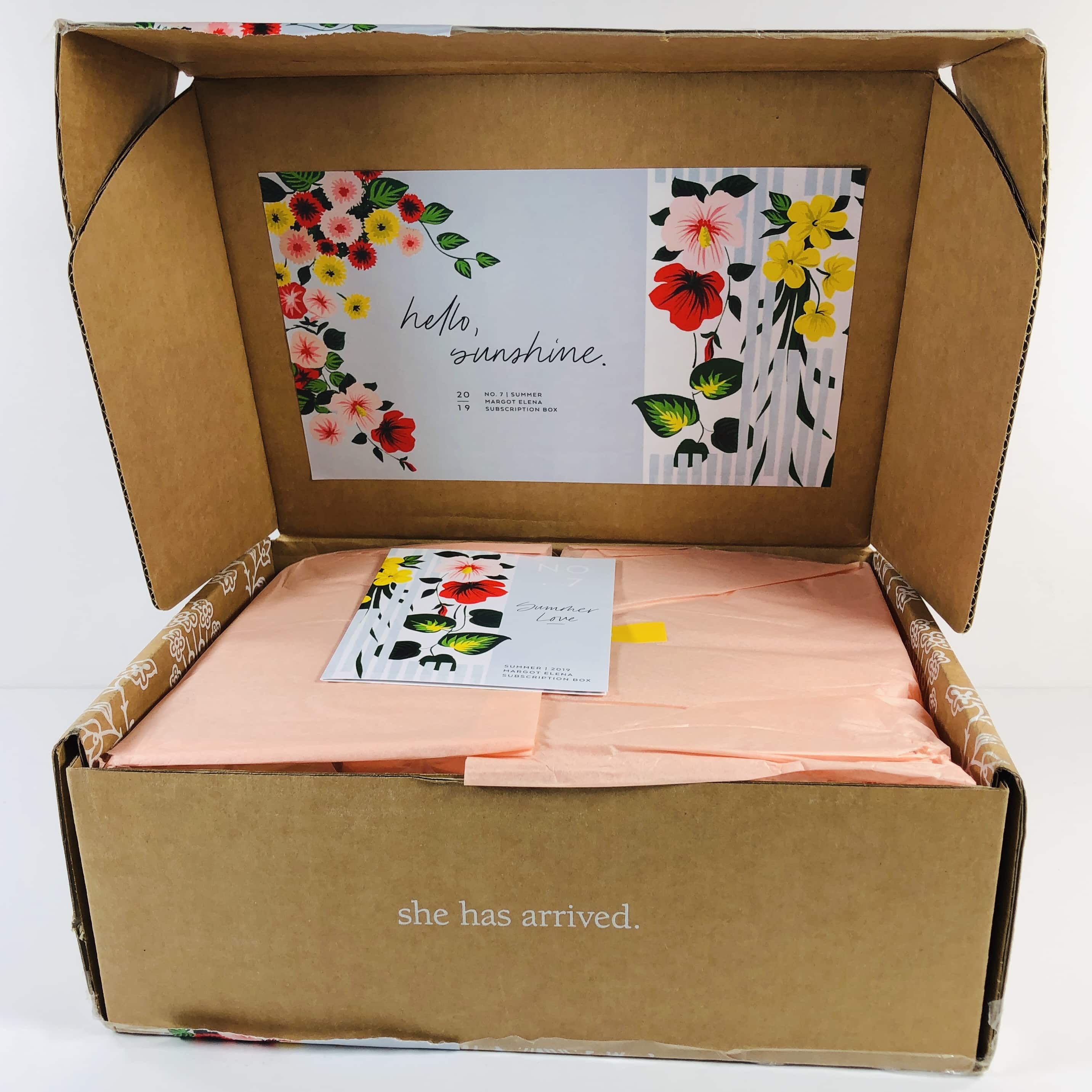 The box is sealed with a pink sticker. She has arrived!
My items were covered with tissue paper and sealed with a sticker.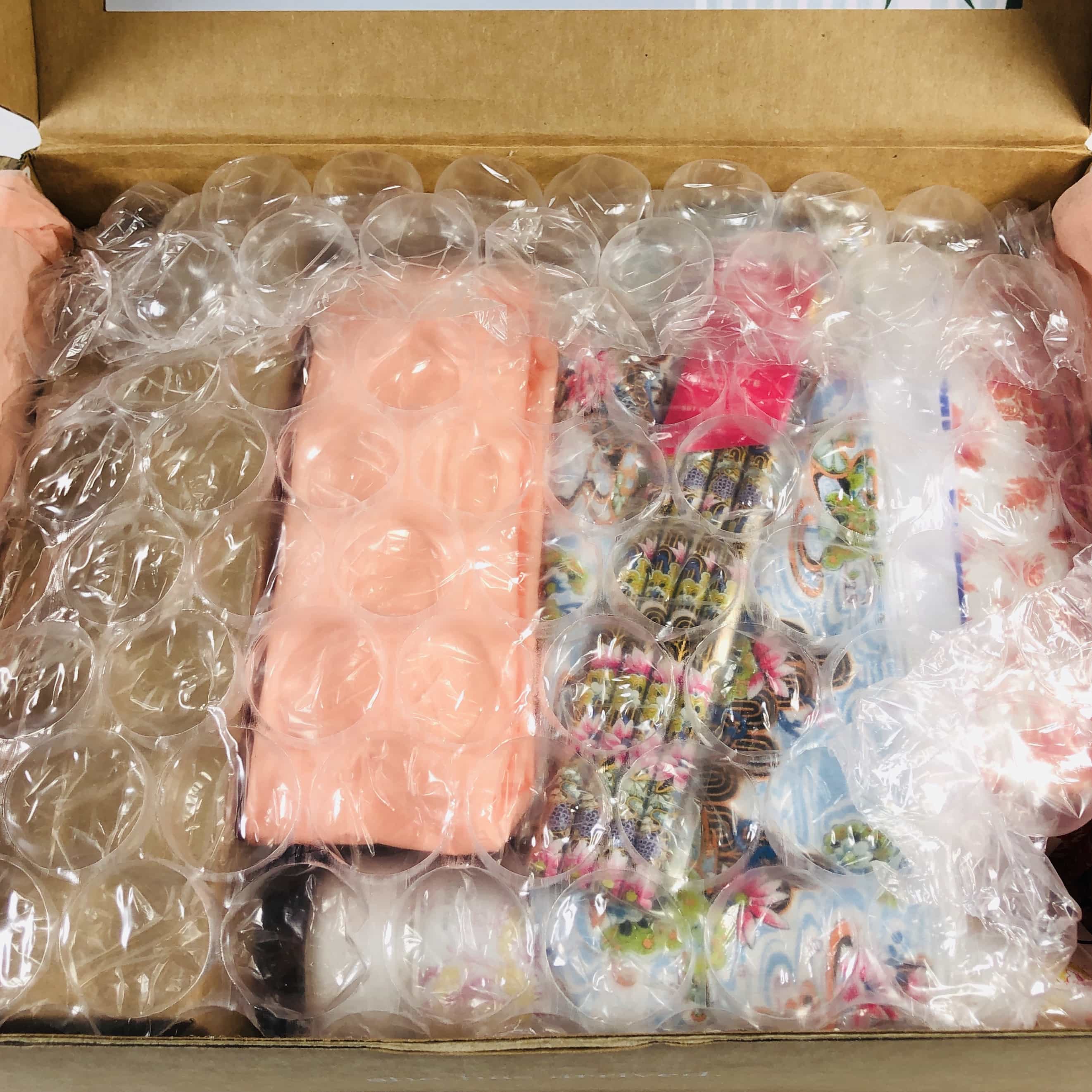 Bubble wrap provided a nice cushion for the items.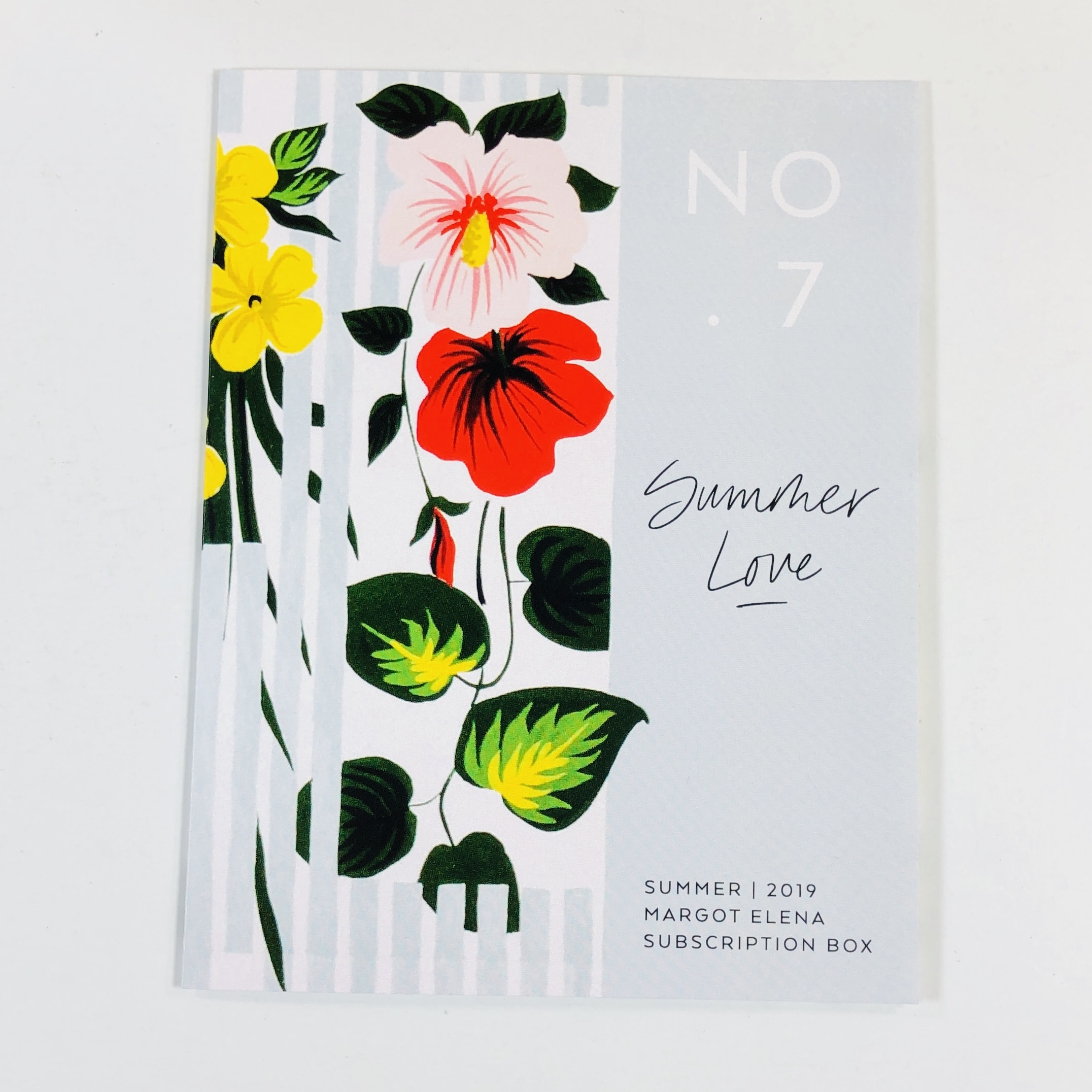 The info card from this box is decorated with tropical florals. The theme is Summer Love.
There was a list of what's inside the box. That's about $201 retail value!
Share your pictures on social media and they may be featured!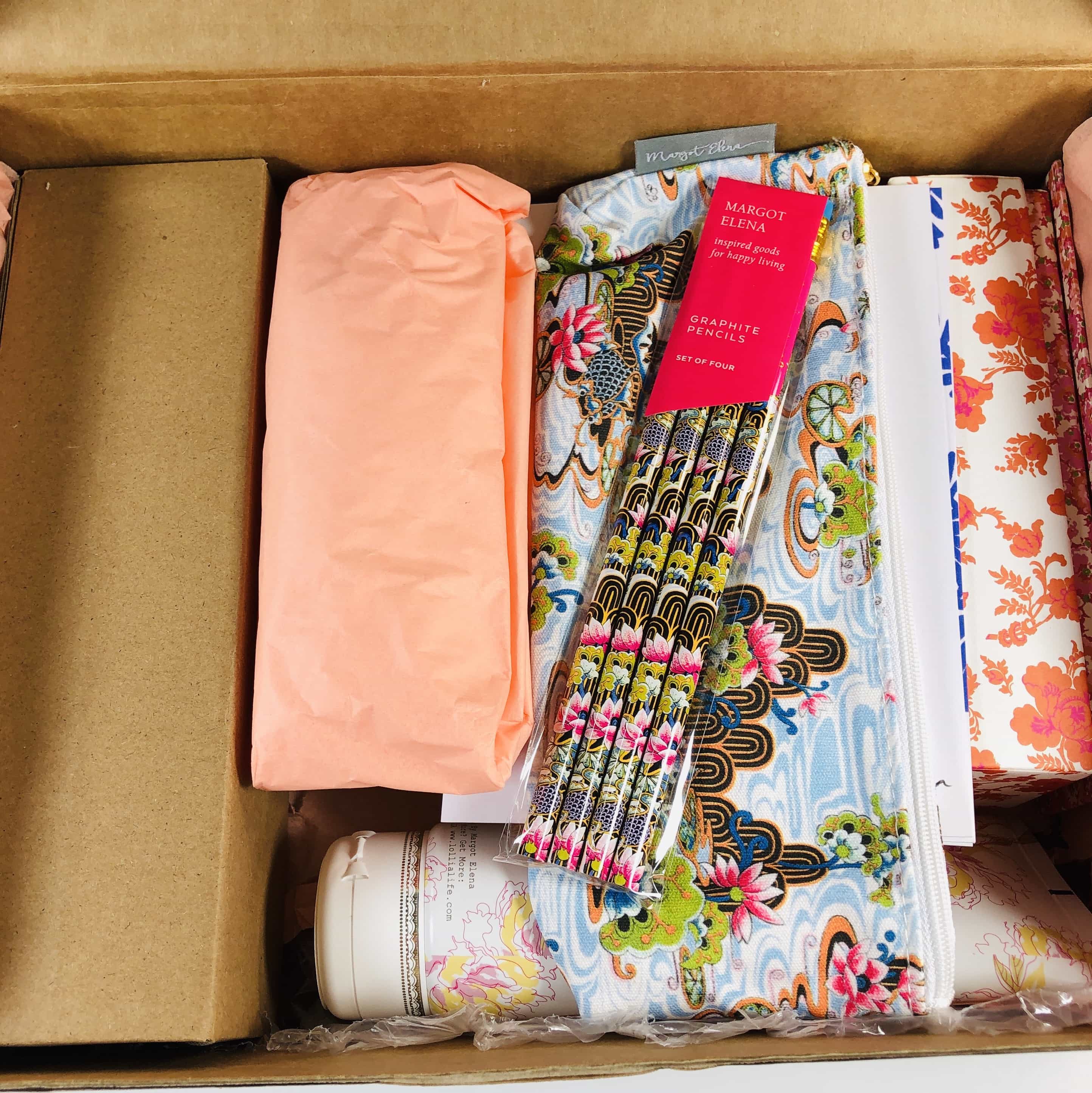 I found additional bubble wrap and tissue paper around the glass items. This prolonged the unboxing experience and I felt like I was opening a box full of gifts!
This is the prettiest box of goodies that I have ever received!
Everything in the Summer Discovery box!
Summer Inspiration Postcard Set ($12) I couldn't find this set online so the value is from the card. It is a set of 3 postcards with designs illustrated by Margot Elena.
The saying from the front of the cards is repeated on the back. There is room for a quick note to someone special. The cards are larger than standard postcards and are 5″ x 7″.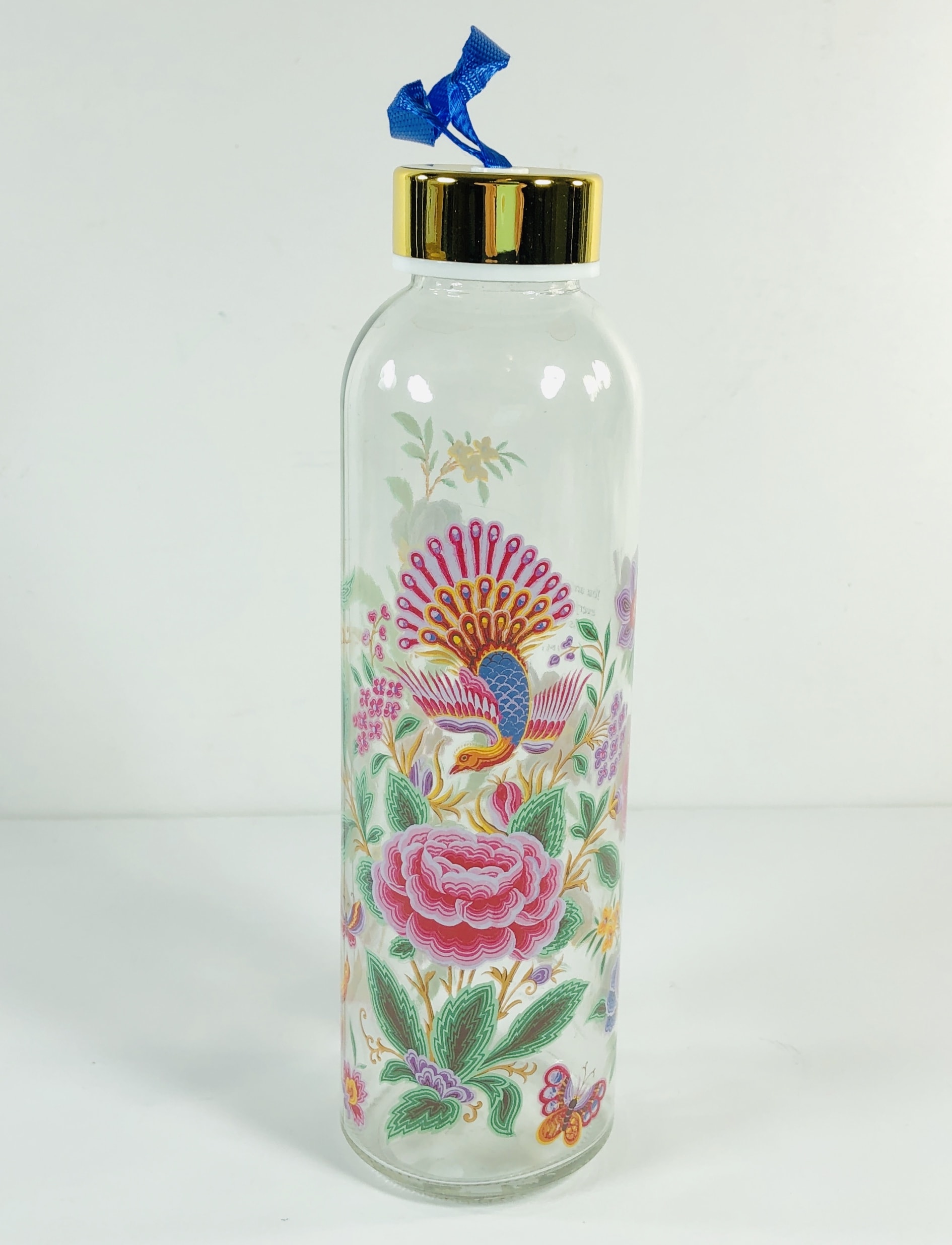 Chinoiserie Glass Water Bottle ($21) The Winter Box had some items with a beautiful peacock design and here is a lovely glass water bottle to keep that theme going.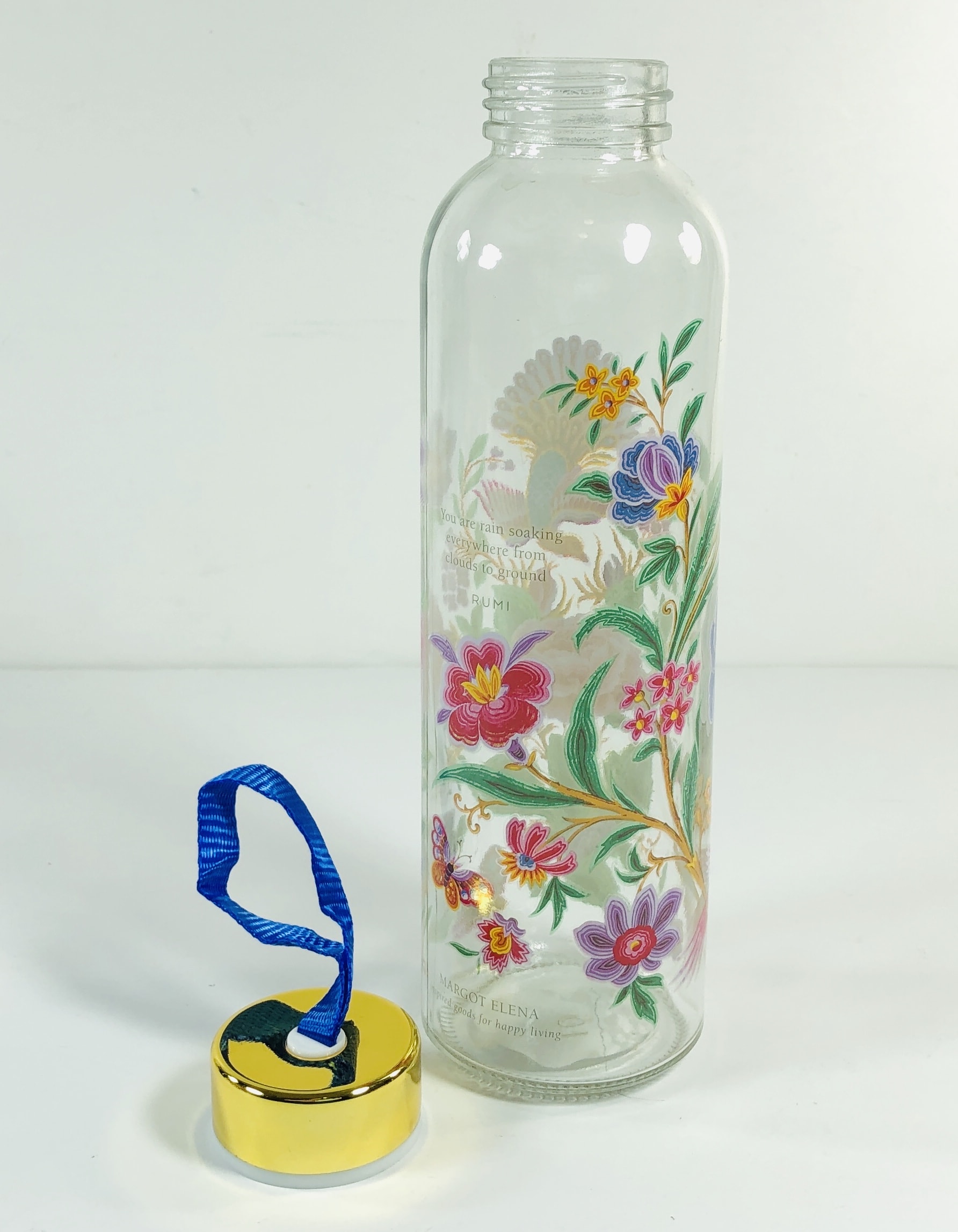 The lid has a ribbon to make the bottle easier to carry. The bottle holds 16 ounces of liquid, but please make sure to not put hot drinks inside.
I like the quote on the side of the bottle, and I prefer glass bottles for my water drinking needs.
Lollia Breathe Peony & White Lilly Perfumed Shower Gel ($21.56) One thing about all of the Margot Elena product lines is that every single one of them is packaged breathtakingly beautifully. Even the lid has a metallic touch around the circumference. Some are more intricate than others, but this shower gel has a simple yet lovely design. The scent has notes of peony and white lily and I enjoyed using it on a lazy Sunday, it was a warm floral.
The Cottage Greenhouse Grapefruit & Blood Orange Hand & Body Lotion ($6.24) The scent of this light hand lotion is just stunning, it smells fresh and zippy, just like a couple of my favorite citrus fruits! Argan and shea butter help soothe hands (or body, if you like) and I'm just going to sit here and sniff my hands for a while longer, don't mind me.
No. 82 Bees Hand Soap ($12) The packaging of Margot Elena is always amazing, but I found something unexpected in my soap!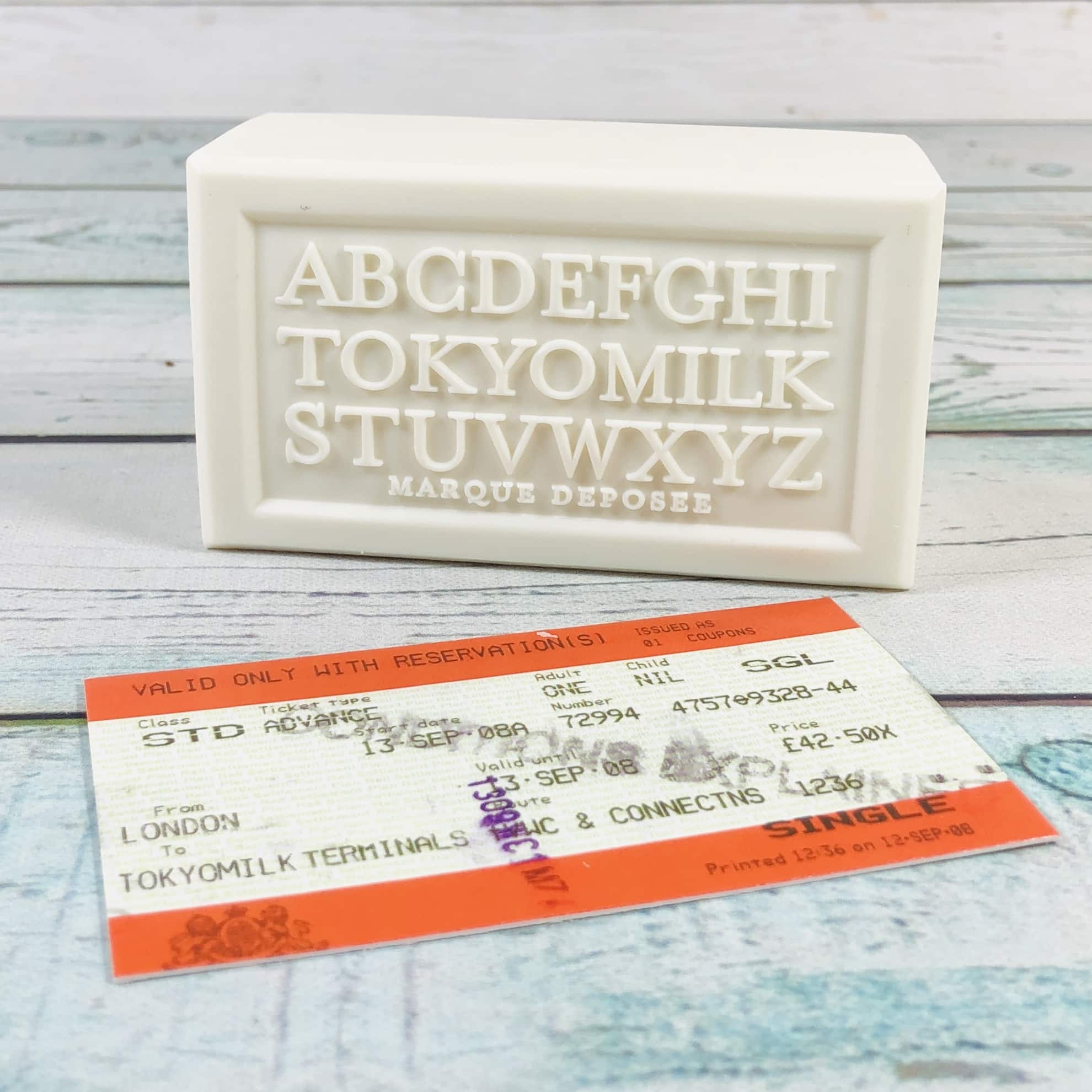 I wasn't expecting what looked like an Underground train ticket, and it swept me back 30 years ago, when I would frequently visit London from where I was living in East Anglia!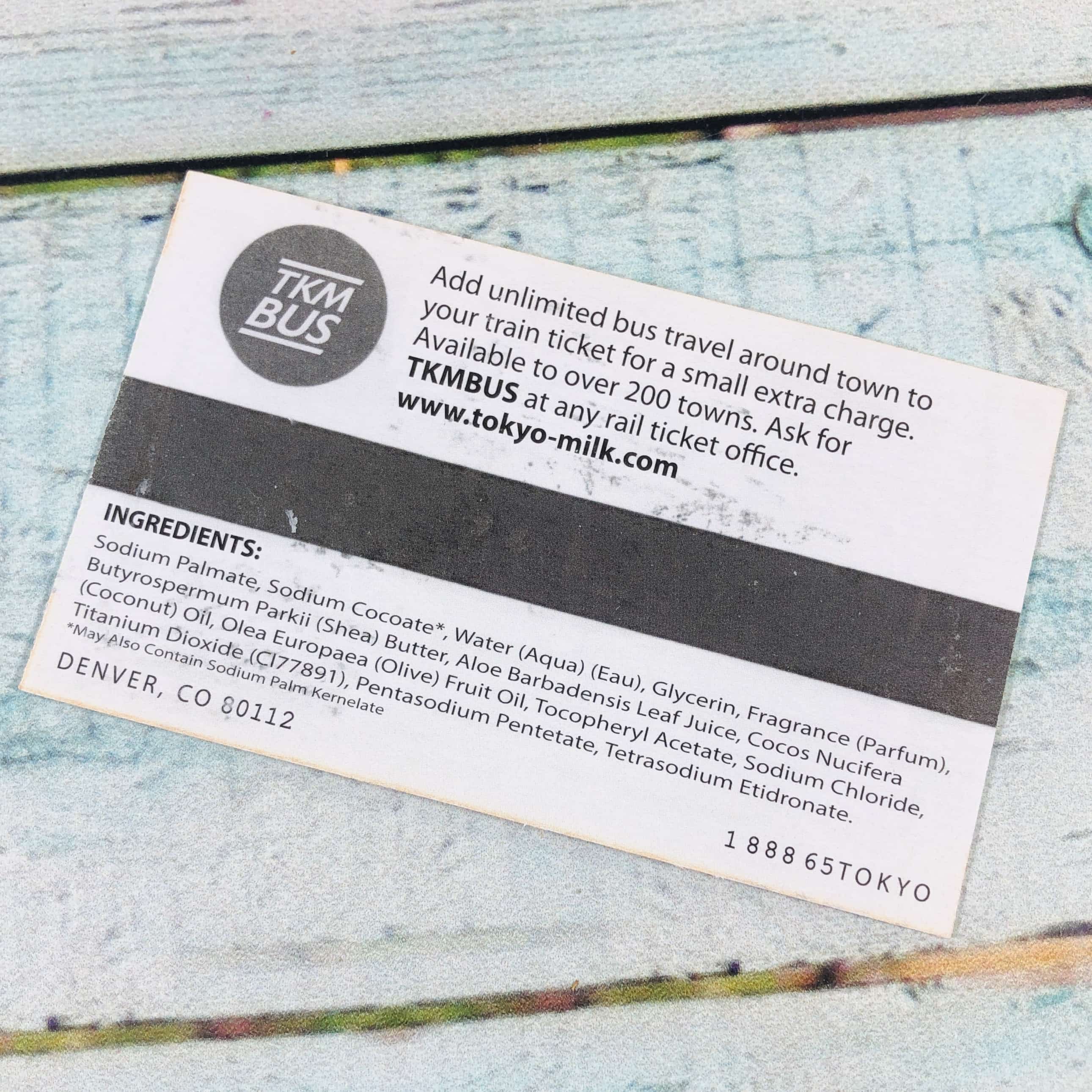 The back of the card listed the ingredients of the soap, which has scent notes of green apple, bamboo, and white musk. It smells really lovely, warm and green at the same time.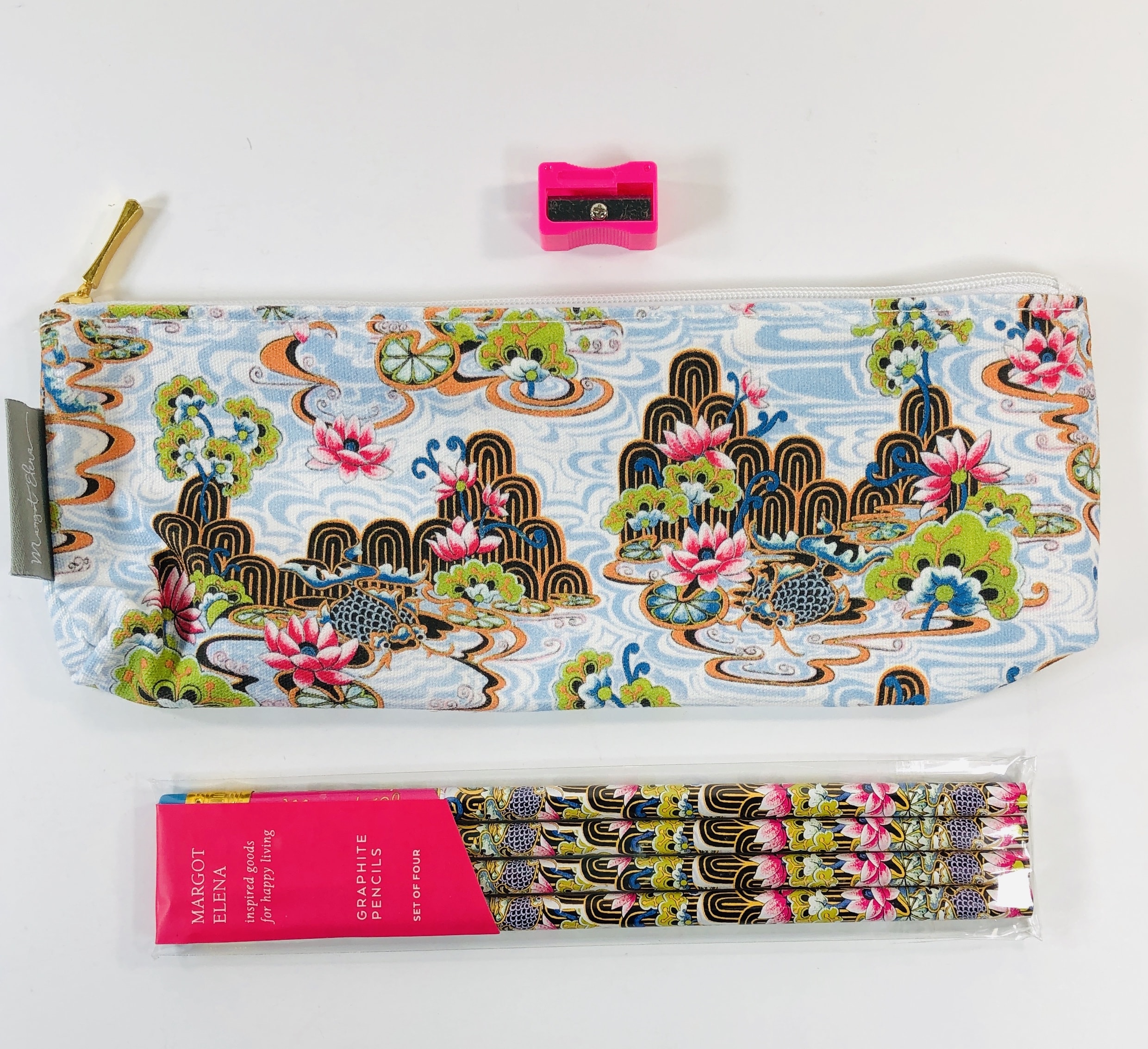 Water Lily Pencil/Makeup Case ($20) and Pencils ($5) We received a pencil case with a matching set of pencils and I even found a sharpener inside the bag! Of course, the bag could be used to hold hand creams or lip balms in a travel bag or purse.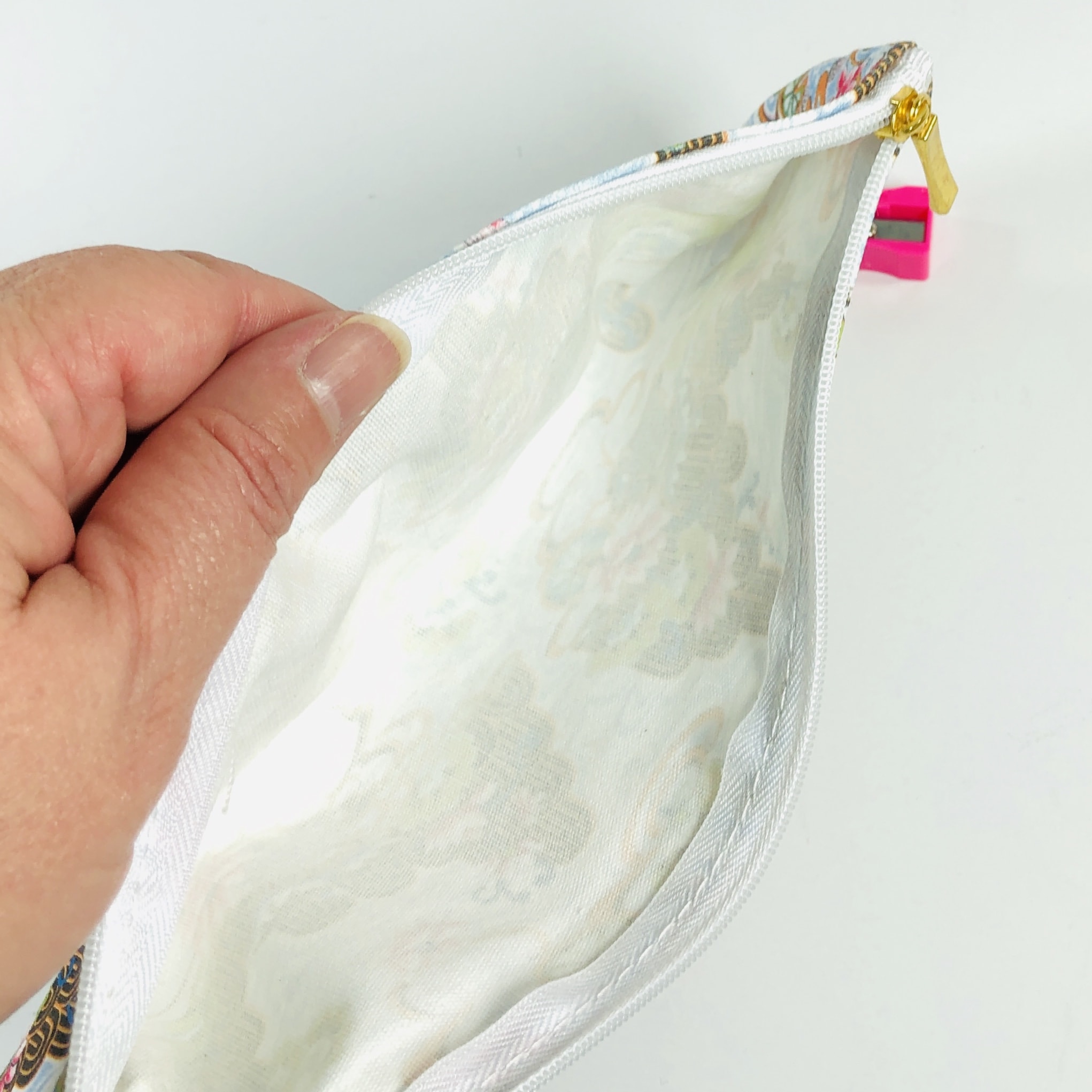 The bag is lined on the inside.
Aren't these pencils so pretty?!?
Imagine Travel Spray Eau de Parfum ($30) I couldn't find this for sale anywhere because it has been discontinued.
Imagine is a floral with notes of mandarin orange, coconut, and jasmine. I think it smells a lot like lime and coconut, with some floral nuances, and is perfect for summer.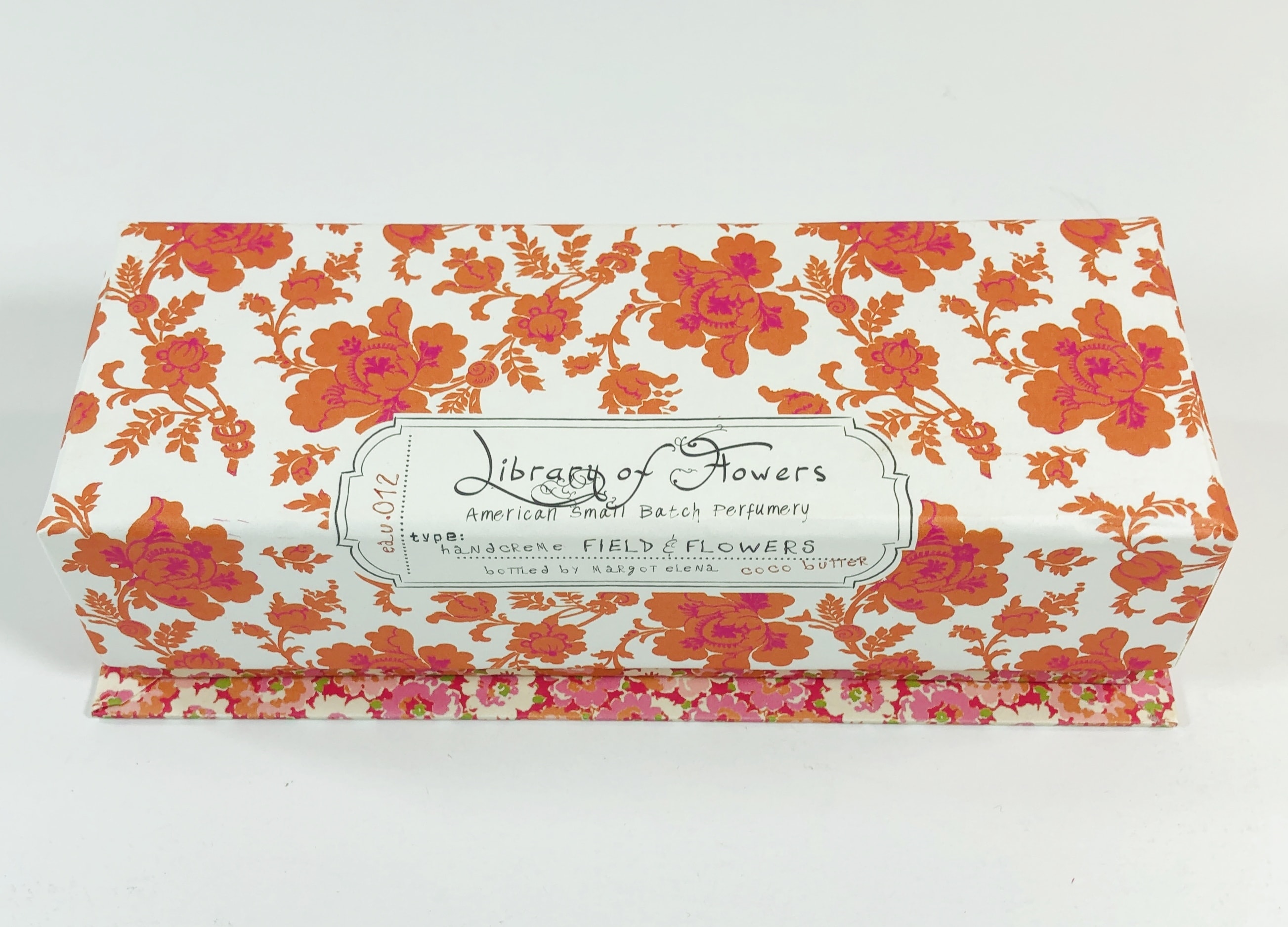 Library Of Flowers Field & Flowers Hand Creme ($15.49) Again, the packaging. It is a treat all in itself.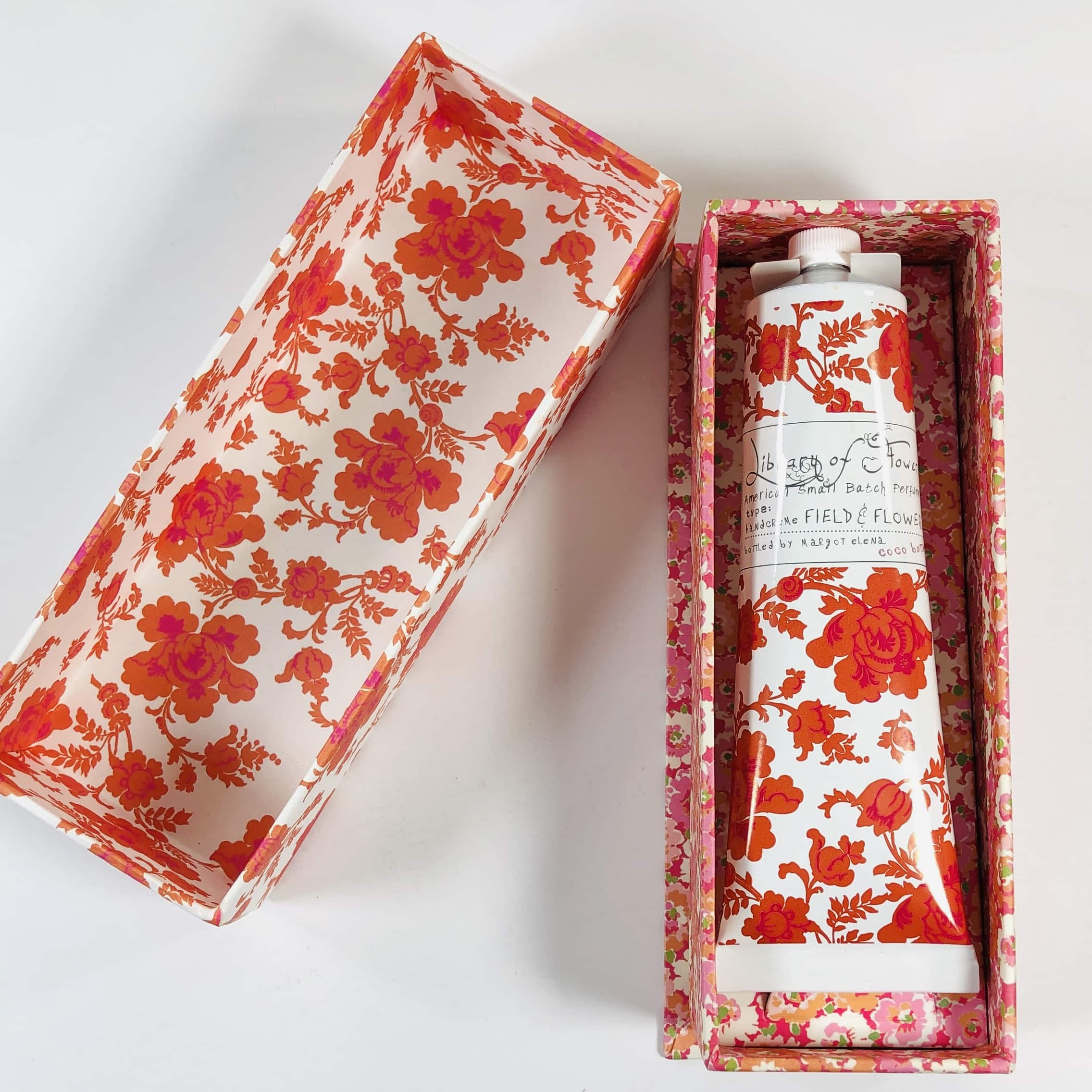 My hand cream was reclining in style in the box.
Filed of Flowers has notes of apricot, honeyed blossom, and wild flowers. At first it reminded me of a hand cream I used a long time ago, from Avon! Cocoa butter and shea butter help give hands a treat. It is more moisturizing than the other lotion sent this month.
The Cottage Greenhouse Japanese Plum & White Tea Dry Body Oil ($20) I have moved on to using lotions for the summer and then tried this "dry" body oil and now I am back to using oils after my shower! Soybean, sweet almond, and coconut oils are some of the skin softeners and my skin didn't feel super oily after using, it seems like this was absorbed pretty quickly. The fragrance has notes of plum and white tea and I didn't have to wear a separate perfume, this was enough to scent my body.
Check out this adorable detail attached to the bottle!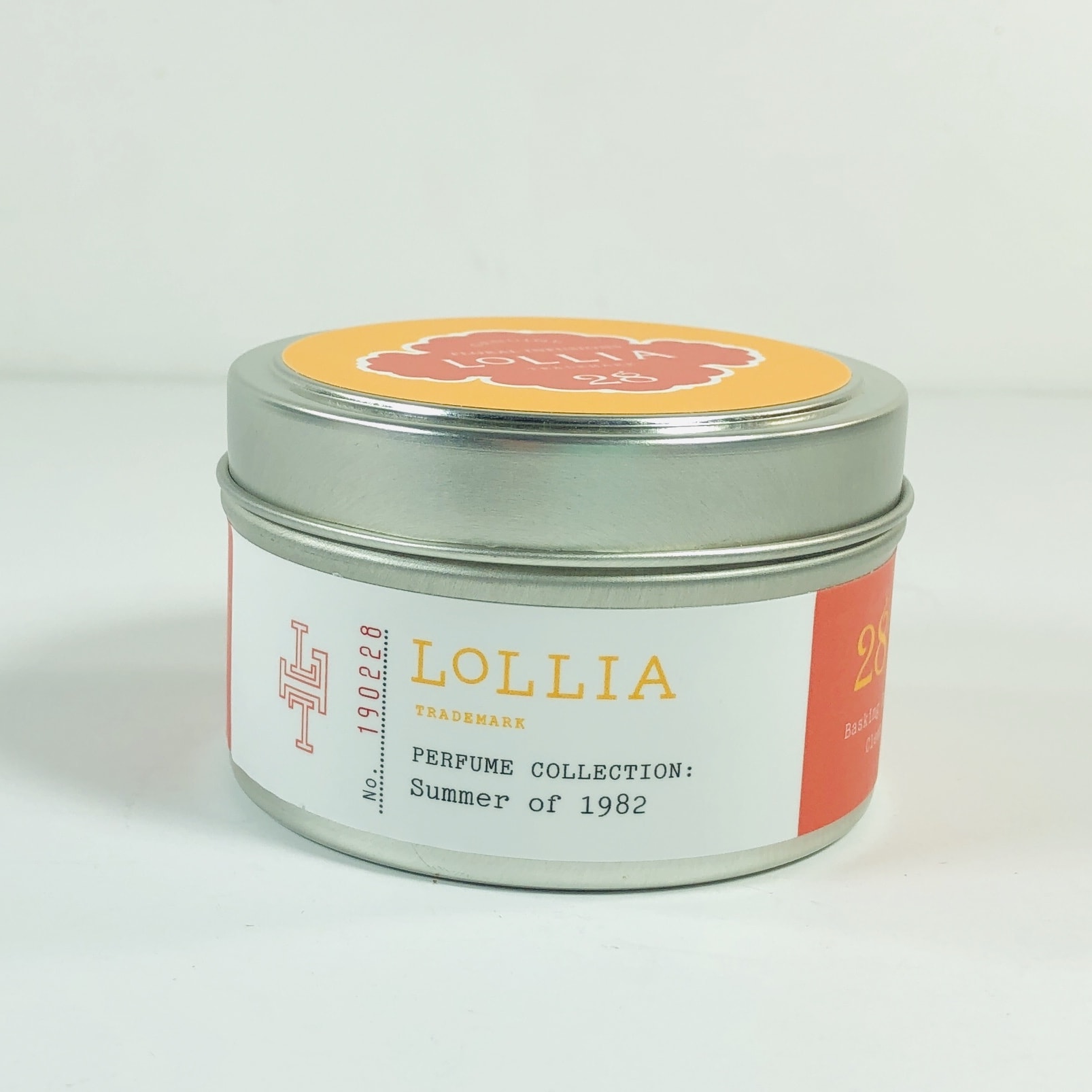 Lollia Summer of 1982 Candle ($12) I couldn't find this travel-sized candle on the website but a larger one is available.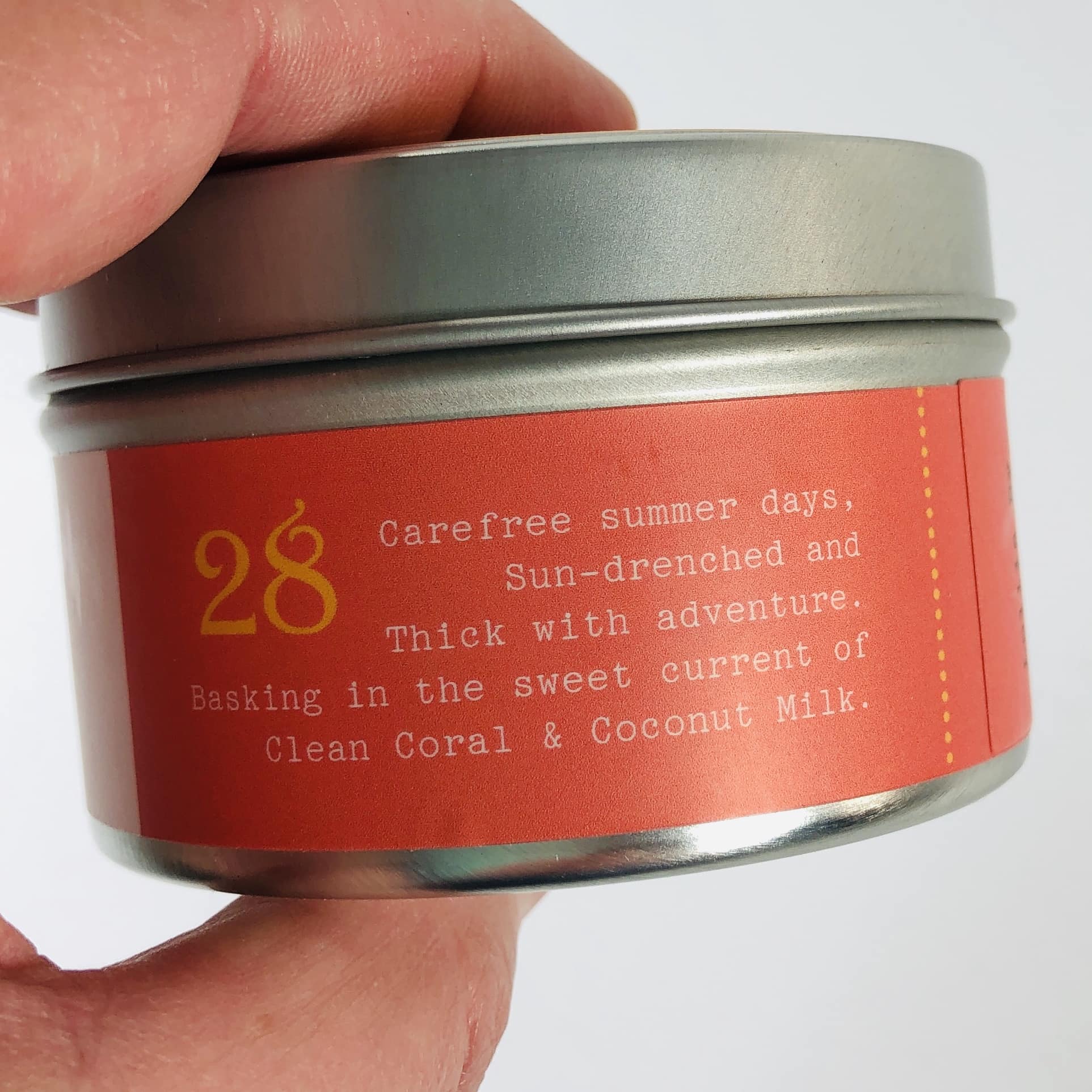 This candle is supposed to remind one of bygone days spent next to the beach, or perhaps the community pool, where everyone is covered in SPF 4 because we wanted to be sun-safe but we also wanted to be tan. I was 12 at the time so I remember it well.
Official scent notes are different from the ones listed on the website but according to this jar they are sweet orchid, herbs, and teak.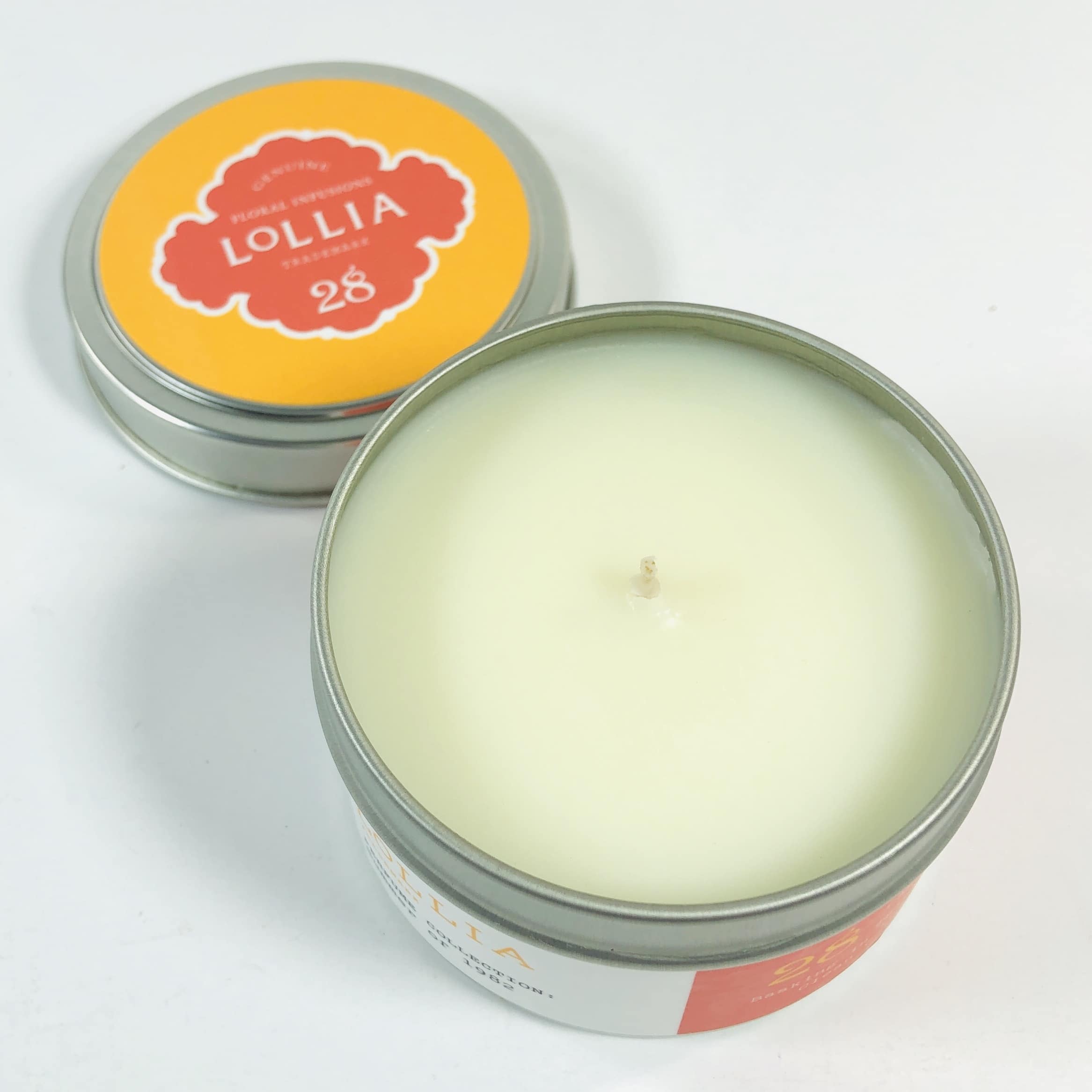 What it really smells like is "beach", including a whiff of sunscreen, similar to Replica's Beach Walk or Bobbi Brown's Beach. It did a good job of scenting my living room and is the perfect scent for summer.
Margot & Elena Love & Toast Cherry Lemonade Lip Balm ($9) I'm giving this product an award for "cutest box ever" because it is.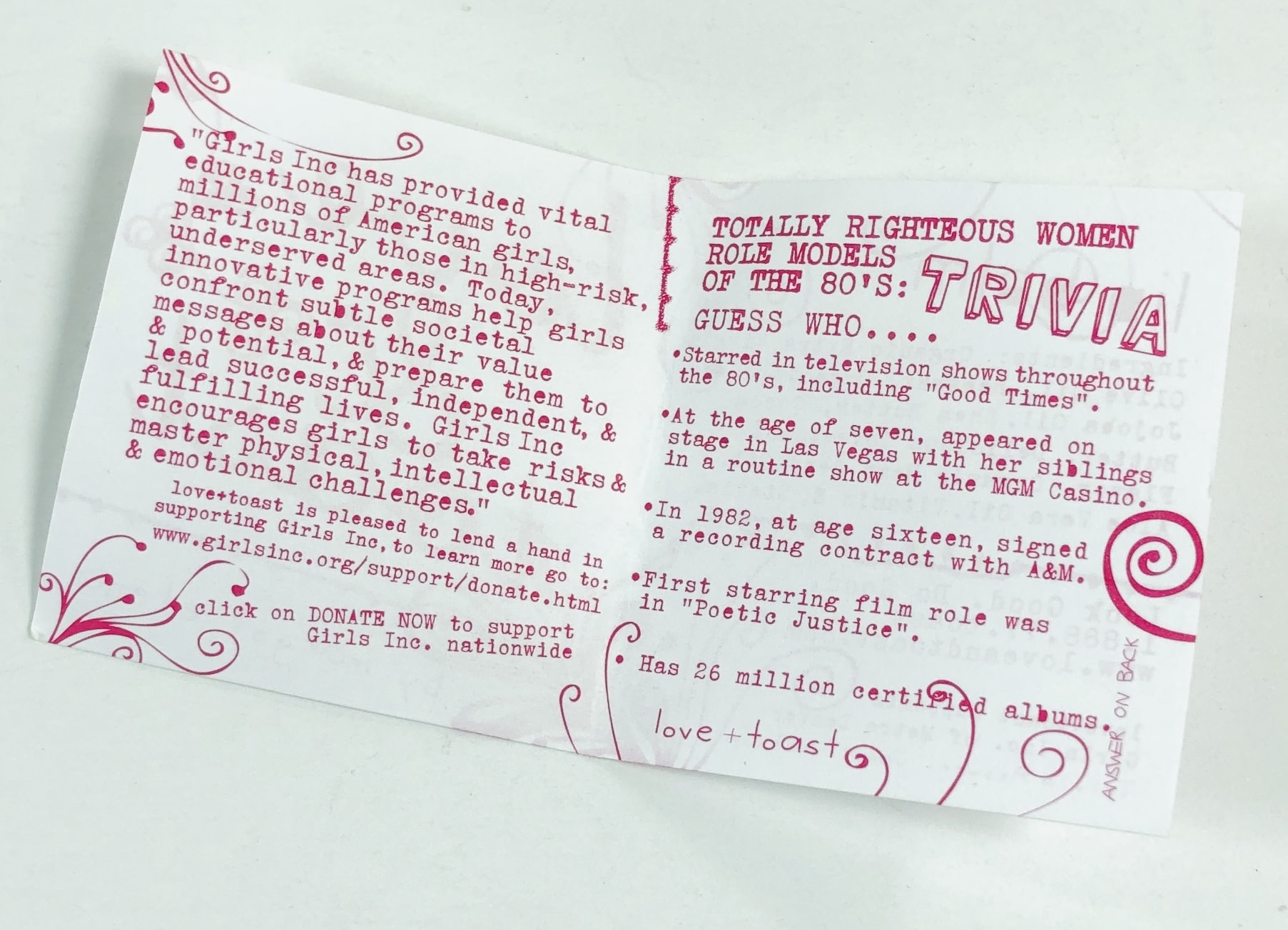 There was even a little brochure in the box with some trivia. I know the answer to this question, and her first name ain't baby, it's Janet, Miss Jackson… well, you know the rest.
The lip balm glossed right over my lips and had a delightfully sweet and sunny cherry lemon flavor. Star ingredients include olive oil, beeswax, and jojoba.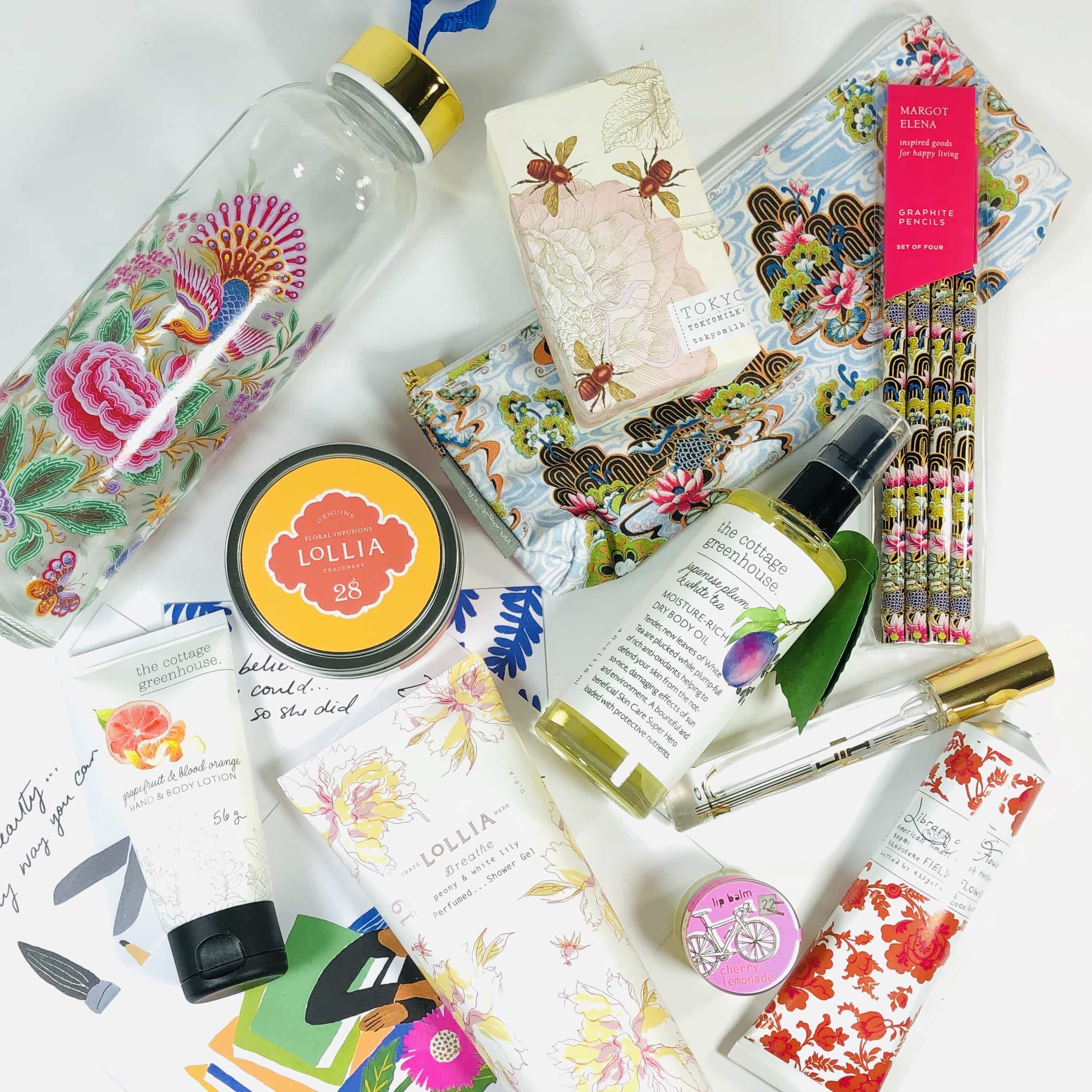 As usual I adored the products in my Margot Elena Discovery Box! Opening up this box is an experience that doesn't come with every subscription box, it is truly something special to behold. Then there is the enjoyment of opening up a divinely packaged product and discovering a new scent, or a luxurious lotion, or an amazing candle that may even have the ability to transport you back in time (at least inside your head!). I calculated a value using amounts given on the card and what I could find online, which was around $184.29. This is several times the price paid for the box, and some of the items are exclusives, like the pencil bag. I am super happy when this box shows up, it never fails to please me!   What do you think of this quarter's Margot Elena Discovery Box?
Visit Margot Elena Discovery Box to subscribe or find out more!