Halo Legendary Crate is the subscription box for the biggest Halo fans in the world. Every other month, you'll get UNSC-approved loot like exclusive figurines, collectibles, in-game items, apparel, and more, for $34.99 + shipping bi-monthly.
DEAL: Save 15% on any Loot Crate subscription when you use this link and coupon code HELLOSUBSCRIPTION15.
Get 33% off on new Loot Gaming, Halo Legendary Crate, and Fallout Crate subscriptions with coupon code E33OFF. Ends 6/15 9PM PT.
Halo Legendary Crate is made to create the ultimate experience for Spartan super-soldiers.
The items came with their individual packaging.
The other side of the box reveals Emile-A239's skull visor design!

The theme for this month is RENEGADE! I love the high-quality Halo artwork. The poster measures 17″x11″.
The back of the poster lists all the items included in the crate, fleshes out the theme, and has a digital content code for Halo!
As usual, everything in this box is exclusive!
Data Drop Files. The box came with a top secret data drop. These documents can aid you in your intense investigation, and it's for your eyes only!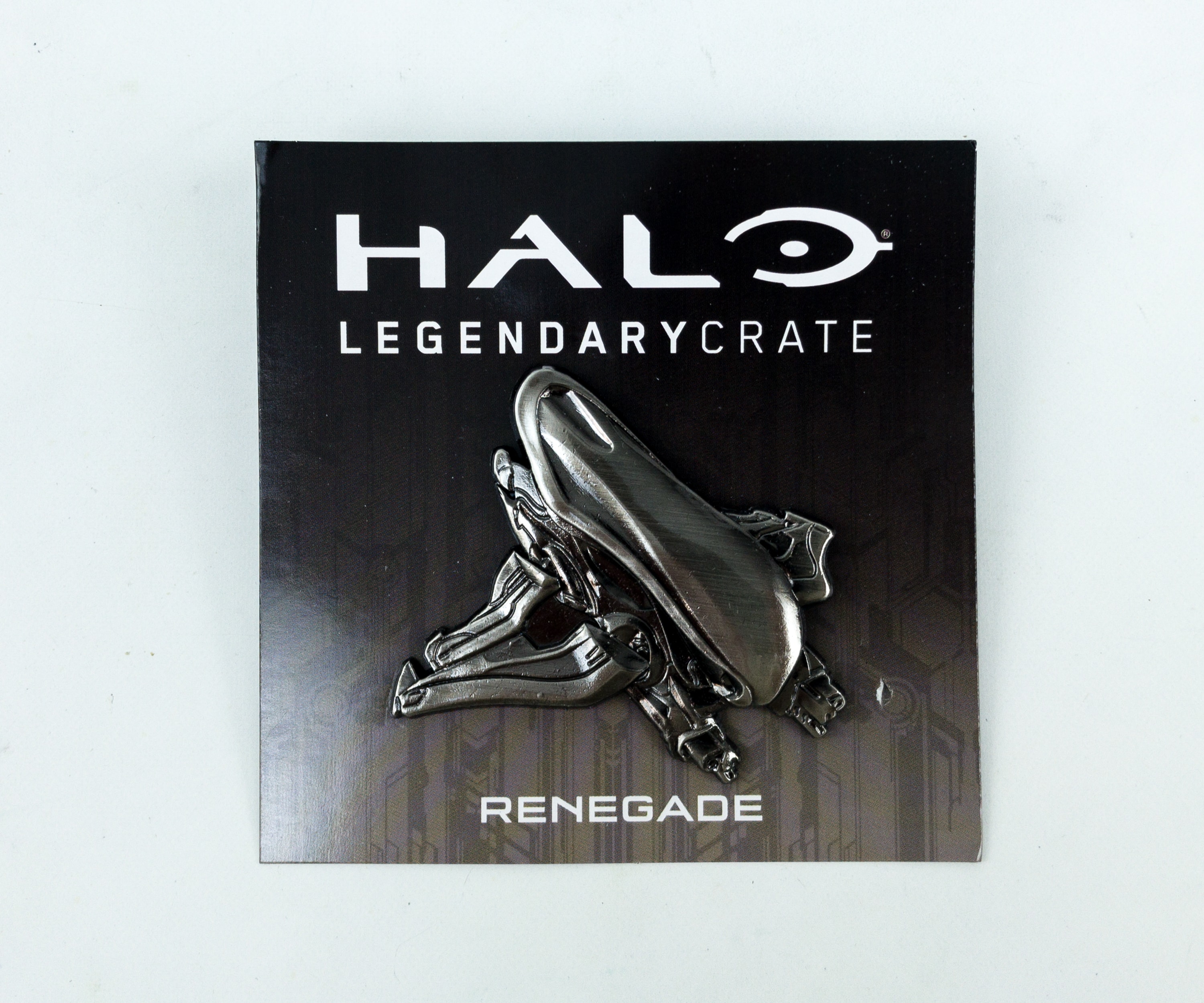 Banshee Pin. The Banshee is one of the most terrifying and effective vehicles of the Covenant. It is an atmospheric craft that is usually used for ground support, ground attack missions, and reconnaissance. Subscribers will get it in gold (rare) or silver. I got mine in silver.
The craft's front is lightly armored so it can be brought down easily by concentrated fire from the infantry, still, it's vulnerable to small arms.
It is equipped with two wings which terminate in a propulsion jet and anti-gravity pod, making it leave behind a vaporous exhaust trail while flying. Also, the craft is capable of having velocities over 100 km/hr (62 mph) and can reach an altitude up to 300 m.
Emile-A239 Bandana. The first item that features Emile-A239 in this box is this cool black and white bandana! It features the print on his helmet which is a skull. Also, you know that it's high-quality and made with superior materials when you can't see through it!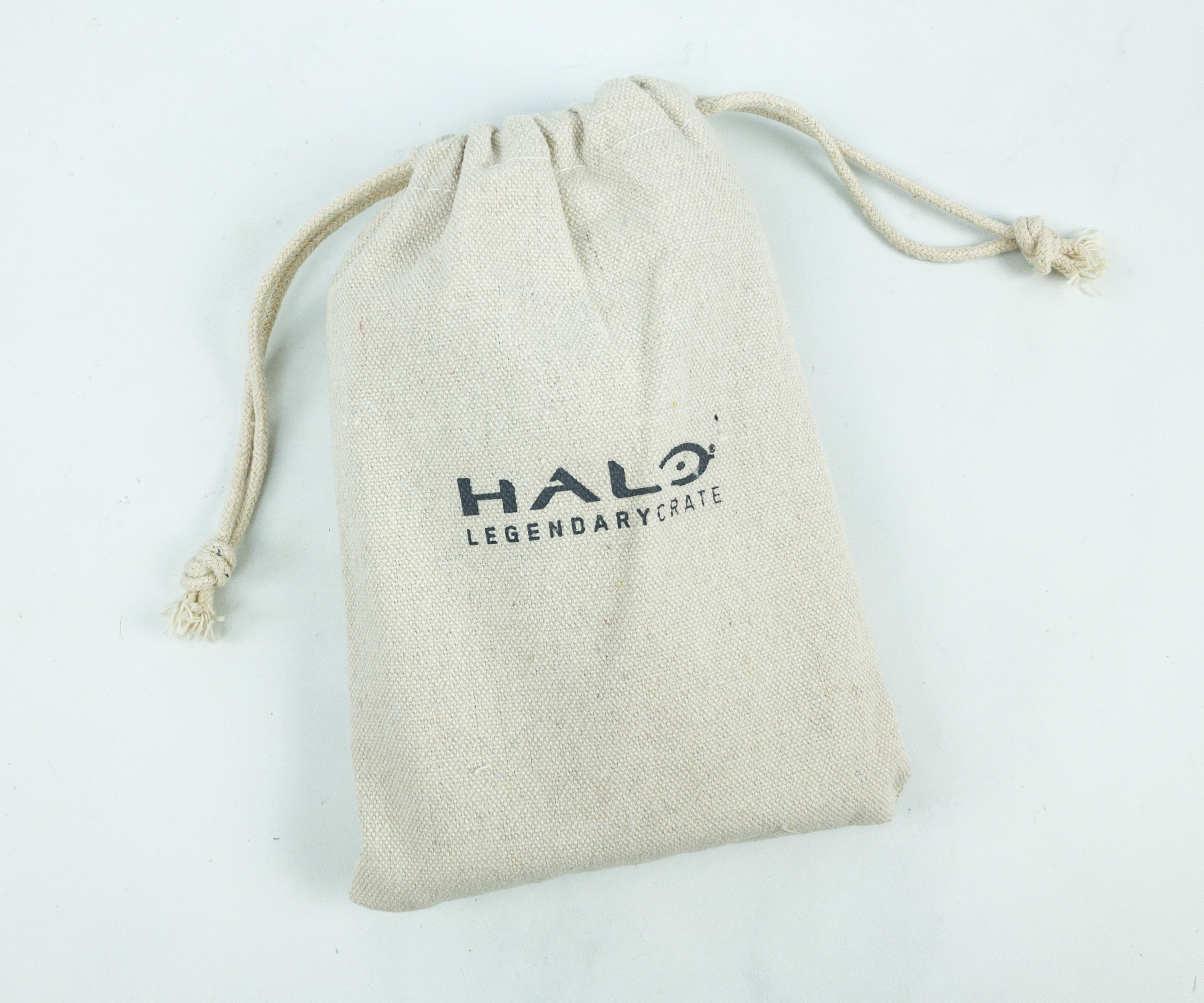 Emile-A239 Flask. The next item arrived in a Halo drawstring pouch!

It's a nice container for your favorite drinks! The flask also has the skull design of Emile's helmet, and the design and color are based on the Noble Four's visor, which is in traditional yellow/gold. It also came with a funnel so you can easily fill it up!
Emile-A239 Salt & Pepper Shakers. Here's something for the kitchen, Halo-inspired salt and pepper shakers!
The shakers are packed in a black box with an illustration of its contents on the outside.

The shakers resemble the Grenade Launcher rounds of Emile. The lids have just the right amount of holes so you can sprinkle your dishes with just the right amount of salt, pepper, or other condiments/seasonings.

Halo Icons Emile-A239 Figure. This month's figure features another SPARTAN-III commando of the UNSC Special Warfare Command, which is also attached to the Special Warfare Group Three, Emile A-239!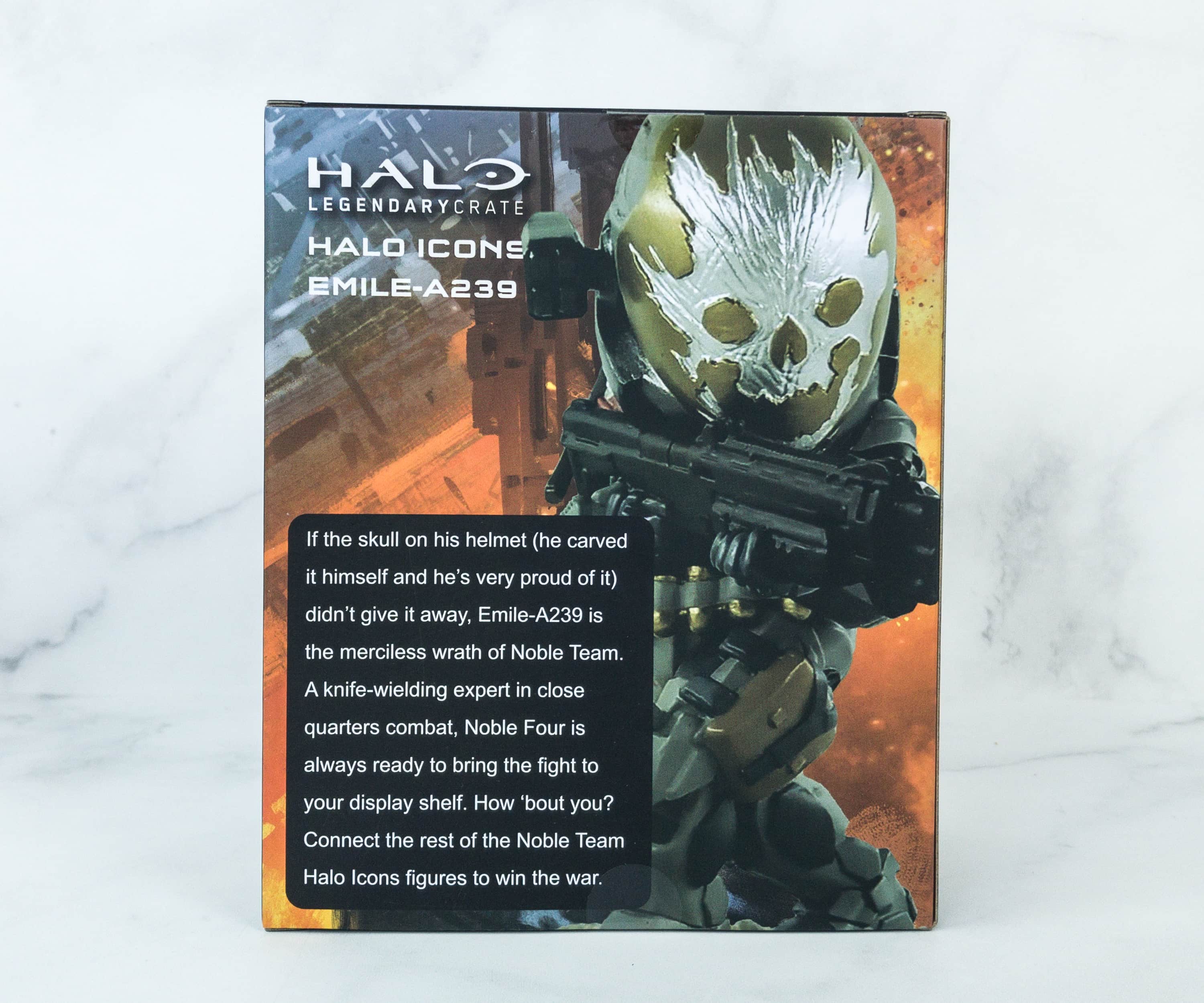 Emile-A239 was a SPARTAN-III commando of the UNSC Special Warfare Command, attached to Special Warfare Group Three. He fought as a part of Noble Team with the call sign Noble Four during the Fall of Reach in 2552.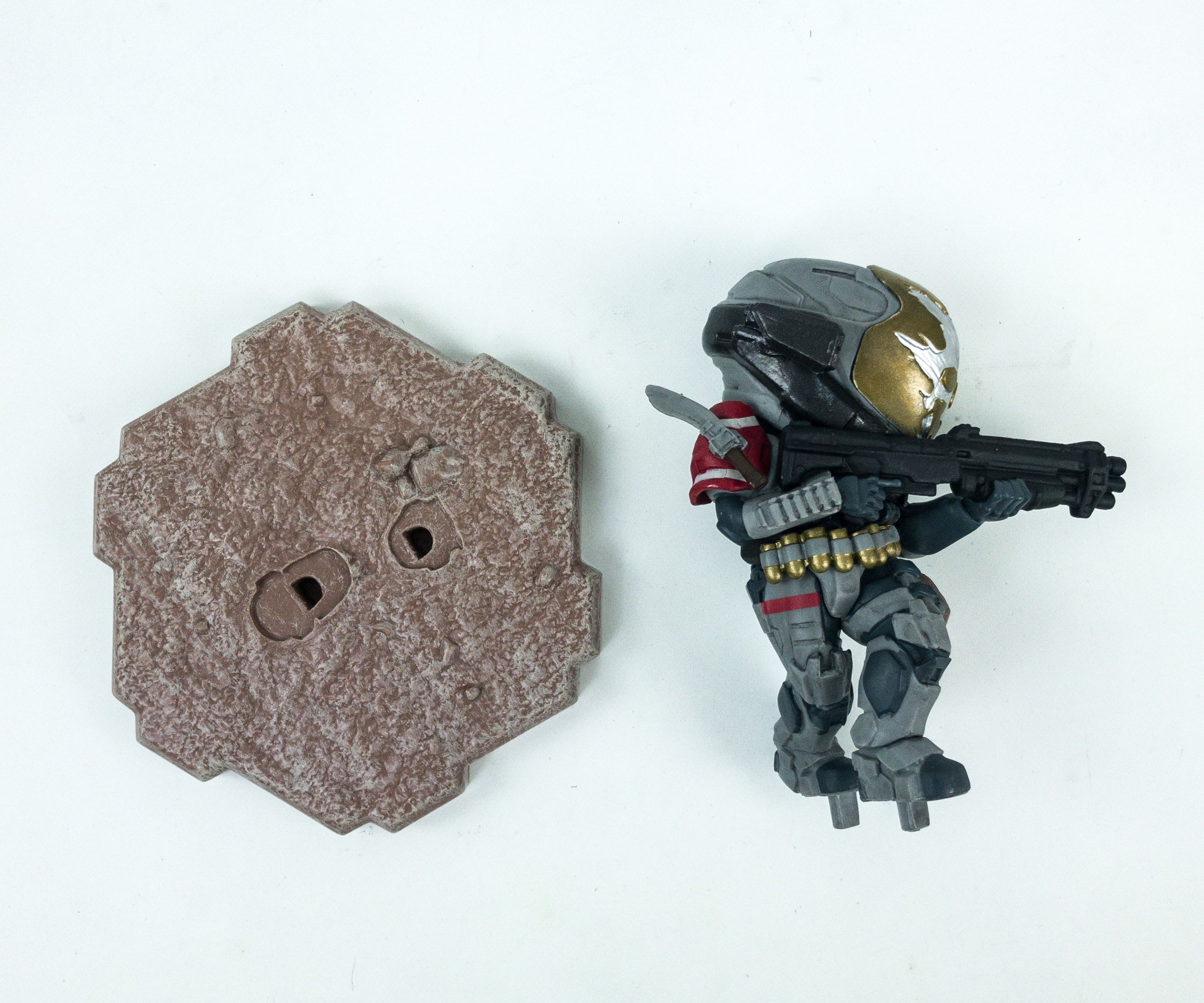 The figure is easy to assemble. It just consists of a base and the main figure.
Emile is wearing a MJOLNIR EVA helmet with a skull carved on the faceplate, which also has an HUL attachment like the UNCS Air Force Pilot helmet.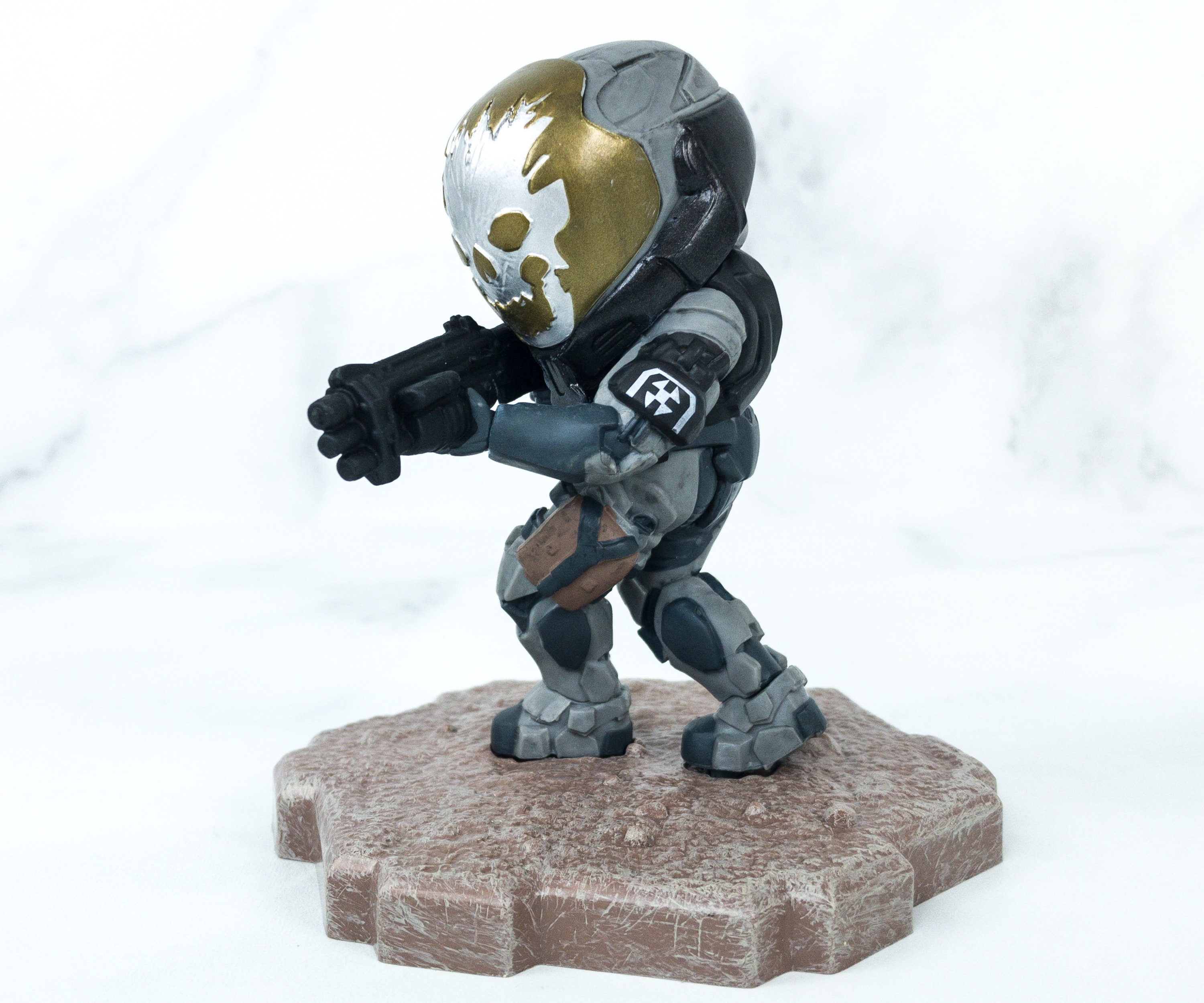 The armor also has an Assault/Sapper chest piece, Assault Breacher wrist utility, Security right shoulder piece, Operator left shoulder piece, Tactical/SOFT CASE utility, and FJ/PARA knee guards.
It is assumed that he is left-handed, having both his kukri knife and his wrist utility on his right arm. Emile typically carries an M45 Tactical shotgun, and he's also seen using an M319 individual Grenade Launcher, while his signature weapon is a large kukri knife.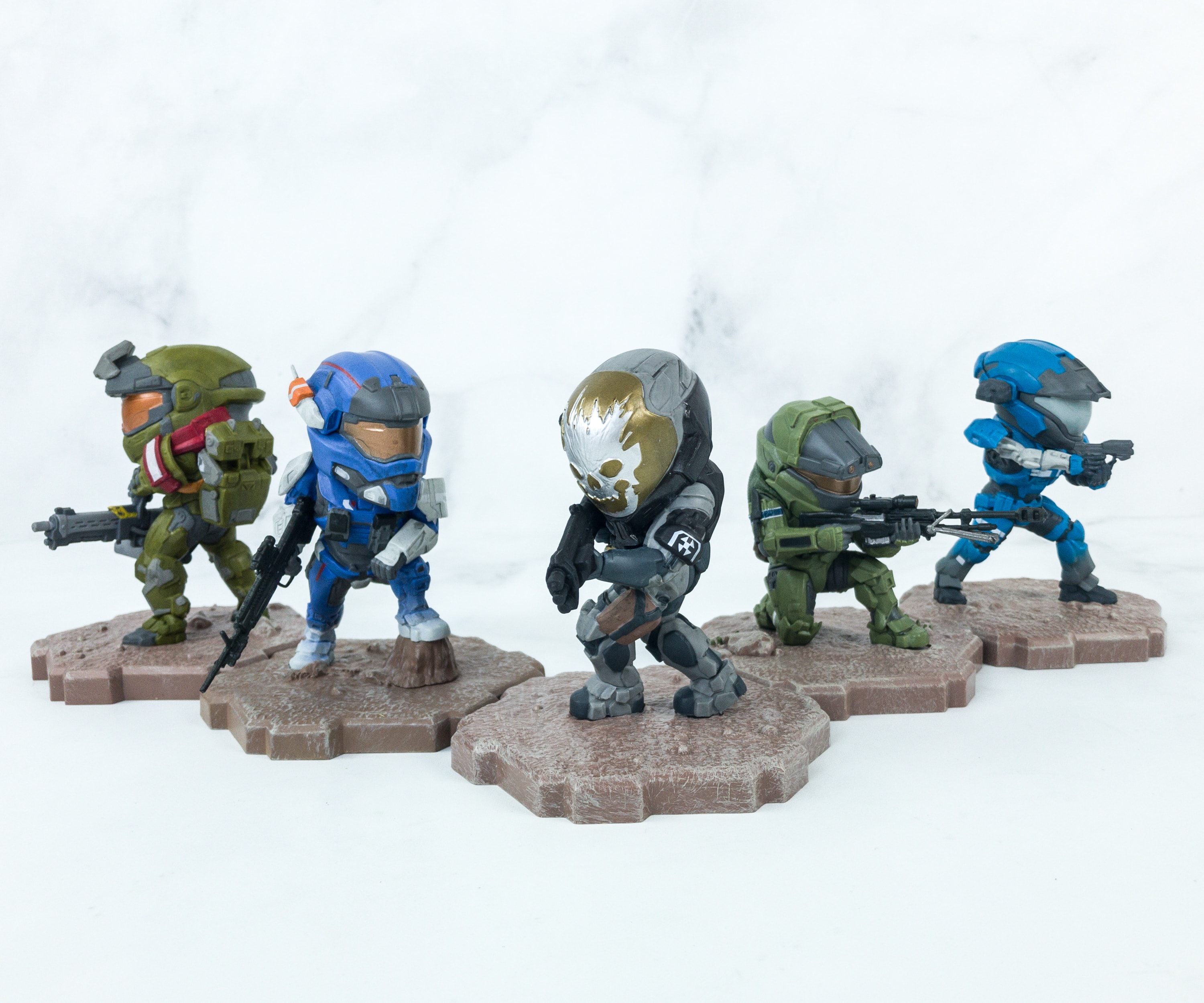 My troop now has 5 figures interconnected to each other! I love how we can easily put them on display!
This month's theme is awesome, and it features one of the SPARTAN-III Commando that has a remarkably-designed helmet! I can easily recognize him because of the skull on his visor. I like the flask with his skull symbol and the bandana that I can use on several occasions. I even have shakers for my kitchen! Also, there's nothing more satisfying than seeing my troop figures on my display cabinet. Halo fans/enthusiasts will love all of this box's contents!
What do you think of this month's box?