Good Karma Box is a Canadian subscription box bringing you a selection of designer and artisan products every quarter. Brands that may be featured include Tommy Hilfiger, Coach, Kate Spade, and more. The box ships quarterly but you have the option of paying quarterly, monthly, or annually.
The box itself is a beautiful keepsake box. I did the whole Marie Kondo cleanout this year so I am always needing more boxes to sort and organize. Bonus!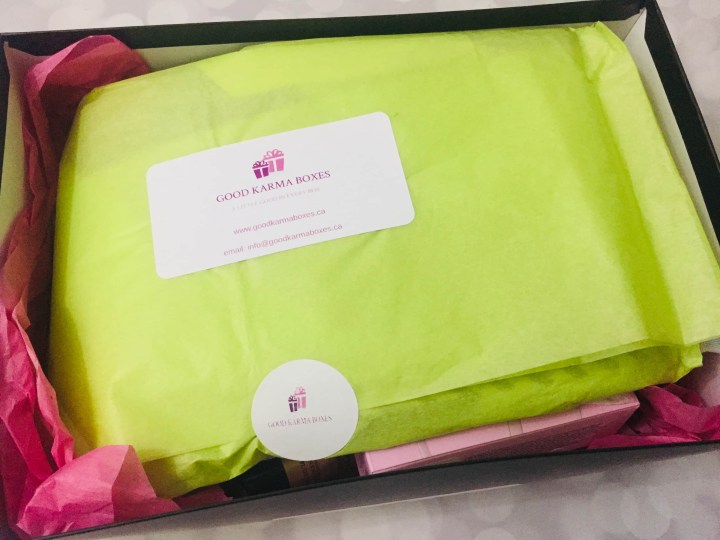 There's no information card but everything is wrapped up with pretty colourful tissue paper.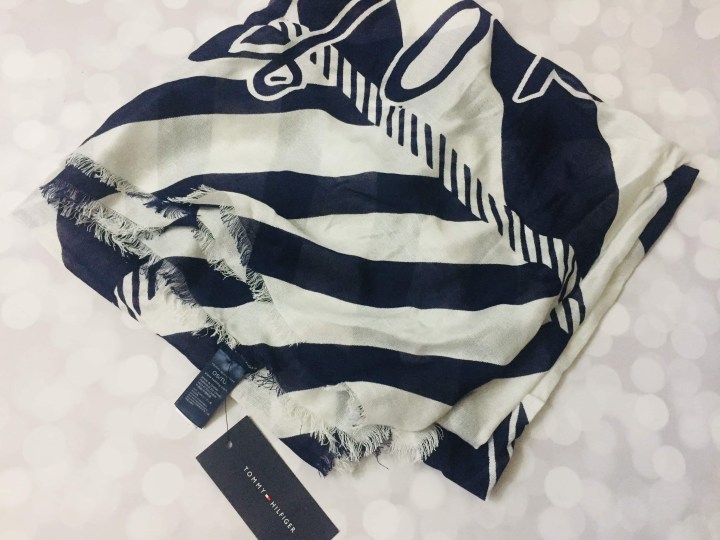 Tommy Hilfiger Scarf — I need a bigger photo backdrop for things like these! This is a lovely super soft navy and cream striped scarf. I can't wait to style this light scarf with my MK trench coat in the fall, or even tie it into a bow on the handle of my purse!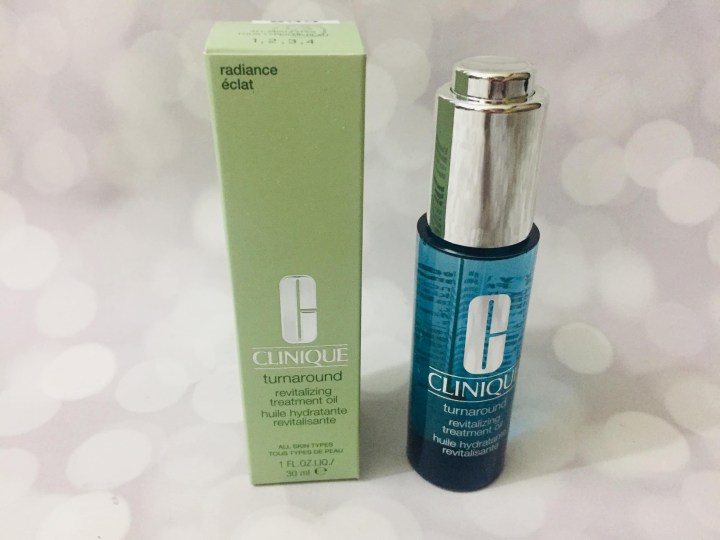 Clinique Turnaround Treatment Oil — A lovely blend of oils including olive, mango, and sunflower, salicylic acid, and clary sage and rosemary extracts among other ingredients. This product was discontinued last year but the batch code says mine was produced November 2017 meaning it's still fresh and good to use. The box is stamped CCS — CCS is the Cosmetics Company Store outlet, which we finally have in Canada now! CCSs are amaaaazing because you can pick up high-end makeup for reduced prices. As long as the products are still good to use I have no problem with this! Clinique does test on animals so I won't personally use this, but it's a great product to include.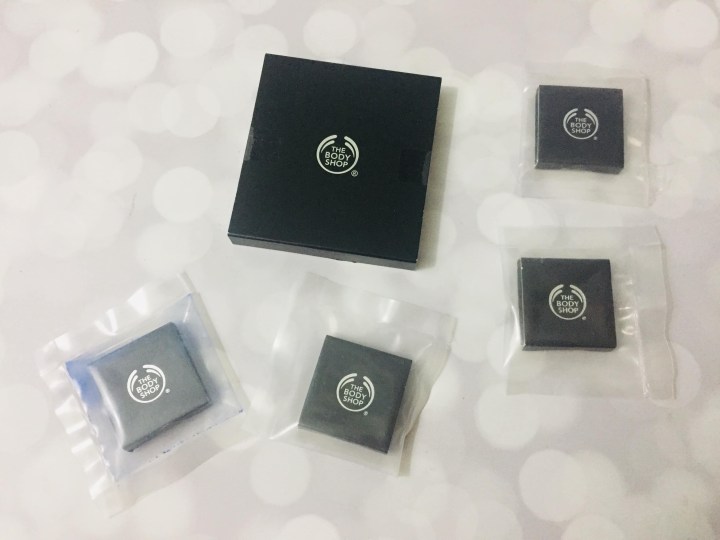 The Body Shop Eyeshadow Quad — The Body Shop is one of my favourite brands. Their products are all cruelty-free and I've used them since I was a kid.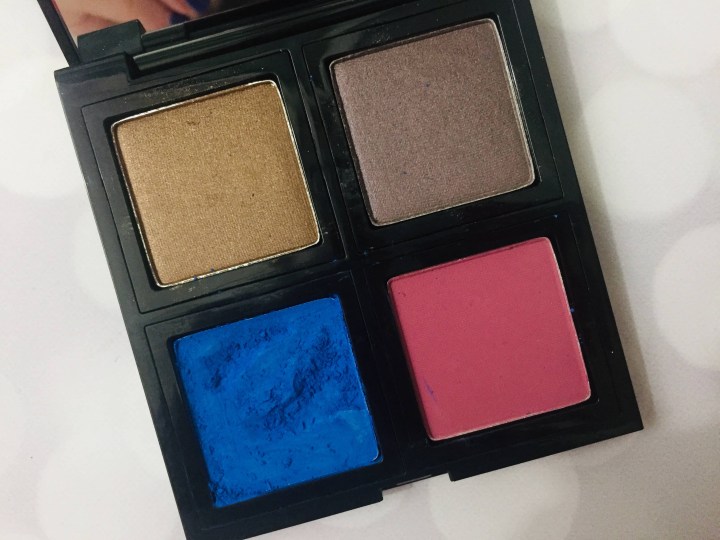 The blue shade was a casualty, unfortunately, but this was a fun palette to swatch and create looks with.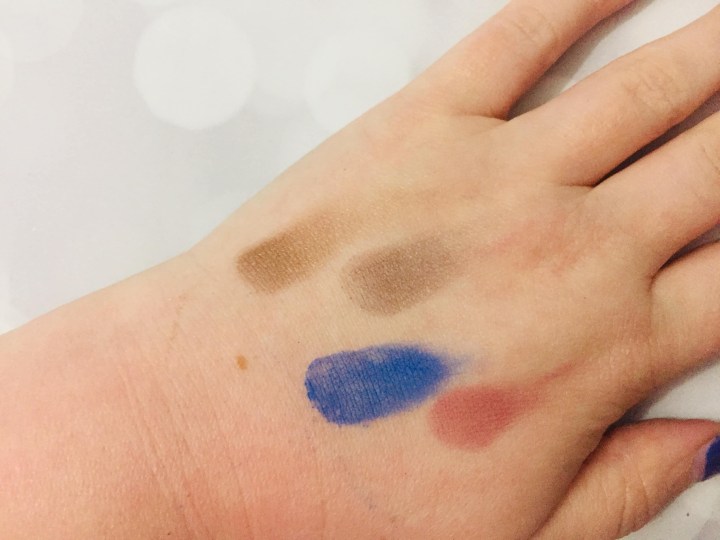 Swatches! The top two have a shimmer while the bottom two are matte.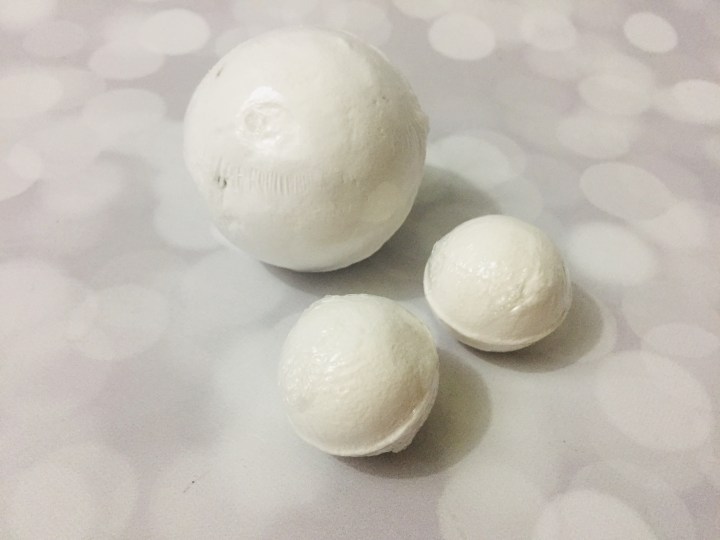 Bath Bombs — I love baths, so I am always excited to get more bath bombs. There is one large one and actually three mini ones (one hid in the tissue, you'll see it in the shot of everything at the end of the review!) The larger one had dried bits of lavender in it which added to the experience.
Bubblegum Sparkles Linen Spray — A fruity, sweet scent to freshen bedsheets or other linens. I love foody gourmand scents, so this was a win for me!
Blossom Perfume Oil — I can't get over how pretty this perfume is with the dried flowers suspended inside. The fragrance is a fruity floral; I mainly smell strawberry. It's a great summer scent.
Squish Candies — Squish is a local Vancouver candy shop that makes awesome gummy candies. These are their Strawberry Rhubarb gummies, which aren't too sweet and are absolutely delicious!
Makeup Brush — A perfect combination with the eyeshadow quad is a blingy eyeshadow brush. It has a slight angle making it good for creasework.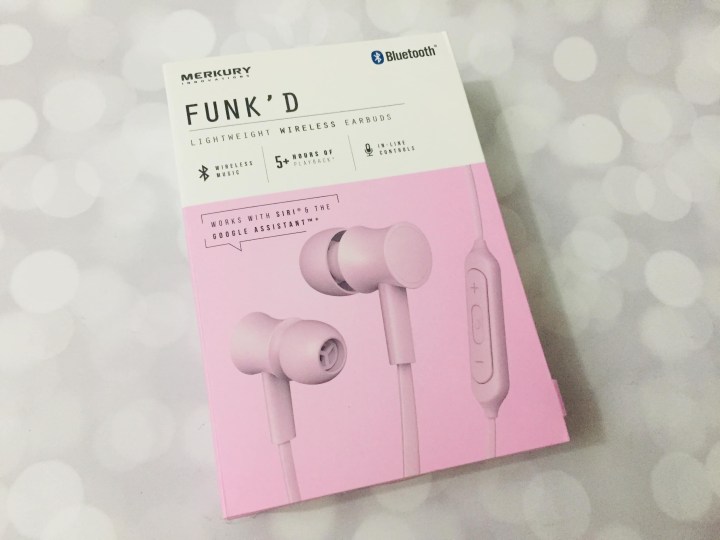 Merkury Funk'd Bluetooth Earbuds — Ever since I got my first pair of Bluetooth earbuds there's no going back. They're just so handy without the cord getting in the way of everything. The Funk'd earbuds are in a stylish pink colour and boast over 5 hours of playtime before needing to be charged (done easily with a micro USB).
The pink colour is super eye-catching, but I'm happy with my current set-up so I might not keep these for myself.
Badgley Mischka Watch — This watch is stunning, from the mother of pearl face to the crystal bezel. The extra link is easily removable to shorten the strap for a smaller wrist (like mine).
Here's a closeup so you can see the detail. I'm obsessed!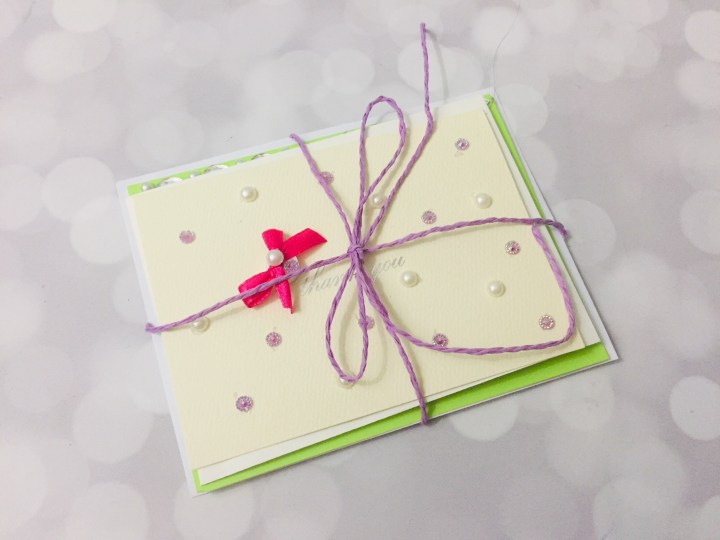 Notecard Set — A set of two notecards with gorgeous crystal, pearl, and blingy detail.
One is a Thank You card while the other is generic with a pretty bright flower motif.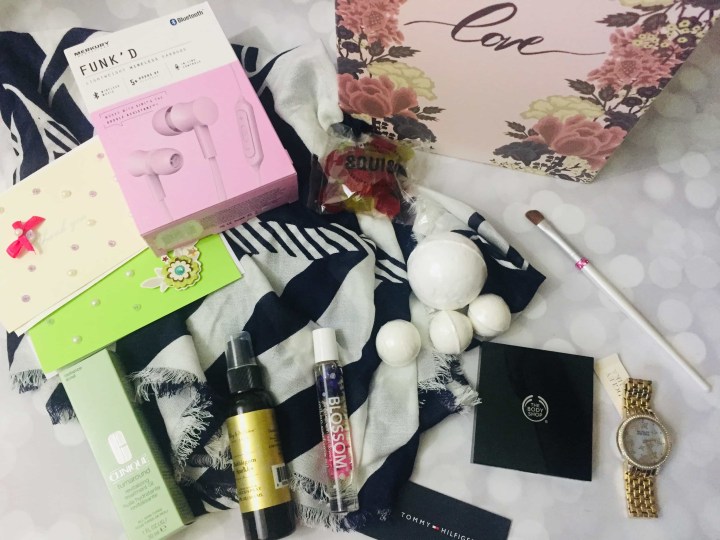 The Summer Good Karma Box was definitely an experience! My favourite items were definitely the watch, the scarf, and the Body Shop eyeshadow palette. Oh, and the candy! I feel like this box is a really good "self-care" sort of box, even if it's an unofficial intent. Pretty accessories, some nice skincare, candy… yeah, this is the sort of box I loved curling up and opening as a treat to myself, and would definitely recommend it. I think they've done some solid boxes so far and I'm curious to see what they curate for Fall!
What do you think of the Summer 2019 Good Karma Box?