Glamour Jewelry Box is a monthly subscription box that sends 3 trendy jewelry pieces every month. Items sent may include necklaces, rings, bracelets, or earrings, and all for you to keep! Monthly boxes are $29.95.
3 trendy boutique jewelry pieces every month
Retail Value $75+ in every Glamour Jewelry Box!!!
Items include necklaces, bracelets, earrings, or rings
The ideal gift for the next birthday, anniversary, graduation, holiday or just because!
DEAL: Get 10% off your first box! Use coupon code CJ10.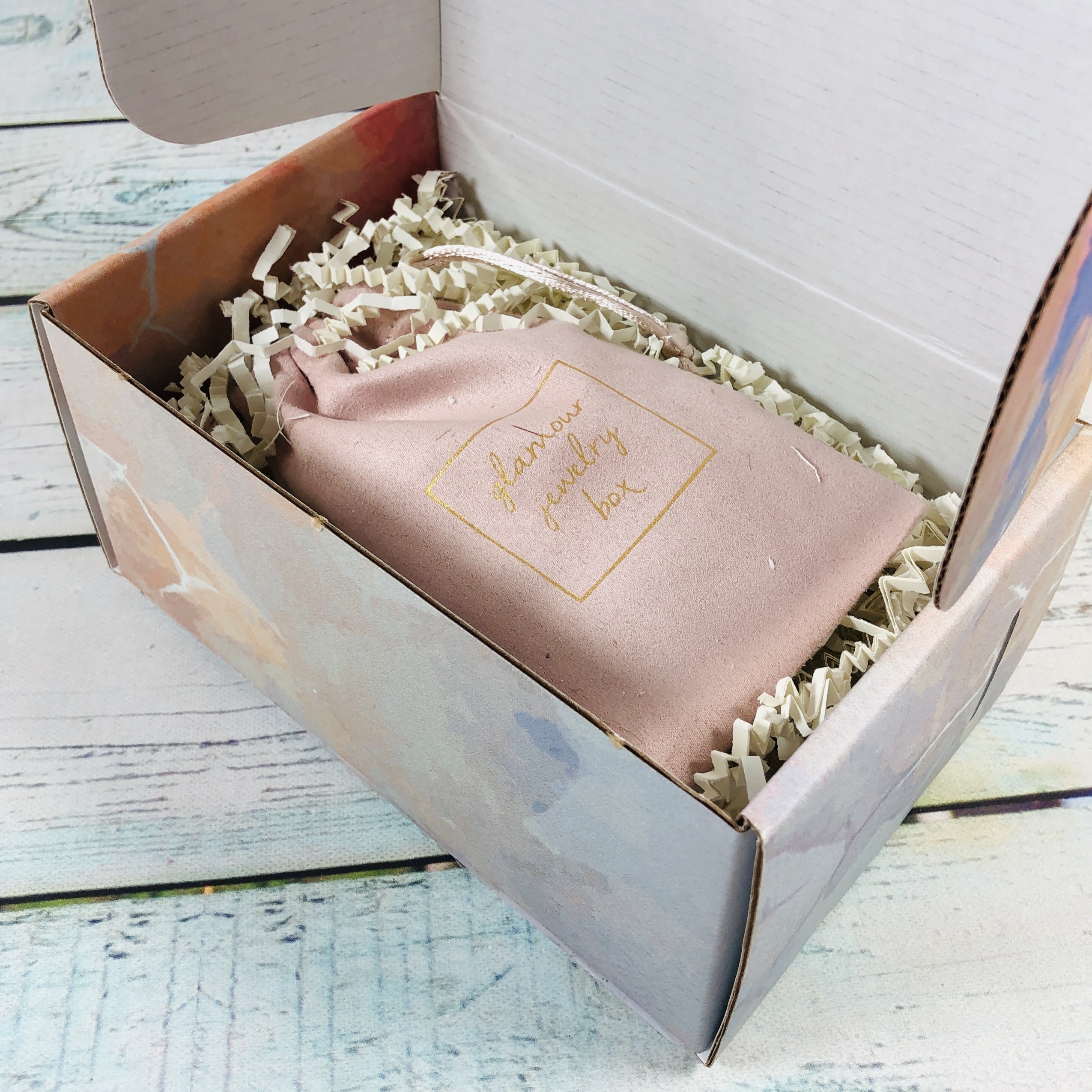 My items were placed in a soft fabric pouch that was snuggled on a bed of white paper squiggles.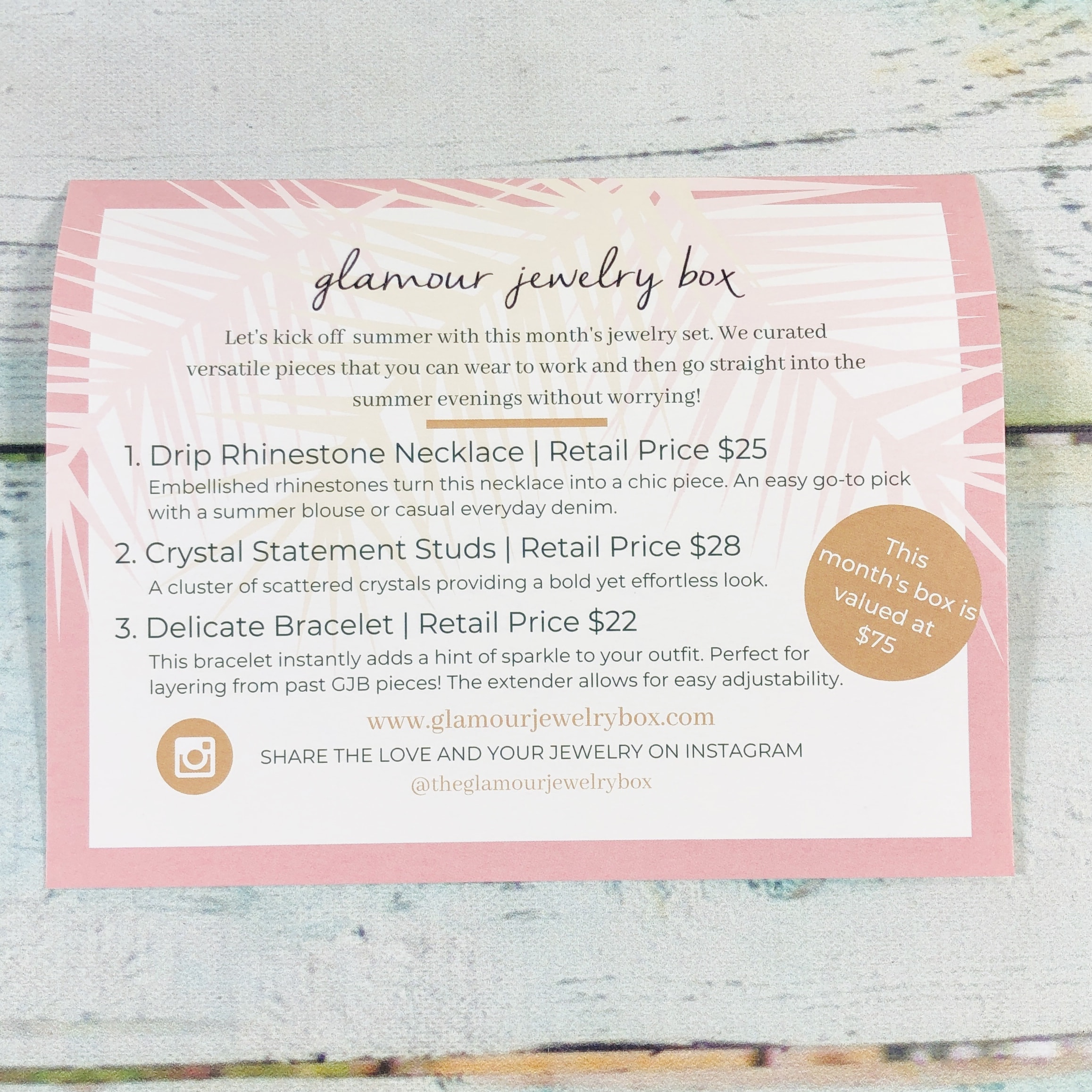 I received a card that directed me to the Glamour Jewelry Box Instagram page. The card had info describing my box and its contents. Please keep in mind that the values are given by Glamour Jewelry Box and I cannot find them in their online shop, although they do have a few items available there. Also, there is nothing that says what the jewelry is made of but I wouldn't expect real gold or diamonds. It's a costume jewelry box.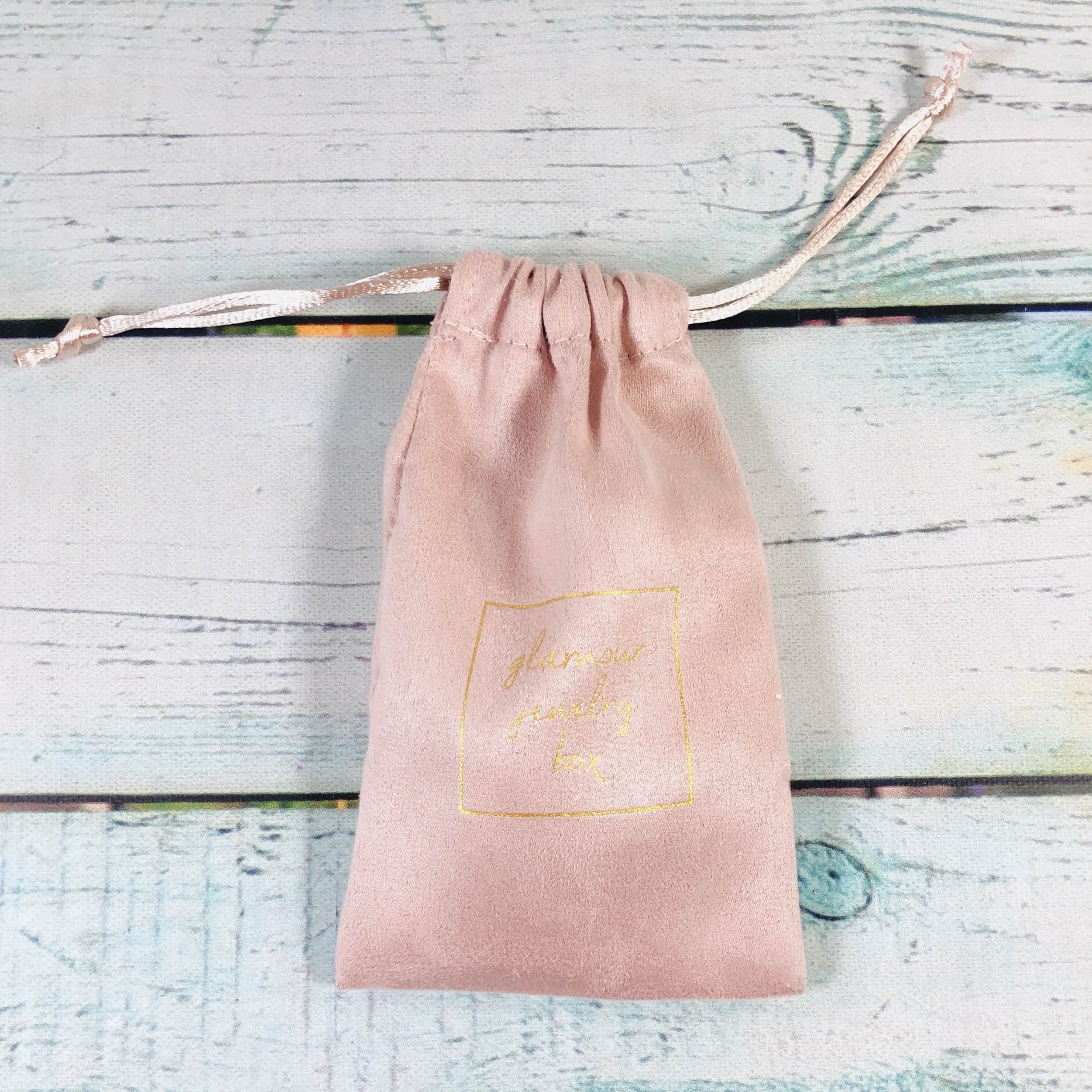 The soft bag is a great way to keep the pieces safe, especially if you travel or maybe want to change pieces before going to an after-work event.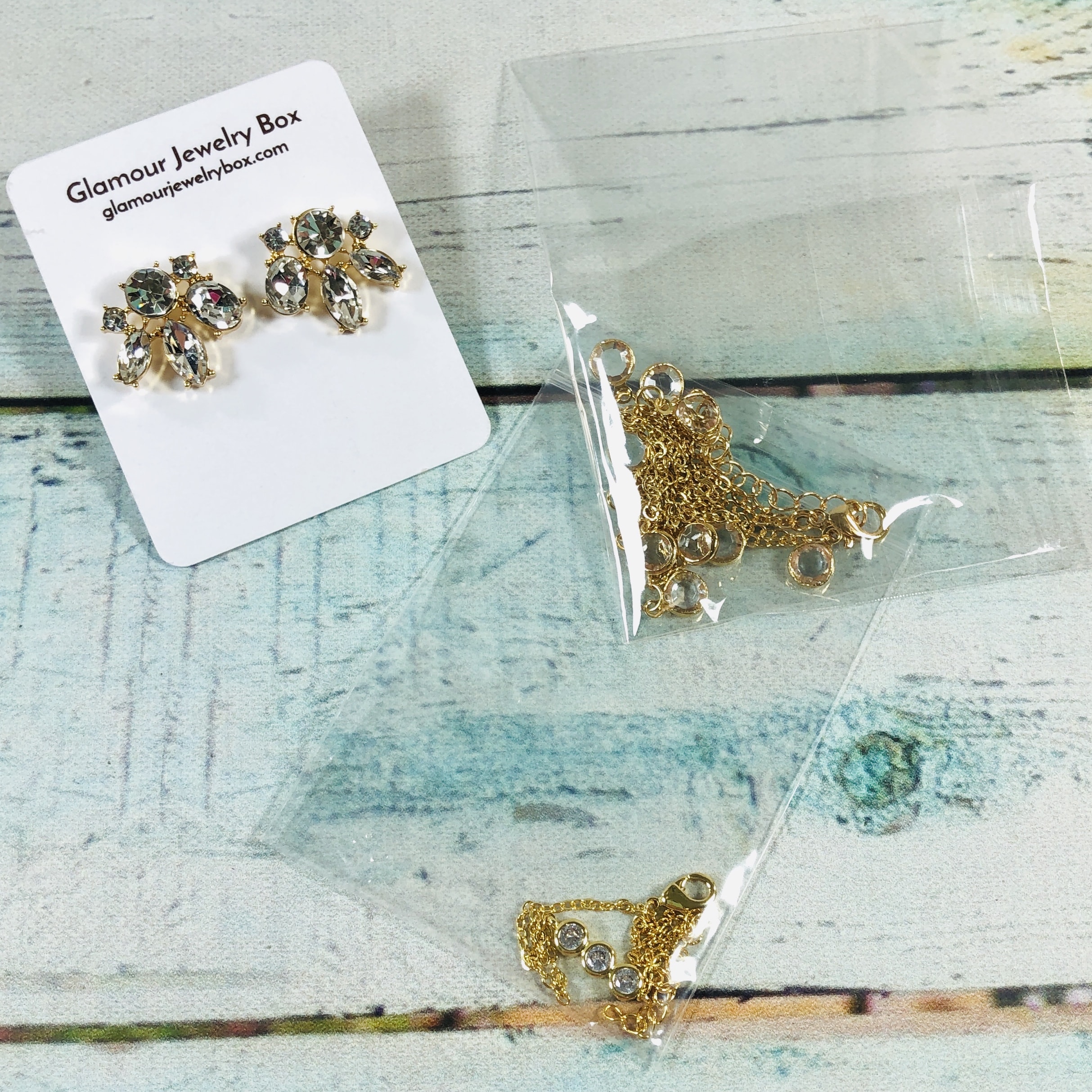 Two pieces were in plastic.
Everything in my box! I just received an email telling me I can choose the types of colors I prefer: either rose gold/gold, silver, or a mix.
Crystal Statement Studs ($28) My ears are not pierced so I will pass these along to my daughter.
The rhinestones in these earrings are so pretty, perfect for all of the spring and summer weddings going on right now.
Delicate Bracelet ($22) Now a bracelet is something I really enjoy wearing.
The three stones are so pretty yet are more laid-back for the easy breezy days of summer. My wrists are large and this one just fit.
Drip Rhinestone Necklace ($25) goes well with the bracelet.
It has stones every inch or so and an extender.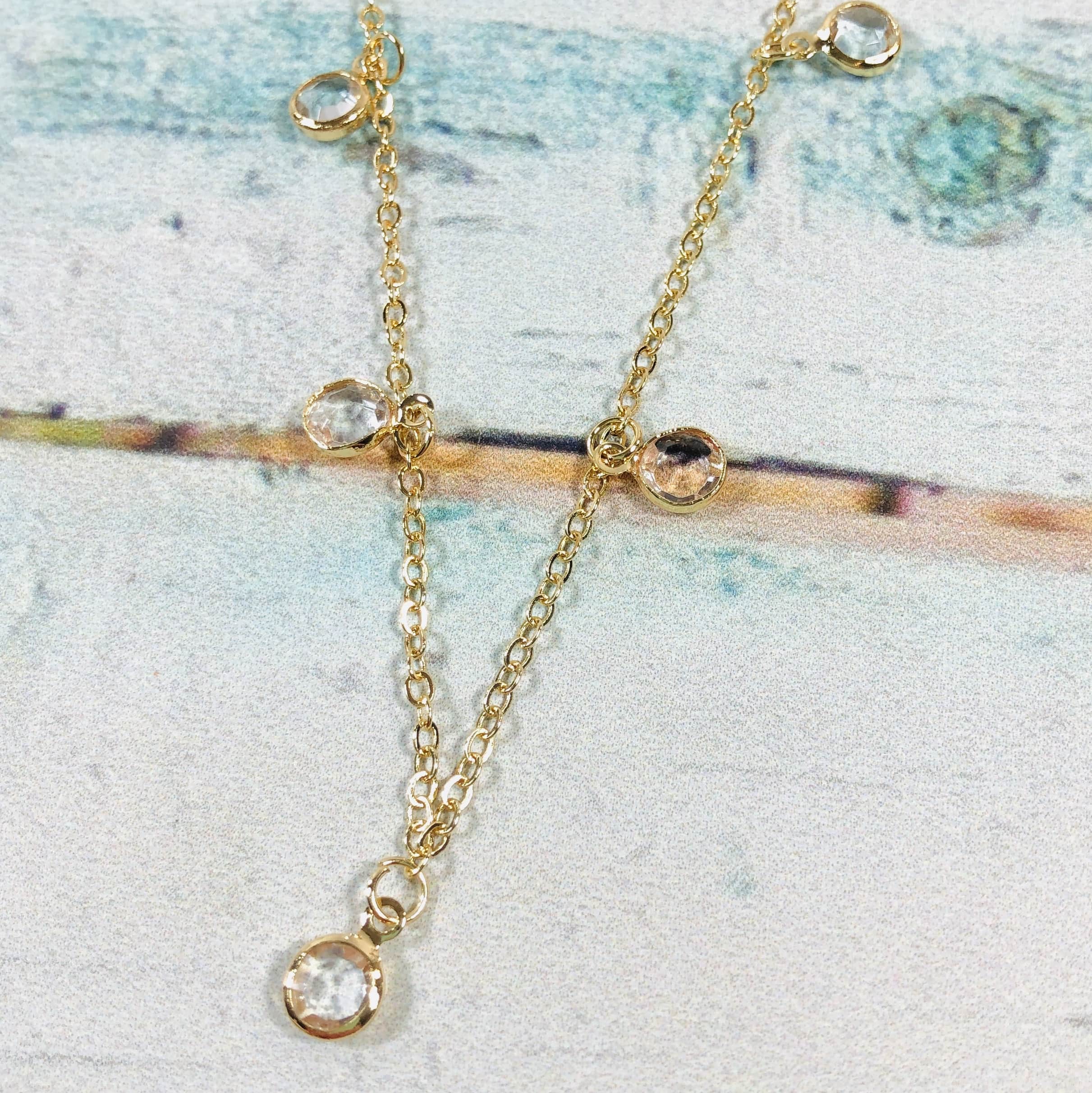 The necklace is about 20″ long from one clasp to the other.
I like the (mostly) laid-back look of two of this month's items, while the earrings are a bolder choice for fancy events. I am happy to see that subscribers can now pick a metal color for future boxes, because some people have a preference for the type of color they want for their pieces. Since you get 3 pieces in this box, the value breaks down to about $10 a piece, which seems fair for the type of jewelry sent!
Have you tried Glamour Jewelry Box yet? What do you think of this month's box?