Girls Can Crate is a monthly subscription for children between 5 and 10 years of age that promotes the idea that girls can do whatever they set their minds to. Each month features a different female pioneer whose story inspires girls to achieve. Each box includes a 20-page activity book that includes the heroine's story, 2-3 STEAM activities, and creative play props. Boxes cost $29.95 each month with themes that celebrate female pioneers from diverse backgrounds, but the activities themselves are usually gender neutral.
DEAL: Save 15% on your first box! Use coupon code HELLO15.
The box is full, and the items are protected by bright yellow squiggles.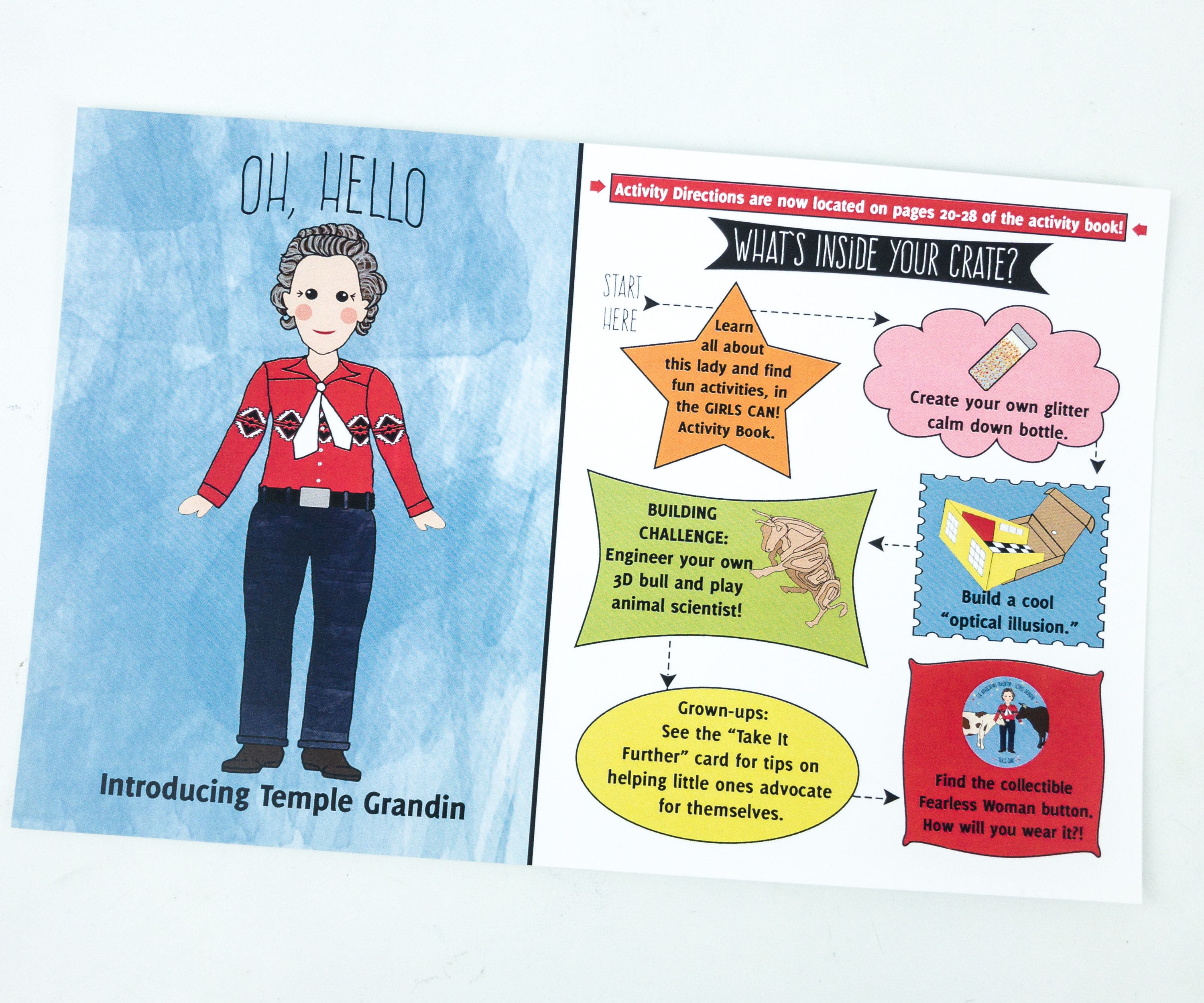 There's a pamphlet that lists what's inside the crate. This month, we're celebrating the life of Temple Grandin!
Meanwhile, these are pointers for parents on how to help kids learn self-advocacy and take it further.
Everything in the box!
Mary Temple Grandin is an American professor of animal science at Colorado State University, consultant to the livestock industry on animal behavior, and autism spokesperson. She is one of the first individuals on the autism spectrum to publicly share insights from her personal experience of autism
At the back of the booklet is a quote from this month's heroine:
There needs to be a lot more emphasis on what a child can do instead of what they cannot do.
They also indicated that a portion of the proceeds from every GIRLS CAN! Crate sale helps support non-profit organizations working to empower girls.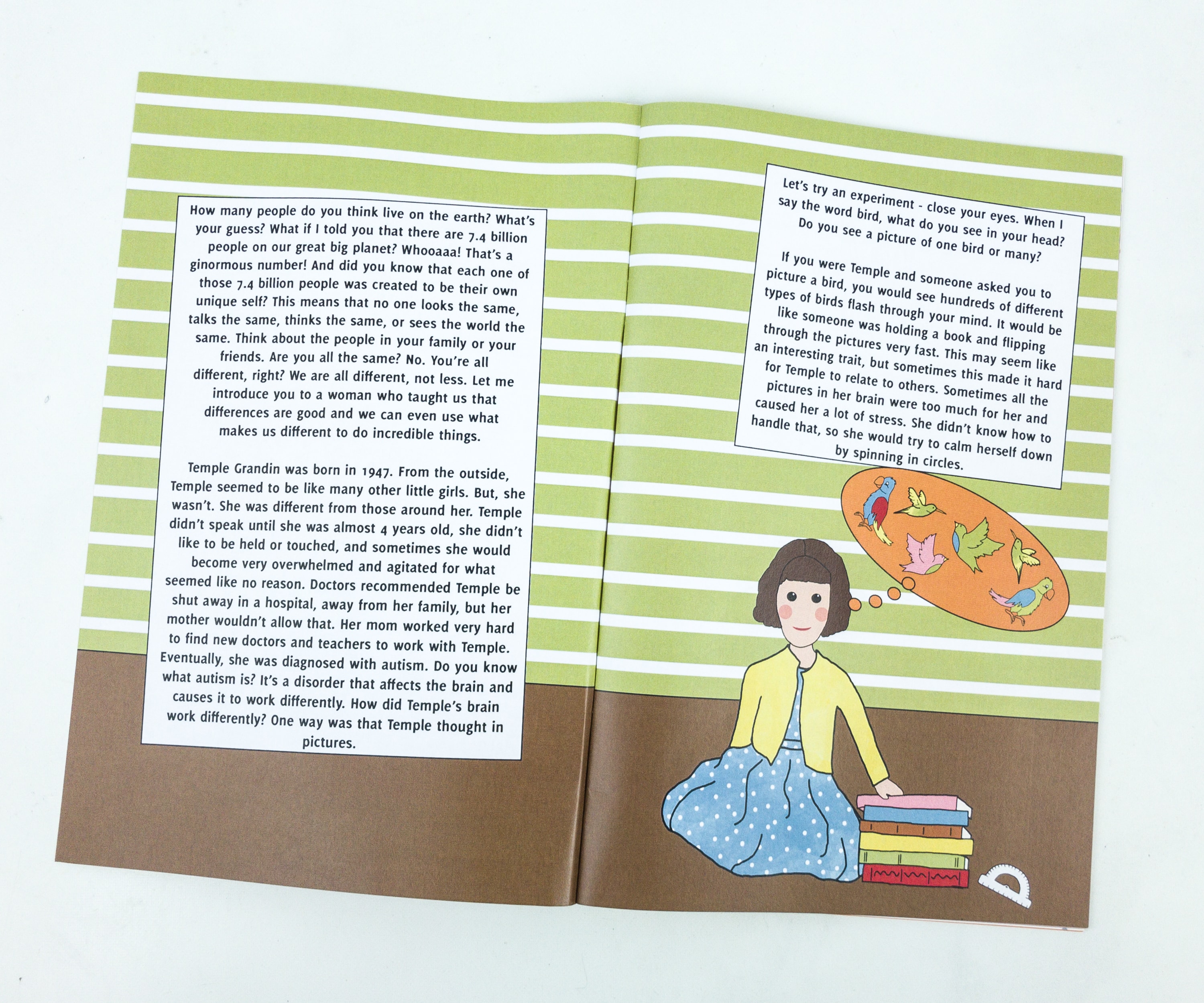 Temple Grandin didn't speak until she was almost 4 years old, didn't like to be held or touched, and sometimes she would become overwhelmed and agitated for no reason. Her mom worked very hard despite the doctors telling her family to shut her away in a hospital. She found new doctors and teachers that are willing to work with Temple. She was diagnosed with autism.
While spending the Summer at her aunt's ranch in AZ, Temple found a way to calm herself when she became agitated or stressed, through observation!
After her discovery, and studying the situation of the cattle, she pursued a Master's in Animal Science!
Temple even became a consultant for large and popular restaurants on how to effectively handle their cattle. She may be diagnosed with autism, but being different doesn't make her less of a person!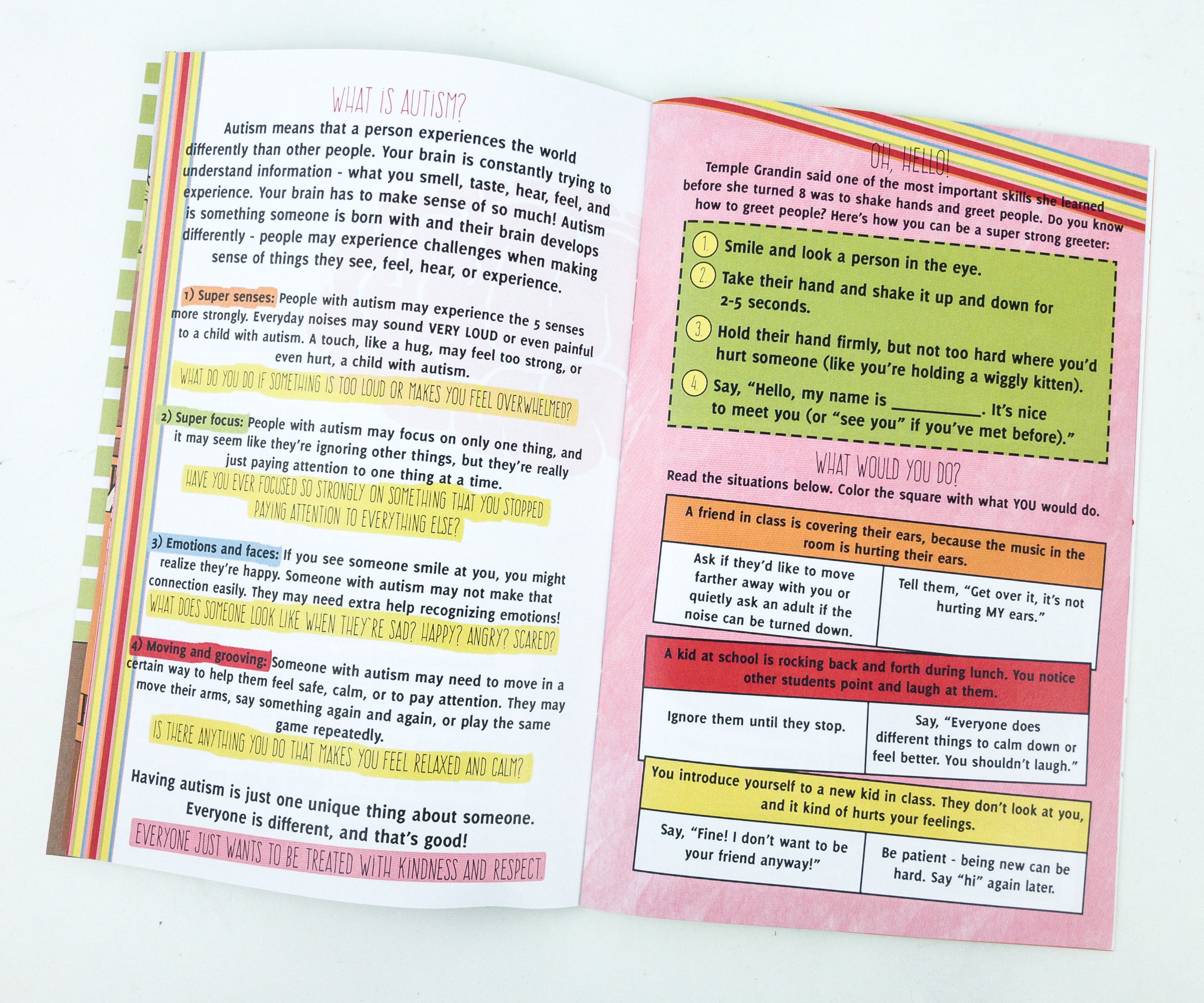 The booklet also gives us an idea of what autism is all about, and for us to understand it more.
It even listed and gave fascinating facts about different various animals like pigs, chickens, horses, and cows!

My daughter loved reading the booklet!
There are also fun activities in the booklet, like a maze and a matching activity.
My daughter made her way into the maze, and she easily finished it!
They even included an experiment, the Magi Mmmmmilk. On the other page is another activity where they will need to look for some objects in the picture.
This activity definitely needed sharp eyes! And my daughter is doing a great job with it!
More activities! For these, the box provided the materials!
This month's pin features Temple Grandin situated between two cattles!

Activity # 1: Create A Calm Down Bottle. The first activity is making a calm down bottle, which helps a person, a child or an adult, to calm down and focus. When the bottle clears, so does the mind. The booklet provided step by step instructions and listed down all the materials needed. They even indicated the topics/subjects involved, learning time, messiness, and the level of grown-up help needed.

For this activity, we need a clear bottle, glue, and glitters.
First, my daughter poured the glue into the bottle, followed by the glitters.
You also need to fill it up with water, letting it overflow for some time to get rid of the foamy bubbles on top, before finally screwing on the lid.
When you feel agitated, stressed, or just lacking focus, get this bottle, shake it for some time, and watch all the glitters settle at the bottom. It creates a calming effect.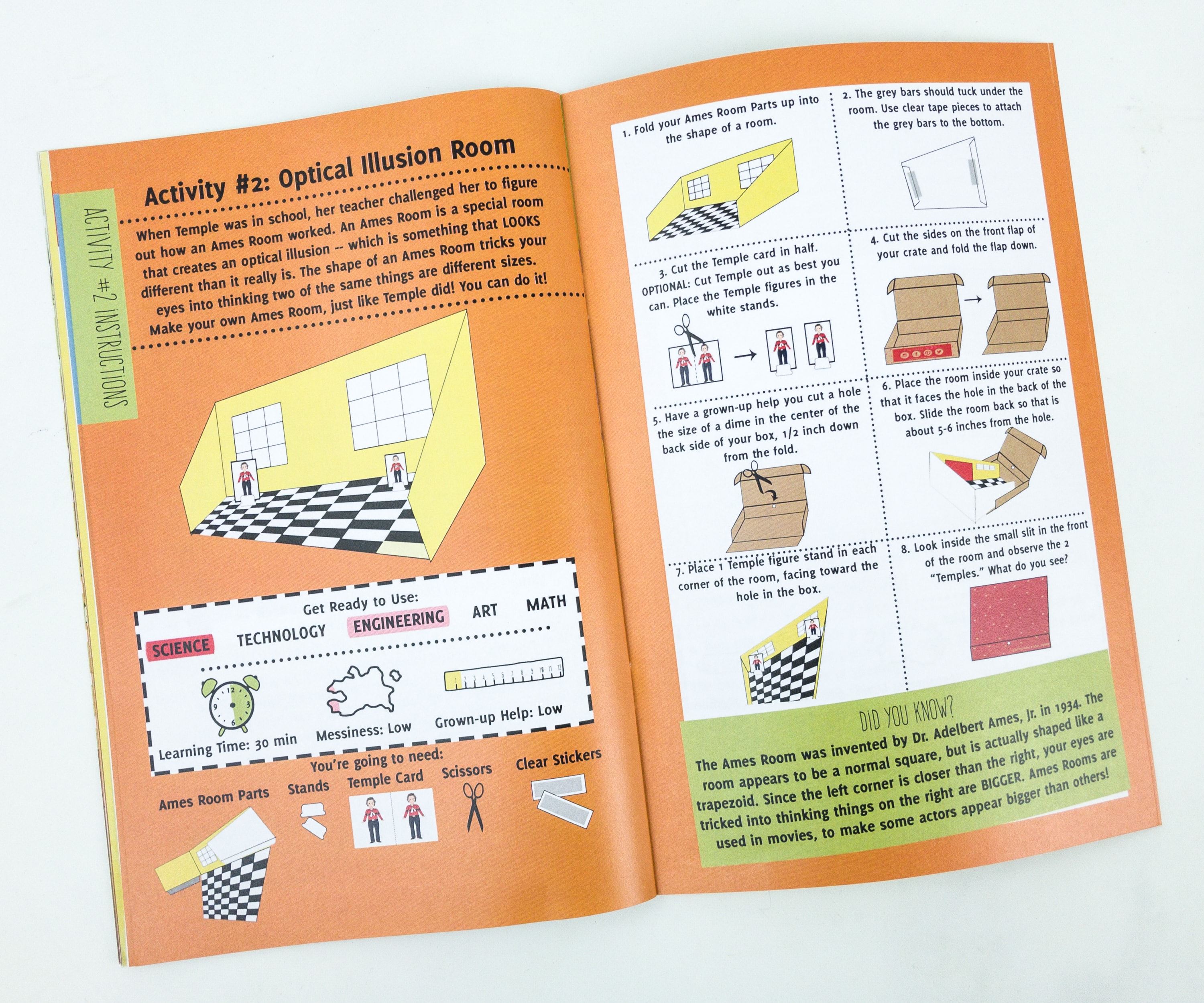 Activity # 2: Optical Illusion Room. The next activity is making an optical illusion room. When Temple was still a student, she was asked to figure out how an Ames Room worked, a special room that creates an optical illusion.
For this activity, we'll need the Ames Room parts, stands, Temple cards, scissors, and clear stickers. We'll also make use of the box itself!
After folding up the room parts, it's now time to place it on the crate.
Make sure that the room is slid in a manner that it faces the hole and is 5-6 inches away.
Now, it's time to peek through the hole!
This optical illusion is tricking us to see that one side is bigger than the other.
Activity # 3: Engineer a 3D Bull. Tagged as the most challenging of all the activities on this crate, the third activity is about making a 3D bull model!
There are several pieces that make up the whole model!

We'll use wood pieces, piece number card, pencil, and glue dots.
This activity is really challenging, we can tell by the number of instructions we need to follow!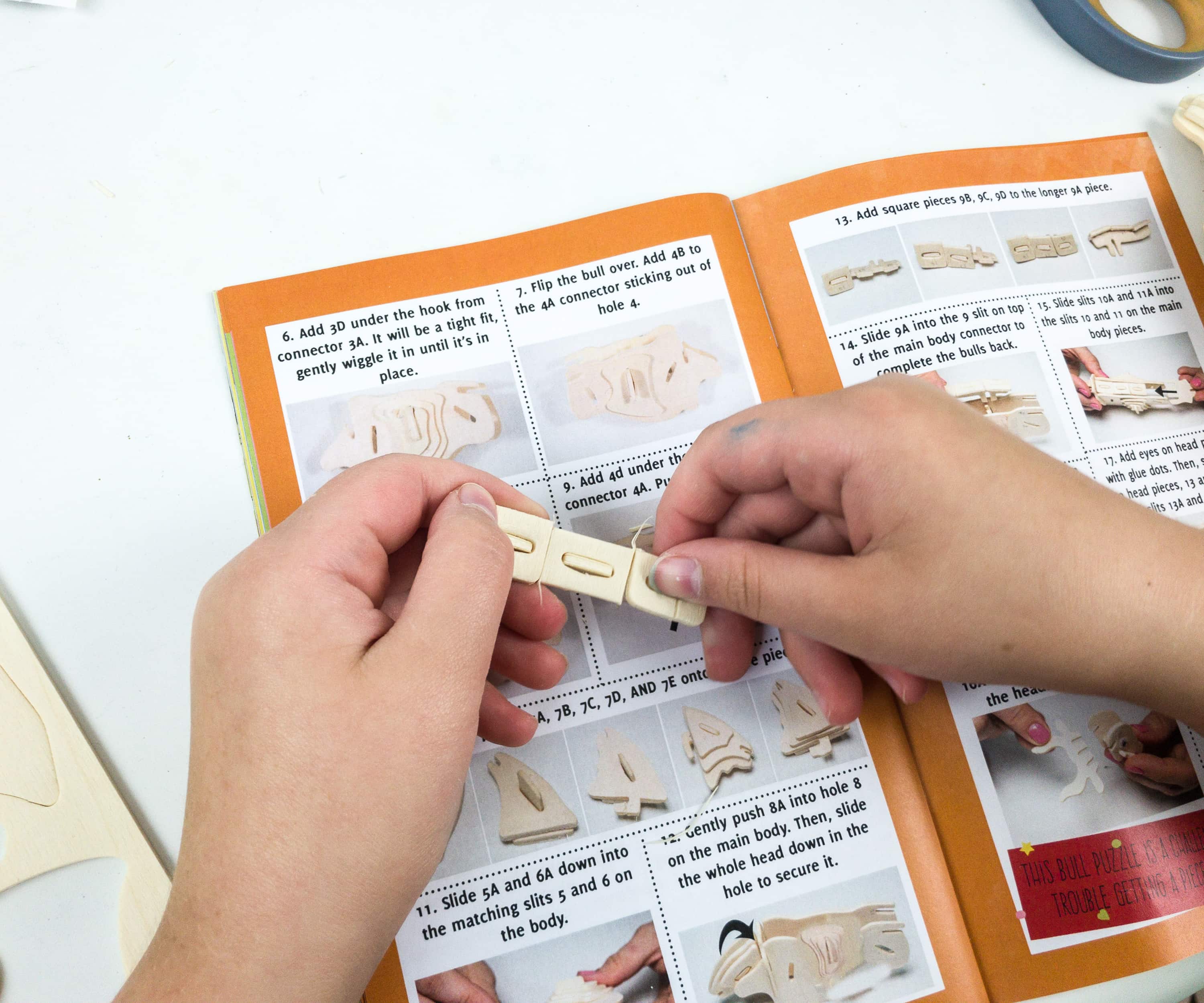 Good thing, my daughter is always up for a good challenge! She started with the smaller parts, as instructed by the booklet.
The model is slowly taking shape!

A few more details and we're ready to look at her finished craft!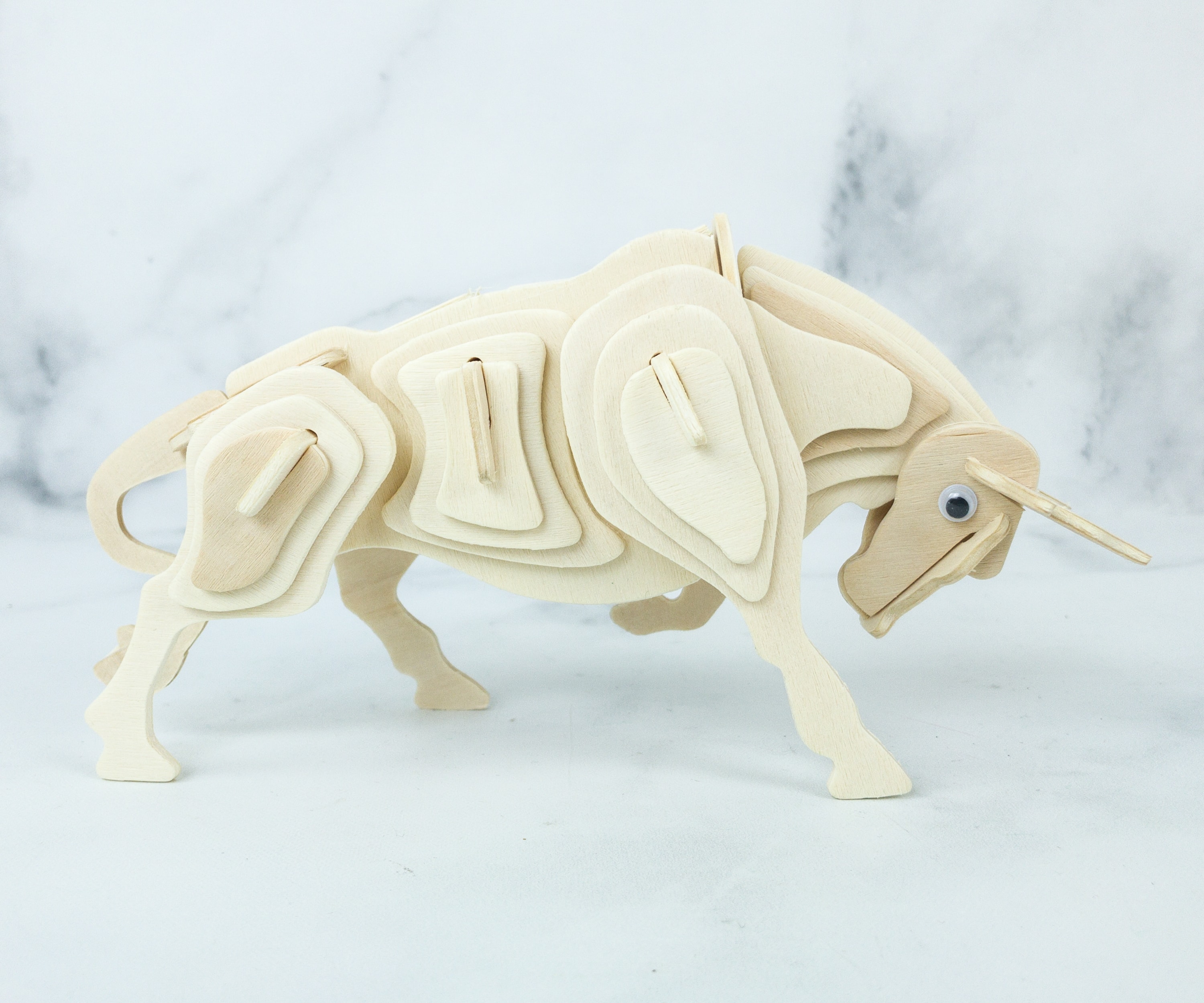 The bull can even stand on its own! It makes a nice table top display!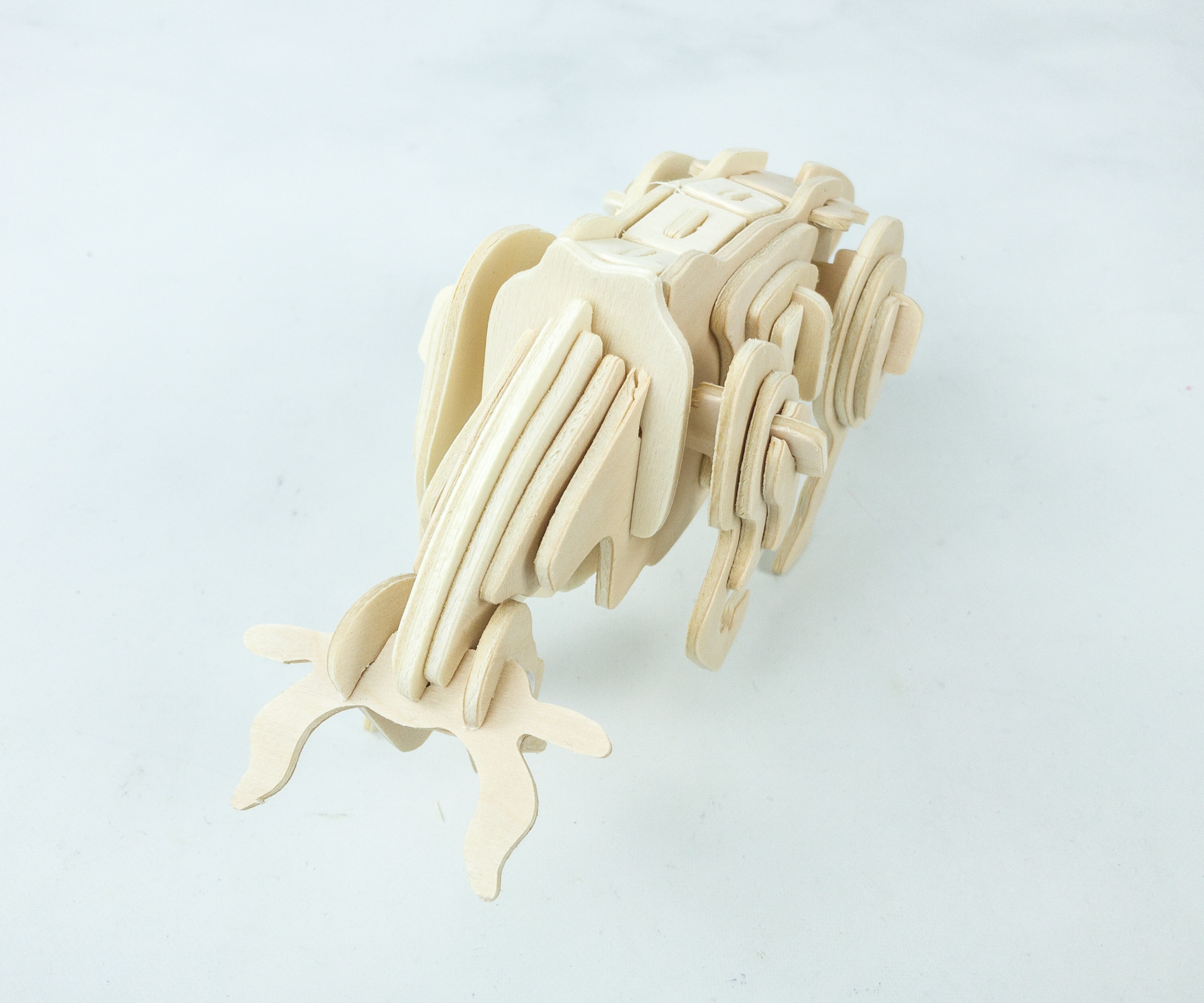 We all love the details of the model, but we love my daughter's dedication in finishing this more!
It's another inspirational crate, as they featured a woman who did her best to prove everyone that being different will not make you less of a person. Temple Grandin is such a role model! Also, it shows how she had changed the treatment of animals! The magazine is really a nice read with lots of FAQs, trivia, and even activities that we can all enjoy as a family! My daughter really loved this crate as she got introduced to women of power, strength, intelligence, kindness, and strong will!
Do you enjoy Girls Can Crate as much as we do? What's your favorite thing about this subscription?