Deadpool Club Merc is a quarterly subscription of all things Deadpool. The box costs $34.99 each quarter, plus shipping and handling. Every quarter you'll get a box full of original and official Deadpool merchandise that contains 4 to 5 items in black and red, and that includes stickers, shirts, and collectibles that you won't find anywhere else.
DEAL: Save 15% on any subscription when you use this link and coupon code HELLOSUBSCRIPTION15.
The side of the box features the Marvel logo along with the Deadpool Club Merc logo and Loot Crate logo.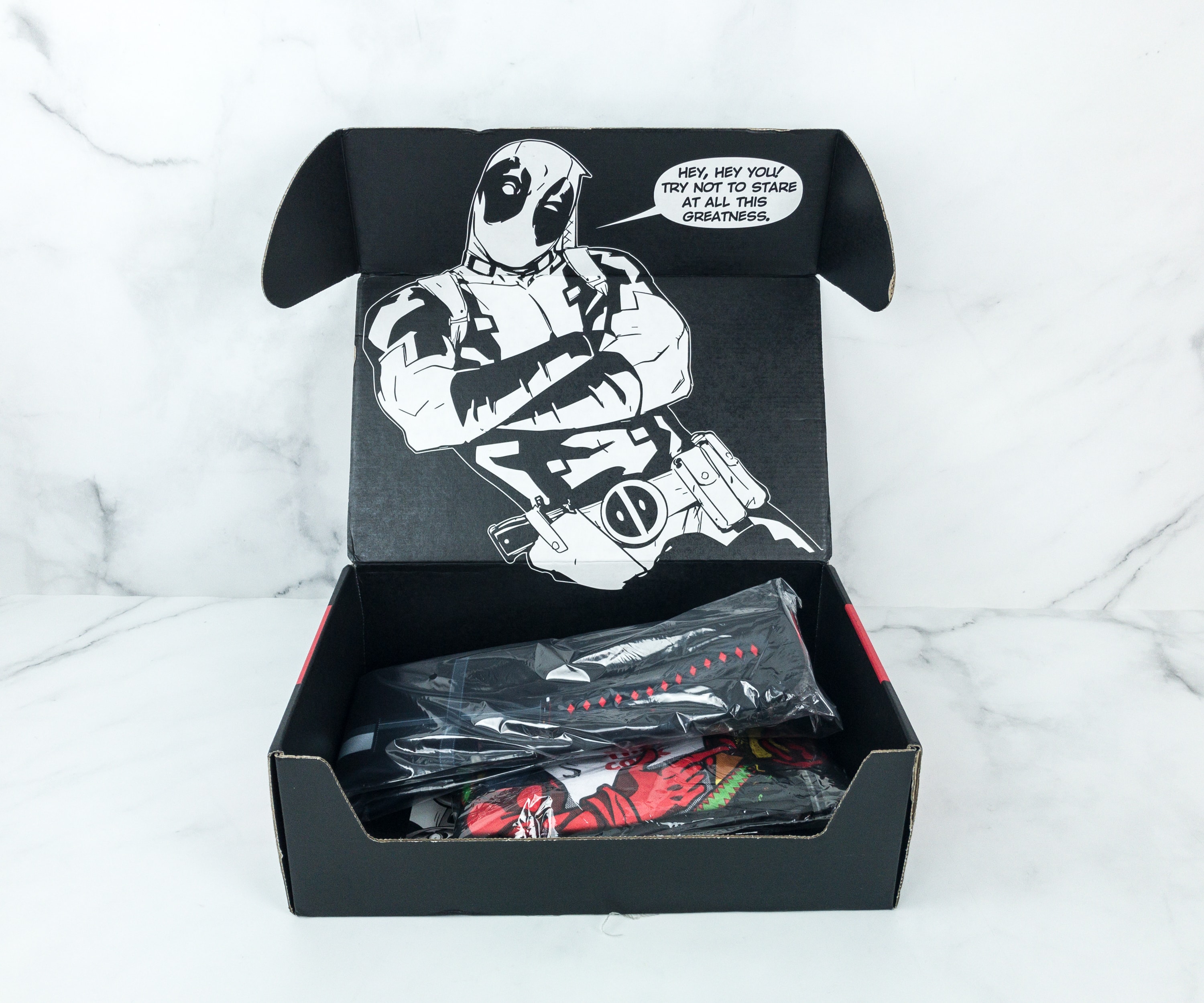 The box interior features Deadpool in a comic book-like illustration.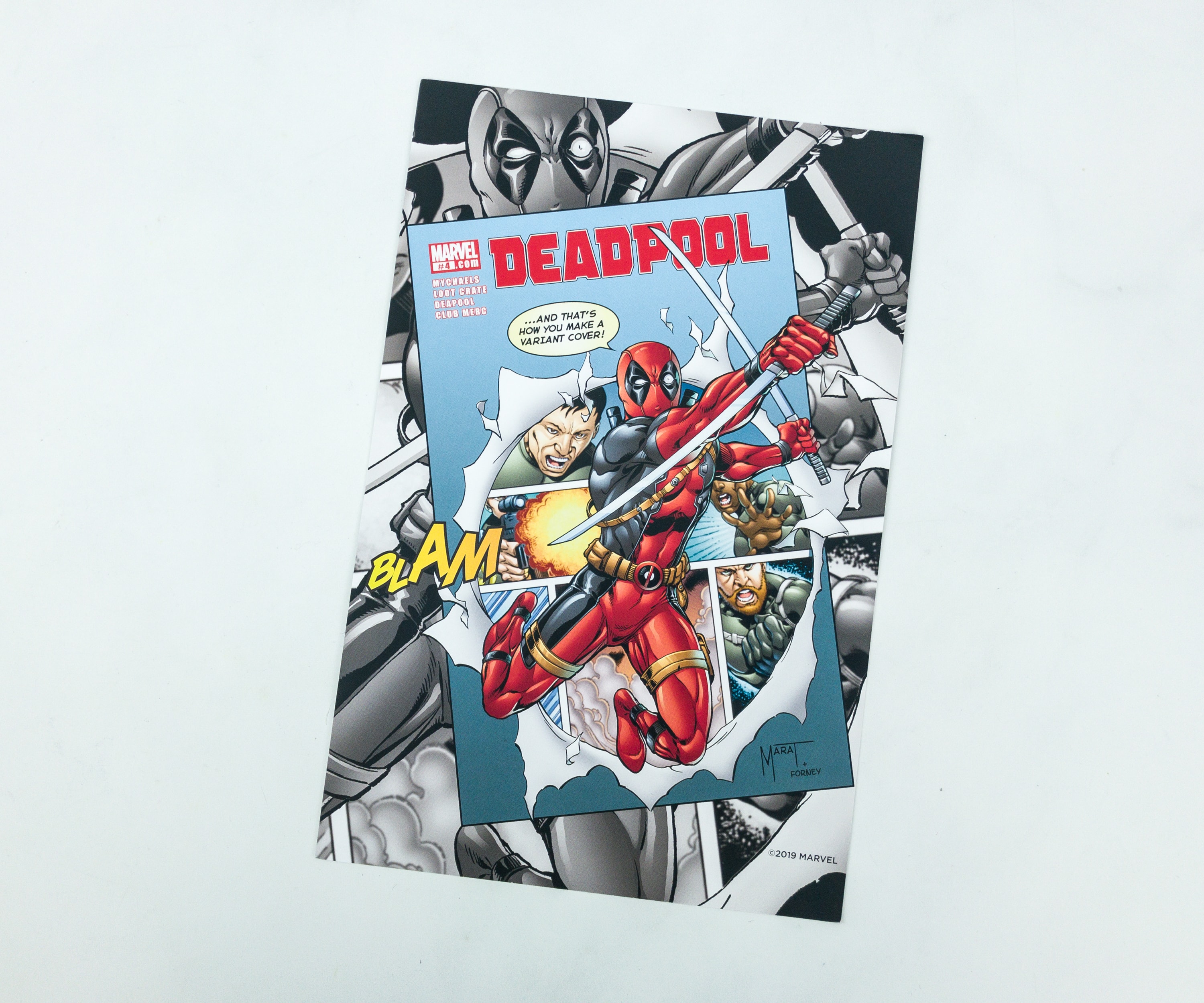 I got this cool poster featuring what looks like a cover of Deadpool comics but is actually made for the Club Merc box, and it has really impressive graphics!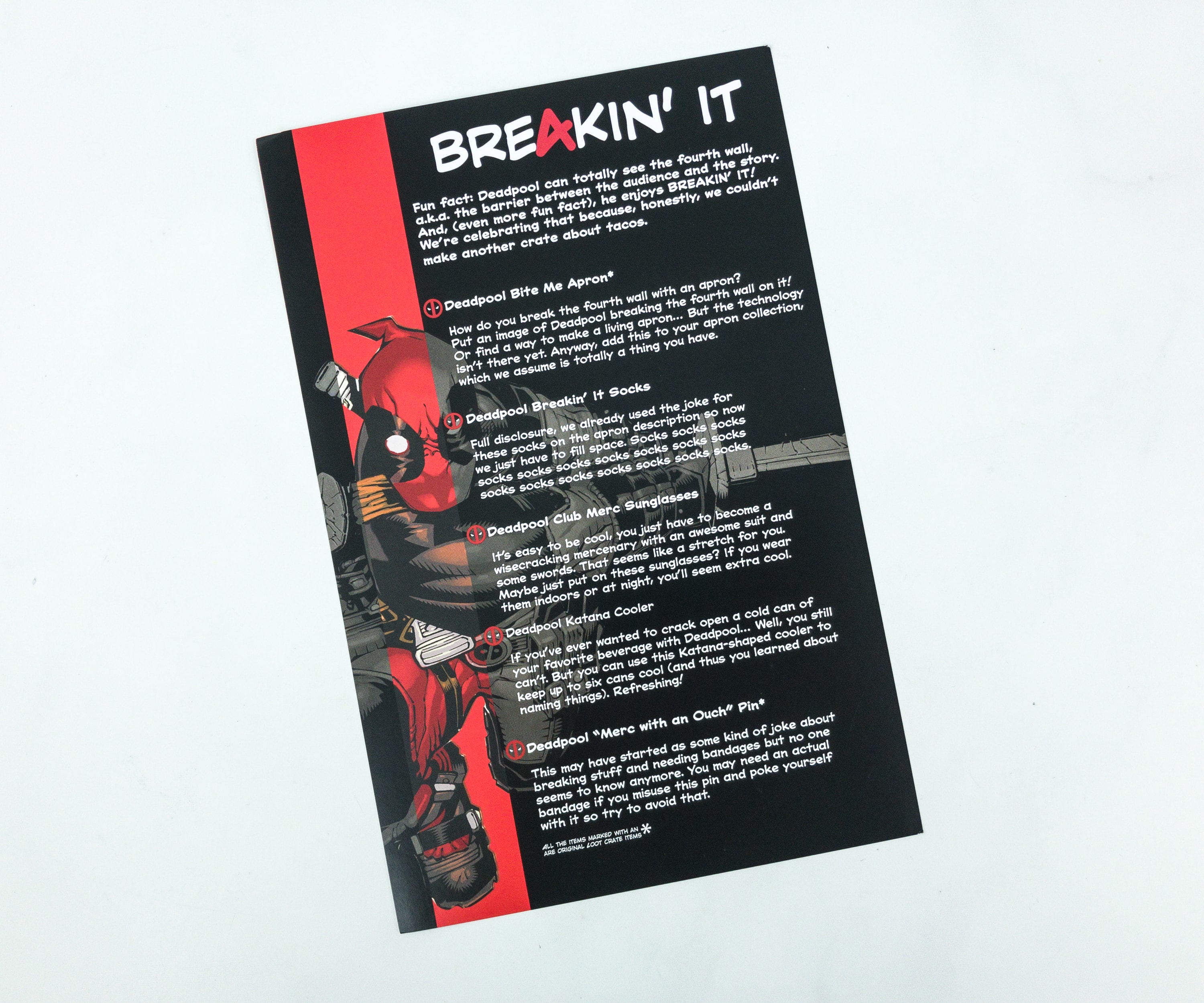 The back of the poster lists all the items that you are going to get from this box, each with a description in Deadpool style.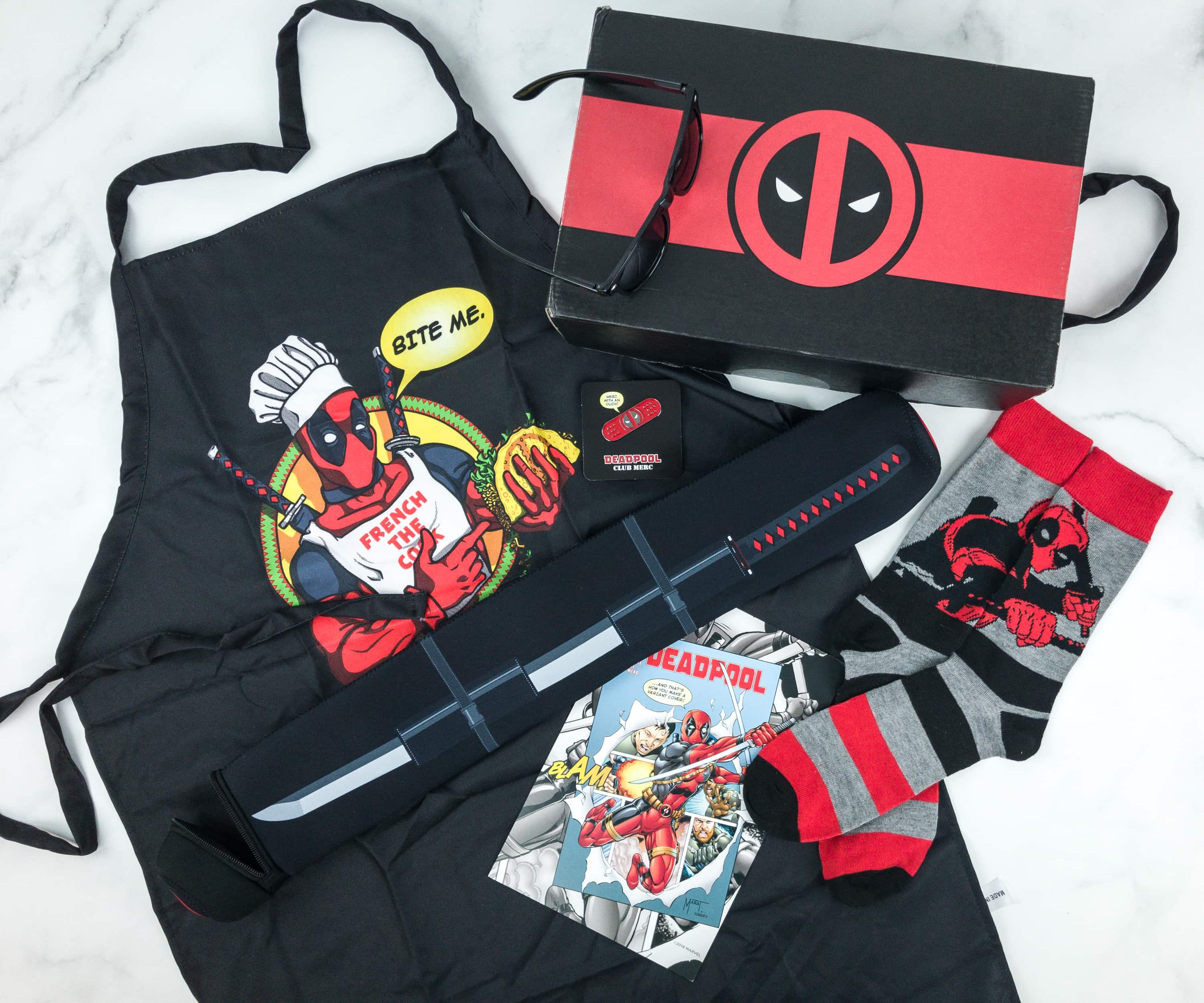 Everything in my box!
Deadpool "Merc With An Ouch" Pin. This month's pin is in the form of a Deadpool-themed band-aid. Well, you'll need one when you break something and hurt yourself!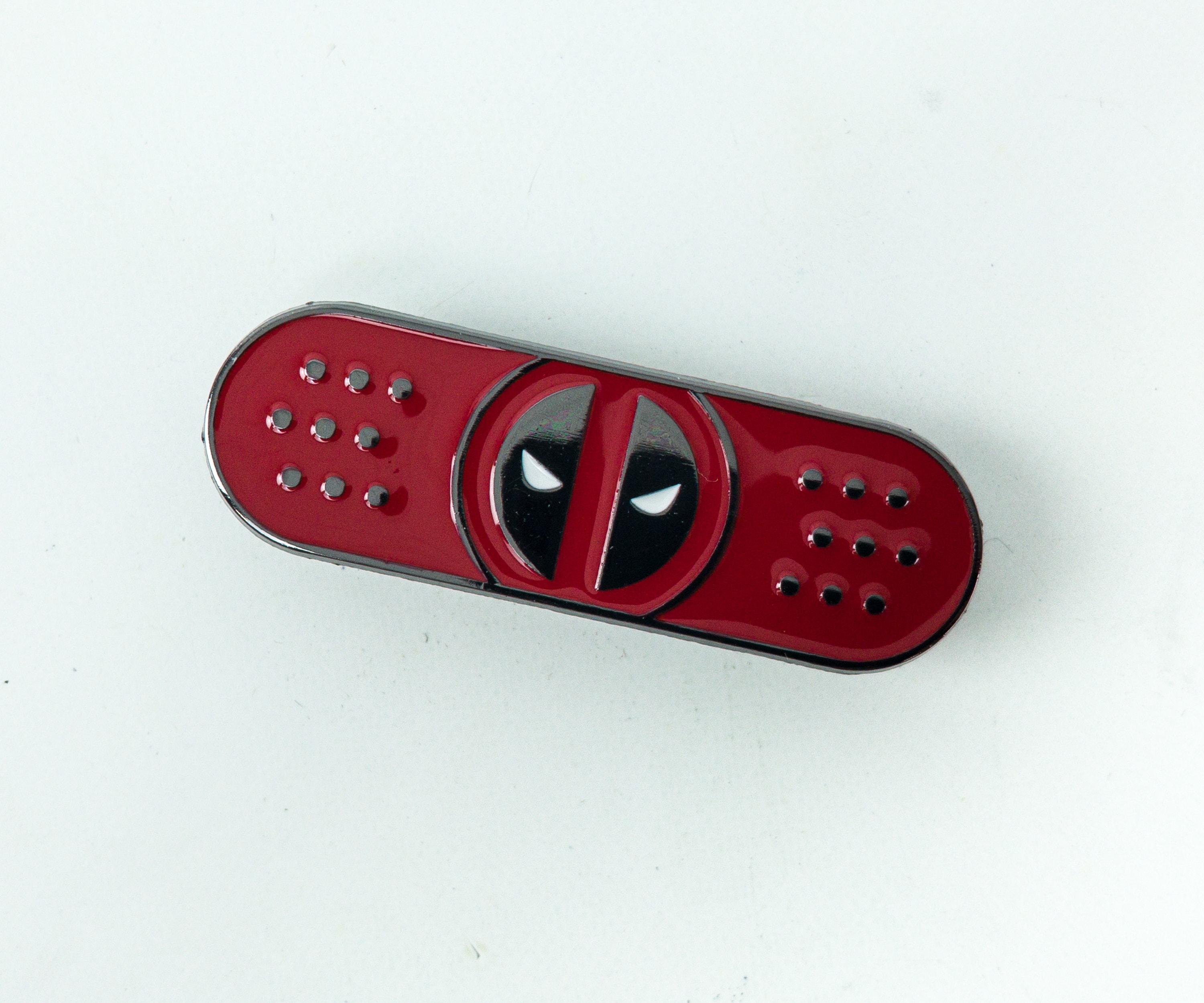 The pin started as a joke, about breaking stuff and needing bandages. Also, you'll need actual bandages if you didn't handle this pin carefully!
Deadpool Club Merc Sunglasses. Deadpool is cool, and one thing that can make you cool is nice eyewear. It's an all-black pair of sunglasses!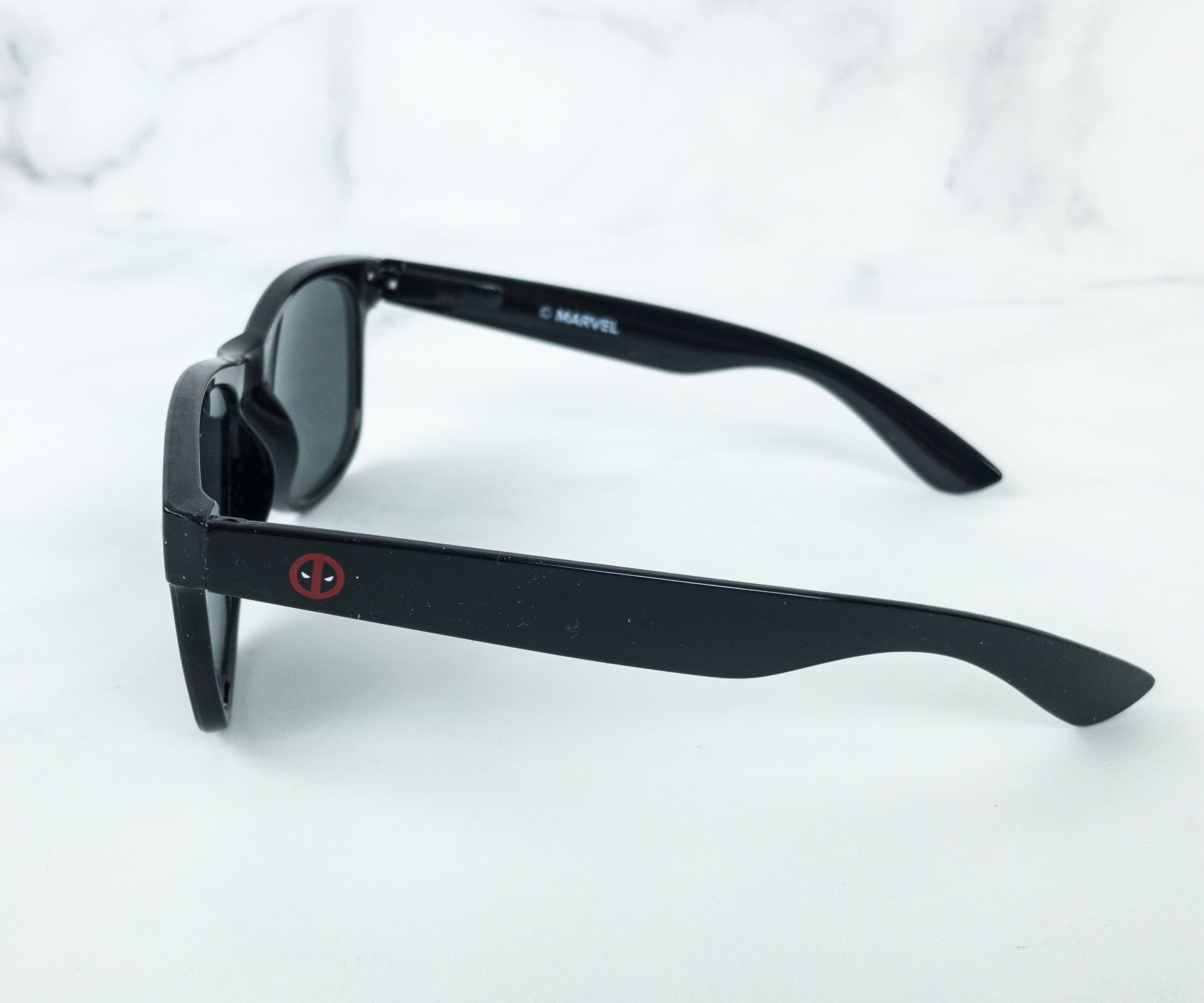 The temples have some prints on them, near the hinges. On the outside there's Deadpool, and inside is Marvel's branding.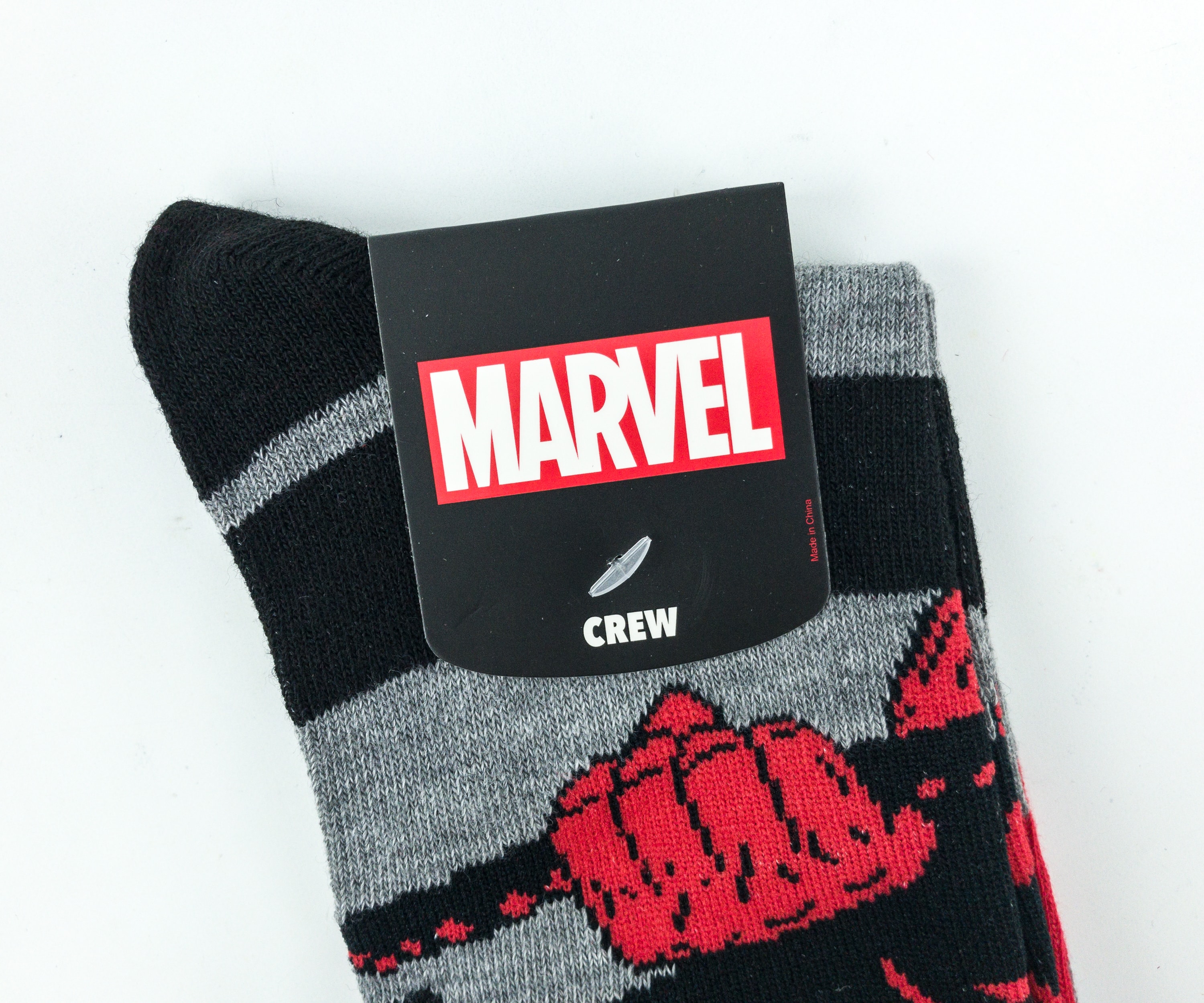 Deadpool Breakin' It Socks. I love getting wearables from this crate! This time, it's a cool pair of socks!
The tag indicates the socks' size, which is 10-13. They're made of 94% polyester, 2% spandex, and 4% other fibers.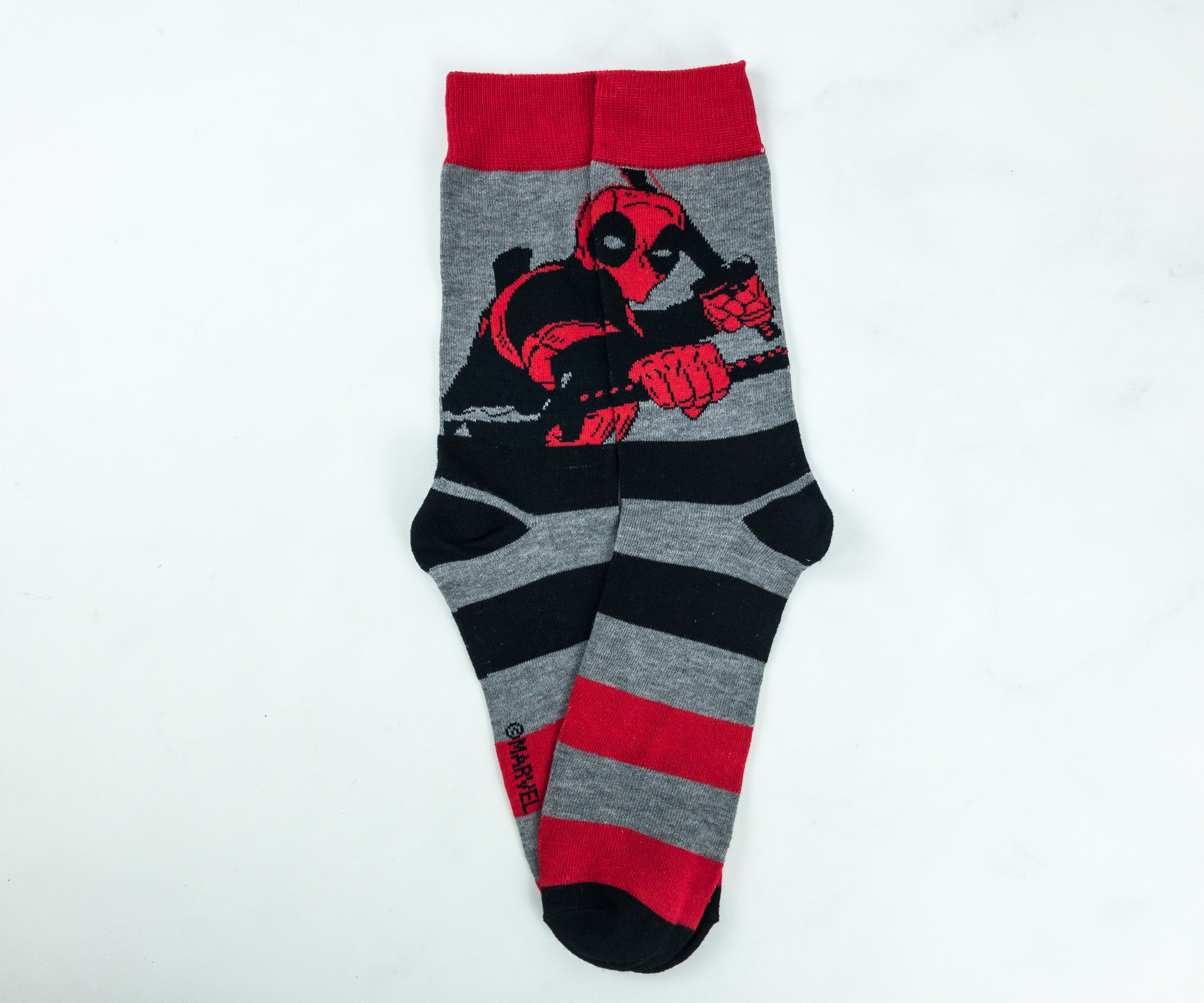 The socks are super soft and comfortable. I love walking around with this pair on!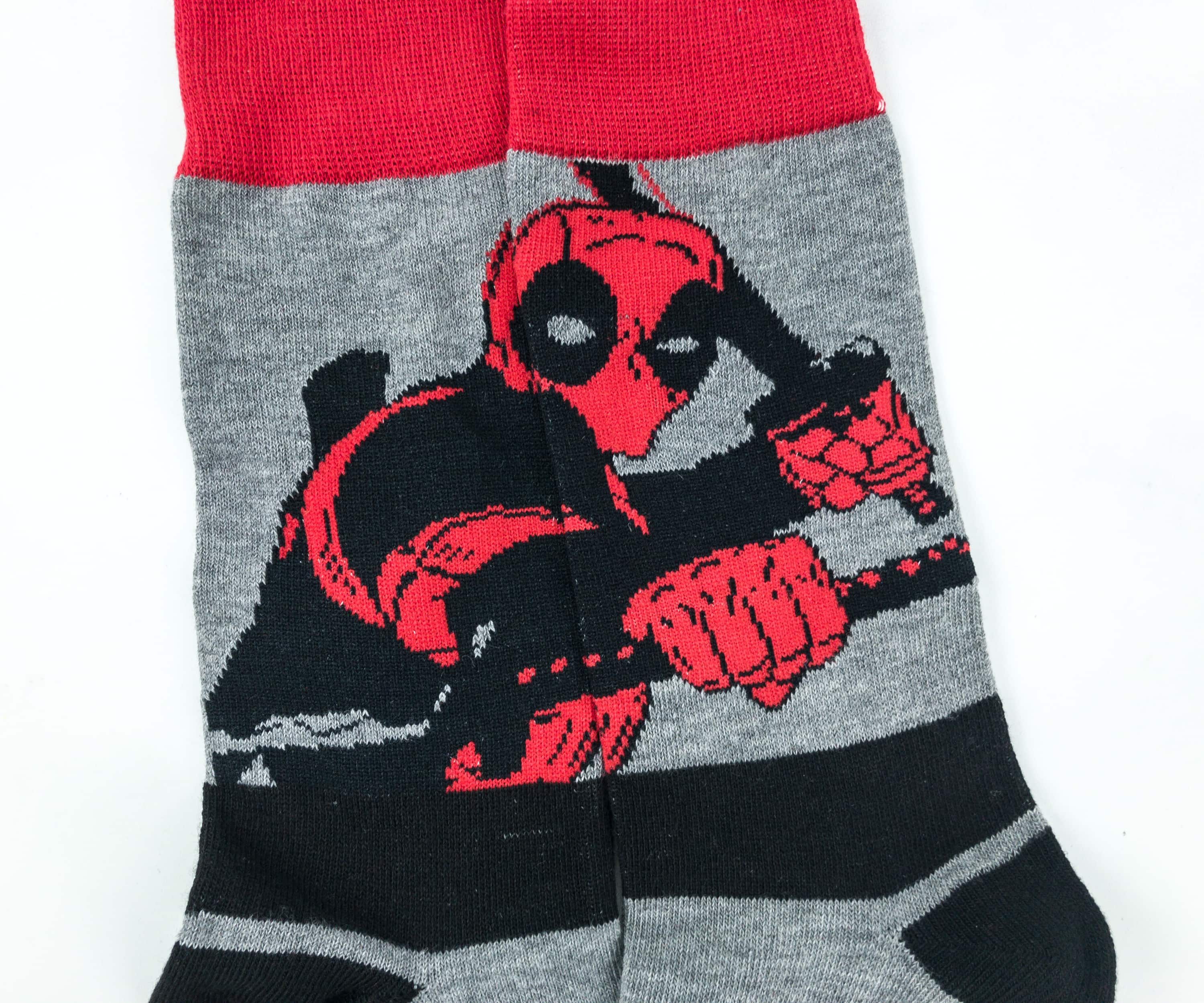 It features Deadpool, about to break something!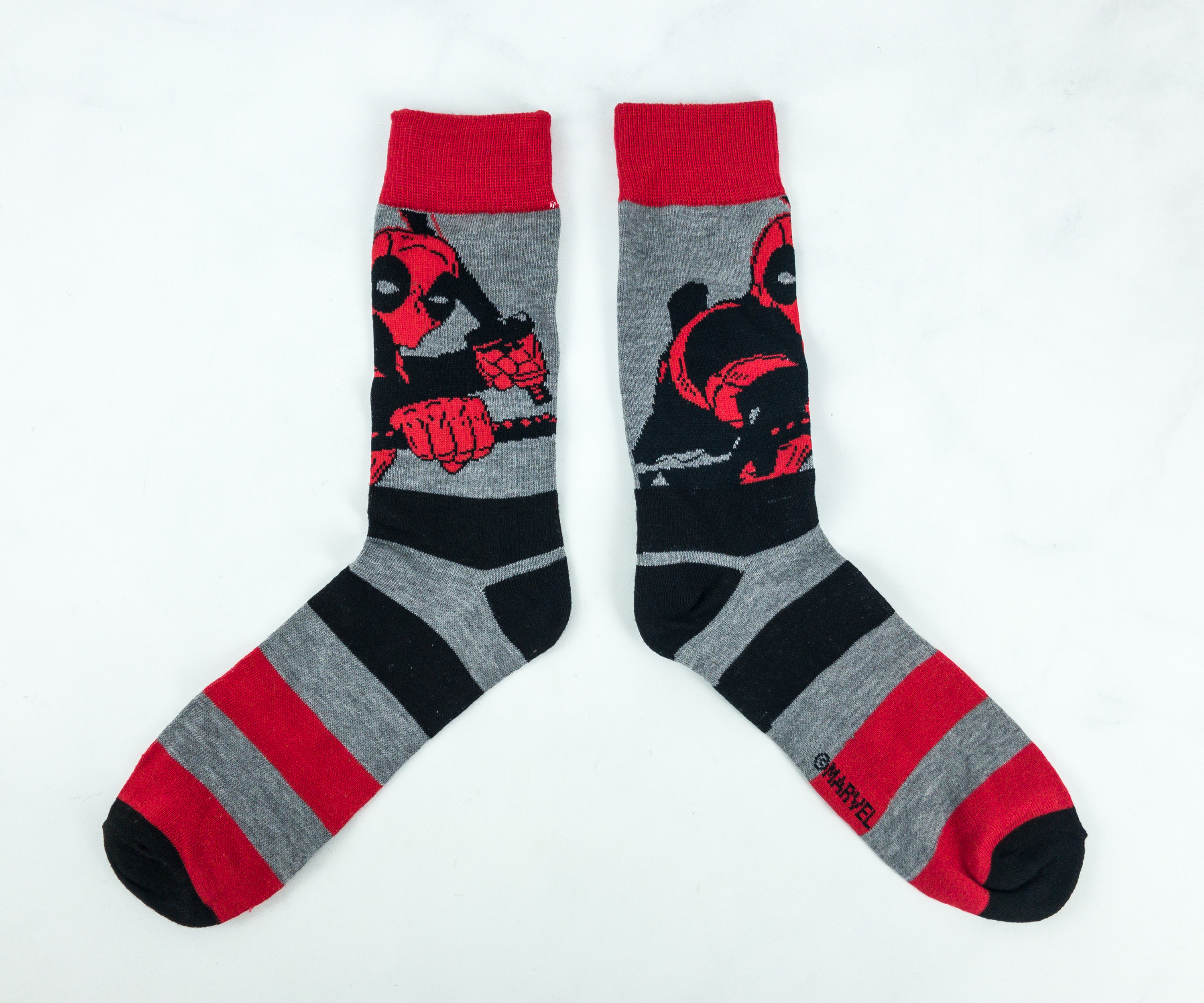 The base color of the socks is gray, added with red and black stripes that represent Deadpool. The heels and toes have the same black color, while the cuffs are in red.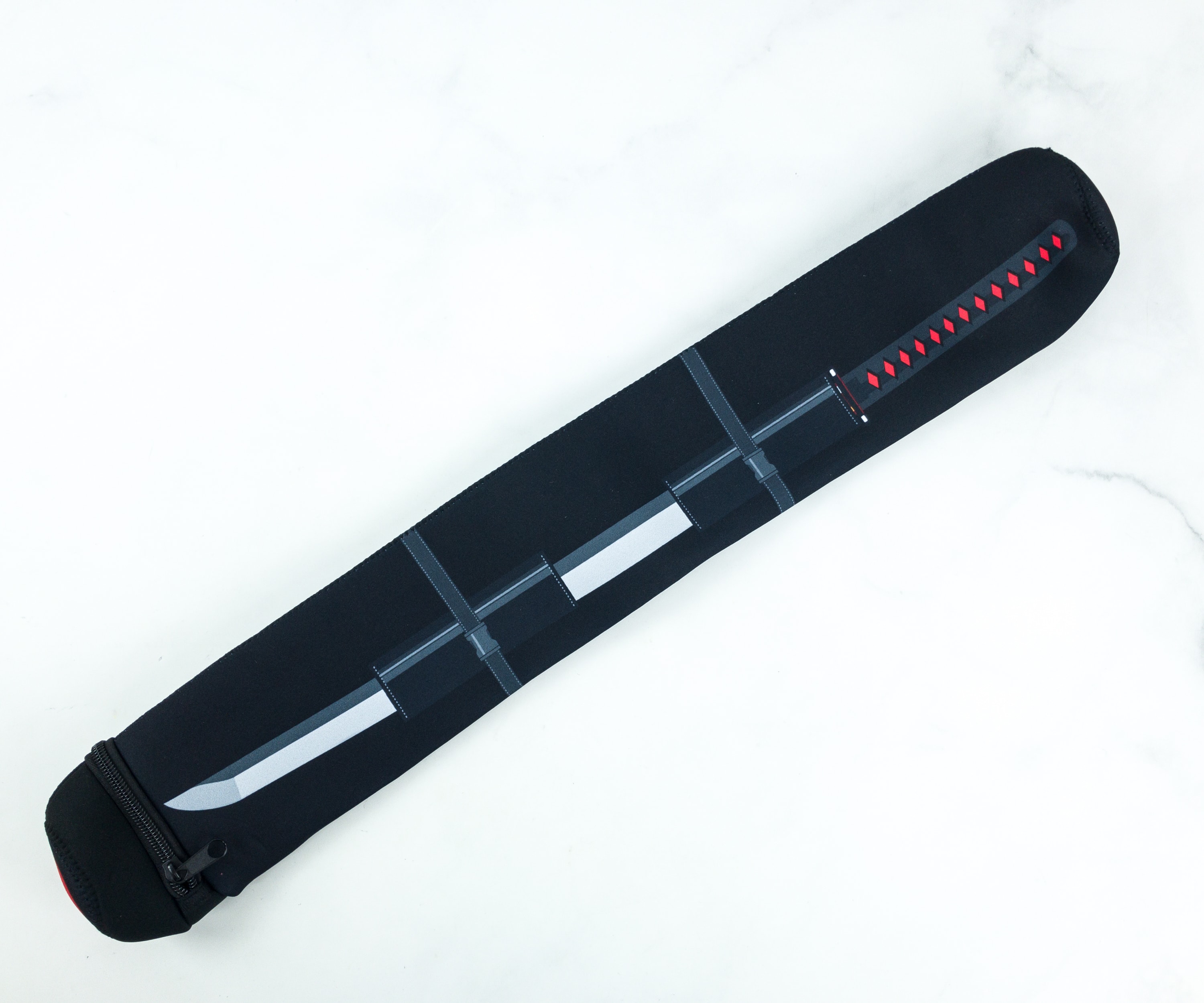 Deadpool Katana Cooler. This is actually a fun item to bring during picnics and cookouts. Some may think that I brought a katana that I will use for cooking because of its cool shape!
In reality, it's a cooler that can fit up to six cans of beverages!
The lid has Deadpool's symbol printed on it. It also has zippers to keep what's inside secure.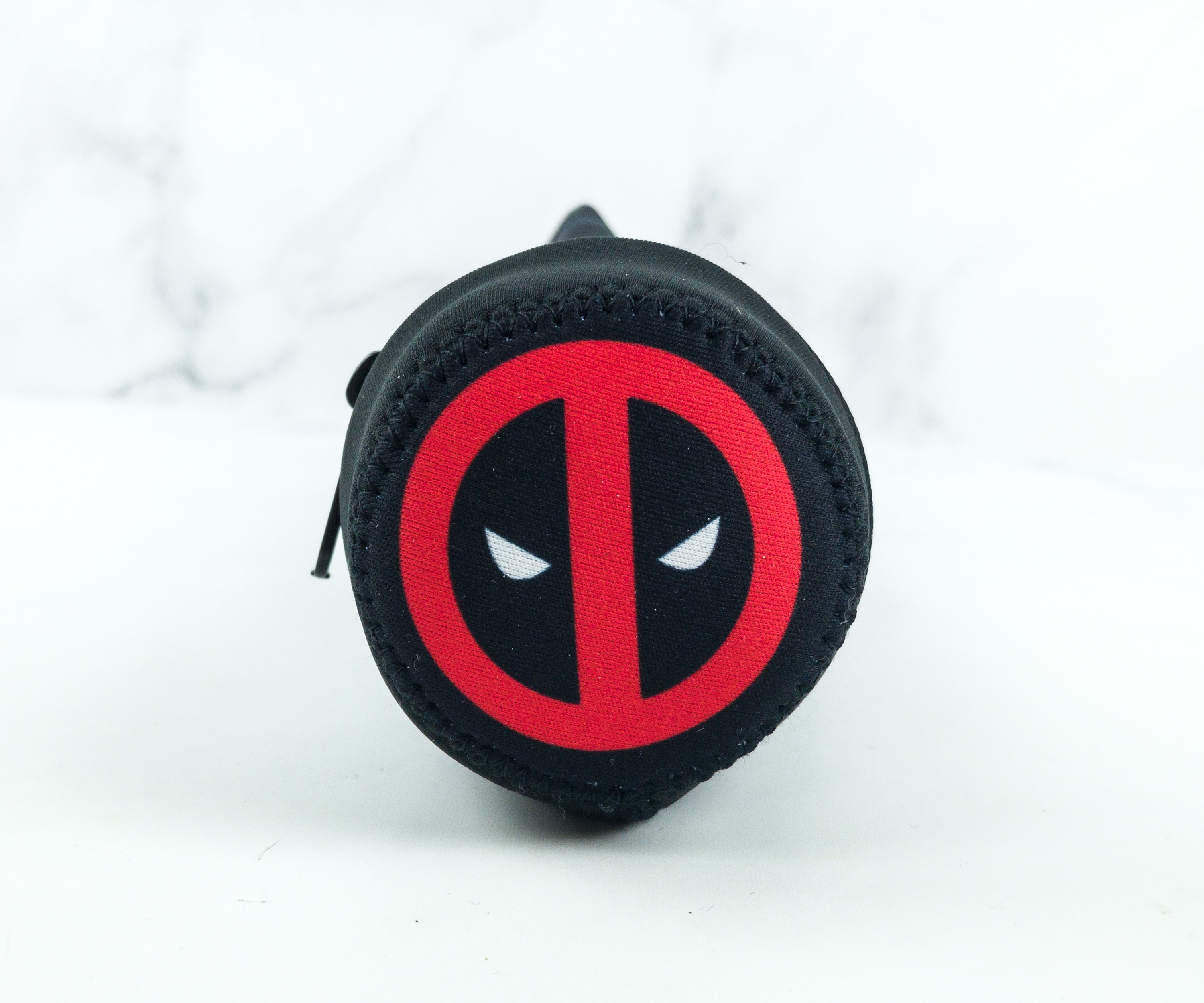 It's really handy and can keep the drinks cold for a longer period of time!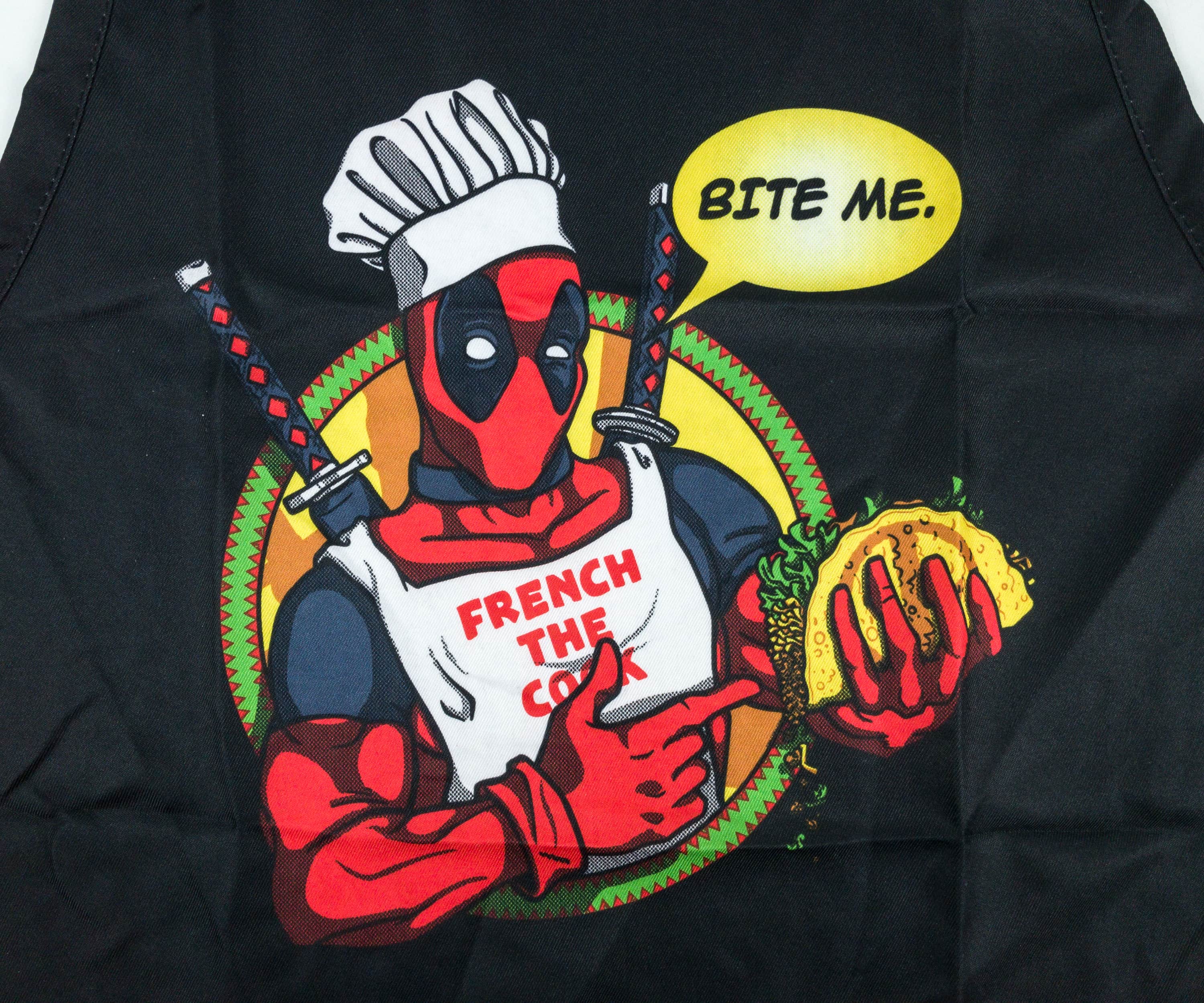 Deadpool Bite Me Apron. Here's another apron that I can use when preparing food in the kitchen or something that I can use on cookouts and be proud of!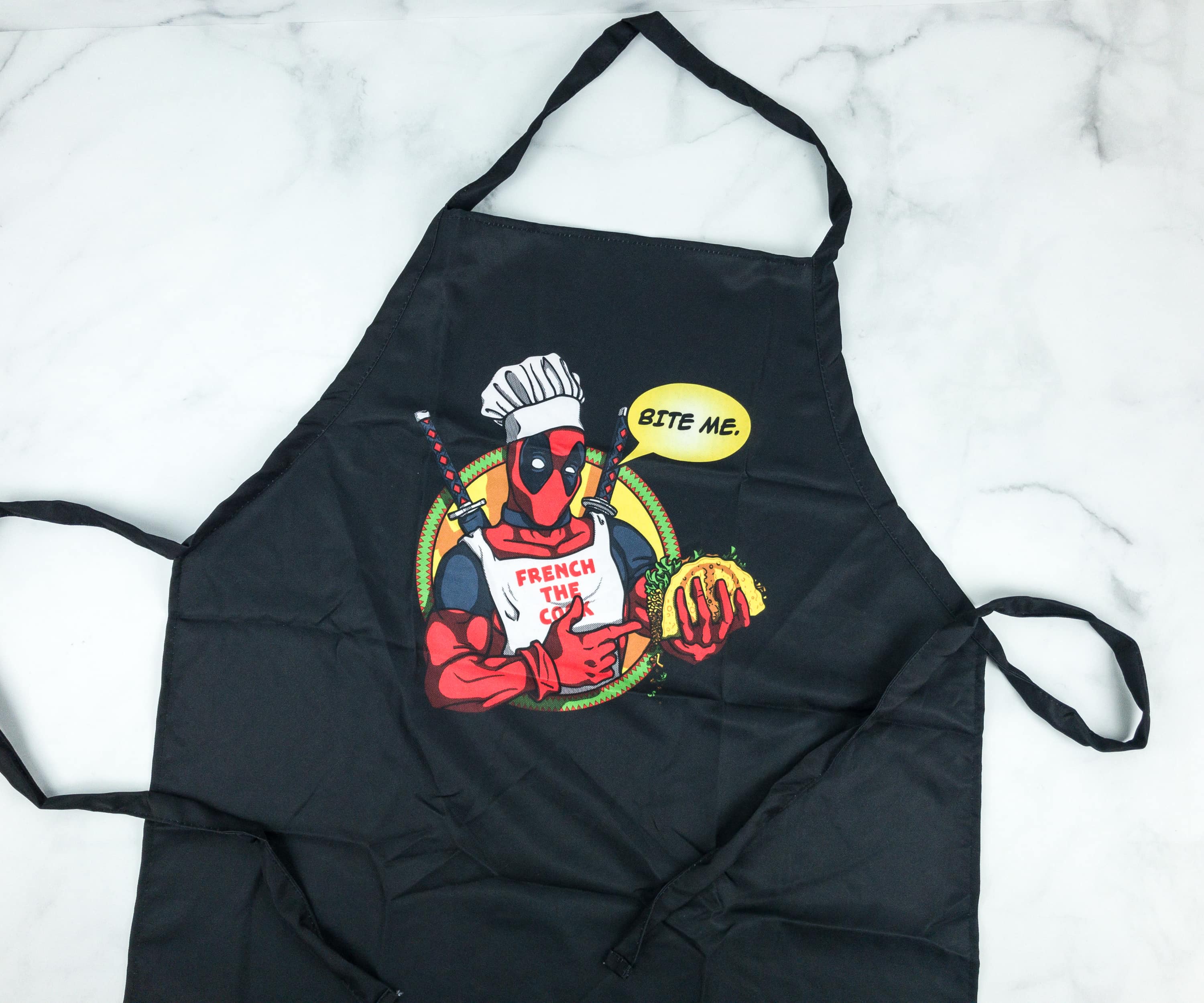 It shows Deadpool with his favorite Taco, which I think he's longing to take a bite of!
I already got one Deadpool Apron, the Taqueria one, but no one can have too many aprons too, right? I would love to have more aprons featuring Deadpool! Unfortunately it's a repeat of the graphic from a shirt last year, which is a bit of a bummer.
I love getting Deadpool merch, but I wished that it was totally unique – no repeats! The Katana cooler is also totally rad but does appear in DX too. All in all it's still a great box and we love our funny Deadpool aprons, and I've already put everything in the box to use! Still, Loot Crate needs to iron out their shipping issues, so just be aware that it continues to be a problem.
What do you think of this quarter's Deadpool Club Merc?