Club SciKidz is a monthly subscription box that introduces children to the mysteries of science and technology through terrific projects and experiments. Each box contains a variety of career based activities such as: Veterinary Medicine, Robotics, Food Science, Programming, etc. In addition, your scientist will be able to start their own home lab with the supplies provided!
DEAL: Save 10% off on any subscription! Use coupon code Boxlabs17.
The box is sealed with a sticker.
It comes with an info card!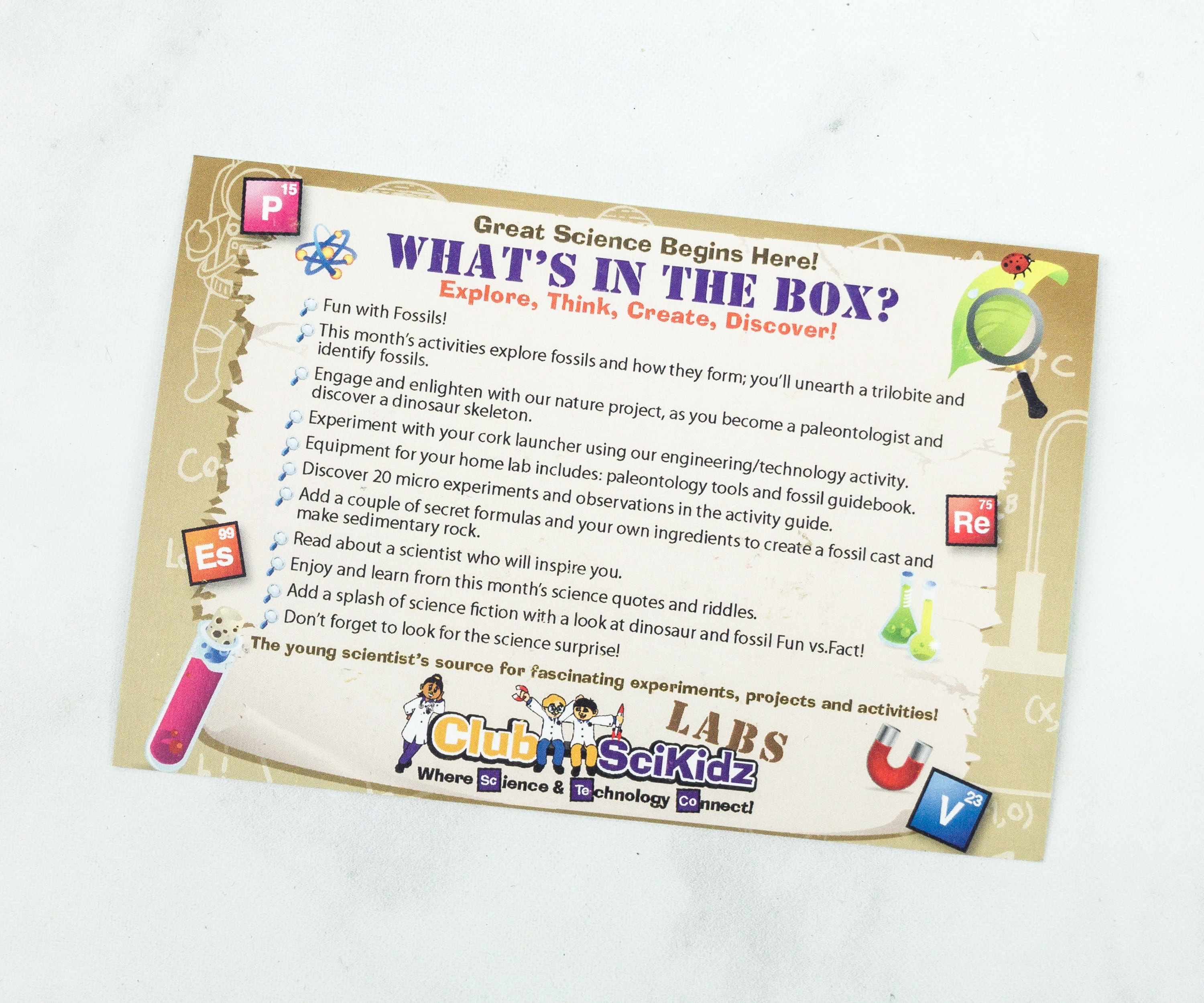 At the flip side, it lists what's in the box.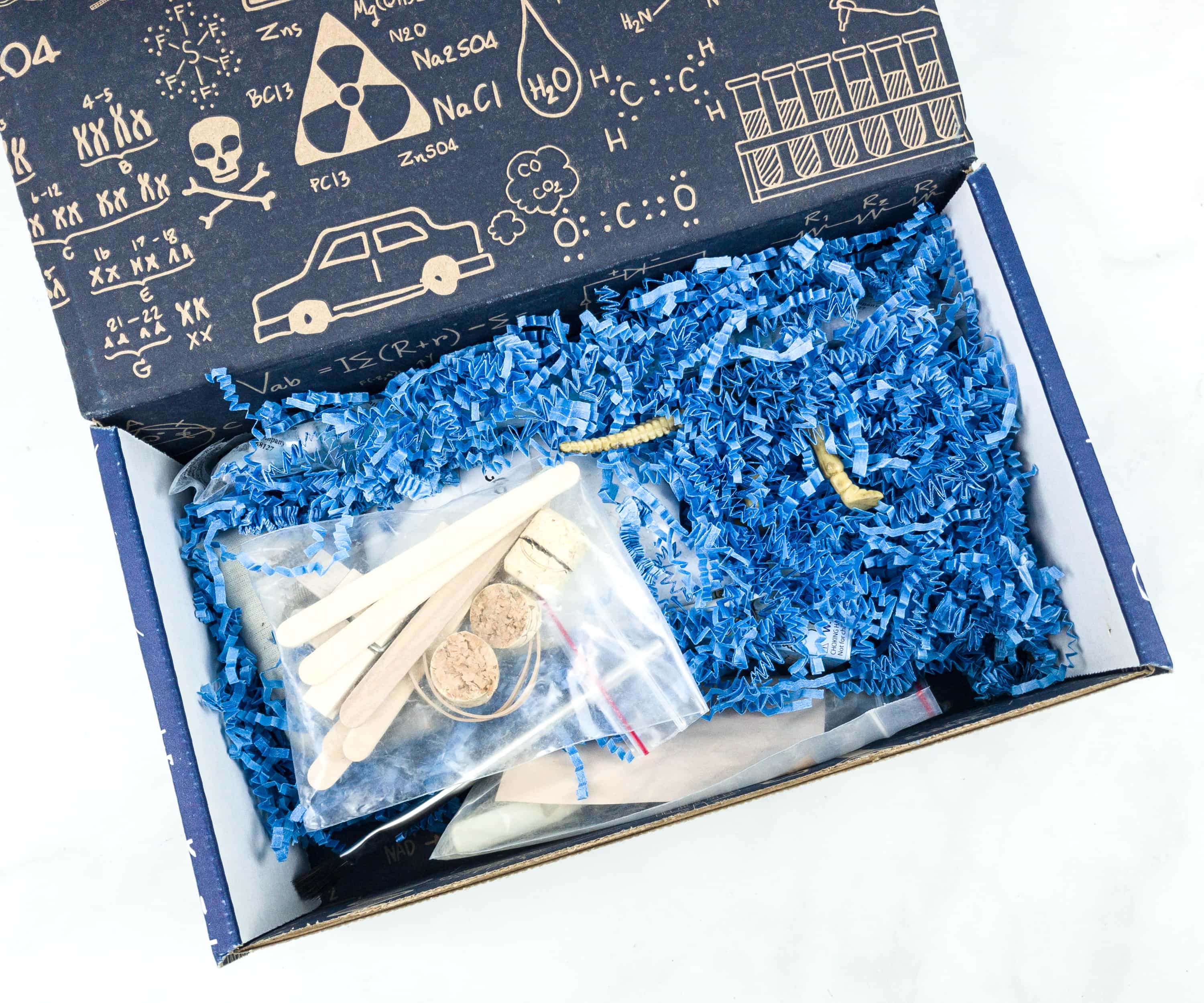 The box is filled with blue squiggles to protect the contents inside. The items are also packaged carefully in plastic bags.
This box was all about Fun with Fossils! There's an included booklet in each kit.
The back of the booklet lists the steps, description, and examples of an Experimental Design.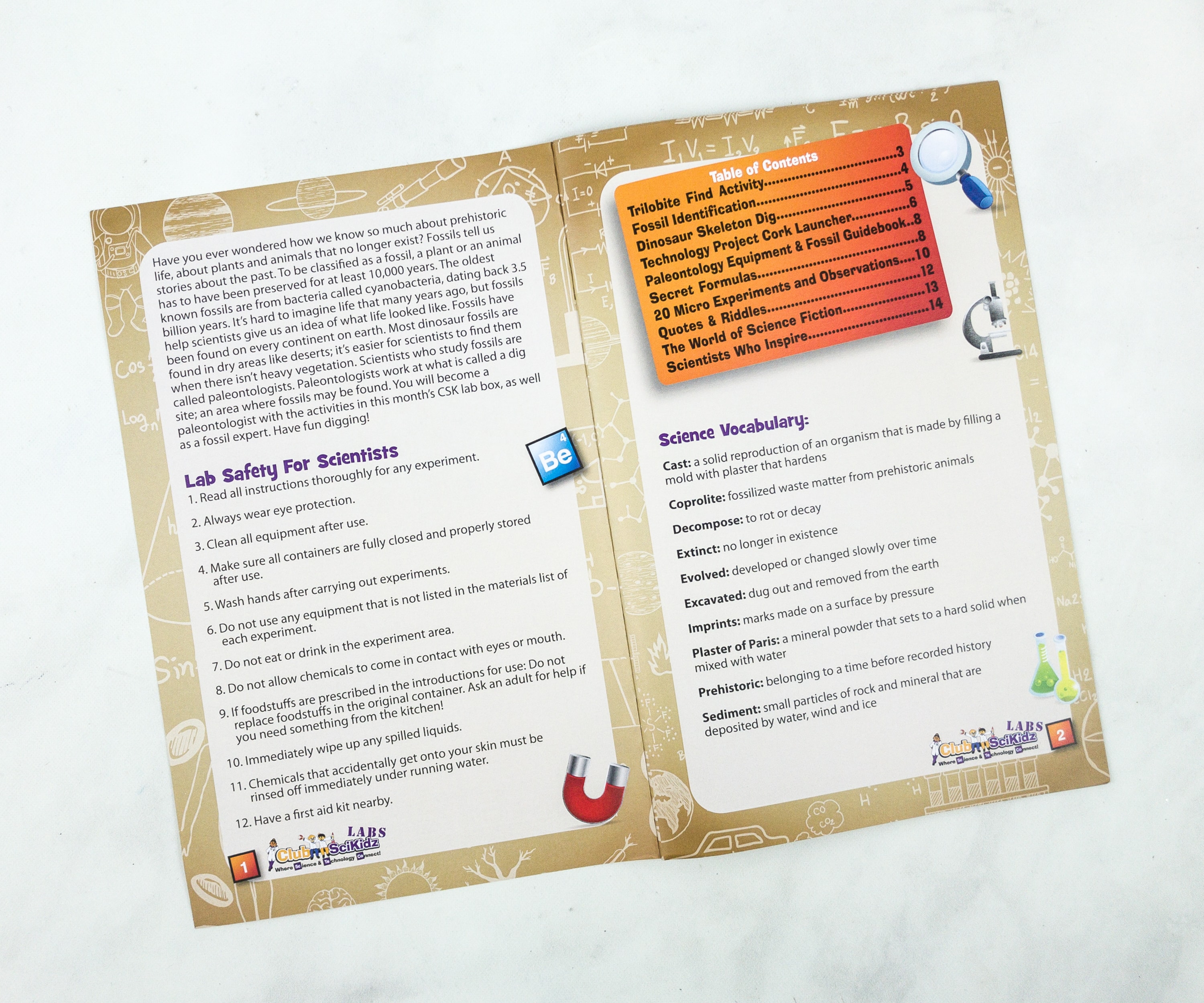 They even included Lab Safety guidelines and Science Vocabulary.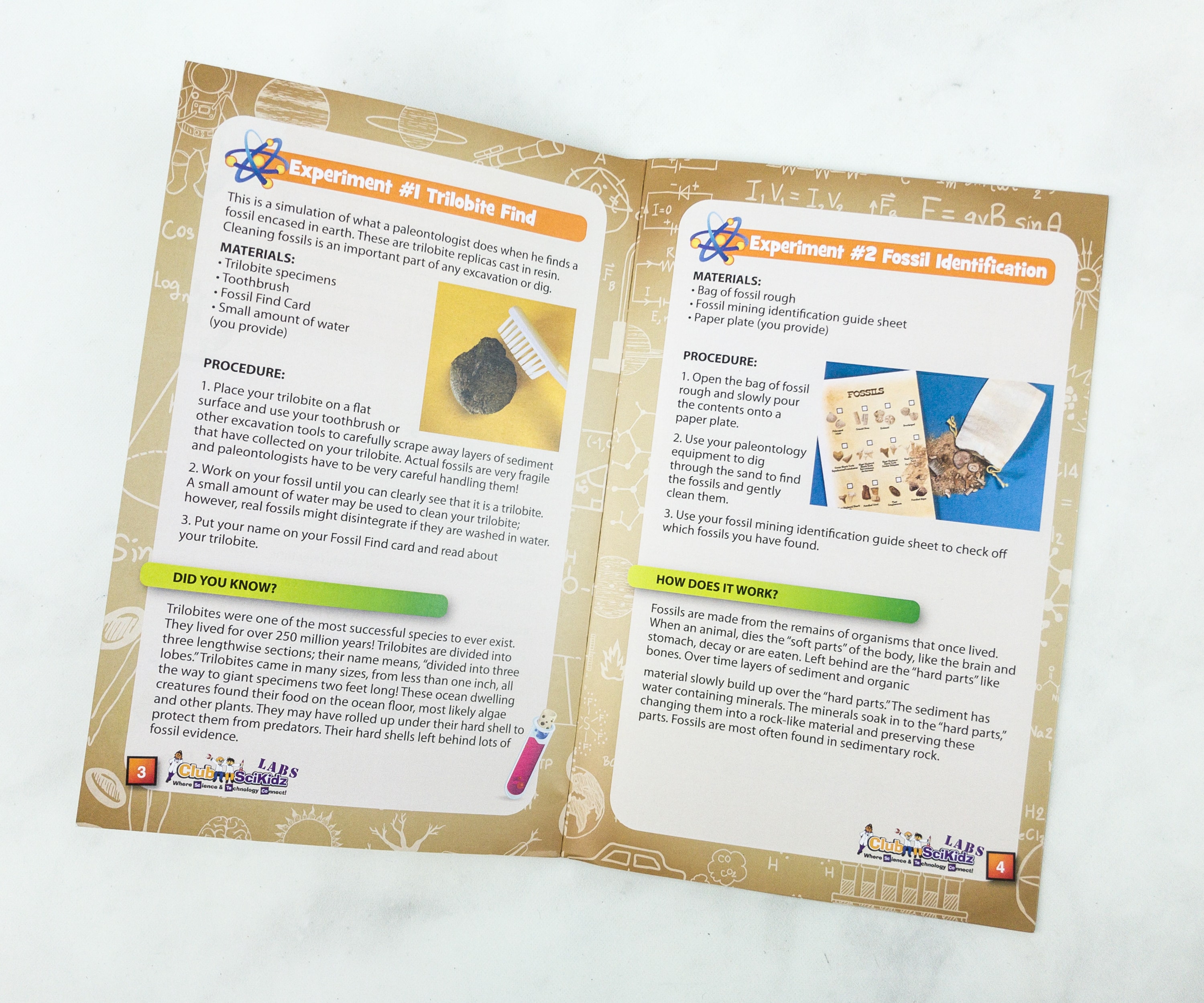 The experiments are listed out in the booklet with how they work. Experiment #1 is Trilobite Find and Experiment #2 is Fossil Identification. They tell you the materials needed and if they are provided or if we need to get them on our own. I do wish the bags had the individual projects in them since they are all mixed up but we make it work by dumping out and sorting all the items before we get started.
There's also a nature project for Dinosaur Skeleton Dig, and making a cork launcher.
For the secret formulas, we will be doing the Ammonite Fossil Cast.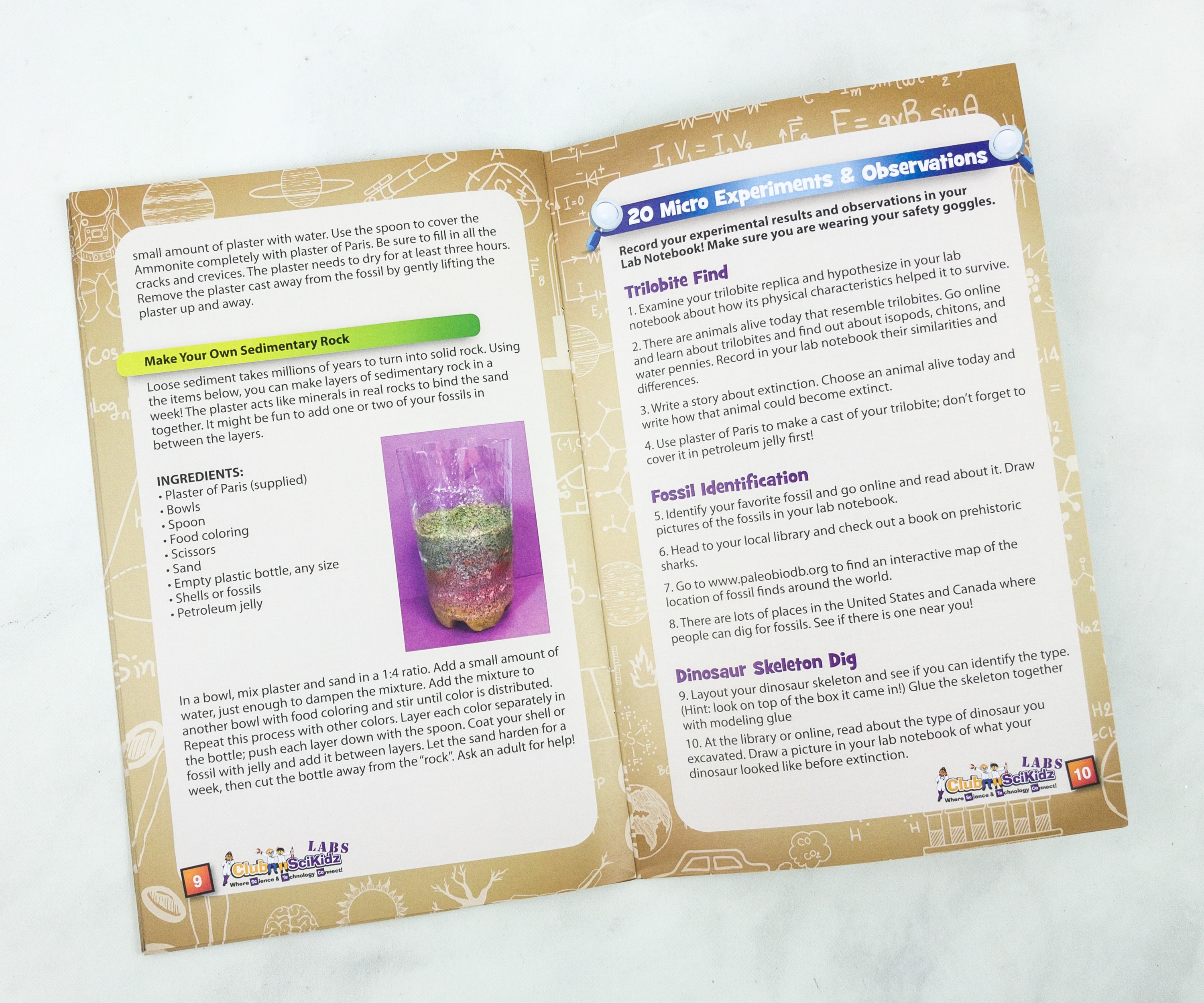 We can also make our own sedimentary rock! They also encourage us to record all the experimental results and observations in the Lab Notebook, and make sure that the safety guidelines are followed, like wearing the safety goggles!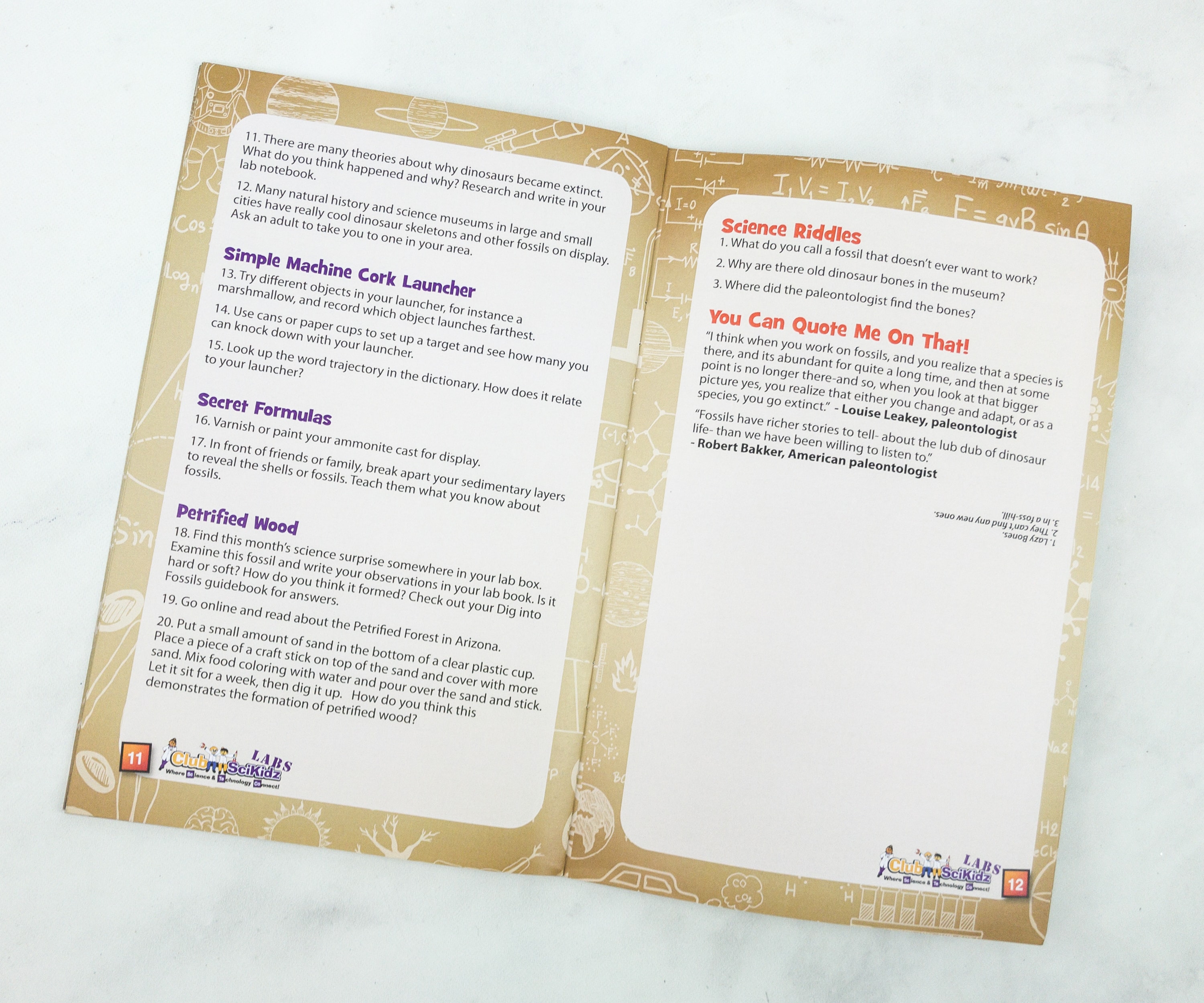 For added fun, they also included some Science Riddles (with answers), and quotes!
The kids can learn more about certain topics by comparing FUN and FACTS. For this kit, it's all about Dinosaurs and Fossils! They also included a biography on certain Scientists who inspire, and for this kit, it's Mary Anning.
Mary Anning was an English fossil collector, dealer, and palaeontologist who became known around the world for important finds she made in Jurassic marine fossil beds in the cliffs along the English Channel at Lyme Regis in the county of Dorset in Southwest England.
Everything in my box!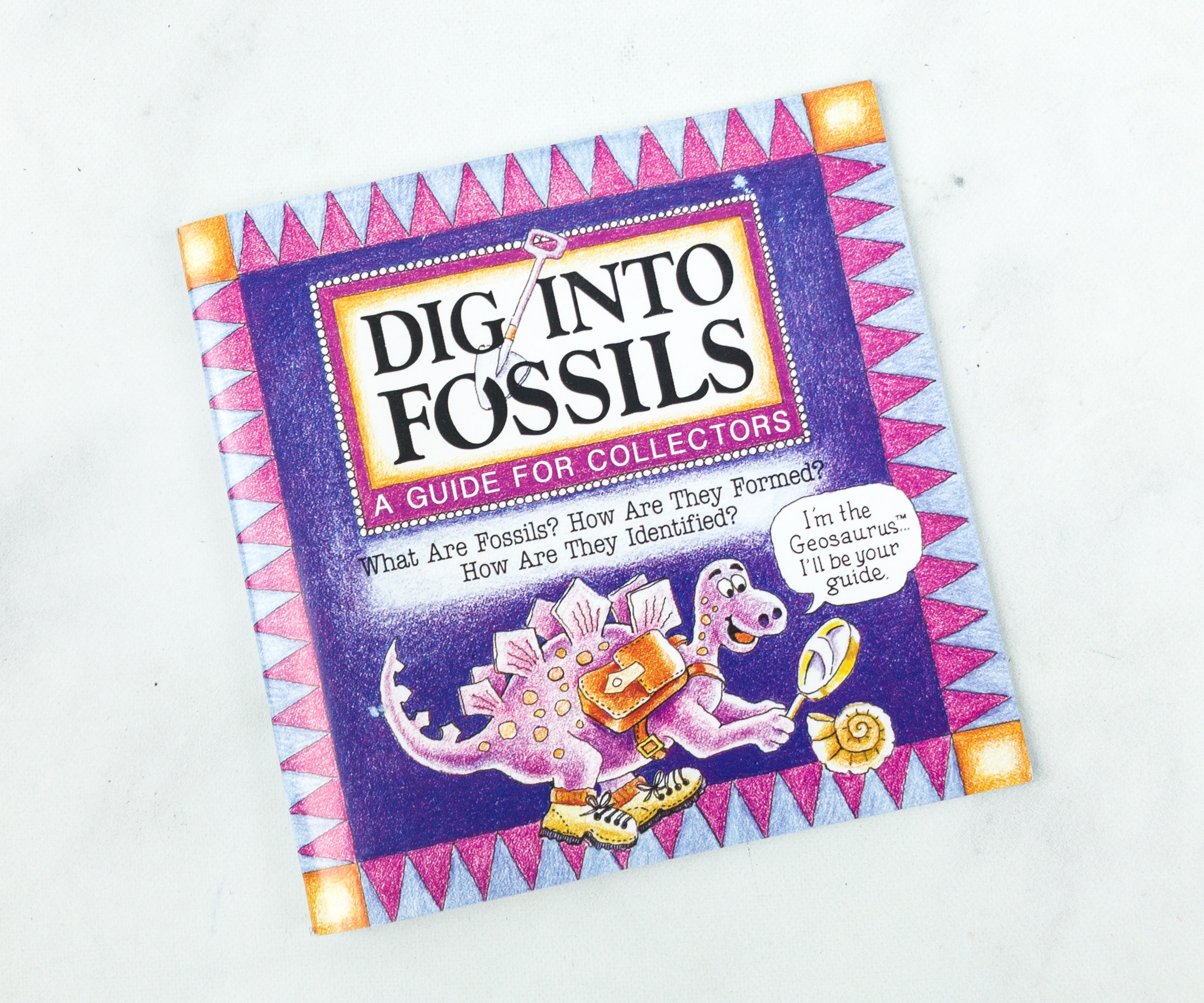 Dig Into Fossils by Geo Central ($15.67) It's a nice read that introduces us to Earth's geological treasures.
In this book, Rocky the Rockhound leads the reader to discover lots of interesting facts. The book may be small but it's really informative!
It's like digging into rocks, but for facts instead! The book has a total of 32 pages that contains nice and colorful illustrations, photos, and provides us information, and even the wonders of minerals and crystals!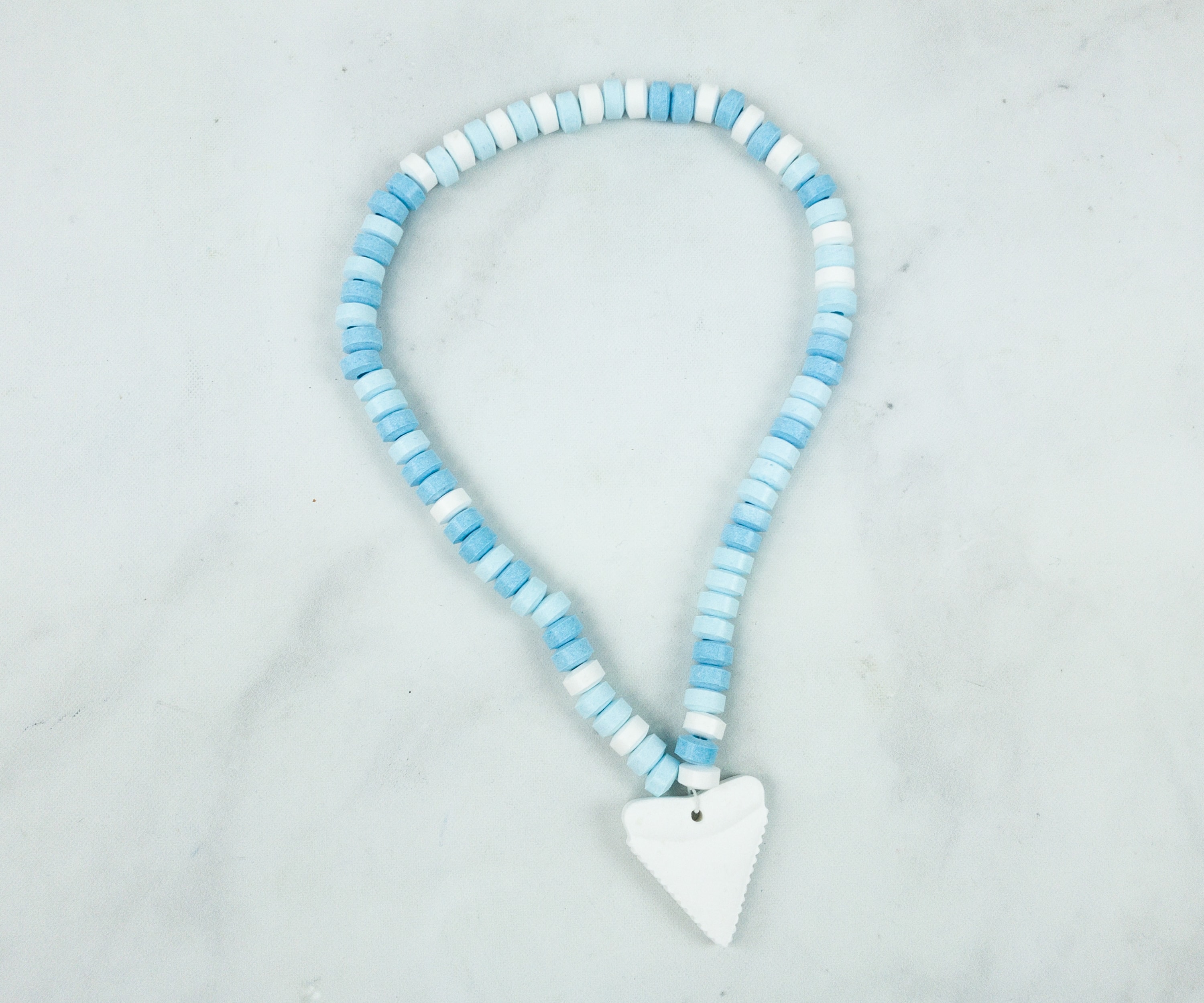 There's a nice necklace that is also included in the kit.
The necklace is made of stones in different shades of blue, plus a triangular, or almost a heart-shaped pendant!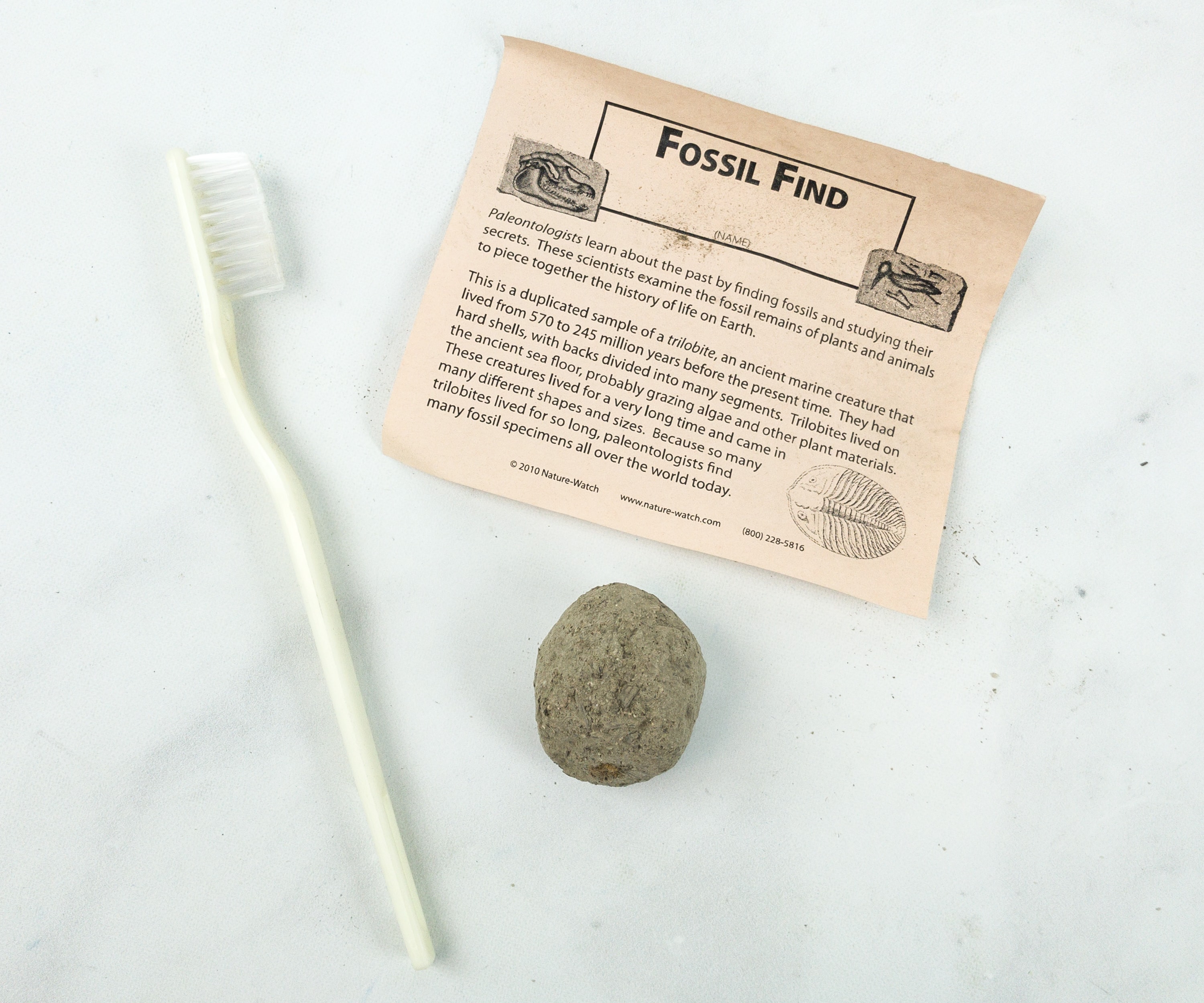 Experiment #1: Trilobite Find. The first experiment is a Trilobite Find. For this activity, we'll need a toothbrush, the trilobite specimen, fossil find card, and a little bit of water.
Here's the Trilobite specimen that looks like a piece of rock. A Trilobite is an extinct marine arachnomorph arthropod.
Using the toothbrush, scrape off the sediments carefully that is covering your trilobite.
After using a little amount of water, there's the trilobite!
You can also use water to clean it thoroughly but keep in mind that real fossils may disintegrate with the use of water.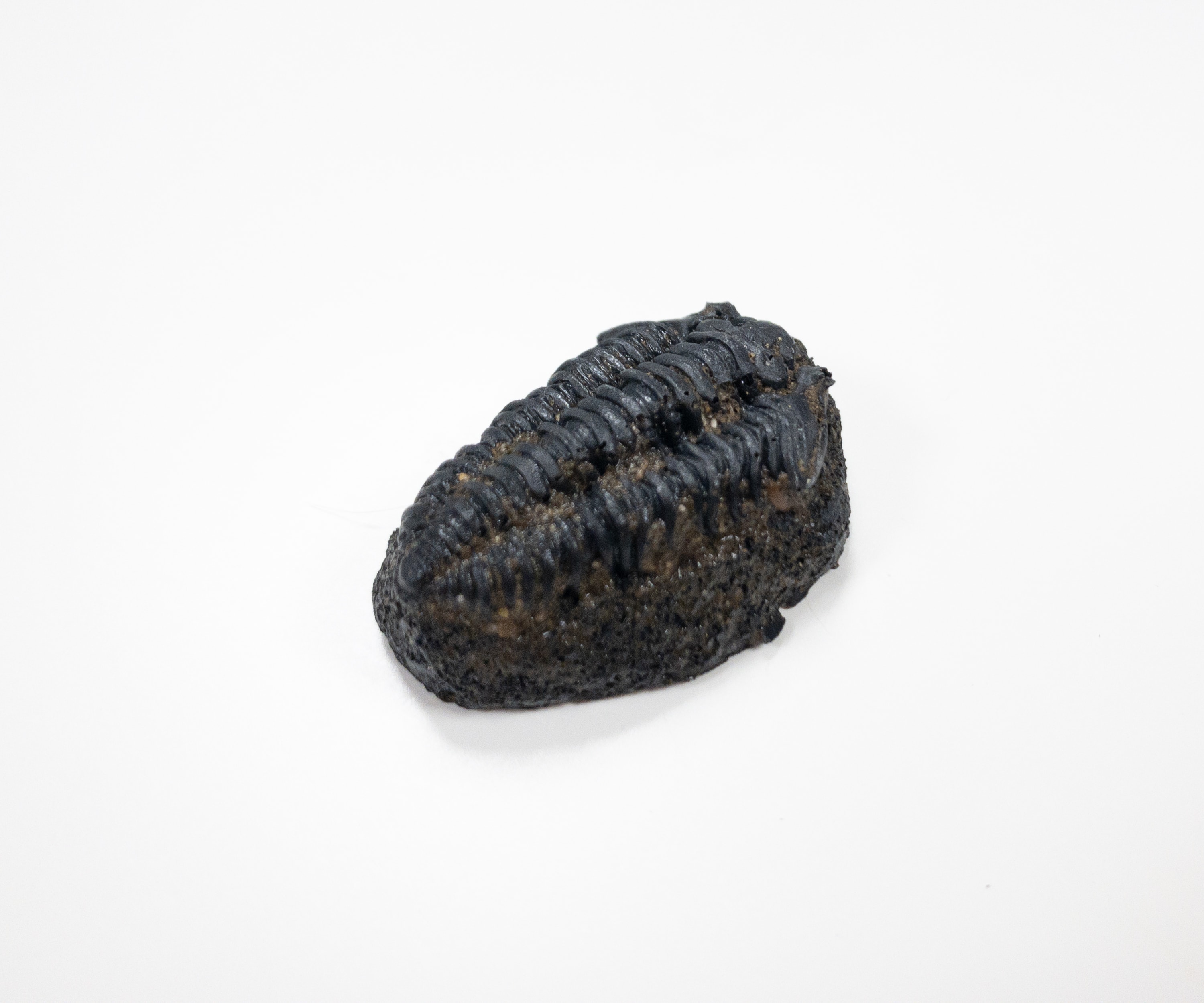 Get your find card and read more about the trilobite that you just revealed!
Experiment #2: Fossil Identification. The next experiment is to identify some fossils.
For this experiment, we used the following: a bag of Fossil Rough, Fossil Mining Identification Guide Sheet, and a paper plate from home.
The guide lists all the different fossils that you will identify.
There's also a list of gemstones and minerals that you may find!
Place the fossil rough on the paper plate and start finding and identifying the fossils!
Then, mark the fossils that you find in the rough on the guideline.
You also need to mark the gemstones and minerals!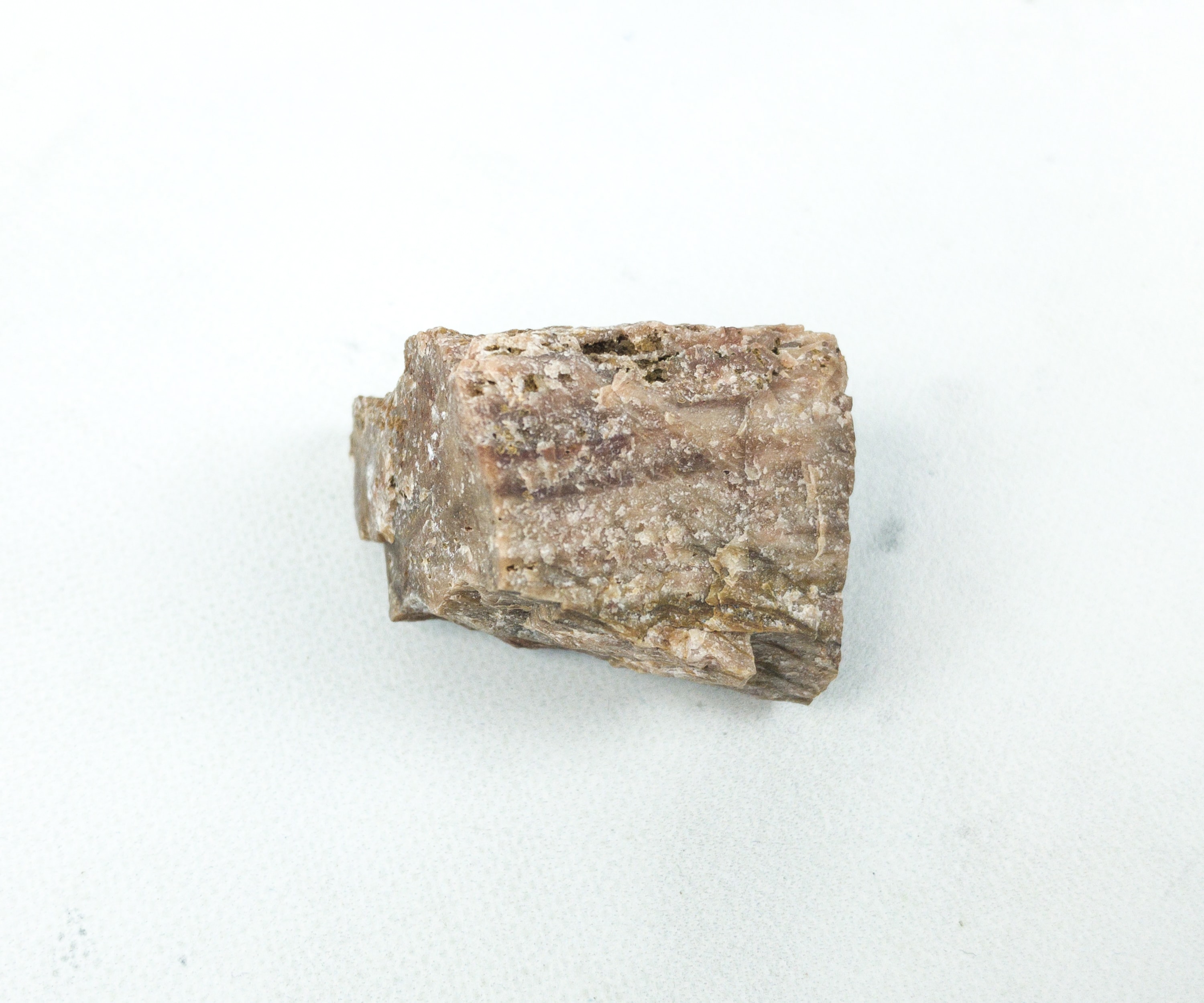 One of the fossils we found is petrified wood.
Petrified wood is a special type of fossilized remains of terrestrial vegetation. It is the result of tree-like plant that transitioned to stone by the process called permineralization, where mineral deposits form internal casts of certain organisms.
Toy Science Excavate Your Own Mini Dinosaur – SIMILAR ($5.99) The toy that's included in the kit lets you excavate your own mini dinosaur!
The kit may get you a glow-in-the-dark Triceratops or T-Rex!
The kit contains the excavation tool, brush, and the rock that you need to work on to get the fossils. It looks like a bar of soap, it even has the words "dig it out" engraved on it.
The kit also included instructions for assembling the pieces. One side is for the T-Rex.
The flip side is for the triceratops.
Just use the digging tools provided to carefully unearth the fossil bones then look at the instructions to figure out how you can assemble the dino skeleton.
Making a Cork Launcher. To make a cork launcher, we used popsicle sticks, rubber bands, a clothespin, corks, and wooden cubes. From home, you can get hot glue and a small piece of tape.
Just follow the instruction provided on the booklet to make your cork launcher. You can also try if it works after completing it.
Paleontology Supplies. For this activity, we used the Dig Into Fossils book, a bag of Plaster of Paris, wooden chisel and probe, and a brush. You can start by hiding the fossil on a bigger ground and let others find them, then teach them how to excavate the fossil using the different tools.
Ammonite Fossil Cast. Ammonoids are a group of extinct marine mollusks, which are called ammonites. They are closely related to living coleoids like octopuses, squid, and cuttlefish.
For this activity, we used something to cast the ammonite with: Plaster of Paris, a brush, mixing bowl, spoon, and petroleum jelly.
We need to put petroleum jelly on the ammonite so it won't stick while we make an imprint of it using the plaster of Paris. The ammonite also came with an information card that lets us know more about the sample.
After doing all the activities in this box, we found out that Paleontology is really fun! It's wonderful to see fossils and even gems and minerals from rocks. It's really fun to piece the dino fossils, and know more about how the paleontologists find minerals and precious gems from simple-looking rocks. Science is awesome, and we love this kit that let us learn more about different realms. Each experiment is not just fun to do but also interactive, and even involves the whole family which makes it a fun activity for everyone!
What do you think of Geology Rocks? Are you kids really into science?