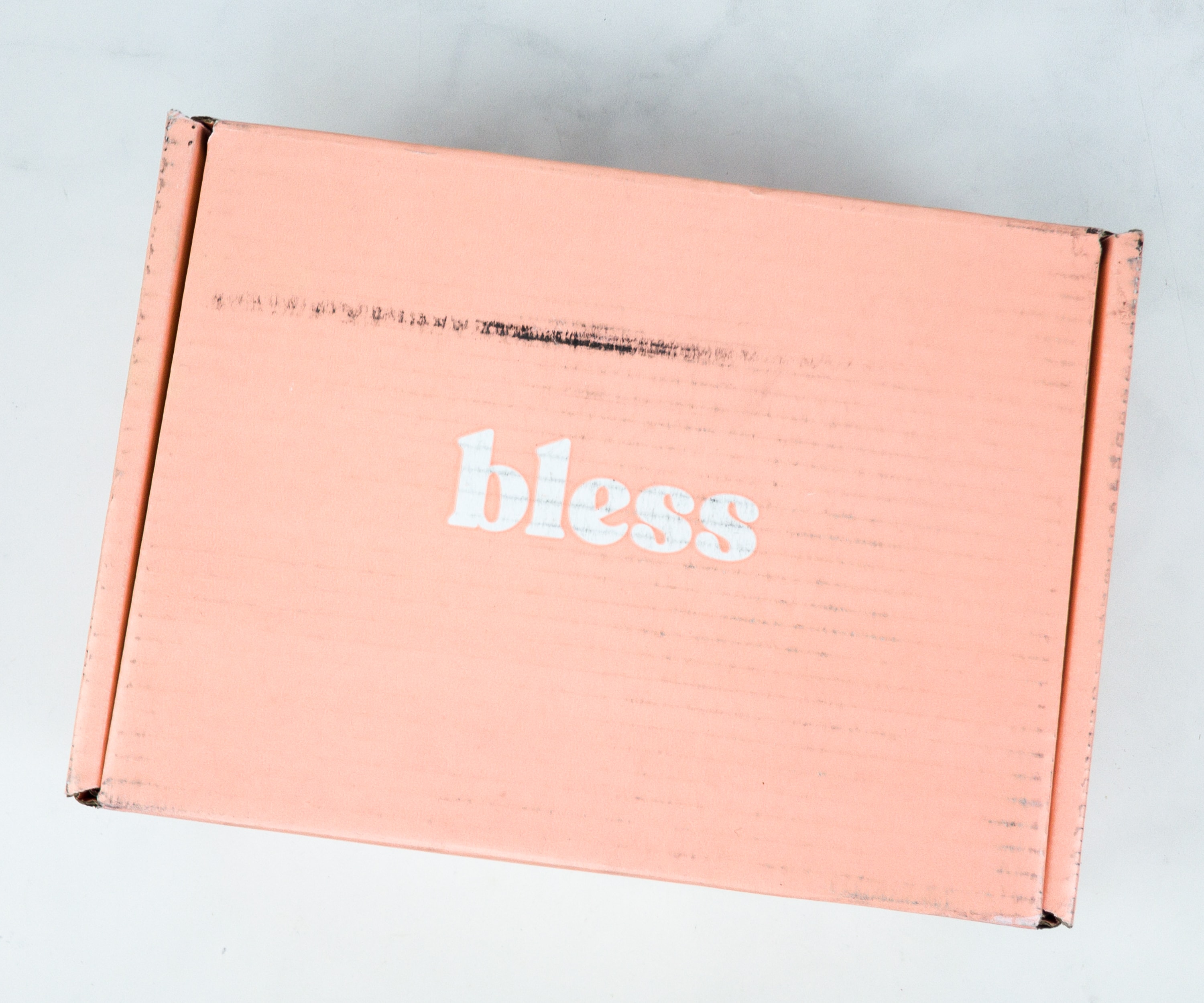 Bless Box is a monthly women's subscription box by Sazan Hendrix. The box is curated around the categories of beauty, health, and style – all things that make you (and Sazan) happy. The box is $29.99 per month plus $7.50 shipping.
DEAL: Use the coupon code VIP25 to save 25% on your first Bless Box.

A card welcomed us upon opening the box.
The items were wrapped in white tissue paper, sealed with a sticker.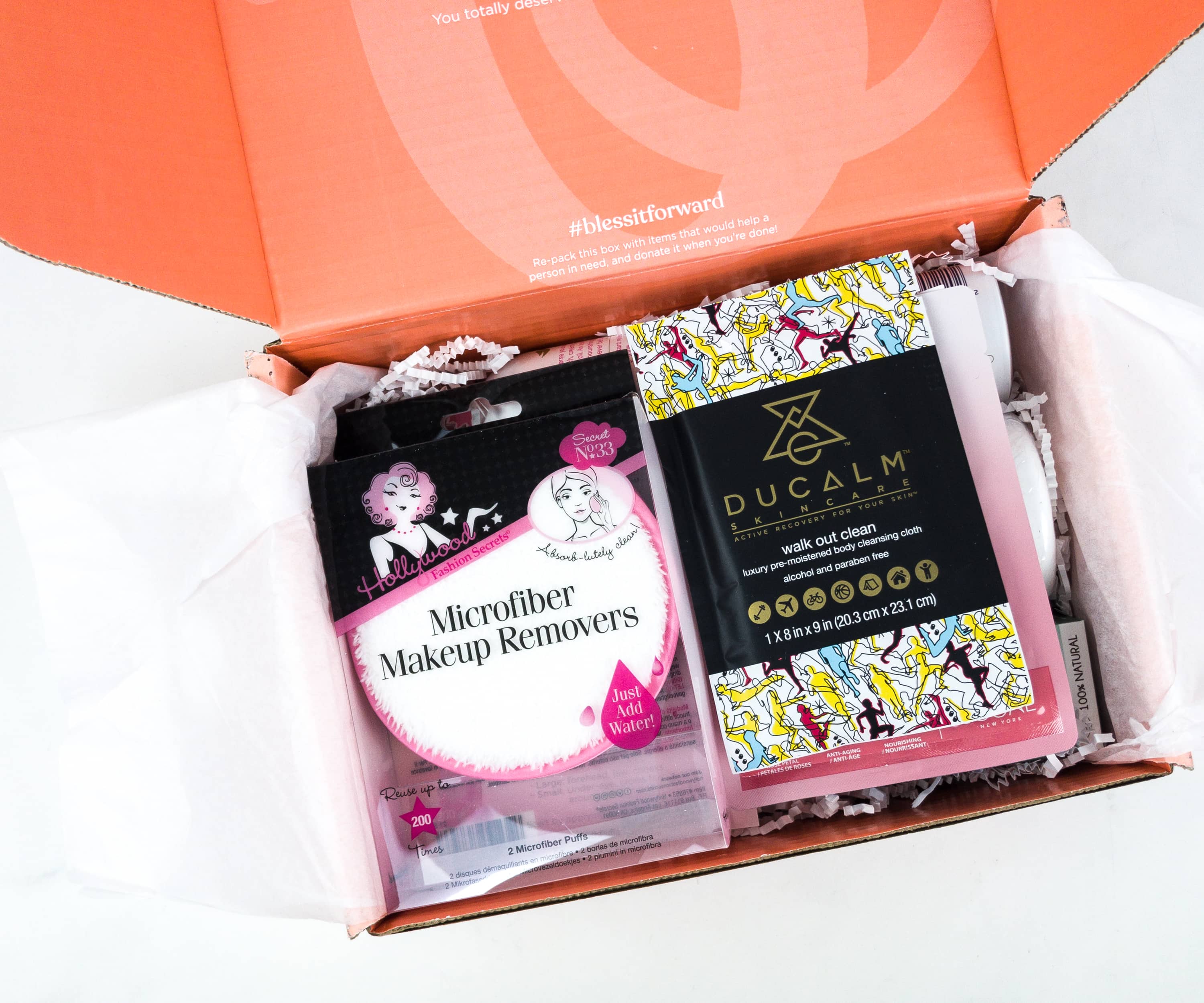 The box also contains white squiggles.
Instead of the lengthy magazine, this month we only got a card.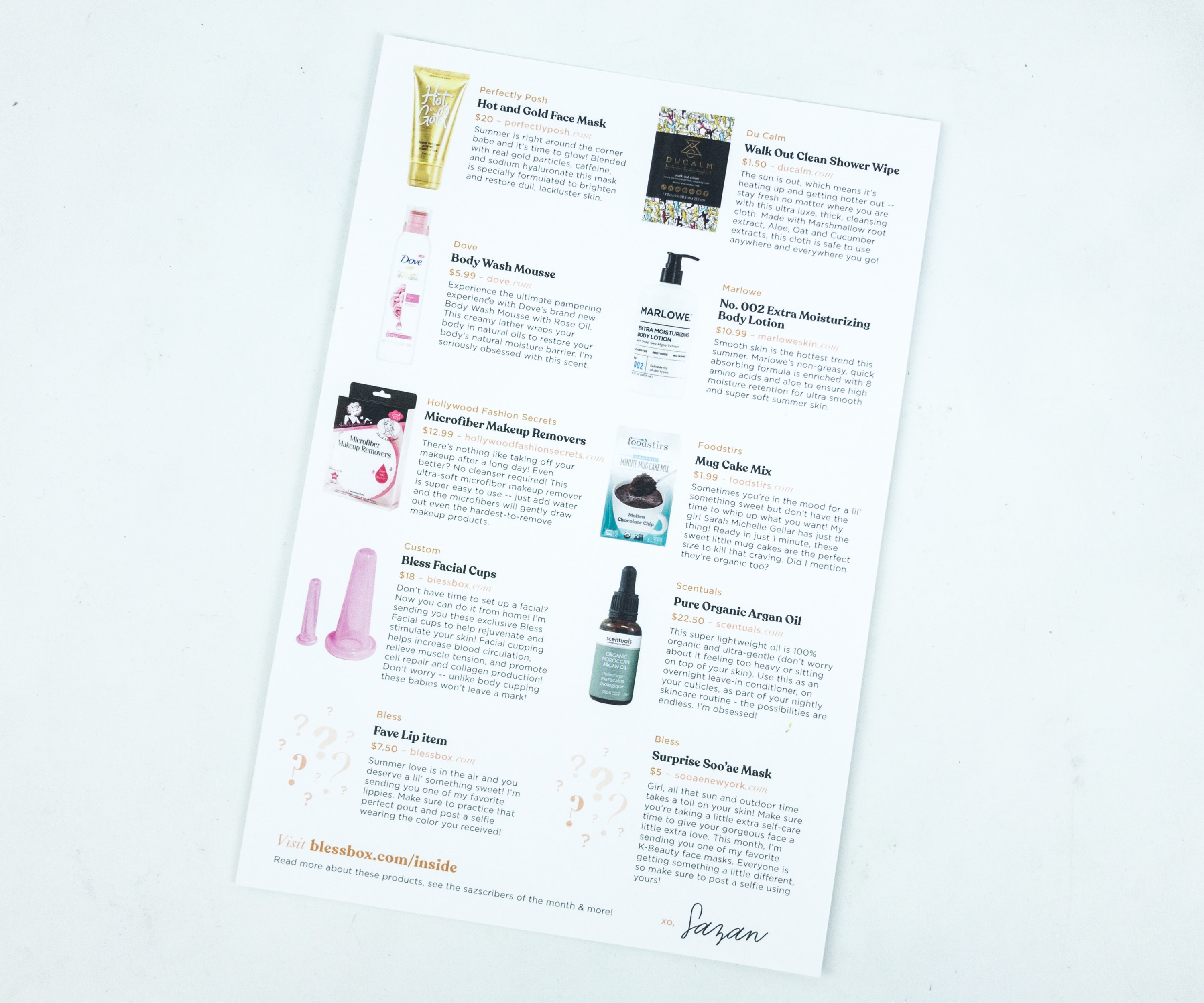 At the back, there's a list of all the items in the box with brief descriptions. There's also a link to the online catalog.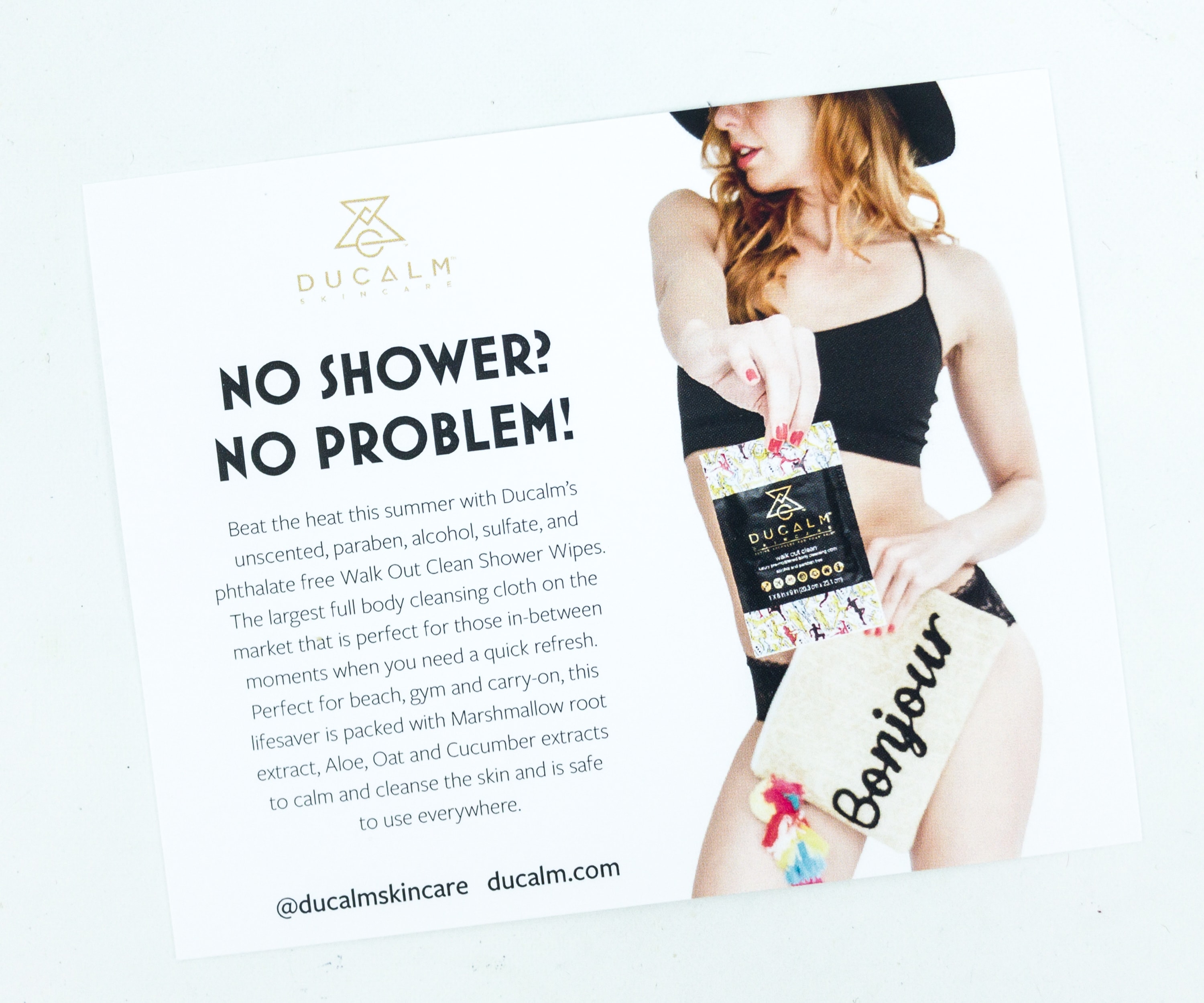 There's also a promo card from Ducalm.
Everything in the May 2019 box!
Custom Bless Facial Cups. Facial cupping is believed to improve blood flow and circulation, therefore making your skin more glowing. This month, I got suction cups for facial cupping with instructions for use.

There are two cups and they're for different parts of your face. The large one is for your forehead, jaw, and cheeks, while the small one is for your undereye, crows feet, t-zone, and around your mouth.
It's also recommended to apply facial oil before using these to avoid getting bruises.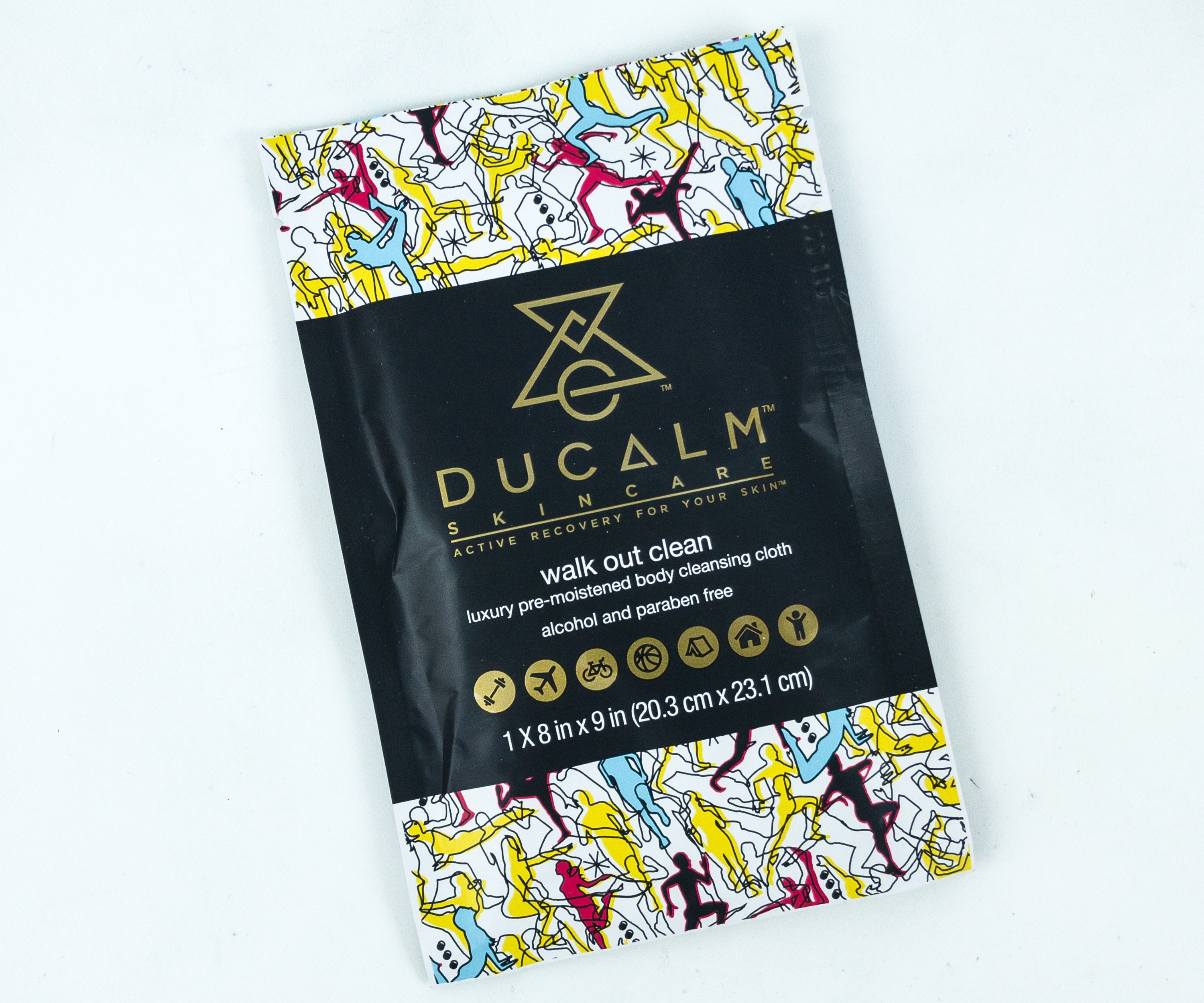 Du Calm Walk Out Clean Shower Wipe ($1.50) This pre-moistened cleansing cloth can be used from head to toe. It's easy to stash in your gym bag or travel backpack, so you can freshen up anywhere you go even when there's no water.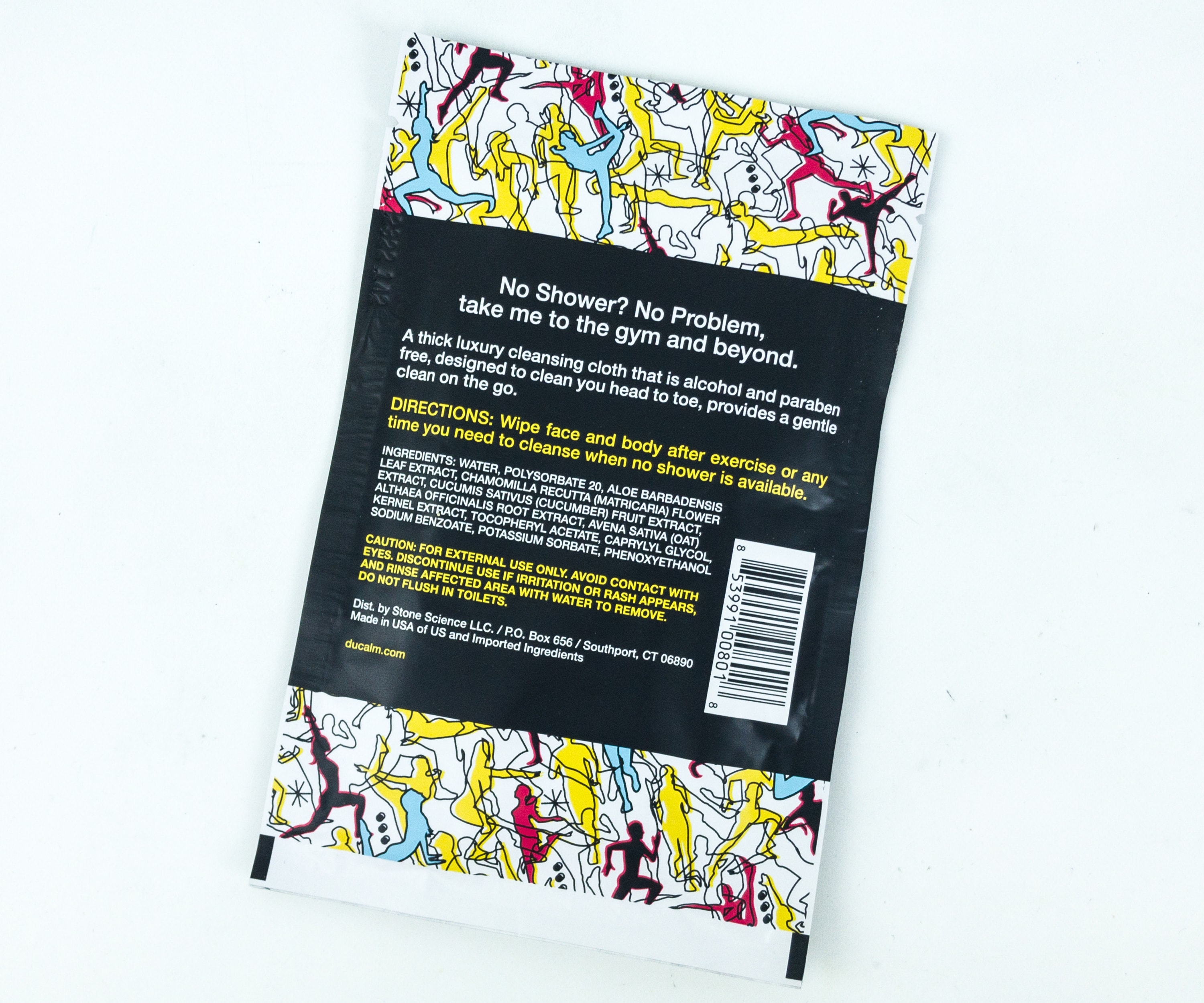 It's thick so it doesn't easily get ripped as you use it. The wipe is also paraben-free and alcohol-free.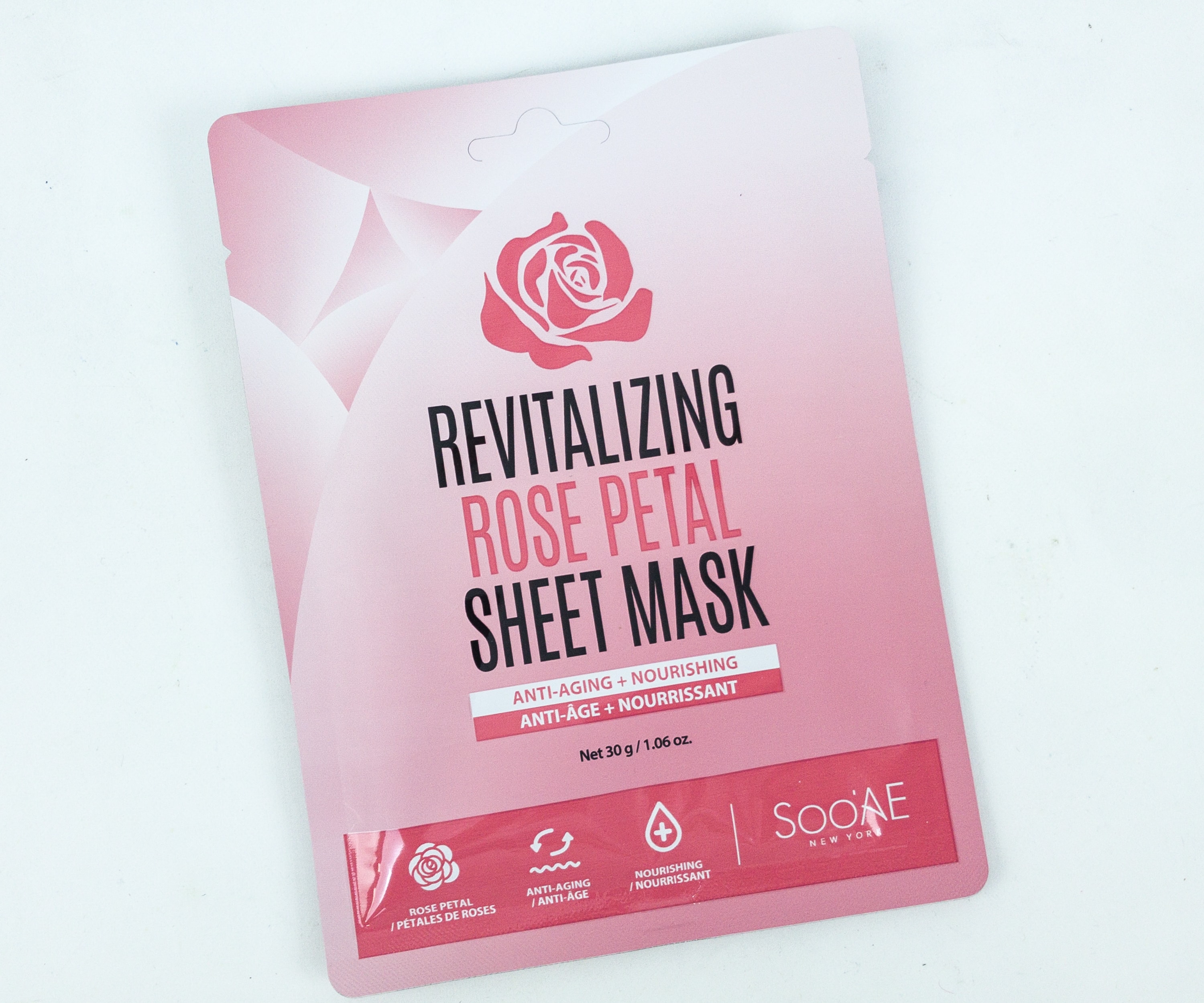 Soo'Ae Revitalizing Rose Petal Sheet Mask ($1) It's a sheet mask powered by damask roses, which are known for their anti-microbial and antioxidant properties. This item is one of the surprise items for this month's box.
The sheet mask is packed with lots of essence and it smells so wonderful. Other key ingredients include hyaluronic acid, allantoin, and collagen, which provide hydration.
Foodstirs Celebration Confetti Mug Cake Mix ($1.65) Mug cakes are the best, especially when you're craving for something sweet to fill you up. This pack of organic minute mug cake mix is by Foodstirs, which makes the best baking kits and mixes!

It's easy to prepare, just put all the contents of the pack into a mug, add water and stir, then put it in the microwave!

Hollywood Fashion Experts Microfiber Makeup Removers ($15) Yay for reusable makeup removers because it means less waste compared to using disposable wipes!
To use, just add water and wipe your makeup away. It can be machine-washed or hand-washed after each use, totally up to you!
There two microfiber removers in the pack! So soft and fluffy!

Colourpop Lux Lipstick ($7.50) It's a surprise item, which is one of Sazan's favorite lippies. The formula is long-wearing and non-drying, plus it has a matte finish that makes your lips more irresistible.  It's also buildable for a more intense look. I got mine in a warm rose color and it's a great match with my skin tone.
Perfect Posh Hot & Gold Firming Face Mask ($20) Hot & Gold is such a catchy name for this facial mask that contains caffeine and colloidal gold. Caffeine helps energize the skin, while gold provides anti-aging benefits. It smells wonderful with floral and mossy notes. A little amount goes a long way, just apply a thin layer on your skin and neck, leave it for 15-20 minutes, then rinse. It makes the skin feel smoother and firmer, and it doesn't leave any residue either!
Scentuals Pure Organic Argan Oil ($20.99) Moroccan argan oil works wonders on the hair, face, and body. I got a bottle in this month's box and it's also gluten-free, natural, and organic. When used consistently on the face, it helps reduce signs of aging such as wrinkles and fine lines. As for the hair, it leaves a beautiful shine and makes it less frizzy. You can even apply it on your body to keep your skin hydrated all day long. It's lightweight and non-greasy as well!

Dove Body Wash Mousse ($5.99) This shower mousse feels luxurious on the skin as it's creamy and lathers well! It's infused with rose oil which delivers moisture to your skin, leaving it softer and smoother. Like any other item with rose, this one smells so lovely. You can use this mousse for shaving as well.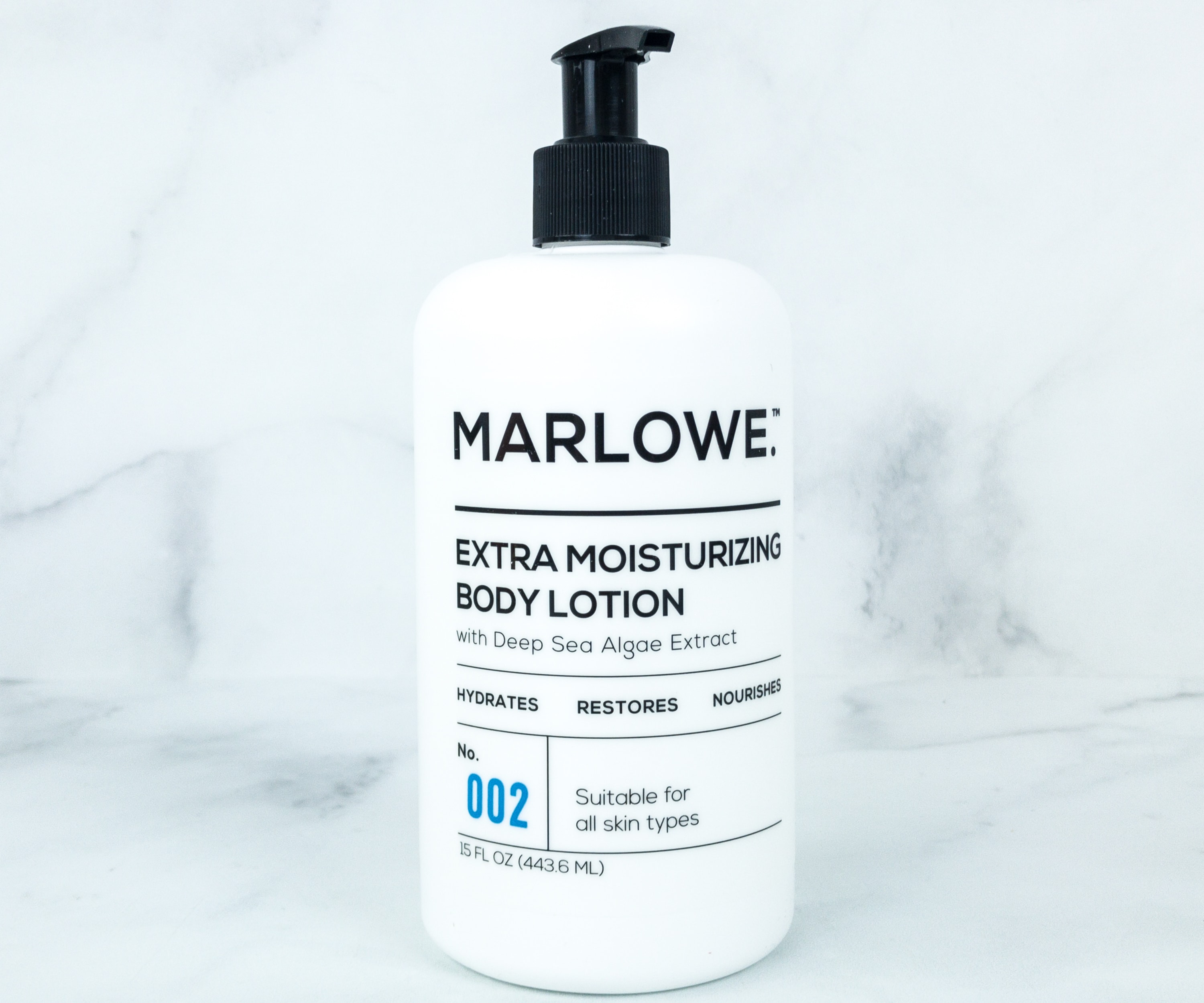 Marlowe No.002 Extra Moisturizing Body Lotion ($10.44) Suitable for all skin types and for both men and women, this lotion is made with the brand's proprietary blend of green tea extract, willow bark extract, passionflower extract, and deep sea algae extract. It hydrates the skin minus the sticky or greasy feeling, and it soothes irritations to boot. I love that comes in a pump bottle because it's easier to dispense. I particularly like the clean & fresh non-fragrancey scent.
This month's Bless Box included some really nice stuff, which are mostly skincare and beauty items. I like the moisturizing body lotion and the multipurpose argan oil, my skin felt and looked good after using them. The gold face mask is also a nice discovery. Another noteworthy item is the reusable makeup remover, it makes an eco-friendly alternative to single-use wet wipes! Along with all these fantastic skin-loving items, they even included a yummy cake mix, so what more can I ask for? For a $29.99 box, getting this many items is a bang for the buck!
What do you think of this month's Bless Box?