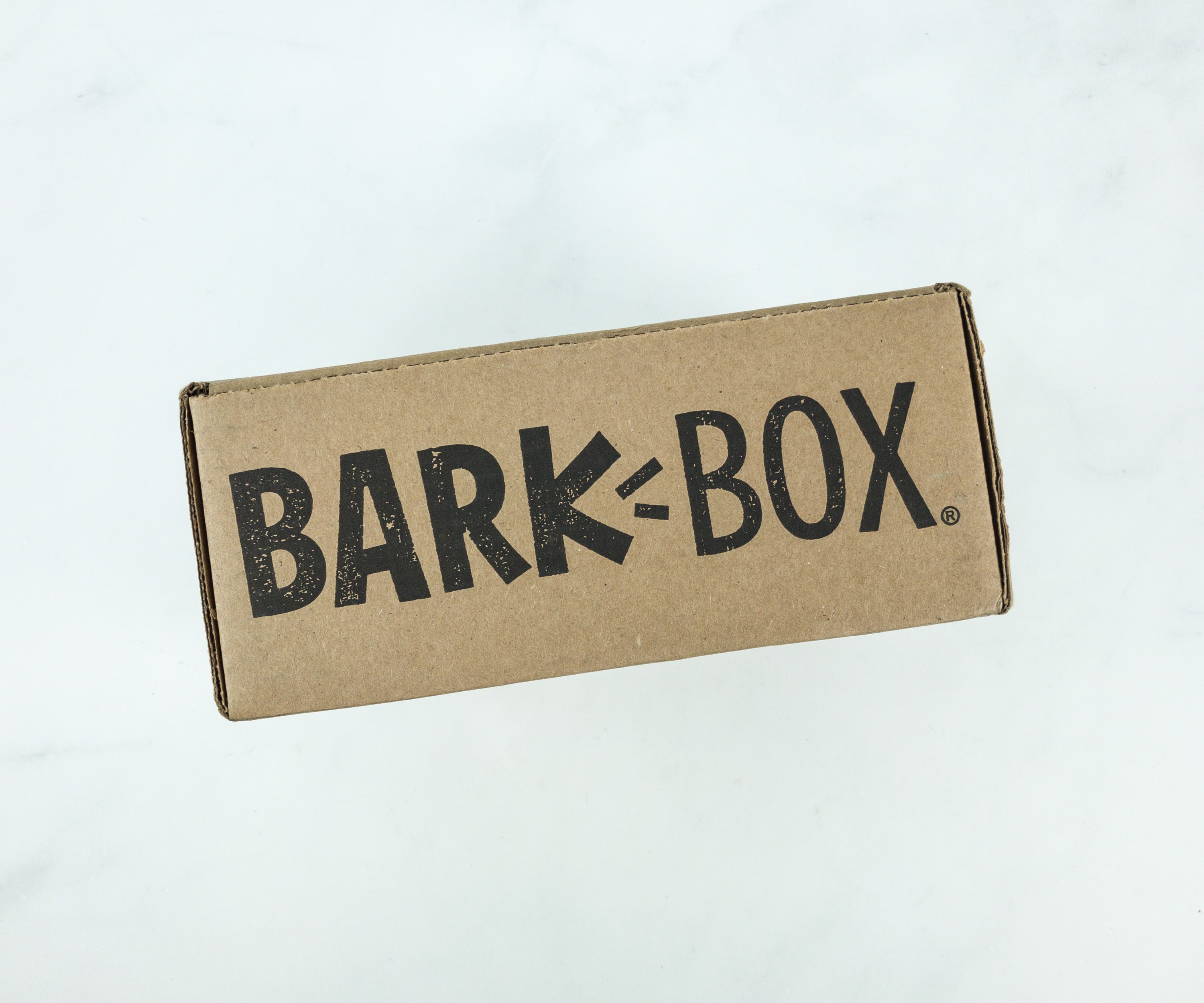 Barkbox is a monthly subscription box just for dogs. Each box has 4-6 dog products and is customized to the size of your pup, plus it has a cute theme that you and your dog will get a kick out of.
DEAL: You can get a $10 credit to the Barkshop with your Barkbox subscription with promo code MS10X1213. OR, get a FREE month on a 6 or 12 month subscription when you sign up for BarkBox with this link!
This Barkbox is for small dogs like our miniature schnauzers, Lindy and Dean, but you can get them for medium and large dogs too. Check out our Barkbox reviews for a peek at the big dog boxes! Plus, they now offer Barkbox SUPER CHEWER – the heavy chewer box!
A very cute packaging welcomed us upon opening the box. Aside from the wrapping paper, there are no other packaging material or fillers.
The theme of this month's box is Sniffs From The Abyss!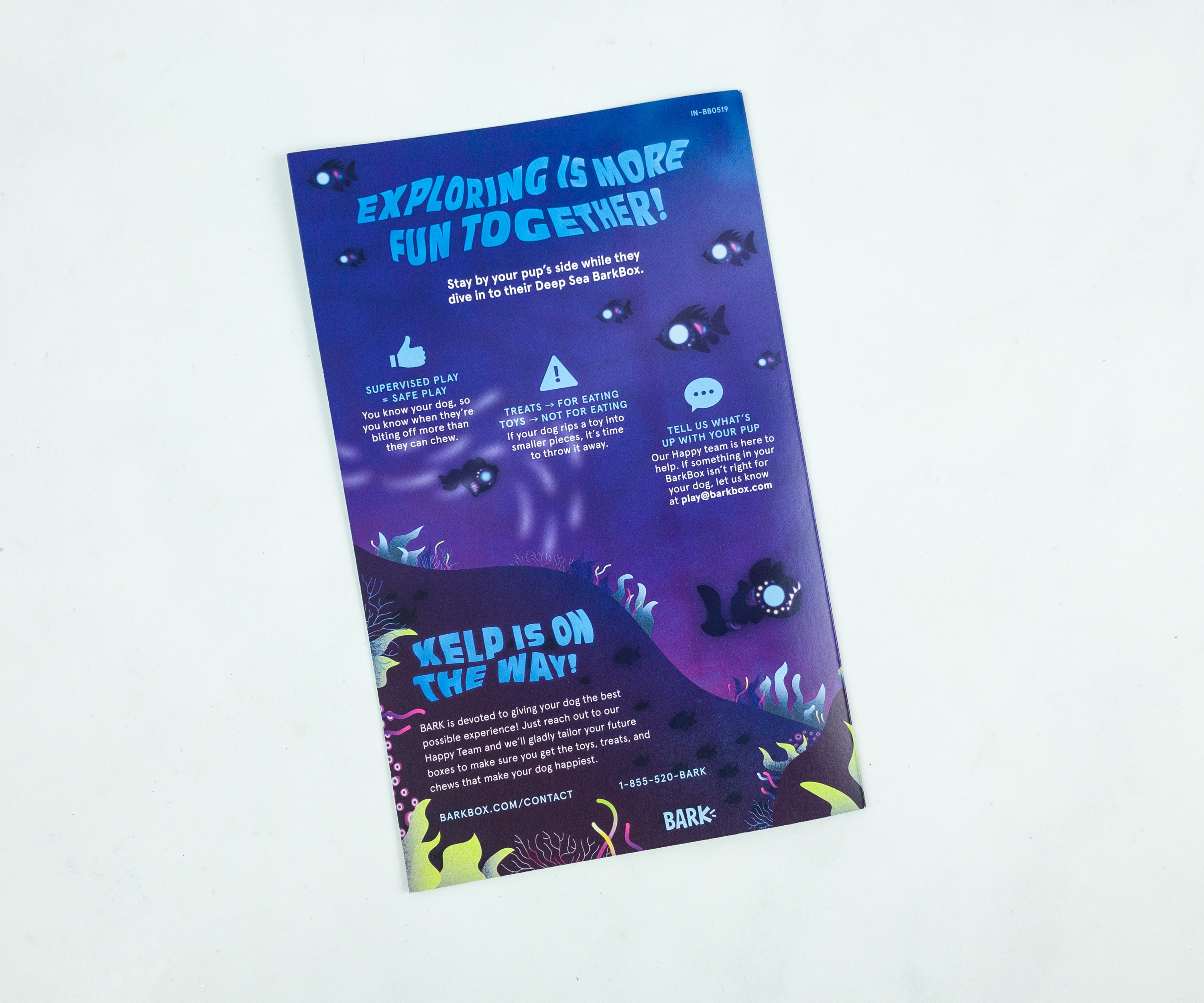 Barkbox includes a cute brochure that provides information about all the items inside.
The back of the brochure features the possible plush toys that might be included inside your box. According to it, all the deep sea toys are glow-in-the-dark!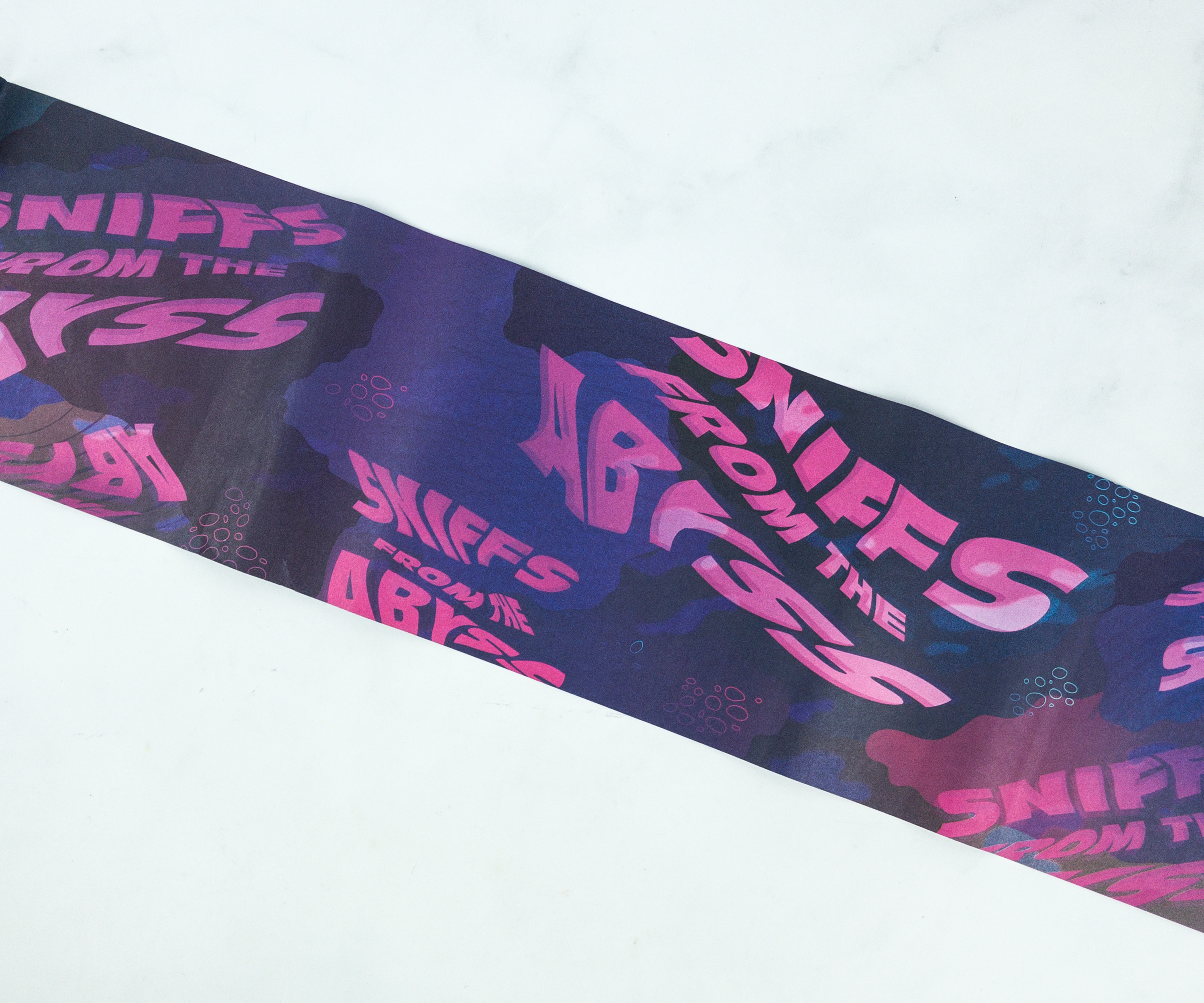 Featured on one side of the wrapping paper is this month's theme.
On the other side of the wrapping paper is a majestic scenery featuring the deep blue sea.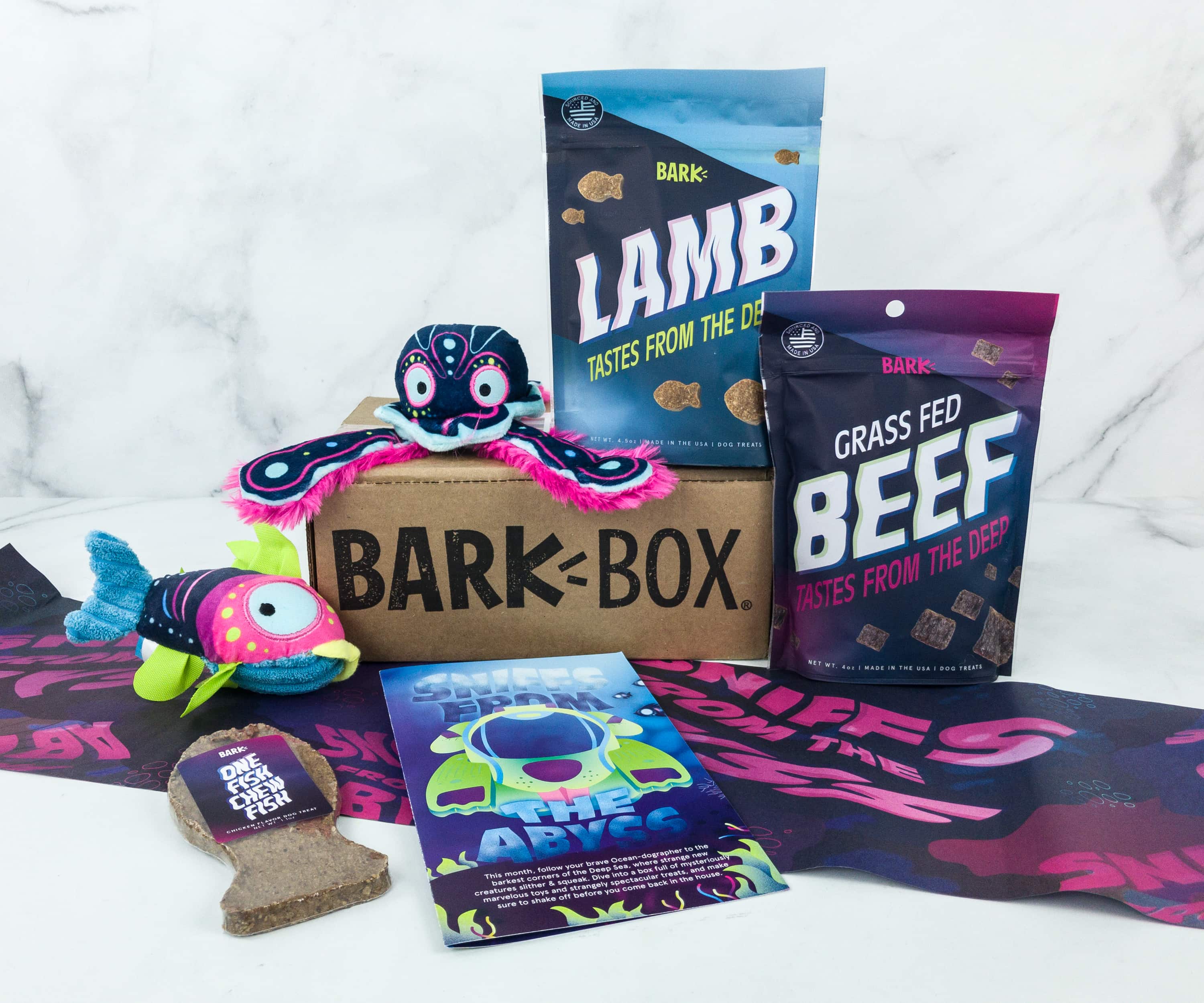 Everything in this month's box!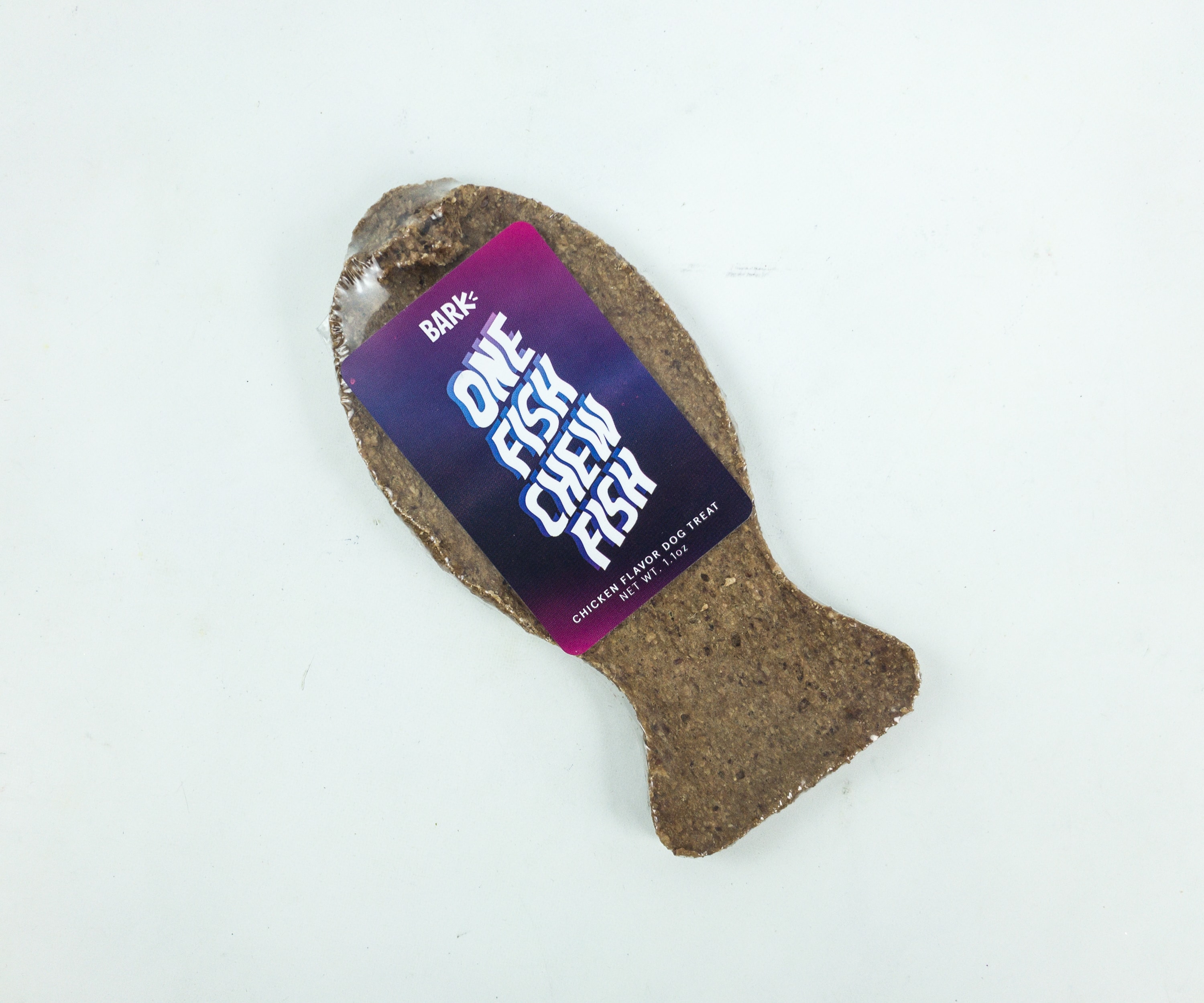 One Fish Chew Fish Dog Treat. This fish-shaped dog treat contains chicken, oat bran, and rosemary extracts. Of course, Barkbox came up with a punny name and we're here for it!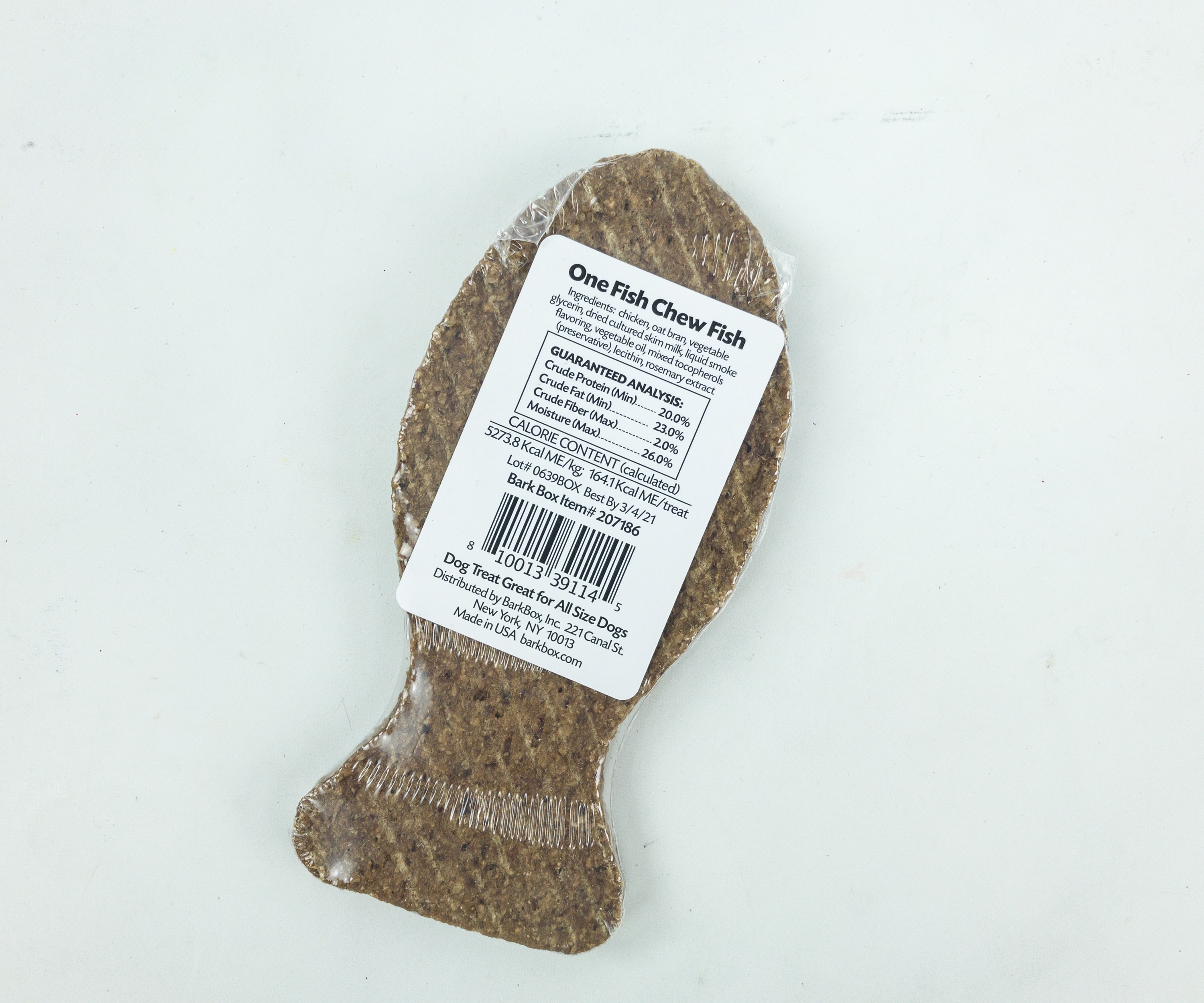 It's an ideal treat to give as a reward for training. It can also be served whole or broken into smaller pieces, depending on the size of your pups.
Bark Behind The Squeaks Kelly Le Fish Jelly Fish Plush. This month's box includes two squeaky plush toys. The first is a cute and colorful jellyfish!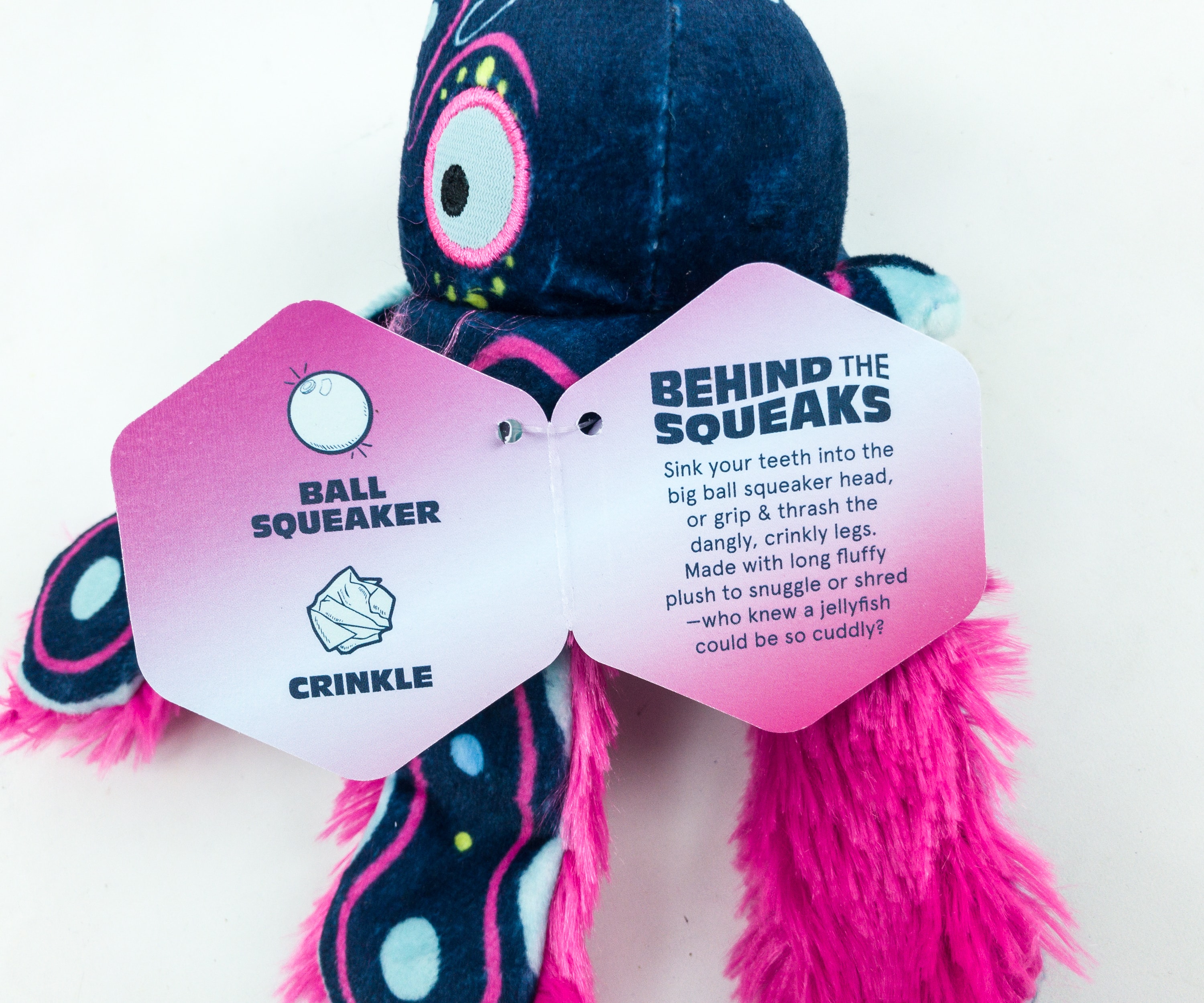 According to the label, this plush toy contains a ball squeaker and crinkles which produces amazing sounds!
It's a three-legged medium-sized jellyfish that features a navy blue base color with light blue and purple lining. It also comes with two huge glow-in-the-dark round eyes!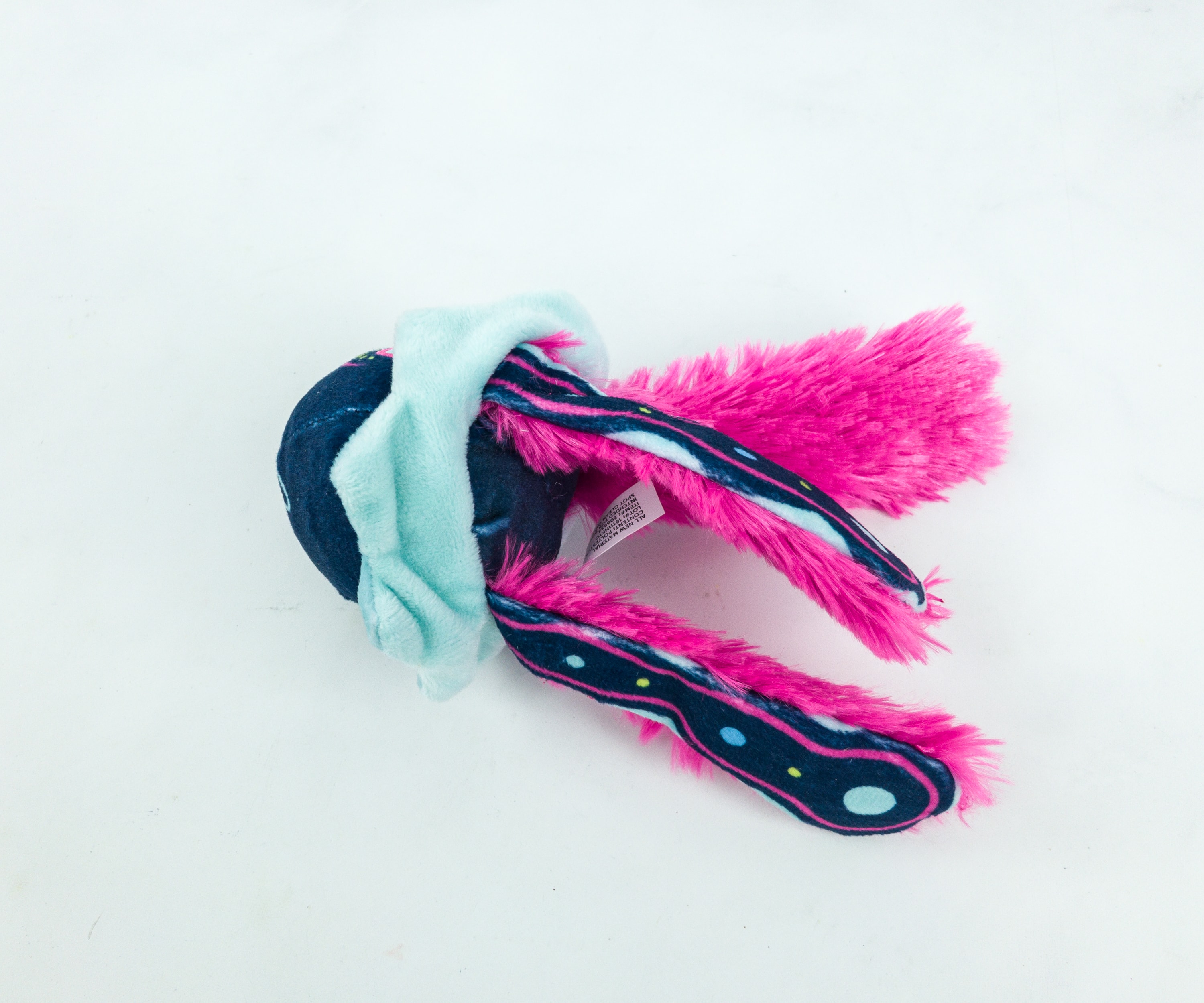 This plush toy is soft and squishy. It's perfect for a little tug-of-war game!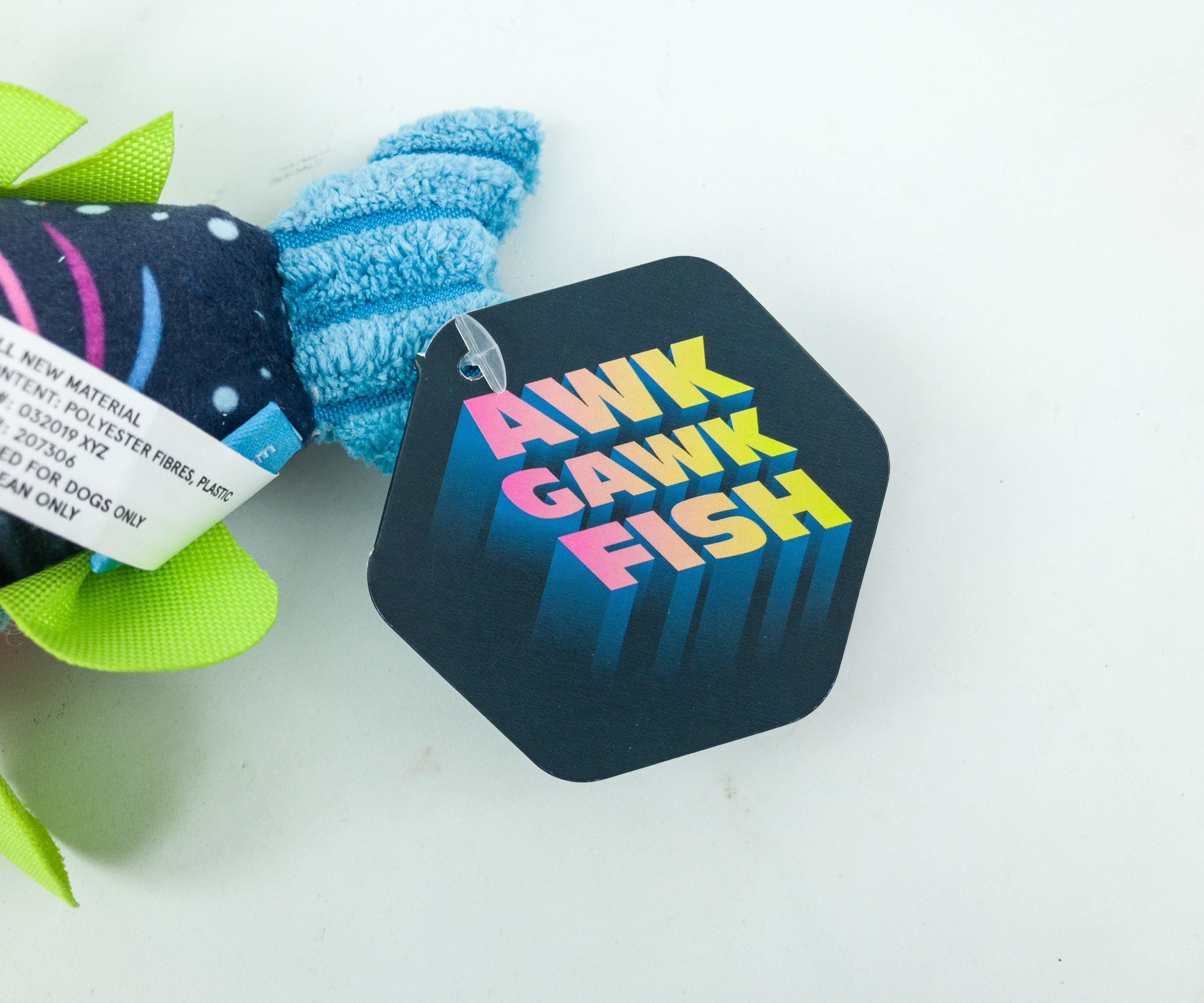 Bark Behind The Squeaks Awk Gawk Fish Plush. The next toy is a soft and squeaky deep sea gawk fish!
Inside this fish-shaped plush toy are a ball squeaker and a crinkle.
It's a pretty colorful fish with a pink head, navy blue body, green fins, and blue tails.
Deep sea creatures normally have huge eyes to help them see things in the dark places of the ocean. Like the jellyfish plush toy, this fish also comes with glow-in-the-dark eyes!
Beef Tastes From The Deep Dog Treats. It's a pack of bite-sized treats made with beef, molasses, and pea flour.
These chewy snacks are a great source of protein, fiber, and other essential nutrients to keep dogs strong and healthy.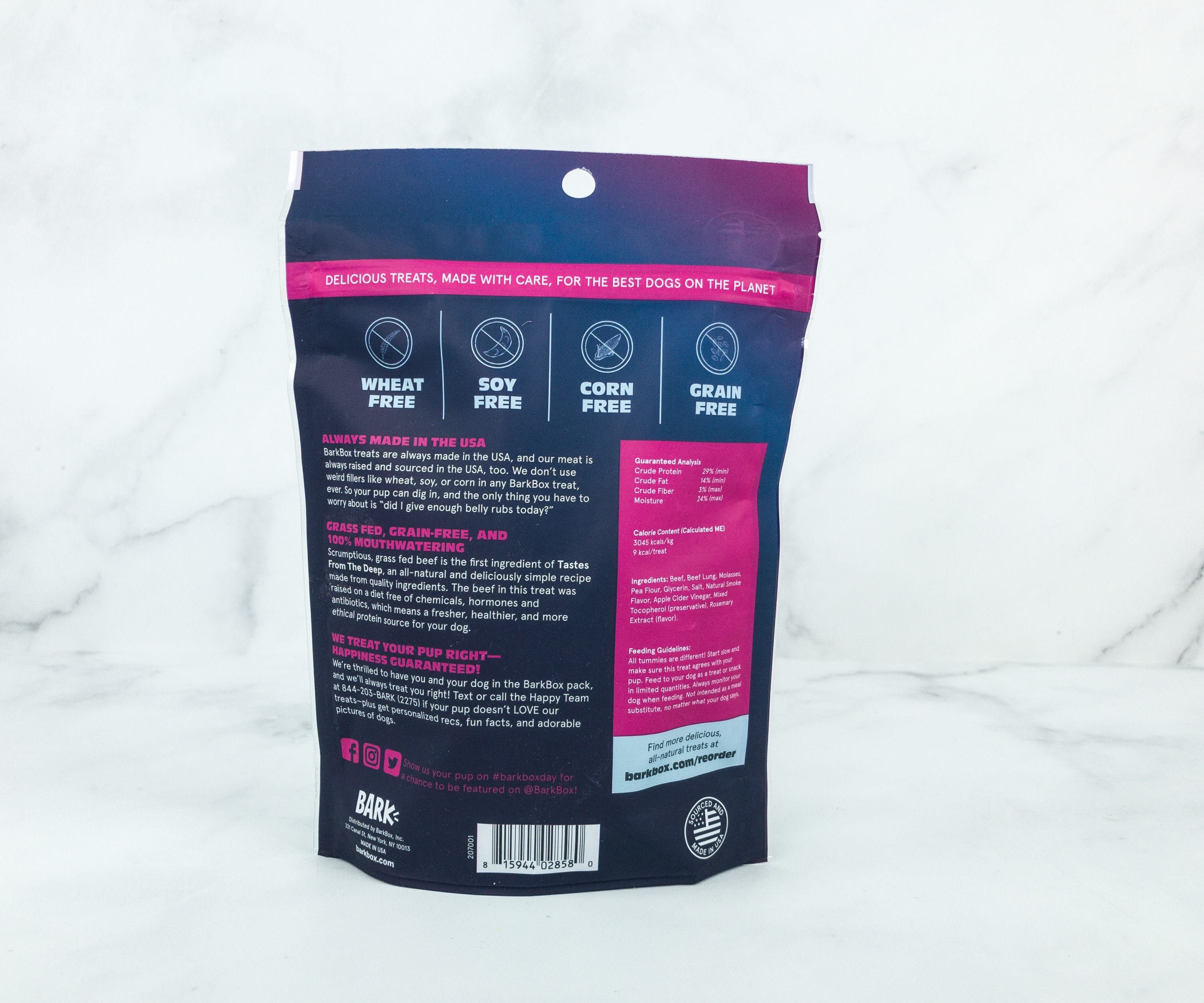 According to the back of the container, this treat doesn't contain wheat, soy, corn, or even grain. The container is resealable too!
Lamb Tastes From The Deep Dog Treats. It's a pack of fish-shaped snacks made from lamb and flaxseed, which are rich in omega-3 fatty acids for skin and coat health.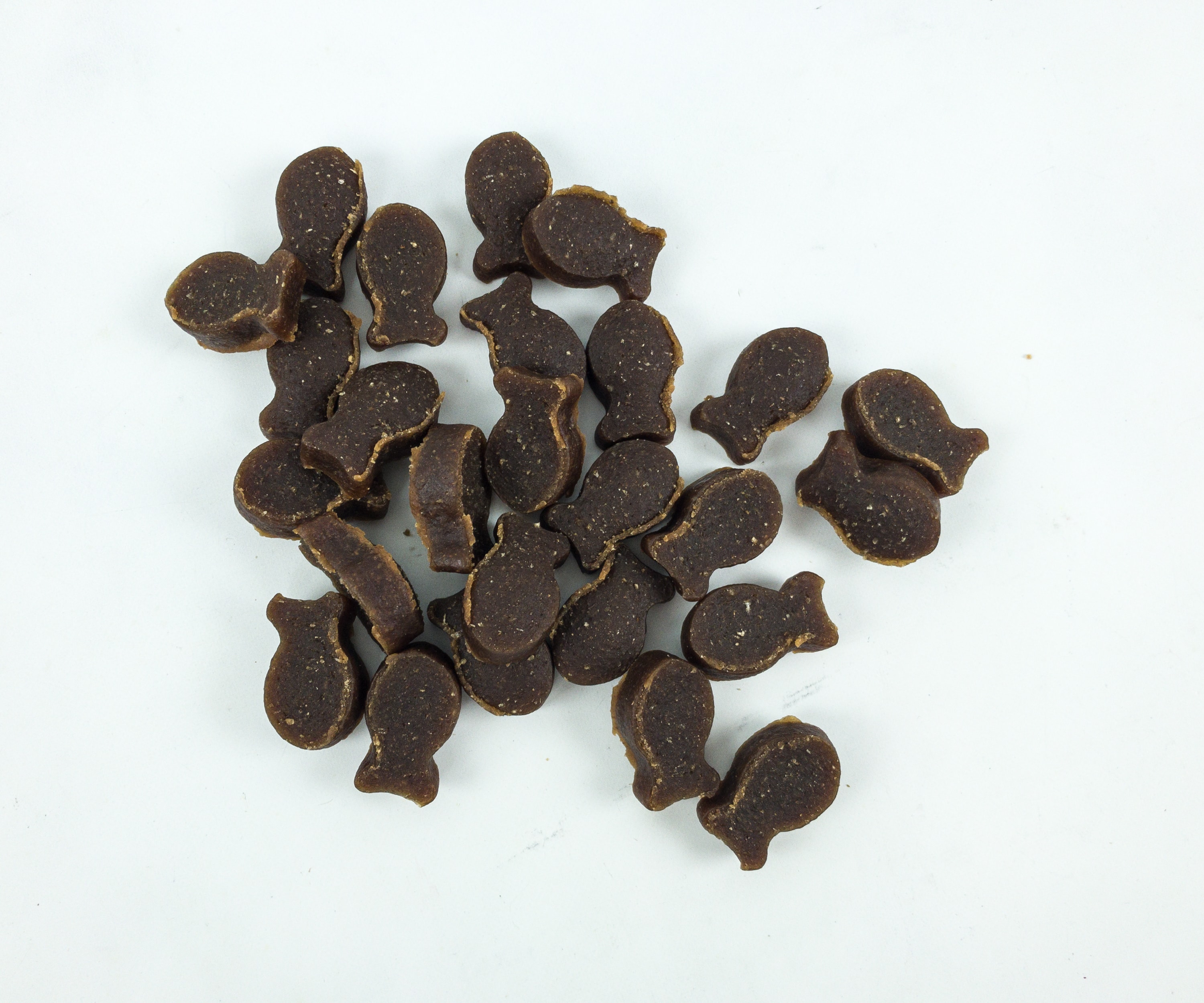 Each piece is moist and chewy! They're also packed with protein, antioxidants, and fiber. No grain, soy, wheat, corn, and other harmful stuff either.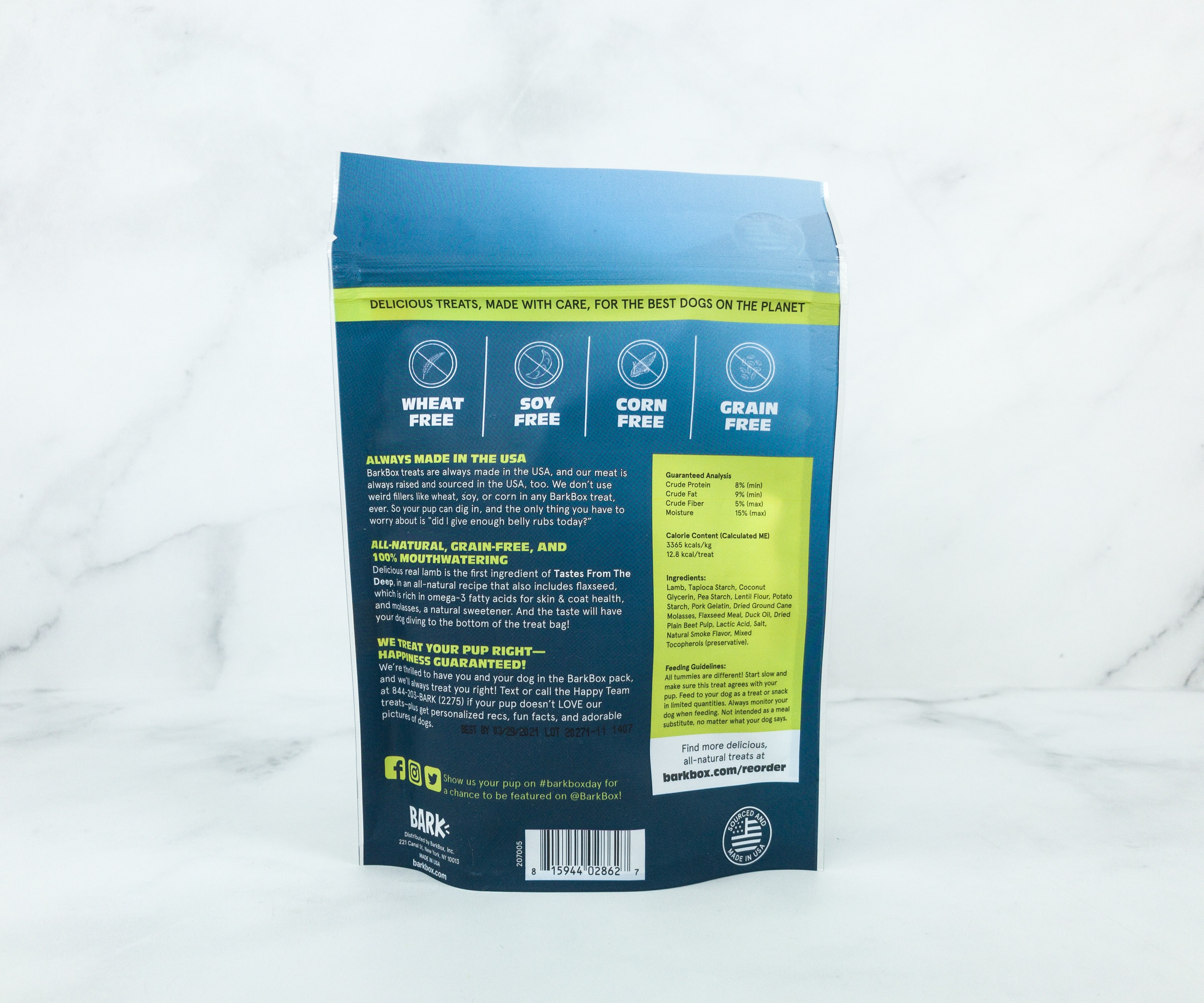 Featured at the back of the resealable container are all the essential information about the product.
This month's Barkbox features another awesome theme! The items are all related to the deep sea, and everything is just fun and high-quality! The cute and squeaky toys made our pups excited and happy, while the treats kept them full and nourished. We really love this subscription, and we're looking forward to seeing more in next month's box!
What did you think of Barkbox this month?