ZenPop Japanese Packs offers five different boxes from Japan — Sweets, Ramen, Sweets + Ramen, Beauty, and Stationery! You can do a one-time box to try it out, or subscribe and save some money. I've reviewed a couple of their boxes before and was so impressed with the curation!
First look!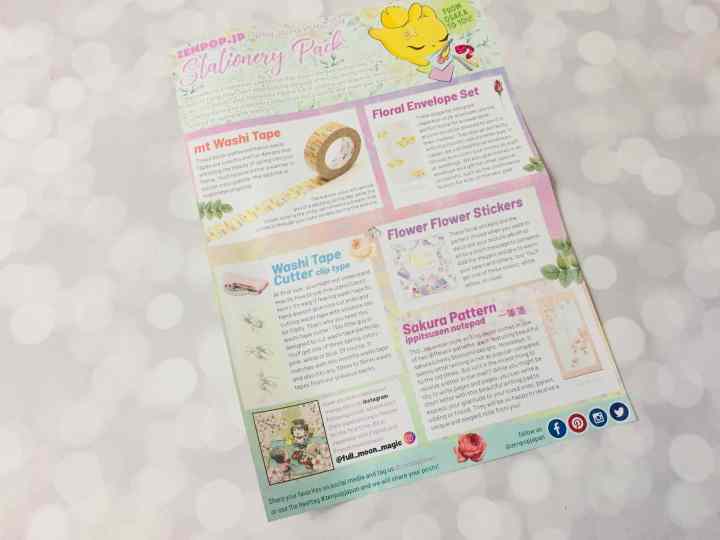 The information sheet is a standard size piece of paper; everything is described and it shows the variations that were sent as well! The info sheet is in full colour printed with photos and descriptions of each item.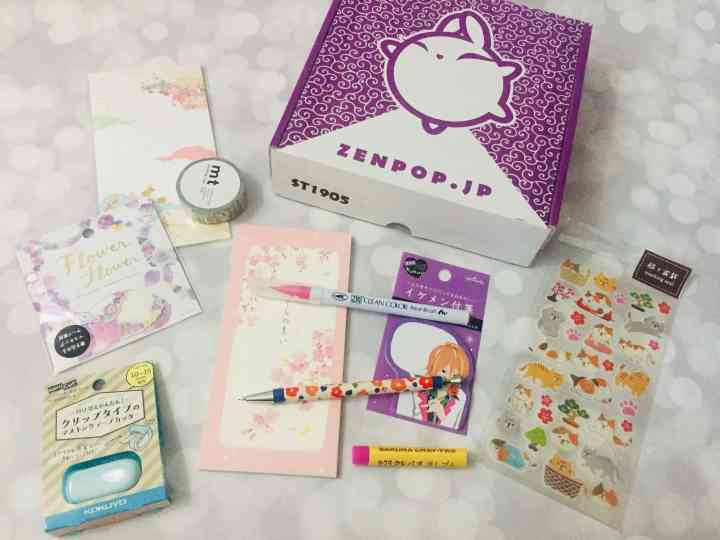 Here's everything in my box!
MT Washi Tape — Washi tape is one of my favourite things, I have a whole box of different designs and patterns. It's referred to as "masking tape" sometimes in Japan because it's not super sticky. It's a great way to add a pop of colour to anything, from journals, scrapbooks, or even using to border photos or anything like that!
Washi Tape Cutter — This IS SO COOL! The washi tape cutter is a claw-like cutter that fits over your roll of washi tape. The unique design means tit can fit over even a full roll of washi tape without losing its grip.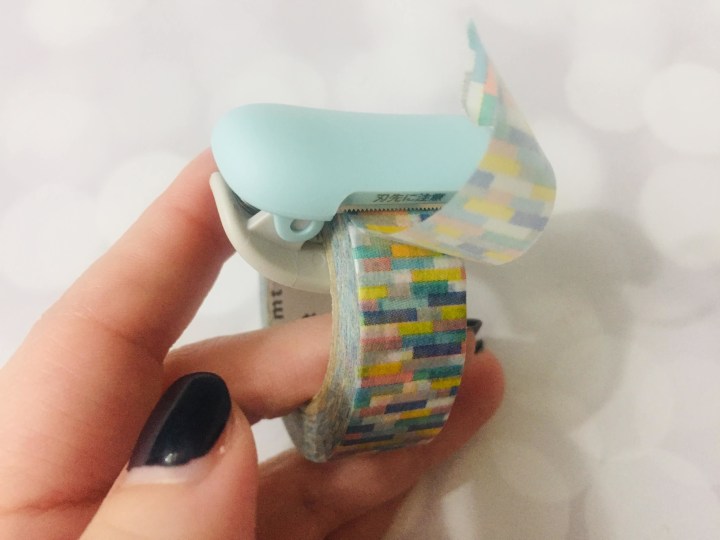 The serrated edge makes it easy to tear a clean edge for your latest project.
Sakura Notepad — A beautiful long notepad with a sakura (cherry blossom) design. Its long length means it's perfect for writing a grocery list or a to-do list!
Cat Stickers — A colourful sheet of the most kawaii (cute!) neko (cat) stickers. I love the one hiding in the basket, it reminds me of my family cat Lola. These are an adorable way to embellish something if you are a cat lover.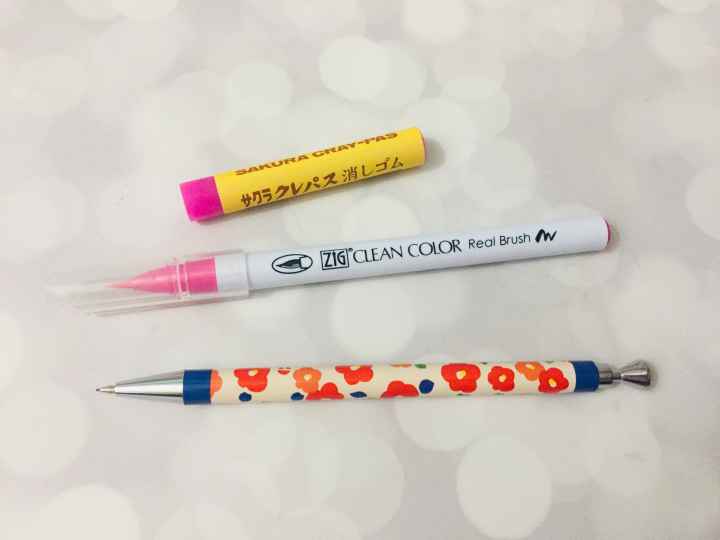 Scented Eraser — Subscribers were sent one of several fruity scents. Mine smells generally fruity, but my nose isn't very good sometimes. It's sweet and a nice surprise for something as simple as an eraser
Clean Colour Brush Pen — I can't wait to try this colourful pink calligraphy brush pen! It has a fine tip but you can achieve different thickness of the ink depending on how you hold it.
Mechanical Pencil — How perfect is the springtime flower design on this pen? I love that because it doesn't come with an eraser on the end it pairs perfectly with the scented eraser. Zenpop thinks of everything!
Ikemen Sticky Notes — Ikemen is the "cool guy" archetype in Japan. Three variations were sent out, and the speech bubble design would make a cute way to send a note to a friend.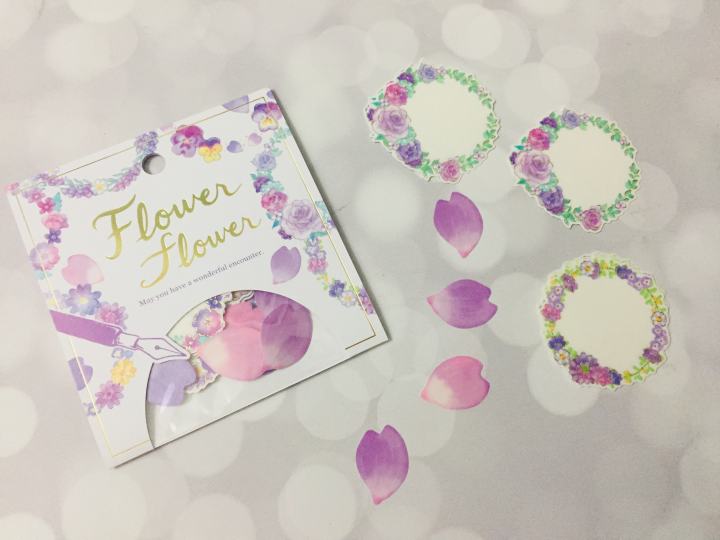 Flower Seals — I am in love with how delicate and beautiful these seals are! There are beautiful flower wreaths as well as flower petals. The empty space in the wreaths is a good size to write a short note or even add a photo or more stickers. The purple colour is so dreamy and looks like a watercolour painting.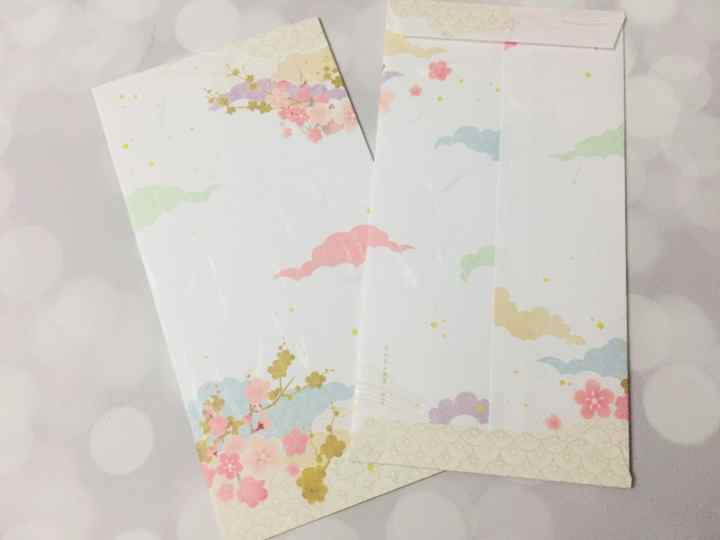 Envelopes — A set of two large envelopes with a lovely cherry blossom and cloud motif on them.
I'm so thrilled with my ZenPop Japanese Packs Stationery Box! The spring theme was full of beautiful pastel colours, flower motifs, and I'm so excited about the washi tape cutter. It's a game-changer!