Vine Oh! is a quarterly subscription box and one of the first wine subscription boxes to include lifestyle items for women. Each seasonal box will include 2 bottles of wine (either whites, reds or both), plus full-size items that are fun, rejuvenating and delicious. Every box will have a retail value of $120 or more!
DEAL: Save $10 off + FREE extra bottle of wine + free Shipping on your first box with coupon code HELLOWINE.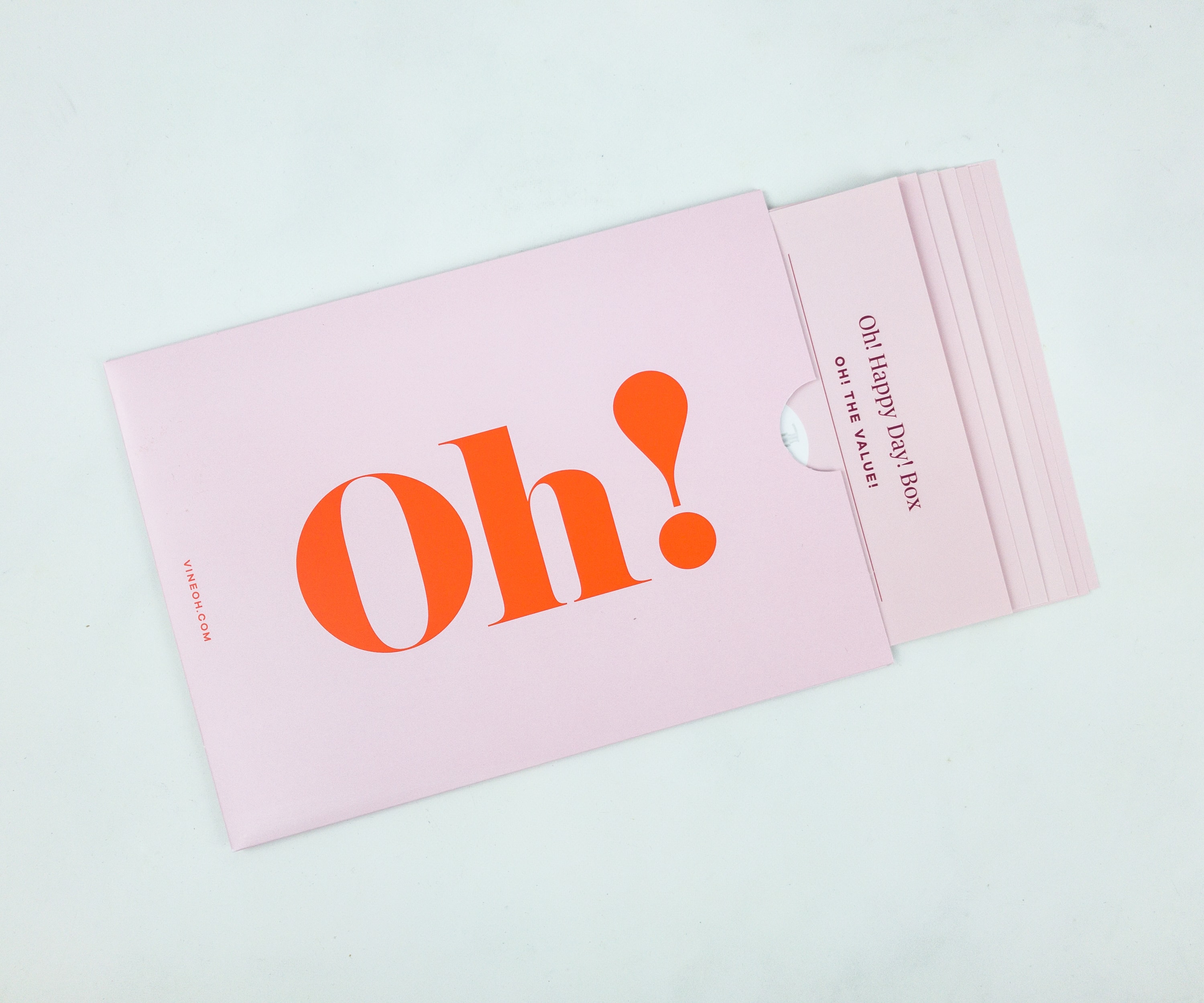 Inside is a deck of info cards tucked in a cardboard sleeve.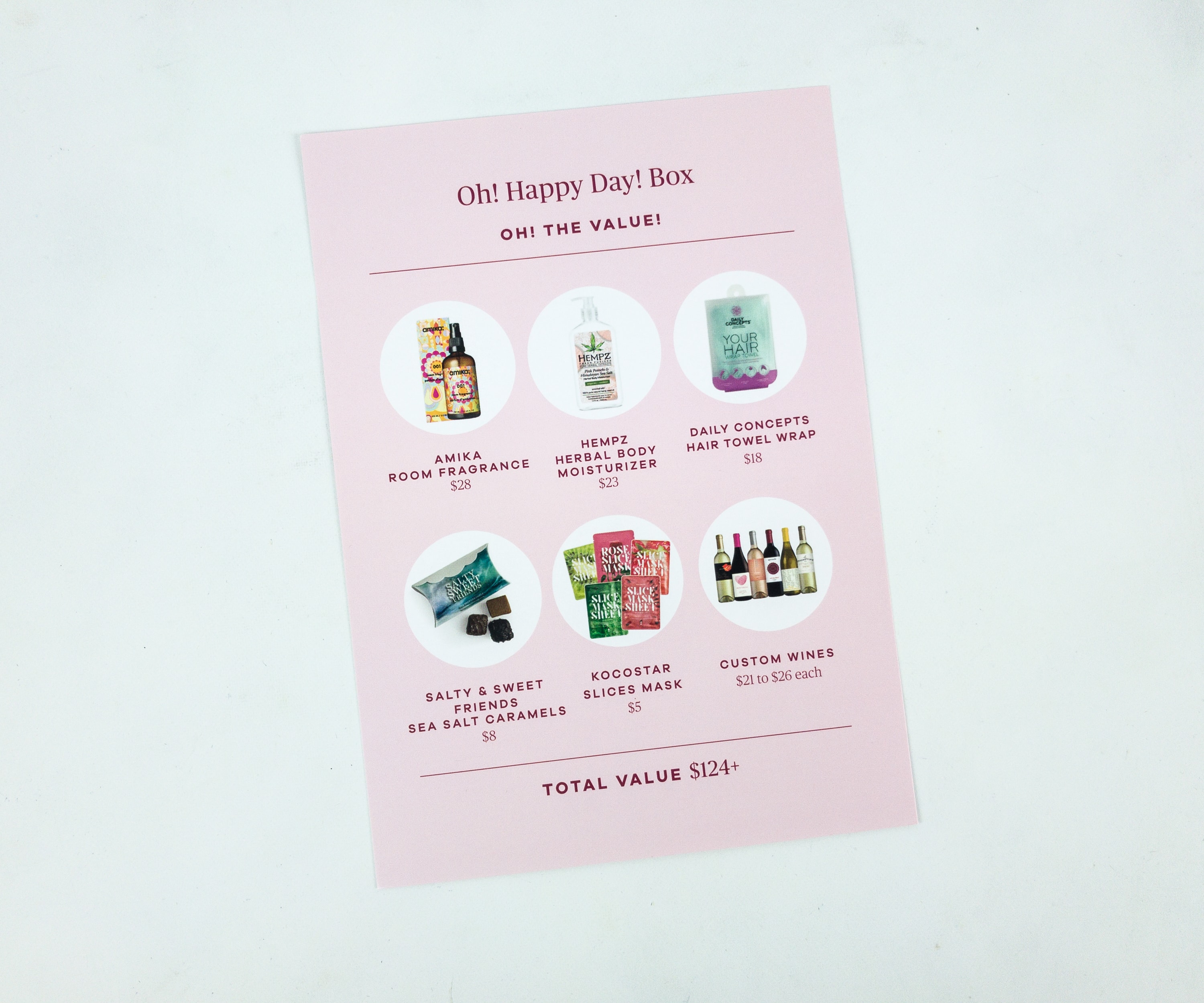 Of course, we got a list of all the items included in the box. This box's theme is Oh! Happy Day!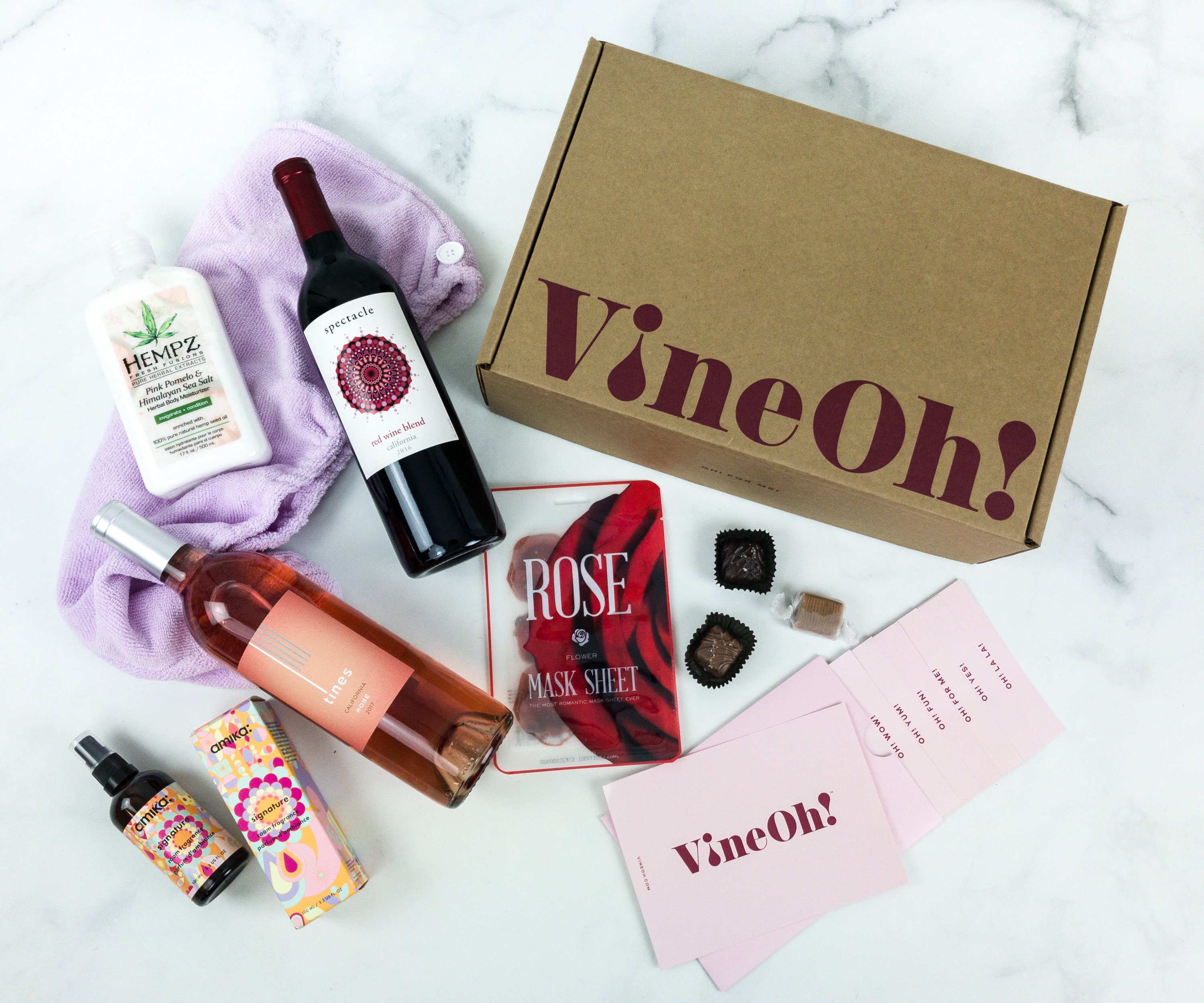 Everything in my box!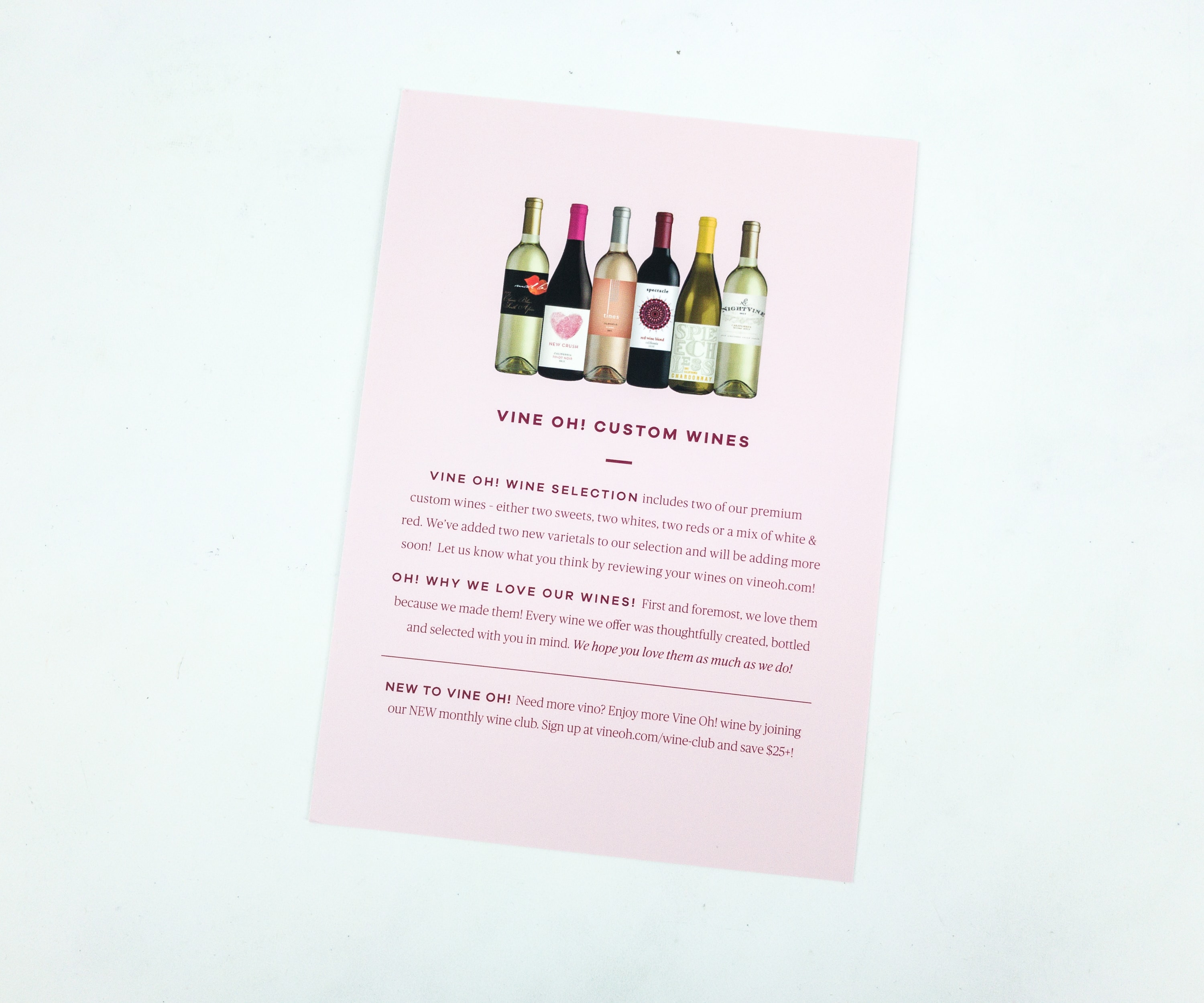 There's an information card from Vine Oh!, which explains about their wine selection and why they love their wines.
At the bottom of the box, you will find two bottles of wine carefully stored in a cardboard wine shipper to prevent breakage during transport.
The wine bottles arrived in perfect condition!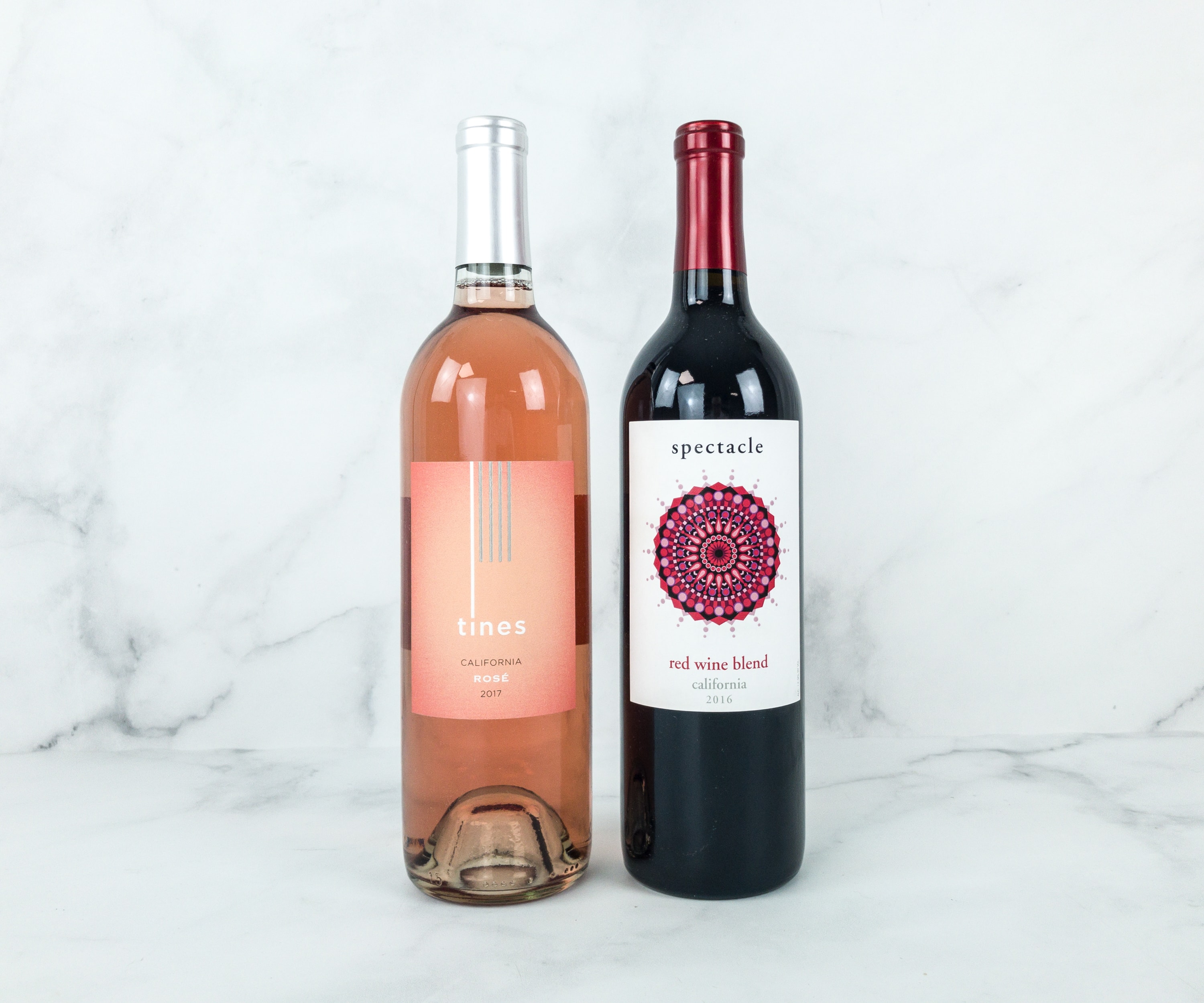 For this month, I got one bottle of red wine and a bottle of rosé!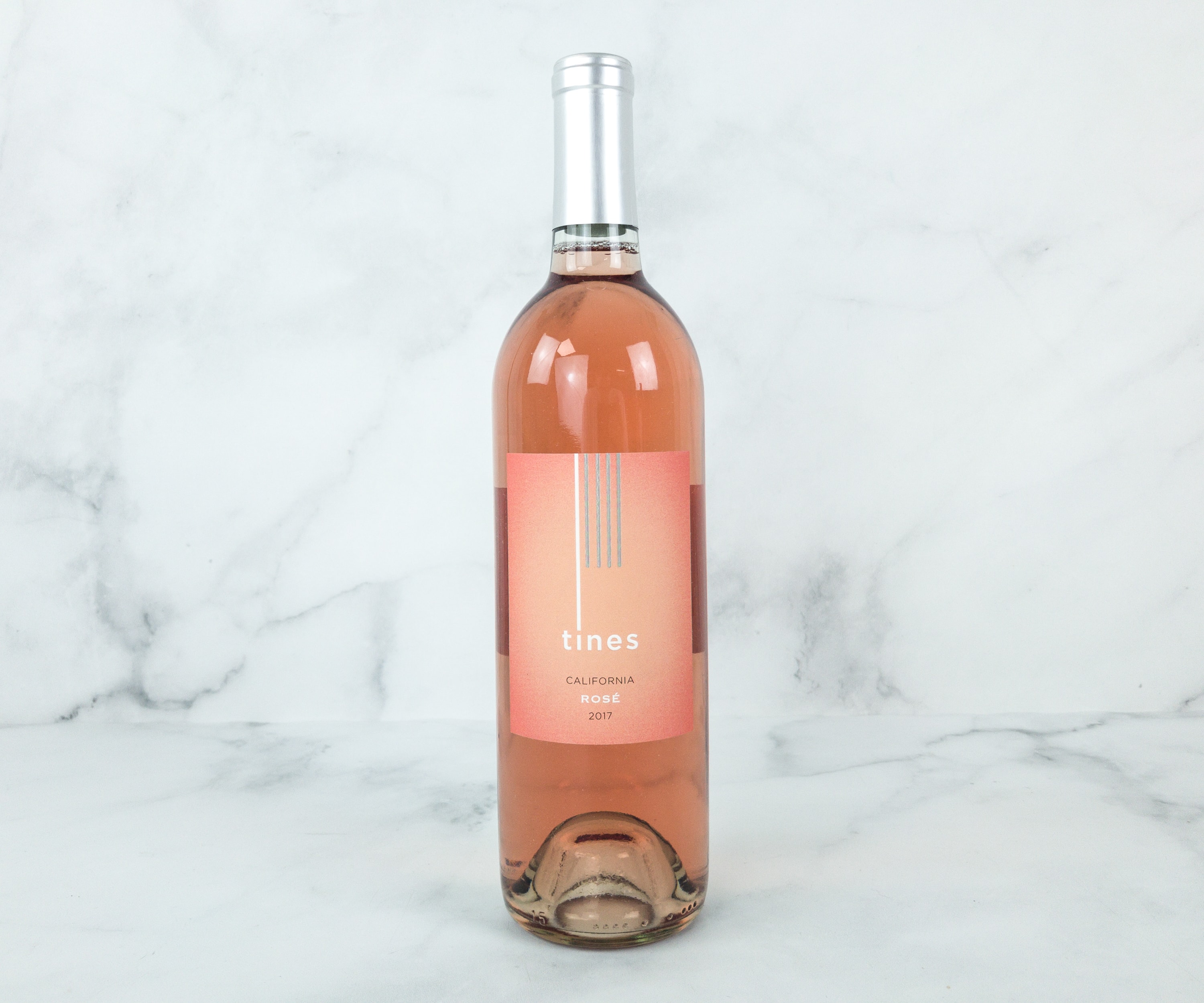 2017 Tines California Rosé ($24) This rosé's exotic taste will really make you blush. It has a mischievous blend of fruit flavors and floral aroma which are perfectly balanced to delight and excite the senses.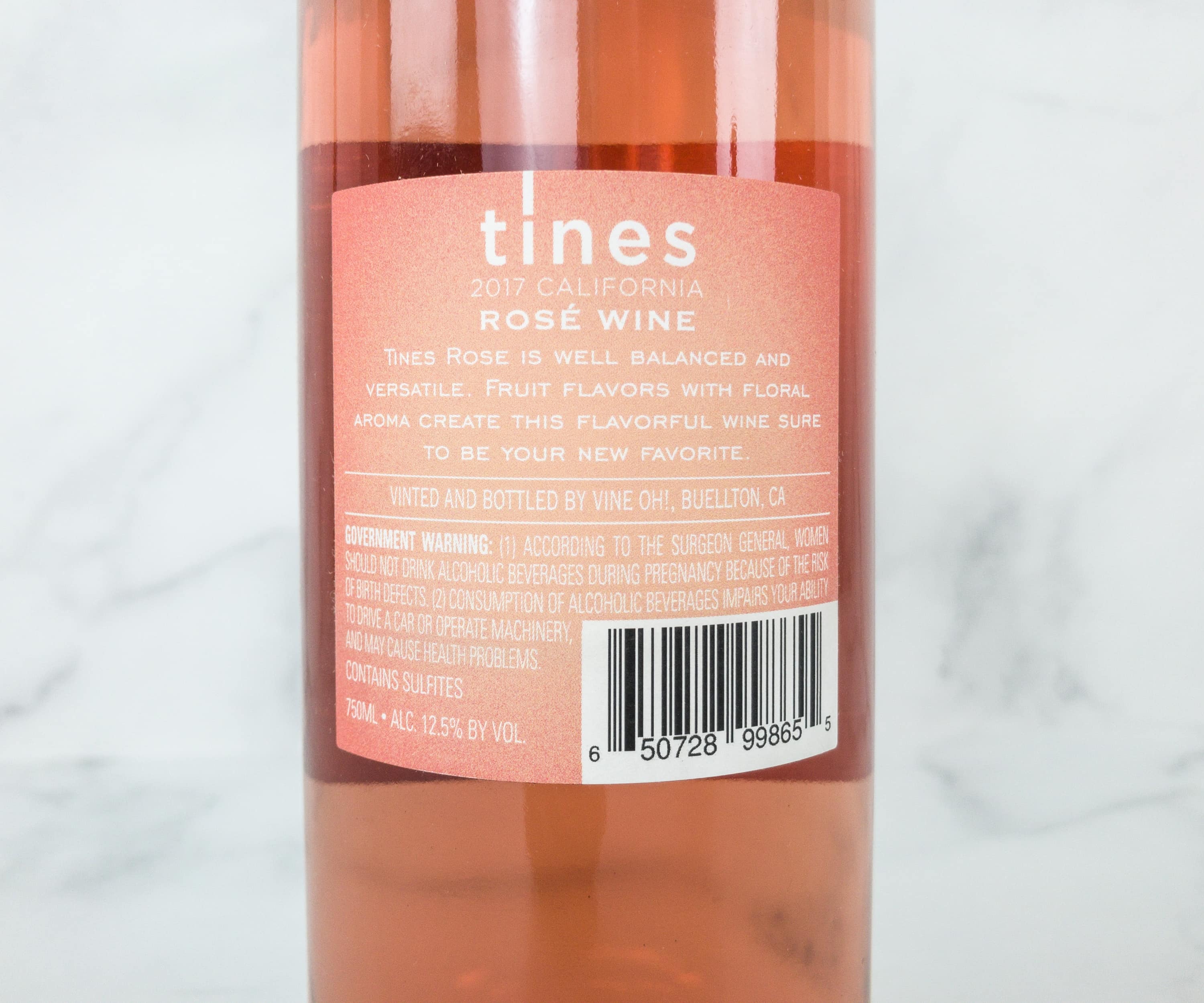 It has that lively spice, tropical fruit sweetness, and a satisfyingly smooth finish. It's the perfect barbecue wine, beach wine, and picnic wine, but it's also the perfect sitting-around-watching-TV wine!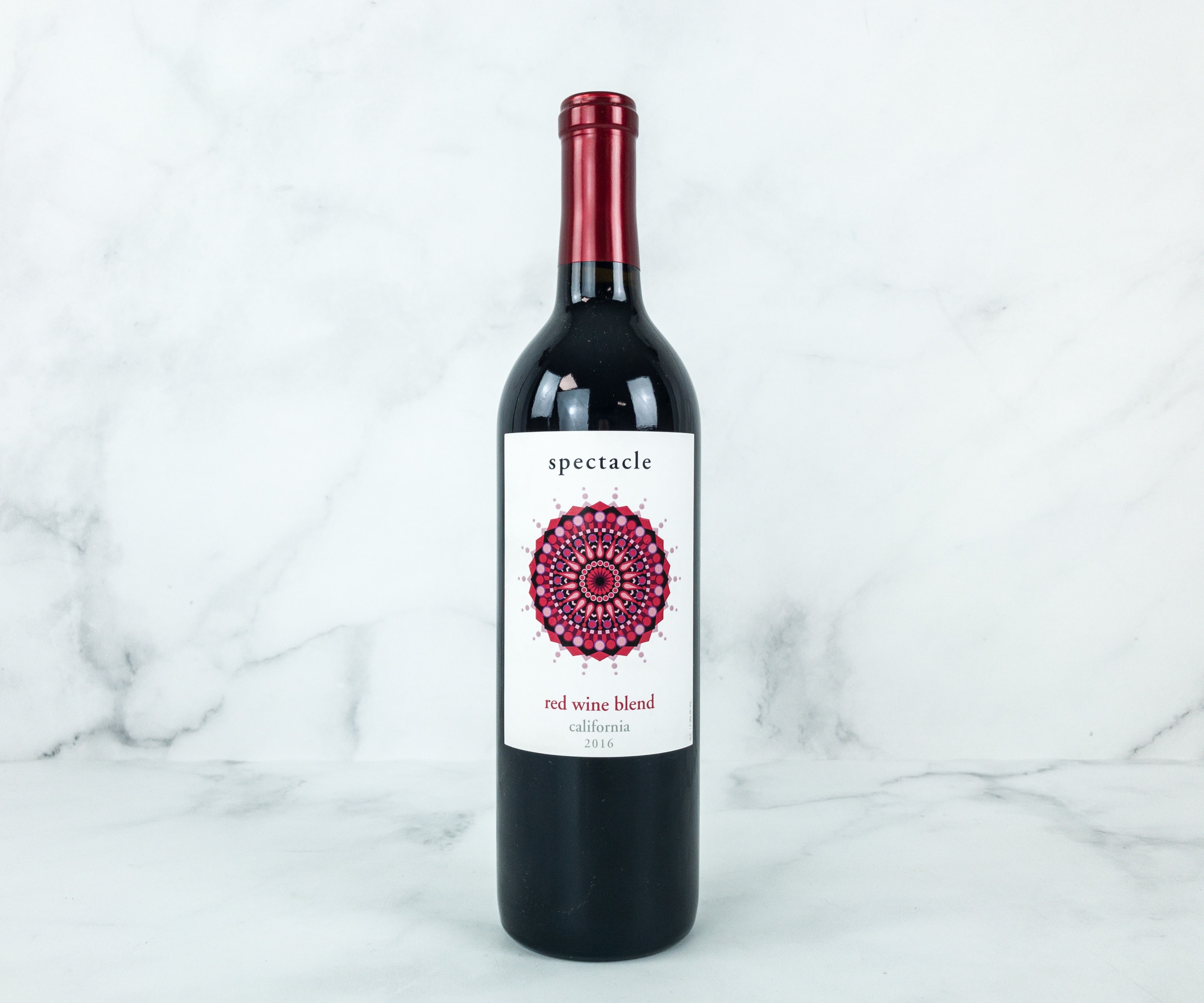 Spectacle 2016 Red Wine Blend ($24) With just one sip, my palate was filled with a distinct spiciness along with lush berry fruit flavors and swirls of savory, woody cedar that create a long-lasting finish.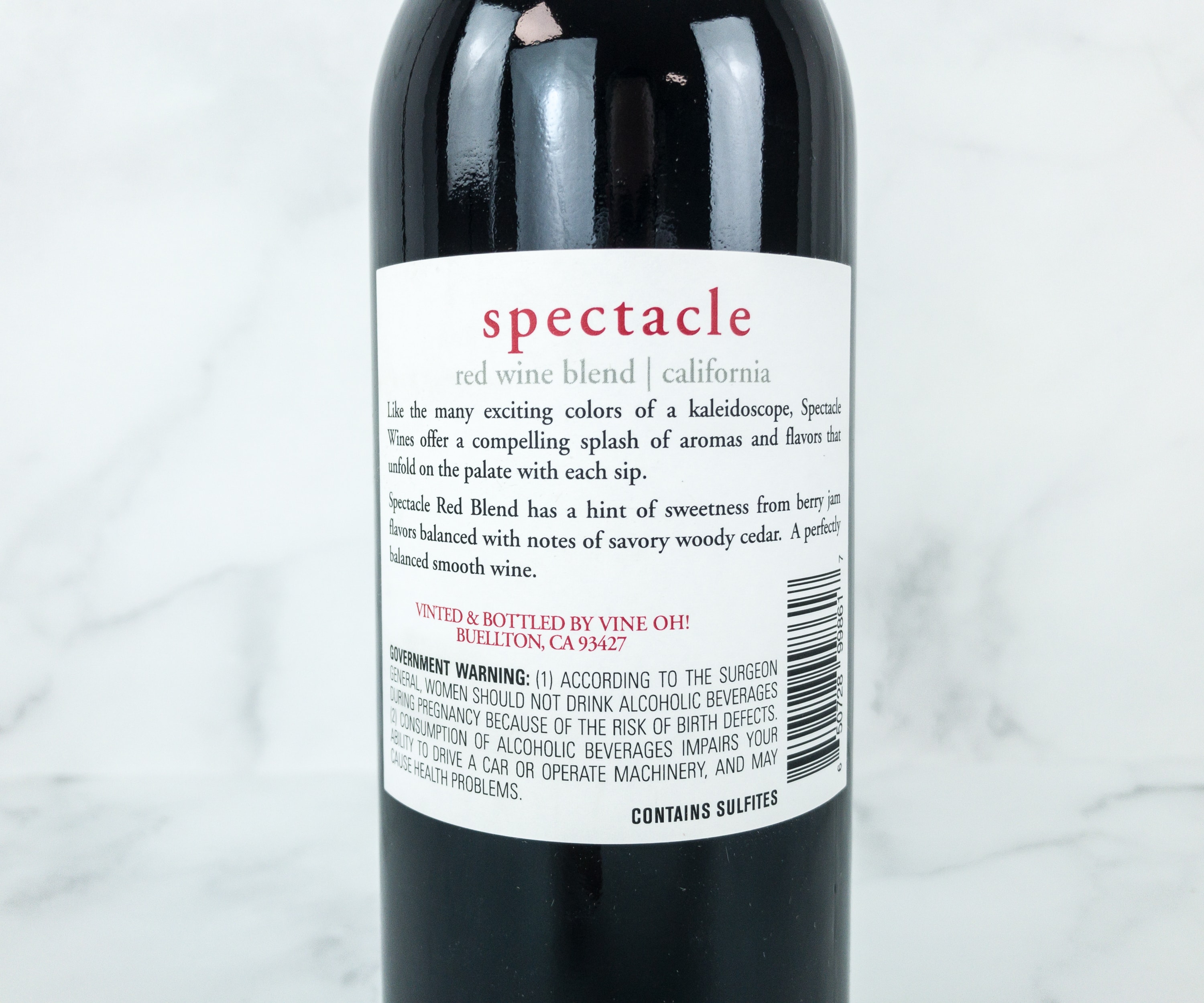 This wine would complement a wide range of food, especially when served with anything skewered!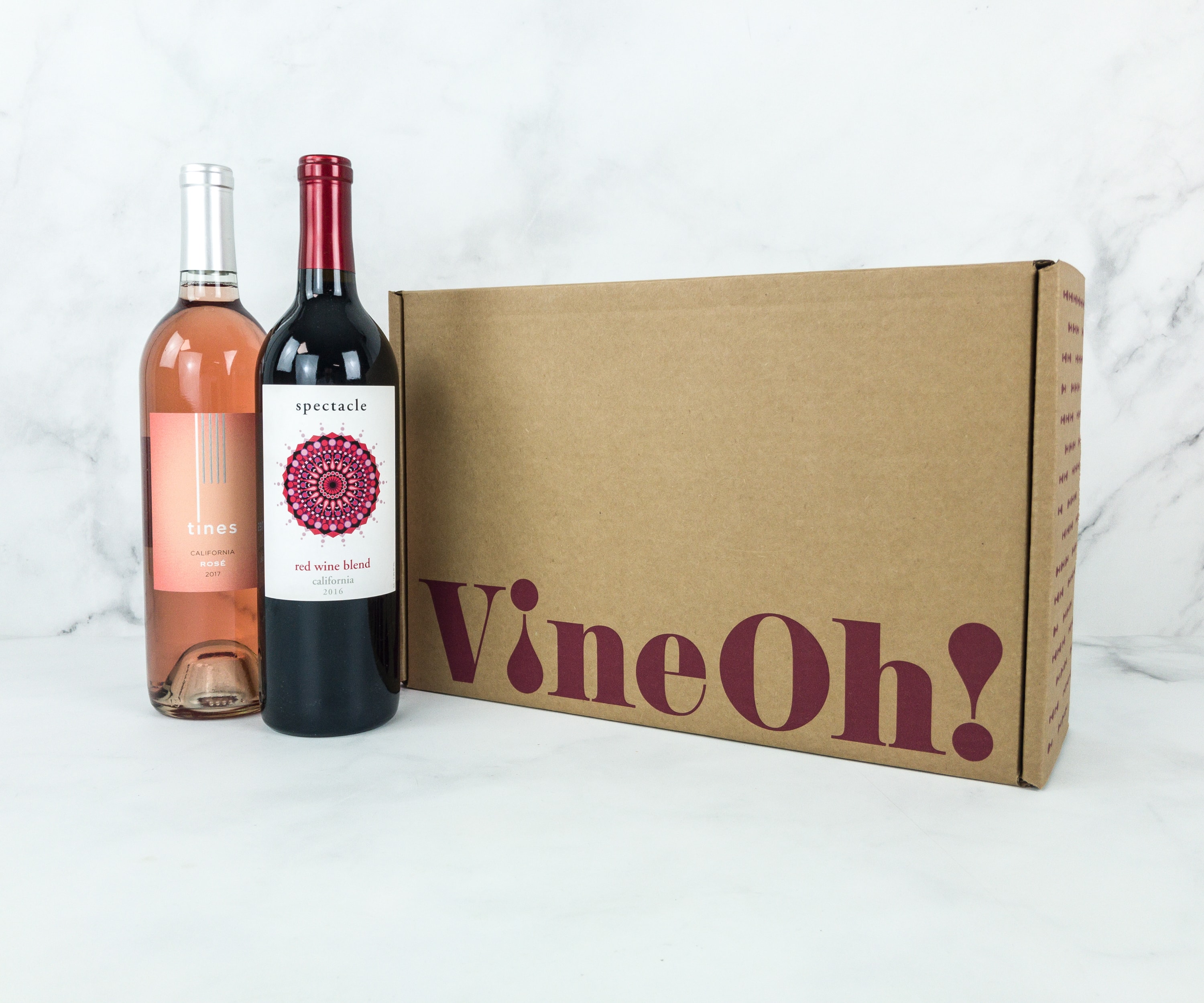 All the wines this quarter!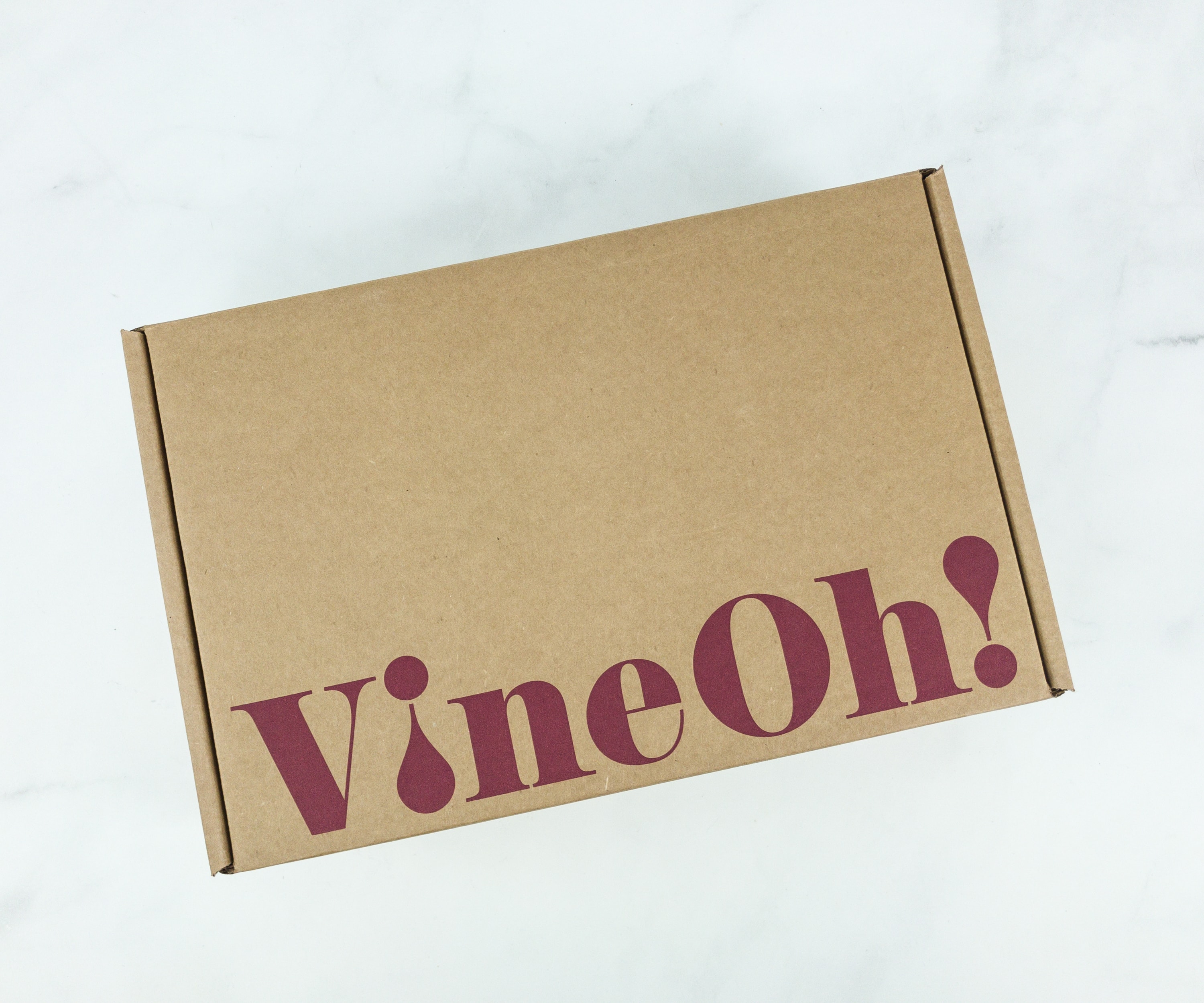 On to the lifestyle items!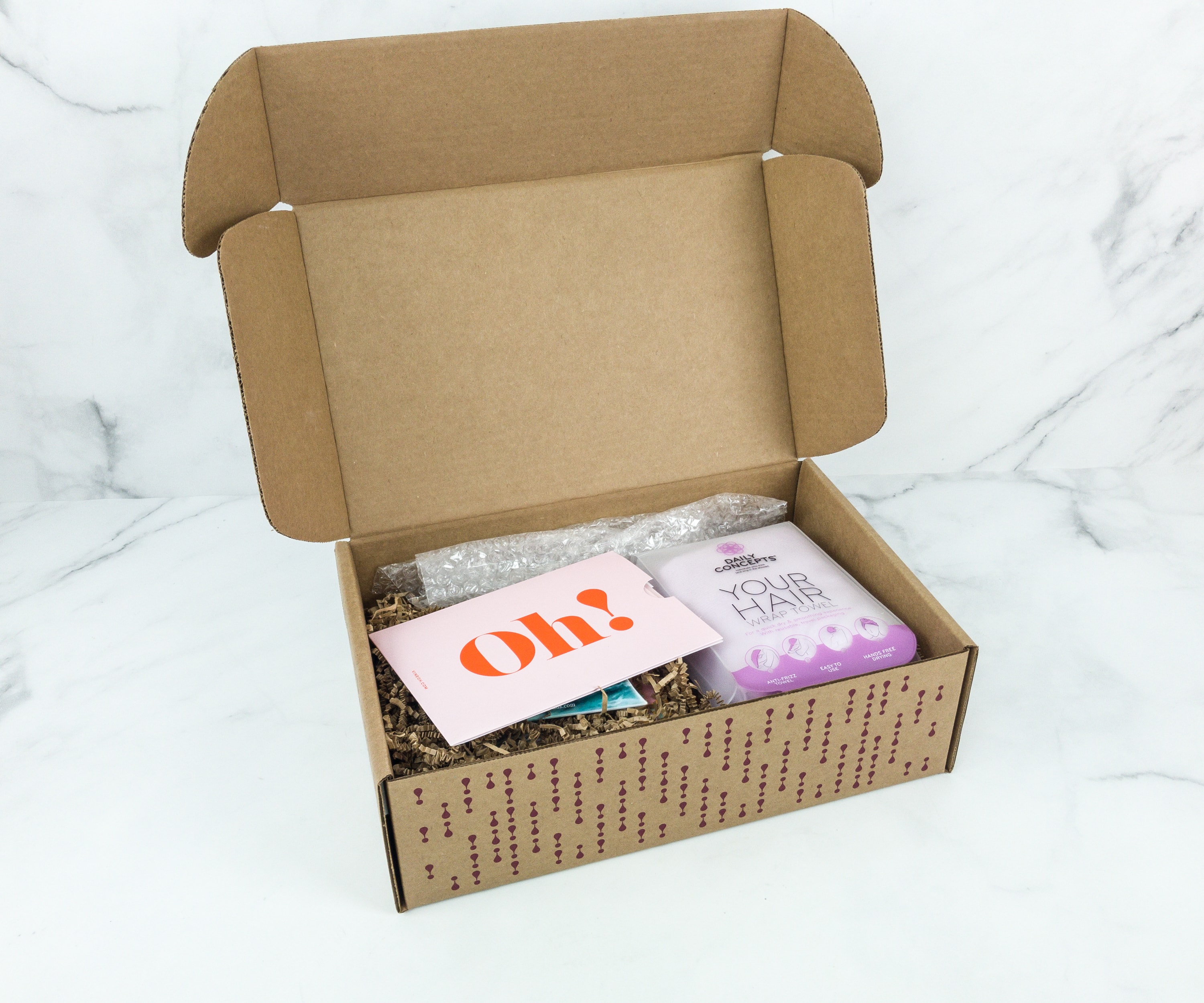 The other special items were packed in a customized cardboard box.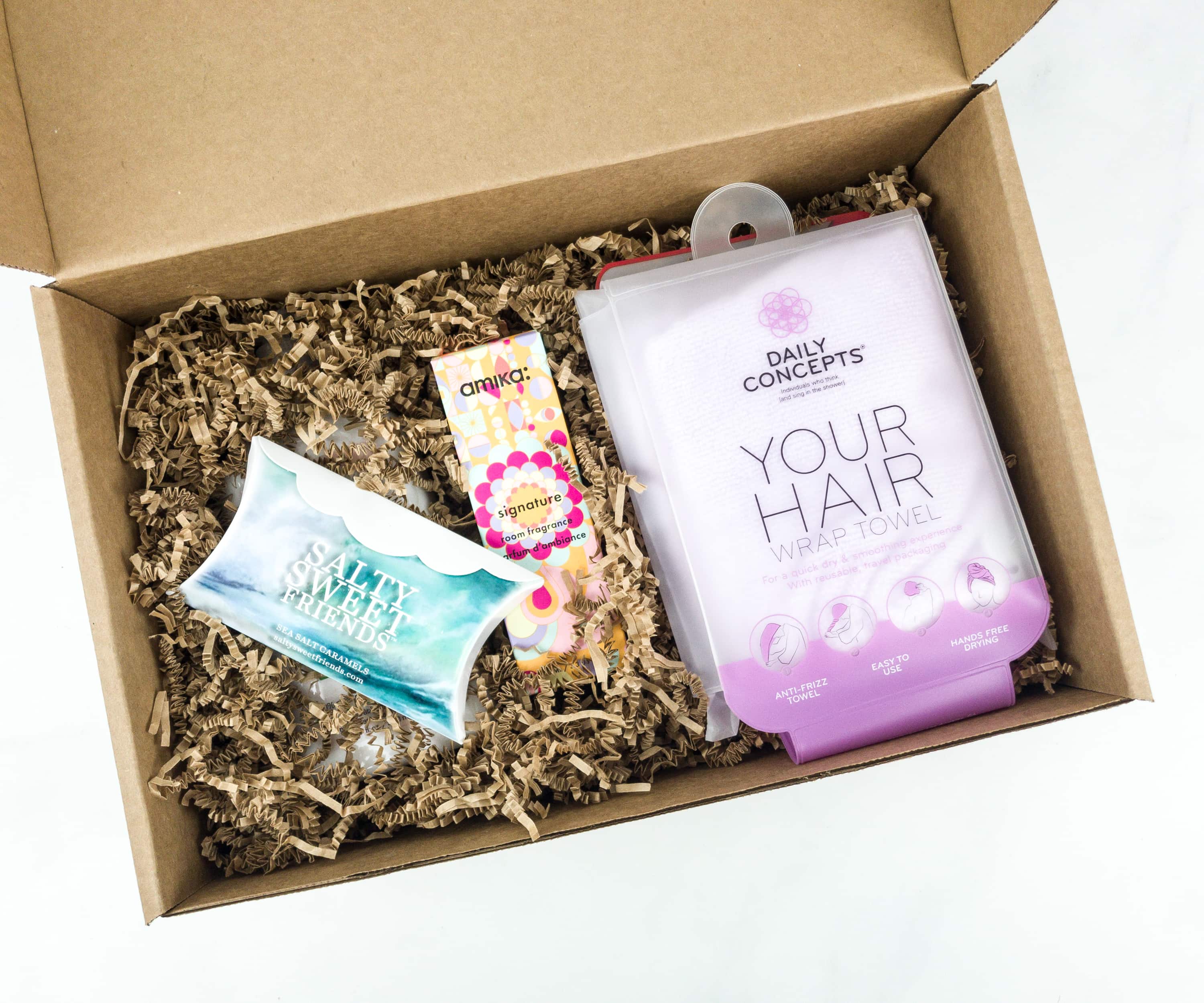 They are neatly stuffed on top of brown squiggles.
There's another sleeve holding a deck of info cards.
The cards look so appealing with the loud pink exclamation point as the brand signature.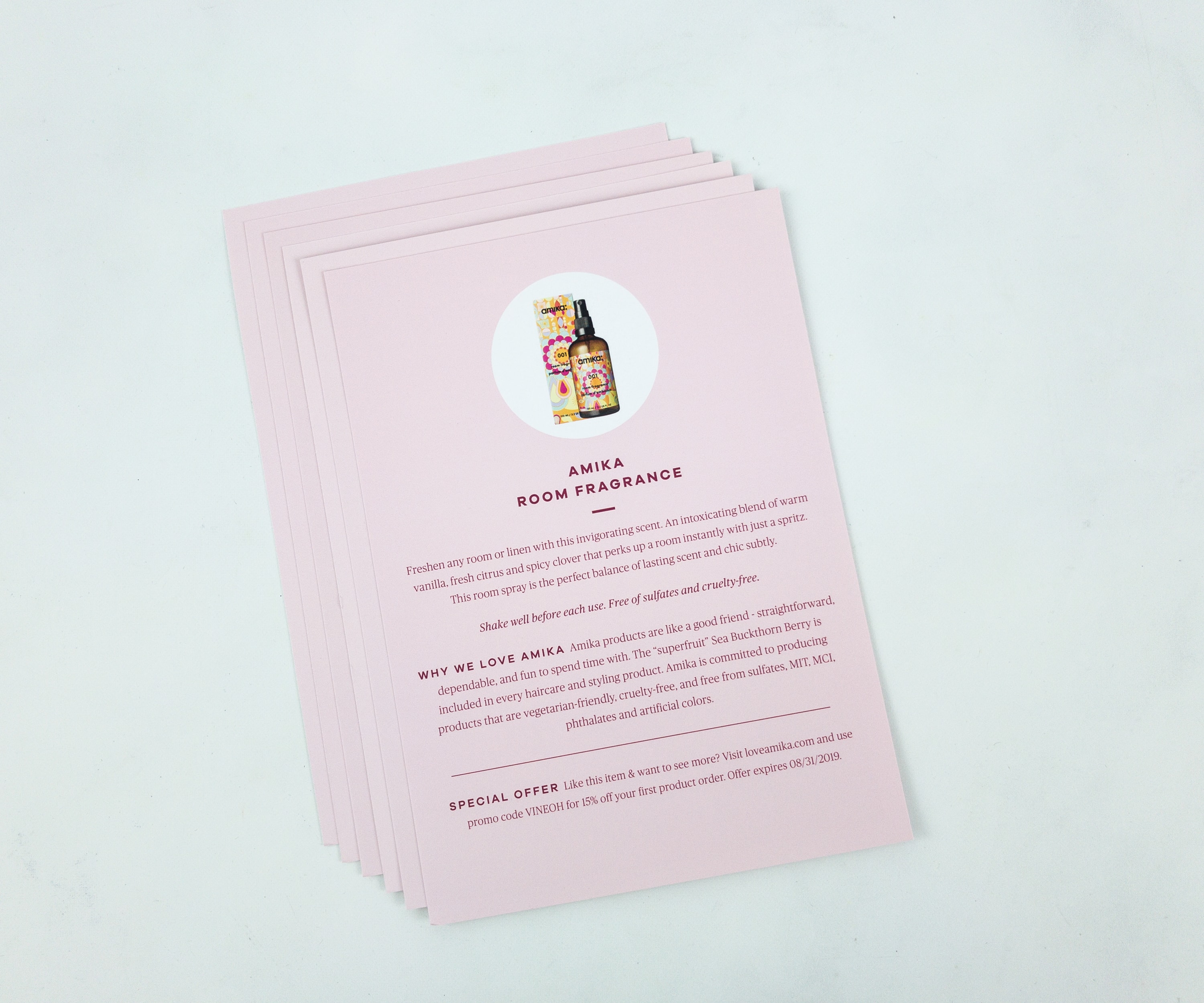 Amika Signature Room Fragrance ($30) This signature room fragrance is highly concentrated. With just one spritz, it can create an aromatic atmosphere.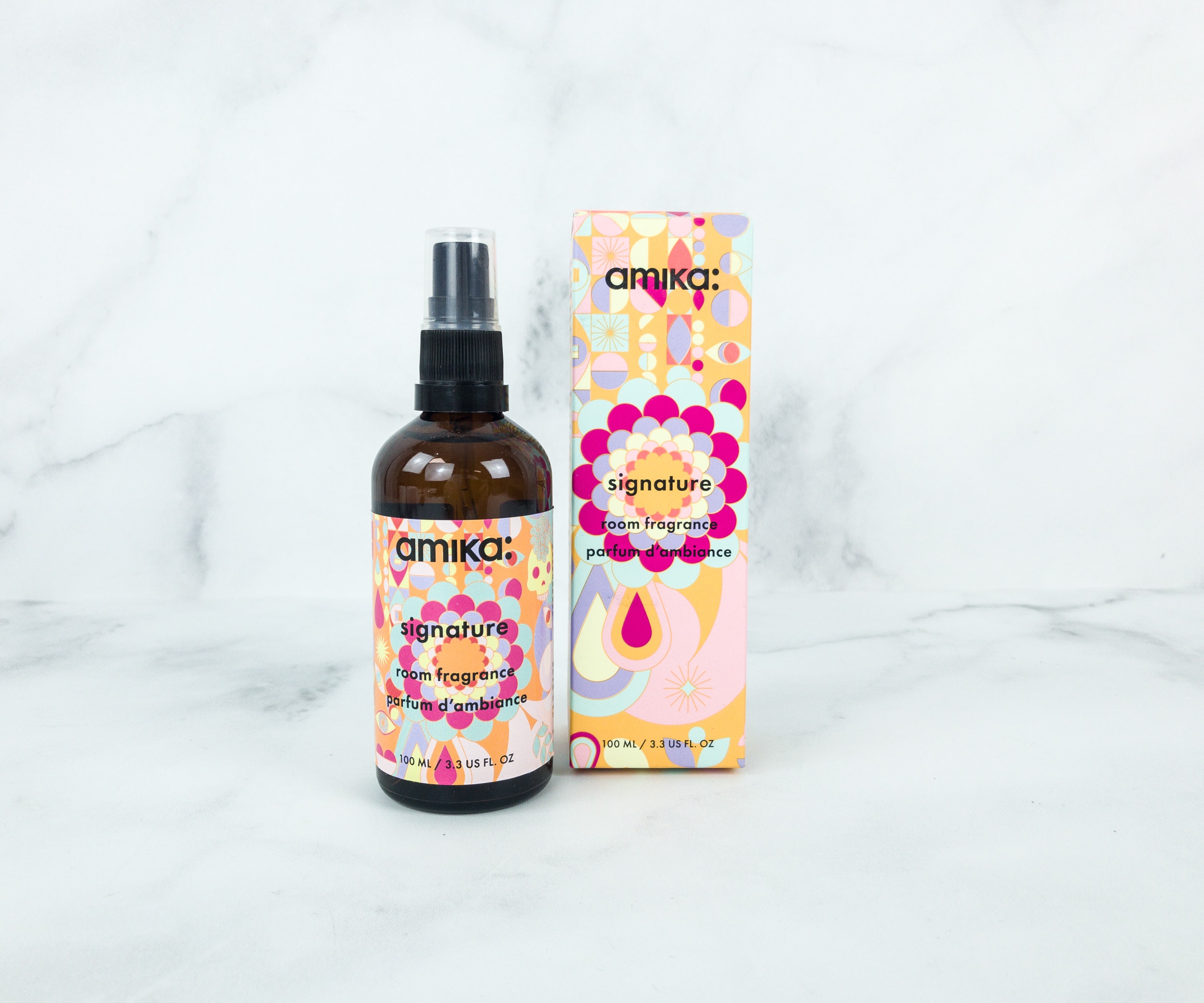 Other than the great scent, it's also housed in a colorful spray bottle. The box also matches the bottle!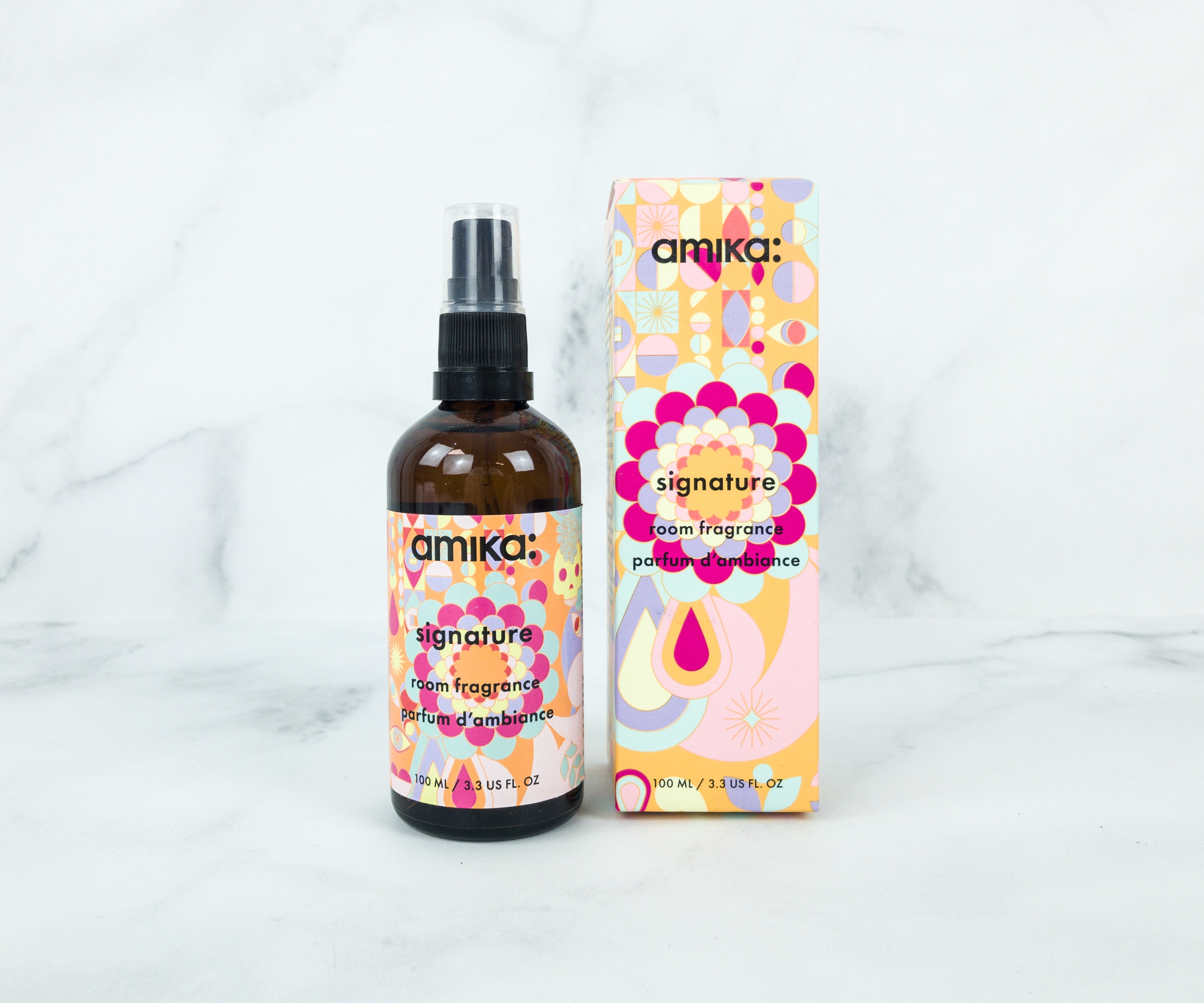 I love the aroma of warm vanilla, fresh citrus and spicy sweet clover that last from the morning 'til night! Fave box item of the year!!!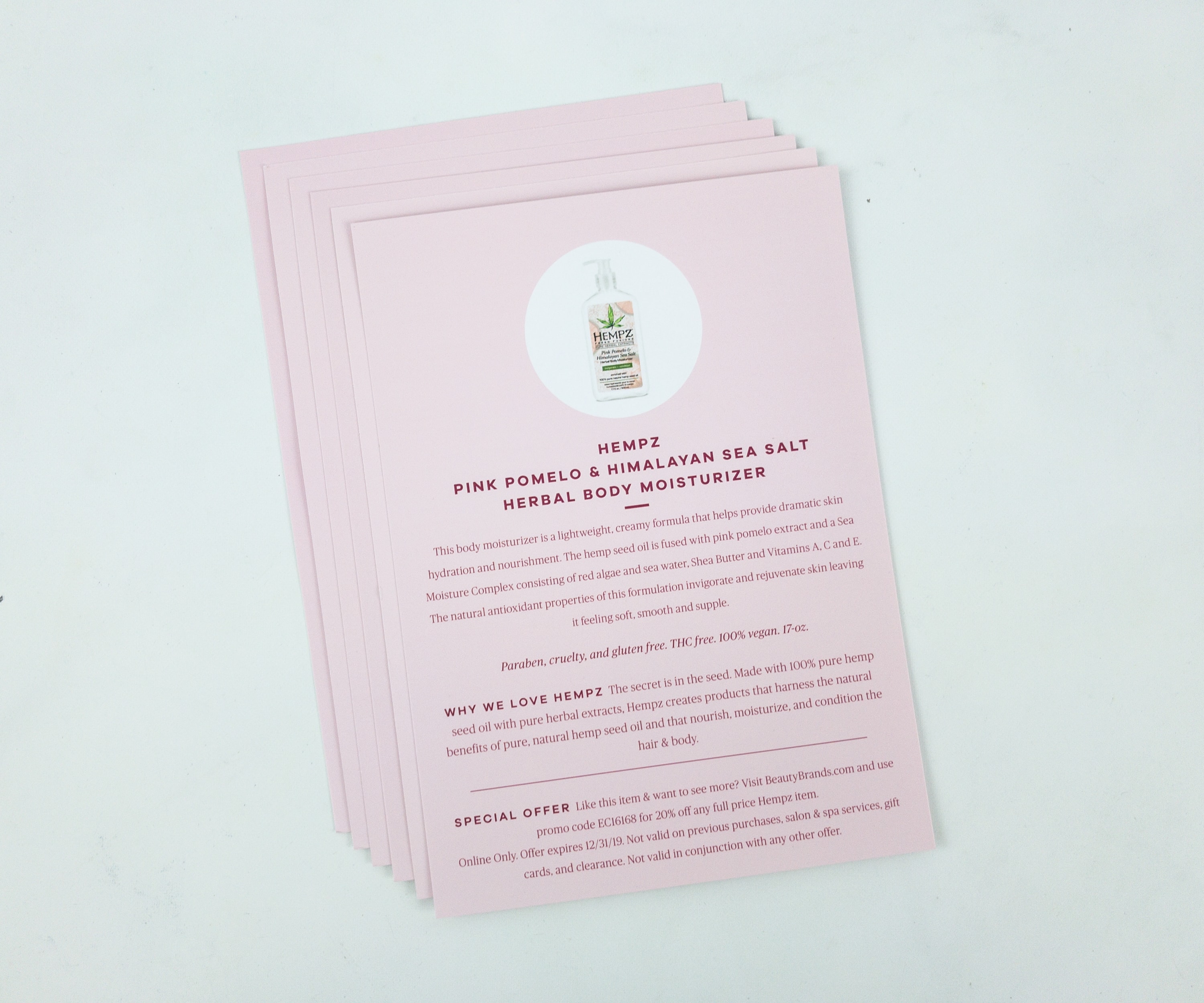 Hempz Pink Pomelo & Himalayan Sea Salt Herbal Body Moisturizer ($12.18) It's an herbal body moisturizer with a lightweight, creamy formula that offers dramatic skin hydration and nourishment.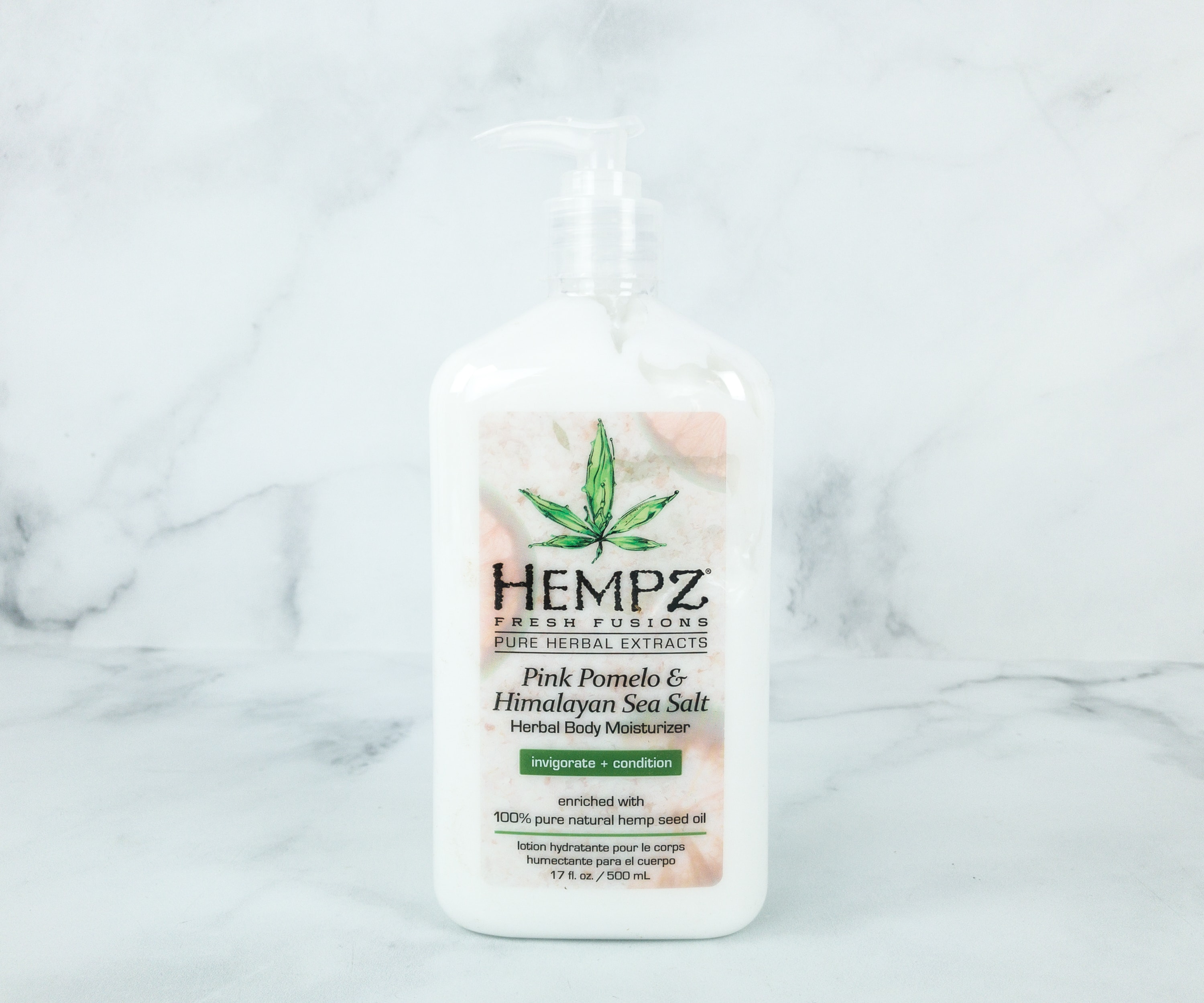 Enriched with 100% pure natural hemp seed oil, pink pomelo extract, and sea moisture complex, it provides natural antioxidant properties that invigorate and rejuvenate skin leaving it feeling soft, smooth, and supple.
Daily Concepts Hair Towel Wrap ($17.99) My hair won't get exposed to too much heat from the hair dryer anymore. This cotton base towel will do the drying for me while reducing the frizz and the risk of split ends!
It's also made travel-friendly with its reusable and resealable pouch.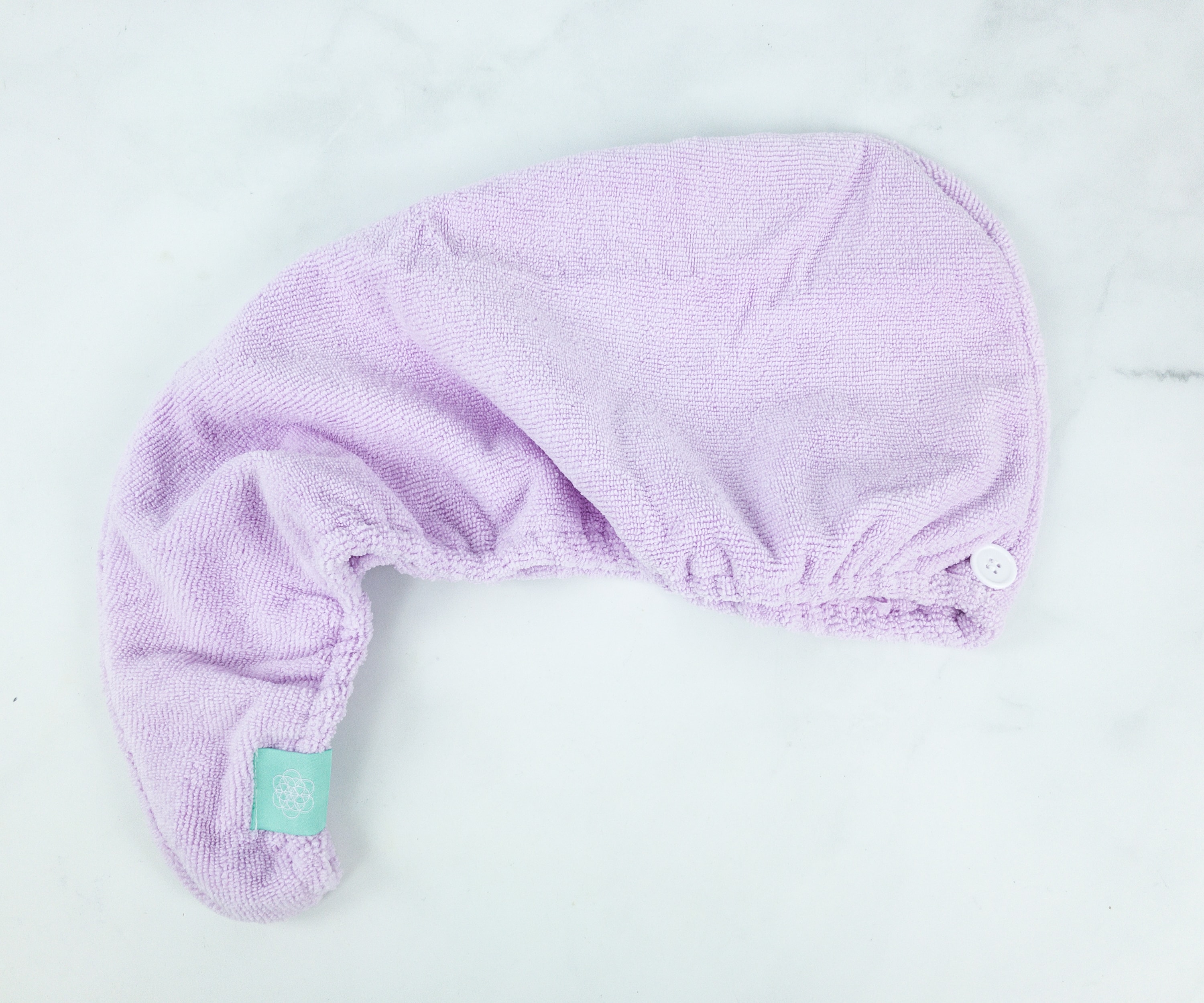 It helps tuck the hair neatly while doing facials or putting on makeup. It's also ideal for everyday use at home after a shower or even when traveling. Plus, it's lightweight and easy to use with a button that secures it in place.
Salty & Sweet Friends Sea Salt Caramels ($6) It's a three-piece sampler set of yummy caramel and chocolate goodies!
They used a convenient, easy-open box to keep the treats. I think it's cute!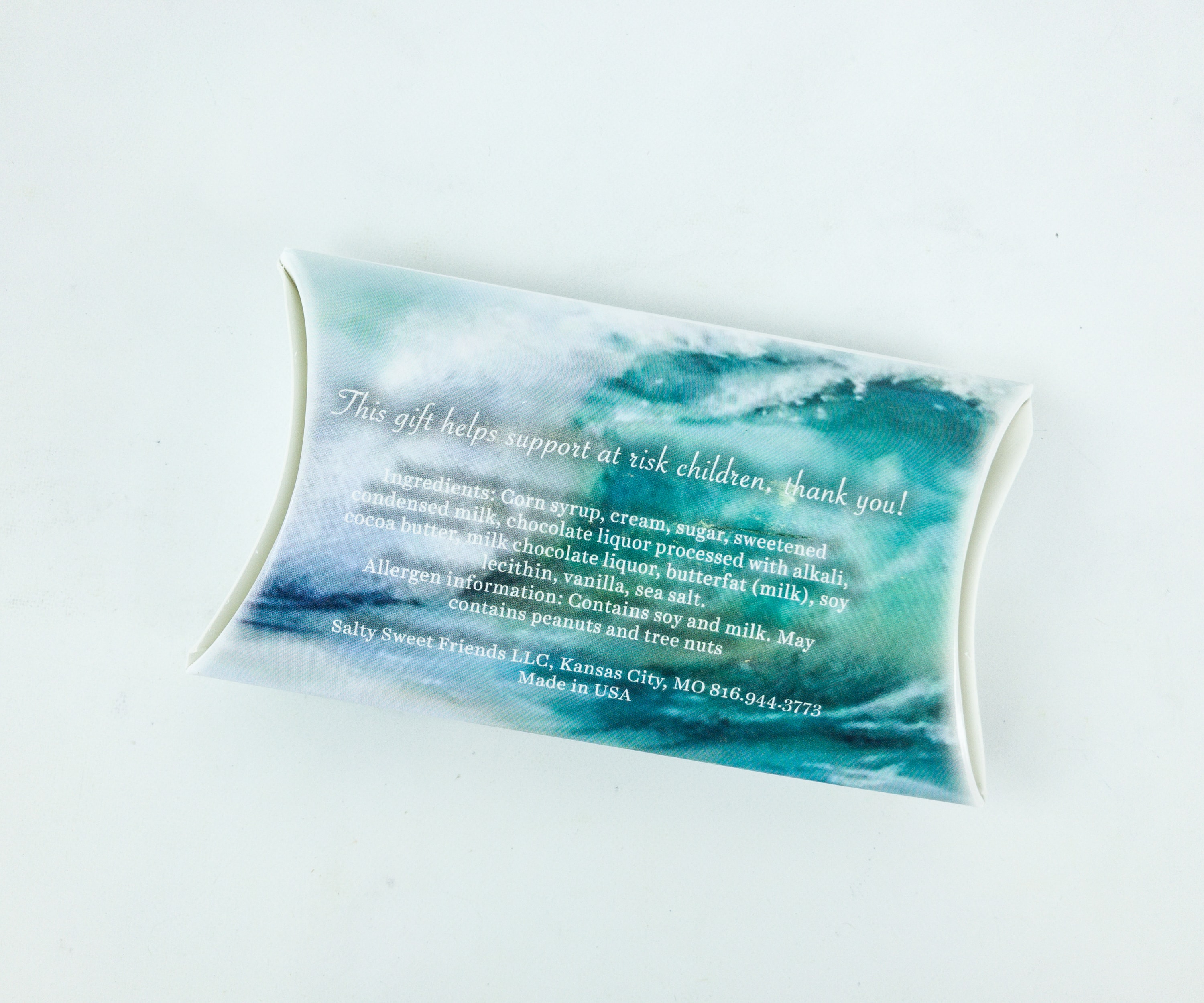 At the back is a list of the ingredients and a note saying that this gift pack helps support children in need.
There's also a note from Carrie Hampton & Gina Lawhon, the founders of Salty Sweet Friends.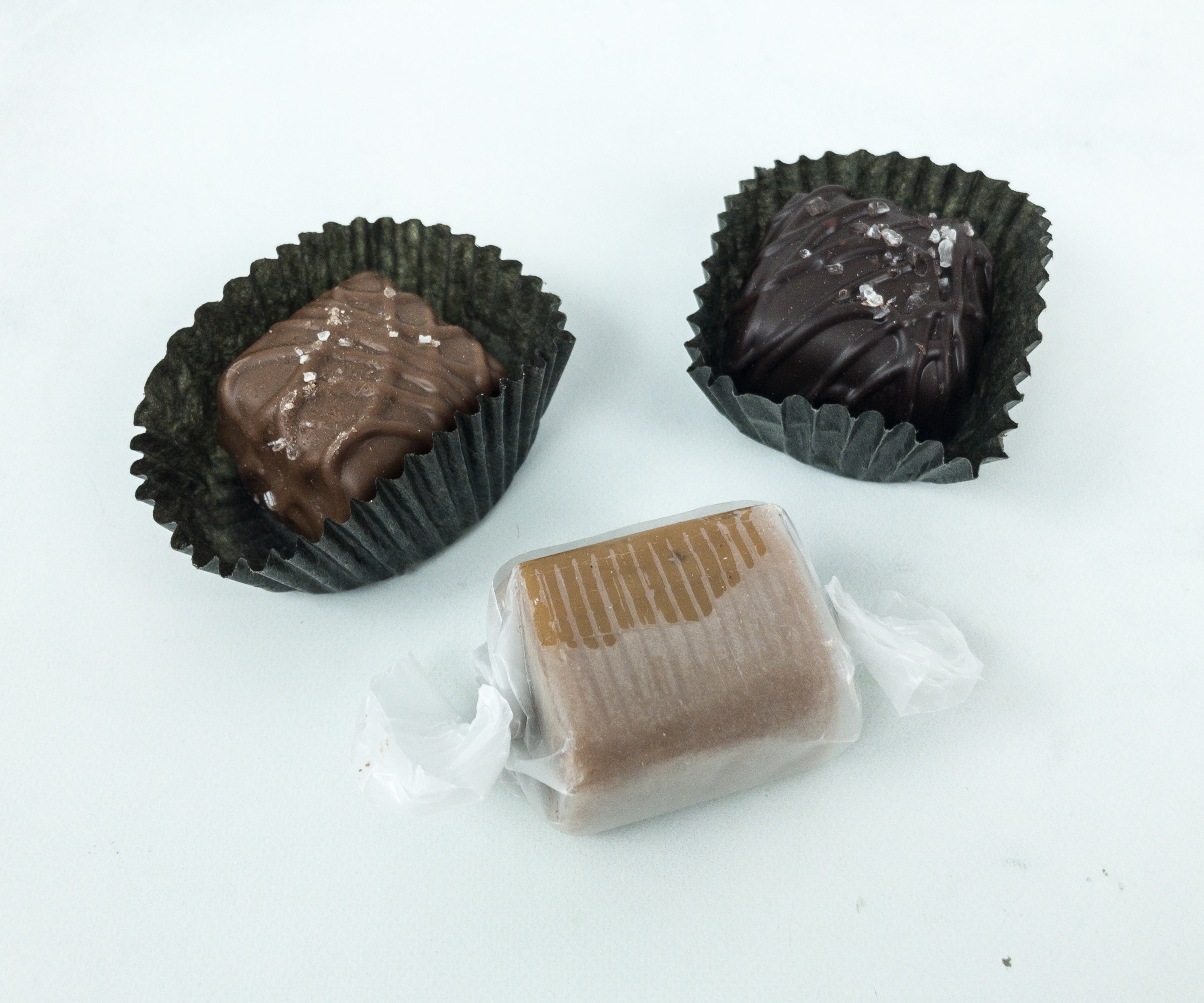 The candies are individually wrapped. The sampler includes one sea salt caramel, one milk chocolate covered sea salt caramel, and one dark chocolate covered sea salt caramel. They are all a delight in the palate and a perfect accompaniment for the red wine and rosé!
Kocostar Slice Mask ($5) This pack is comprised of twelve individual masks, uniquely shaped into rose petals in a variety of sizes.
Each petal is infused with a botanically enriched serum that works effectively to boost cell turnover and a slight pore minimizing effect.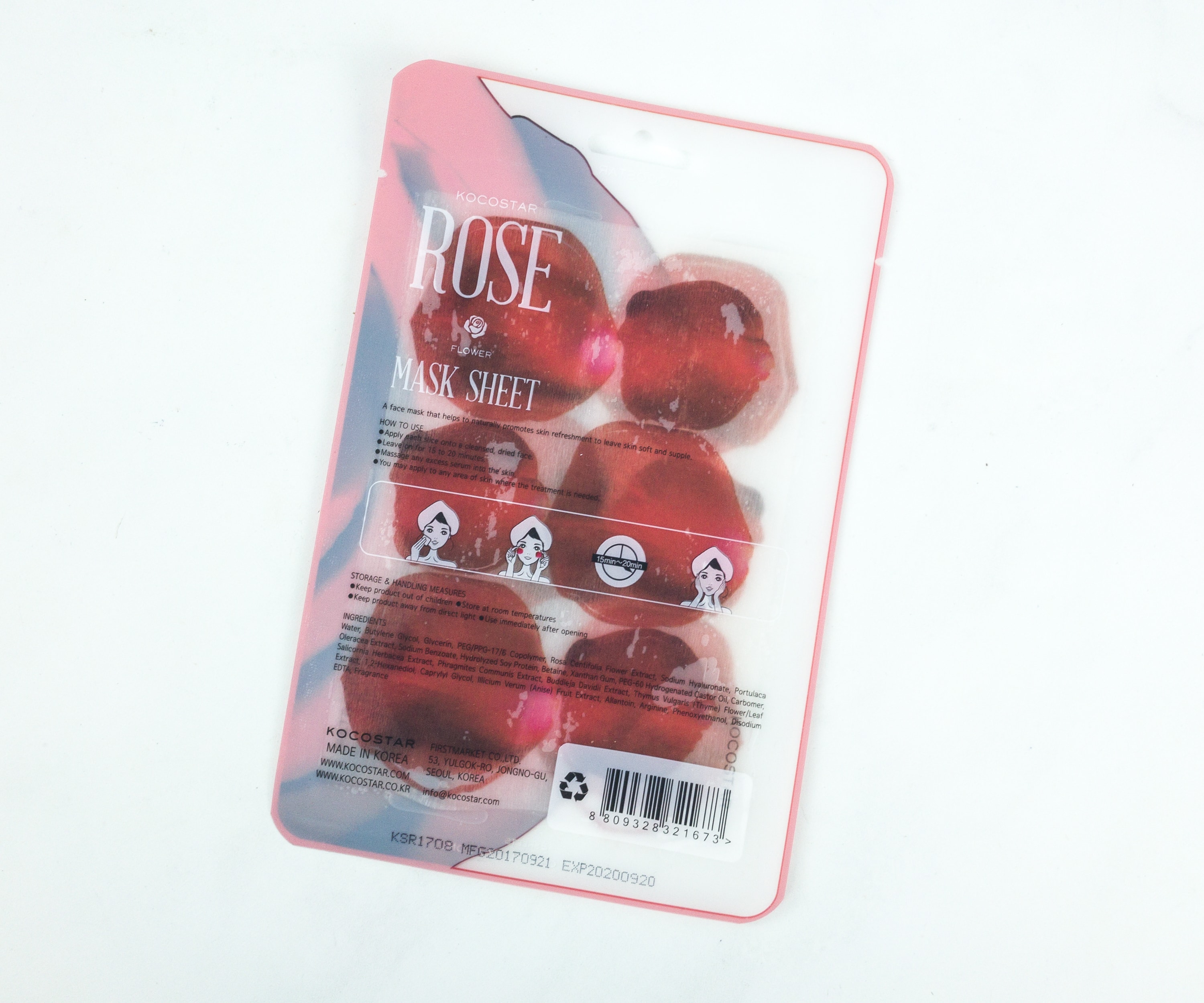 These petals can be placed on other areas of the body too, for a glowing complexion from head to toe!
Rose petal sheet masks on my face, feet up, a glass of wine on one hand and a piece of salted caramel bar on the other, while a lovely scent of room fragrance is wafting in the air. That's what you call the ultimate relaxation that results to a very happy day! I am really thankful that they don't just send the best bottles of wine, but also useful and relaxing lifestyle products for women. I will be counting the months 'til I can get my next box!
What did you think of Vine Oh?