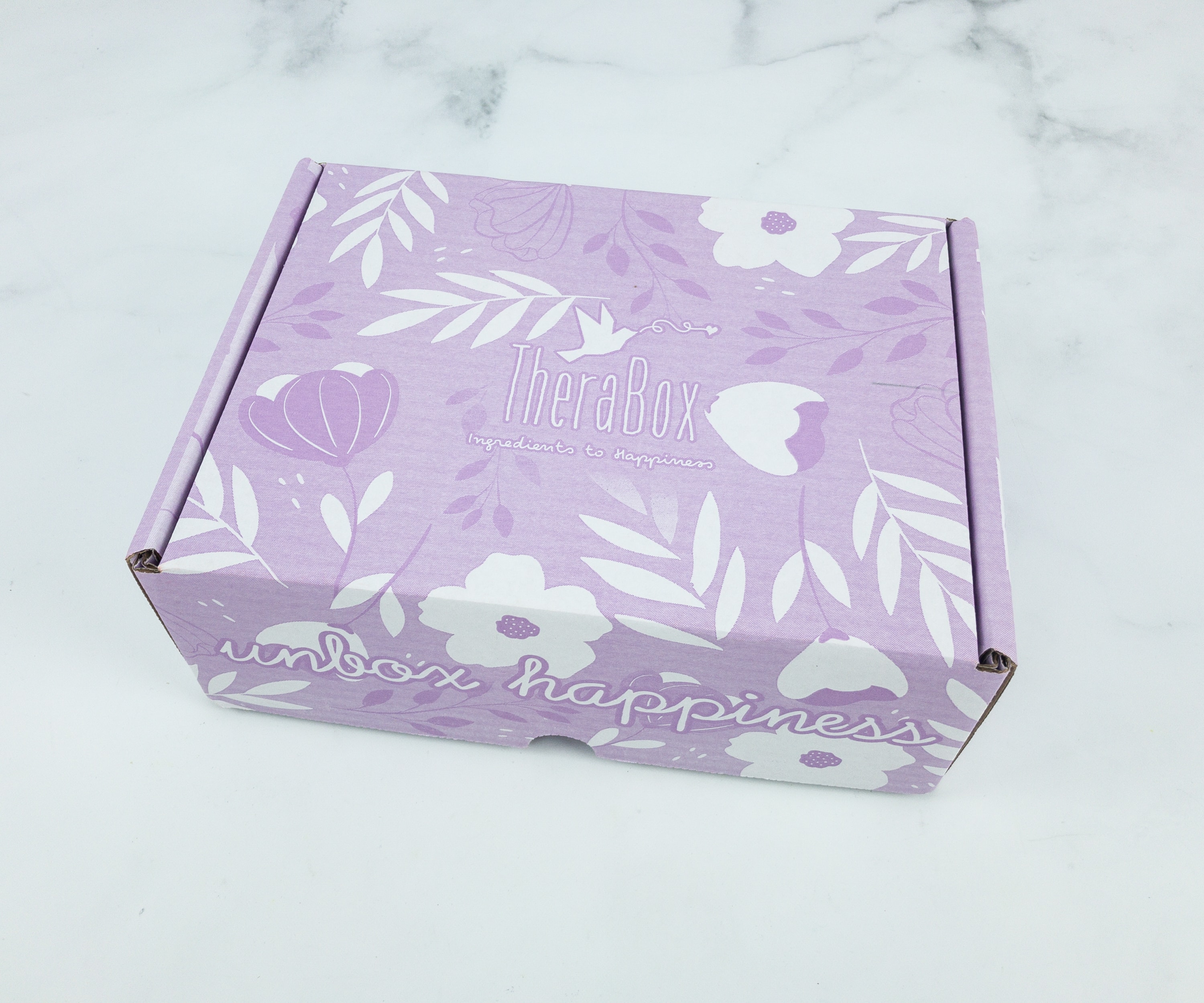 TheraBox is curated by practicing therapists with the aim to inspire happier lives. Each box includes 4-6 wellness products sourced from vendors that produce natural, organic, and feel-good items. They also incorporate at least 1 happiness boosting activity inspired by research in mindfulness, psychology, and neuroscience to rewire the brain for more joy and positivity.
DEAL: Get 10% off your first order! Use coupon code HELLO10.
The items were wrapped in a white tissue paper and sealed with a sticker that says "I wish you every happiness."
The box is also filled with brown squiggles.
It's The Anniversary Edition! Happy 2nd anniversary, Therabox!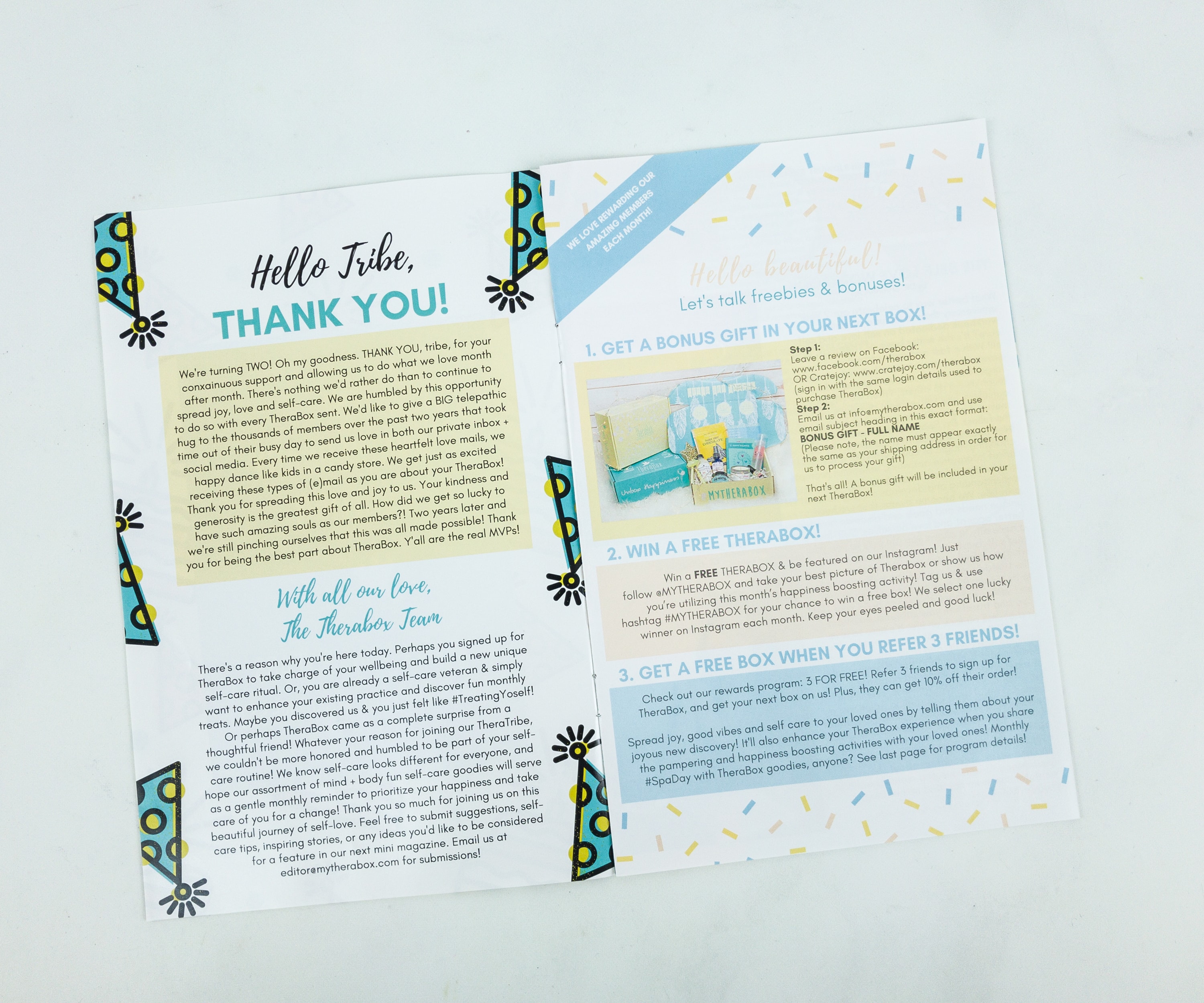 They included a pamphlet containing the editor's note on the first page and some details about the subscription, like freebies and bonuses!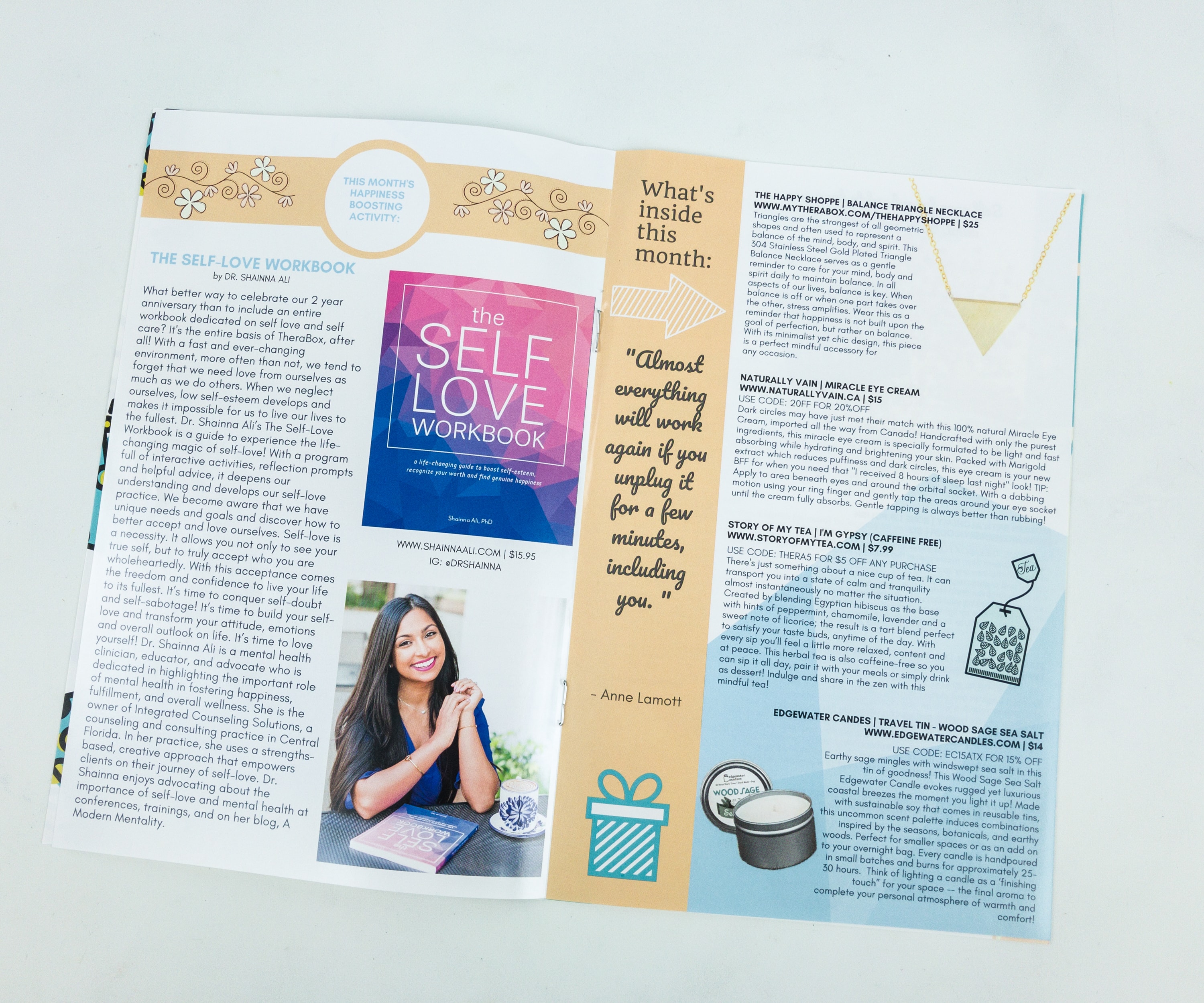 Of course, there will always be a corner for the featured items from well-known brands.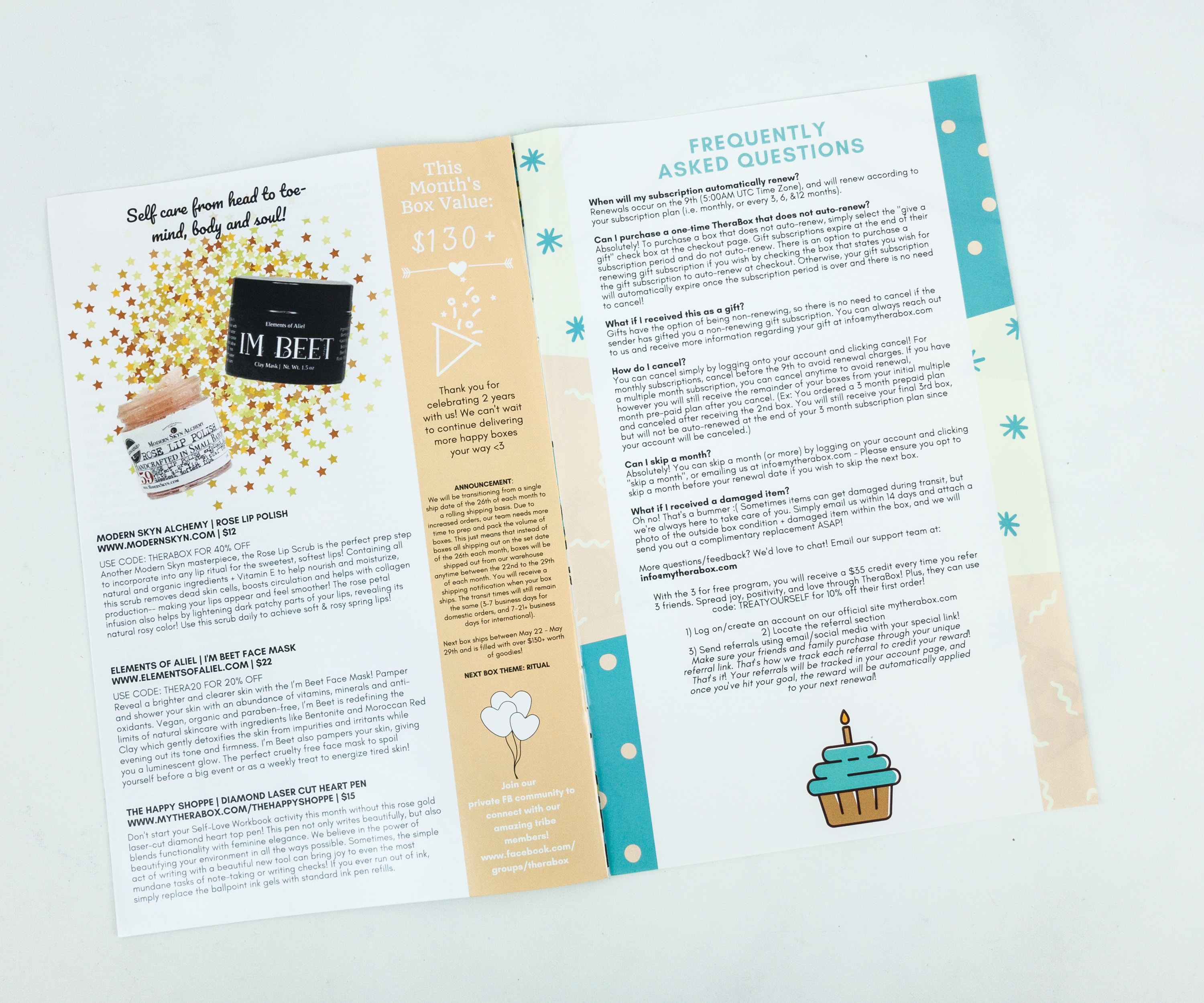 It's complete with all there is to know about each product. The next page is reserved for the subscription FAQs.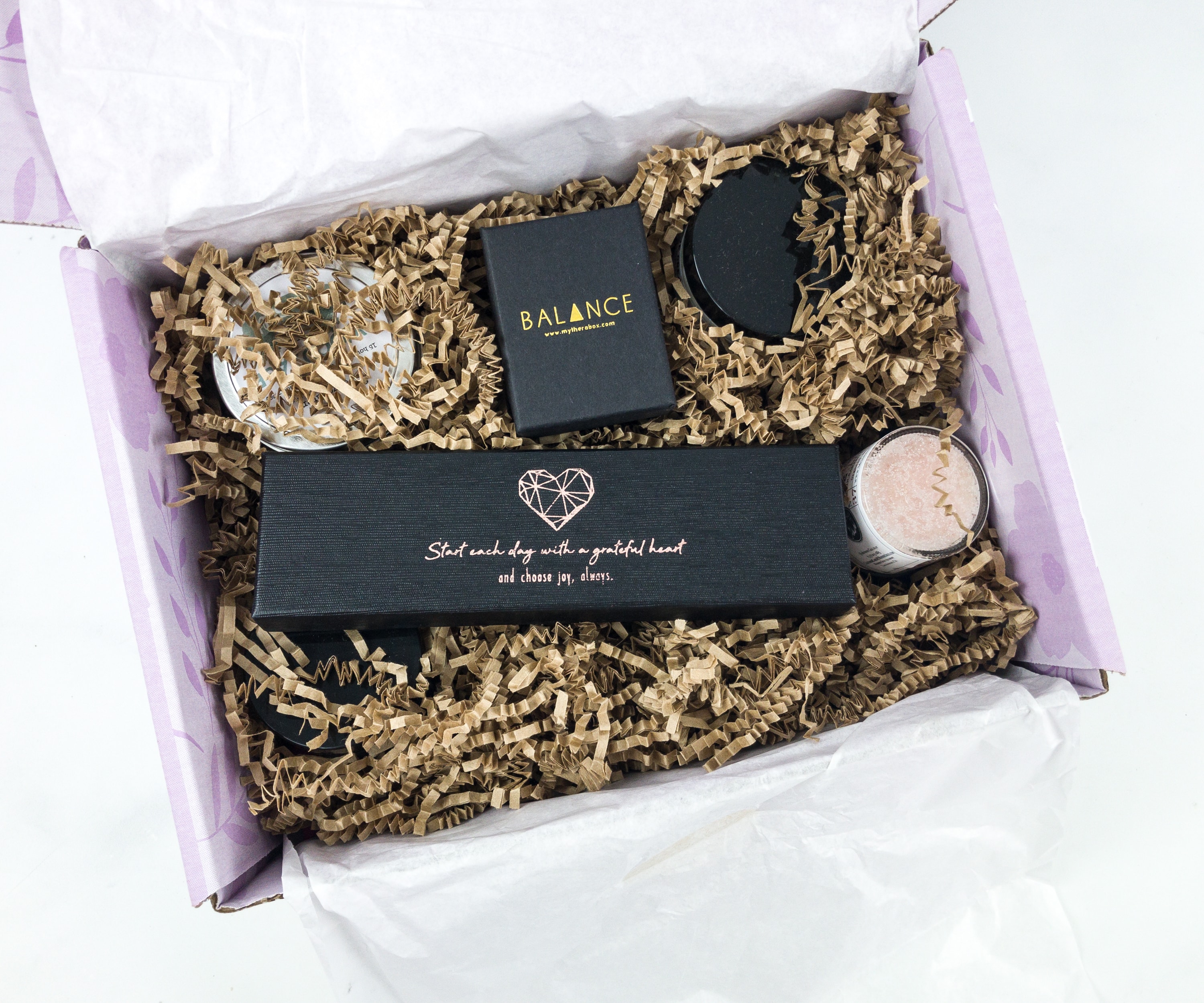 The items all arrived in great condition, as they were protected by the squiggles.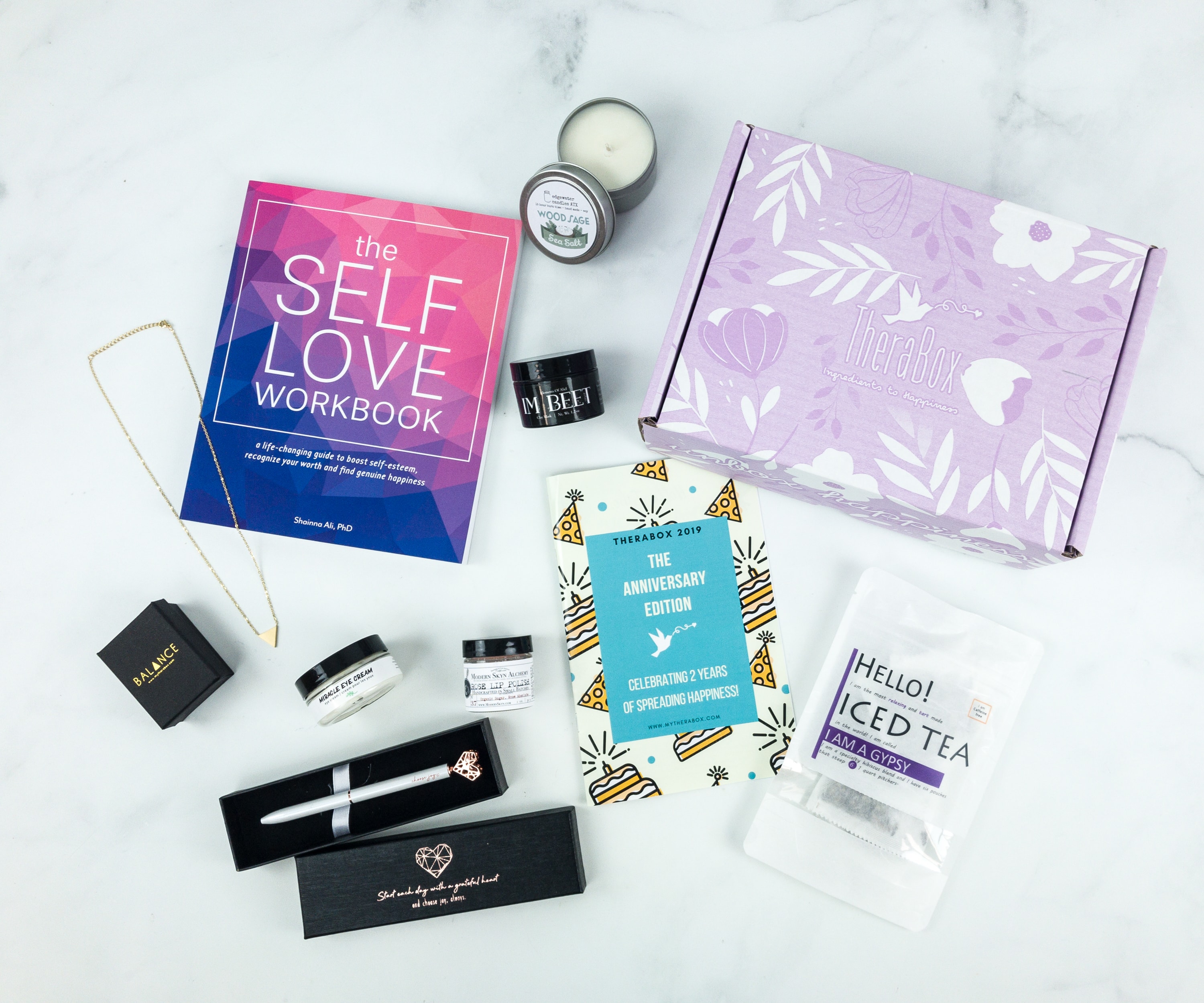 Everything in this month's box!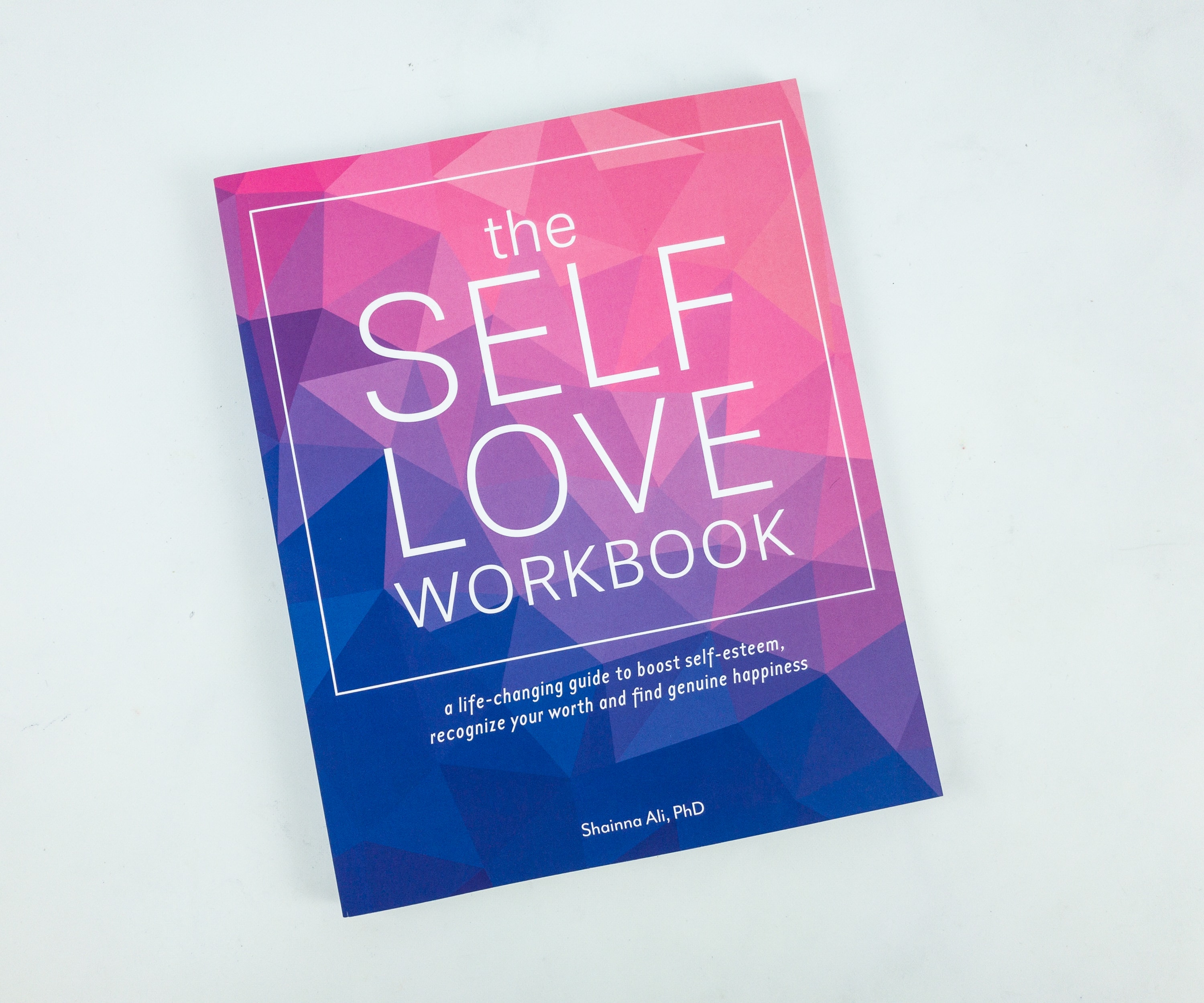 The Self Love Workbook by Shainna Ali ($10.97)
Experience the life-changing magic of self-love!

You need love from yourself as much as from others. When you have low self-esteem, low confidence or even self-hatred, it's impossible to live life to the fullest. It's time to build your self-love and transform your attitude, emotions and overall outlook on life! This helpful workbook allows you to become aware of your own unique needs and goals while discovering how to better accept and love your true self. It includes a variety of constructive and actionable tips, tricks and exercises, including:

• Interactive Activities
explore a variety of fun and creative ways to love yourself

• Reflection Prompts
unpack your experiences and connect them to new lessons

• Helpful Advice
deepen your understanding of self-love and utilize it in the real world

Self-love allows you not only to see your true self, but to truly accept who you are wholeheartedly. With this acceptance comes the freedom and confidence to live your life to its fullest. It's time to conquer self-doubt and self-sabotage. It's time to love yourself!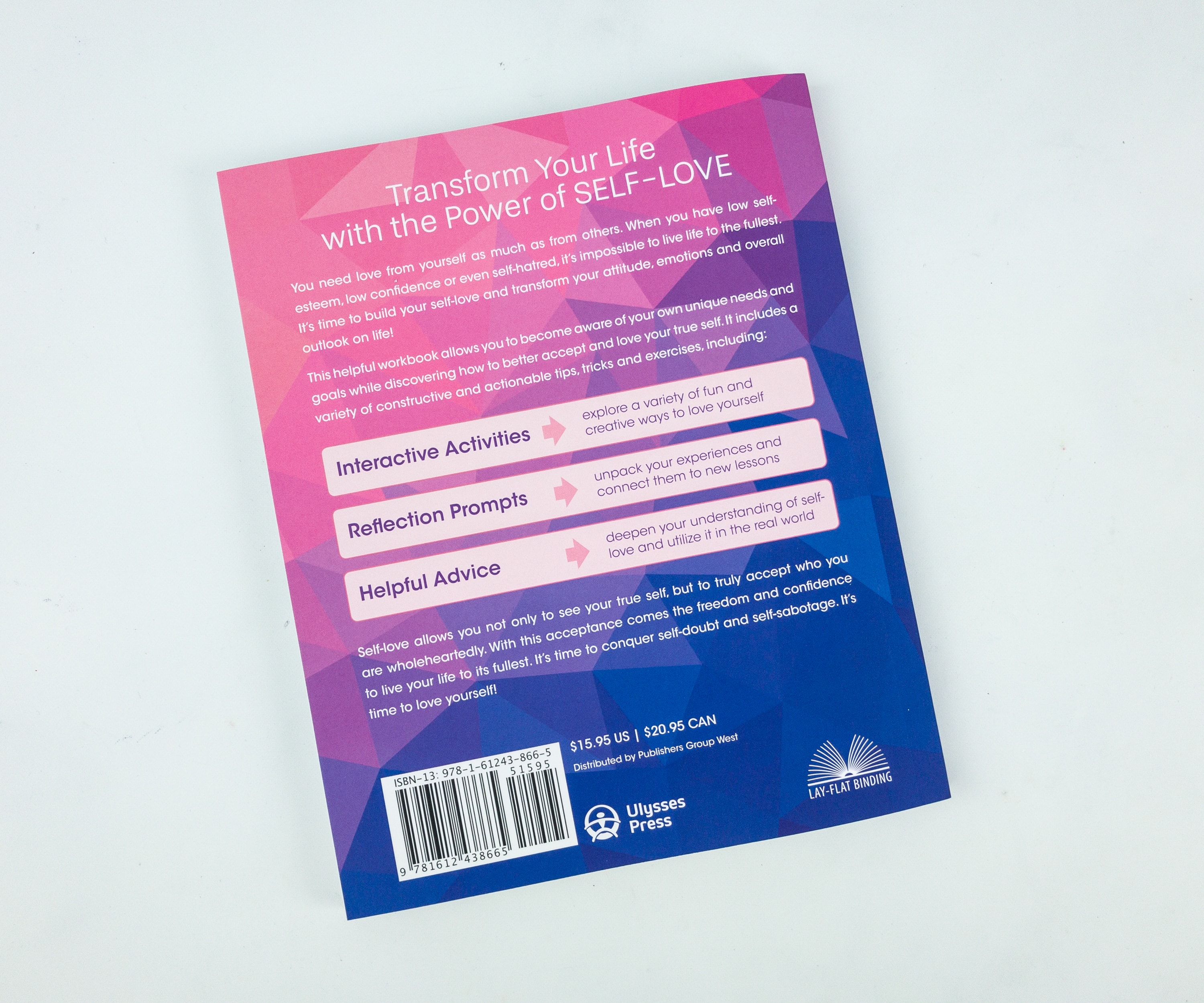 It's a book that helps the reader discover the magic of self-love, which is said to be the way to genuine happiness.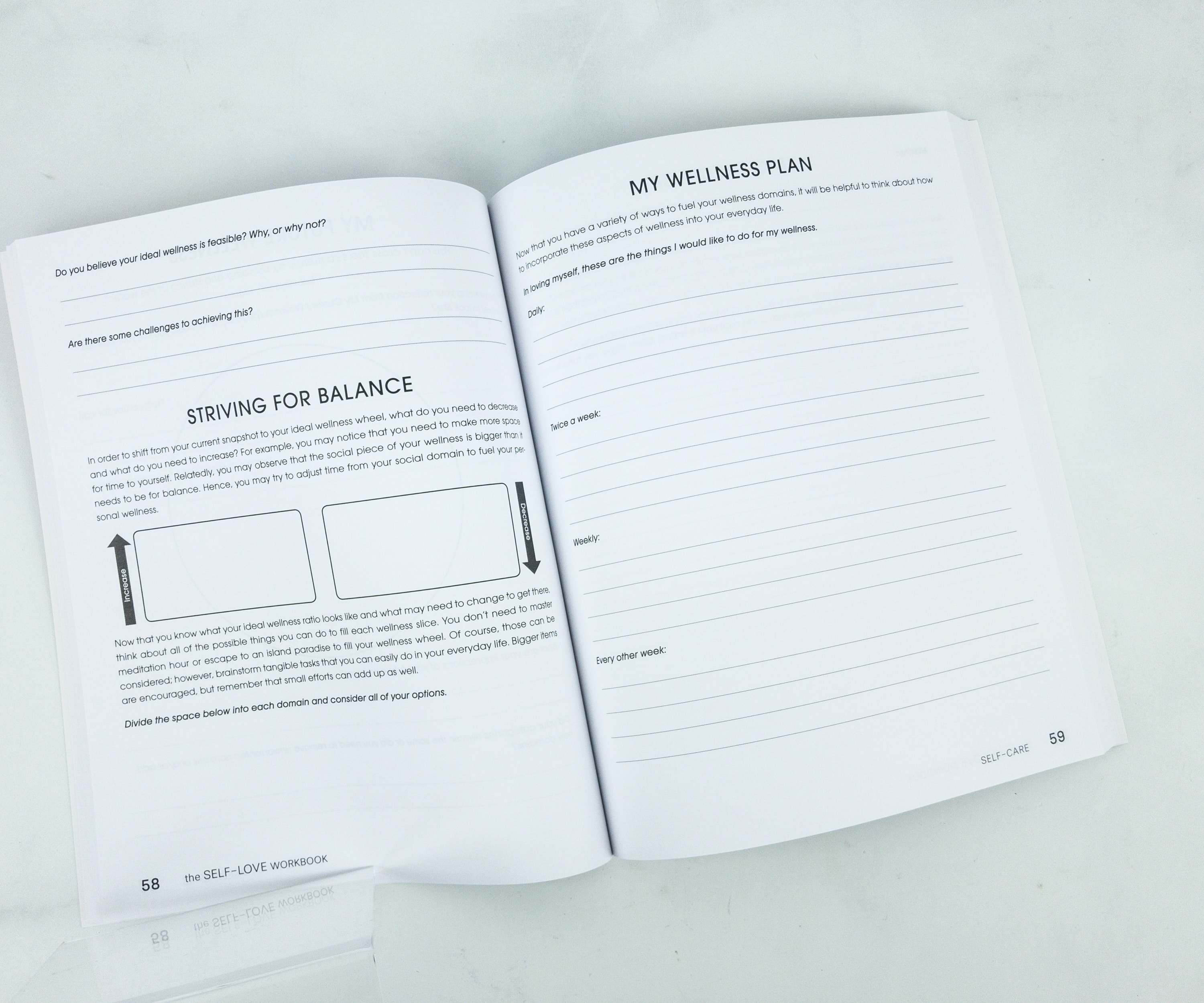 It has lots of activities that ensure that you're taking really good care of yourself, like a wellness plan!
The on-page activities are tailored to inspired you to strive to be the best version of yourself!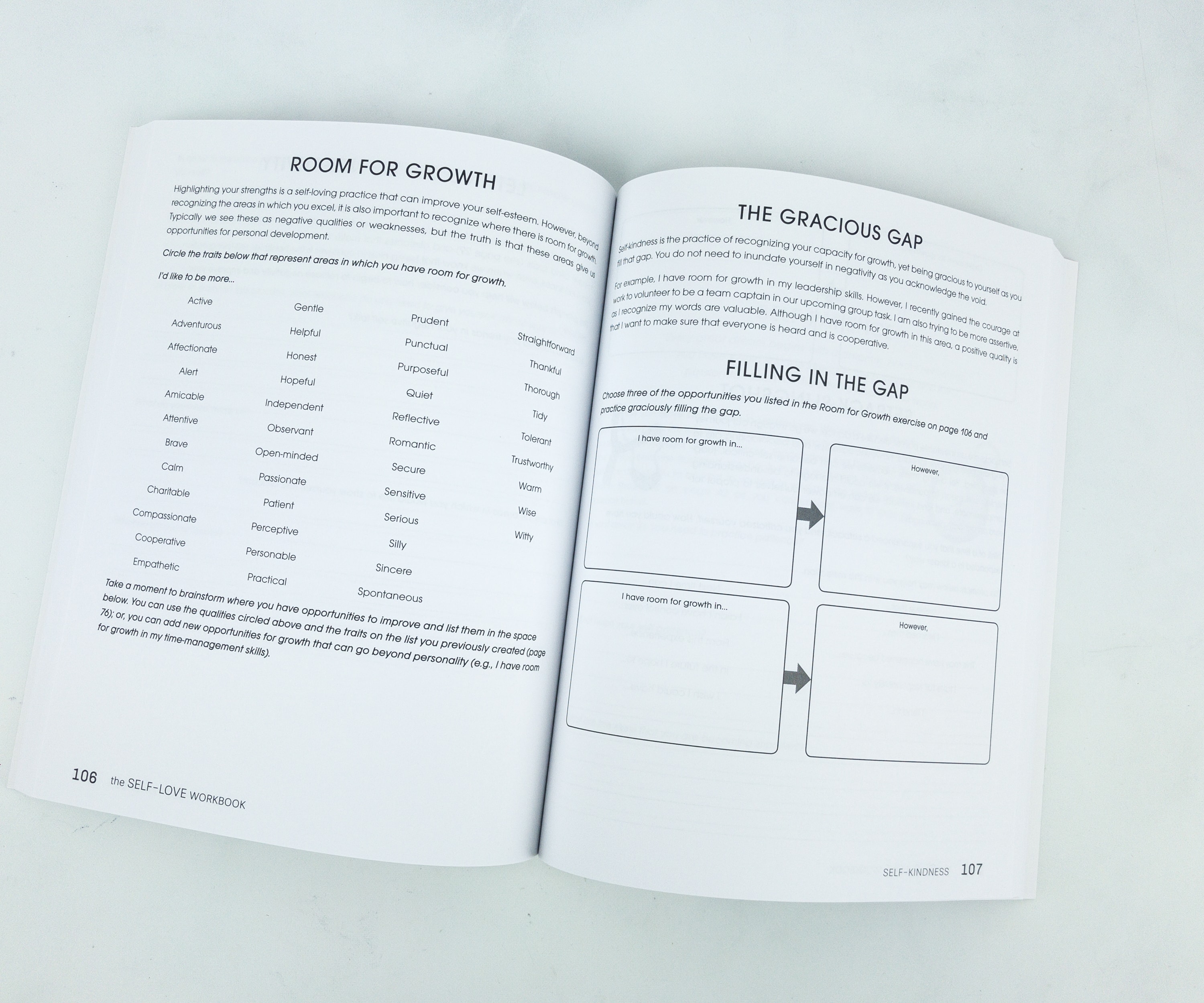 It also proves that there's always room for growth and you just need to go with it!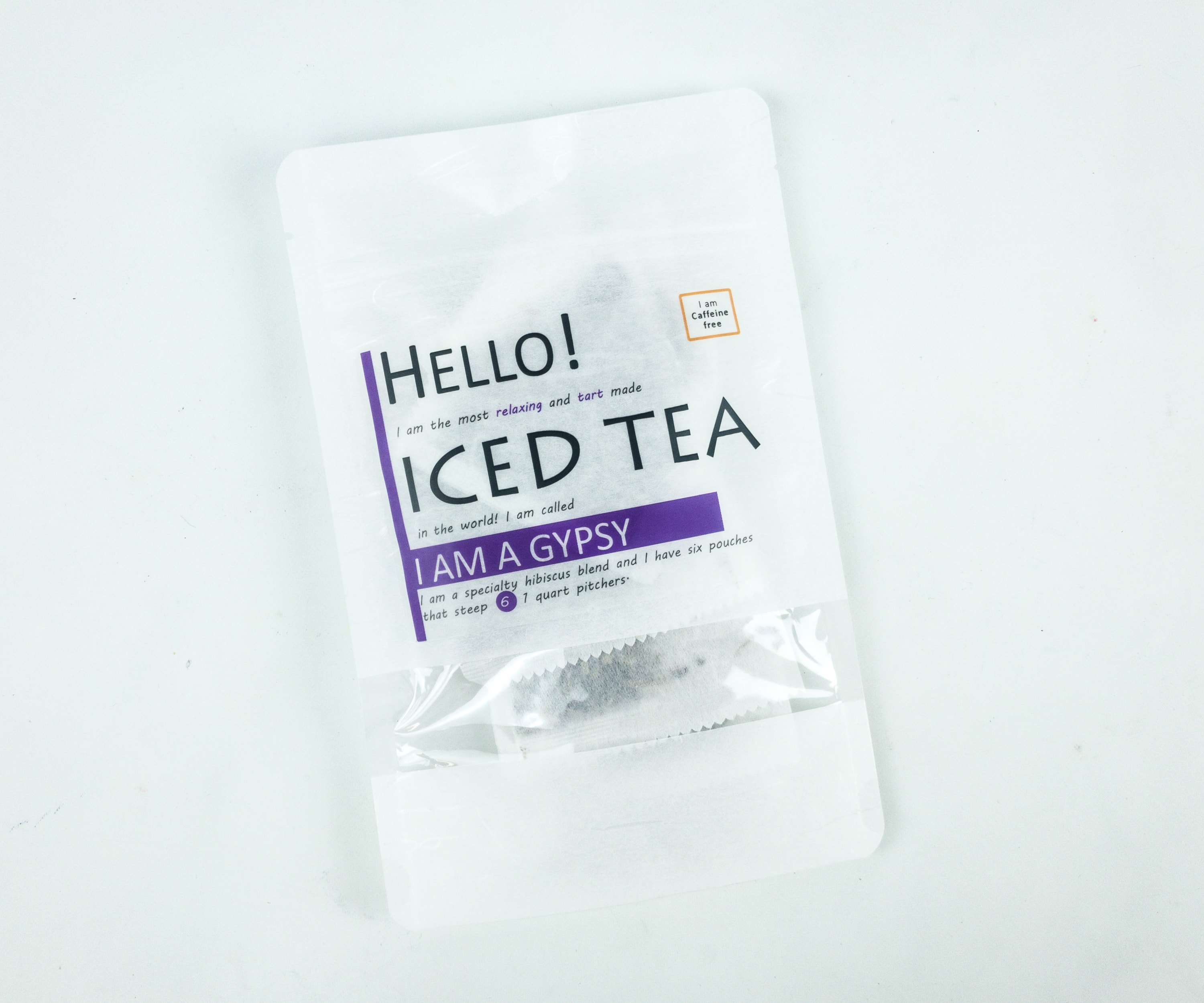 Story Of My Tea I Am A Gypsy Tea ($3) This tea is for those who'd love some cold brew. It contains hibiscus, lavender, chamomile, peppermint, and licorice root.
There are 6 tea bags in the pack. Each bag can be steeped to a 1-quart pitcher!
The tea contains lavender and chamomile, so there's no doubt that it's soothing. It's not too sweet either. It'll go great with cookies or pies!
Choose Joy Pen. The easy-twist pen arrived in an elegant box. It also comes with a beautiful topper.
One thing I love about this kind of pen is that I don't have to worry about losing the cap!
The heart topper looks gorgeous in rose gold color! There's also a scribble on the pen that says "choose joy."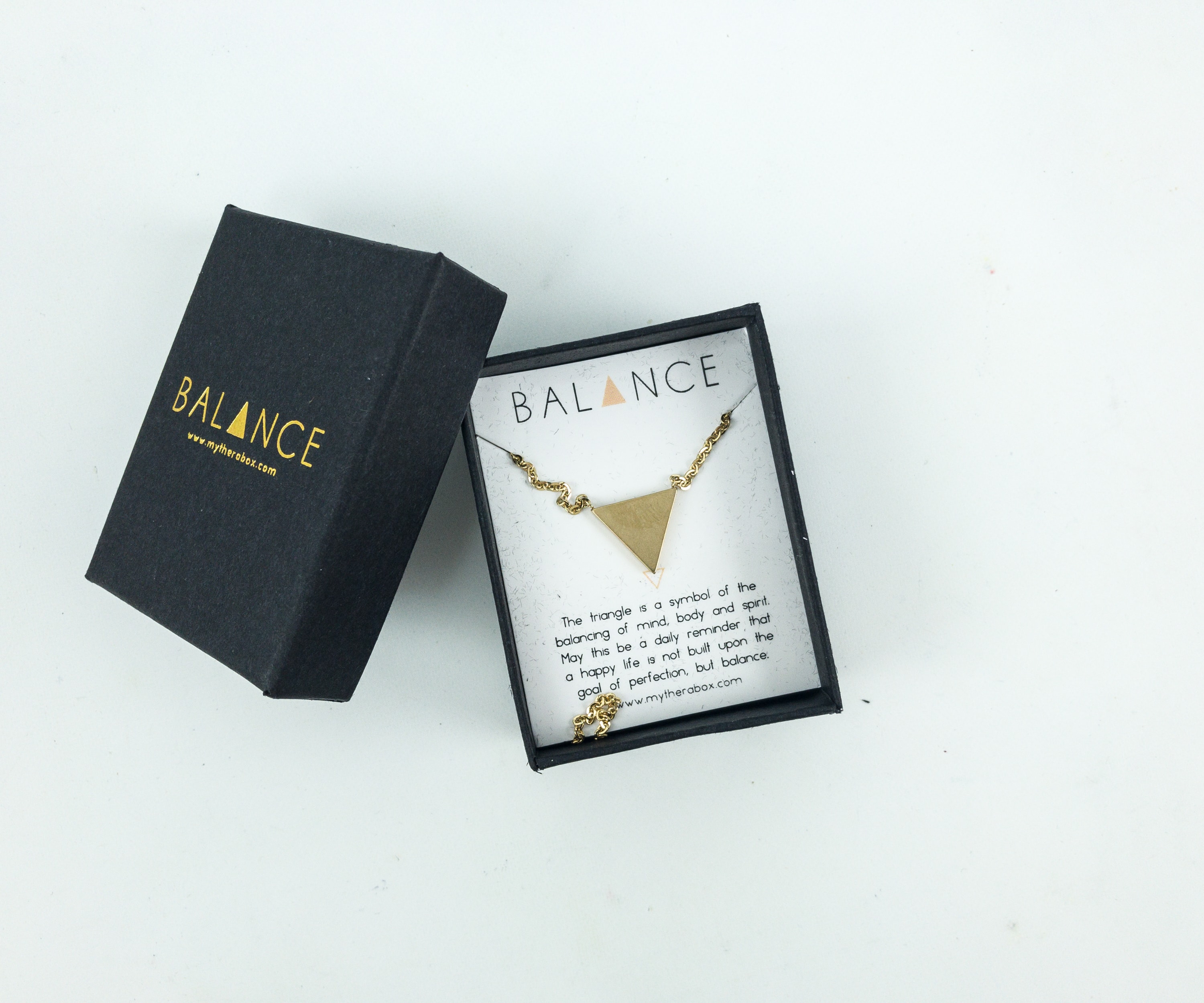 Balance Necklace. The triangle is a symbol of a balanced mind, body, and spirit. This beautiful necklace with a triangle pendant reminds me of that.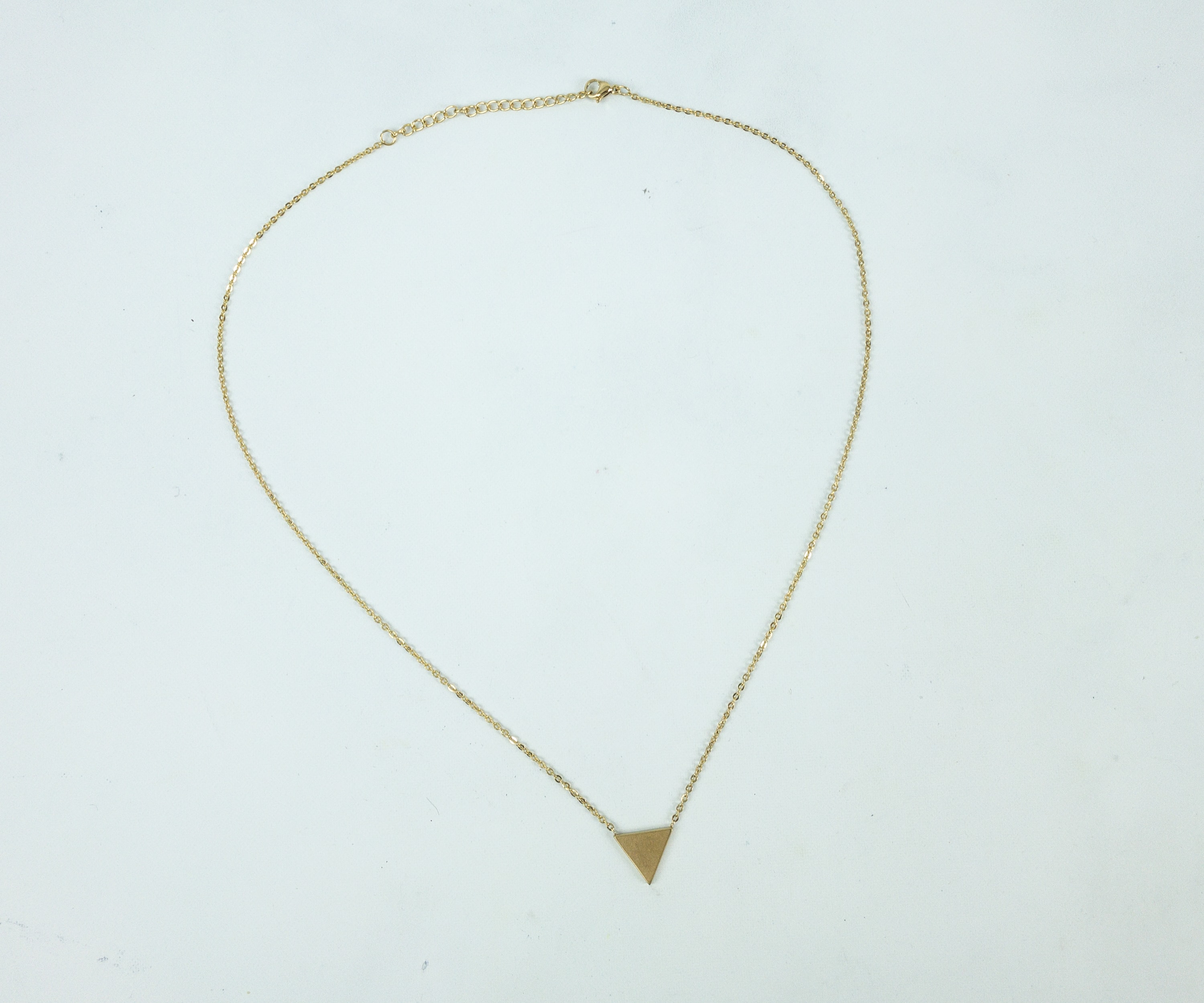 The necklace may look minimalist when worn, but the impact and meaning of the main accent are really huge! It comes with a lobster clasp and can be adjusted easily to fit your desired length.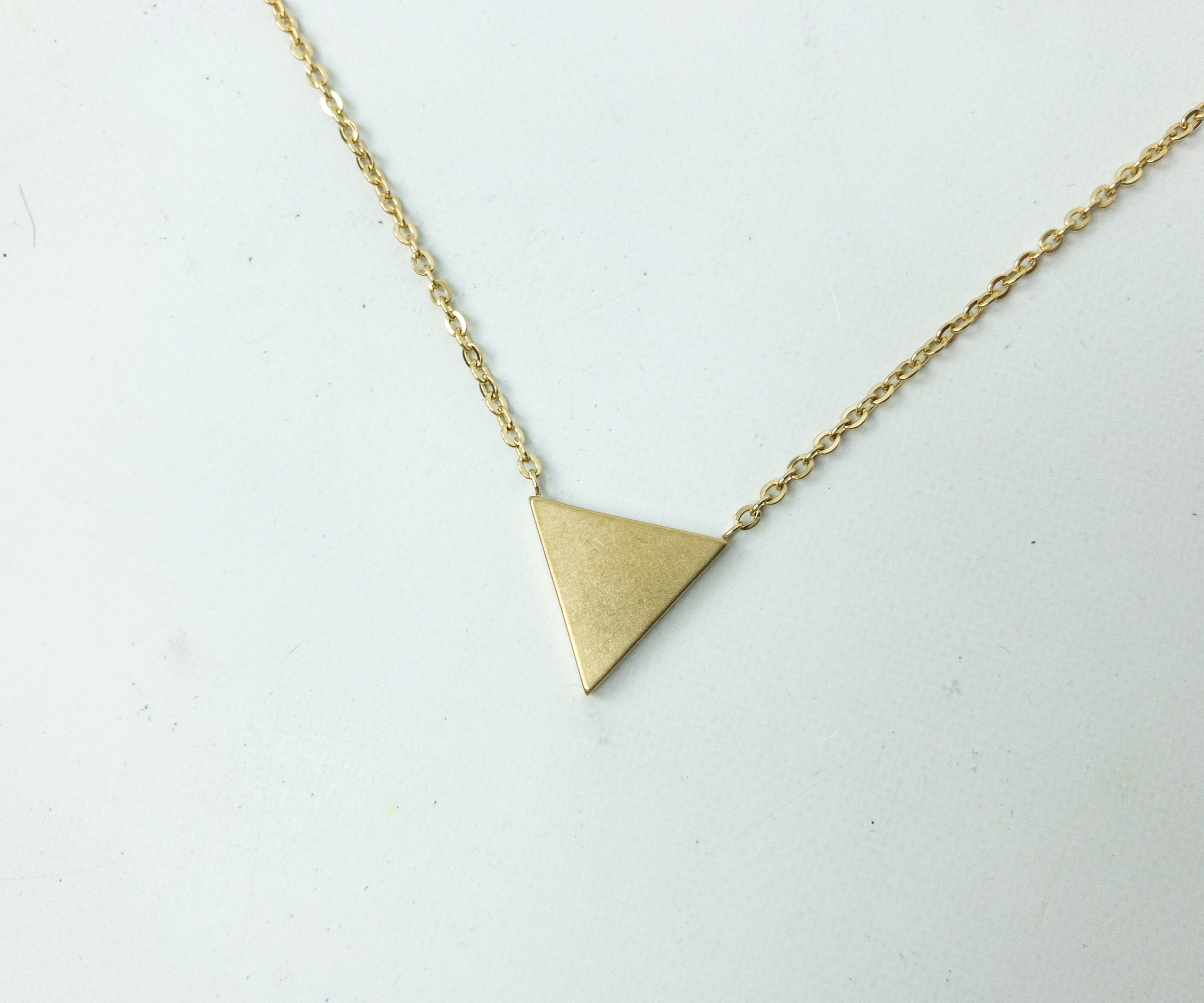 I just can't help but notice how perfect the triangle is, truly a great balanced design!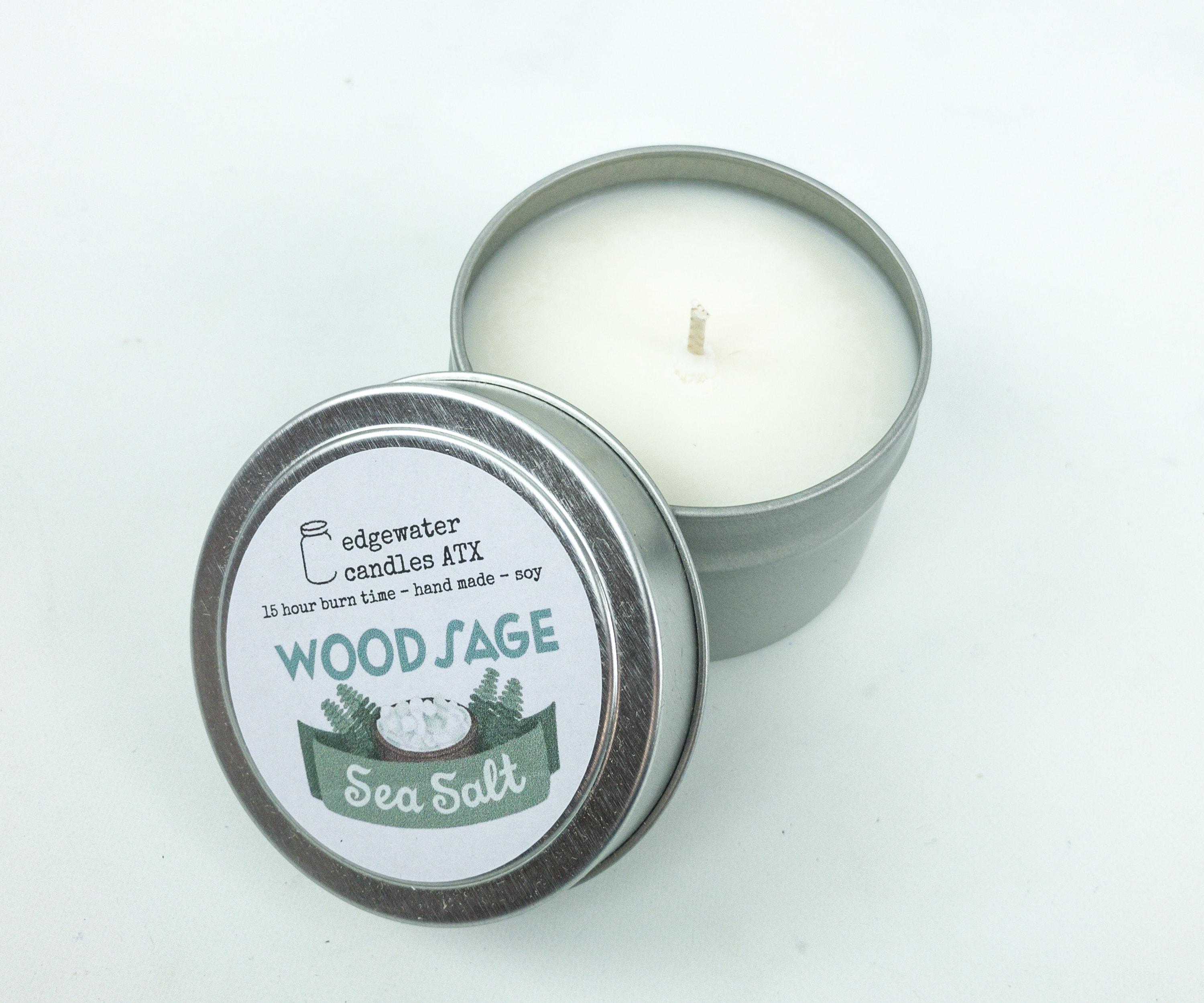 Edgewater Candles ATX Wood Sage in Sea Salt ($24 Full-Size 12oz.) I got the sea salt variant of this soy wax candle. It also contains ancient wood sage that gives off a fresh yet musky and rugged fragrance. It burns for approximately 75 hours.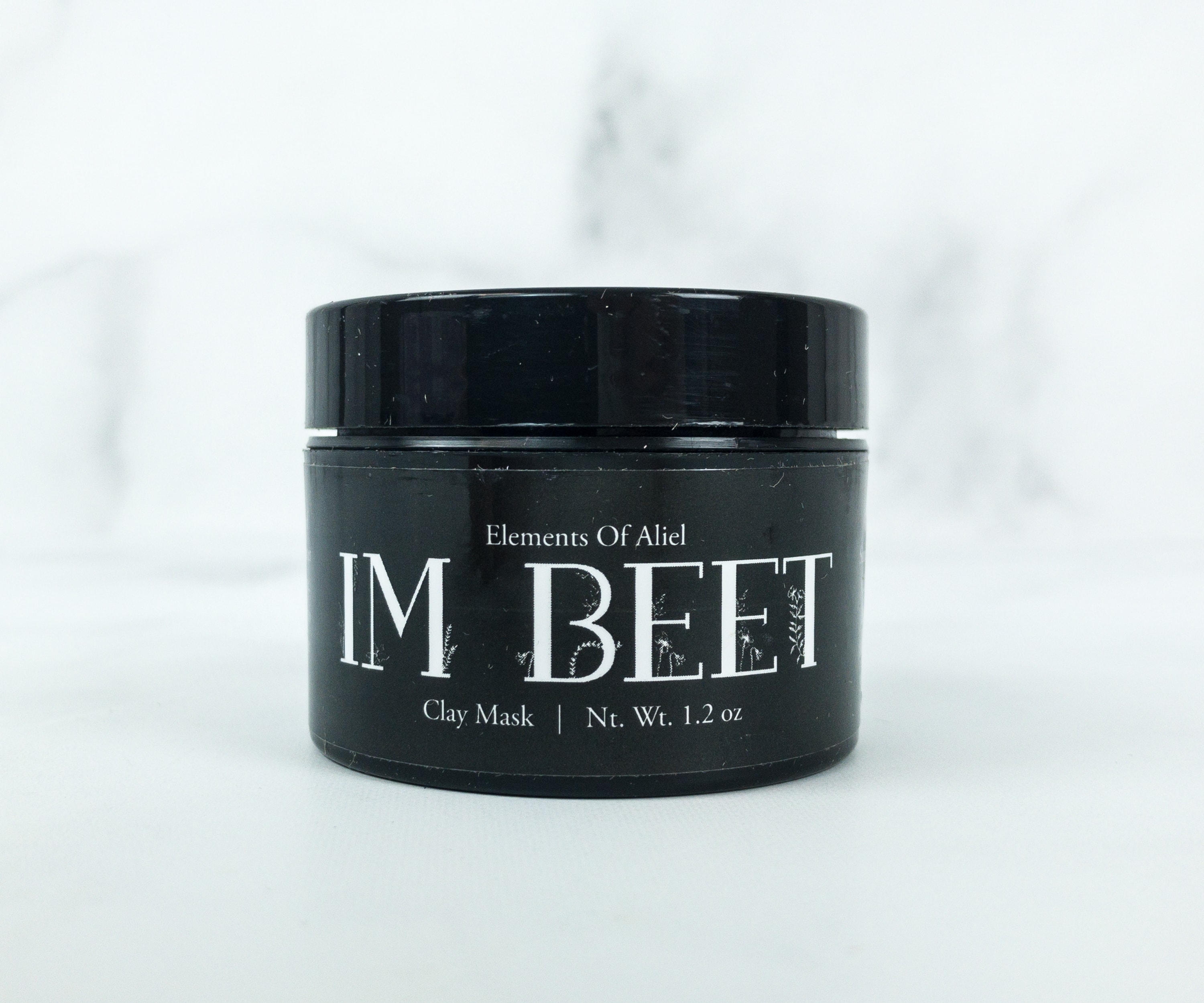 Elements Of Aliel I'm Beet Clay Mask ($17.60) Packed with rosehip powder and beetroot powder, this clay mask is great when you want to cleanse your skin thoroughly without leaving it dry.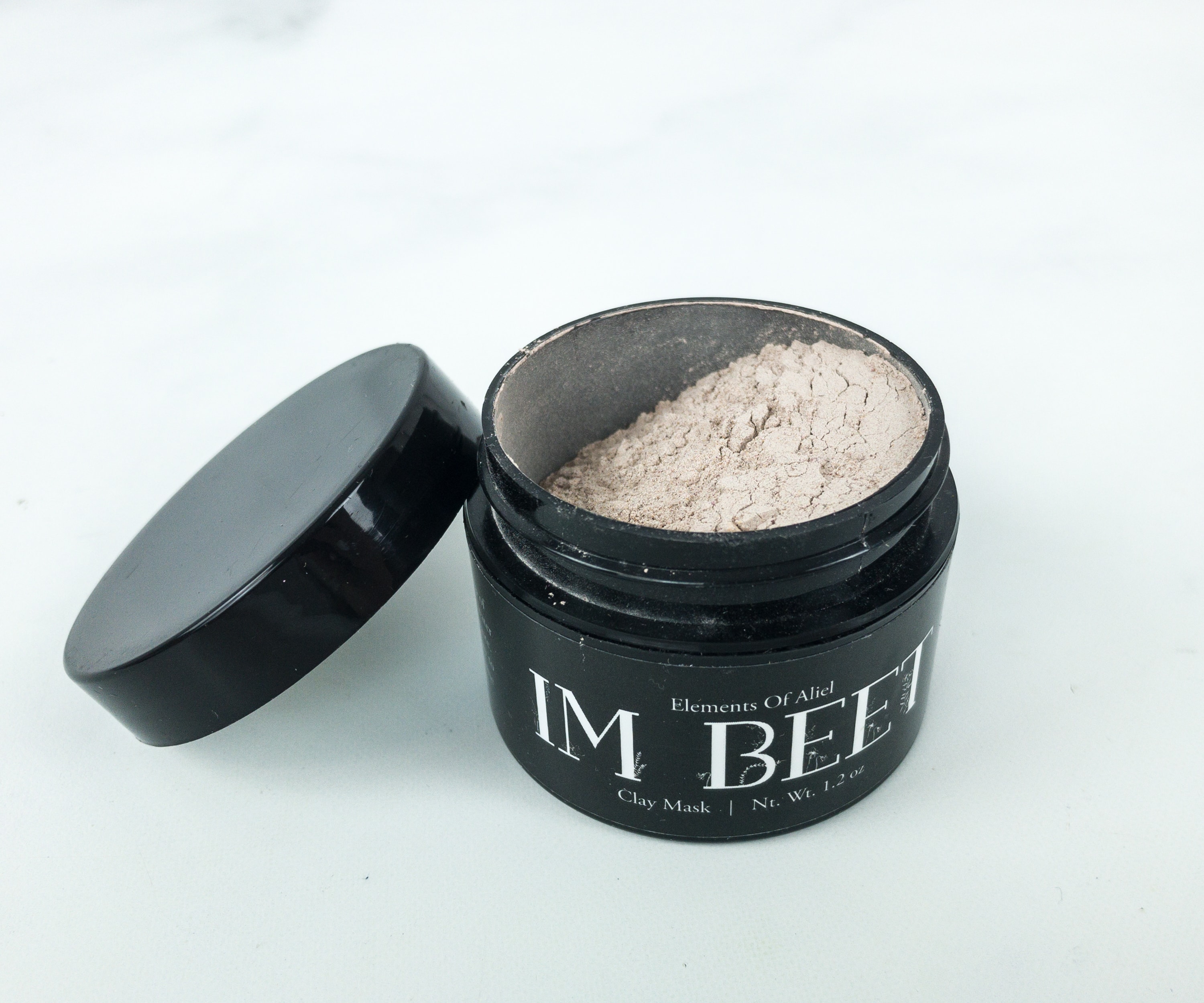 Since it's in powder form, you have to mix it with a few drops of water to create a paste. You can also adjust the amount of water depending on your preferred consistency. It feels great on the skin as it takes off dirt and oil that causes skin blemishes. The formula is non-irritating and hydrating as well.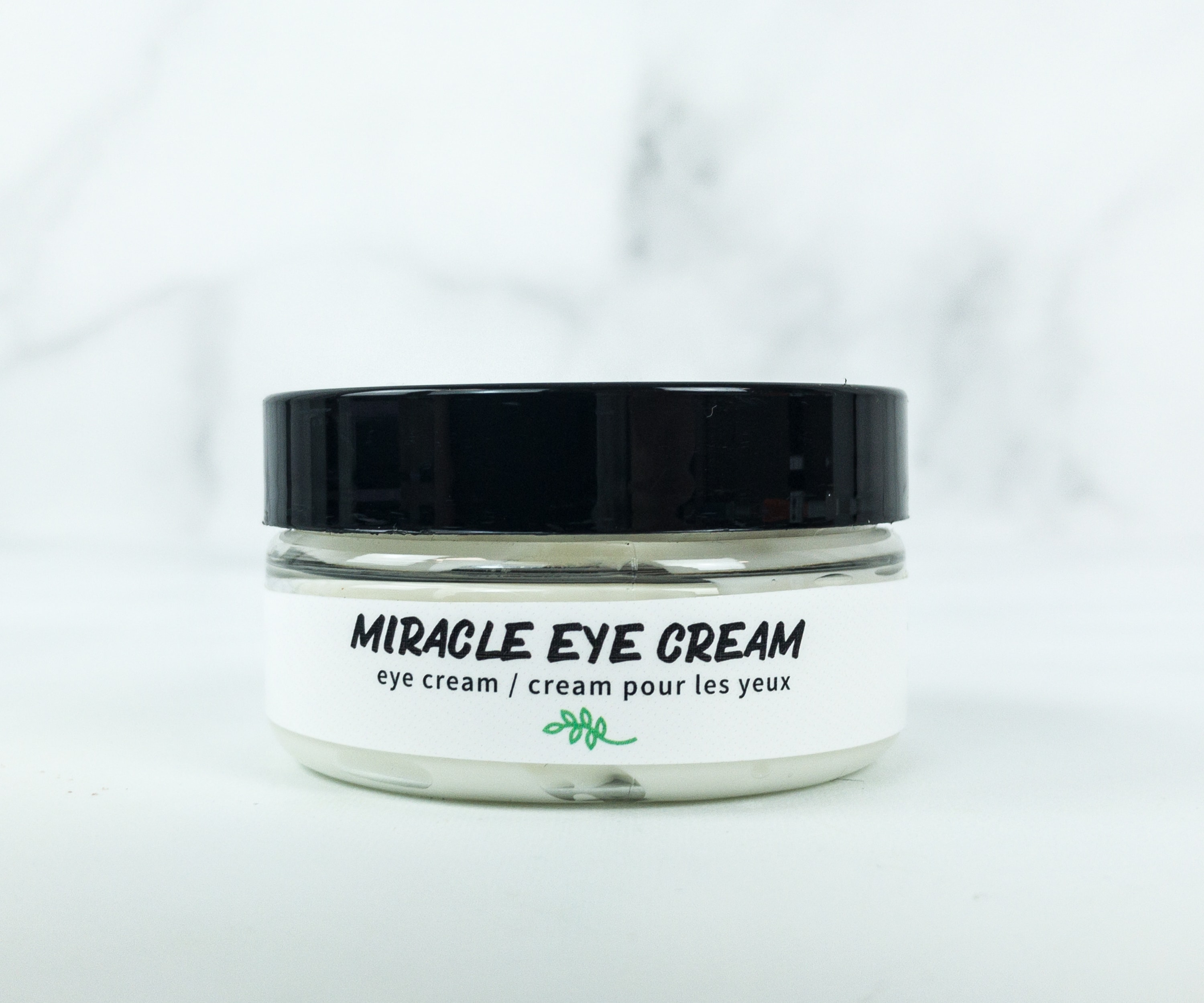 Naturally Vain Miracle Eye Cream ($15) They also included an eye cream made with marigold extract which helps reduce puffiness, wrinkles, and even dark circles.
It's imported all the way from Canada!
The cream has a rich and creamy consistency, but it's pretty lightweight. It goes on smoothly on the skin.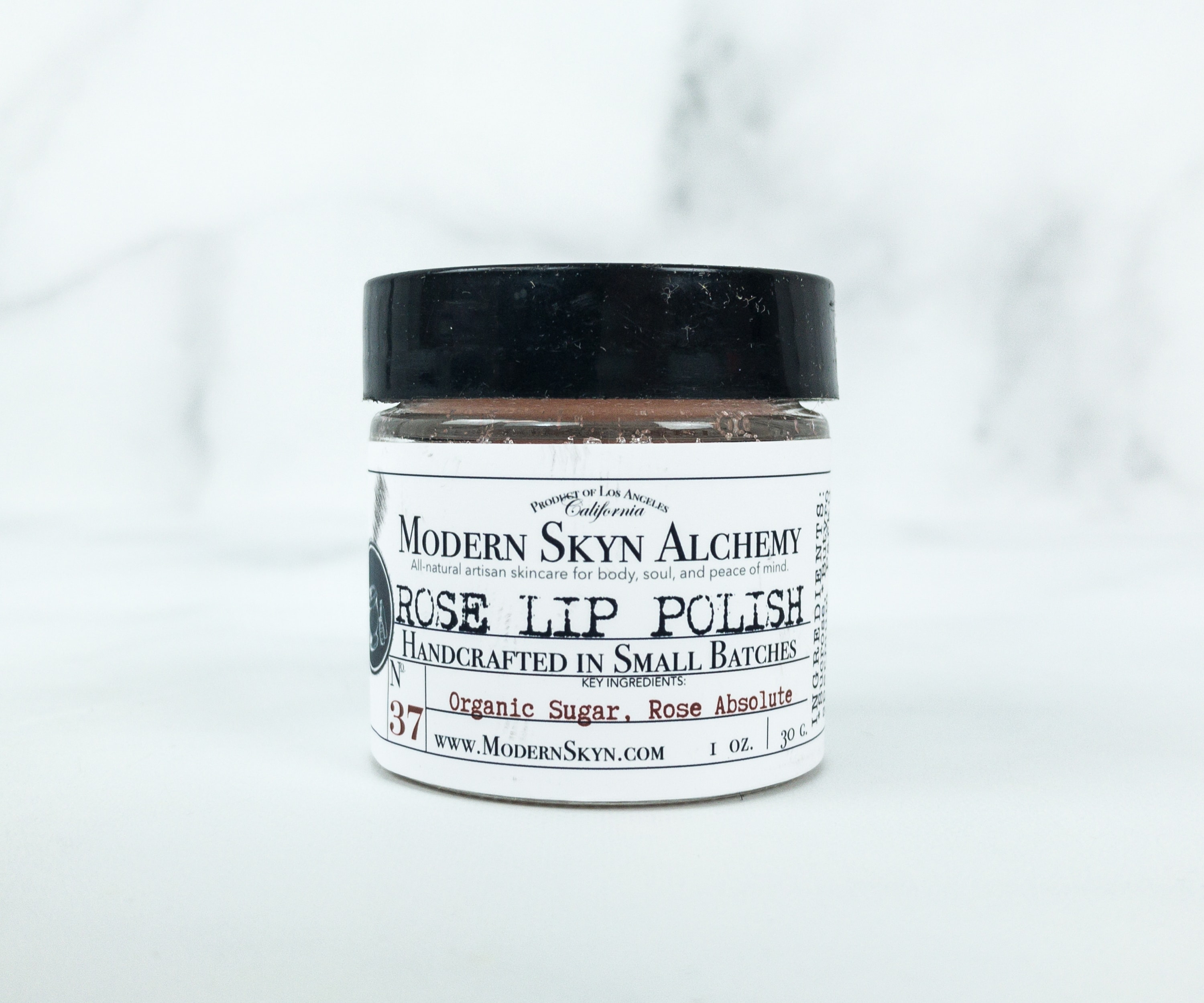 Modern Skyn Alchemy Rose Lip Polish ($12) Exfoliating is the key to supple lips and this lip polish helps me easily do the job!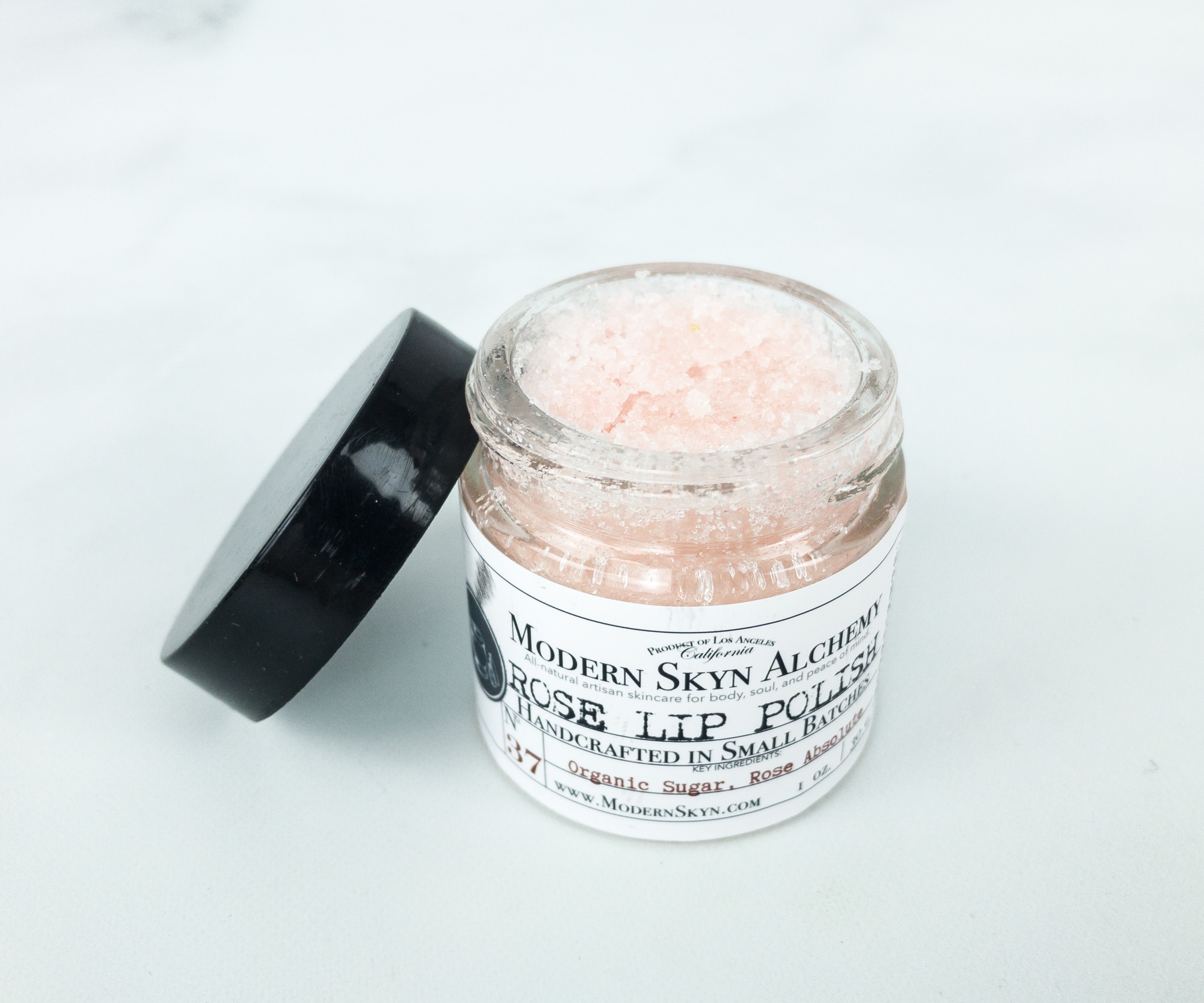 It contains organic ingredients and vitamin E that helps nourish and moisturize the lips, so it won't be left dry after exfoliating.
I get excited every time this box arrives because I know that it contains items that aim to inspire and pamper. This month, I'm happy to get a bunch of new skin-loving products for my arsenal. I also love the soy wax candle as it helps me create a relaxing mood for my home, and the necklace which is versatile and minimalist. Overall, it's a well-curated box and once again they've done a great job in making me feel good! Receiving this box felt like receiving a care package from someone who knows me well!
What do you think of this month's box?