The Ms. Collection is an easy rental service subscription for men and women with an option to buy. They send clothing and accessories customized to your own preference and needs as you fill up their Style profile. It starts at $59 per month. Every box will be a surprise and you can create different looks by mixing and matching. You have the option to buy any clothes you love and return the rest when ready.
This is a review for The Ms. Collection Premium Once a Month plan, which sends 4 items for $69 per month (plus free shipping).
With The Ms. Collection, you'll have a chance to try clothes from hundreds of brands, have thousands of styles available and expert stylists who care about making you look your best. Members get discounts up to 50% with free shipping, and returns.
DEAL: Get 20% off your first month! Use coupon code HELLOSTYLE20.
All the clothes are handpicked and styled just for you!
When you sign up, you'll take a super easy quiz, excerpted below. Your stylist picks out 3-4 items depending on your style plan and your selections, but you can give them feedback as time goes on to perfect their picks!
The quiz covers absolutely everything:
Plus, you can set your preferences on accessory categories, too!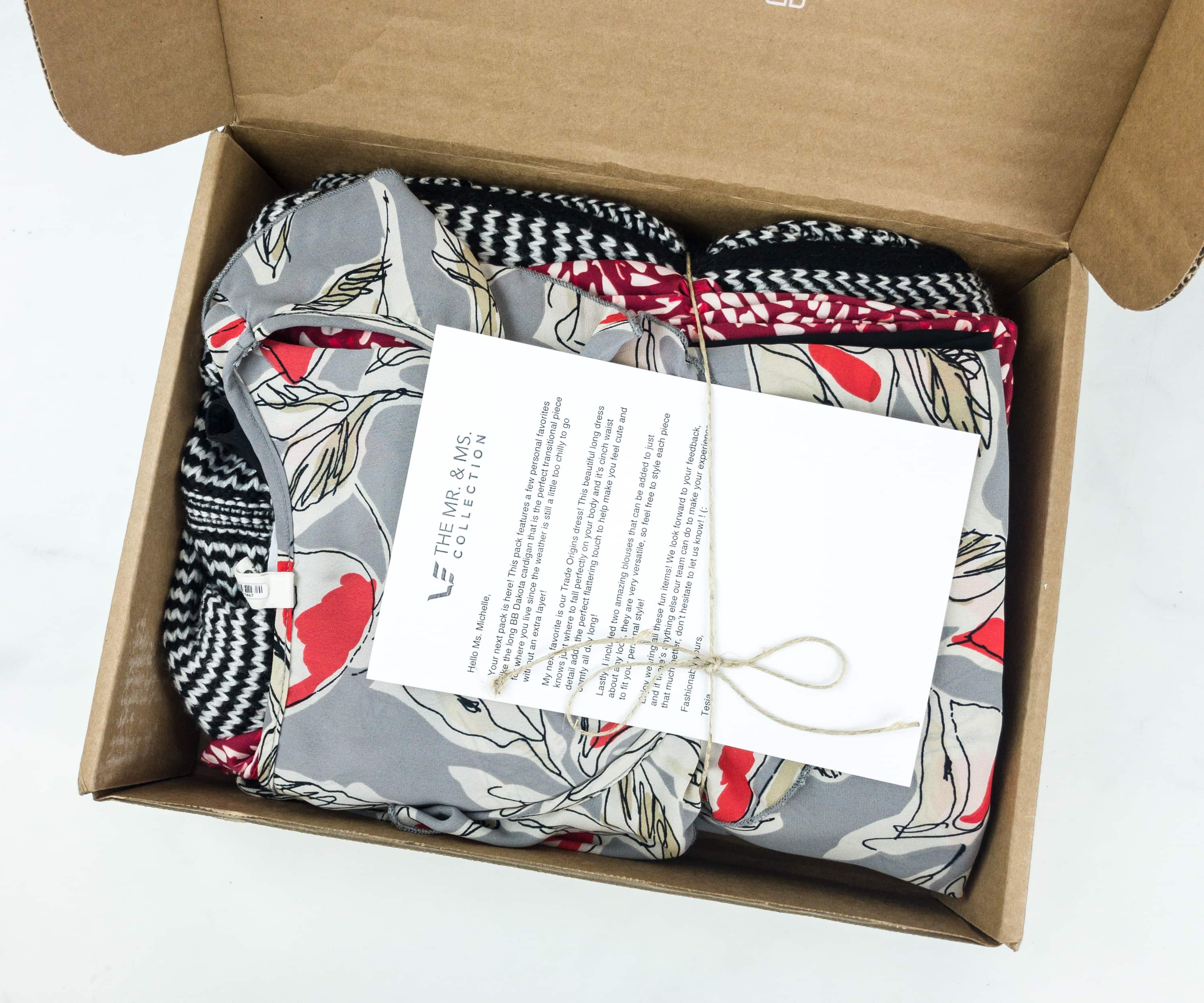 Everything is neatly packed in the box without extra packaging.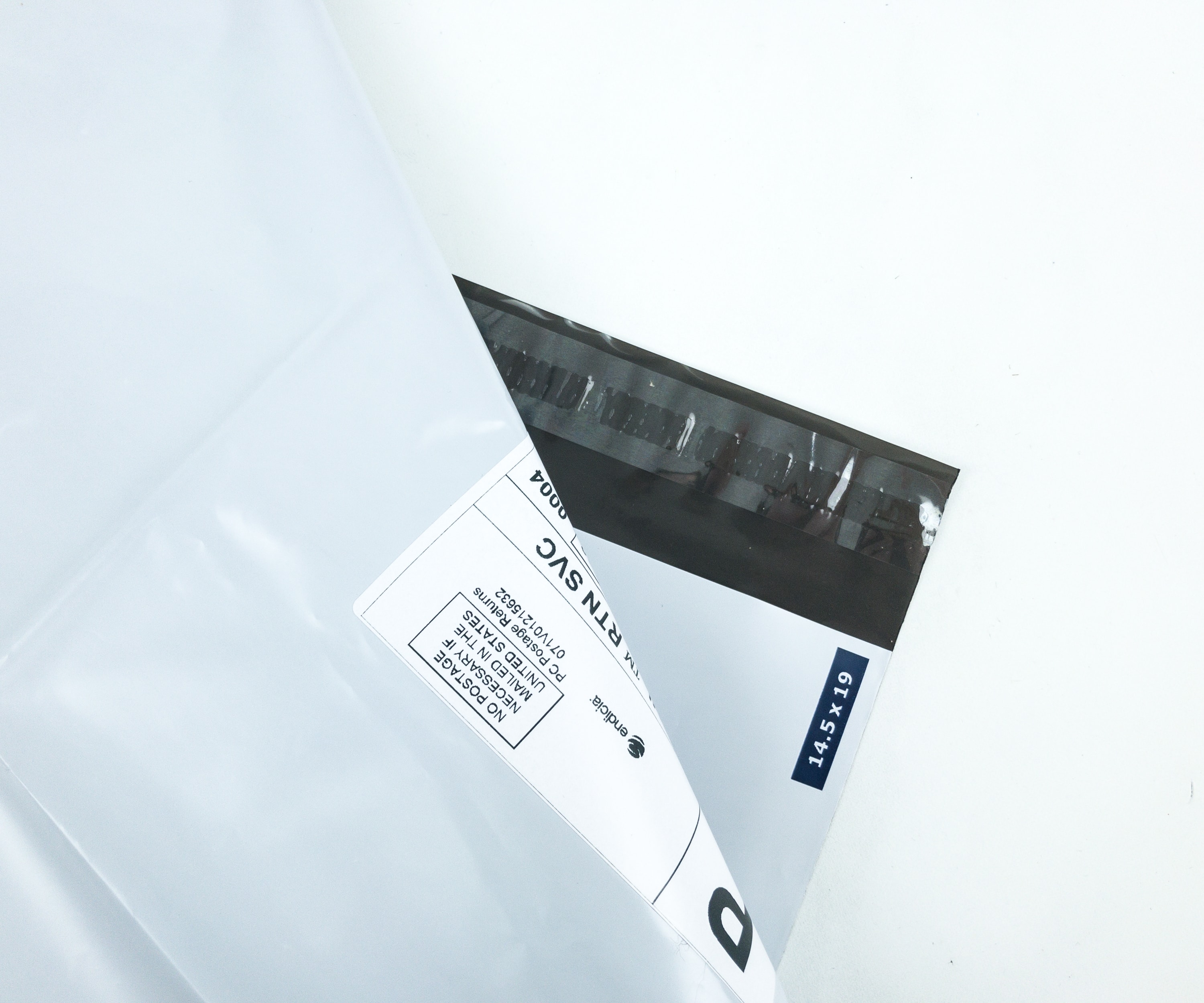 They always include the pre-paid return envelope to send back the clothes once you're done with them. Shipping is free, and so as the laundry – you just send them back after you're done! Yay, free laundry!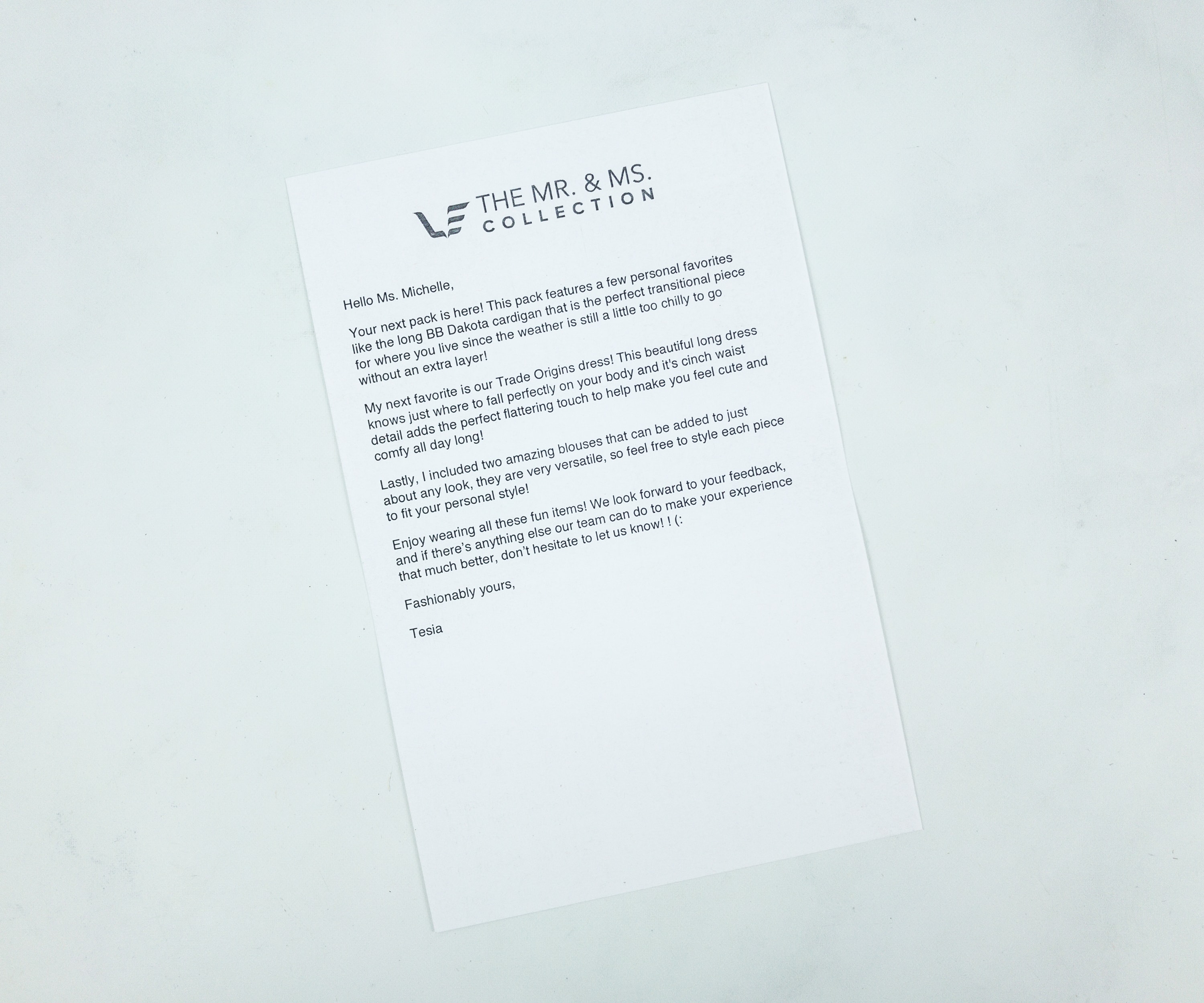 They value customer service and customer feedback. I love that I am able to wear the clothes for the month and return them with the pre-paid barcoded bag before the end of my pre-paid month. They also have an unlimited subscription model that allows you to receive more than one pack per month. Both the once a month and unlimited plans help me push the limits of possibilities, by creating new ensembles from what they've sent and what is in my own wardrobe.
They also sent a card with more information about the subscription.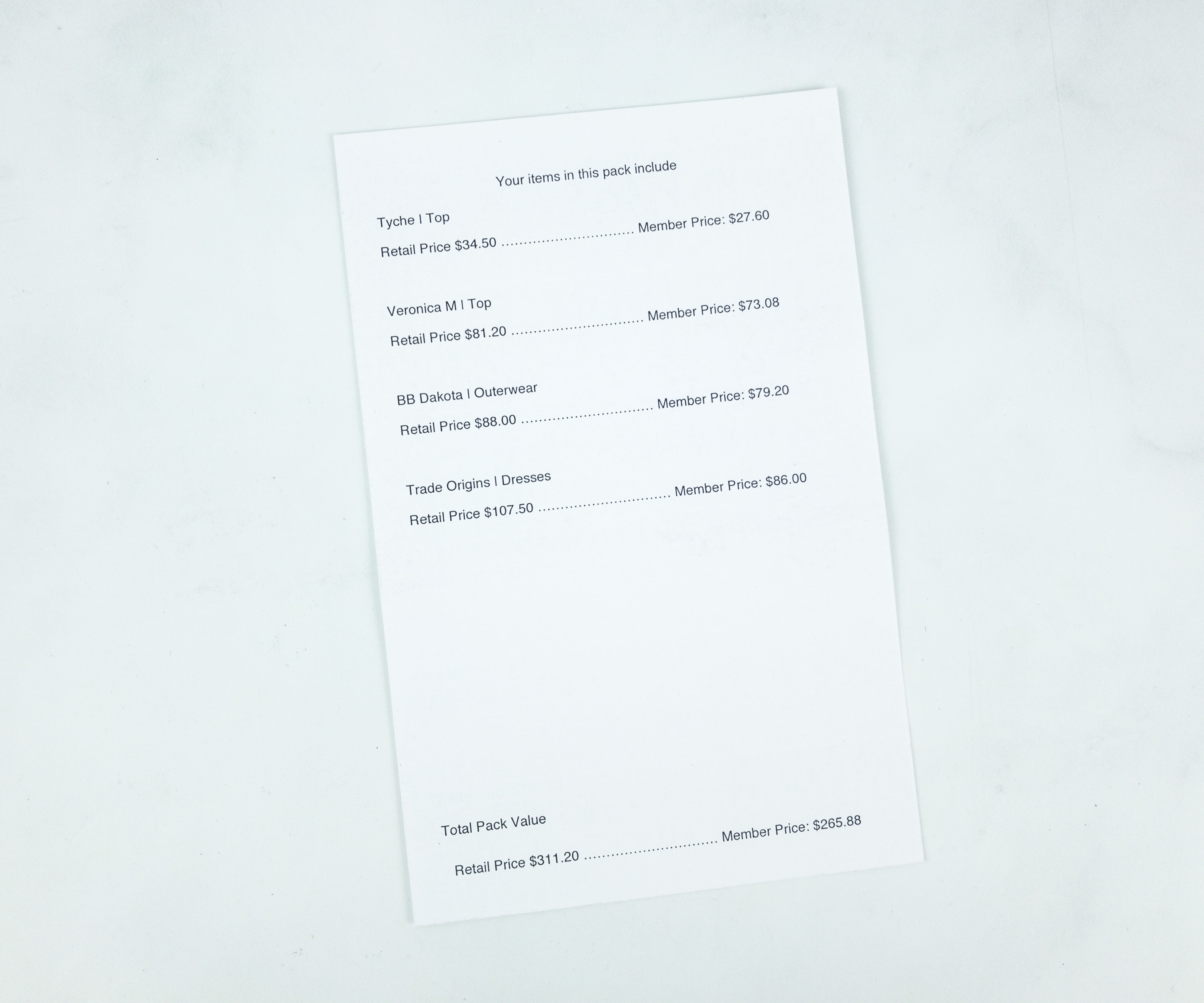 At the back of the card is a packing list. I have 4 items in the pack with a retail price of $311.20 but because I'm a member I can get them for $265.88 if I decide to keep them all.
Everything in my box!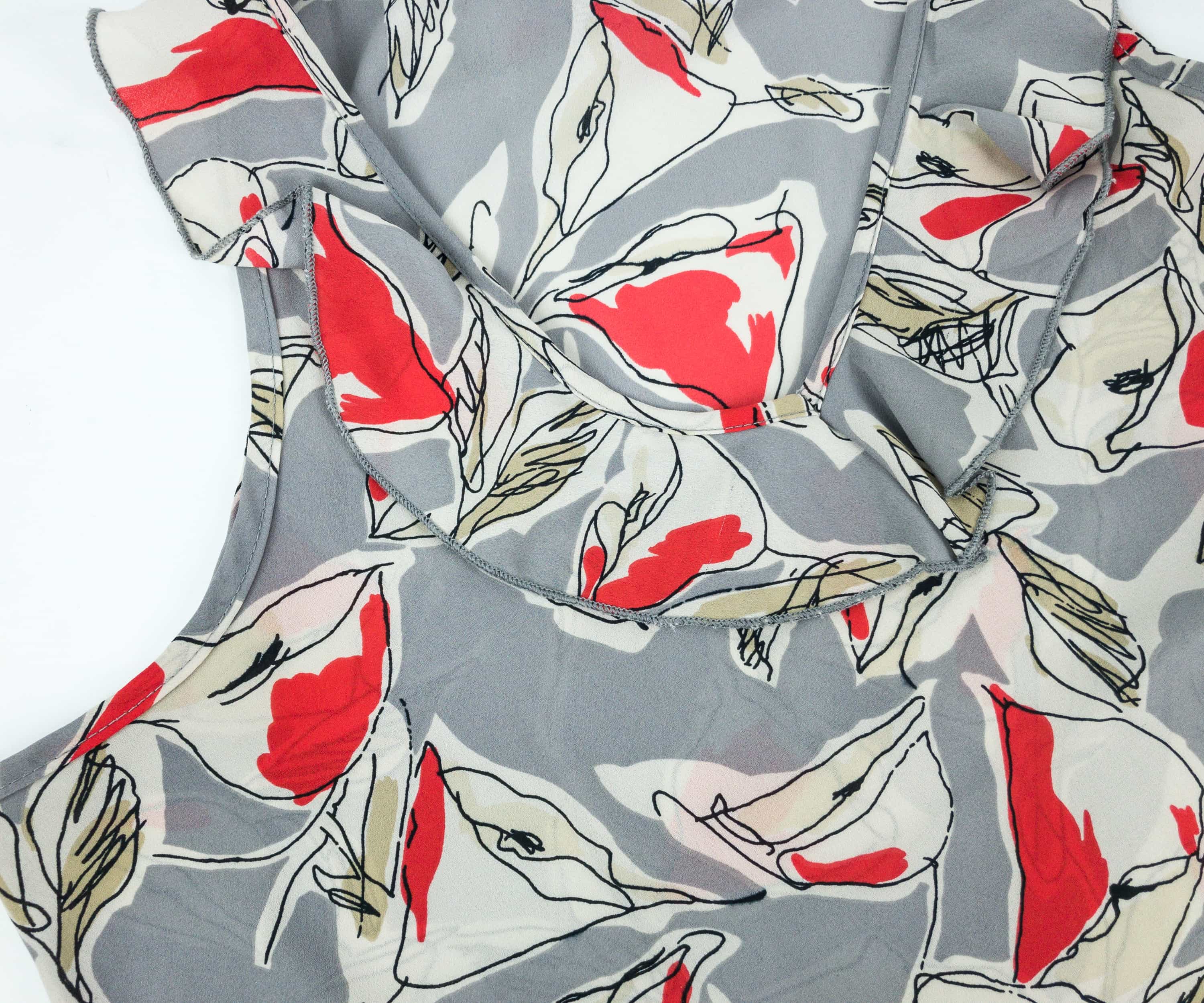 Tyche Top ($34.50; $27.60 if a member) This gray, coral and cream colored top features a v-neck with soft ruffle trim. The floral patterns and the sleeveless cut made it a perfect spring outfit inspiration.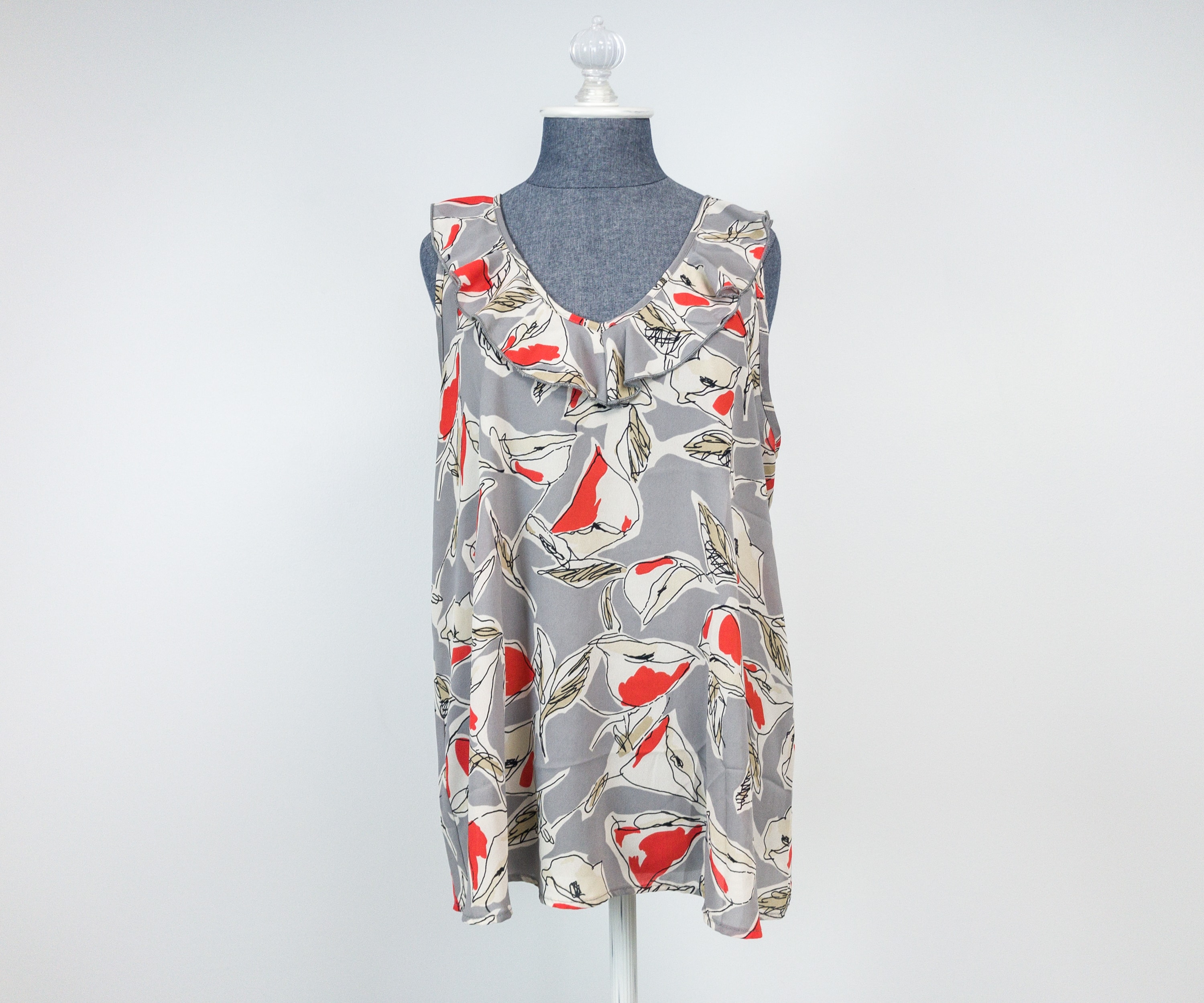 It will look great with a denim jacket or layered under a crisp-button down, ripped-up boyfriend jeans, and killer bright heels. I can already imagine how fabulous it will turn out!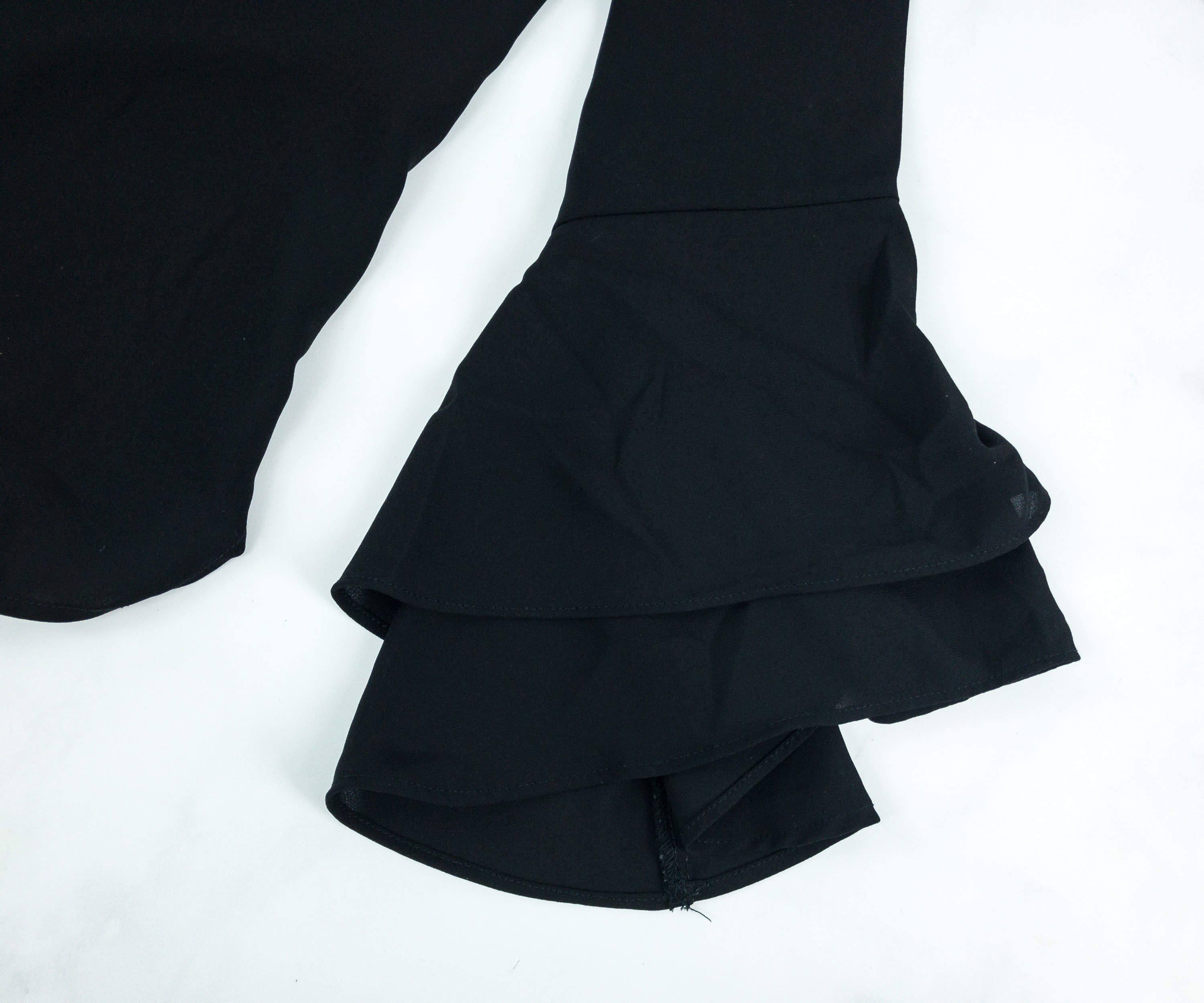 Veronica M Top ($81.20; $73.09 if a member) This black, short-sleeve ruffled blouse is one of the office outfit staples.
It is woven with non-stretch fabric so it's slightly smaller than my measurements, but the fabric is lightweight and drapes on the body with a sense of fluidity.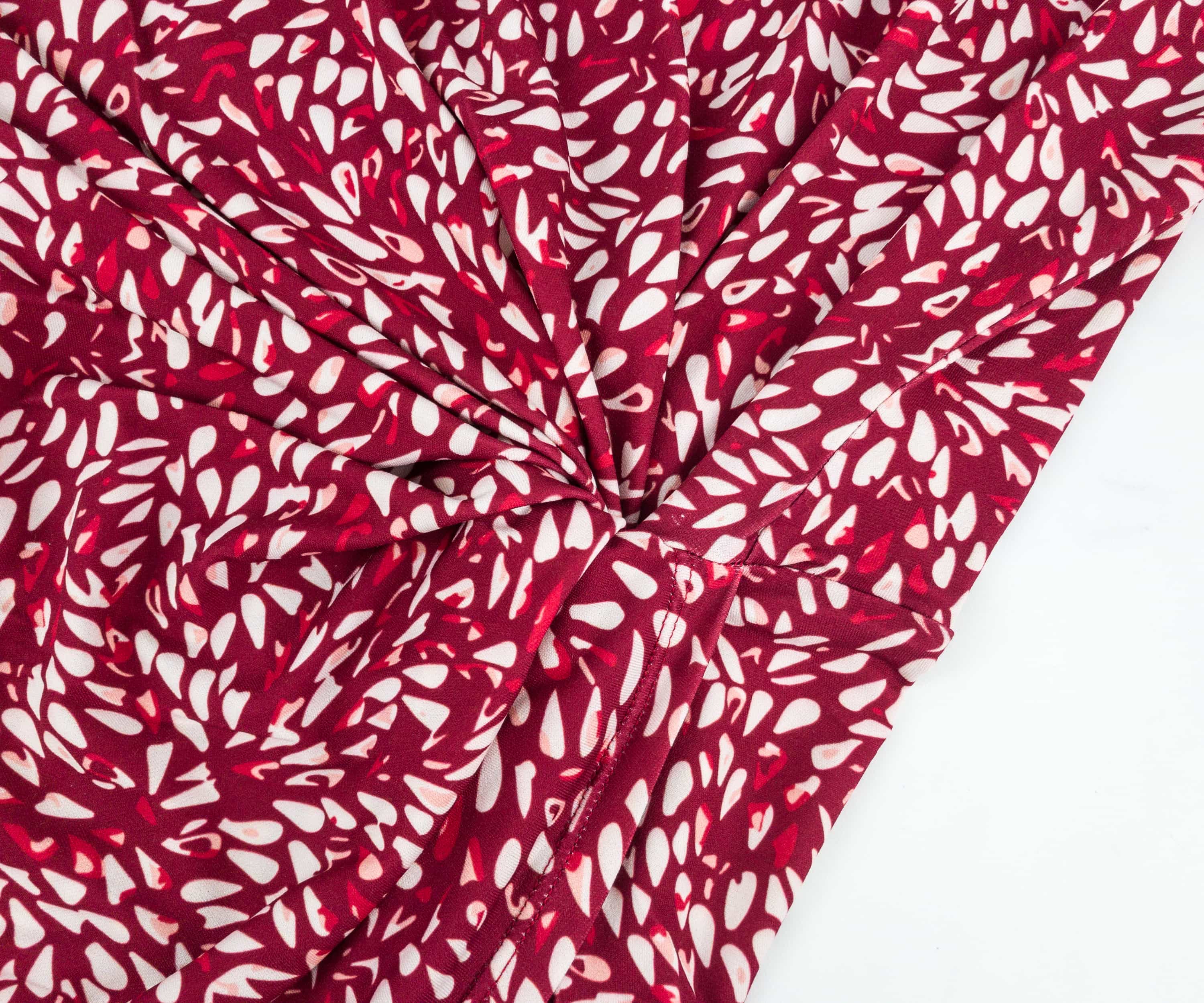 Trade Origins Dresses ($107.50; $86 if a member) This trendsetter has a mock wrap dress construction and petal patterns on a soft, stretchy fabric. Another stylish outfit that will surely be a knockout at any event.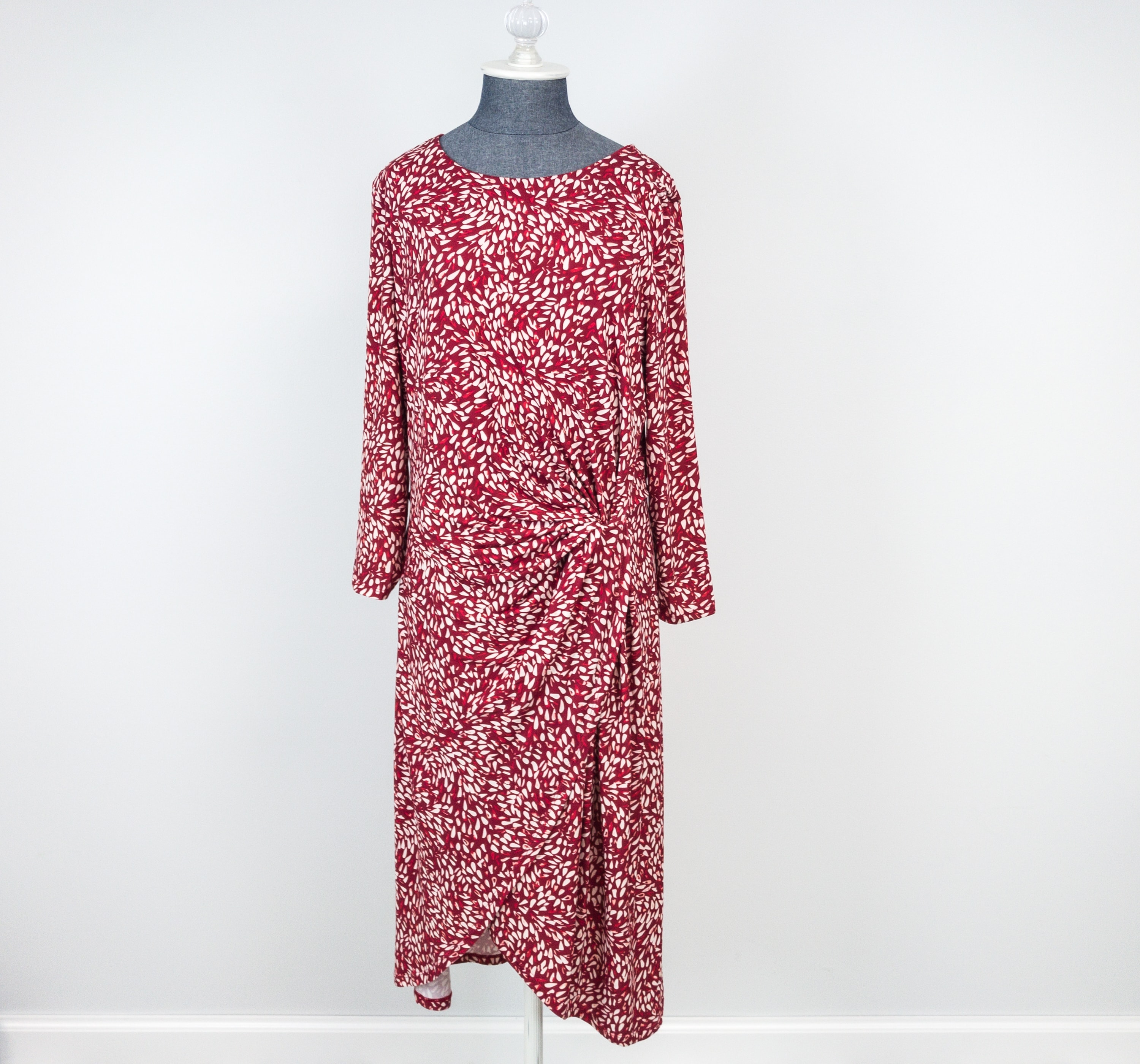 This high-low dress is just the right style for someone who wants to discreetly show their sexy pins, due to the soft gathers across the waist that conceal and flatter at the same time.  It looks more flattering when paired with high-heeled shoes.
BB Dakota Outerwear ($88; $79.20 if a member) An all over it stripe cardigan featuring front patch pockets with ribbed edges which is ideal for layering any kind of top.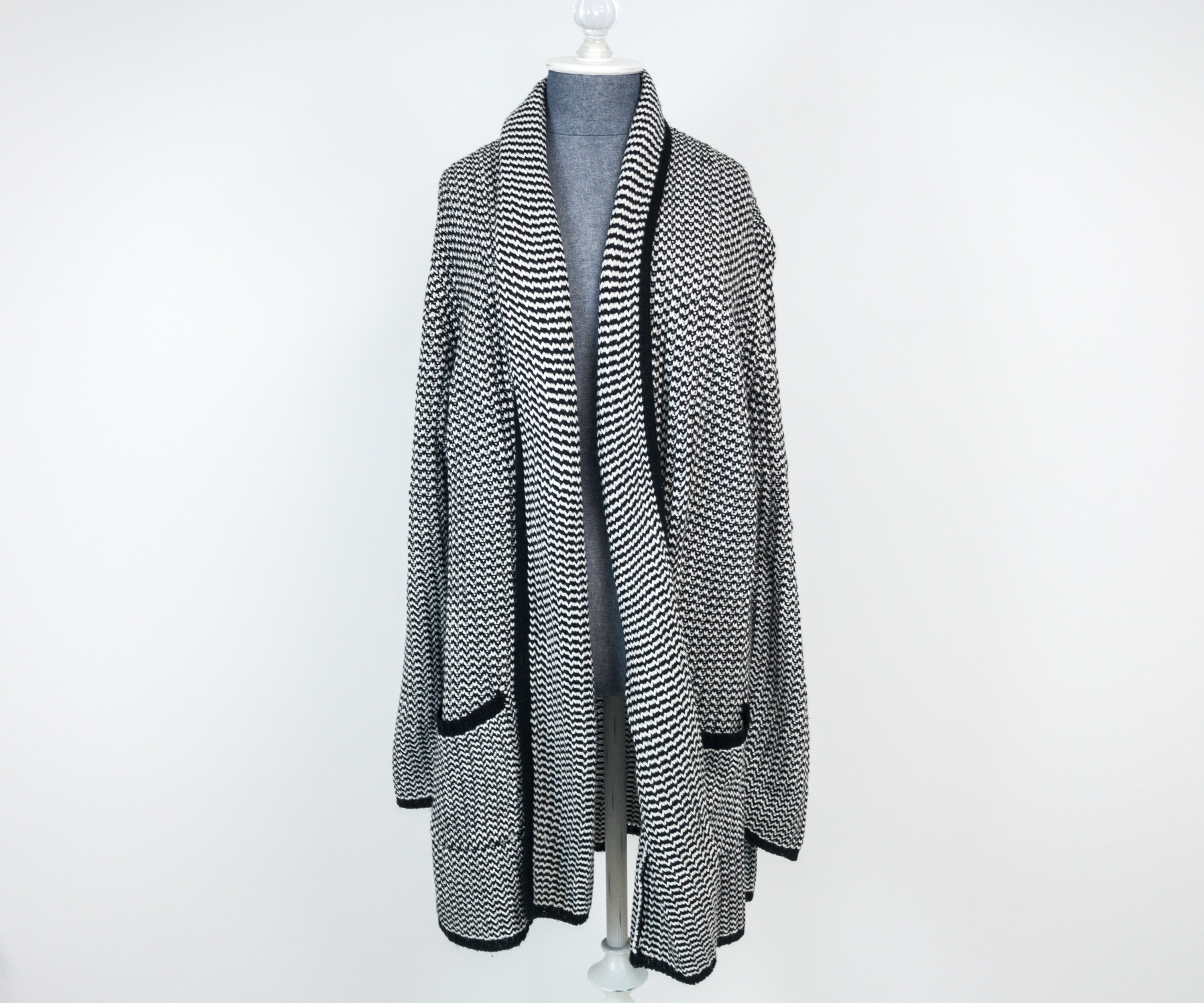 This open front drape outerwear is styled with an elongated hem for extra coverage.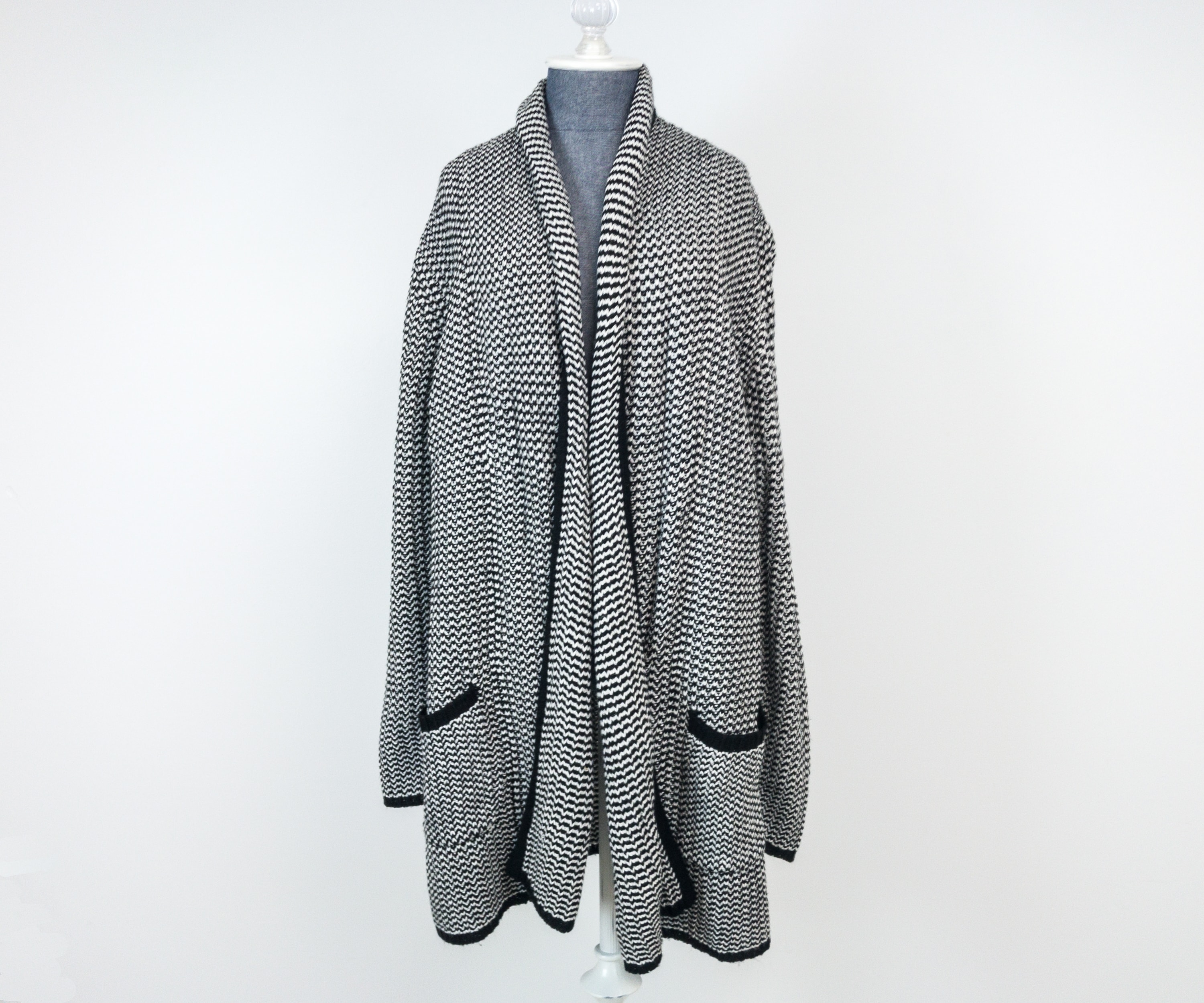 The draped and buttonless placket makes it simple, but not boring. It's made with 100% acrylic, which has mildew-resistant properties and an ability to manage moisture. It can also be hand-washed cold.
These adorable April spring outfit ideas give a sense of new beginnings which to me, means wardrobe replenishing. It's time to ditch my outdated spring pieces and welcome fresh and trendy ones like these picks. Out of all the items, I liked the red dress the most. It's not too revealing and not too conservative either. It has just the right cut to make me feel confident and comfortable as I wear it!
What do you think of this month's box?