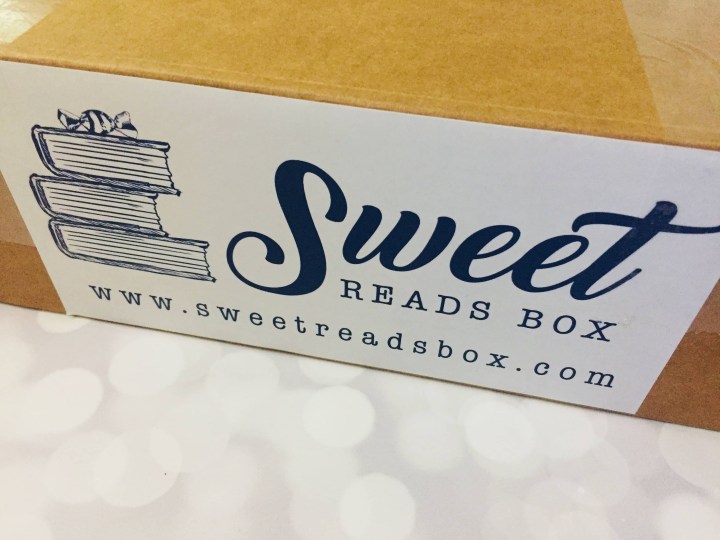 Sweet Reads Box is a Canadian subscription box bringing a curated selection of a bestselling book along with complimentary items to enhance the experience. The box is $54.99 CAD ($42 USD) for one month, and drops slightly when you purchase a 3 or 6 month subscription as well.
DEAL: Get 10% off your first box! Use coupon code LOVEBOOKS.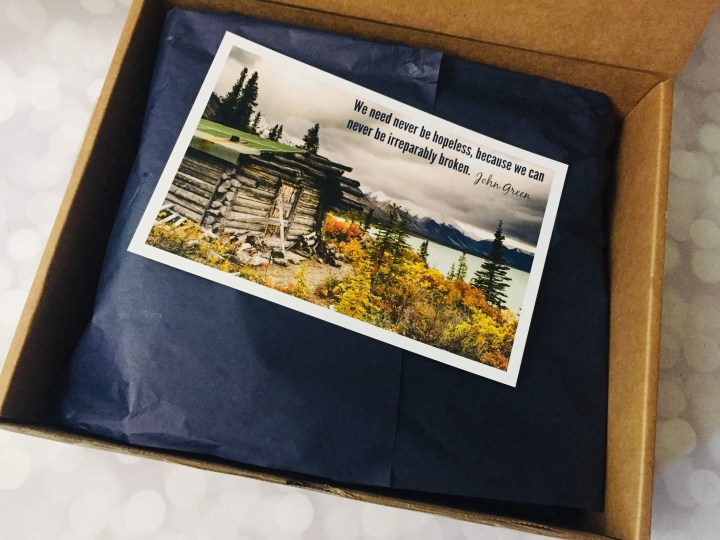 On top is the information card.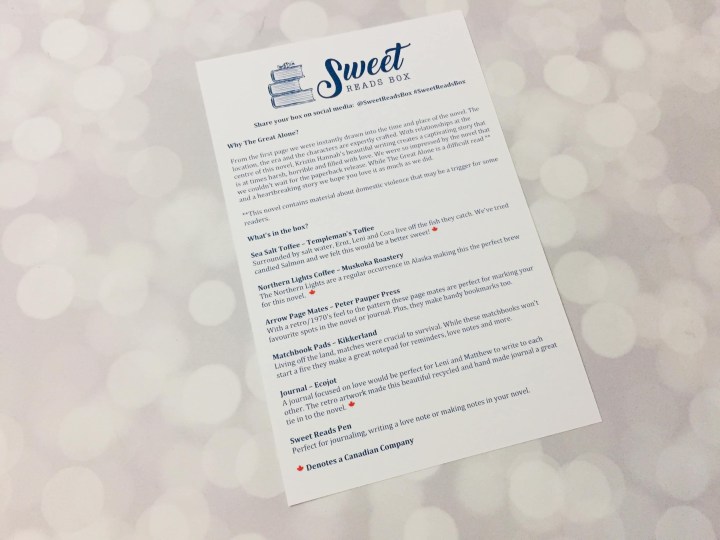 The back of the card has information about the month's book selection as well as the other items included, and how they all tie into the theme.
The Great Alone by Kristin Hannah ($15.94)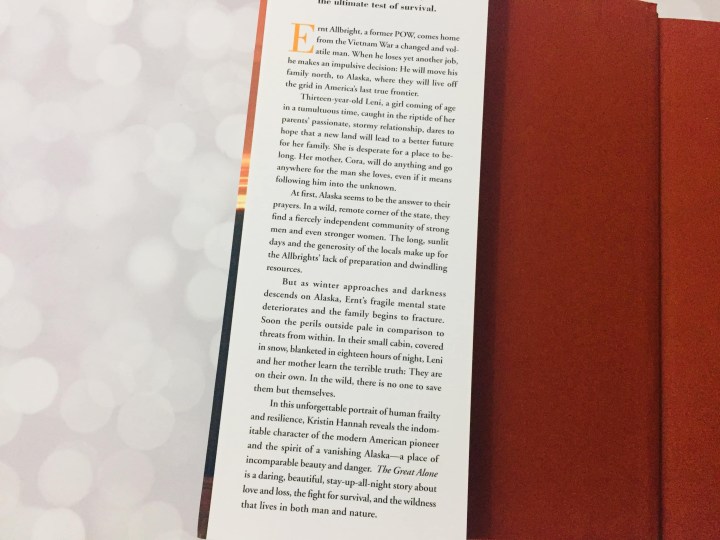 Ernt Allbright, a former POW, comes home from the Vietnam war a changed and volatile man. When he loses yet another job, he makes an impulsive decision: he will move his family north, to Alaska, where they will live off the grid in America's last true frontier.

Thirteen-year-old Leni, a girl coming of age in a tumultuous time, caught in the riptide of her parents' passionate, stormy relationship, dares to hope that a new land will lead to a better future for her family. She is desperate for a place to belong. Her mother, Cora, will do anything and go anywhere for the man she loves, even if means following him into the unknown.

At first, Alaska seems to be the answer to their prayers. In a wild, remote corner of the state, they find a fiercely independent community of strong men and even stronger women. The long, sunlit days and the generosity of the locals make up for the Allbrights' lack of preparation and dwindling resources.

But as winter approaches and darkness descends on Alaska, Ernt's fragile mental state deteriorates and the family begins to fracture. Soon the perils outside pale in comparison to threats from within. In their small cabin, covered in snow, blanketed in eighteen hours of night, Leni and her mother learn the terrible truth: they are on their own. In the wild, there is no one to save them but themselves.

In this unforgettable portrait of human frailty and resilience, Kristin Hannah reveals the indomitable character of the modern American pioneer and the spirit of a vanishing Alaska―a place of incomparable beauty and danger. The Great Alone is a daring, beautiful, stay-up-all-night story about love and loss, the fight for survival, and the wildness that lives in both man and nature.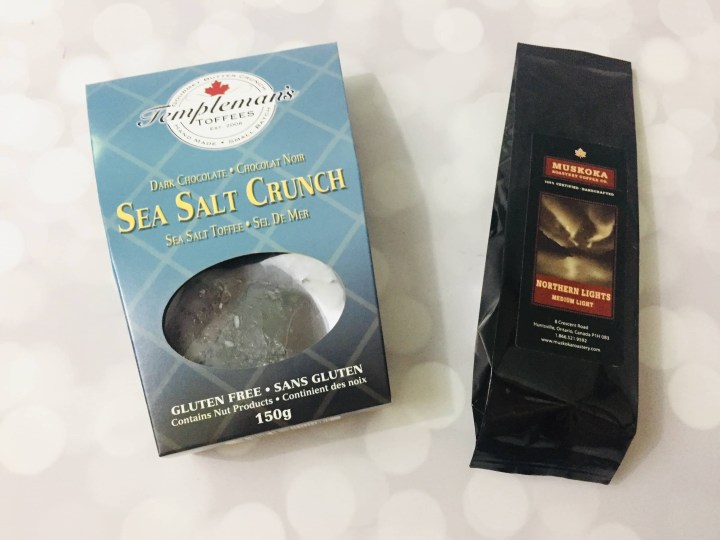 Sea Salt Crunch — A DELICIOUS and very generous portion of chocolate covered toffee. The sea salt sprinkled on this adds a salty-sweet flavour that's unreal! I gave this to my friend with her birthday present and we shared it. It was amazing!
Muskoka Coffee — I'm not a coffee drinker but this batch of medium/light roast smelled amazing and is a Canadian creation.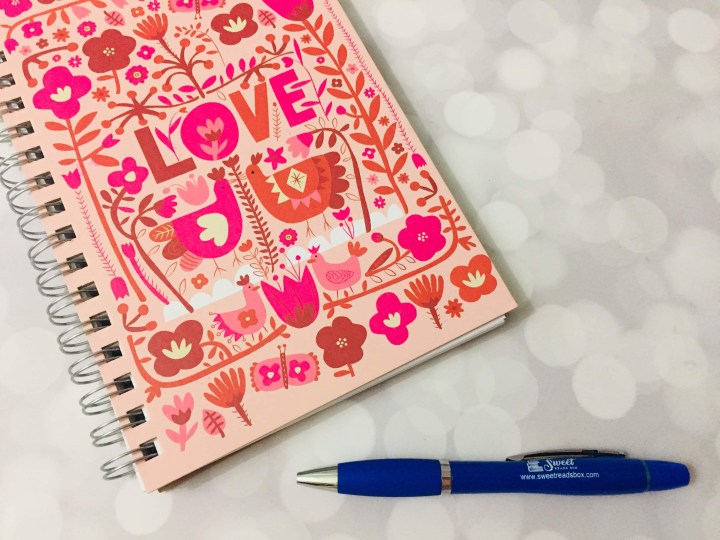 LOVE Notebook — I'm always stowing a notebook in my purse for when inspiration strikes. This one has a fun floral printed design.
Sweet Reads Pen — YAY, some Sweet Reads swag! This is a handy ballpoint pen with a highlighter end hidden under the cap. Perfect for stashing along with my new notebook.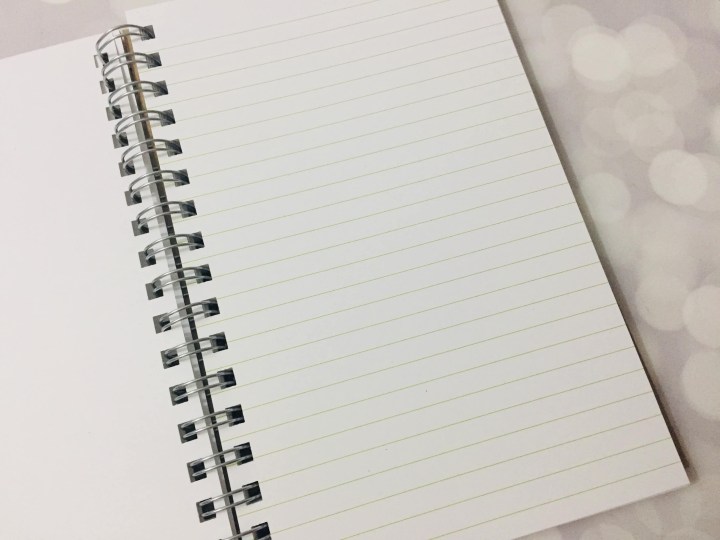 The notebook has lined pages and is perfect for writing your own novel in.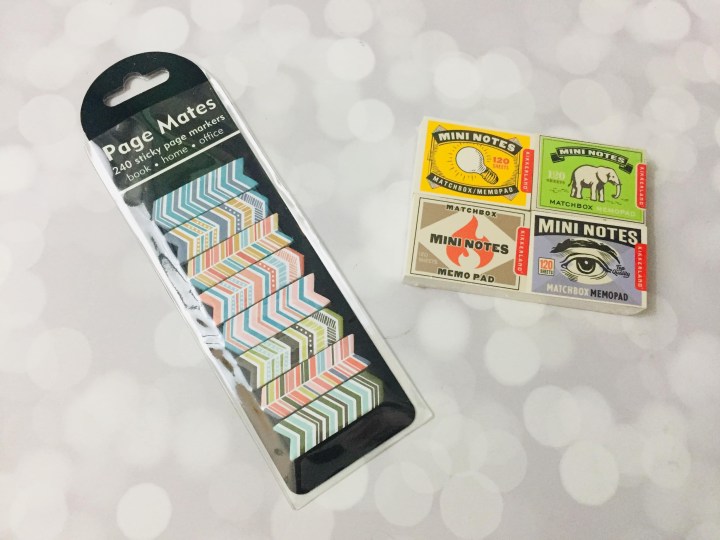 Page Mates — I use sticky tags like these for bookmarks, which is why these are a perfect inclusion in the May box. The fun chevron design is unique and eye-catching.
Matchbox Sticky Notes — And even more sticky notes… I have a weakness for them so I don't mind being sent two items that are really similar. The vintage design on the "boses" is super cute and definitely something different.
The May box included a book about survival in Alaska, and sent along some really fun items to go along with the book. Sweet Read's curation is top-notch and really just feels more like an experience overall. This is my favourite subscription to recommend to my fellow bookworms!
What did you think of this month's book selection?