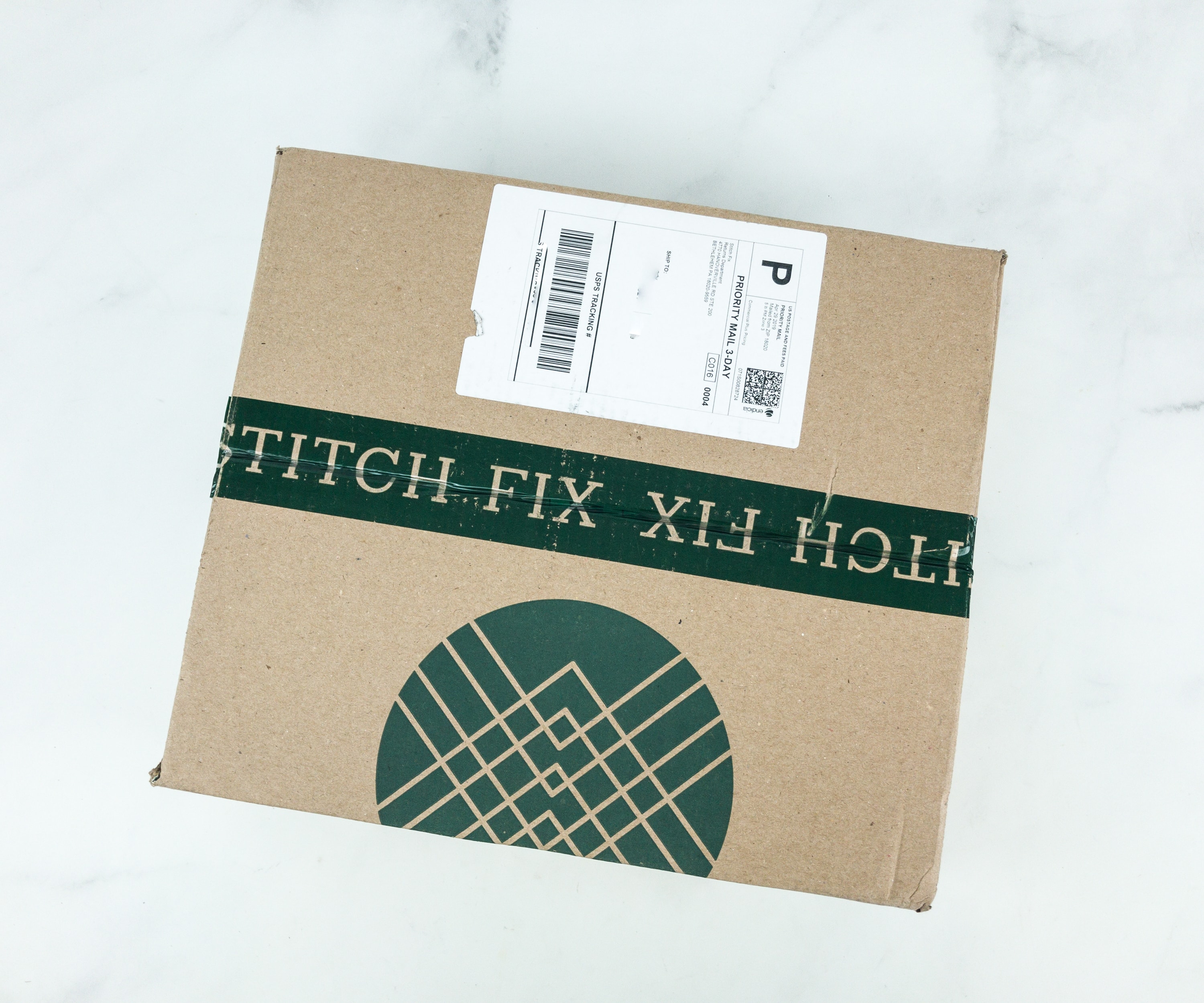 Stitch Fix Men is a personal styling service customized to your fit, lifestyle & spending preferences. Just like Stitch Fix for women, your stylist will send you 5 pieces based on your profile for you to try on at home. You only keep what you love, and you never have to set foot in a mall! There are no coupons for Stitch Fix, but if you love everything in your fix, you save 25% when you keep the whole fix (read below for details)!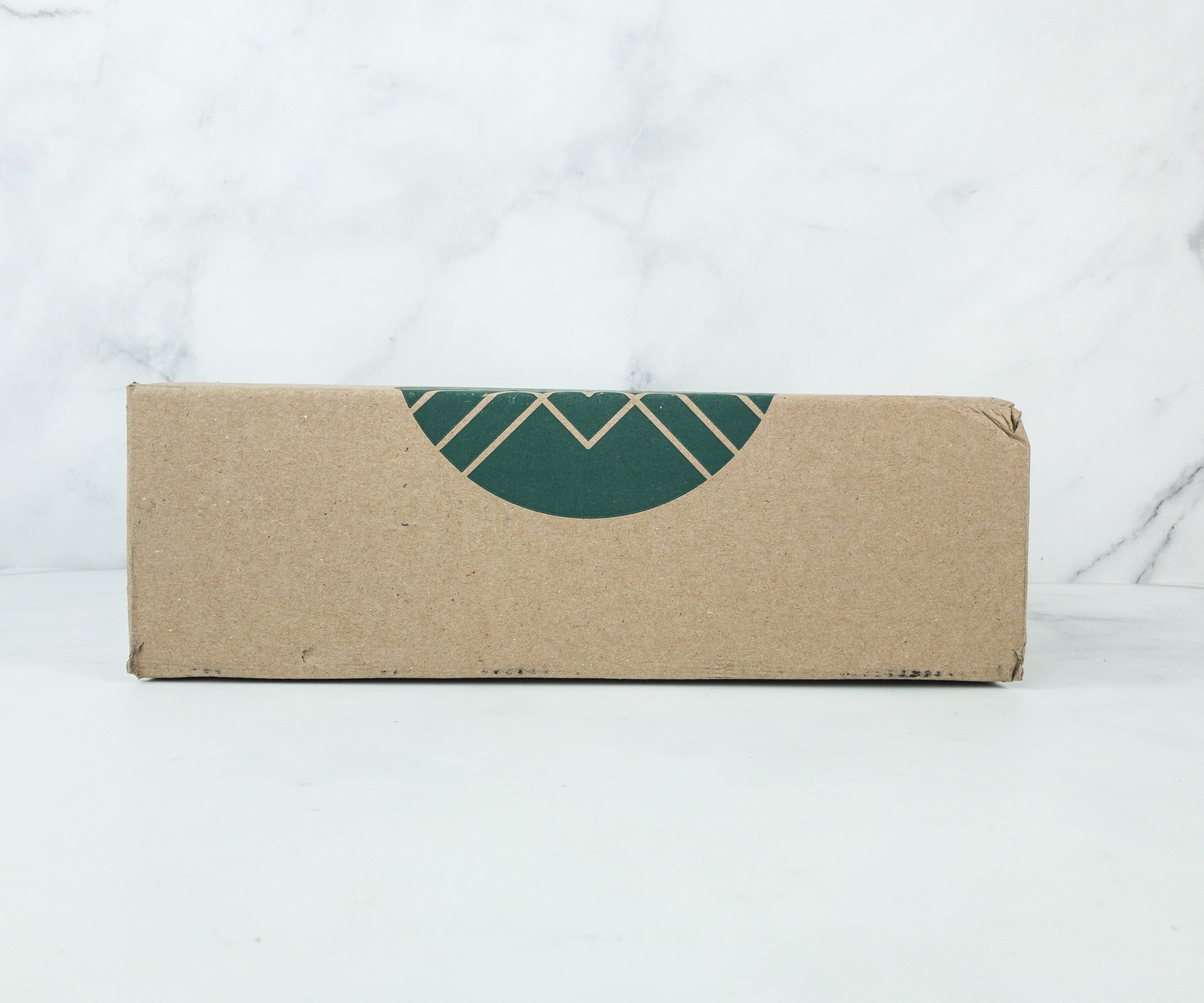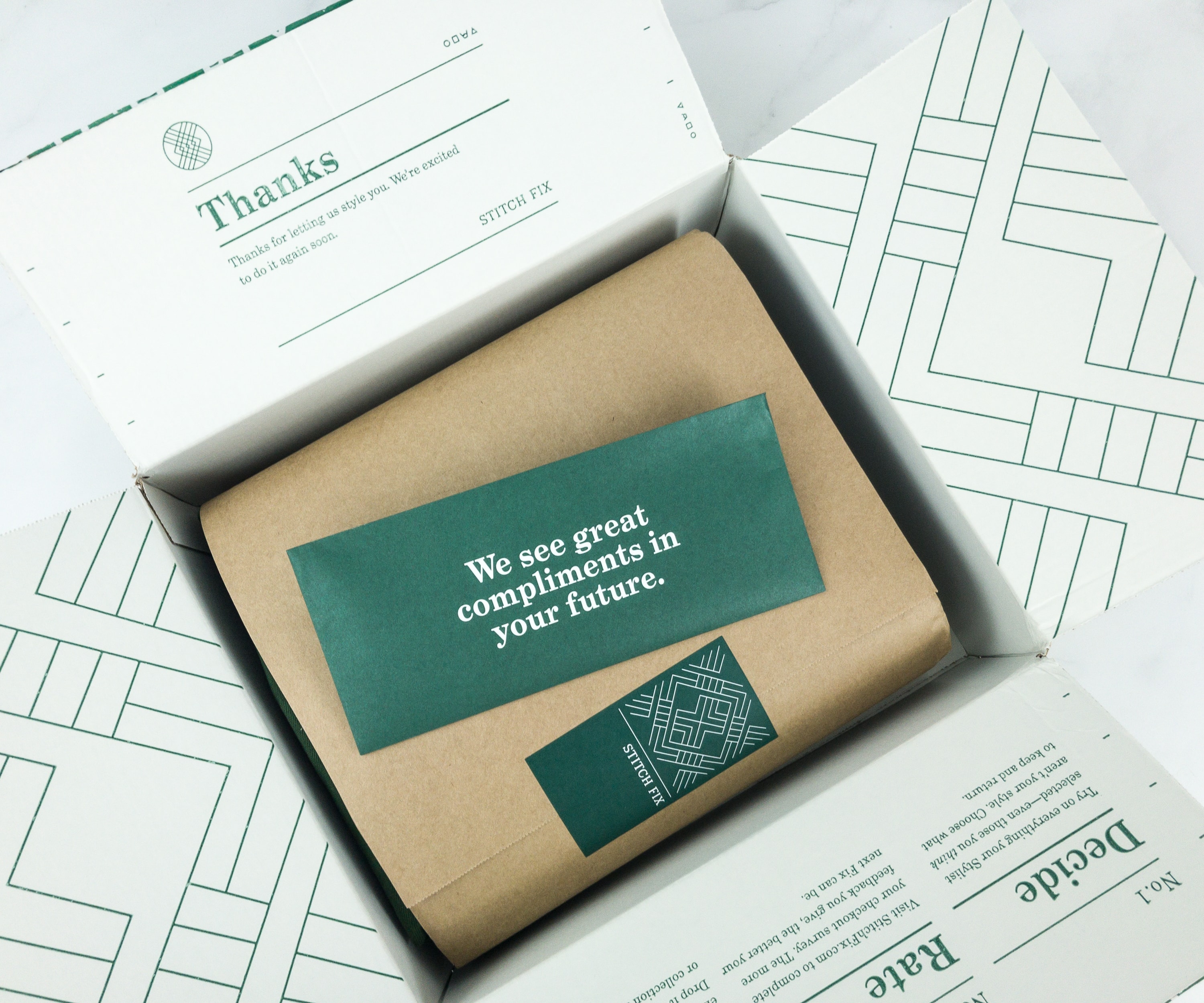 Your fix comes neatly bundled with a return envelope and styling guide.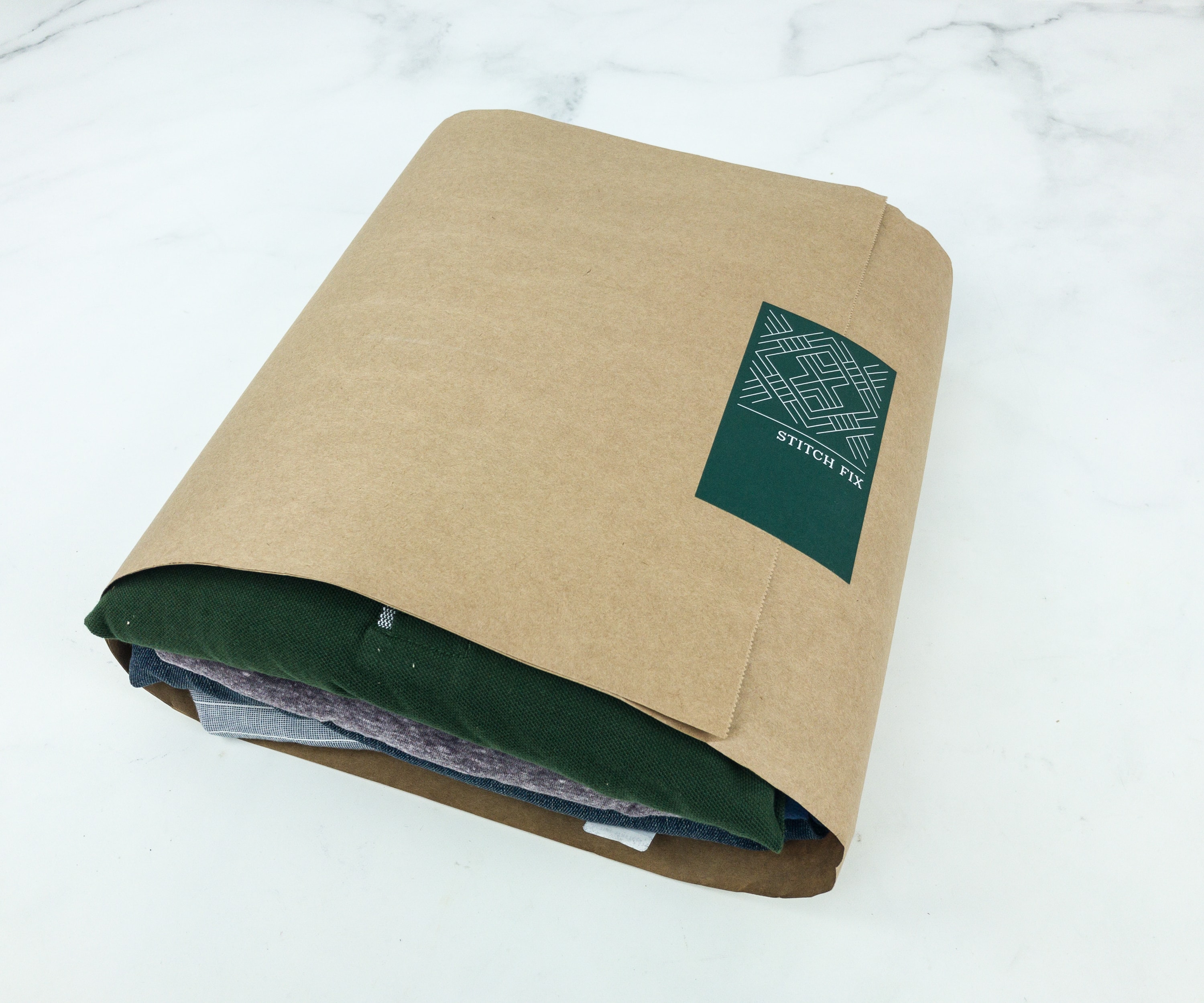 I like that they just stack the clothes neatly and don't make me tear through multiple plastic bags.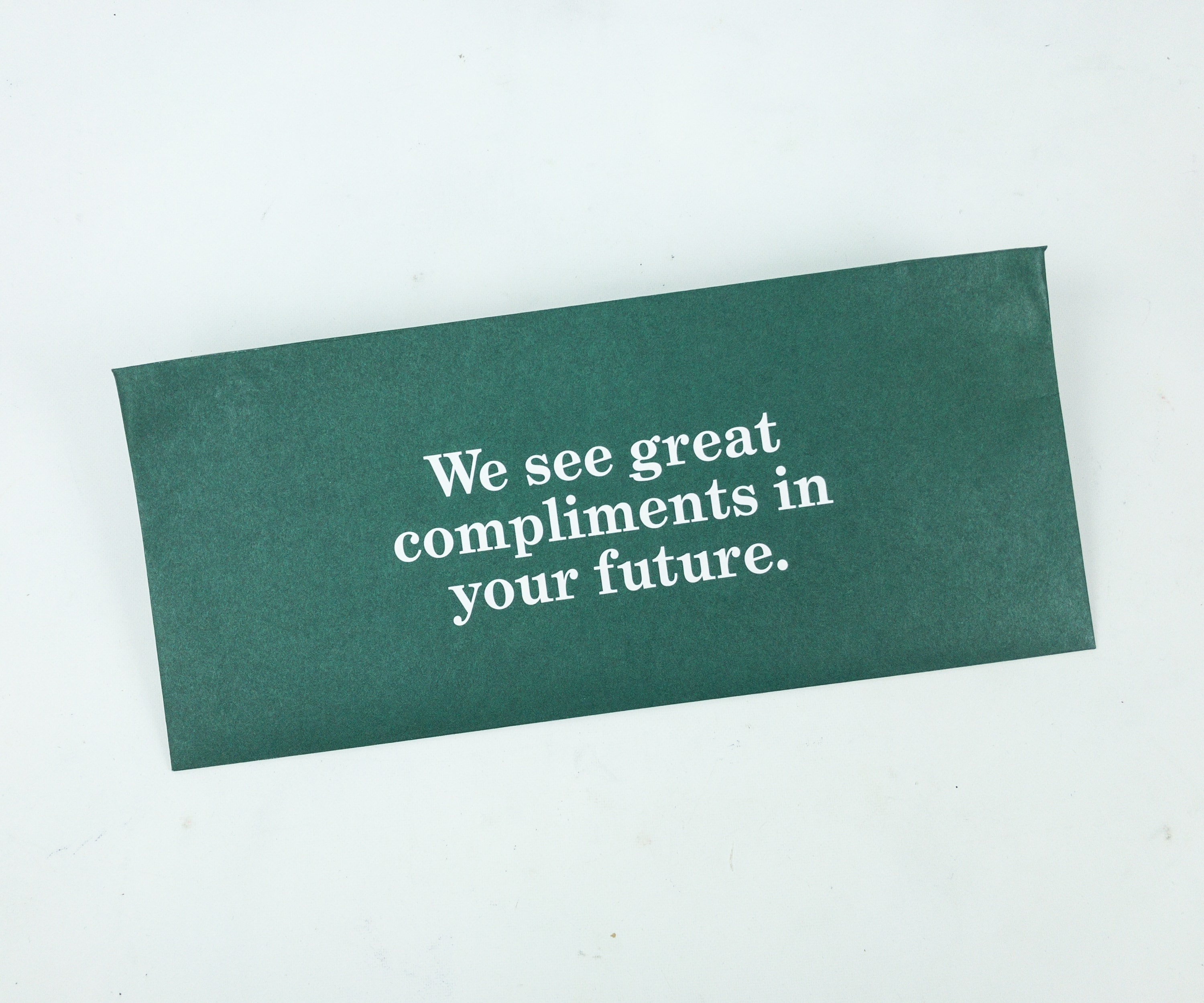 We see great compliments in your future.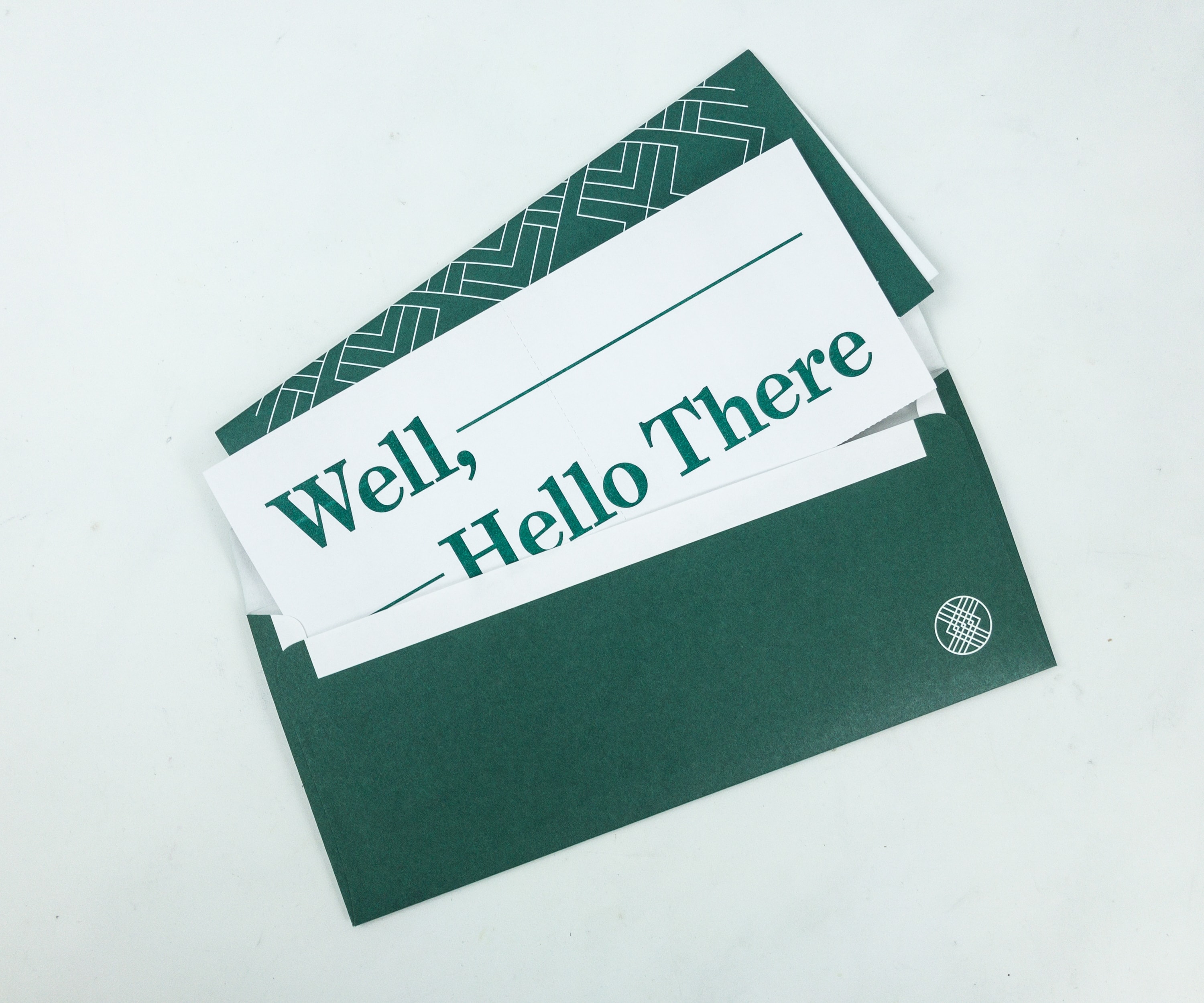 The green envelope contains a run-down of your fix and a styling guide.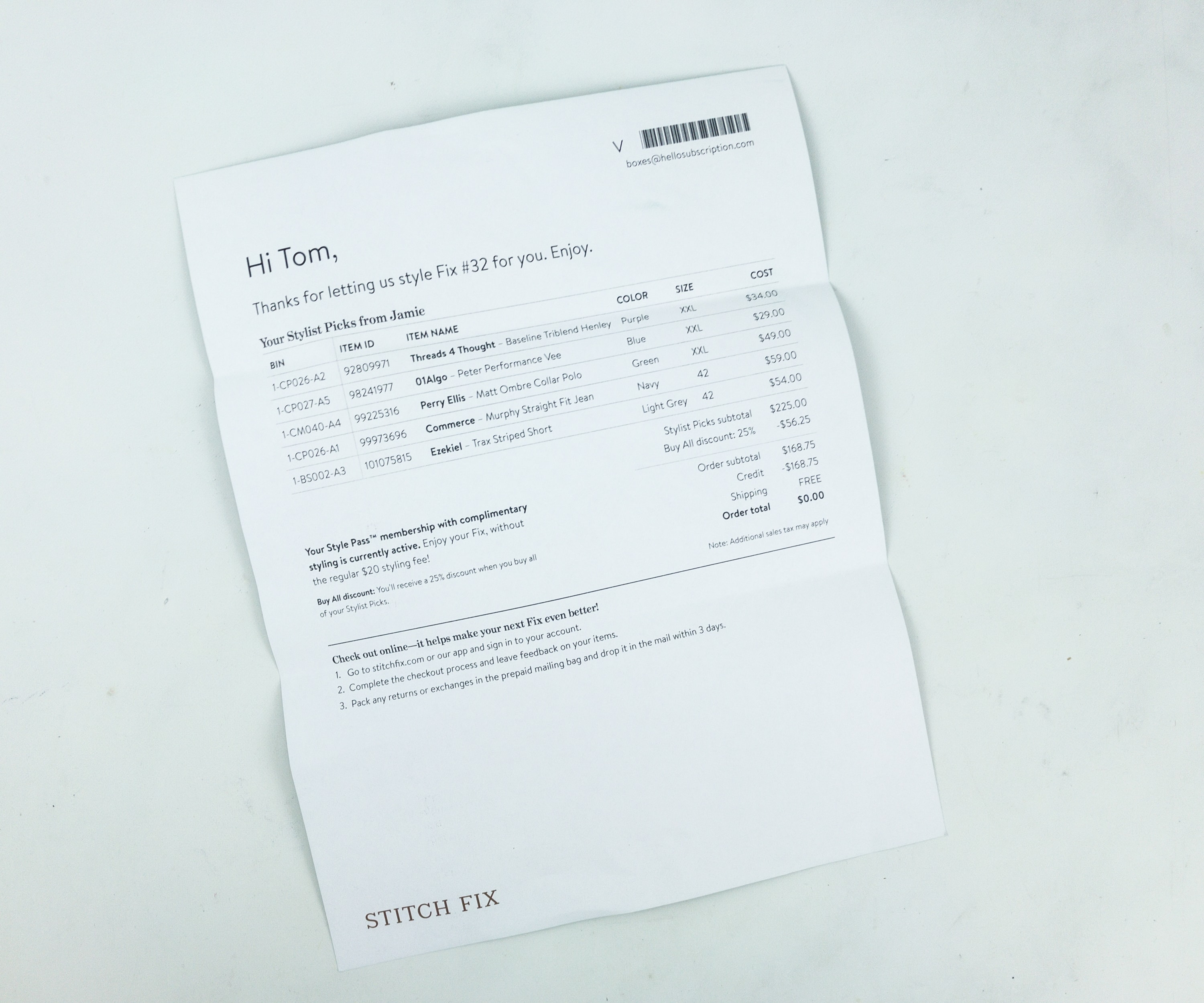 If you keep everything you get a 25% discount. This is why it is so important to be detailed and accurate in your profile, as it increases the chances that your stylist will run the table and score your great clothes and a discount (without having to keep anything you don't really want). You will check-out and get charged through your Stitch Fix Men account. You'll be charged a $20 styling fee and shipped five items to try on at home. If you keep anything your styling fee will be applied to your order, but if you don't, you will pay the $20 fee. As you can see on the invoice, we joined the optional Style Pass program, so we paid a single, annual styling fee (with unlimited Fixes) instead of $20 per Fix.
Every Stitch Fix box includes styling cards showing a couple looks for each item in the Fix. There's usually a dressed up (right) and more casual (left) version for each piece of clothing. Now you can see your past items in your Stitch Fix profile, which is an awesome feature!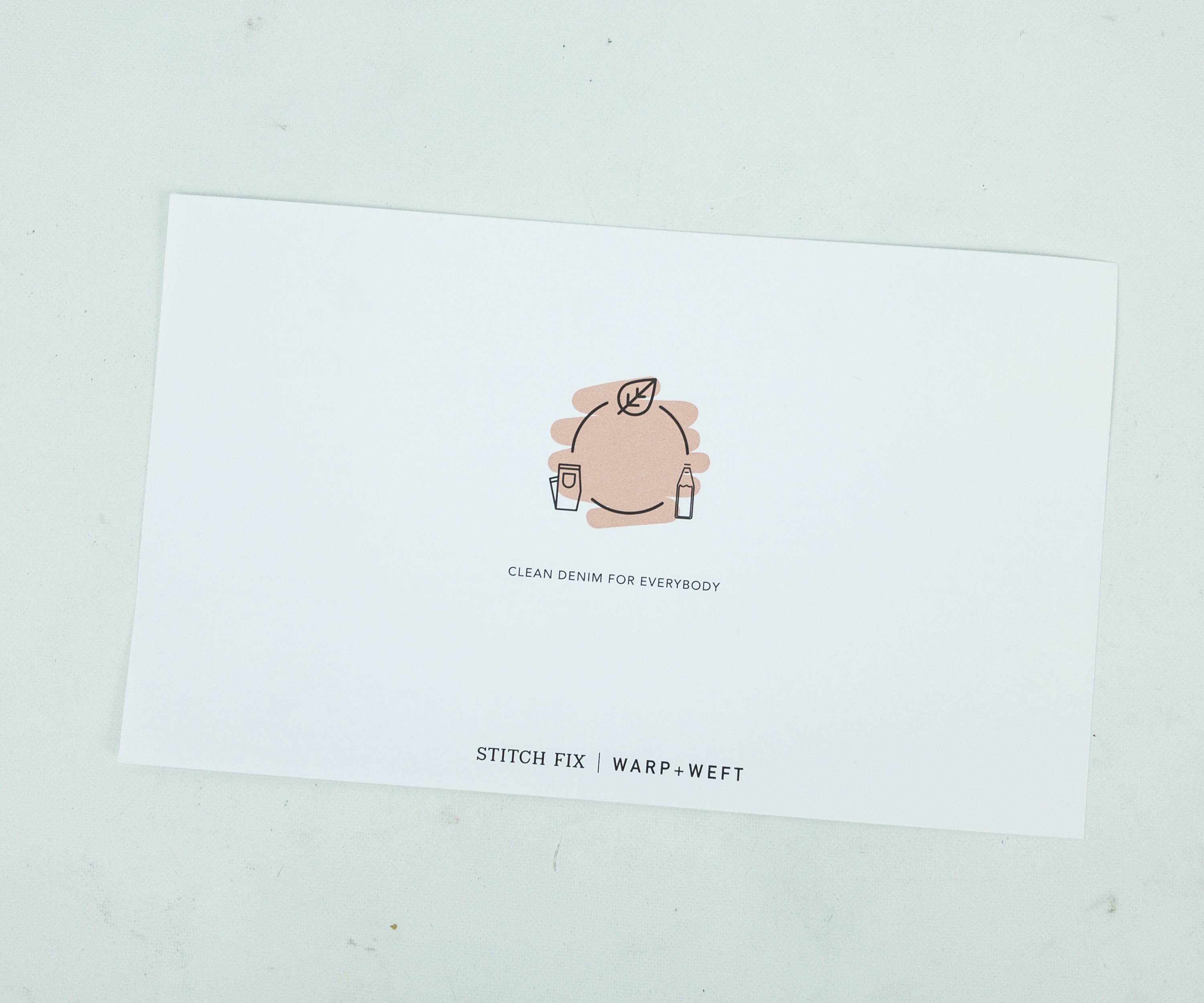 This card sends the message that Stitch Fix is spotlighting the brands that are committed to sustainable manufacturing practices that protect the planet without sacrificing fashion and style.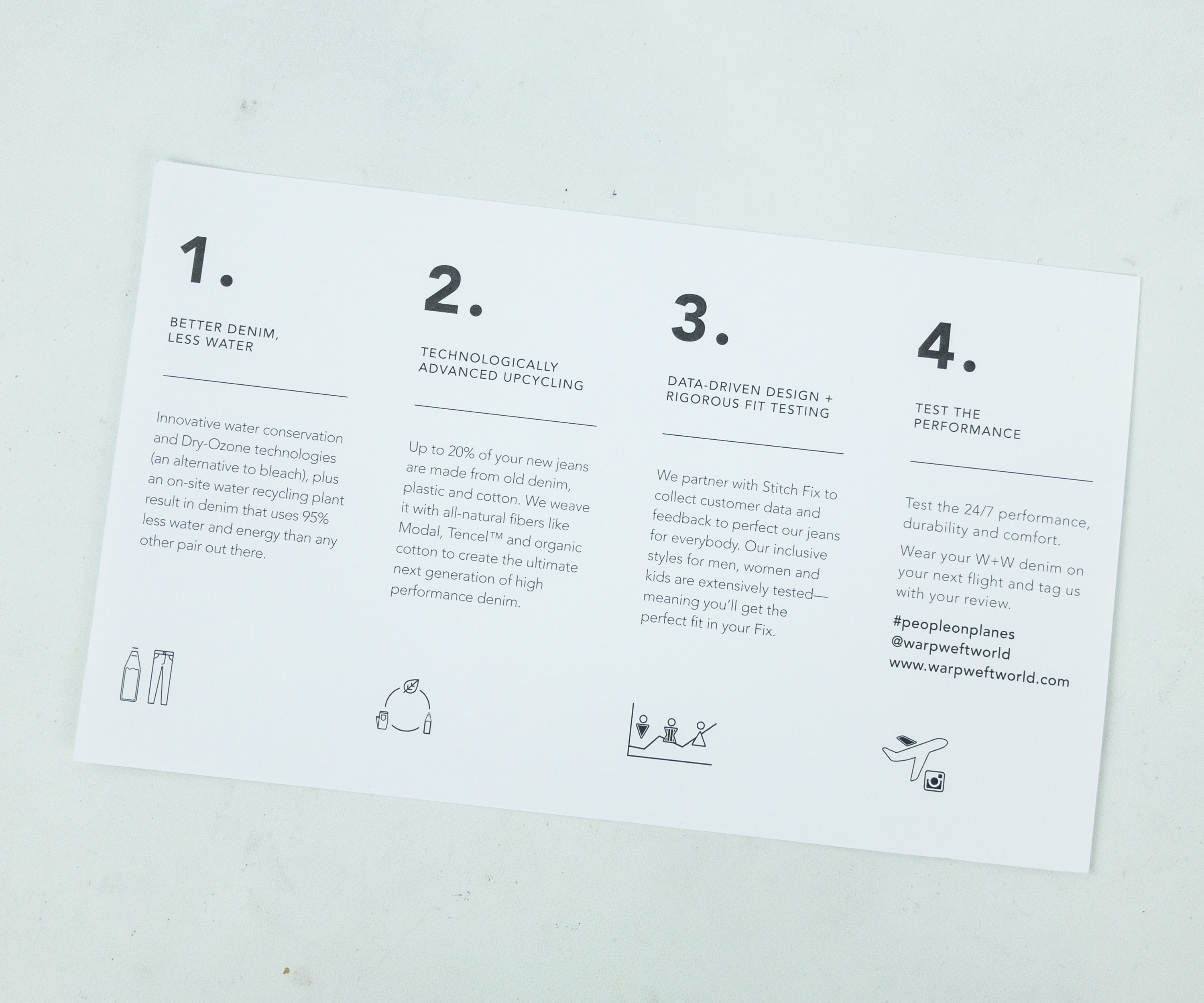 At the back of the card are complete details about their project.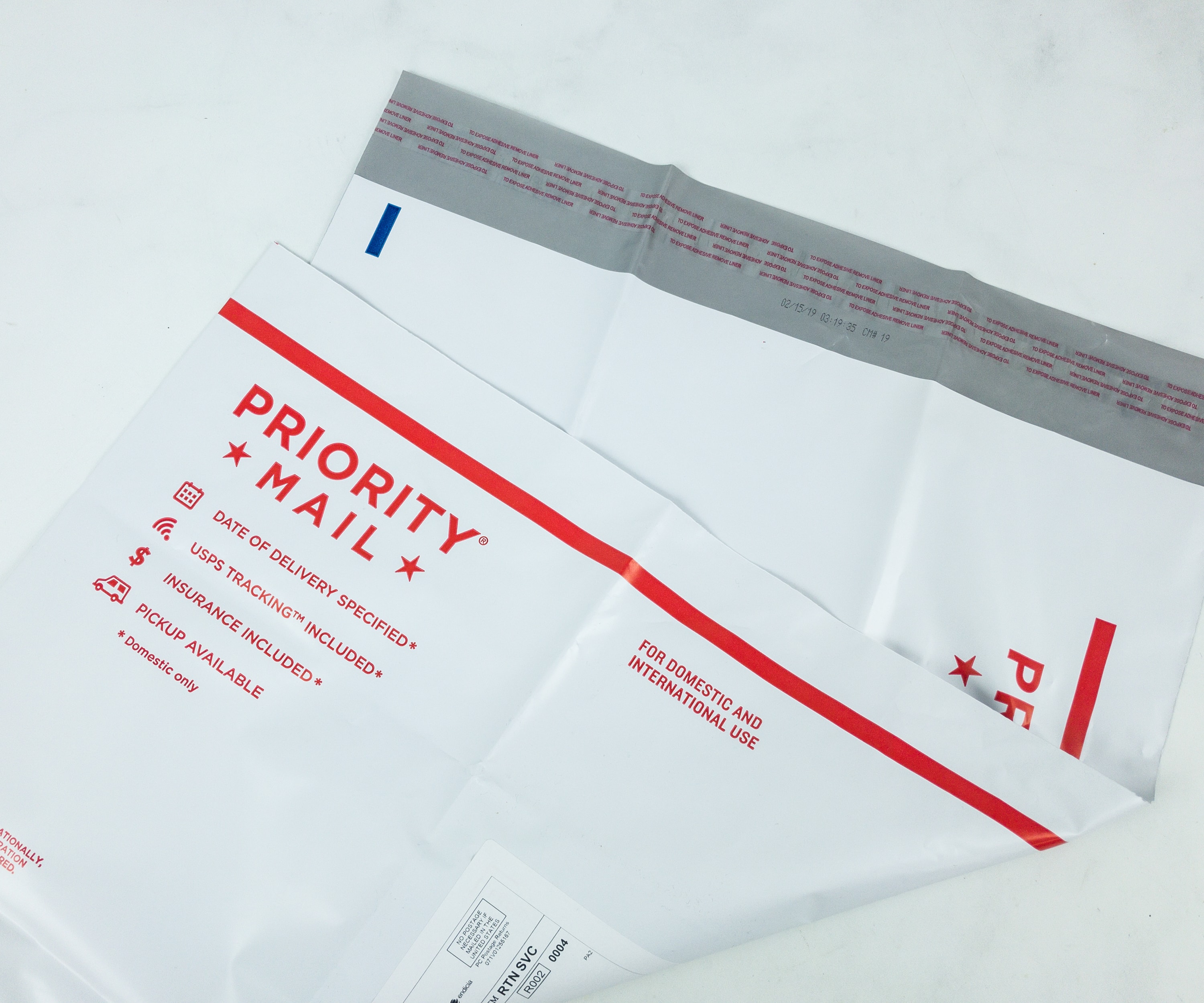 Here's how Stitch Fix Men works: First, you fill out your style profile. This includes style, budget, and what you're looking for – you can get as detailed as you want with the notes to your stylist. Your stylist is very responsive to your requests and will work hard to find pieces that fit your declared style, so the more info you provide, the better your selections will be. After trying them on and deciding what to keep, you return the pieces you don't want in the prepaid mailer (free shipping!). Your stylist takes note of what you kept (and why) and what you didn't, along with any additional feedback you provide, so your clothes selections become better "tailored" to you over time.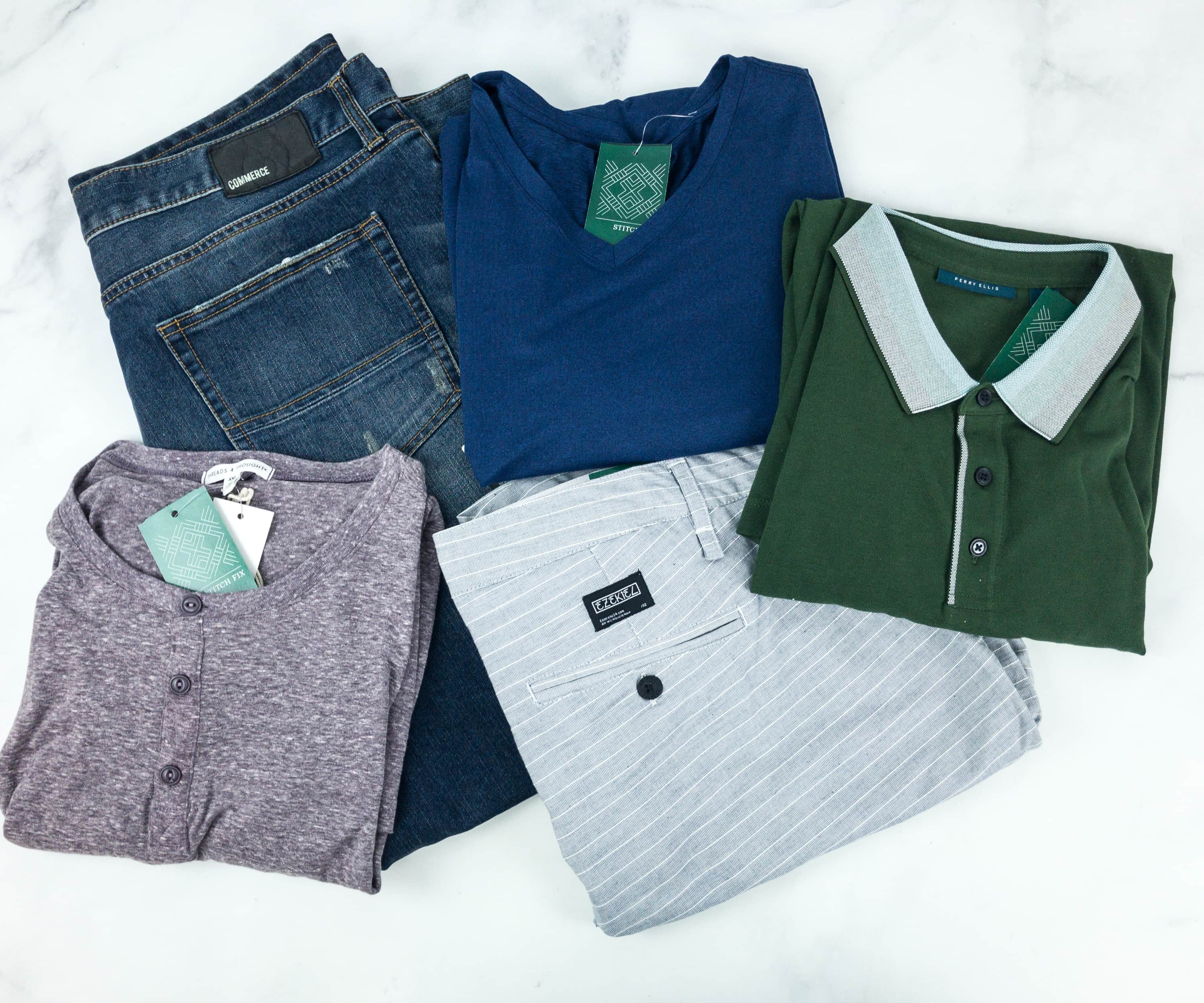 Everything in my fix for May 2019. You just have to unfold each item to see how they look.
Ezekiel Trax Striped Short ($54) This cotton short with horizontal pinstripes showcases a classic look that can blend in with the new season trends. From distressed denim to charming chinos, this short is sure to suit my every style!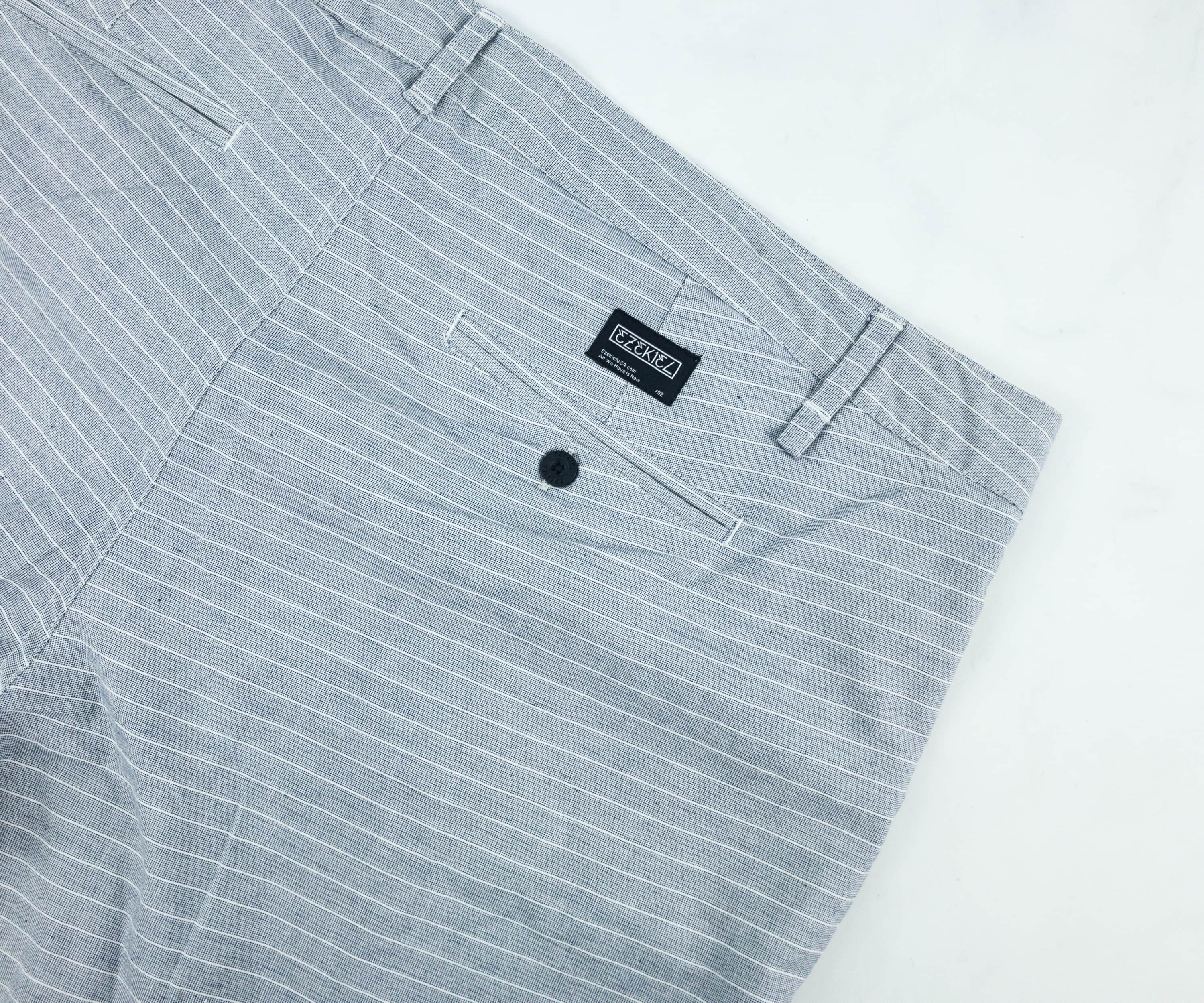 It's also made more stylish with the added details such as the belt loops and a faux pocket at the back.
Commerce Murphy Straight Fit Jean ($59) This denim jean pant hints a more casual style. It also often looks best when styled simply with my favorite tee and sneakers.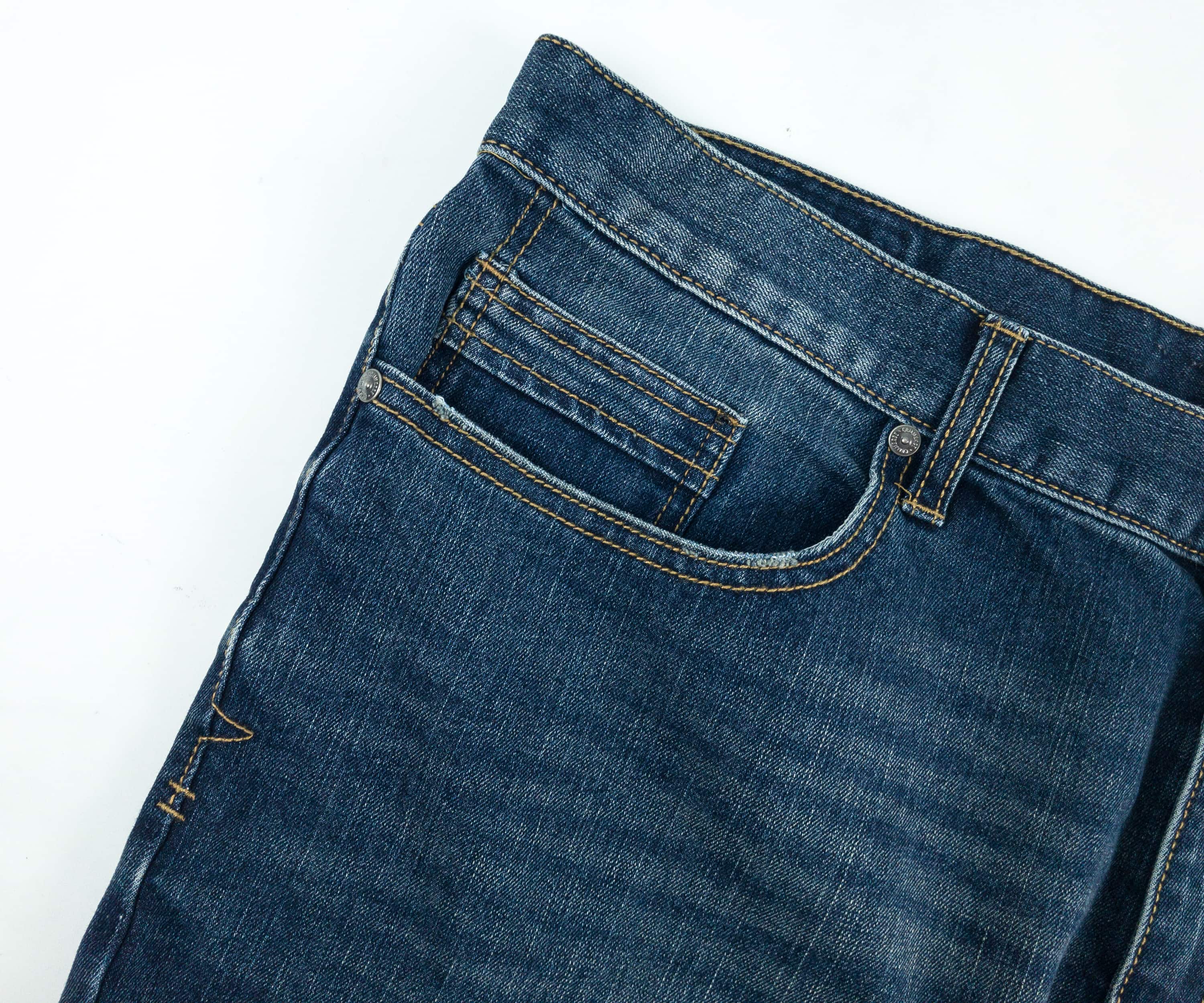 It also features authentic details such as the four pockets at the front and back with an extra watch pocket, silver rivets, and double-needle topstitching.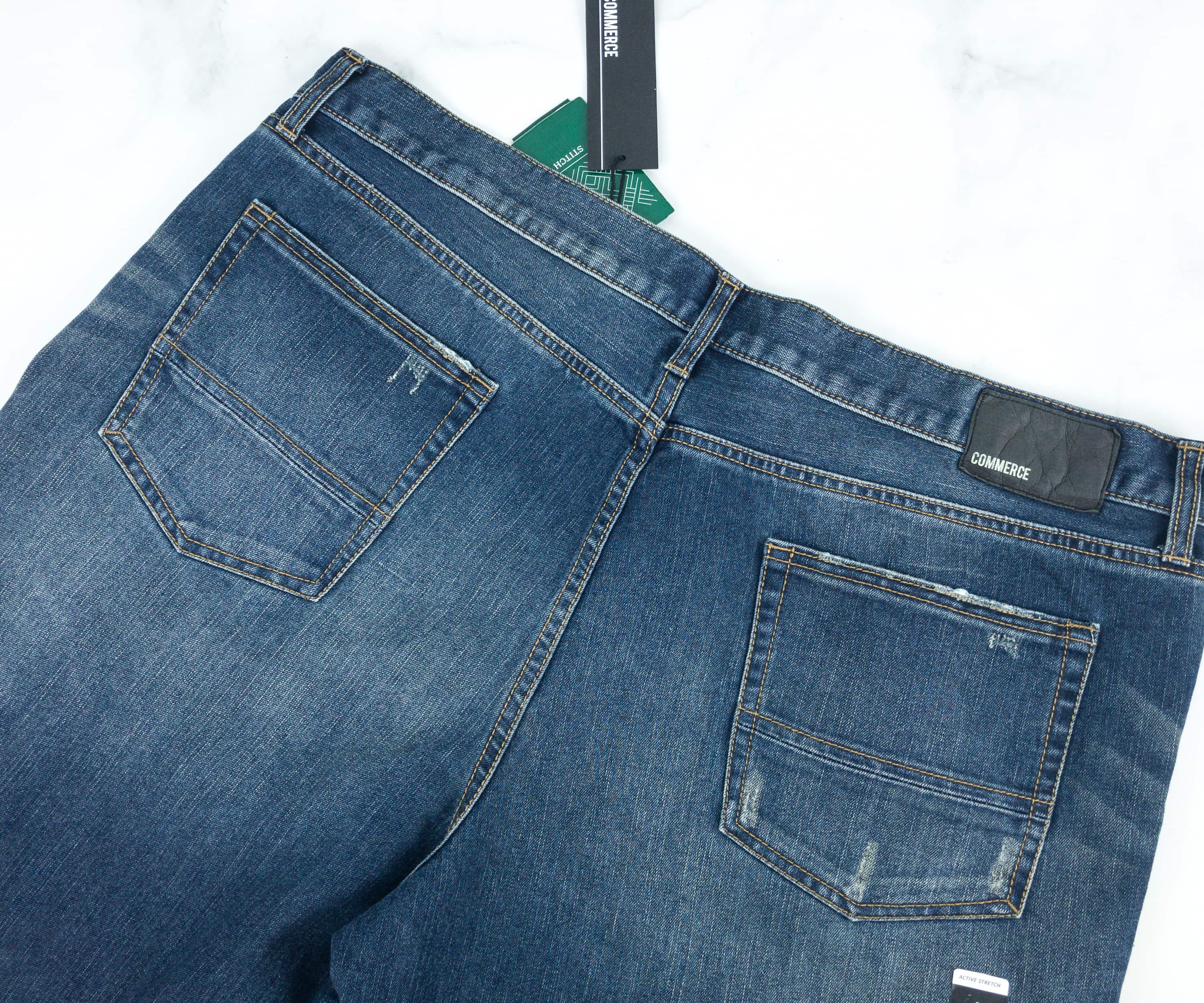 The exceptional full rise and straight leg cut and heft of fabric seem to get even more comfortable with each wear. It doesn't feel oversized nor too baggy. The slightly ripped pockets also gave it a nice, rugged look.

The subtle acid fading and whiskering authenticate the vintage worn look of this pair of jeans!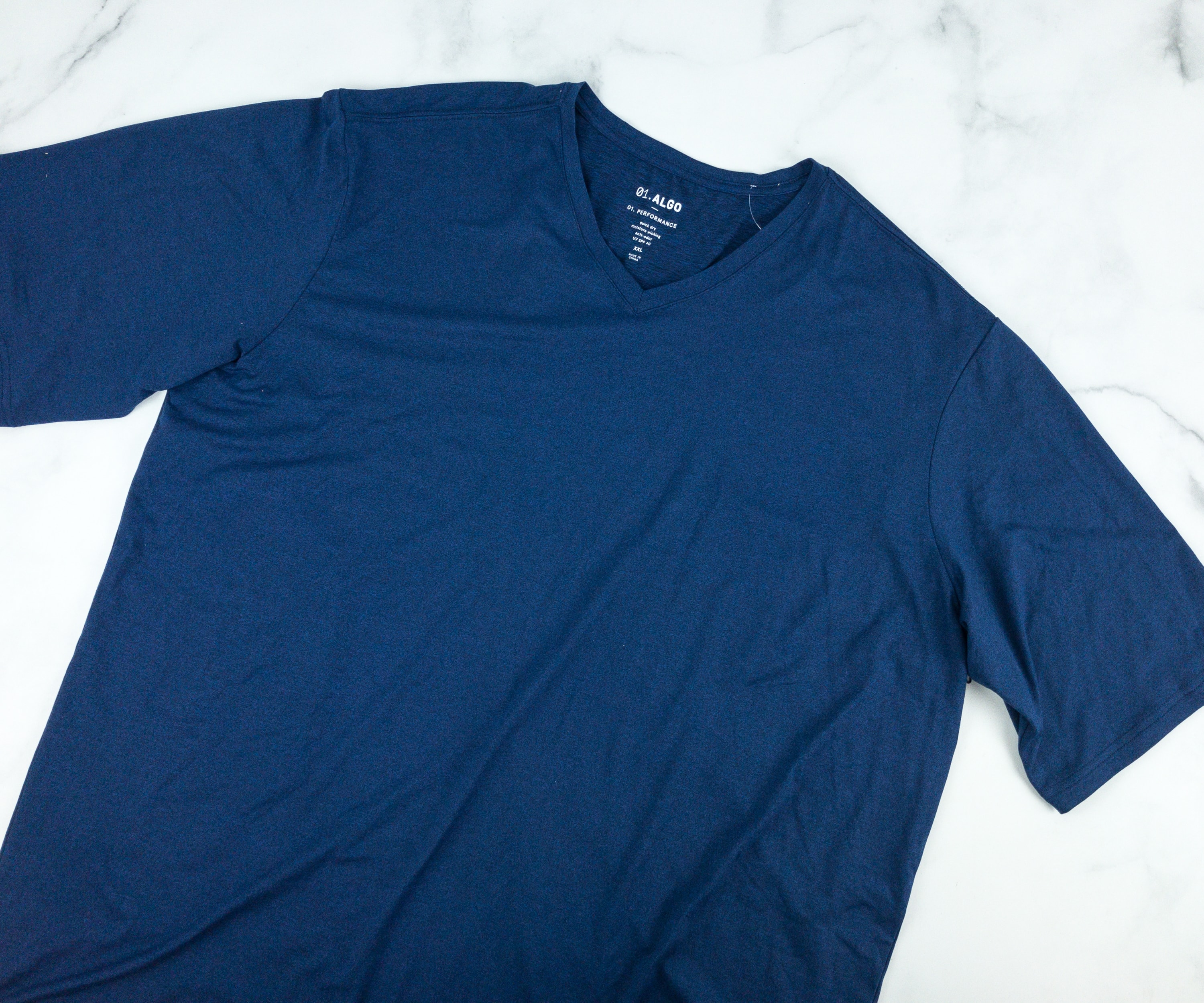 01Algo Peter Performance Vee ($29) It's a plain blue V-neck tee that makes a great match with the striped short or denim jean. It has a nice slim cut paired with short sleeves that gave it a simple, but presentable look.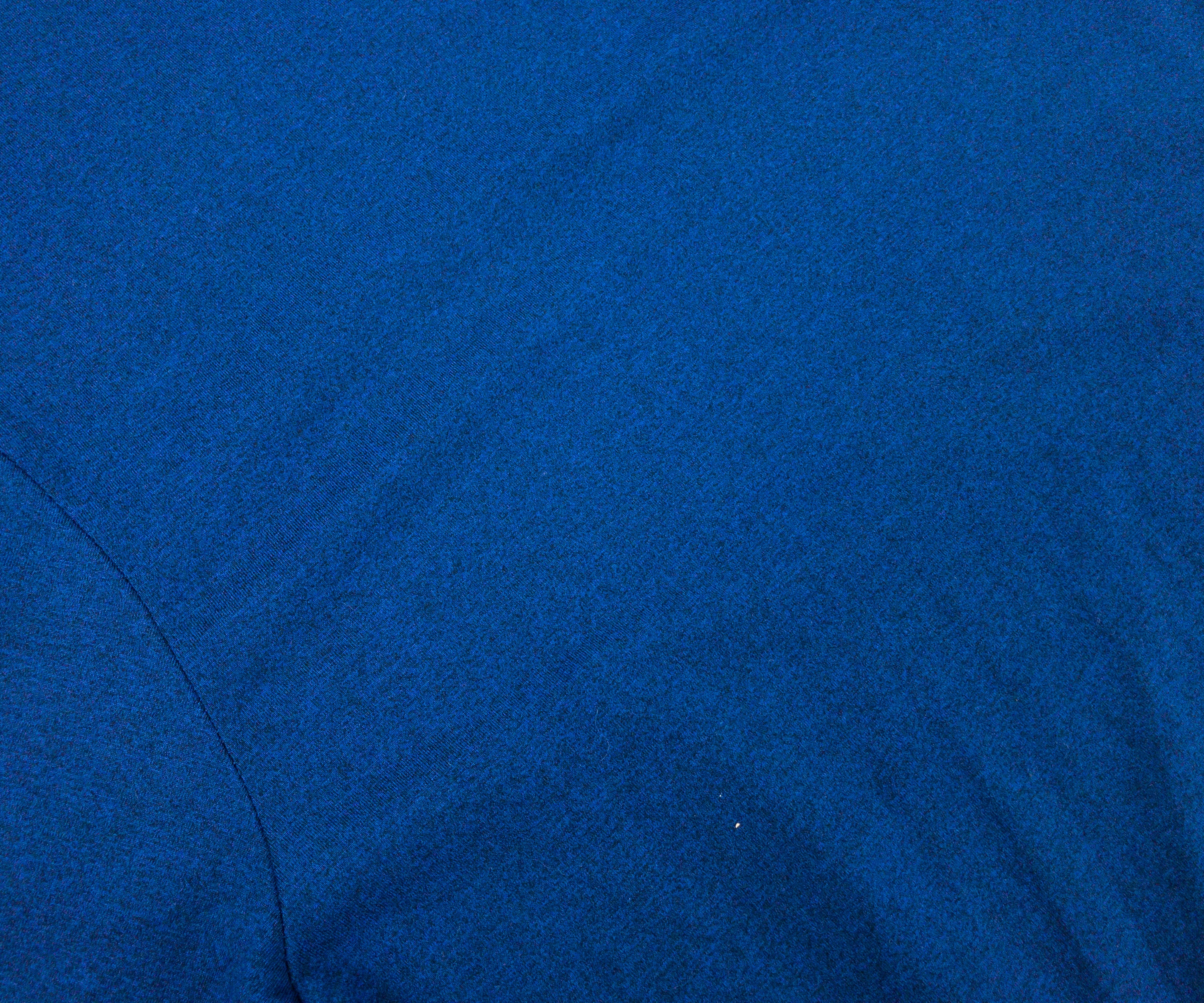 It's made of breathable fabric, making it convenient to wear even when it's hot outside.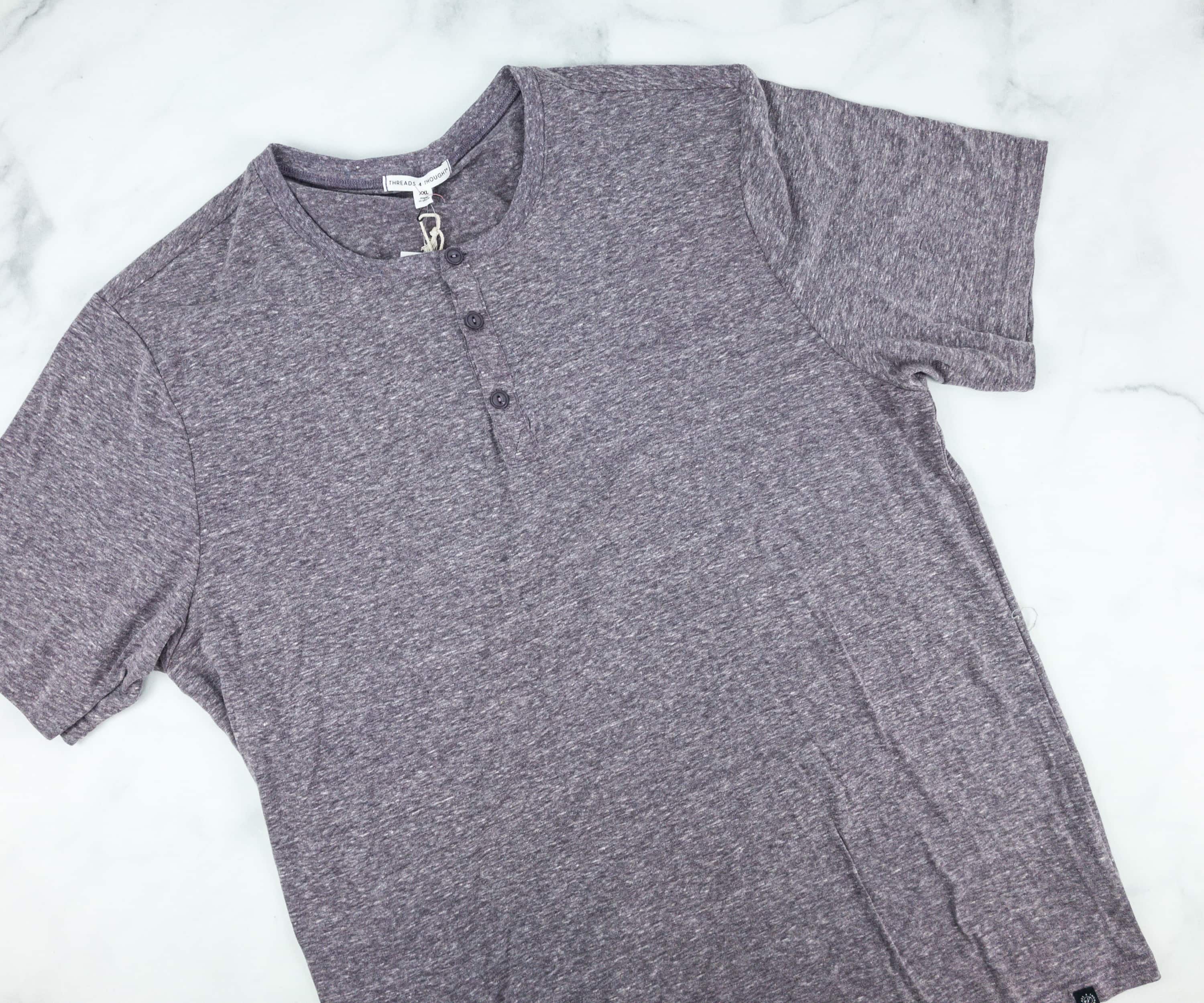 Threads 4 Thought Baseline Triblend Henley ($34) Another simple but classic piece from this month's fix is this Henley shirt. It features a soft and heathered tri-blend fabric.
Its collarless pattern is characterized by a placket just below the round neckline, which is an upgrade beyond the usual plain tee. I can layer it under my favorite blazer or jacket or wear it on its own with a short or denim jean.

Perry Ellis Matte Ombre Collar Polo ($49) Made with 60% cotton and 40% polyester, this collared polo shirt is the perfect choice for a classic casual look.
The tri-colored striped collar and the placket placed just below it complete its iconic look.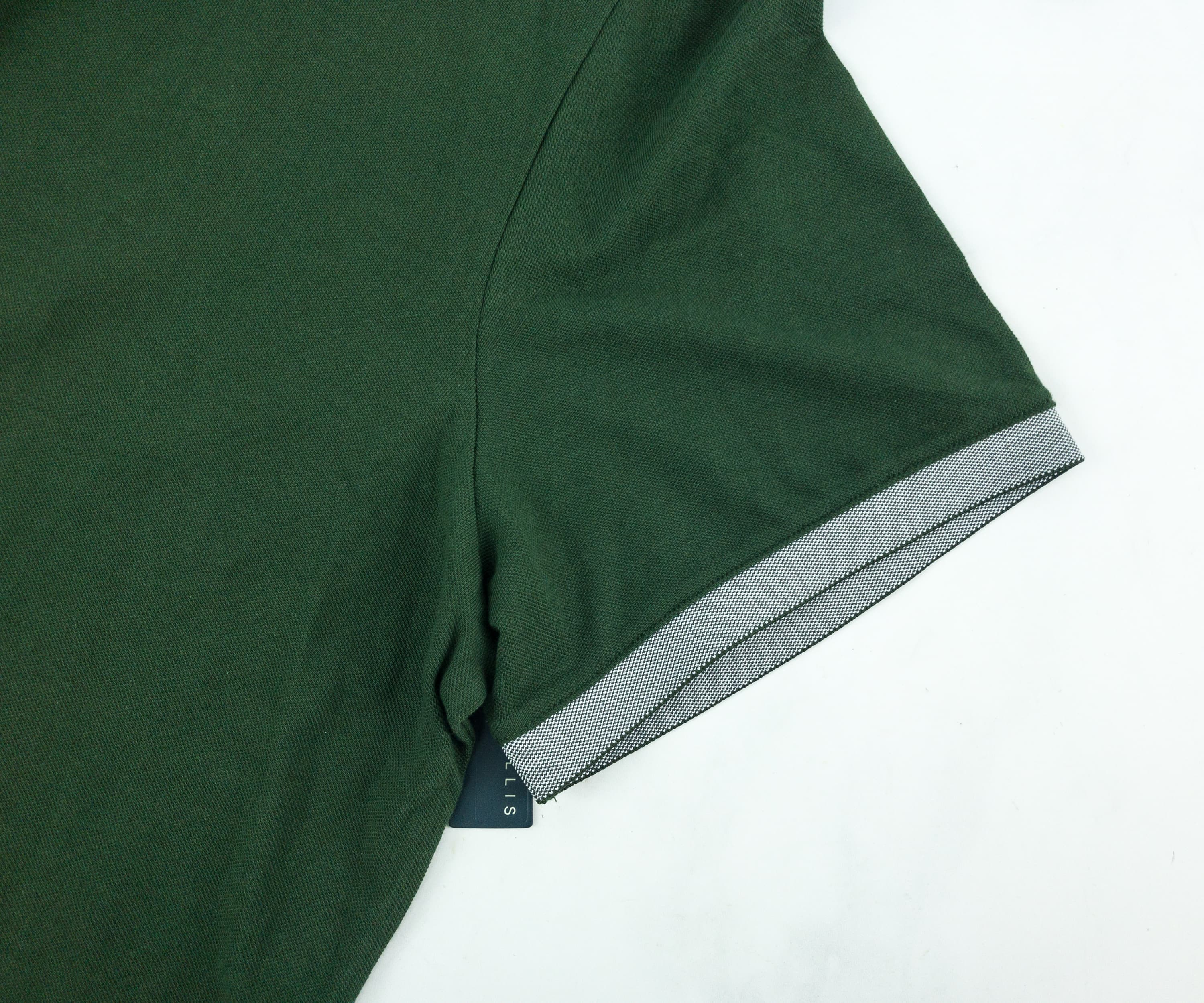 It also features a modern slim fit that tapers at the waist and sleeves with a slightly extended hem.
I had a great time sifting through these pieces of clothing and trying them out one by one. They didn't disappoint. The shirts are perfect for my frame and I could not be happier with how sharp they look and how comfortable they are to wear. They also fit snugly but not restricting, making them not just wearable for summer, but in any season. All of them complement my existing wardrobe! Stitch Fix makes it super easy to refresh my wardrobe and that's my favorite part – no shopping!
What do you think of Stitch Fix Men?