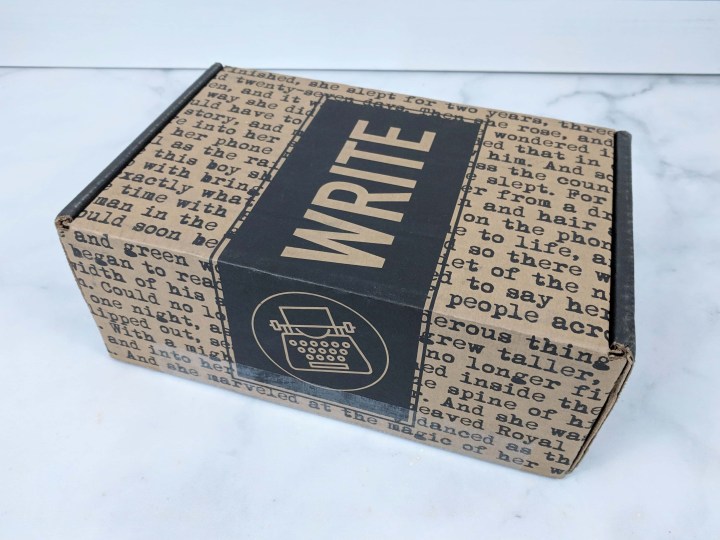 Scribbler is a monthly subscription box for novelists, created by authors, for authors. Scribbler is committed to helping writers improve their craft and reach their publishing goals, month after month.
For $29.99 a month, you'll get a newly released fiction, a "Writing Passport" from the featured author to help you master the monthly theme, curated writerly gifts, and an invitation to communicate with a publishing professional.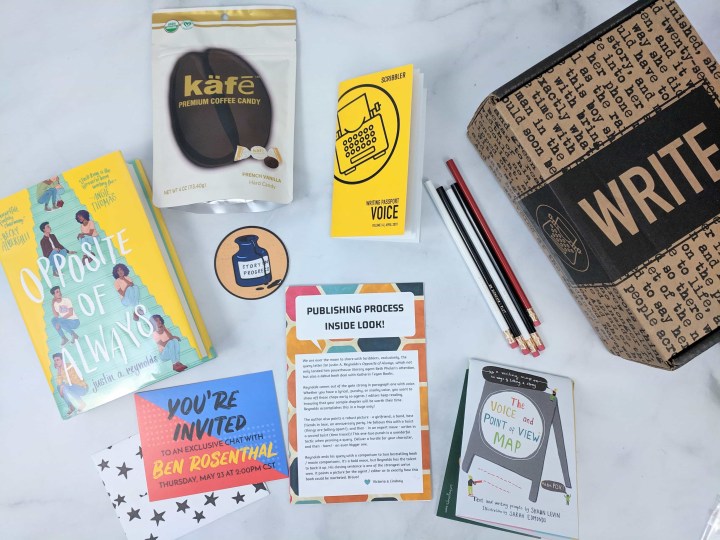 Everything in the box!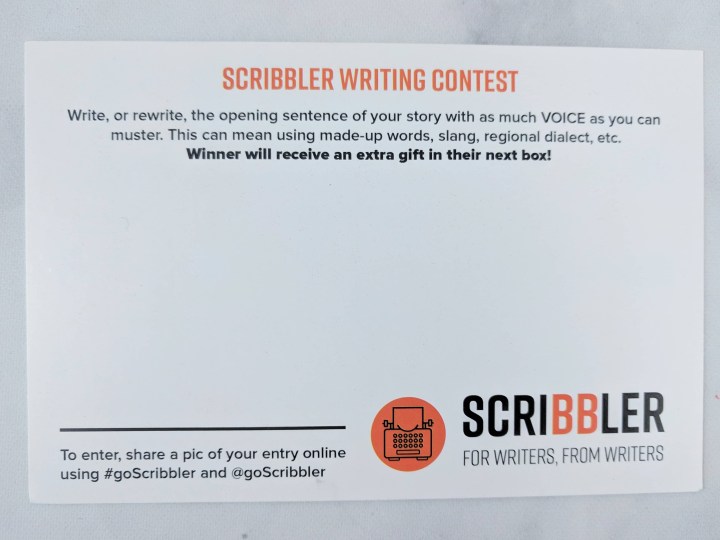 Every month, we are welcomed with a postcard from Scribbler with a writing context on the back. If you share your entry on their Instagram, you could get an extra gift in your next box!
Every month, we are welcomed with a Publishing Process Inside Look.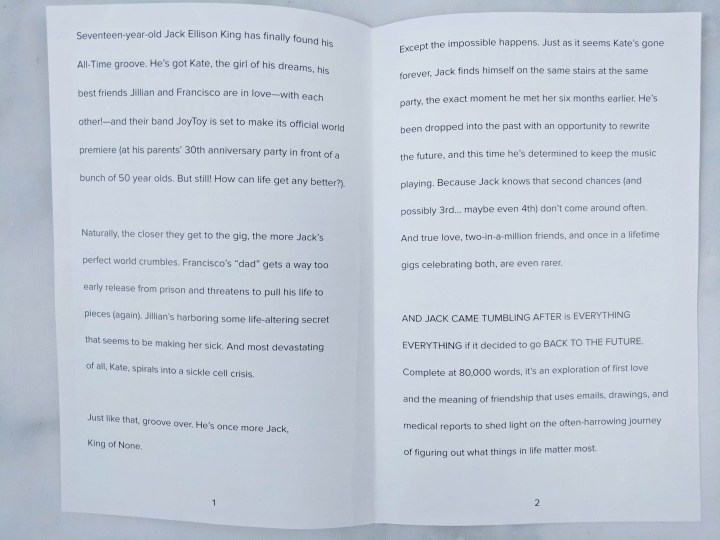 For April, Scribbler is sharing with us Justin A. Reynolds's Opposite of Always query letter!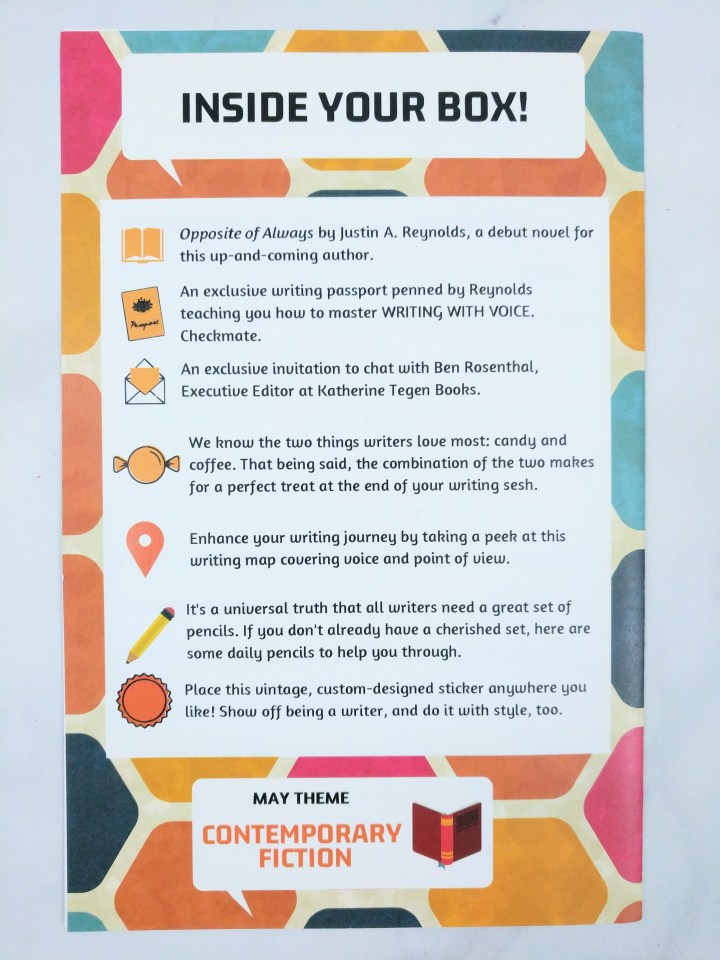 At the back of the booklet, we have a list of the items in the box.
This month's theme is Voice.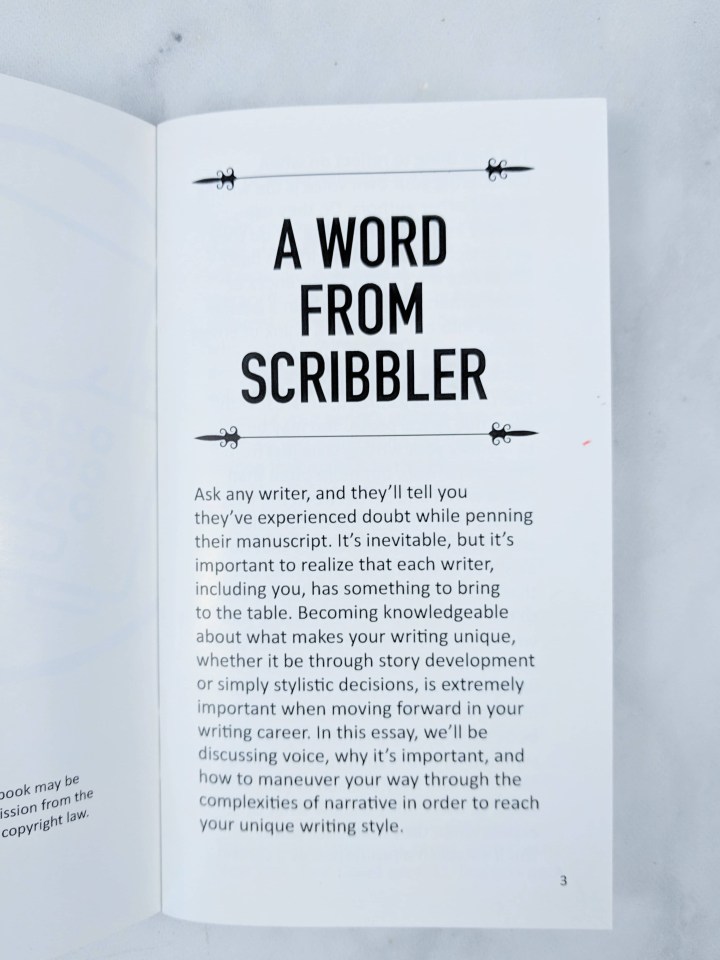 There's a quick introduction in the booklet about why the featured book was chosen.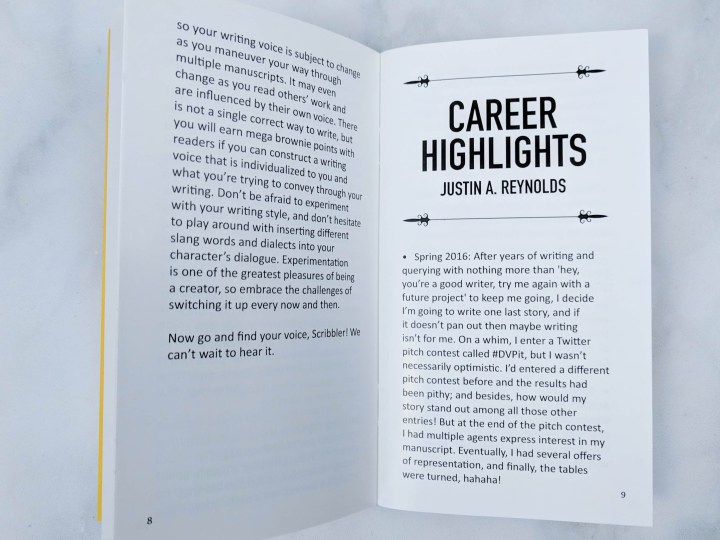 We are also introduced to this month's author: Justin A. Reynolds.
There are no exercises in the booklet to improve our skills, it's more about the theory behind finding and writing your Voice, from this month's author viewpoint. I prefer that way as I like to play with my own story and characters instead of doing an exercise that has nothing to do with what I'm doing. I'm also a big fan of the quote they highlight every month from the author.
The book this month is a hardcover copy of Opposite of Always by Justin A. Reynolds. From Amazon:
Debut author Justin A. Reynolds delivers a hilarious and heartfelt novel about the choices we make, the people we choose, and the moments that make a life worth reliving. Perfect for fans of Nicola Yoon and John Green.

When Jack and Kate meet at a party, bonding until sunrise over their mutual love of Froot Loops and their favorite flicks, Jack knows he's falling—hard. Soon she's meeting his best friends, Jillian and Franny, and Kate wins them over as easily as she did Jack.

But then Kate dies. And their story should end there.

Yet Kate's death sends Jack back to the beginning, the moment they first meet, and Kate's there again. Healthy, happy, and charming as ever. Jack isn't sure if he's losing his mind.

Still, if he has a chance to prevent Kate's death, he'll take it. Even if that means believing in time travel. However, Jack will learn that his actions are not without consequences. And when one choice turns deadly for someone else close to him, he has to figure out what he's willing to do to save the people he loves.
Goodies!!! The most important one is this bag full of delicious French Vanilla flavored coffee hard candies!
Any writer has his drink of choice, and mine is coffee. These little candies taste like the real deal, just sweet!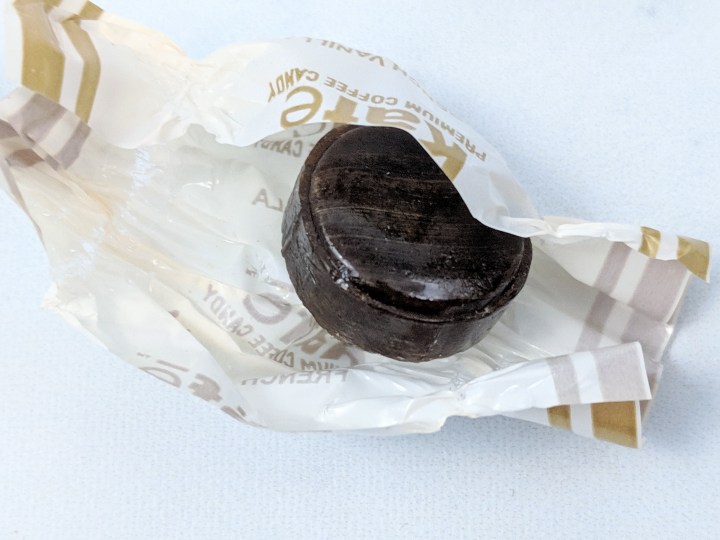 It's made with real organic coffee, but I don't know if it contains caffeine.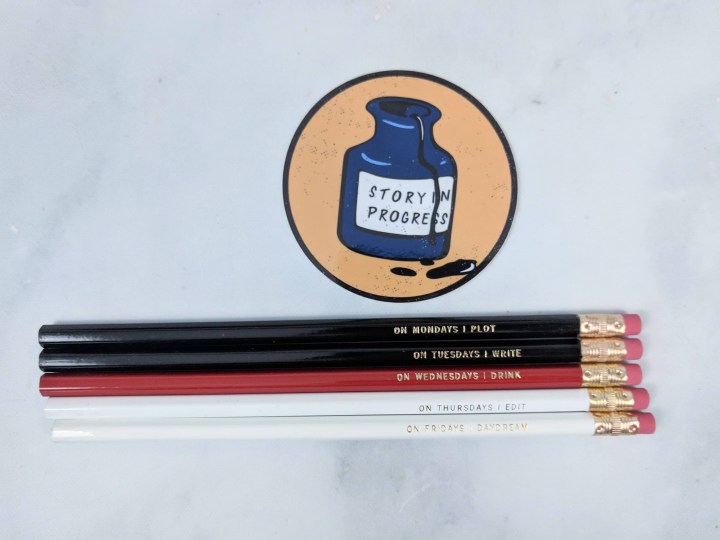 Story in Progress sticker. I love their sticker and motivational poster, it's a great and fun way to remind us to write and get it done!
Writer's pencils. I love writing by hand and these pencils have fun saying on them, one for every day of the week.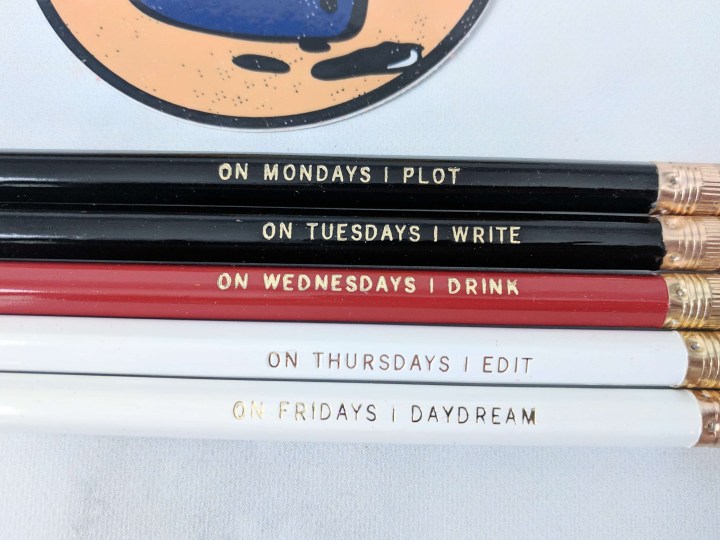 It "almost" describes my writing week! On Wednesdays I usually read, and on Fridays I celebrate!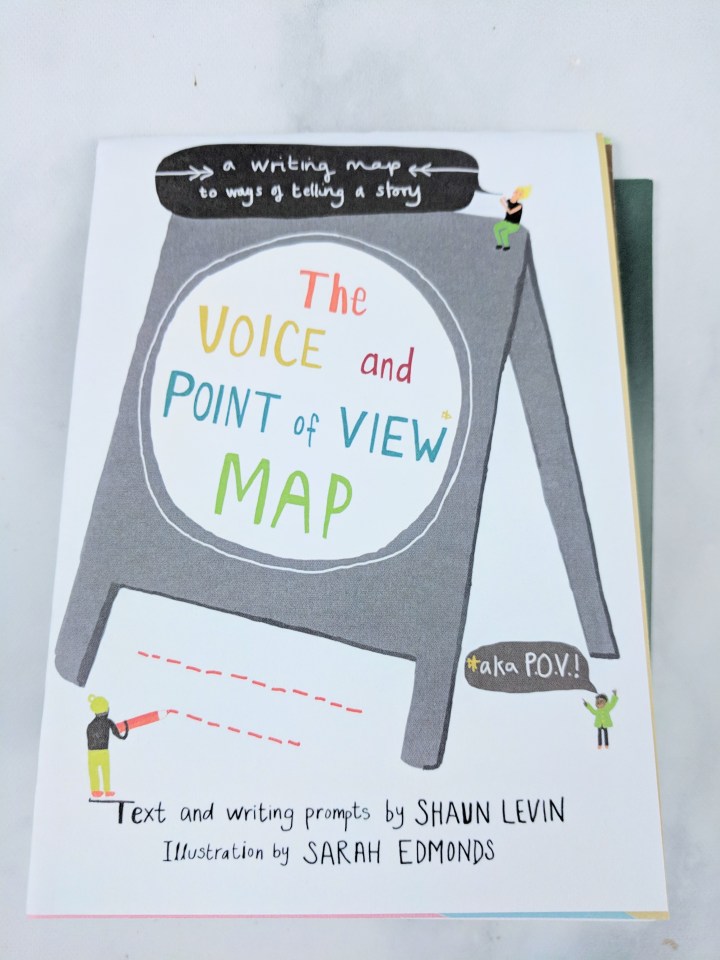 The Voice and Point of View Map. This "map" unfolds like a real one!
It's full of writing prompts and quotes to help us work on our voice and point of view. This is such a neat idea and fun to look at!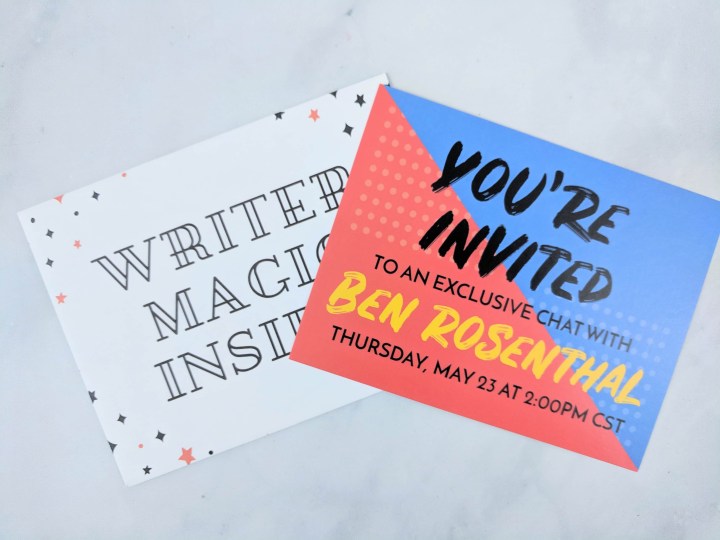 Invitation! This month's invitation is for a chat with Ben Rosenthal, an executive editor at Katherine Tegen Books.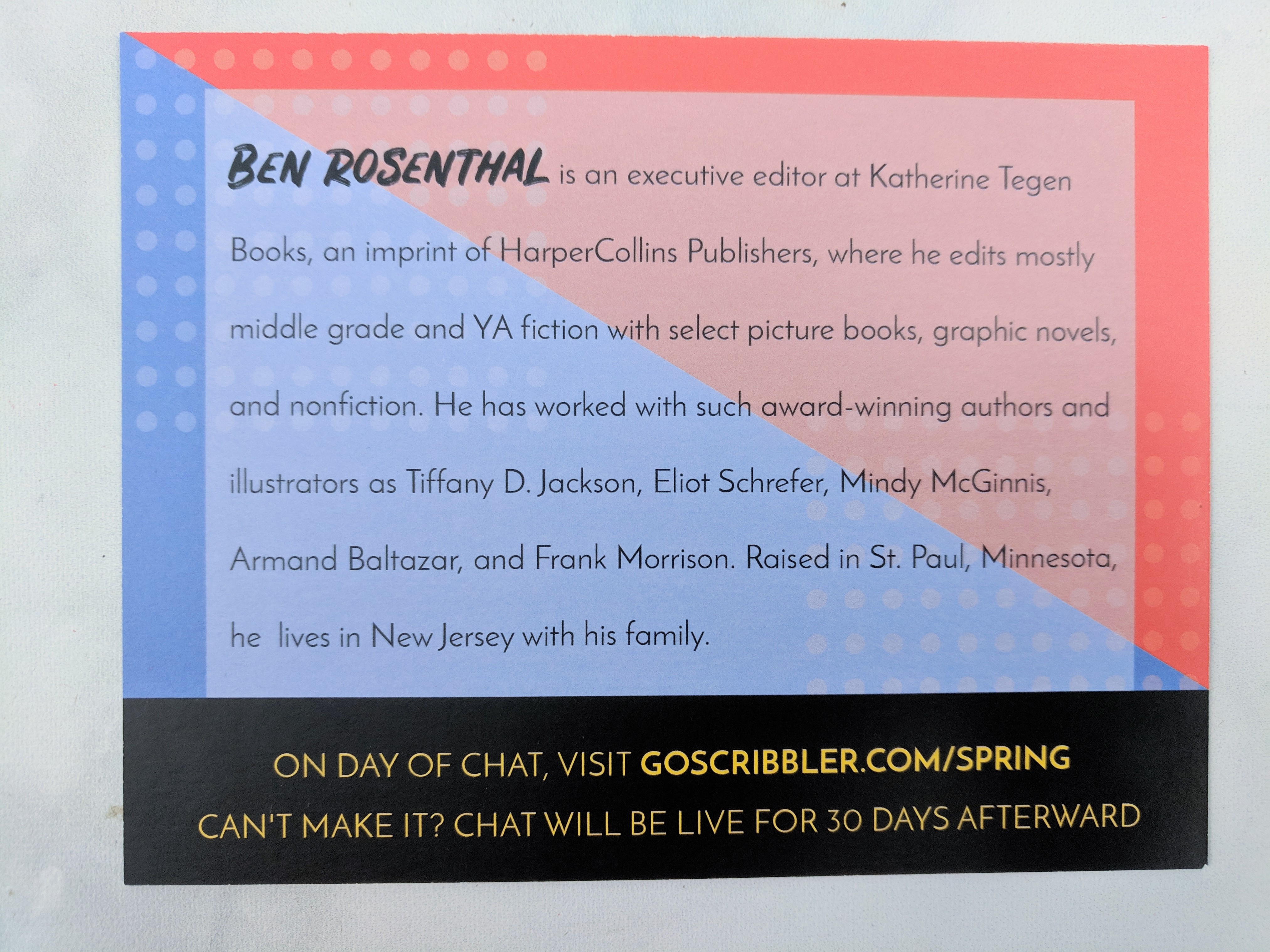 The invitation is for May 23rd. Knowing that this is the April box and that I live in Canada (so I get my box quite late), I still had plenty of time to get ready for this event! I really appreciate how far ahead of the event we get the box! But if you miss it, don't worry as the recording will still be available on Scribbler's website.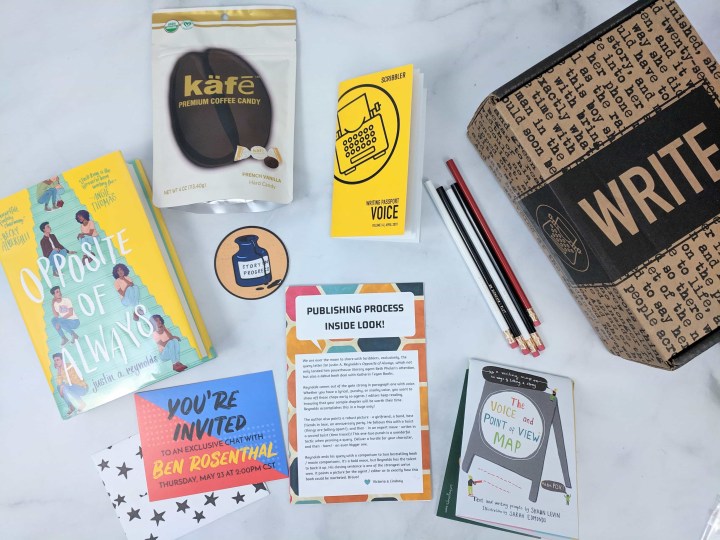 This was another strong box by Scribbler. The book sounds interesting for anyone into YA and who would say no to coffee flavored candies! I also always like the goodies as they are really celebrating the writers and the writing process, not just the books. The booklet is always a nice read to remind us of different aspects of writing a book, making use more mindful when we write. It's also amazing to have the opportunity to connect with people in the industry and have insights from published authors!
What do you think of this month's box?