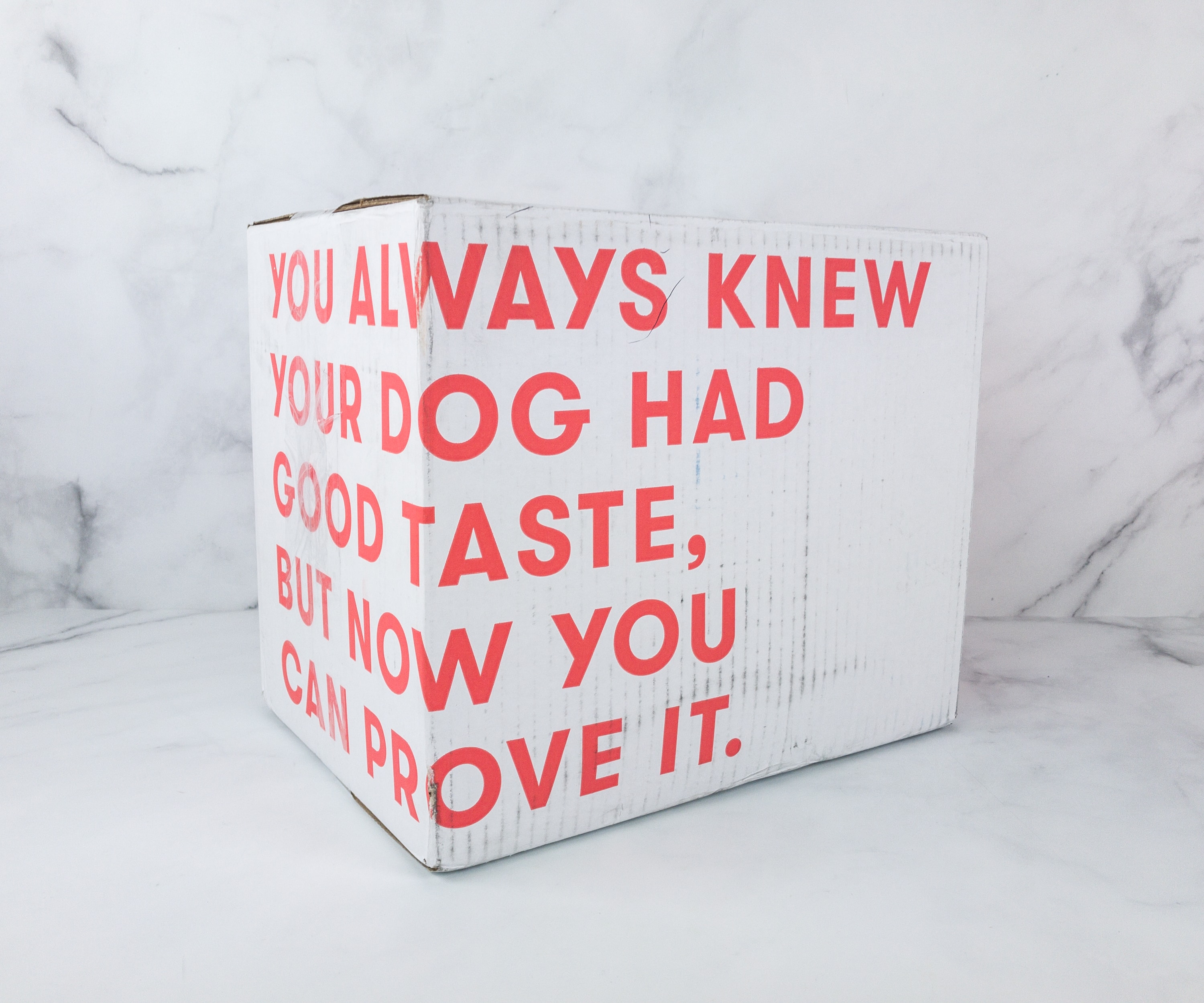 Ollie is a dog meal subscription featuring recipes made with real ingredients – wholesome, human-grade, and full of fruits and veggies. Subscribing is also super easy, just fill out your dog's info and Ollie will tailor your dog's unique recipe.
DEAL: Get 50% off your first box! USE THIS LINK to get the deal.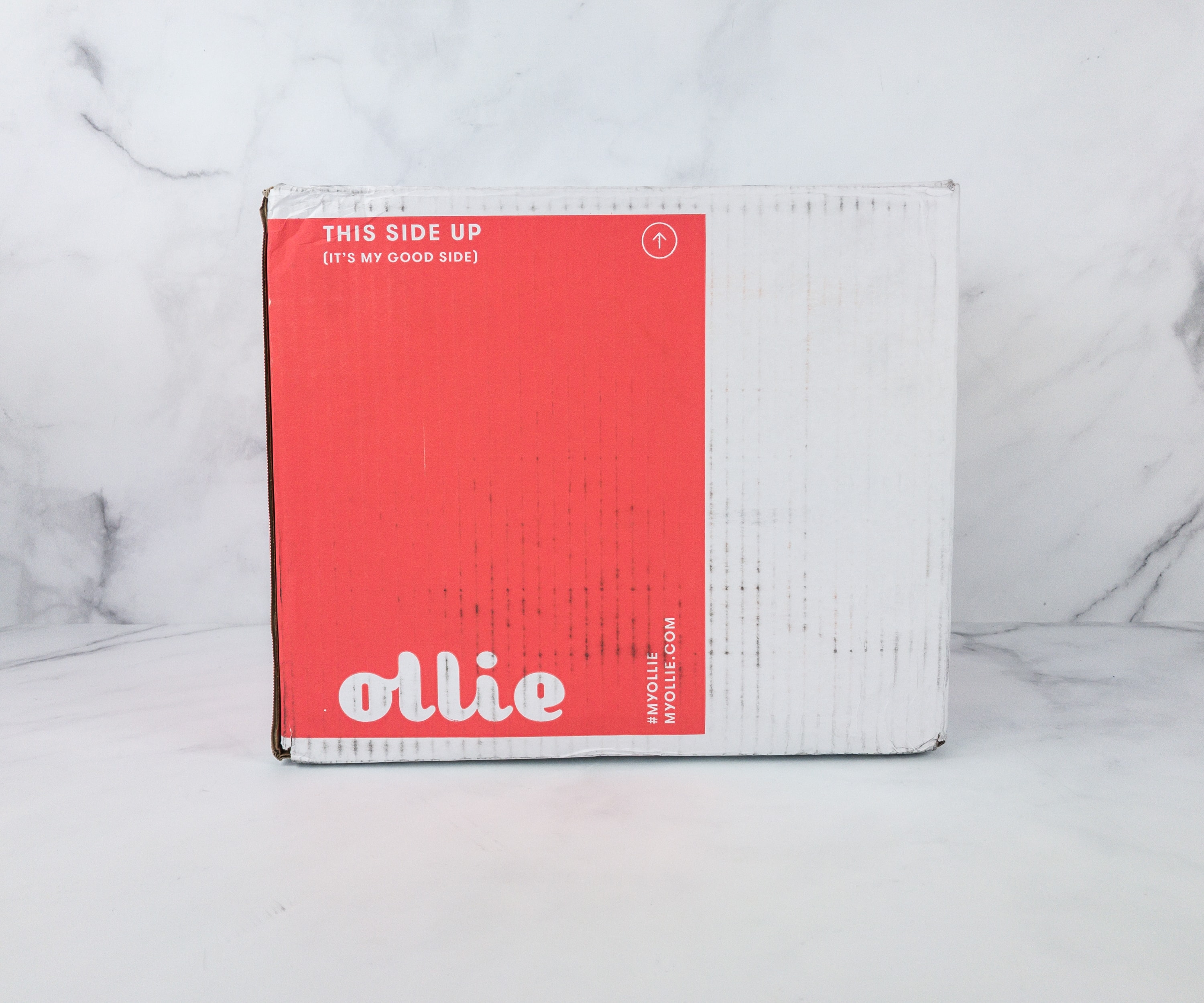 The box is full and heavy!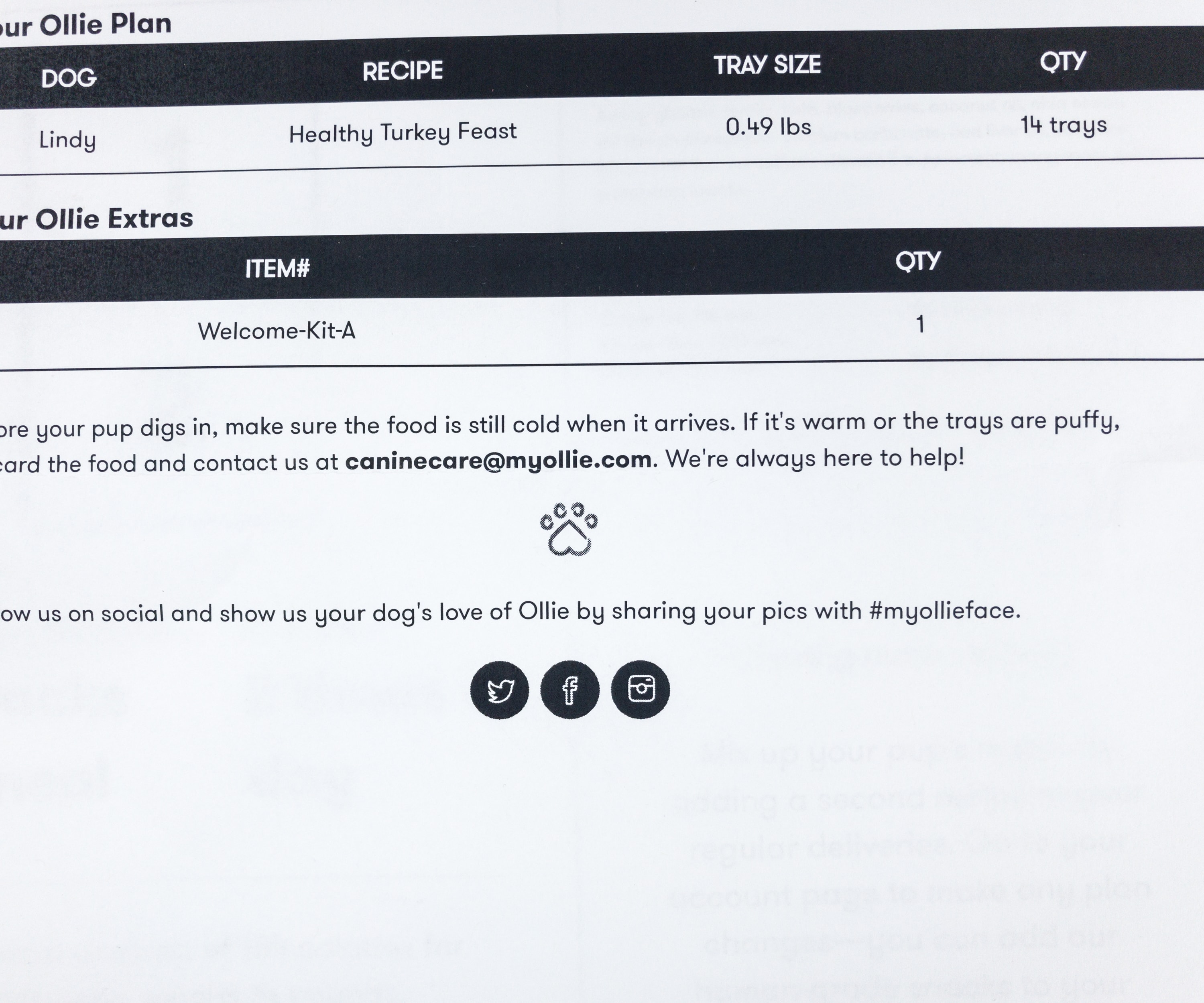 This box contains 14 trays of Healthy Turkey Feast for Lindy!
The package is topped with a huge white Ollie welcoming card!
READY. SET. DROOL.
The box is fully insulated inside, plus it also contains dry ice to keep the food freezing cold and fresh, as much as possible.
There are cardboards that serve as a divider inside the box.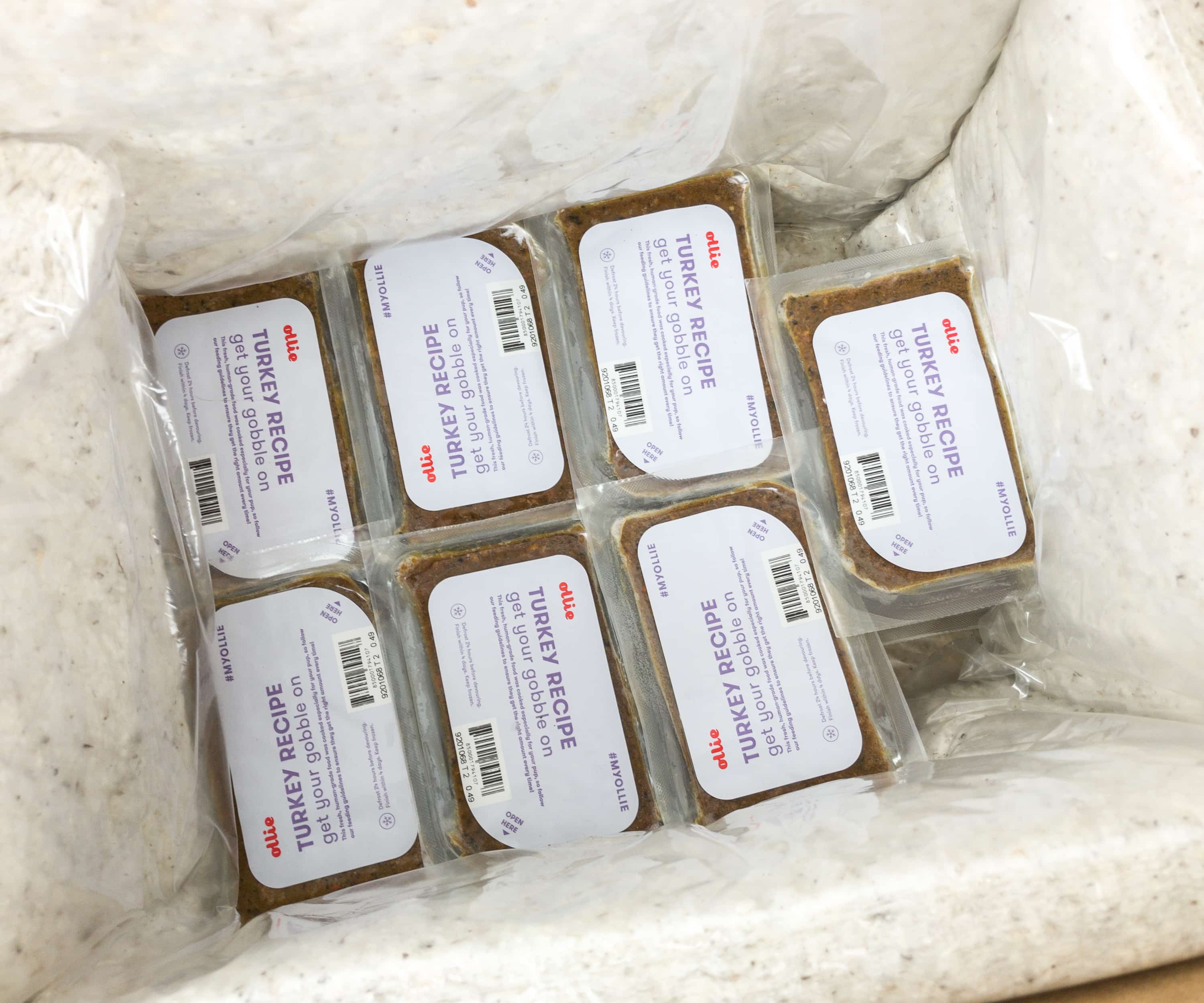 All the treats are nicely stacked.
We also received a sheet containing guidelines on how to properly feed these to our pup.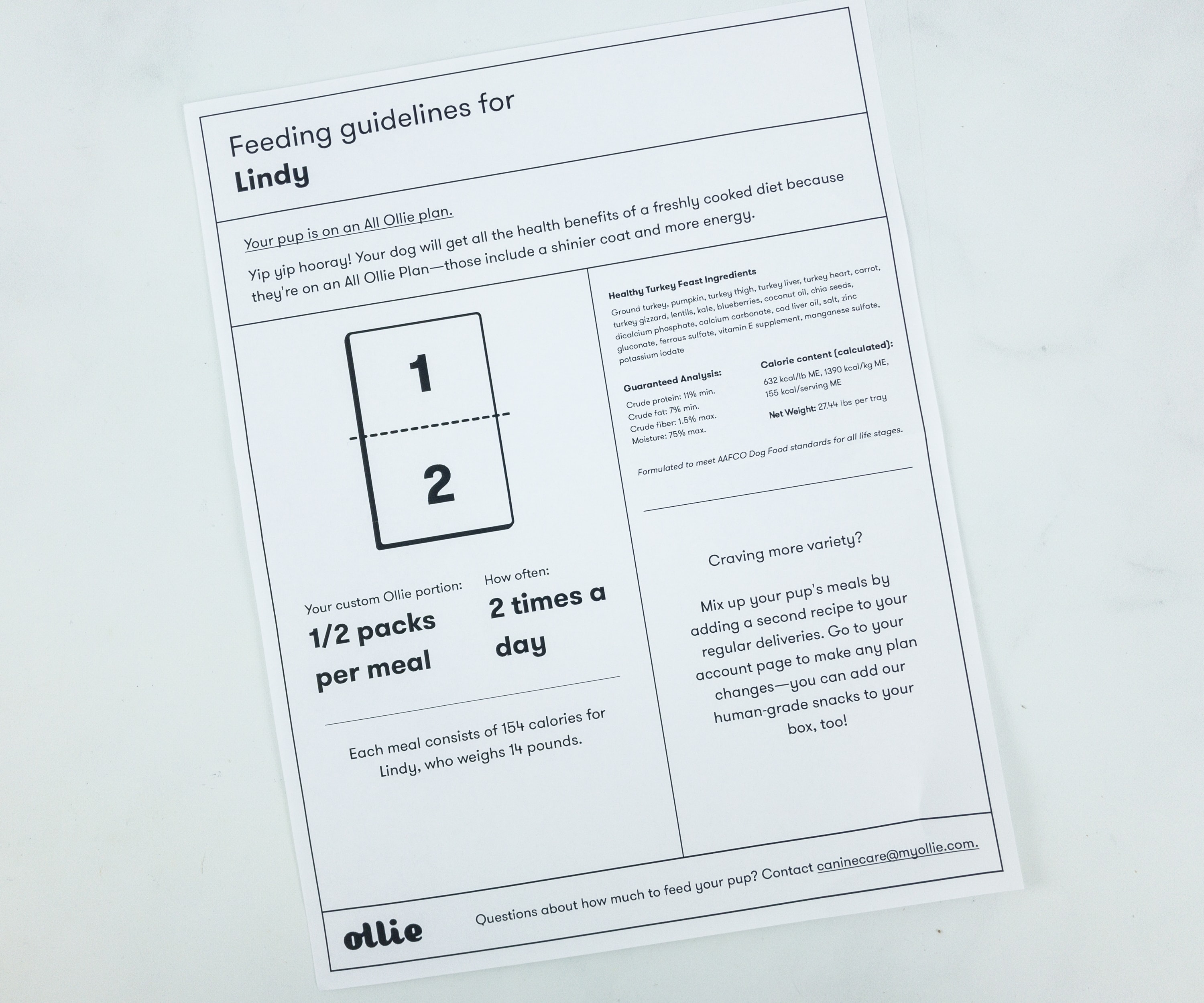 The sheet also includes the recipe's ingredients, calorie content, and nutritional analysis.
This month's bonus item is an Ollie Kit which includes a canine supplement, serving spoon, and exclusive Ollie booklet.
Transferring of dog food from one container to another becomes much easier using this mini-scooper from Ollie. It's so light and very handy.

Aside from the booklet, we also got an Official Pup of the Clean Bowl Club certificate from Ollie.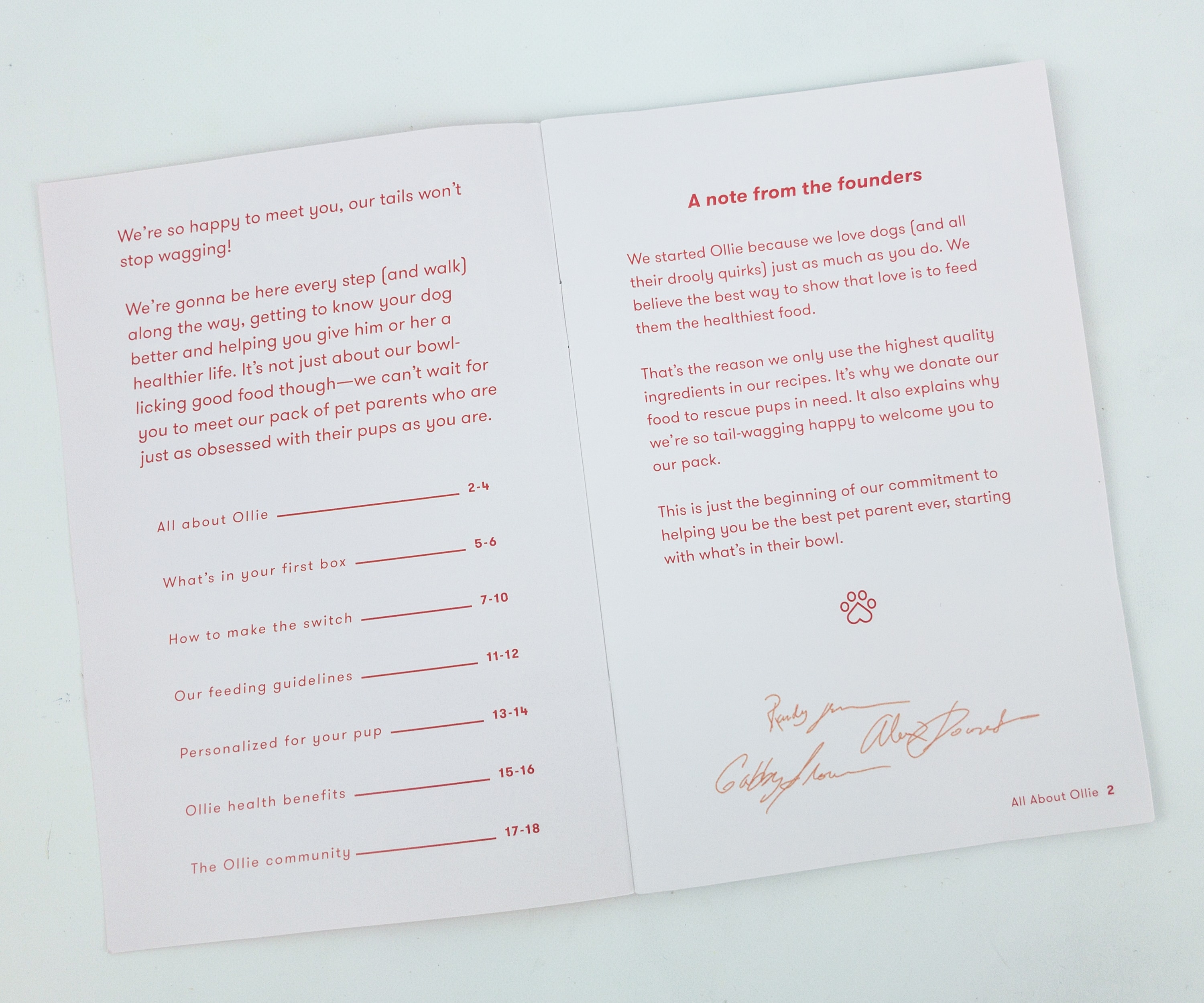 Like any other booklet, this one contains a table of contents and a note from the founders.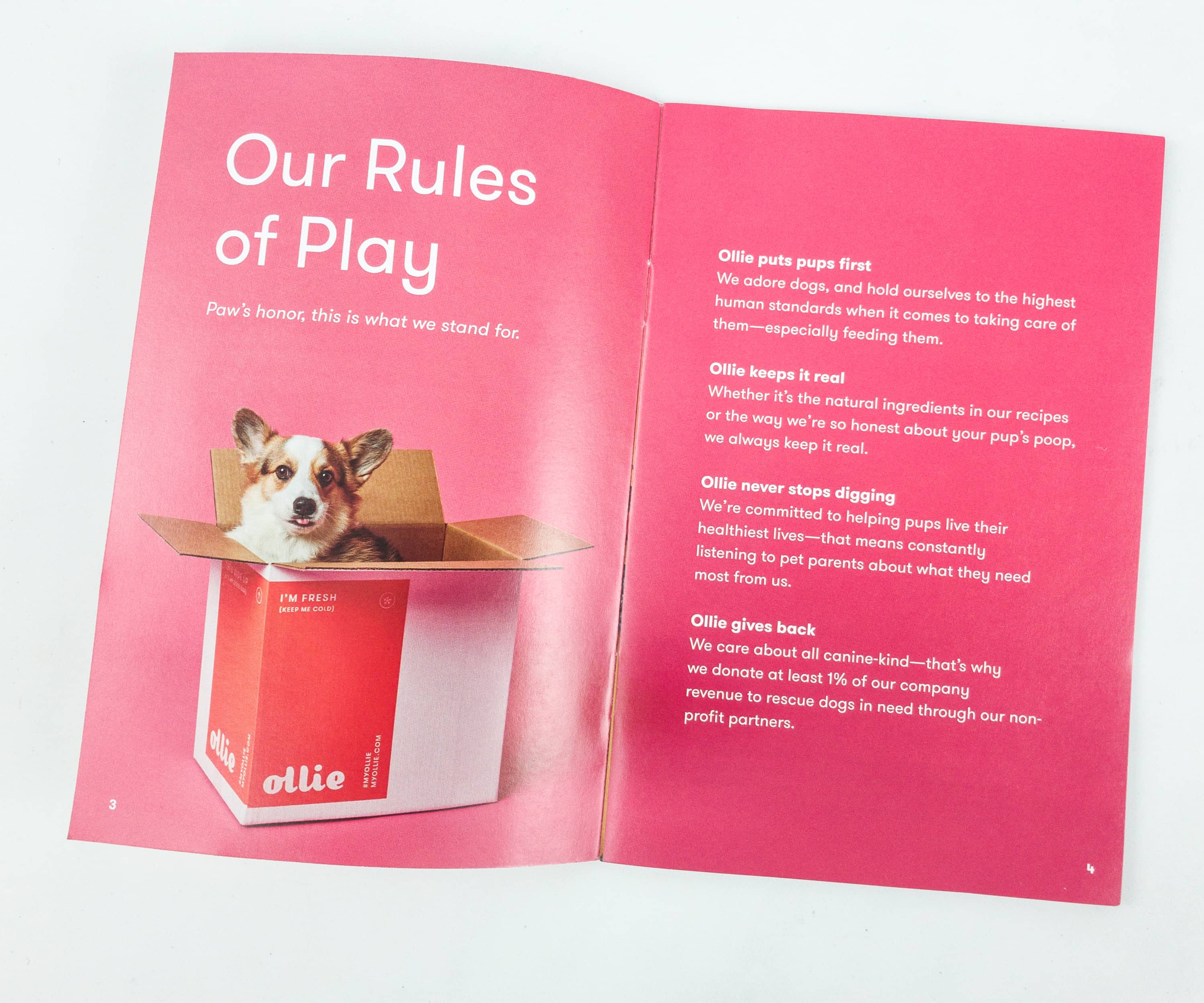 Here are some simple Ollie rules to honor your pups. Some of it includes putting your pups first, keeping it real, never stop digging, and giving back!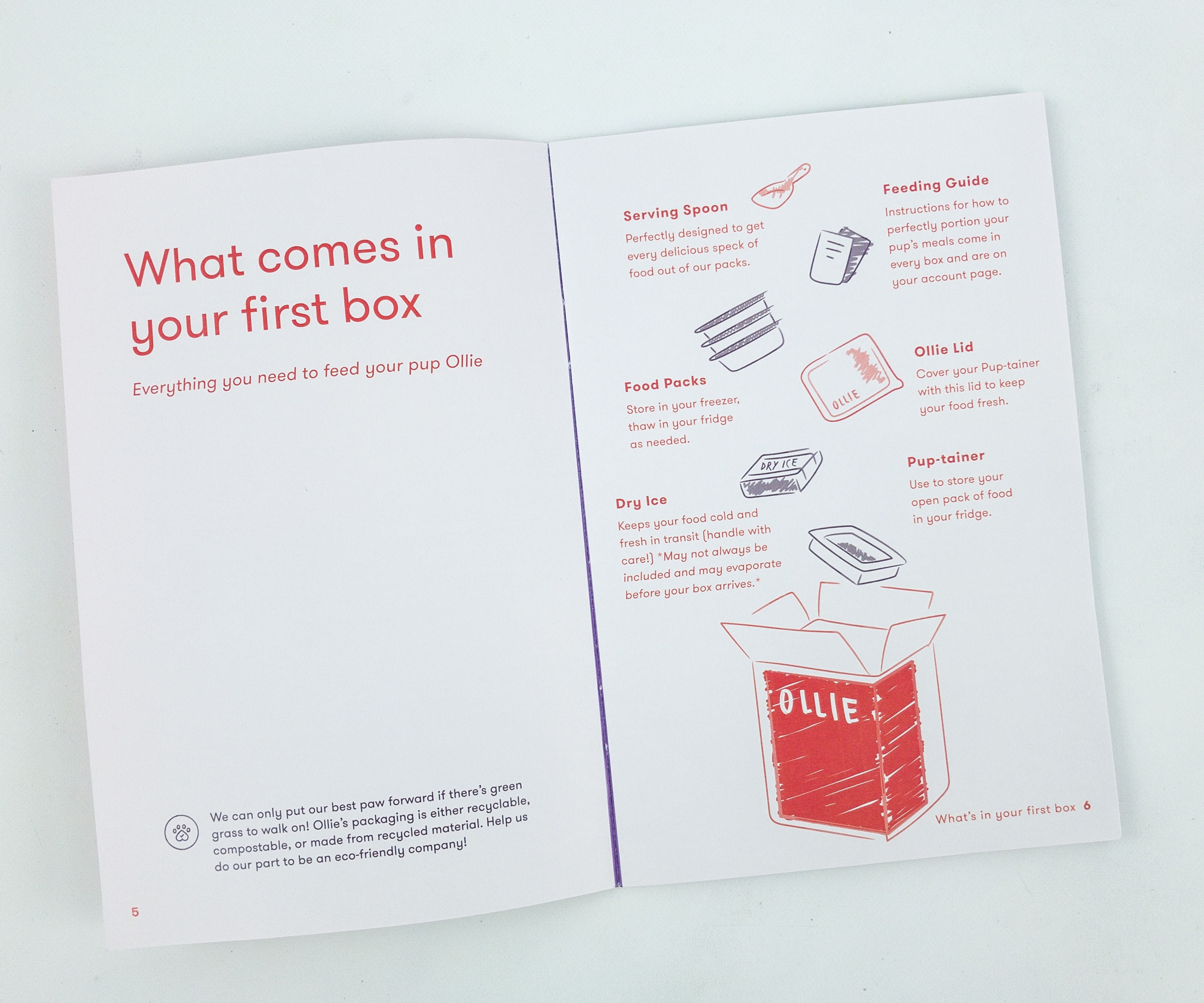 On this part of the booklet is the breakdown of all the item you should expect inside the box.

They even gave us basic tips on how to keep the dog food fresh and how to store them the best way possible.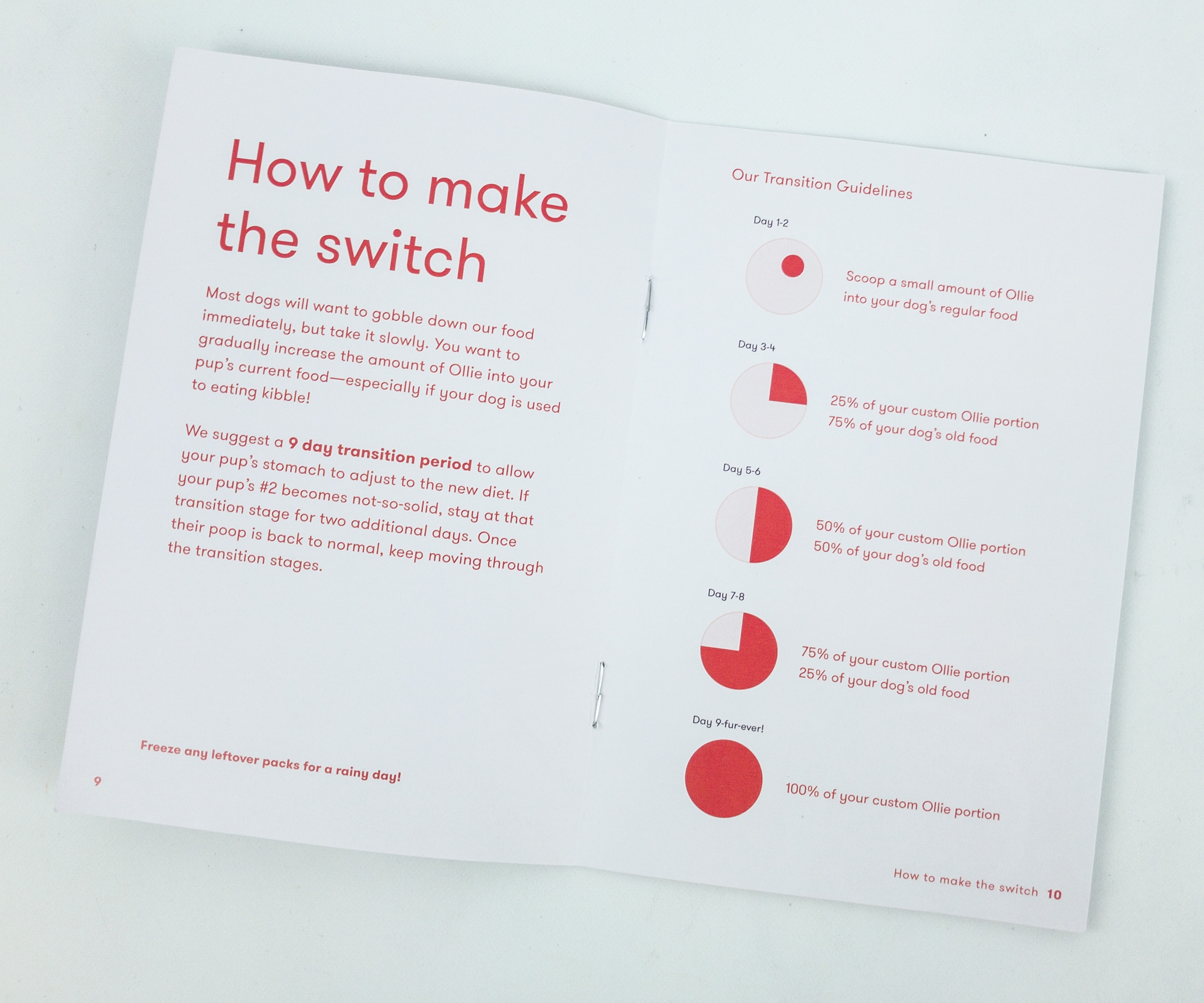 Another important feature in the booklet is the 9-day transition guideline to allow your pup to adjust on their new diet.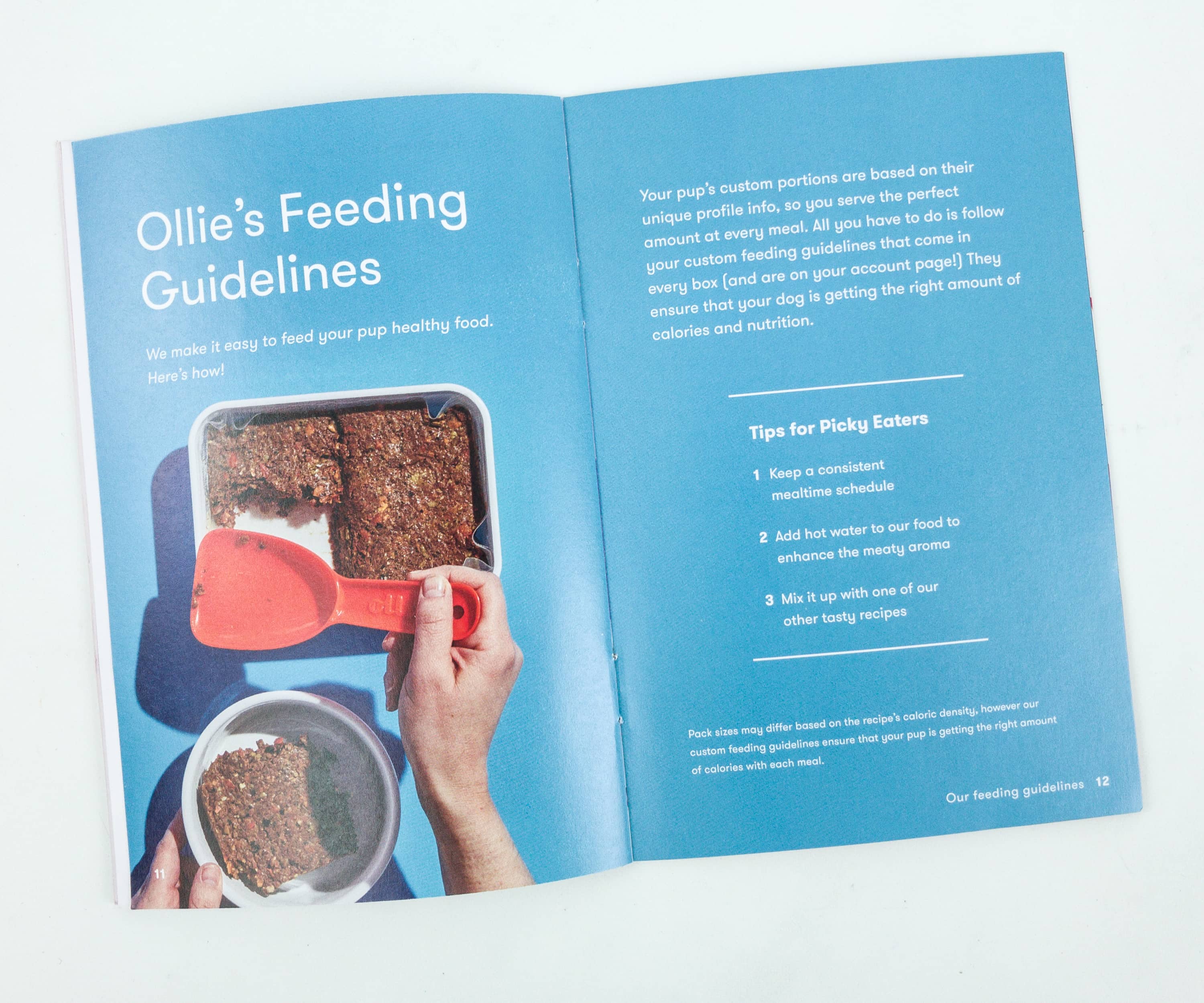 Next up are feeding guidelines for picky eaters!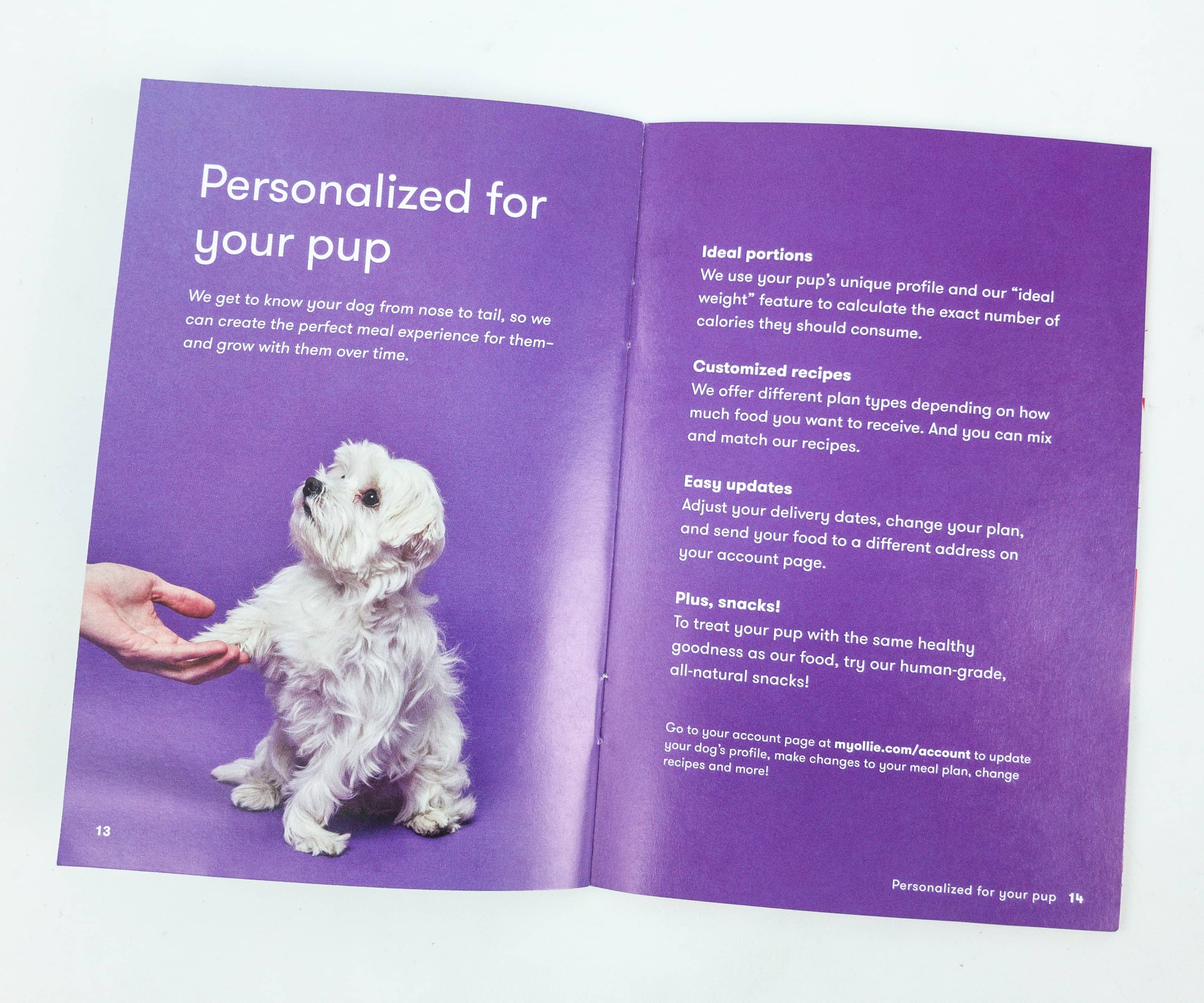 What makes Ollie unique against other dog meal subscriptions is that they personalize the meal according to your dog's preference.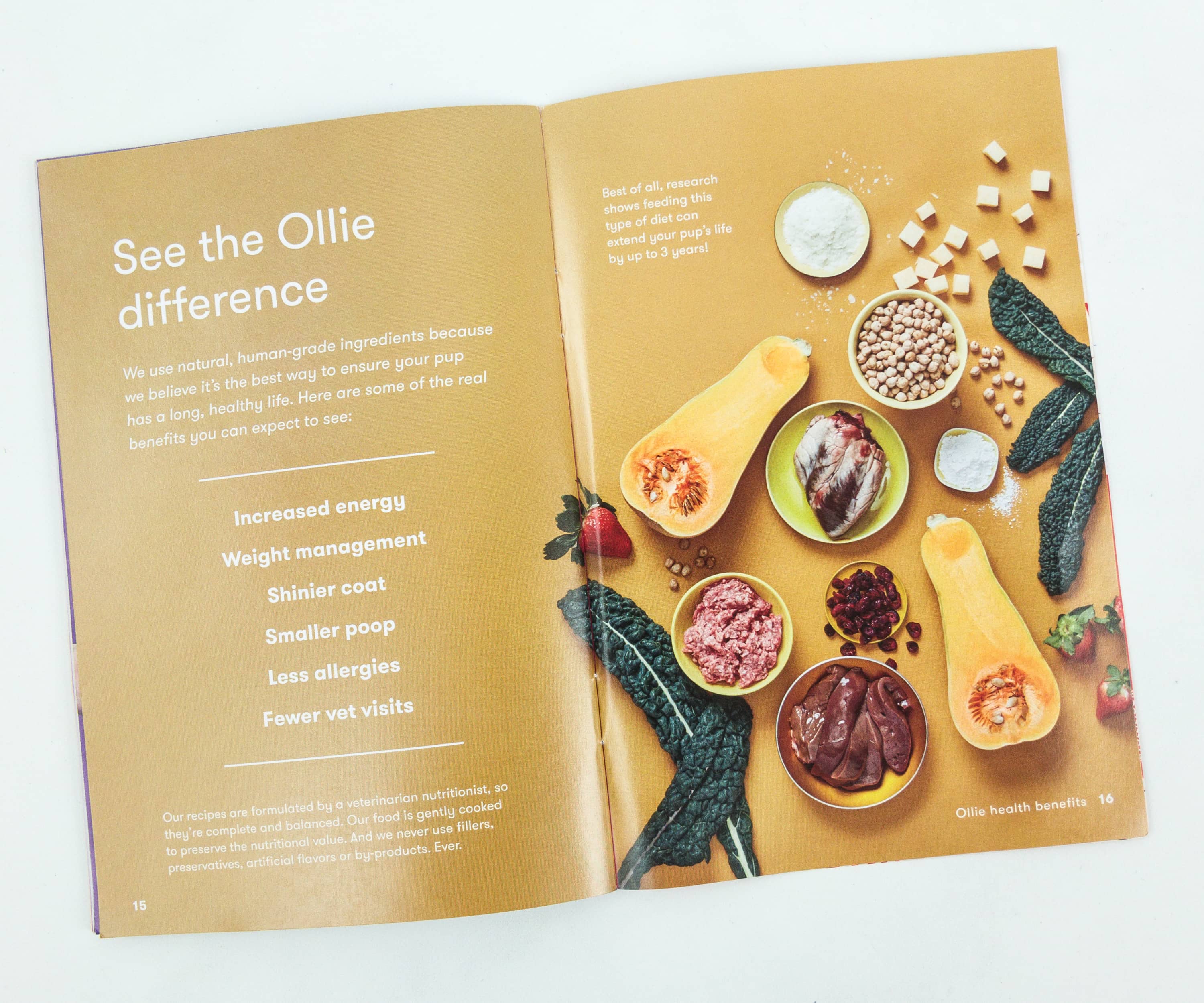 They also use natural and human-grade ingredients to ensure that your pups live a long and healthy life. Broken down on this part of the booklet are the benefits you can expect on every food they serve.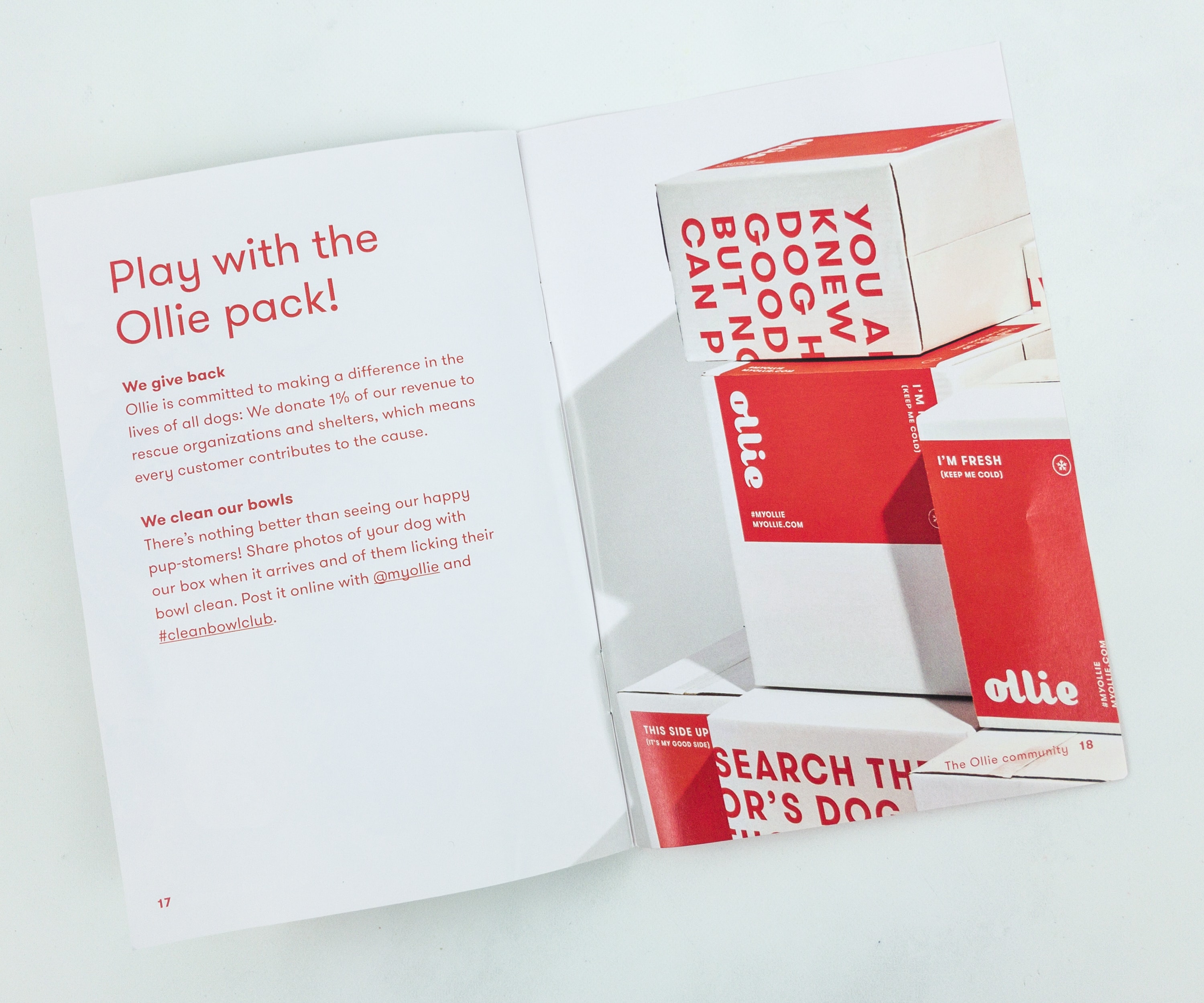 This subscription donates 1% of their revenue to rescue organizations and shelters for animals.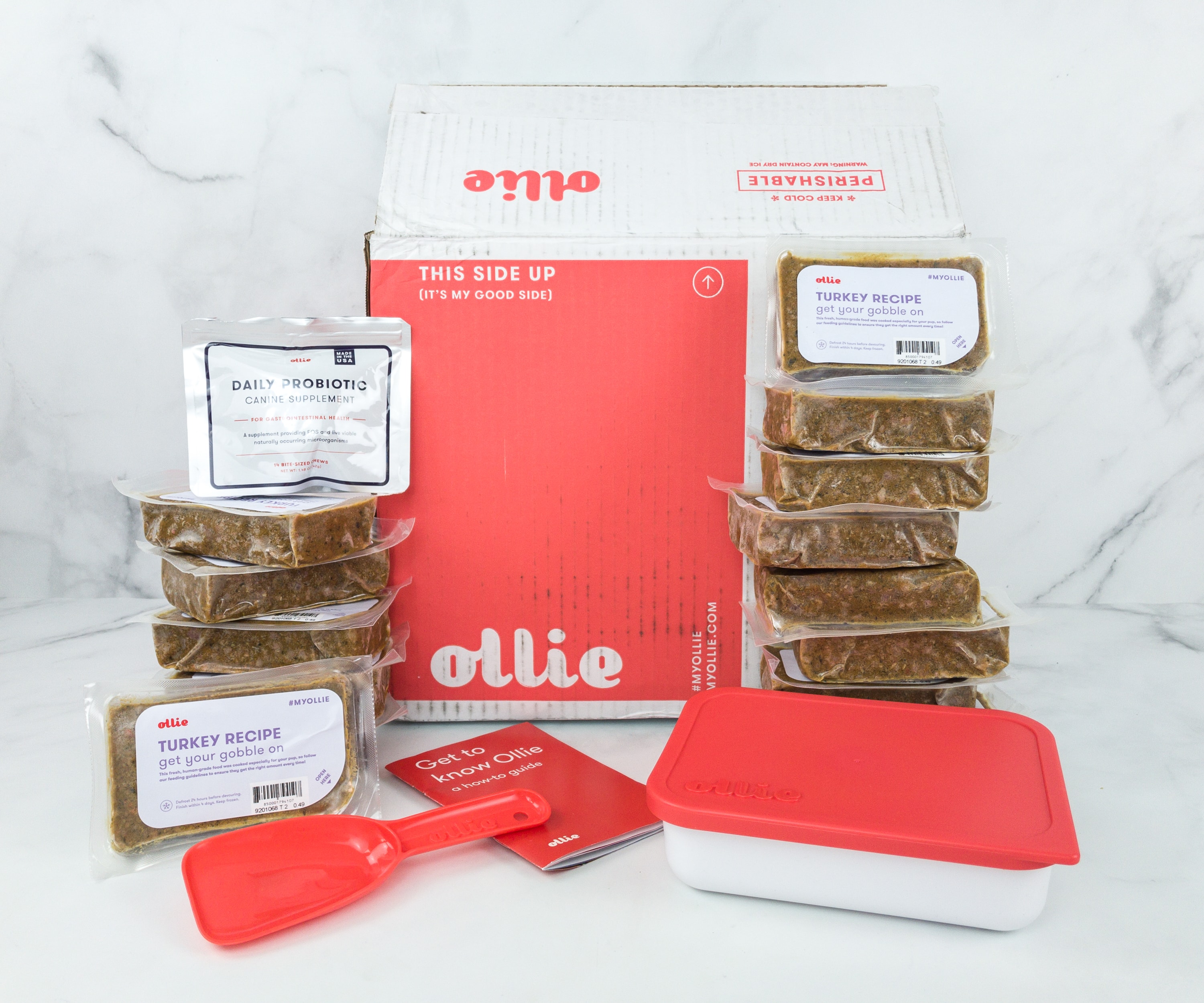 Everything in the Healthy Turkey Feast box!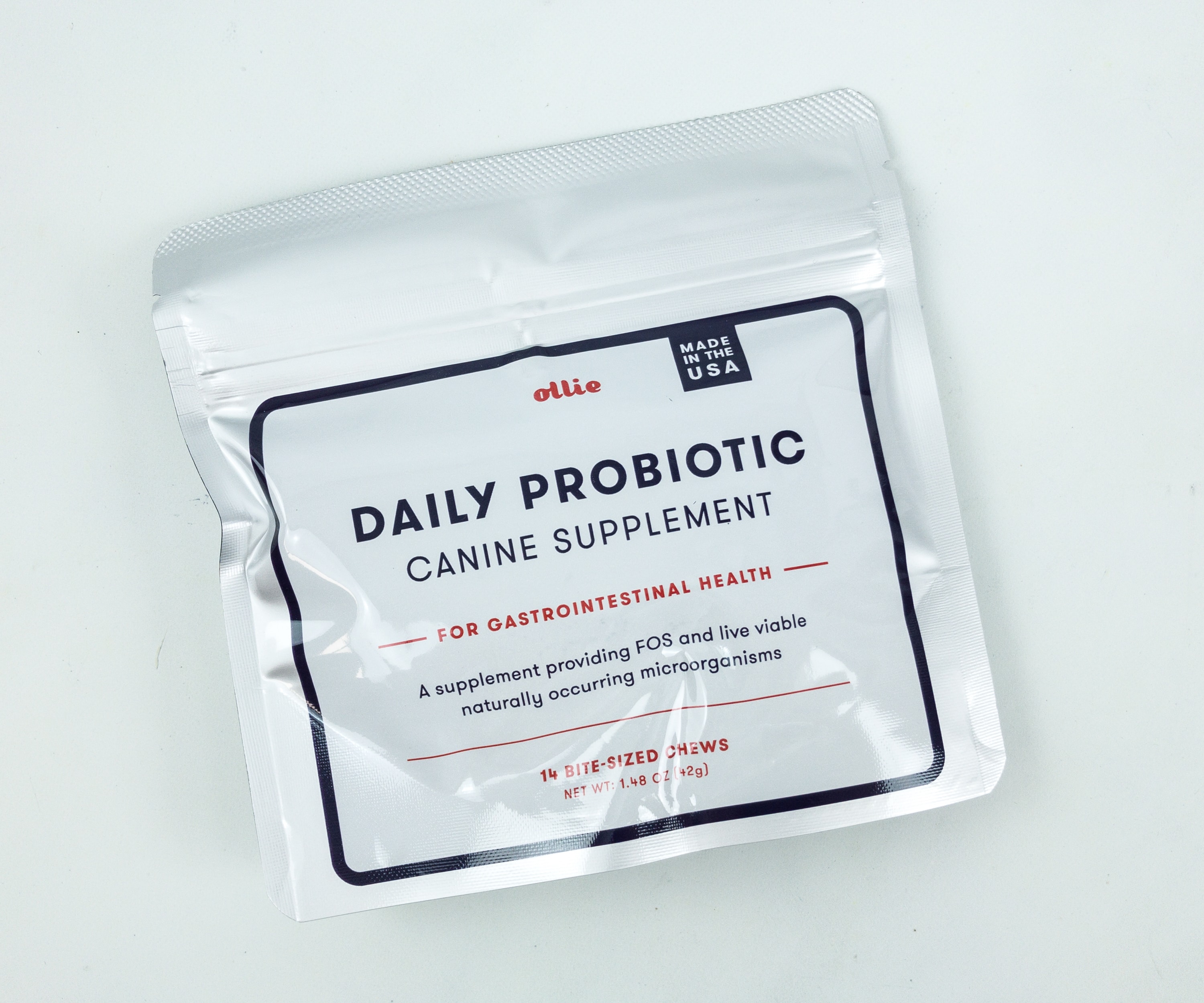 Ollie Daily Probiotic is a canine food supplement specially made for dogs with gastrointestinal health issues. This supplement provides FOS and live naturally-occurring microorganisms.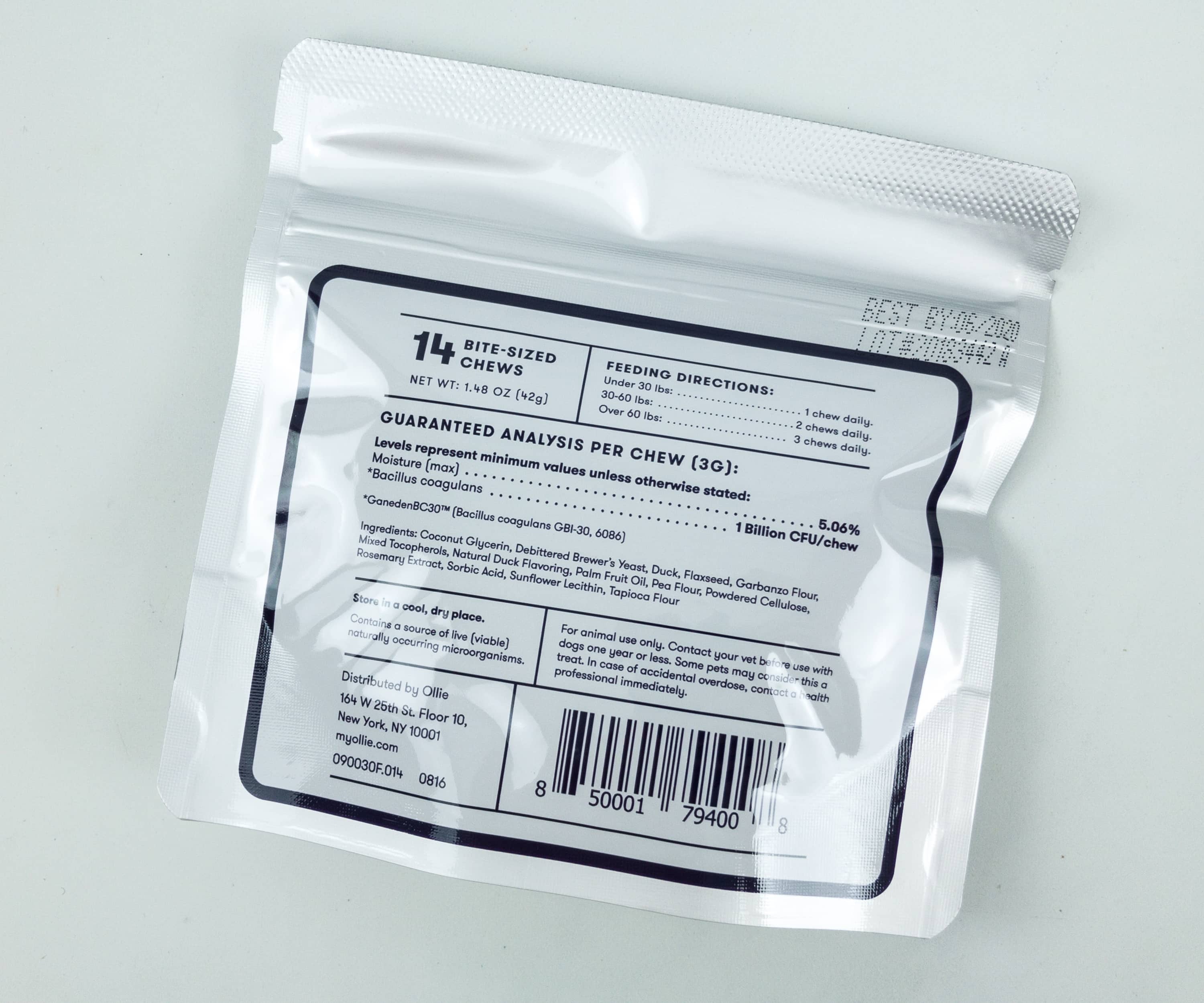 Featured at the back of the pack are all the essential information you need to know about this supplement including feeding directions, nutritional content, and ingredients used.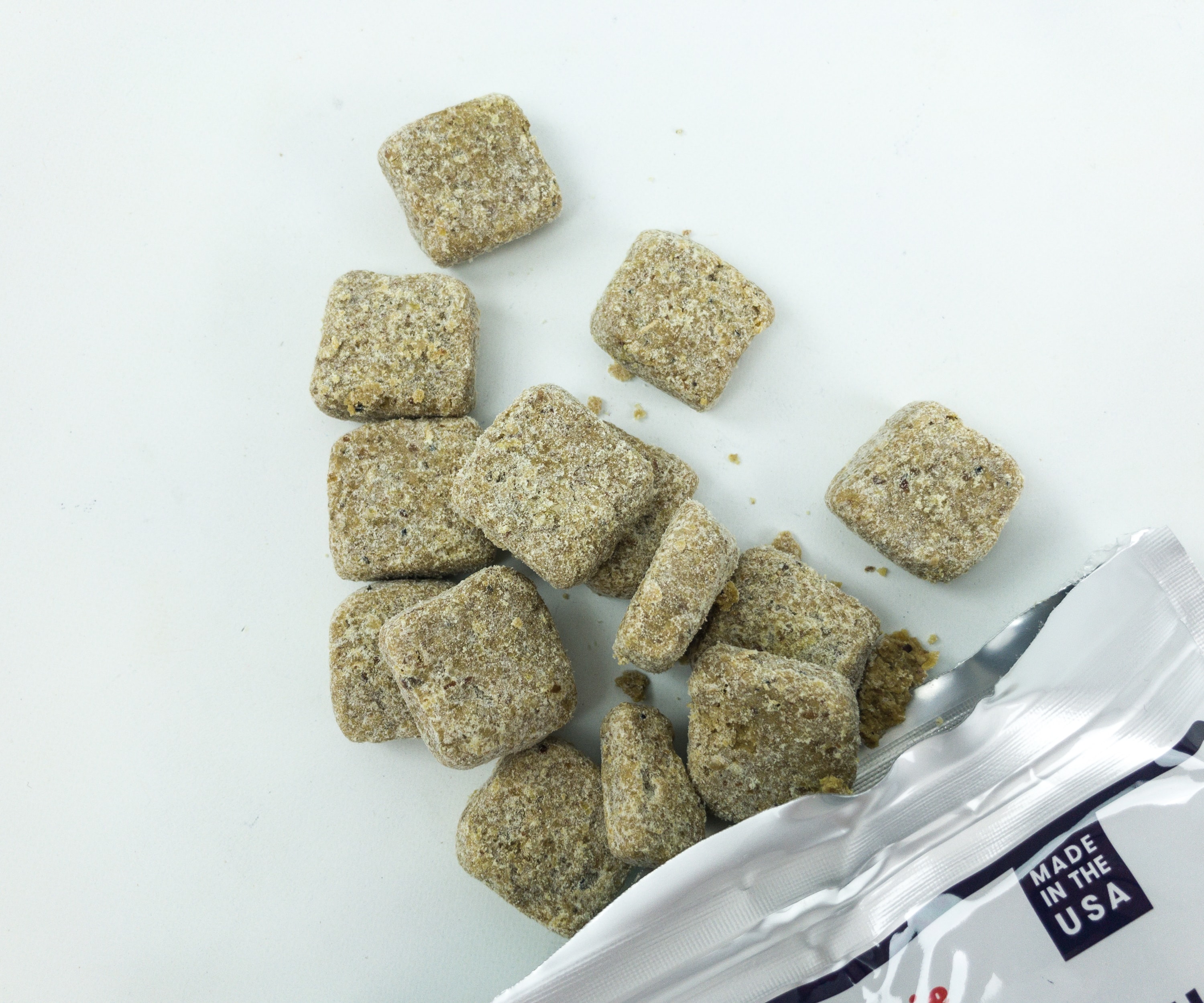 Each pack consists of 14 square-shaped bite-sized pieces of chewy treats. They are perfect for helping your dog's digestive tract adapt to fresh food!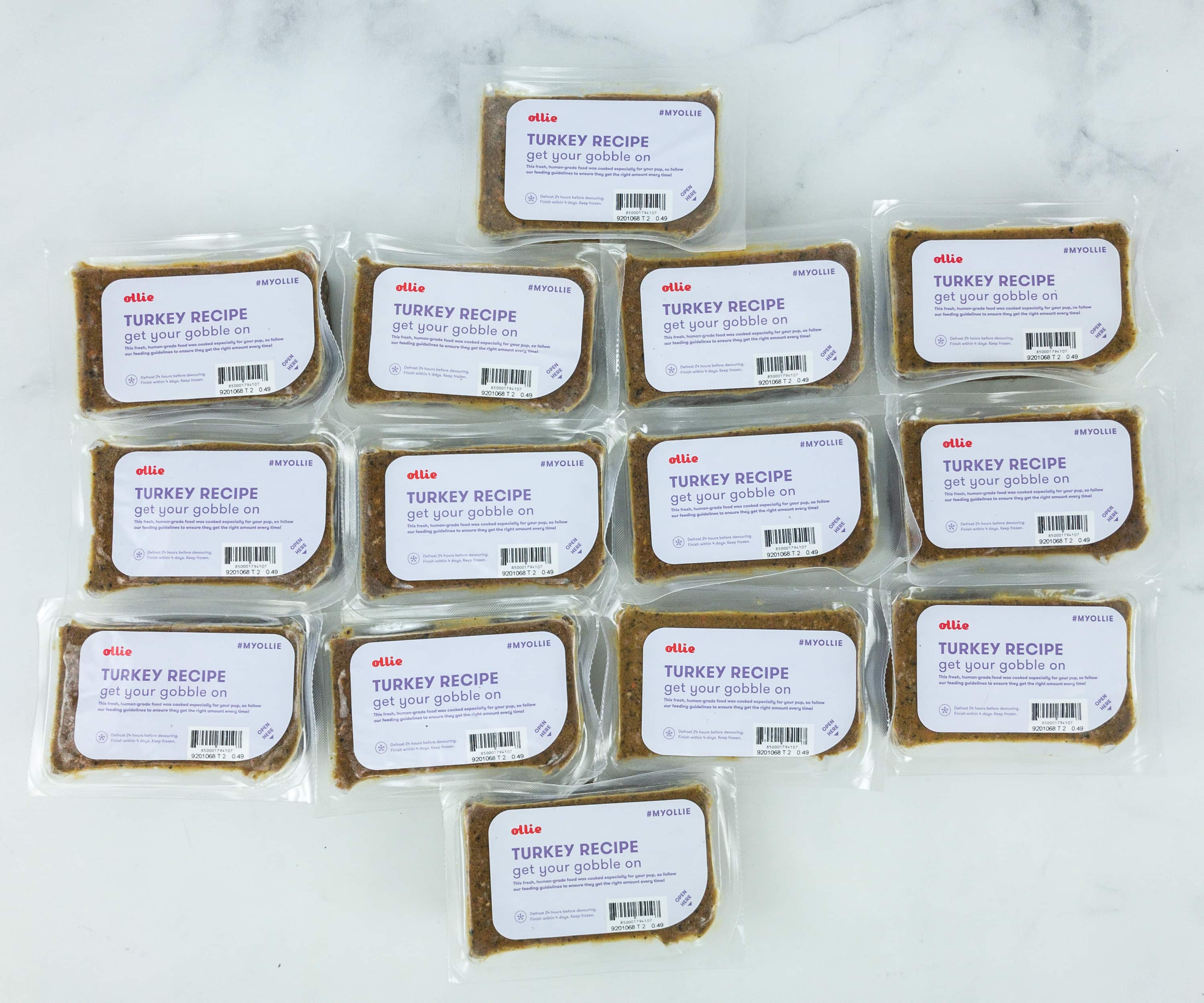 This month's box includes 14 individually-packed Turkey recipe made from human-grade ground turkey, pumpkin, turkey thigh, turkey liver, turkey heart, carrot, turkey gizzard, lentils, kale, and blueberries.
Each meal comes in an easy-to-open bag.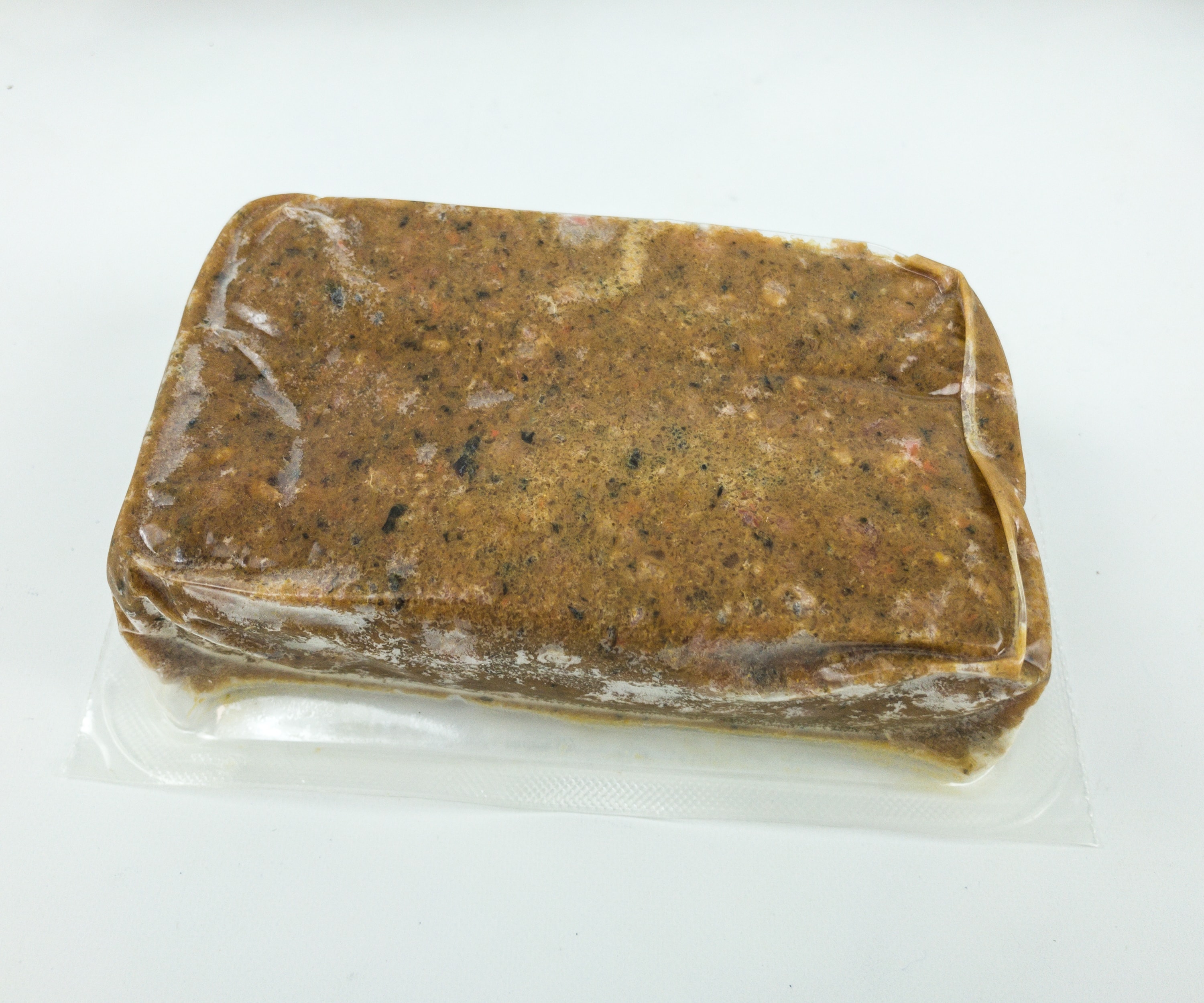 It's a super nutritious dog meal packed with calcium carbonate, zinc, vitamin E, manganese sulfate, and potassium iodate.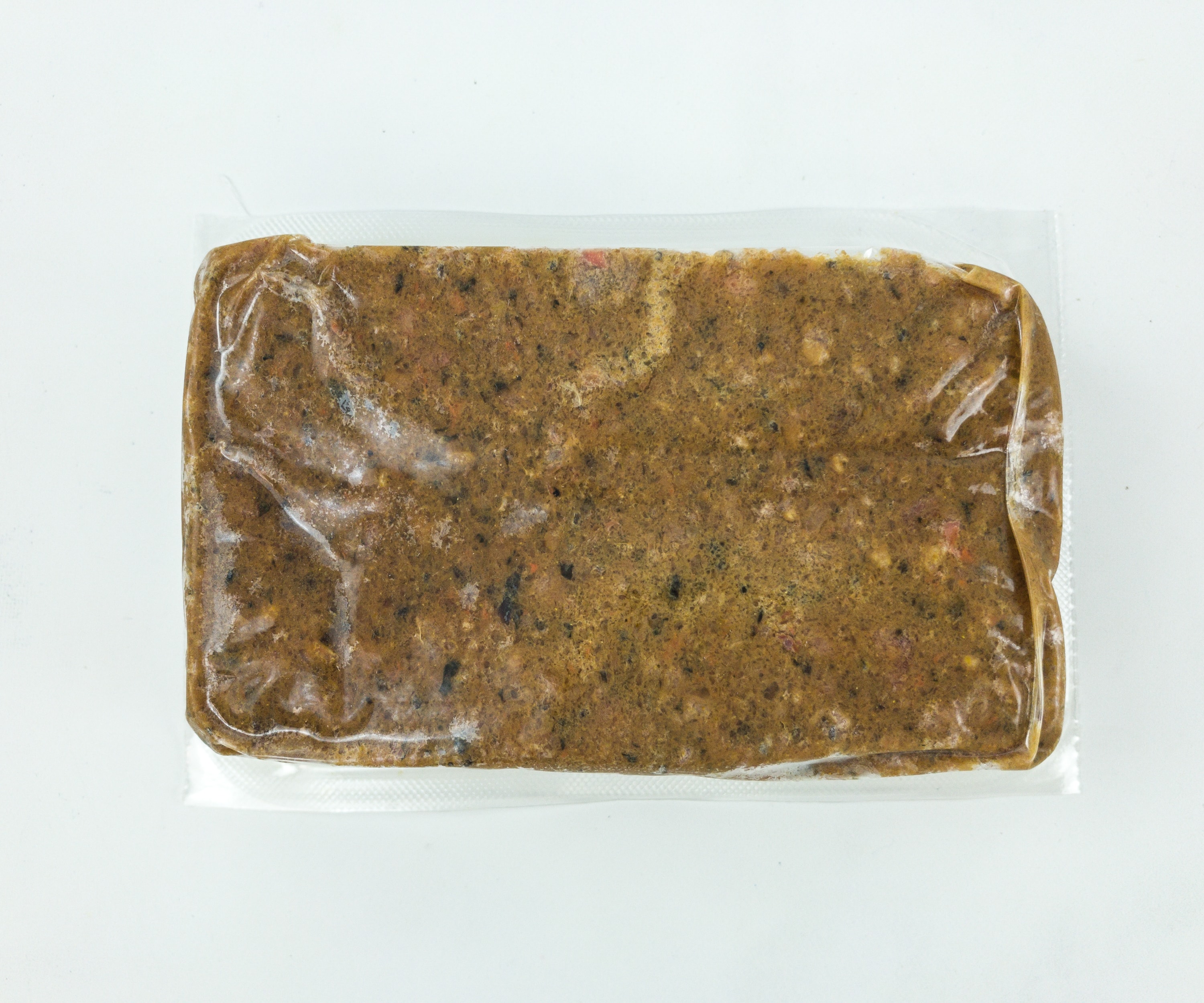 This recipe is also rich in fiber and protein to help keep your dog stronger and healthier.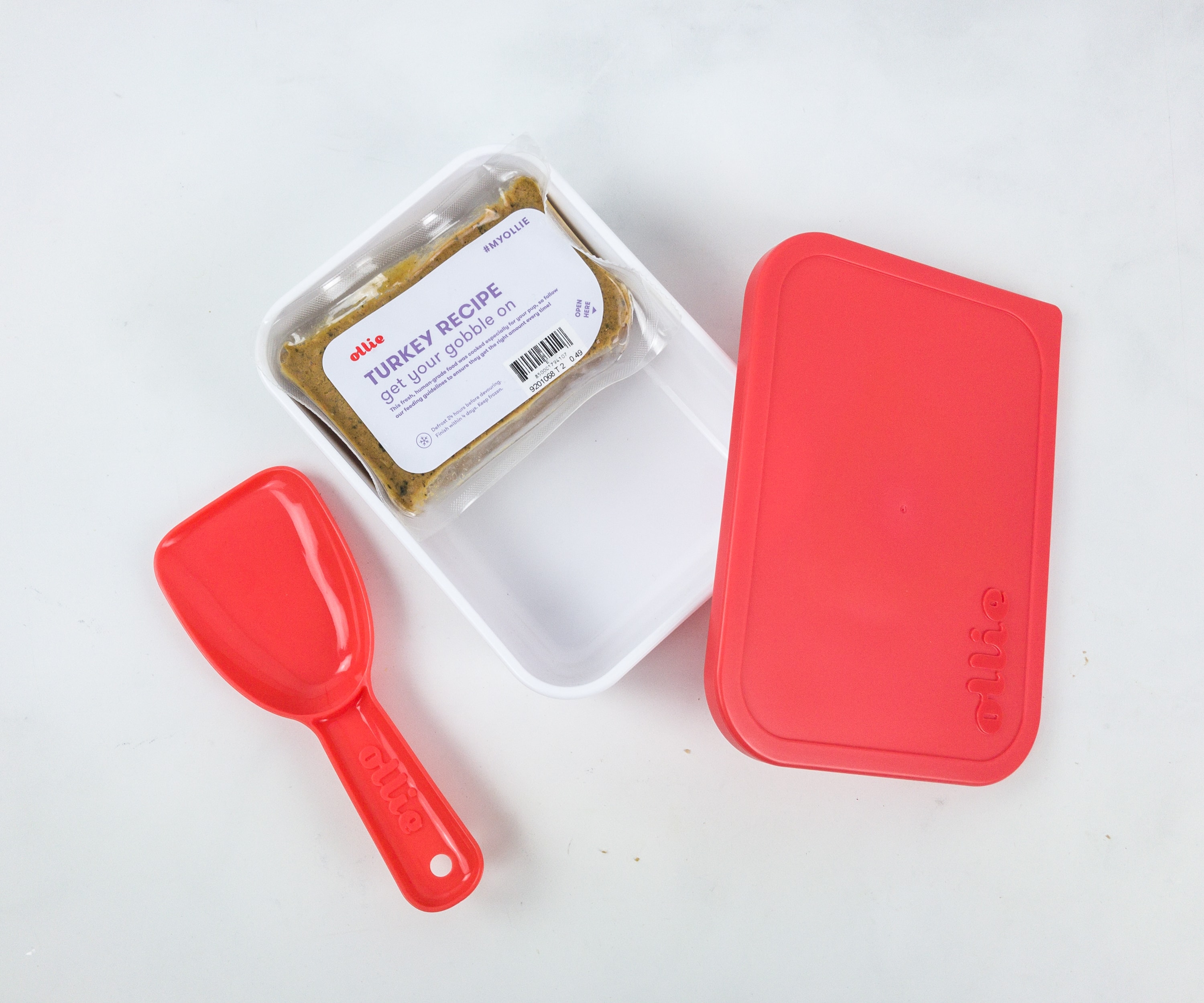 This pup-tainer can accommodate up to 2 bags of treats which is good enough for a whole day of meal white in travel.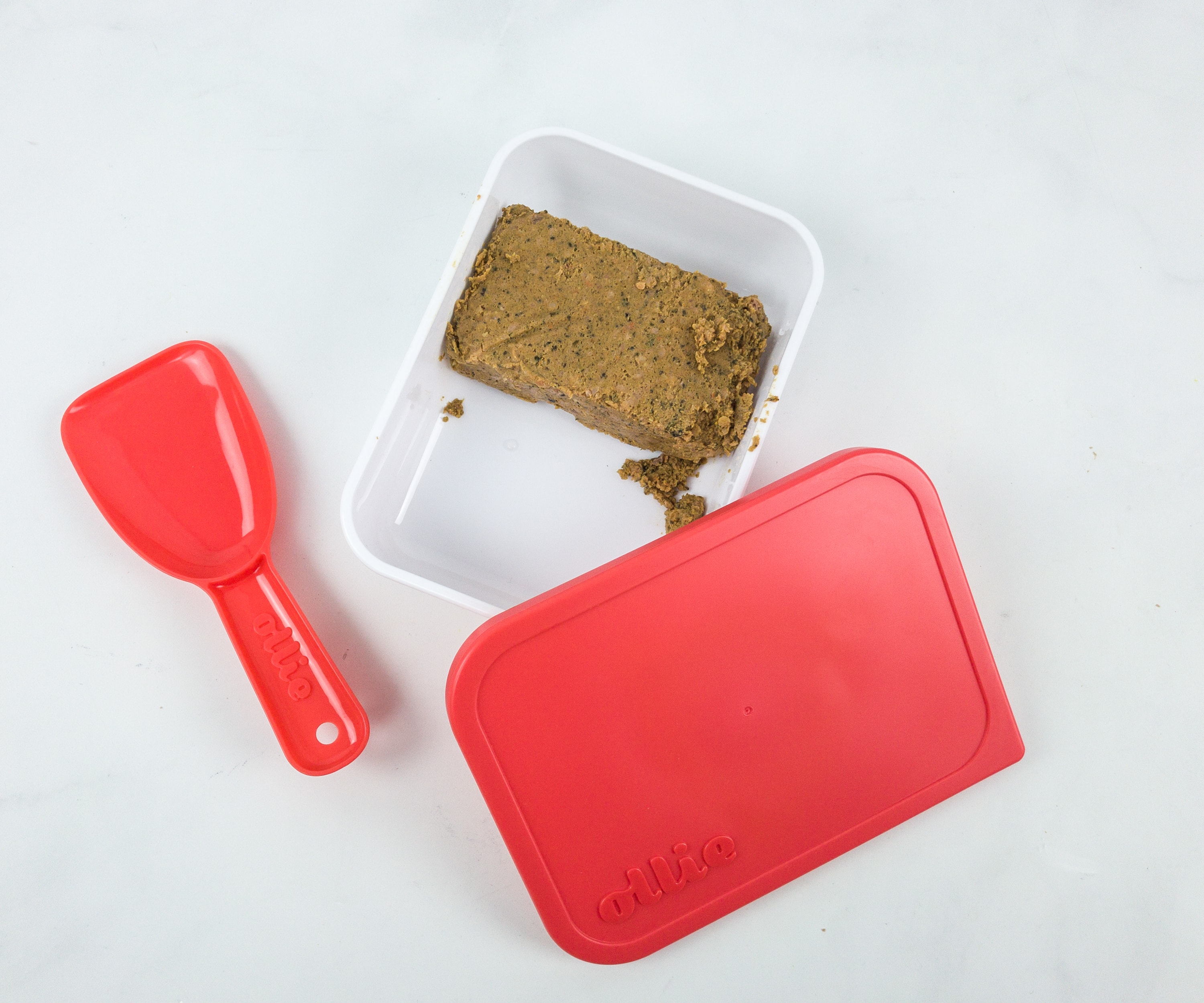 It can also be used as a container to safe-keep the food which was opened but not yet consumed by your pups.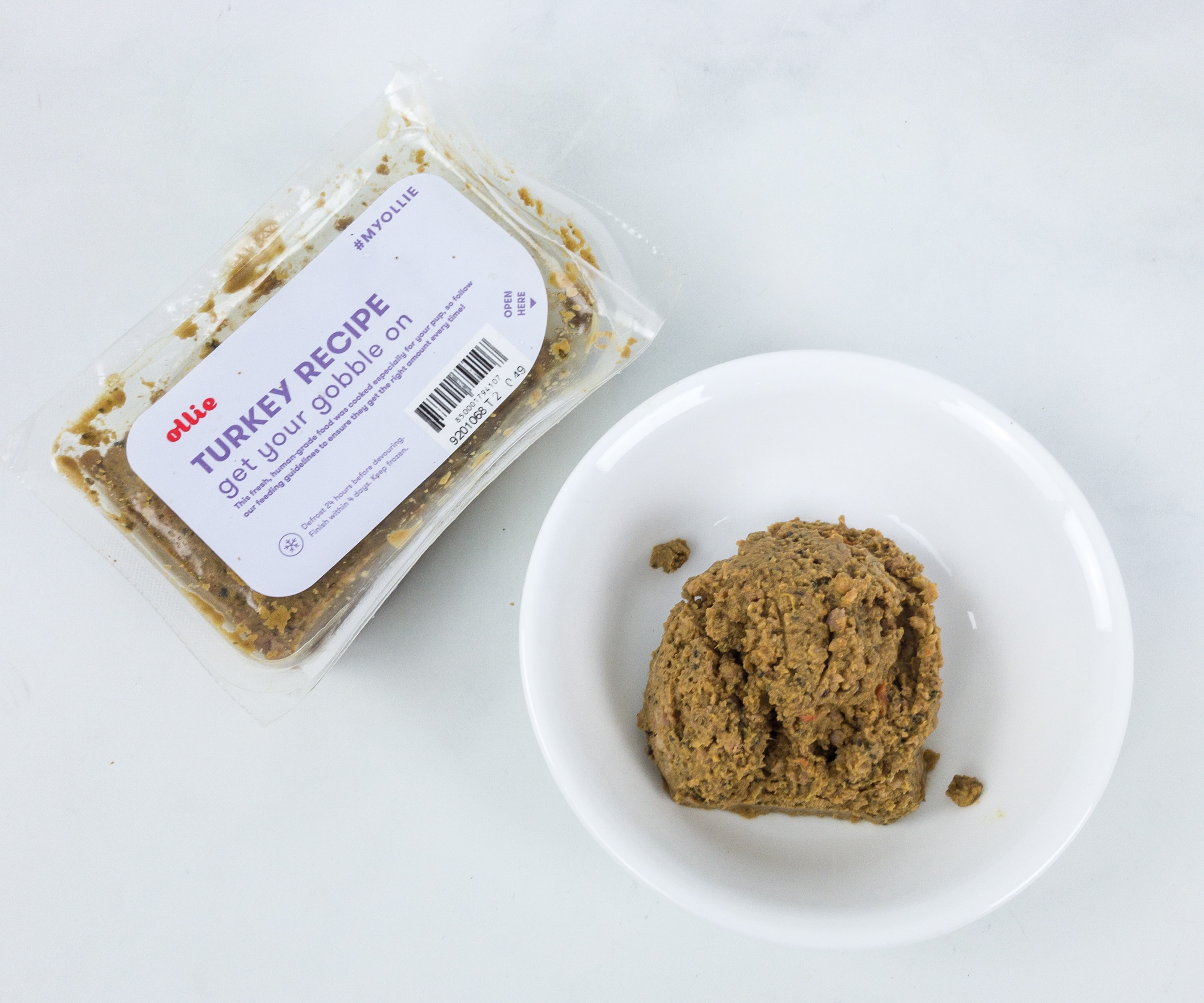 According to the feeding guidelines, Lindy should take at least 1/2 pack per meal twice a day.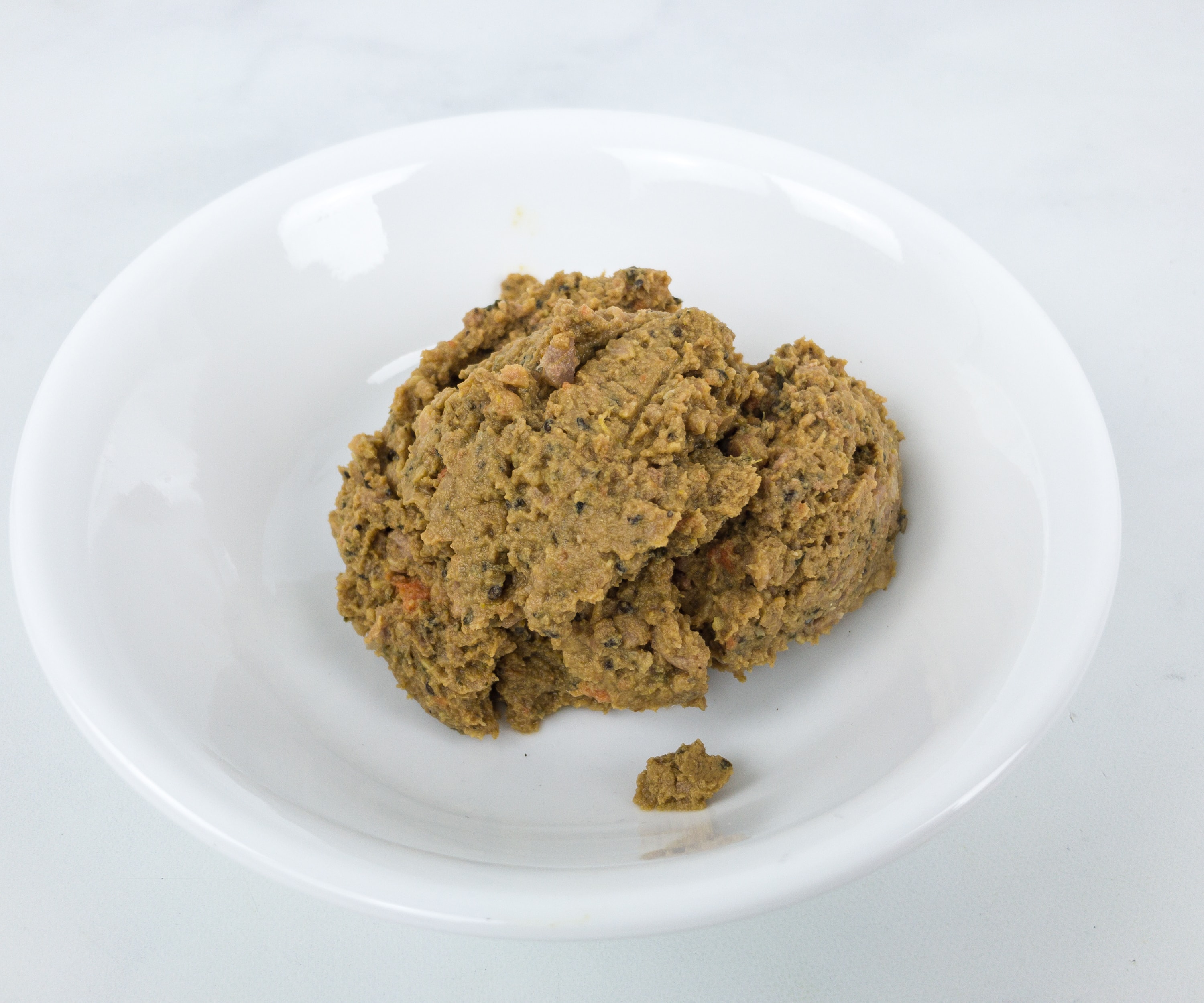 I just opened the pack and transferred it to the bowl, and that's it. It's ready to serve.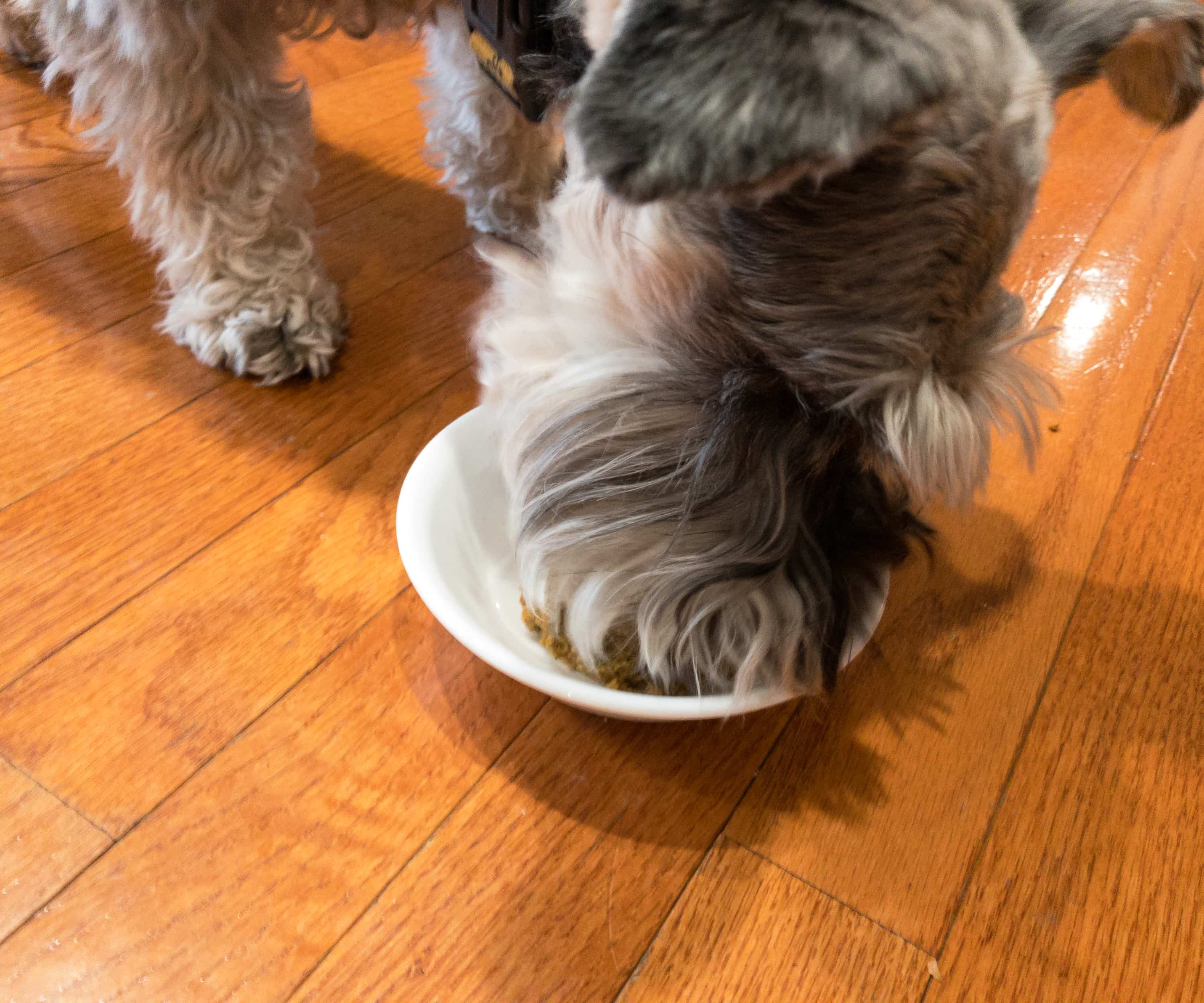 Lindy immediately gobbled down the meal after I served it.
Look, she's so busy munching on her meal!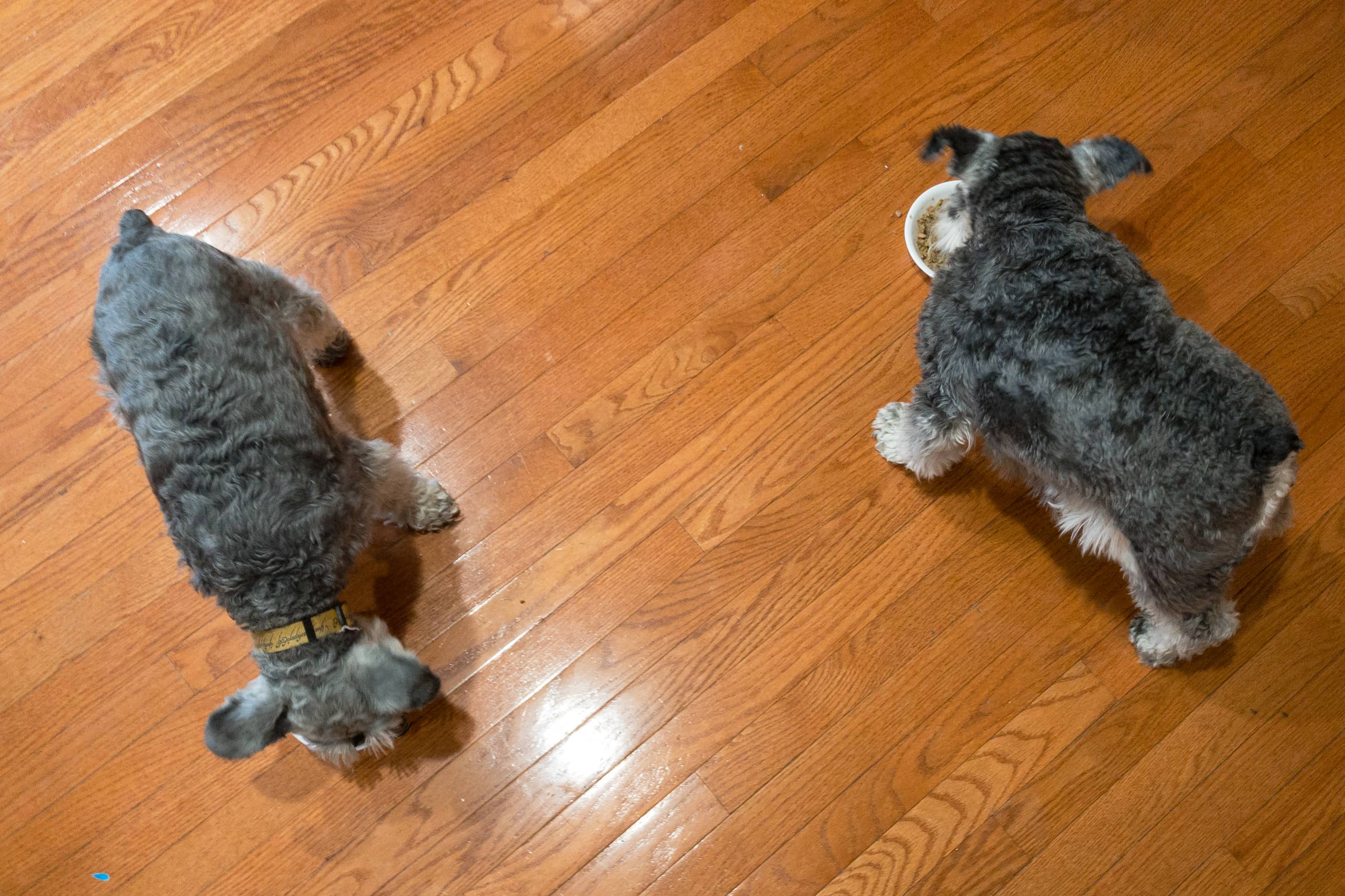 Of course, our other pup Dean had to try the meal too! They both loved it so much!
Ollie never fails! Lindy loves her dog food so much, she ate everything until the last little morsel. This month's box is way much more than I expected, as everything came well-packed and they even included some bonus items such as the pup-tainer and serving spoon – it makes feeding time so danged easy! The booklet was so detailed and very informative too. It contains a lot of tips and useful information about the proper way of feeding the pups. One more thing about this subscription is that they donate a part of their revenue in assisting some organizations that rescue and provide aid to animals in need. Our dogs deserve only the best, and it's exactly what Ollie delivers!
What do you think of Ollie?