NOSEJOY is a monthly subscription box that sends items that smell absolutely amazing! Make your nose happy with lovely smelling soaps, candles, lotions, and more for $34.95, which includes shipping. Each box will be curated to the season and will include upscale and boutique brands.
Your sense of smell is strongly tied to your emotions. Good smells create good vibes! With NOSEJOY, you can experience smell-good happiness throughout your day – a fresh soap in the bath, an energizing candle at your desk, or a delicious lotion on your skin. The best part is that you can use and enjoy these things knowing new premium goods are on the way!
DEAL: Get $5 off your first box! Use coupon code HELLO5.
Every month I try to guess what scent will be featured based on the sticker that's placed on the outside of the box (see previous picture). Looks like it's going to be a relaxing month!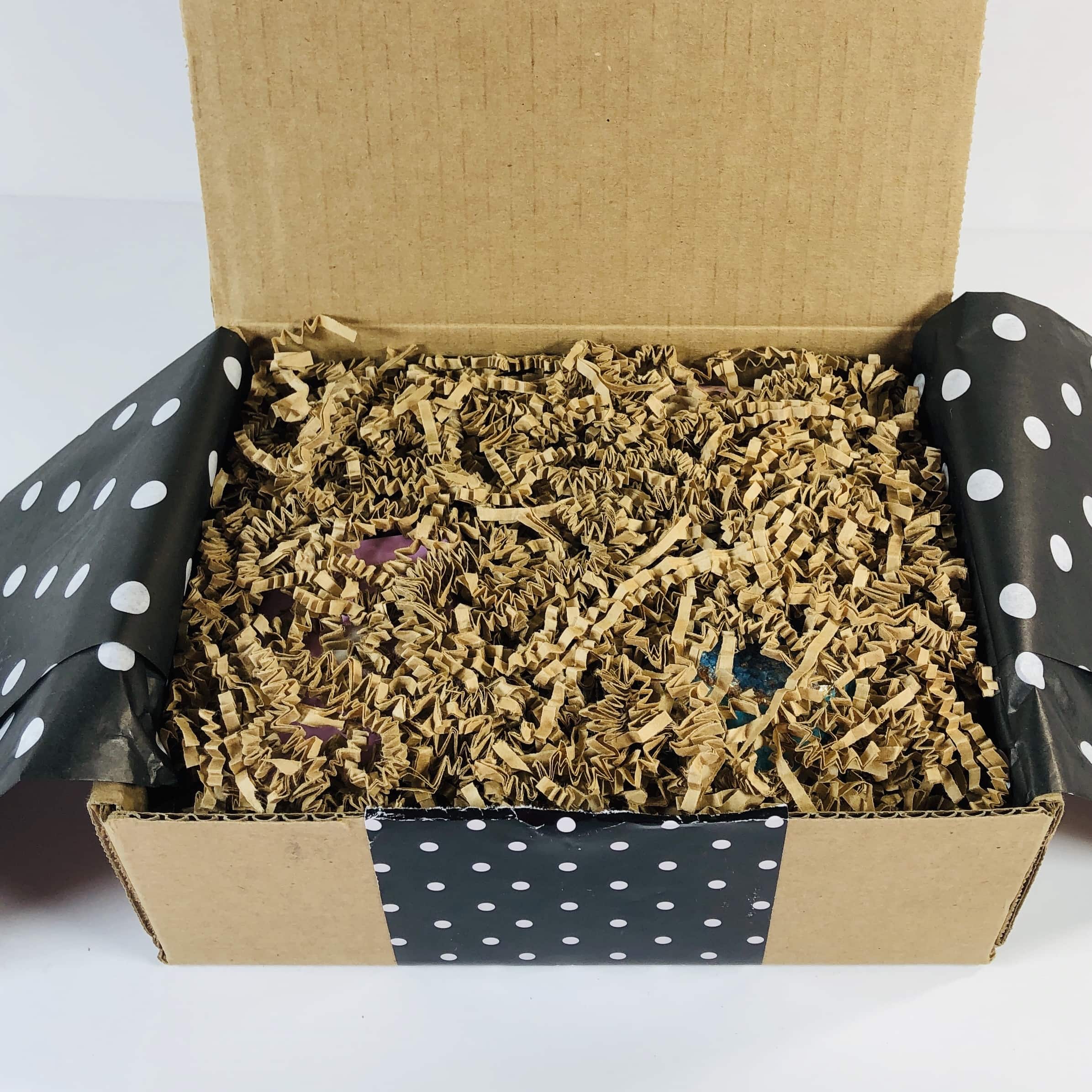 Everything was tucked into shredded paper squiggles.
I found a card that announced the April theme, Keep Calm.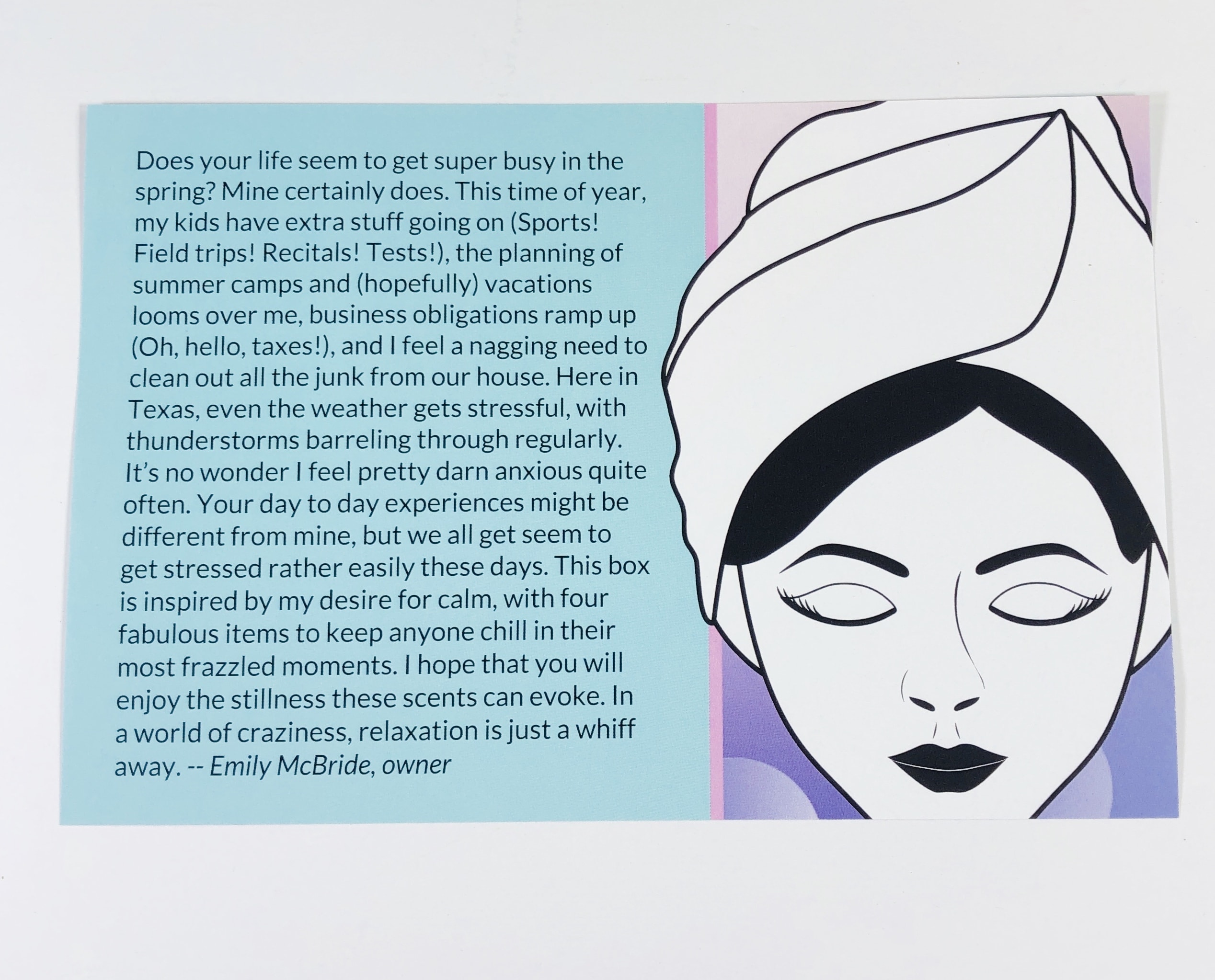 The back of the card gave a little intro to this month's theme and items.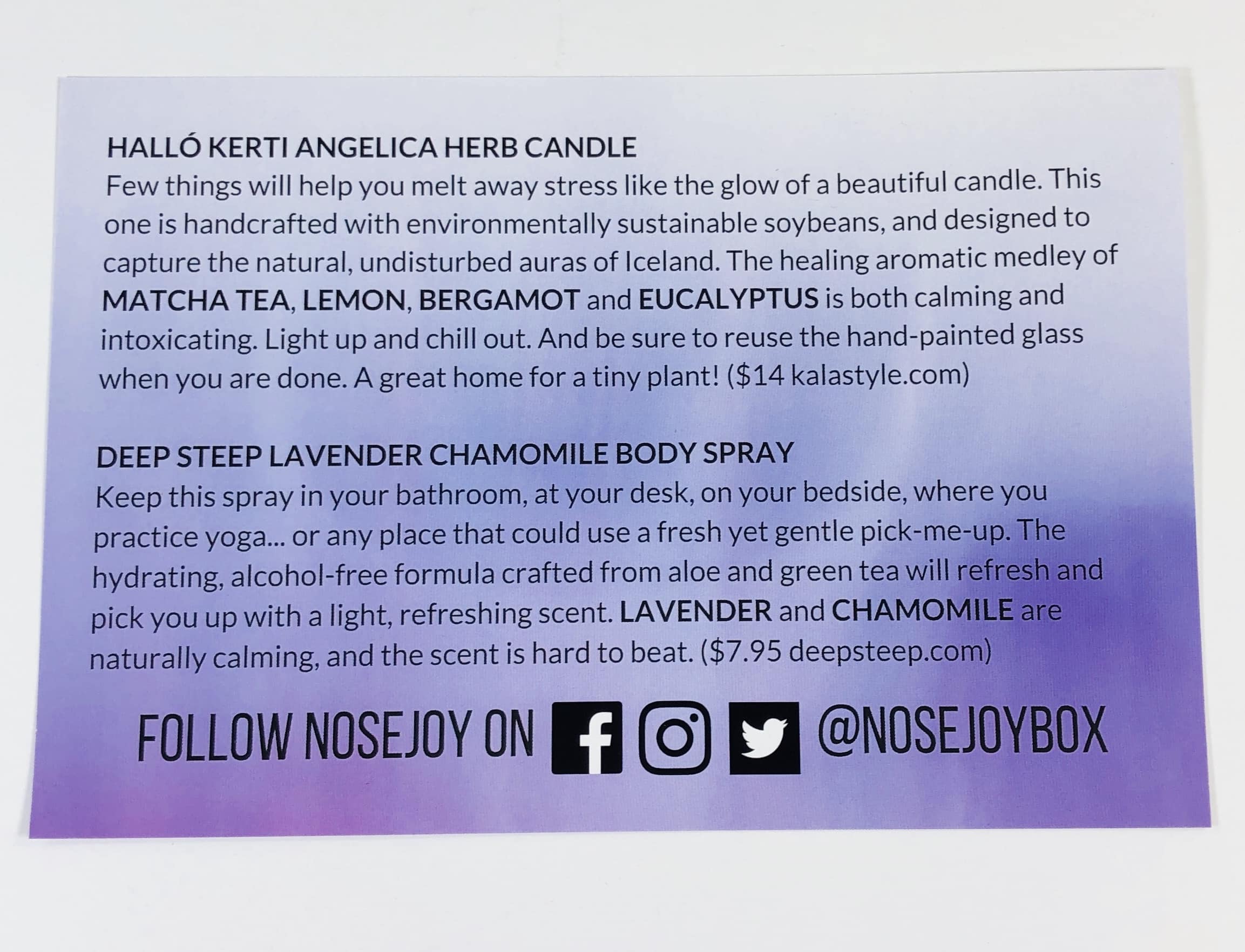 Next was an insert on the products.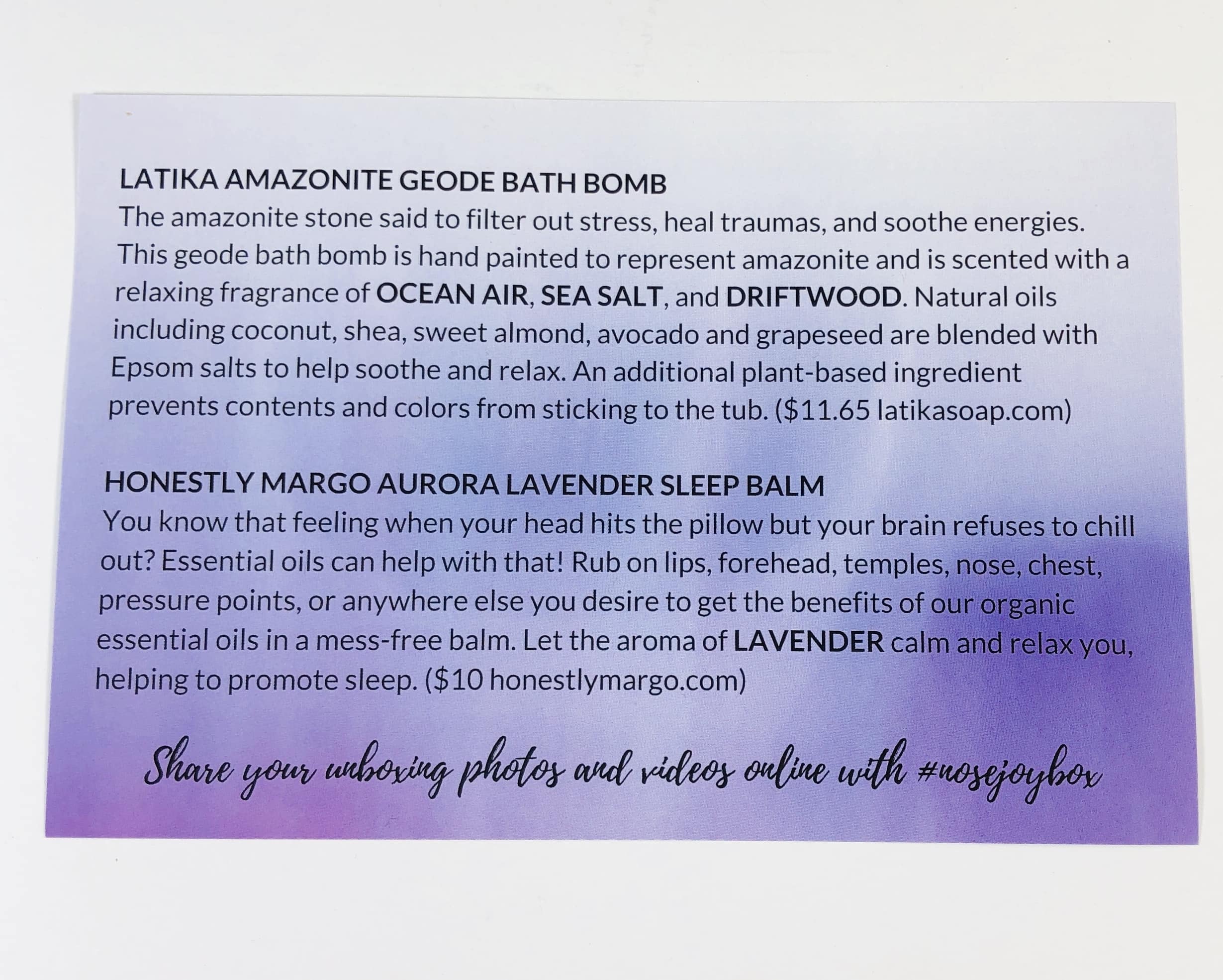 The insert gave a little info for each item, its MSRP, and listed a website in case you need more.
The items not only smell good, they are also pretty to look at and fun to use. It's no secret that this is one of my favorite subscription boxes!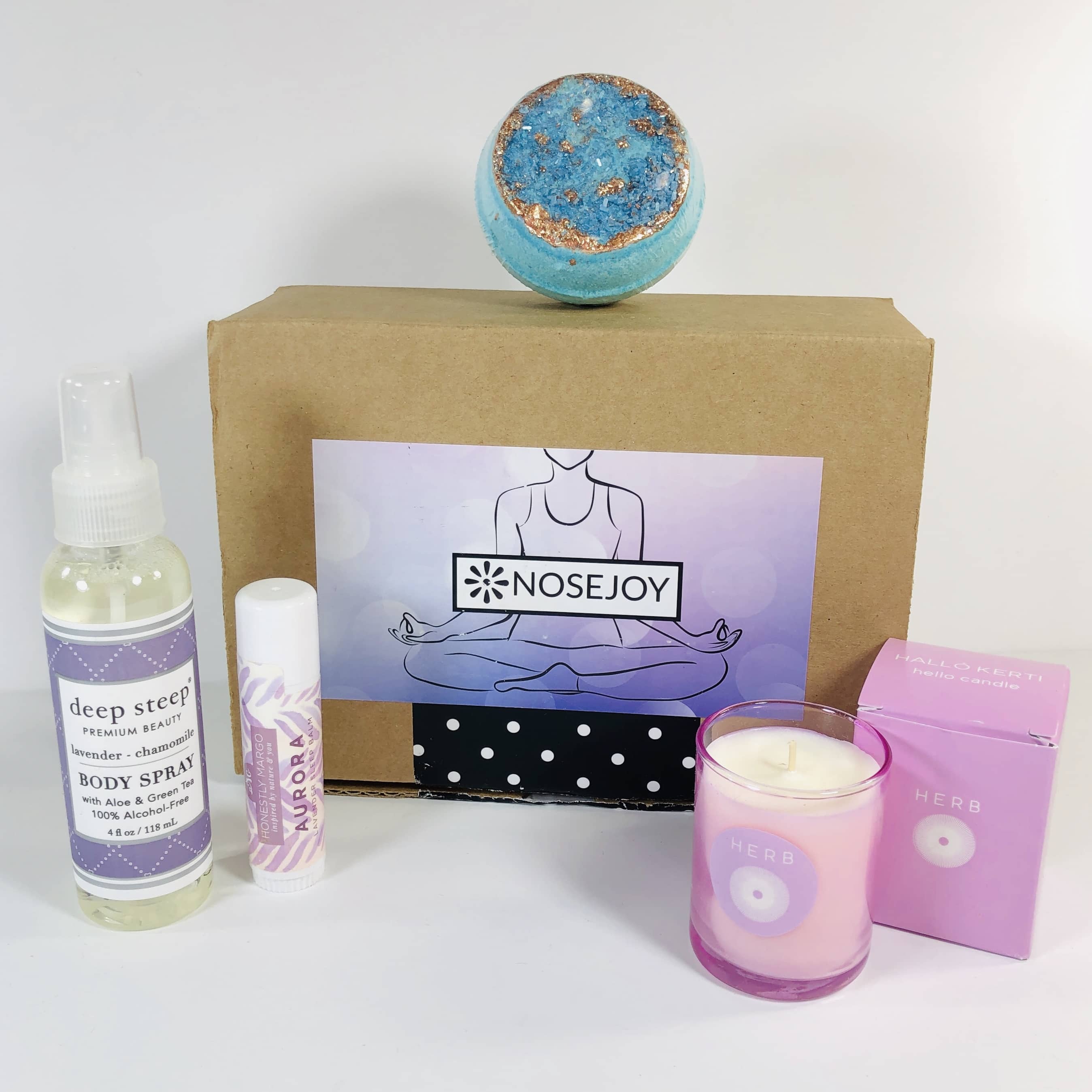 Everything in my April 2019 NOSEJOY box!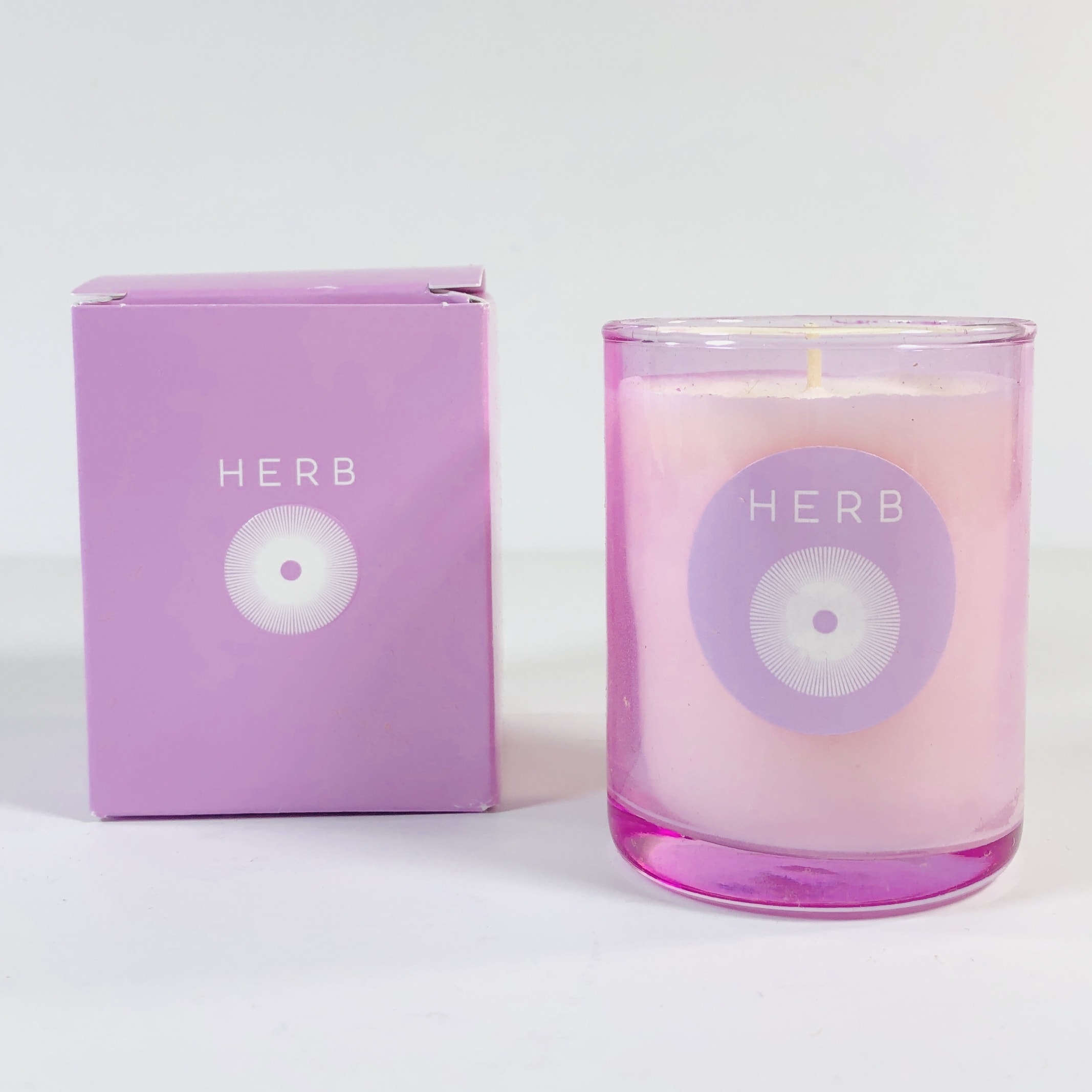 Halló Kerti Angelica Herb Candle ($14) For a small candle this one sure packed a punch with its beautiful fragrance!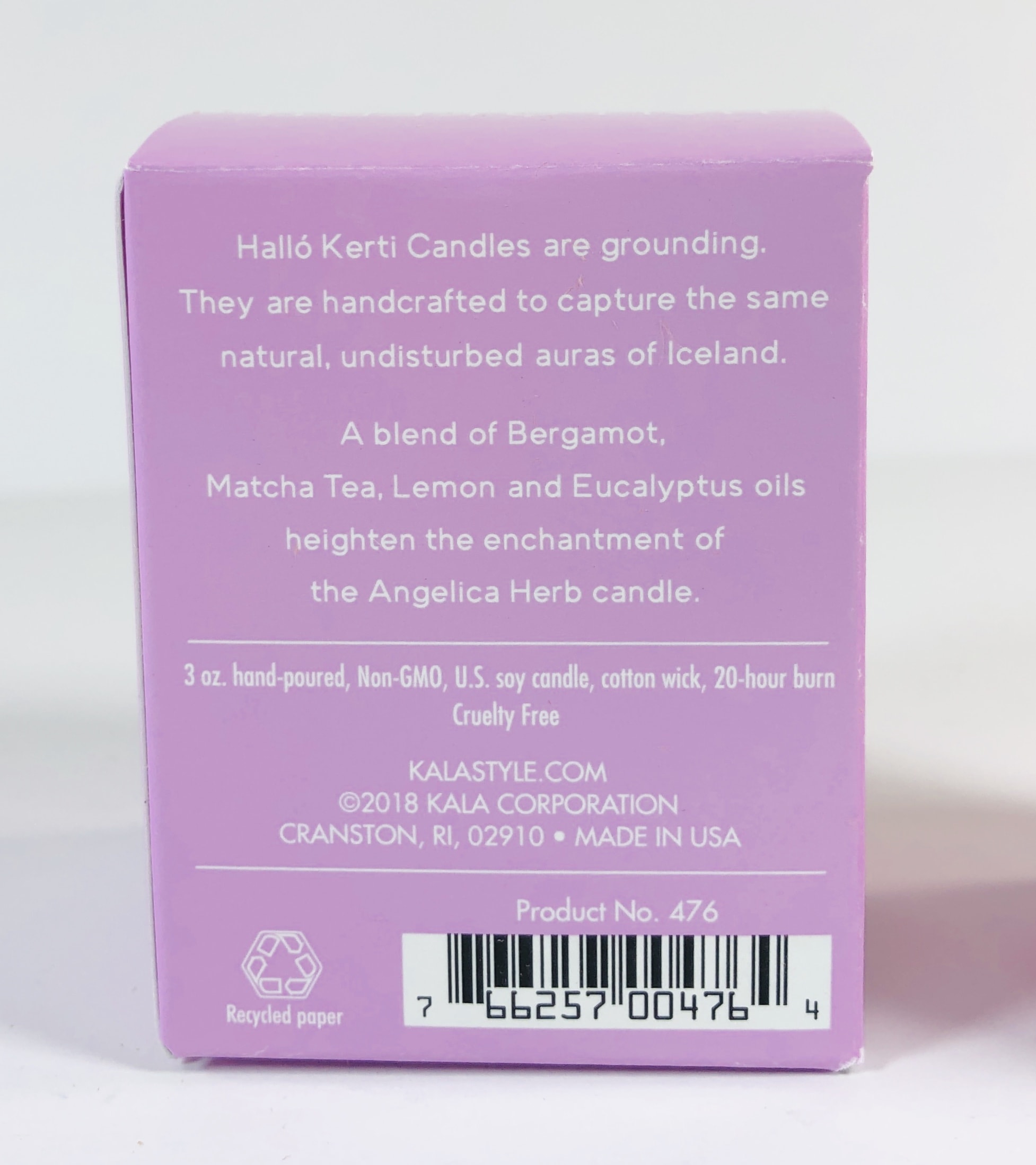 Info about the candle was on the box, and I thought it was neat that it is inspired by Iceland.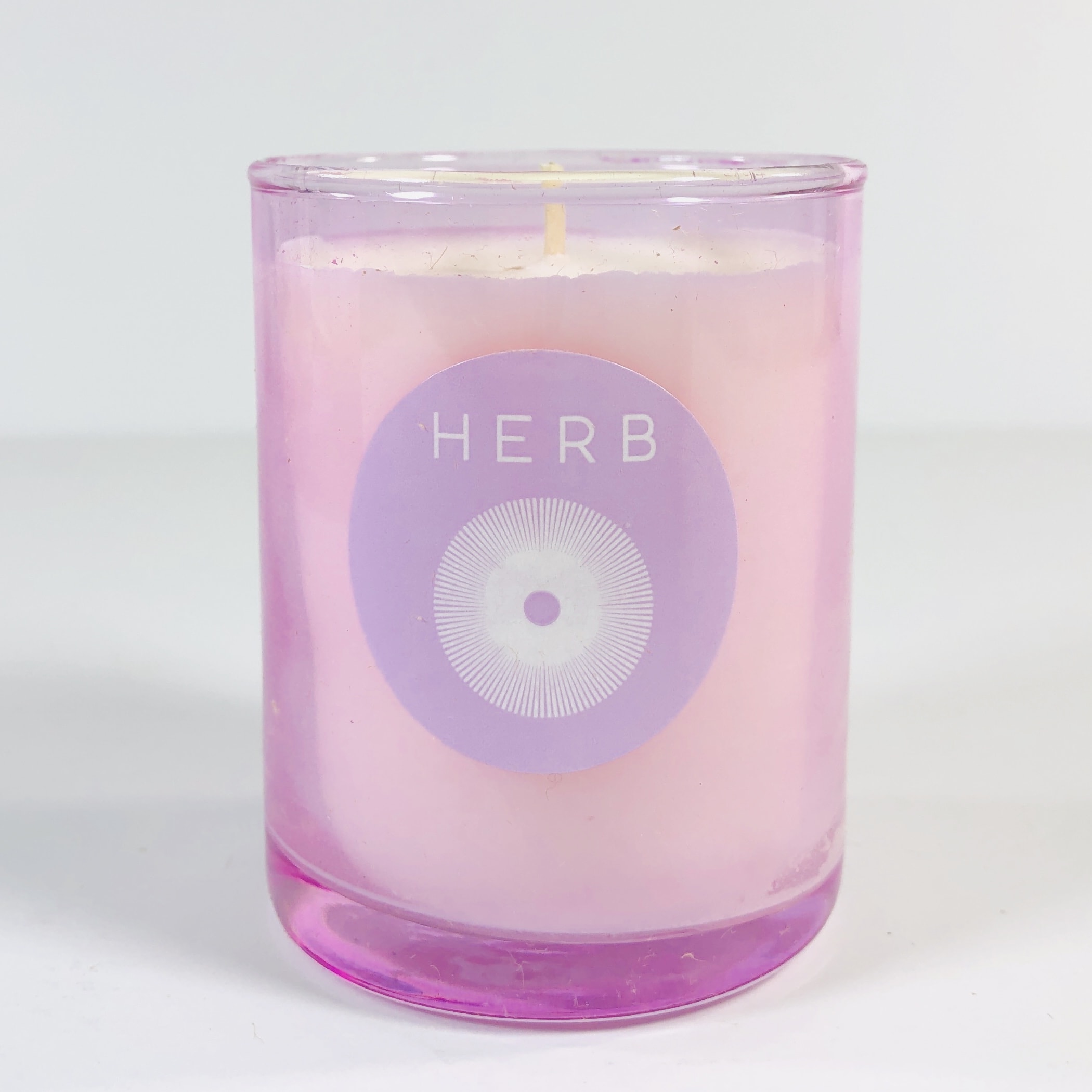 The burn time is around 20 hours for this soy candle. The scent has notes of bergamot, lemon, and matcha tea and smells clean with floral notes among the citrus. It also had good throw, both cold and hot.

Latika Amazonite Bath Bomb ($11.65) Wait until you see the front of this bath bomb, it is absolutely beautiful!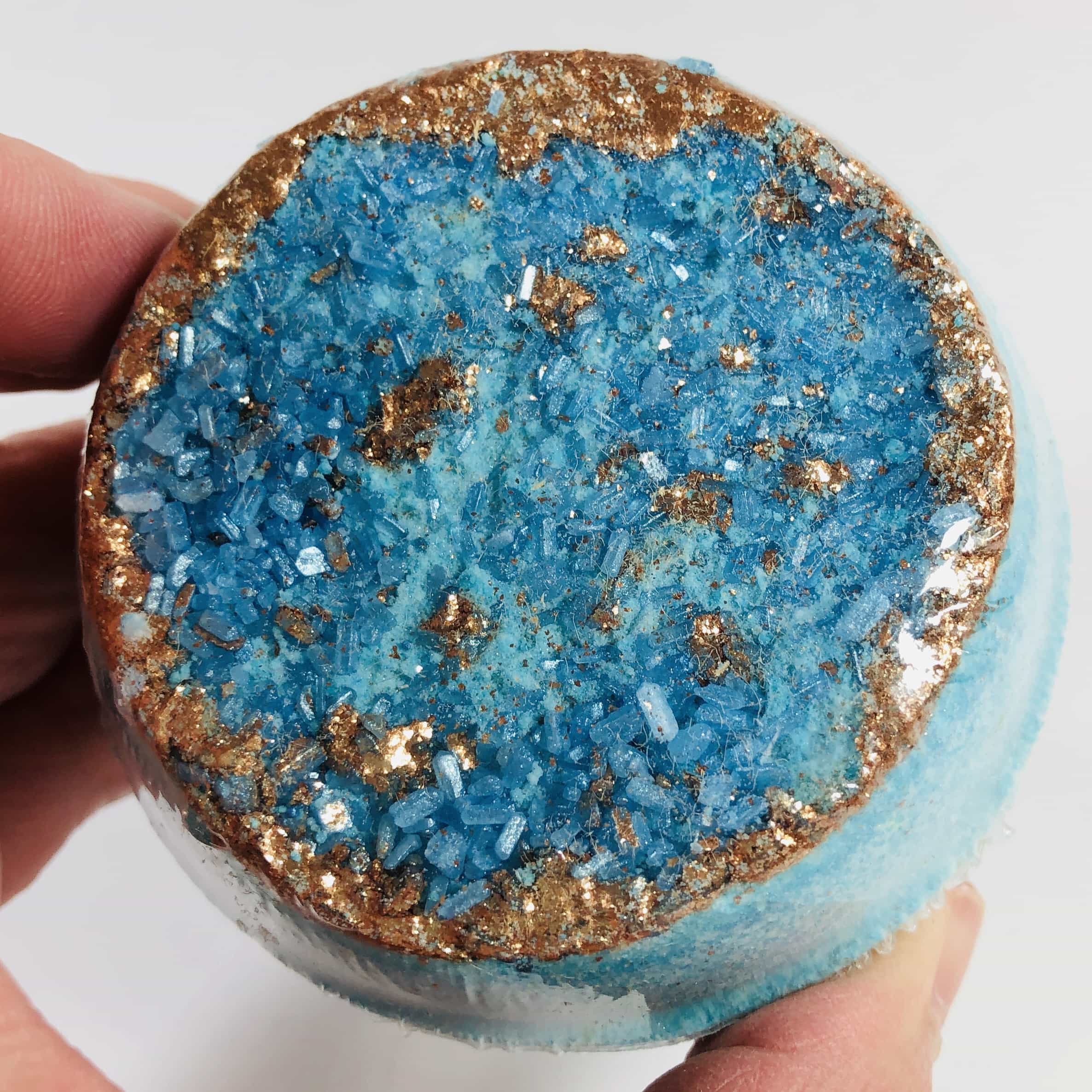 It looks like a geode! I've never seen anything like this before and it is pretty huge, too. Drop into a tub and let the scent of ocean air, sea salt, and driftwood help you drift into a blissful state. Made of baking soda, citric acid, and plant oils, this bomb is scented with phthalate-free fragrance that smells lovely. Make sure to open over the bathtub because some of the "crystals" are loose and are better in the tub and not on the floor!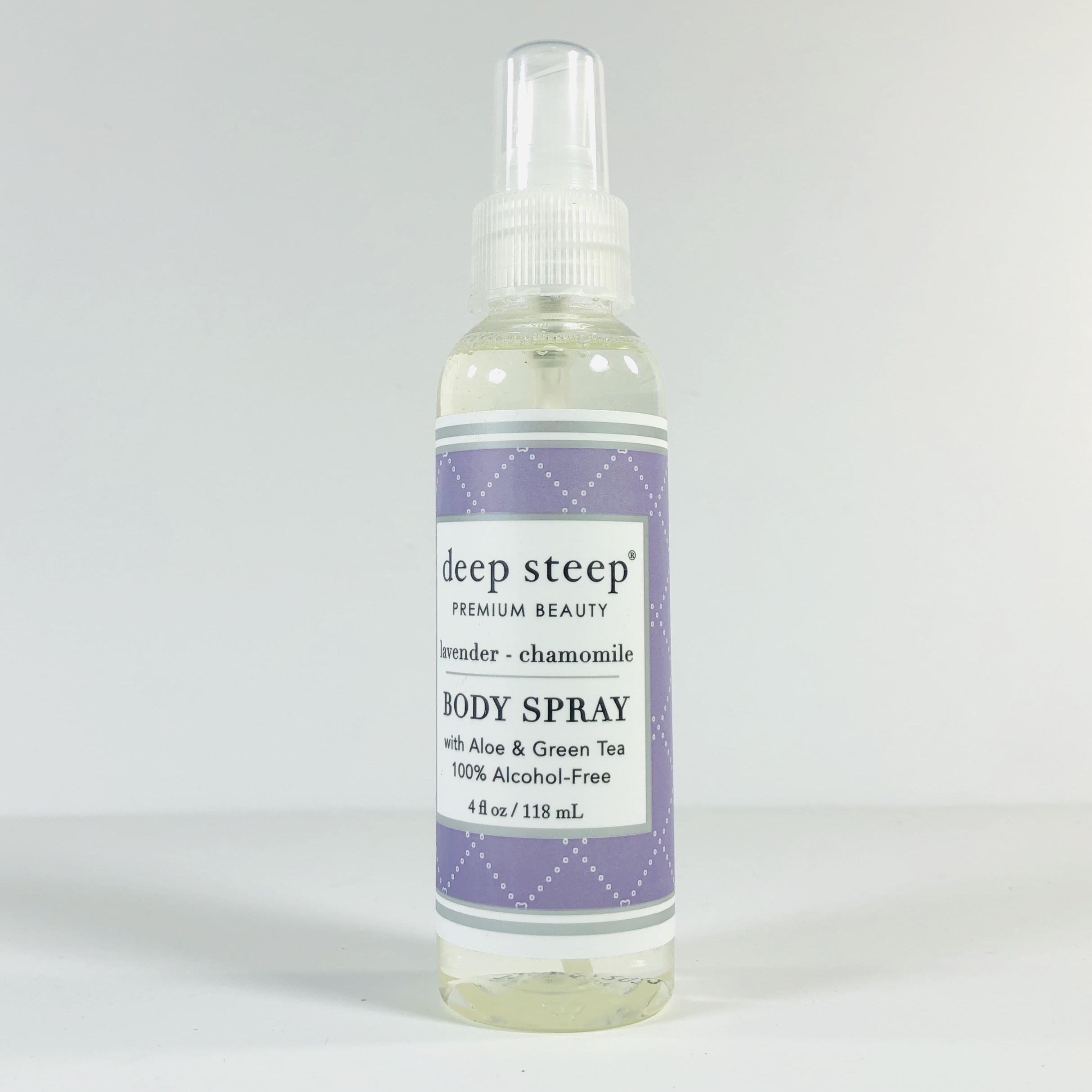 Deep Steep Lavender-Chamomile Body Spray ($7.95) A quick spritz before bed or whenever you need a bit of tranquility is easy to achieve when you use this body spray featuring lavender, orange, and chamomile essential oils.
Ingredients are listed on the bottle. I sprayed some on my arms and was surprised to see it was foamy. It also left behind a sticky feeling. The scent was ok, but I think this product was a miss for me, which rarely (if ever) happens with this subscription.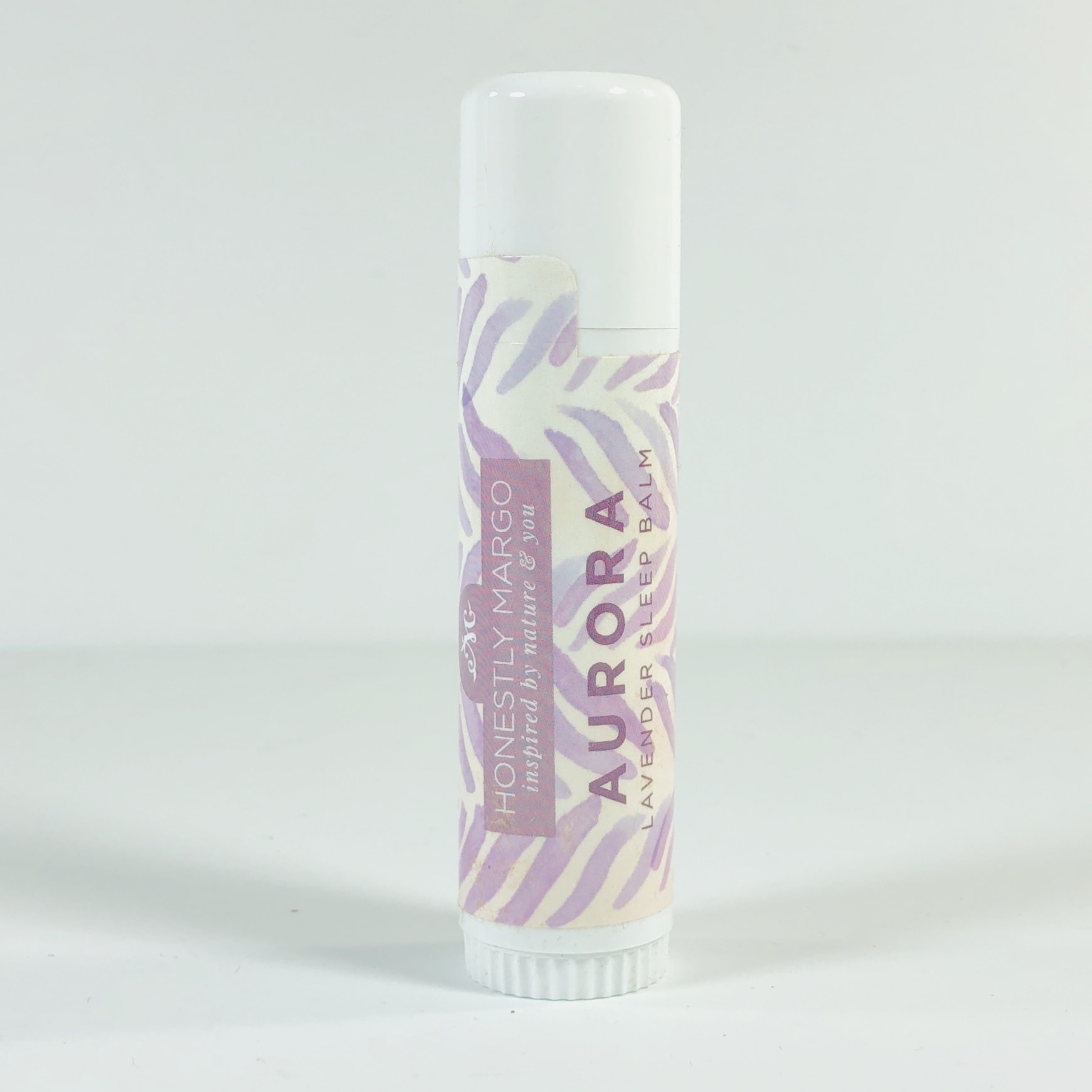 Honestly Margo Aurora Lavender Sleep Balm ($10) The idea behind this convenient balm is to apply essential oils without a big production or mess. Simply rub it on skin and go!
The ingredients are simple and natural – just plant oils, beeswax, and essential oils for the most part.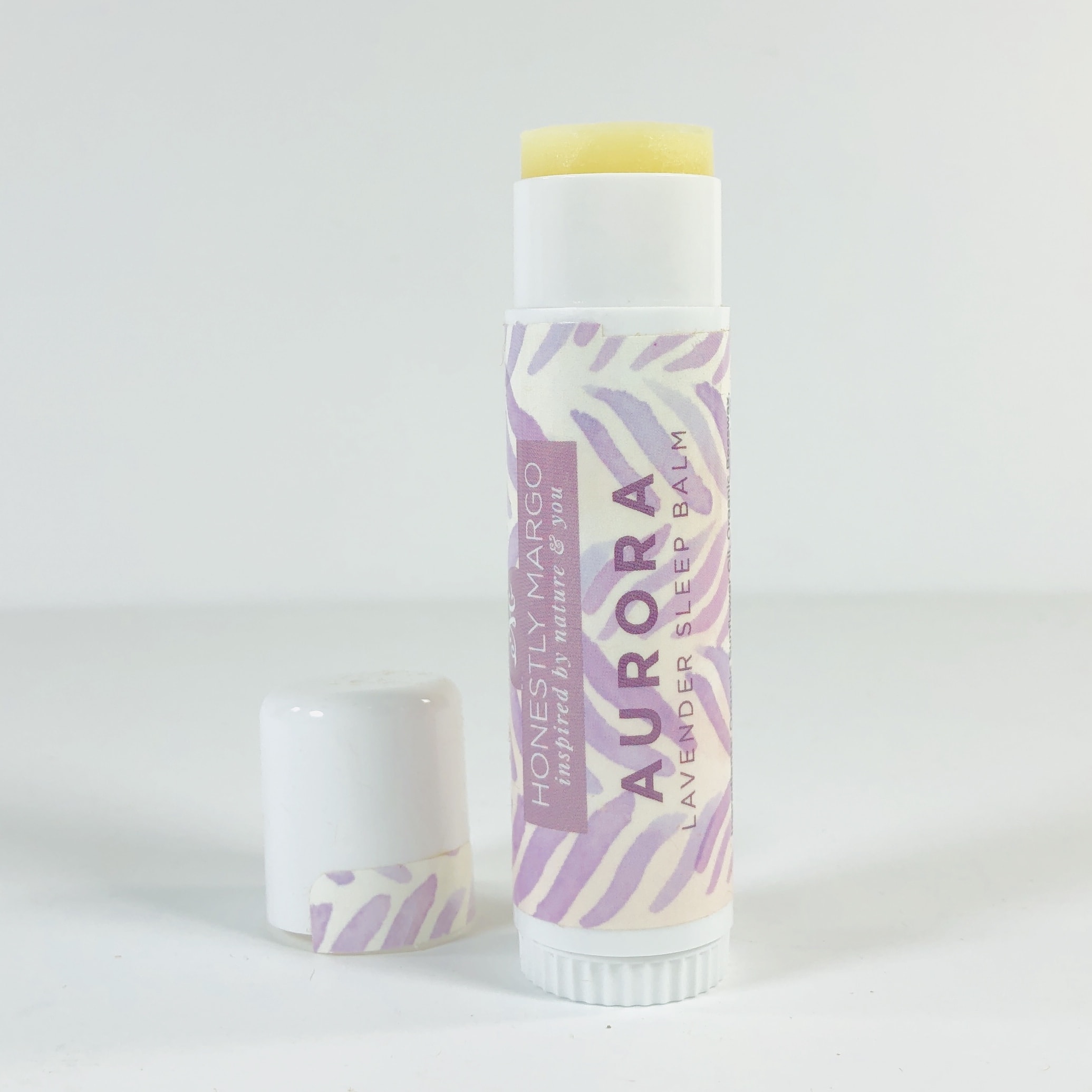 It is super easy to tuck this next to the bed and then just rub it over your wrists before going to sleep, or even use it as a soothing lip balm if you prefer. It smells very nice, like natural lavender, and isn't super strong, it's just right.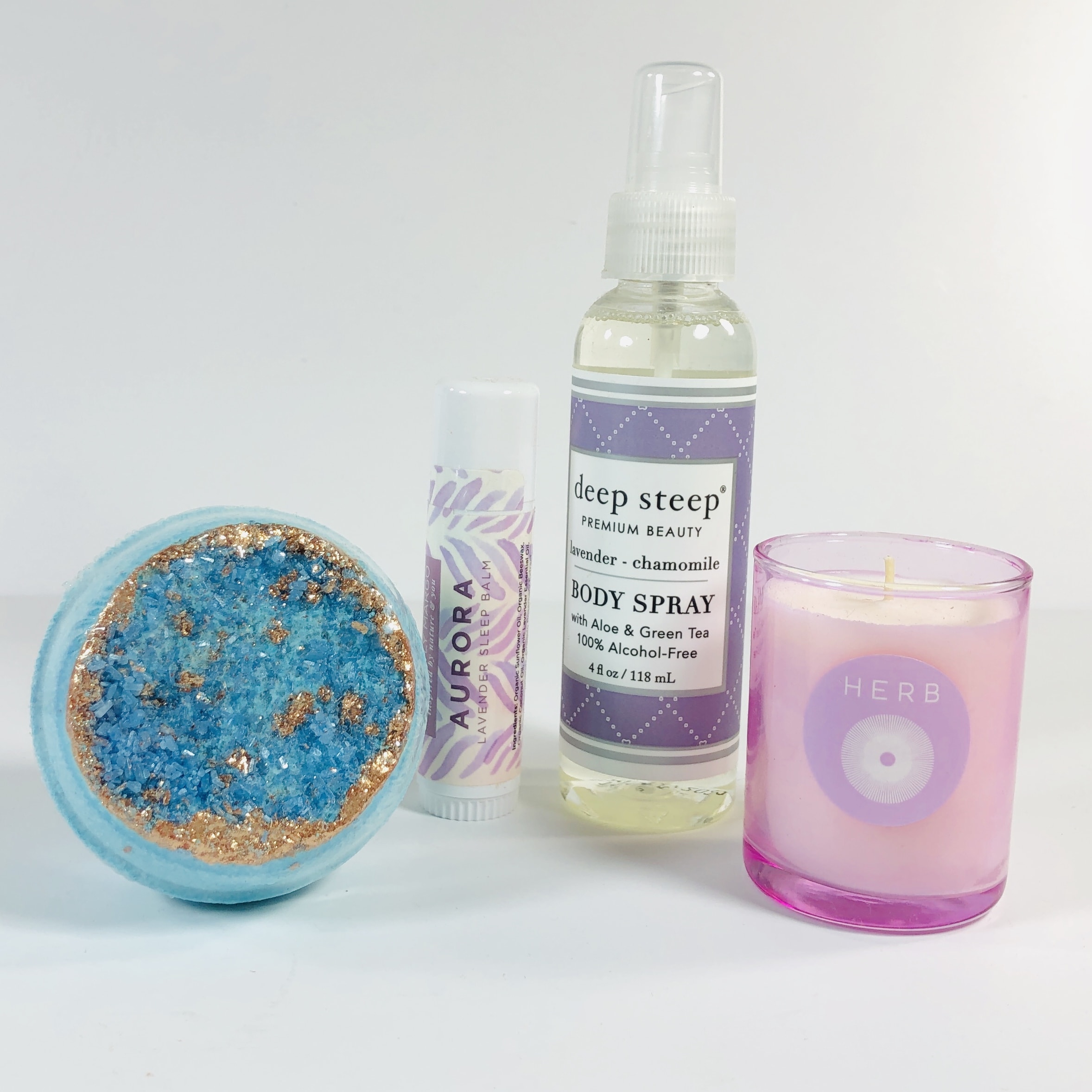 NOSEJOY sent a lovely assortment of relaxing scents for April! I was very happy to discover this candle brand, which had a lovely scent and good throw. The bath bomb is practically a work of art and the lavender balm smells amazing. The value for this box was around $43.60!
Have you tried NOSEJOY? What do you think of this box?