Nom Nom Cats delivers fresh and healthy cat food on a weekly or monthly schedule. The meals are specifically formulated to fit a feline's unique dietary needs: high in protein and naturally high in water content. The cat food is already pre-portioned and is measured and sealed in its own bags. Prices will vary based on how often you receive a shipment. You can also order Nom Nom for your canine friends too!
Fresh pet food is exactly what it sounds like—fresh! Just like you go to the store and prepare healthy meals your family eats, we do the same for your dog or cat! We procure fresh, restaurant-quality, human-grade ingredients each week, and chop, steam, boil, and mix them to make each of our fresh pet food recipes.
DEAL: Get 20% off your first order when you use this link to subscribe!
My items were shipped via FedEx and I came home from work to discover it on my doorstep. Recycled materials made for a good insulator. I ripped the plastic open before discarding the packs in the trash can.
I found a piece of cardboard warning me to beware as dry ice was used to keep everything well chilled.
The dry ice was mostly gone by the time I received my box but everything was completely cold, and the packages of cat food were still frozen.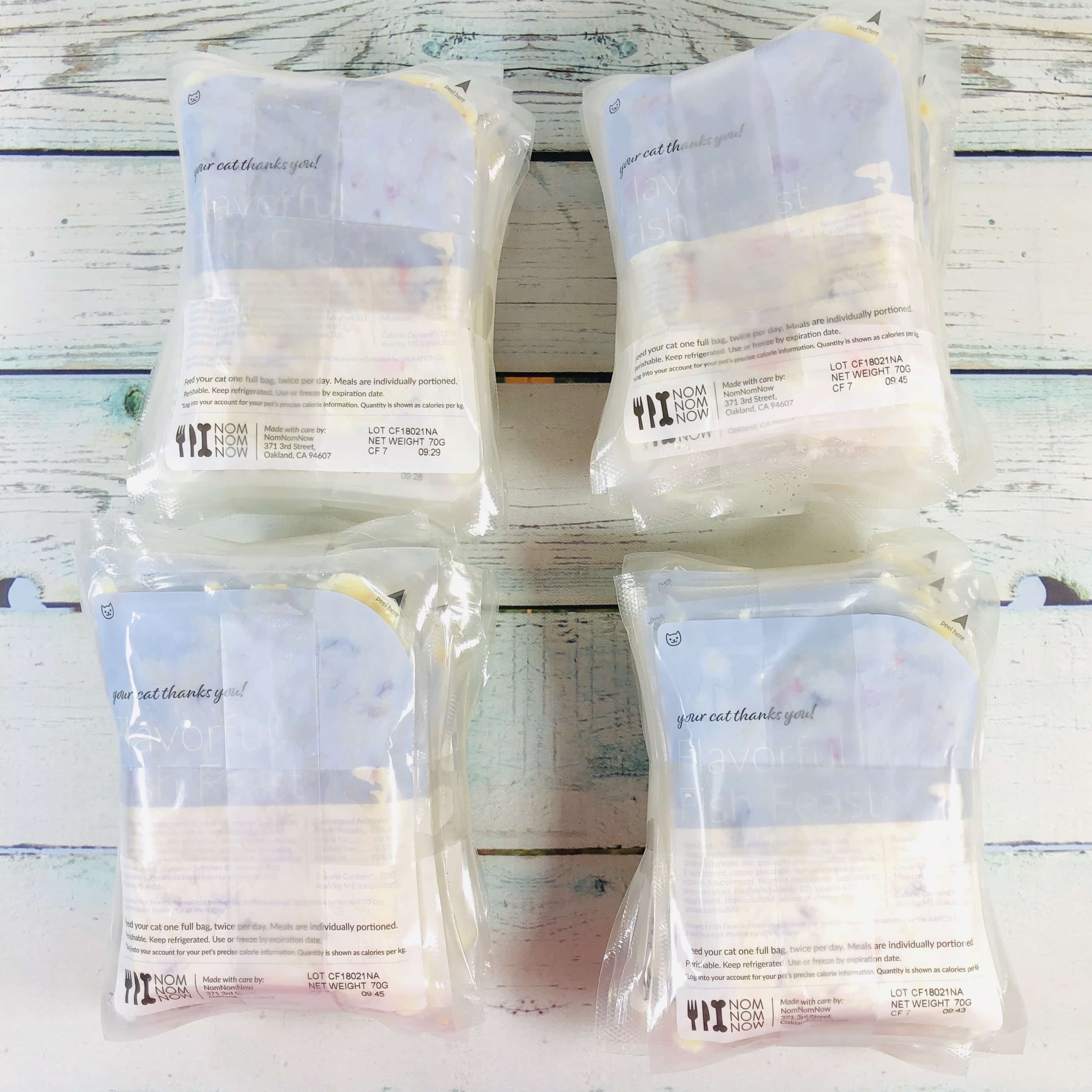 I received four bundles of cat food. No other literature was included, but you will receive all kinds of info in your first box, no need for it to be sent over and over again.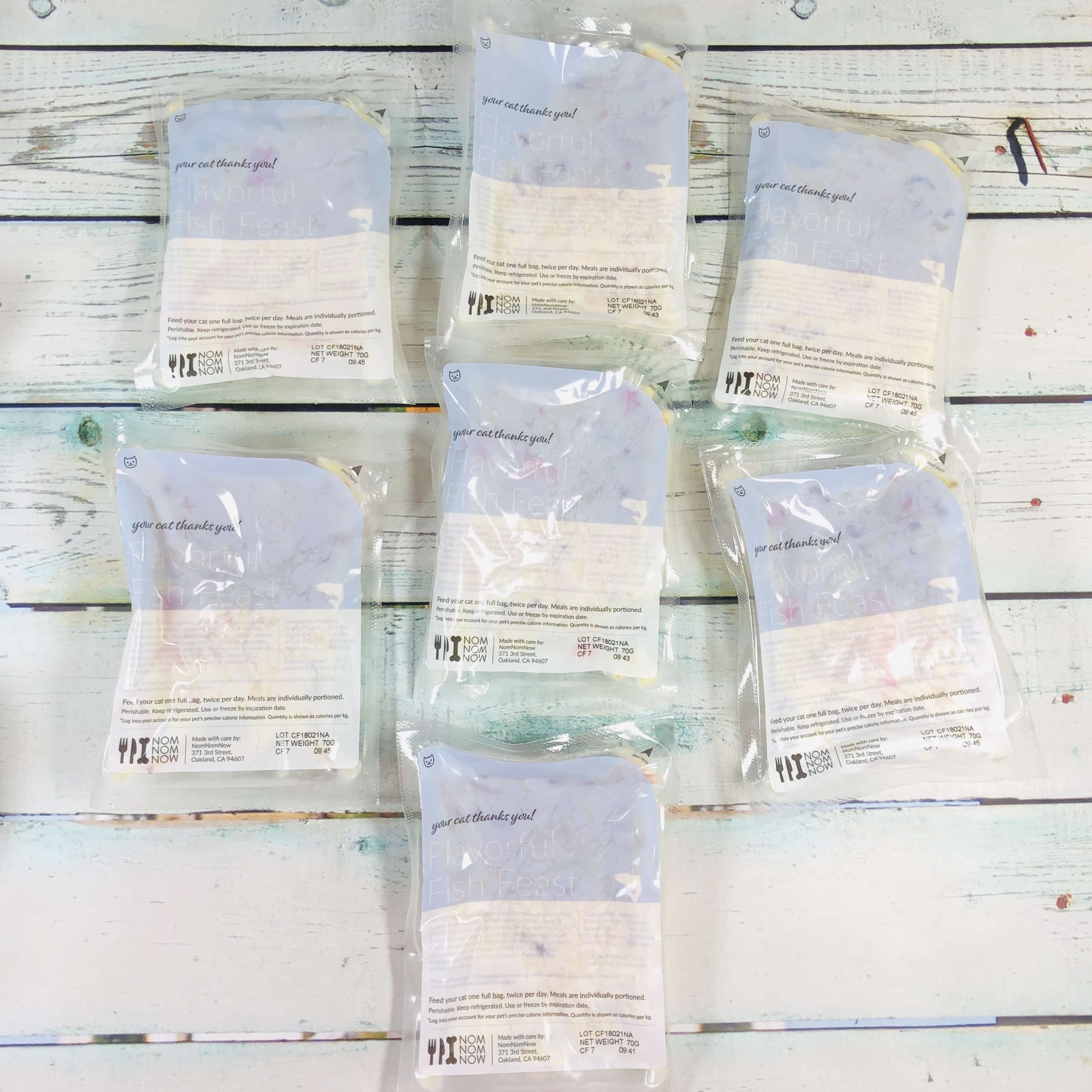 Each bundle had 7 individual packs of food. All Nom Nom Cats meals are proportioned into individual meals!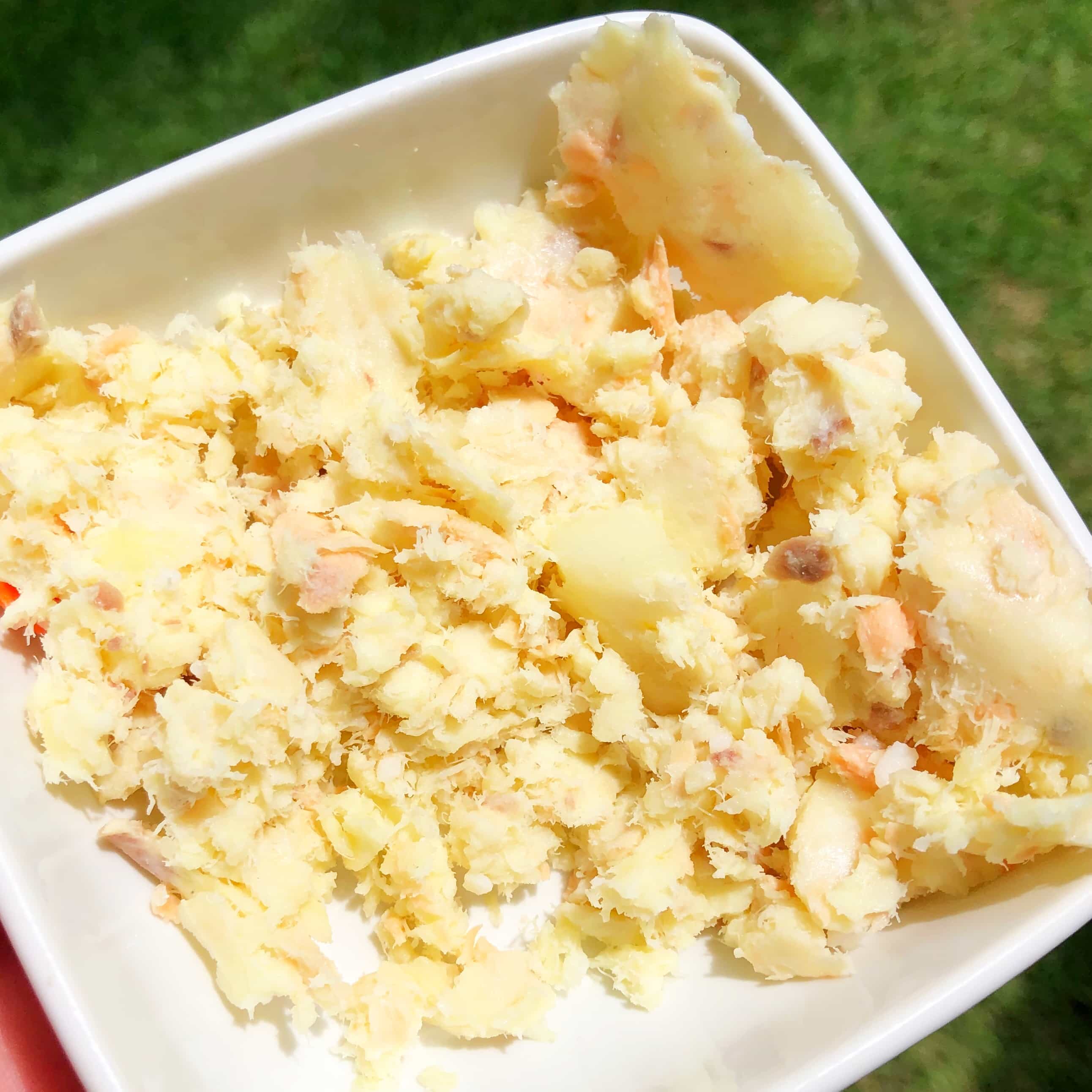 My cat decided to order Flavorful Fish Feast, but she could have chosen Chicken Chow Meow if she pleased.
A blend of tilapia and salmon, this recipe is packed with omega fatty acids to keep your kitty's coat healthy—and leave them with soft, shiny, silky fur.

Tilapia

: Protein, vitamins, minerals, and omega-3 fatty acids for a luxurious coat

Salmon: More omega-3s, vitamins, and minerals—plus a tasty flavor cats love

Beef fat: A source of choline and unsaturated fatty acids for a healthy coat and skin

Yuca: Calcium, vitamin C, and minerals galore for strong bones

Carrot: Beta carotene serves as an antioxidant

Nom Nom Nutrient Mix

: Expertly formulated nutrition blend
Sunny is my test cat. The meals were sent based off her weight and weight-loss goals. She gave it a sniff.
It's all for me???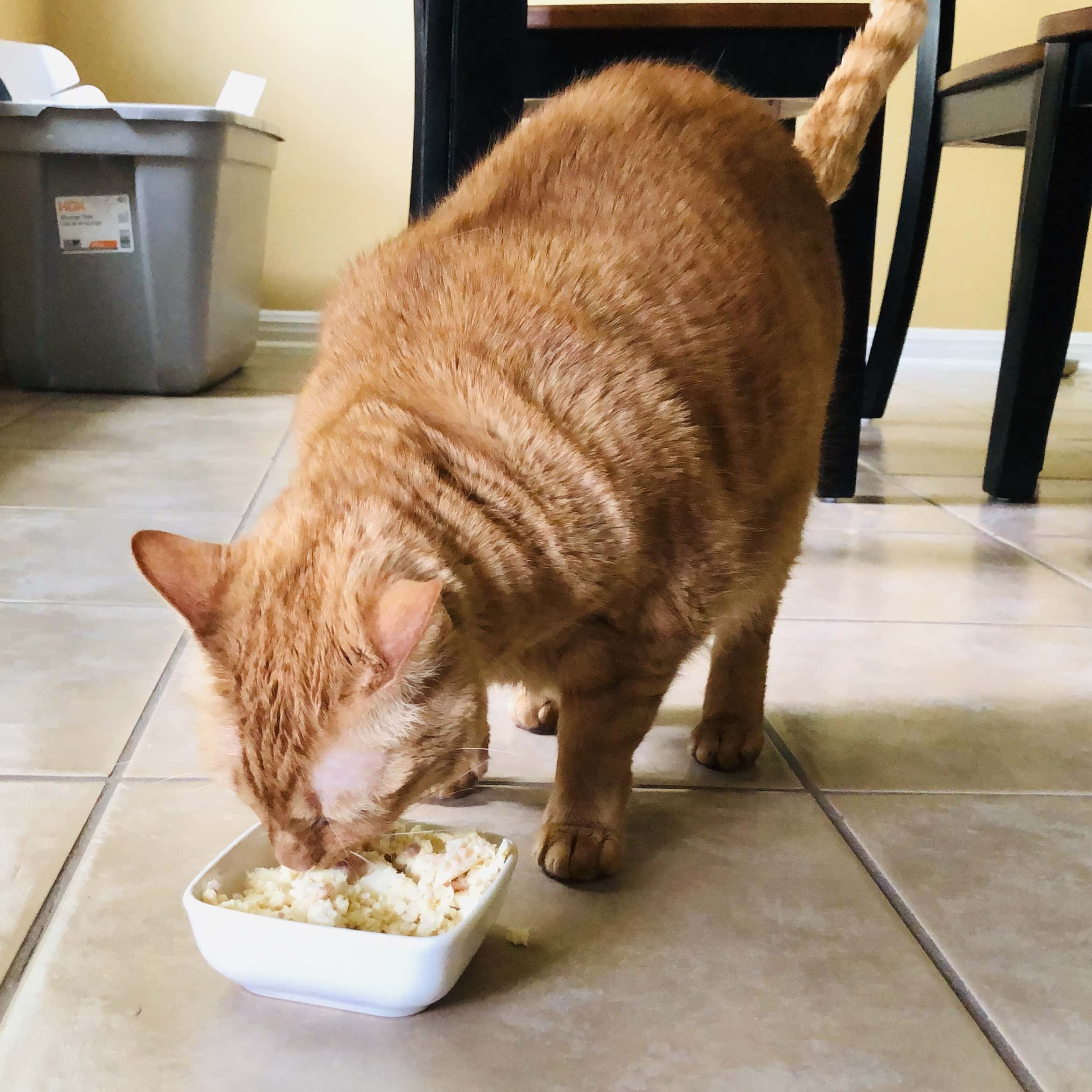 Yum! Sunny has never finished a whole pack in one sitting but then we let her graze during the day and it's possible she has been eating the dry food we set out for our other cat. Sunny always eats this food enthusiastically!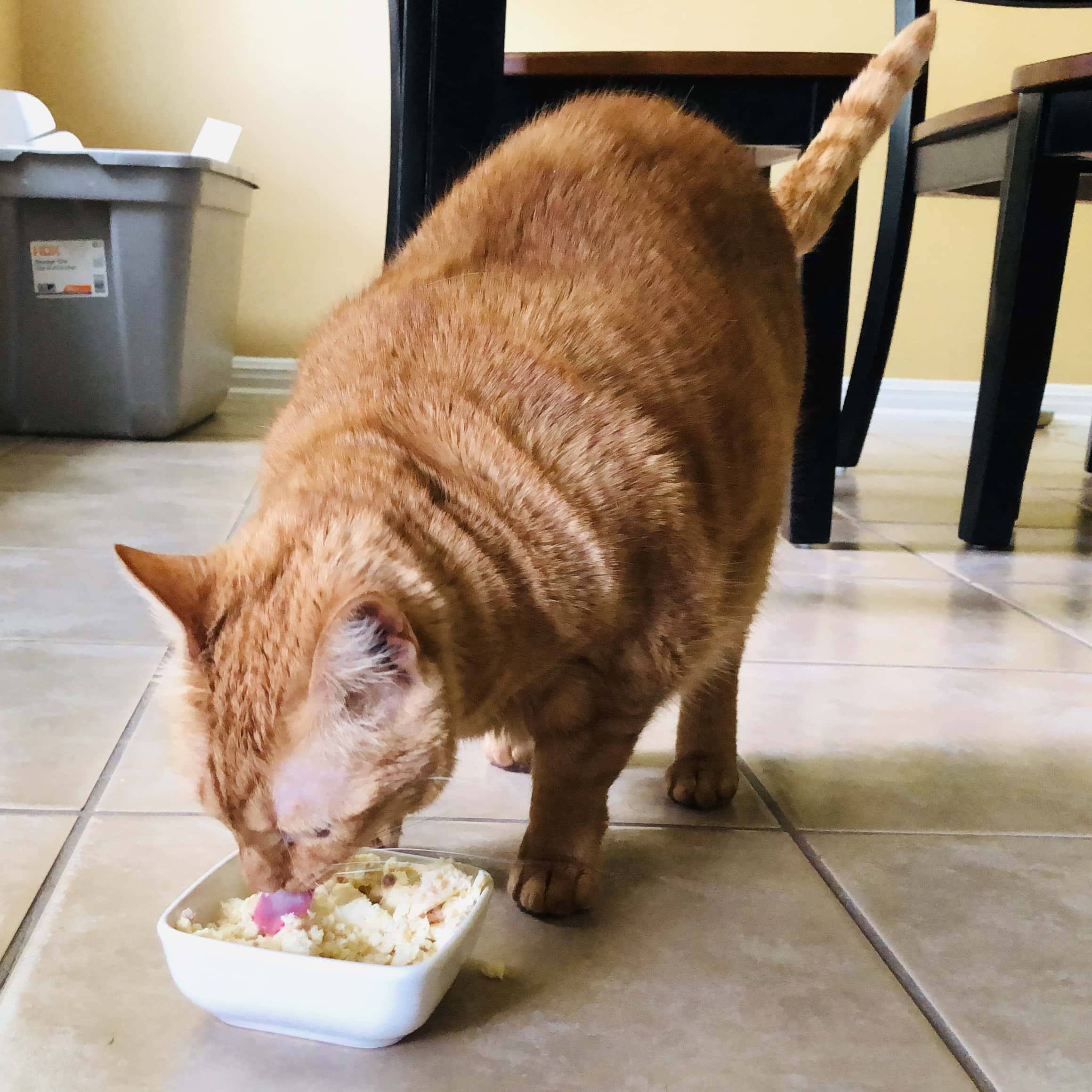 Nom Nom is a convenient way to get fresh pet food directly to your home. I didn't have to wait around for the delivery and everything was kept chilled by the dry ice. Sunny really enjoys her meals and I like that they have lots of good stuff for her body. Extras are available on the Nom Nom website to help transition your pet to this diet, such as flavor flakes.
Are you getting Nom Nom Cats?