Nom Nom Cats delivers fresh and healthy cat food on a weekly or monthly schedule. The meals are specifically formulated to fit a feline's unique dietary needs: high in protein and naturally high in water content. The cat food is already pre-portioned and is measured and sealed in its own bags. Prices will vary based on how often you receive a shipment. You can also order Nom Nom for your canine friends too!
Fresh pet food is exactly what it sounds like—fresh! Just like you go to the store and prepare healthy meals your family eats, we do the same for your dog or cat! We procure fresh, restaurant-quality, human-grade ingredients each week, and chop, steam, boil, and mix them to make each of our fresh pet food recipes.
DEAL: Get 20% off your first order when you use this link to subscribe!
My items were shipped via FedEx and I came home from work to discover it on my doorstep.
Recycled materials made for a good insulator. I ripped the plastic open before discarding the packs in the trash can.
I found a piece of cardboard warning me to beware as dry ice was used to keep everything well chilled.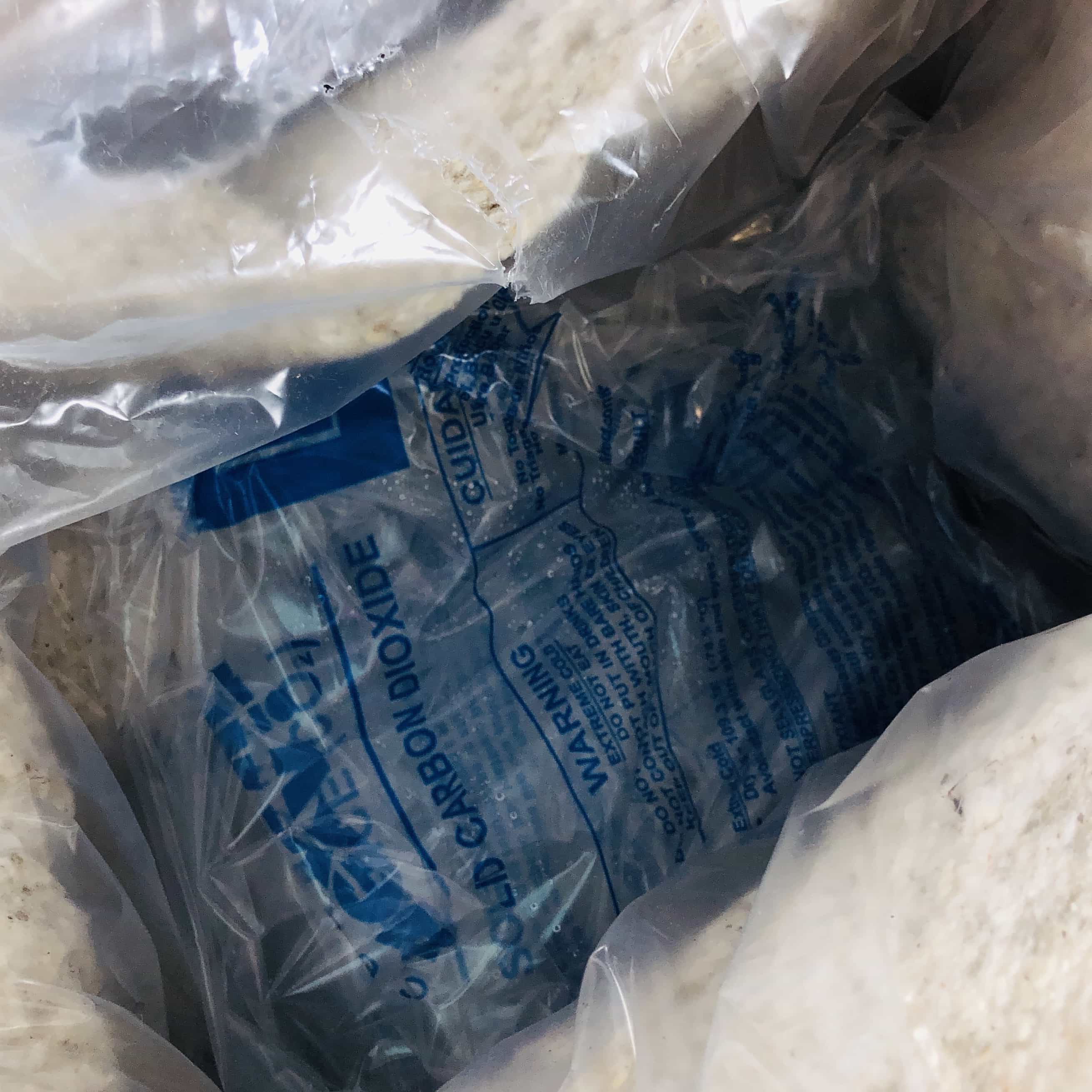 The dry ice was already gone by the time I received my box but everything was completely cold, and the packages of cat food were still frozen.
Everything inside my box! All Nom Nom Cats meals are proportioned into individual meals!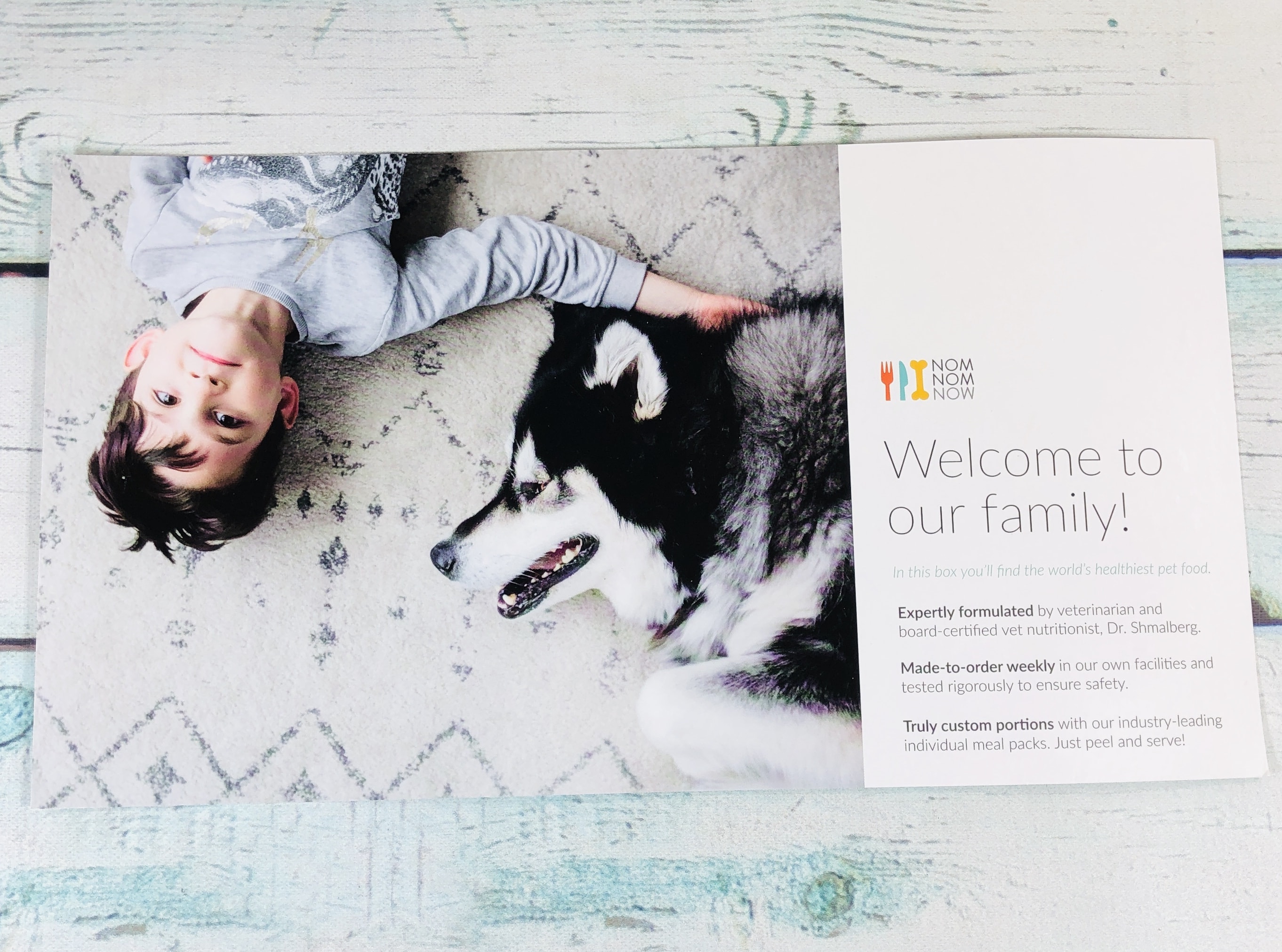 I received a card welcoming me to the family!
The back of the card had some tips, including what to do if your cat is a picky eater. My favorite tip? Pretend to eat the food yourself!
I received a card attached to a sample of Flavor Flakes.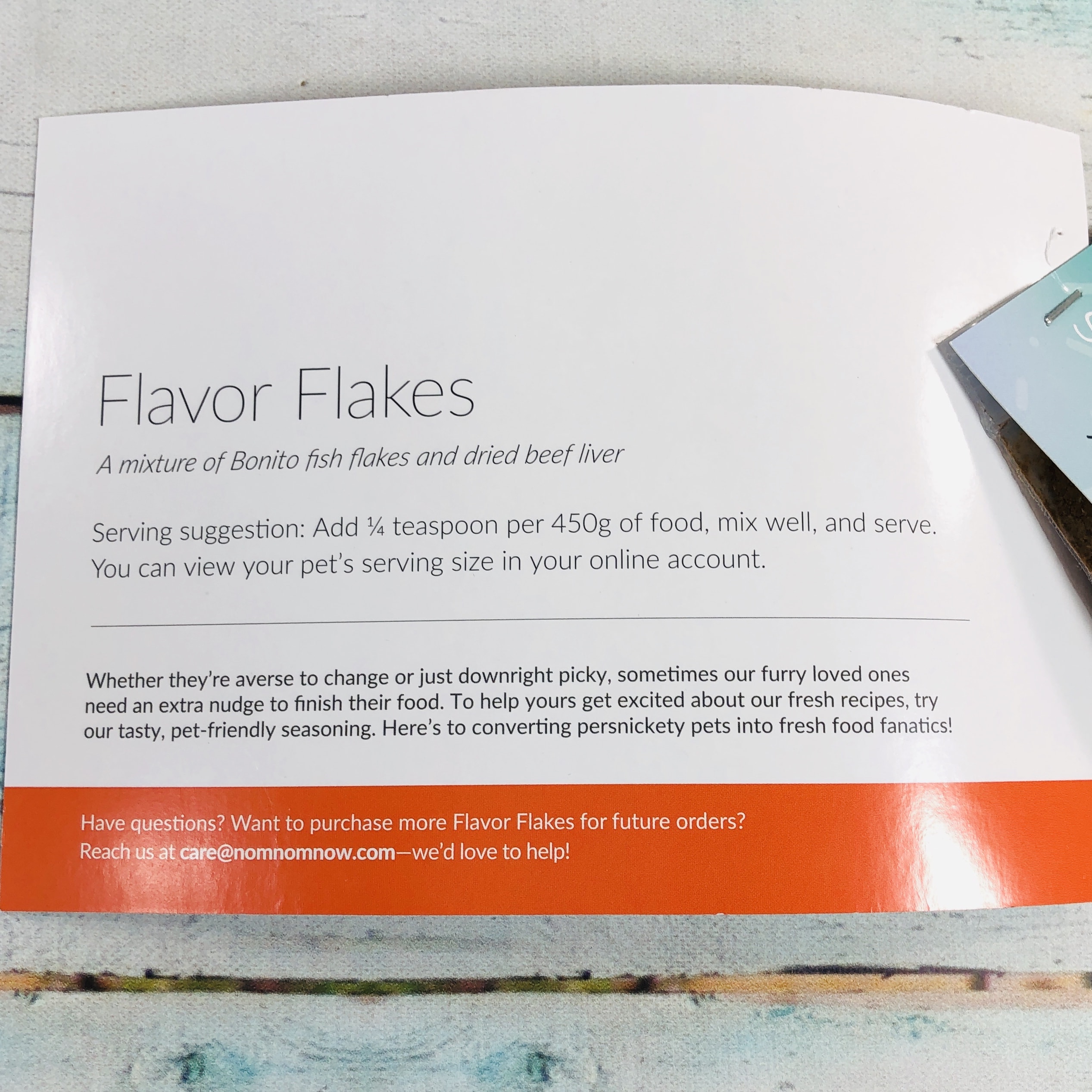 Just sprinkle the seasoning mix made of bonito fish and beef liver to help your cat adjust to their new eating plan.
Here is the nutritional breakdown and the sample has enough to last for a while, maybe two tablespoons worth.
Nom Nom Flavor Flakes I also found a whole container of Flavor Flakes, which should last my cat a long time!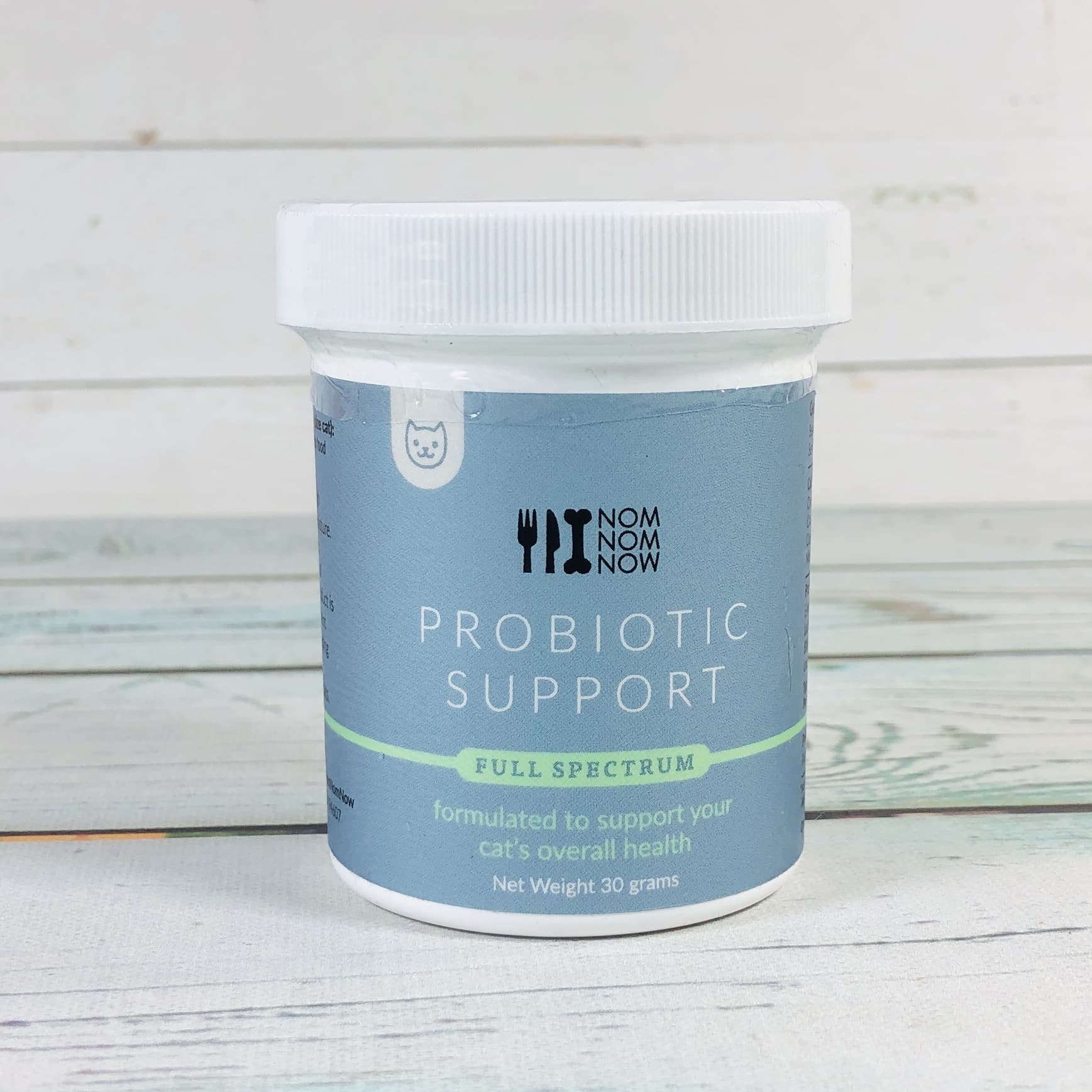 Nom Nom Probiotic Support ($45) I know humans can benefit from pre- and probiotics, I never even considered that my cats might need them too! You mix one level scoop daily into the food, and this product should be stored in the fridge if possible. It contains the probiotics Enterococcus faecium, Lactobacillus acidophilus, Bifidobacterium longum, and Lactobacillus plantarum plus the prebiotic Fructooligosaccharide. It also contains maltodextrin.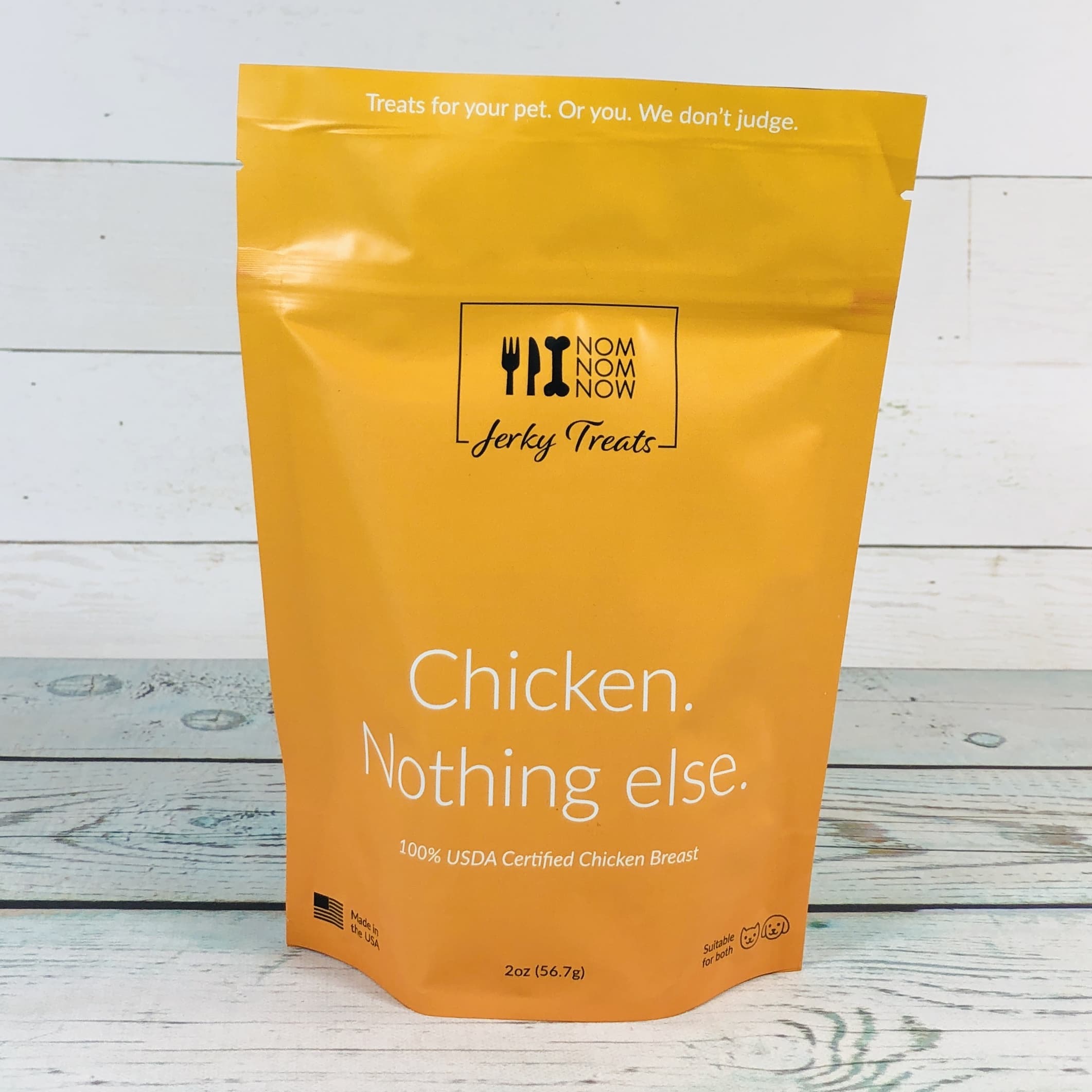 Nom Nom Chicken Jerky ($12) You can order beef or chicken jerky for cats and dogs on the site.
It is made only of chicken, no other ingredients!
The pieces were kind of big but it was easy to break into smaller sizes.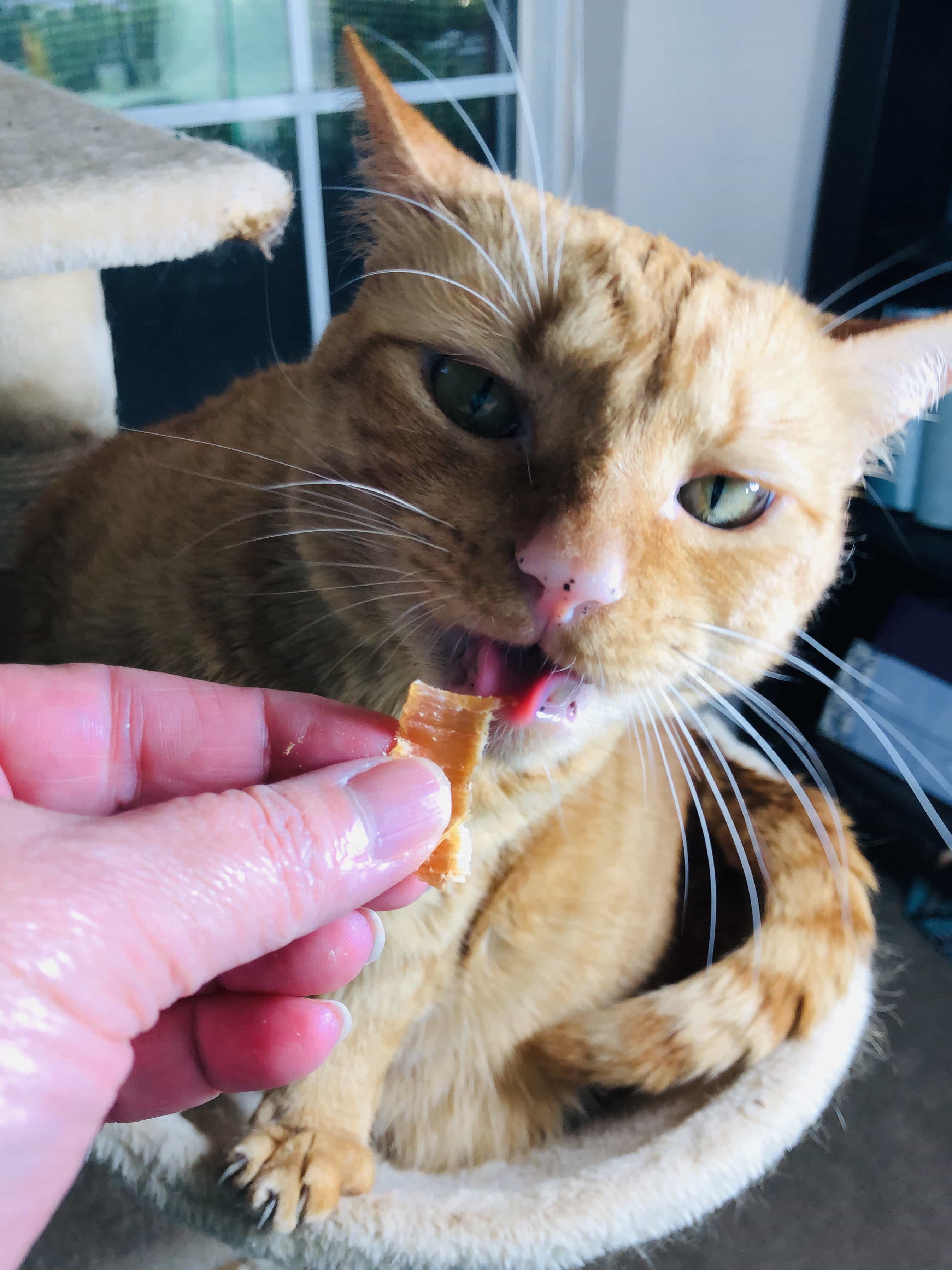 Sunny enjoyed licking the treat, but she never did eat it.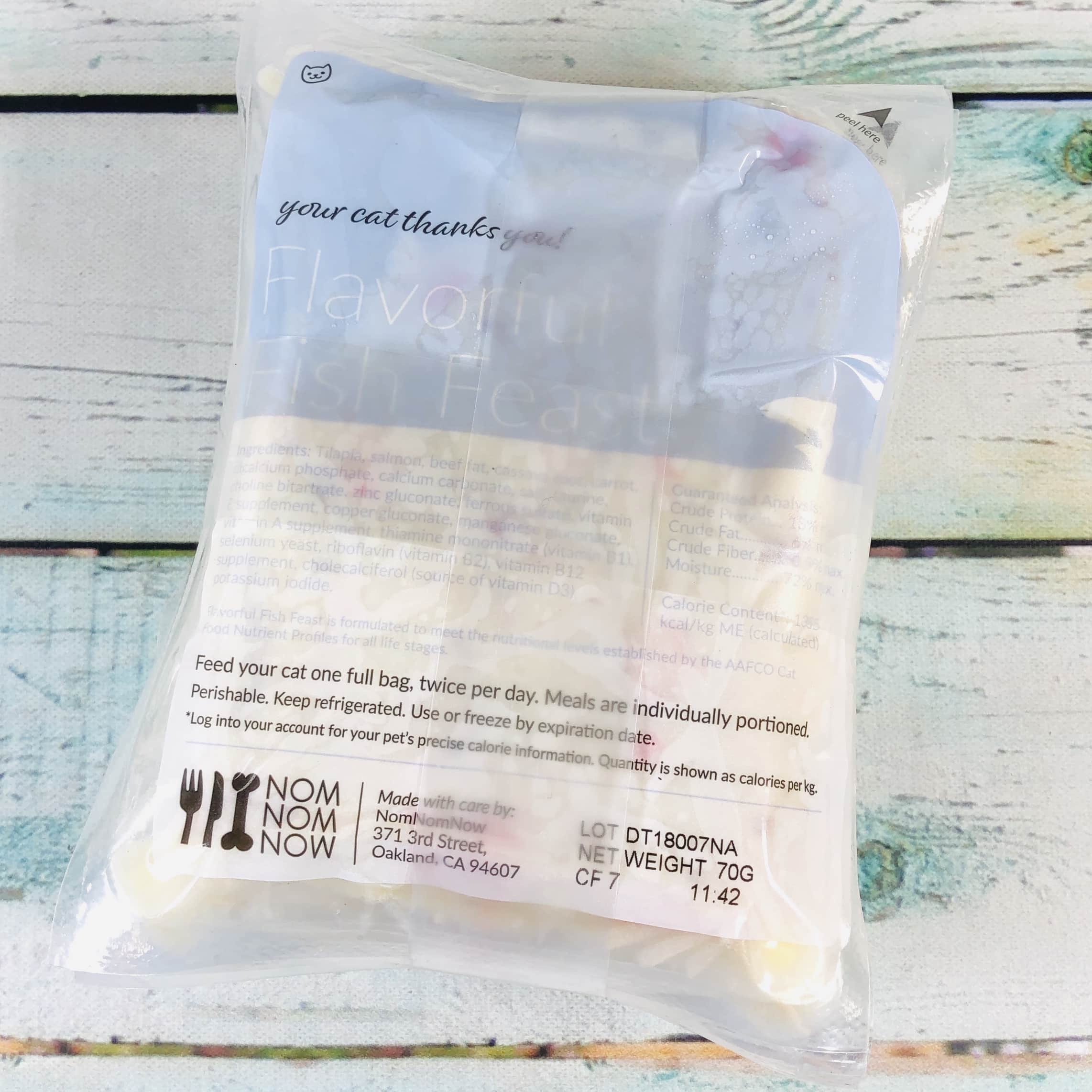 Nom Nom Flavorful Fish Feast You can order a sample pack that includes 3 packs of Flavorful Fish Feast and 3 packs of Chicken Cuisine Meow, plus get a bag of Flavor Flakes, all for $15. This is a great way to try the service and see how you cat likes the food.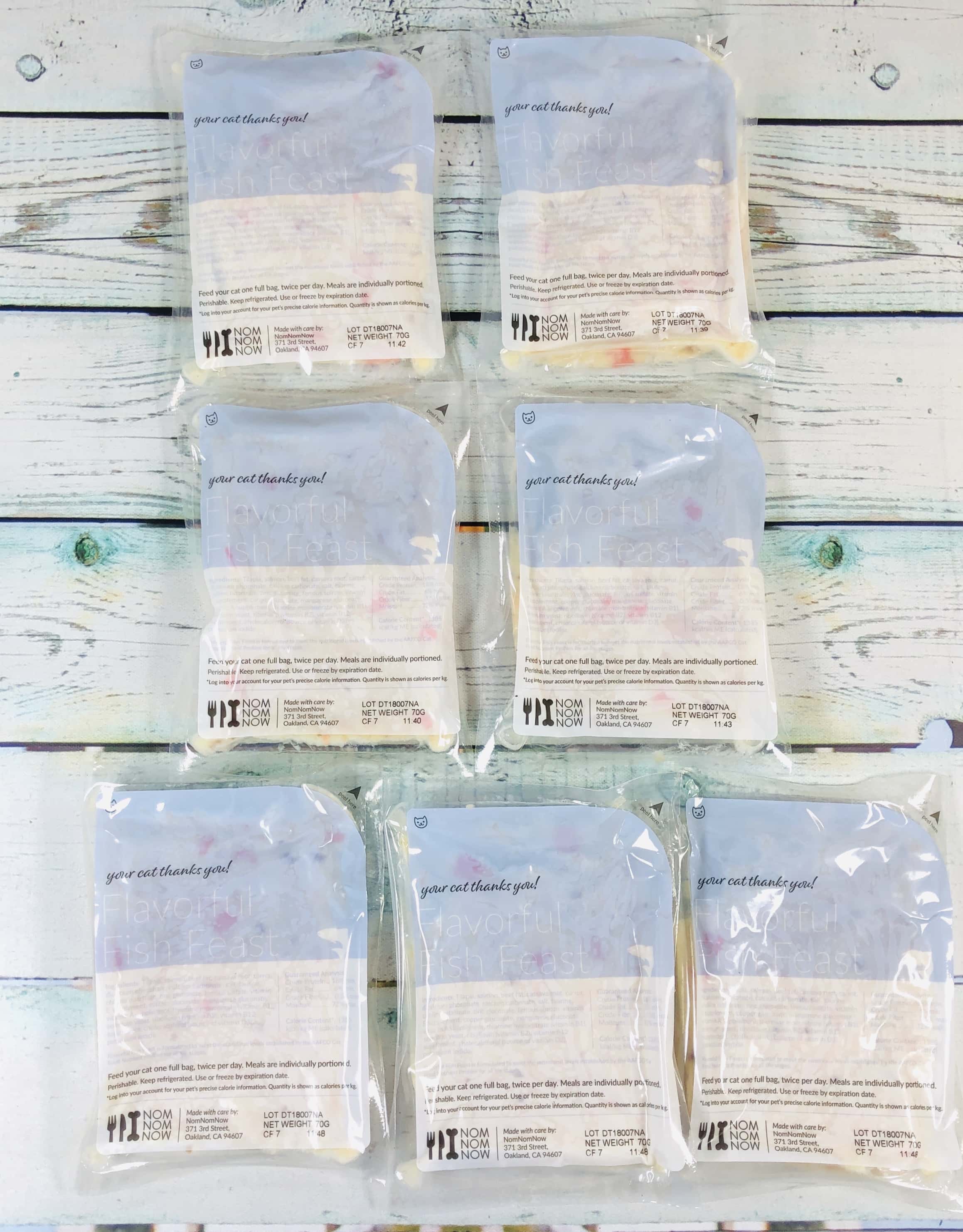 I received 5 packs of Flavorful Fish Feast, and each pack has 7 individual packets inside.
One of my five packs was an emergency pack, and I can keep it in the freezer for up to 6 months in case my shipment is ever delayed for some reason.
I stuck all of the packs in the freezer, then pulled out a couple of individual packs and placed in the fridge to get my cat through a few days. Ingredients are listed on the packets, along with feeding instructions.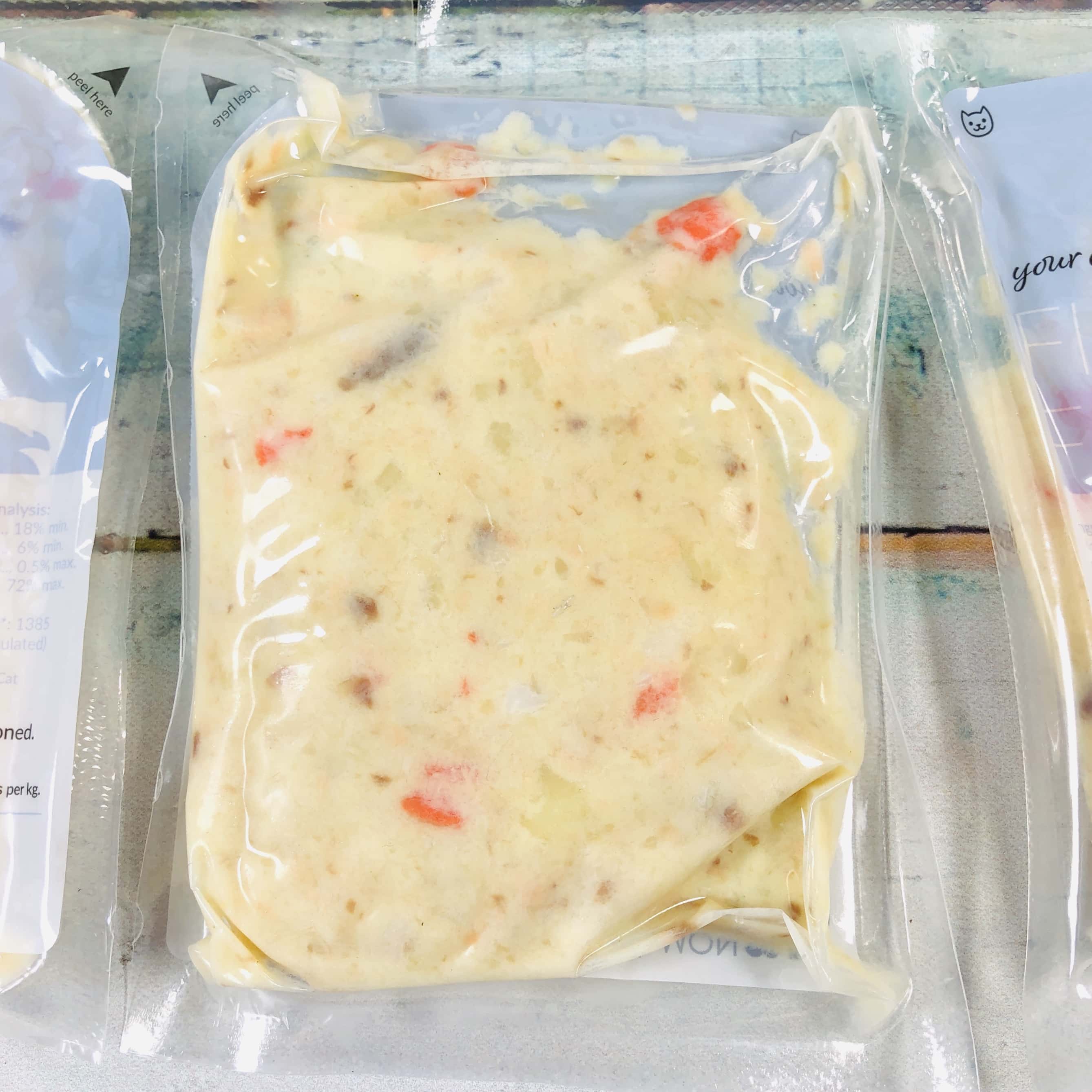 There is an easy peel section in the corner so although these are packed well, they are also easy to open.
Flavorful Fish Feast is made with tilapia, salmon, and even has carrots! Nom Nom Nutrient Mix helps provide all kinds of nutrients such as vitamins. All I had to do was open the pack and pour it into a bowl.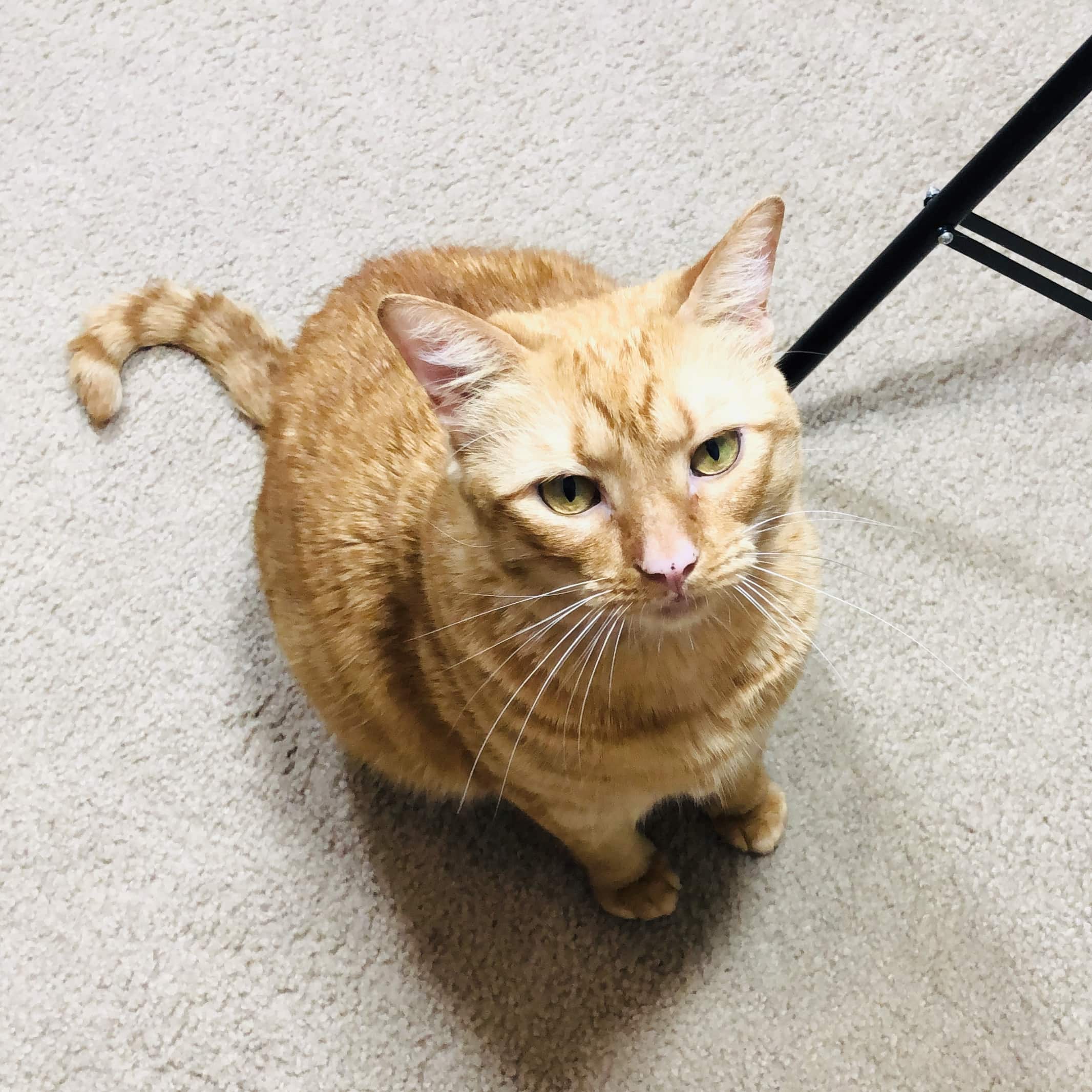 Here's Sunny. She knew something good was about to happen and stayed right by my feet while I was snapping a picture of the food!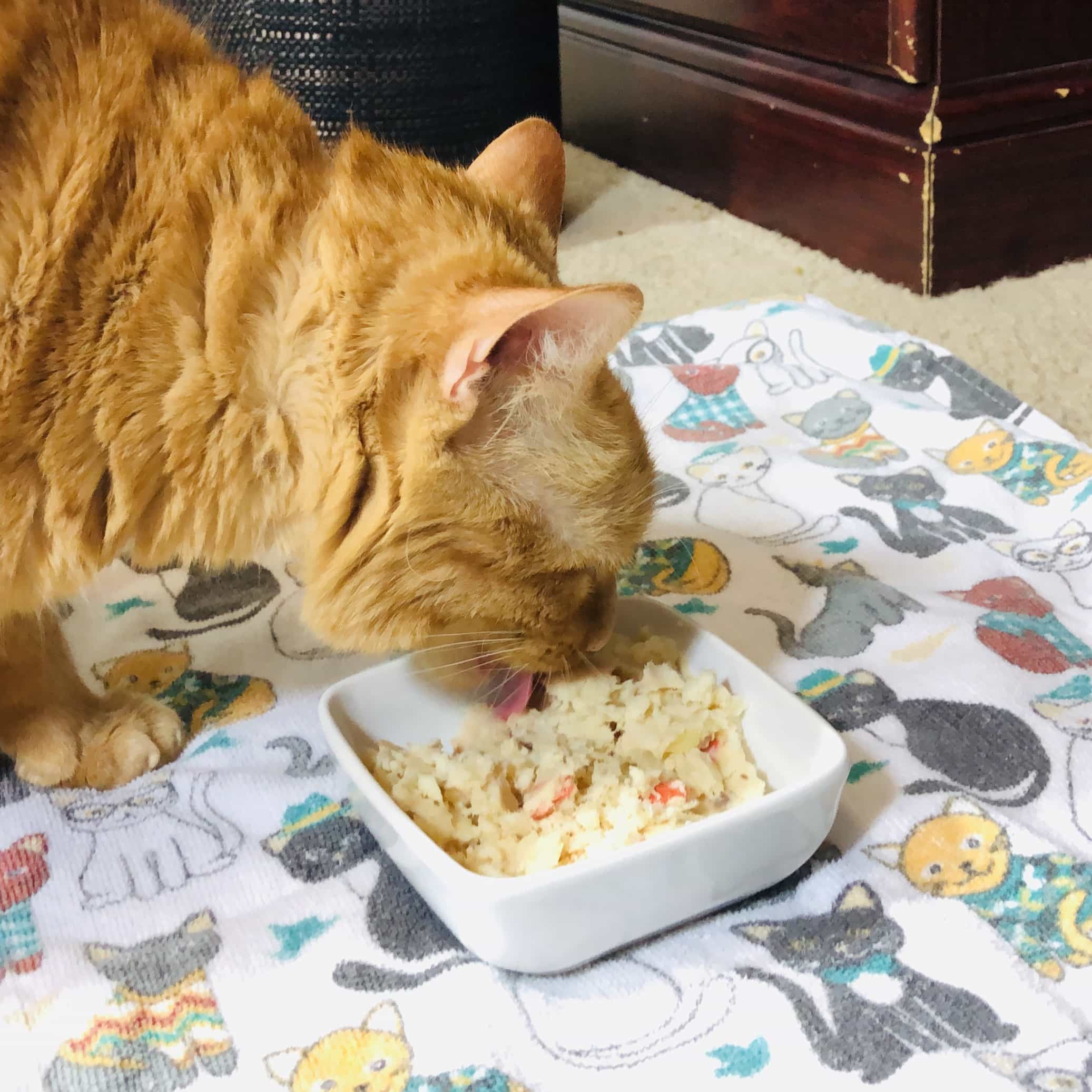 As you can see, she was a big fan! She has also tried the Chicken Cuisine-Meow in the past and loved that one too!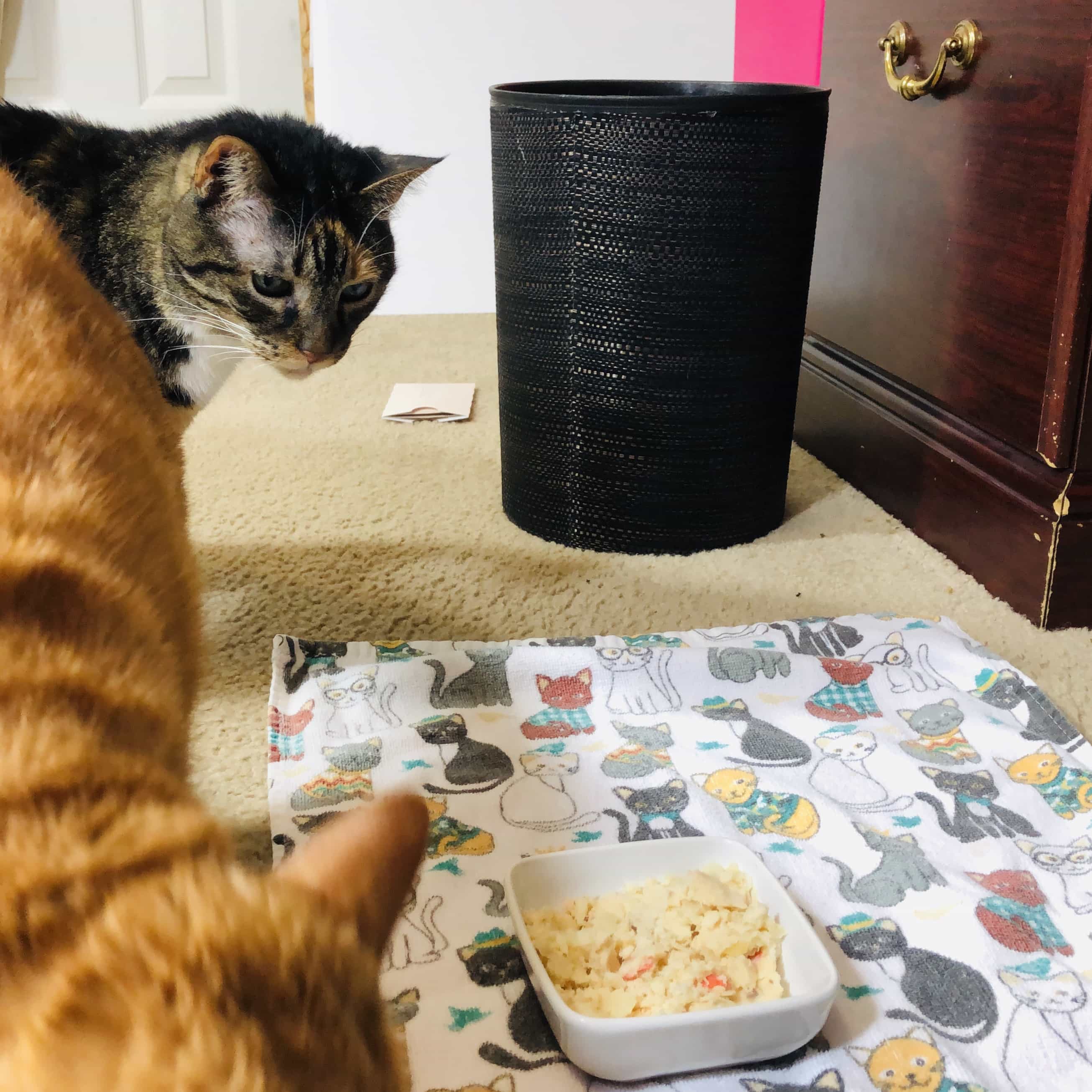 Zoey came over to investigate but refused to try the food. She won't eat ANY wet food at all, so I wasn't expecting her to eat it anyways.
Nom Nom is a super convenient way to get fresh pet food to your home and into your pet. I answered questions about my cat's size and desired weight upon signup so my cat's meals could be personalized to her. The food arrived quickly and in perfect condition. The Flavor Flakes give me a way to gently introduce my cat to her new meals, which she seems to love. She doesn't eat a whole lot at any one time, but that is my fault for allowing her to graze throughout the day, but since I have another cat who refuses to eat wet food, it is kind of hard to ensure that Sunny only eats Nom Nom. I appreciate that there is a Sample Pack so you can see if this subscription is a good fit for your cat!
Are you getting Nom Nom Cats?