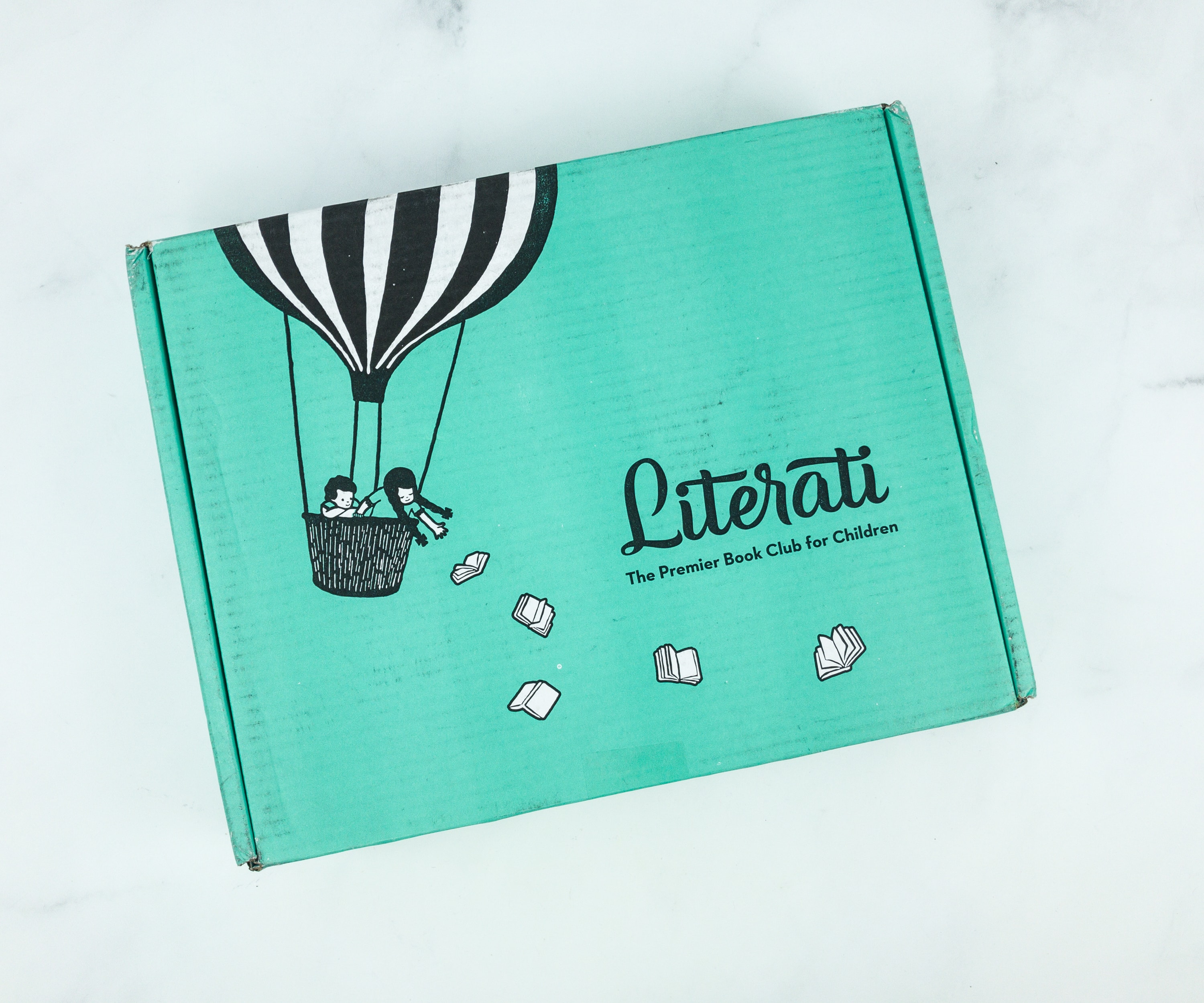 Literati is a monthly book subscription box for children that works similar to Stitch Fix. For a monthly fee of $9.95, you'll receive 5 books to try out for a week. You can purchase the ones you love and return the rest (in totally new condition) in the enclosed prepaid mailer (shipping is free in both directions).
You can get 5% off when you decide to keep all the books! There are also categories for each age bracket: Club Neo is for newborn to 1 year; Club Sprout is for children ages 2-3; Club Nova is for kids 4-6, and Club Sage is for those 7-8 years old.
This is a review of the Club Sprout box. 
DEAL: Get $25 in account credit to put towards books when you sign up! USE THIS LINK to get the deal.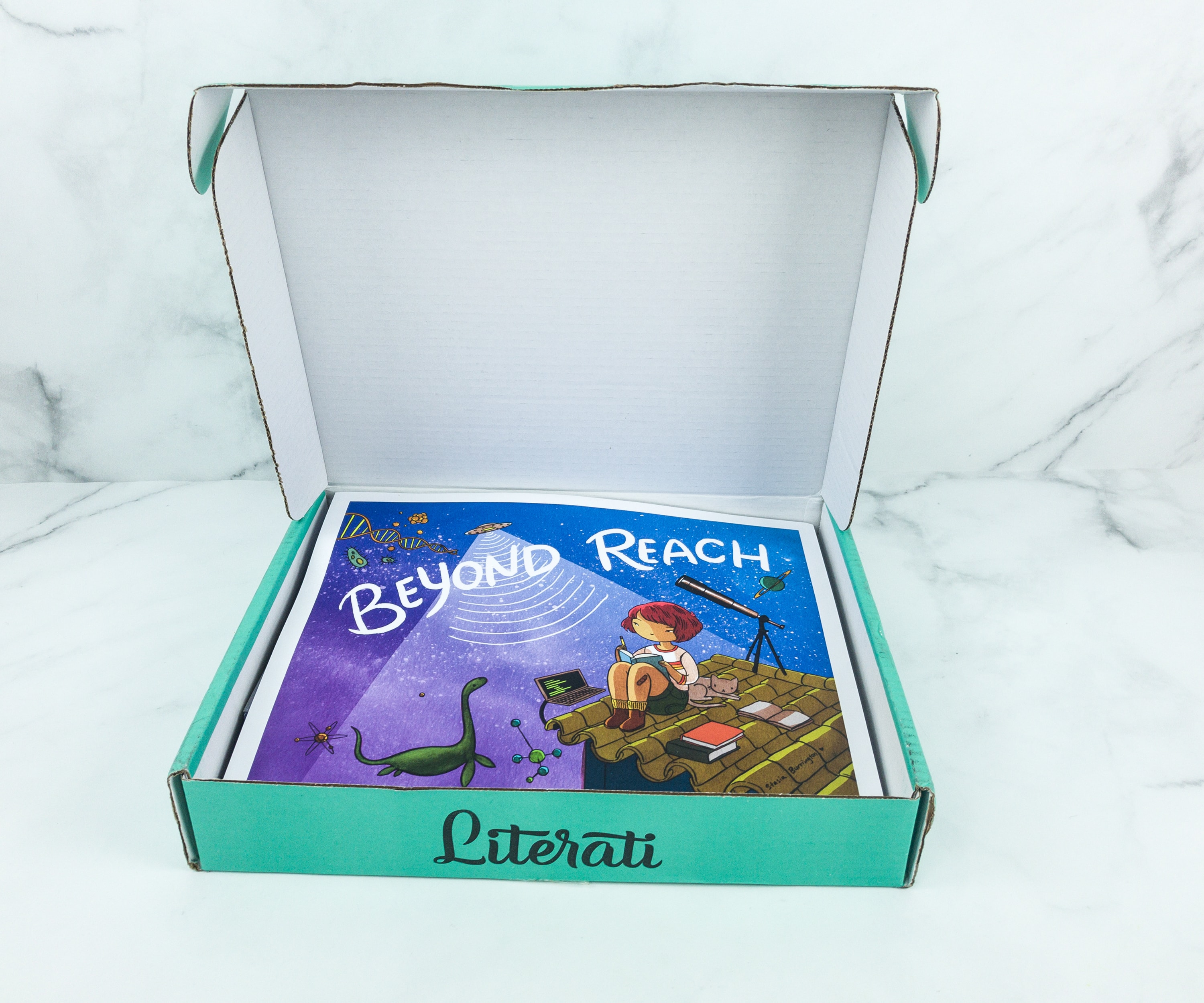 There are lots of books in store for us!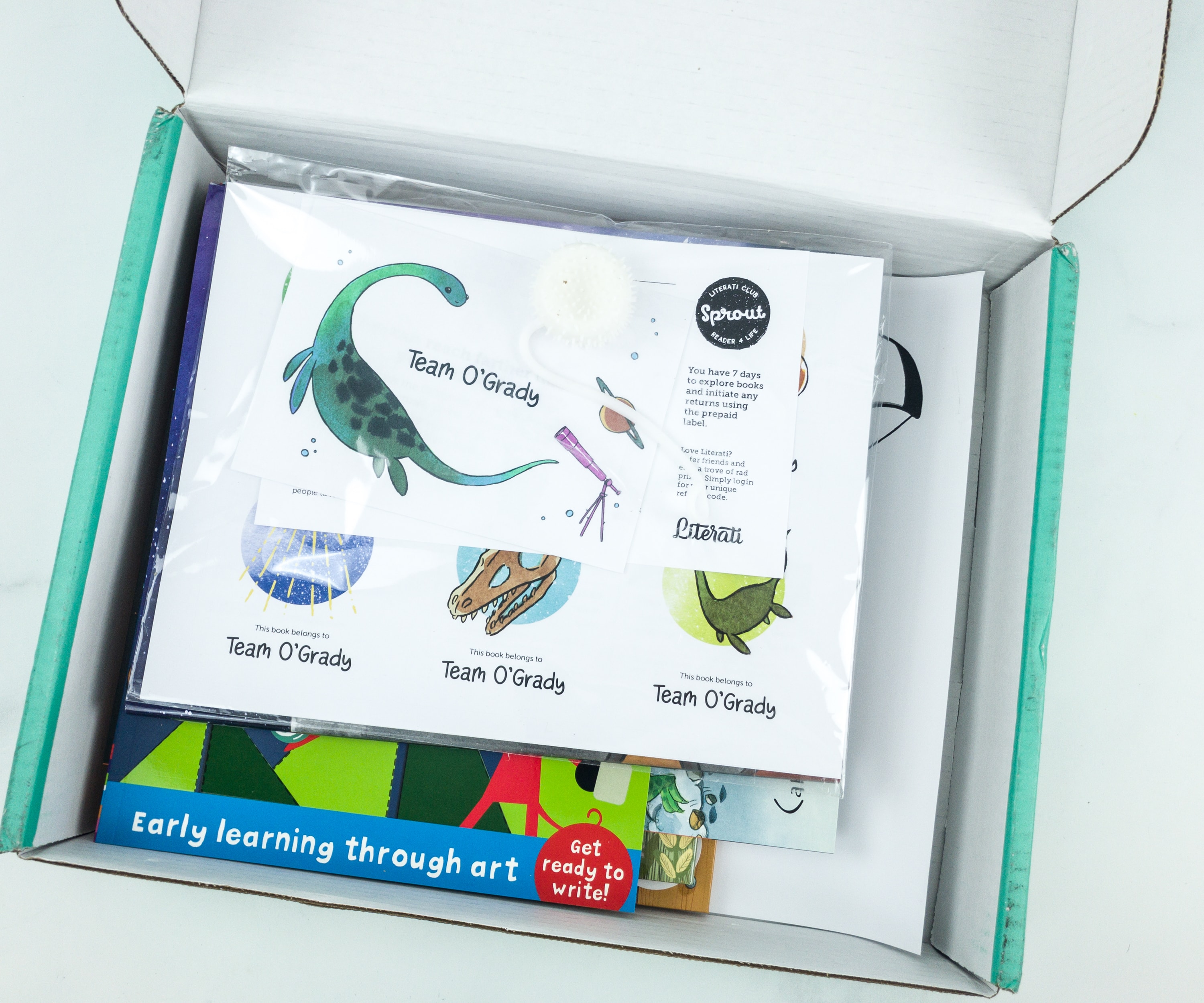 The box is full and we're excited about the new titles we're adding to our growing collection!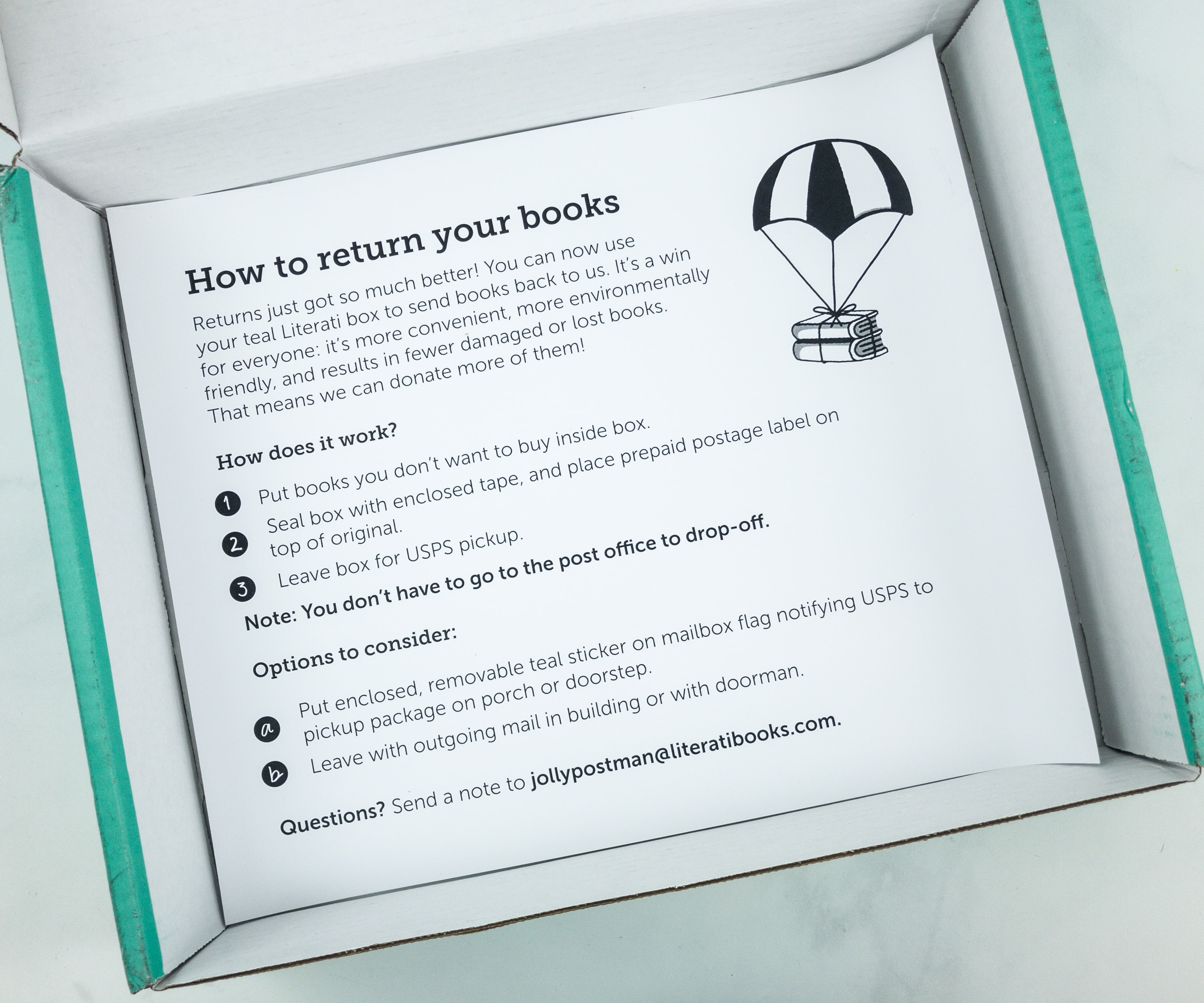 In case you want to return books, there's a card that lists instructions on how to do so.
Instead of the usual padded mailer, you can now use the box itself to send the books back. They provide the tape and the postage label.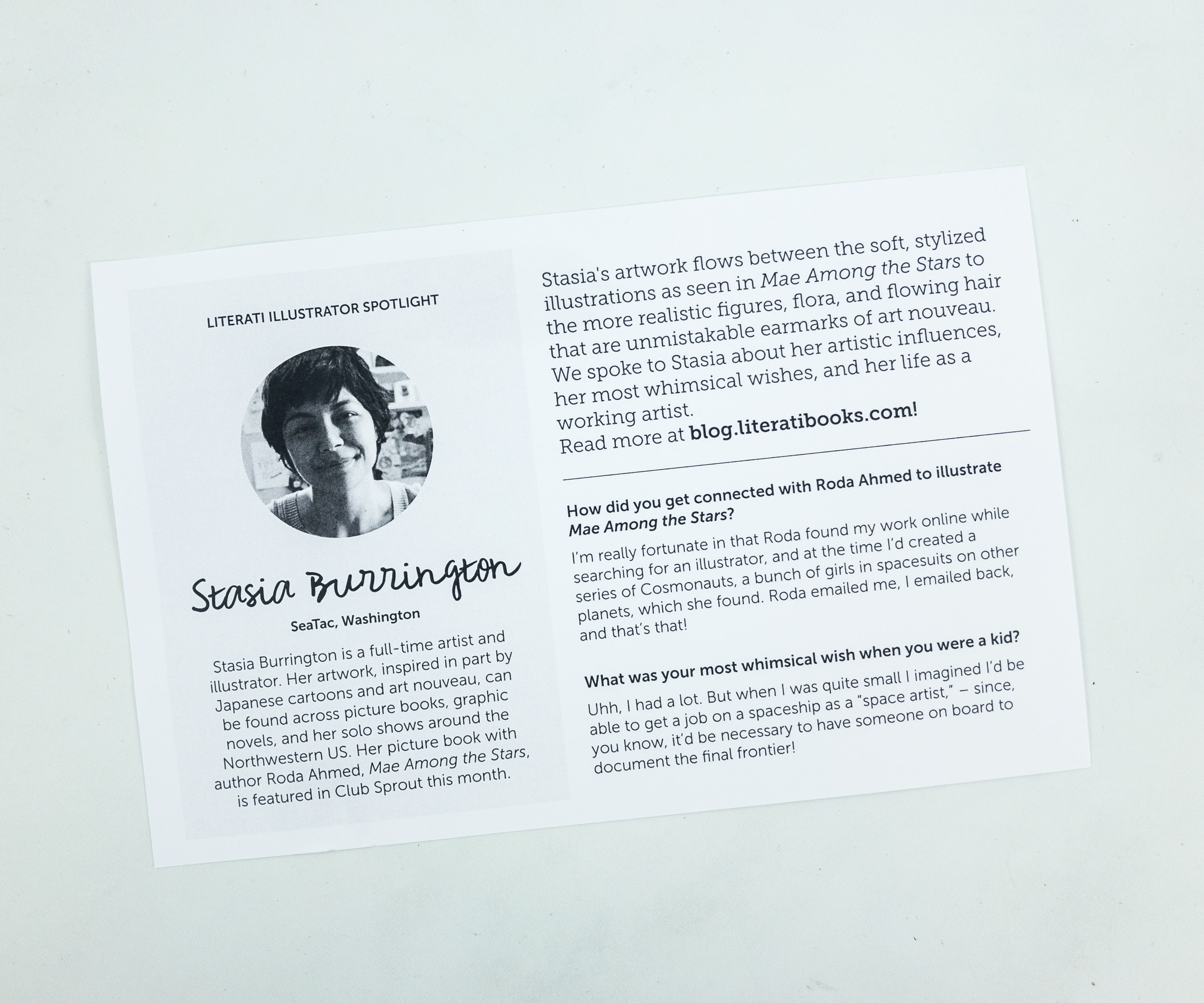 The featured illustrator creates new artwork for the monthly themes. This month's illustrator is Stasia Burrington.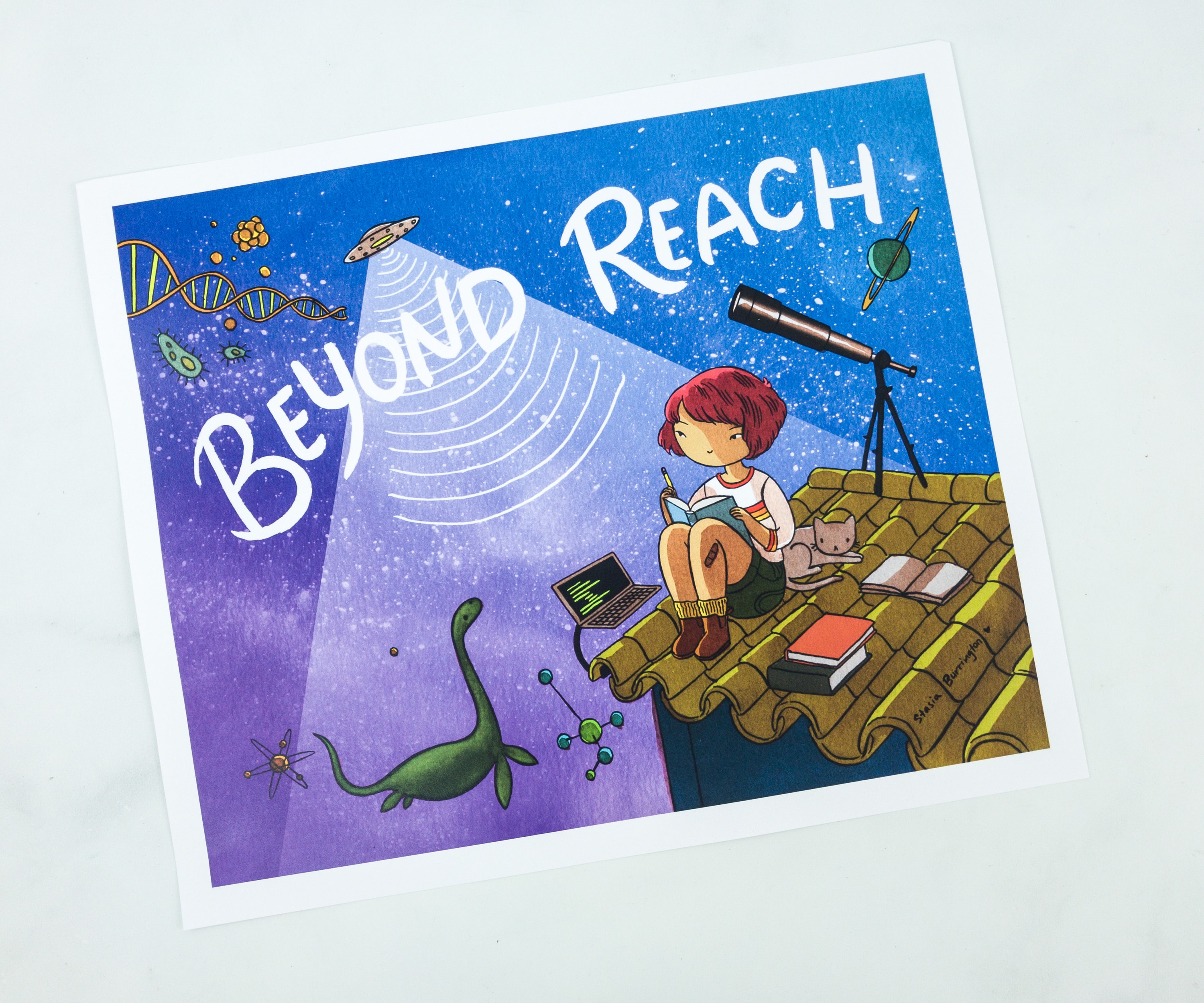 A full-size print comes with the box, along with free shipping. Although I don't love that the fee doesn't apply to a full box purchase, this makes it more worth it. Also, the theme for this month is Beyond Reach!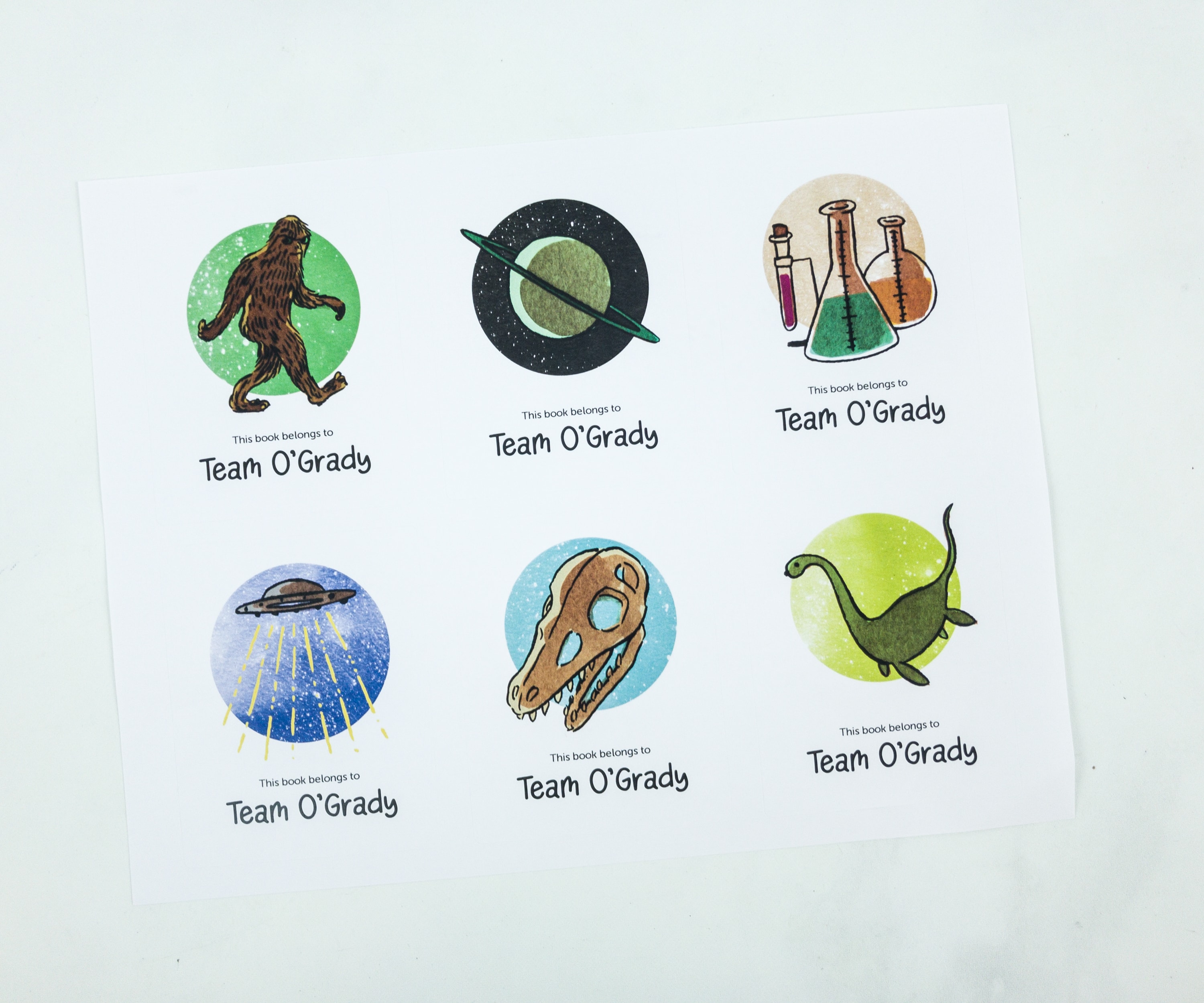 They included a sheet to help us label the books, and let others know that they're ours when we decide to keep them.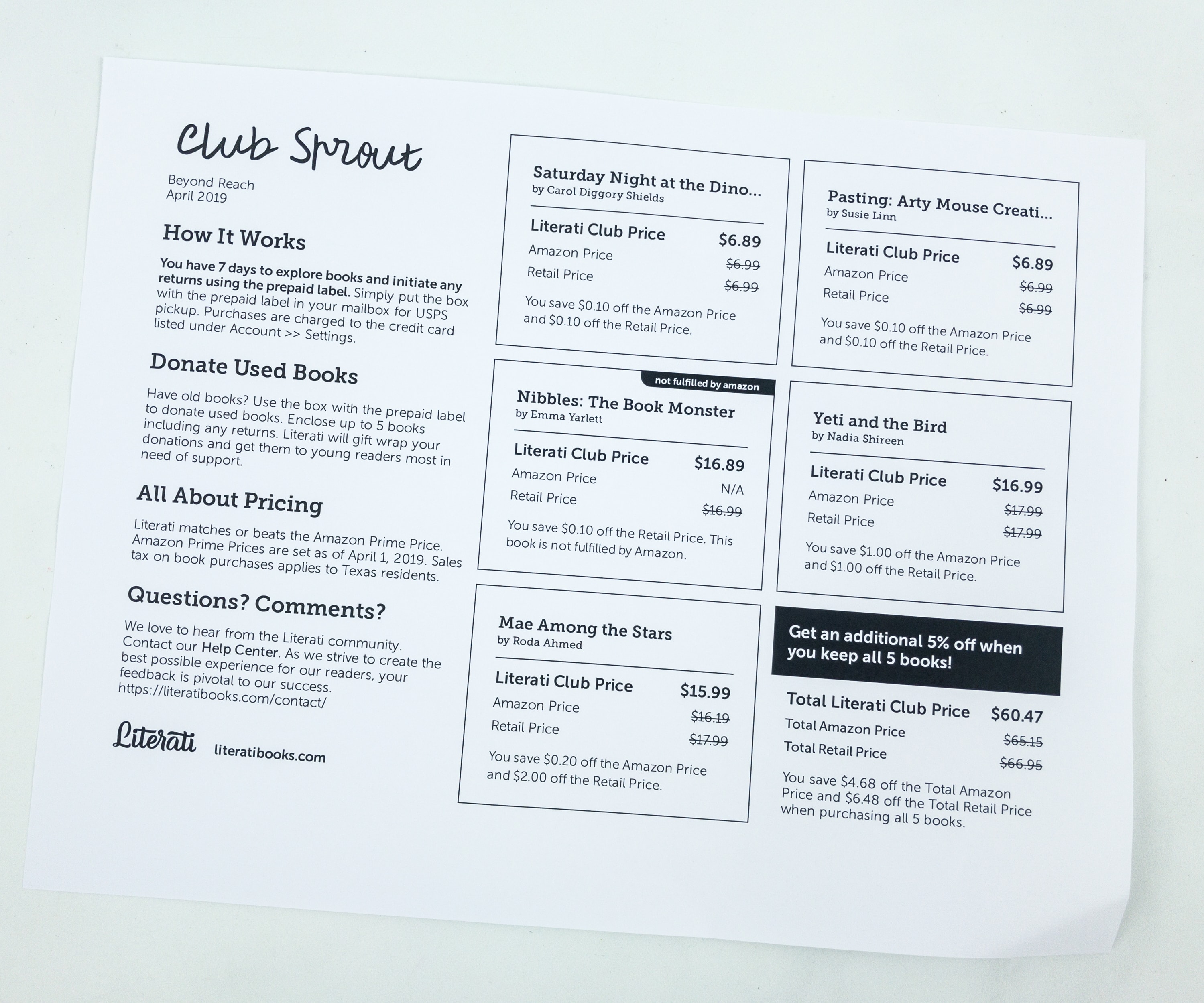 There's a listing of the book prices. If you decide to keep everything, you'll get 5% off. The subscription has a $9.95 non-refundable fee. According to Literati "it covers shipping both ways, allows the curators to invite a new world-renowned illustrator each month to draw personalized bookplates and a unique print for members, and covers other themed surprises that are included in the box." Since the print is now full size and high quality, we are digging that change. It includes the shipping back and forth too.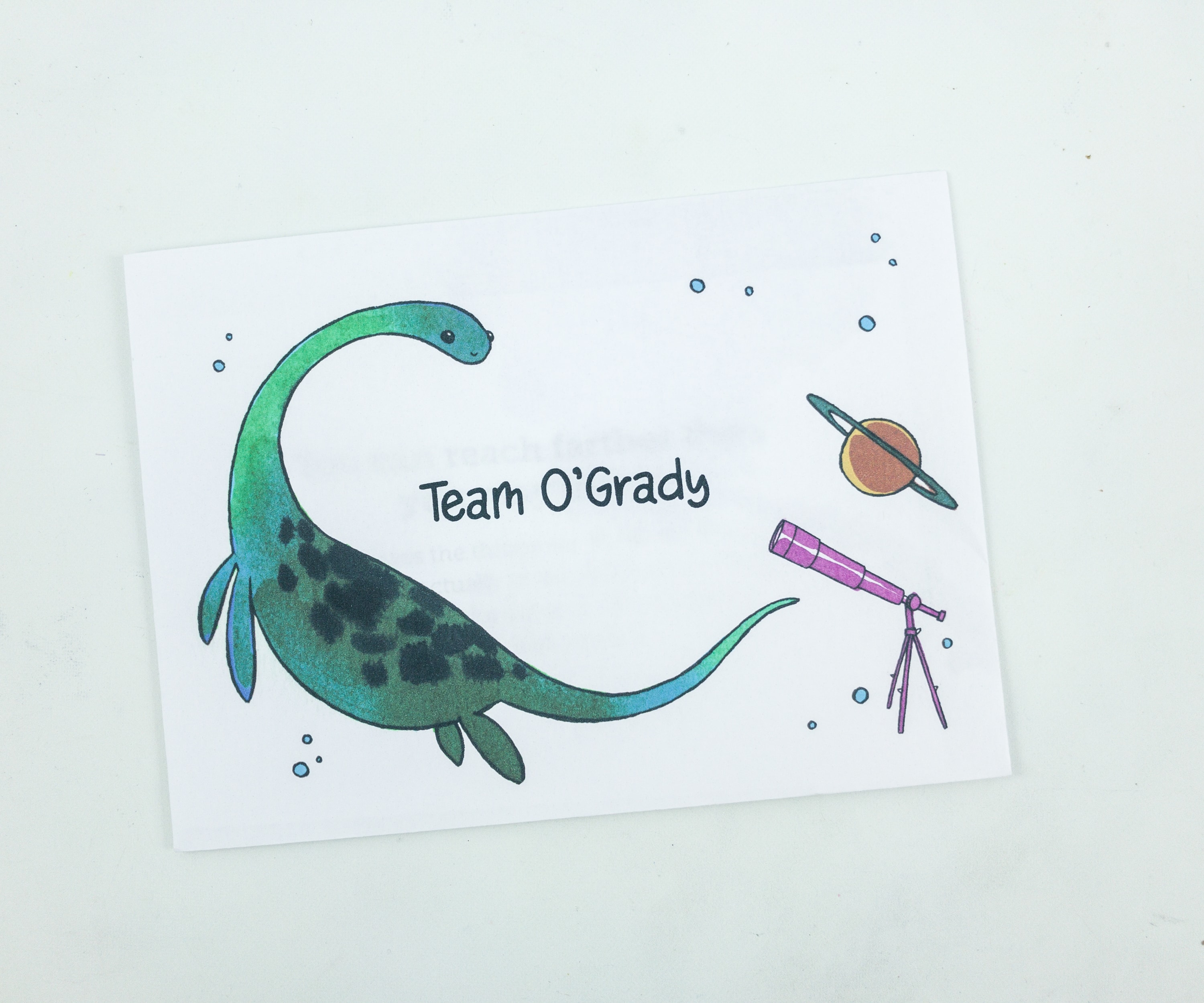 There's also a personalized card and note from Literati.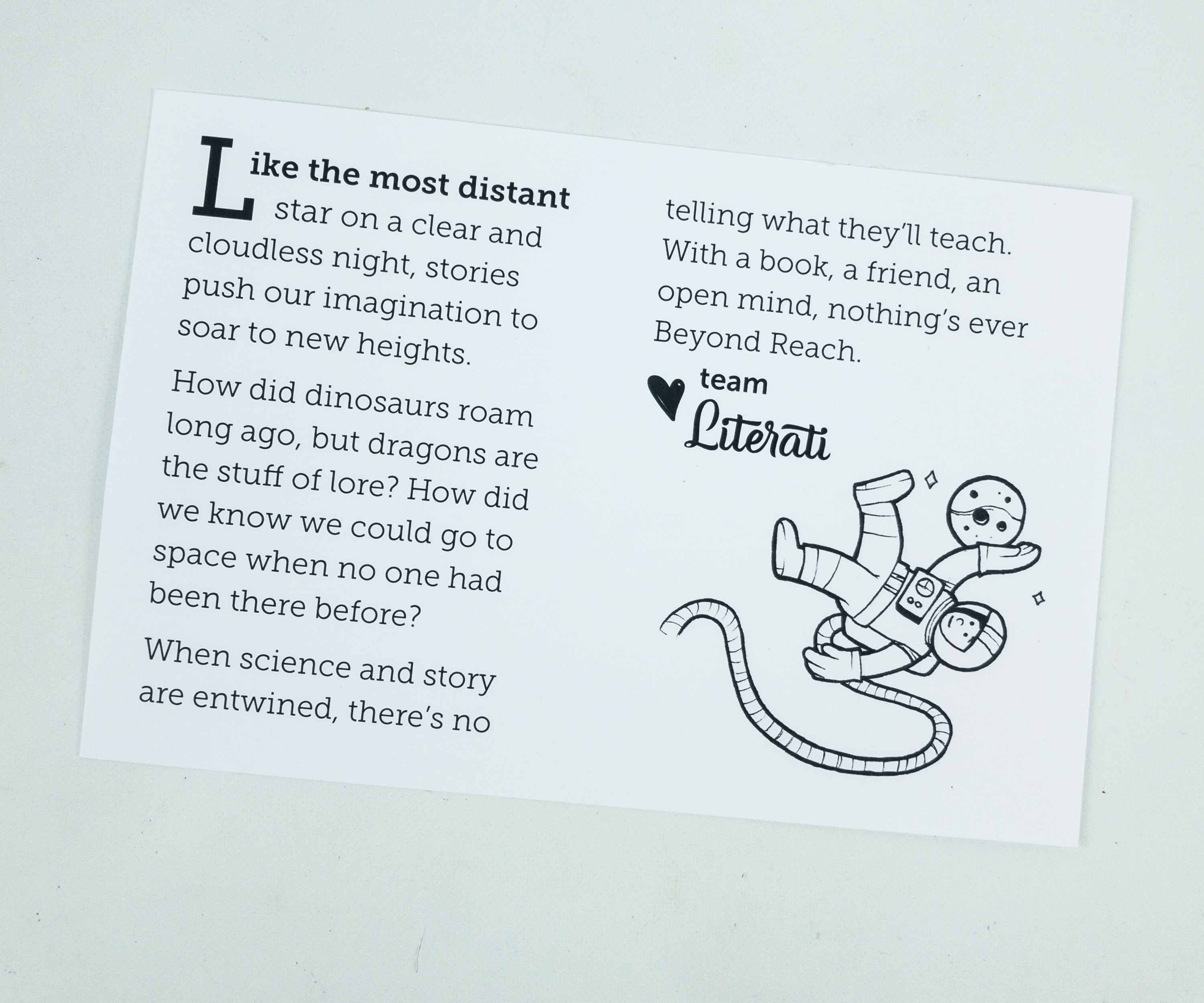 The poetic approach on the note makes us feel special!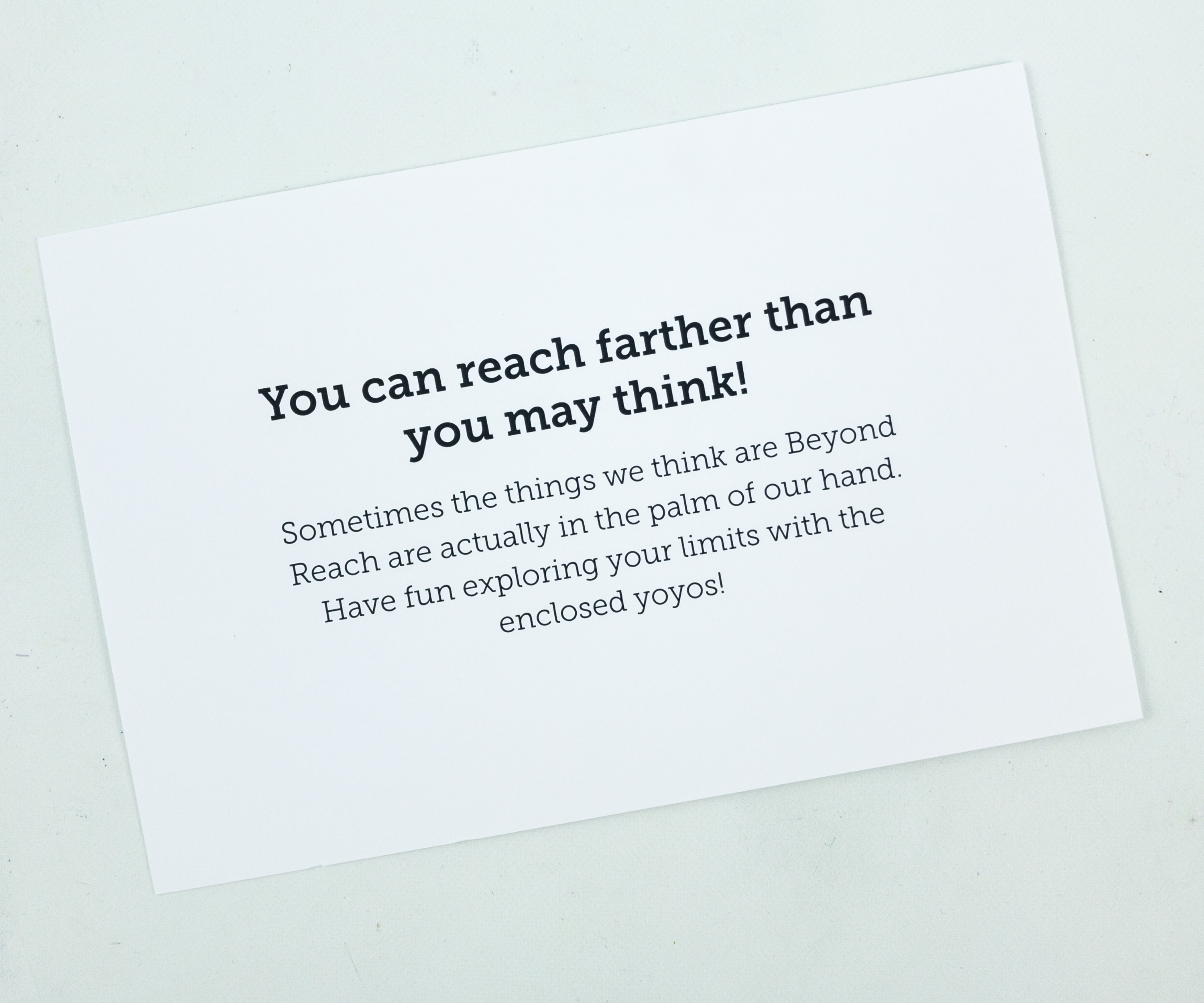 You can reach farther than you may think!
They also included a rubber puffer ball yoyo for the kids to enjoy!
There's also an info card about the five books sent to us this month. The card lists the titles with a brief description for each.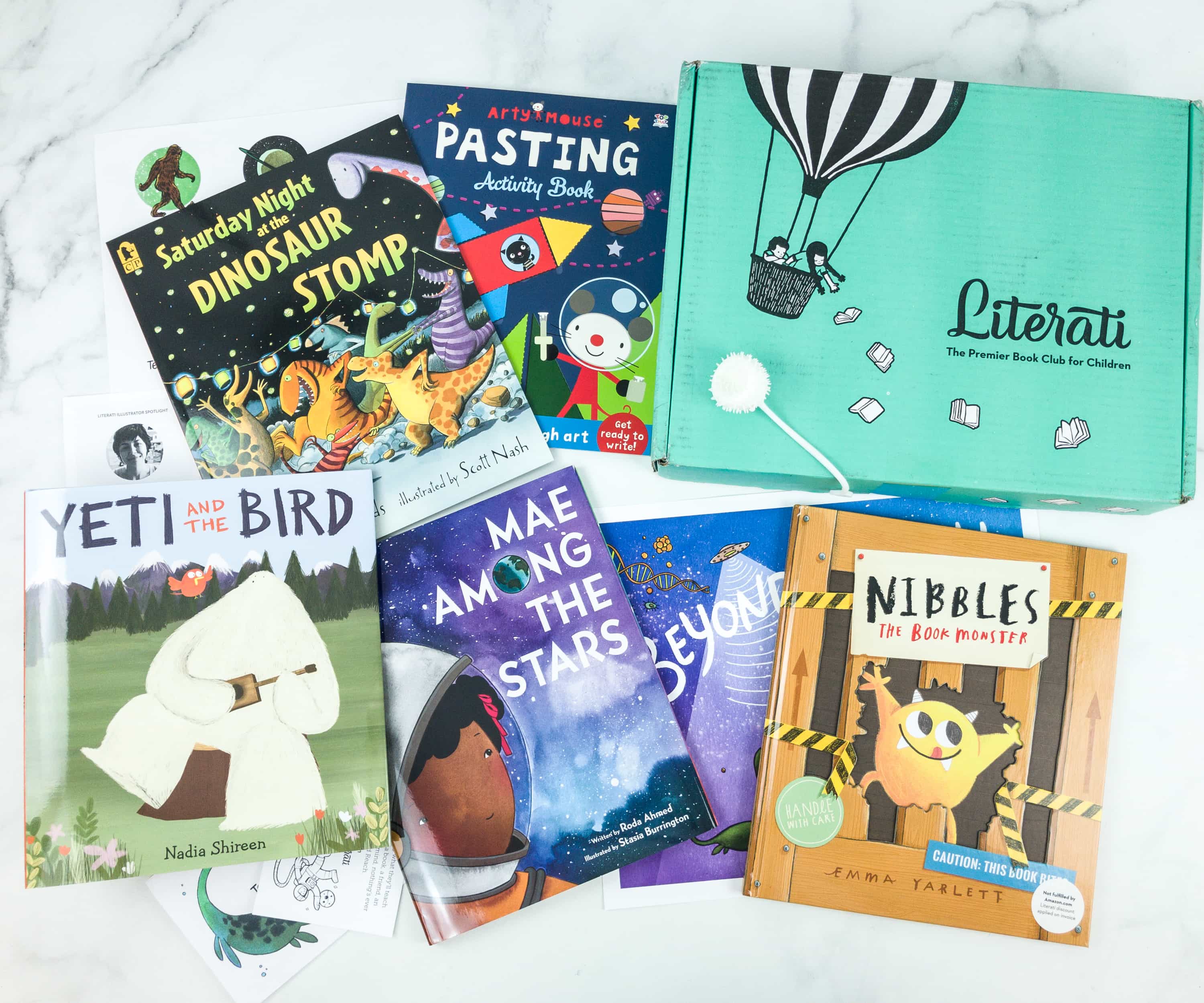 Everything in the box!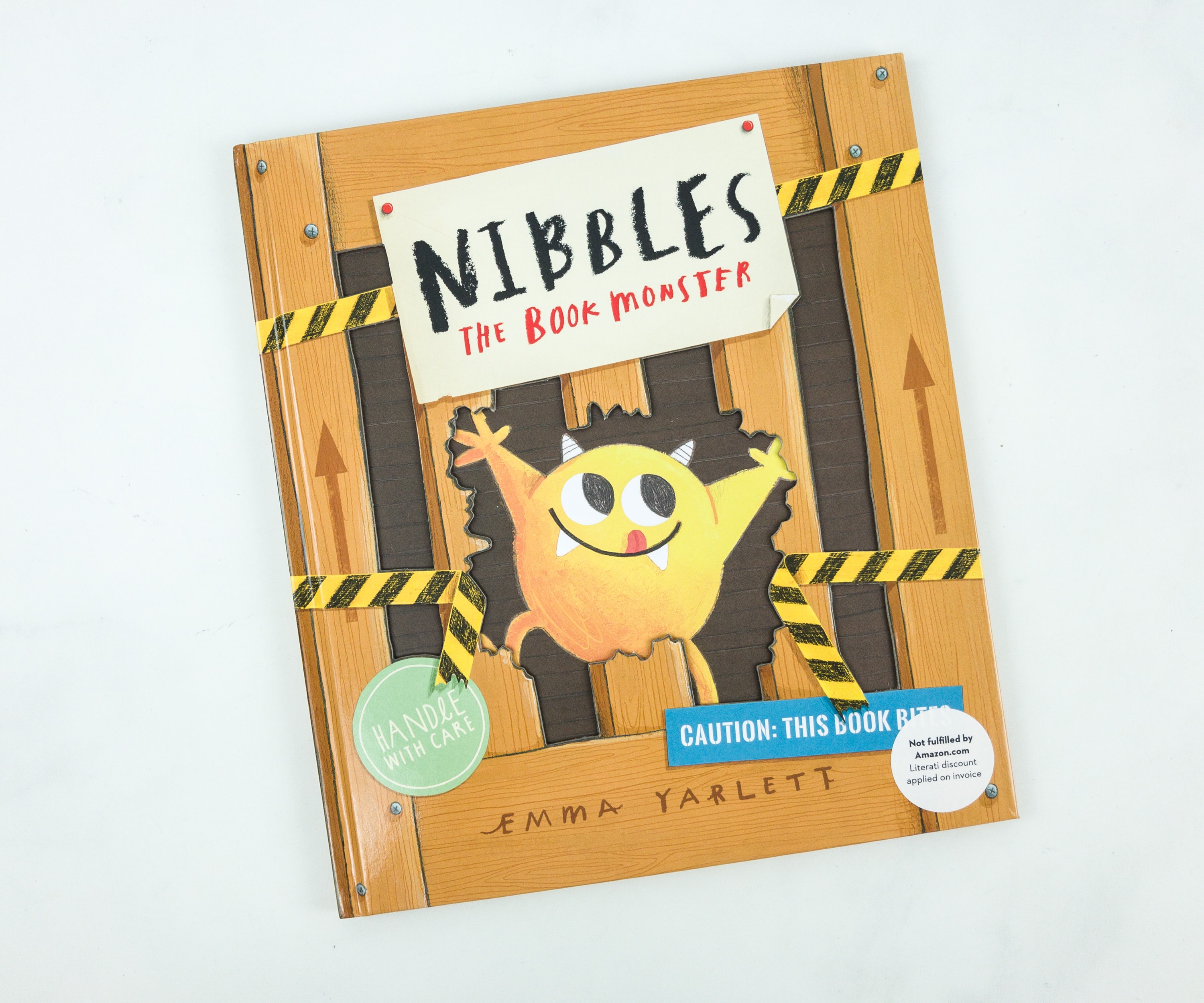 Nibbles The Book Monster by Emma Yarlett ($10.40)
Nibbles the Book Monster is on the loose, and he's chomping through all of your favorite fairy tales! Will anything or anyone be able to stop him?

With books within the book, Emma Yarlett's utterly appealing artwork, and lots and lots of nibbled holes, this laugh-out-loud funny and ferocious charmer's unstoppable appetite for the printed page will nibble a hole right through your heart.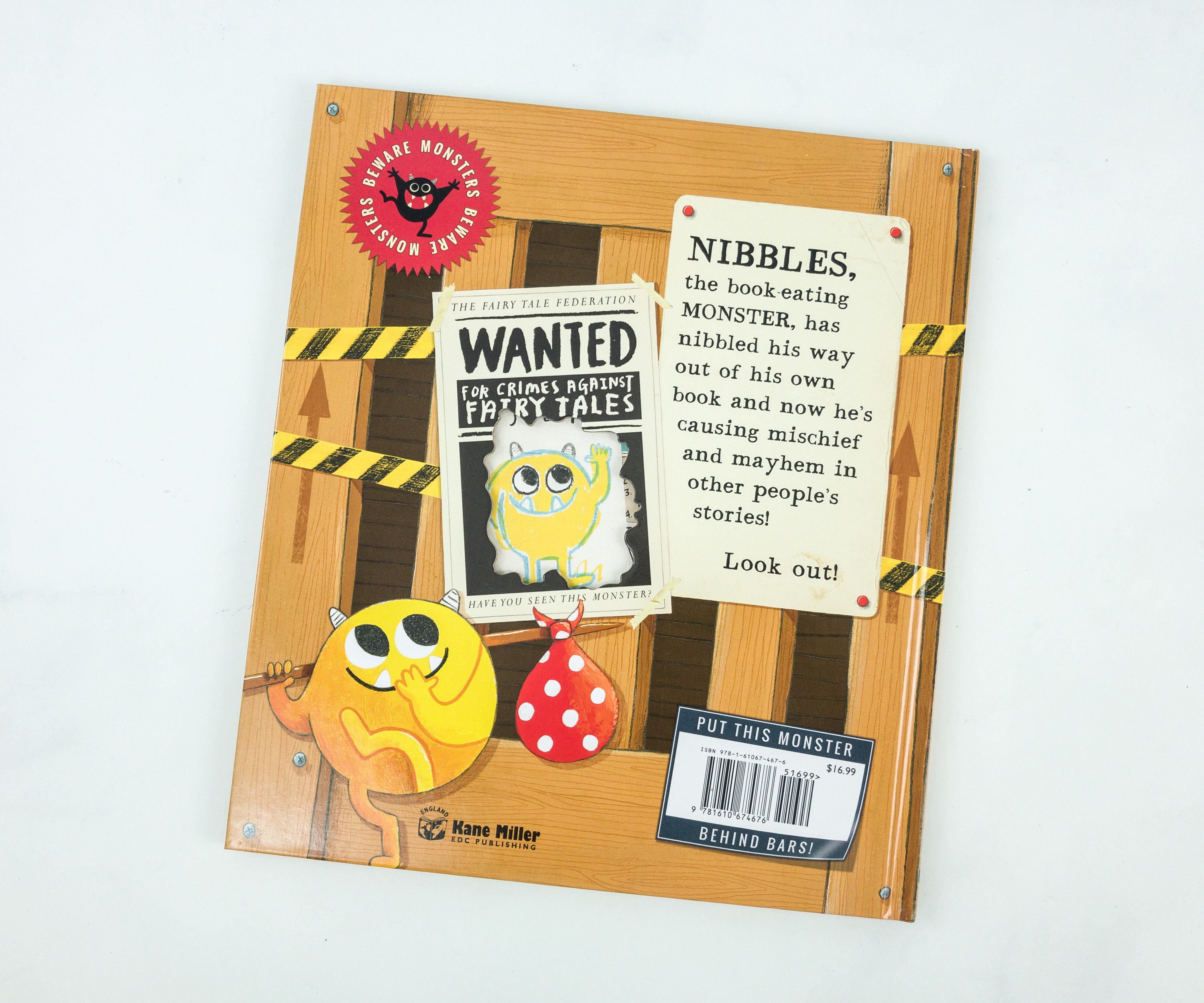 The story is about catching Nibbles, a book-eating monster, and stopping him from chomping his way through fairytales!
The book is also interactive. The kids can peek through peepholes, lift flaps, and even chase the monster!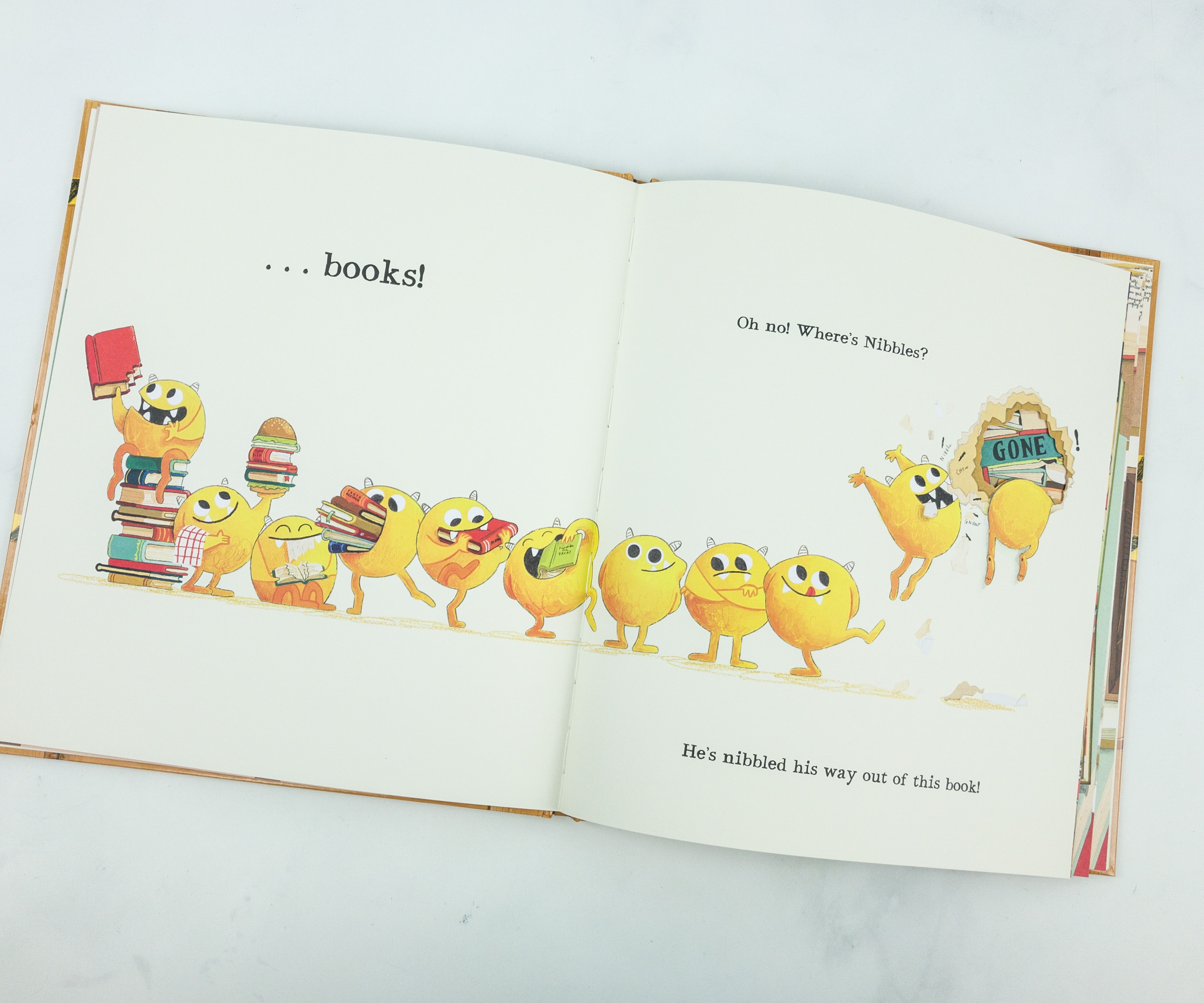 The illustrations are fun and colorful. My kids giggle because of them every now and then.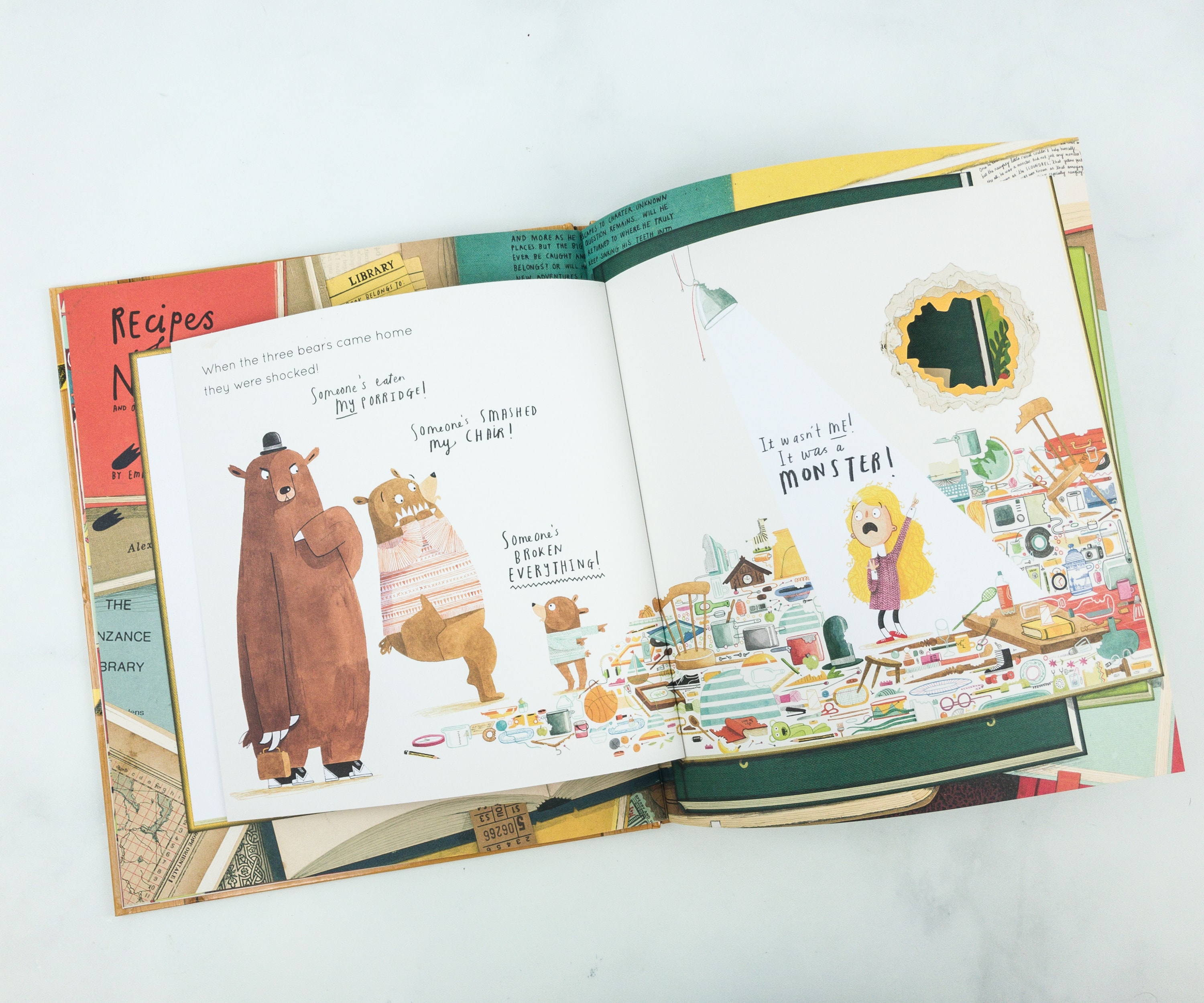 Nibbles made his way through the story of Goldilocks and the Three Bears! He is also making his way to other fairytales like Jack and the Beanstalk, and Little Red Riding Hood!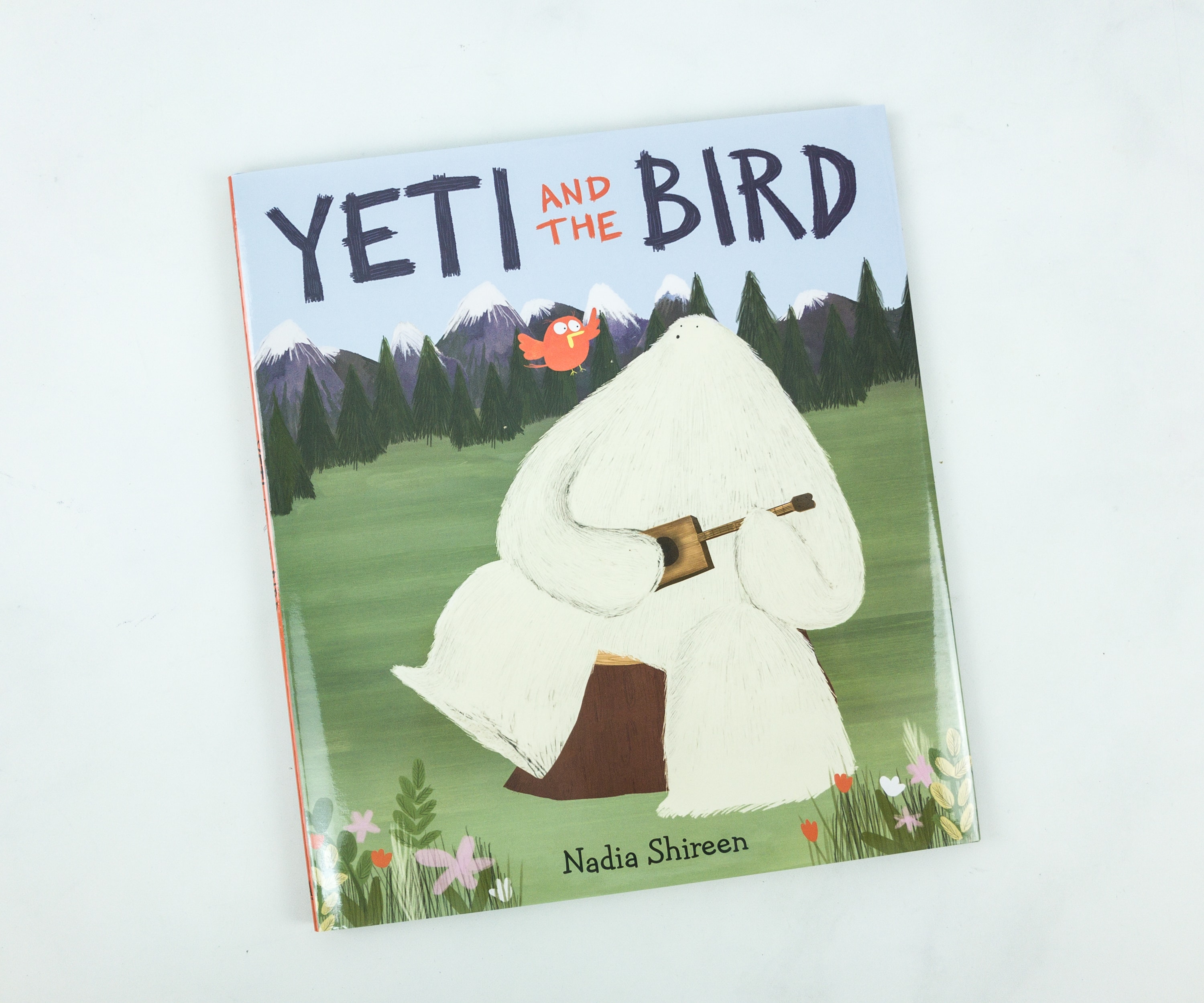 Yeti And The Bird By Nadia Shireen ($17.99)
Even hairy, scary monsters need friends! This heartwarming tale of unlikely playmates features bright artwork and a sweet message from the author-illustrator of Hey, Presto! and Good Little Wolf.

Deep in the forest lives the biggest, hairiest, scariest yeti anyone has ever seen. And he is also the loneliest yeti around.

Then one day…THUNK! Someone lands on Yeti's head. And that someone isn't scared of Yeti at all. Could that someone be a friend?

This fun story of fur, feathers, and friendship delights and inspires—a welcome reminder that friends can be found in even the most improbable places.
The story is about a lonely Yeti, who unexpectedly met a little bird who becomes his friend!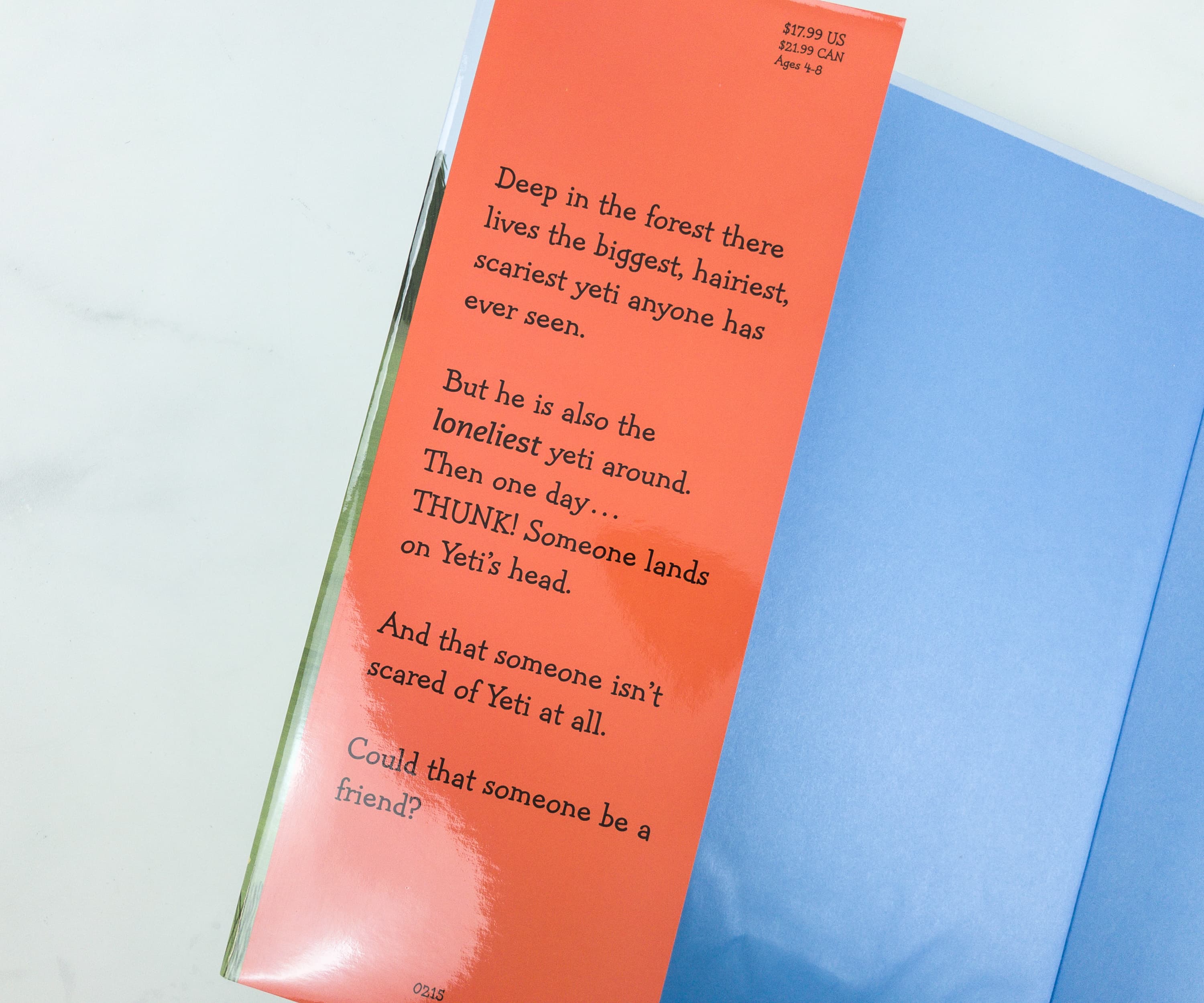 The synopsis is printed on the flap of the book.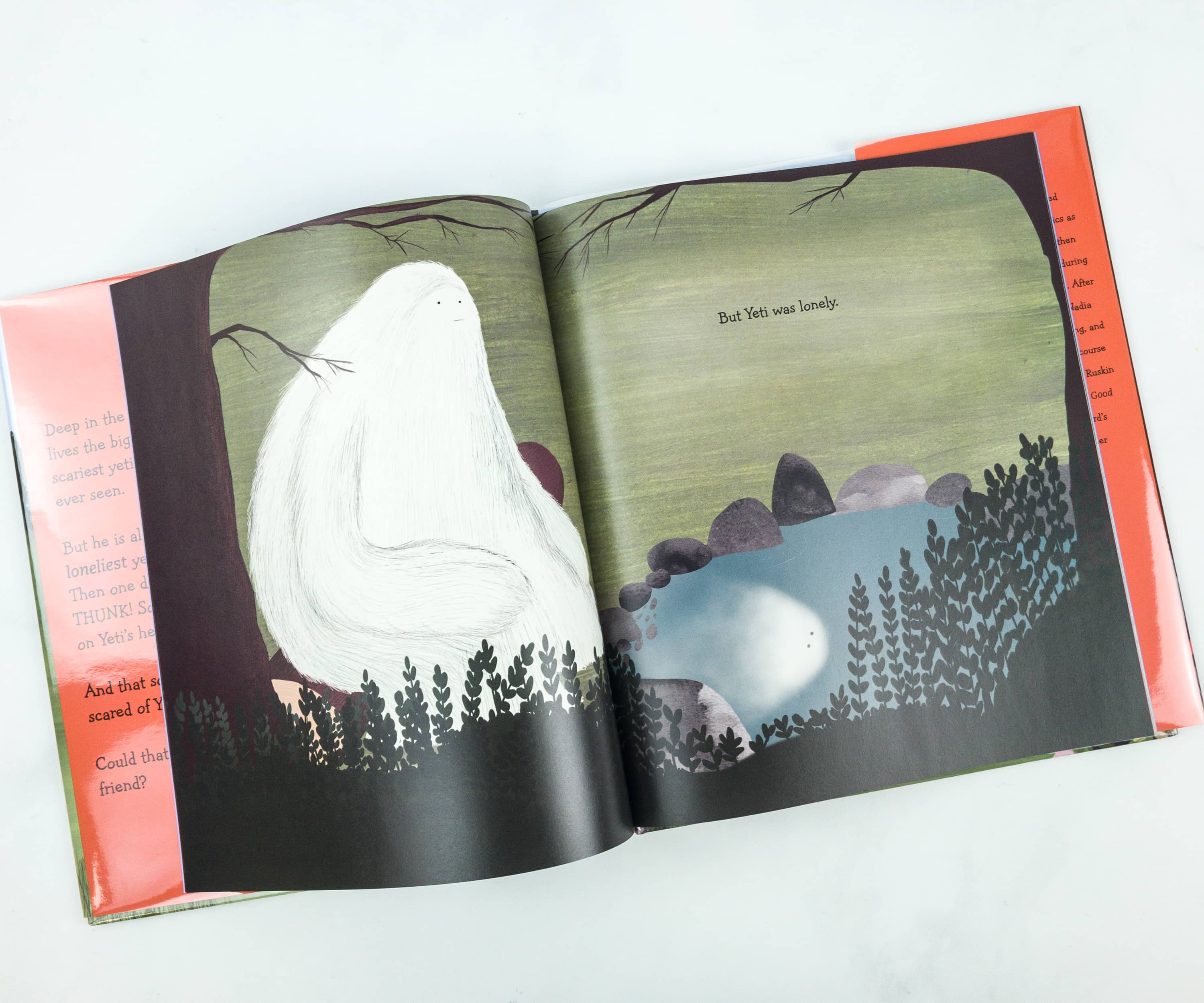 The book tells us more about the story through amazing illustrations.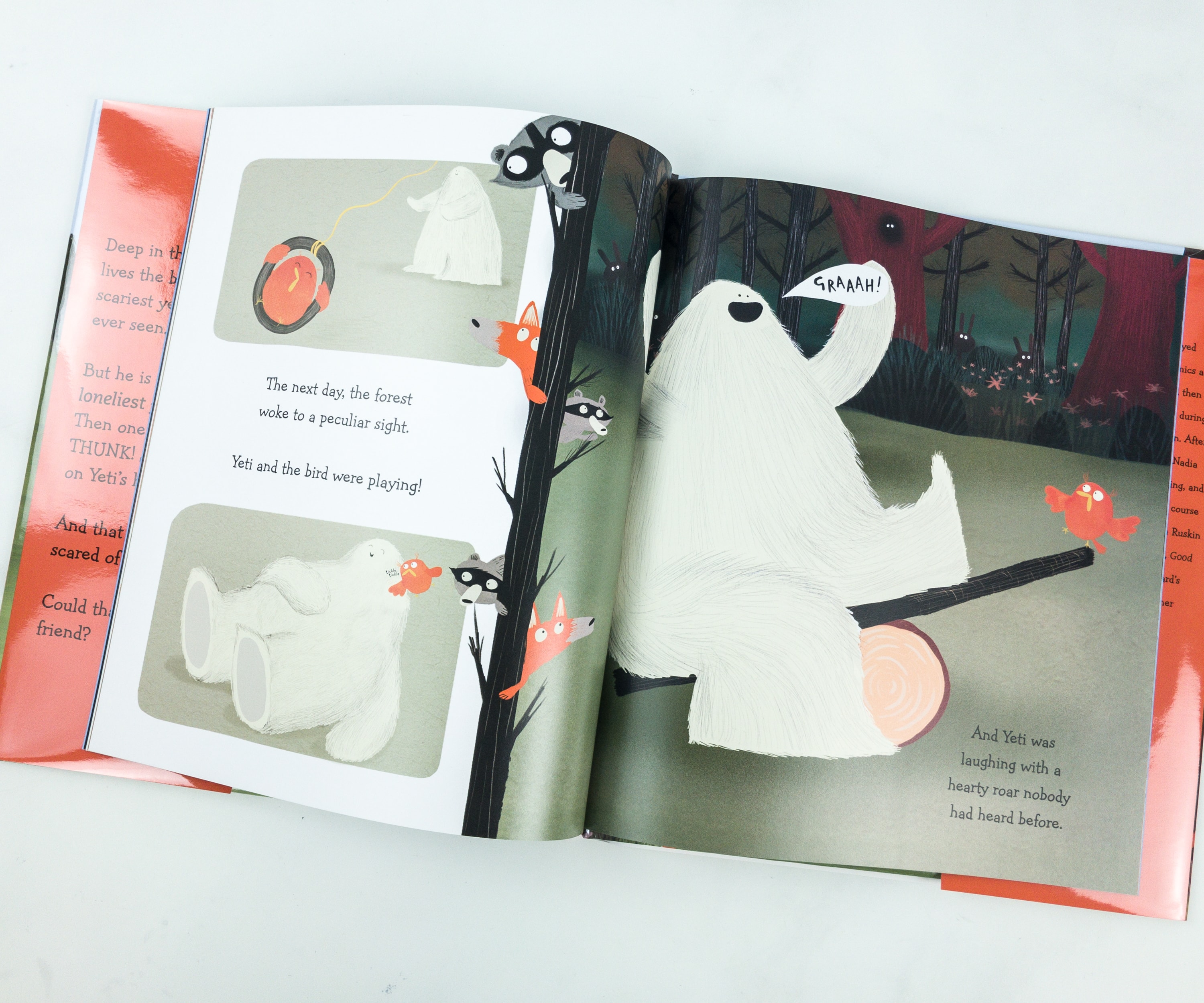 It's a great story that teaches the kids that you can find a friend even at unlikely places, and true friendship can happen between two persons (or creatures) who choose to care and love one another!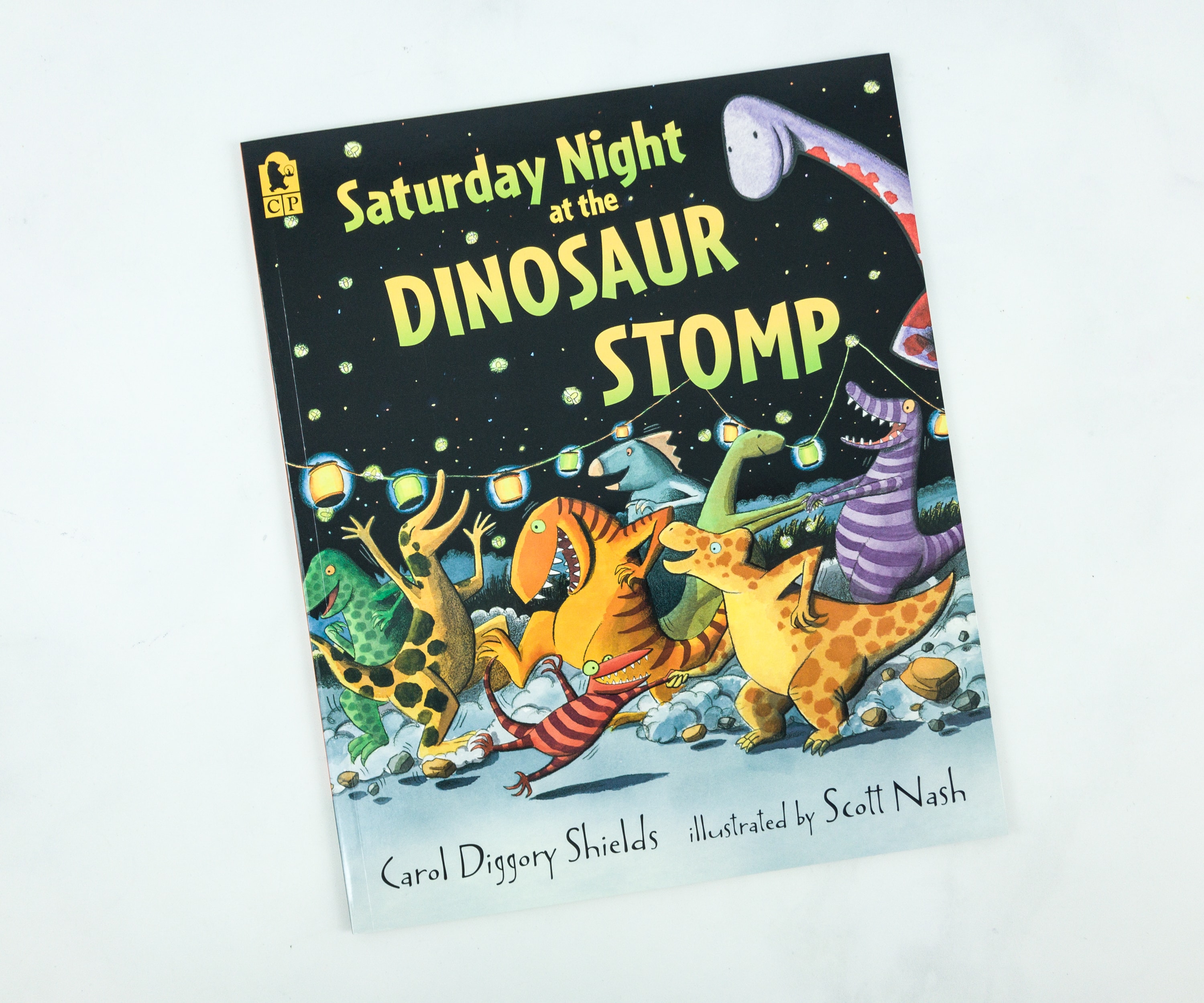 Saturday Night At The Dinosaur Stomp by Carol Diggy Shields ($6.99)
BOOMALACKA BOOMALACKA! WHACK! WHACK! WHACK!—in paperback! (ages 4-8)

What did the dinosaurs do for fun? What really happened when the Jurassic gang wanted to let off some steam? They danced, of course! They rocked and rolled; they twirled and tromped! They had themselves a Dinosaur Stomp! With illustrations by Scott Nash that leap off the page like a raptor doing the fandango, Carol Diggory Shields tells dinosaur devotees all about reptilian revelry with a foot-tapping, tail-whacking beat.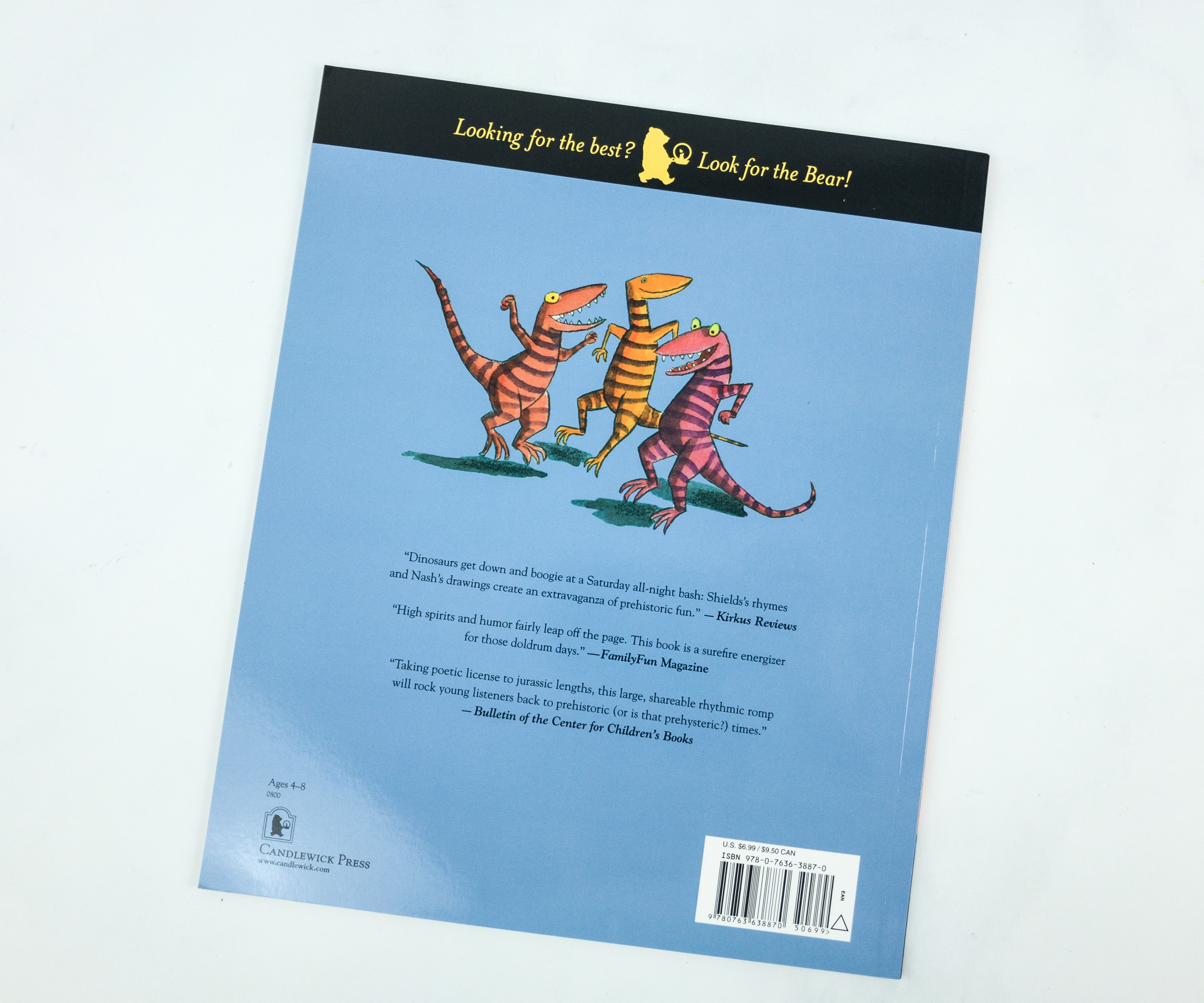 The back of the book features some short good reviews about the book that might catch your interest.
The book has rhymes that are good for kids who are practicing to read out loud.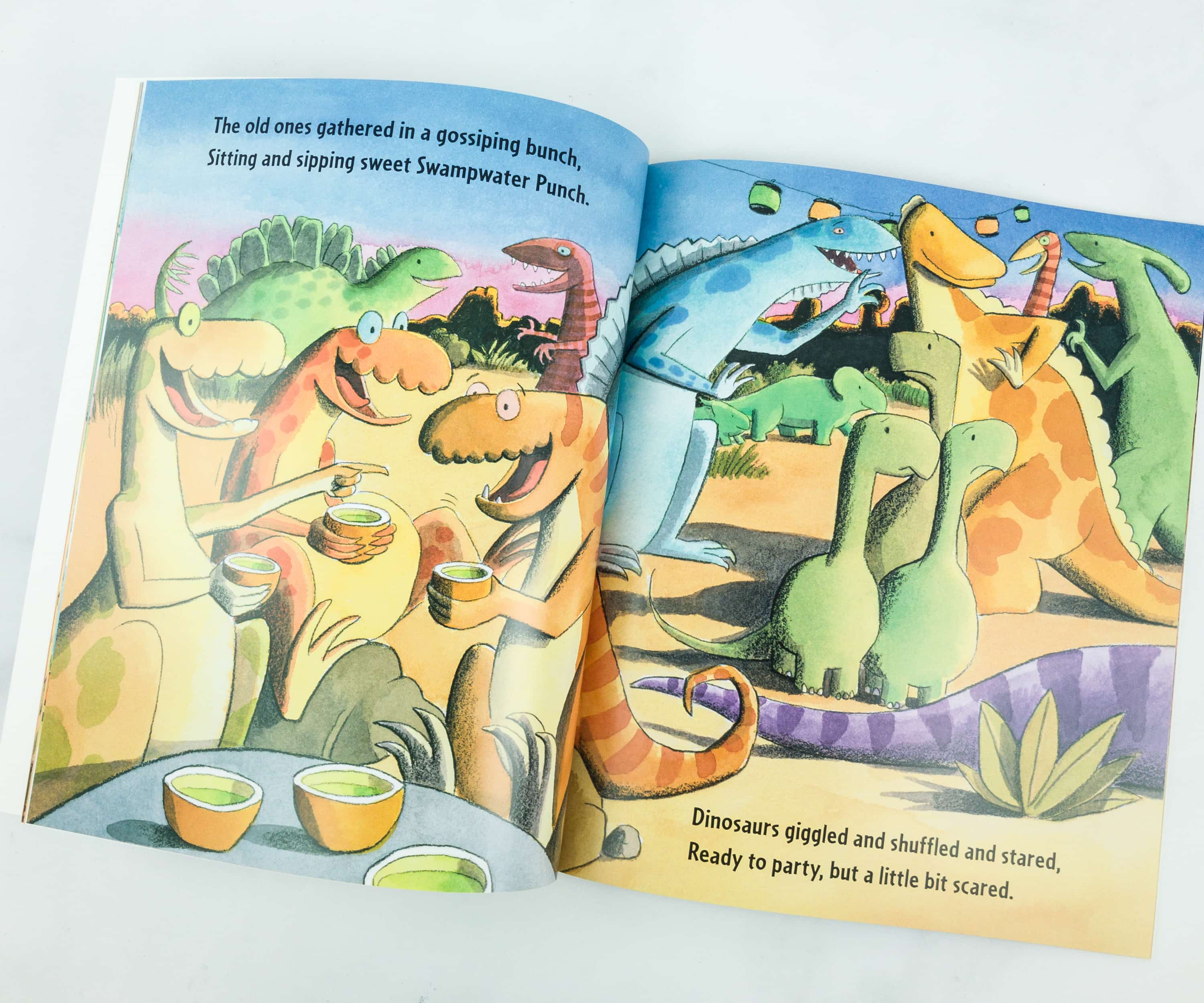 It also features dancing and partying dinosaurs! Also, they included real dinosaur names, so the kids will not only enjoy the fun celebration but also learn a bunch about these prehistoric creatures!
Arty Mouse Pasting Activity Book ($6.99)
Creative play is an important part of a child's development, so give them a head start with the help of Arty Mouse and his colorful friends.

These hands-on activity books introduce the fun of picture-making through a different creative skill, whilst at the same time developing important motor skills for learning to write. Packed with pasting activities on every page, children age 3 and up will be captivated as they learn to cut and paste shapes to make pictures.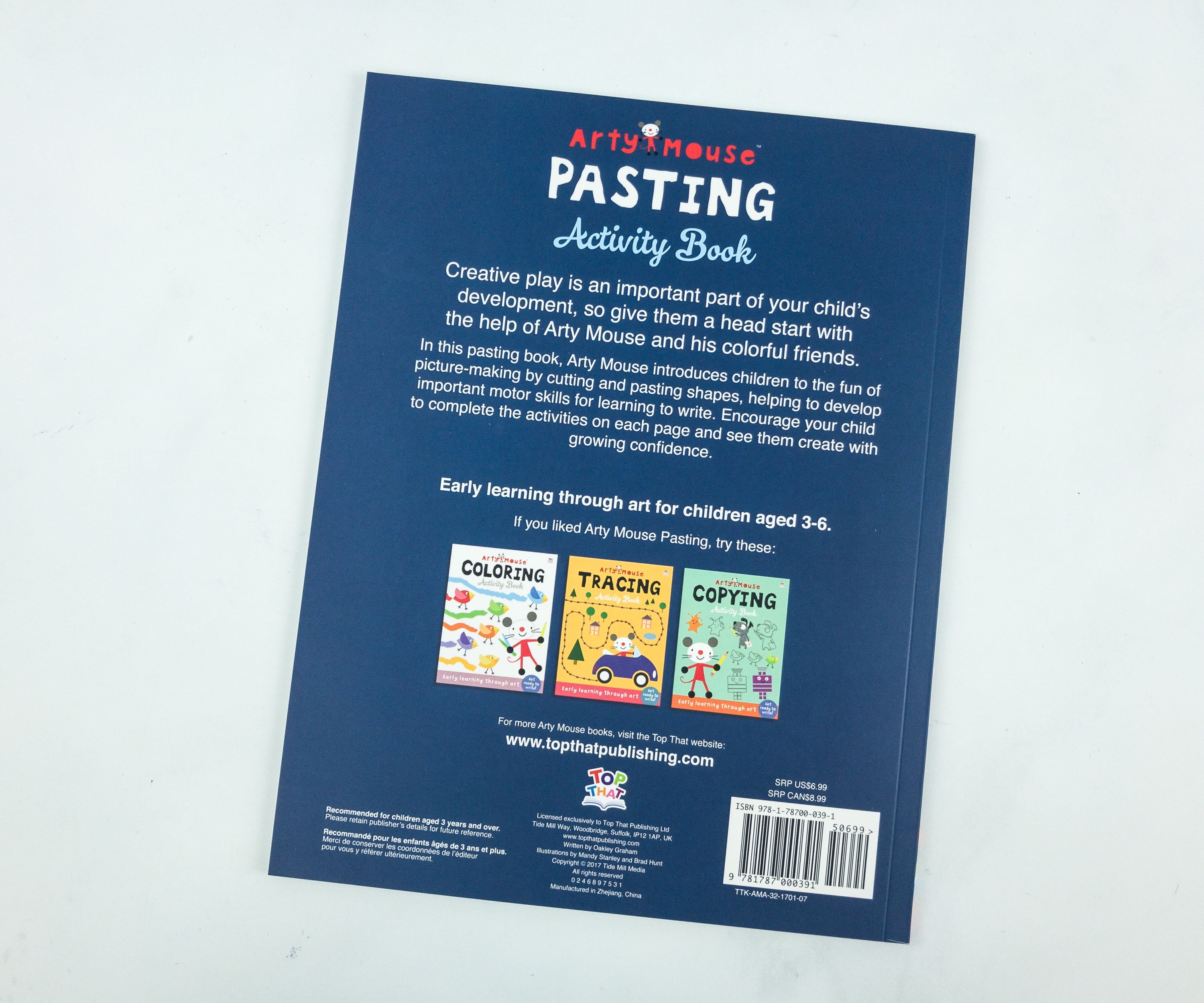 From a line of kids activity books, comes this book that introduces the kids to fun picture-making by cutting and pasting shapes.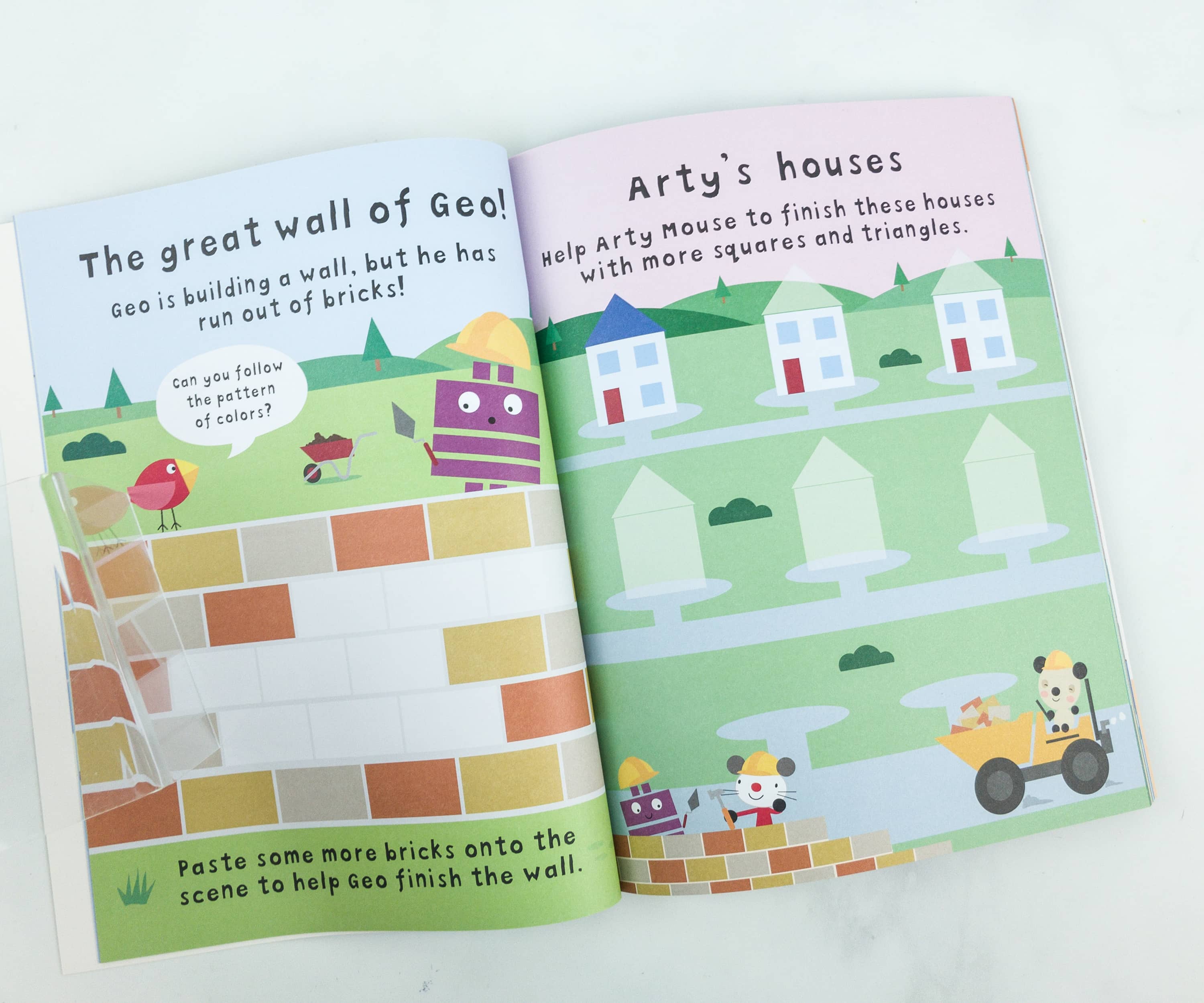 The kids will definitely enjoy filling up the spaces with cut-out shapes.
This activity book has a different approach. It's not just coloring, doodling, or tracing as most activity books do, but it involves cutting-out and pasting shapes!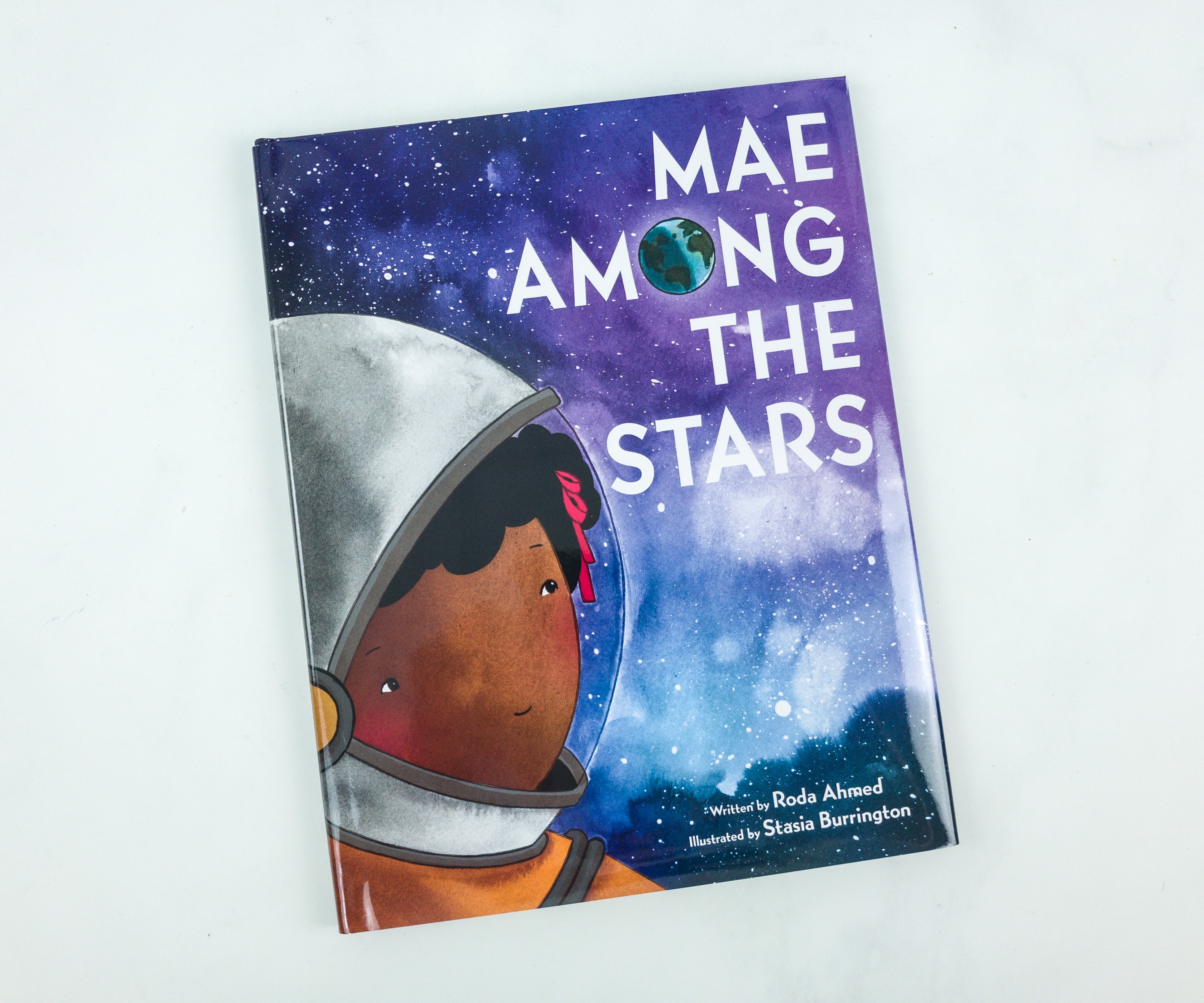 Mae Among The Stars By Roda Ahmed ($14.39)
A beautiful picture book for sharing, inspired by the life of the first African American woman to travel in space, Mae Jemison.

A great classroom and bedtime read-aloud, Mae Among the Stars is the perfect book for young readers who have big dreams and even bigger hearts!

When Little Mae was a child, she dreamed of dancing in space. She imagined herself surrounded by billions of stars, floating, gliding, and discovering.

She wanted to be an astronaut.

Her mom told her, "If you believe it, and work hard for it, anything is possible."

Little Mae's curiosity, intelligence, and determination, matched with her parents' encouraging words, paved the way for her incredible success at NASA as the first African American woman to travel in space.

This book will inspire other young girls to reach for the stars, to aspire for the impossible, and to persist with childlike imagination.
The story is inspired by the life of the first African-American woman to travel in space, Mae Jemison.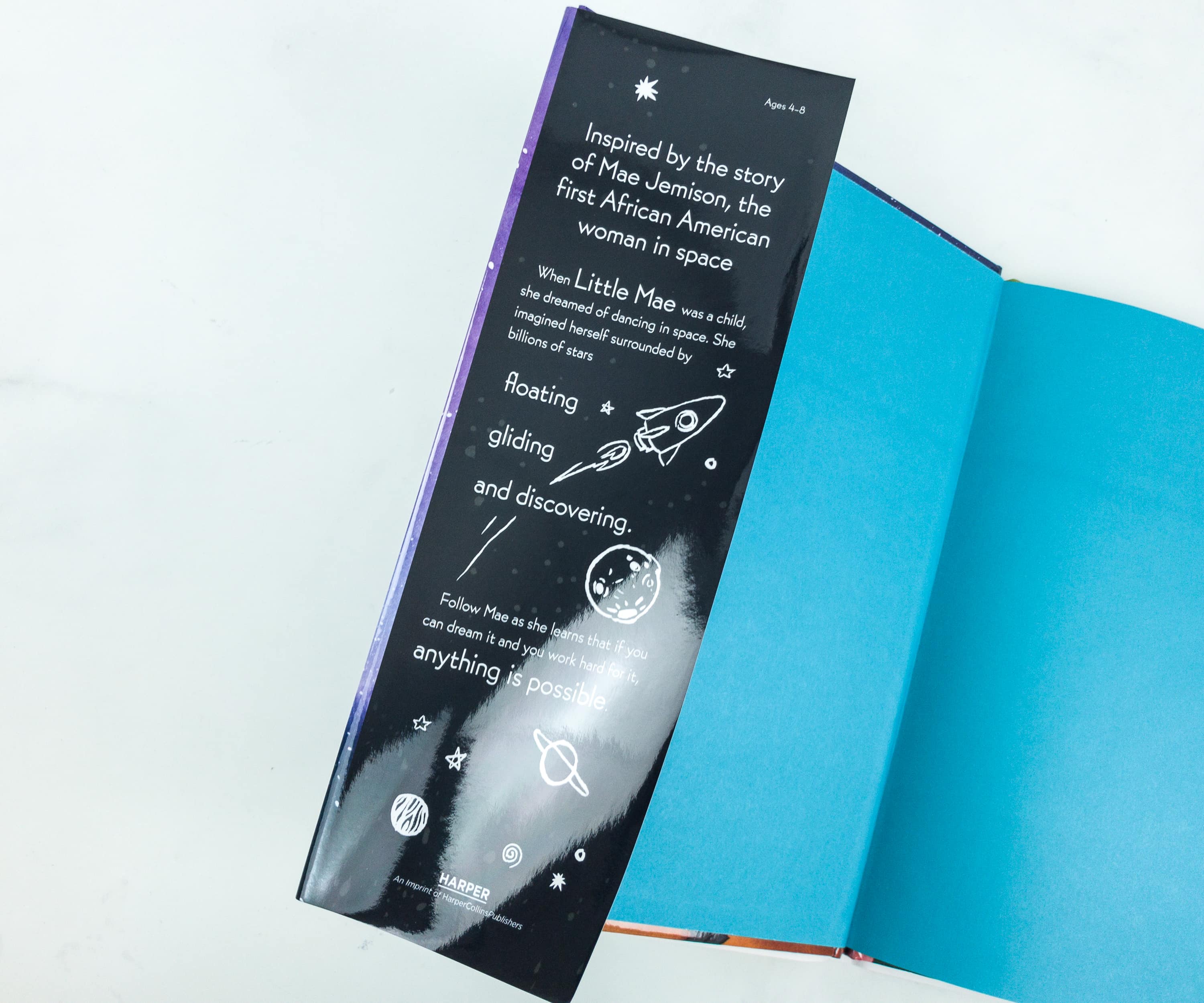 When she was a child, she dreamed of traveling in space, as she imagined herself surrounded by the stars!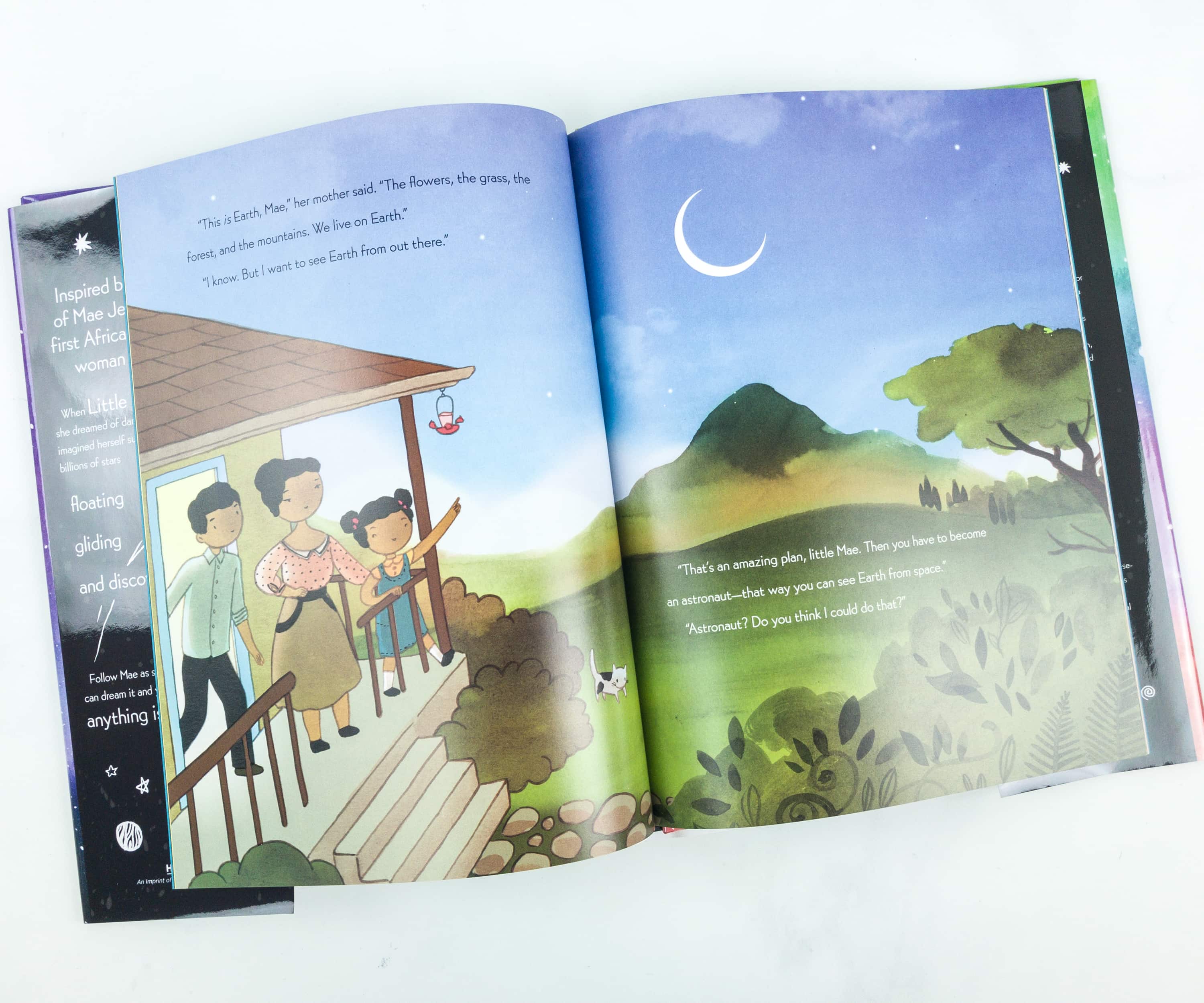 It is a beautiful story that will inspire the kids to reach for their dreams, and do it with all their heart!
It also shows how the support of people who love you can help big time. Their faith in you will help you get through anything.
My kids love out-of-this-world adventures, and this month's Literati Club Sprout box did a great job of sending us books that have that theme! Some of these books are not just fun but truly inspiring too, like the Mae Jemison story, and the Yeti's beautiful friendship with a bird. Nibbles The Book Monster is another enjoyable book, and it even included some of the classic fairytale characters like Little Red Riding Hood, Jack and the Beanstalk, and Goldilocks and the Three Bears. It's like getting more stories in just one book! We love filling out our shelves with more books from this great book subscription box!
Any thoughts on Literati?