The KissMe Lipstick Club is a monthly liquid lipstick subscription from LiveGlam. Every month for $19.99 you'll receive 3 new exclusive liquid lipsticks – all long-lasting, highly pigmented, and deliciously scented!
LiveGlam also offers the MorpheMe Brush Club + ShadowMe Eye Shadow subscriptions.
DEAL: Get a FREE lippie with any subscription plan during the sign-up process! You'll also save $10 on a 6-month plan or get a free month with an annual subscription! Just use this link to activate the offer! You can save 10% in the shop with coupon code HELLOBOXES.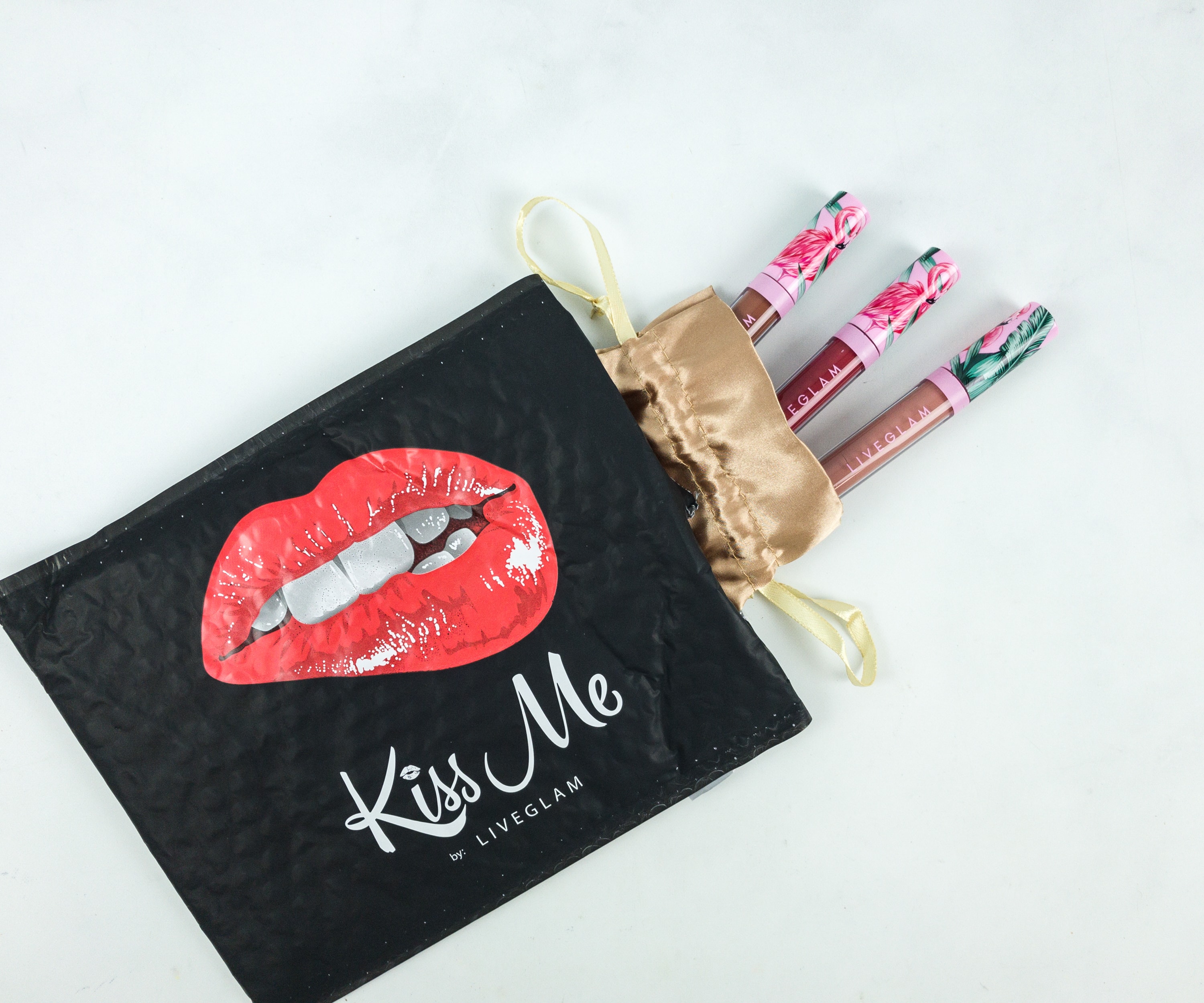 Everything is wrapped in a light pink tissue wrapper sealed with a cute, gold unicorn sticker!
They were also packed in a gold-colored satin pouch!
This month's theme is Flocking Glamorous!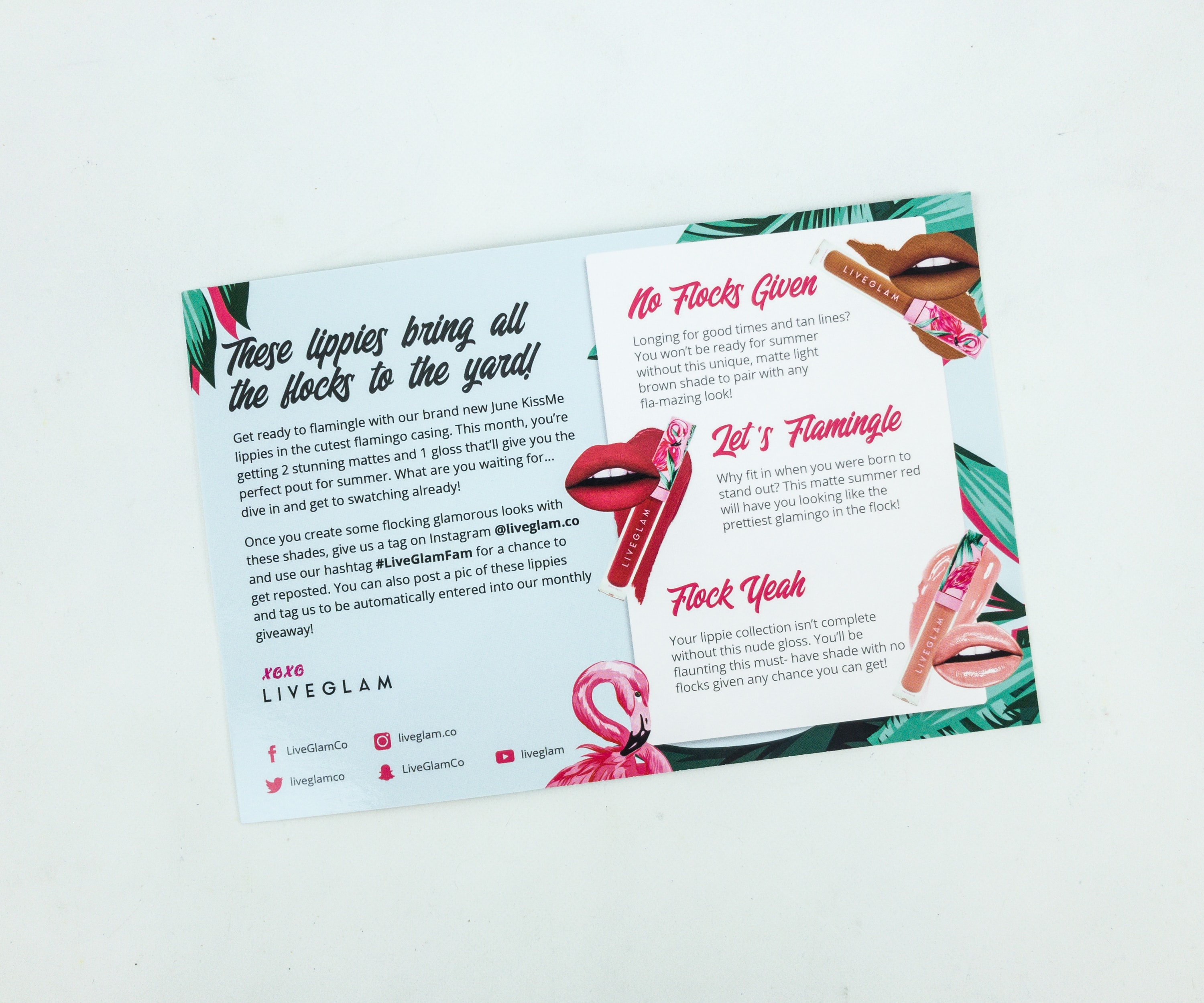 The information card lists all the lipstick shades in the package, plus a brief description for each.
Everything in my box!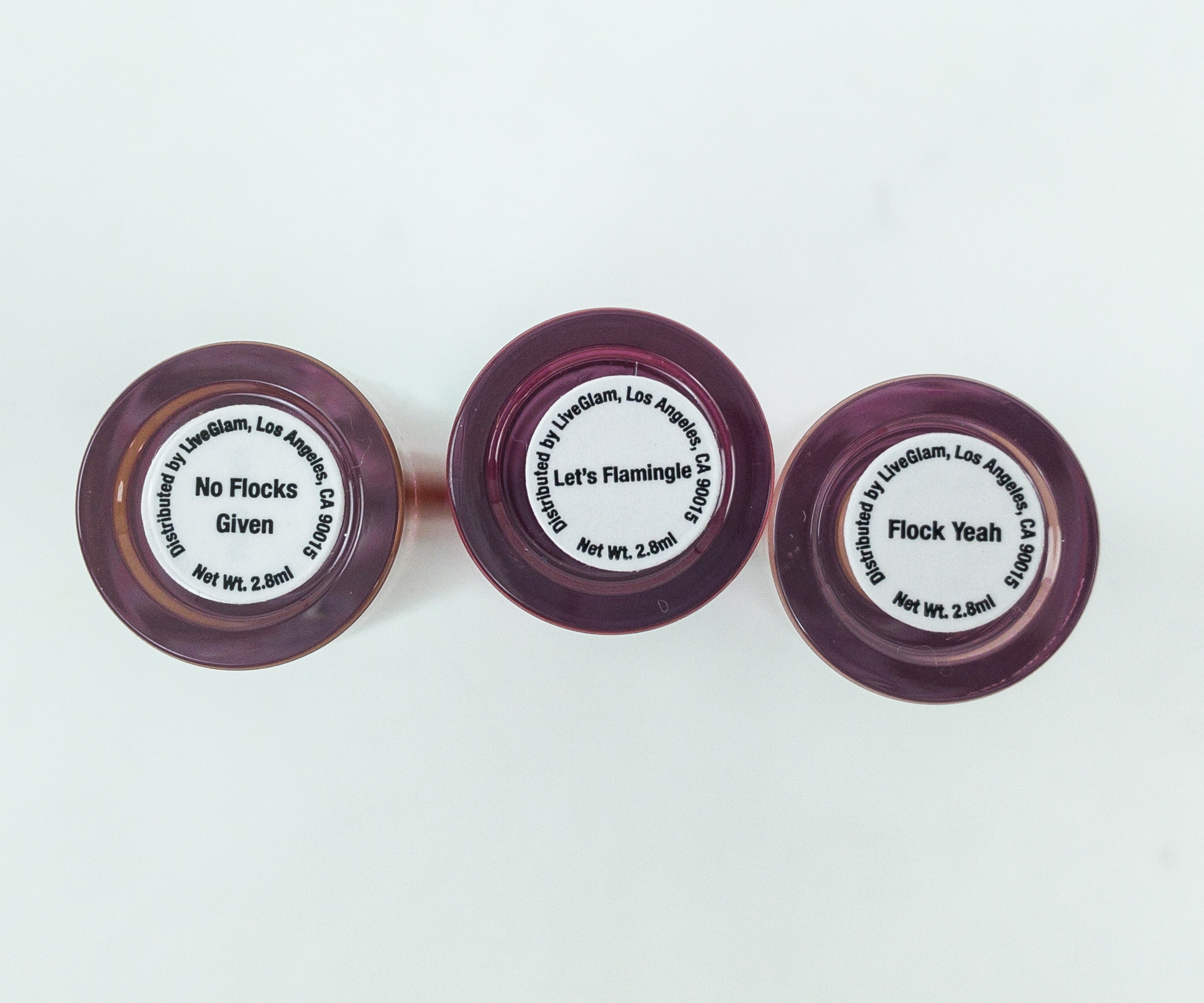 I got No Flocks Given, Let's Flamingle, and Flock Yeah! They never fail to come up with awesome names for the shades!
No Flocks Given. It's a summer-ready shade in light brown! I like the color payoff and its matte finish. If you're looking for a nice, warm lippie that suits most skin tones, this is it. It's best paired with eyeshadow and blush in warm neutrals for a complete look!
Let's Flamingle. For a standout look, a matte red lipstick like this is a must. It's darker when applied compared to how it seems in the container, but I like it. It suits my skin tone well.
Flock Yeah. Of course, the collection wouldn't be complete without a gloss! This one's a nude gloss, perfect for an effortless yet glamorous touch on your summer look.
Here are the swatches! On top is No Flocks Given, followed by Let's Flamingle, and Flock Yeah. The matte lippies are both well-pigmented, while the gloss leaves a nice sheen on the lips.
Summer is just around the corner and this month's collection is perfect for the upcoming season! One warm brown, one stunning red, and a nude gloss are enough to keep me fabulous despite the hot weather and hectic summer trips. As usual, the lippies are all high-quality and long-lasting. They all smell delicious as well. If you're crazy for liquid lippies like me, this subscription is a must-try. They never fail to come up with fun and well-thought-out themes every month! Plus the puns do not flocking stop with this month's theme – I admit that the name went really far with me!
Any thoughts on this month's colors?