BookCase.Club now has a subscription for children of all ages – the Kids BookCase Club! Starting at $9.99 each month, you'll get a monthly shipment of handpicked books that you and your kids will surely love. Each BCCKids case comes with three handpicked children's books, chosen to ignite the imagination and inspire creativity.
You can customize the subscription depending on your child's gender and age range. Available age categories are newborn to 2 years old, 2 to 4 years old, 5 to 6 years old, 7-8 years old, and pre-teen.
This is the review of the 2-4 years old box!
DEAL: Save 50% on your first month! Use coupon code HELLOSUB501M. OR Get 10% off your entire order! Use coupon code HELLOSUB10.
The books are wrapped in tissue paper.
I can see books that can become potential favorites!
Everything in my box!
Rescue Squad No. 9 by Mike Austin ($11.89)
In this companion book to Fire Engine No. 9, Rescue Squad No. 9 must spring into action when a young sailor and her dog are stranded during a storm!

Follow the crew as they scramble aboard their helicopter and speedboat, racing to the rescue through the waves and winds. The high action is communicated through minimal sound words and bold, graphic art reminiscent of that in Donald Crews's transportation books.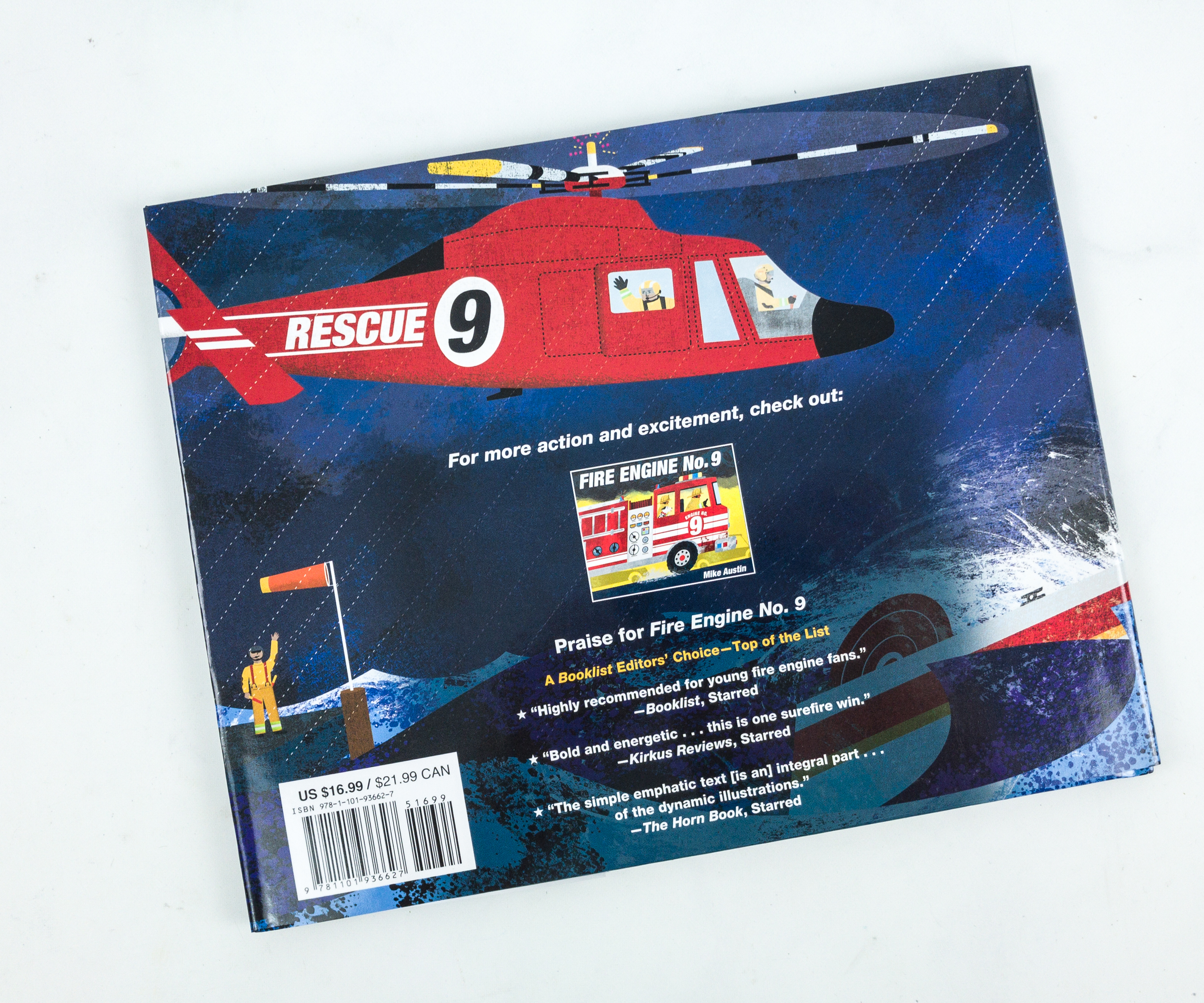 A lot of action awaits kids in this book about rescuing a man and a dog amidst a storm!
The inside flap of the book lists and illustrates different tools and gears needed for a rescue.
The illustrations are colorful and exciting. It helps my kids learn more about the importance of rescue during emergency situations.
Kids who are also practicing reading out loud can use this book for that purpose. The words are printed in large fonts that they can easily recognize.
Vivian The Dog: Moves To The Big City by Mitch Boyer ($9.98)
Vivian the giant wiener dog is moving to the BIG city and dealing with giant-sized changes.

The city sounds like the perfect place for a dog like her—but when she arrives, everything seems too small! And moving is stressful! But soon she meets a new friend. Lulu shows Vivian around and together they hop on the subway, visit the museum, and best of all, eat pizza!

Fans of photographic picture books such as What the Dinosaurs Did Last Night and The Secret Life of Squirrels will love this irresistible look into a larger-than-life wiener dog and her adventures in the big city.

From debut author and photographer Mitch Boyer comes a story perfect for helping readers deal with big changes and the perfect gift for dog lovers everywhere.
Upon seeing the picture at the back cover, my kids got excited about Vivian's adventures with her friends!
Dog lovers will find this book and story adorable! We did!
My kids also love the pictures on this book. It's fun to see real dogs, streets, and houses being used to tell a good story.
As we read the story, my kids were cheering for Vivian, especially when she lost her friend Lulu. It's a story about a beautiful friendship and adventure, and we all love it!
Rumble Grumble… Hush by Kate Banks & Simone Shin ($10.44)
Where the Wild Things Are meets Chicka Chicka Boom Boom in this emotionally satisfying picture book tailor-made for reading aloud, which celebrates creativity and the power of imagination.

In a spare, lyrical text, young listeners and readers will follow a little boy through his day, from early morning till bedtime, and watch as what fills his active imagination becomes real. Toys grow to life-size: a tin monkey plays a real drum and fiddle–rat-a-tat, toot!–a stuffed lion roars–rumble, grumble–and a dump truck empties its load–BANG! But when quiet time comes, and a hush settles over his bedroom, animals nap, and the boy becomes absorbed in other activities, like reading and drawing.

Here is an irresistible read-aloud by a picture-book master that captures all the joy of a child's play, and renders a boy's imagination real.

Praise for And If the Moon Could Talk by Kate Banks: 
"With quiet phrases and luxurious color, Banks . . . evoke(s) a perfectly peaceful bedtime." —Publishers Weekly

Praise for City Cat by Kate Banks: 
"If you have to pack a suitcase, . . . make room in it for this book." —The New York Times
The story is about a boy who imagines all his toys coming to life!
It's another good book for reading aloud with kids. Coupled with adorable illustrations, it got my kids hooked until the last page.
During his quiet time, the boy is absorbed in other activities like reading a good book and drawing beautiful pictures! The kids can also take inspiration on what the little boy is doing.
We definitely love simple stories that the kids can easily relate to and learn from. The books come with great illustrations as well, making the experience even more enjoyable. Rescue Squad was packed with action and Vivian the dog's adventures are a whole lot of fun. Those two are my kids' favorites. Overall, I think that this is a good subscription to expand your mini library! We can't wait for more books next month!
Are you getting Kids BookCase Club?