Erin Condren is the super popular purveyor of some of the best planners and planner supplies around! I was so excited to receive some of their new items and can't wait to share them with you so your planner can be as colorful as mine. By the way, you don't have to have an EC LifePlanner to use all of these products, but if you want to check out what the hype is about, you can read a review of the 2020 planner and updates here!
DEAL: FYI – if you use this referral link to register for the site, you'll get a $10 coupon code emailed to you. You can use it on pretty much anything on the site.
Don't forget to grab notifications for the Erin Condren Seasonal Surprise Box, their quarterly mystery box!
My box was packed full and I found pink tissue paper covering my items, plus a sticker to hold it closed.
I received a card with some of the new items available on display.
It listed a few bonus items to be found in the box. Most of my items feature the new Kaleidoscope design, which matches my 2020 planner:
True beauty lies in seeing the same thing just a little bit differently. Our interpretation of the kaleidoscope is about crystallizing your vision to transform plans into reality. No matter what you see in this design, the stunning colorful or neutral dimensions represent new possibilities for yearly planning.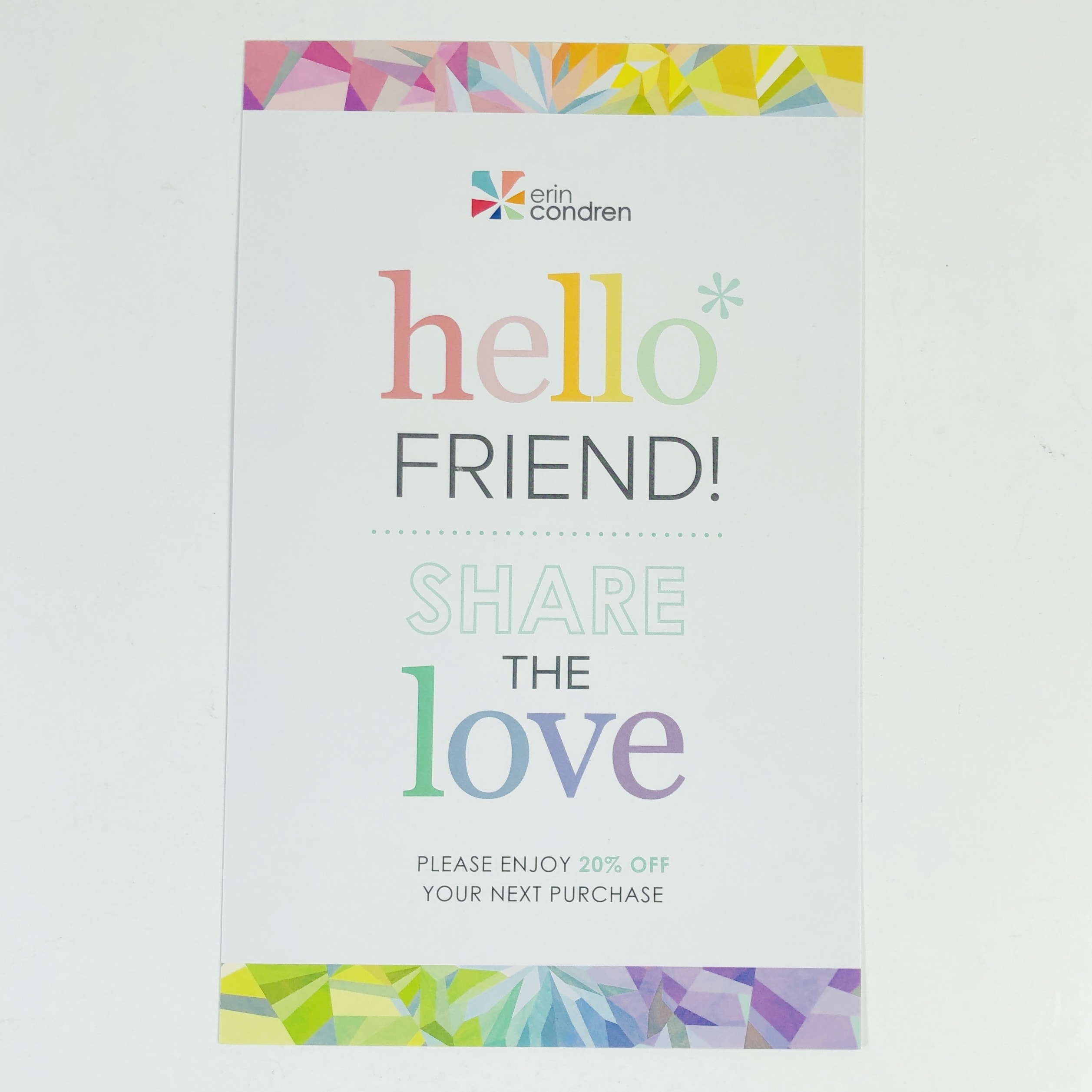 I received a coupon card to share with a friend.
I received two gift labels (you can order personalized ones on the EC website), a sample of the new Complement Cards (I also received a full pack, shown later in this review), and a hexagonal sticker, which goes with the storage box shown later in this review.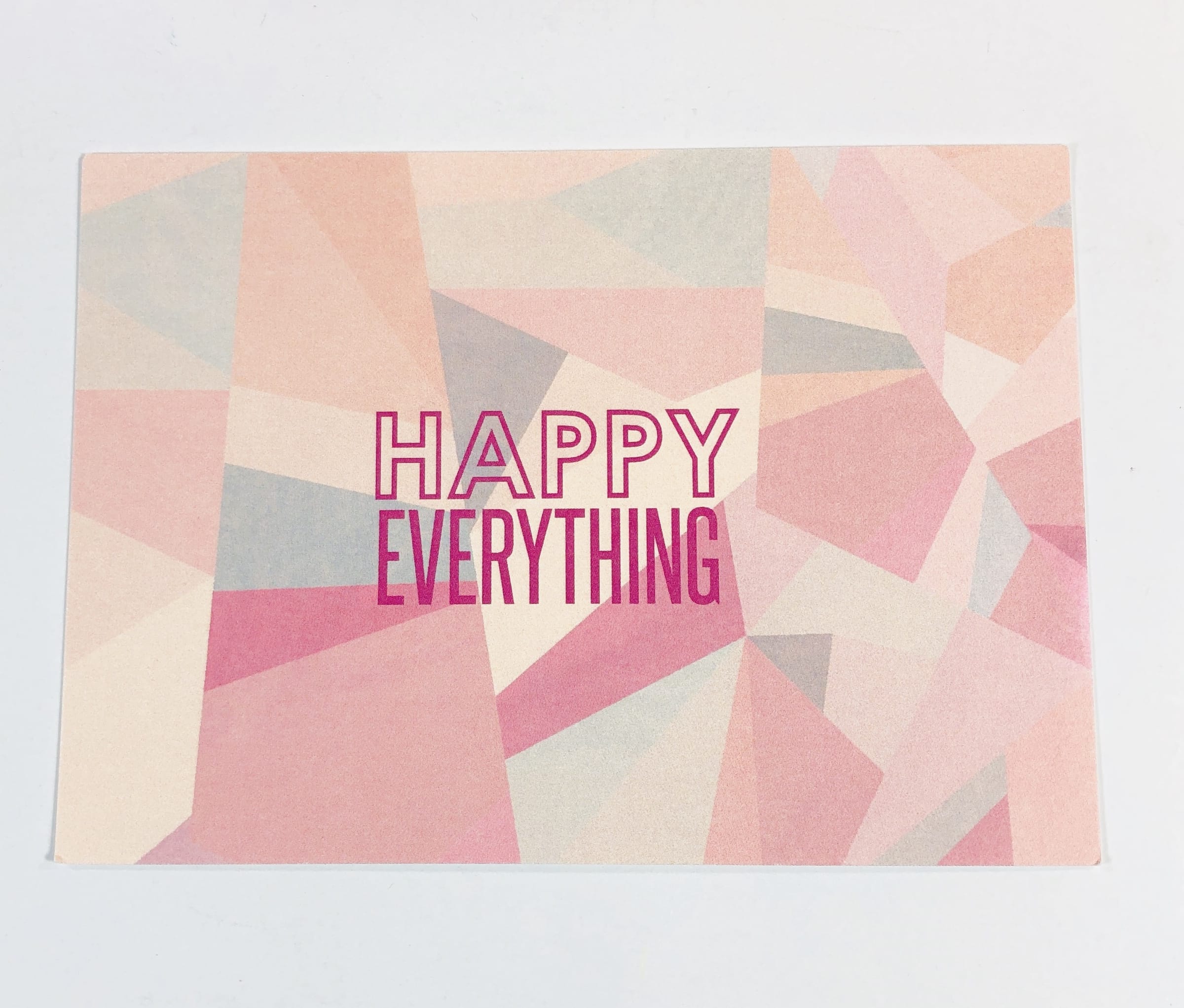 I received a postcard.
Just address, put a stamp on it, and write a quick note!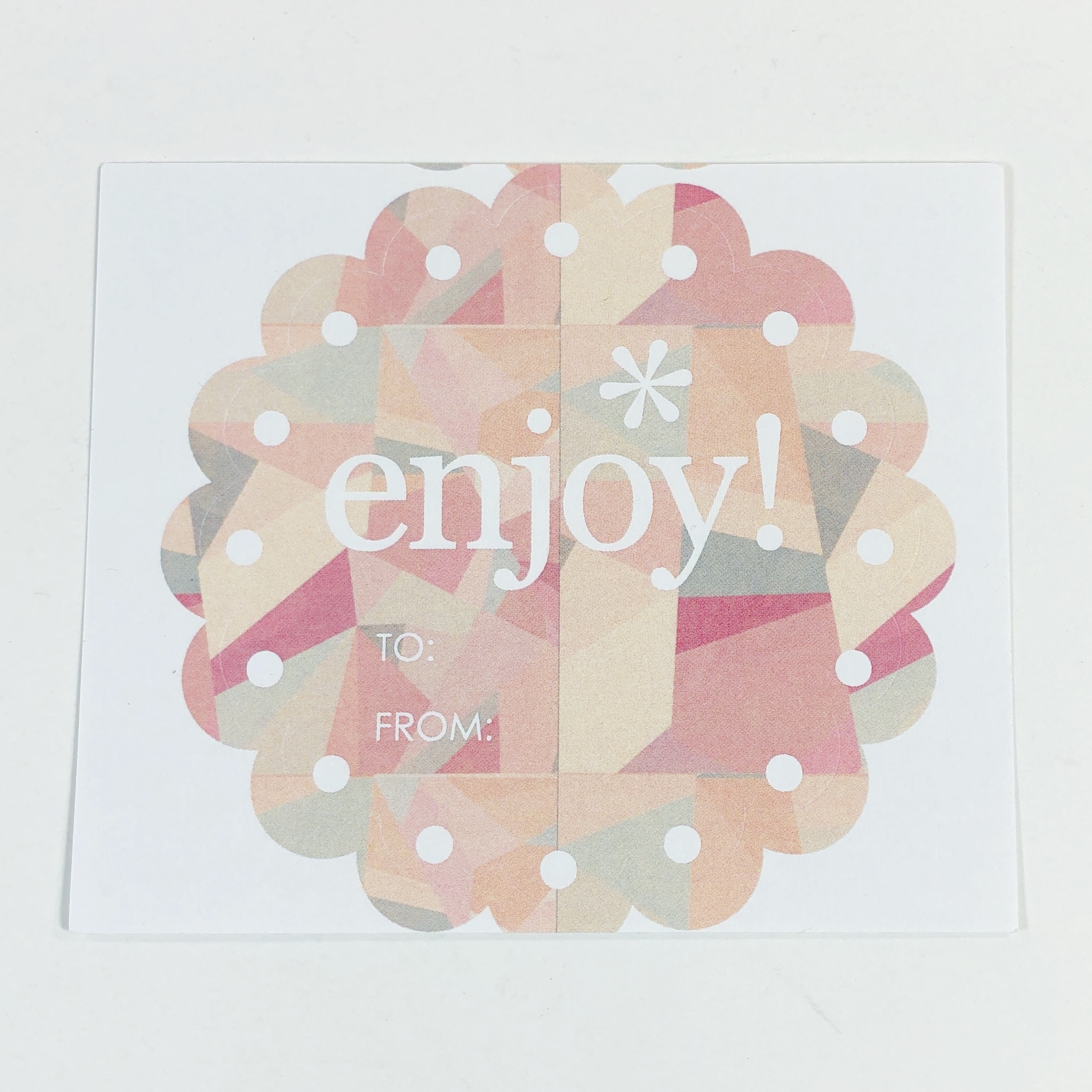 I also found another gift label.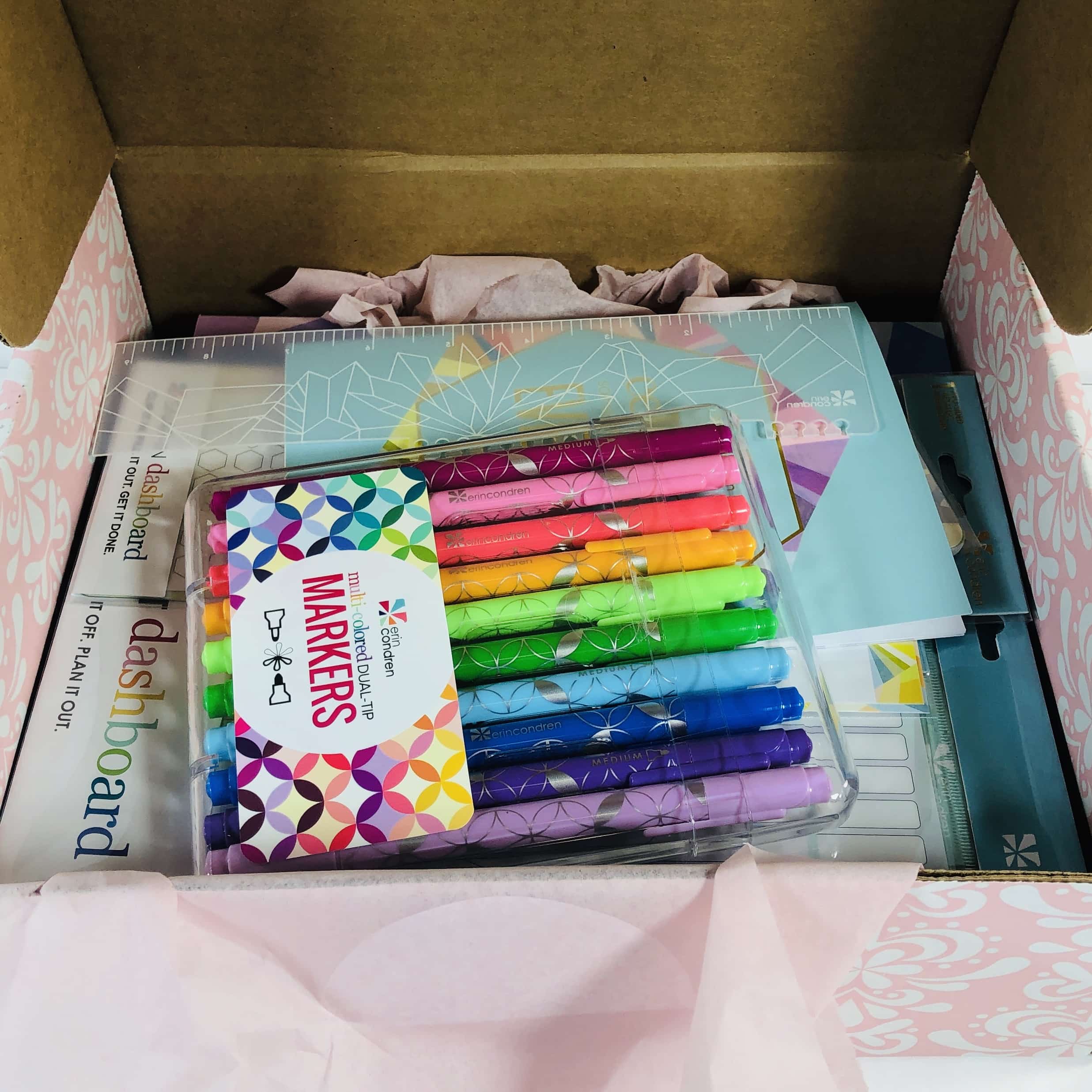 My items were cushioned by bubble wrap.
In addition to the main EC site, you can now shop a selection of non-personalized Erin Condren items on Amazon! Many, if not most, are discounted, and they all have free Prime shipping!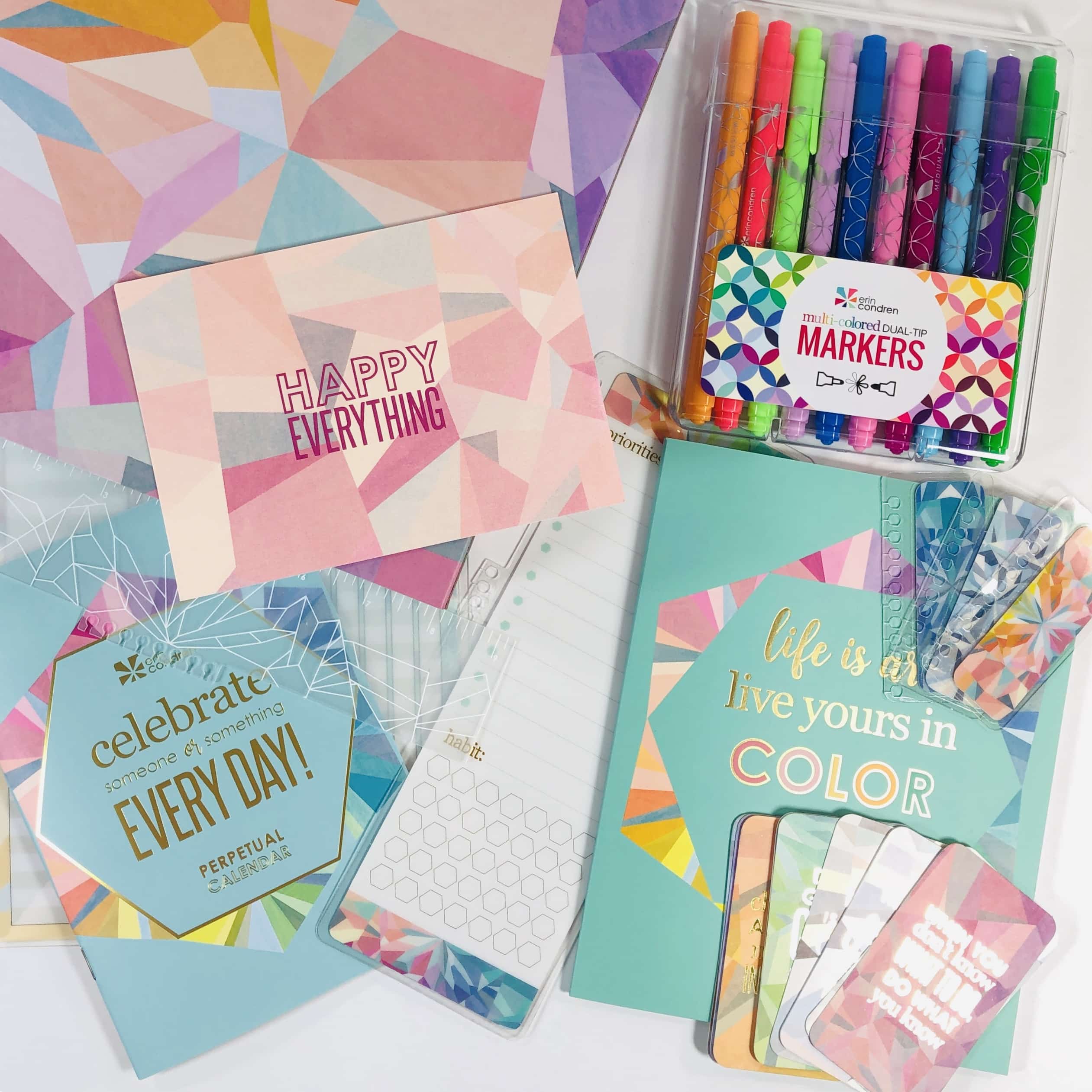 Everything in my box!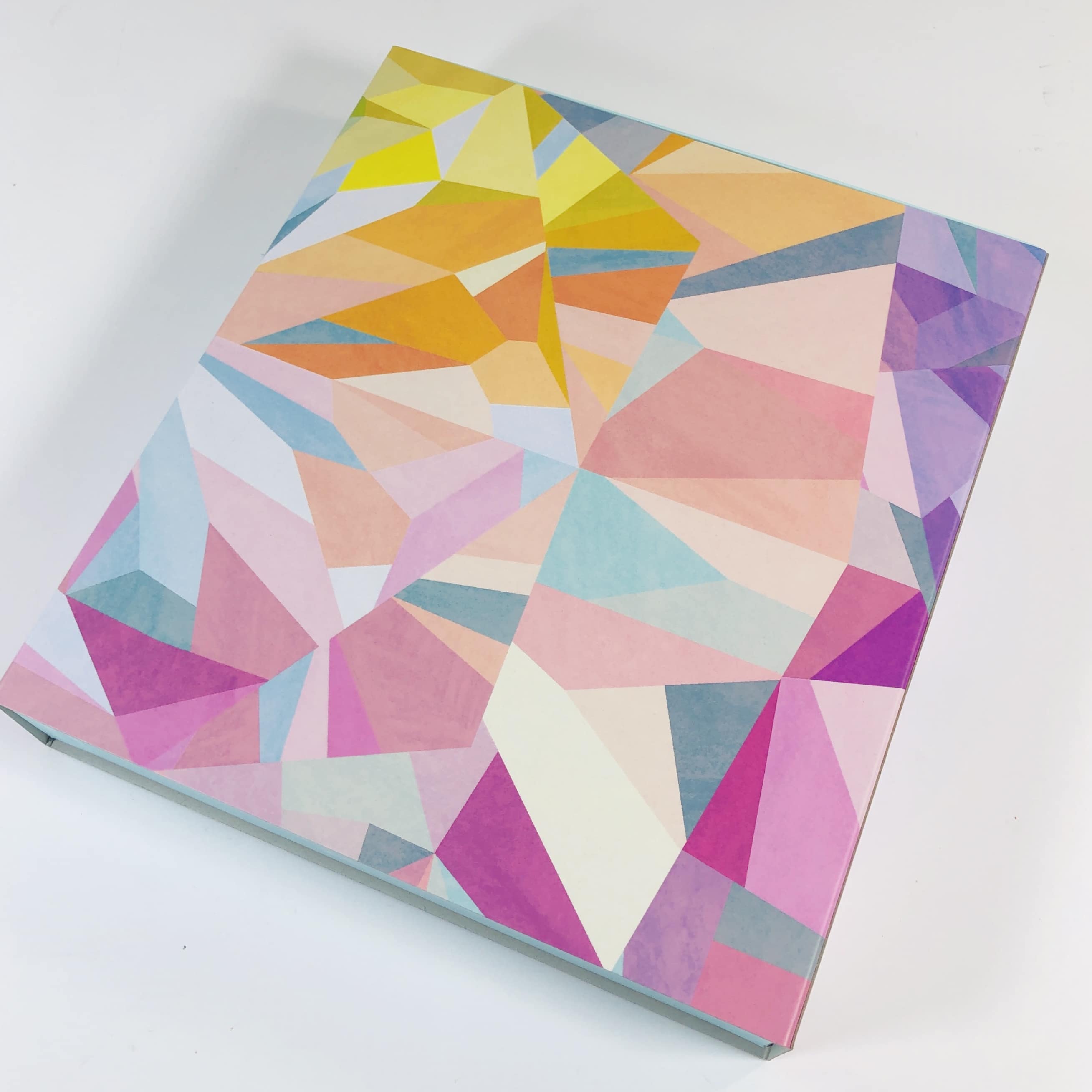 Kaleidoscope Colorful Storage Box ($6) When you order a 2020 LifePlanner it comes with a storage box, or you can order extras if you need one now.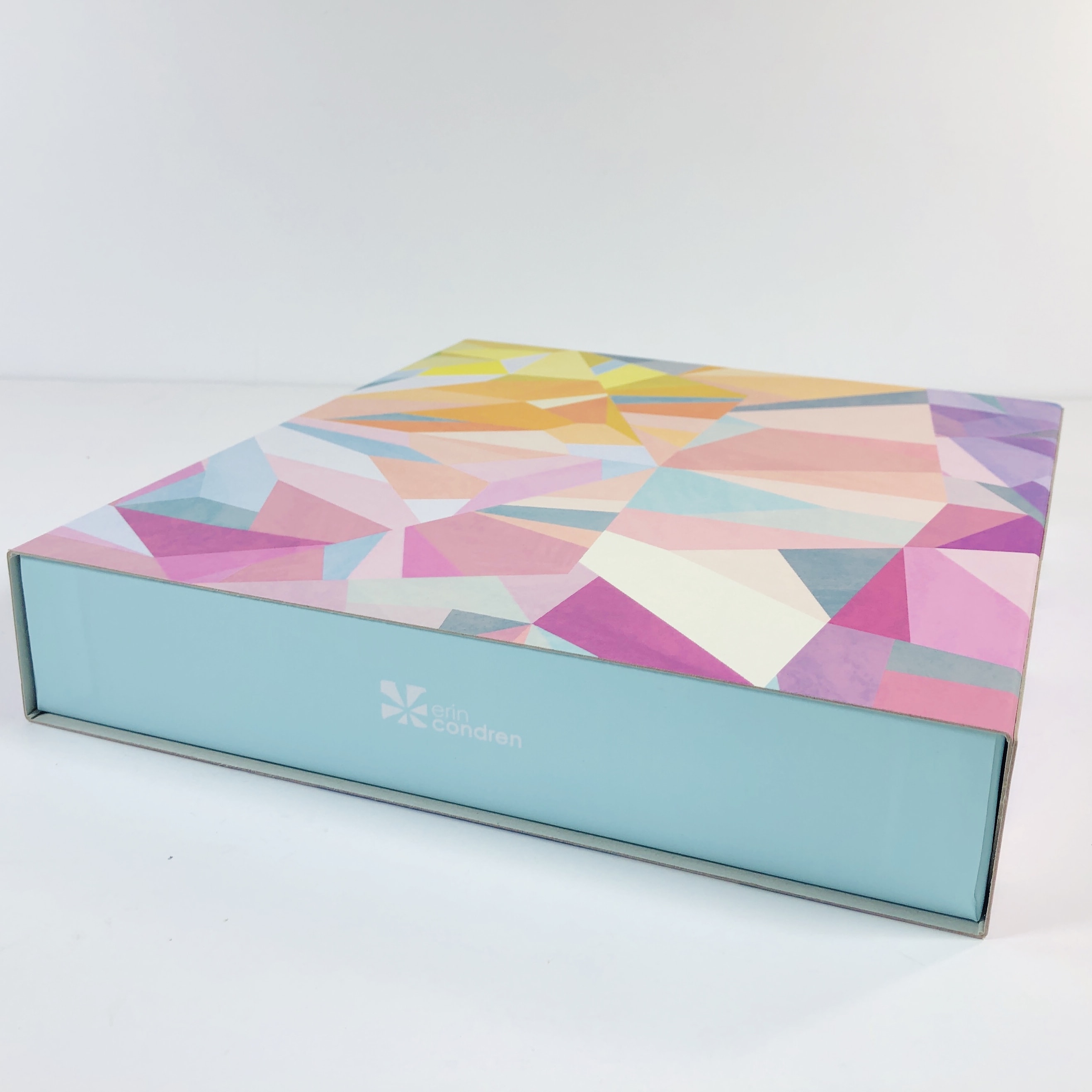 It's big enough to hold your LifePlanner, but I can't see myself storing my planner away in the evening, but it will be perfect for storing my extra covers, stickers, pens, etc.
Just slide the box in and out as needed.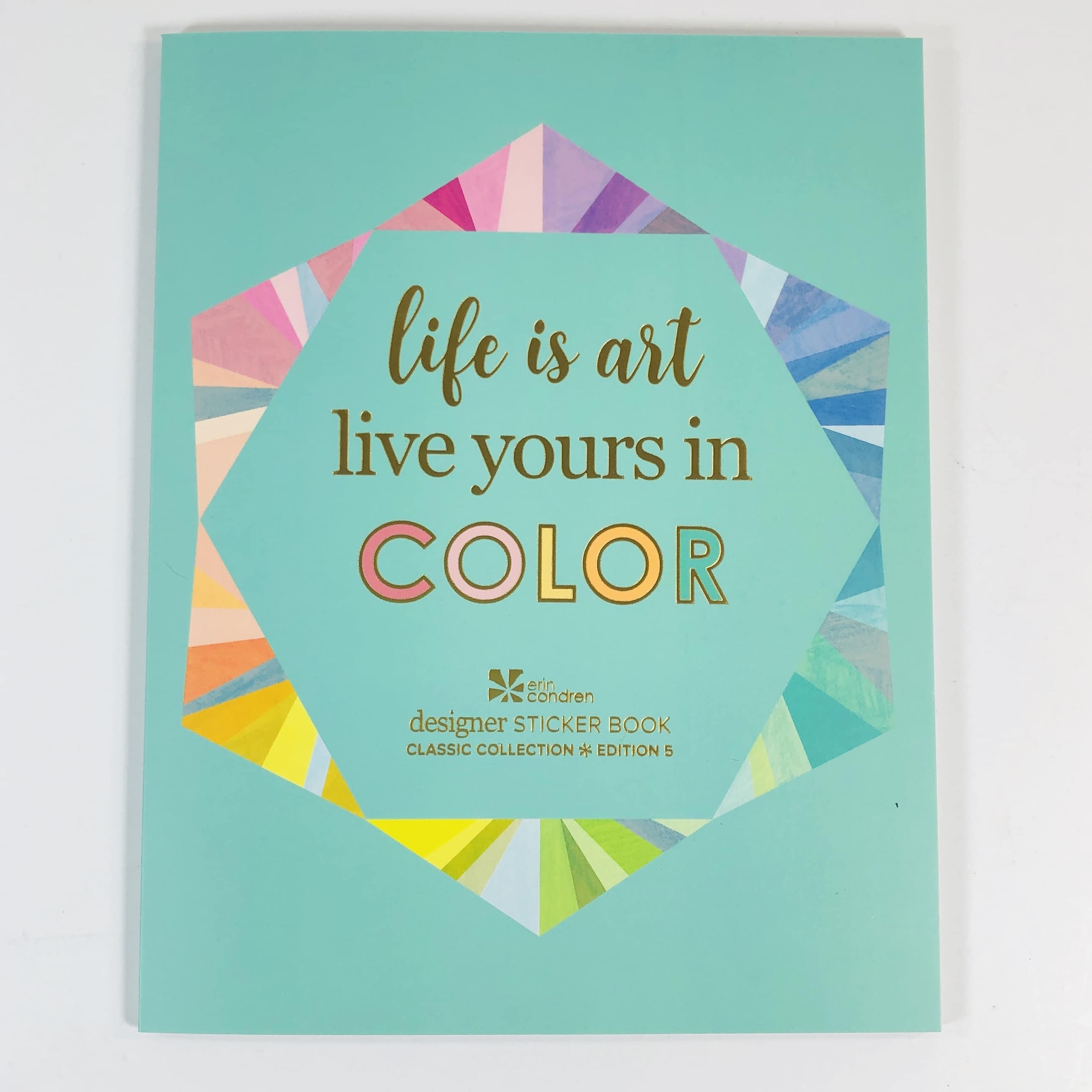 Erin Condren Designer Sticker Book ($15.50) Erin Condren has the most beautiful stickers and I can't seem to get enough of them!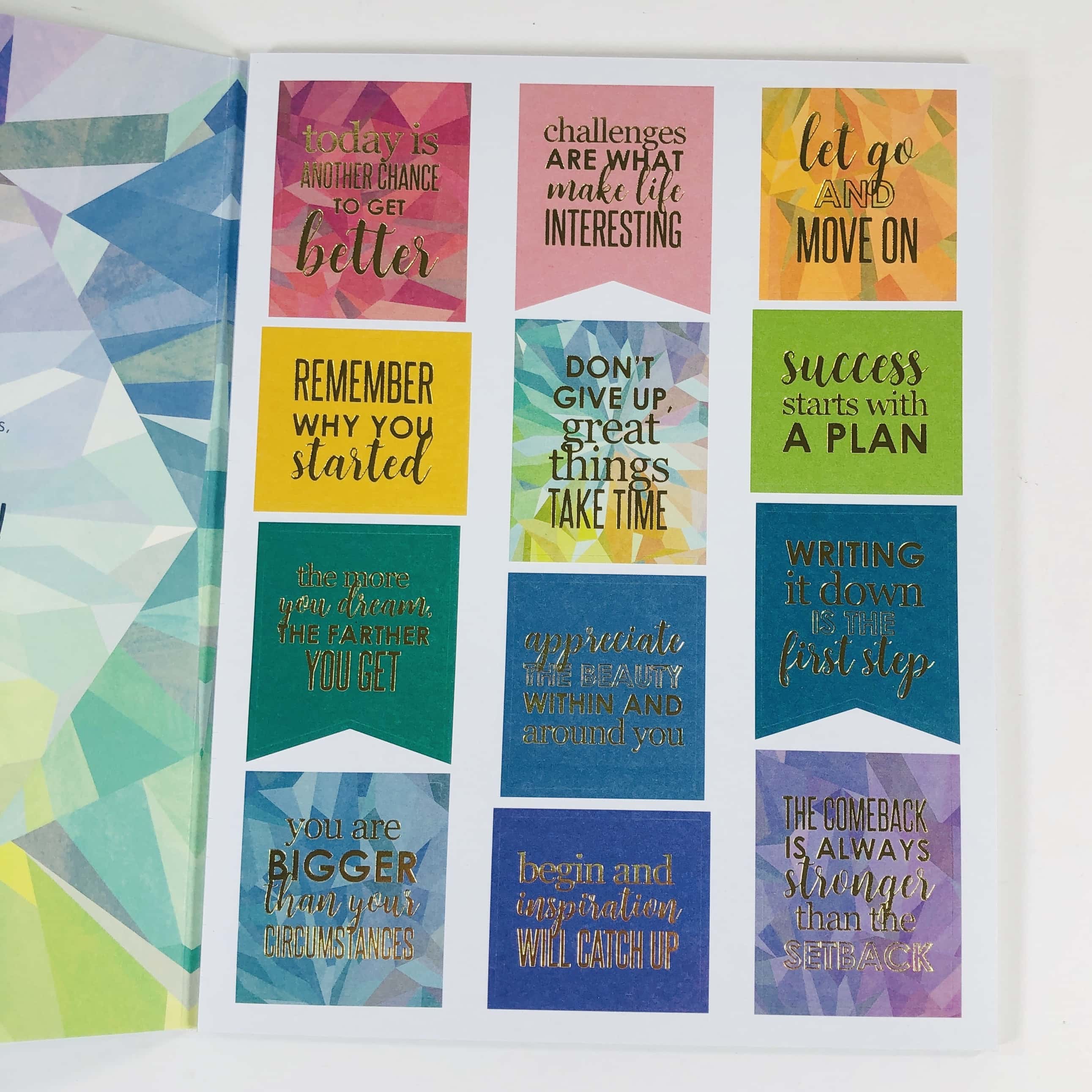 Good thing this book has 466 stickers inside!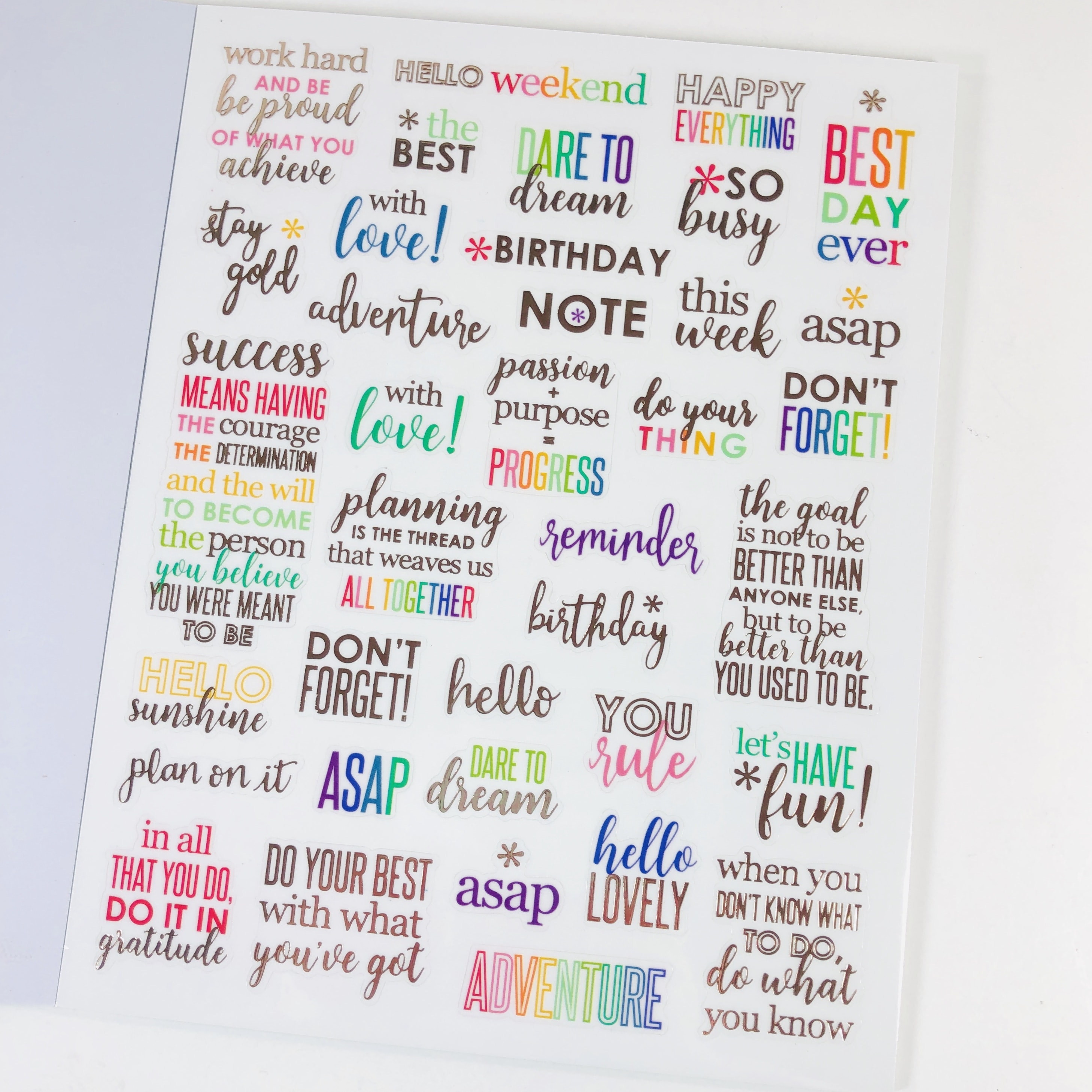 All different kinds of stickers, I am in sticker shock!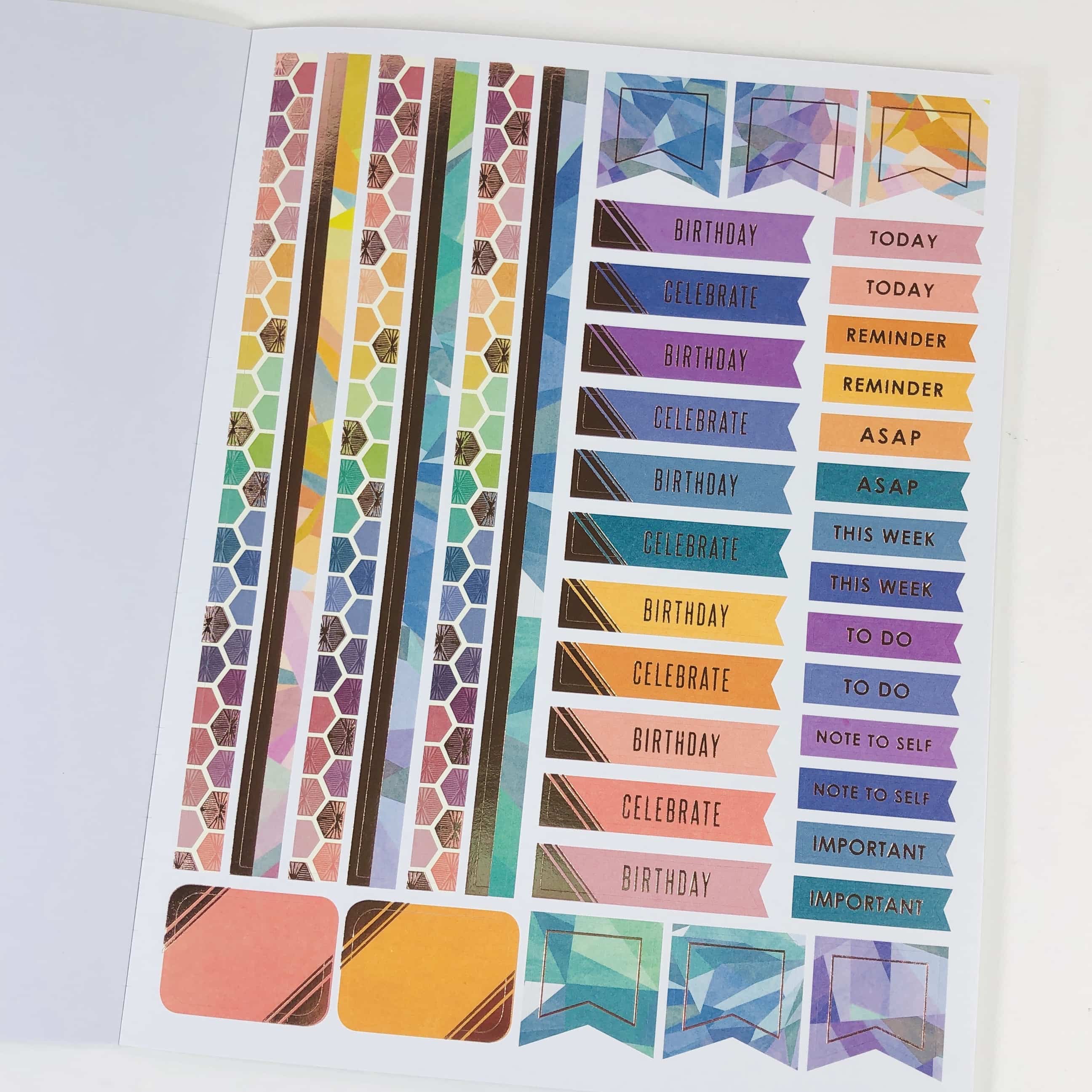 The new designs are beautiful! Some stickers are metallic, some are clear, all are lovely.
EC Compliment Cards ($5) are a sweet way to leave a note for someone special or someone who needs a little lift.
The words are in metallic print and there is a blank space on the back for your own personal note.
EC Metallic Mini Snap-In Bookmarks ($4.50) Do you flip back and forth in your planner? Here's a way to mark your place.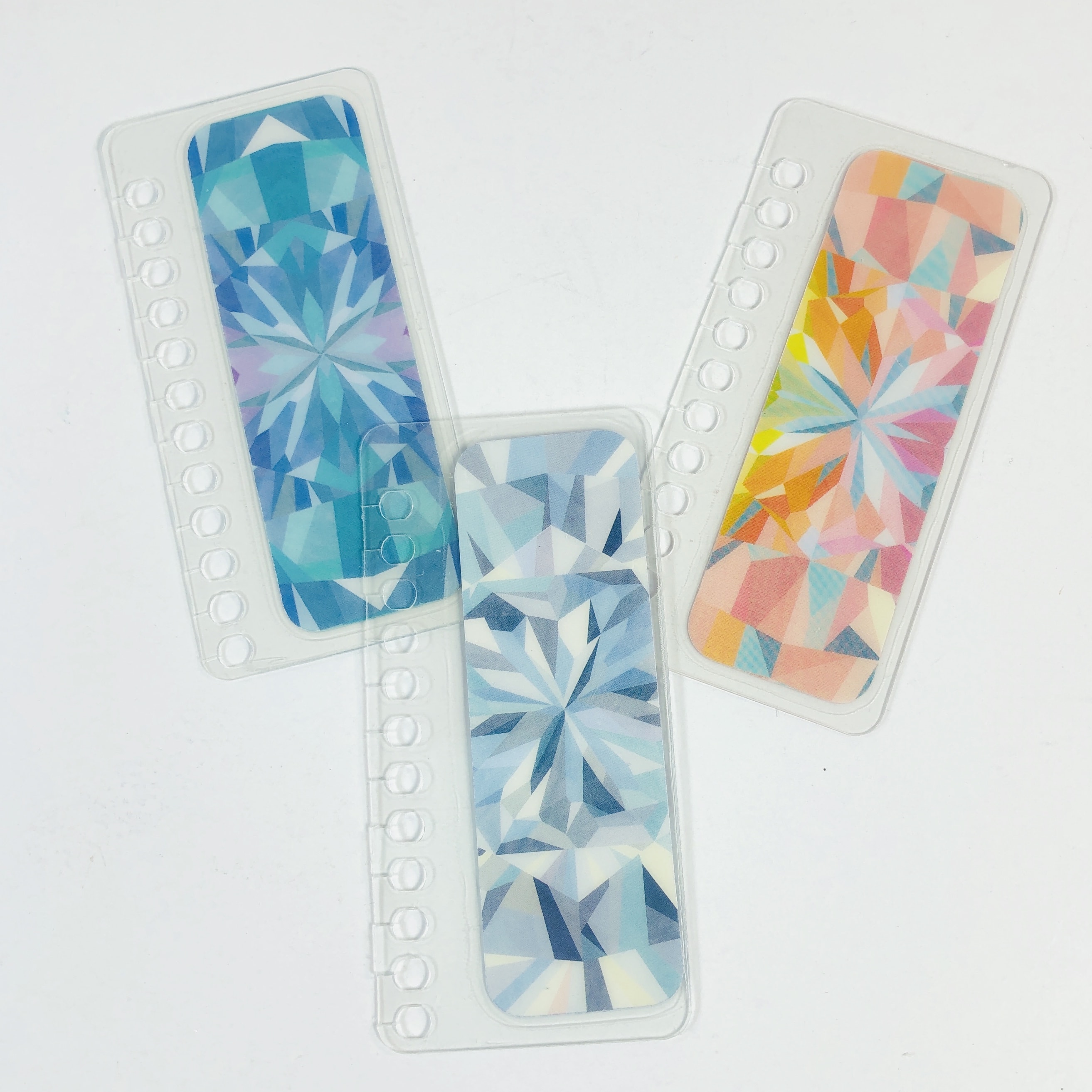 They snap right into the planner, and can be removed and placed again and again.
Here's one in action! I'm not sure why they say "metallic" in the name, they are not metallic at all.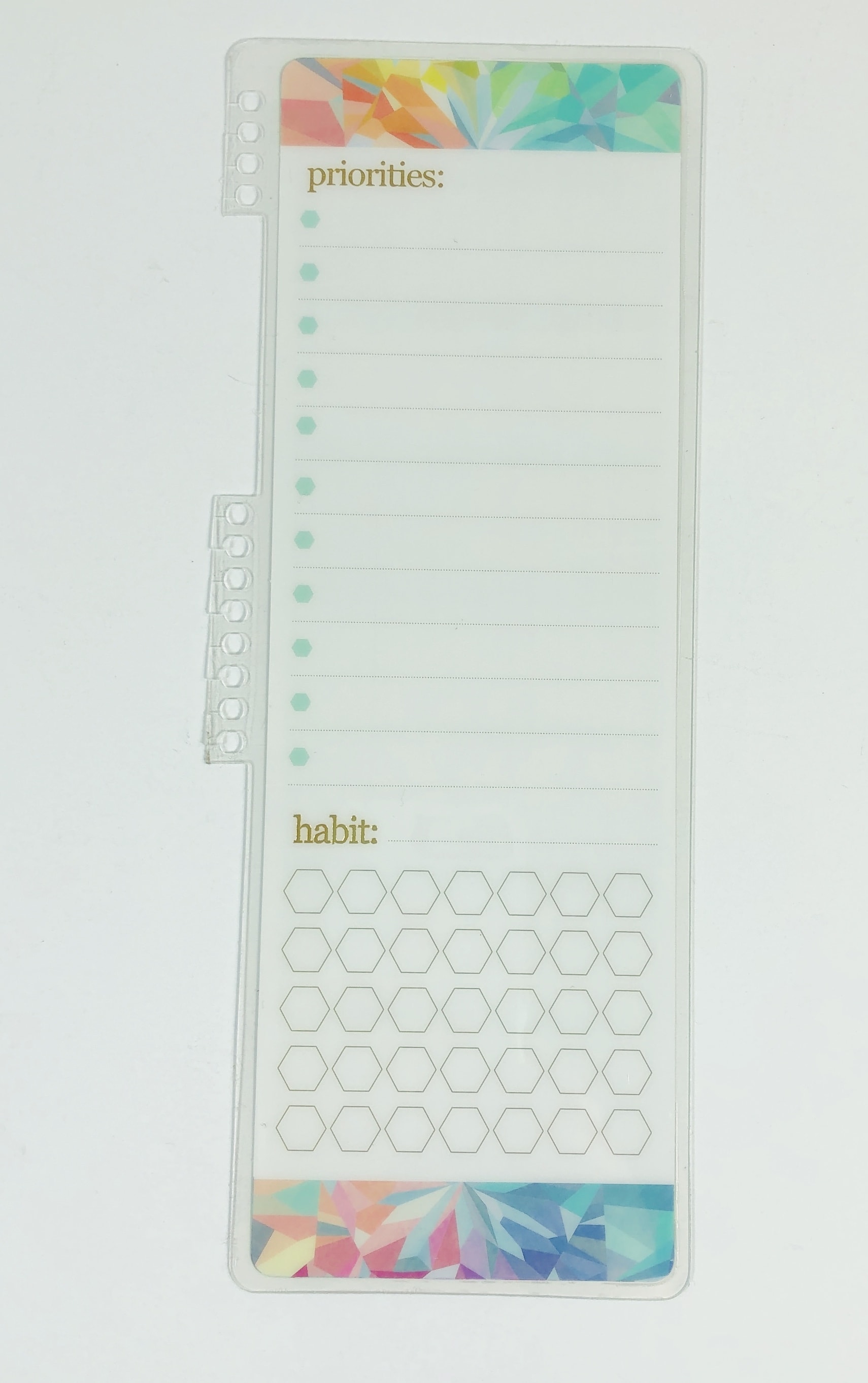 EC Kaleidoscope Snap-In To-Do List Dashboard ($4.50) I do like the snap-in products because they can be easily moved if needed. You can write whatever you like on the dashboard using a wet erase marker, then wash it off at the end of the week and start again, or keep it as-is if you are listing things that need to be done in no particular time frame. This side has a place to list your to-do's plus a habit tracker.
The back has a place for daily activities.
Erin Condren Perpetual Calendar ($6) Like the keepsake box, this product comes with a new LifePlanner purchase. I think they forgot to send this and the box at the time they shipped the planner, so they sent it separately.
You can jot down important dates for each month and keep this booklet indefinitely. They even made sure to add leap day on here!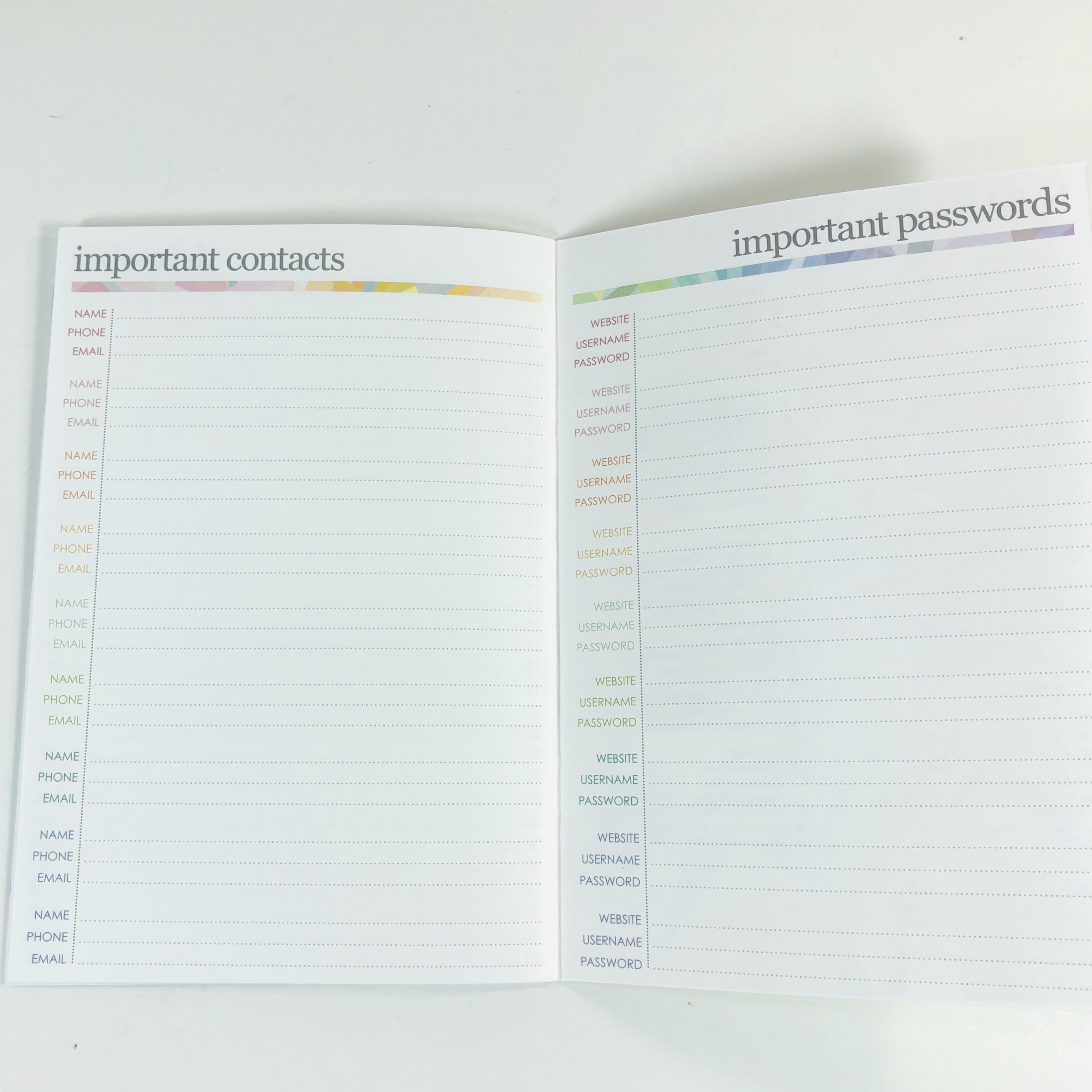 There is a place for important contacts and passwords.
Some major dates to remember are also listed.
Erin Condren Snap-In Bookmark ($4.50) I beleive this comes standard on every new LifePlanner but you can order extras. This one is in the new Kaleidoscope print and it doubles as a ruler.
EC Kaleidoscope Snap-In Checklist Dashboard ($7.50) Here is another semi-blank slate that can easily snap into and out of the planner.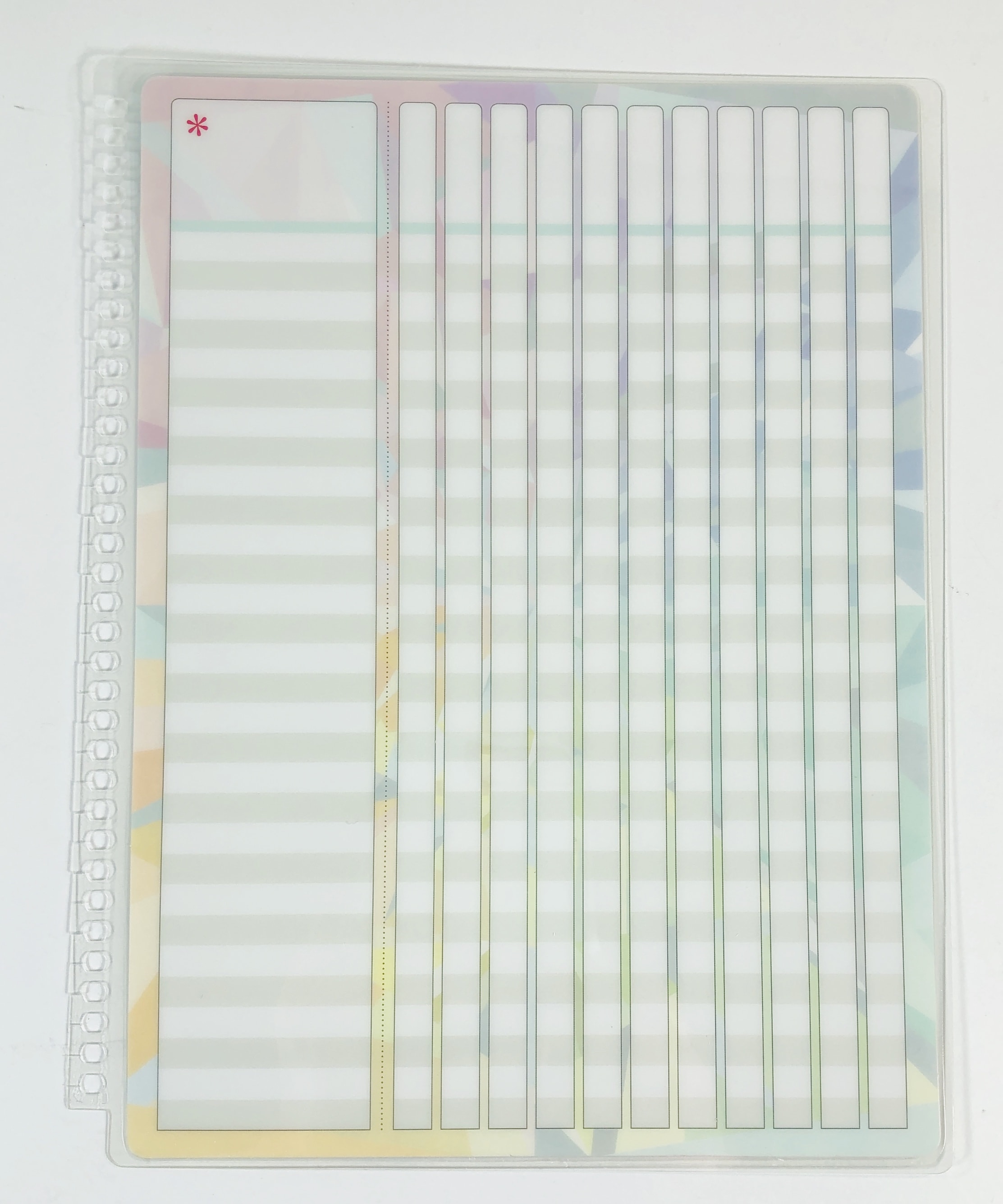 This side has a built-in checklist that you can use to keep track of goals.
The backside has a dot grid pattern so you can doodle or draw.
EC Multi-Colored Dual-Tip Markers ($22.50) I am in love with the EC markers! They are amazing!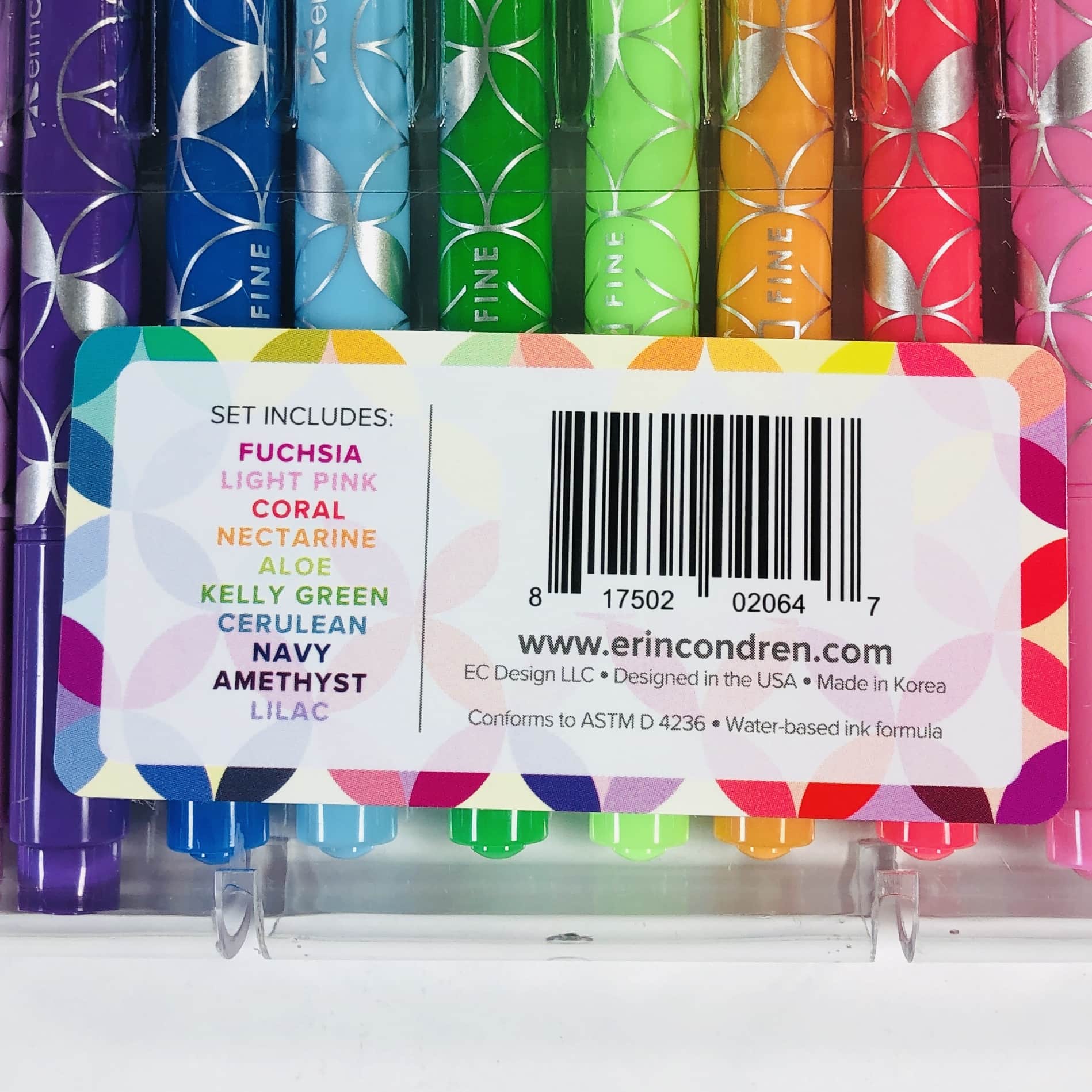 The colors are listed on the container but all you really need to know is that they are purty.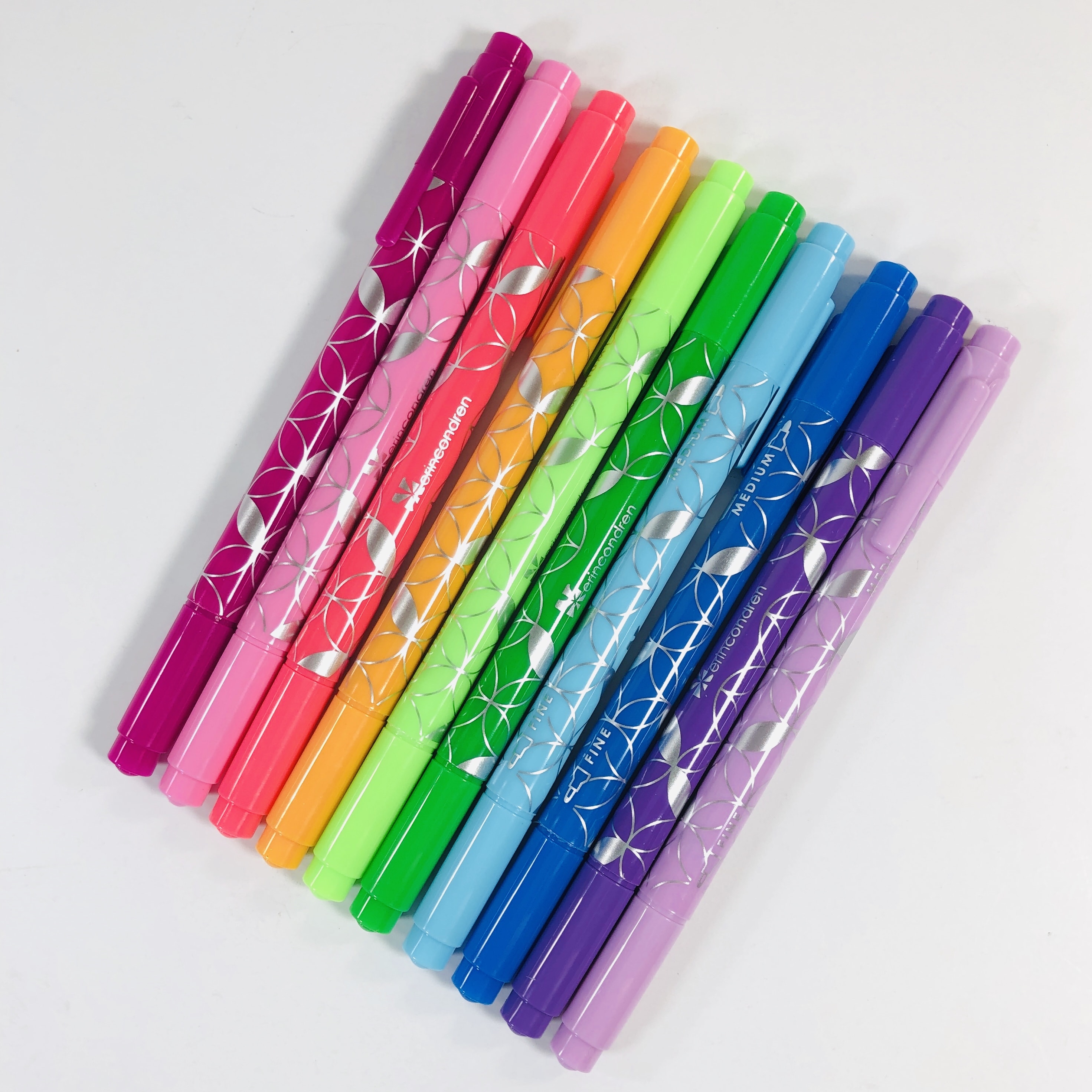 There are 10 of them in this holder!!! I use these in my planner and they WON'T bleed through!
One side is medium and I usually use this for checking things off in my planner.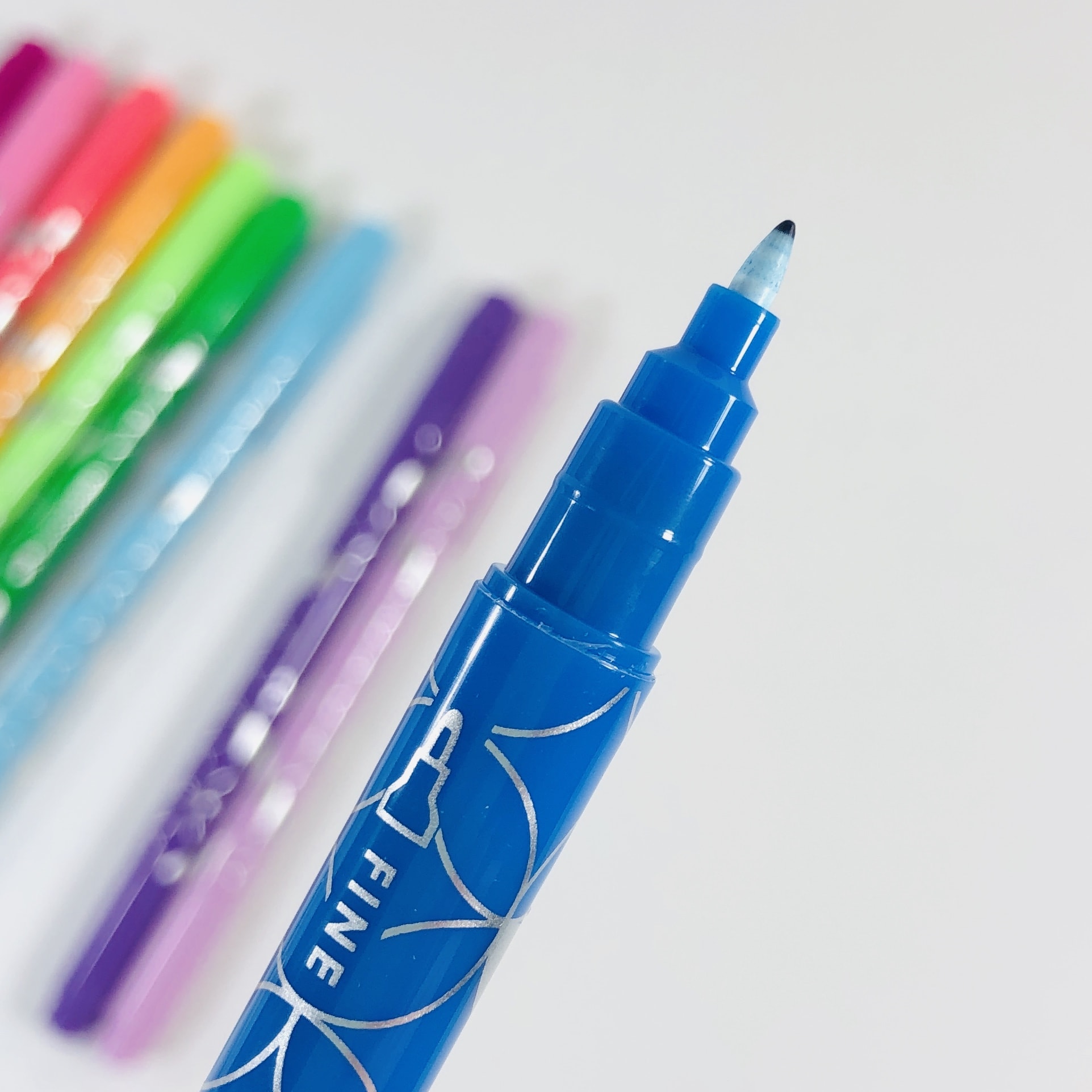 The other side is fine tipped and I use it to write in my planner. I have a different color for reoccurring events and each family member's activities.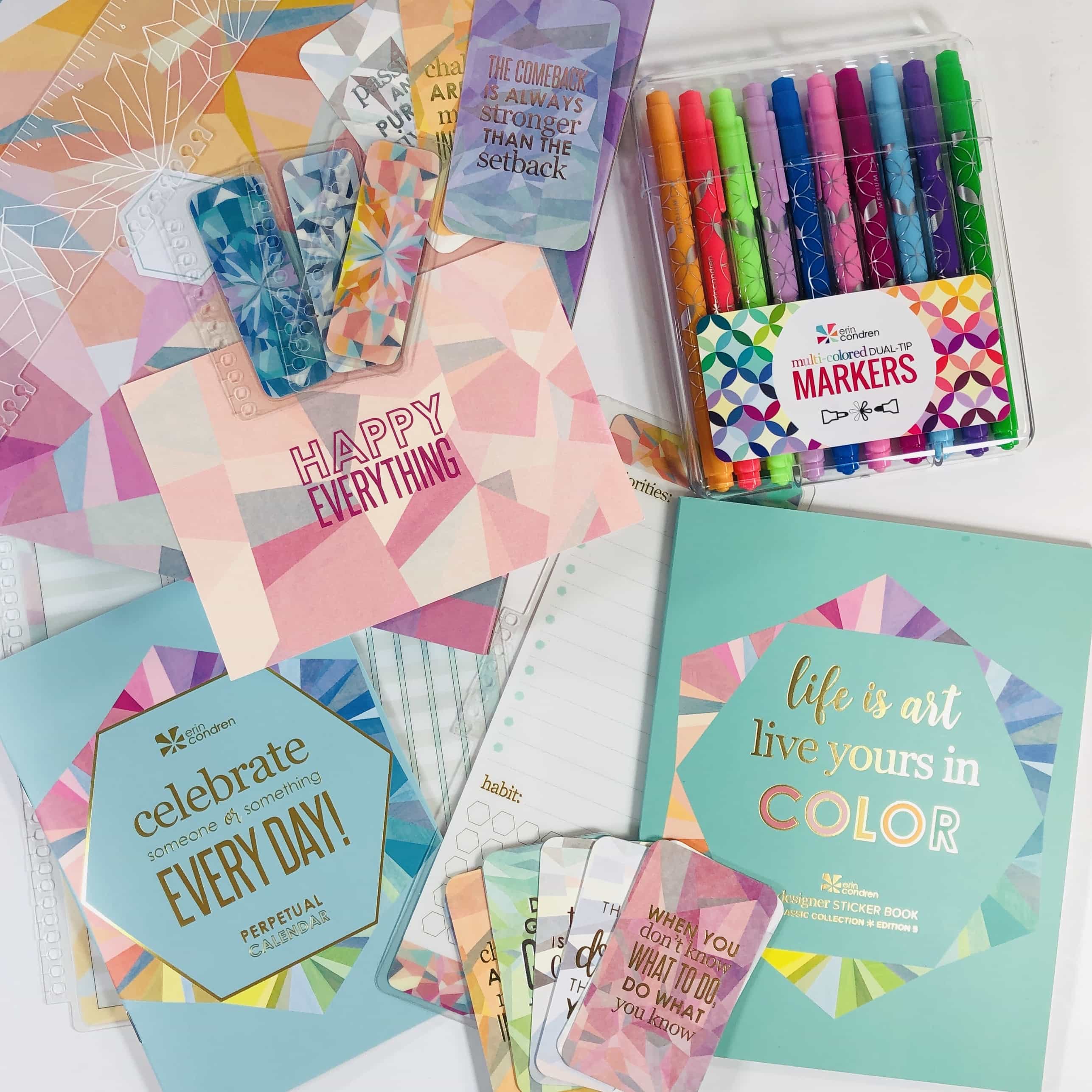 I am always over the moon when I get new planner goodies from Erin Condren! The products are high quality and I appreciate that they come up with changes and new designs every so often. I recently received the new Kaleidoscope design for my 2020 LifePlanner so these coordinate brilliantly with my new planner. I can't wait to put them to use!
What did you think of the new Erin Condren supplies? 
Visit Erin Condren Seasonal Surprise Box to subscribe or find out more!