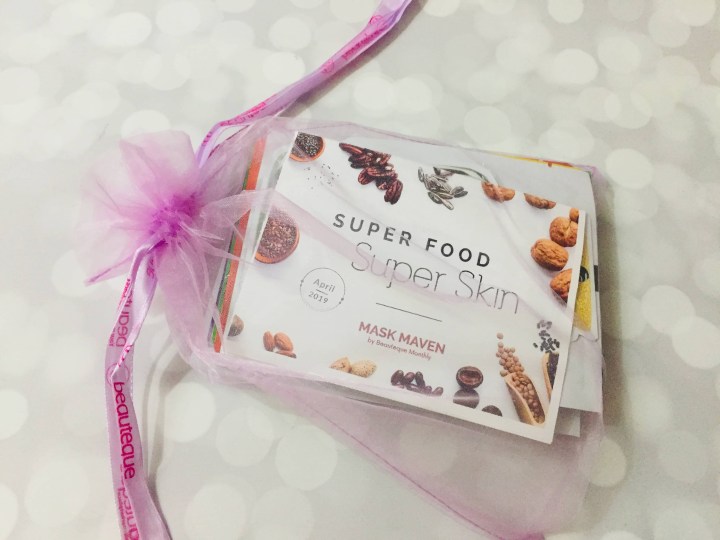 Beauteque offers two ways to get your fill of (mostly) Korean beauty products each month: BB Bag contains 6-8 full-sized products such as makeup, skin care, body care, and more for $24 per month; Mask Maven brings you 9 different masks for $15. Both subscriptions are offered in 1, 3, 6, or 12-month terms that will automatically renew until canceled. This month the masks came in a pretty holo rainbow mailer instead of the box.
DEAL: Save 10% on the BB bag or Mask Maven with coupon code CRATEJOY10.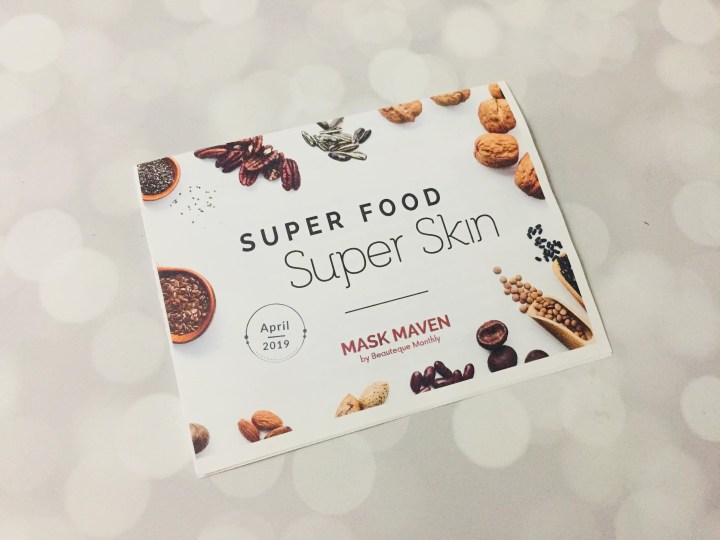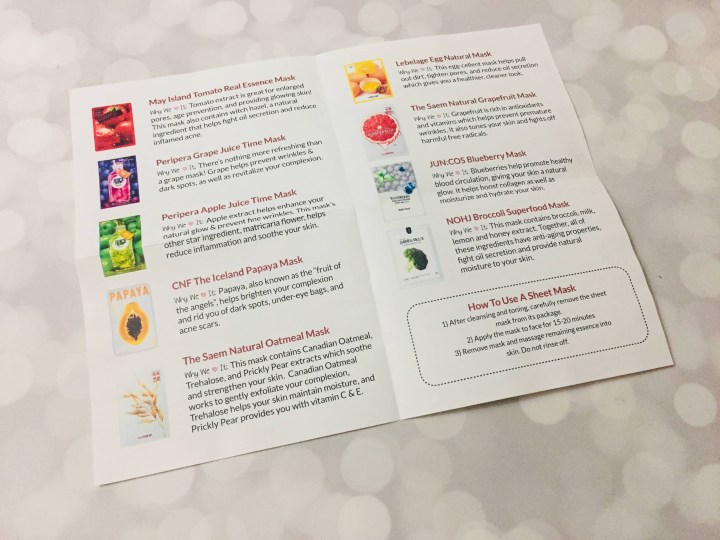 The information sheet has details about all of the masks included this month!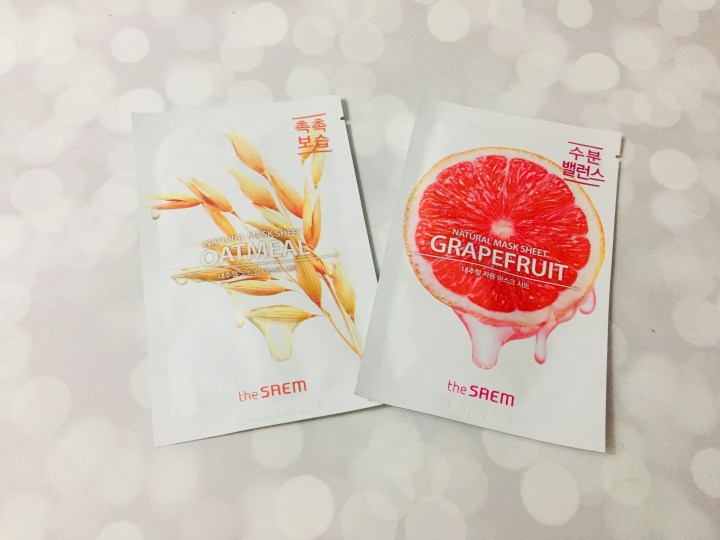 The Saem Oatmeal Mask — April's theme is Superfoods, so we are starting off with a mask containing oatmeal. Oatmeal is arguably one of the most popular ingredients for skin that is sensitive or easily irritated due to its soothing and calming effect on the skin. I love taking oatmeal baths when my skin is dry, so I'm excited to try an oatmeal mask on my face.
The Saem Grapefruit Mask — Citrus ingredients are loaded with vitamin C! Vitamin C is an amazing antioxidant and can also improve the photoprotection of your sunscreen, so it's a great ingredient to include in your skin routine.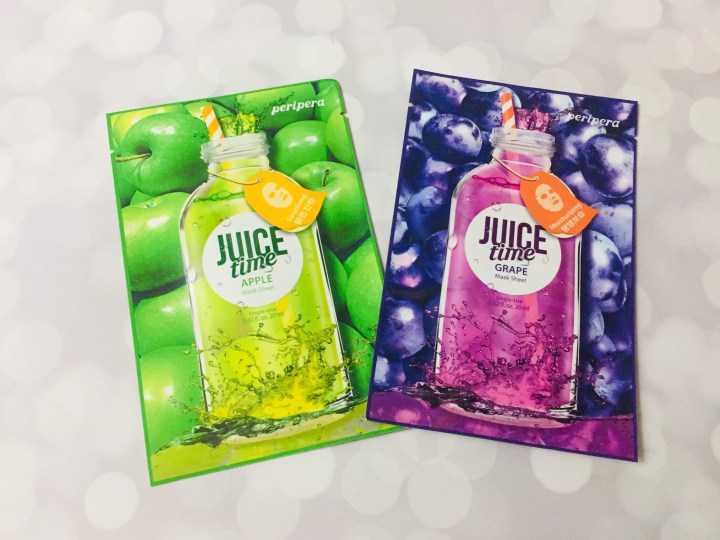 Peripera Apple Mask — Peripera is most known for their lip inks, which are awesome lip stains. I didn't know they did skincare as well, so I'm really excited to try this! Apple helps minimize the appearance of wrinkles
Peripera Grape Mask — Grape and wine are popular ingredients in sheet masks, known for their antiaging properties.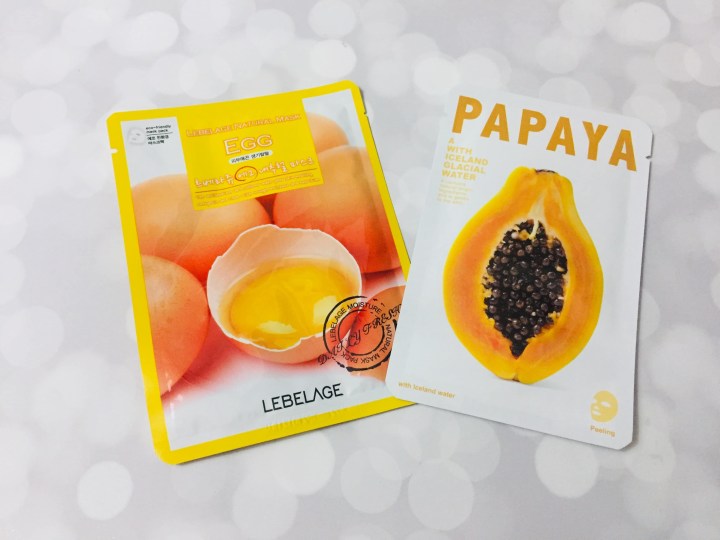 Labelage Egg Mask — Did you know that eggs are a popular ingredient in DIY face masks because of how effective they are at tightening the skin? The effects are usually only temporary, but this sheet mask is a less messy way to get those benefits!
CNF Papaya Mask — Last month we got to try the Litchi version of this mask, which is infused with papaya extract. Its vitamin C content helps fade dark spots, under eye shadows, and can also help reduce acne marks.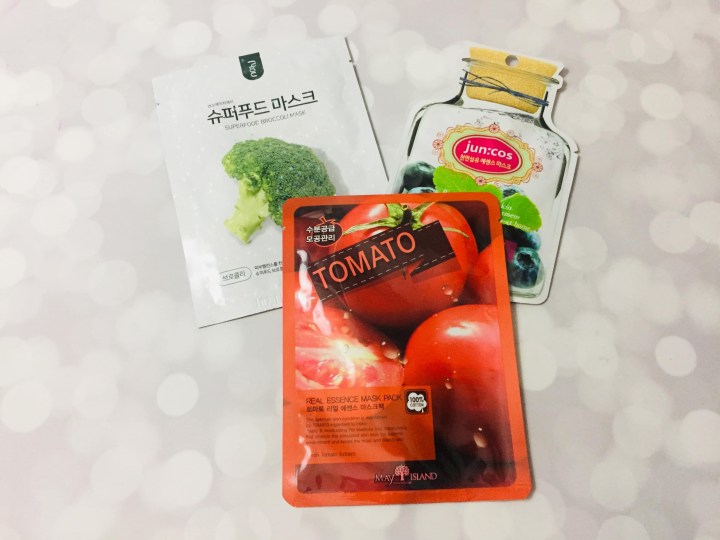 Nohj Broccoli Mask — I'm a big fan of Nohj's masks and so I was happy to see a new one I hadn't tried before. This mask contains broccoli, milk, lemon, and honey. Milk and lemon both have exfoliating properties, making this a good mask to use for that instant glowy look. Honey is a very healing ingredient too, so really this mask is just packed full of superfoods!
Jun:Cos Blueberry Mask — Blueberries are my favourite fruit to eat and now I can put them on my face, too! They can help promote circulation as well as collagen.
Yomato Mask — And last but not least we have a tomato mask! Tomatoes can help lessen the appearance of pores, and the added witch hazel is another good ingredient for balancing the skin's oil production.
Mask Maven sent a selection of masks I have used and loved as well as some masks I have always wanted to try. You can't beat the variety they send each month and I really love being able to try new masks!
What did you think about this month's Mask Maven?