The Ms. Collection is an easy rental service subscription for men and women with an option to buy. They send clothing and accessories customized to your own preference and needs as you fill up their Style profile. It starts at $59 per month. Every box will be a surprise and you can create different looks by mixing and matching. You have the option to buy any clothes you love and return the rest when ready.
This is a review for The Ms. Collection Premium Once a Month plan, which sends 4 items for $69 per month (plus free shipping).
With The Ms. Collection you'll have a chance to try clothes from hundreds of brands, have thousands of styles available and expert stylists who care about making you look your best. Members get discounts up to 50% with free shipping, and returns.
DEAL: Get 20% off your first month! Use coupon code HELLOSTYLE20.
The box is sealed with their sticker logo.
All the clothes are handpicked and styled just for you!
When you sign up, you'll take a super easy quiz, excerpted below. Your stylist picks out 3-4 items depending on your style plan and your selections, but you can give them feedback as time goes on to perfect their picks!
The quiz covers absolutely everything:
Plus, you can set your preferences on accessory categories, too!
Everything is neatly packed in the box without extra packaging.
They value customer service and customer feedback. I love that I am able to wear the clothes for the month and return them with the pre-paid barcoded bag before the end of my pre-paid month. They also have an unlimited subscription model that allows you to receive more than one pack per month. Both the once a month and unlimited plans help me push the limits of possibilities, by creating new ensembles from what they've sent and what is in my own wardrobe.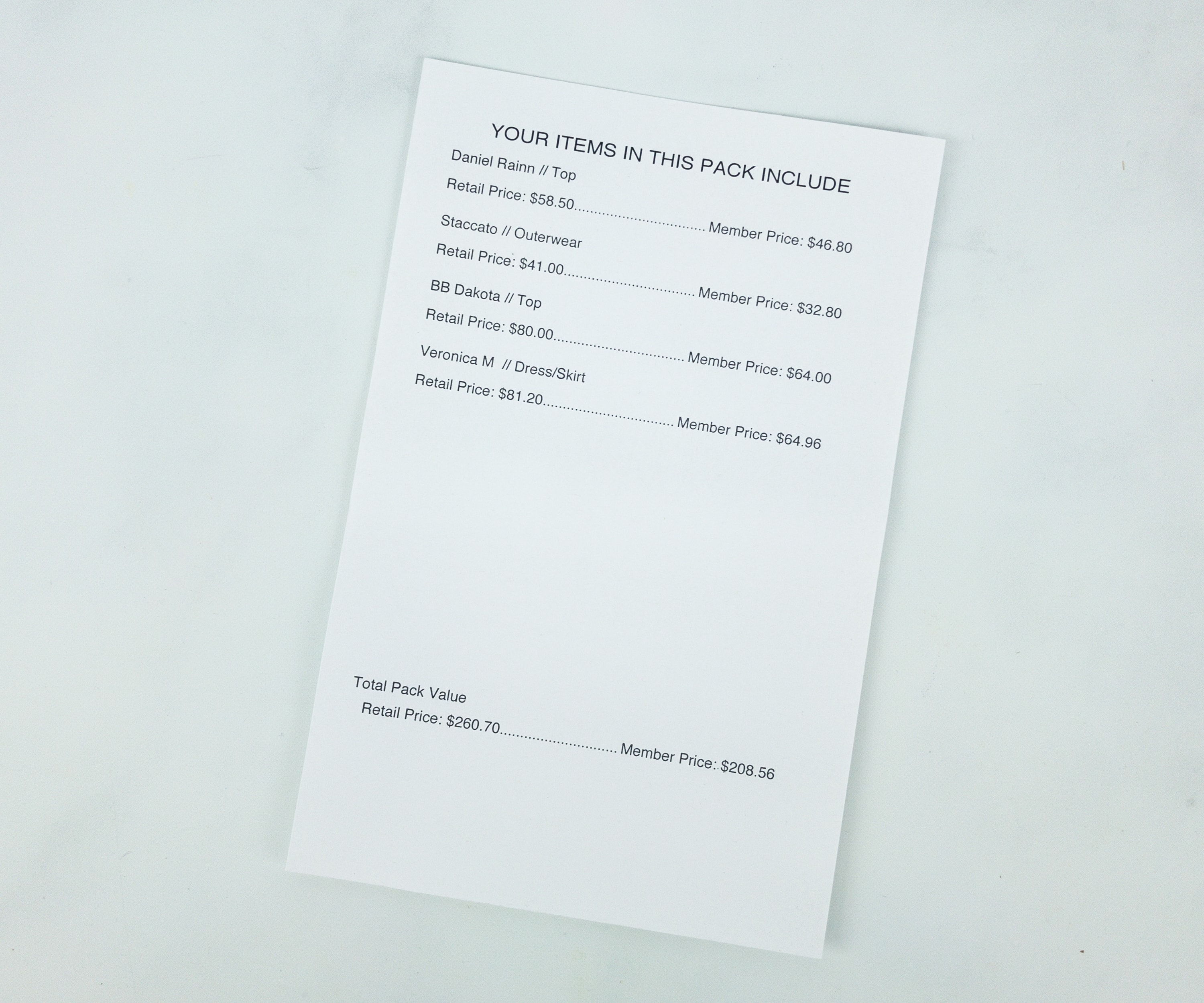 I have 4 items in the pack with a retail price of $324 but because I'm a member I can get them for $232.20 if ever I decide to keep them all.
They always include the pre-paid return envelope to send back the clothes once you're done with them. Shipping is free, and so as the laundry – you just send them back after you're done! Yay, free laundry!
They sent a personal letter about the clothes they picked for me.
Some of the clothes they included are great for winter to spring transition.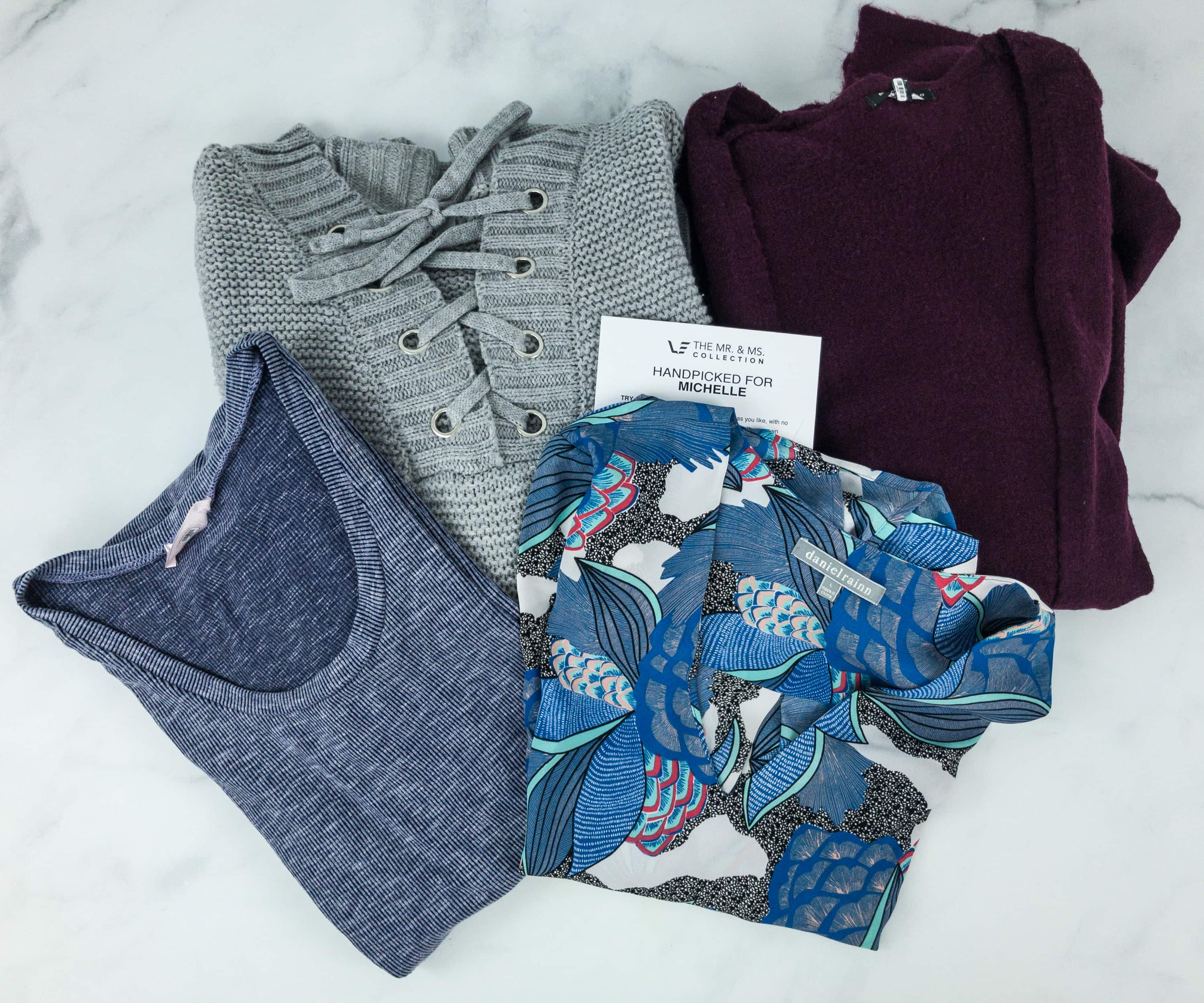 Everything in my box!
Daniel Rainn Top (Non-Member $58.50; Member $46.80) Daniel Rainn has a vast collection of wonderfully designed tops, and I'm glad that one is included in this box.
The design and details of this top are really fabulous. The color is cool and easy on the eyes. I think this will be a great summer top too.
I like its loose and comfortable fit. The fabric is soft too and the tropical vibe is perfect for a ray of sunshine in my wardrobe.
Staccato Outerwear (Non-Member $41; Member $32.80) It's fuzzy warm, just the right cardigan for chilly nights.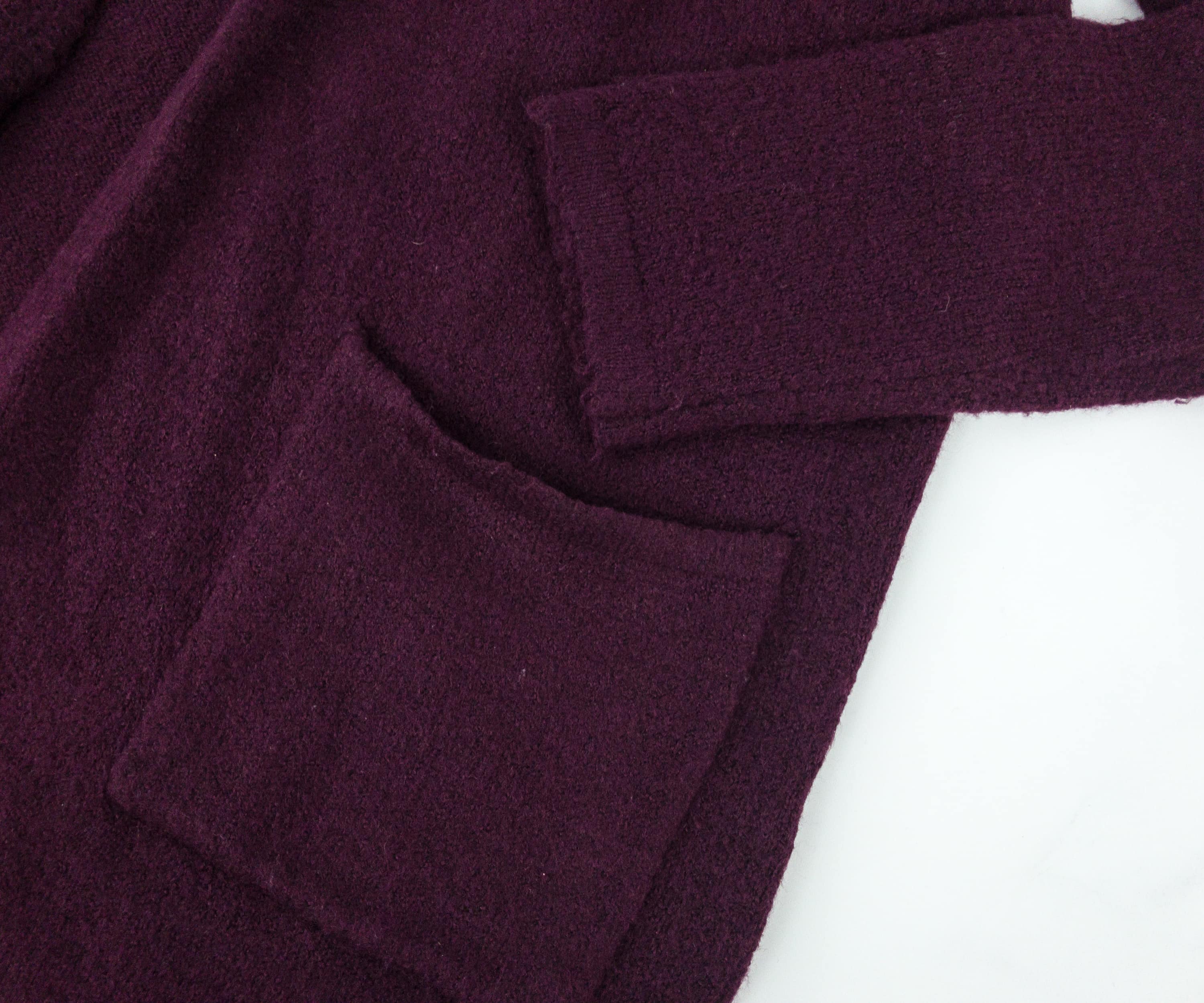 It's so nice to have 2 pockets in front!
It also has the right length, which is just a little above the knee. Even a plain shir and jeans will look good with this one!

BB Dakota Top (Non-Member $80; Member $64) This knit pullover is another perfect piece for the transitioning season. It's warm, comfortable, and definitely stylish!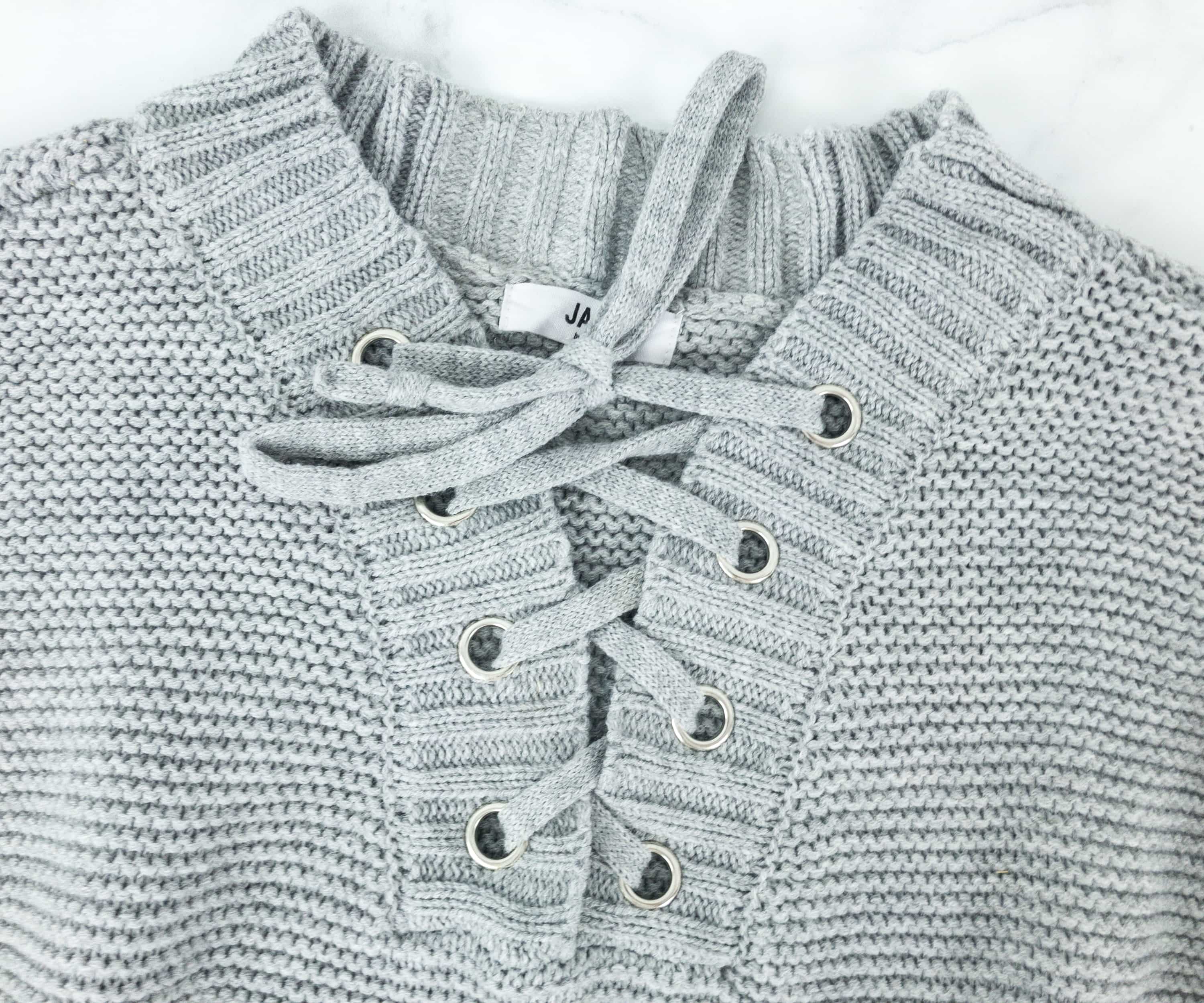 What captures me is the shoestring detail on this top, which makes it look cool.
All tied up! It's a perfect match for denim jeans or a pair of black leggings!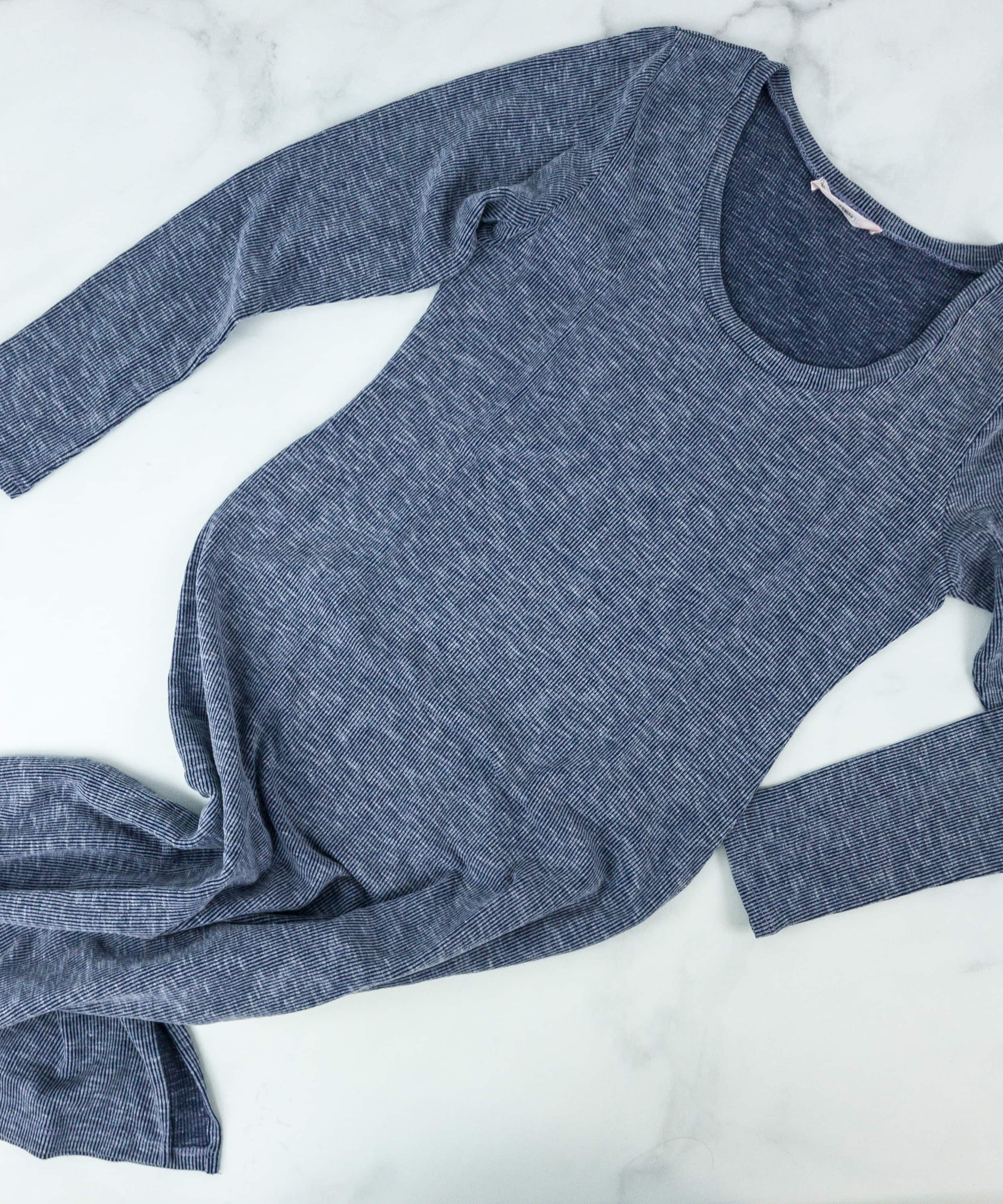 Veronica M Dress/Skirt (Non-Member $81.20; Member $64.96) Finally, a cute dress! This fine piece is simply gorgeous, and suits well with the kind of weather we have!

I love this grayish color. The sleek uncomplicated look makes it great. The length of the sleeves is also perfect for a day out or a night walk.
It's quite a long dress, which is some inches below the knee. The fabric is soft and warm!

Even the back looks perfect. There isn't much detail, but I'm sure I'll be rocking this one out, I'll just add some accessories and I'm good! It can emphasize one of my assets too! ?
Getting pieces that are perfect for the weather is fantastic! I got a beautiful top, a knit pullover, a cardigan, and a simple, yet beautiful dress. The experts really did great this time in choosing these pieces for me! My favorite is definitely the dress. It's simple but with the right accessories, it will look really stunning. The loose top is awesome too. I think it's ideal not just for spring but for summer as well. There's not much pressure on the subscription rules under the unlimited service, as you can wear the clothes and return them whenever you want another pack, or you can buy some or all of them for a discounted price. For all once-a-month members, just be sure to place your pack in the mail at least three days prior to your subscription renewal so that you can receive the next month's box. I am already excited for the next box!
What do you think of this month's box?