Spiritual Guru box is a new monthly subscription box of spiritually inspired items specifically picked to enhance your spiritual experience. Each box will contain a mix of 5-7 items that can include: spiritual or growth tools, a high vibration crystal or stone, essential oil spray or roll on, scented candle, boho jewelry, mala beads or other adornments, figurine or other mystical items. Many of the products are made by skilled artisans, natural or organic, cruelty-free, and eco-friendly. The box is 100% vegan and cruelty-free.
Every new subscriber will receive the initial "Raise Your Vibration" themed box. Previous boxes are also available as one-time purchase in their store.

This month's box was stamped with "Fragile" stickers all around and had a very narrow shape. As soon as I saw it, I had a happy inkling of what was inside, based on their Instagram.

This month's theme is Clearing Negativity. The information card explains how you could receive a free gift in your next box by sharing a picture of your box on Instagram.
Every month, we also receive our personalized oracle card and if you feel attracted to the deck, the introduction card tells us what deck it is from. This month is from the Moonology Oracle Deck.

My card is Expect powerful change. I love the artwork on this deck.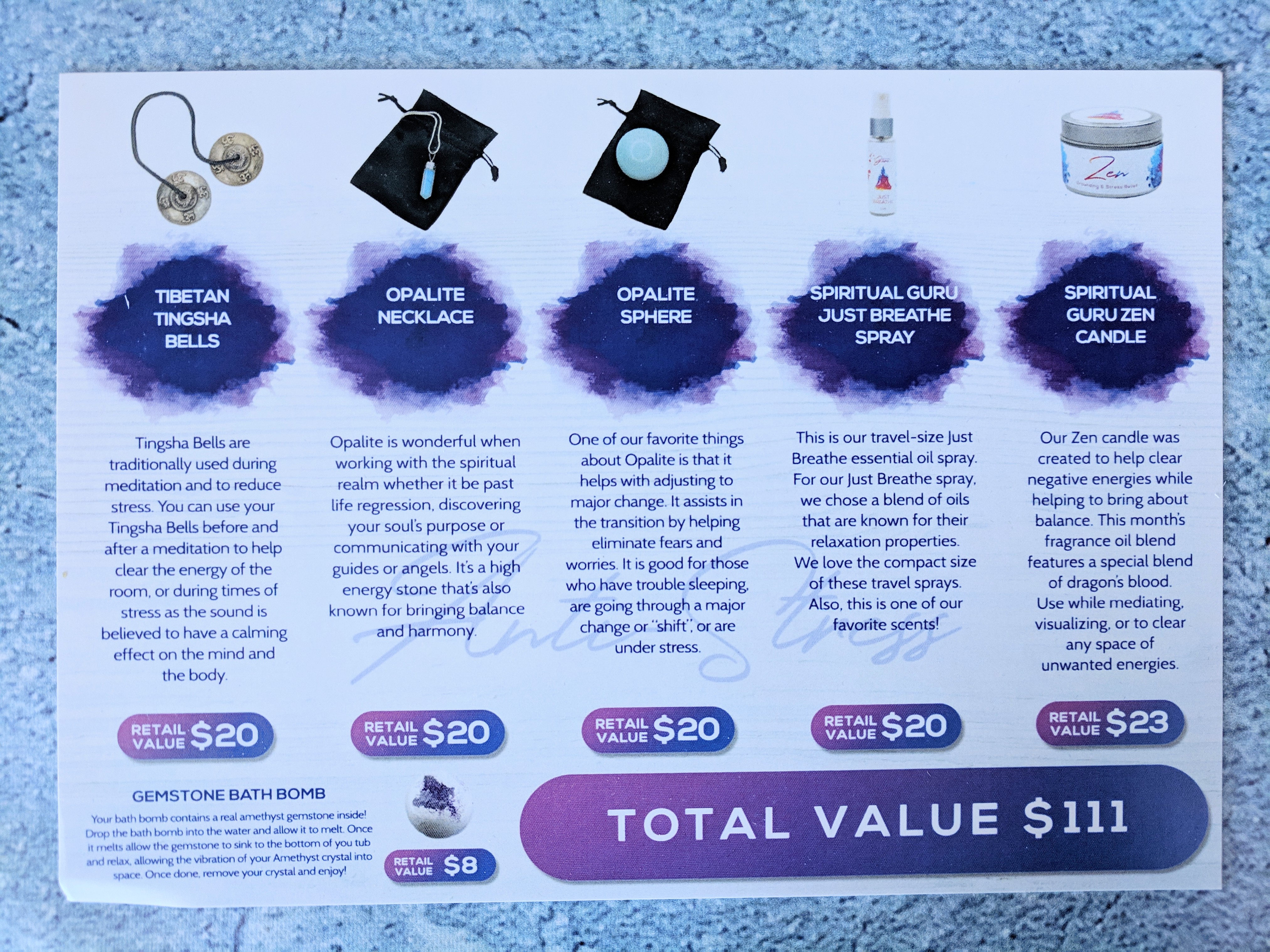 The information card details everything about this month's items.

Tourmaline Necklace and Gold Sheen Obsidian Bracelet.

This tourmaline is quite dark and the light barely goes through. Tourmaline is said to clear energy field and surroundings from negativity and disharmony. It's also a good meditating aid.

This Gold Sheen Obsidian reminds me of a subdued tiger eye stone with its shimmering effect. It's dark but has some dark grey/green sheen giving it a nice depth.
Another stone great to aid in clearing the negative energies and help in finding what needs to be done to heal, but doesn't do the healing itself. It also brings success into life through a passion or a talent. I couldn't keep this bracelet for myself as my husband claimed it and doesn't want to give it back!

The Moon Incense. I love the scent of these incense sticks! It's a light and floral scent, not musky at all. It can be used before bed or during meditation as it's very calming and relaxing.

Black Obsidian Crystal Water Bottle. This box was the biggest item in this box, and why there were "FRAGILE" stickers all over it!

It's a lovely glass bottle with a Black Obsidian crystal inside. This bottle was created for strength and stability. The obsidian will help in eliminating negative energies, including anger, greed, fear, and resentment.

It's a 550ml water bottle and fits nicely in the hand.

It's dishwasher safe and comes apart in four pieces for ease of care.
The crystal can be screwed inside the bottom cap.
Or can be left out to use it as a normal water bottle or smoothie bottle!

There's a rubber bottom so the bottle won't slide on smooth surfaces.

I'm always excited to receive my Spiritual Guru Box. I'm amazed by the variety of items, and they are things that I would have actually bought for myself (or wish I had!) I really love my new water bottle and that I can use it with or without the crystal and that it is easy to clean. The bracelet and the pendant were a nice complement to this all-black box and I was happy to be able to share an item with my husband!
What do you think of this subscription? Let us know in the comments!