Spiritú is a lifestyle and beauty box that curates seasonal boxes on a quarterly basis. They promise over $100+ in value in each box, with a nice mix of lifestyle, beauty, and artisanal items. They are very passionate about supporting and empowering Latina entrepreneurs, creators, and artists.
DEAL: Get $15 off on quarterly and annual subscriptions! Use coupon code HELLO15 OR Get 20% off your first month when you subscribe to a 3-month subscription! Use coupon code HELLO20.
Right away I was struck by the gorgeous illustration on the box itself! The beautiful art is by Sonia Romero, who is an artist in LA. For more information and to see many of her other pieces, check out her website — the spring box design is part of her Inner Landscape series.
Several inserts are tucked safely in the box, including one outlining their mission statement, and various social media tags.
The information page is printed in full cover, and folds out to reveal the contents of the box.
Photos and retail values are included for each item, as well as information about the creator or artist and why it was included.
Everything is presented so beautifully, which makes it such a joy to unwrap. It's all in the details, and it really feels like I'm opening a gift!
Peru Woven Keychain — A gorgeous handwoven keychain made by female weavers in Peru. I love the heart design and the deep green colour of this keychain. Spiritu supports these artisans through a program called Sustainable Preservation Initiative, which empowers local entrepreneurs and in turn supports the preservation of cultural heritage sites by creating jobs that depend on them. Read more about SPI here — it's so cool to read about their various projects and programs in different parts of the world!
Margaret Elizabeth Pacific Hoops ($78) — Beautiful simple hoop earrings. They are sterling silver overlaid with 24K gold for a stunning shine. My ears aren't pierced but these earrings are making me tempted… They would make the perfect gift for someone worthy of being spoiled! I love the slightly beaten finish on the hoops as well, it's a subtle detail that adds some dimension to the simple design. Can't go more classic than these!
Bodyography Instant Lift Eye Mask ($26) — A set of three pairs of under-eye masks. Paraben free and cruelty-free (yay!) these contain hyaluronic acid as well as citric acid, to hydrate and gently resurface the delicate under eye area. I love under eye masks, especially now that I have a skincare fridge in my bathroom where I keep them chilling!
Dove Ultracare Conditioner — A very generous sized tube of Dove hair conditioner, heavy-duty moisturizing for thick and damaged hair. Now that winter is officially over here, we are heading into the warmer months and my hair is being very fickle about what it likes and doesn't like! Conditioners like this are great for using as a weekly mask, too, for when your hair needs extra TLC.
Donna Karan Cashmere Mist Deodorant — A perfectly mini travel sized version for your gym bag or suitcase. The scent is a very lovely powdery scent, not too overpowering but definitely a step above your typical deodorant scent. It's also an antiperspirant so it does include aluminum in it. I've switched to natural deodorants but sometimes those just can't cut it, so this will be great to keep in my yoga bag for when I'm ready to work up a sweat.
Spiritu x Halo Nail Polish ($12.95) — I LOVE when a box has a cool exclusive collab, it definitely adds to the limited edition appeal. Spiritu collaborated with Halo Colorlab and four awesome women to create their own set of polishes. Subscribers received a random shade, and I got Azucar Morena! It's a gorgeous bright terra cotta sort of colour, and I am really happy that this works with my pale skin… I never tan… the struggle is real! This is going to be a staple for me during spring and summer!
Azúcar Morena is inspired by brown sugar with a hint of burnt orange and represents femininity and strength.
After just one coat, it was opaque and dried quickly. Halo polishes are 8-Free, meaning no nasty carcinogens on your fingertips! $1 from the sale of each nail polish goes to Conga Kids, a non-profit that teaches schoolkids (grades 5/6) dances such as the tango and salsa! I would have loved something like this when I was younger!
Clinique High Impact Lash Elevating Mascara — Laugh at me all you want, but I hoard mini mascaras. Officially you're supposed to toss mascara every six months, and I don't think I could ever finish a tube with how inconsistently I wear it. Small tubes like this are PERFECT, not only for travel but also just because it's less commitment. I haven't cracked open this one yet. but I did some googling and was happy to see it has a big wand to quickly and easily coat my lashes while feathering them for extra volume.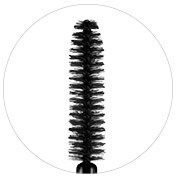 Definitely a brush meant to add volume!
ZANO On-the-Go Bag — ZANO is a recently launched athleisure brand, and I'm digging the Think It, Want It, Get It mantra printed on this handy on-the-go bag. It's the perfect size to stow clothes after a workout, haul your towel to the beach… the uses are honestly endless.
Spiritu subscribers got a discount code to use on their order. Everything is really reasonably priced (and ADORABLE) so I might need to treat myself.
This was my first time reviewing Spiritu and I had so much fun seeing what they chose for their Spring box. I love that it was a real mix of items: skincare, haircare, nails, makeup, and a few amazing accessories. I love how much good goes back into the world from this box, from supporting artisans around the world, to Latina entrepreneurs, and other non-profits. I'm really excited to see who they partner up with next, and would recommend this box as a great lifestyle box with added good vibes.
What do you think of this month's box?