Something Snacks is a monthly snack subscription box that promises something new, adventurous, and something familiar – for only $13 per month. There's always at least 1 salty, sweet, international, and health-conscious snack in every box of Something Snacks.
DEAL: Get $3 off your first box! Use coupon code TRY3NOW.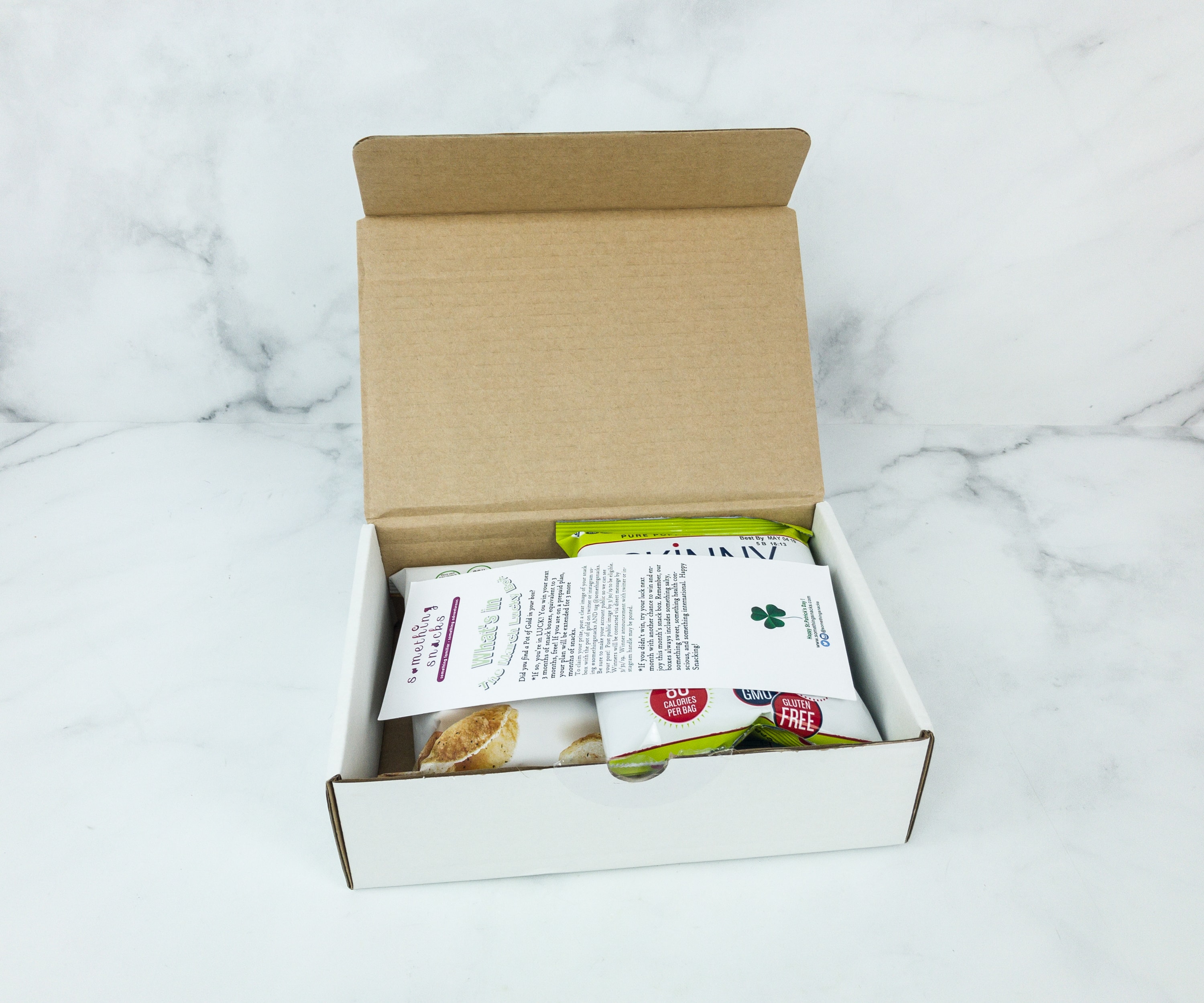 The snacks came inside a simple white box. It doesn't really matter, because what we're really looking forward to about this subscription is the awesome variety of the snacks they send. Upon opening, there was an information card on top of the snacks!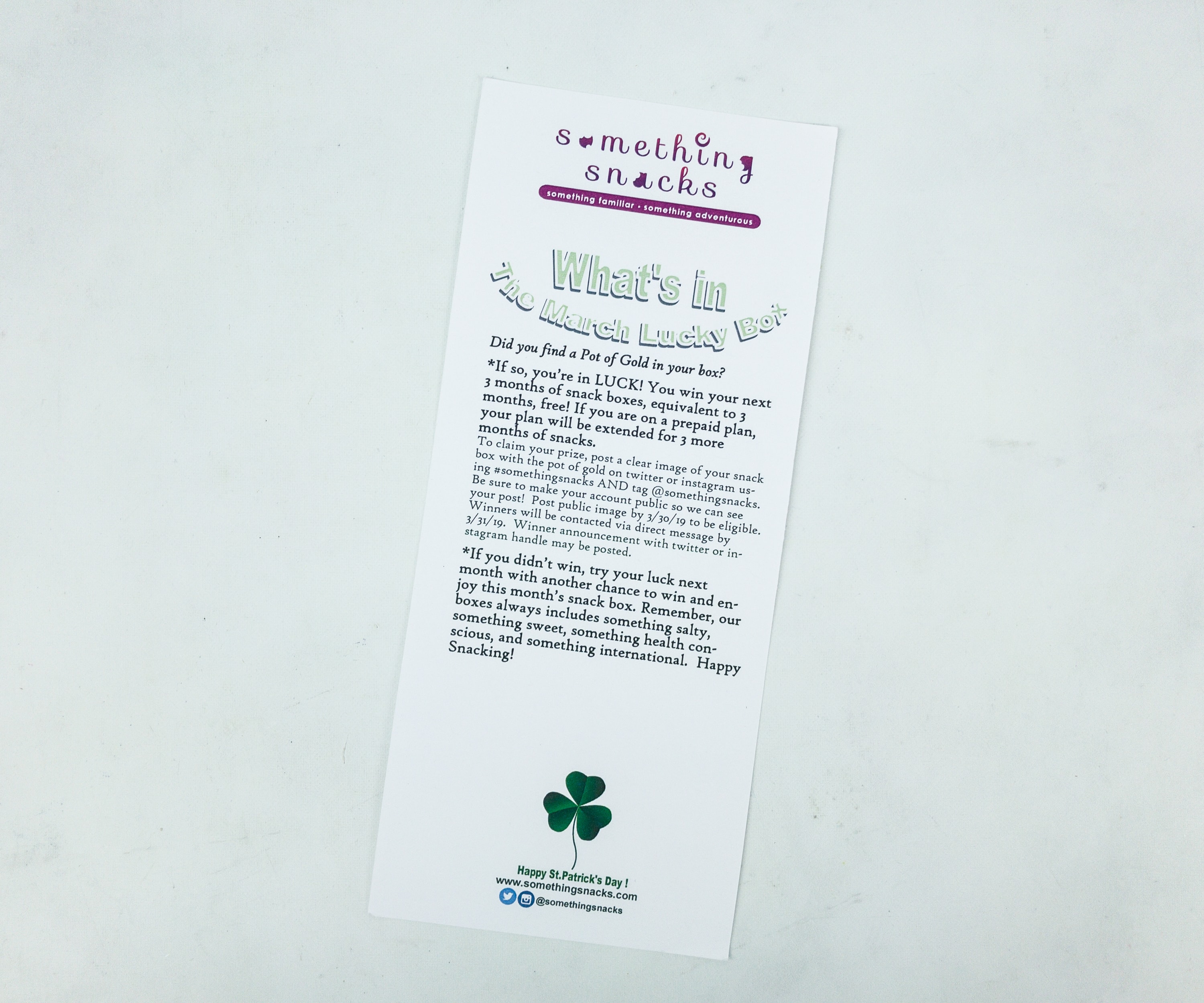 This month's theme is WHAT'S IN THE MARCH LUCKY BOX!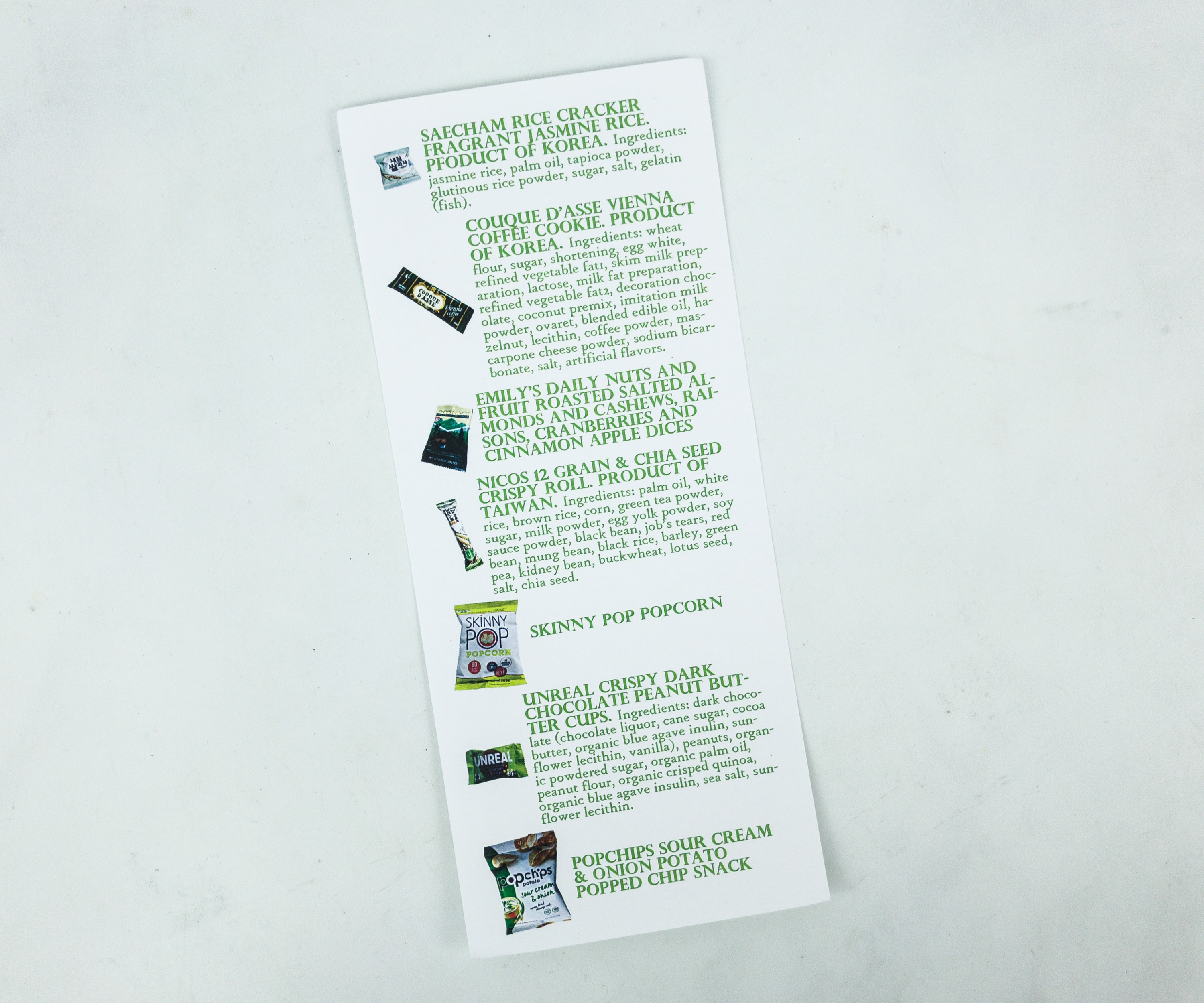 The card simply names most of the snacks and country of origin, if outside the U.S., but they added a helpful feature on their site – a description and translation of ingredients for the items with foreign language packaging.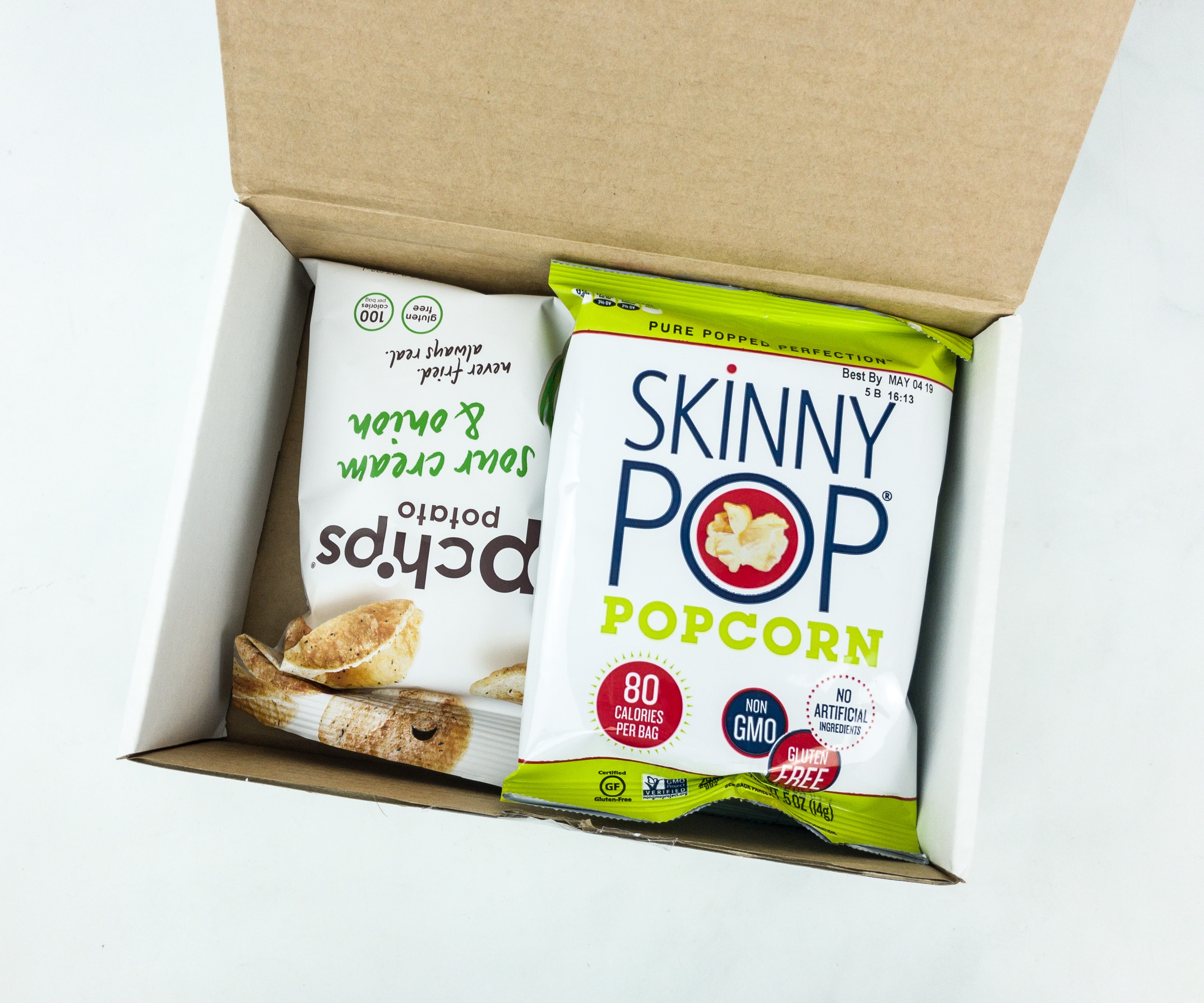 The snacks arrived neatly packed, without any extra packaging.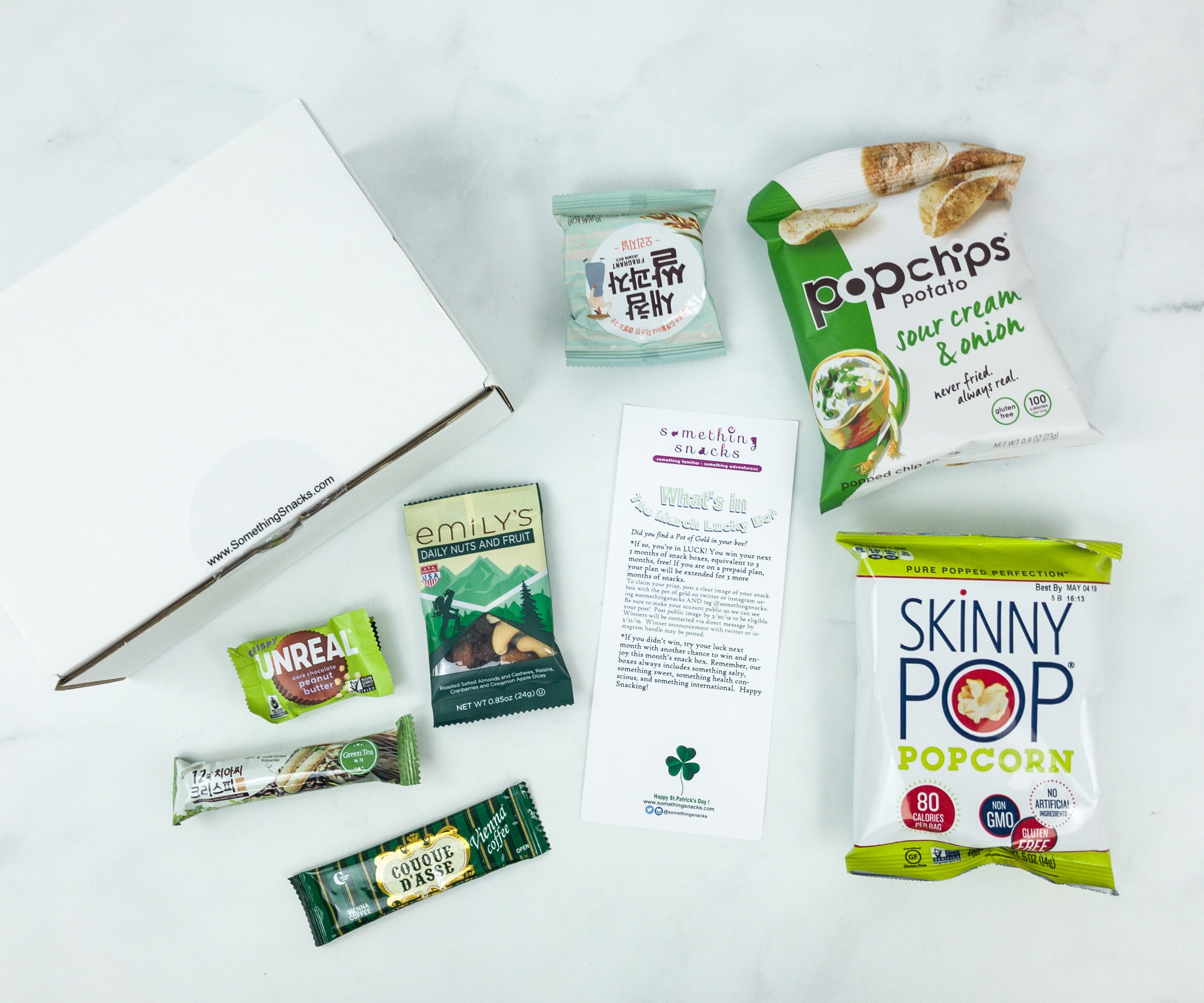 Everything in my March 2019 Something Snacks box!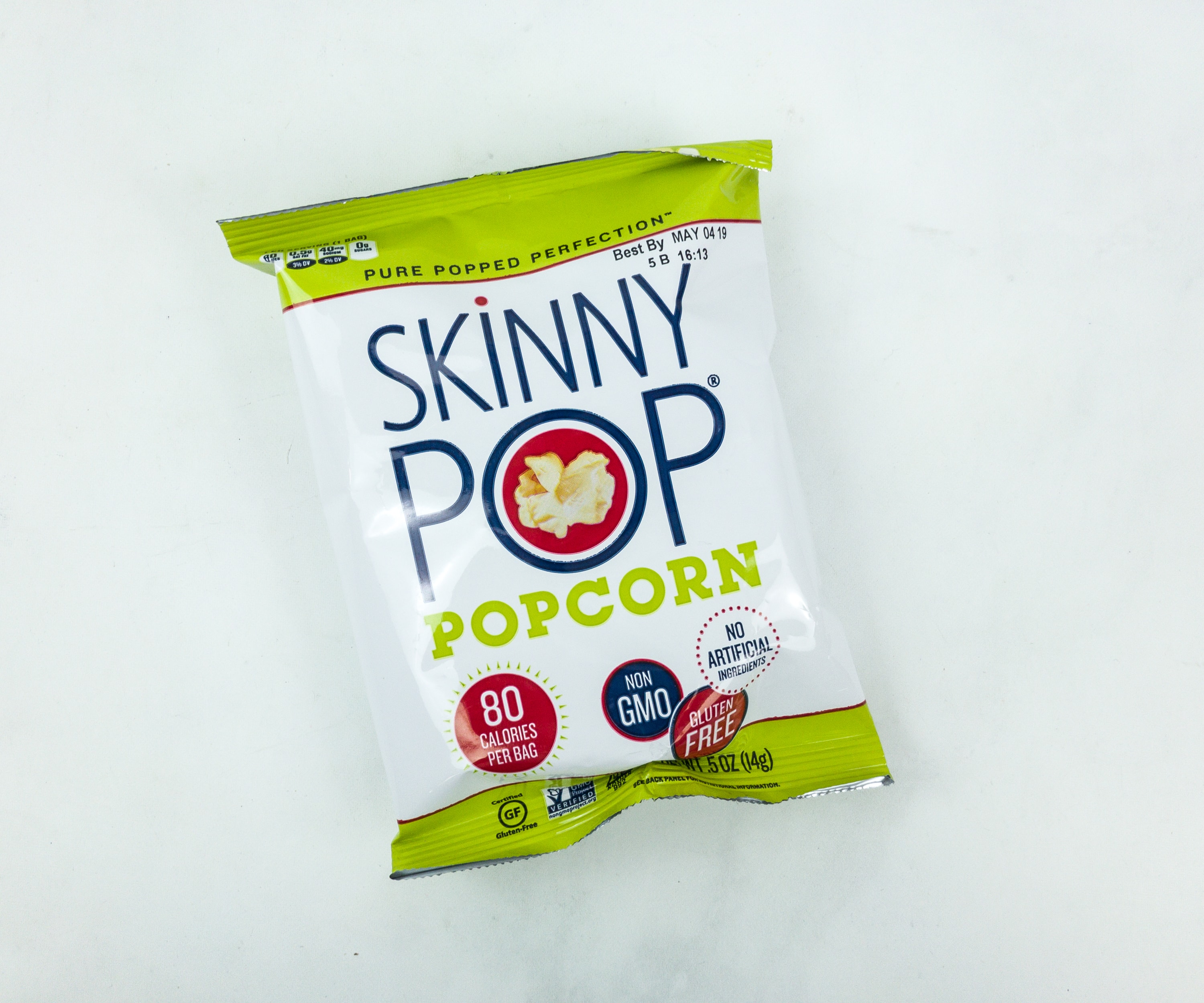 Skinny Pop Popcorn. This popcorn snack is popped to perfection! It's made from simple and clean ingredients, including sunflower oil and just the right amount of salt. Also, it doesn't contain any artificial flavors, GMO, and gluten. If you are on a diet but would like to indulge once in a while, this is a great treat to try.
PopChips Sour Cream & Onion Potato Popped Chip Snack. These tasty chips are not fried or baked, they are popped with heat and pressure. Each piece is perfectly crunchy and well-seasoned. It features fewer calories than the regular chips, perfect for anyone on a diet. The snack is also gluten-free, trans fat-free, and non-GMO.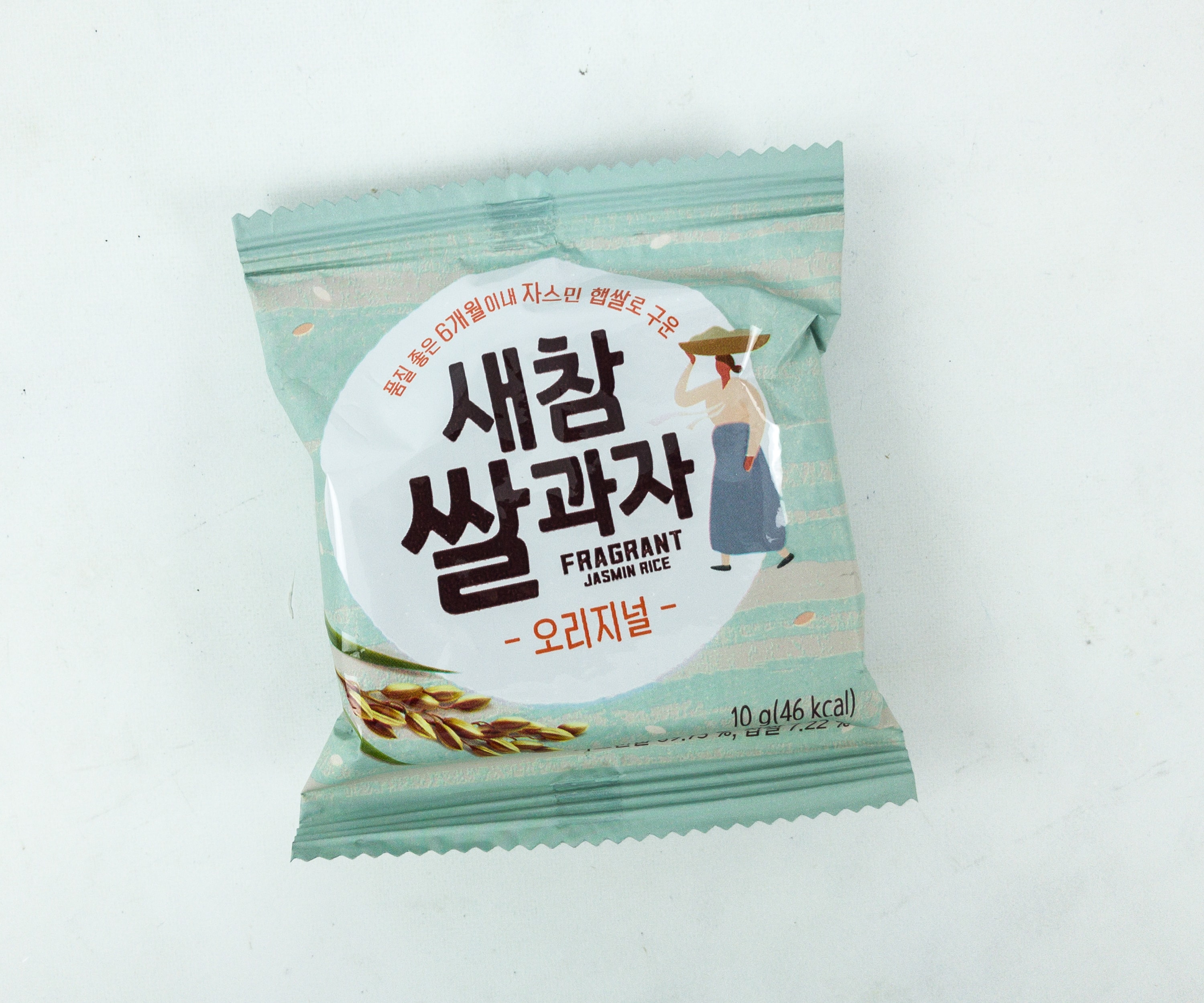 Saecham Rice Cracker Fragrant Jasmine Rice – Korea. Rice crackers are popular snacks in Korea. This one is round like a cookie and made with real jasmine rice, tapioca powder, and glutinous rice powder. Each piece is light and crunchy. It's also a salty but not overwhelming.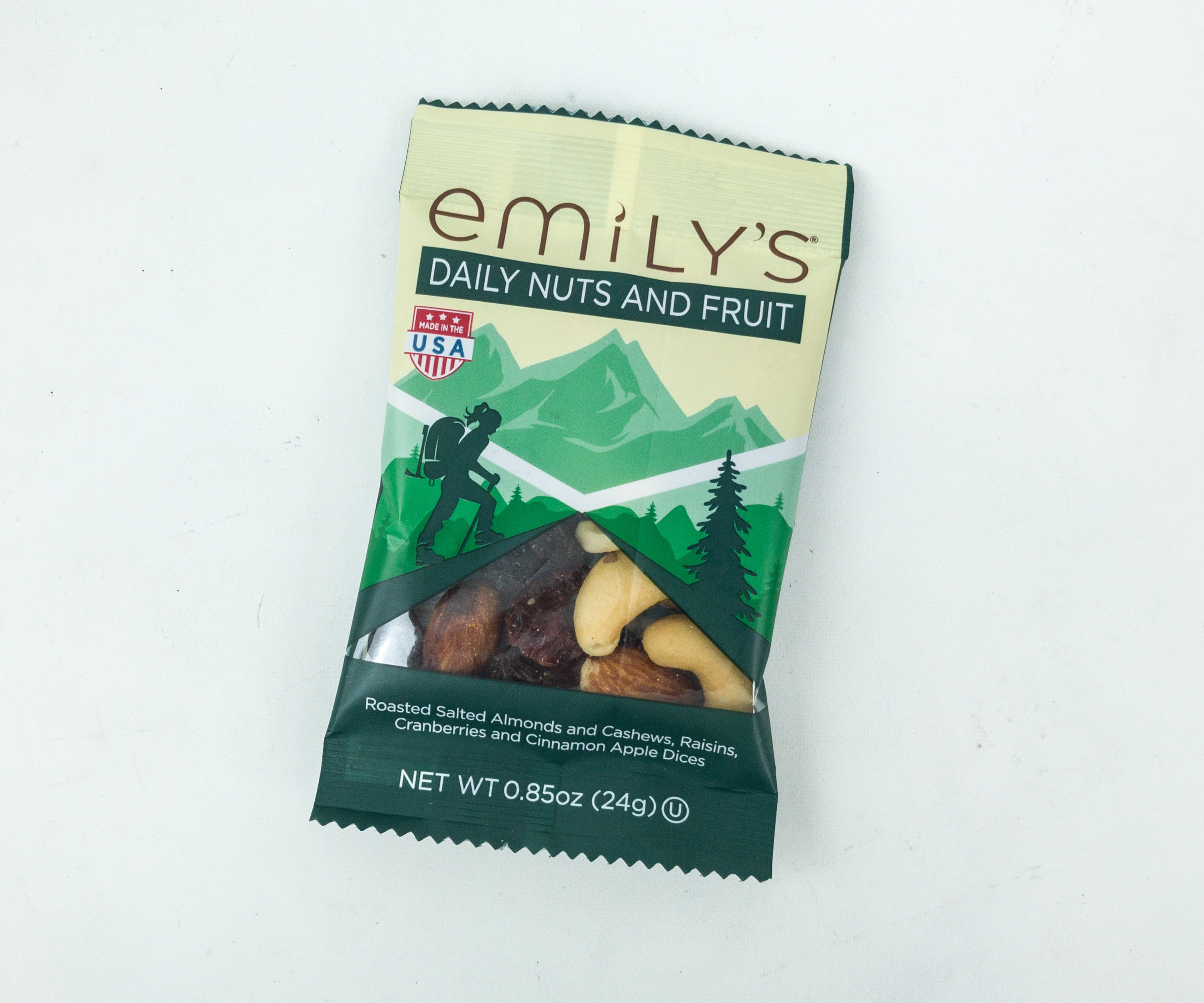 Emily's Daily Nuts & Fruit. Nuts and fruits always make a delicious and nutritious combination! This pack contains crunchy almonds and cashews, plus chewy raisins, cranberries, and diced cinnamon apple. Such a wonderful mix of textures. It's filling and energizing, perfect as an on-the-go snack.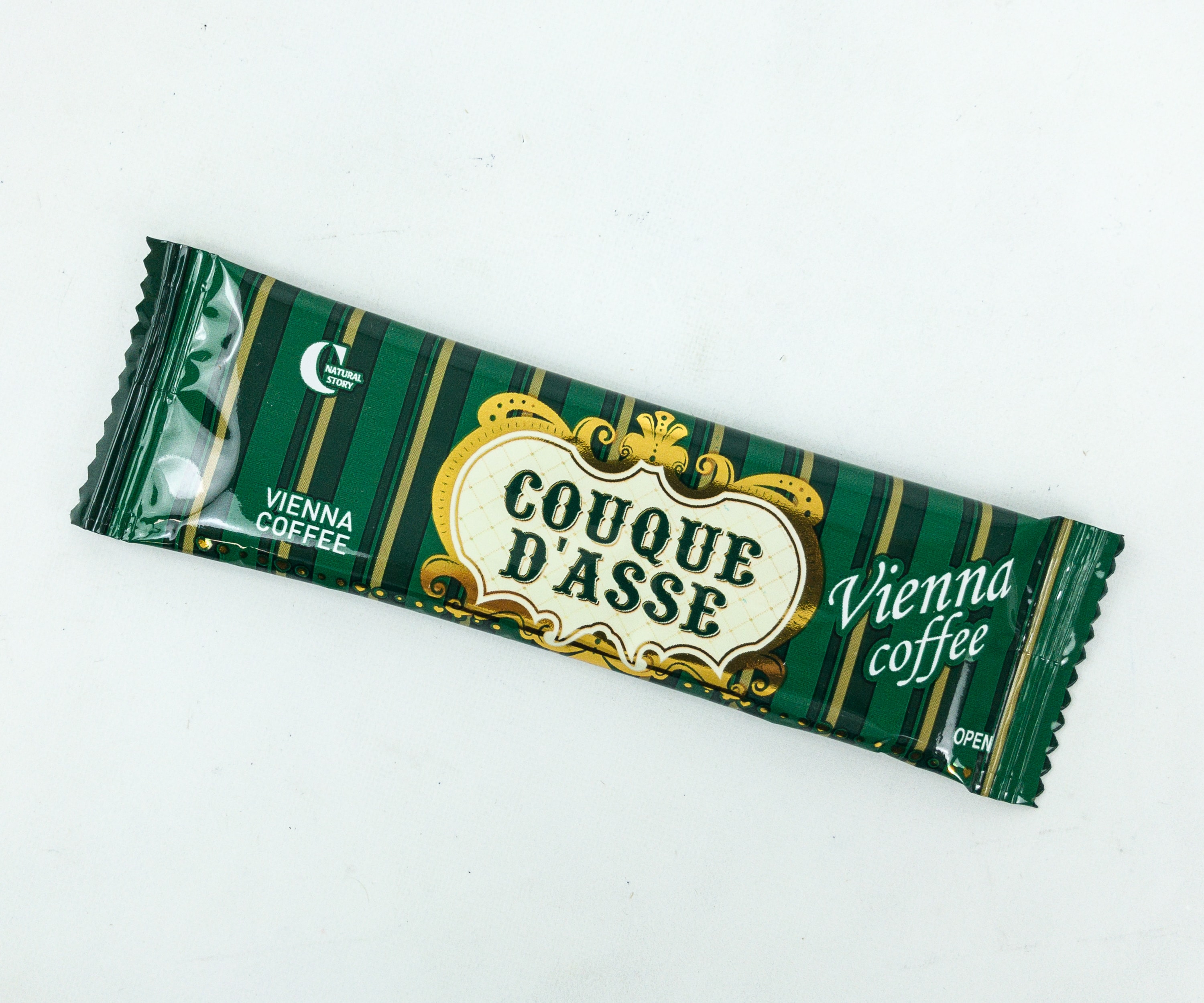 Couque De'Asse Vienna Coffee Cookie – Korea. We got another Korean snack, and this time it's a premium cookie with a coffee cream filling. It was perfectly baked, so it was soft and not crumbly. If you love coffee, this one is for you because the coffee flavor in the filling is really satisfying.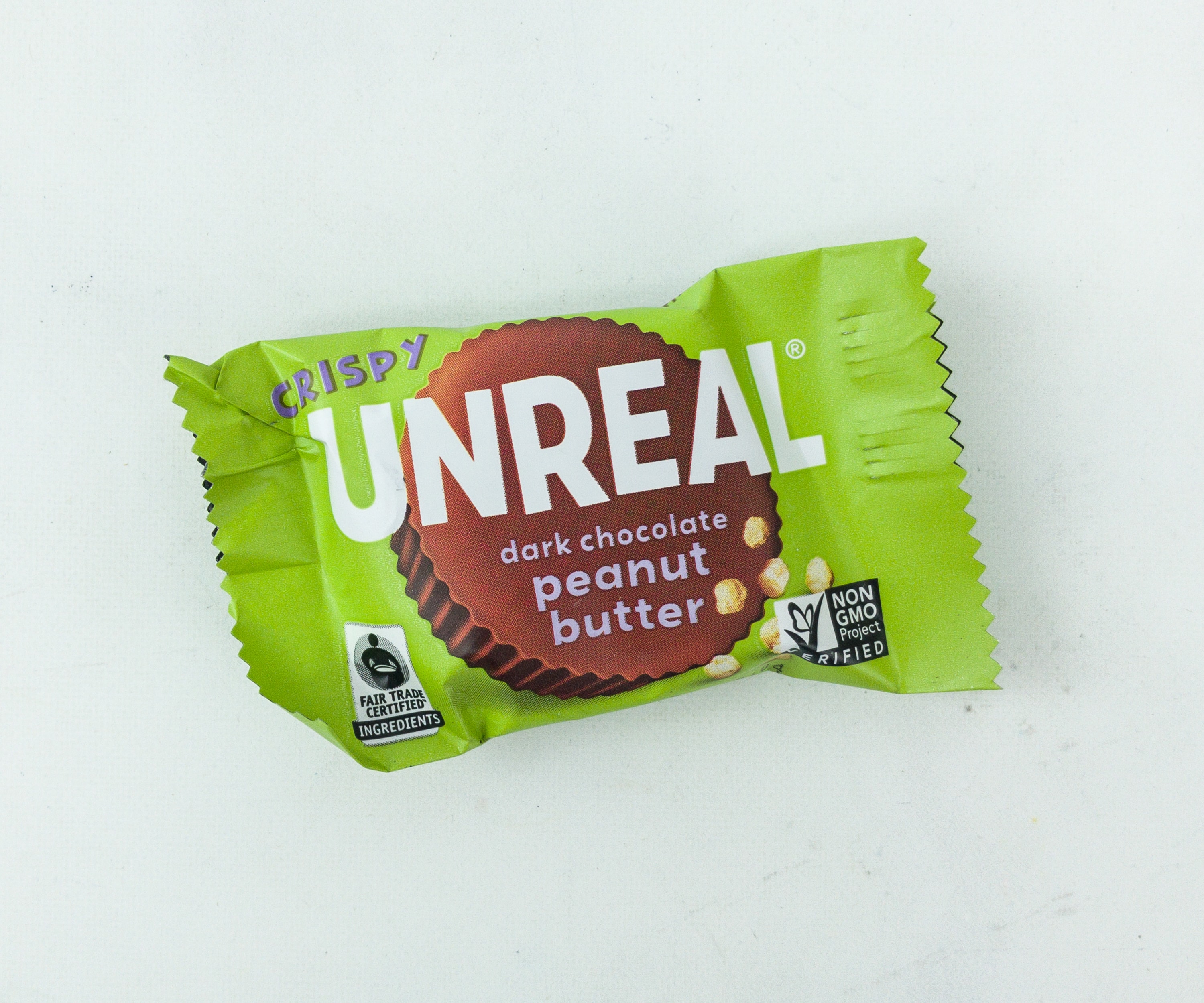 Unreal Crispy Dark Chocolate Peanut Butter Cups. This snack may be small, but it's packed with wonderful textures. The creaminess of the peanut butter harmonizes well the crunchiness of the quinoa, and the dark chocolate coating is just irresistible. I simply can't get enough of it.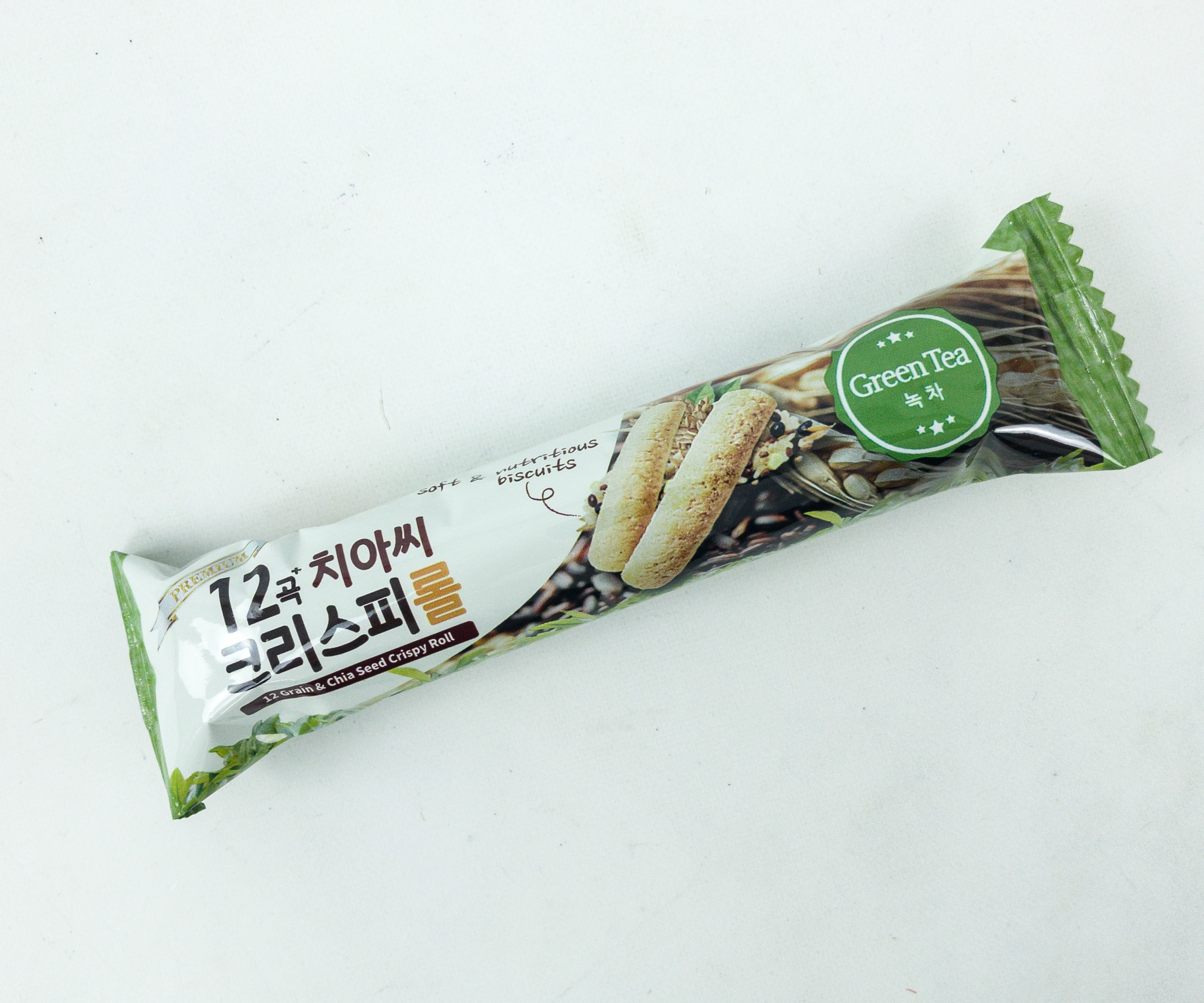 Nico's 12 Grain & Chia Seed Crispy Roll – Taiwan. According to the card, it's a Taiwanese snack, but the packaging label is in Korean. Anyway, it's a tasty biscuit roll snack, made from white and brown rice, corn, green tea powder, milk, a variety of beans, and chia seeds. It's soft and light, ideally paired with coffee or tea.
This month's box included a couple of Korean snacks, several alternatives to the usual chips, and other healthy snack options. The variety is really fun and so is the green packaging theme. Everything is delicious and worth repurchasing, but what stood out for me are the peanut butter cup and the coffee cookie. If you want to discover new snacks, this subscription is a great choice!
What did you think of Something Snacks?