Olfactif is a monthly fragrance sampler subscription box that sends hard-to-find niche perfumes. Every month you'll receive 3 samples, each of which contains 2.5ml and gives around 40 applications of an independently designed perfume. Olfactif is $20 a month, or sign up for a longer subscription for a discount – prepay for a year and the price drops to $15 a box!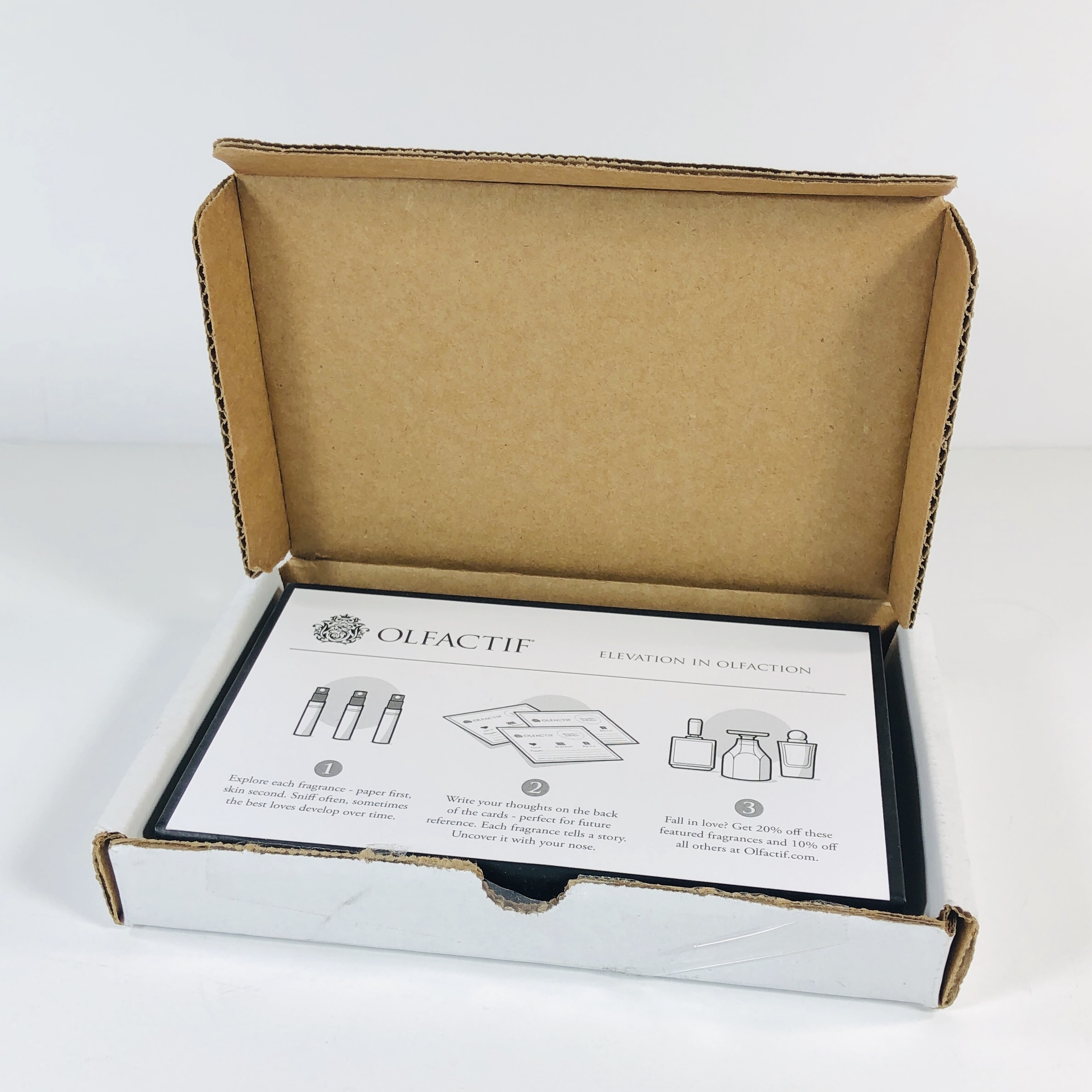 In addition to receiving a curated collection of 3 premium fragrances from around the world, members also receive: 20% off full bottles of every featured scent, 10% off all other full bottles, 10% off all à la carte samples, and earn free stuff with rewards points.
There was a card with a little info on the subscription. Olfactif now offers atomizers with samples, similar to other to-go fragrance subscriptions out there, but with a limited selection of niche fragrances, most of which are not available in other subscriptions. Prices vary depending on the scent chosen and you can choose from two colors of case – either Rosé or Stone. Each of those samples are 5ml.
The back told how you could win some free fragrance.
Olfactif sends their scents in a black box with a magnetic closure. Very classy. I saw a post on Instagram the other day and you can remove the black foam insert and reuse the box to hold small items and they look great for holding rings and such while traveling.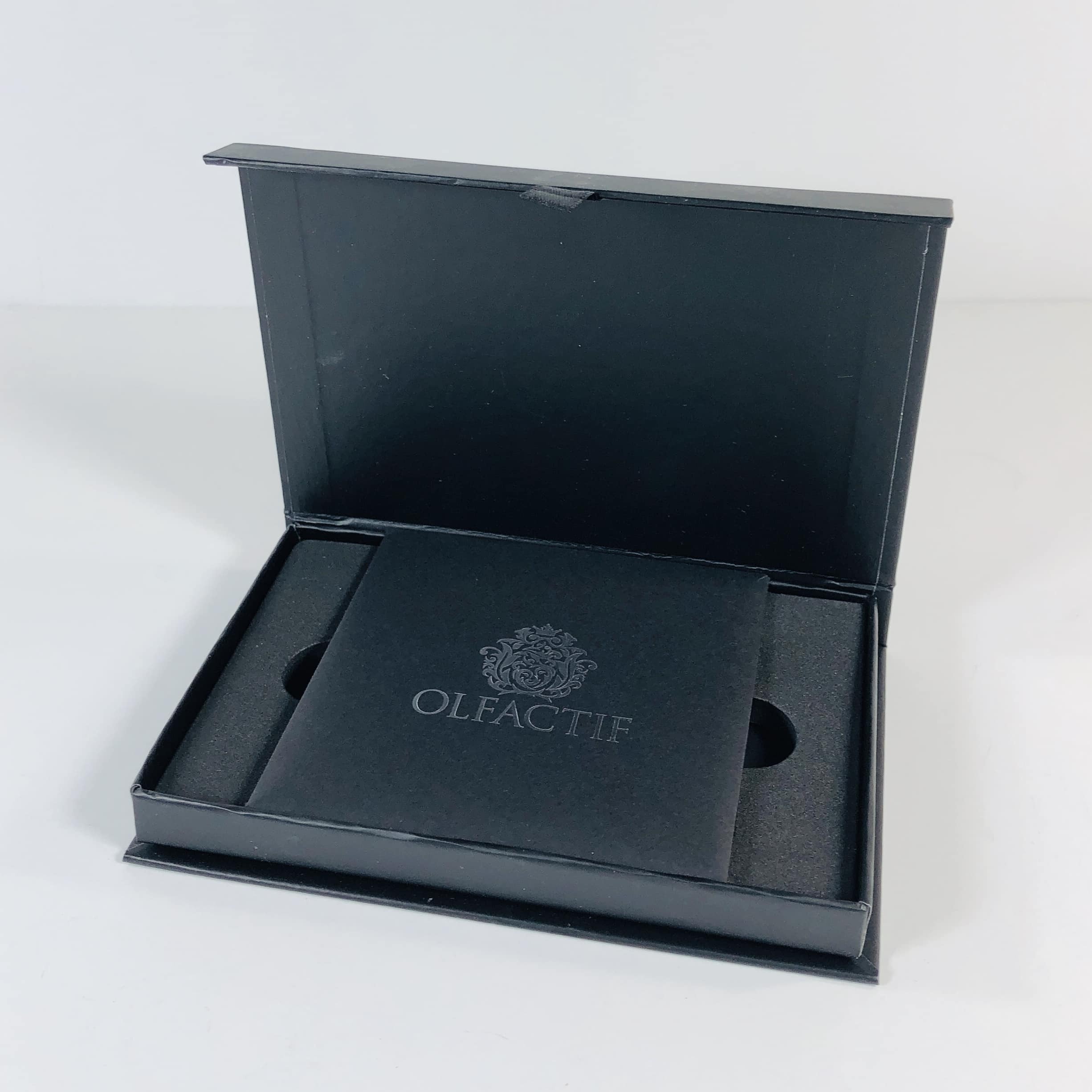 Olfactif focuses on niche fragrances – unique scents produced with higher quality and harder-to-find ingredients than you would encounter in a department store. When you subscribe you can choose from the Women's or Men's box. You can check out our reviews of Olfactif Men here.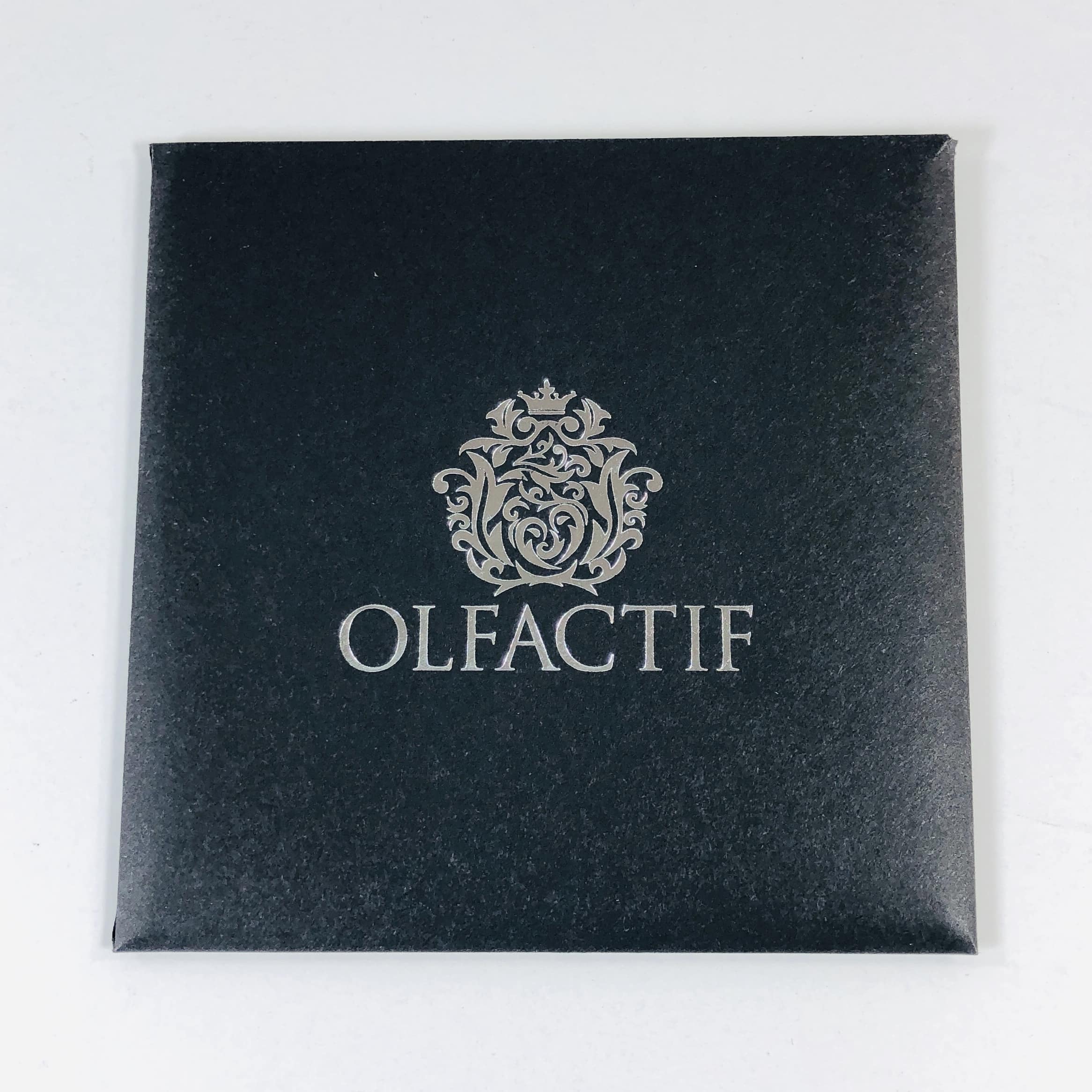 On top I found a black envelope with the Olfactif logo. This month is Olfactif's birthday so if you happen to find some little gold candles in your box you have won a gift!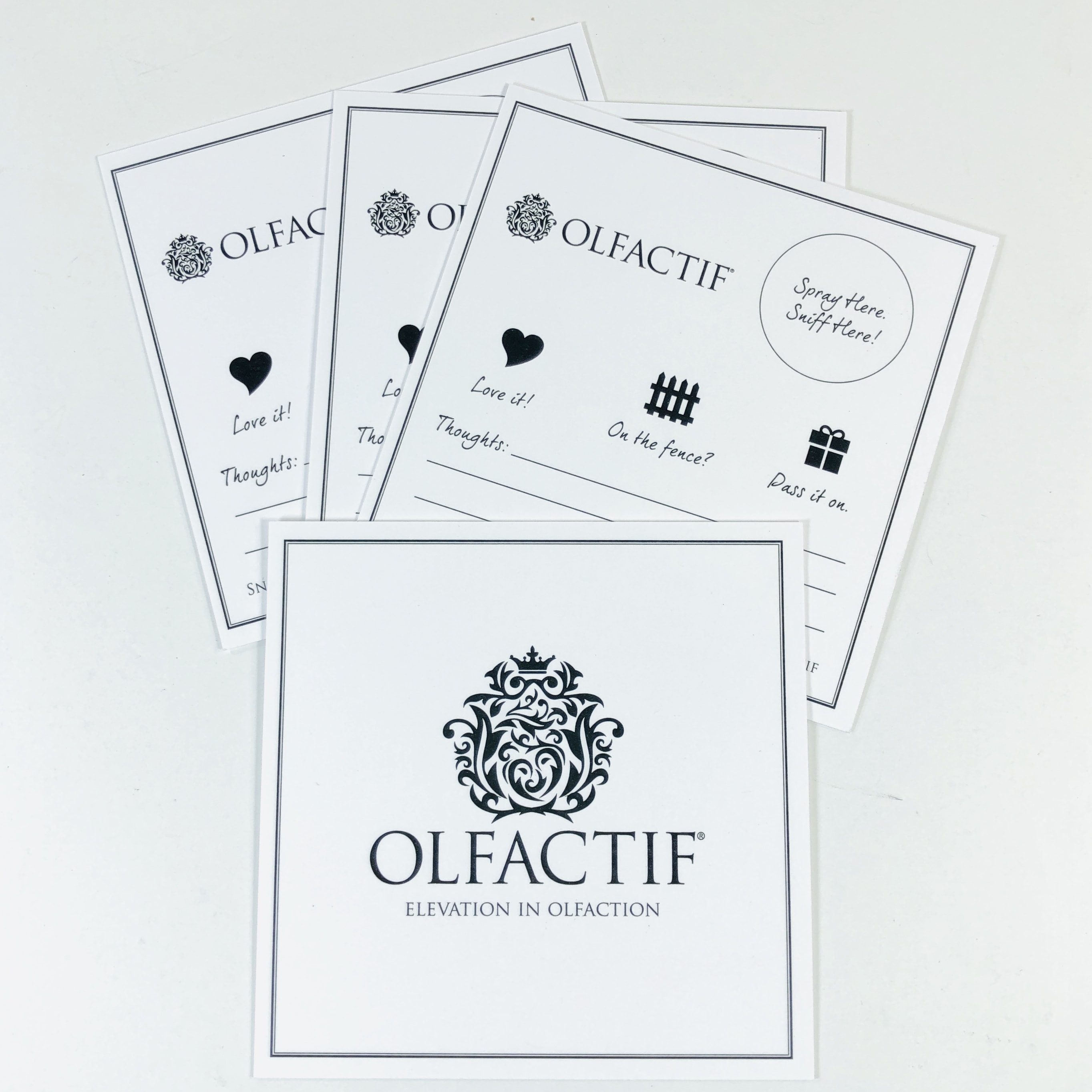 Inside I found four cards. You test your scents directly on the back of each scent's card. There's even space to write notes on what you thought of the fragrance.The first thing I do when I receive this box is spray each card with its scent, then decide which one to try on my body first!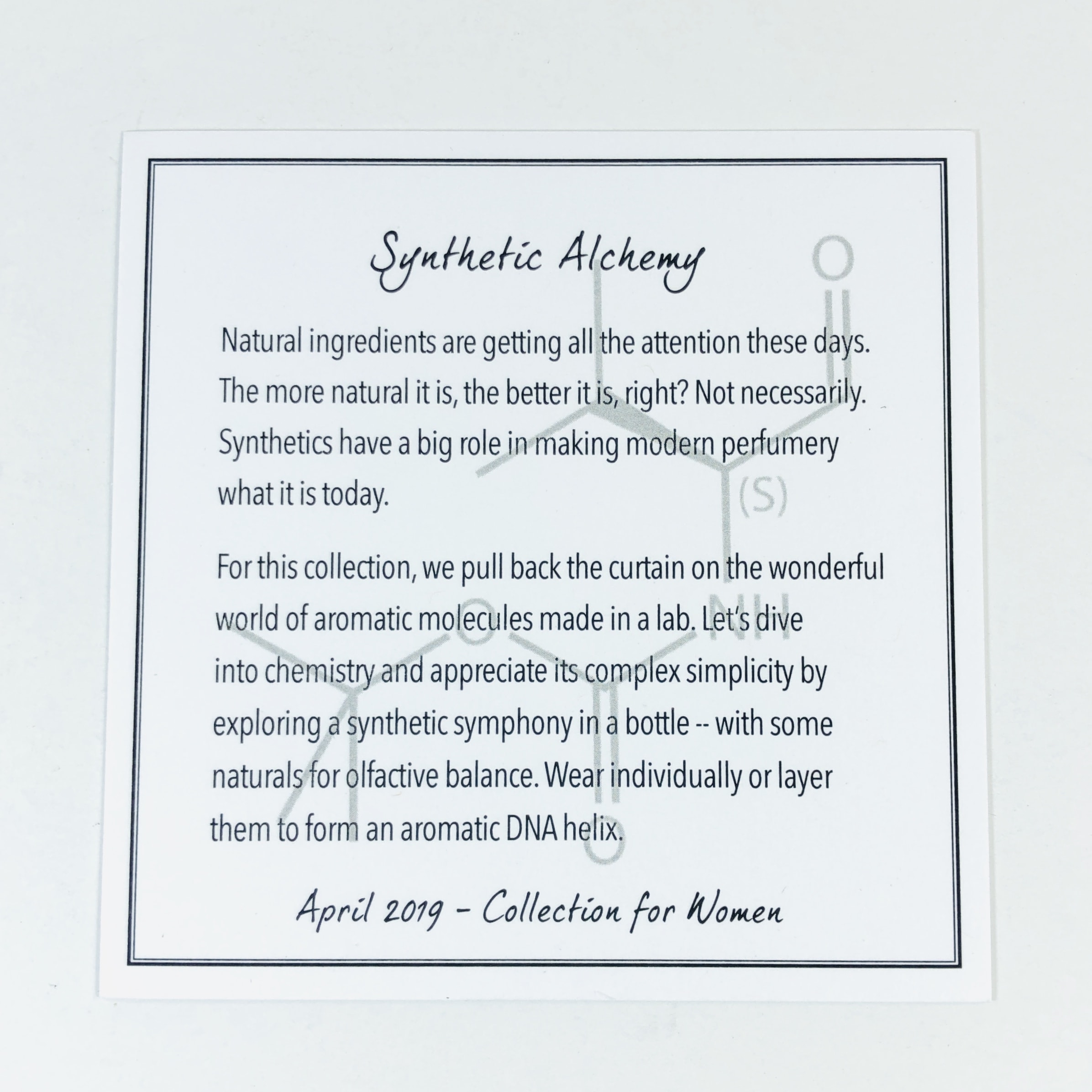 The theme for April's box is SYNTHETIC ALCHEMY. A note about my testing procedure: I always try each fragrance at least twice and on non-consecutive days. Sometimes what we eat may affect a scent and I want to make sure that last night's spaghetti dinner doesn't taint a scent.
This month Olfactif scent three scents from the same fragrance house, I think this is a first!
Nomenclature Lumen_esce ($165 for 3.3 ounces) is a floral that is supposed to invoke "electric violet". I'm not sure what violets smell like but the scent is floral, green, and a bit warm at the base. The notes include violet, violet leaf, and patchouli, although I am not picking up any patchouli myself.
Nomenclature Efflor_esce ($100 for 1.7 ounces) is the scent I chose to wear first, mainly because I love citrus scents and this one smells like oranges and orange blossoms and orange peels and just orange. Maybe there are other notes, like a synthetic jasmine and tuberose, to make this a floral fragrance, but to me, well, it's lovely sunny citrus. Spray generously.
Nomenclature Iri_del ($165 for 100ml) is very interesting. It has a kind of clean scent and sometimes it smells like rubbing alcohol. I would say it has an ambroxan smell to it, kind of like clean laundry, but it also has a woodsy note at the base. Sadly it doesn't last long but I can spritz it on all day and no one would get offended, it's pretty laid-back.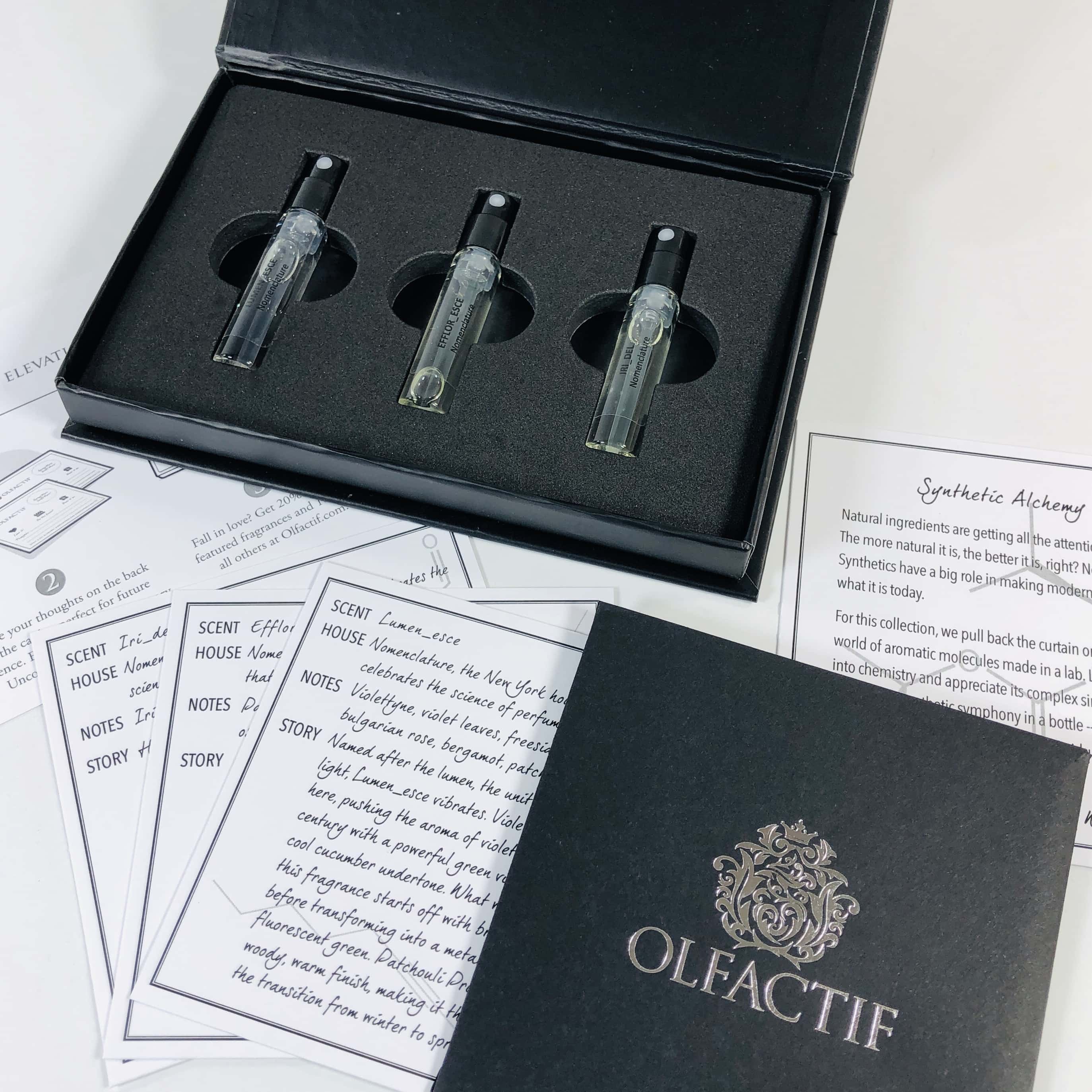 I think this is the first time I've received a box from Olfactif that featured only one fragrance house, and I also believe it was an interesting study of the brand. The theme was intriguing, with lab-designed scents taking stage, and I enjoyed learning something new about fragrance. My favorite scent this month was Efflor_esce since I love citrus notes in perfume, especially orange! All of the scents were pretty laid-back, not a lot of projection or longevity, but they are perfect for the transition between winter and spring and would work well for summer.
Have you tried Olfactif? Let me know what you think of this subscription in the comments!