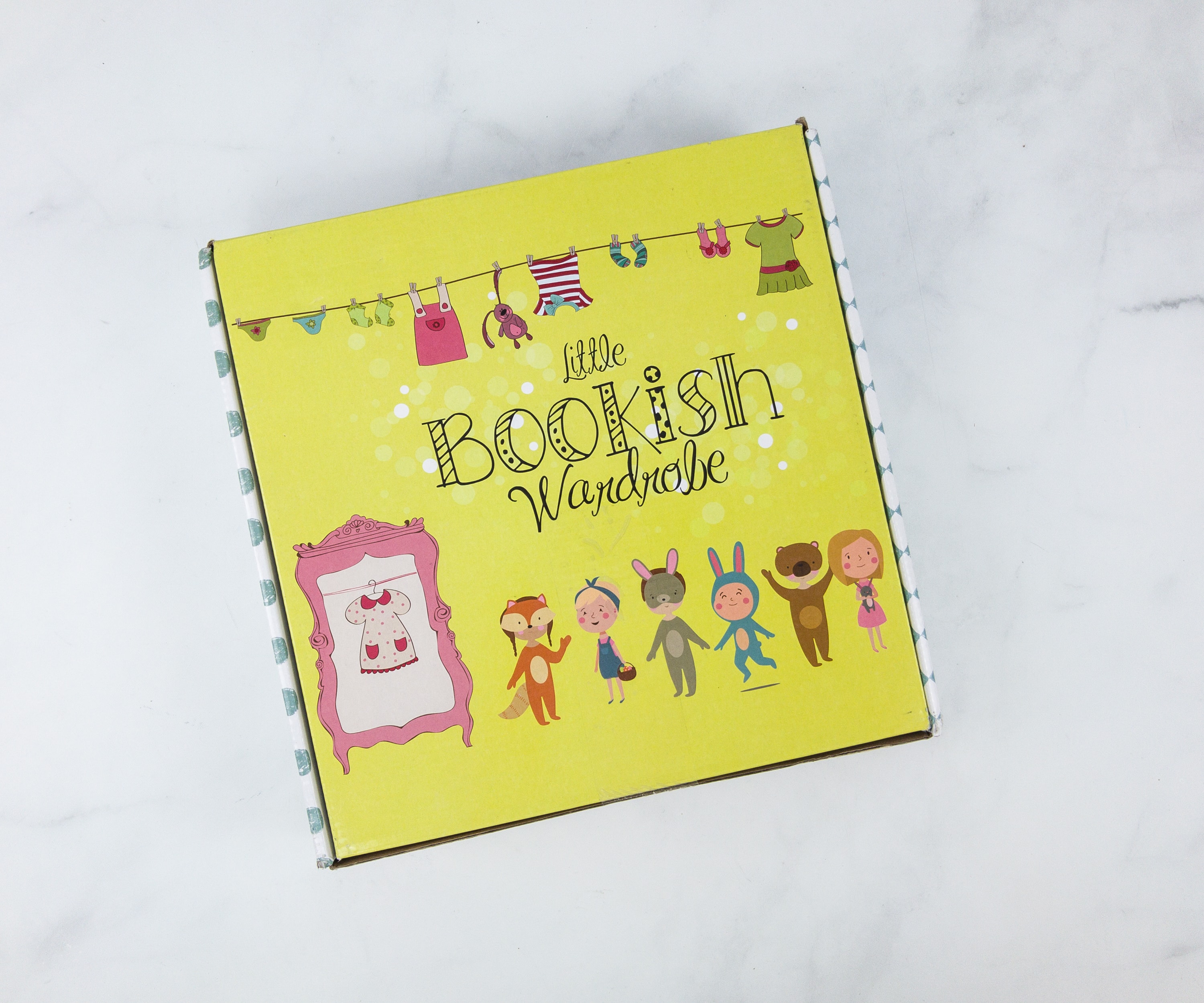 The Little Bookish Wardrobe is a monthly subscription box, created to help inspire imagination in your child! Each month, your child will receive a book to read, along with unique play costume pieces that match the theme and characters of the book. Box is best for children 3-7 years old. Available for both boys and girls!
DEAL: Get 10% off! Use coupon code HELLOBOOKISH10.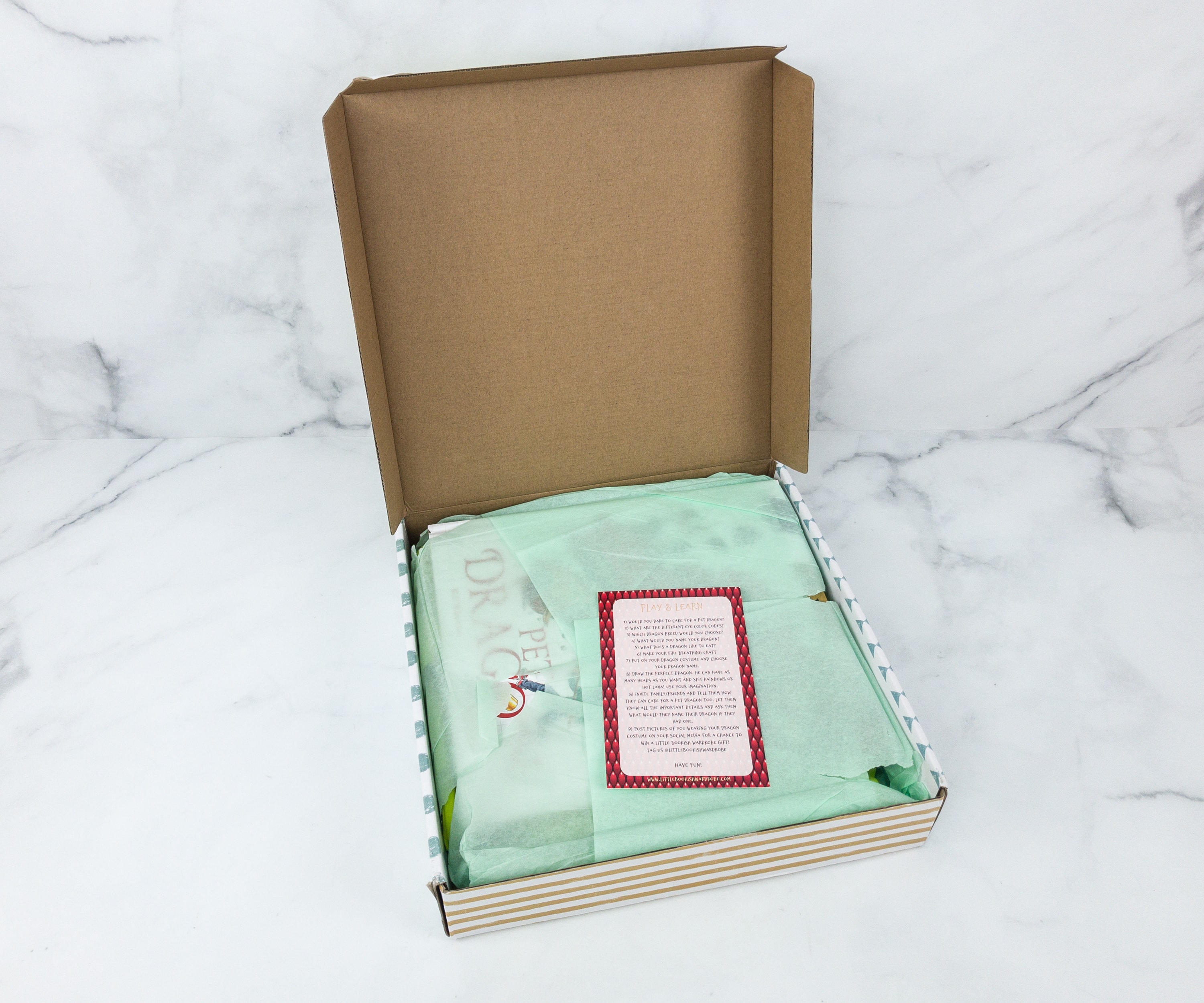 All the items came in a big pizza box-like design. There's a game card sitting on top of them.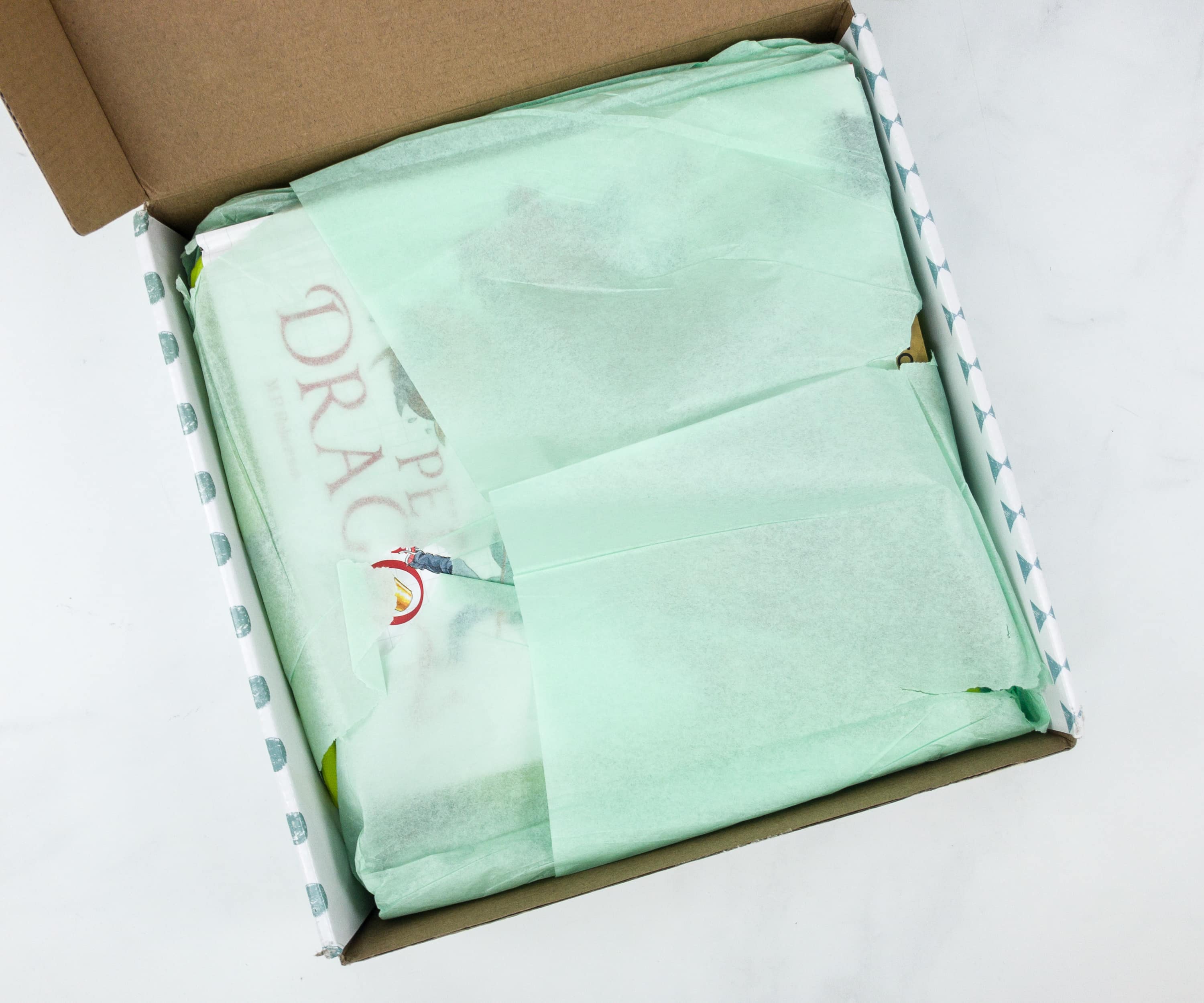 They are neatly piled and wrapped in a mint green tissue paper.
We were greeted by a book with a ferocious dragon on the cover. Looks like this will be an exciting dress up adventure!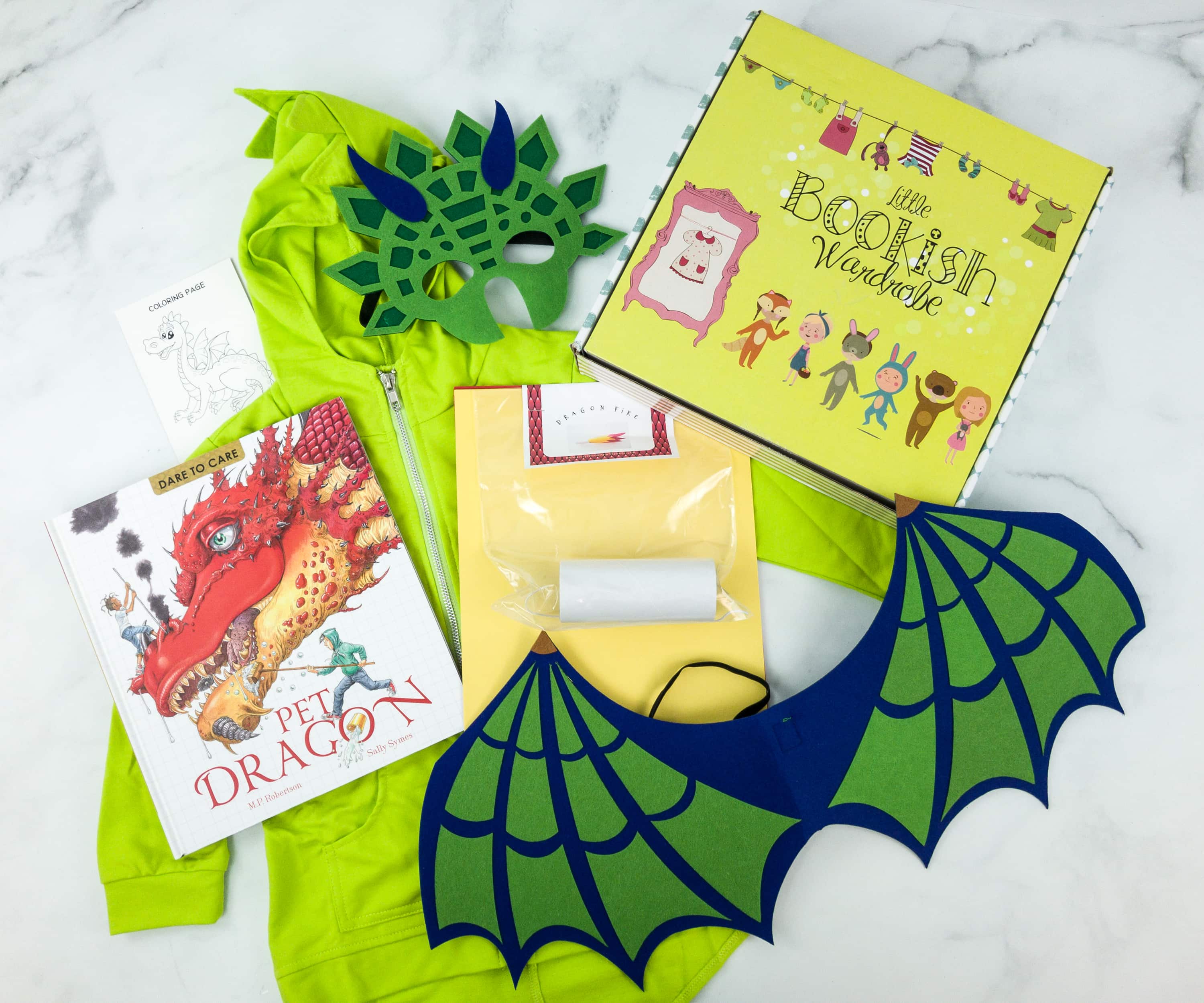 Everything in my box!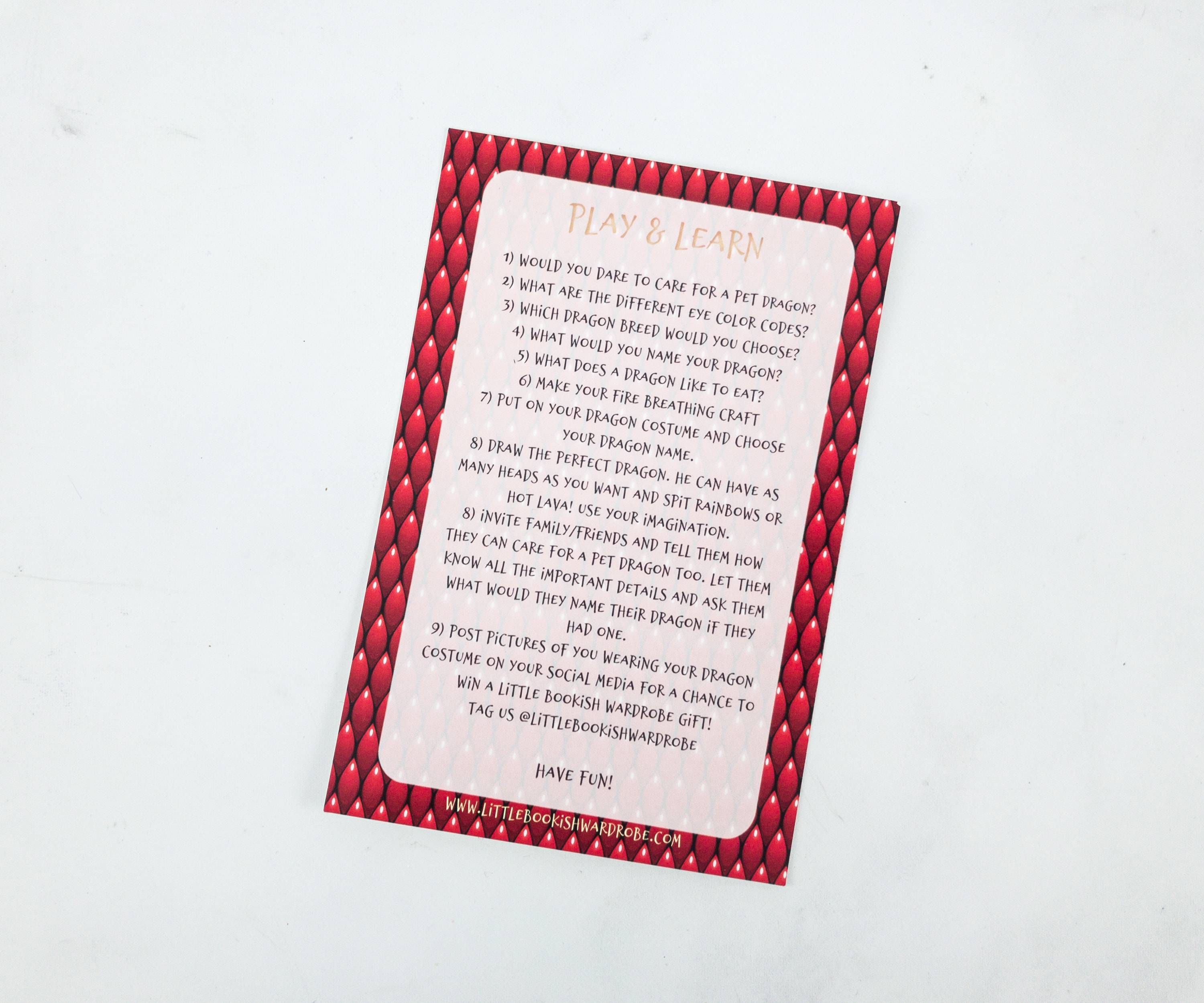 The game card contains questions about the featured theme for this box, a dragon! It's a good conversation starter that can also help fuel up my son's interest on the book and the items.
The first item we have on the list is a coloring page with an image of a smiling dragon.
My son took his crayons and worked on it right away!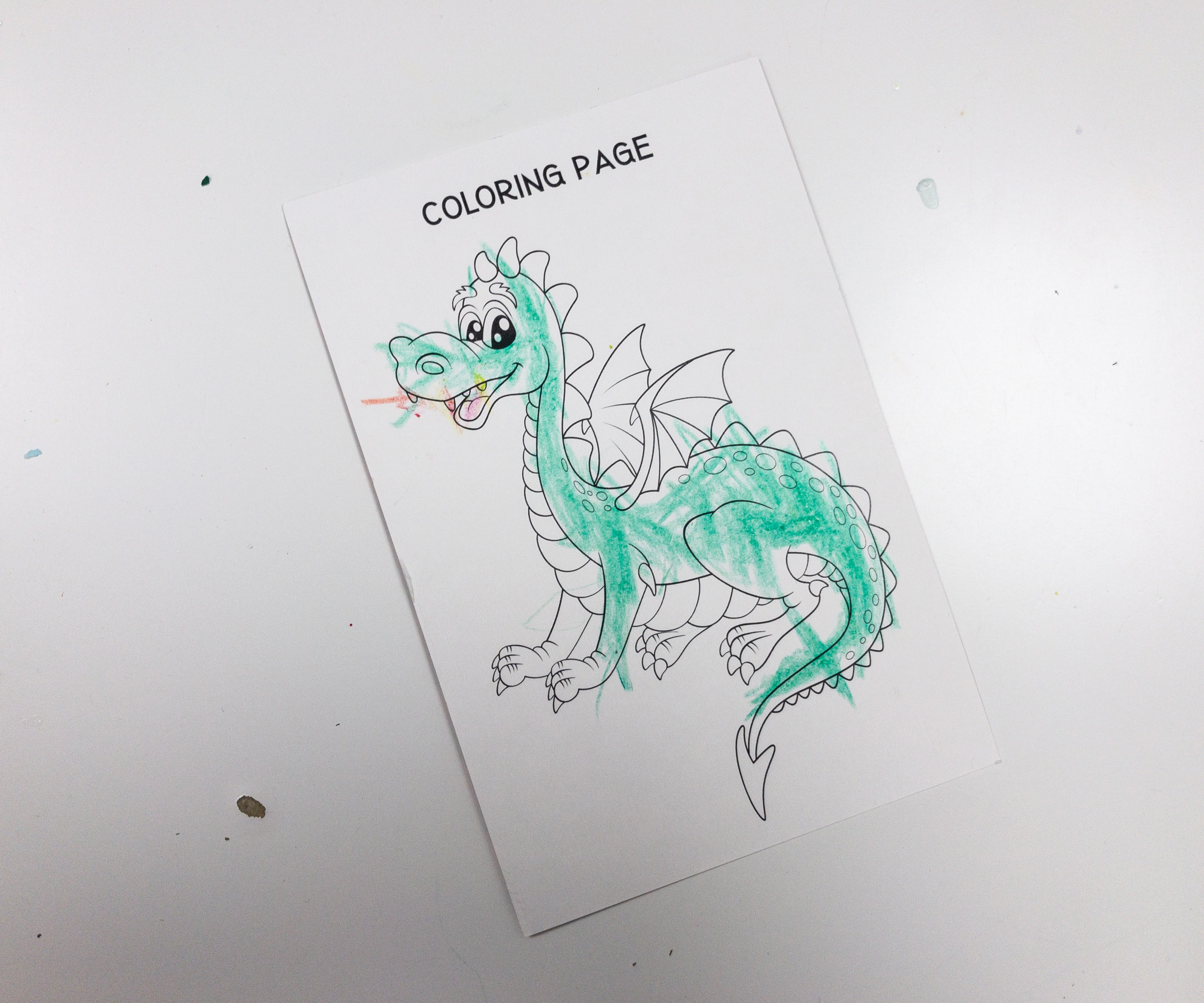 Here's the fruit of his artistic hands. He chose his dragon to be green. So adorable!
Date To Care: Pet Dragon by M.P. Robertson and Sally Symes ($16.68)
A spectacular and fun spoof pet-care guide to dragons, with clear, concise information on everything from choosing an egg to feeding, grooming and training your dragon, plus spreads on taking your dragon to the vet and teaching it to fly! Very witty and amusing text, kept as brief as possible, accompanies full spread artworks in captions and short paras. Stunning illustrations from M. P. Robertson show the different types of dragons. Perfect for any child who's ever dreamed of having a dragon in their life.
This book is unusual in an interesting way.  It will take your child to a magical land where this mythical creature exists and can be owned as a pet. My son was pretty much fascinated by it!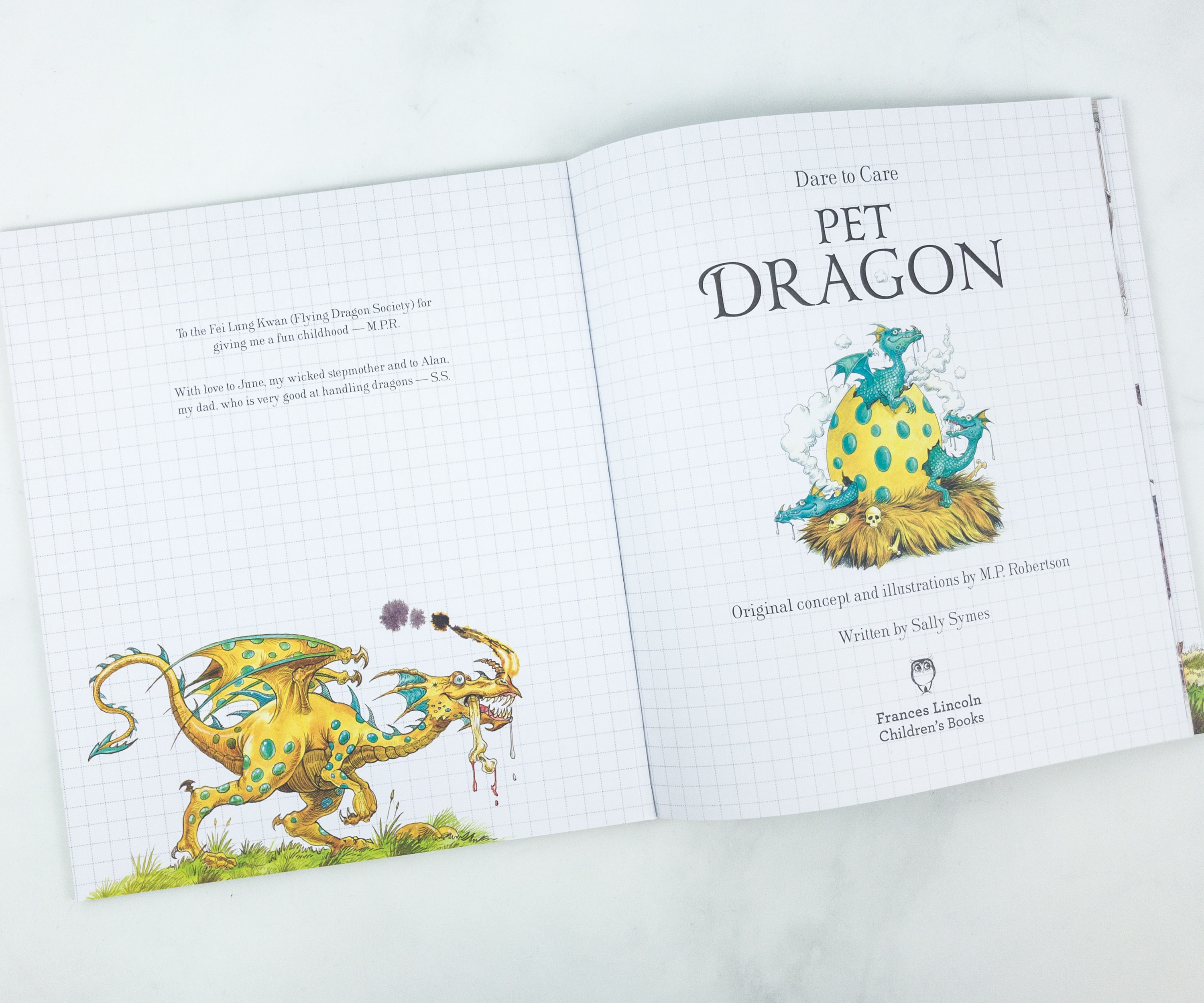 The illustrations are so vivid, making the dragons come alive. The flyleaf really got my son's attention. He leafed through the pages with excitement!
The pages are filled with fun and colorful images making children pay attention to it without getting easily distracted. These corners are for the table of contents and the introduction.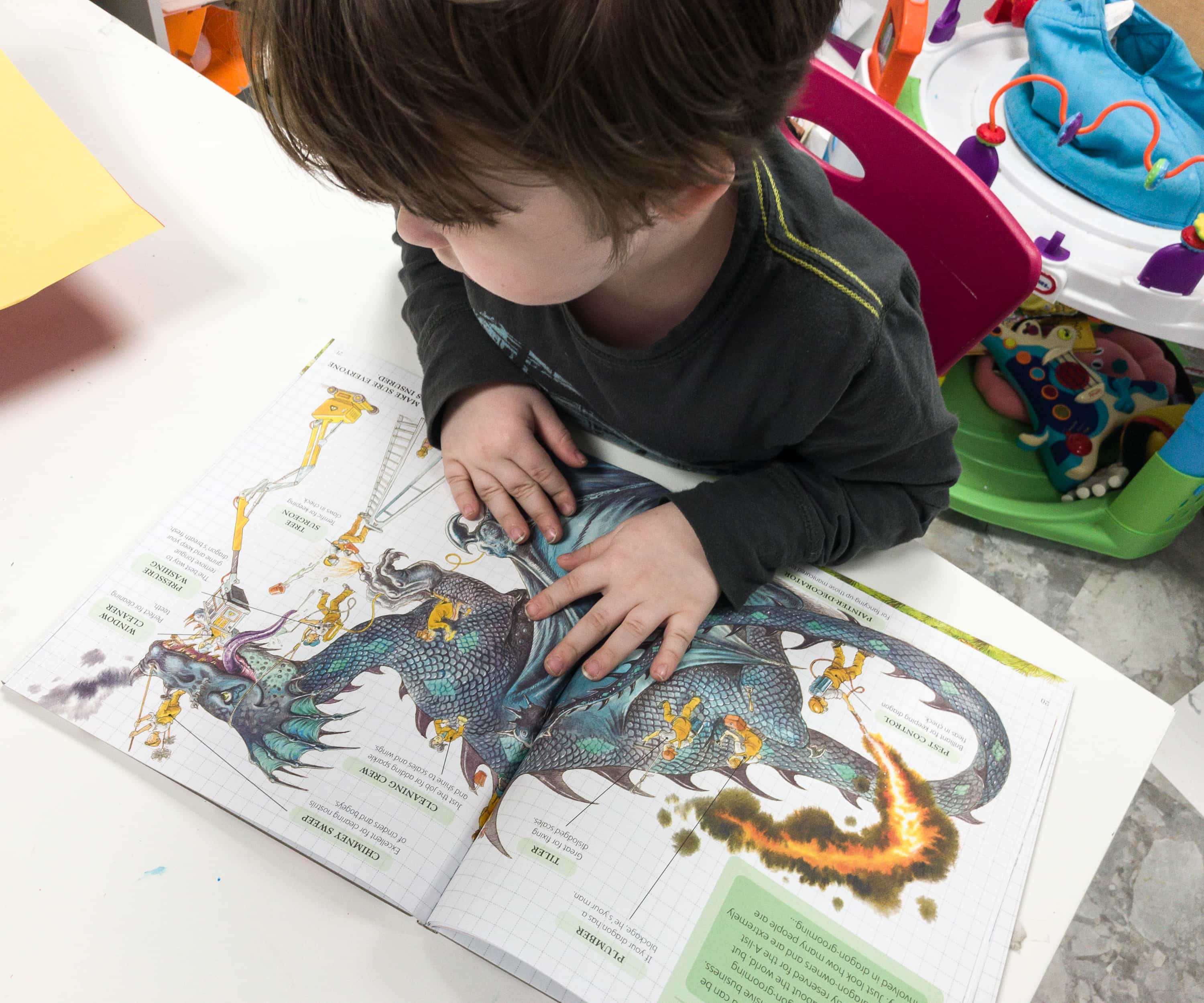 As you can see, my son was really admiring the picture on this page. He took a moment to "read" the labels and to fully understand the anatomy of a dragon. He also learned about the different community helpers and their role in taking care of the dragon. There's the cleaning crew, the tiler, the plumber and so on.

Since taking care of dragons isn't easy, they prepared some questions to check if you are brave enough to handle a dragon.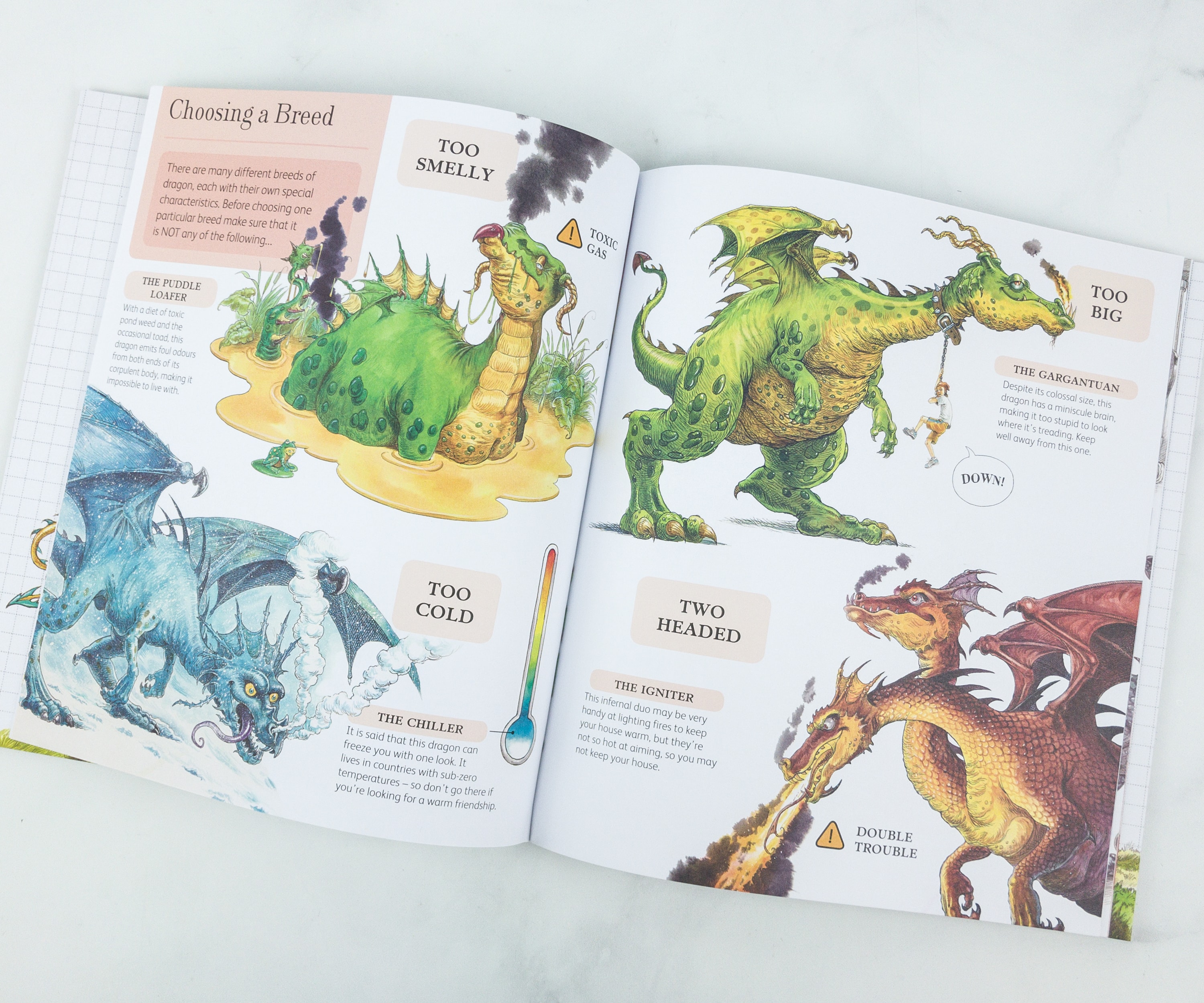 They also have a list of dragon breeds. Each dragon has a unique trait. The Puddle Loafer is too smelly, The Chiller is too cold, The Gargantuan is too big, and The Igniter is two-headed.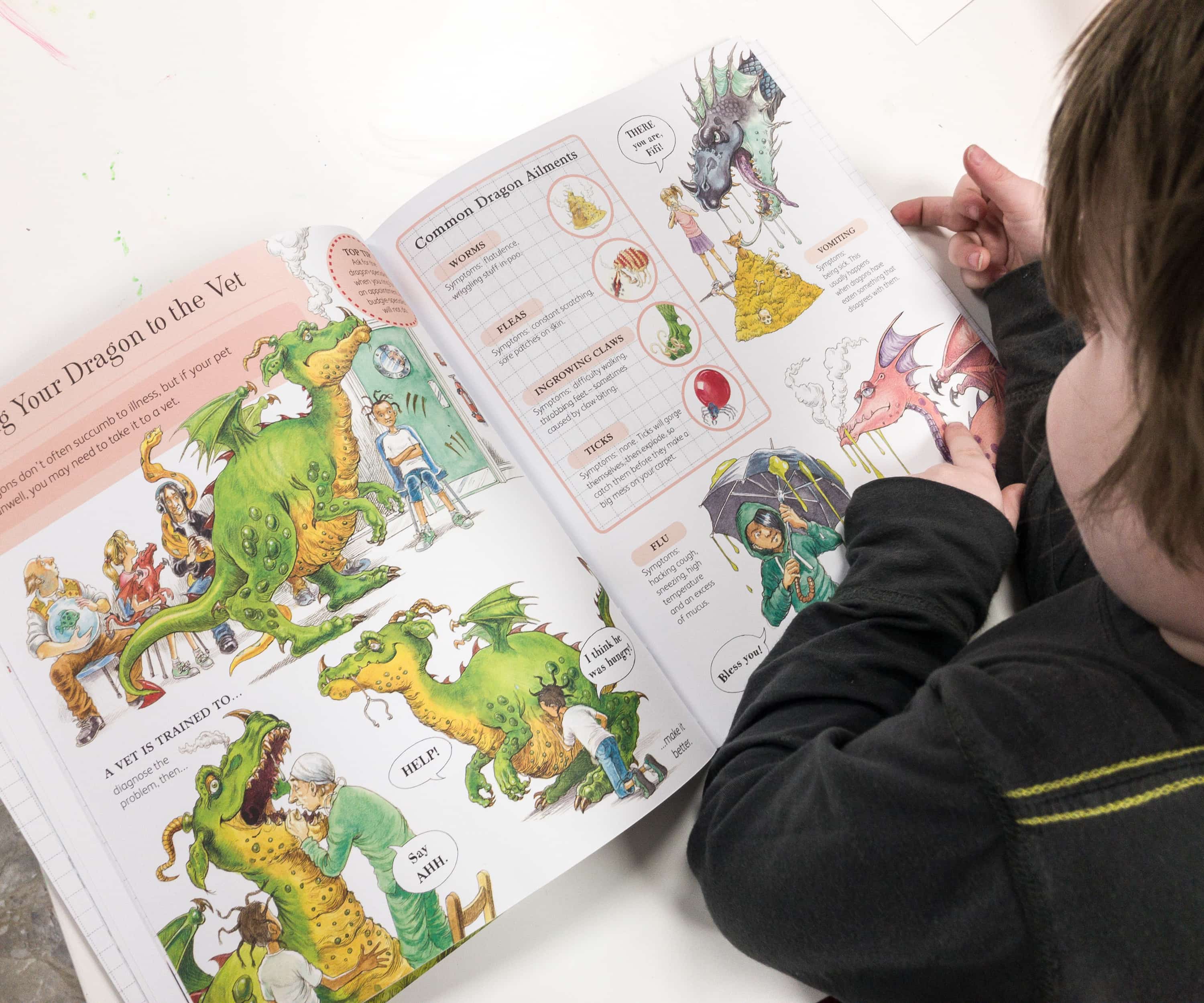 They also taught us about dragon ailments, the symptoms, and how to cure them. It gets more interesting as we read along.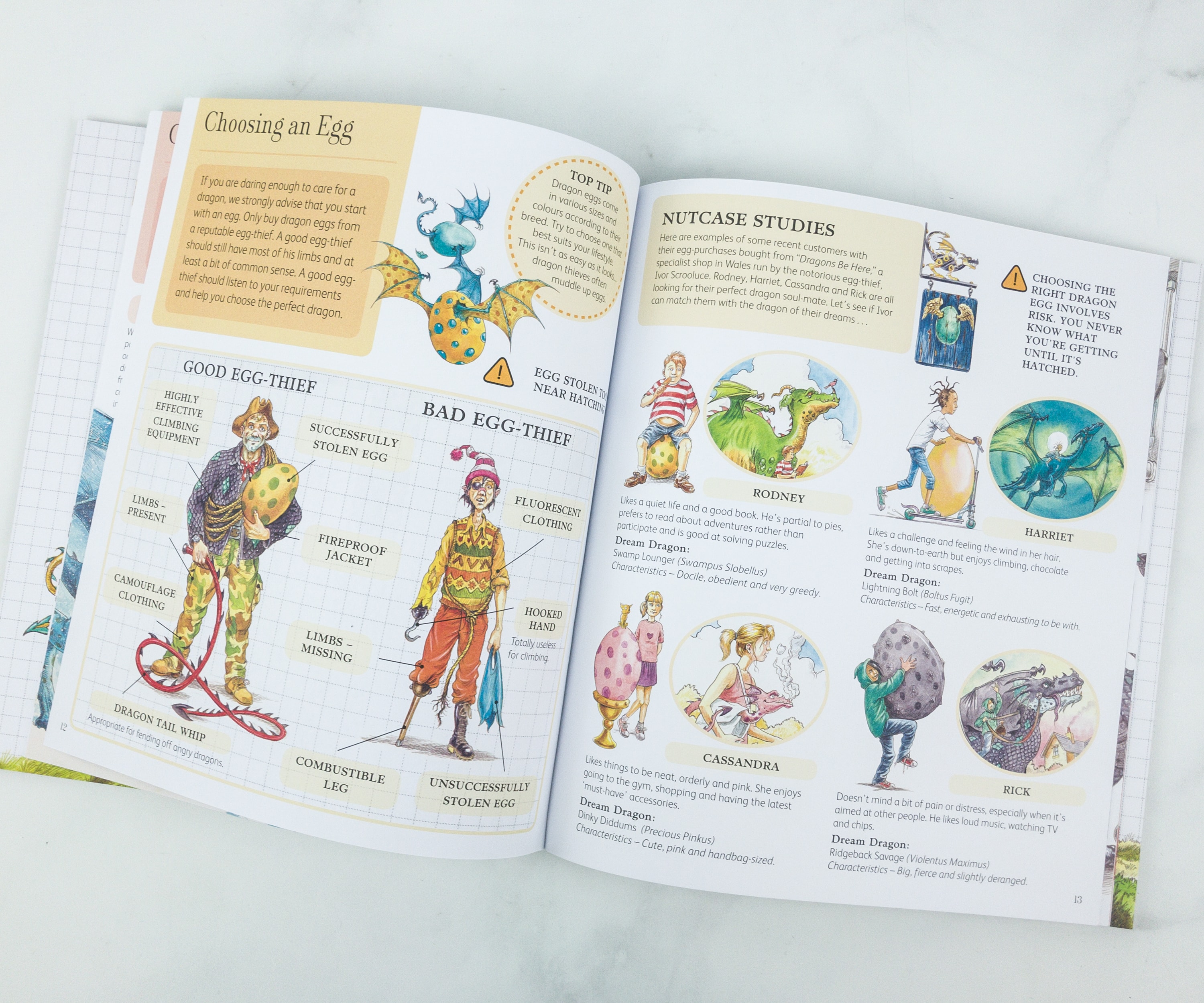 According to the book, in order to have your own dragon egg, you have to be equipped and fully armored like a good egg thief. Or else you'll end up losing a leg just like the bad thief. Oh no!
Hatching an egg takes time and effort. You have to play soothing music, read it a story, etc. You also have to observe the signs that indicate if it's about to hatch. First, it will glow, then rumble and steam and then… it's time to meet our new friend!
This book also taught my child how to be responsible for his pet. The final task is to feed it. Now he's a certified dragon trainer!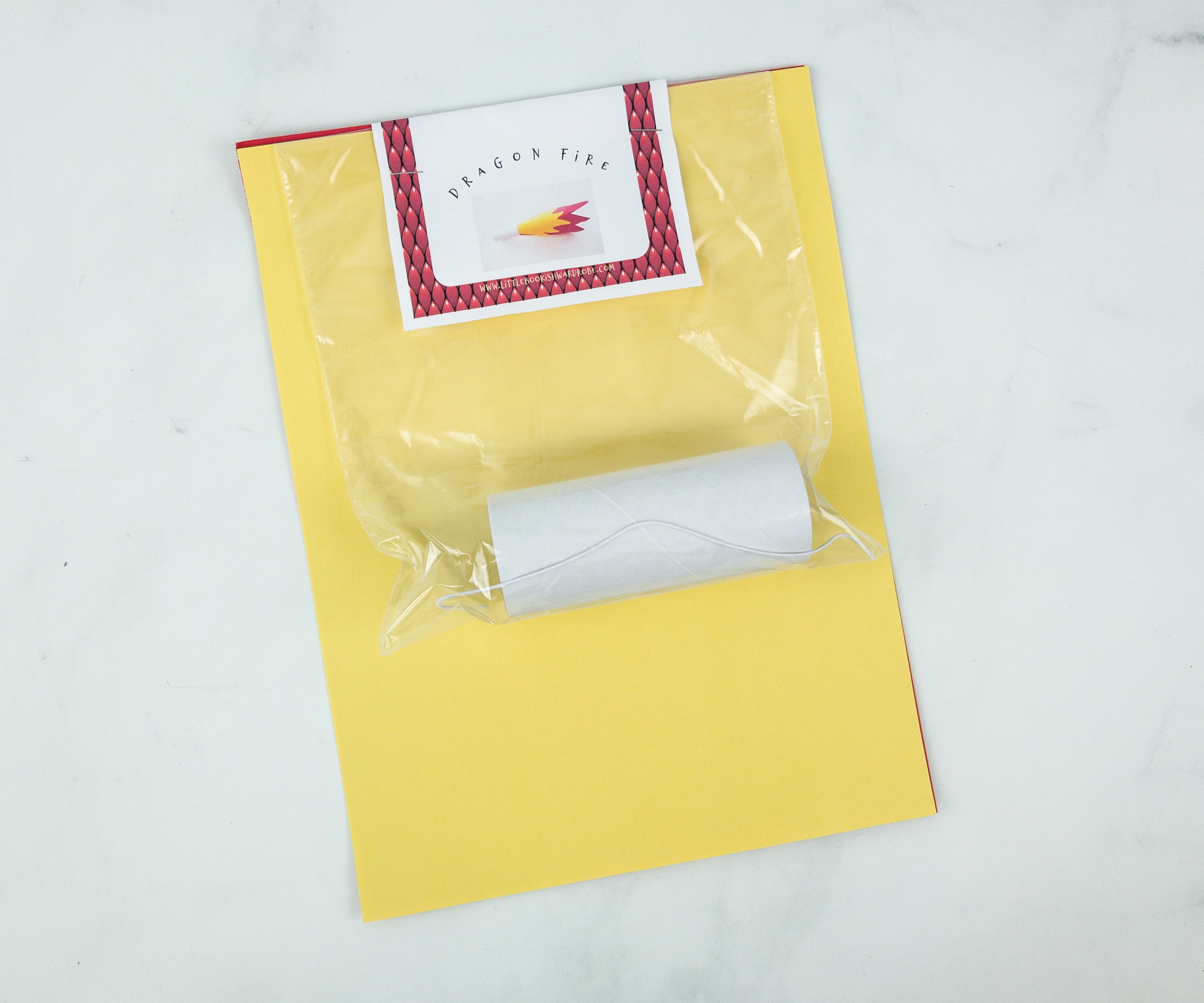 They also included tools for our dress-up activity. This one is for making our own dragon fire!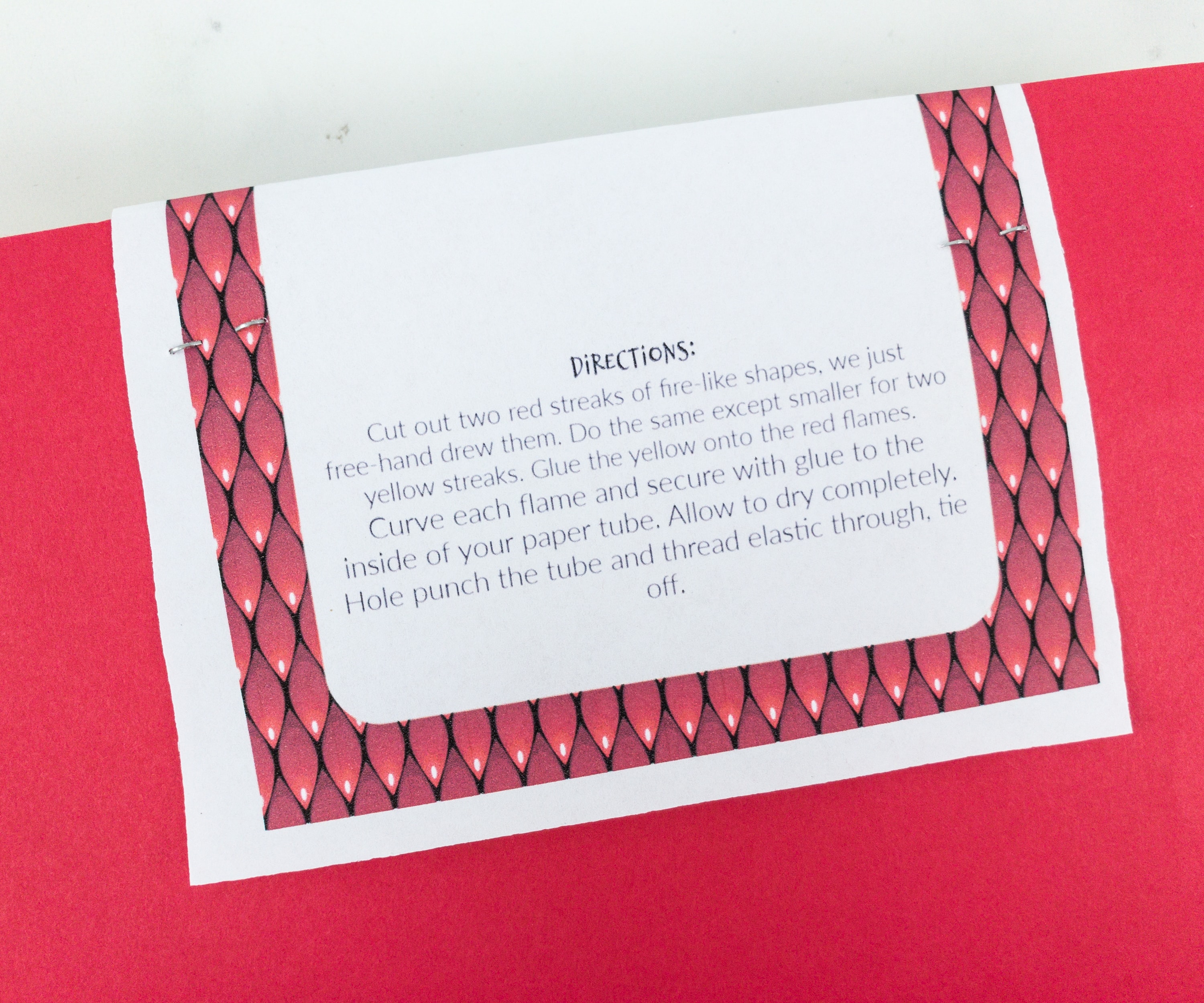 On this card are the directions on how to create the dragon fire out of a paper tube.
This activity involves cutting, so be careful!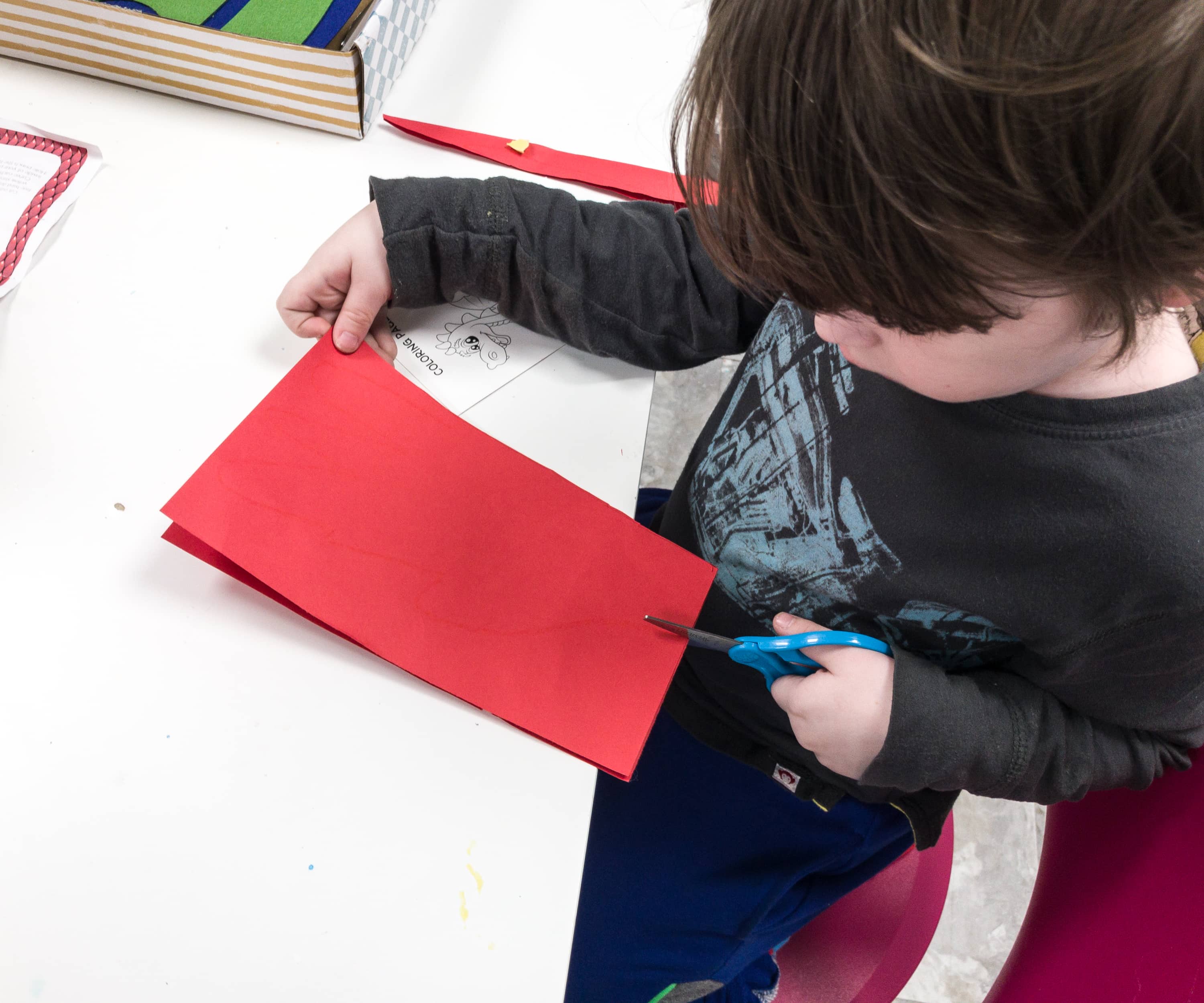 My son worked on it diligently and with precision. He was determined to finish his project.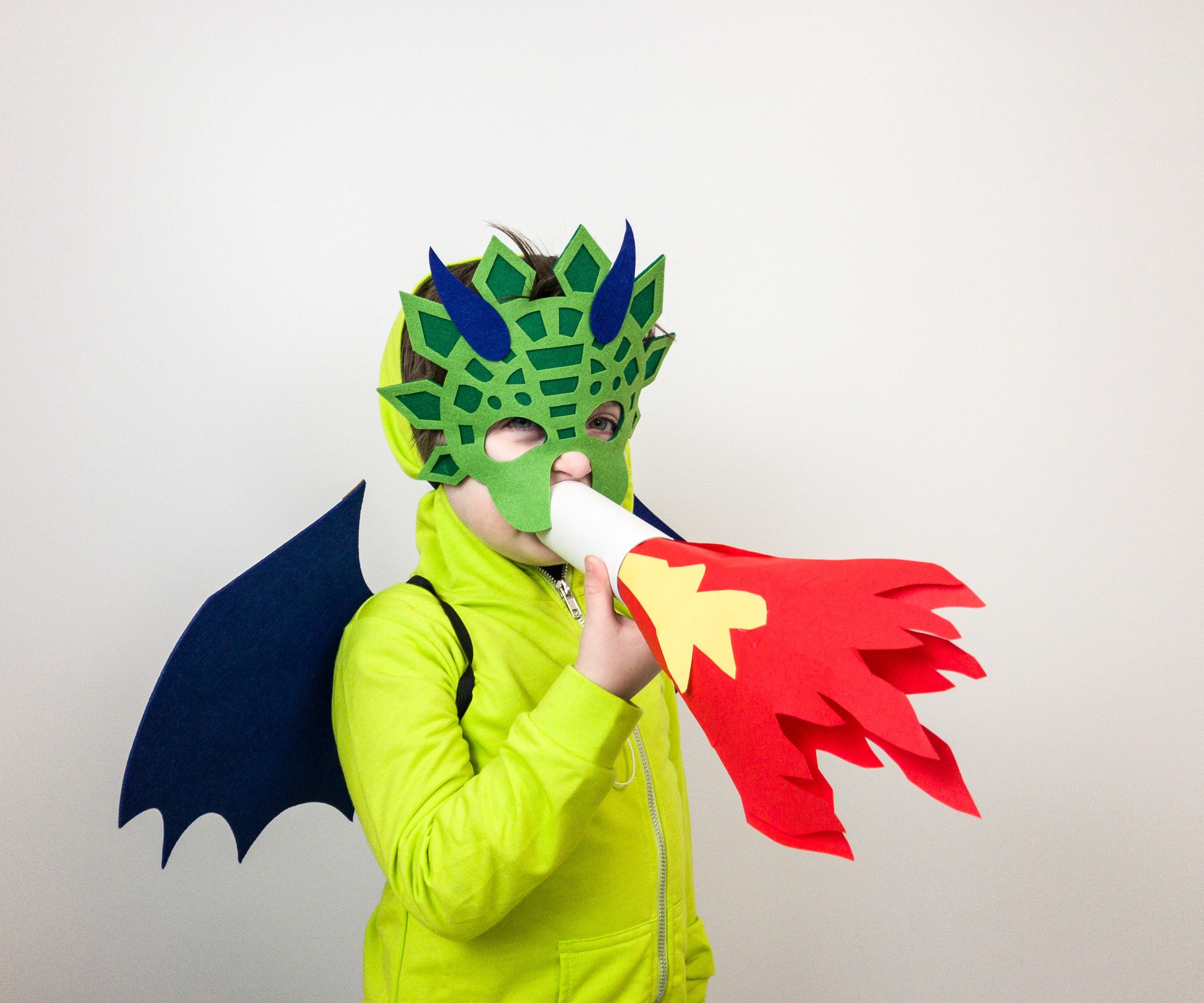 Wow! Look at how my charming baby dragon breathes fire! He is now ready to soar and conquer!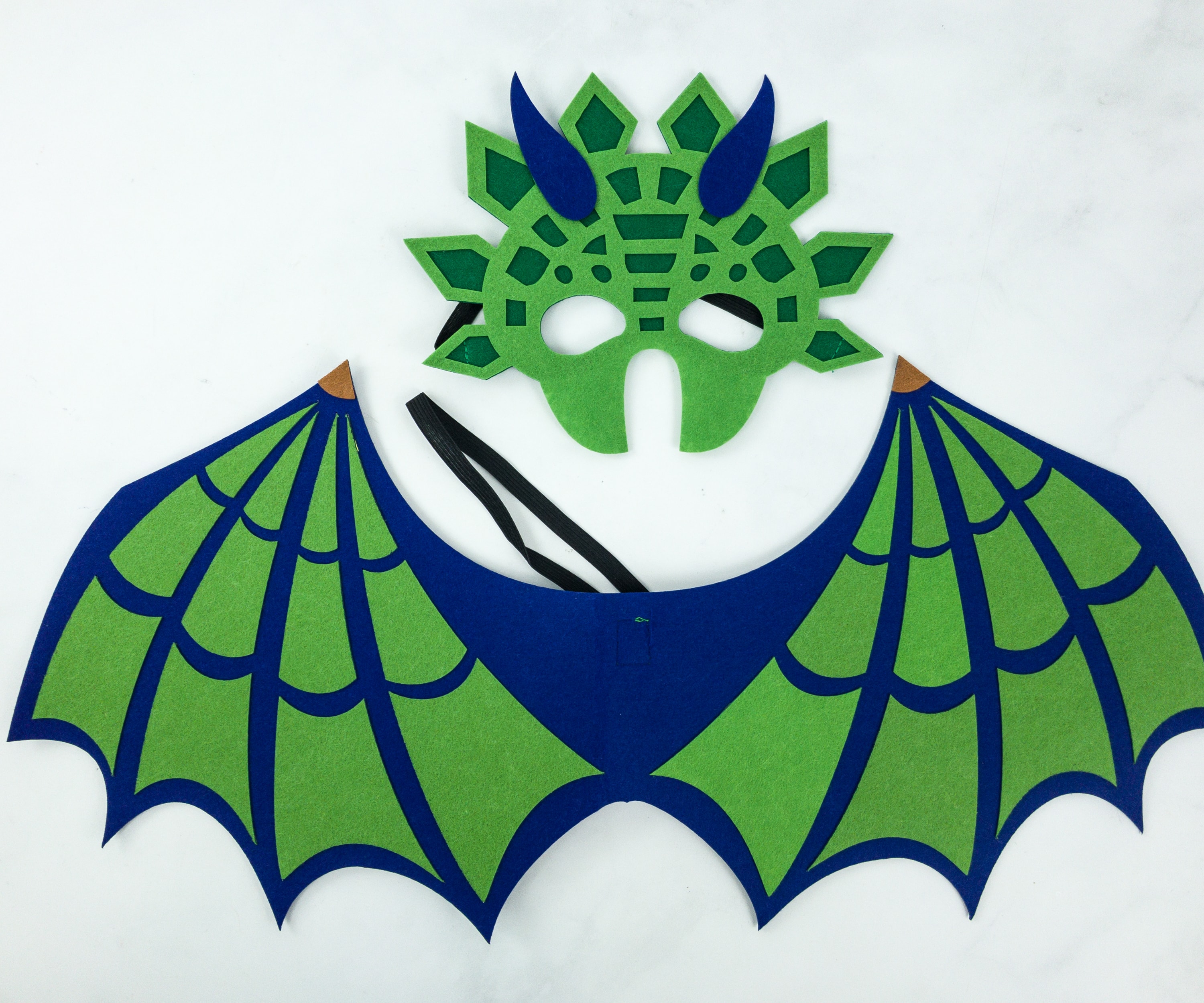 The pack came with a wing and a mask costume made with blue and green felt paper.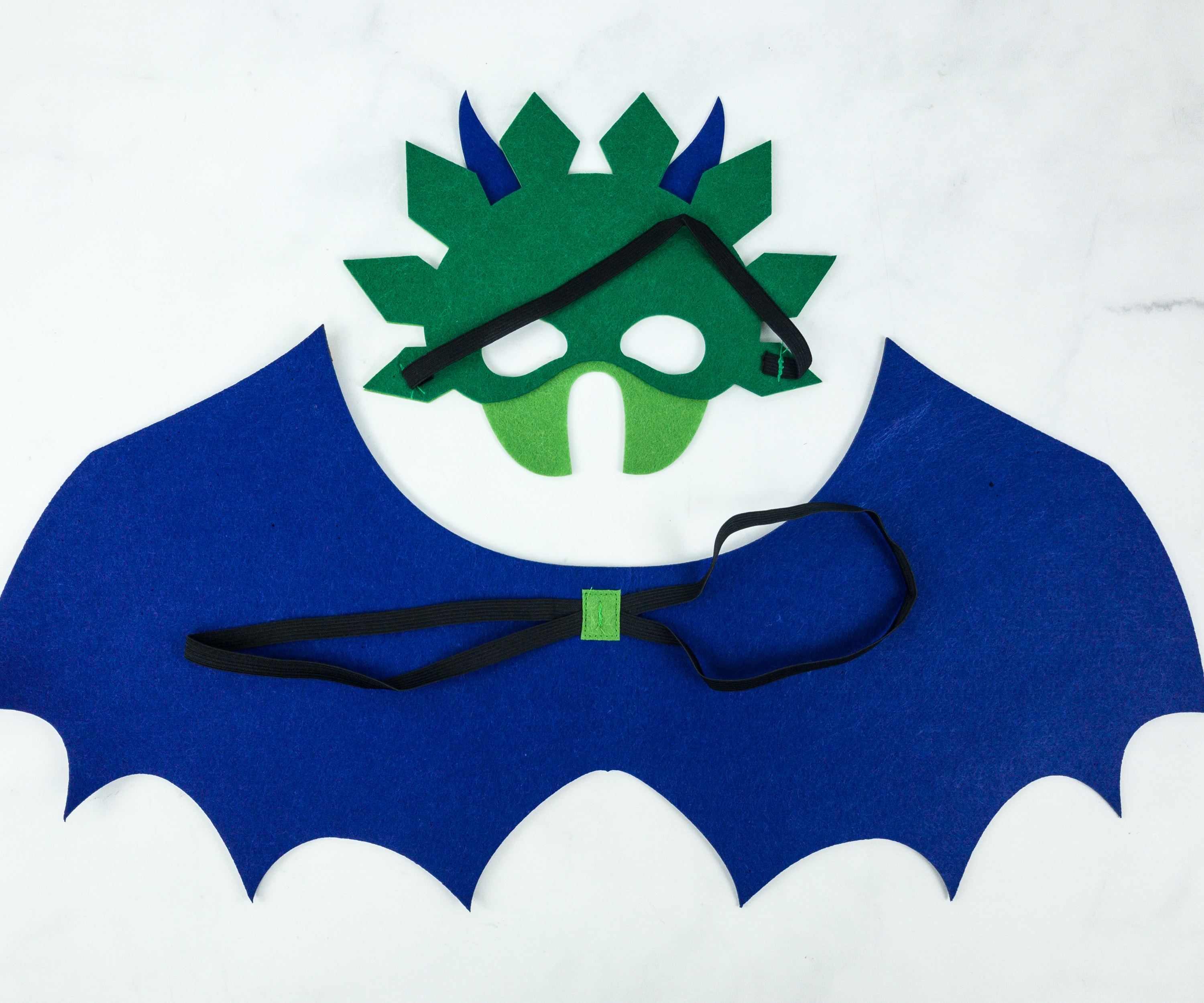 The garter straps are sewn securely at the back of each piece.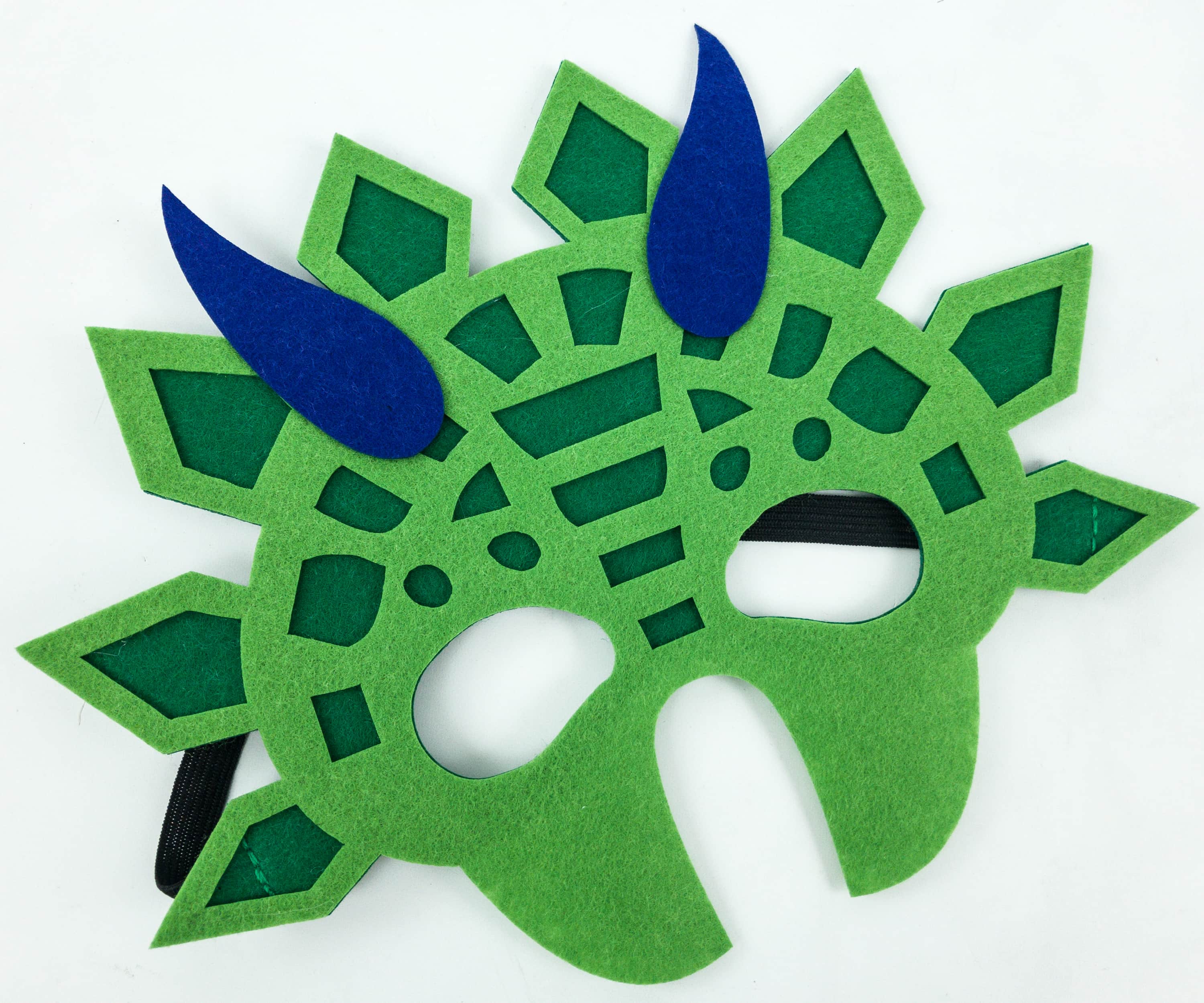 The mask is beautifully detailed with horns, eye holes, and nose slot. It's a totally convincing prop for the dragon dress up!
Even the wings are meticulously outlined with a realistic effect.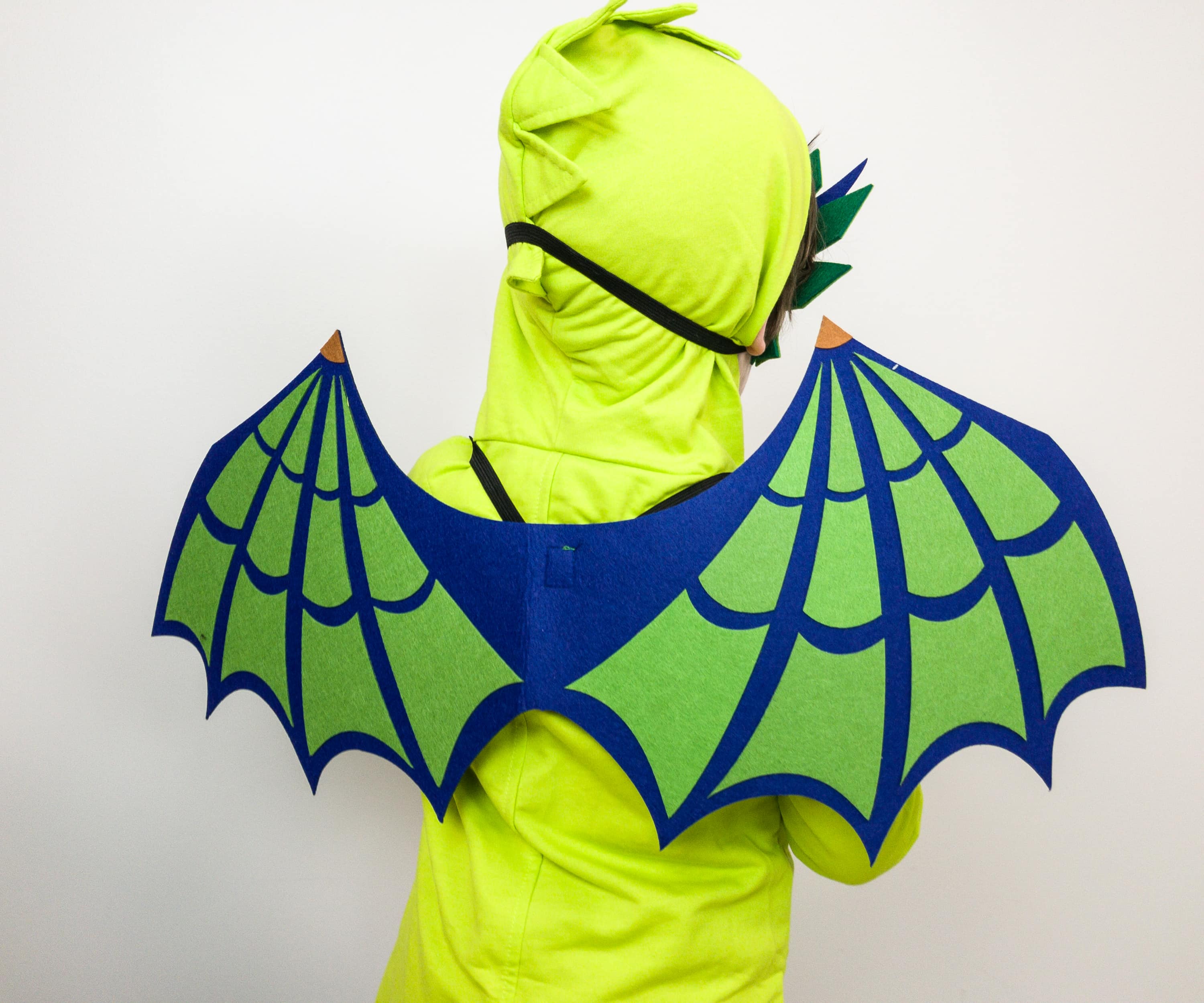 The wings are also shaped and spread out suitably.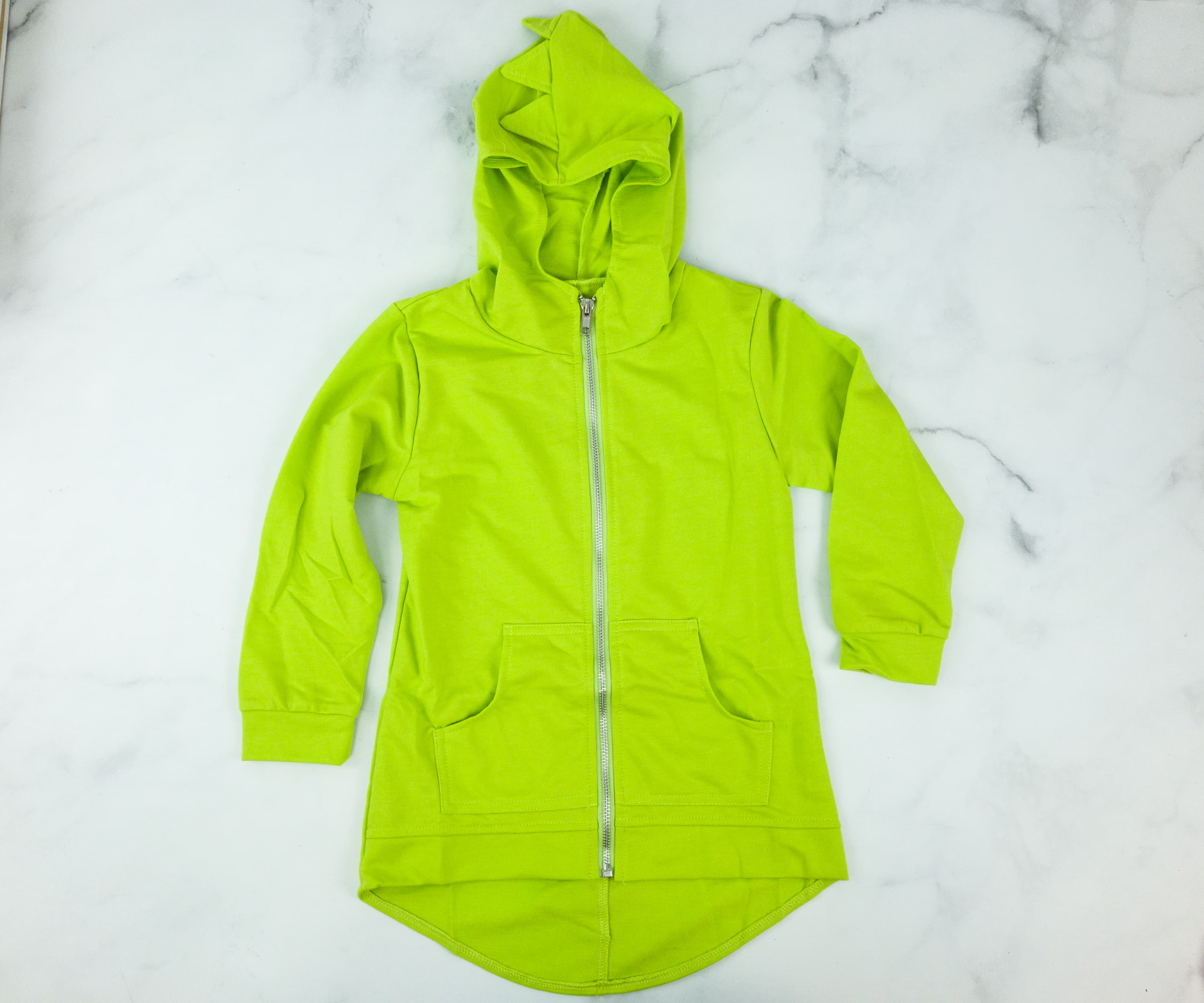 The hoodie is in a bright green shade. It features two front pockets and a zipper closure.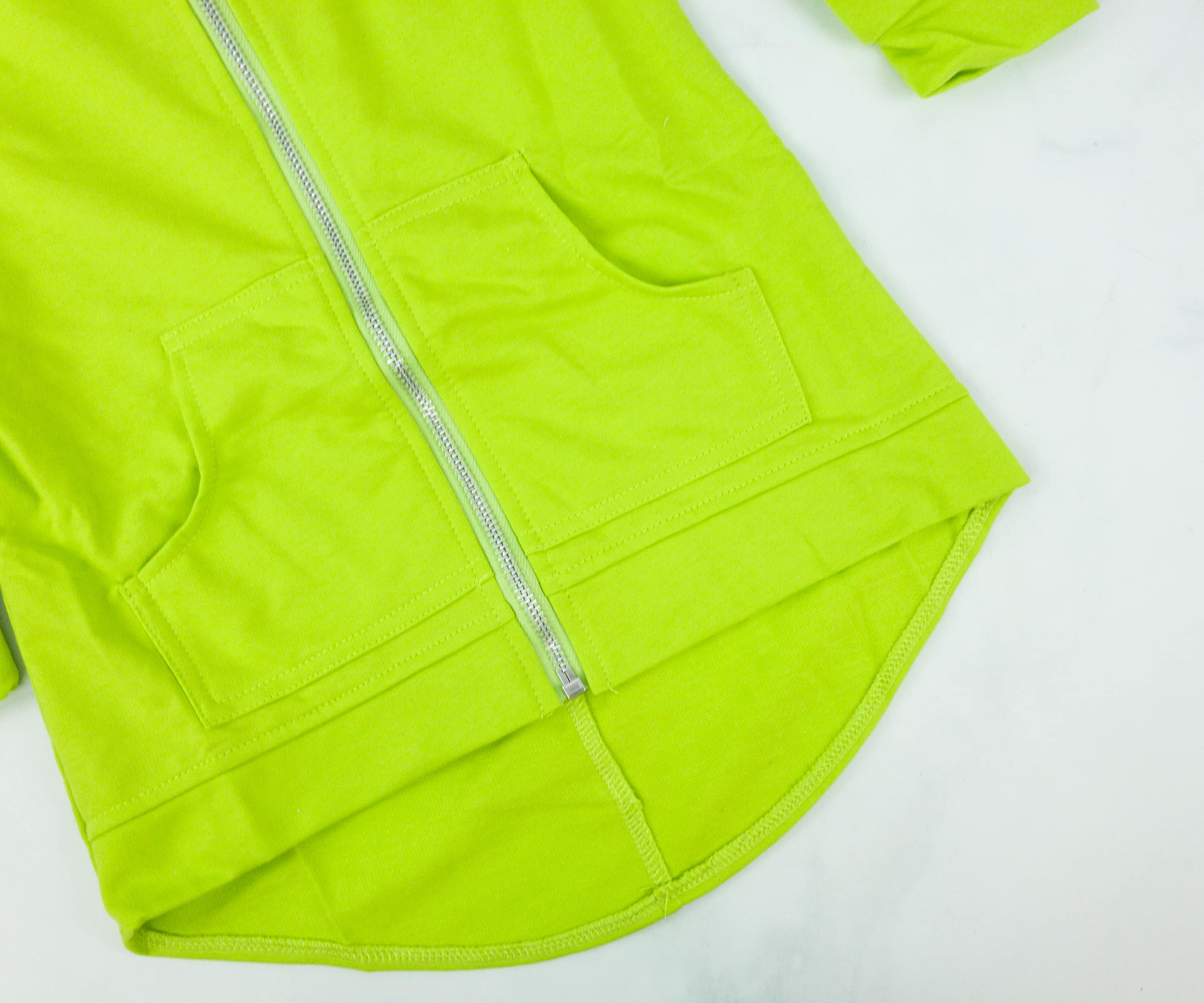 It has a short front and long back cut.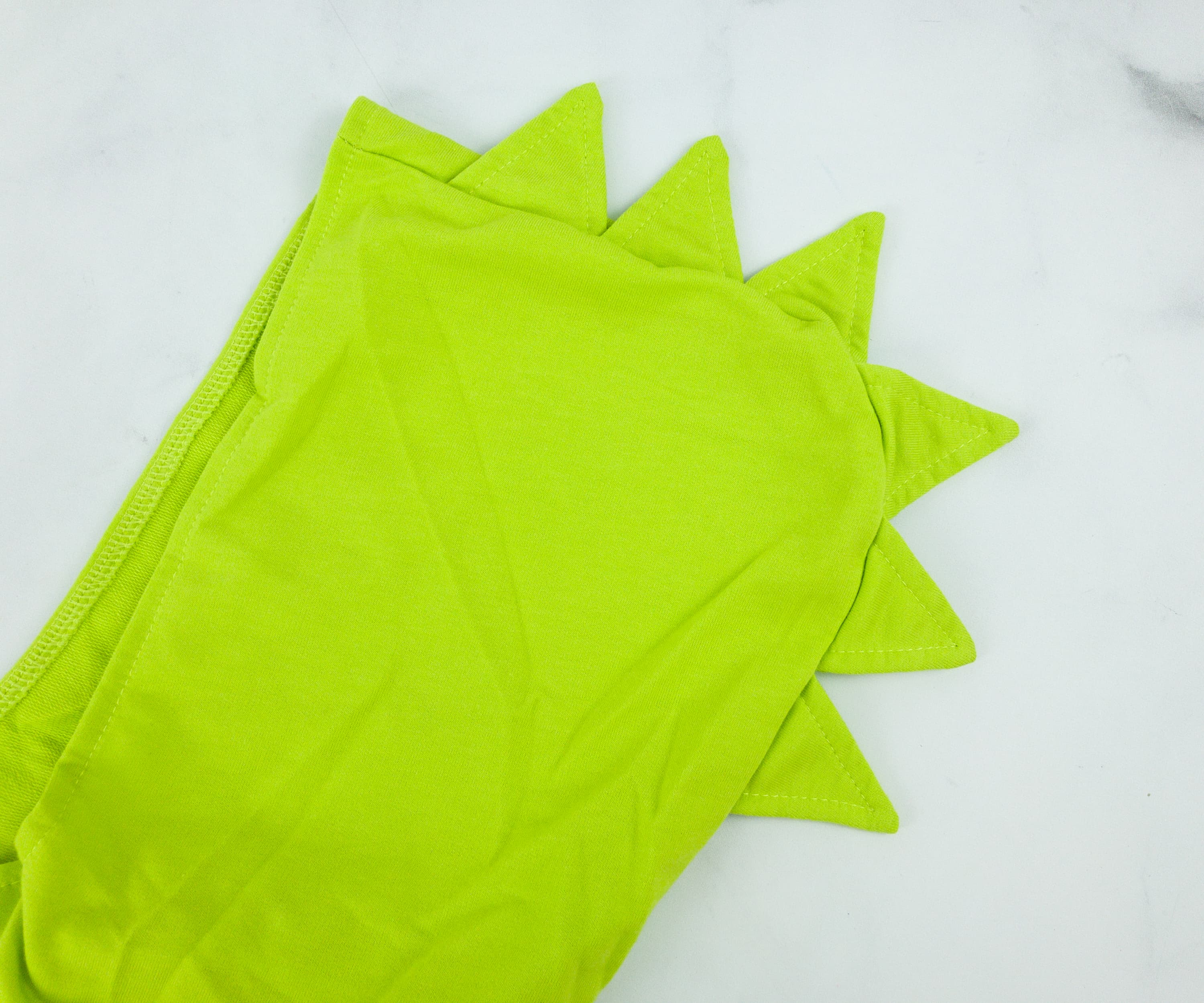 The hoodie also has custom-made dragon spikes for a much genuine and fun play.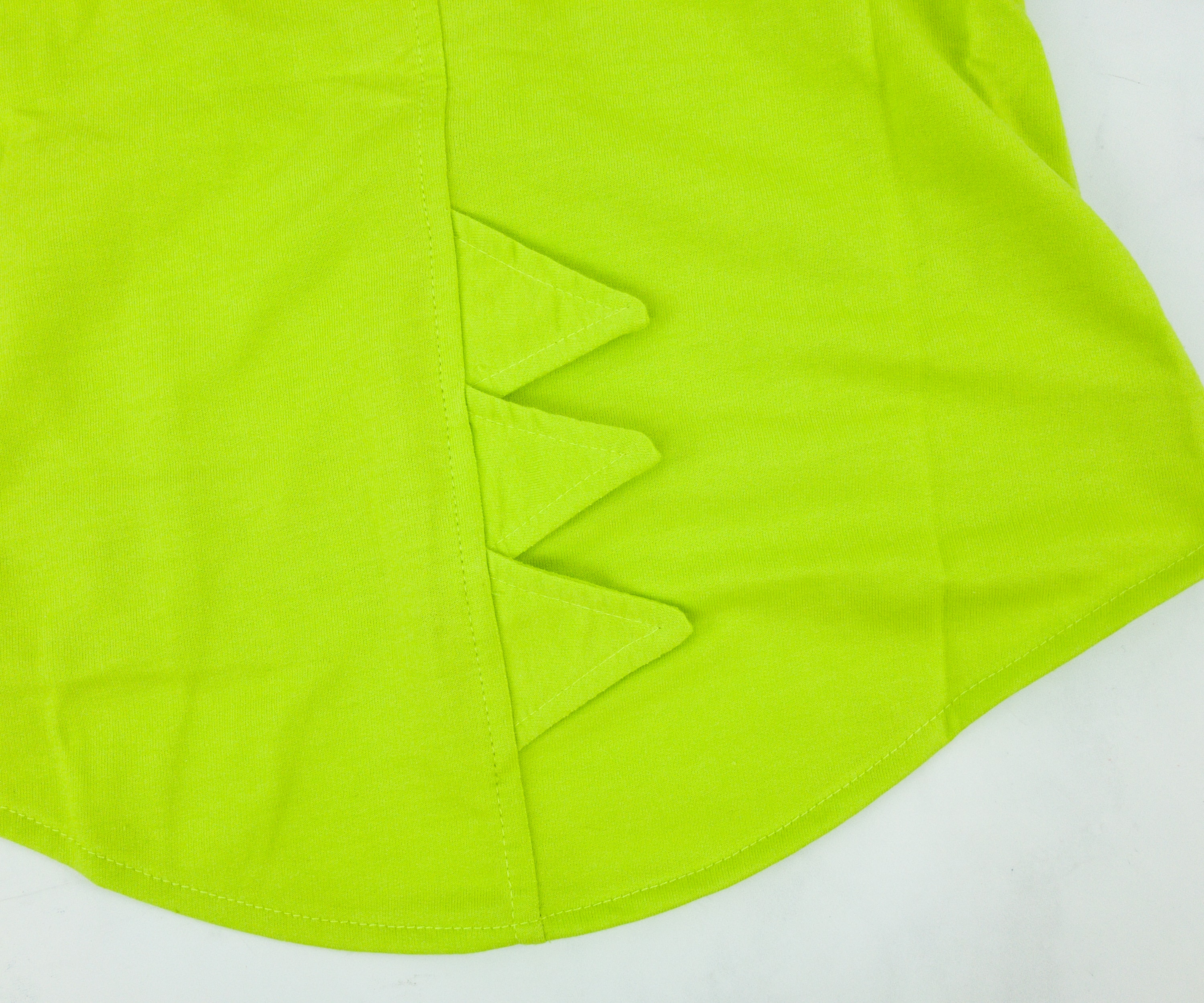 The back hem is also embellished with spikes to make it look like a tail when worn!
I can't help but admire the costume. It looks really good on him!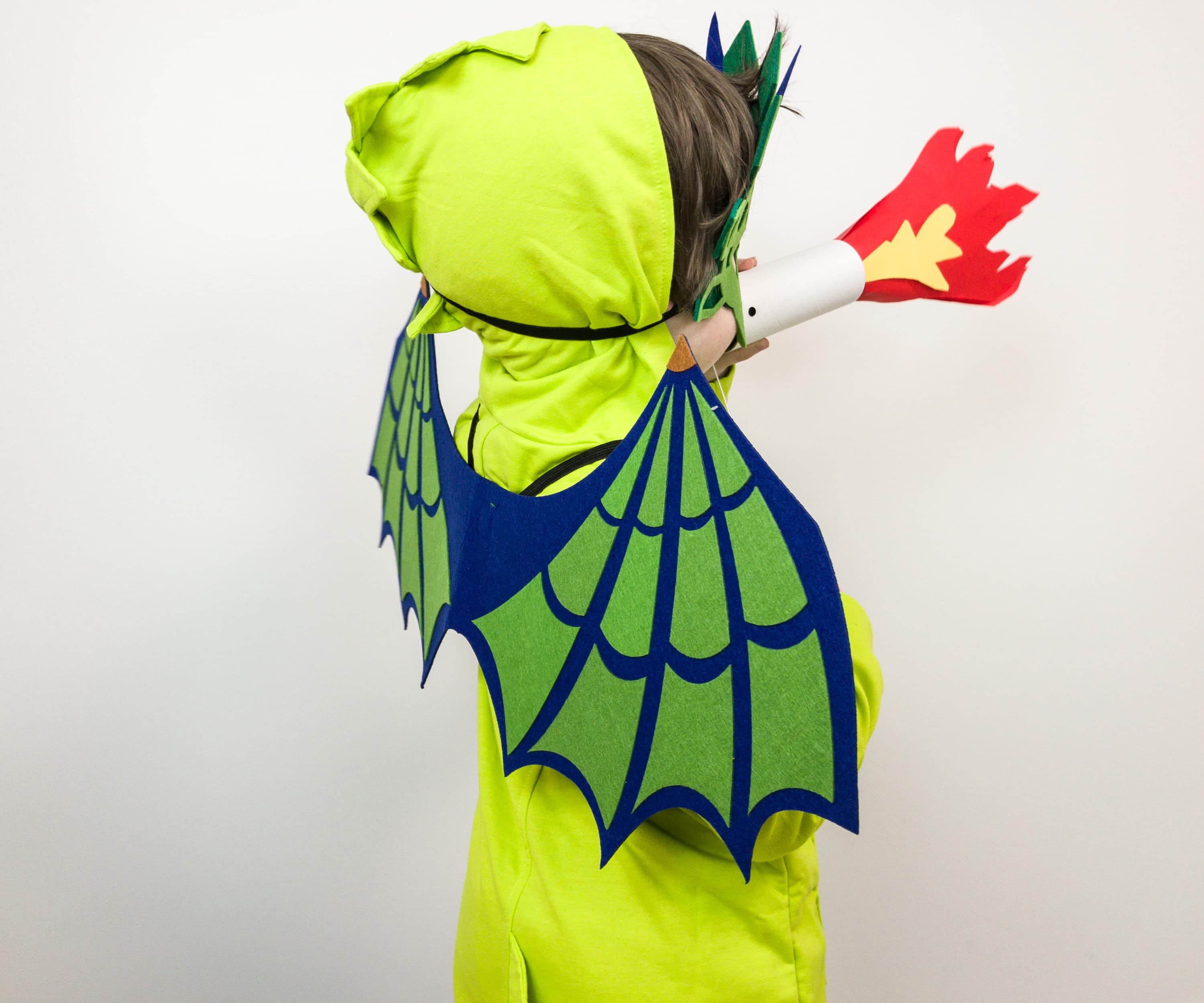 He really had fun dressing up as a dragon. He even roared and mimic the sound of a dragon as he ran around.
This spectacular spoof pet-care guide to dragons was a very amusing activity for my child. Obviously, he loved it very much. The book had amusing texts which were an absolute delight to explore together. It made him more interested in dragons, dinosaurs, and other mythical creatures. I like how it developed his imagination and critical thinking more. The costume was the best part. The mask, the wings, and the hoodie also fit him comfortably. It was a genius theme, all in all.
What do you think of this month's box?
Visit Little Bookish Wardrobe to subscribe or find out more!