Lillypost is a monthly subscription service that sends children's books to your home. When you sign up, you can elect to receive either 5 board books for children 0-2 years of age or 4 picture books for children ages 3 and up. All books arrive individually wrapped, and each package also includes a few bonuses–like stickers–to excite children everywhere. Subscriptions cost $26 each month, with discounts available for longer prepaid commitments. Lillypost will donate one book to a child in need for every box that it sells.
This is a review of the Lillypost picture books box!
DEAL: Get 20% off your first box at checkout with coupon code BOOKS20.
Lillypost believes that reading changes children's lives, so they are supporting a cause that donates a book on your behalf to a child in need.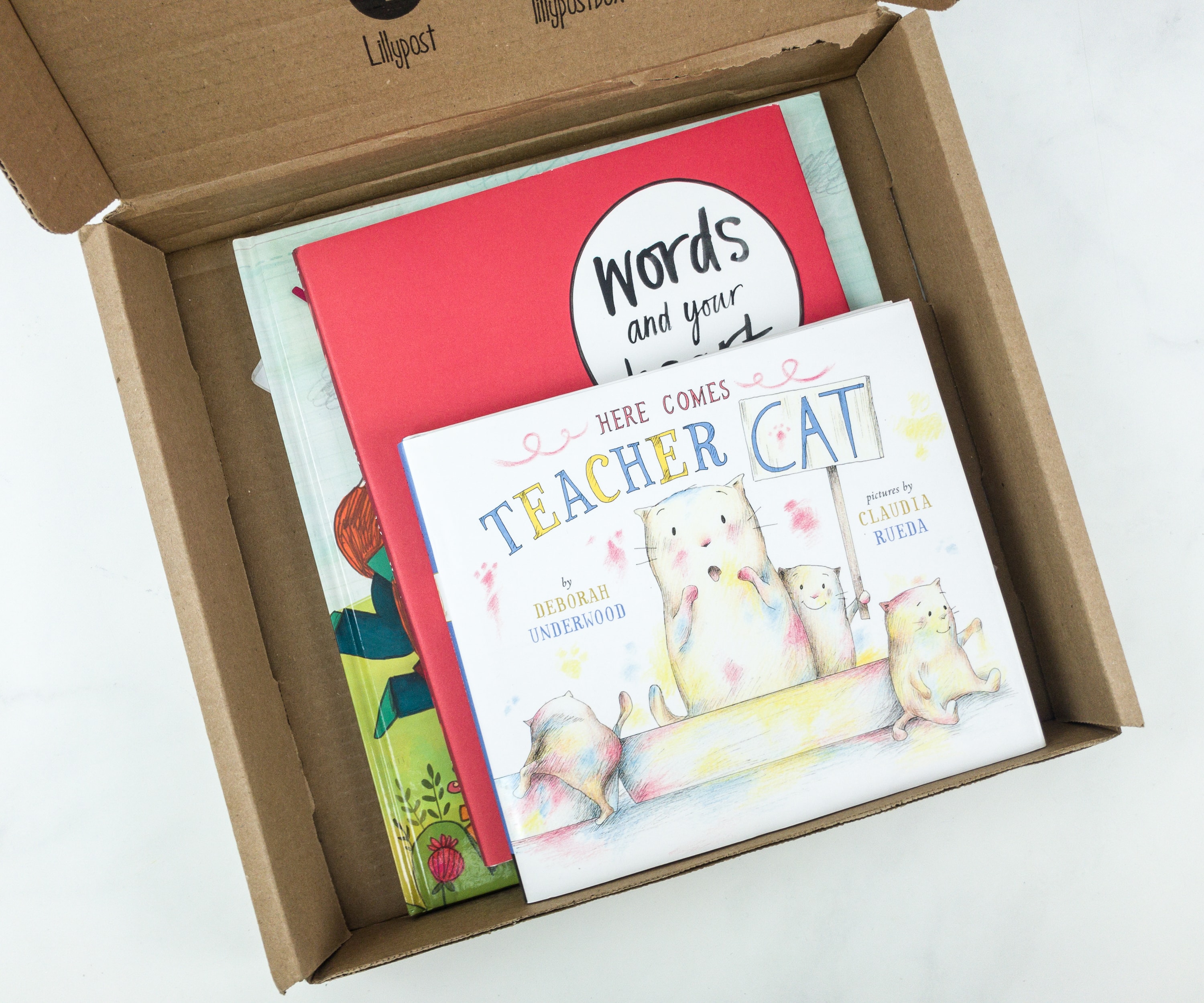 There's no extra packaging, but you can elect to have the books gift wrapped for an additional $5 charge per box.
Each month, the kids can enter a coloring contest by making an artwork of Finnley the fox and posting it on social media using #lillypostbox. This month, the theme is all about Exploration.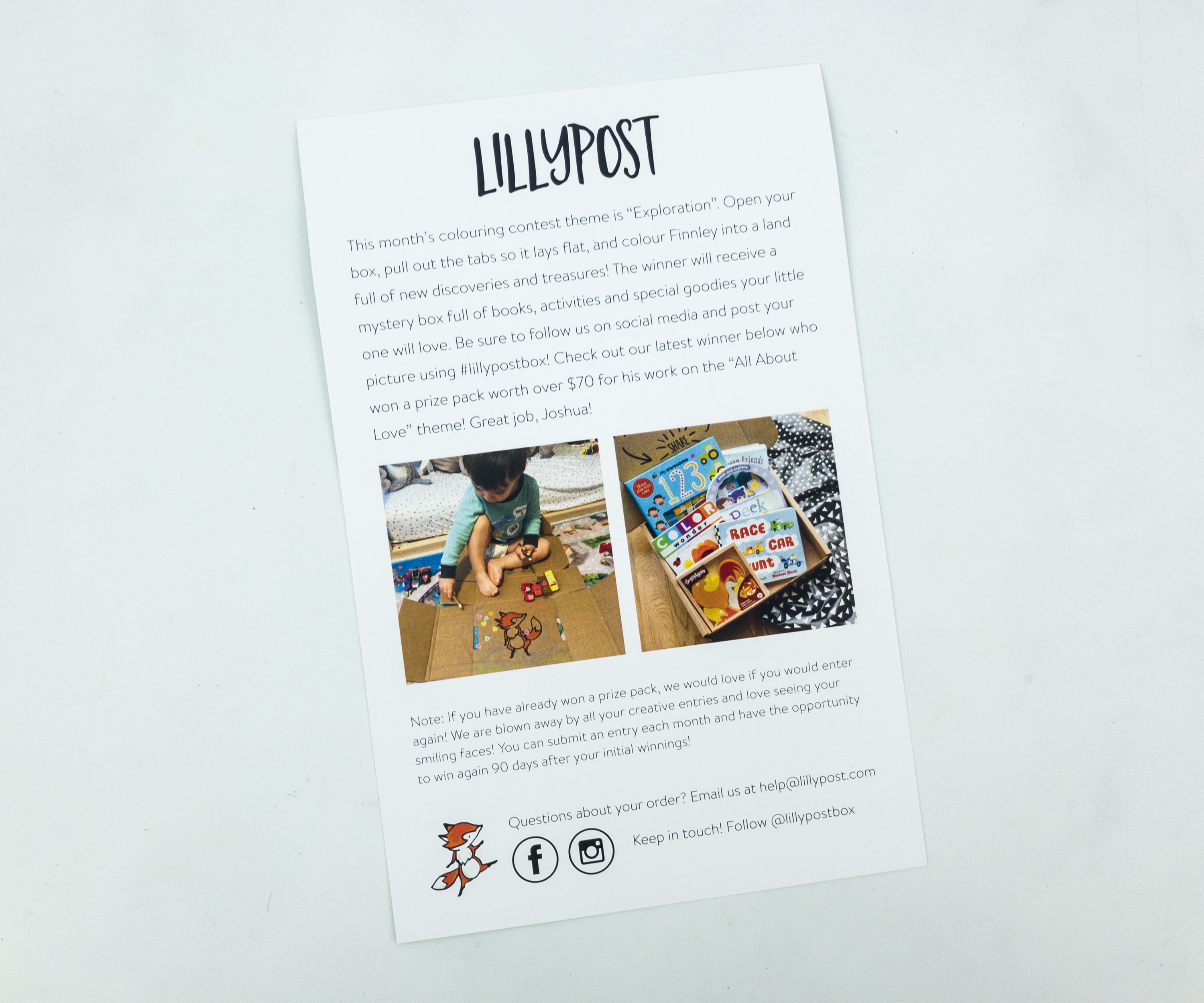 They also encourage subscribers to share unboxing photos on social media.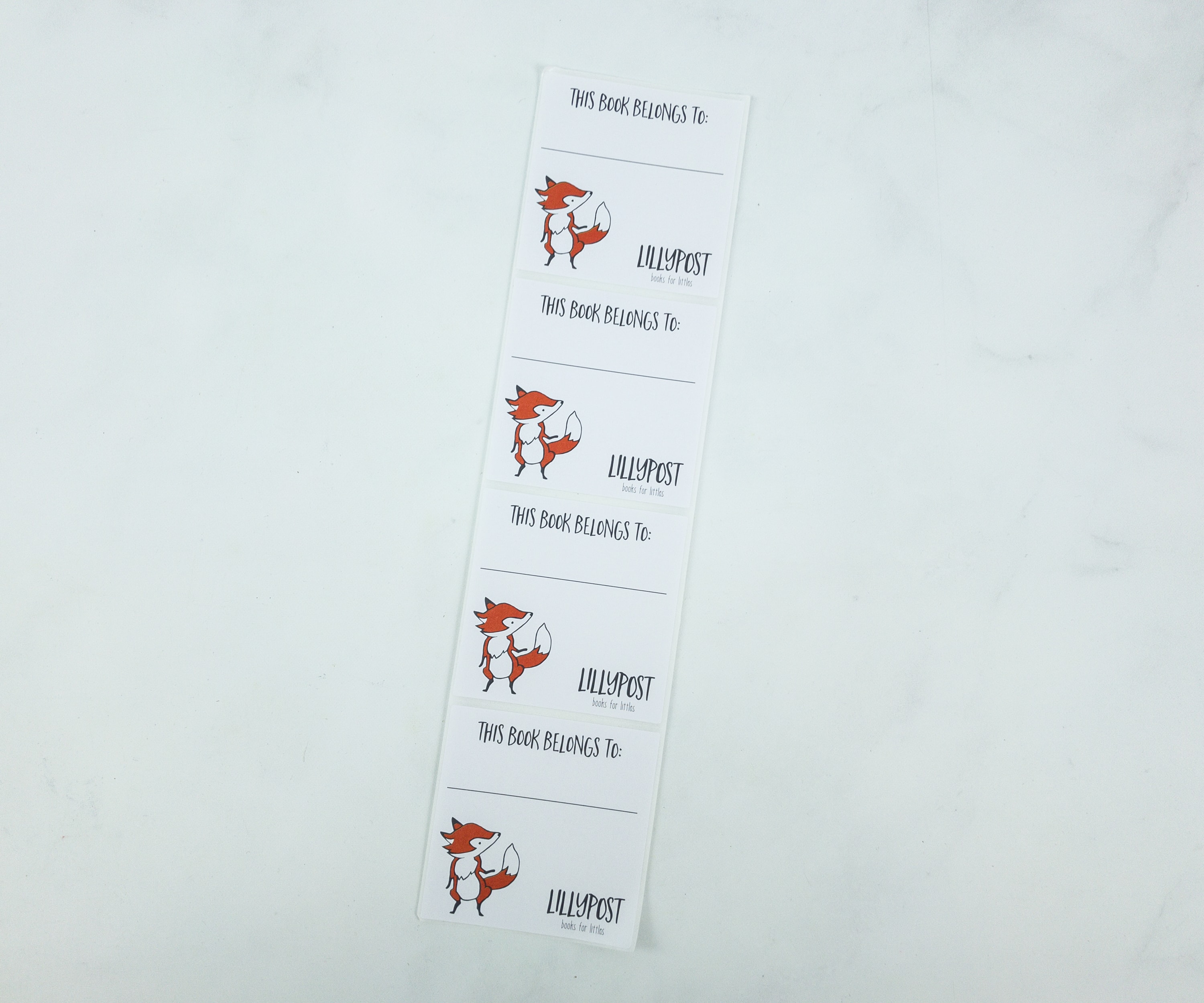 We got a sheet of stickers to help us label the books.
Everything in my box!
You're My Boo by Kate Dopirak & Lesley Breen Withrow ($13.68)
In a sweet rhyming ode to unconditional love, debut author Kate Dopirak celebrates the silly ups and downs of life with a little one.

Introducing an adorable fox family, where the older brother is sweet…and a bit of a stinker. But whether he gets along (or doesn't) with his baby sibling, whether he is helpful (or not) to his family, or whether he behaves (or doesn't) when it's time to settle down, his Mama is always right there to reassure him that, "No matter what you do, you will always be my boo."
The back cover is rather unique. They didn't use a synopsis of the story, but an image with a powerful impact. It's colorful, detailed, and somewhat connected to the image on the front cover.
The illustration gives a happy, homey feeling. It also shows children how important a mom is in our lives.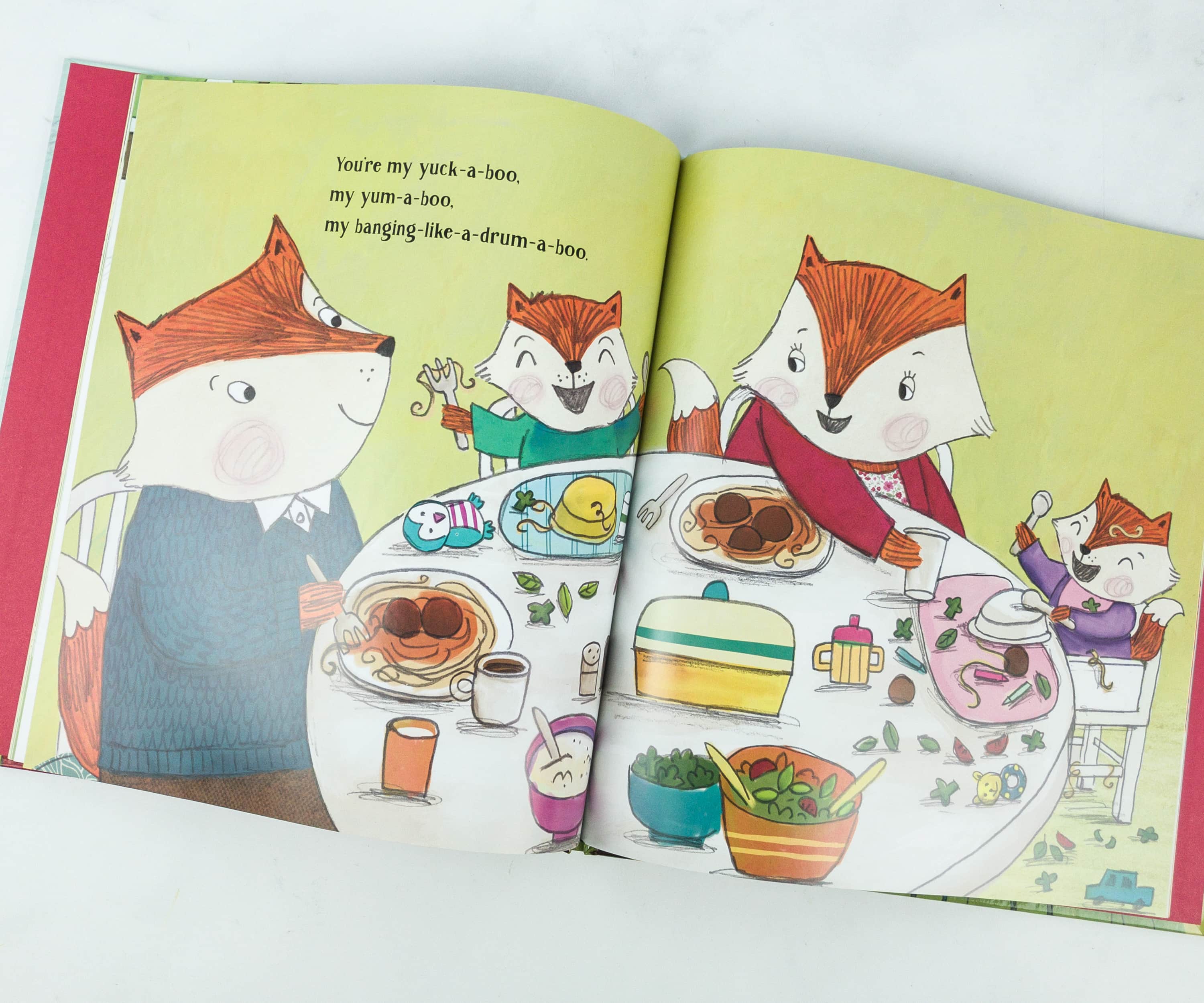 The lines were filled with affection and rhyming rhythm. The kids enjoyed reading it aloud. I believe it's a wonderful story about family and the unconditional love of a parent to a child.
Here Comes Teacher Cat by Deborah Underwood ($13.98)
It's back to school for the New York Times bestselling Cat when he steps in as a substitute teacher. 
 
Cat is not pleased to be tapped as substitute teacher. Not only is it cutting into his naptime, but a roomful of kittens is a little . . . much. At school, Cat follows the lesson plan of music, building, and painting—only in gradually more mischief-making Cat style. By the end, Cat has learned a thing or two about inspiring others by being himself. But even more heart-melting and humorous is what these adorable kittens have learned from Cat.

Read it for back-to-school and year-round—great as a holiday or year-end teacher's gift!
The back cover says it all. Cat is nervous because he's not ready to be a substitute teacher. However, he needs to have a PAWsitive CAT-titude to survive the day!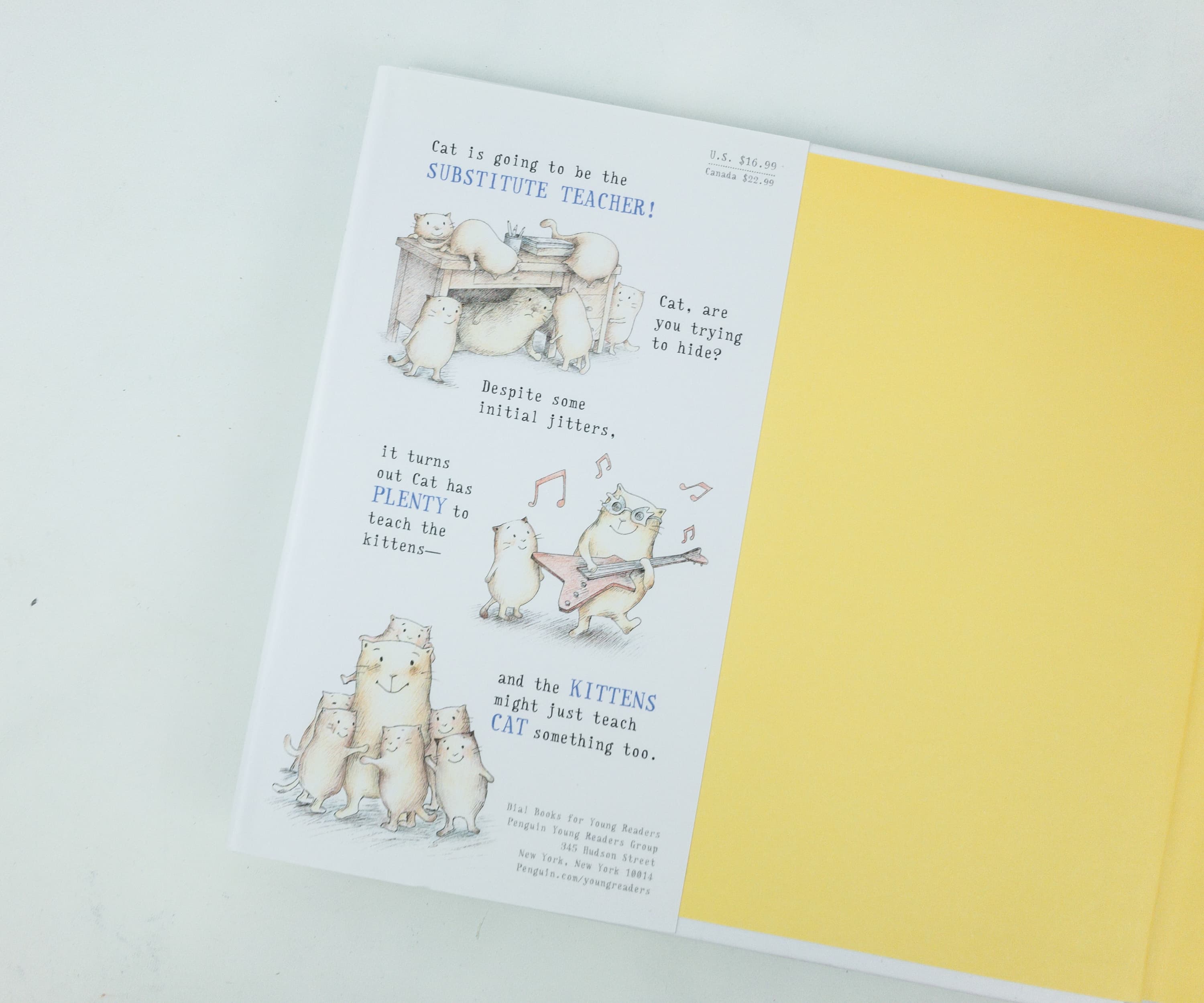 The front end flap also bears fun illustrations and a synopsis. They made us really excited to get on with the reading!
The bed is comfortable and a nap is the most important thing to do each day, but Cat still tried to get up and help out by being the substitute teacher for a day. This conveys a message and teaches kids to be responsible and that we should set all our priorities straight no matter how hard it is.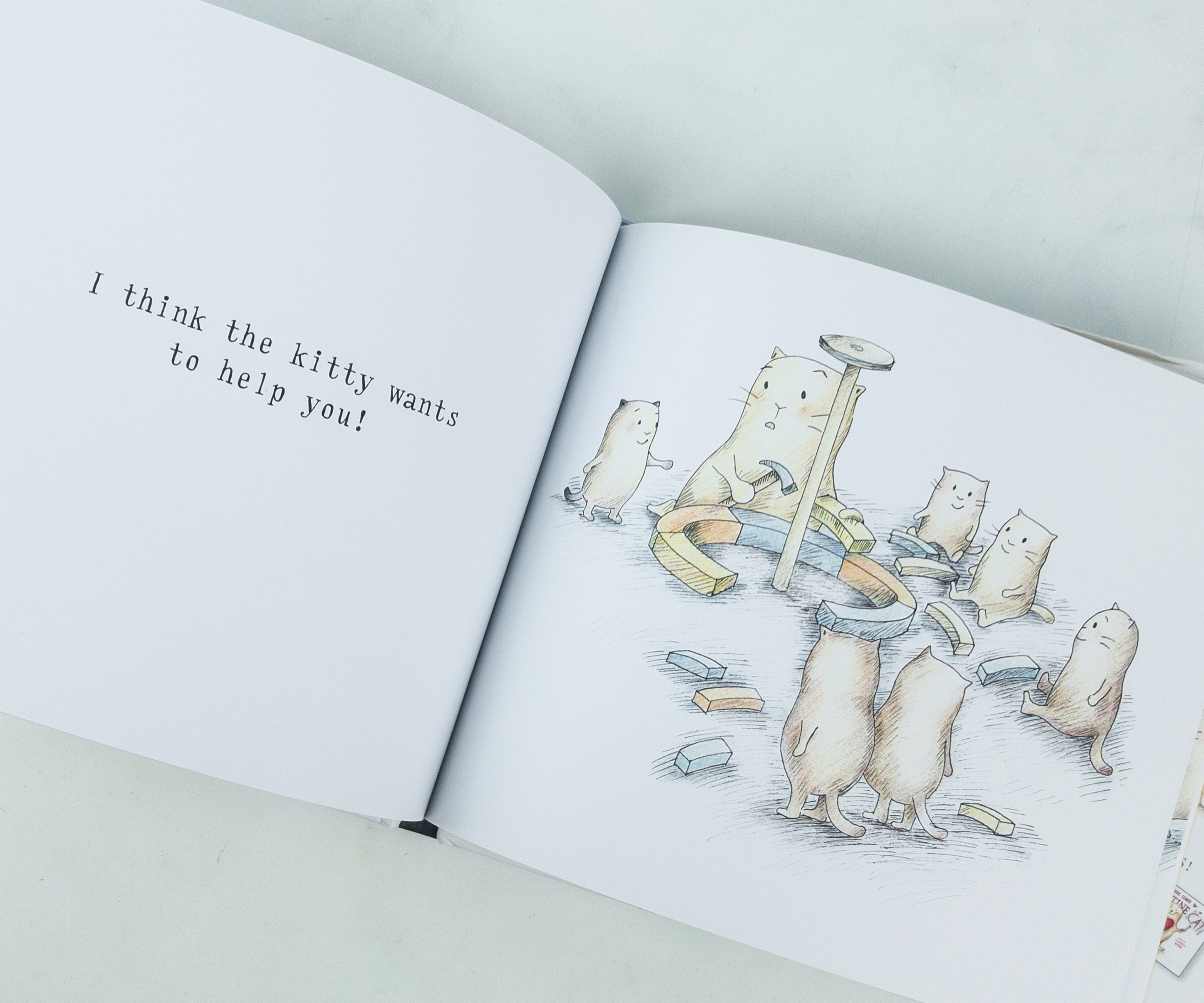 The simple drawings illustrate emotions that added delight to the story and gave room for the nuances of the expressions. The storyline was also made humorous which is usually popular to young readers.
In the end, Cat somehow managed to endear himself to his students. This story really brought such a lighthearted appeal to the readers. Cat is so much fun and my kids love him!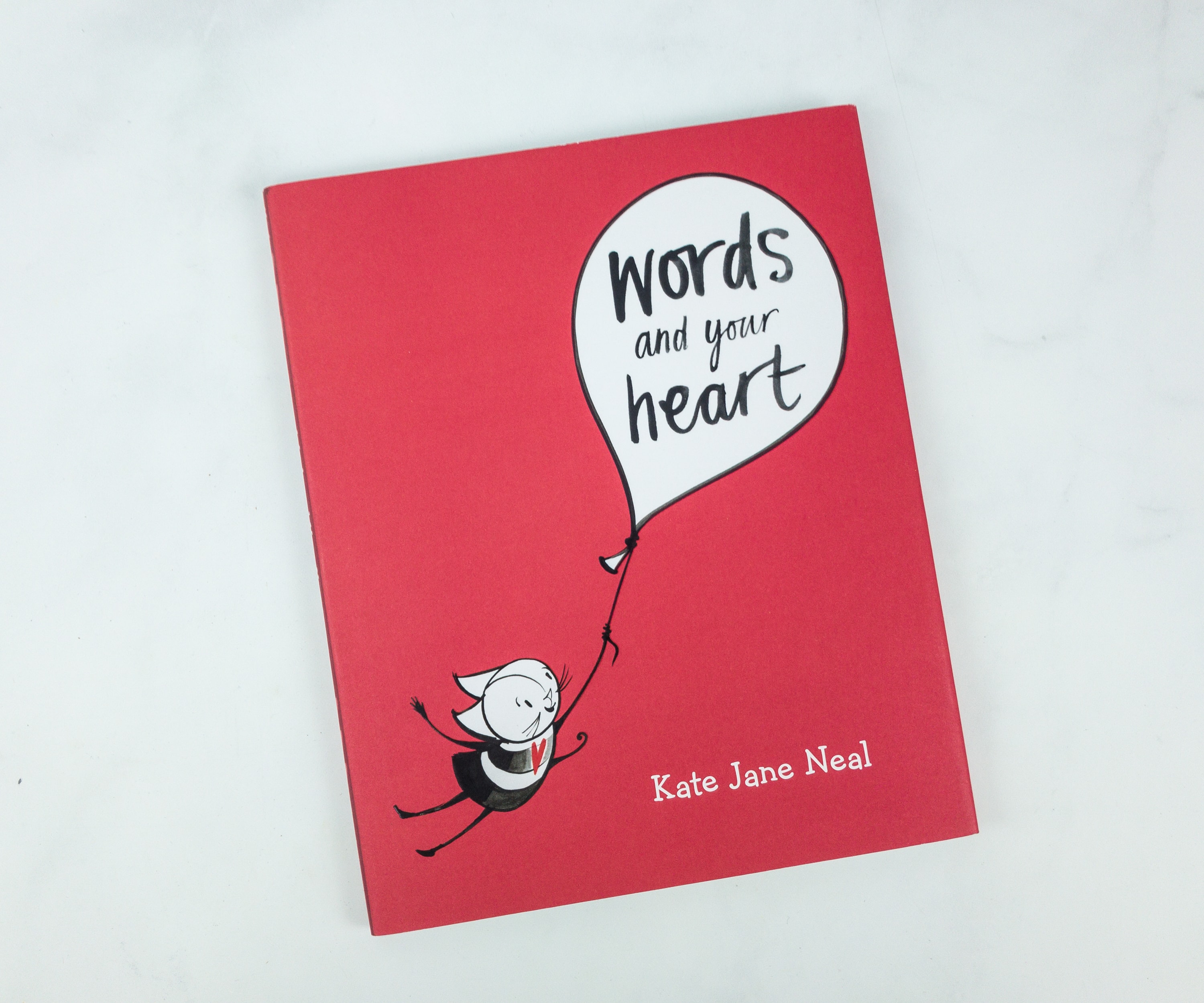 Words And Your Heart by Kate Jane Neal ($9.98)
This book is about your heart. (the little bit inside of you that makes you, you!)

The words we listen to can affect how we feel.

Some words can do amazing things and make us happy.

And some words can really hurt us (we all know what sort of words those are).

Our words have power, and we can choose to use them to make the world a better place.

Simple, direct, and emotive, Words and Your Heart's message is that words have extraordinary power–to harm and to heal; to create and to destroy; and to spread love.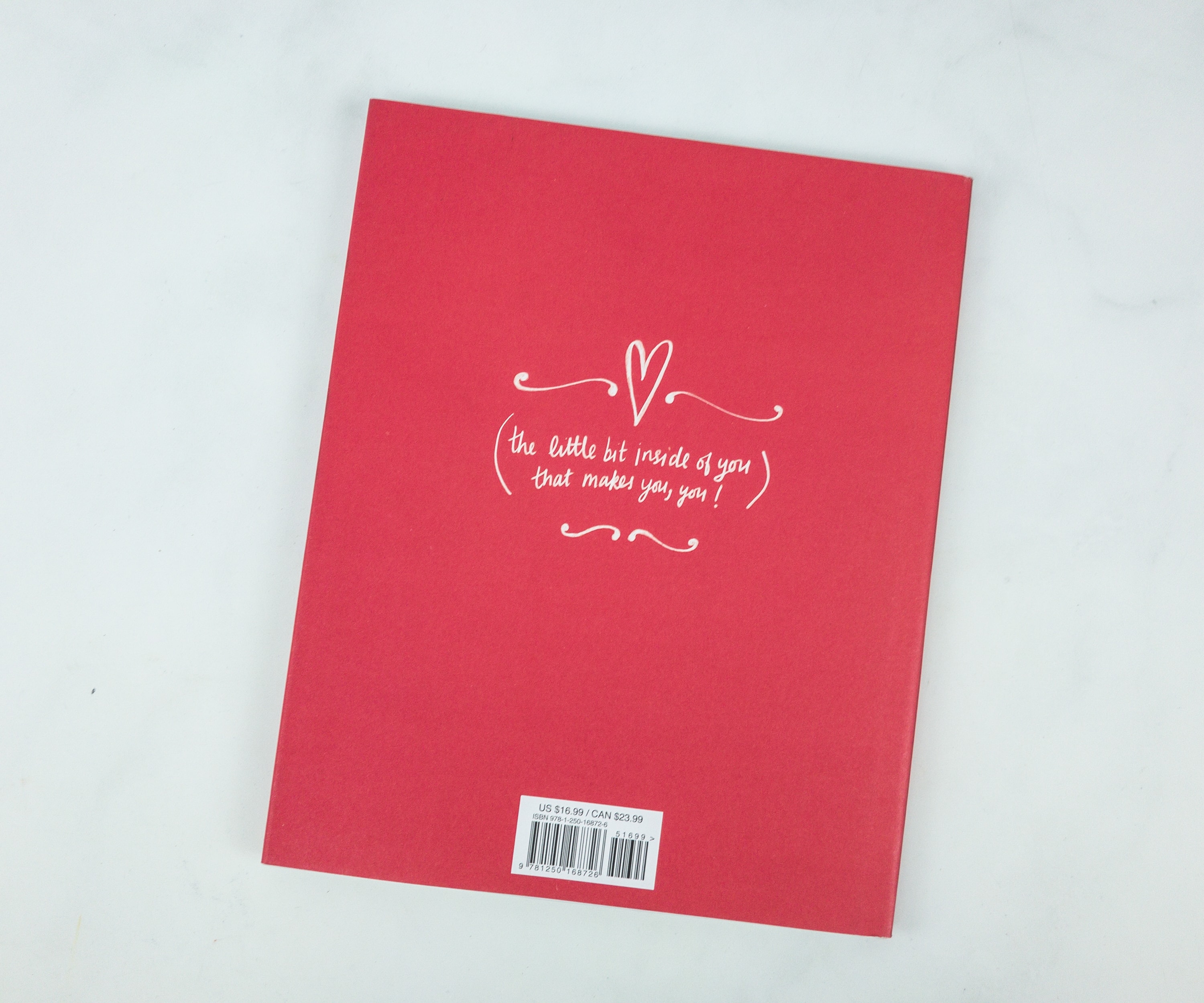 At the back of the cover is a short line. It's simple, yet gives us something to ponder on.
the little bit inside of you

that makes you, you!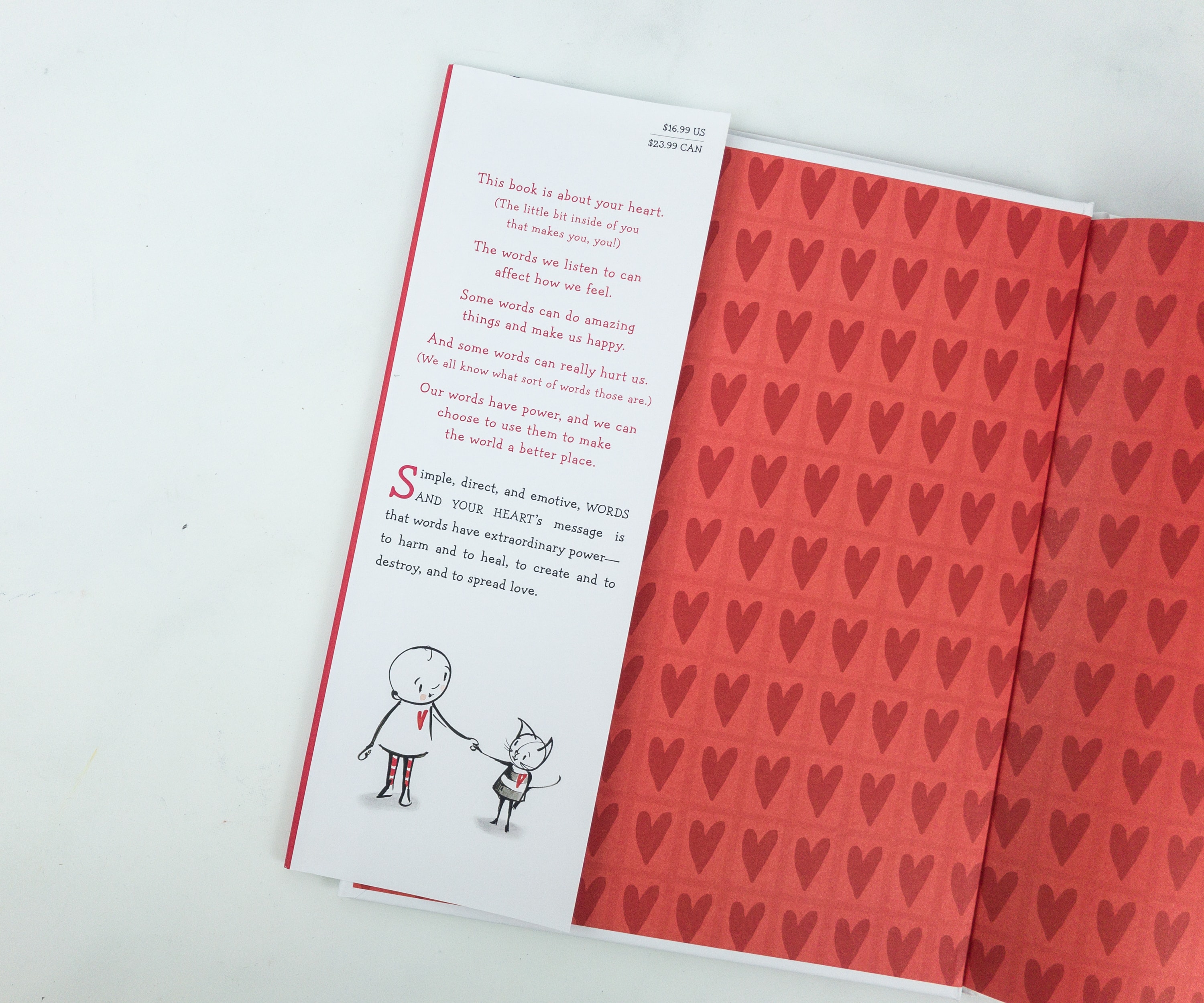 The synopsis can be found on the front end flap of the book. The flyleaf is full of hearts. It's so adorable!
It's all about the matters of the heart, like how does it work and why does it go boom? They relied on simple sketches and use of fonts. The simple color scheme of red, white, and black let the words really stand out.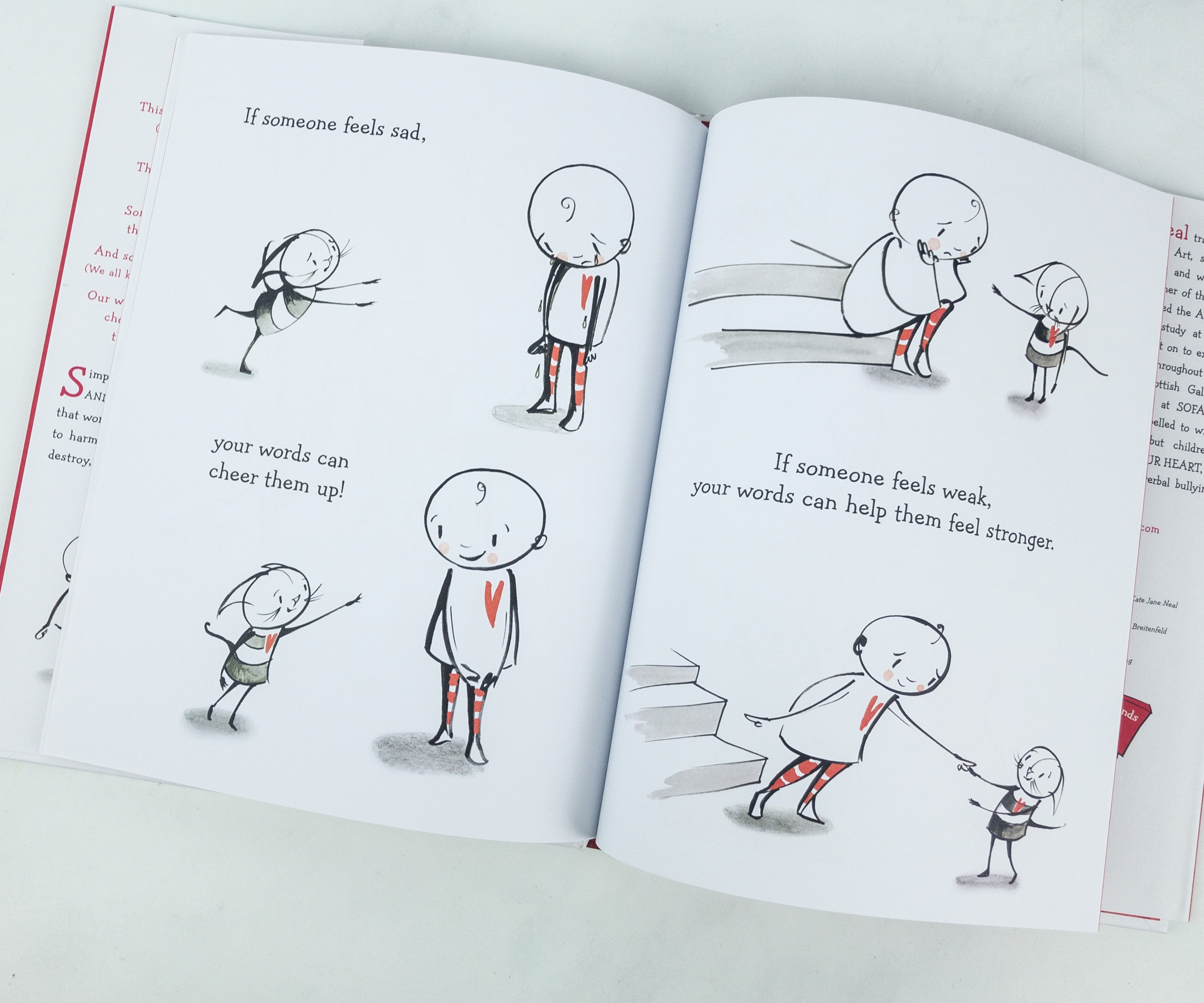 Words can directly affect someone's heart. Sometimes, it can heal it and make it better, sometimes they can be hurtful and destructive. This book is a beautiful lesson on how to be careful with words and to only speak of kindness.
These picture books are a lovely balance of humor and moral lessons. They teach, inspire, and amuse. That's why my children really adore them. The illustrations played a big part in them, of course. They all taught important lessons to my kids that I know they will keep in mind. I am glad that they receive books like these every month!
Do you plan on subscribing to Lillypost?