The Korean Snack Box is a monthly subscription box dedicated to premium Korean snacks. The subscription starts at $14.95 each month (Medium and Large boxes available), with free worldwide shipping. Each box comes in a beautiful Bokjumeoni (traditional Korean silk bag) with 5-10 or 10-15 items and tasters. You can now find the previous month box and earlier month's boxes in the Korean Snack box shop.
This is a review of the large $24.95 per month Korean Snack Box.
DEAL: Get $2 off your first subscription box with coupon code HELLOKOREA.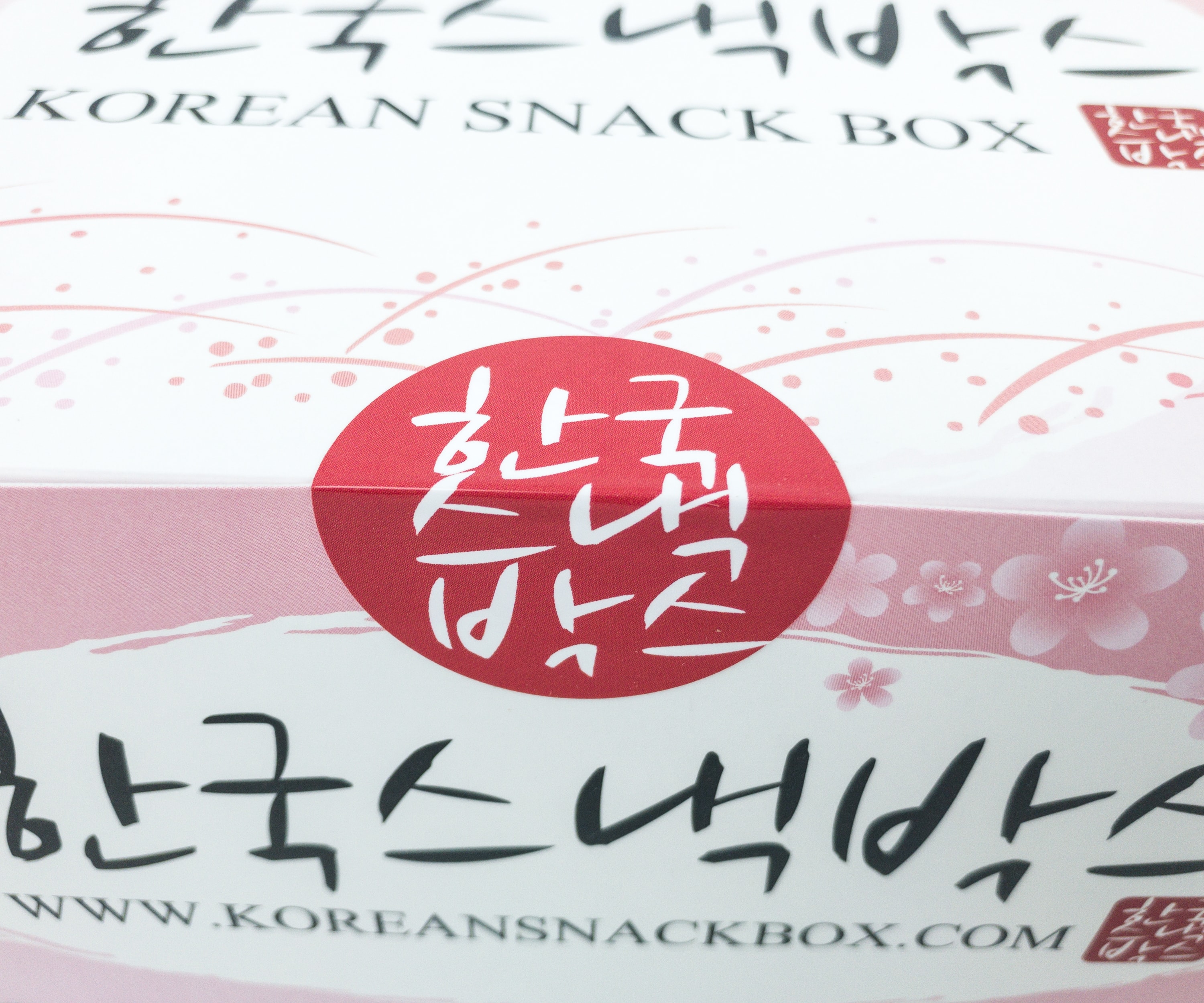 The box is sealed with a sticker. It says "Korean snack box."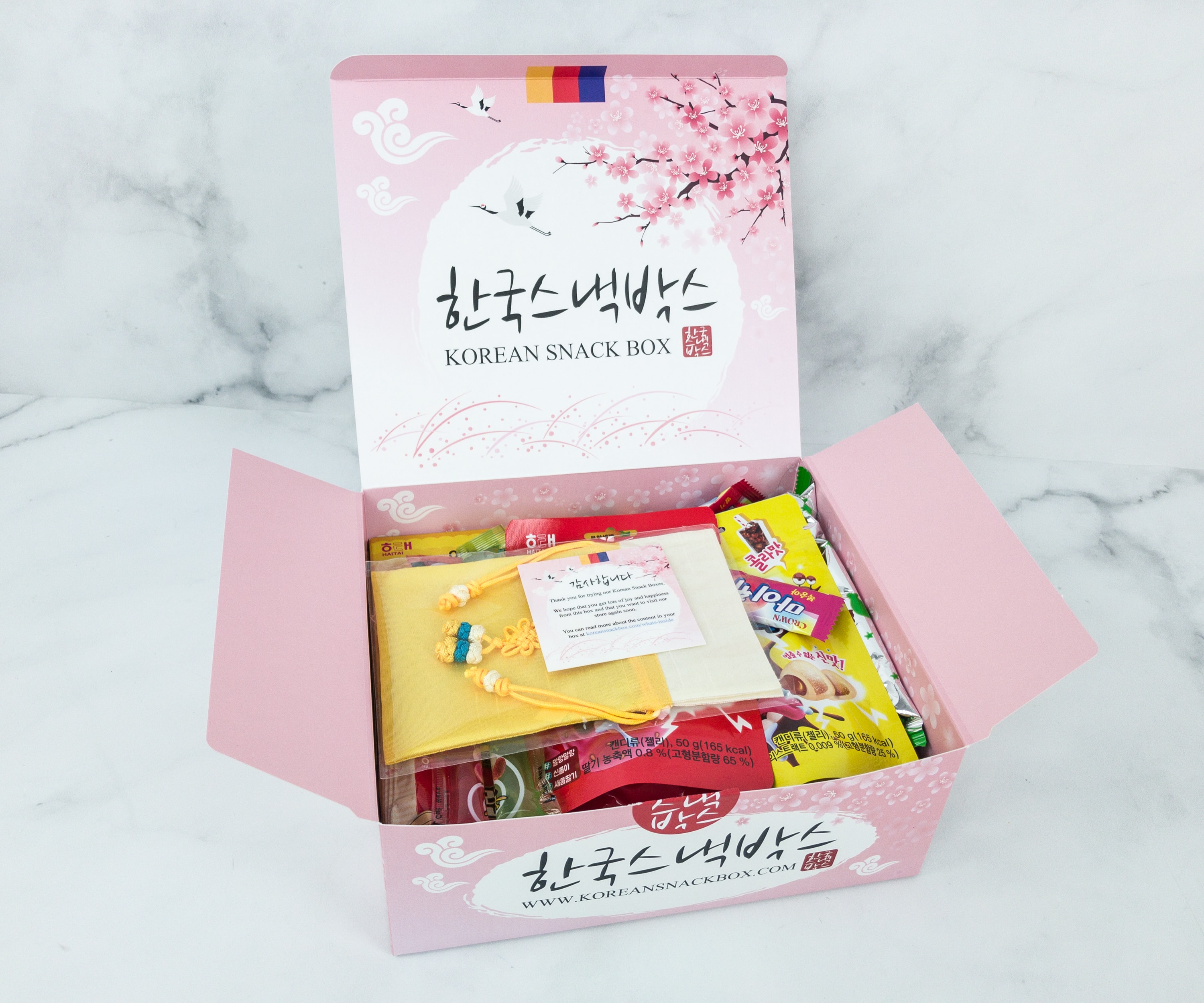 The box has improved. Instead of the usual plain box, this month it's in pink and cherry blossoms-inspired.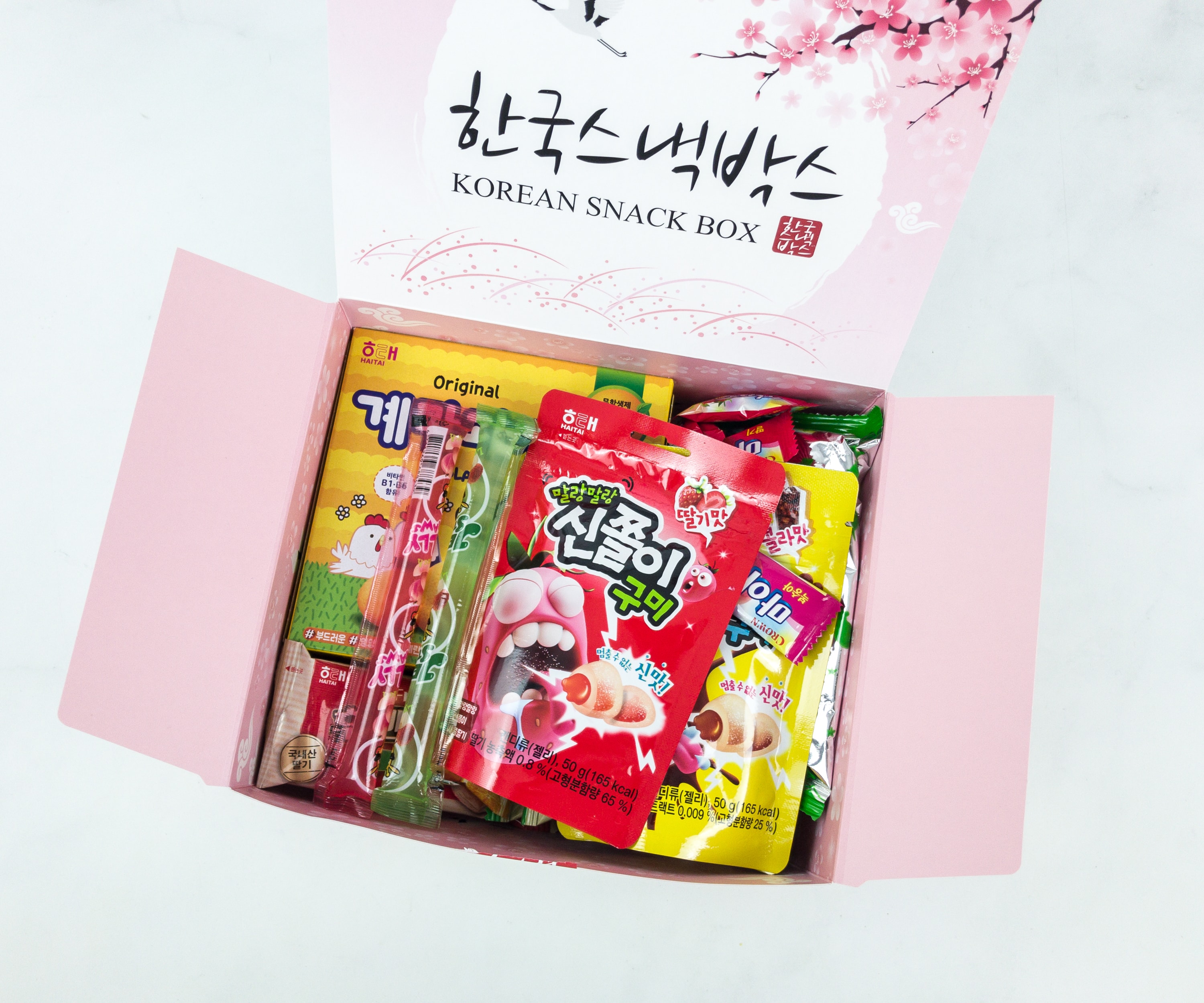 Wow! It's full!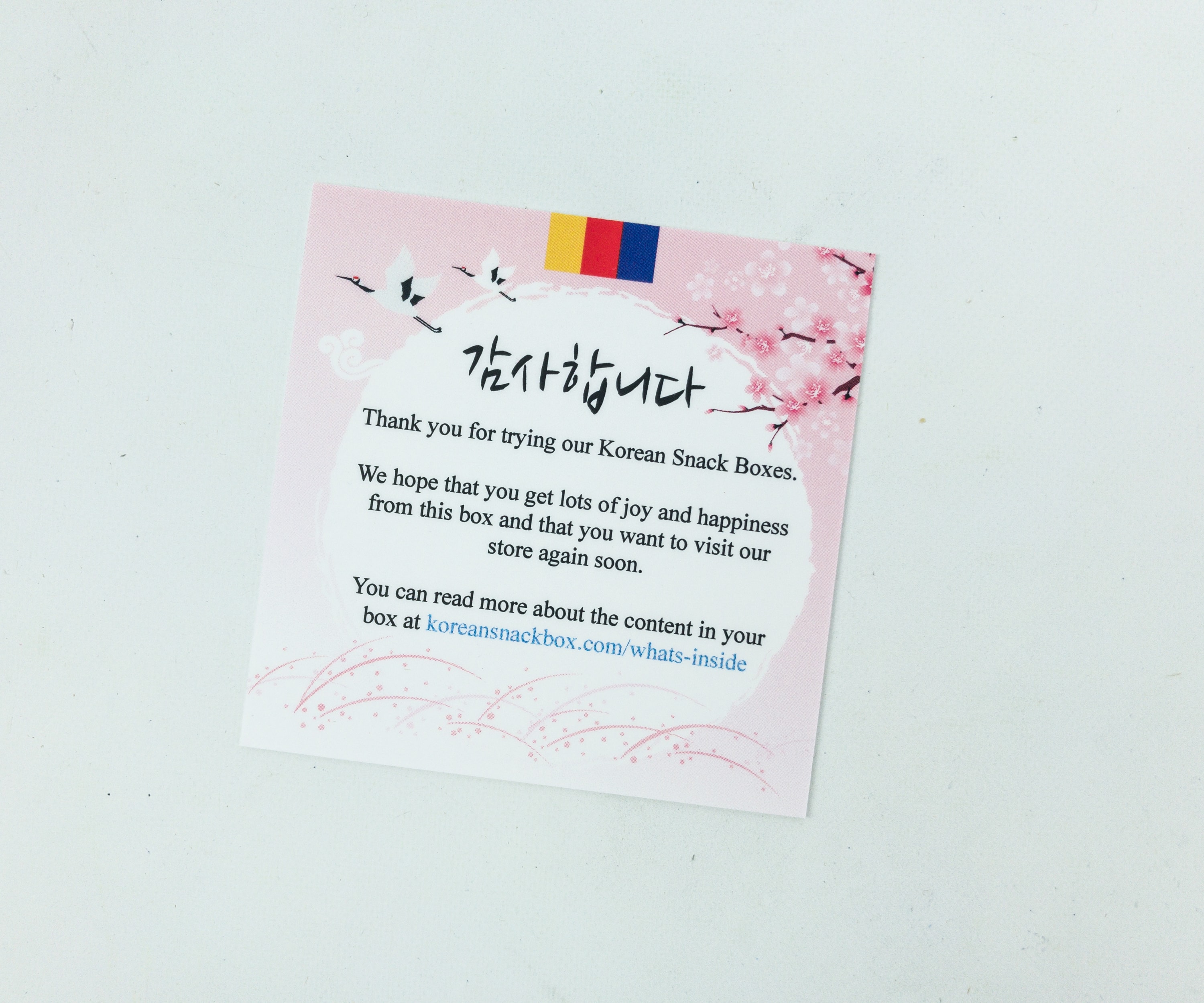 There's also a note from the curators. The theme this month is LOTUS LANTERN FESTIVAL!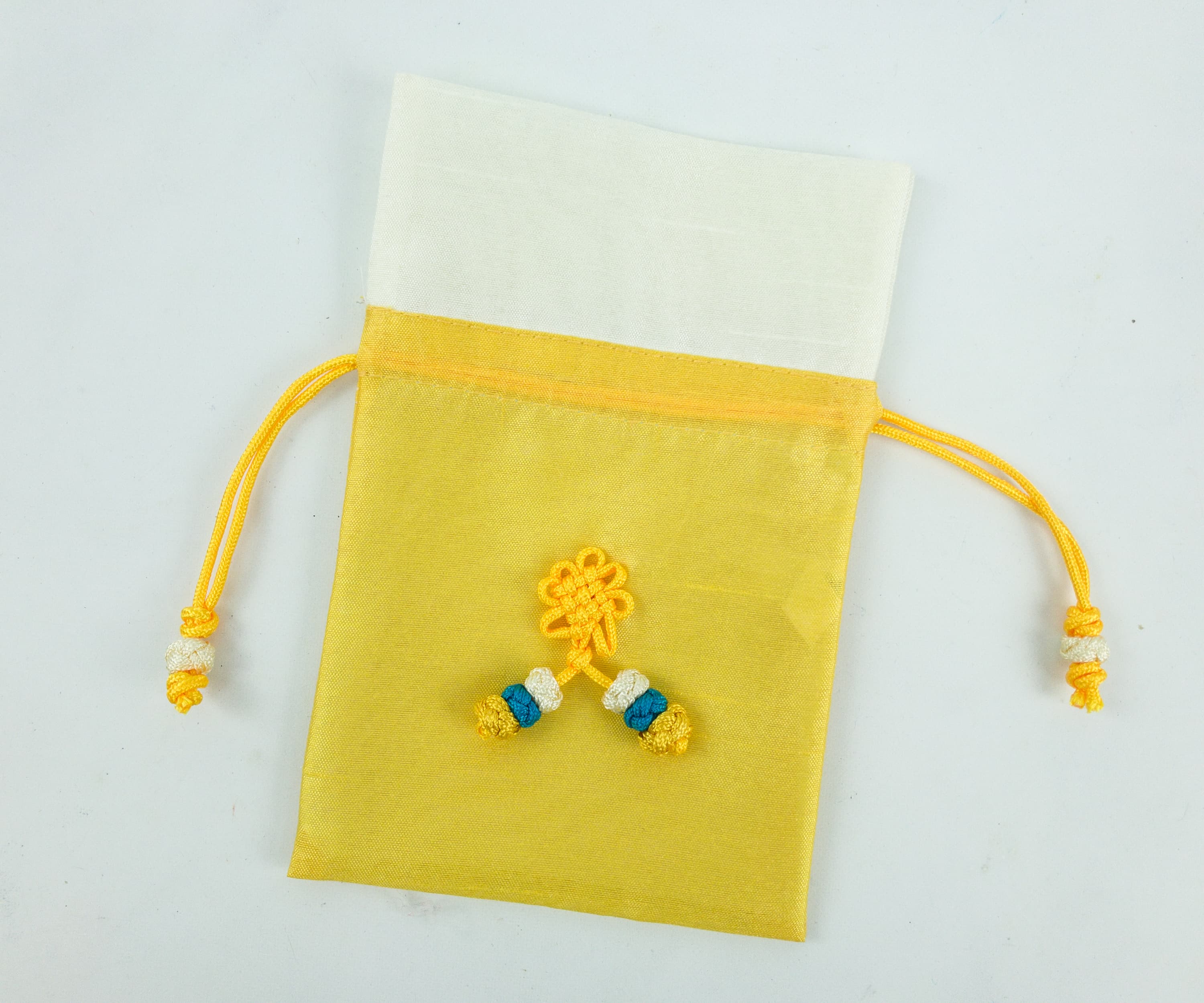 This month's box includes a yellow Bokjumeoni. It is reusable as a purse, pouch, or even as a makeup bag!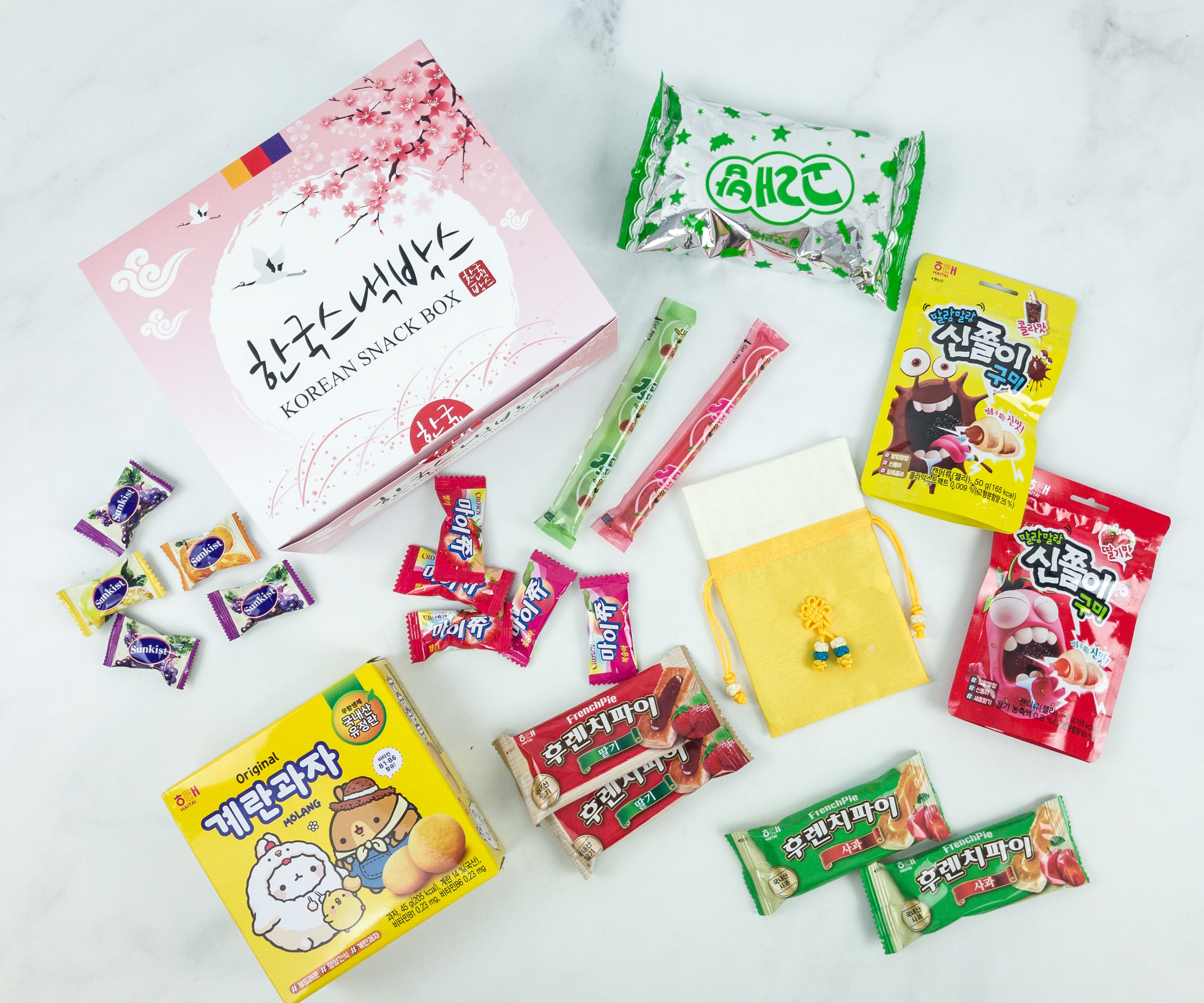 Everything in my box!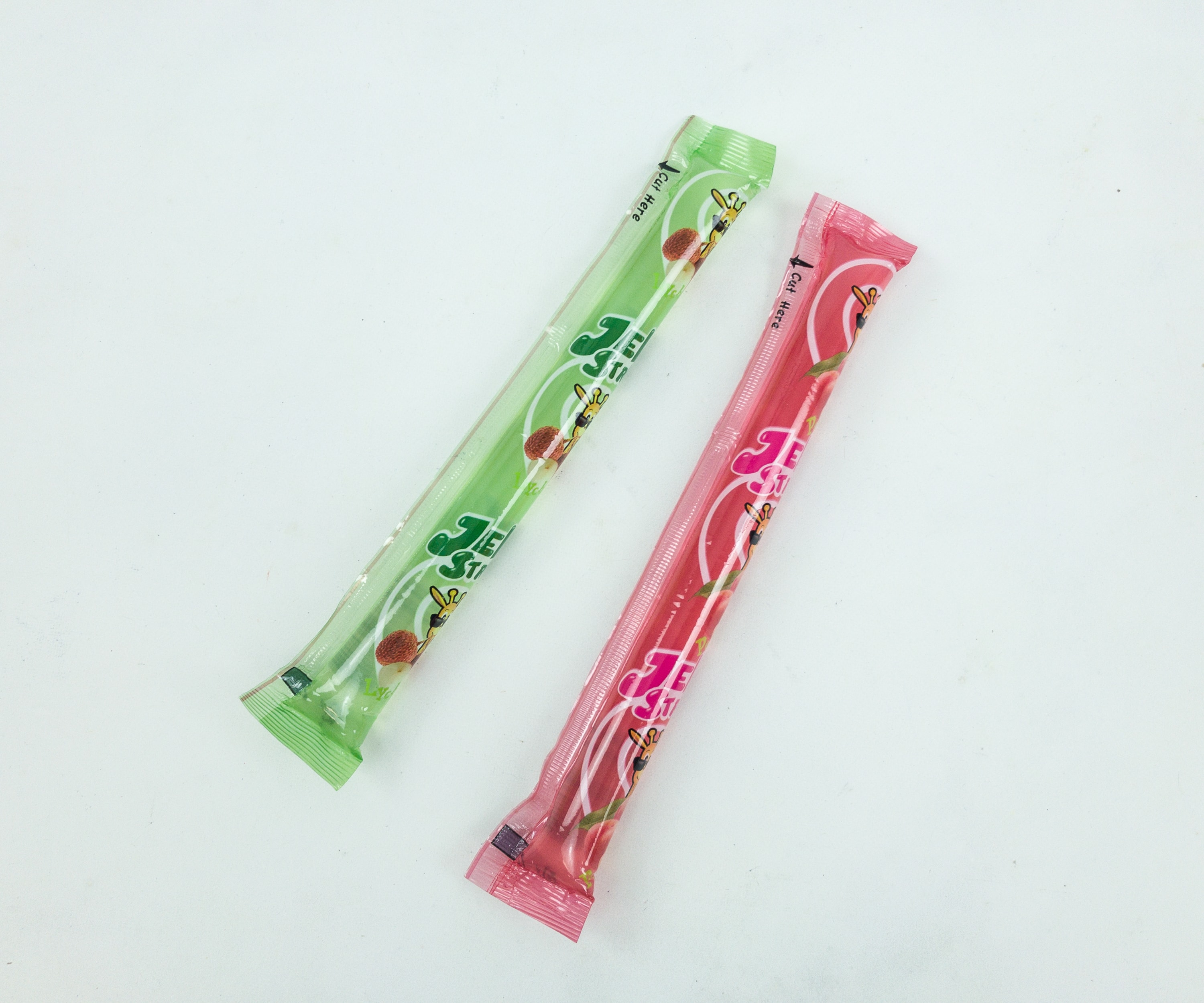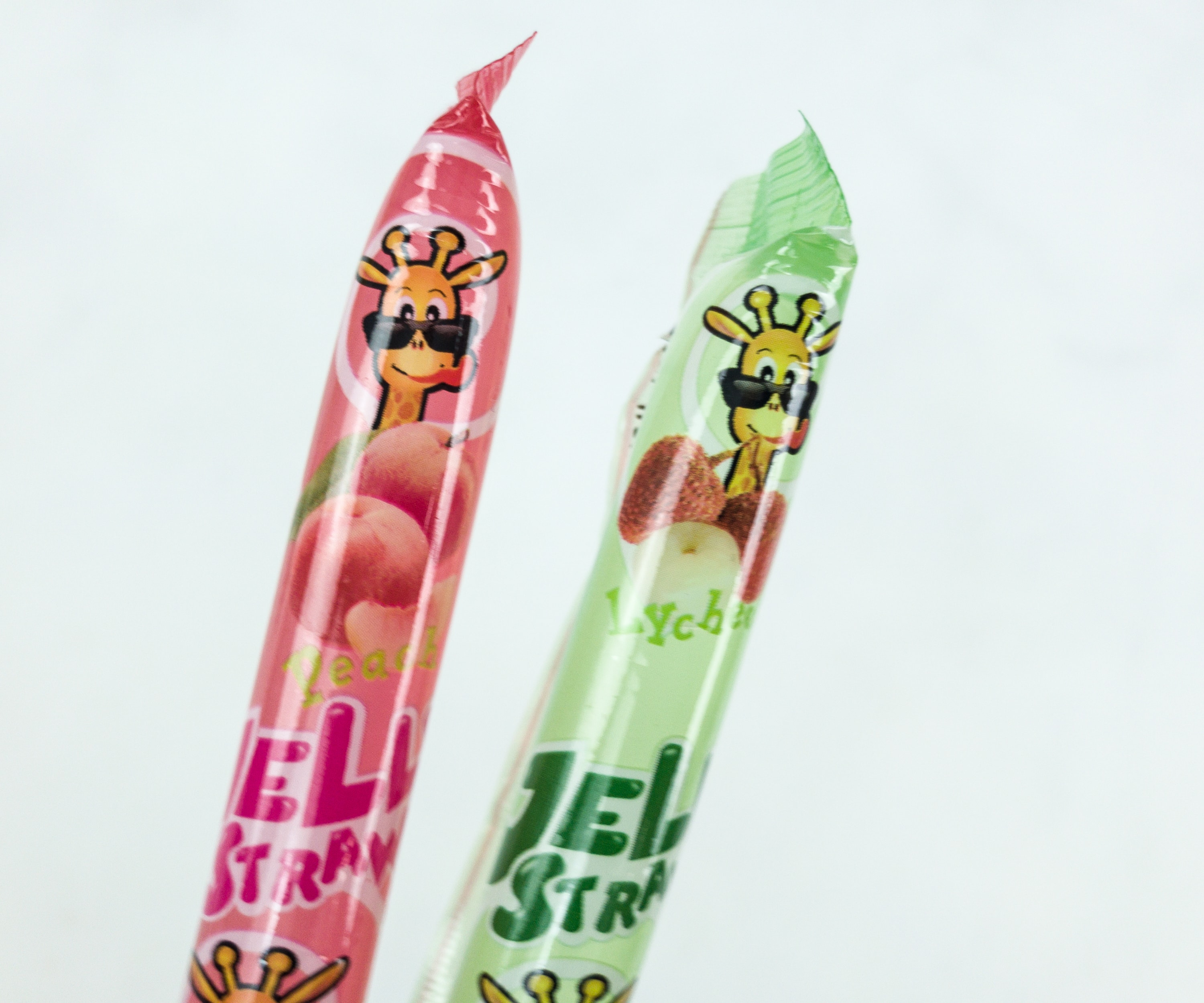 Jelly Straws / 젤리스트로우. Every straw is a burst of juicy fruit flavor. These jiggly and wiggly jellies came in peach and lychee variants. My kids enjoyed them!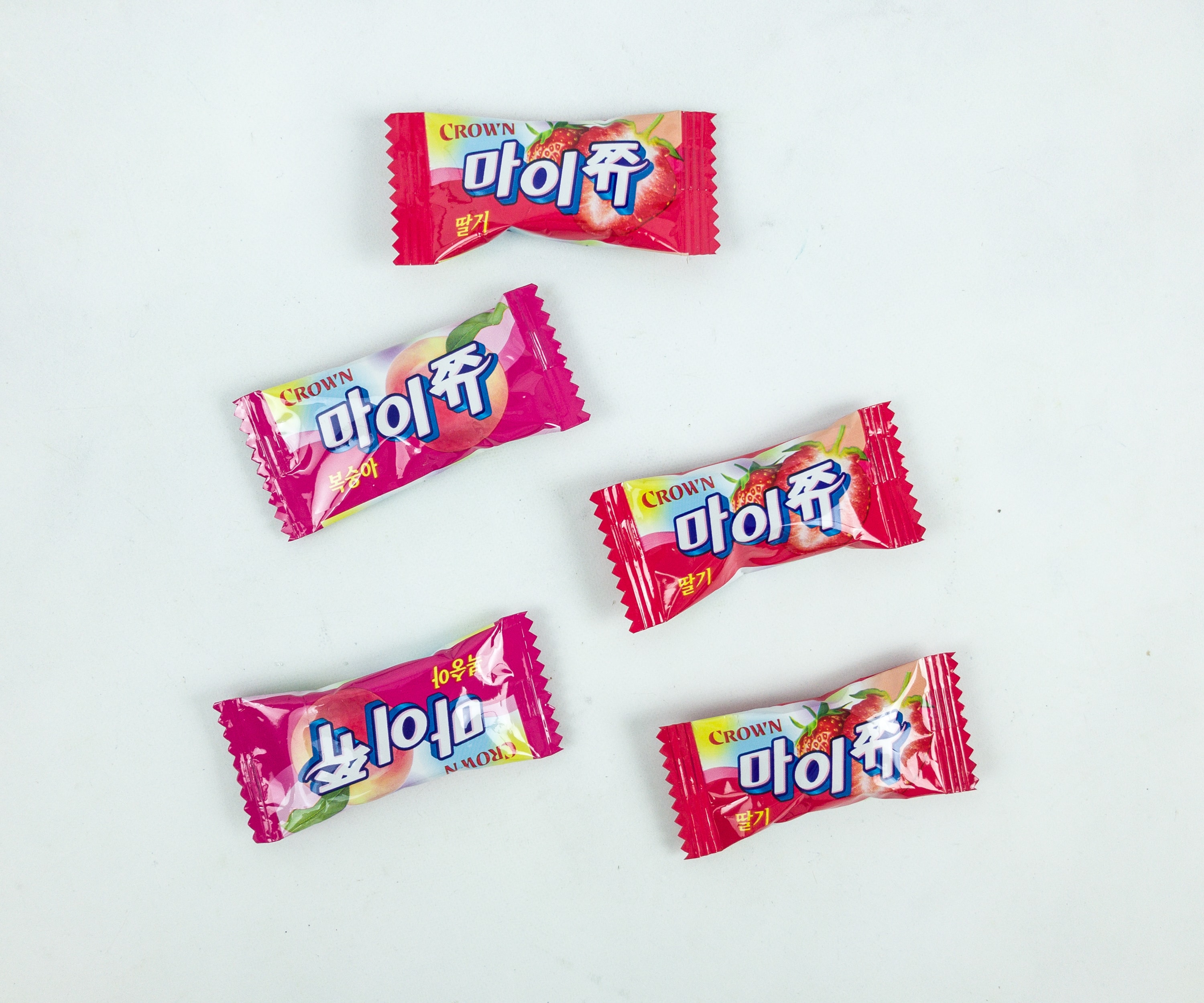 Mychew / 마이쮸. The sweet and tangy juice of peach and strawberry are made chewy in these treats! We received three small packets of the strawberry flavor and two of the peach flavor. Each packet contains a square, gum-like candy. It's tiny, but is definitely big in flavor. We love the outburst of real strawberry and peach flavors!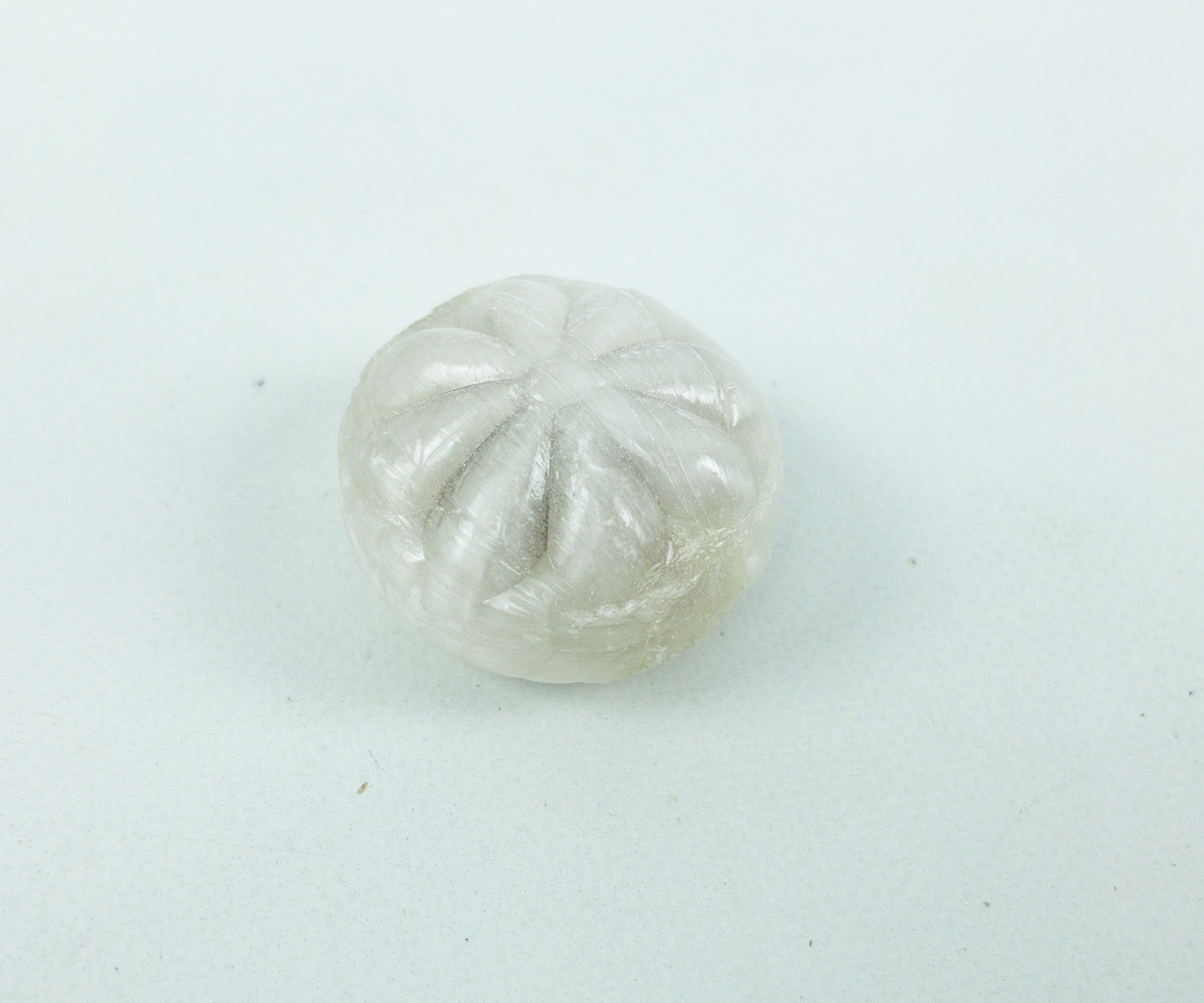 Sunkist / 썬키스트. These Sunkist candies in lemon, orange, and grapes are fun to slurp. I enjoyed the sweet and refreshing juice spreading in my mouth. The hard candy with a surprise center is round shaped and transparent, making it easy to identify which flavor it is even before tasting it. The lemon flavor is my favorite!
Goraebab / 고래밥. This crunchy snack is shaped like various sea creatures with a slight zing of sea barbecue flavor. There's a squid, a dolphin, a fish, and a starfish, but all of them tastes the same. They are flavorful! We all loved throwing in a few pieces of these crackers into our mouths and chomp away.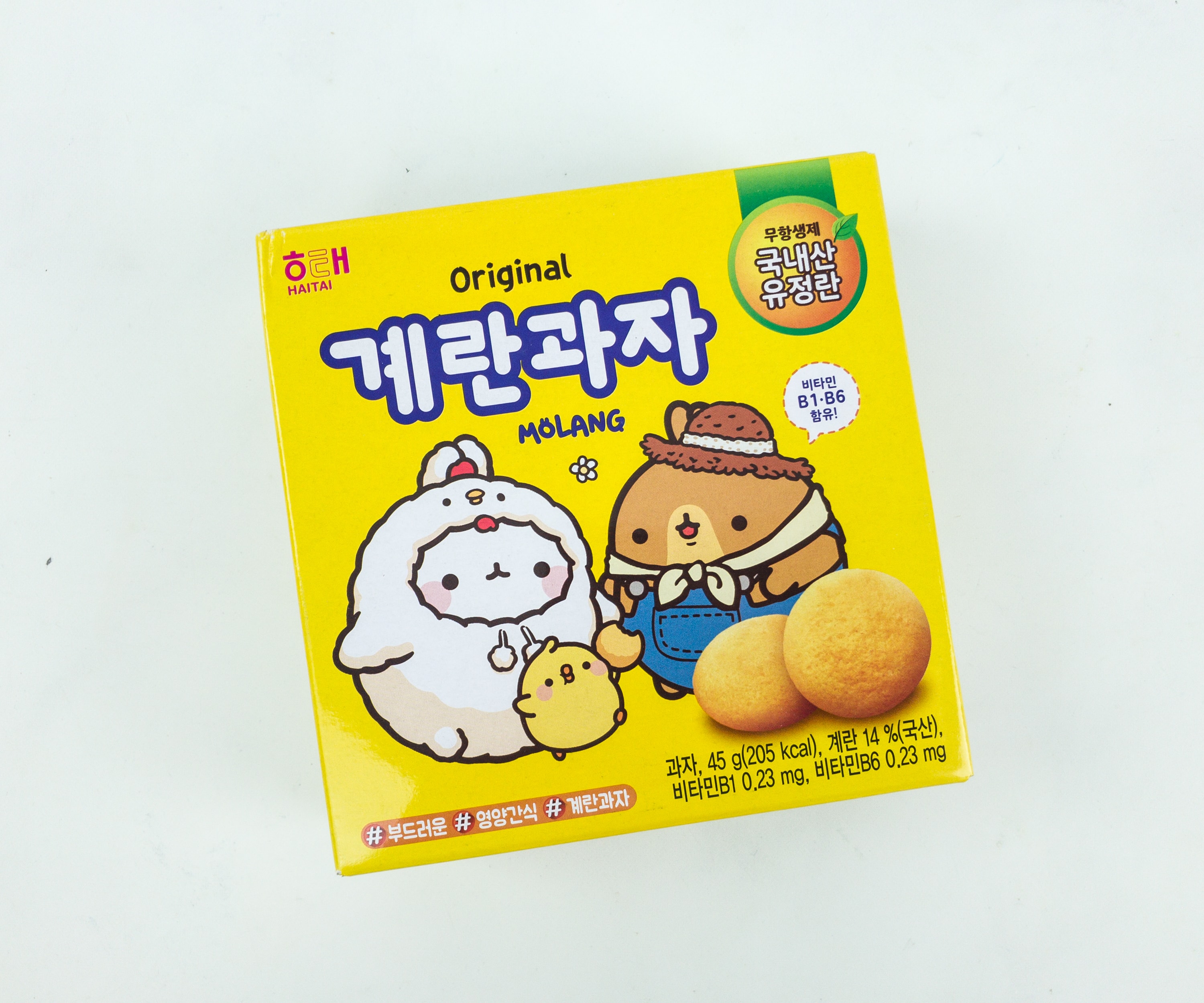 Gyeran Egg Cookies / 계란과자. It's a pack of crispy egg cookie nibbles that have an interesting sweet-briny taste. The vibrant yellow packaging looked more appealing with the adorable fluffy bunny prints. Almost similar to buttercream cookies, these tiny round pieces give a joyful crunch in every bite!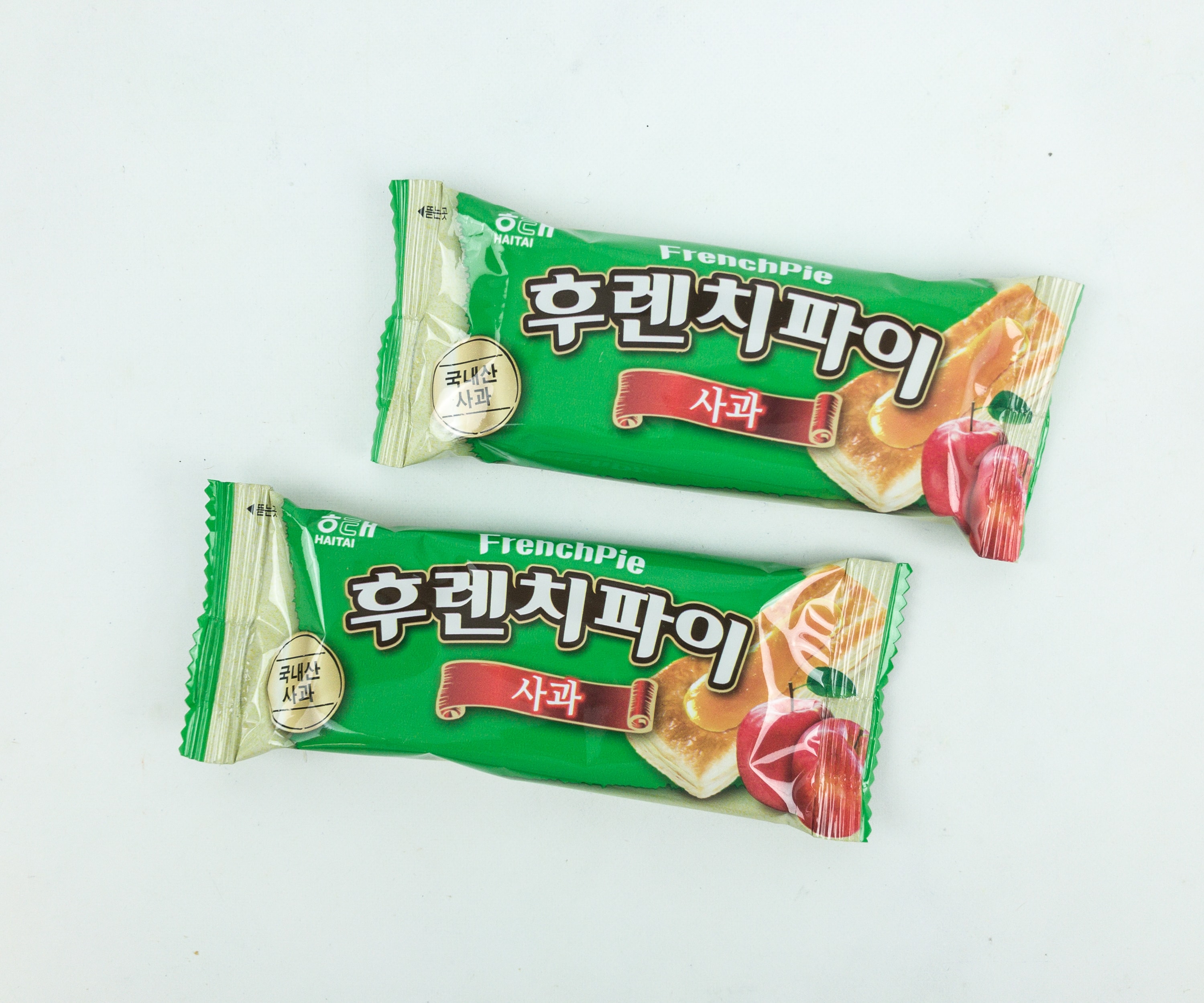 Hooraenchi Pie / 후렌치파이. These pies are crunchy with an exciting chewy twist at the center. The biscuit is kind of crumbly and has a slightly salty taste which is a good contrast with the sweet jam spread on top. We received two packs of pies in apple flavor and two in strawberry flavor. The two variants are equally satisfying!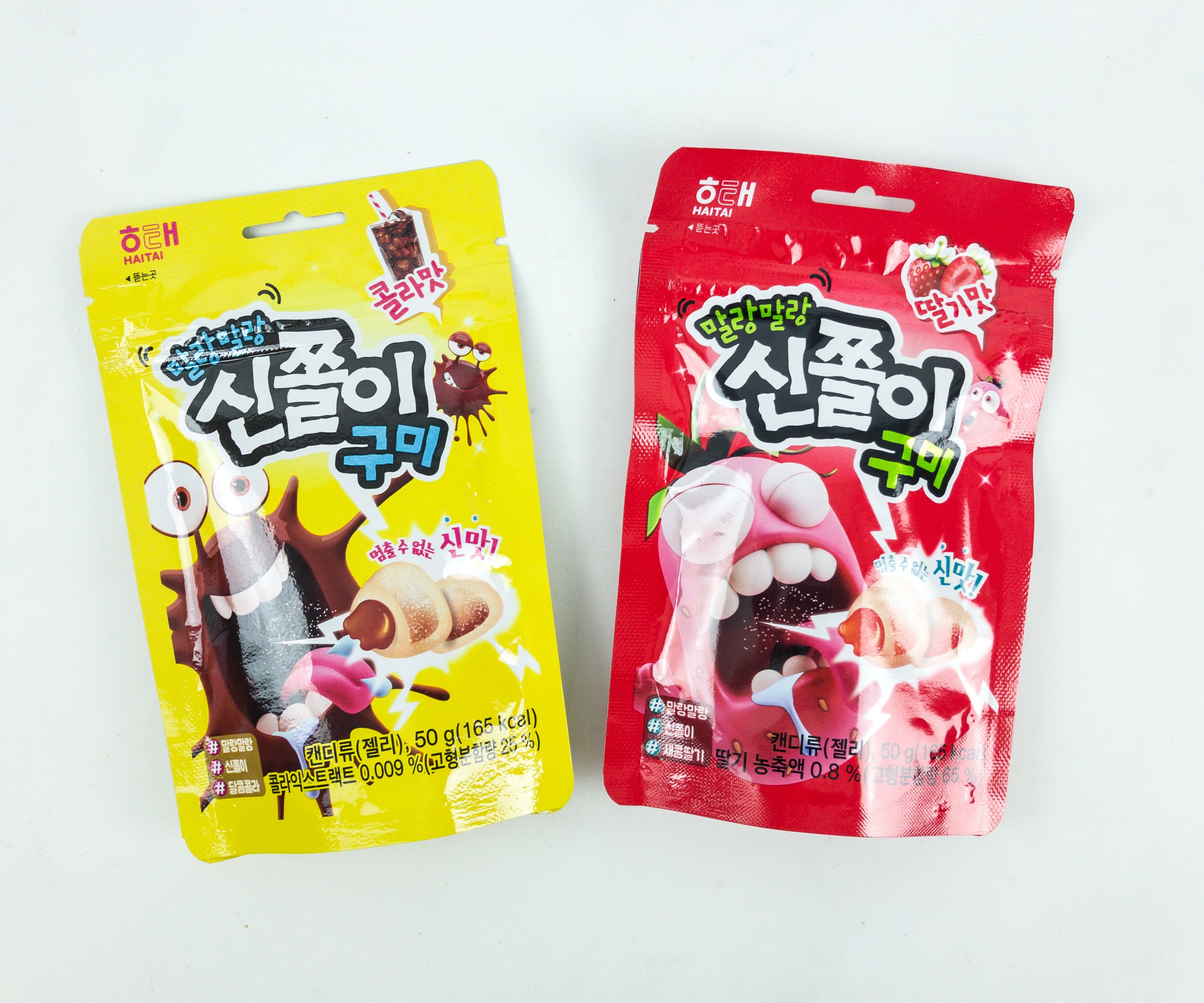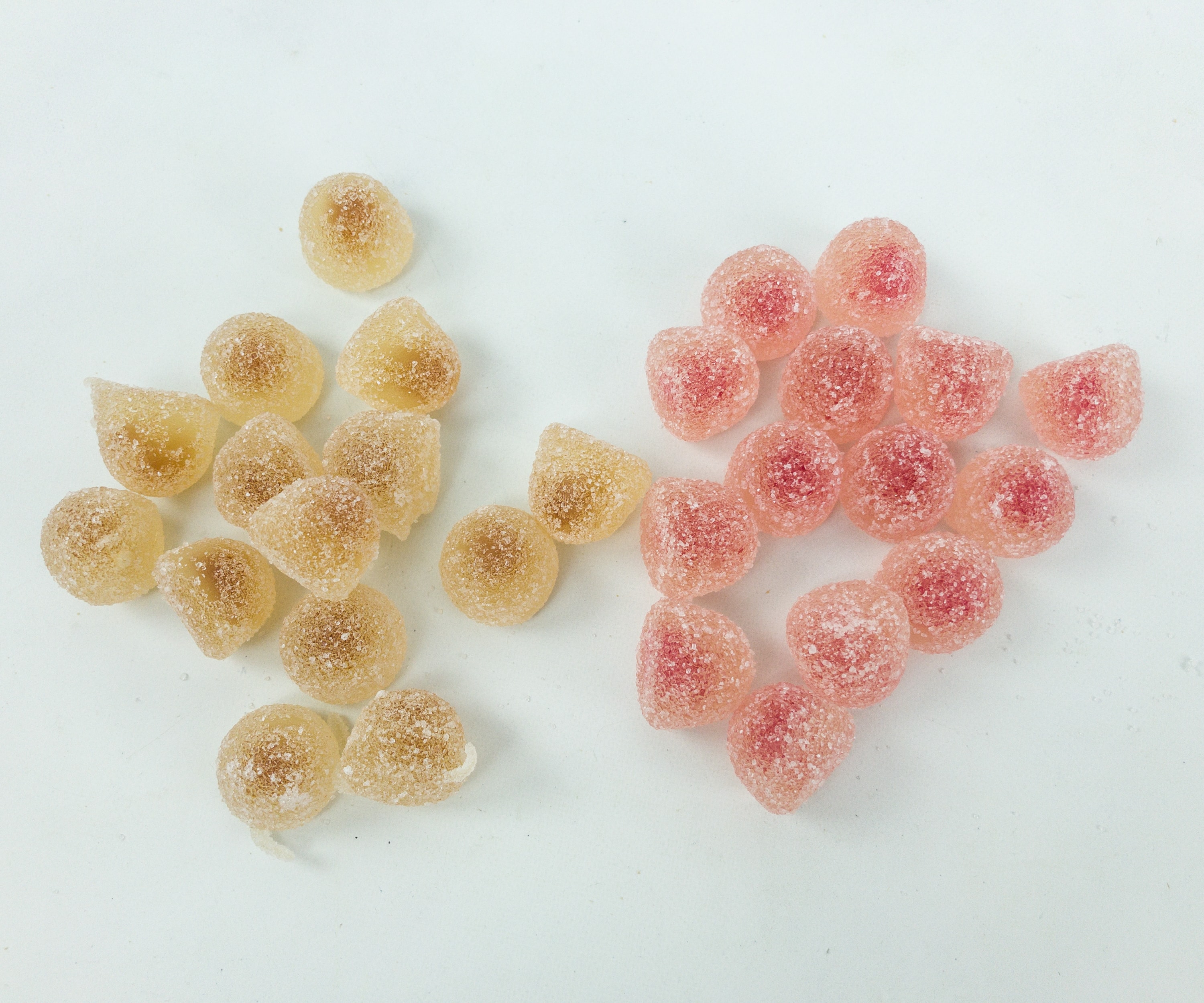 Sinjjuri Gumi / 신쫄이구미. Soft, chewy jellies with two different jam fillings! One is mouth-puckering strawberry and the other gives a taste of fizzy soda. I actually like both. These sugar-coated gummies are delightfully delicious!
This box gave us a bunch of flavorful Korean snacks that we can enjoy whether at home or when on the go. We loved trying them out one by one, from the sweets to the sours candies to the savory biscuits. All are delicious that we couldn't even pick just one favorite. Another thing we love about this subscription is that they send more than just one pack or piece of a snack. This makes the snacks easy to share with the whole family or even friends and co-workers who love Korean snacks as much as you do!
What do you think of Korean Snack Box?