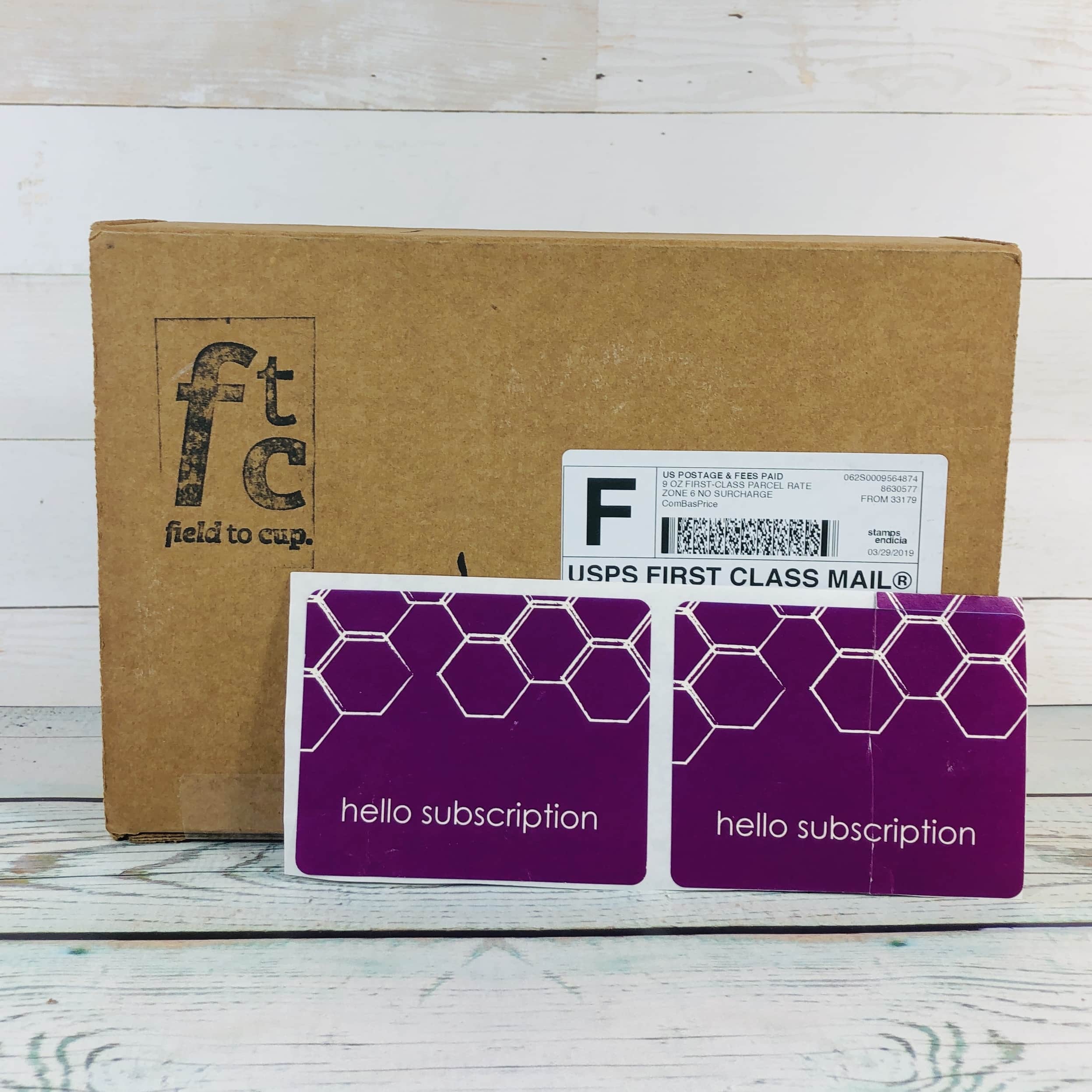 Field to Cup is a monthly tea subscription that lets you try several wonderful teas and provides a steeping guide so you can get the best cuppa. They have 3 different subscription options available at varying price points and with different amounts of tea, and in some cases you can even choose low-caffeine or black.
If you enjoy teas that are orthodox, and un-blended, you'll enjoy our Adventurer. We still send two seasonal teas,  so you get a taste of the season.

Our Discoverer gives you more of a tea type you love, and four other teas to enjoy throughout the month.

If you enjoy just a taste of tea, or maybe like exploring new teas periodically, you'll enjoy the Explorer. It's just enough tea to try something new, but not too much to overwhelm you.
DEAL: Get 10% off any tea subscriptions! Use coupon code HELLO10.
The first thing to do is pick which of the subscriptions you would like to receive! Two of the subscriptions give you the choice of black or low-caffeine, giving you 5 different subscription options. I am reviewing the Discoverer Black Box, which is $27.97 and includes a large pouch of black tea plus 4 other teas. This box sends enough for 60-96 cups of tea, depending on whether or not you re-steep your leaves. FYI: The price drops for longer subscriptions.
First look! There was a quick guide to the perfect cup on the inside of the lid.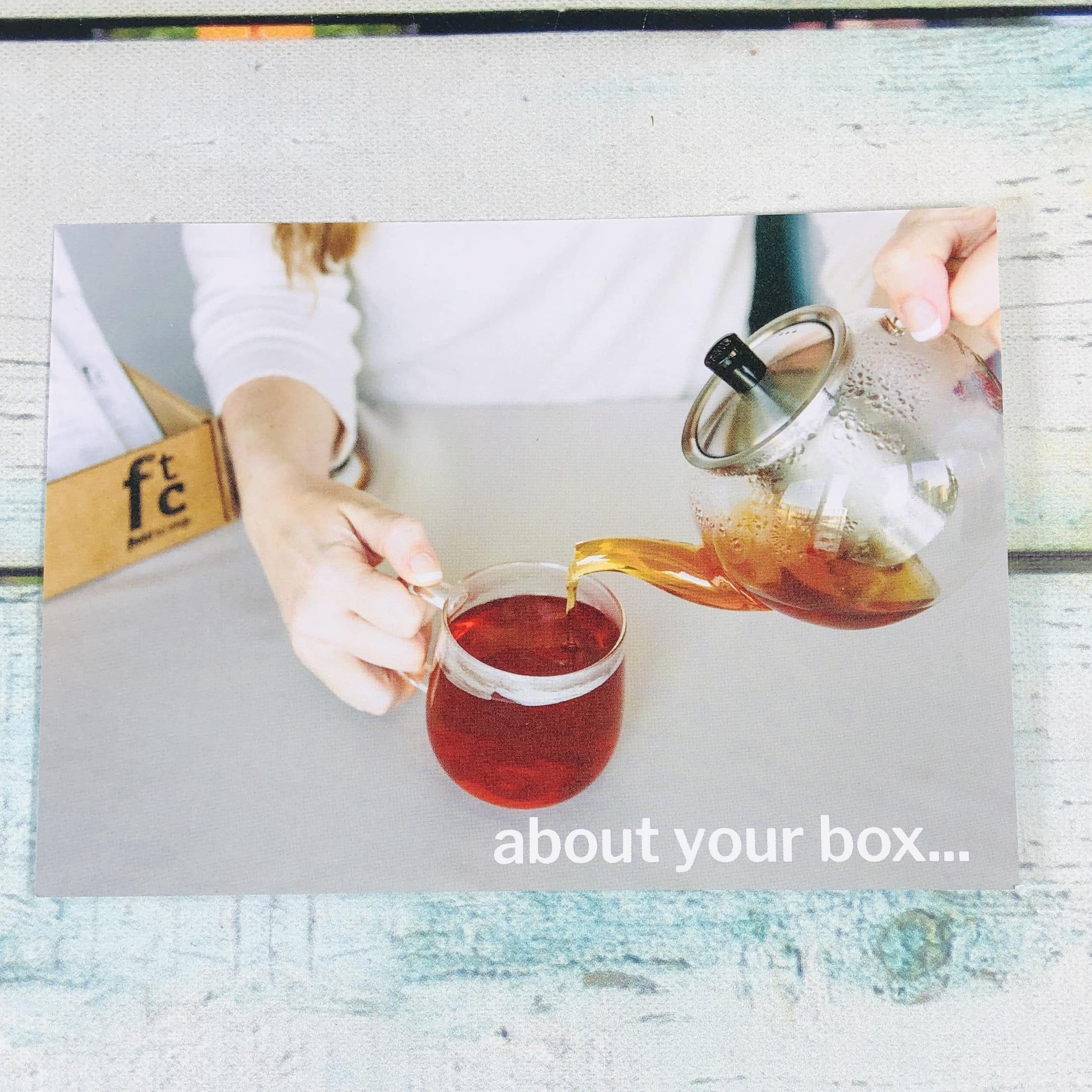 I received a card…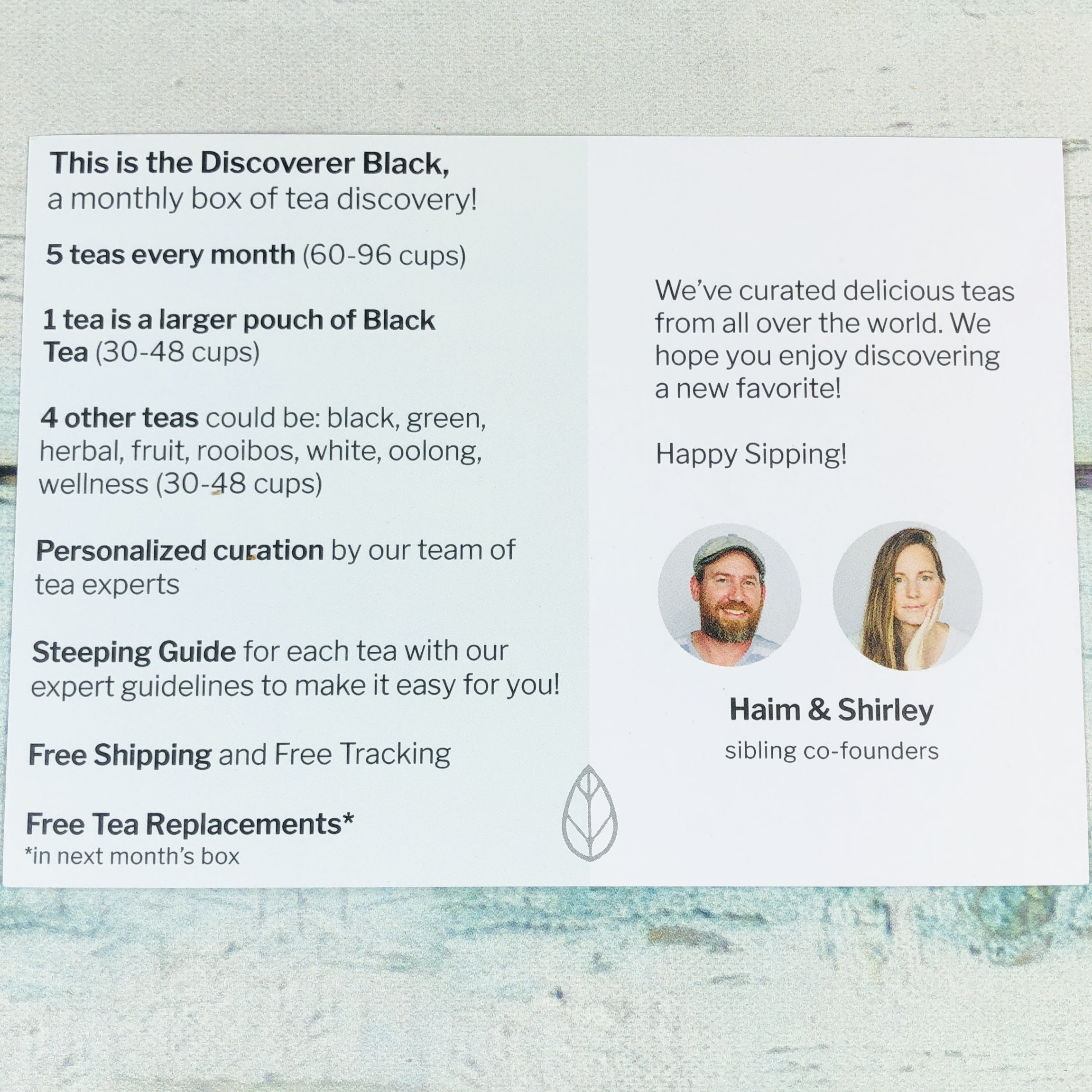 …with the name of my subscription in the corner, plus a little info about the subscription level. Not happy with a tea you received? Contact Field To Cup and they will replace it in your next box.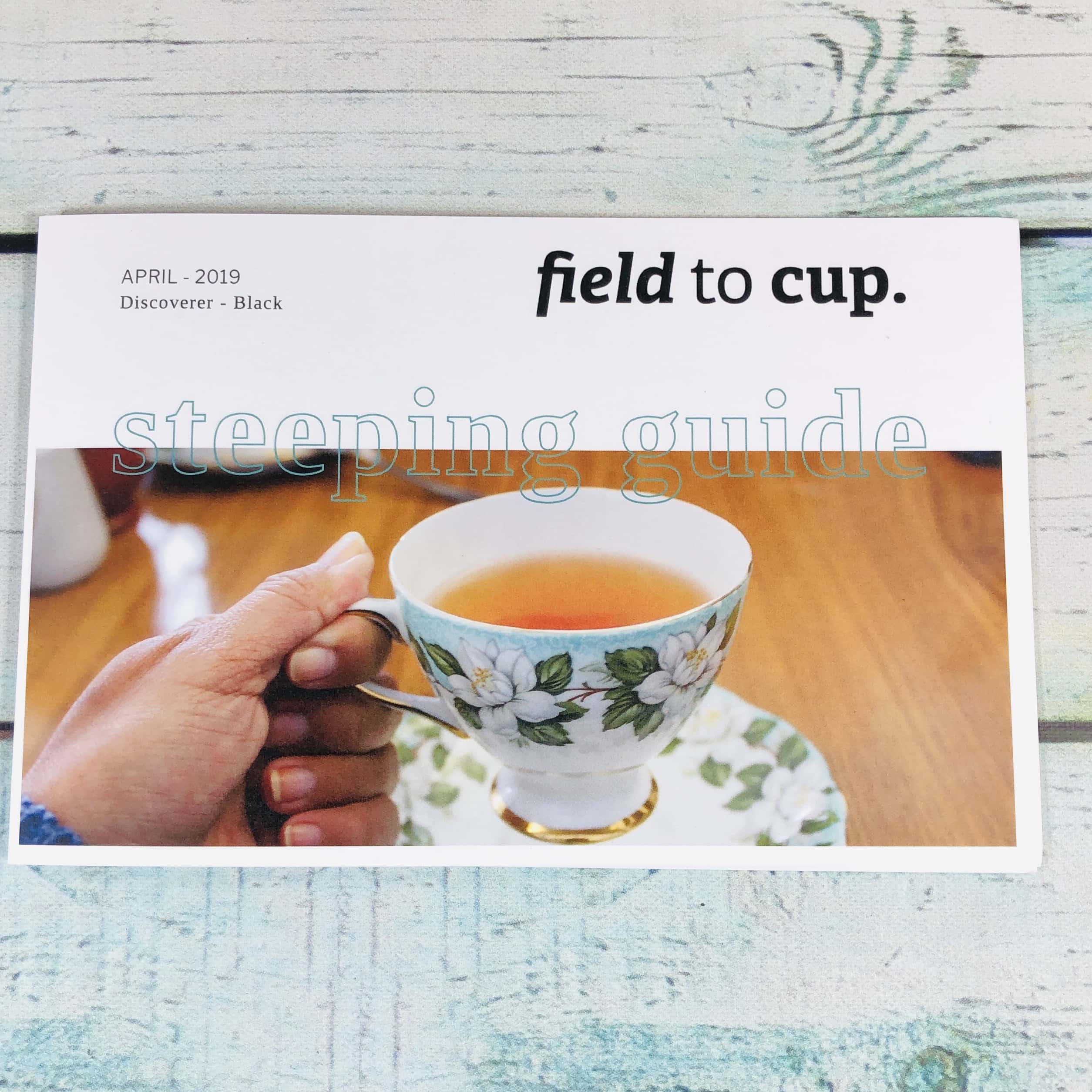 I received a steeping guide.
Each tea was listed, along with flavor notes, amount of caffeine, and steeping tips.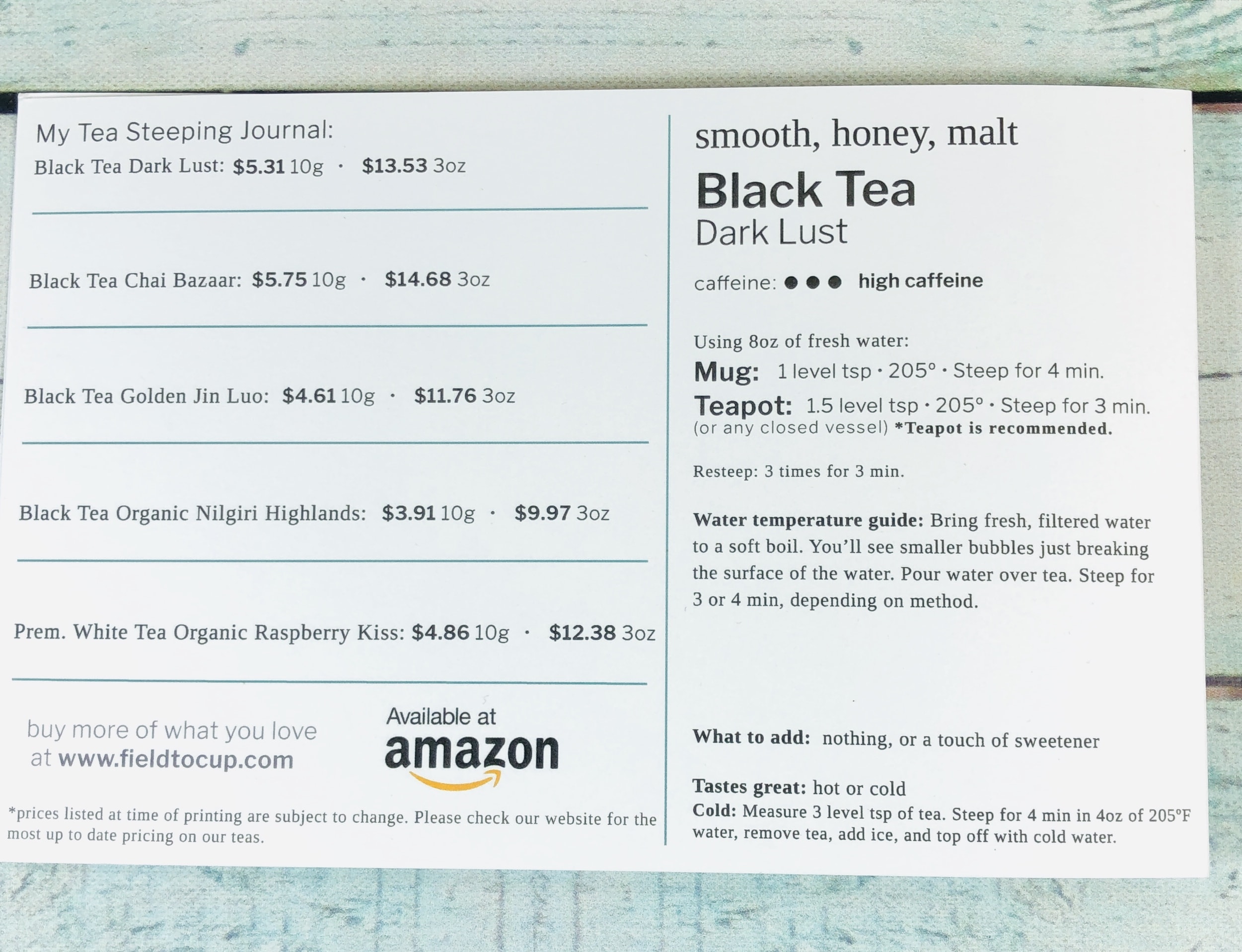 The back of the guide had a place for me to jot my own tasting notes. They have also listed the price for both a 10g sample or 3oz full-sized pack, which makes valuing the teas in the box a little hard, since most of them are 20g and the large bag is 40g.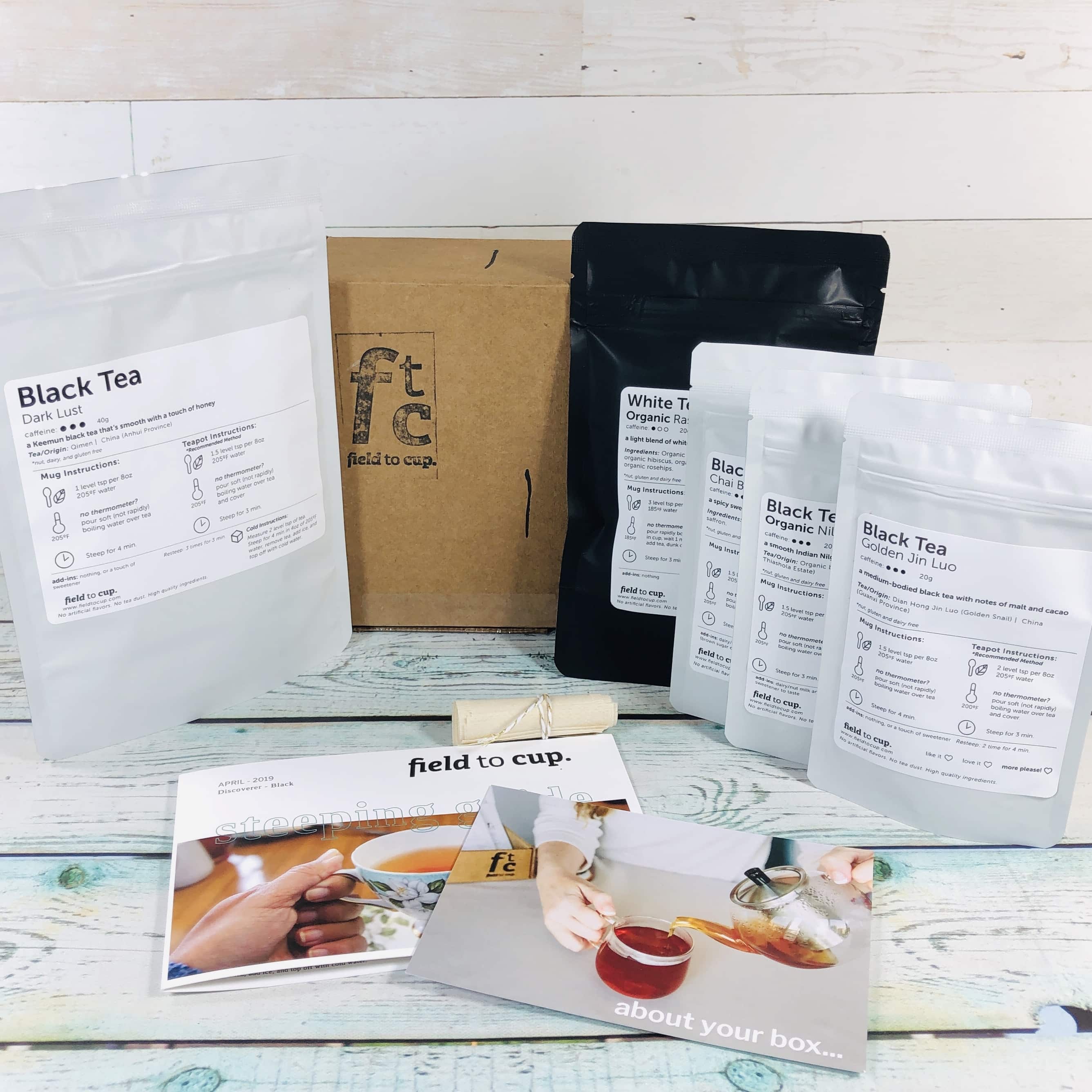 All of my teas! Steeping instructions are found on all of the bags, along with hints on getting the water temperature right in case you don't have a thermometer or programmable kettle (I don't own either one of those).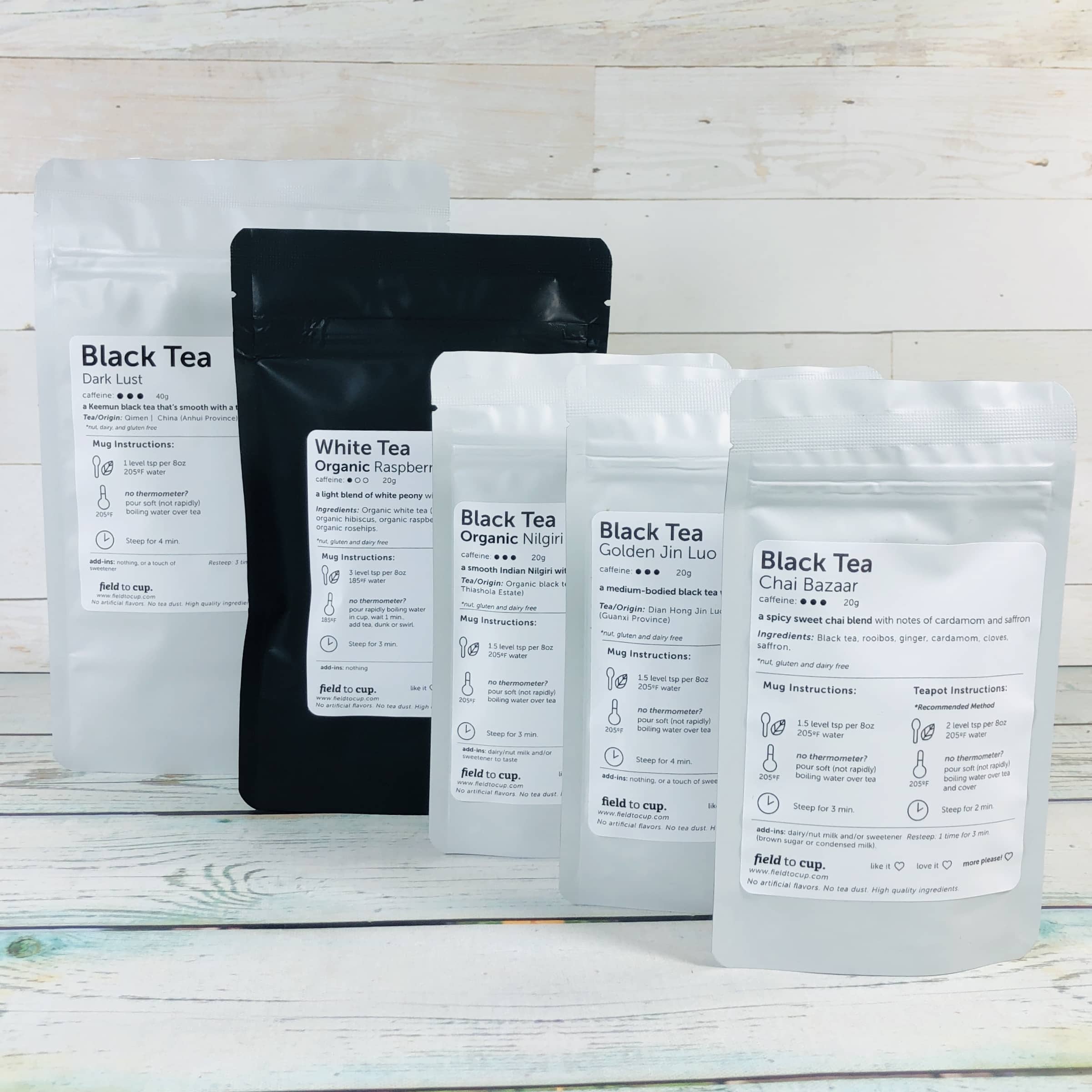 Each bag featured all of the pertinent information. The bags are resealable and will keep the tea fresh for a while. This month I found 4 bags of black tea plus a bag of white tea!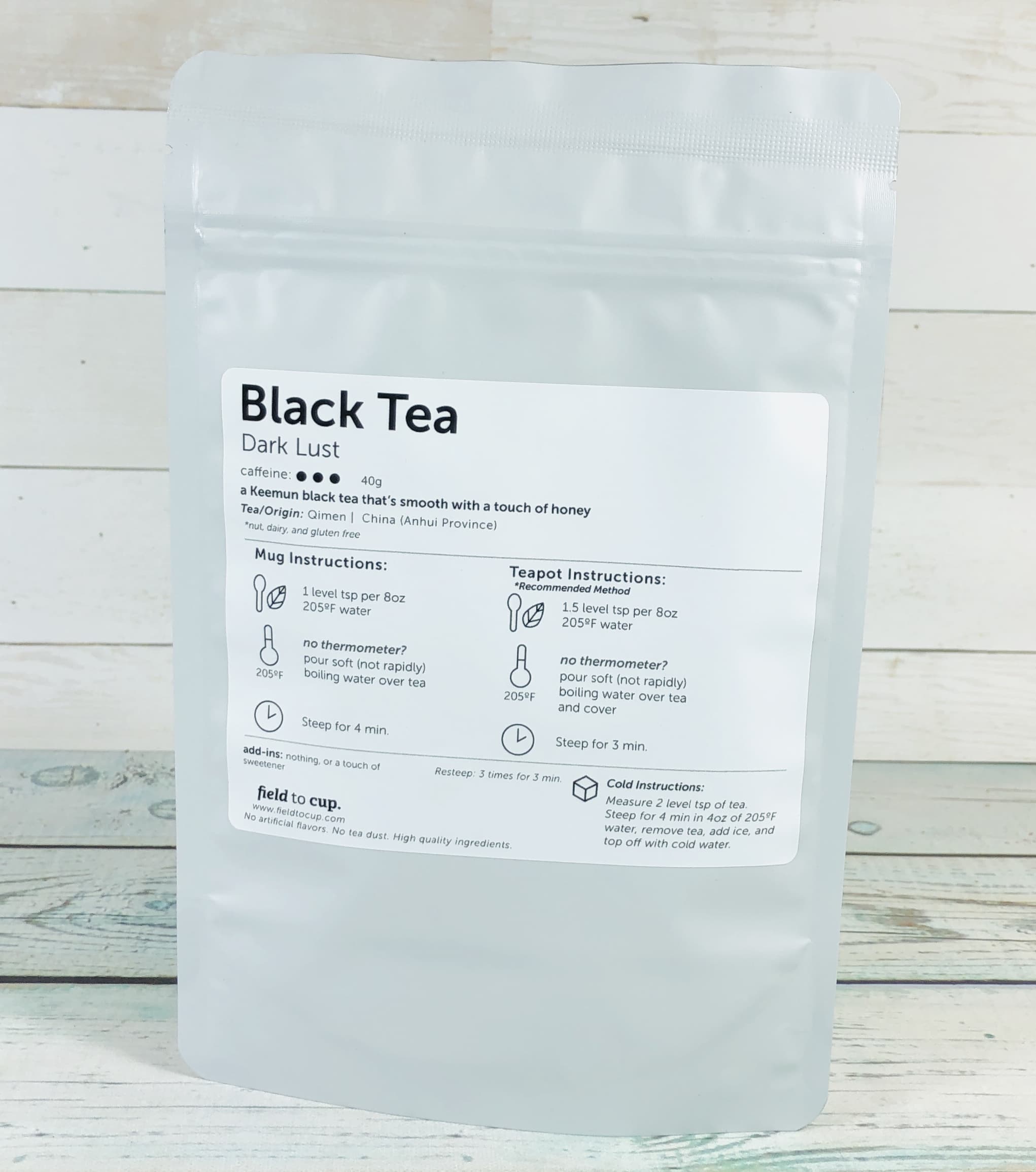 Field To Cup Black Tea Dark Lust is the largest bag of tea this month. It is Keemun black tea from China.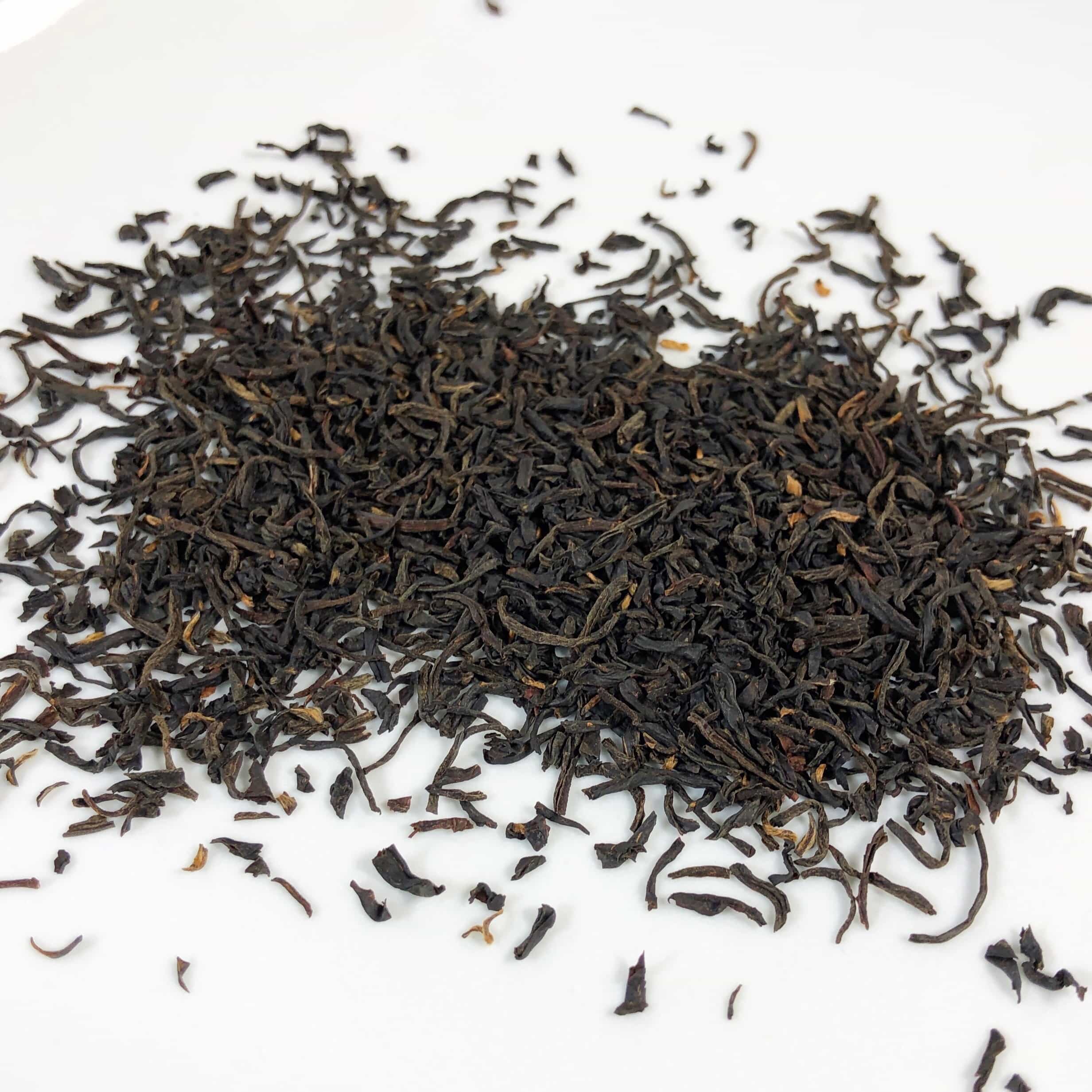 I thought it made a good cup of tea. It was smooth and had that classic black tea flavor but without the acidity that sometimes comes with strong black tea.
Field To Cup White Tea Organic Raspberry Kiss is the only non-black tea of the month. It has white tea plus apple, hibiscus, raspberry, natural raspberry flavor, and rose hips.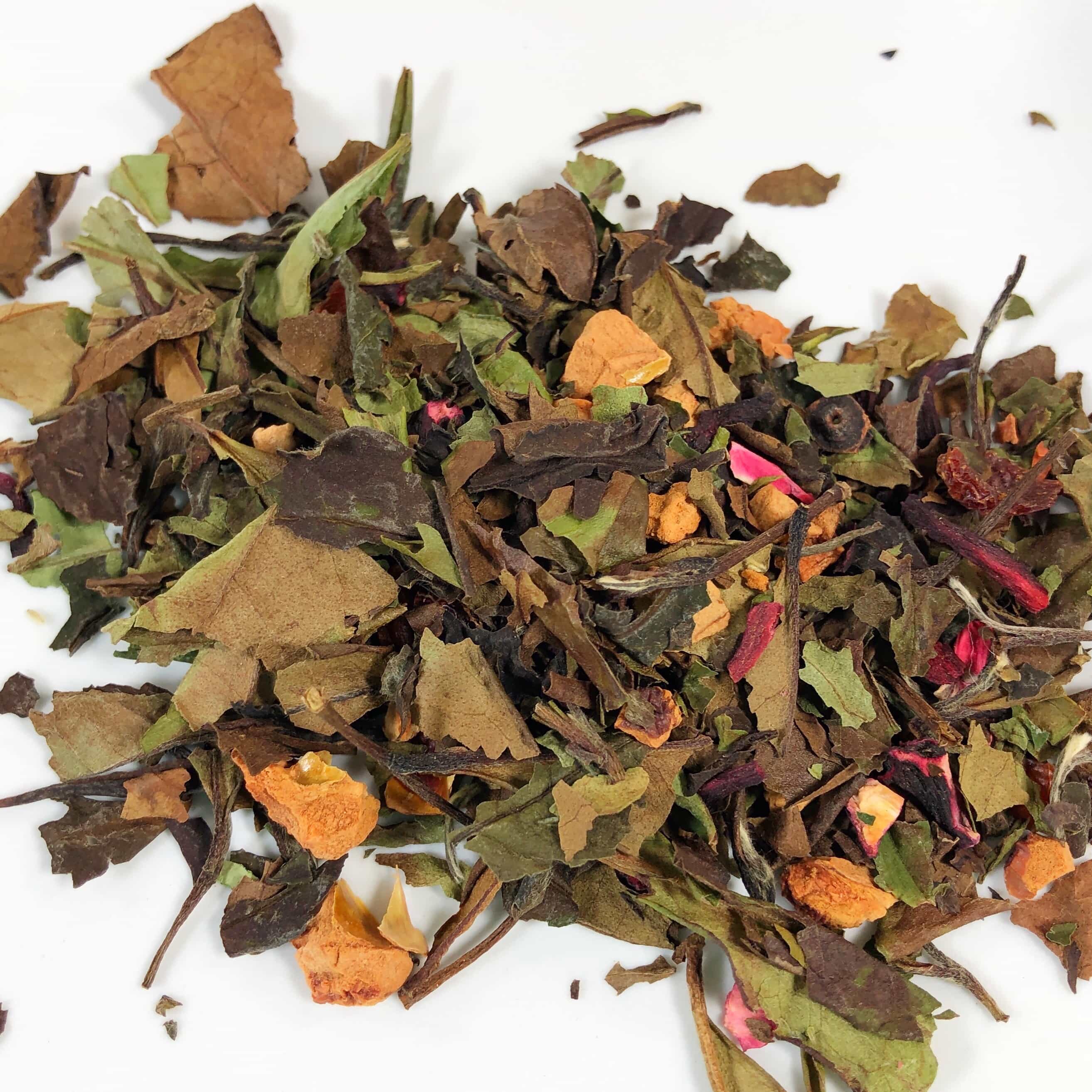 It made for a fruity and refreshing cup of tea. I enjoyed it in the afternoon and appreciated a lower caffeine choice for the end of the workday. It would be a great choice for summer, too.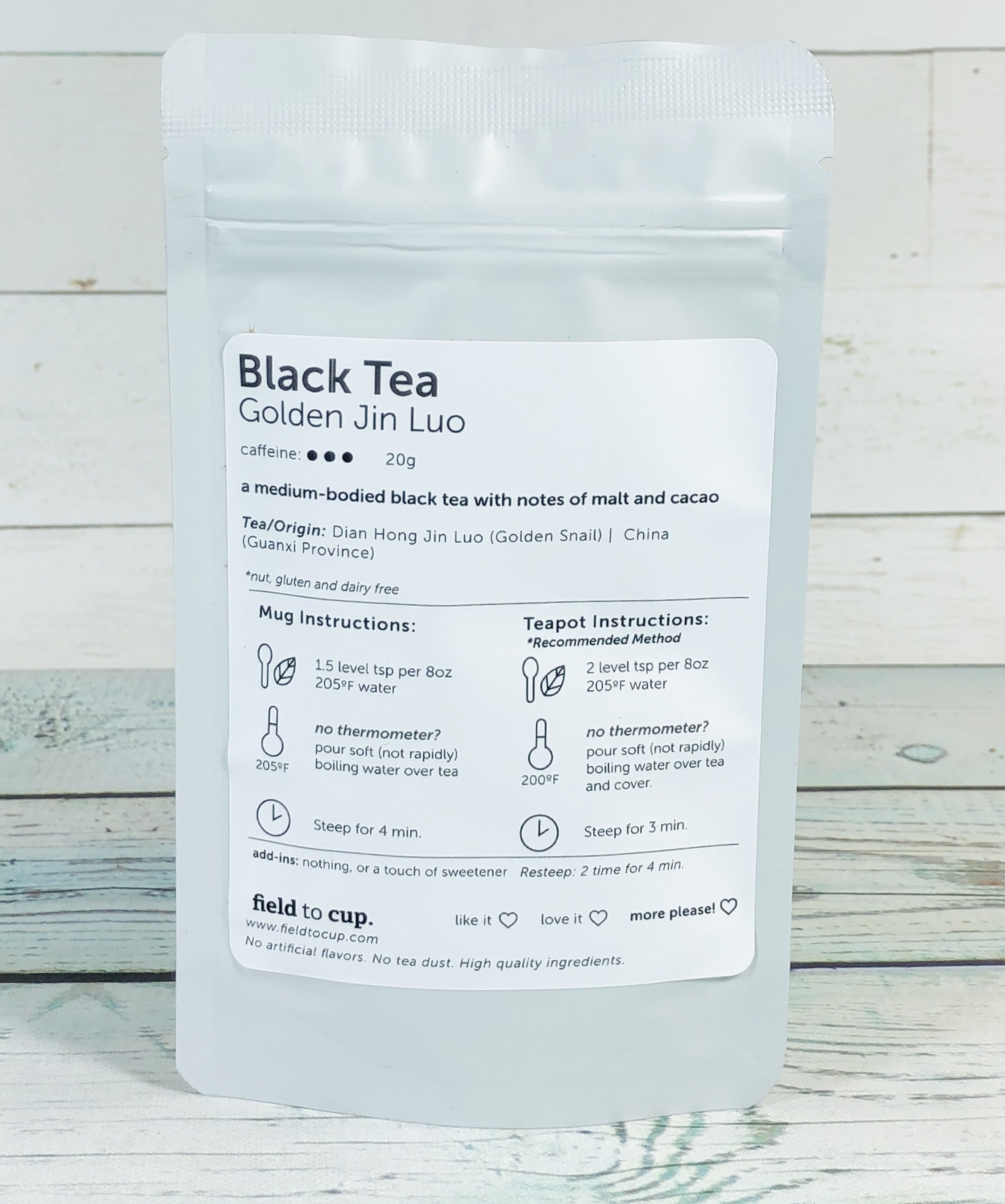 Field To Cup Black Tea Golden Jin Luo I can't find enough words to tell you how much I enjoyed this tea!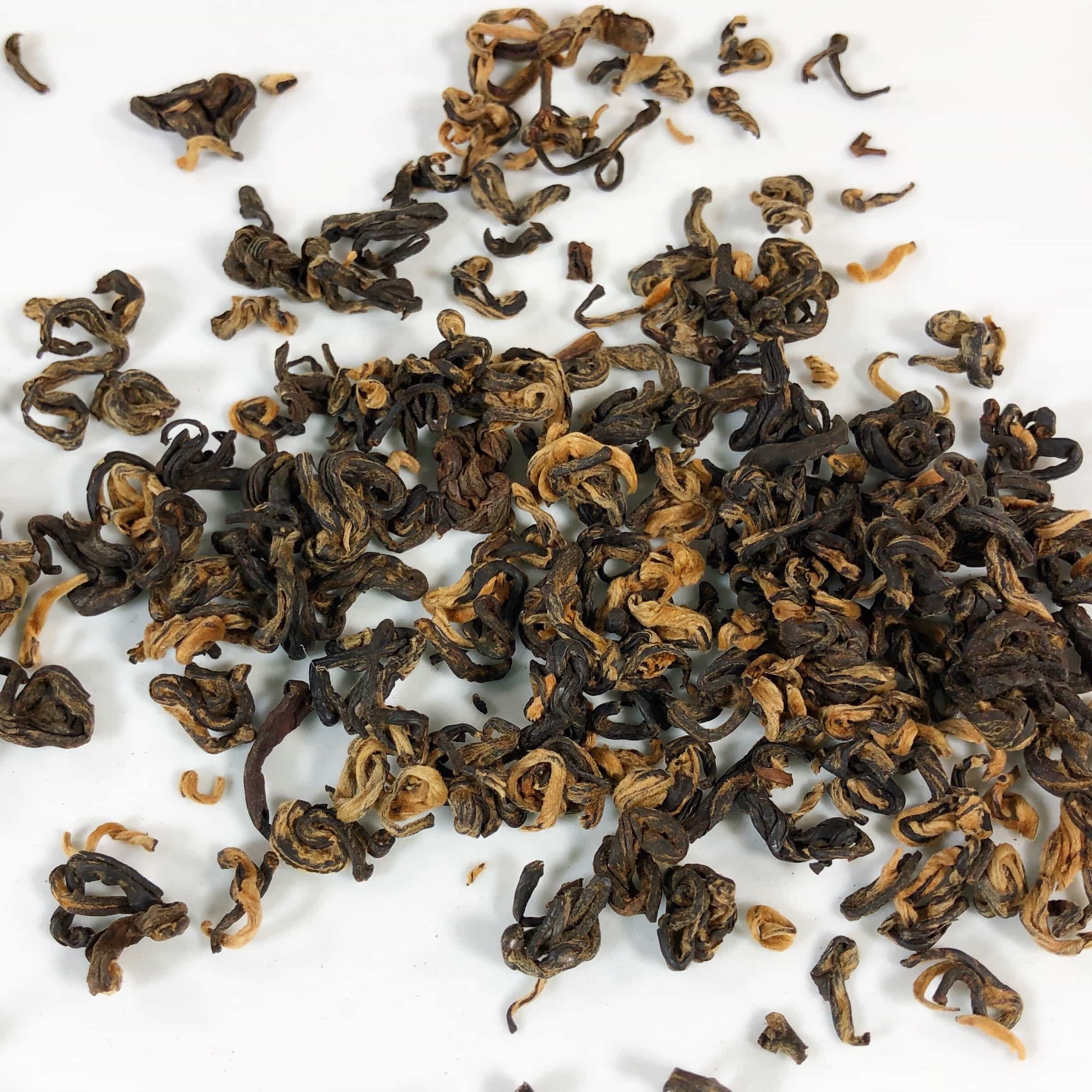 The coils opened up and this tea was so flavorful, almost floral. It had a slight acidity from the tannins and I should have payed attention to where the bag says to add nothing with the exception of maybe a bit of sugar. The sugar enhanced the sweet flavor while the milk masked it. Now I know for next time! By the way, this tea, and the others featured this month, can be resteeped at least one more time.
Field To Cup Black Tea Organic Nilgiri Highlands is a strong yet smooth tea from India.
I didn't detect any tannic acidity but added sugar and milk anyways, since that's how I prefer my tea!
Field To Cup Black Tea Chai Bazaar Although I may not reach for chai teas very often, I found this one to my liking!
Black tea is blended with rooibos, ginger, cardamom, cloves, and saffron. I steeped this like black tea, then added sugar and milk. It was gently spicy and not overwhelming, just the way I prefer. If you want a true chai experience, try simmering the tea with half water and half milk, then strain and add sugar to taste.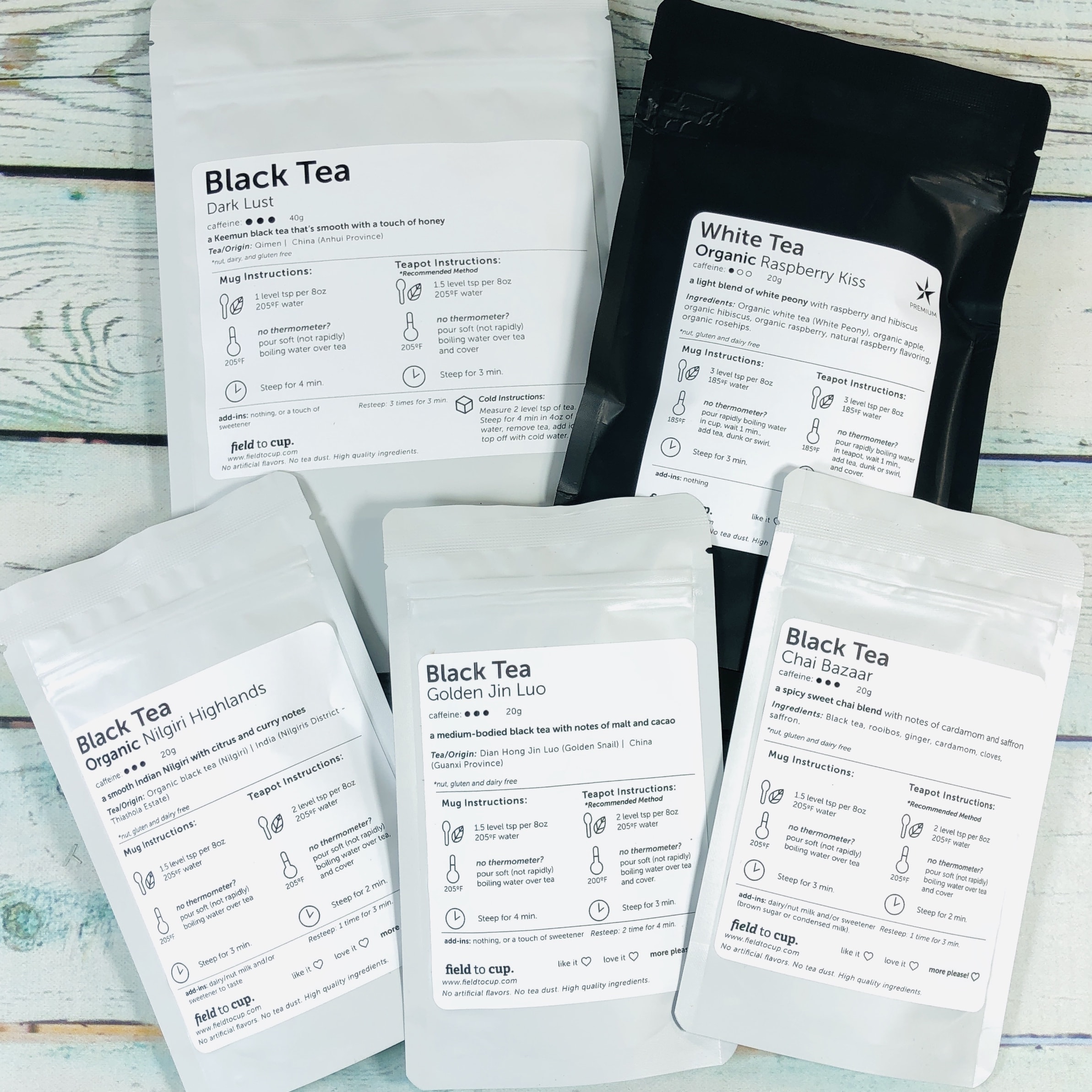 Black tea is my very favorite kind of tea and to have so many high-quality black teas this month was a wonderful treat! The flavors were amazing and I thought it was cool to include teas from a couple of different countries. The white tea was also a hit and was a nice change of pace from my usual cuppa. I always enjoy the teas from Field To Cup and this is one of my favorite subscriptions!
What do you think of this month's box? Let me know which tea want to steep!
Visit Field to Cup Tea Discovery Box to subscribe or find out more!