Erin Condren is the super popular purveyor of some of the best planners and planner supplies around! I was so excited to receive some of their new items and can't wait to share them with you so your planner can be as colorful as mine. By the way, you don't have to have an EC LifePlanner to use these products, but if you want to check out what the hype is about, you can read a review of the planner I'm currently using here!
DEAL: FYI – if you use this referral link to register for the site, you'll get a $10 coupon code emailed to you. You can use it on pretty much anything on the site.
Don't forget to grab notifications for the Erin Condren Seasonal Surprise Box, their quarterly mystery box!
Notify Me about Erin Condren Seasonal Surprise Box
My box was packed full and I found bright pink tissue paper covering my items, plus a sticker to hold it closed.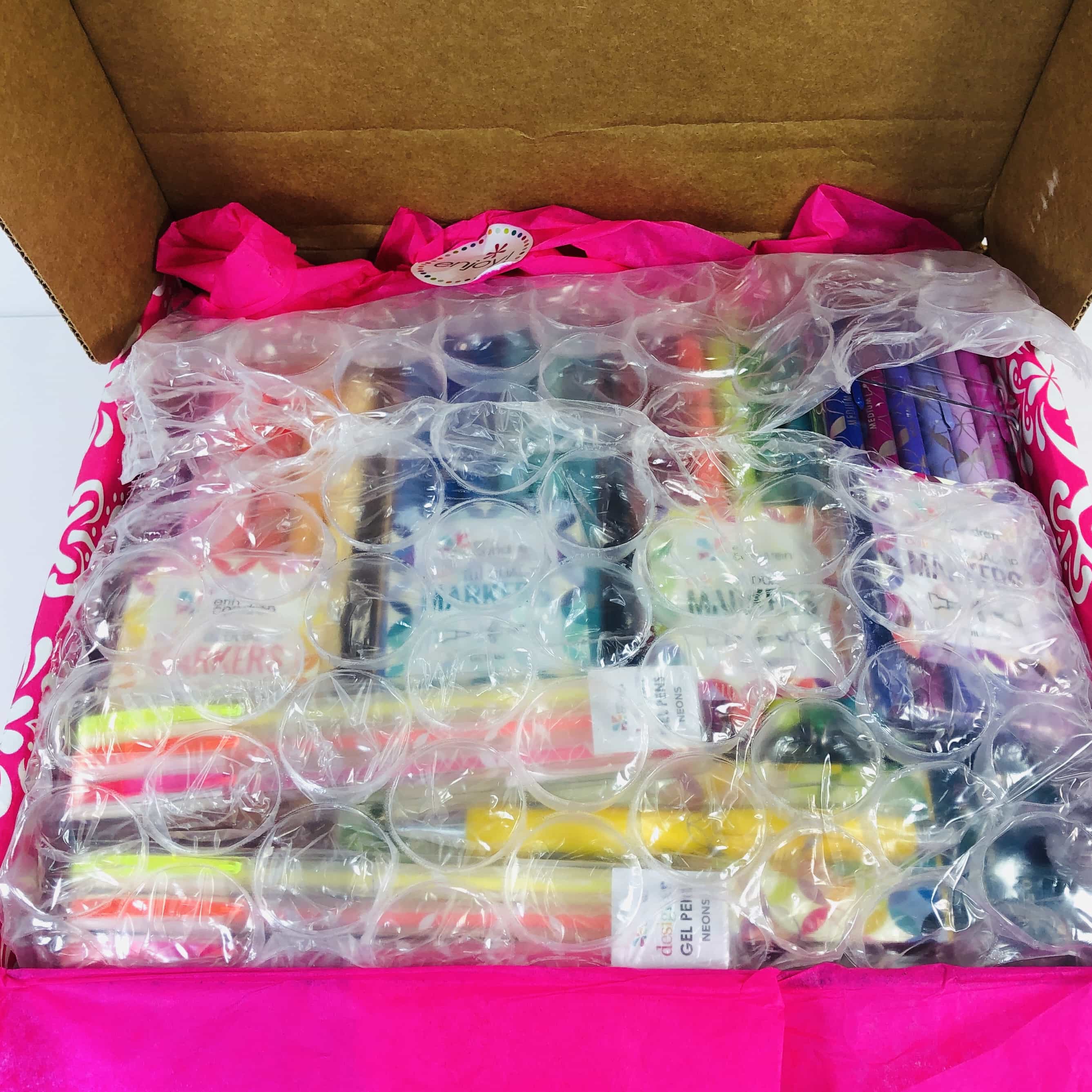 My items were cushioned by bubble wrap.
In addition to the main EC site, you can now shop a selection of non-personalized Erin Condren items on Amazon! Many, if not most, are discounted, and they all have free Prime shipping!
Everything in my box!
Erin Condren TakeNote Dot Grid and Classic Lined Softbound Notebooks ($14 each) Look at the beautiful colors of these new notebooks!
All four have a textured cover and from top the colors are: Shimmer Purple (not really blue, my camera is weird), Shimmer Magenta, Shimmer Turquoise, and Shimmer Rose Gold. You can have them personalized with your name in your choice of foil shade when you order them on the EC website.
Each notebook has this quote on the inside cover. The colors reflect the cover, so the purple notebook has purple on the inside too.
The next page tells you if your notebook is dot grid or lined.
Each notebook has a ribbon bookmark in the middle that matches the cover color. The bookmarks are attached so no worries about loosing it.
Here's what the dot grid pages look like. Dot grid notebooks are a popular choice for bullet journals. You can find more bullet journal accessories in the EC online shop.
The classic lined notebooks are college ruled. See the asterisk in the top corner? They are on the corner of each page and come in all kinds of colors.
Here is the back cover, with some info on how to contact  the Erin Condren company.
There are 10 colors to choose from and you can pick dot grid or lined for any of the colors.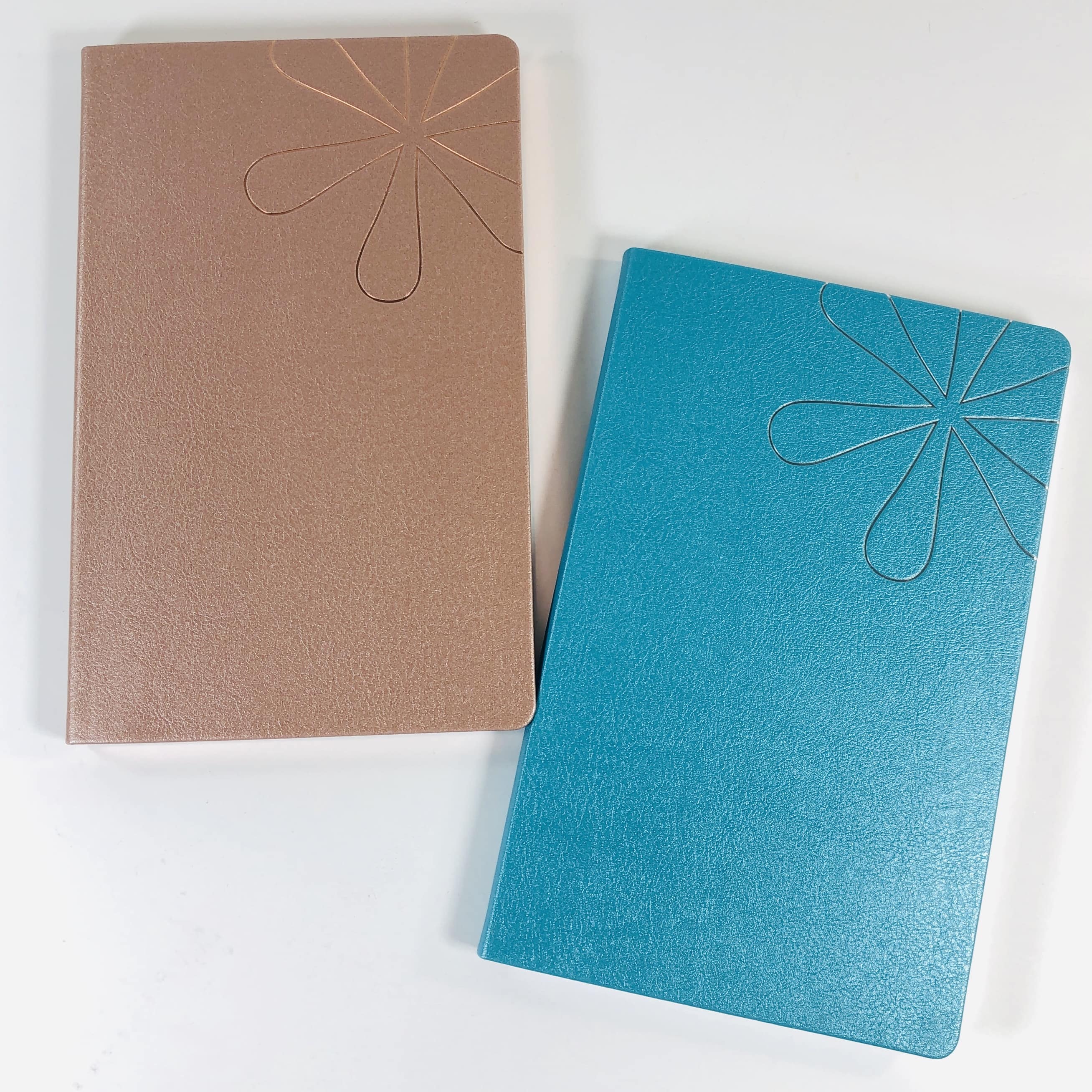 Each notebook is 5″ x 8″ and has 124 pages. Plus, they lay flat when opened!
Erin Condren Designer Mechanical Pencil in Marigold ($8.50) You can find this stylish pencil in three colors (the other two are Bubblegum and Robin).
Sometimes you need to pencil things in before committing to ink, and this is a pretty way to do so. There is an eraser underneath the silver end cap to fix mistakes.
Erin Condren Designer Gel Pens Neons ($6.50 each pack) Add a pop of color with these bright shades!
Neon pink, neon orange, and neon yellow adds brightness for those summer plans that are starting to come together on my planner.
They write smoothly and I just think they are pretty colors!
Erin Condren Colorful Dual-Tip Markers ($15.50 each) My marker dreams have now come true since these arrived on my doorstep. Each pack is $15.50, but you can also buy a bundle of three of these shades for $37, find out more here. 

Each pack comes in a carrying case, but I put my most used markers in a Planny Pack. This set of markers is called "Tropics".

The colors are listed on the back.

Each marker is dual-tipped.
Here is the medium tip, 1.2mm.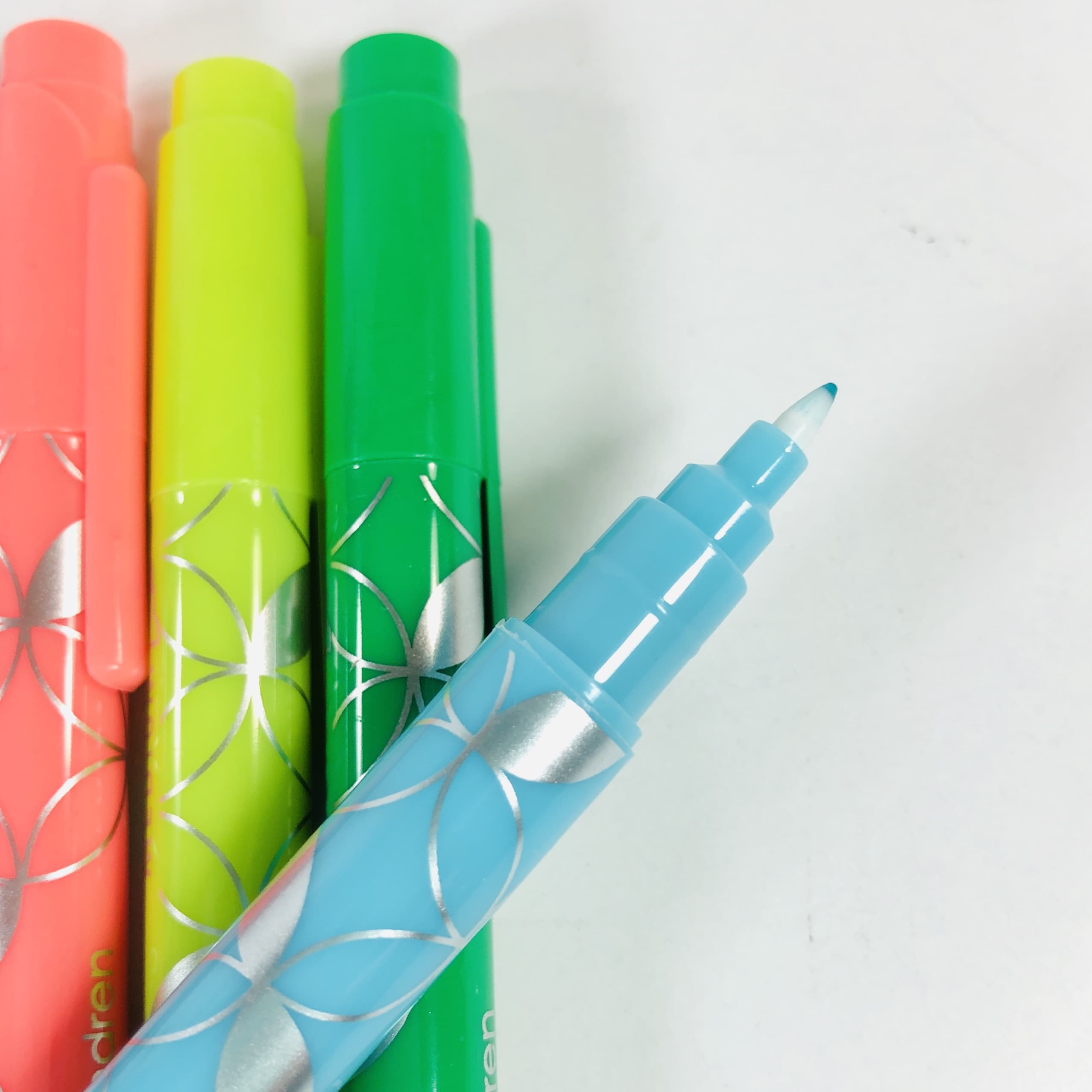 Here's the fine tip, 0.6mm. I usually use the fine tip for writing, and the medium tip for crossing out things on my to-do list.
Colors, from left: garnet, turquoise, salmon, emerald, chartreuse, and wine.
Here we have the purpley colors of the Twilight Pack.



From left: purple, wine, amethyst, lavender, lilac, and orchid.
Here are the bright markers of Sunrise.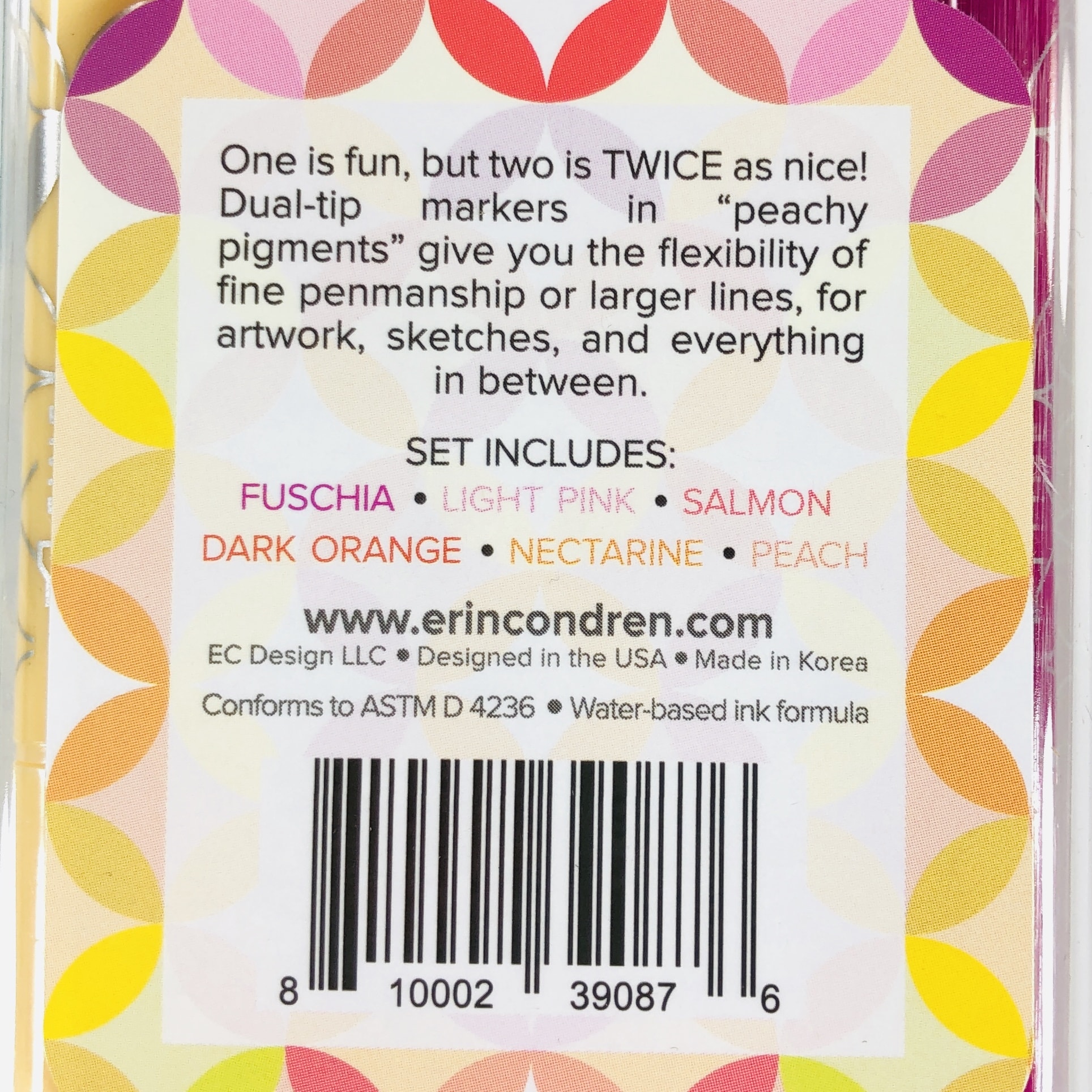 From left: fuschia, nectarine, light pink, salmon, dark orange, and peach.
Ahh, the relaxing blue shades of the Ocean Pack.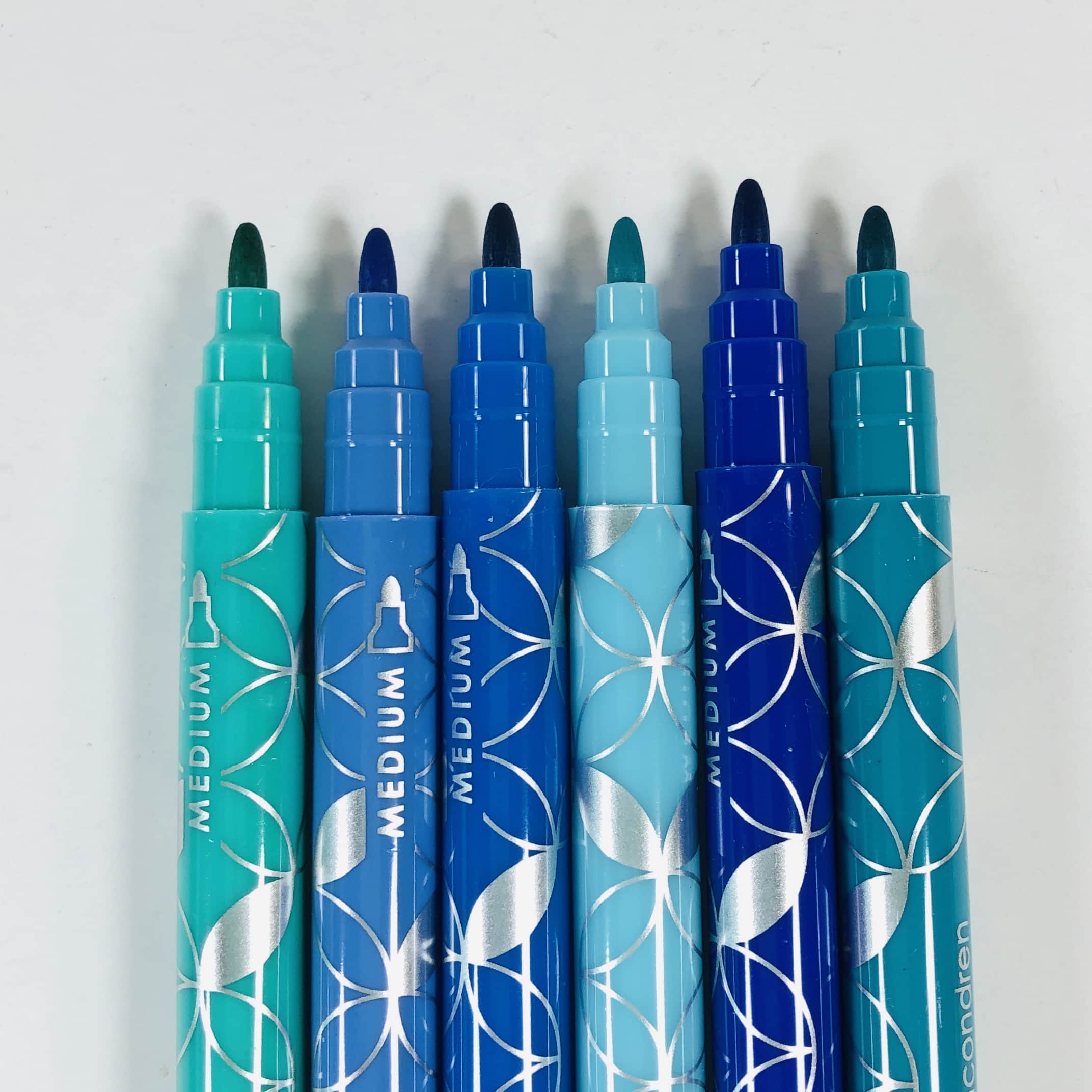 From left: mermaid, cornflower, sapphire, turquoise, navy, and teal.
I was really impressed with all of my new Erin Condren supplies! The notebooks are great for carrying around and to use as a journal, to keep lists, for doodling, or whatever other uses you can think of. The markers are amazing! I use them in my LifePlanner and they won't bleed through to the other side, plus the color choices are amazing, perfect for those who like to color coordinate their planner. I have certain colors reserved for certain notes, like one for work, one for church activities, one for dance classes, etc. The gel pens add a pop of bright color, and the automatic pencil is perfect for my pen pouch: I no longer have to worry about breaking the tip of my pencil!
What did you think of the new Erin Condren notebooks and supplies? 
Visit Erin Condren Seasonal Surprise Box to subscribe or find out more!